The Best Mousepad for an Even, Comfortable Workspace
While mouse pads might not be as essential to computer use as they once were, there's still a number of reasons to use one. First and foremost, even with an optical or laser mouse, a pad can help ensure precision and easy movement while handling a mouse. Different designs and surface types can help with accuracy, or let your mouse move more easily across the pad. You'll want to consider what size is right for your workspace and make sure you pick a pad that works with your type of mouse.
Mouse Pad Buyer's Guide
Surface
Perhaps the single most important factor that impacts mouse performance is the type of surface on a mouse pad. For basic office use or in a retail environment, any kind of mouse pad will probably work. When it comes to gaming, graphic design, and other applications where it really matters, you need to consider the pads surface and control.
Slick surfaces let you move the mouse very quickly across them, which is great for some types of gaming like playing MMOs or MOBAs. On the other hand, textured surfaces tend to give you more precise control, which is usually ideal for playing an FPS title or doing intricate graphic design where you need to make small, precise movements. Ultimately, you need to decide on a specific surface if you prefer speed, control, or something that gives you a good combination of both.
Hard vs Soft Pads
Hard pads are usually made from plastic and similar materials and are rigid. They don't roll or fold up and provide you with a solid surface when you are using a mouse. Soft pads, on the other hand, are flexible and easy to store; plus, they're a bit more forgiving if you rest your hand on it at all.
In terms of functionality, both types of pads work very well and this really does come down to personal preference. Pick a pad that will be comfortable for you to use and look at the surface types and materials to see which meets your personal preference.
Material and Durability
While the material used in the construction of a mouse pad might not directly impact mouse performance, it makes a big difference regarding how long the mouse will last. You want to pick one with a rubberized base which helps it stay in place and not shift under intense hand movements.
You definitely want to pick a pad from a reliable manufacturer backed by satisfied user reviews. A particular mouse pad might look great, but someone who has owned the one you want for a couple years can tell you if it held up well through thousands of hours of use.
Size
Your work area or desktop space will largely dictate the size of your mouse pad. There are a wide range of sizes available, especially if you're looking at high-quality gaming or professional mouse pads. You might consider wide mouse pads that fit under your keyboard, to provide some shock resistance under the keys, with material that extends under your mouse. If you tend to move your hand a lot, then you want a large mouse pad that will keep you on the pad even when making wide movements and gestures. If your workspace is limited, then a small mouse pad is obviously ideal.
Mouse Compatibility
You want to make sure you pick a mouse pad that will function properly with your mouse. While most pads work with older ball and optical mice, laser mice can be more difficult to control. If you get a pad which isn't compatible with your type of mouse, you can find yourself losing input sensitivity, dealing with slowed response time, and even having the on-screen icon stop responding to your movements. Look for a pad that works with your type of mouse and tune into the user reviews to be sure your particular
Additional Features
There are not a ton of extra features you are likely to find on a mouse pad, but a few things are worth considering. Wrist pads are the most common thing you are likely to see, which keeps your wrist comfortable during mouse use. This type of pad can also help keep your wrist elevated in a position that reduces the possibility of carpal tunnel syndrome due to mouse use.
You should definitely look for a mouse pad with wrist support, although separate wrist pads are available. While the look of your mouse pad might not be the most important consideration, you should consider one that integrates well with your established computer setup. If you really want to make an impression, you can even find a mouse pad with colored lighting that you can set to match your rig and other illuminated hardware, but that's definitely not a necessity.
Manufacturer and Warranty
Much like choosing other computer hardware and peripherals, you want to pick a manufacturer that's reliable and well known for making quality mouse pads. Companies like SteelSeries, Xtrac, and Fellowes are well known for producing solid products that work very well. You can also consider manufacturers known for making peripherals, like Razer and XFX.
While the warranty on a mouse pad might not be quite as important as something like a $500 graphics card, you should still keep it in mind. You want to pick a model covered by at least a six-month warranty, though a year or more of protection is really ideal.
Sours: https://www.latimes.com/bestcovery/best-mouse-pad
How to Choose the Right Mouse Pad for Competitive Gaming
Your mousepad plays a crucial role in the way you aim. Much like a change in mouse sensitivity, differences in pad material, friction, size and other quirks can significantly impact how your mouse and aim feels.  While no particular piece of equipment will suddenly make you a Godlike aimer, there are noticeable and desirable gains to be had by optimizing your aiming setup.
Quick disclaimer, the advice provided in this blog is based off best practice within the aiming and FPS community. There will always be outliers who perform best on a mousepad that shouldn't suit them, but the best we can do is convey recommendations that benefit the majority of players.
Start With Unbiased Research
Thanks to the efforts of Hoya, with help from the aim training community and r/mousepadreview, there is an incredible unbiased resource for ranking and selecting a mousepad here. We highly recommend reading through each tab to understand the ranking system and learn what you can expect from each mousepad. There are other resources like https://prosettings.net/ that will list the gear and settings of pro players, but many of these players use sponsored gear which makes it harder to trust when looking at it from a performance standpoint.
Consider Your Mouse Sensitivity Preferences
When people say a mousepad is "fast" that means the friction is low so the mouse glides with minimal effort. Alternatively when a mousepad is "slow," or "controlled" it typically has higher friction with a more locked-in feel to it. Higher mouse sensitivities tend to prefer faster mousepads as the mouse movements are comparatively small and these adjustments are more easily executed without the extra friction. Alternatively, lower sensitivity players tend to prefer slow mousepads as their mouse movements incorporate more muscle activation and need more stopping power in the pad to keep the movement controlled and accurate. 
What qualifies as high or low sensitivity is very subjective and changes depending on the field of view but to put it in general terms 0-15 cm/360 is very high, 15-30 cm/360 is high, 30-45 cm/360 is medium, 45+ cm/360 is low. If you want to learn more about mouse sensitivity and cm/360, check out our blog on the topic here.
Assess Your Mouse Grip Intensity
It's not often talked about, but the intensity of a mouse grip changes between players. Some players have a tighter grip and their arm is tensed to some degree, while others have a relaxed grip and minimal tension. Tensed up players tend to be more "flicky." Rather than having smooth tracking they might track with a rapid series of small flicks instead. Relaaa is a great example of a higher tension player with incredible aim. The entire video is worth a watch, but the clip at 8 mins is particularly useful in explaining the tension.
On the other hand there are top aimers like Aimer7 with low tension who have very smooth aiming. 
Typically, higher tension players perform better on higher friction mousepads as the friction helps control the fast and erratic movements. Alternatively, lower tension players tend to perform better on low friction mousepads as it requires less force to actuate a movement and they can perform micro-adjustments quickly with the minimal resistance. 
Understand Your Gaming Style
We recommend taking a look at your aiming style, mouse sensitivity and tension used while aiming in conjunction with reading through each of the tabs in Hoya's spreadsheet to make the most informed decision you can. 
Sours: https://themeta.com/how-to-find-your-perfect-mousepad/
The Best Gaming Mouse Pad (Cloth) in 2021
A cloth mouse pad is a quintessential piece of gear that plays quite an underrated part in your gaming experience.
It's hard to recommend just one single mouse pad as the best gaming mouse pad period, so we've recommended 5 mouse pads that you really can't go wrong with.
The best overall mouse pad, if you don't know what you prefer, is the HyperX Fury S mouse pad, it combines really fantastic build quality with a medium/fast speed glide makes it a perfect first choice mouse pad.
Mouse
Speed or Control
Sizes
HyperX Fury S
Both options
SM, M, L, XL
See Price
Glorious Gaming Mouse Pad
Speed
L, XL, XL Extended Extended, XXL, 3XL
See Price
Steelseries QcK
Control
S, M, L, XL, XXL
See Price
Zowie GS-R
Control
S,L
See Price
Corsair MM300
Speed
S, M, XL, Extended, Extended XL
See Price
The Glorious Gaming Mouse Pad is our top pick for a speed pad, it's affordable and provides a really nice fast glide while not skimping on stitched edges despite its price. The legendary Steelseries QcK is our first pick for a gamers looking for control pads, it's basement pricing means that even when the QcK wears out, which it will, it'll be easy to replace.
The premium Zowie GS-R provides a higher quality high control experience with very minimal branding. The Corsair MM300 provides a large size option for control pads.
Aren't all mouse pads the same?
Not exactly, most mouse pads will be an improvement over a bare wood, metal or glass surface, but a good mouse pad introduces a significant amount of consistency to your gameplay, which contributes you to playing better over the long term.
Good mouse pads are also generally built better, they have stitched edges and surfaces that will hold up better over time. Mouse pads come in a variety of sizes, paddings and textures that allow for a custom gaming experience. If you like to move your mouse fast, you can get a speed pad, if you like pixel by pixel accuracy, go for a control pad.
How we tested and picked
As always, we primarily test by playing a ton of games a bunch of the top rated mouse pads. I personally prefer control pads but that will not stop me from appreciating a good speed pad. We played on these mouse pads with a bunch of our gaming mice. During gameplay I'm looking for a consistent experience, while looking for specific factors.
Surface
A good mouse pad surface is going to deliver a consistent tracking experience whether that's a smooth glide or a controlled glide, it should behave the same over time. Humidity actually has a factor to play in surface glide experience, a humid environment is going to make all gaming pads 'stickier', so in that case, you might want to go for a smoother, faster mouse pad. Faster mousepads usually have a tighter weave that is less affected by humidity in general.
Durability
After some time, the surface of a mouse will collect, dirt, skin and sweat and it'll lose its original glide properties. A good mouse pad will have a durable weave/texture to withstand a wash to restore the original performance of the pad. A lot of good mouse pads also feature a stitched edge, which prevents the mouse pad from fraying at the edges.
Slip and traction
The underside of the mouse pad should be lined with a surface, usually rubber, that will maintain a strong grip on your desk surface regardless of material. No matter how hard you're holding your mouse, your mouse pad shouldn't slip whatsoever.
Padding & Comfort
This is a bit of a personal preference, but I think good mouse pads should have a fair amount of padding, the more comfortable your gaming experience the longer you can play for. Surfaces and edges of the mouse pad should not irritate the skin on prolonged use.
Design
A good mouse pad should look like it belongs in a majority of gaming set ups, we don't like huge branding or over the top designs, the best mouse pads that appeal to the most people will have a bit of a minimal design.
Sizes
Good mouse pads will come in different sizes to accommodate the amount of desk space you have in your set up. Generally, you want to get as much mouse space as possible, a larger mouse pad gives you room to lower your sensitivity which is one of the proven ways to better your aim. Regardless, if you have little desk space, a good mouse pad should have a small size so you aren't too crammed.
1. HyperX Fury S
The best overall mouse pad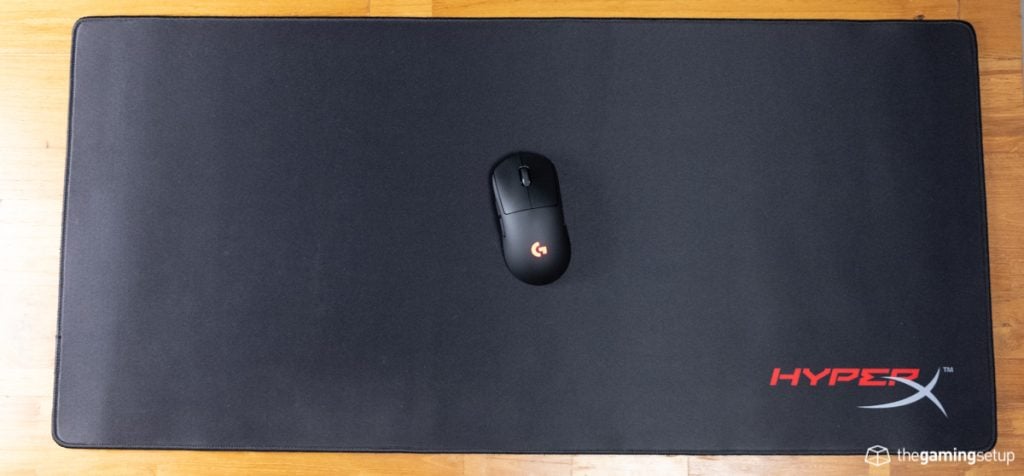 Pros
Very high quality
Comes in both control and speed variants
Comes with 4 size options
Nice thick padding
Really seamless stitched edge
Comes in multiple limited edition designs
Cons
Large HyperX branding on default design
The HyperX Fury S is a clear top pick given its wealth of options and its top-tier quality.
The Fury S comes in 4 size options:
Small: 290mm x 240mm
Medium: 360mm x 300mm
Large: 450mm x 400mm
XL: 900mm x 420mm
The amount of options means you'll get the mouse pad that best suits your amount of desk space.
I have the standard Fury S version, the surface tracks very consistently with an average amount of control, not nearly as much as something like the GS-R or QcK. The great thing about the Fury S is that it also comes in a speed pad variant.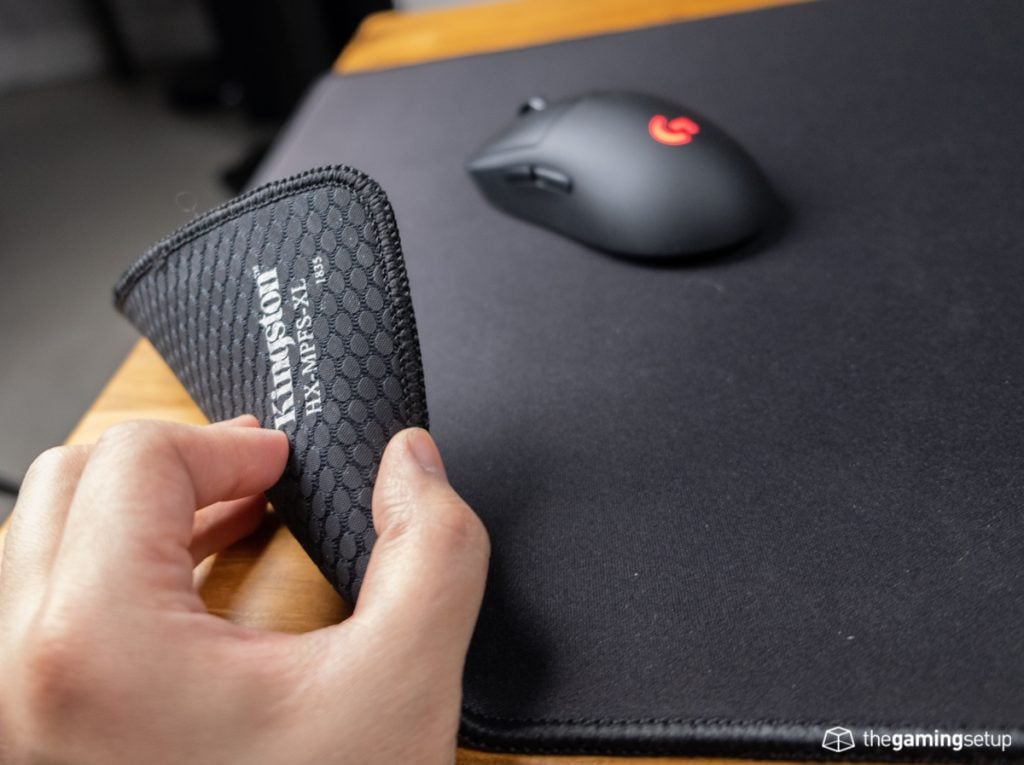 Comfort is awesome on the Fury S with a really plush and thick mouse pad which is something I enjoy, the standard version is slightly scratchy on the skin but nothing I would consider uncomfortable. The stitched is tight and perfect, no fraying happening here from my experience.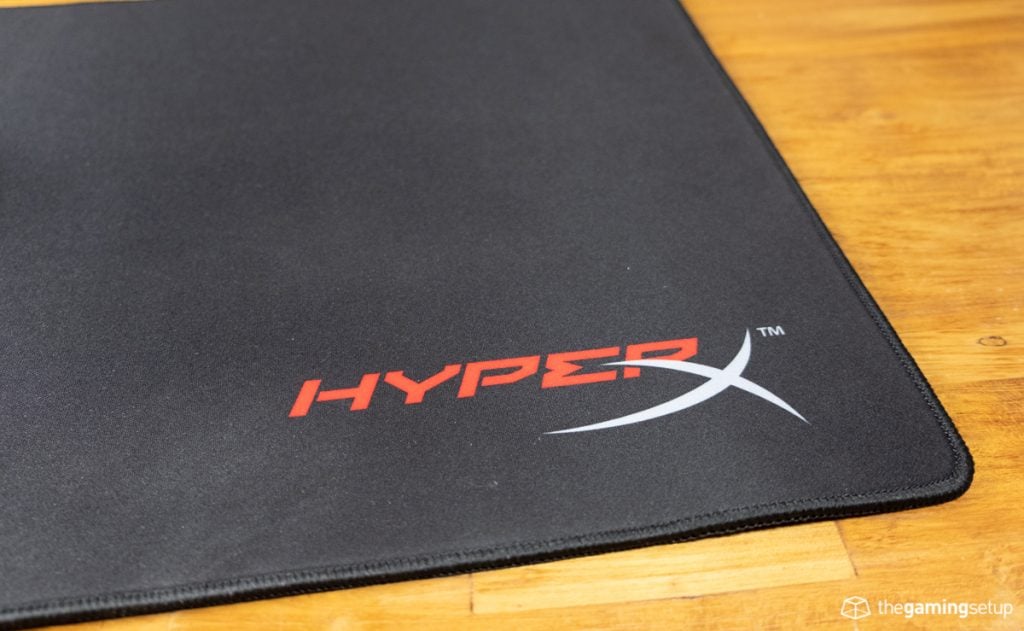 From a design standpoint the HyperX Fury S is okay, the logo is quite large but luckily the texture is the same on the branded area and I haven't noticed any tracking issues over the logo. The pad also has some limited edition custom
 2. Glorious Gaming Mouse Pad
The best speed pad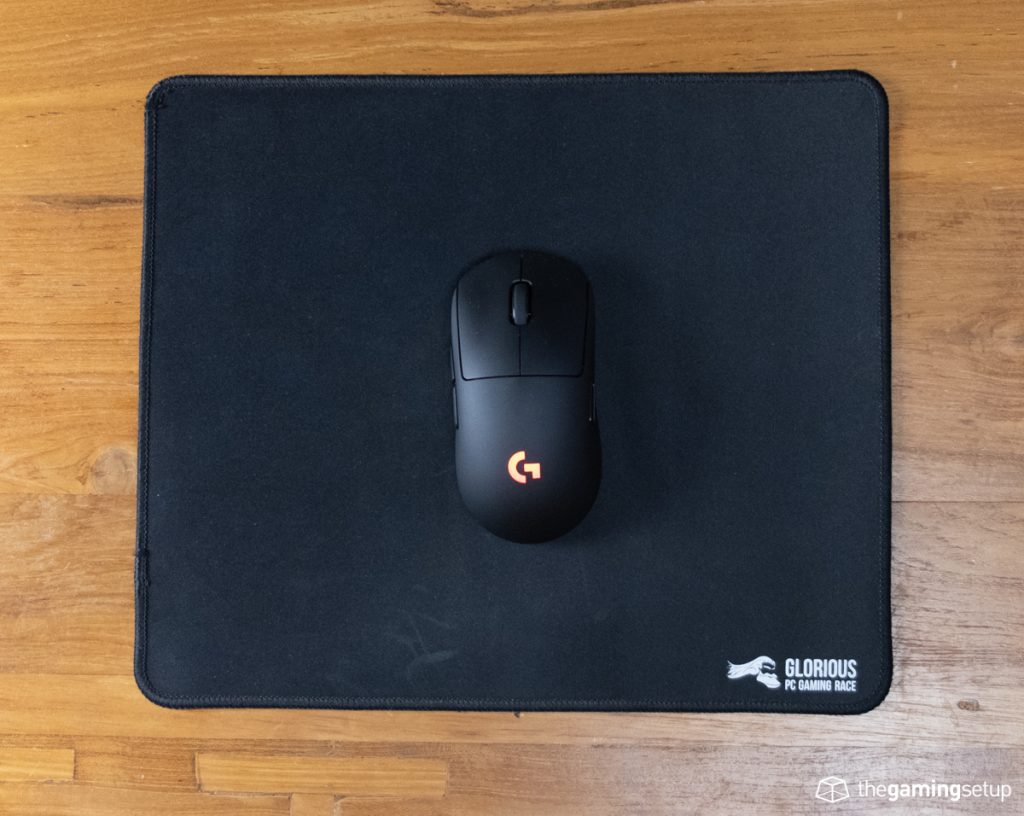 Pros
Affordable price
Great glide
Stitched edge at a low price
Minimal branding
5 size options
Color options: black and white
Stealth option with super minimal branding
Cons
Thinnest mouse pad on the list, there is one heavy Large version of the mousepad available on Amazon
Stitched edge inconsistent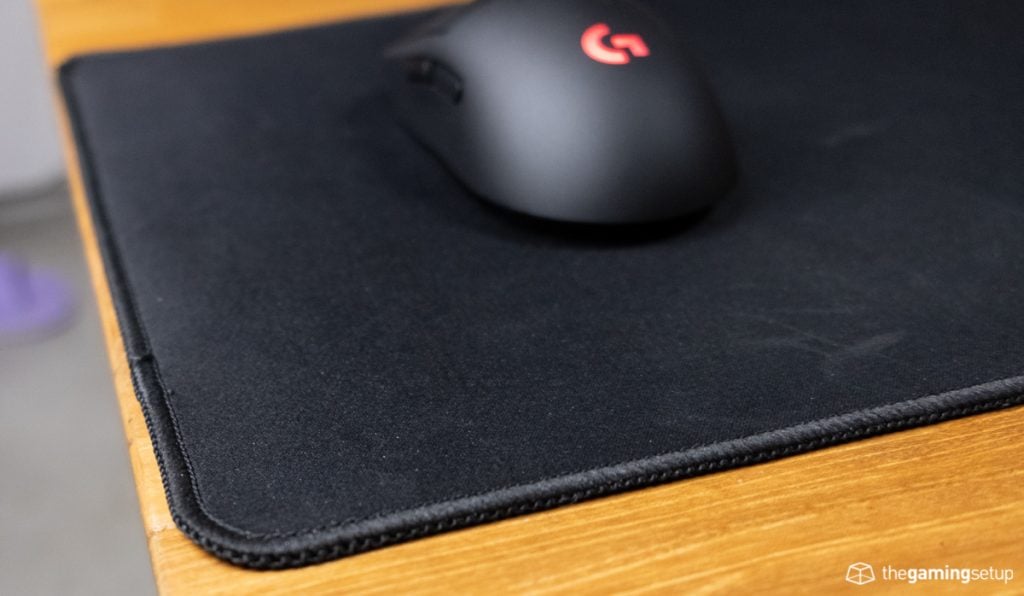 Glorious continues to show that they really get gamers and what they want. The Glorious Mouse Pad offers a really great speed experience for not a lot of money with the smallest Glorious size at $12 dollars.
Tracking is smooth and consistent across the entire pad with the logo only occupying the bottom right of the pad.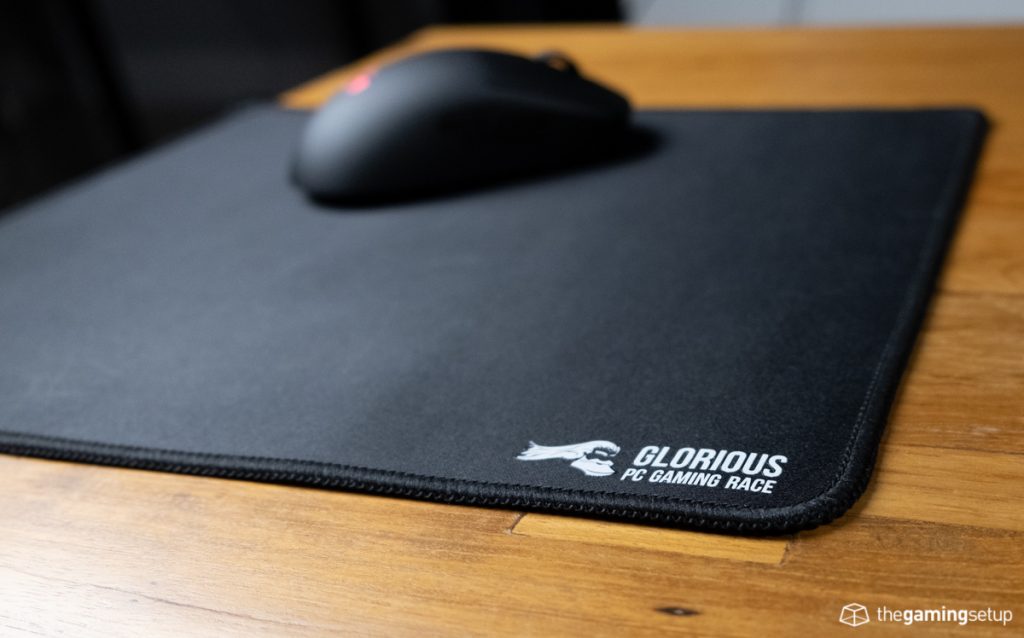 The logo itself is a bit of an eyesore, luckily the Glorious pad comes with a Stealth colour option, which reduces the logo to a gray head logo without the words, probably the best choice unless you really want to advertise that you have ascended.
Choice is a feature I really appreciate in a good mouse pad, the Glorious is no exception with 5 size choices:
Large: 61 x 122 cm
XL: 28 x 33 cm
XL Extended: 41 x 46 cm
Extended: 36 x 61 cm
XXL Extended: 28 x 91 cm
3XL Extended: 61 x 122 cm
You can get a mouse pad of any size, the 3XL size is MASSIVE if you wish to have your entire desk be a surface.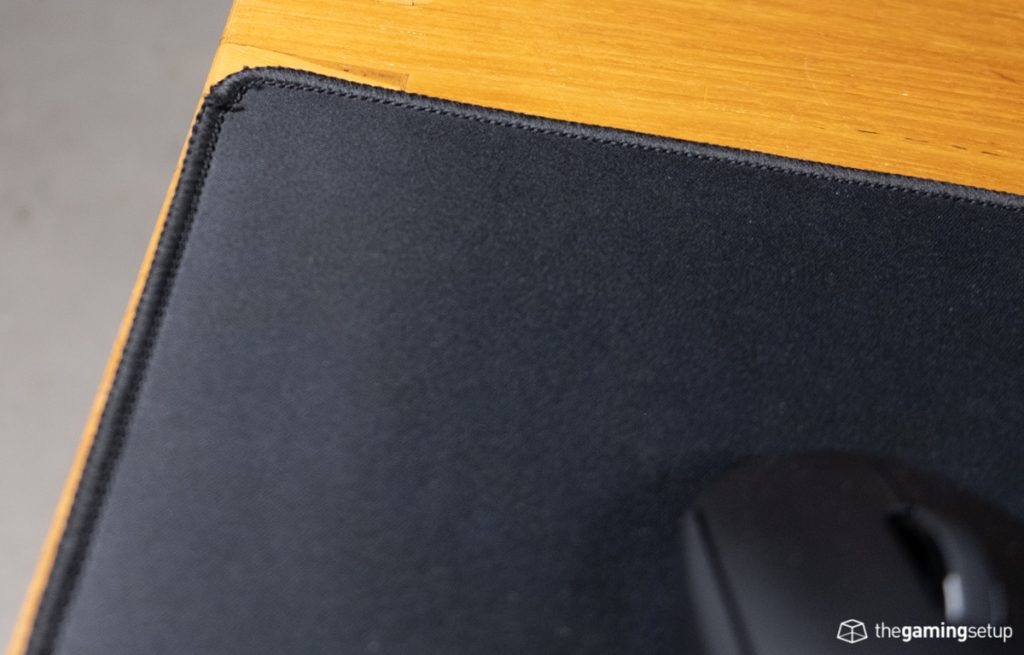 It's amazing to see a stitched edge on a mouse pad at this price, the Glorious stitches aren't as nice as the Fury S', there are a couple of loose strands and inconsistencies in my version of the mouse pad, but for the long run it'll keep the mouse pad from fraying no problem.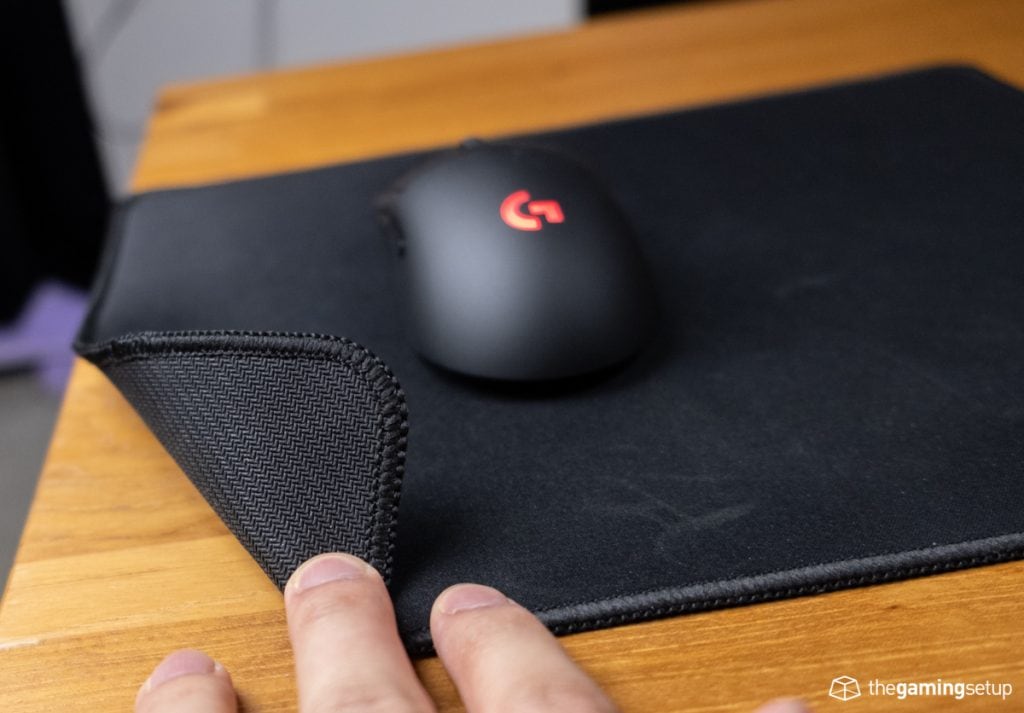 Underneath the mouse pad is coated with a tight rubber pattern, the underside is thin, I feel a lot more of my desk through this pad than a thicker mouse pad, but that is mostly a preference. The Glorious pad does a swell job of staying in place during hectic gaming sessions.
3. Steelseries QcK
A great budget control pad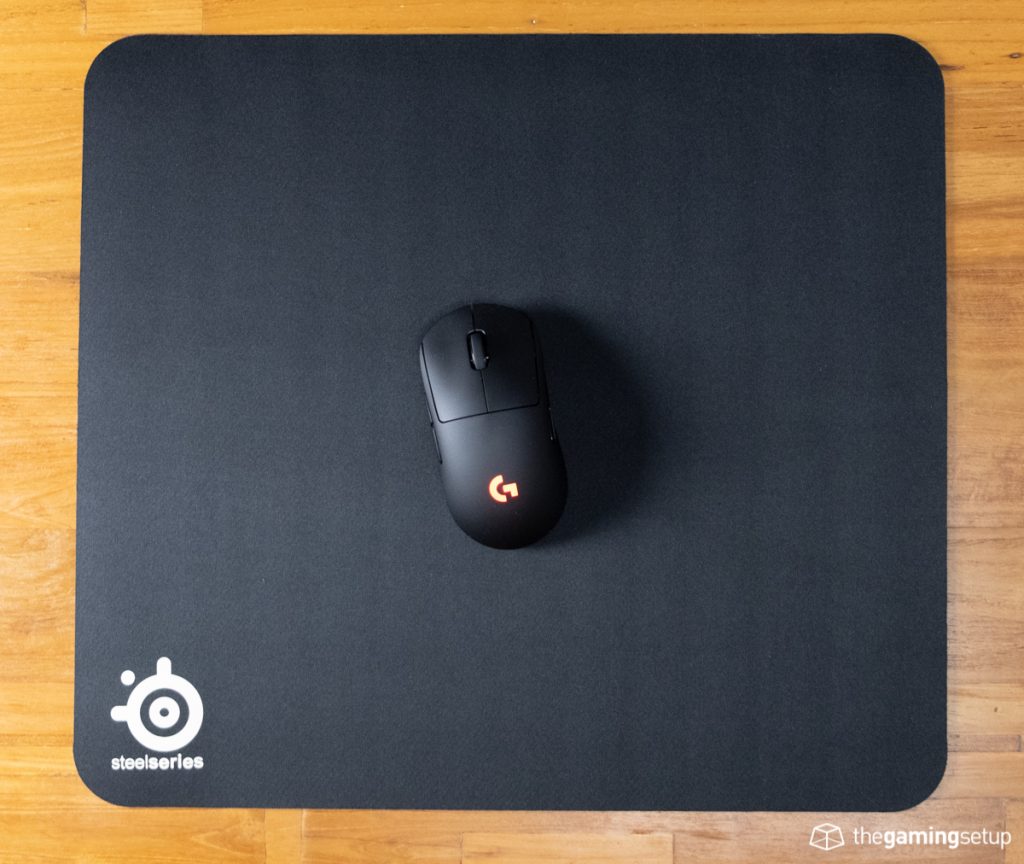 Pros
Legendary control
Different thickness options
Super affordable
Multiple size options
Cons
Pretty large logo foot print
No stitch edges at the lower price point
Missing extended option on base version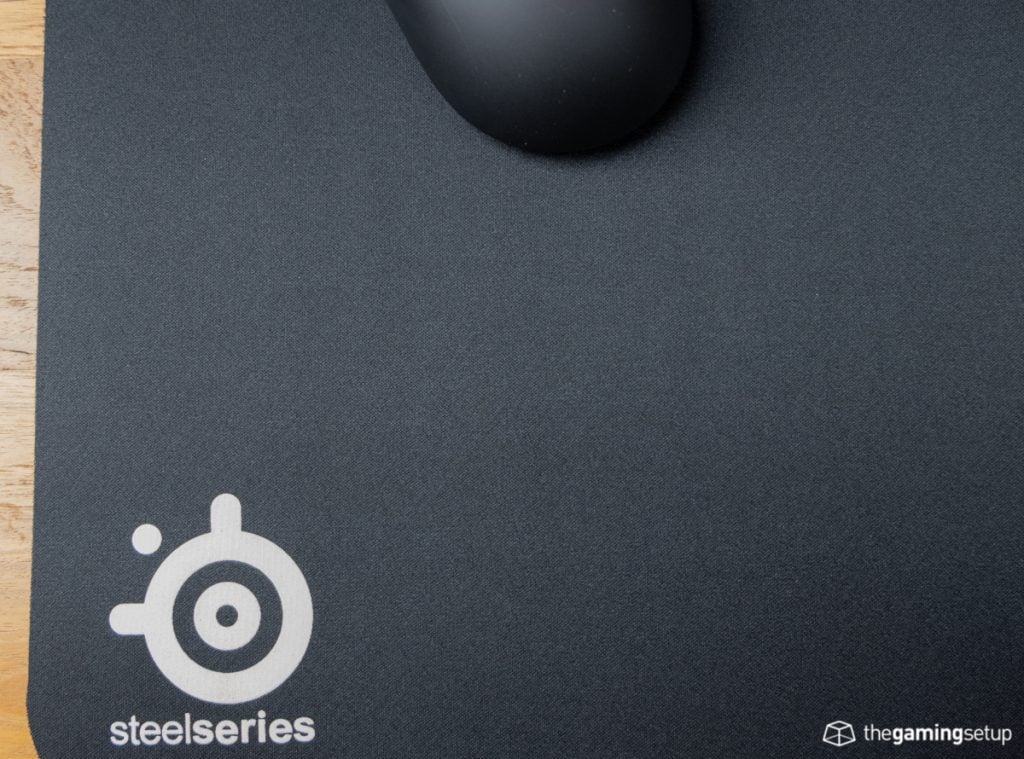 The QcK is a legendary mouse pad loved by a lot of CS:Go pro players, and for good reason. The QcK provides a really grippy, high control glide which is absolutely appreciated if you need perfect pixel precision to click heads from miles away.
The QcK comes with multiple options and types, there's the QcK Heavy which is a thicker version of the QcK vanilla, QcK edge is the version of the QcK with a stitched edge and an XL extended version, the QcK hard is the hard version and lastly the QcK Prism adds RGB to the mix.
We're picking the vanilla QcK here just for its pure budget value, this is the cheapest high performance mouse pad you can get on the market, you can get the small size for 7 dollars. We'd recommend the QcK edge if you'd like a control pad that lasts a little bit longer.
The QcK comes in 3 sizes: small, medium and large. Weirdly, this version is missing the extended size, the QcK Edge is your choice for an extended QcK mouse pad.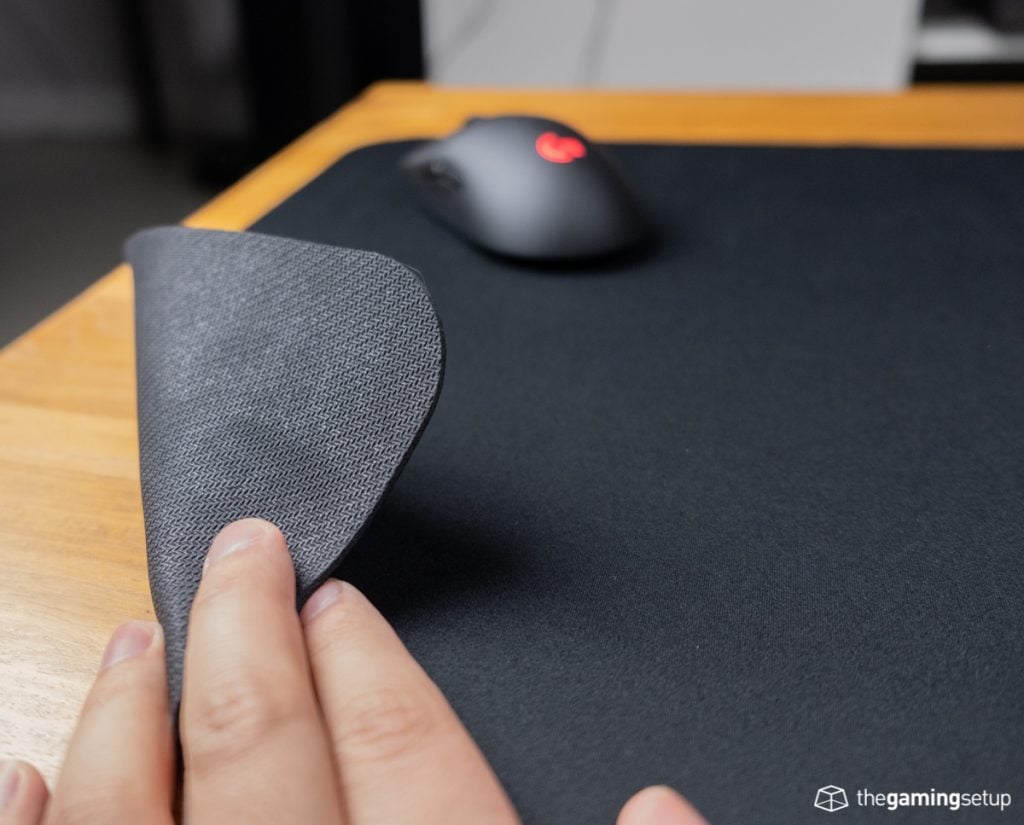 Underneath the QcK you see a tight rubber coating pattern that holds onto desk surfaces really well. The lack of a stitched edge on the vanilla pad means that you will see fraying over a long period of time, but at this price you can get a replacement pad no problem.
The logo of the QcK does have a fairly large footprint, with the logo having a rubber texture that will definitely interfere with tracking. The thickness of the mouse pad is average, thick enough to be plenty comfortable.
4. Zowie GS-R
High quality control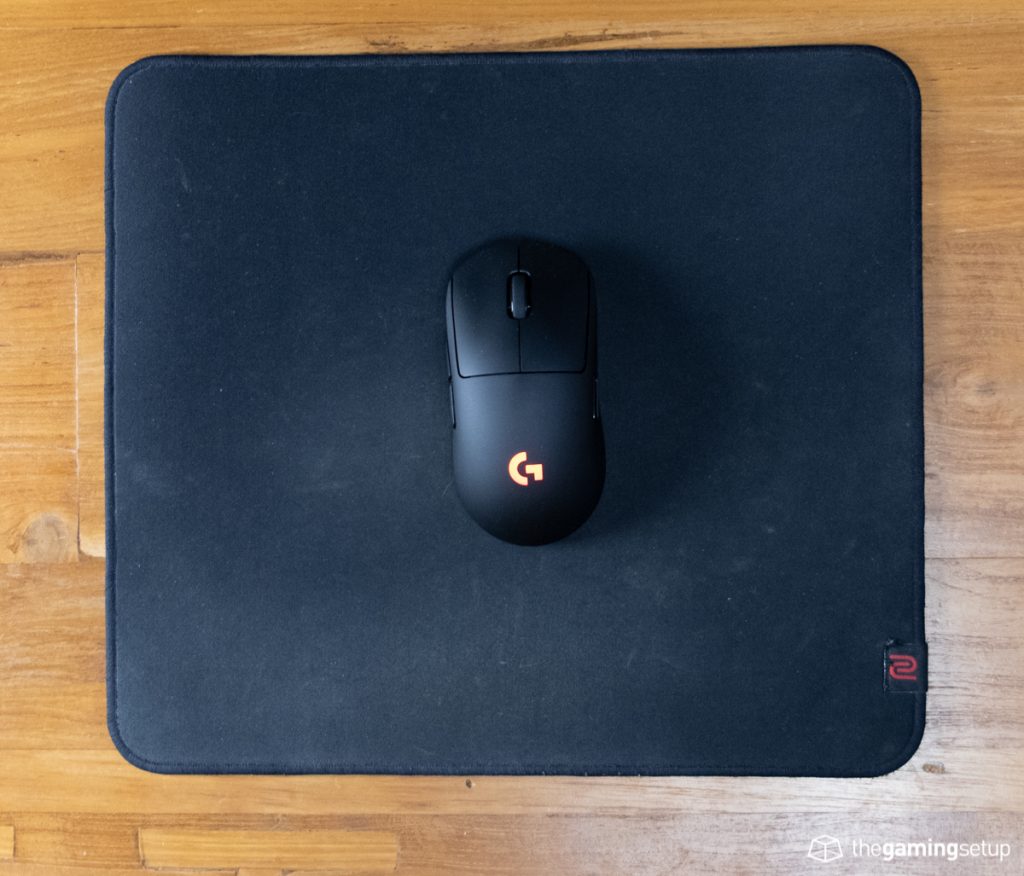 Pros
Minimal branding
High quality stitched edges
Really high control for people who want it
Decent thickness
Solid rubber base
Cons
Expensive
Only two sizes, large (GS-R) and small (PS-R)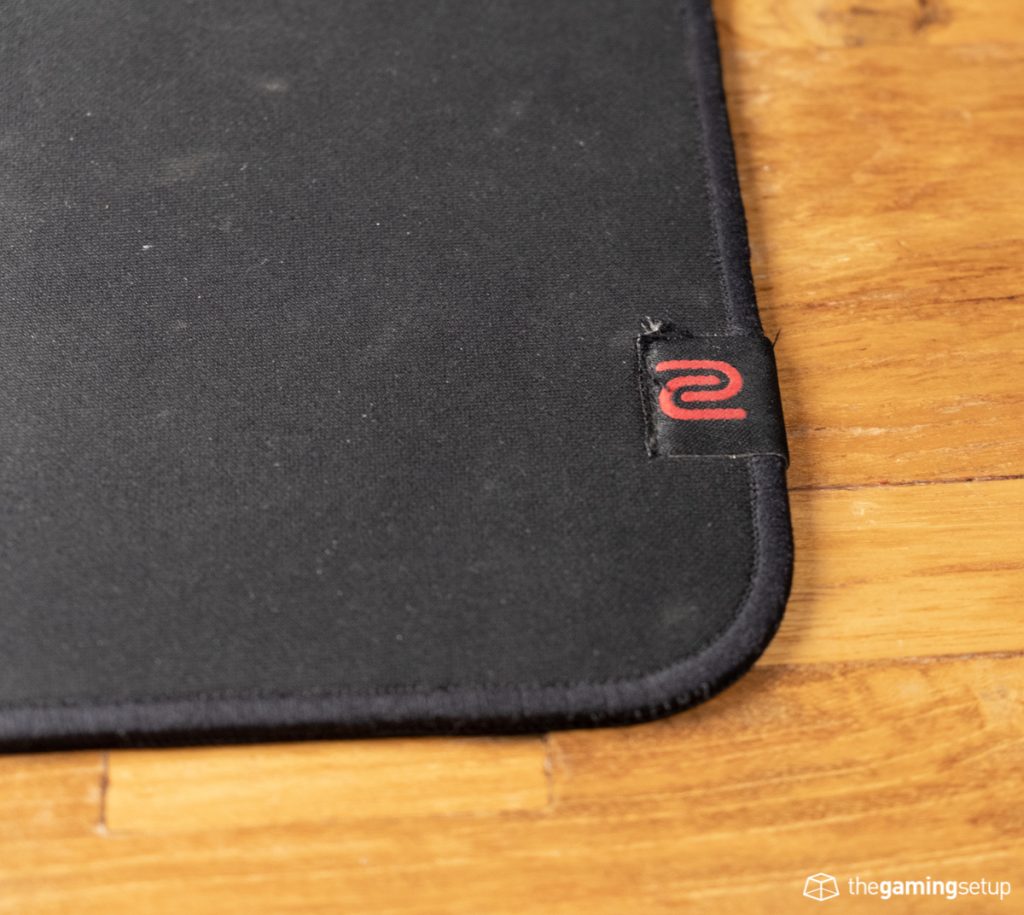 The GS-R was my main mouse pad for years and you can see that in the photos that I have of it, it's been through multiple cleanings and plenty of game play, it's a testament to the quality of the GS-R that it's still a serviceable mouse pad.
The GS-R is known for its super high friction glide, this is meant for gamers that know they want maximum control, and boy does the GS-R deliver on that front. The GS-R will provide a consistent grippy experience, so long as you keep the surface clean as the GS-R does tend to pick up dirt.
We'd recommend going for the GS-R over the P-SR only because the more space you have the better, the PS-R is the same super good mouse pad.
Dimensions of the GS-R: 47cm x 39 cm.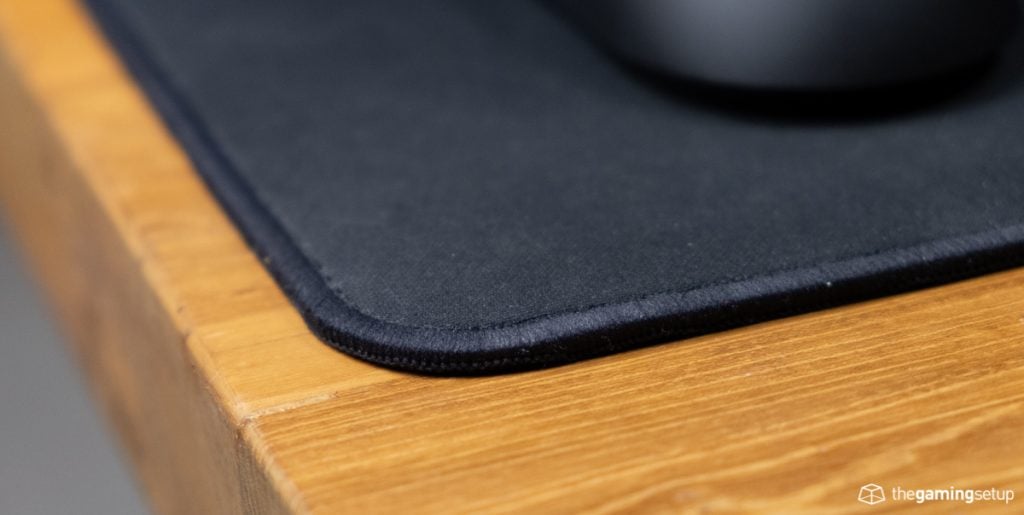 The stitched edge is tight and really consistent throughout, my old GS-R has shown no signs of fraying on the edges. The rubber underneath is solid and the thickness is in the medium range, really satisfying to use.
A minor pro, but a pro nonetheless, I appreciate the very minimal branding tag on the mouse pad that is entirely out of the way during normal gaming.
5. Corsair MM300
A great speedy-ish pad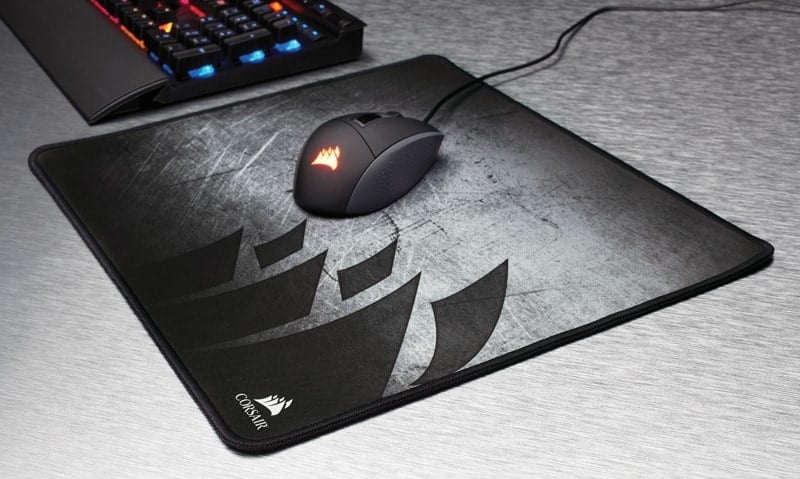 Pros
Good speedy glide
Multiple size options
High quality stitched edging
Good thickness
Grippy base
Cons
Non-standard surface design
Lots of branding
The Corsair MM300 represents another high quality speed pad option. The Corsair MM300 is a good choice if you don't want to more for a speed Fury, and you find the Glorious a little too thin, the Corsair MM300 sits between there nicely.
The graphics on the MM300 are love or hate, I personally don't like it but that's completely subjective, the pad tracks perfectly with a smooth glide even with the design.
The MM300 comes in multiple size options:
Small – 25.6 x 21 cm
Medium – 36 cm x 30 cm
Extended – 93 cm x 30 cm
The height of these mouse pads can be a bit of an issue, especially on the extended version, the mouse pad doesn't have much vertical room which may feel more cramped when compared to pads like the Fury and the Glorious.
All high quality markers are here, great stitched edge, satisfying thickness, and a great rubber bottom. The mouse pad is built to last.
Changelog
Sours: https://thegamingsetup.com/gaming-mouse/best/cloth-mouse-pads
High Sensitivity Plays Vs. Low Sensitivity Plays (Snappy Vs. Smooth Aim)
Best gaming mouse pads 2021: the best mouse mats for gamers
RSS
TechRadar is supported by its audience. When you purchase through links on our site, we may earn an affiliate commission. Learn more
By Jackie Thomas
Mouse your way to victory with the best mouse pads for gaming
Included in this guide:
Round out your gaming PC setup with the best gaming mouse pad. These days, most of us may find it unnecessary to get one, what with many of the best mice and best gaming mice now designed to work on most surfaces. But, trust us, you'll find that having a gaming mouse pad will massively improve your experience when playing the best PC games.
Excellent mouse pads specifically for gaming not only offer a few extra nifty features like RGB lighting for your total immersion, passthrough ports, and even wireless charging for your wireless mouse. More importantly, their specialized surfaces are designed to let gaming mice glide while increasing your accuracy, therefore elevating your pointing and clicking experience.
So, whether it's an FPS, turn-based strategy, or an MOBA game like League of Legends you prefer to immerse in, getting the best gaming mouse pad 2021 has to offer will be an affordable yet wise move. Here our top picks, alongside our price comparison tool so you can get the best price available.
1. Corsair MM600
The best gaming mouse pad for most users
Specifications
Surface: 147.66-inches square
Size: 13.8 x 10.7 x 0.2 inches (352 x 272 x 5 mm; W x D x H)
Reasons to buy
+Huge Surface space+Low-friction surface
Reasons to avoid
-No USB pass-through
The Corsair MM600 isn't interested in distracting you with brightly colored lights like the MM800. Instead, it offers a great deal more versatility than its higher priced sibling. This double sided mouse pad stays secure in place with rubber stoppers on each corner so that your mouse moves – not your mouse pad. The MM600 is also made of aluminum, and features a low-friction surface that will boost your response times in-game.
2. SteelSeries QcK
The best budget gaming mouse pad
Specifications
Surface: 133.56-inches square
Size: 12.6 x 10.6 x 0.07 inches (320 X 270 x 2mm; W x D x H)
Reasons to buy
+Relatively thin (2mm)+Smooth Frictionless Surface
Reasons to avoid
-Budget model
Existing solely as a budget mousepad, the SteelSeries QcK does exactly what you want out of a mousepad and nothing more. The QcK's surface material has a high thread count for extremely precise mouse control and a smooth glide. At the same time, its rubber base helps prevent it from sliding around your desk while you're gaming. It comes in a variety of shapes and sizes and there's even a higher end version with RGB lighting – the SteelSeries QcK Prism.
3. Cooler Master MP510
All shapes and sizes
Specifications
Surface: 81.37 - 558 inches
Size: 9.8 x 8.3 x 0.11 inches (250 x 210 x 3mm; W x D x H) - 35.4 x 15.7 x 0.11 inches (900 x 400 x 3mm; W x D x H)
Reasons to buy
+Glow in the dark logo+4 different sizes
There are a lot of mouse pads out there that we love in theory, but just won't fit our desk – either too big or entirely too small. However, the Cooler Master MP510 looks to get on top of this problem by offering 4 different sizes, from a small pad that'll fit any desk to a giant mouse pad that will take up even the largest desk. It's made of a durable Cordura fabric that won't fray, stain or even absorb liquid. So, you won't have to panic when you inevitably spill your drink – except for all your other peripherals, we guess.
This product is only available in the UK as of this writing. US and Australian readers: check out a fine alternative in the SteelSeries QcK.
Today's best SteelSeries QcK deals
Sours: https://www.techradar.com/news/best-mouse-pads-for-gaming-2017
Sensitivity low best for mousepad
Best mouse pads for gaming in 2021
The best gaming mouse pad might not be a PC gaming essential, but it's definitely on the 'nice to have' list. At any rate, providing you're already pretty nifty with one of the best gaming mice, the best gaming mouse won't make you a worse gamer, only a slightly flashier one.
Ditch that frayed mess of a mouse mat and get one of these beauties listed below instead. Any one could really help set off your battle station, give it some style and personality, and above all else, offer a much more comfortable gaming experience.
And some of today's mouse pads offer more features worth your while. Some are covered in RGB lighting, while others offer Qi wireless charging that'll power your phone or wireless mouse for complete cable-free gaming.
Anyway, most of these require some form of proprietary compatibilities, such as Logitech's Powerplay system, so be sure to check whether your mouse and mouse mat will work together before you go jumping in, hand first. The below list ranges from simple and functional, all the way up to completely bonkers mousepads for gaming, and we've tested all of them extensively (played games a lot) to ensure they're up to the best standard.
Best mouse pad for gaming
1. Razer Strider
The best mouse pad for gaming
Specifications
Surface Type: Soft
Surface material: Cloth
Dimensions: 940 x 410 (XXL) 450 x 400mm (L)
Reasons to buy
+Huge+Sticks to your desk+Lay totally flat+Great gliding surface
Reasons to avoid
-It's a black rectangle-Coarse material
The Razer Strider claims to be something of a hybrid; the flex and soft finish of a fabric mouse pad with the stick-to-itiveness and glide of a more rigid model. I dare say it actually delivers on both counts, too.
A firm fabric lines the top of the Razer Strider's surface, and this is able to deliver a swift and effortless glide with any half-decent gaming mouse. It's not as soft a finish as others on this list, but it's still comfortable to rest your palms on for the better part of a day.
Beneath that lies anti-slip rubber to effectively stick this mouse pad to your desk with zero chance of lateral movement. This extra layer also firms up the entire mouse pad, and to keep it from fraying there's some smart black stitching around the mat's edge. This stitching is really tight to the edge of the mat, so you can actually push your mouse over the edge of the pad without issue.
For a zero fuss and well-made mouse pad, look no further than the Razer Strider.
2. Corsair MM300 Extended
A close second.
Specifications
Surface Type: Soft
Surface Material: Cloth
Dimensions: 36.61 x 11.8 x 0.12 in
Base: Rubber
Reasons to buy
+It's huge+Very smooth tracking surface+Stitched edges
Reasons to avoid
-Very large Corsair branding
The MM300 is Corsair's premium line of cloth mousepads featuring a non-slip rubber base, stitched edges to prevent fraying, and a sturdy thickness of 0.12 inches (3mm). The extended version is the largest available and designed to fit even the biggest gaming keyboards with plenty of room to spare. When combined with a compact, ten-keyless keyboard, the surface area for the mouse feels almost infinite.
Like most cloth mousepads, the MM300 Extended features a smooth, textile-weave design that ensures gliding a mouse across its surface feels like cutting through butter. We found it easy to pinpoint attacks in our FPS testing with a hefty amount of overhead for DPI adjustments, thanks to the massive surface area. Whether you like to move your mouse across the desk or just a couple of inches to make a 180 turn, Corsair's oversized mouse pad has you—and your desk—covered.
3. Novelkeys Deskpad
The best looking mouse pad
Specifications
Surface Type: Soft
Surface Material: Cloth
Dimensions: 54.92 x 24.4 x 0.24 in
Base: Rubber
Reasons to buy
+Gorgeous+Oversized+Great price
Reasons to avoid
-Limited availability-Lengthy delivery
Novelkeys is well-known for its custom group buys, covering everything a PC enthusiast could desire from key switches to mousepads. It specializes in colossal desk-sized pads in a range of limited edition styles. You'll want to check out its website every so often to see the latest flavor, as it usually only runs each one for a limited time as a group buys.
The Camping mouse pad featuring a sprawling mountain range is currently gracing Jacob's PC setup and comes with a tiny tent and campfire decal in the bottom left. That exact design is no longer available, but there are always much more accessible for you to pick up throughout the year. Most mousepads come in at an accommodating 900 x 400 x 4mm size with a rubber bottom, cloth top, and outer edge stitching to match.
Just make sure to plan if you're hoping to pick up a Novelkeys design. You will have to wait until the conclusion of the group buy before the production of your chosen mouse pad begins, after which it can be a few more months before you receive it. Due to the nature of a group buy, there can be delays along the way, too. Still, with mouse pads as well-made and gorgeous to look at as these, you can be sure they're worth the wait.
4. Logitech G440
The best hard mouse pad
Specifications
Surface Type: Hard
Surface Material: Plastic
Dimensions: 13.39 x 11.03 x 0.13 inches
Base: Rubber
Reasons to buy
+Low friction surface+Solid rubber base+Minimal branding
Reasons to avoid
-It's a little pricey
Nothing compares to a solid, hard surface mousepad when it comes to pure speed and low tactile resistance, except maybe Razer's hybrid. PC gamers requiring subtle but rapid mouse movements prefer these slick, low friction surfaces that allow them to glide their mouse with ease. While it does ultimately come down to personal preference, we prefer using hard mousepads while playing RTS and MOBA type games where swift map navigation and tight mobility are crucial.
Unlike their cloth counterparts that all use very similar textiles, hard mousepads are made from a wide variety of components and blends, including aluminum, plastic, and rubber. They vary dramatically in friction, weight, and design, so there is sure to be a hard mouse pad out there that is perfect for you. For us, the simplicity and ultra-smooth surface of the Logitech G440 make it our top choice when considering speed.
At a glance, the surface of the G440 might appear to be completely smooth, but it is a polyethylene surface featuring microtextures that offer the perfect amount of resistance. The mouse pad provides just the right amount of feedback without any excess noise generated from our rapid mouse movements. Logitech seems to have found the perfect middle ground between abrasive and smooth as we were able to seamlessly move and stop our mouse with ease during intense battles.
5. Corsair MM800 Polaris RGB
The best RGB mouse pad
Specifications
Surface Type: Hard
Surface Material: Plastic
Dimensions: 13.7 x 10.2 x 0.2 inches
Base: Rubber
Reasons to buy
+15 very bright LEDs+USB passthrough port
Reasons to avoid
-Cable adds to desktop clutter-Expensive for a mouse pad
This light-up mouse pad's functionality is still going to raise some eyebrows, but Corsair's solution offers a whole lot more than just a flashy light show. It features a high-quality micro-textured finish that allows mice to easily glide across the surface without sacrificing precision during small mouse movements. The MM800 makes no compromises with a surface that rivals our top hard mouse pad's quality, the Logitech G440.
There are two major differences between Corsair's MM800 and competing RGB mousepads. First, the MM800 features a USB pass-through port that can be used to plug in your mouse or a flash drive conveniently. The second difference is that the MM800 uses a whopping 15 LEDs, which we found to be much brighter than Razer's Firefly HyperFlux.
Using Corsair's revamped iCUE software, you can easily create your advanced lighting profiles for the MM800 or choose from a large sample of preset modes. RGB profiles from other Corsair products will automatically spill over to your mouse pad with ease. You can also download user shared profiles from Corsair's website.
6. Razer Gigantus V2
The best oversized mouse pad.
Specifications
Surface Type: Soft
Surface Material: Cloth
Dimensions: 47.24 x 21.65 x 0.16 in
Base: Rubber
Reasons to buy
+Absolute unit+Desk-sized pad+Various designs available
Reasons to avoid
-No side stitching
The Gigantus V2 offers several different sizes, from 14 inches to a huge 47 inches. It's enough to cover most desk surfaces, which are great for gamers who play with big sweeping gestures. You can even customize your mousepad with the logo from your favorite esports team or competitive shooter.
This soft surface type mouse pad performs pretty well. Though, if you usually use hard surface mats, it may take some getting used to. The lack of any side stitching could affect its durability down the road, but performance-wise, the Gigantus V2 is still an impressive
Another added benefit of Razer's giant mousepad is that the underside can second as a green screen for pets. Weird how Razer doesn't mention that in any of their marketing material.
How we test mouse pads
It's not easy assigning value to a piece of cloth, but someone's got to do it. When we receive a new mouse pad to test, we do what we do best: Play lots and lots of PC games.
Once we've got a feel for how a particular mouse pad feels underhand, we play a couple more games to get a feel for things. After that, if we like how it looks and is built to last rigorous gaming, it gets a thumbs up. If not, it's a thumbs down, and it's tossed on the great mouse pad fire raging since '85.
That being said, it's nearly impossible to mess up a mouse pad, even an old book makes a solid substitute, so there's rarely a bad word to be had or a pad to be ritualistically burnt. Massive price tags and needless functionality will see a few occasionally sent to the naughty corner, however.
Jacob earned his first byline writing for his own tech blog from his hometown in Wales in 2017. From there, he graduated to professionally breaking things at PCGamesN, where he would later win command of the kit cupboard as hardware editor. Nowadays, as senior hardware editor at PC Gamer, he spends his days reporting on the latest developments in the technology and gaming industry. When he's not writing about GPUs and CPUs, you'll find him trying to get as far away from the modern world as possible by wild camping.
Sours: https://www.pcgamer.com/best-mouse-pad-for-gaming/
HOW TO PICK YOUR GAMING MOUSEPAD and RECOMMENDATIONS!!!
I am sending you a call, I am sending you. I imagined a good sight. The thighs and ankles are entangled with stiff shoots and are still widely spaced. From somewhere on top, pull the threads to my nipples and crotch. In the crotch itself sticks out a thick branch, my own grease flows down it, interspersed with the sap of the.
Similar news:
Katerina began to smear this drop on the head. And suddenly a sharp click of the leather loop. Thais howled in pain and turned on his side. A couple of blows of the stack to the buttocks, she brought him back. She took a member in her hand and wrapped her lips around the place where she had just hit.
773
774
775
776
777