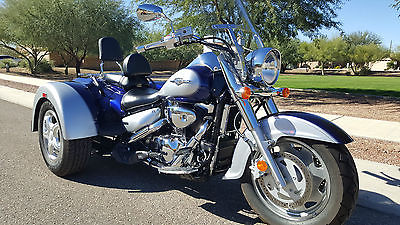 Suzuki : Boulevard 2008 suzuki c 90 boulevard 1500 motorcycle trike with lehman trike kit
$14,500
Tucson, Arizona
Category Cruiser Motorcycles
Engine 1500
Posted Over 1 Month
2008 Suzuki C90 Boulevard 1500 VL Motorcycle with a professionally installed Lehman Jackal trike kit. Personal note: I purchased this Suzuki C90 mainly for cruising the freeways from Tucson to Las Vegas or Laughlin. It is truly awesome for it has plenty of power, it is comfortable with a removable driver backrest, has a nice lockable/convenient trunk, it hugs the road, and it looks great! You will not find a nicer trike AND it has only 8,300 miles of meticulous care!! Someone will be lucky, to be sure. General notes: - 2008 Suzuki C90 Boulevard with 1500cc's. - Lehman Jackal trike kit professionally installed at 300 odometer miles - Driver and Passenger backrest - Aluminum wheels - Chrome luggage rack - Cruise control - Large, removable windshield - Foot boards - Tires are great - All maintenance on or before owner manual recommendation - Runs/rides perfectly - Always stored with battery tender - Meticulous owner - Great condition - Always garaged! - Factory service manual, helmets, and other items included - Professionally painted Silver and Blue paint - Current AZ tags
Trim VL1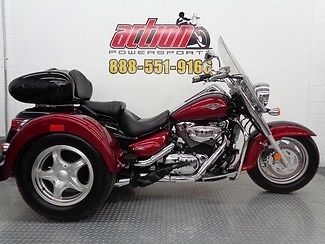 Suzuki : Boulevard 2007 suzuki boulevard c 90 t trike touring lehman jackal trike kit financing
$13,988
Tulsa, Oklahoma
Category Cruiser Motorcycles
Engine -
Posted Over 1 Month
2007 Suzuki Boulevard C90 TrikeTop Line InformationYear:2007VIN:103027Make:SuzukiStock:103027Model/Trim:Boulevard C90 TrikeCondition:Pre-OwnedEngine:0 cc Exterior:RedMileage:14,926Additional Photos* * * Click Photos to Enlarge * * ** * * Click Photos to Enlarge * * *Phone: 888-551-9166Alt: 888-551-9166Description 2007 Suzuki Boulevard C90 TrikeLehman Jackcal trike, tour pack, good overall condition. Call today about our great financing. ----- FINANCING AVAILABLE -----TOLL FREE 888-551-9166 Action Powersports and Action Toys Oklahomas largest selection of new and pre-owned motorcycles Come see Oklahomas largest inventory of motorcycles on display. You wont see more new motorcycles at one place anywhere else. We have over 400 units in stock! We have financing available but you must check with us first before purchasing. Extended warranties can be purchased for units we sell at reasonable rates. If you have any questions please call toll free 888-551-9166 or 918-838-8001 and ask for internet sales. We are open Tuesday through Saturday 9-6 Central Time. WHO WE ARE.......We are Action Powersports in Tulsa, Oklahoma. Anything for sale online can be viewed in person at our store. The name is new but the dealership is 20+ years old. We are factory authorizedKAWASAKI - SUZUKI - YAMAHAdistributor. We are not new to motorcycles either. We operate the largest used motorcycle dealership in Northeast Oklahoma. Shipping.........Call and check with us, we know all the ins and outs of shipping motorcycles. Used bikes can be shipped in the continental U.S. for around $500-$700. If you are in Oklahoma, Kansas, Texas, or Arkansas we may be able to get it to you for much less. NEW BIKES CANNOT BE SHIPPED. You come to our store to complete the paperwork.Payment..........We have financing available through several different lenders. We accept Pay-Pal, all major credit cards as well as the Kawasaki or Yamaha card, certified bank check or cash in person. You must have proper identification. Questions??????????If you have a question about anything no-matter how important or silly it may seem please feel free to give us a call @ 918-838-8001COMPLIMENTARY PICKUP FROM TULSA INTERNATIONAL AIRPORT! . FINANCING AVAILABLEEXTENDED WARRANTIES AVAILABLE ON MOST MODELS.WE ACCEPT PAYPAL!$99 documentation fee and $499 freight/setup fee will be added to the final sale price of NEW and USED units.***Please note that while every effort goes into assuring the accuracy of every item, price and description that we post, human errors can and do occur. As such, your participation by bidding on an item or submitting a Buy It Now order accepts this fact, and you agree not to hold Action Powersports Inc responsible for such errors. Any errors discovered and reported to us will be corrected as soon as possible. As we are quite sure that most of our bidders have made at least one error along lifes journey, we appreciate your understanding of our position. At our dealership we work very hard to accurately describe our vehicles through text descriptions and elaborate photos. When you purchase a pre-owned vehicle it is not a new vehicle. Any used vehicle can have normal wear and blemishes. Before placing a bid please read the descriptions thoroughly and view all pictures. Included Standard Equipment Hours of OperationMon: Tue: Wed: Thu: Fri: Sat: Sun: Closed9a - 6p9a - 6p9a - 6p9a - 6p9a - 3pClosed Vehicle Values Travel Insurance Warranty Financing NEED FINANCING - CALL OR CLICK NOW! RATES AS LOW AS 1.99%* *Financing available with approved credit. 1.99% applies to Select New Suzuki Models until 12/31/2010. Call for details. TermsPayment Types:Certified Funds and Institutional FinancingFees: Out of State BuyersOut of state buyers are not charged tax, title, or license. The customer is responsible for registering the vehicle in their home state.Taxes and FeesEvery sale will have a $99 documentation fee and $499 prep & setup fee in addition to the final sales price. This includes NEW and USED units. All sales transactions must be completed within 5 days of auction close.DepositWe require a $500 deposit within 1 day of winning the auction. Please call 918-838-8001 to make arrangements for payment.Terms: Auction PoliciesCustomers with zero or negative feedback on eBay Motors please contact us prior to bidding. Otherwise, we reserve the right to cancel your bid. Understand this is only to protect the integrity of the auction. Winning bidder must contact the dealership within 24 hours of the auction close and the purchase transaction completed within 5 calendar days. We reserve the right to re-list or sell the vehicle in the event of a non-paying bidder.Buyer PickupA representative from our dealership can be available for pickup at area airports when necessary. Buyers must schedule pickup prior to making travel arrangements. TransportMoving motorcycles from one coast to the other for more than 13 years! Since 1990 we've shipped more than 70,000 motorcycles to people vacationing, moving, buying, and selling.We have our own method of securing motorcycles and ATVs on specialty designed pallets to provide total protection thereby eliminating the need for costly crating and passing those very savings on to you! Action PowerSports7830 E. Admiral PlaceTulsa, Oklahoma 74115Phone: 888-551-9166Alt: 888-551-9166 ©2003-2015AutoRevo- All Rights Reserved Dealer Websites and eBay Templates Powered by AutoRevo
2007 Suzuki Boulevard C90 Lehman Trike
$13,995
Bettendorf, Iowa
Category -
Engine -
Posted Over 1 Month
2007 Suzuki Boulevard C90 Lehman Trike , It has features a massive protective windscreen, and a Harley Tour Pac has been added to it too. The seat design gives a low seating hight. At the heart of this black beast beats a 1462cc, 4-stroke, V-2-cylinder, liquid-cooled, SOHC, 54-degree V-twin engine which sends its power to the ground through a 5-speed constant mesh transmission. If you are looking for a trike, check this one out!!! In one of the pictures, you can see a Gold Wing with a MotorTrike kit on it, it is also on desplay at Brennys!!! Stop in today!!!
2012 Lehman Trike Jackal - Boulevard C90
Request Price
Litchfield, Illinois
Category -
Engine -
Posted Over 1 Month
2012 Lehman Trike Jackal - Boulevard C90, Lehman Jackal Trike for the Suzuki C90 Boulevard Trike Kits NOW Available! - There is nothing timid about the 90 cubic-inch Jackal. Featuring aggressive power and performance with full touring capabilities. Its full range of accessories has it leading the pack. MSRP is for the Conversion Kit only.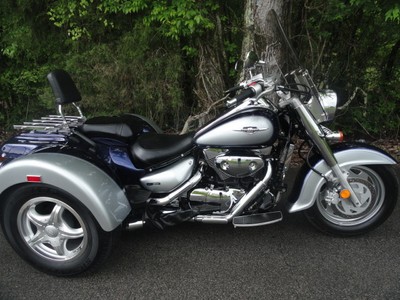 Suzuki : Boulevard 2008 Suzuki Boulevard w/ Lehman Trike Conversion Kit
$14,500
Rome, Georgia
Category -
Engine -
Posted Over 1 Month
CHECK THIS OUT!!!! 2008 SUZUKI BOULEVARD C90w/ LEHMAN TRIKE CONVERSION KIT this bike only has 416 miles on it and is in excellent condition!!! Extras Include:windshield, passenger backrest, heel to toe shifter w/ floorboards, luggage rack, steering stabilizer and throttle lock. This bike has like new tires. FOR MORE INFO PLEASE CALLCOMPLETE CYCLE706-331-9783OR706-378-4855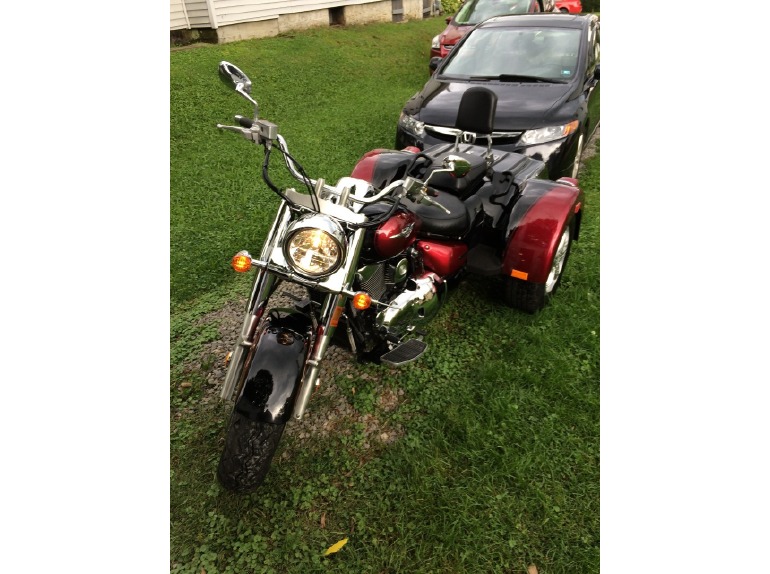 2007 Lehman Trike Jackal
$15,000
Meadville, Pennsylvania
Category Trikes
Engine 1,462 cc
Posted Over 1 Month
2007 Lehman Trike Jackal , For sale is a 2007 black and red Suzuki Boulevard C90 motorcycle with fabricated Lehman Jackal trike addition. This is NOT a bolt-on kit. The trike is fabricated into the original C90 motorcycle. Trike comes complete with a driver foot rests, passenger backrest, travel trunk, two 205/70R15 rear tires, and dual-tip performance exhaust. Only unfortunate item is there is no reverse gear. Mileage on the trike is listed at ~13,425. Fresh inspection, oil change, and detailing. NADA values the trike at $21,995. However, trike must be sold due to health concerns. Therefore asking price is $15,000 obo. Make an offer, willing to negotiate reasonable counters. Buyer will be responsible for all necessary notary, tax, title, plate, registration, and transfer fees after the purchase price. $15,000.00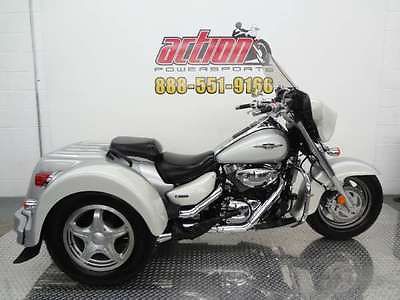 Suzuki : Boulevard 2007 suzuki boulevard c 90 trike touring 1500 fairing financing shipping
$12,988
Oklahoma City, Oklahoma
Action Powersports of Oklahoma City 6200 NW 39th ExpresswayBethany, OK 73008 Contact: Action Powersports of Oklahoma City Phone: (405) 603-7101 Email: [email protected] Vehicle Information VIN 104406 Condition Used Odometer 21685 Stock No 104406 Warranty Unspecified Exterior Color White Loan Calculator 2007 Suzuki Boulevard C90 Trike Description 2007 Suzuki Boulevard C90 Trike. Lehman Jackal Trike Kit. Fairing with radio and speakers. Great running 1500cc V-Twin. Financing available. Financing Information Action Powersports and Action Toys â?? Oklahomaâ??s largest selection of new and pre-owned motorcycles   Come see Oklahomaâ??s largest inventory of motorcycles on display. You wonâ??t see more new motorcycles at one place anywhere else. We have over 400 units in stock! We have financing available but you must check with us first before purchasing.  Extended warranties can be purchased for units we sell at reasonable rates.  If you have any questions please call toll free 888-551-9166 or 918-838-8001 and ask for internet sales.  We are open Tuesday through Saturday 9-6 Central Time.  WHO WE ARE....... We are Action Powersports in Tulsa, Oklahoma. Anything for sale online can be viewed in person at our store.  The name is new but the dealership is 20+ years old.  We are factory authorized KAWASAKI - SUZUKI - YAMAHA distributor. We are not new to motorcycles either. We operate the largest used motorcycle dealership in Northeast Oklahoma.   Shipping......... Call and check with us, we know all the ins and outs of shipping motorcycles.  Used bikes can be shipped in the continental U.S. for around $500-$700.  If you are in Oklahoma, Kansas, Texas, or Arkansas we may be able to get it to you for much less.  NEW BIKES CANNOT BE SHIPPED.  You come to our store to complete the paperwork. Payment.......... We have financing available through several different lenders.  We accept Pay-Pal, all major credit cards as well as the Kawasaki or Yamaha card, certified bank check or cash in person.  You must have proper identification.      Questions?????????? If you have a question about anything no-matter how important or silly it may seem please feel free to give us a call @ 918-838-8001 COMPLIMENTARY PICKUP FROM TULSA INTERNATIONAL AIRPORT! FINANCING AVAILABLE EXTENDED WARRANTIES AVAILABLE ON MOST MODELS. WE ACCEPT PAYPAL! $99 documentation fee and $499 prep & setup fee will be added to the final sale price of NEW and USED units. ***Please note that while every effort goes into assuring the accuracy of every item, price and description that we post, human errors can and do occur. As such, your participation by bidding on an item or submitting a â??Buy It Nowâ? order accepts this fact, and you agree not to hold Action Powersports Inc responsible for such errors. Any errors discovered and reported to us will be corrected as soon as possible. As we are quite sure that most of our bidders have made at least one error along lifeâ??s journey, we appreciate your understanding of our position.       At our dealership we work very hard to accurately describe our vehicles through text descriptions and elaborate photos. When you purchase a pre-owned vehicle it is not a new vehicle. Any used vehicle can have normal wear and blemishes. Before placing a bid please read the descriptions thoroughly and view all pictures.  Warranty Unless otherwise noted, this vehicle is being offered as-is with no warranty expressed or implied. Please call for specific warranty details on this vehicle. Shipping Terms of Sale Overview This vehicle is also for sale on our lot and other advertising sources, we reserve the right to end this listing at anytime should the vehicle no longer be available for sale. The following terms of sale apply to all of our auctions. Payment Terms: The successful high bidder will required to submit a $500 non-refundable deposit within 48 hours of the close of the auction to secure the vehicle. Understanding that the vehicle will remain available for purchase until the deposit has been secured. Buyer agrees to pay remaining balance due (plus applicable fees and taxes) within 5 business days of the close of the auction. All financial transactions must be completed before delivery of the vehicle. Payment Methods: Cash (in person), certified check, bank transfers, or 3rd-party financing. Fees and Taxes: Out of state buyers are responsible for all state, county, city taxes and fees, as well as title/registration fees in the state that the vehicle will be registered. Disclaimer It is the customer's sole responsibility to verify the existence and condition of any equipment listed. We try our best to thoroughly describe the vehicle and its features, please contact us prior to bidding on the vehicle if you have any questions about the vehicle. We are NOT responsible for misprints on prices or equipment. It is the customer's sole responsibility to verify the accuracy of the prices and equipment with the dealer. Pricing is subject to change without notice.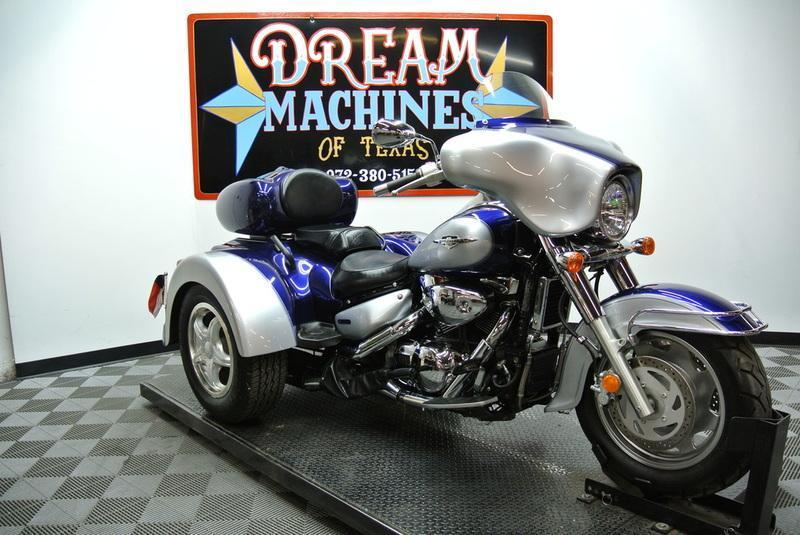 2008 Suzuki Boulevard C90 Trike
$14,950
Dallas, Texas
Category -
Engine -
Posted Over 1 Month
(972) 441-7080 ext.9330 YOU ARE LOOKING AT A 2008 SUZUKI BOULEVARD C90 TRIKE WITH 5,865 MILES ON IT. IT IS BLUE AND SILVER IN COLOR AND POWERED BY A 1462CC FUEL INJECTED ENGINE AND 5 SPEED TRANSMISSION. THE BIKE COMES WITH 1 KEY. THERE ARE SOME EXTRAS ON THE BIKE WHICH INCLUDE A LEHMAN JACKEL TRIKE KIT (8,849.99), FRONT FAIRING WITH AUDIO SYSTEM (1,766.95), AND CHROME FRONT FENDER RAIL (59.95). THE BIKE HAS A SMALL IMPRESSION AND TOUCHUP ON THE FRONT FENDER, SCUFFS ON THE FRONT FAIRING, TOUCHUPS ON THE BATTERY COVER, AND TOUCHUPS AND STRESS CRACKS ON THE WHEEL WELLS AND TOUR TRUNK. THE CHROME AND ALUMINUM HAVE SCRATCHES ON THE REAR WHEELS AND PITTING ON THE FORK LOWERS AND ENGINE. THE TIRES HAVE GOOD TREAD LEFT ON THEM.... http://DreamMachinesofTexas.motorcyclesforless.net/s/24046575/15 Copy & Paste the above link for full vehicle details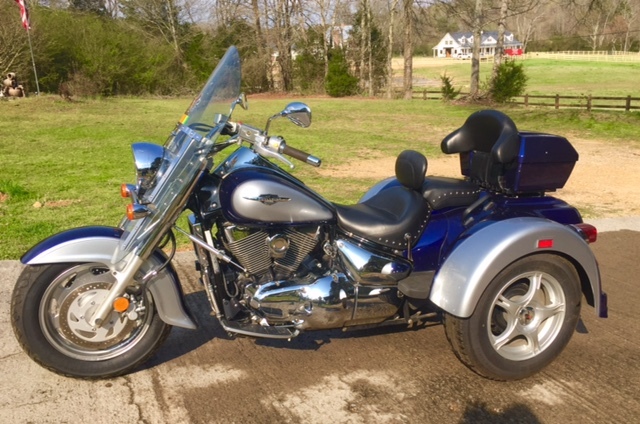 2010 Suzuki BOULEVARD C90
$11,500
Summerville, Georgia
This is a 2008 model Suzuki C90 bike with a 2010 Lehman trike kit installed. It was a never sold new bike when it was convereted to a trike in 2010. It has less than 6000 miles on it. My wife became ill with cancer and it has been ridden very little since I purchased it new. We installed a larger Mustang seat on it. It has all new tires on it that were put on this year. It has a new battery.
2008 Suzuki Boulevard C90
$13,799
Everett, Washington
2008 Suzuki Boulevard C90, 2008 Suzuki C90 (1500cc) with a Lehman Jackal Trike Kit. Very low miles 7369 and in great condition.Come check this out at Everett Powersports on Everett mall Way in Everett. 425-347-4545.No price expiration.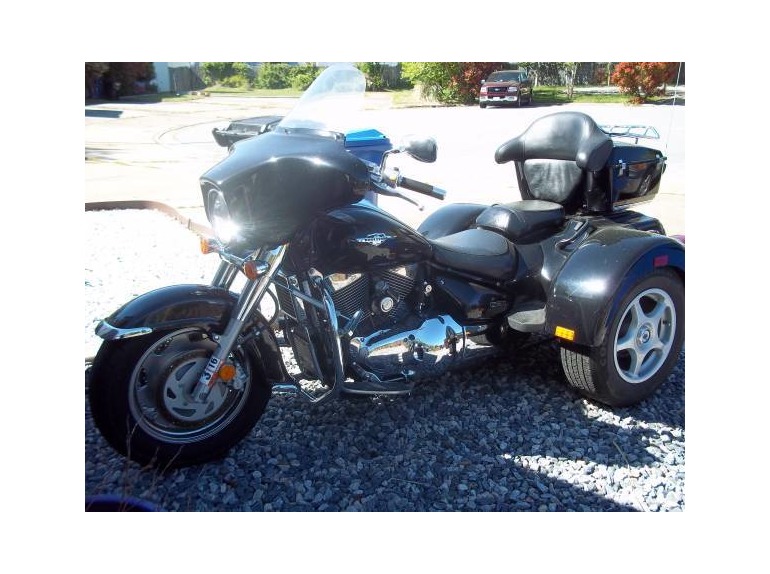 2007 Suzuki Boulevard C90
$11,000
Virginia Beach, Virginia
2007 Suzuki Boulevard C90 , 2007 Suzuki with Lehman Jackal trike kit with aux fuel tank a few scratches but in good shape runs great needs nothing but radio does not work $11,000.00
2007 Suzuki Boulevard C90
$17,500
Covington, Virginia
Category -
Engine -
Posted Over 1 Month
2007 Suzuki Boulevard C90. This beautiful trike currently has 12500 miles and is in excellent condition- 1500.00 dollars of extras such as matching helmets rear lights and new leather seats- Bore and Stroke is 96.0 x 101.0mm- Compression is 8.5 to 1 ratio- Fuel injected gas system with a fuel capacity of 3.7 gallons- Front telescopic oil spring oil damped suspension- Rear Lehman No Lean monoshock oil damped with 7 way adjustable spring preload- H.D Streetglide tour box with luggage rack and American flag- Body and fenders is equipped with Lehman Jackal trike kit- Added a footrest bar for a comfortable ride. Qualified buyers may be eligible for Financing Nationwide Shipping and Extended Warranty..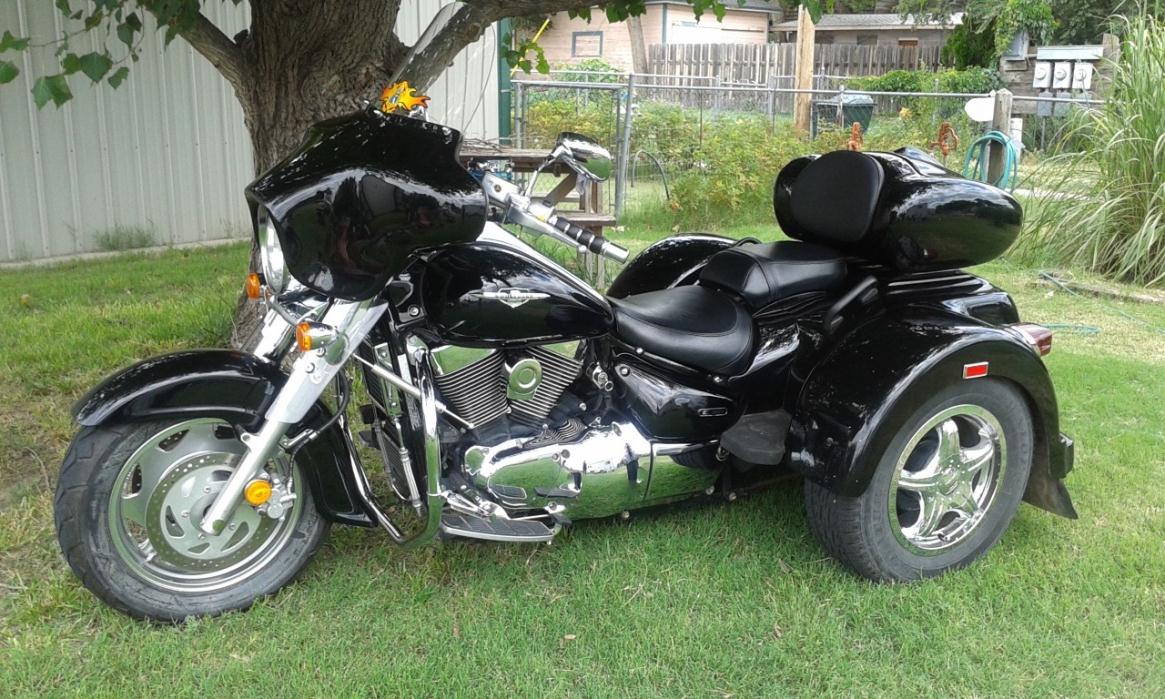 2008 Suzuki Boulevard C90 T
$15,000
Surprise, Arizona
2008 Suzuki Boulevard C90 T, 2008 Suzuki Boulevard with Lehman trike kit. Power Booster Module. Radio/ CD player. Tow hitch. Great bike. $15,000.00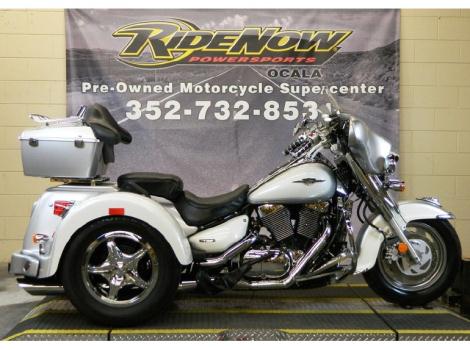 2007 Suzuki Boulevard C90T
$19,999
Daytona Beach, Florida
Category Cruiser Motorcycles
Engine -
Posted Over 1 Month
2007 Suzuki Boulevard C90T, RNOThis bike comes equipped with a Lehman Jackal trike kit. It has already been modified for paraplegic riders. It comes equipped with push button shift front and rear breaks that is located on the handle bars for easy access. It also has JVC stereo system, trunk with backrest and diamond plate floorboards.
Showcase Ads
×
Alert Successfully Created
Sours: https://www.smartcycleguide.com/motorcycles-for-sale/suzuki-boulevard-c90-lehman-trike-kit
Intruder DIY trike conversion kits
Trike Conversions - The Cheaper Way
For people who are handy with a box of tools, we offer the most cost effective way of achieving your dream trike
Request brochure
Trike conversion kits offer you a complete 'trike in a box' solution, which contains everything you need to convert your Suzuki VS400-800cc and S50 Boulevard We now also build a bespoke DIY kit for the Intruder VS1400 and S83 Boulevard models
We do not currently offer kits for the Intruder VL Volusia, Boulevard B series, M series or LC series models other than above
Prices: from £4295.00 See price list for current prices
Click here for site map: Sitemap
Up to date and detailed prices click below
Price information
Sours: http://www.rhino-trikes.co.uk/kit/story0.html
Suzuki Boulevard Trike Kit Conversion Made By Cass County Choppers on 2040-parts.com
Trike Conversion kit for Suzuki Boulevard
This auction is for the trike kit only.
This trike kit will convert your Suzuki Boulevard into a 3-Wheeled TRIKE.
This is not an add-on kit that uses training wheels.
You will remove the rear wheel and tire from your 2-wheel bike and add 2 rear wheels.
You will remove your swingarm and install our new billet aluminum swingarm.
We do not require you to donate your swingarm, nor do we sell hacked and welded swingarms.
All of our components are manufactured from high quality billet aluminum and solid steel. We do this to make our trike kits last long and look great!
The trikes pictured are customer trikes.
Our parts are all manufactured by us, in the USA.

Payment options: email us for payment options.
If you are the winner, we expect you to contact us within 48 hours after the end of the auction, and have payment made within 7 days
All billet aluminum construction gives you weight advantage plus strength that will last.

These kits are heavy duty and made right here in the USA.

This trike kit makes one awesome trike, great gas mileage, loads of fun, and handles well.

Kit comes with rear differential assembly, swingarm, brake caliper, wheel hubs, and all mounting hardware.
This kit does not include wheels/tires, fenders, or paintwork.
When you receive your trike kit you will be ready to begin building your trike using the included instructions.

This is a bolt-on kit NO welding is required.
Kit comes with instructions, but basic mechanical skills are required.

Please read all information in this ad and email if you have any questions.

We can also complete the conversion for you!
Please email for more details on how we can help you convert your bike into a trike.

A LITTLE ABOUT CASS COUNTY CHOPPERS
Cass County Choppers draws on years of manufacturing experience and expertise to produce Trike Conversion Kits that are user friendly and can be installed by anyone with sound mechanical ability. We use the highest quality materials, the most advanced manufacturing procedures, and a highly valued commitment to sound engineering processes. We have a continuously growing list of trike kits designed for domestic, import, and custom bikes. Through our proprietary and patent pending designs or processes, Cass County Choppers, LLC has produced cutting edge technologies for modular trike systems. Affordable conversion kits for a wide variety of bikes are a trademark of Cass County Choppers. We specialize in trike conversion kits and accessories. Although completed and running trike conversions are occasionally featured on our website, we try to focus all our energy on trike conversion kits and accessories. We do sell some finished, "turn key" trikes that are ready to drive away from our showroom floor. We have a growing network of authorized dealers and independent installers as well as a trained staff of "factory" installers just outside of Kansas City, Missouri, for customers close to home.
We are committed to complete customer satisfaction on ALL of our products.
Cass County Choppers conversion assemblies DO NOT REQUIRE an exchange of parts or cutting and welding on your motorcycle to mount running gear components. We strive to include all essential components needed to make your trike conversion drive-able such as wheel hubs, differential axle assemblies, support tubes, mountings, pulley/sprocket/shaft, brake calipers, master cylinders, brake disks, and swingarm or swing arm mounts are included if needed. We try to include all components necessary to relocate the exhaust when and if possible. You may need to relocate or replace exhaust systems on some models but we will try let you know BEFORE you purchase so you can make an informed decision. There are of course a few options you may want or need to add before you can have a street legal conversion depending on your particular state. We offer some of these options such as fenders, custom wheels and tires, lighting options, saddlebag mounting hardware, and more. You are welcome to customize your project by using your own products. Factory installation charges are separate.
Please read all information or email if you have any questions BEFORE BIDDING!!
We have dealers in MO, OK, IL, TX, GA, AL, and WI. Dealer inquires for other states are welcome and discounts for dealers are available.
Be Aware!!
If you have any questions at all about the item you are bidding on, please email us through the Ebay system in advance. If you live in the area, you are invited to make an appointment to come see the item in person. Please email Ron and we'll do our best to respond to your email right away so you can make an informed bidding decision. We will do our best to describe the actual condition of the item and provide plenty of photos, but we cannot be held responsible for omitted or mistaken information.
PLEASE NOTE!!
This item is subject to prior sale, and we reserve the right to sell this item through other venues. Please note this eBay auction may be ended early if the item listed sells by another venue. We will do our best to contact you prior to the end of the auction, should this happen.
We Ship It: All shipping charges are specified in the auction. If you live out of the continental United States and depending on the actual weight of the packaged item, please be aware that shipping charges can be substantial. If you do live outside the continental United States (i.e. Canada, Hawaii, or Mexico), you may be charged extra for requisite paperwork. Contact us for an exact shipping cost prior to bidding for any and all shipments made outside the US.
Make Contact: After you've won the auction, you have 48 hours to contact us, via email, through the Ebay system, to let us know when you'll complete the transaction. We expect to finalize the deal from the winning bidder no later than 7 (seven) days after the action closes.
If you are going to be out of town at the end of an auction, and think you have a good chance of winning, please be considerate enough to drop us a line to let us know, so we can make alternative plans.
Feedback: As you can see from our high feedback ratings, we have many happy customers. Please leave feedback.
Thanks in advance, and Happy bidding!
Sours: http://www.2040-parts.com/suzuki-boulevard-trike-kit-conversion-made-by-cass-county-choppers-i2079891/
SOLD! 2006 suzuki c50 lemahn trike tramp kit no lean walk around with time at Ride Pro
Kits suzuki conversion boulevard trike
---
Likes: 5
Thanks: 0
02-27-2017, 11:22 PM#1

---

02-28-2017, 04:19 PM#2

---

03-01-2017, 10:17 AM#3

---

03-03-2017, 06:48 PM#4

---

03-03-2017, 10:26 PM#5

---

03-05-2017, 02:24 PM#6

---

03-05-2017, 03:01 PM#7

---

03-05-2017, 03:16 PM#8

---

03-05-2017, 07:13 PM#9

---

03-06-2017, 11:01 AM#10

---
Sours: https://www.triketalk.com/forum/
Riding a TRIKE Suzuki C50 Boulevard with a Lehman Tramp Trike Kit quick trike motovlogs solid axel
2008 Suzuki C90 Boulevard 1500 Motorcycle Trike with Lehman Trike Kit
2008 Suzuki C90 Boulevard 1500 VL Motorcycle with a professionally installed Lehman Jackal trike kit.Personal note: I purchased this Suzuki C90 mainly for cruising the freeways from Tucson to Las Vegas or Laughlin. It is truly awesome for it has plenty of power, t is comfortable with a removable driver backrest, as a nice lockable/convenient trunk, t hugs the road, nd it looks great!You will not find a nicer trike AND it has only 8,300 miles of meticulous care!! Someone will be lucky, o be sure. General notes: - 2008 Suzuki C90 Boulevard with 1500cc's. - Lehman Jackal trike kit professionally installed at 300 odometer miles- Driver and Passenger backrest- Aluminum wheels- Chrome luggage rack- Cruise control- Large, emovable windshield- Foot boards- Tires are great- All maintenance on or before owner manual recommendation- Runs/rides perfectly- Always stored with battery tender- Meticulous owner- Great condition- Always garaged!- Factory service manual, elmets, nd other items included- Professionally painted Silver and Blue paint- Current AZ tags
EMAIL ME IF YOU WANT TO SEE MORE PHOTOS. THANK YOU FOR VIEWING MY AUCTION.

Sours: http://veh-markets.com/motorcycles/suzuki/326068-2008-suzuki-c90-boulevard-1500-motorcycle-trike-with-lehman-trike-kit.html
Now discussing:
We may request cookies to be set on your device. We use cookies to let us know when you visit our websites, how you interact with us, to enrich your user experience, and to customize your relationship with our website.
Click on the different category headings to find out more. You can also change some of your preferences. Note that blocking some types of cookies may impact your experience on our websites and the services we are able to offer.
Essential Website Cookies
These cookies are strictly necessary to provide you with services available through our website and to use some of its features.
Because these cookies are strictly necessary to deliver the website, you cannot refuse them without impacting how our site functions. You can block or delete them by changing your browser settings and force blocking all cookies on this website.
These cookies collect information that is used either in aggregate form to help us understand how our website is being used or how effective our marketing campaigns are, or to help us customize our website and application for you in order to enhance your experience.
If you do not want that we track your visist to our site you can disable tracking in your browser here:
You can read about our cookies and privacy settings in detail on our Privacy Policy Page.
Privacy Policy
Sours: https://www.casarva.co.uk/gallery/suzuki/
6961
6962
6963
6964
6965