Gastric Sleeve with Dr. Thomas W. Clark
Newport News, Hampton Roads, Virginia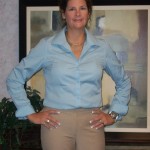 "I don't have my old life back…I have a better life" – Rhonda lives in Hampton Roads and has lost 90 lbs over the past 10 months with Gastric Sleeve.
"With Dr. Thomas Clark and his team of experts, all of your questions are answered and you are on your way to living the healthy life you have dreamed of very quickly. You not only have gastric sleeve surgery, but through their exclusive Weight Mangement University for Surgery curriculum, you learn how to use your new tool properly for the best weight loss and get the skills to keep it off for good! Dr. Thomas W. Clark is the best surgeon and this is the best weight loss surgery program you will find anywhere!
The gastric sleeve (or sleeve gastrectomy) performed in Hampton Roads by Dr. Thomas W. Clark is a newer weight loss procedure that offers an excellent alternative to both the gastric bypass and the adjustable gastric banding.  Because anatomy remains normal, this procedure can be considered for people with less weight to lose (50-60 lbs overweight).

During the procedure a small "sleeve-shaped" stomach is created.  Approximately 75% of the "stretchy" portion of the stomach is removed.  This also removes the portion of the stomach that makes the hormone ghrelin.  Ghrelin is a hormone that tends to make you feel hungry.  The remaining "sleeve" of stomach is about the size and shape of a small banana.
This procedure tends to work due to 2 major reasons:
1.You have a much smaller stomach and will feel full with eating only a small amount.
2.There is a decrease in the hormone ghrelin so that hunger is much better controlled.
Below are some important facts about the Gastric Sleeve for Weight Loss Surgery in Hampton Roads.  If you desire further information about our comprehensive Weight Loss Surgery options, please give us a call at (757) 873-1880.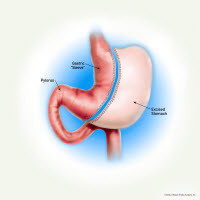 Important Facts About Gastric Sleeve
The portion of the stomach that produces ghrelin (a hormone that stimulates hunger) is removed.
The stomach is reduced in volume, but otherwise tends to function normally.
No "Dumping Syndrome" since the pylorus is preserved.
No intestine is bypassed so there is little chance of nutritional deficiencies.
No implanted device that requires adjusting.
Weight loss over 1 year is approximately 60-65% of excess body weight.
Procedure is performed laparoscopically most of the time.
Usually just an overnight stay.
Lowest cost surgery (<$14,000) for those not using insurance.
Overview of Surgical Weight Loss Program – Dr. Clark
Was this helpful or informative? Share it!
Share/Bookmark
Sours: https://cfwls.com/gastric-sleeve/
Self Pay Surgery
If you have learned that weight loss surgery is not covered by your insurance, don't despair. The Center for Weight Loss Success has the most affordable self-pay price on the East Coast along with the most comprehensive program. You are worth it! Consider it an investment in:
You!
Your health
Your family
Your quality of Life
Lower cost for medication now and in the future due to medical problems associated with being overweight
Lower cost for healthcare now and in the future due to medical problems associated with being overweight
At Dr. Clark's Center for Weight Loss Success we believe that bariatric surgery in Virginia should be affordable. That is why we have the most competitive prices around. This, coupled with Dr. Clark's expertise, makes the weight loss surgery options at the Center for Weight Loss Success your prescription for long term weight loss.
Our surgical prices include not only the surgery by Dr. Thomas W. Clark and one year of follow up, but also covers the cost of pre-operative lab tests, the hospital stay and anesthesia. Finally, and perhaps most importantly, the price includes our exclusive 12 Month Weight Management University for Weight Loss Surgery™ Program to optimize your weight loss and keep it off for good!  (Details below)
We are excited that many of our patients have been able to make their weight loss dreams become reality through Medical Financing. If you're interested in hearing more about this option, please contact Dr. Clark's surgical coordinator, Cat Williamson: [email protected], or visit the medical financing website at Prosper HealthCare Lending.
Prices:
Sleeve Gastrectomy – $13,995.00
Laparoscopic Gastric Banding – $16,995.00
Vertical Banded Gastric Bypass – $18,995.00
Pedro Hernandez Made the Investment, Will You? from Center for Weight Loss Success on Vimeo.
Prosper HealthCare Lending
Prosper HealthCare Lending is the premier financing company in the healthcare industry. With over $3 Billion borrowed and over 250,000 people empowered, this is a name and a program you can trust.
Here are some of the benefits you'll receive with a loan from Prosper Healthcare Lending:
• Immediate decisions for loans under $35,000
• Longer terms for lower monthly payments
• No collateral required
• No prepayment penalties
• Fast & easy loan inquiry process
• 100% Confidential

If self-pay surgery is not an option at this time, please remember that Dr. Clark's Center for Weight Loss Success offers many other nonsurgical options to help you get started on your healthy journey today!
Was this helpful or informative? Share it!
Share/Bookmark
Sours: https://cfwls.com/self-pay-surgery/
Weight Loss Solutions
Our weight loss programs provide a comprehensive approach to weight loss. The programs include extensive pre-surgical education, diet and exercise counseling, psychological support, and ongoing support groups.
If you're considering one of our bariatric clinics, we offer customizable programs that are monitored all the way along your journey to a better life.
We offer surgical and non-surgical weight loss options.
Surgical Weight Loss
Candidates for weight loss surgery generally will meet criteria including:
At least 18 years old
An unsuccessful history of trying to lose weight through diet and exercise
A body mass index (BMI) of 40 or higher, which usually means being at least 100 pounds overweight
A BMI of 35-39.9 along with a serious weight-related health problem (called a co-morbidity) such as diabetes, hypertension requiring multiple medications, sleep apnea, significant cardiopulmonary problems and obesity-related cardiomyopathy
Non-Surgical Weight Loss
Adolescent weight management
Group lifestyle
Individualized meal plans
Medical monitoring
Metabolic testing
Meal replacement weight loss programs
Prescription weight loss medications (available for select patients)
*Not all services listed are available at all bariatrics and weight management locations. Please contact us for more information:
Sours: https://www.bonsecours.com/health-care-services/bariatrics-weight-loss
VCU Health Weight Loss Surgery - Ciara Logan Story
Bariatric Revision Surgery
For most patients, bariatric surgery offers significant benefits, including dramatic weight loss as well as an improvement in physical health. However, for a small percentage, problems may arise that can compromise the advantages of surgery.
For those who have experienced issues in healing or have struggled with adhering to doctor-recommended behaviors after a procedure, bariatric revision surgery may be appropriate.
What Is Revision Surgery?
Bariatric revision surgery is essentially a second follow-up surgery performed to adjust the results from an initial bariatric procedure. The vast majority of bariatric surgeries will not require revision; most frequent reasons for revision surgery include:
Slippage or erosion of adjustable gastric bands
Weight regain due to either ineffective surgery or inability to follow post-surgical guidelines
Bending or shifting of staples, re-enlarging the stomach after a stapling procedure
A patient is more than likely aware when something is wrong, but these are signs a physician may watch for that indicate a potential need for revision.
Failure to lose weight despite following the post-surgical diet
Pain, bloating and cramping
Significant weight gain following an initial weight loss
Herniation of the incision site
Ulcers
Ongoing gastrointestinal discomfort
Patients who are hesitant to go through a second surgery may be able to avoid a procedure through dietary counseling, psychological counseling and behavior modification, medical management, and support from peer groups.
In some cases, revision surgery can fully or partially reverse the effects of bariatric surgery in patients who no longer desire intervention for weight loss.
Can a Gastric Bypass Be Revised?
A gastric bypass can be revised in patients who are struggling to see the desired results. This can be done for a variety of reasons, but it most commonly performed when staples shift or a patient does not follow dietary restrictions or overeats, resulting in the stretching of the stomach pouch.
For patients who require a revision, a number of options are available. Surgeons may choose to incorporate a gastric band to reduce food intake. Alternatively, additional staples can be used to close gaps or shrink the size of the stomach pouch.
What Kind of Revision Can You Get After Gastric Sleeve?
Gastric sleeve surgeries cannot be reversed but they can be revised. The most common reason for revision is overeating that results in the stretching of the reduced stomach sleeve. When this occurs, it is harder for patients to keep diet in check, resulting in weight regain or troubles losing weight.
A gastric band can be incorporated into a gastric sleeve, or additional stomach tissue will be removed. Some surgeons may also choose to perform a gastric bypass on a patient who has previously had a sleeve gastrectomy.
Revision for Gastric Banding
A gastric banding revision is among the easiest surgical options. Bands can be moved, adjusted, or replaced in a minimally-invasive manner, leading to immediate progress. Those who are no longer satisfied with gastric banding may request an additional surgical procedure, including a gastric sleeve or gastric bypass.
What Is Gastric Overstitch?
To alleviate surgical risks and the challenges of recovery, Overstitch procedures are frequently performed for patients in need of a revision. An innovative fiber-optic endoscope, gastric Overstitch allows physicians to perform some pouch and stoma revisions without the use of incisions.
If you believe you are a candidate for bariatric revision surgery, the team at Virginia Bariatric Surgery Center may be able to help. Contact us today to schedule a consultation or to learn more about our surgical opportunities, register for one of our free bariatric surgery seminars!
Sours: https://virginiabariatric.com/weight-loss-surgery-options/revision-surgery
Loss beach weight surgery virginia
Surgery After Weight Loss
with Dr. Hubbard
You May Also Need to Know
In the past few years, more advanced techniques have arrived as plastic surgeons have responded to a phenomenal number of weight loss patients interested in improving body contour. With the experience of recent years in this increasingly popular surgery, better decisions can now be made on who are the best candidates for this surgery—when is timing most appropriate, and what pattern of skin excision is superior.
Dr. Hubbard has found extreme variation among patients in the amount of excess skin and location. Yes, there are indeed patterns to the excess sagging and stretching of skin based partly on the amount of weight loss and inheritance. There are clear zones of adherence where the skin stays fixated and skin from above rolls over it. There are also areas of little adherence, and the skin flows quite a distance before gathering into a roll. With so much variation, this surgery must be customized and planned for each unique individual.
There is no substitute for a thorough consultation with Dr. Hubbard for your Virginia Beach body contouring where each problem area can be addressed and options for surgery discussed. Underlying medical conditions are brought into the decision making. Much can be accomplished in one operation, however staging procedures may be necessary.
Sours: https://www.hubbardplasticsurgery.com/body/surgery-after-weight-loss/
These 3 People Went To Mexico For Weight-Loss Surgery And Now They Regret It - Megyn Kelly TODAY
Weight Loss Surgery
Tired of the ups-n-downs?!
Cut the habit of yo-yo dieting and discover better health with a nationally ranked weight loss program. With no program fee and affordable self-pay options, Chesapeake Regional Healthcare's weight loss surgery program offers high quality care with positive results—as our patients can attest. From pre-admission and pre-operative screenings to post-operative care, treatment and support, our team is there for you each step of the way. Stop the yo-yo and see all that you have to gain.
Call 757-312-3000 to RSVP for a Seminar
Who Qualifies?
The U.S. National Institutes of Health recommends weight loss surgery as an option for those who have a body mass index of 35 or greater and have other health risks.
Weight Loss Seminars
Our free weight loss information seminars are designed to help you through the decision making process. Those considering bariatric surgery can find out more about expectations, recovery and follow-up at a free information seminar.
2021 Seminar Dates:
Tuesday, Aug. 17, 5:30-7 pm
Friday, Sept. 3, 9-10:30 am
Tuesday, Sept. 21, 5:30-7 pm
Friday, Oct. 1, 9-10:30 am
Tuesday, Oct. 19, 5:30-7 pm
Friday, Nov. 5, 9-10:30 am
Tuesday, Nov. 16, 5:30-7 pm
Friday, Dec. 10, 9-10:30 am
Tuesday, Dec. 21, 5:30-7 pm
Due to COVID-19, space is limited. Please call the office at 757-312-3000 to RSVP for a seminar.
LEARN ABOUT ONLINE SEMINARS >
Treatment Options
Two types of weight loss surgery.
Our surgeons perform two types of weight loss surgery, and will work with you to determine which is best for you after testing and individual consultation. All of our procedures are minimally invasive.
Gastric Bypass
Gastric bypass involves the creation of a small stomach pouch using a stapling device. A section of the small intestine is attached directly to the pouch. This reduces the size of the stomach and bypasses a section of the small intestines. The result is often a dramatic loss of weight. The weight loss slows as the body approaches average weight for gender and size.
Sleeve Gastrectomy
Sleeve gastrectomy involves the removal of a large section of the stomach, which leaves a banana-shaped section, or sleeve, that is sealed using staples. Creating a smaller stomach pouch limits the amount of food that can be eaten at one time. Your body will stop storing excess calories and start using fat as an energy source. This procedure does not alter normal digestion.
Patient Care Team
Our team approach allows patients to gain control over their long-term health and well-being. From the moment the decision to begin is made, our board-certified physicians, Bariatric Surgery & Weight Management Nurse Practitioner and Metabolic and Bariatric Program Coordinator offer one-on-one guidance to keep you on the road to success.
Adam Meyers, M.D.
A board-certified general surgeon specializing in bariatric and minimally invasive surgery, Dr. Meyers earned his medical degree from The Medical College of Wisconsin in Milwaukee and completed his internship in general surgery at the Mayo Clinic in Rochester, Minn. His residencies in general surgery were completed at the University of Colorado School of Medicine in Aurora, Colo. and the University of California Davis Healthcare System in Sacramento, Calif. Dr. Meyers completed his fellowship in bariatric and minimally invasive surgery at Kaiser Permanente South Sacramento Medical Center in Sacramento, Calif. He is a member of the America Society of Metabolic and Bariatric Surgery and American College of Surgeons.
Benedict Hui, M.D.
Dr. Hui is a board-certified general surgeon specializing in bariatric and minimally invasive surgery. He received his medical degree from the Medical College of Wisconsin in Milwaukee and completed his general surgery residency at the University of Oklahoma School of Community Medicine, in Tulsa. Dr. Hui completed a fellowship in bariatric and minimally invasive surgery at the Carolinas Medical Center in Charlotte, NC prior to relocating to Chesapeake. He has received advanced training using the da Vinci Surgical System and has published research in high impact medical journals on topics ranging from hernias to bariatric surgery. He is a member of the American Society of Metabolic and Bariatric Surgery, Society of American Gastrointestinal and Endoscopic Surgeons and the American College of Surgeons.
Awards & Accreditations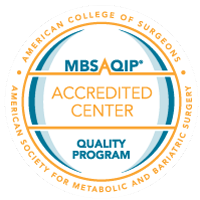 The Surgical Program is an Accredited Center by the American College of Surgeons' Metabolic and Bariatric Surgery Accreditation and Quality Improvement Program.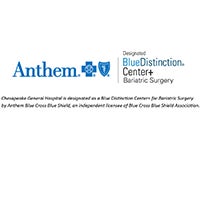 This designation is awarded to doctors and hospitals based on a thorough, objective evaluation of their performance in the areas that matter most - quality care and treatment expertise.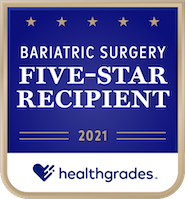 Healthgrades Five-Star for Bariatric Surgery
Make An Appointment
Sours: https://chesapeakeregional.com/services-specialties/weight-management/weight-loss-surgery
You will also be interested:
It must have been about two hours. I woke up and again did not find Dasha near me. She was already washing in the shower, then she put a compress on her clitoris and put on her panties. When I crawled out of bed, she was already pretty wiggling her ass in front of me.
6551
6552
6553
6554
6555