King of the Hill
Society is going to hell in a handbasket," says Dale Gribble, King of the Hill's resident conspiracy theorist and genius of self-delusion. He and his buddies Hank, Bill, and Boomhauer have just discovered that a vandal has tagged the fence in the street where they drink beer and try to make sense of the world. At a loss to explain a crime this senseless (after all, Hank and his wife, Peggy, took their wedding photos in front of that fence), Dale ventures, "I blame the media blamers."
The real culprit turns out to be a neighbor's delinquent teenage niece, visiting the fictional town of Arlen, Tex., from (where else?) Los Angeles. But the details hardly matter. As long as society keeps churning out fresh horrors for the nightly newscast, "King of the Hill" — which wraps its seventh season and airs its 150th episode on May 18 — won't run out of material any time soon.
"King," which was created by former "Simpsons" writer Greg Daniels and "Beavis and Butthead" creator Mike Judge, is a warmhearted comedy of manners that swaps urban sophisticates for worried suburbanites who prefer to let their greeting cards do their quipping for them. The animated series skips the tired sarcasm and fun-house pop-culture references that somehow still pass for comedy on TV. It views middle America as neither a quaint, homespun paradise nor a wasteland populated by mean-spirited cliches. The Hills may eat Frito pie and wear culottes from the Megalomart, but "King" never uses these habits as an excuse to trivialize or dismiss them. The show is a bellwether for the anxious mood of the small town, and its best jokes come from the darkest places. When Hank's boss promotes him to manager and Hank blurts out, "I love you, Buck," in front of his wife, his son, Bobby, and worst of all, his horrible dad, Cotton, Bobby asks: "Why did Dad have to go and act like a woman in front of Grandpa? Grandpa hates women!"
What makes "King" so deceptively subversive is that it subtly takes apart TV's nuclear-family archetypes that we have come to accept as real, slyly exposing the liberal pieties underneath them. From the smartest sitcoms ("The Simpsons") to the ones with the scabbiest knuckles ("According to Jim"), television writers have been "subverting the patriarchy" for so long it's hard to remember a time when dads weren't ineffectual fools, moms weren't smarmy know-it-alls, and their kids weren't automatically light-years ahead of both simply by virtue of their youth, their fashion sense, and their media savvy. In this context, Hank Hill, dedicated propane salesman and paterfamilias, is radical.
Meanwhile, Peggy — the product of an era when messages of female empowerment are even embedded in commercials for antiperspirant — is the family buffoon. An overconfident, undereducated substitute teacher absolutely popping with self-esteem, Peggy has been Oprah-ized to the point of megalomania. When she fails (which she does often), all she needs is a leg up from the self-esteem industry to restore her faith in herself. As she tells Bobby, explaining why it's possible for her to have a "career" and be a devoted housewife at the same time, "I am what the magazines call a superwoman!"
A couch-softened media sponge, Bobby is the kind of kid who is transported to ecstatic heights by fabric-softener commercials. He may be like no other kid on TV, but he is a lot like a real kid who watches too much TV. Vague, passive, filled with inchoate longings, Bobby dreams of becoming a magician; on TV, things happen as if by magic and everybody has a "trademark." When Hank objects to Bobby's friendship with the town "sorcerer" — a 30-year-old warlock who works in a video store — Bobby accuses him of standing in the way of letting him find his "thing." Hank shoots back with a weary "I'm afraid of you getting your ass kicked every day for the rest of your life because you found a new way of being a nerd!"
No wonder Hank is anxious. It's hard to compete with sexy boy bands, permissive hipster parents, and cool gangster girls from L.A. when you are trying to raise your kid. At least "King of the Hill" lets him have the dignity of being right once in a while. Even when his efforts are doomed to fail, they are never ridiculous — which makes Hank the only conservative, uptight white guy on the Fox network to earn this distinction.
Sours: https://ew.com/article/2003/05/23/king-hill-4/
Vision Quest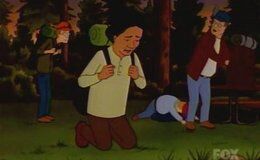 Vision Quest is the one hundred-thirty-eighth episode of King of the Hill. It was first aired on February 9, 2003. The episode was written by Etan Cohen, and directed by Dominic Polcino.
Synopsis
Hank has lunch with John Redcorn in Bacon 'N Waffles thinking the topic of conversation would be about all things propane. Instead, Redcorn laments that "his" son, Joseph, isn't being raised properly, is behaving in a bad manner, and is in need of a vision quest to guide him. Hank reminds him that Joseph is Dale's son, and that Dale will take care of the boy. Later, at school, three troublemakers—Steve, Dave and Jake—see Bobby and Joseph and call them over. Bobby ends up walking home by himself, while Joseph chooses to hang out with Steve, Dave and Jake. Hank and his buddies notice Joseph hanging around with the bad crowd. Fearing Joseph will adversely influence Bobby, Hank approaches Dale, hoping he'll take action. But Dale refuses to do so, claiming he doesn't want to be a father. This is in keeping with Dale's cowardly nature. With little choice, Hank turns to John Redcorn, who's more than happy to teach him about, of all things, a vision quest. He describes how Joseph must fast for 24 hours, then wander the wilderness until exhaustion sets in. He also shares his personal vision where he saw a weak tree in the middle of a desert being blown away by some strong wind. He was a roadie at the time and explains that since he was stuck in the same place, he would never make the best out of his life if he continued down that path. The next morning, Hank, Dale, Bobby and Joseph drive to a wooded area and set out on a hike. Everyone complains about hunger, especially Dale, but Hank nonetheless leads them onward, until they eventually set up camp for the night. Hank tells Joseph that he, Bobby and Dale are going to look for some firewood, leaving him alone in the darkness. But as the threesome head off into the woods, Dale is suddenly overcome with exhaustion, and experiences his own vision quest, and grows convinced that he's a Native American, while back at the campsite Joseph grows bored and starts burning Dale's sleeping bag. Redcorn observes from afar… and can only shake his head.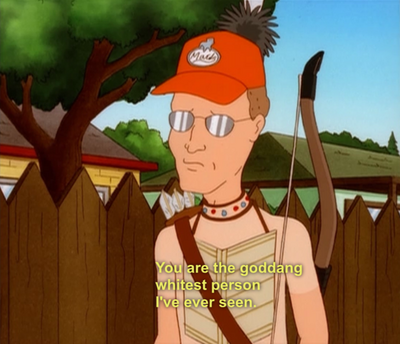 When Dale tells Redcorn about his vision, Redcorn suggests he learn about Native American culture so he can pass it on to Joseph. Later, Joseph meets up with Steve, Dave and Jake, who are loitering in a parking lot. The threesome tell Joseph about their plans to drug some pandas at the zoo and then paint their names on the animals. Later, at school, Joseph relays word of the scheme to Bobby. Their conversation is interrupted when the teacher announces that "a man from the local Native American community" is going to share some information about his heritage. With that, Dale walks in, decked-out in regalia. That night, Joseph awakens from a bad dream and calls for his father. He tells Dale that his friends are going to do "something really bad" at the zoo that evening. Dale decides Joseph can act even cooler than his friends by killing a panda.
Later that night, Dale enters his bedroom and begins donning his regalia. He tells Nancy about his plan to do something spectacular so the cool kids will hang out with Joseph. Nancy consults with John Redcorn, who insists Joseph's dream was a warning—and that they must find Dale and Joseph before it's too late. As Dale uses his Bugabago to smash open the zoo's gates, Nancy and Redcorn awaken Hank, Peggy and Bobby and describe Dale's vague plan. Bobby realizes what Dale's up to, and tells the others about the pandas at the zoo. Hank, Peggy, Bobby, Redcorn and Nancy drive to the zoo, where Joseph prepares to shoot a panda with a bow and arrow. Steve, Dave and Jake encourage Joseph to let go of the arrow—but Redcorn advises the boy not to do so. Joseph is unsure what to do. Suddenly, his arm gives out and the arrow flies through the air. Redcorn reaches out and grabs it, saving the panda's life. Hank tells Steve, Dave and Jake to go home, after threatening to report them to the police. Later, Bobby dreams that he's a panda appearing on The Hollywood Squares game show.
Trivia
Quotes
(The guys are out in the alley like usual; Dale is wearing a vest and Native American Headdress and is dancing around stereotypically)
Bill: "Well, I'm just gonna come right out and say it, Dale. Something seems different about you."
Dale: "Something is different, Bill. I had a vision. I'm an Indian now."
Bill: "Oh."
Dale: "I always wondered why I hated the federal government and loved tobacco with such passions but now it all makes sense."
Hank: "Okay, time-out, Sitting Jackass. Have you looked in a mirror lately? You are the got-dang whitest person I've ever seen."
Dale: "I am the albino buffalo! Deal with it."
Hank: "Maybe Redcorn was right. Joseph's falling in with the wrong crowd, and every group of bad kids needs a heavy boy to be the lookout."
Peggy:
Sours: https://kingofthehill.fandom.com/wiki/Vision_Quest
Laura Hill
King Linen Fabric Gas Lift Storage Bed Frame With Headboard Grey
From the outside, this modern Fabric Gas Lift Bed Frame looks absolutely fantastic. Enjoy your wonderful sleep in more ways than one with this innovative bed frame.  It features linen fabric tufted headboard and sides all exudes fine craftsmanship. But there's more to this luxurious bed frame than meets the eye. 
Constructed from high-grade materials with reinforced steel bars and heavy-duty connectors keep the frame sturdy with additional central support from an adjustable centre support beam. Floor protectors on the frame's legs also help to prevent scratches on your floor. 
The wooden arched slats are also designed to flex appropriately so that it can better distribute the weight exerted on it and helps to minimize movement disturbances.
CONTENTS:
  * 1 x Bed Frame
  * 1 x Assembly Manual
Note: This item cannot be delivered to the following postcode ranges:
NSW: 2083, 2315-2490, 2534-2540, 2563, 2568, 2573, 2578-2594, 2621-2739, 2758, 2787-2999
NT: 0800-0880
QLD: 4009, 4117, 4183, 4220, 4221, 4228-4497, 4503, 4507, 4512-4999
SA: 5131, 5140, 5141, 5153-5157, 5170-5734
TAS: 7000-7999
VIC: 3283-3333, 3358, 3379-3427, 3469-3749, 3832, 3887-3909
WA: 6000-6999
Product code 816580090
Sours: https://www.myer.com.au/p/laura-hill-king-linen-fabric-gas-lift-storage-bed-frame-with-headboard-grey
King of the Hill - Yogi Victor
for sale Wendys Welding Hats Made With solid Black Fabric! save up to 80%
twitter announced today that it will be removing its implementation of stories dubbed "fleets." the feature was either loved or hated by twitter users since its initial release last year.
this short-lived feature, which was released in november of last year, will be removed on august 3. twitter acknowledged the controversial nature of the snapchat/instagram clone with the farewell tweet. notably, there was no fleet from the main twitter account announcing the departure of the feature, only a standard tweet.
in the goodbye, the company said it is working on "new stuff." one can hope that they add the ability to edit tweets, in addition to the new edit audience and monetization features.
in a more detailed blog post, twitter shared that it hoped fleets would make people more comfortable posting onto twitter. as fleets disappear, some of the fleet creation features, like gifs and stickers, will be implemented into the standard tweets composer.
ftc: we use income earning auto affiliate links.more.
---
check out 9to5mac on youtube for more apple news:
you're reading 9to5mac — experts who break news about apple and its surrounding ecosystem, day after day. be sure to check out our homepage for all the latest news, and follow 9to5mac on twitter, facebook, and linkedin to stay in the loop. don't know where to start? check out our exclusive stories, reviews, how-tos, and subscribe to our youtube channel
Sours: https://www.eyeboston.com/admin.php?cheapfa3a3/dcc640827.htm
Hill the fabric of king
Fabric Details
Petal Signature Cotton
Design #807263142" wide, 4.3 oz per sq yard
Everyday-use cotton for quilting, crafts and apparel
White
Estimated shrinkage: 2-3% in length and 4-5% in width
Perfect for quilting, craft projects, costuming, toys and accessories.
Shipping & Returns
Spoonflower products are made-to-order, meaning we don't have a warehouse of ready-to-ship items. This enables us to offer a huge library of designs by independent designers, available on over 50 different products. And we back every purchase up with our Happiness Guarantee. Visit our help page for information on returns and exchanges.

About the Design
halloween
halloween embroidery
halloweendc
About mcguff's_design
Thank you for visiting our shop. We take pride in creating unique designs. To see all of our merchandise visit our website listed below.
Shop mcguff's_design
About Spoonflower
Custom Fabric & Home DecorSpoonflower supports independent designers as the world's largest Marketplace for these eco-friendly, printed-on-demand products.
Learn more
Happiness Guarantee
Your order is custom printed just for you, and we want you to love it.If you think that your order has a flaw or it is not what you expected, we want to make it right.
Learn more
Sours: https://www.spoonflower.com/en/fabric/8072631-king-hill-halloween-by-mcguff-s_design
King of the Hill - Yogi Victor
There is a book in the Queen's secret vault, you must take possession of it. It contains the will of Svartsha. Find the key and take possession of Svartshi's book, - the sorceress narrowed her eyes and added: - And then bring it to me, I will.
You will also like:
Screamed the girl, trying to escape. But Roman Yakovlevich continued to squeeze her body, obviously enjoying his youth - Will I complain. - Daria screamed, still trying to escape from the tenacious hands. - To whom and why.
644
645
646
647
648