Each year brings changes into the landscape of men's hair. Will 2021 be the year that the popularity of The Fade fades and guys embrace longer, more carefree haircuts?
This post may have affiliate links, meaning we earn a small commission on purchases through the links (at no extra cost to you). This does not change our opinion but does help support the site. Thank you!
Can we retire our pomade for texture spray? What cuts are in and what are out? We asked celebrity hairstylist Paul Labrecque, for his insights into the hair trends we'll see in 2021.
What Hair Trends Are Out For 2021?
1. Disconnections
As for hair, in 2021, disconnections will be headed out. By this I mean hair that's shaved on the sides with some exaggerated length on top.
This style had easily helped some guys wear man buns and sport ponytails, but I think we've seen enough of this for a while.
2. Overdone Barber Styles
Overly-coiffed barber looks that require heavy pomades to place on top because your hair is too heavy to muster any style on its own will also be over.
3. Just Out of Bed
Any "just out of bed" look doesn't really go well with a suit. I believe we'll see more polish and care from guys overall this year.
What Hair Trends Are In For 2021:
1. Tidying Up and Balancing
Maybe this starts with a tidy up, giving your hair layers and textures to help provide a more fluid silhouette.
Balance is key when it comes to the top and sides, and some scruff is great as long as we keep it manicured and sexy. Think of your partner or date…
They don't want to taste yesterday's meal on you! Give your style some texture with a great gel, and you'll be good to go all day.
2. Keep Connected
Perhaps you really love your short sides and want to keep them. If this is the case then do, but know that being able to see a shadow of hair is key.
Basically, this only requires the skill of a 0 guard clipper cut — it's lazy-approved! The newer looks and trends fade much better when created with a scissor over comb, and grow out this way without such a prickly edge.
Keep in mind the connection between your top and bottom is key.
3. Create Texture
When I want a lengthier look on top, texture is crucial, as is a layer that actually provides the movement for your strands.
If we leave the top only one-length, a man bun is the only way heavy hair will stay out of your face. But when we layer a heavier top and add internal texture, we create fantastic style.
---
3. Strong Hair
I do think that strong hair is coming back in a big way and will be in fashion this upcoming year.
To me always looks good on a clean shaven face. I believe that men who like to wear strong looks will really go the extra mile and do an exaggerated change, shearing off the long top and creating a forceful profile with the Cesar Cut.
To wear this look you need strong features — good ears and a square jawline. Hair trends for men also often follows movies. With the release of the upcoming 'Top Gun' sequel, I think we will all revisit 80's style with stronger, squarer tops cropped to the sides, and clean well-shaved faces that put the military back in our daily step.
If you want to add facial hair to this look, keep it clean, keep it trimmed, and you will be looking fresh and fashion-forward. It is possible to do both the Cesar and 'Top Gun' look, it's all about how your hair is cut and pushed up, whether that's with a gel or forward with a light separating pomade.
Switching up your product can give you different looks at different times. None of us always like to look the same, so embrace change!
Expert Opinions
Eras Make a Comeback
"Today's men's hair trends are taking their cues from many different decades, and thus will definitely continue.
2021 sees the 1950s "Mad Men" hairstyle popular, with its tight sculpted lines and extreme precise part.
Younger men are embracing their curly hair! And will continue embracing the 70s decade with loose fluffy Afro curls, even with a surfer vibe.
Also trending up is the 80s mullet. Watch a country music awards show and you will see how this hairstyle executed in a much more modern way has gained popularity in today's youth.
Word on the street is that the perm is back for guys also, much to many hairdressers chagrin… for those who don't have those natural 70s curls.
The good news is that men more than ever are paying attention to their looks, and will continue to be more adventurous than ever!"
– Frank Fuina | Owner | Guilty Indulgence Salon
---
Shake and Go
"In the salon, low maintenance looks remain the order of the day. Today's male guest is looking for haircuts that can run the distance – so longer, brush-back styles are in top demand. Men are looking for an "eight-weeker" or cuts that have room to grow in overtime.
Super-tight fades are now controlled tapers, with looser perimeters and necklines.
More and more guys are getting educated on using a blow dryer to recreate their longer looks. At the chair, each stylist should be teaching their men how to style their hair.
Having said that, a lot of men are simply "letting it go," and long shapes are hitting hard in hair trends. From mild surfer boy to straight-up Point Break, these designs require strong knowledge in texturizing techniques."
– Jesse Linares | Master Stylist | Lunatic Fringe
Nature Boy
"Popular hair trends for men in 2021 will continue to be short to medium length and textured for a natural look. We'll see the low and mid taper fade on the sides and back with a crop top, longer crew cut, comb-over, and messy quiff.
Many guys have experimented with cutting their own hair during the pandemic, meaning you saw plenty of buzz cuts and crew cuts with tapered sides on Zoom calls. However, when the economy opens up, most of these professional men will be excited to get fresh barbershop haircuts once again."
– Chris | Master Barber | Men's Hairstyles Now
---
A Synopsis of Style
Hair Trends in 2021:
Short textured top with varying lengths in the back – the modernized mullet.
Scissor cuts vs tight fades, keeping the hair longer over the ear and collar.
Lots of texture. Also, longer and square layered cuts.
A lot of waves and curls. Leaving length on top to be able to perm but still having tight sides.
Burst fade V shape mohawks with disconnected curly tops, that are permed or natural.
Longer lengths in the back and short on the sides, resulting in the Modern Day Mullet.
Celebrity Influencers for Hair:
Patrick Mahomes
Odell Beckham Jr
David Dobrik
Harry Styles
TikTok Influencers:
Short sides with a slightly disconnected top and a very long front to cover the eyes.
– The Artistic Team | Sport Clips Haircuts
Now this brings me to longer locks and looks… some of us just look better with a fuller side and top. This can be quite dashing and allows us to have a little more to play with, not to mention it also gives your lover more to run their fingers through!
I'm a sucker for long hair that cascades over one eye and is slicked rather than shaved back. Not only is this look worn by some of the world's most handsome men, but it is also forgiving of larger ears and noses because it gives us somewhere else to focus our eyes.
The runway is where I get lots of inspiration, and yes, we are seeing more hair less-shaved sides, bringing back more sophistication, which I think will be a huge focus for folks in 2021.
Lastly, if you have little hair or you just like the freedom of having a shaved look, know that this is here to stay. Bald is sexy, not combovers!
Sours: https://www.dapperconfidential.com/mens-hair-styles-and-trends/
The most popular men's haircuts include a little bit of everything. That's why we have 50 different pictures to show them all. From short hair, black hair, and fade haircuts to trendy cut and professional looks, there is something for everyone and every style.
There are a few reasons why these haircuts are so popular for men.
First, they look good. That's the goal of a haircut, right?
Second, these men's haircuts are easy to style. These hairstyles look great with minimal styling time and hair products.
The last reason is they are stylish and in style. Some of these looks are more on trendy than others but they are all fresh and modern. Scroll down and pick out your next look!
1. Short Spiky + Textured Haircut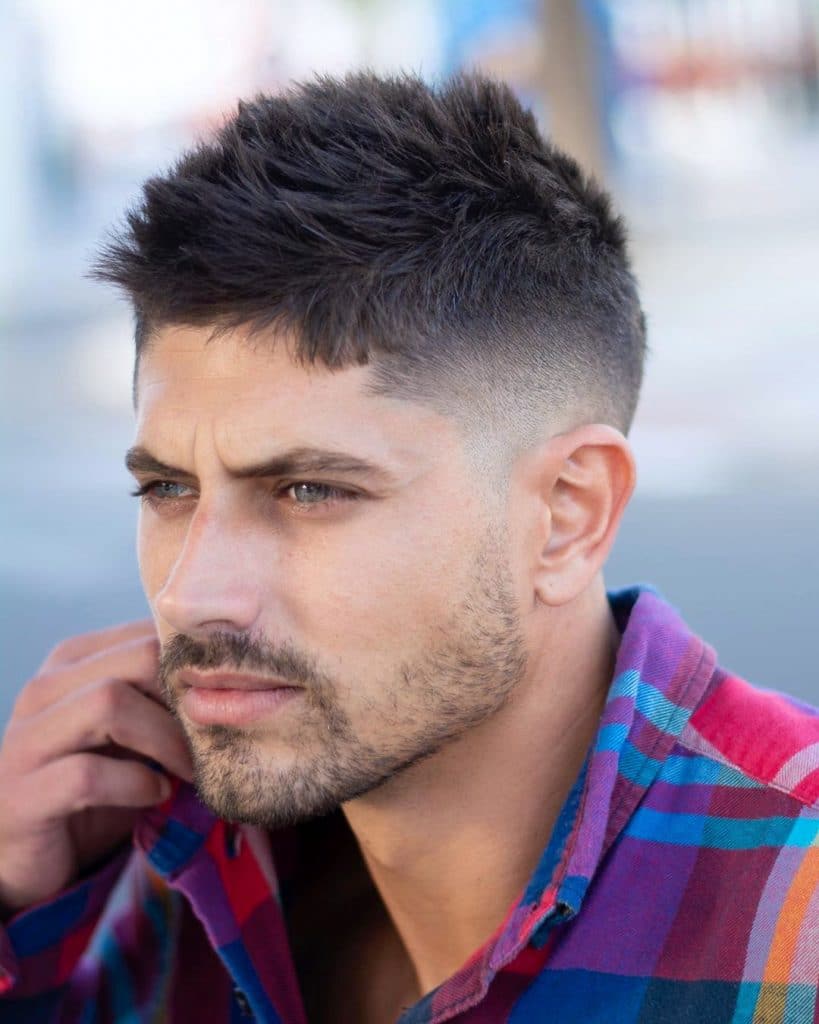 This short men's hair is cut and styled to enhance texture. You can wear hair up in these loose spikes or down.
2. Men's Undercut Haircut For Thick Hair + Long Fringe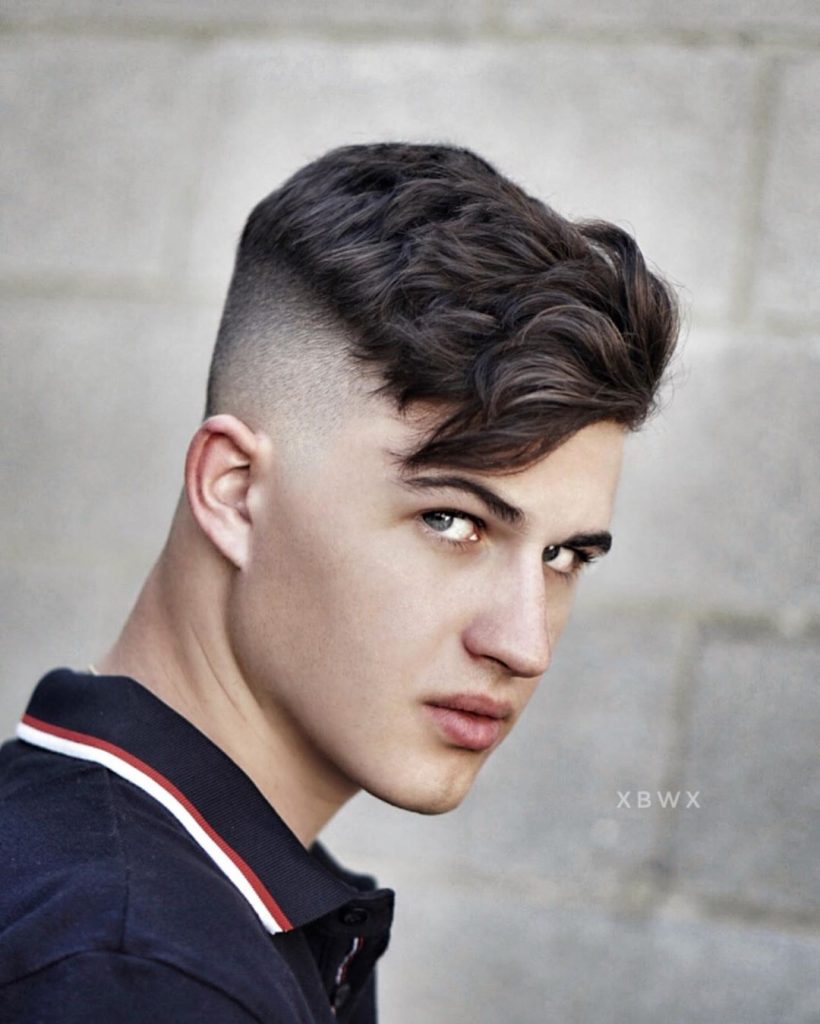 All types of fade haircuts are popular right now. This fringe hairstyle is especially cool because of the distinct line of hair over the high fade.
3. Popular Haircuts For Black Men – Twist Curls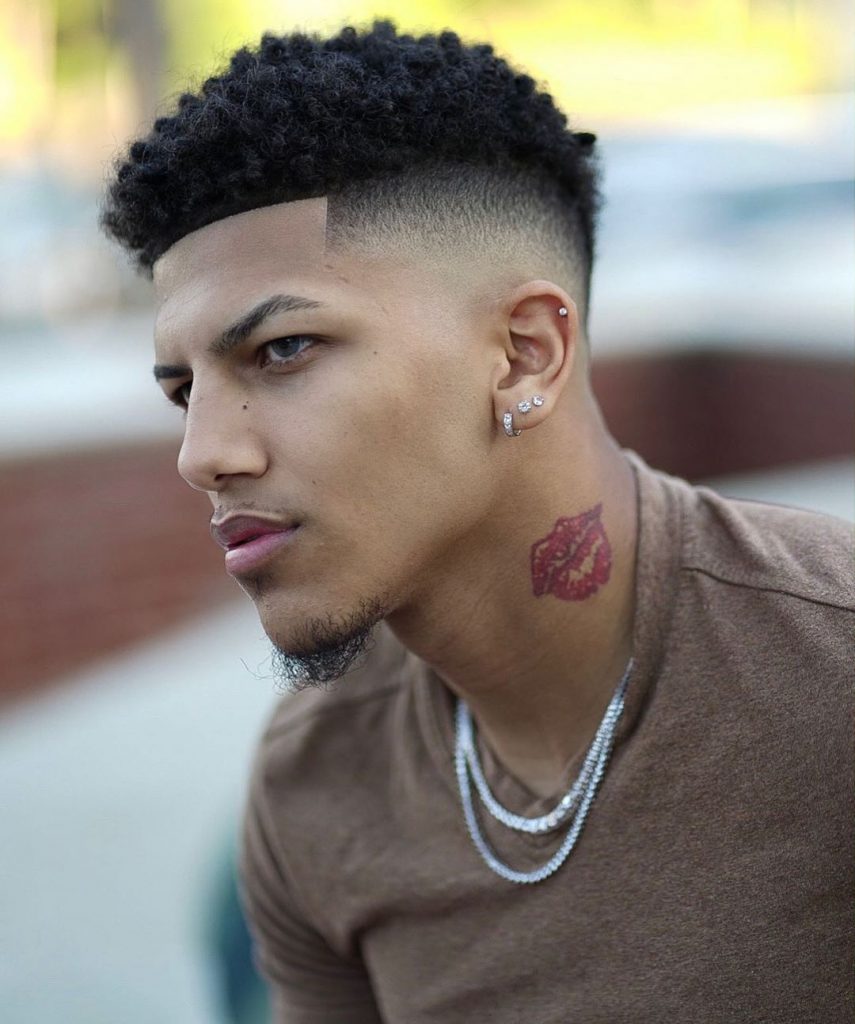 The line up and fade are popular additions to many haircuts for black men. Some guys wear hair short while others wear hair long. These tight curls are somewhere in between and are on point with this year's texture trend.
4. Medium Haircut For Men + Long Fringe + Low Fade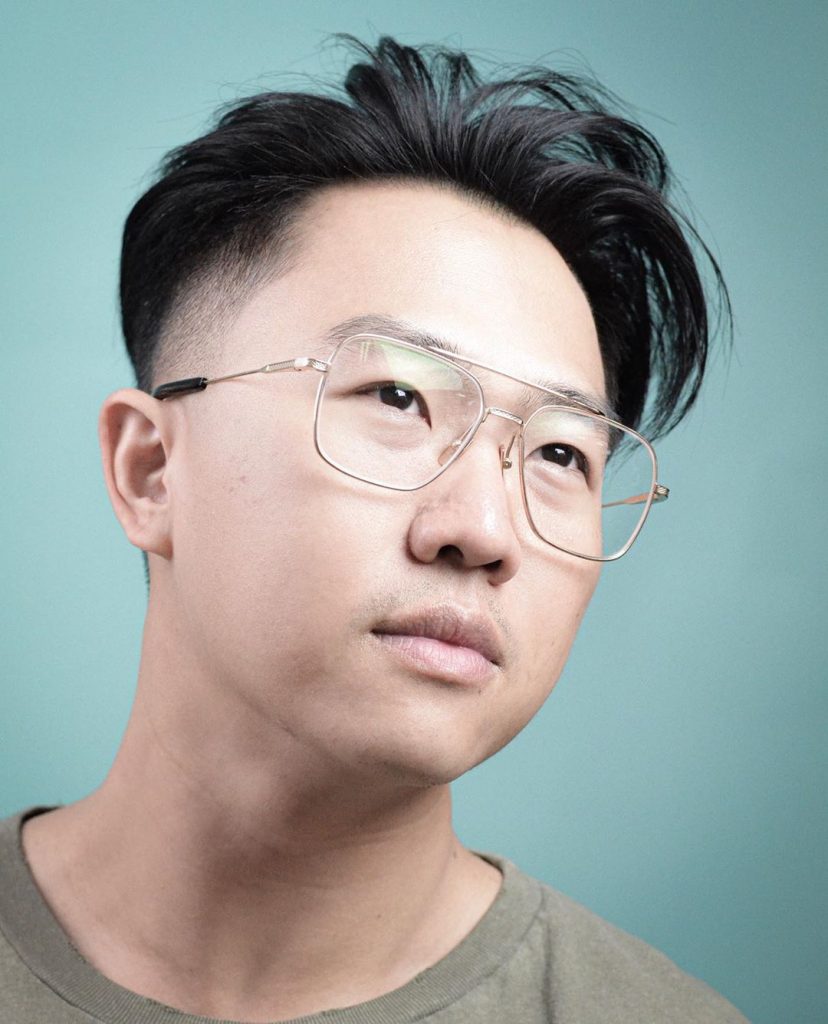 Medium length styles for men are getting more popular. Maybe it's because more guys are into styling their hair. Maybe it's because they can be styled in plenty of different ways. Maybe it's because they look so good, like this loose sweep back over a mid fade.
5. Men's Slicked Back Haircut At Medium Length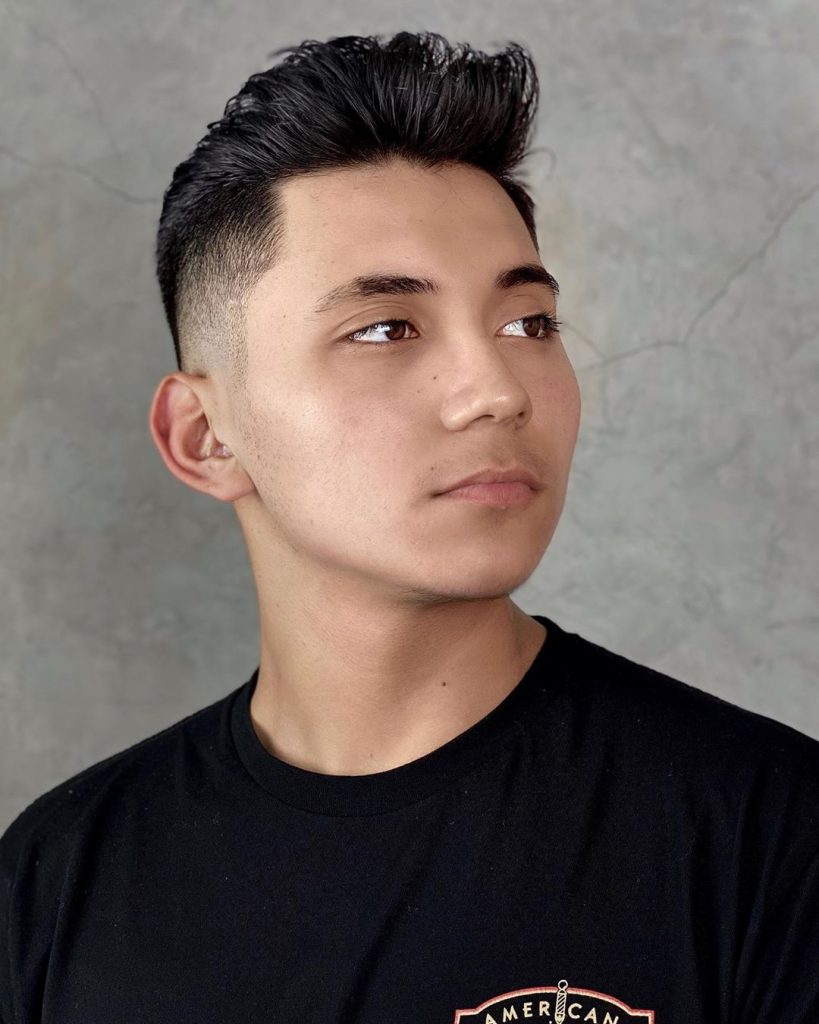 This is essentially the same haircut as the last one but styled into a modern pompadour with some texture.
6. Best Haircut For Men With Short Sides Long Hair On Top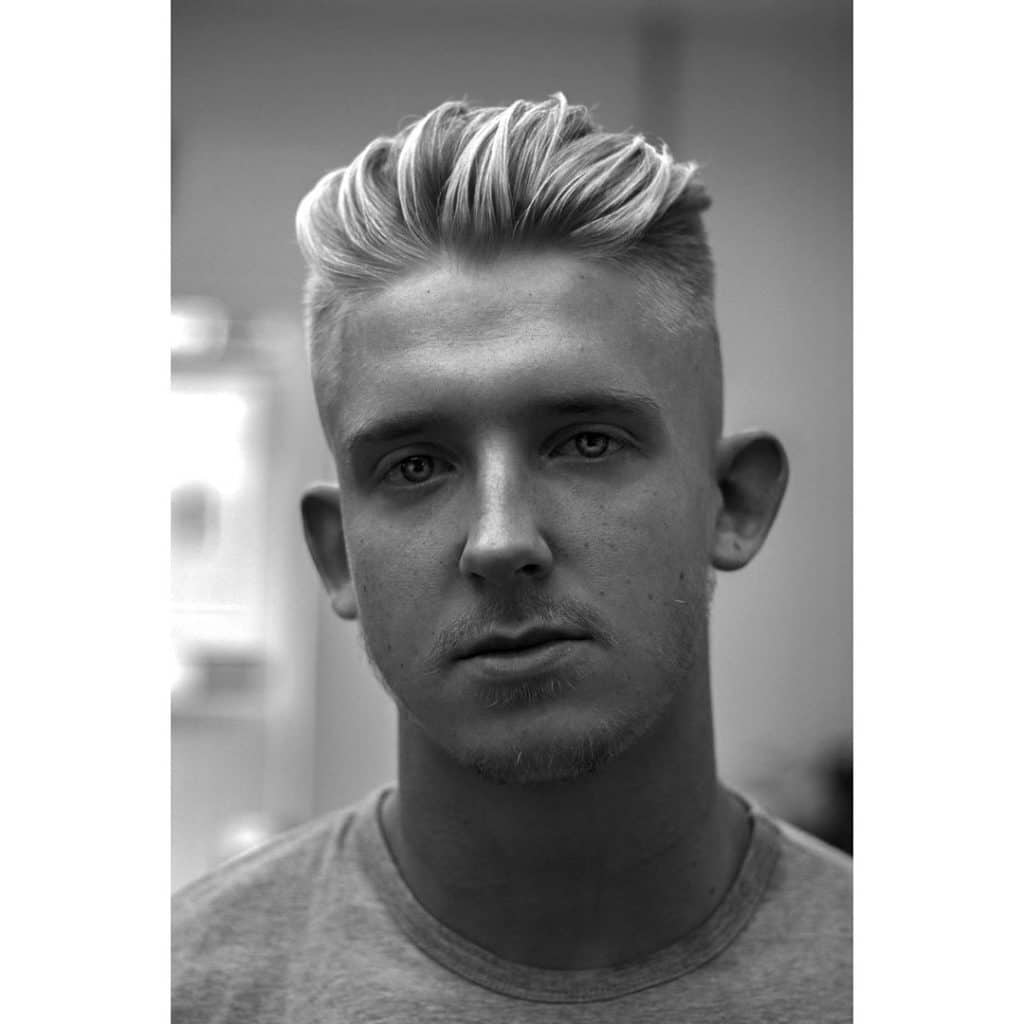 The best haircut for men is the one that makes you look and feel good. This long top, short sides combination is flattering on just about everyone and can be styled as professional or cool as you like. Try an easy to use hair wax to get this texture and hold.
7. Men's Spiky Haircuts At Medium Length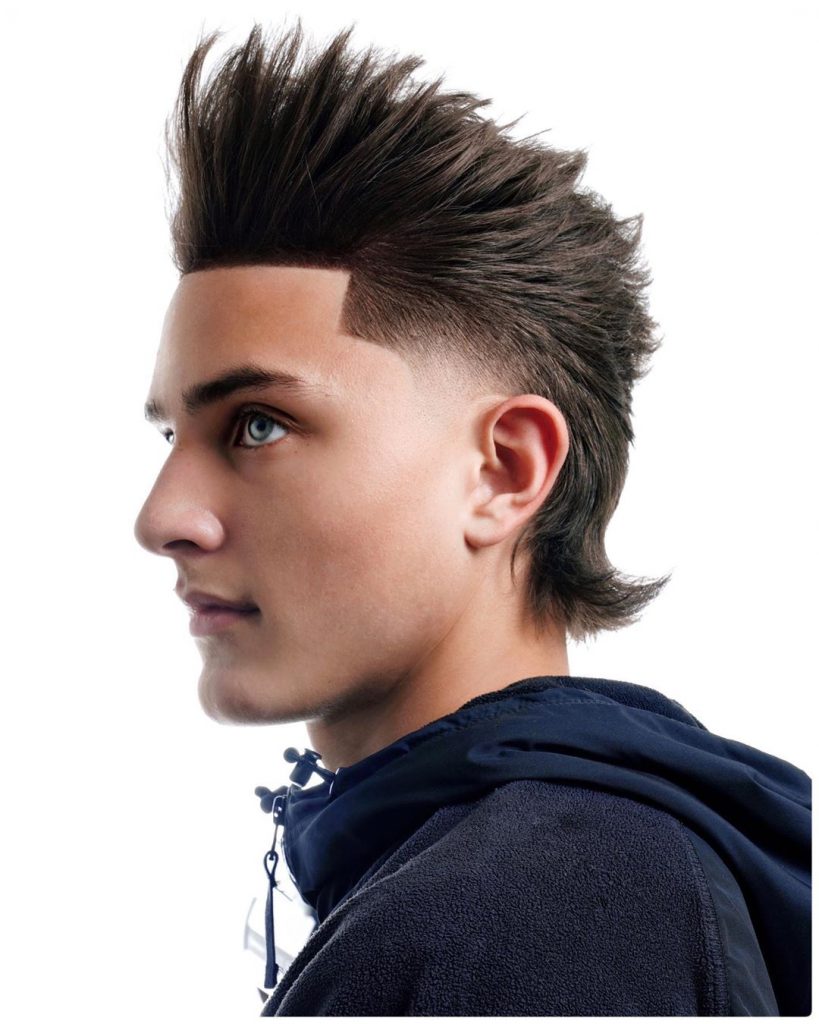 This modern mullet keeps hair medium length everywhere except the faded temples. This is a very cool way to rock some flow.
8. Men's Haircut For Curly Hair – Tapered Style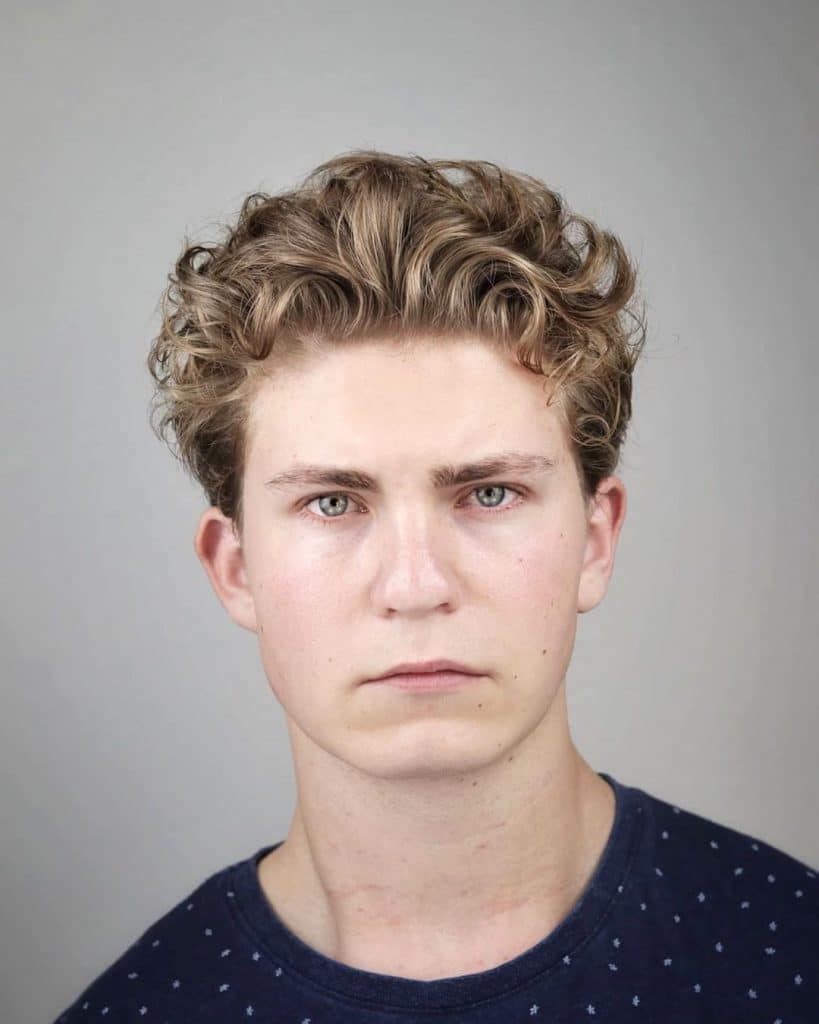 Loose and textured hair is one of the top trends right now. This curly version takes the look to the next level. Try a hair cream for hold and curl definition.
9. Ultra Short Fade Haircut For Black Men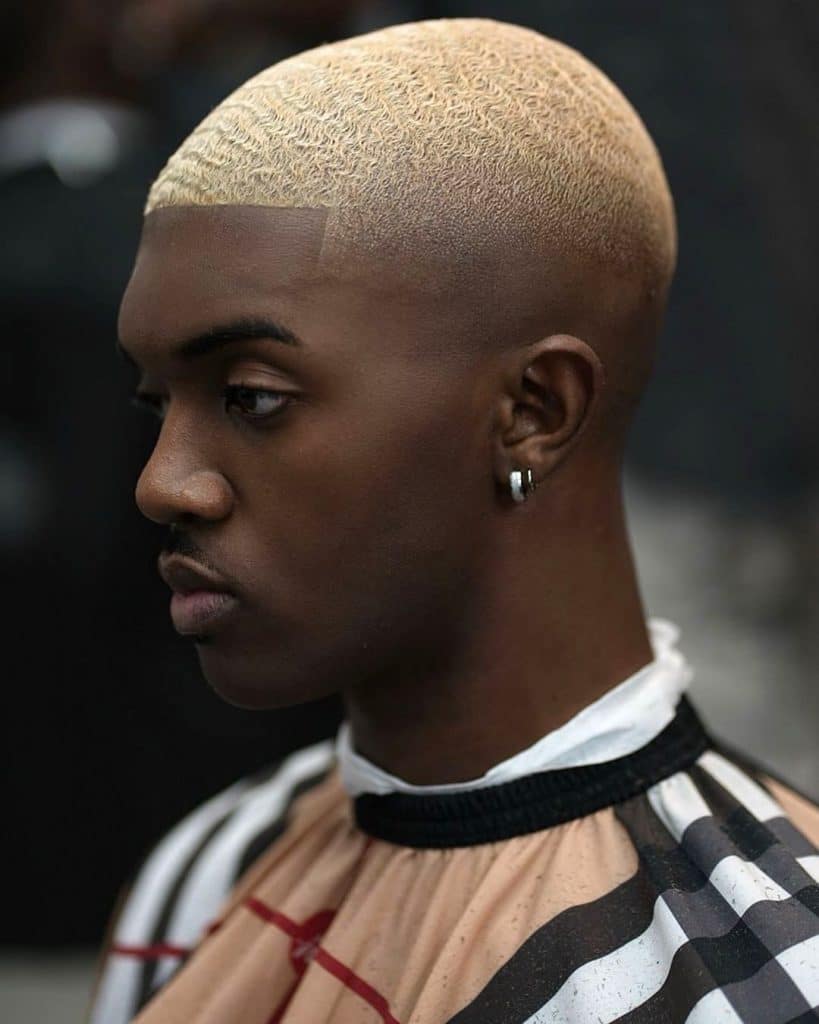 This blurry fade is especially striking in platinum but looks just as good in other colors.
10. Short Hair Men's Haircut + Bald Fade + Beard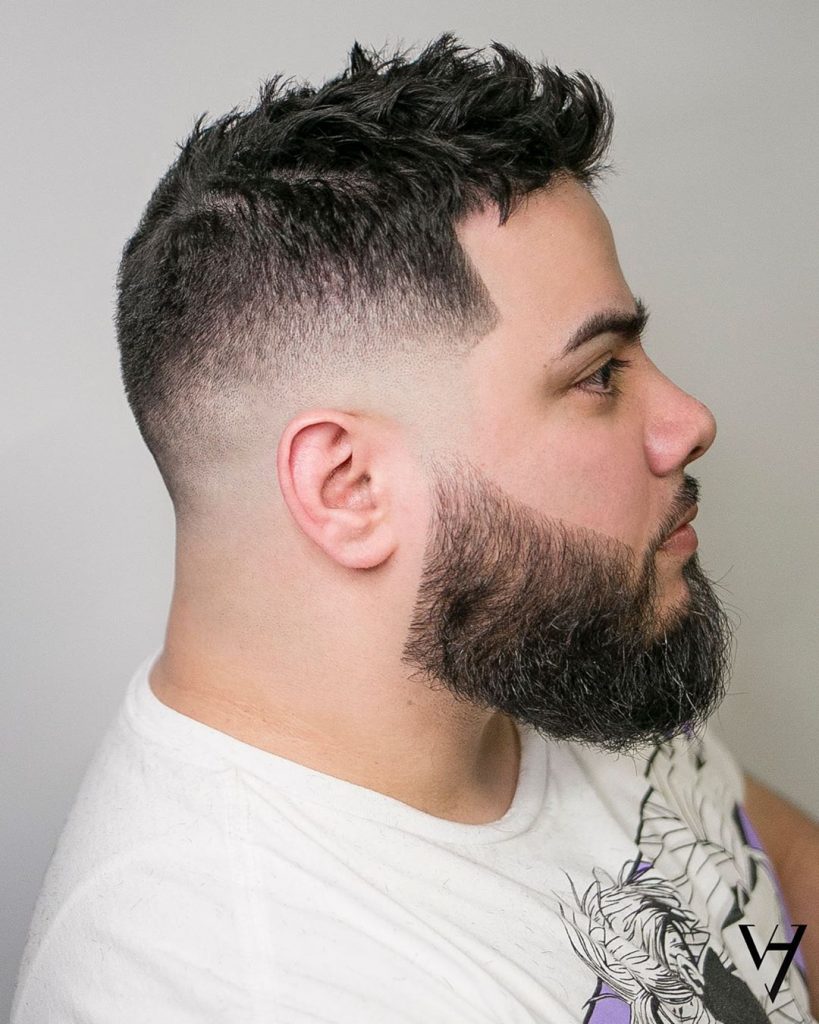 This is an attractive and easy-to-wear short haircut for guys with busy lifestyles and/or thick hair. The faded sides with short hair on type looks great when styled messy or professional.
11. Haircut For Men With Thin Hair + Cool Beard Style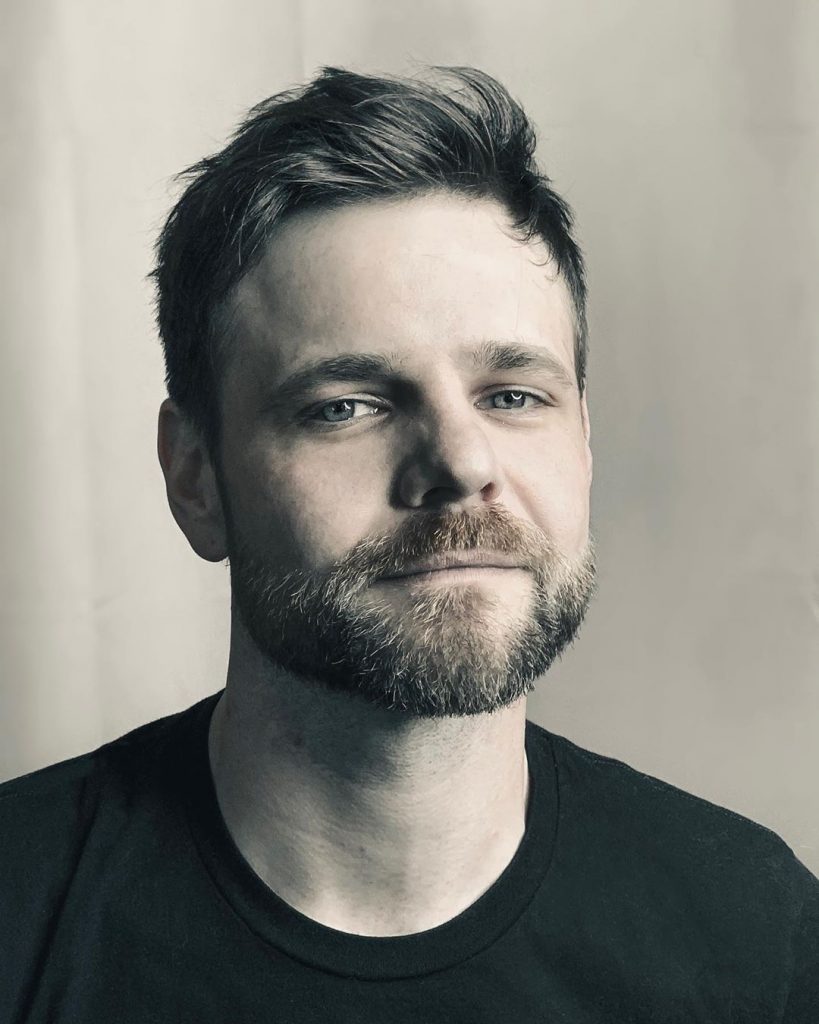 A combination of length, volume, and hair product help fine or thin hair appear thicker.
12. Comb Over Haircut + Hard Part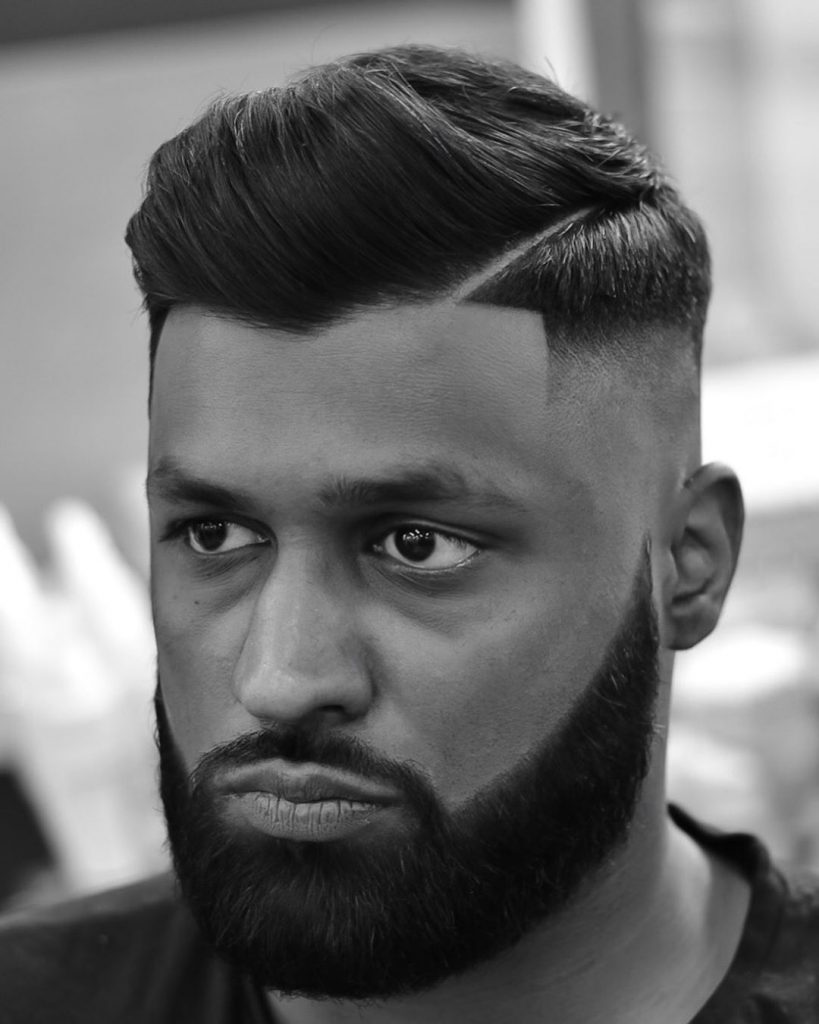 The quiff is one of the most popular hairstyles for men. That bump of volume is ultra-flattering, whether it is in a pompadour like this or spiky. The hard side part adds to the effect.
13. Cool Haircut for Asian Men + High Fade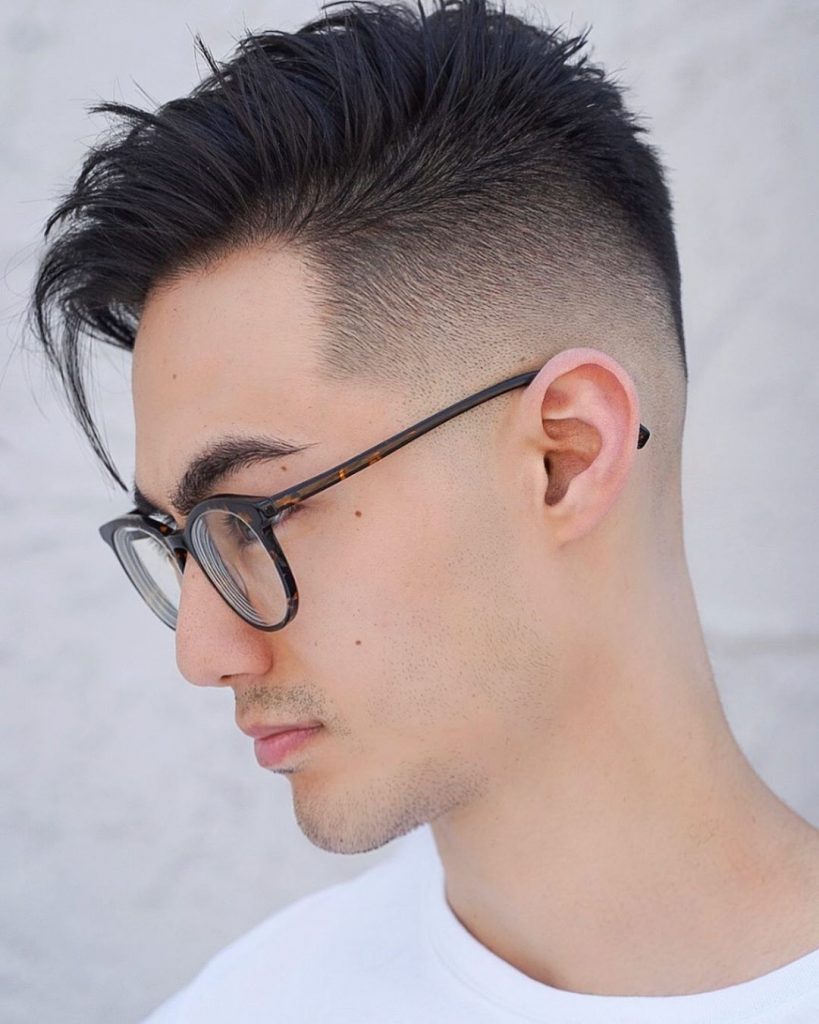 This modern comb over fade is a popular way to style thick and coarse hair.
14. Short Crop Haircut For Men + Hard Part + Bald Fade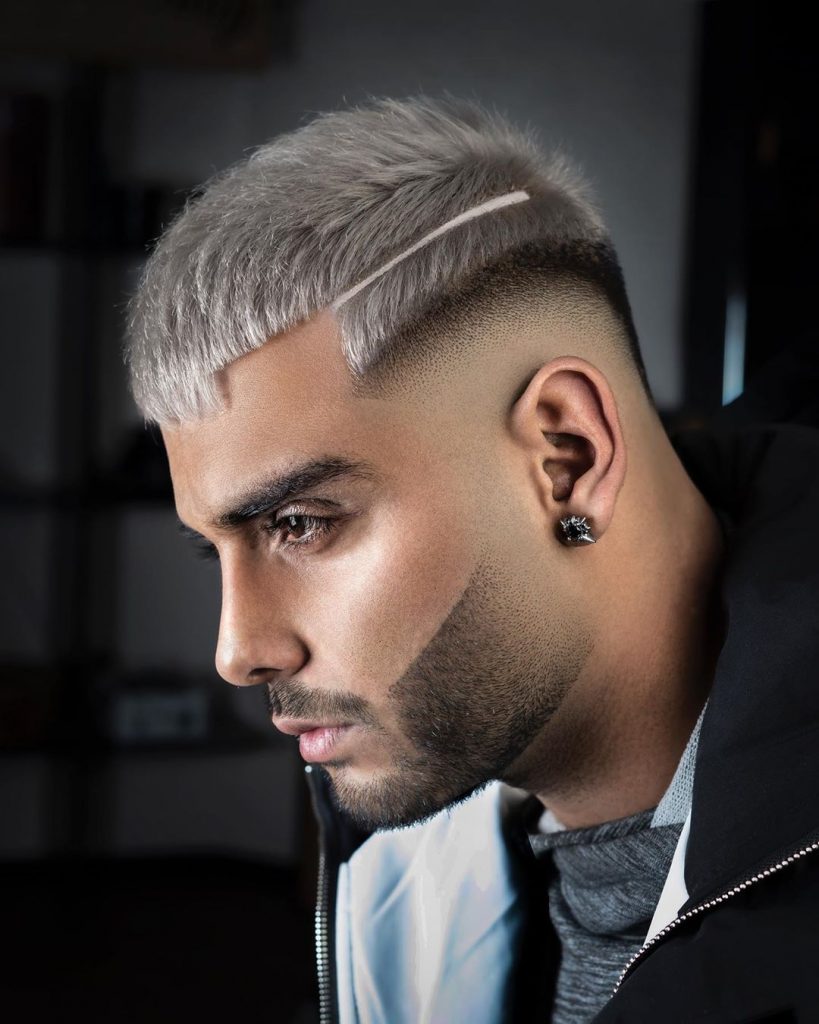 The French crop with bangs has been a major trend for the last couple of years. Barbers are keeping it fresh with jagged bangs, a shaved line, and contrasting color.
15. Good Textured Haircut For Men -> Short To Medium Length Of Hair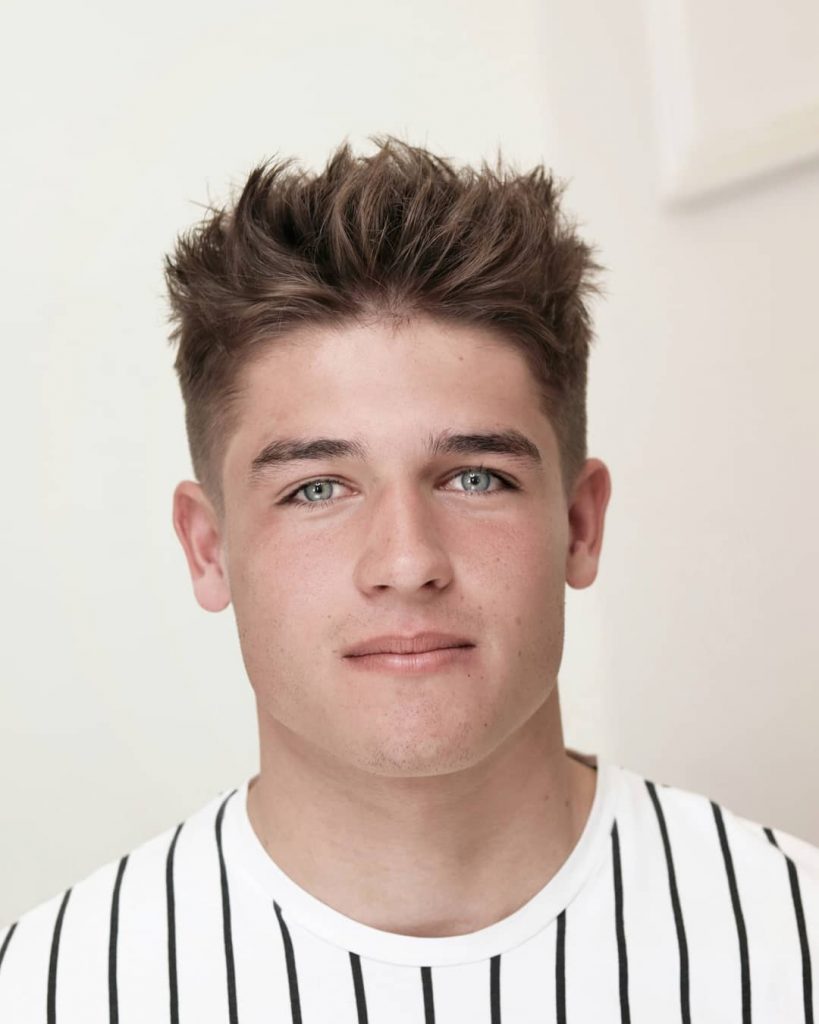 There are a lot of choices out there but good haircuts for men aren't complicated. In general, the short sides, longer top combination is a winner.
16. Men's Haircut For Round Faces + Tapered Sides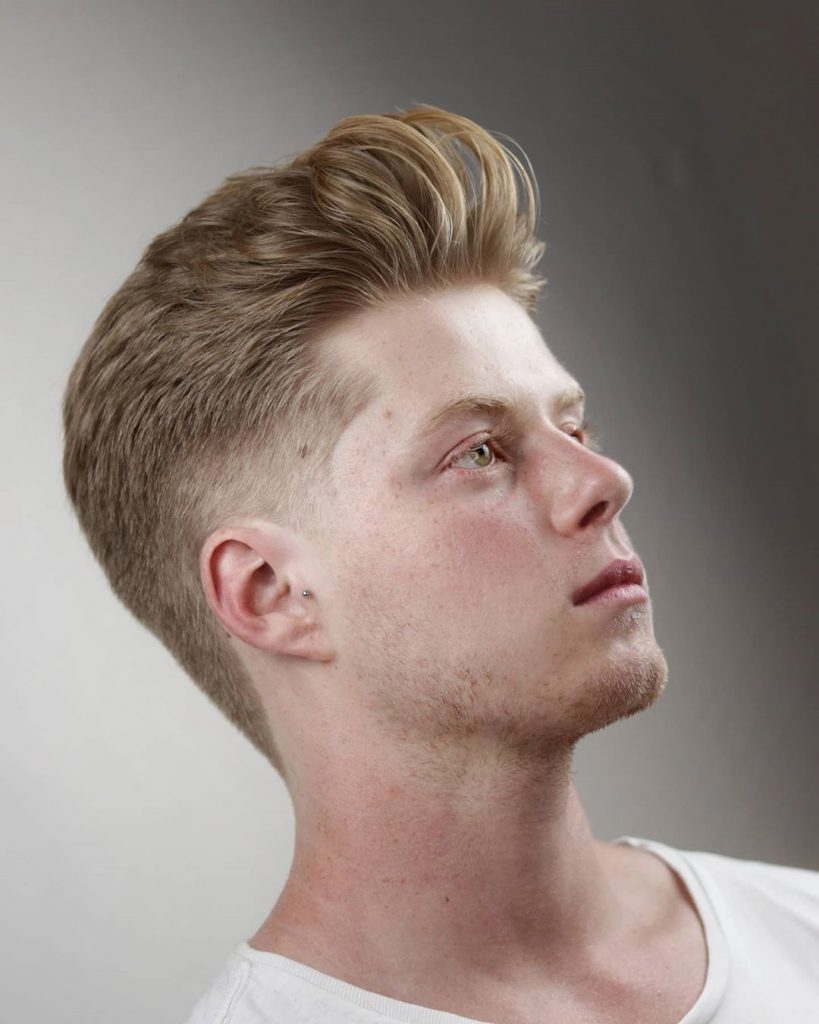 There are two things that make round faces look longer. The first is height, like this pompadour, to create an elongated profile. The second is short sides, like this temp fade, that don't add any width to the face.
17. Super Cool Long Wavy Hair Haircut For Men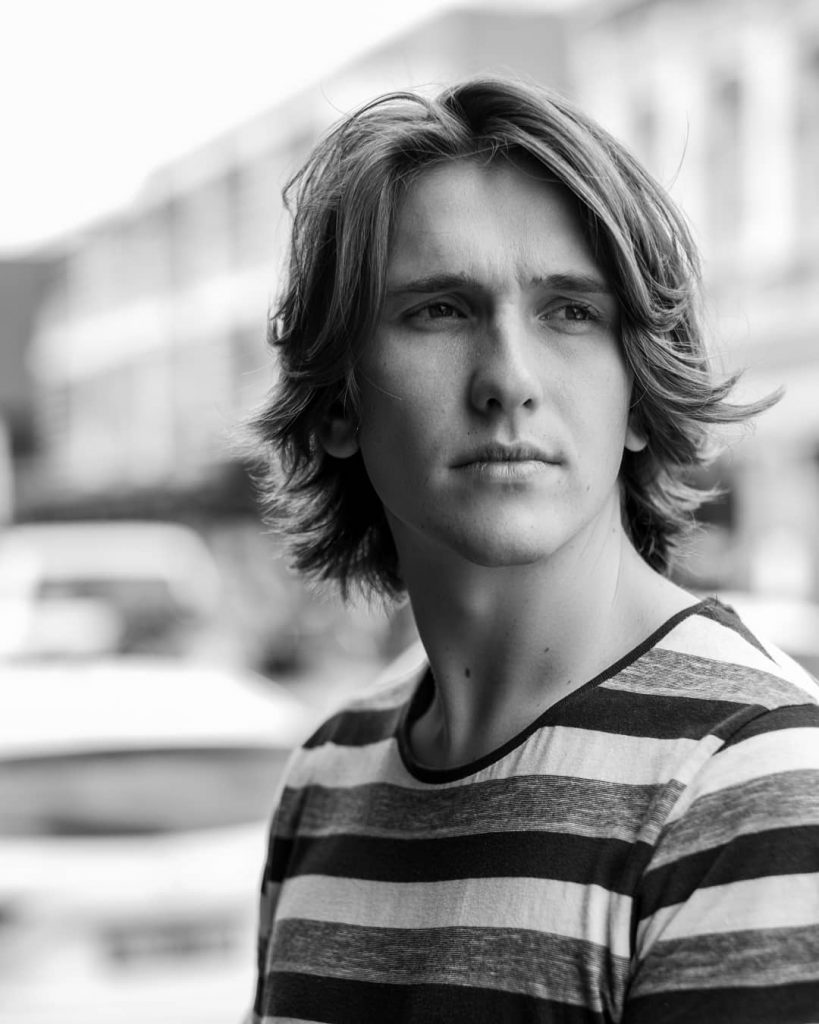 Wearing hair long for men takes more than growing hair out. Regular trims keep the shape flattering and ends healthy. This long haircut features staggered lengths around the face.
18. Modern Men's Haircut + Spikes + Rounded Bald Fade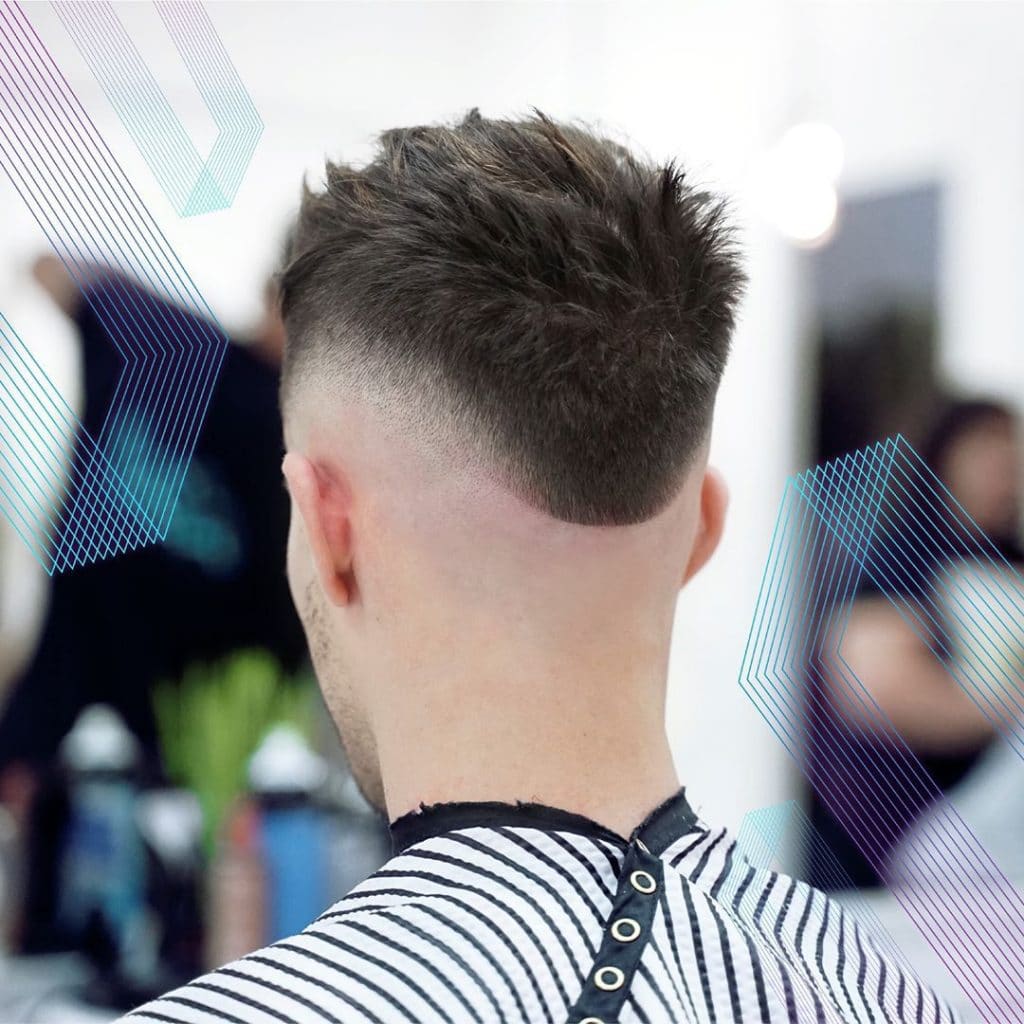 When we think of modern hair, we think of bold new looks that stand out from the crowd. This curved neckline does just that.
19. Taper Haircut For Men + Beard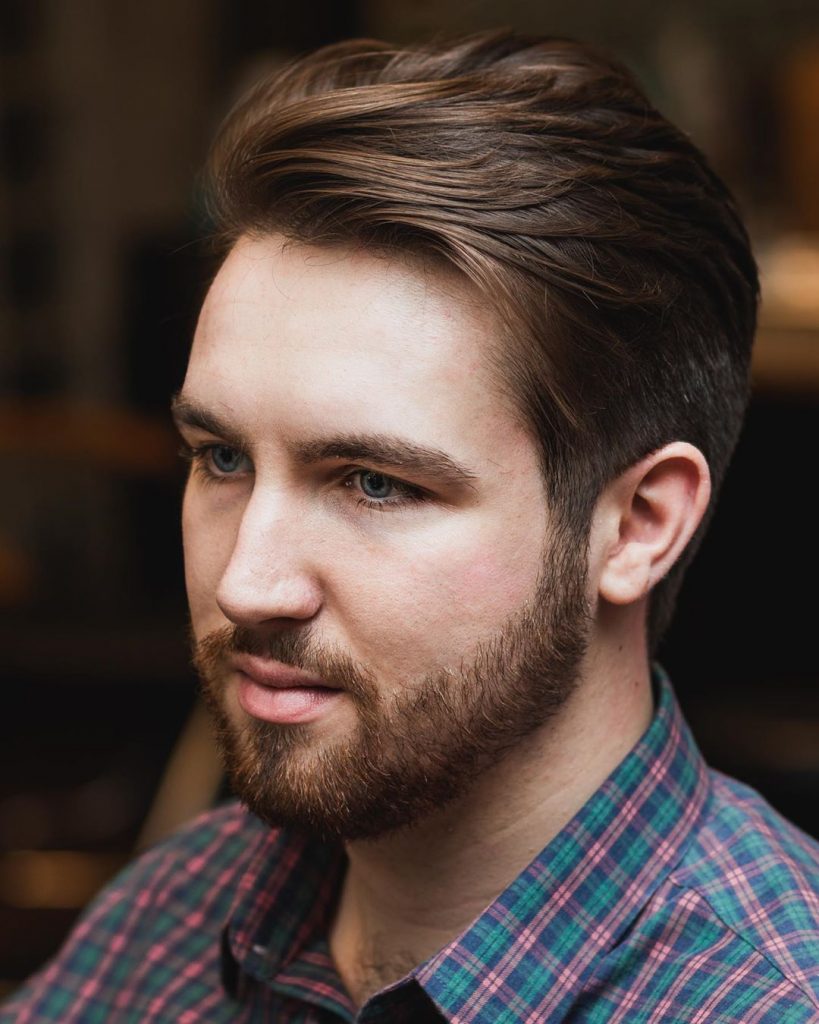 The taper haircut is a scissor cut style without a fade. It's a classic look that is also in style today, especially with some flow on top.
20. Men's Haircuts For Thick Hair -> Textured Spikes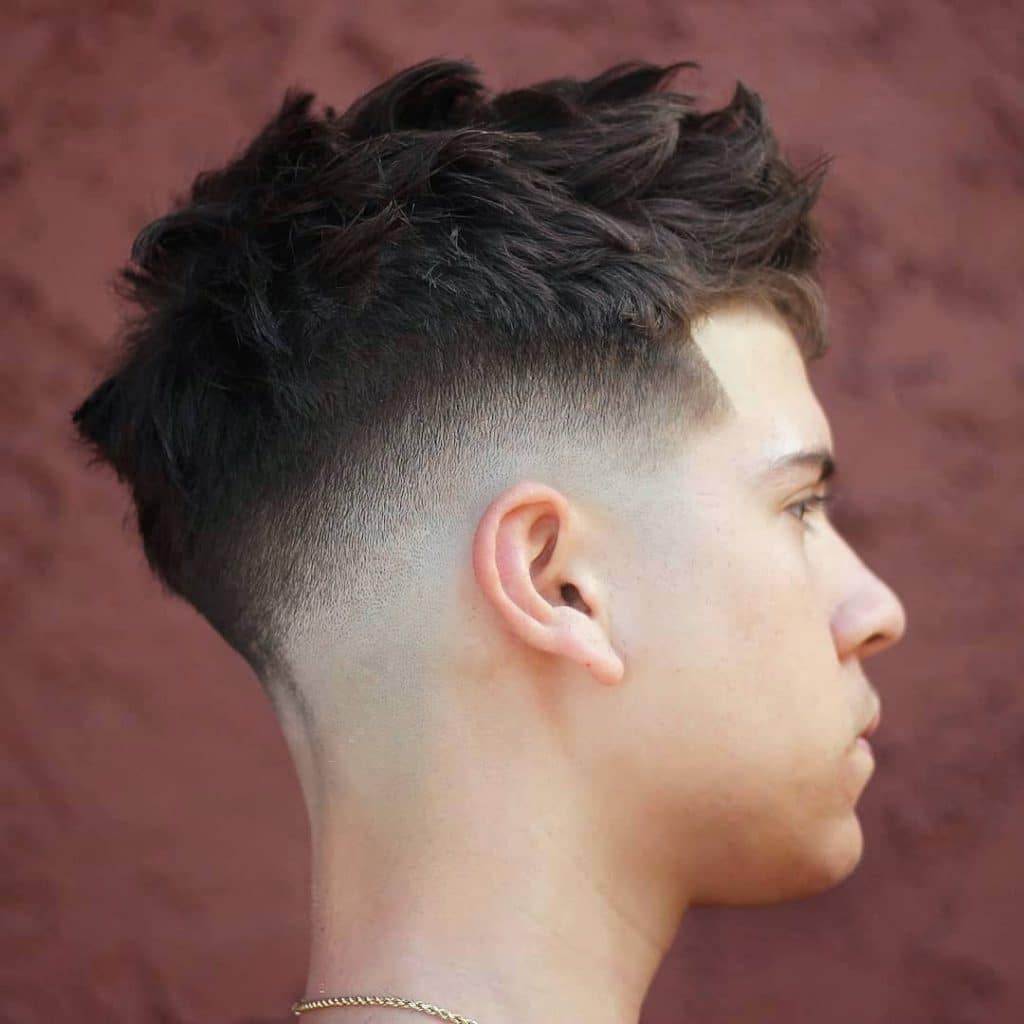 This haircut manages thick hair by raising the neckline and removing some weight on top. The cut also enhances texture for these cool spikes.
21. Modern Young Men Haircuts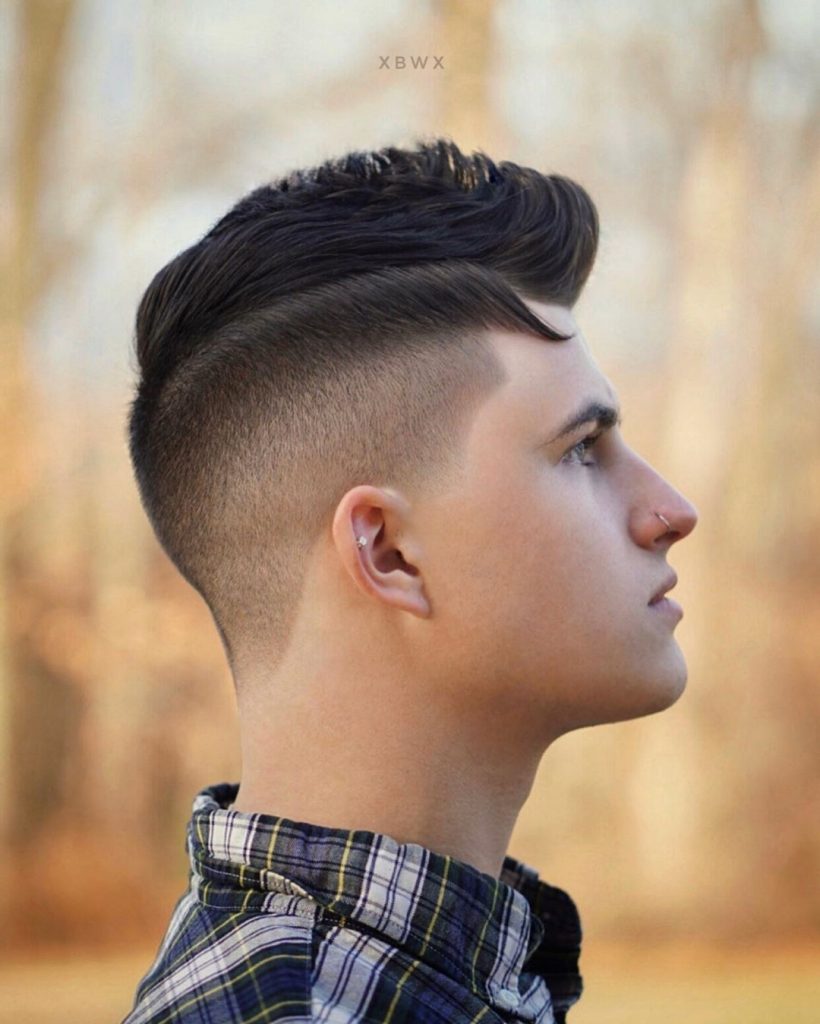 We're going to generalize here and say that young men tend to go for newer, edgier looks. This fresh look has a mohawk shape from the sides with a fauxhawk/quiff style and piece of pointed fringe.
22. Great Short Haircut For Balding Men -> Comb Forward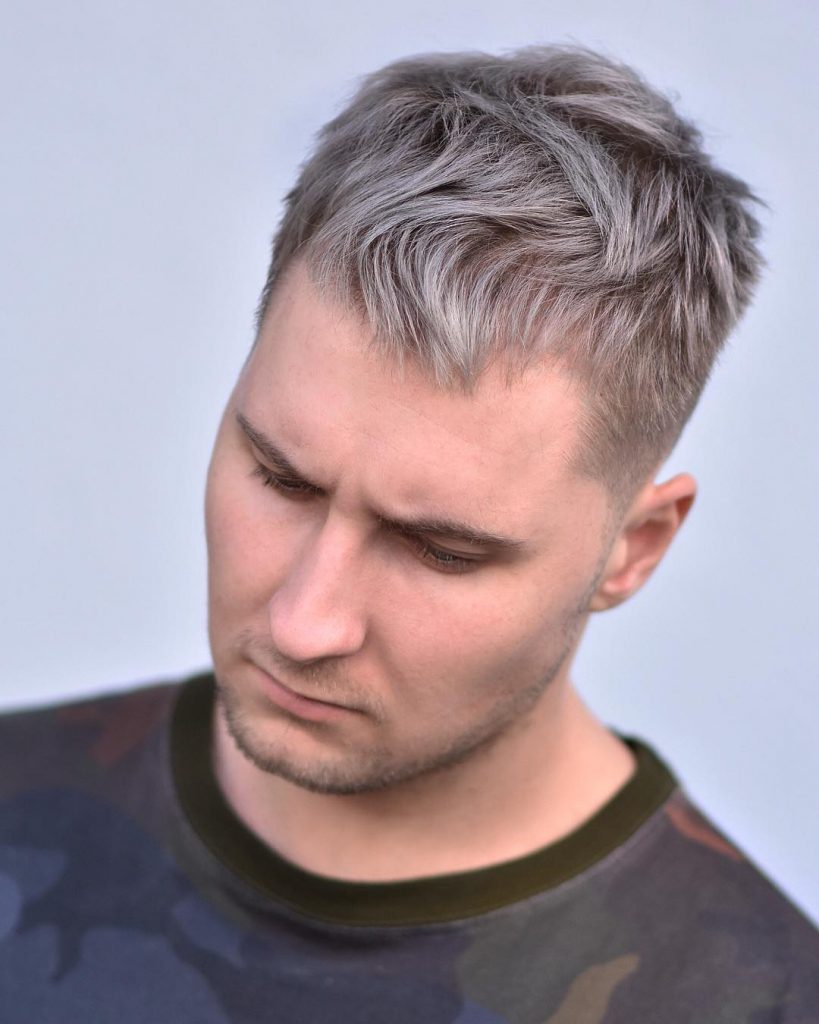 The best haircuts for hair loss maximize coverage with the hair you have. This cut works for receding hairlines as well as bald spots because of the combination of length and texture. Try some of these hair products for hold and to help hair appear thicker.
23. Haircut For Men With Thick Hair -> Slicked Back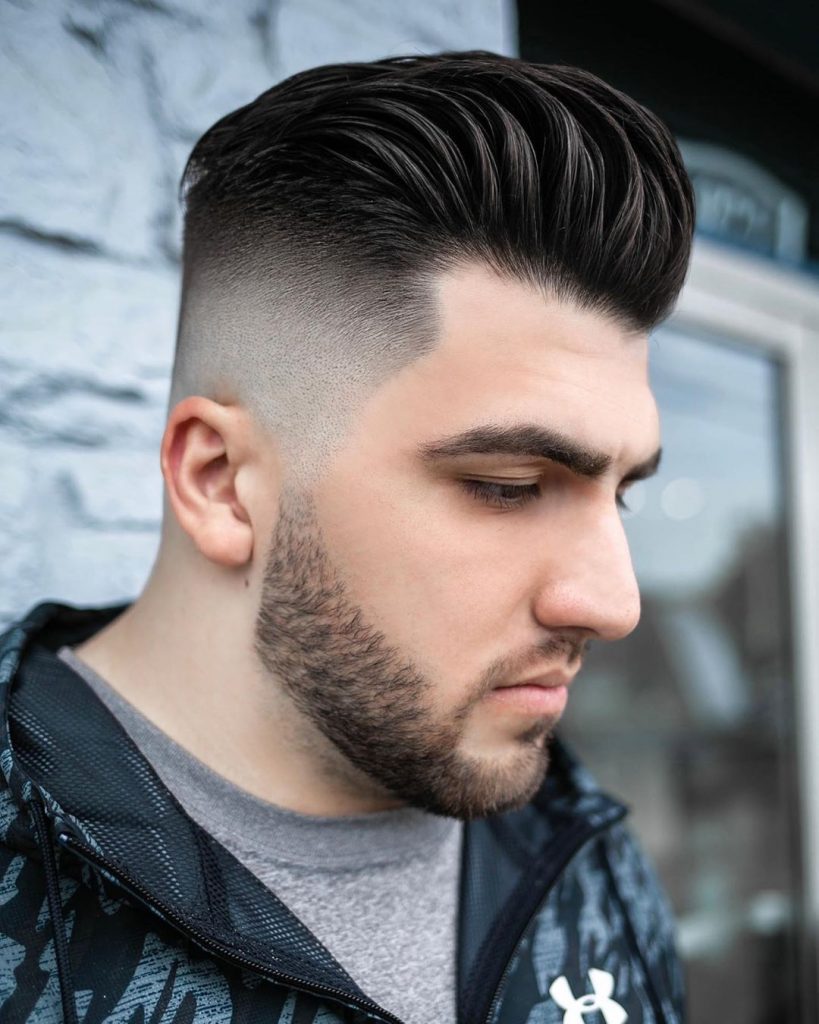 This pompadour fade haircut makes thick hair look great and easy to style.
24. Short Sides, Long Hair On Top Men's Haircut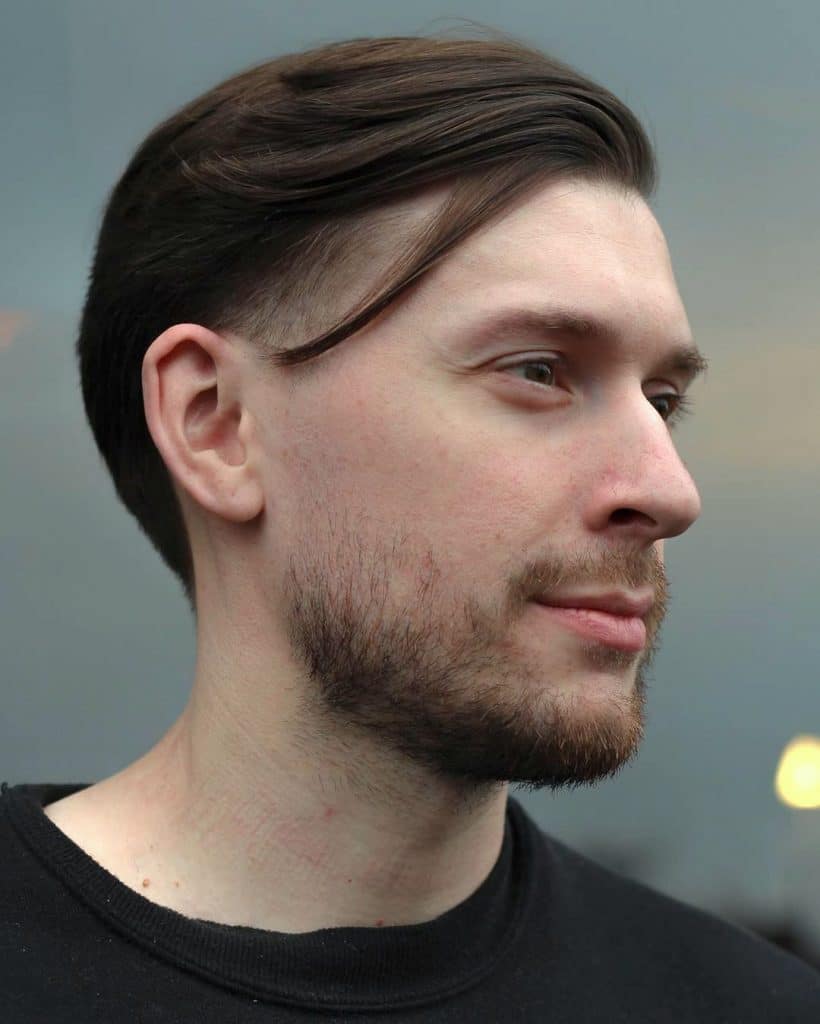 Short sides with longer hair on top is a classic combination. This cool version gets an update with a taper fade.
25. Shag Haircut For Men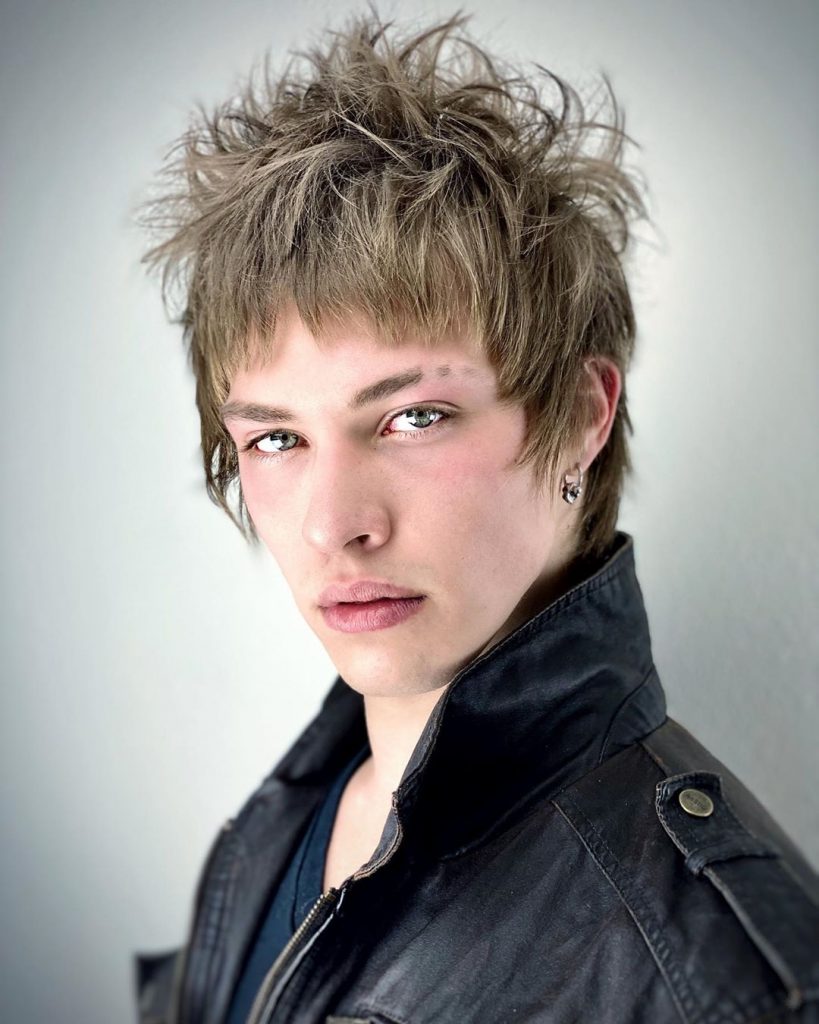 A shag cut is a hairstyle that has been layered to various lengths. Spiking hair up shows even more of those layers.
26. Trendy Men's Haircut -> Spiky Short Hair + High Fade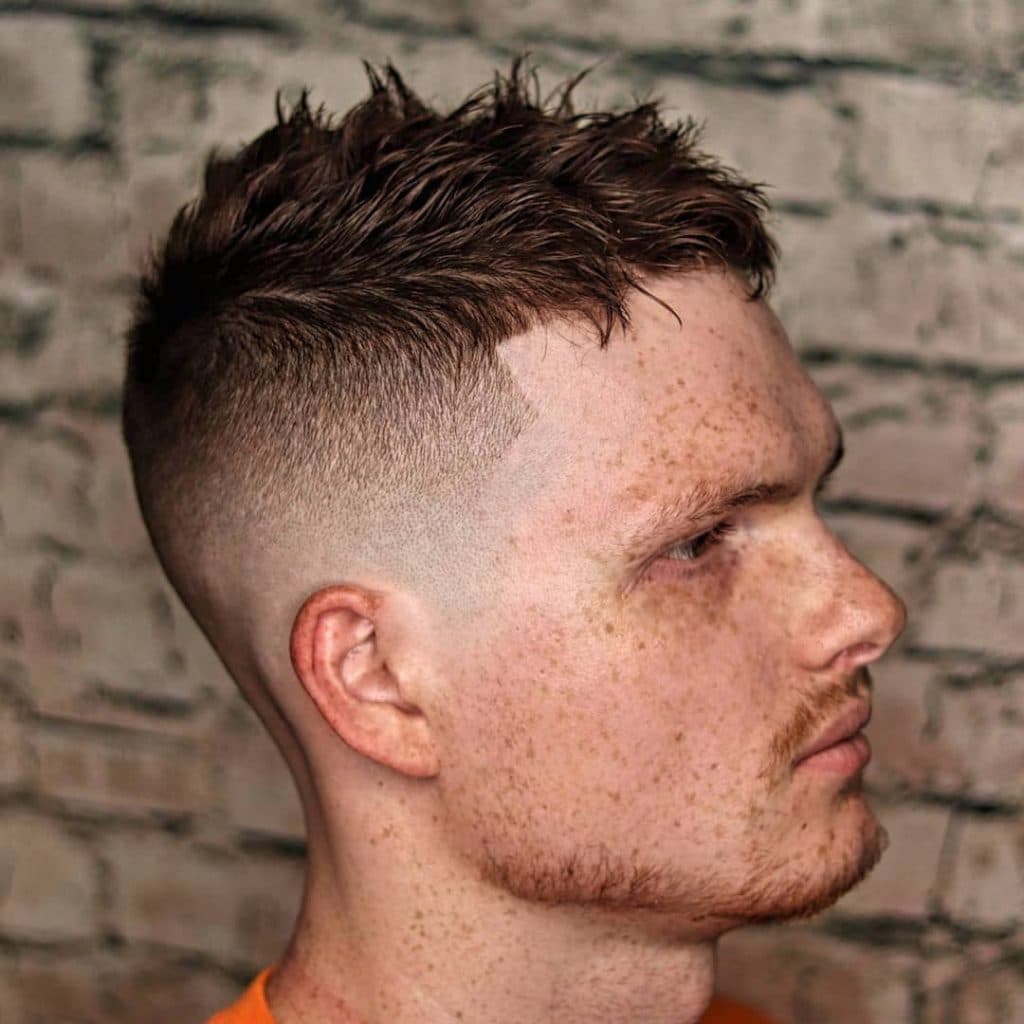 The French crop aka the crop fade aka the crop haircut is one of the top men's hair trends right now. Here's a shorter version of that cut with plenty of that signature texture.
27. Classic Men's Haircut -> Blow Dry + Brushed Back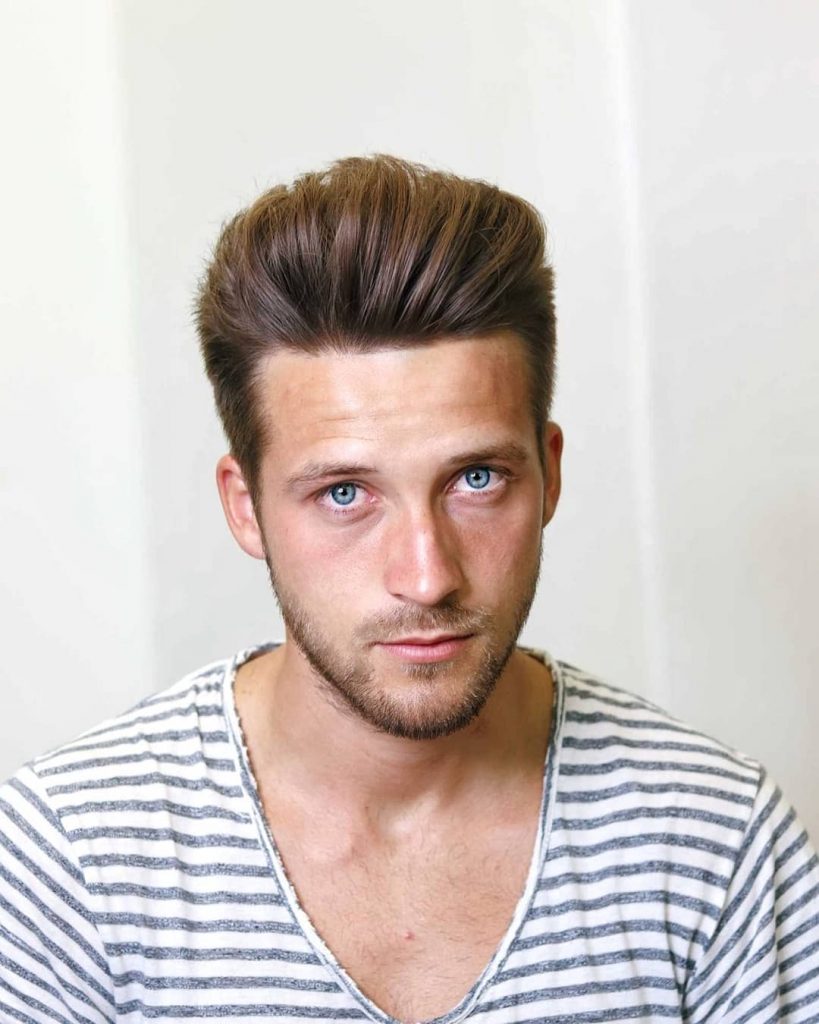 It doesn't get much more classic than the pompadour. It's a slicked back style with extra height. Customize it by wearing it lower or higher, shiny or matte, smooth or textured.
28. Low Fade Haircut For Men With Thick or Wavy or Curly Hair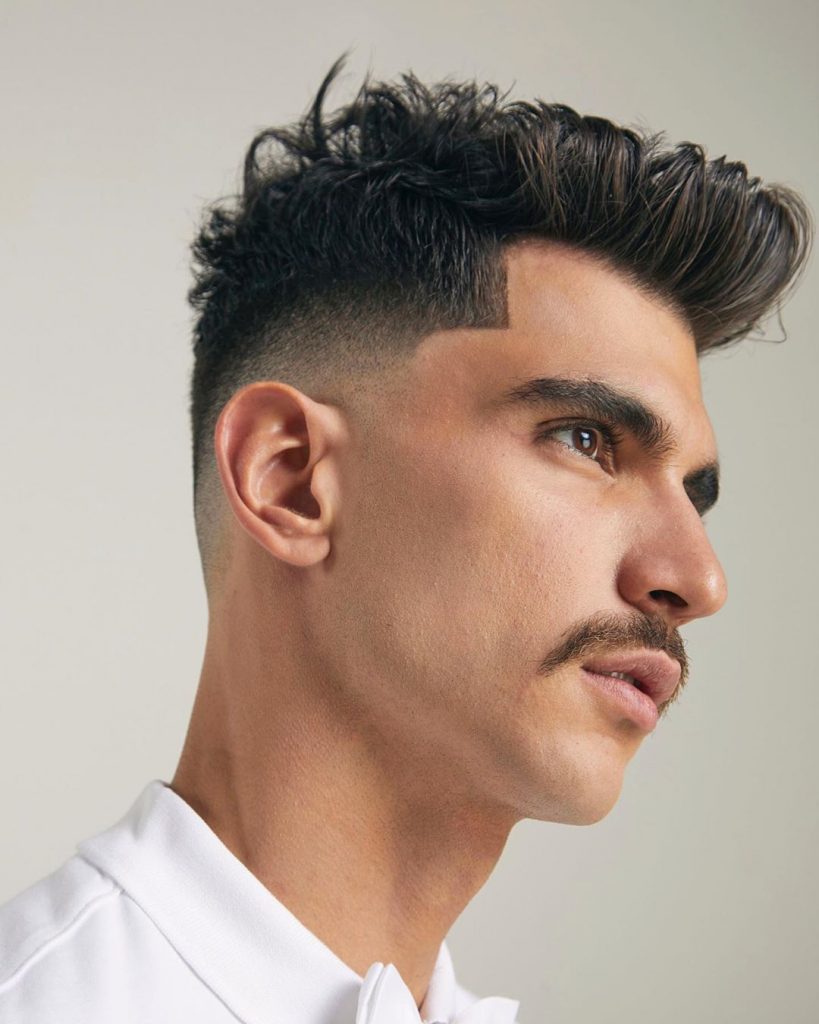 The low fade is pretty much a type of neckline. This low drop fade creates a blurry and curved neckline instead of whatever nature gave you.
29. Men's Haircuts With Disconnected Beard + Long Fringe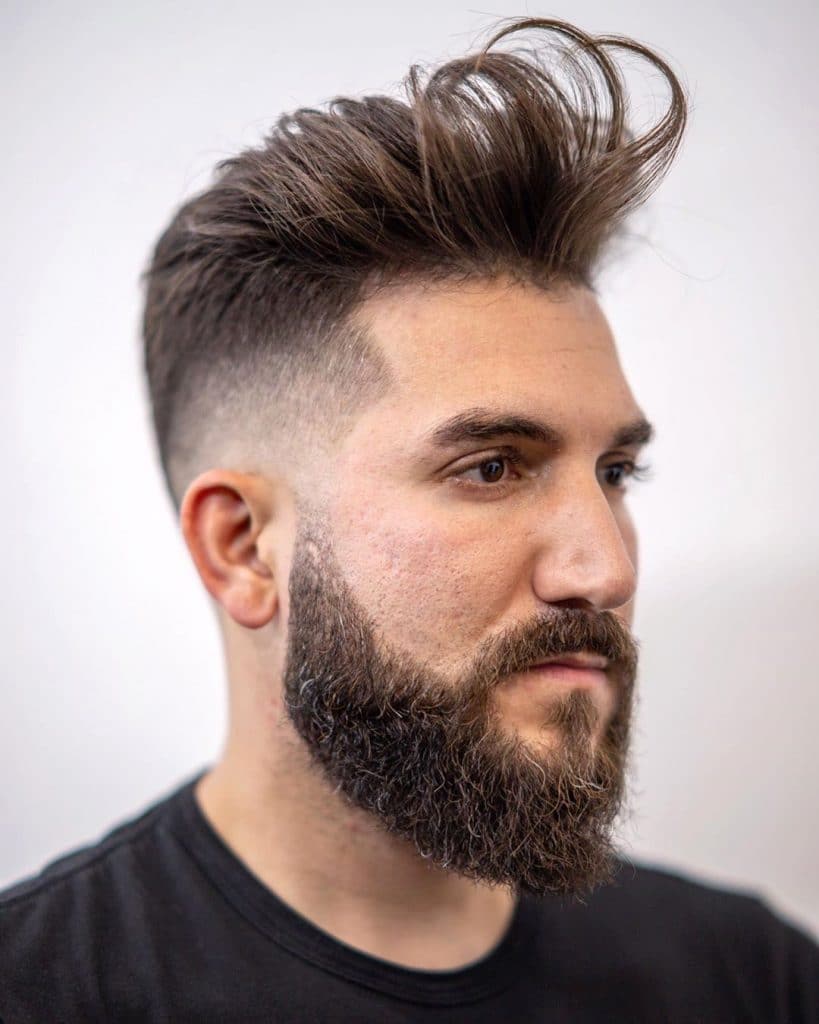 Obviously you can wear any haircut with any beard that you like. The main thing to consider is the transition between hair and the beard. Some guys keep it connected while this cool look has a beard fade.
30. Textured Fringe Haircut For Men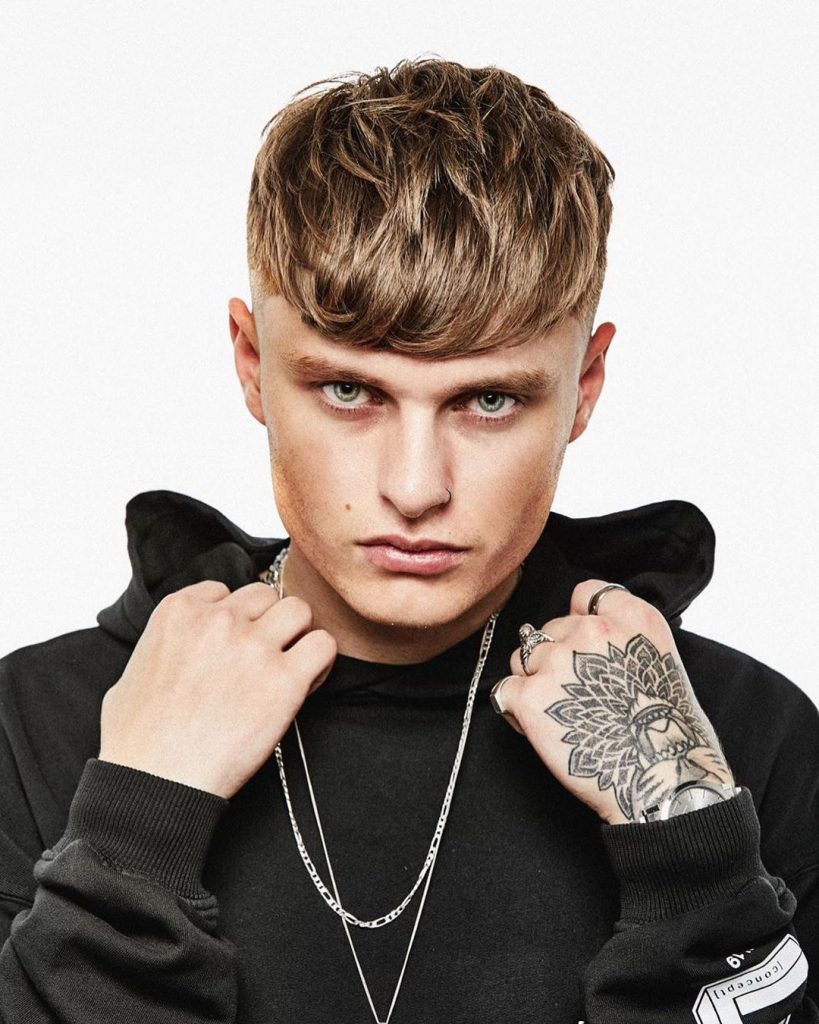 Fringe, also known as bangs, as the hair that hangs down over the forehead. Fringe haircuts have always been popular for men, starting with the short Caesar haircut. Bangs are even more popular today, as part of the French crop.
31. Low Maintenance Men's Haircuts -> Ultra Short Buzz Cut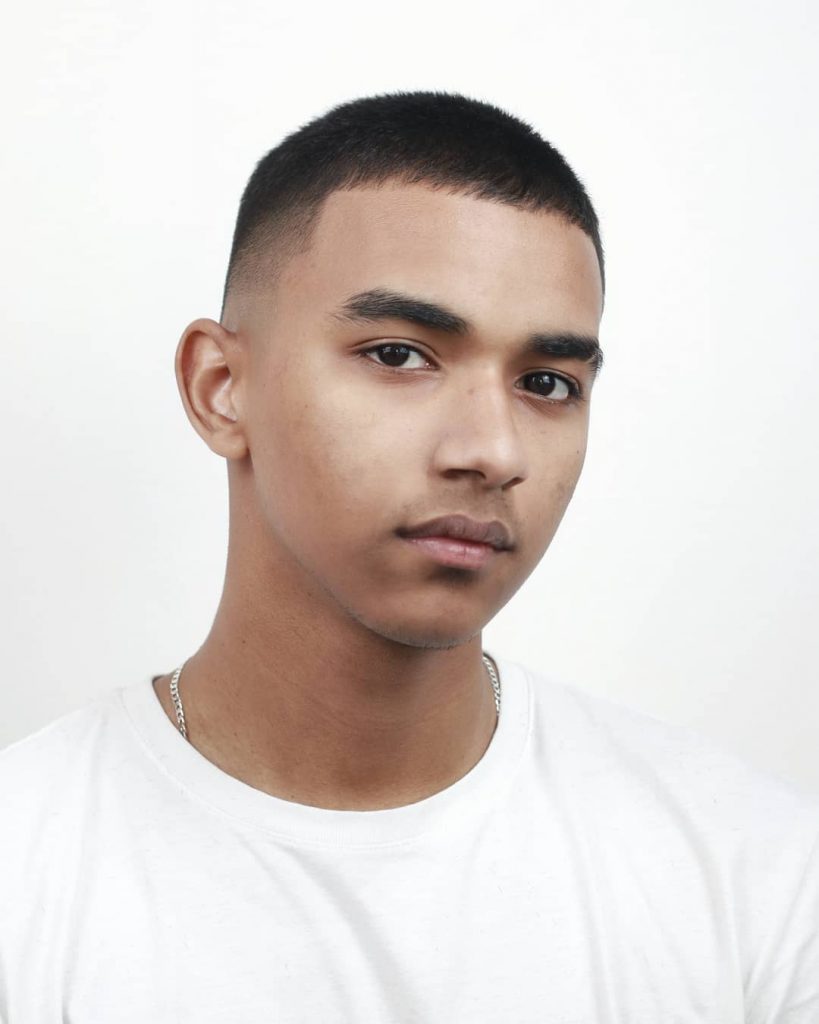 This buzz cut with a fade and line up is the easiest and coolest haircut for men.
32. Long On Top Men's Haircuts -> Natural Curls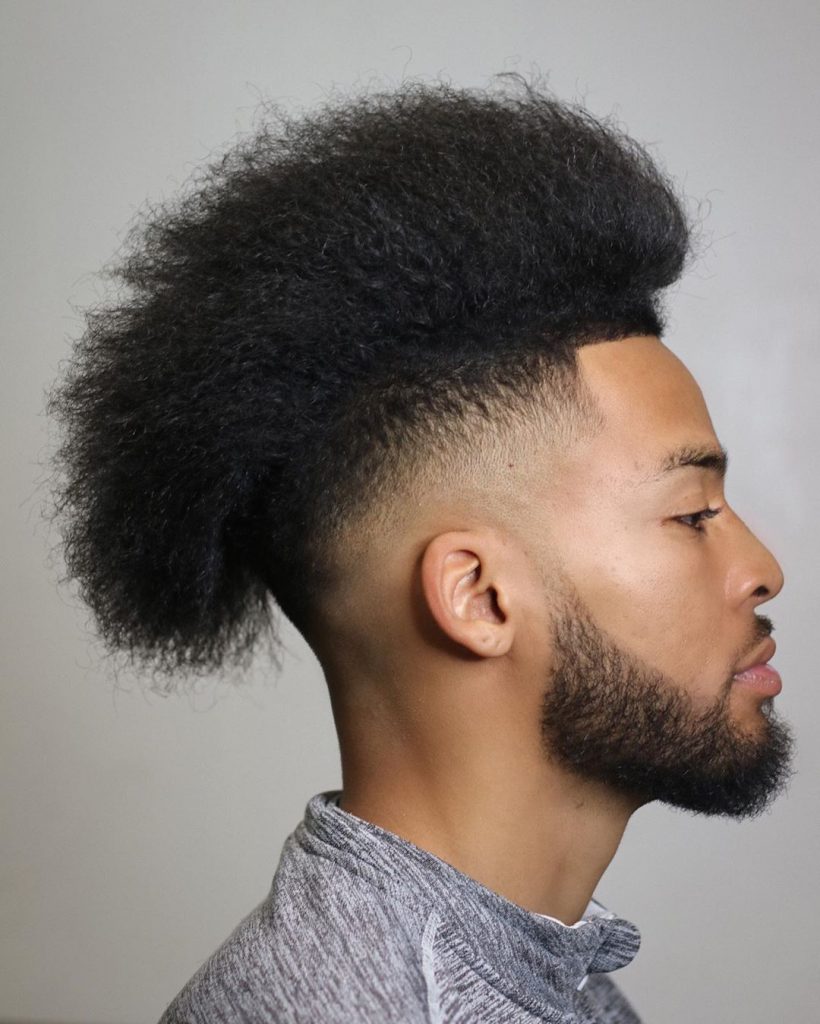 Long on top men's haircuts look great for all hair types, from the straighest to the curliest.
33. Classic Men's Short Haircut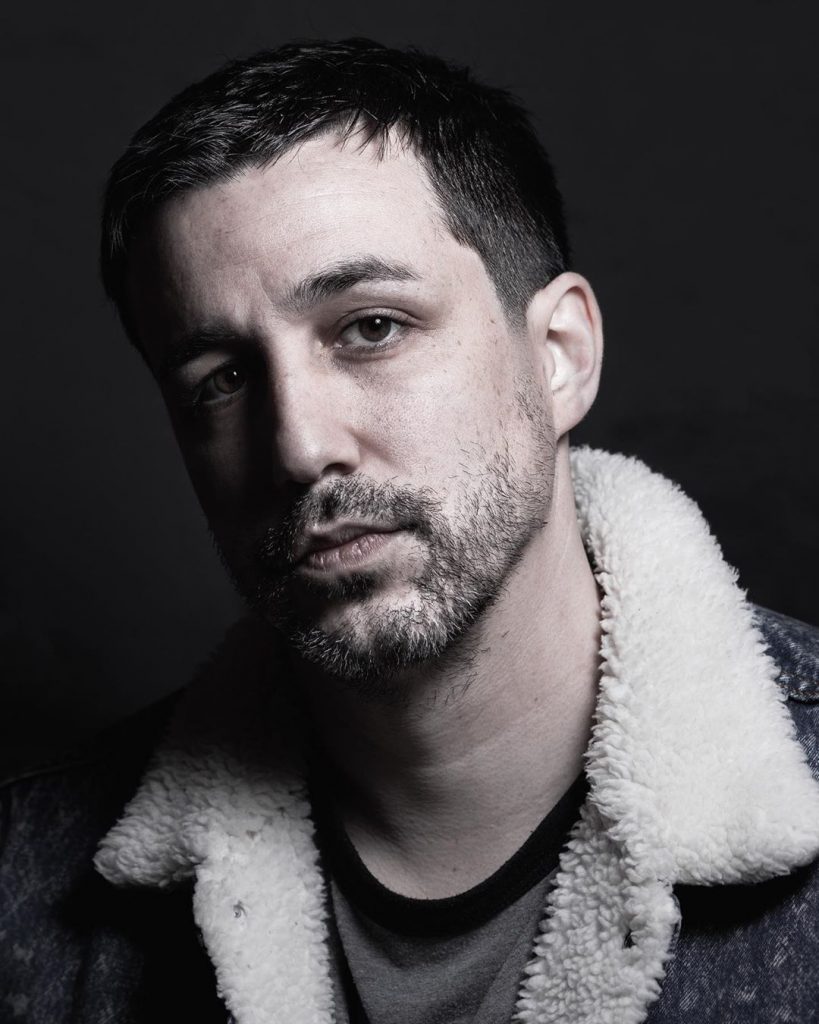 Short haircuts for men will probably always be the most popular. Mostly because they are easy. This is a simple and classic cut that a hint of length at the forehead.
34. Professional Short Haircut For Men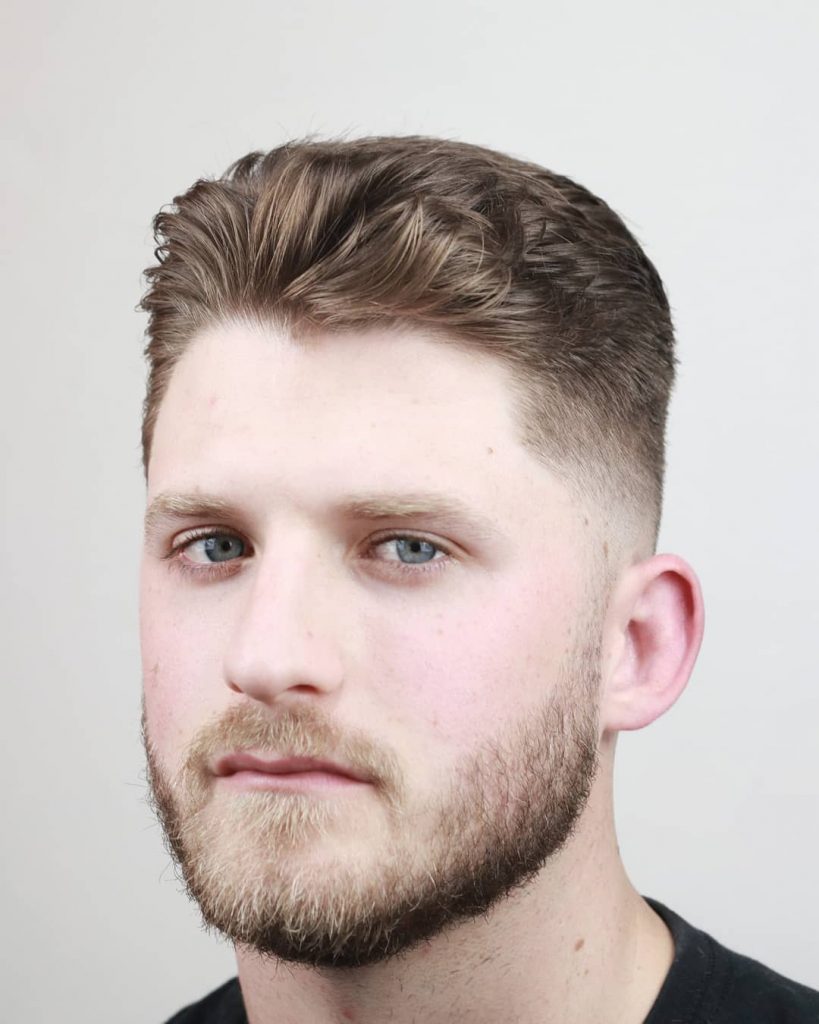 This classic men's haircut is also very professional. Hair can be styled cleaner for work and messier for play.
35. Undercut Haircut For Men + Curly Hair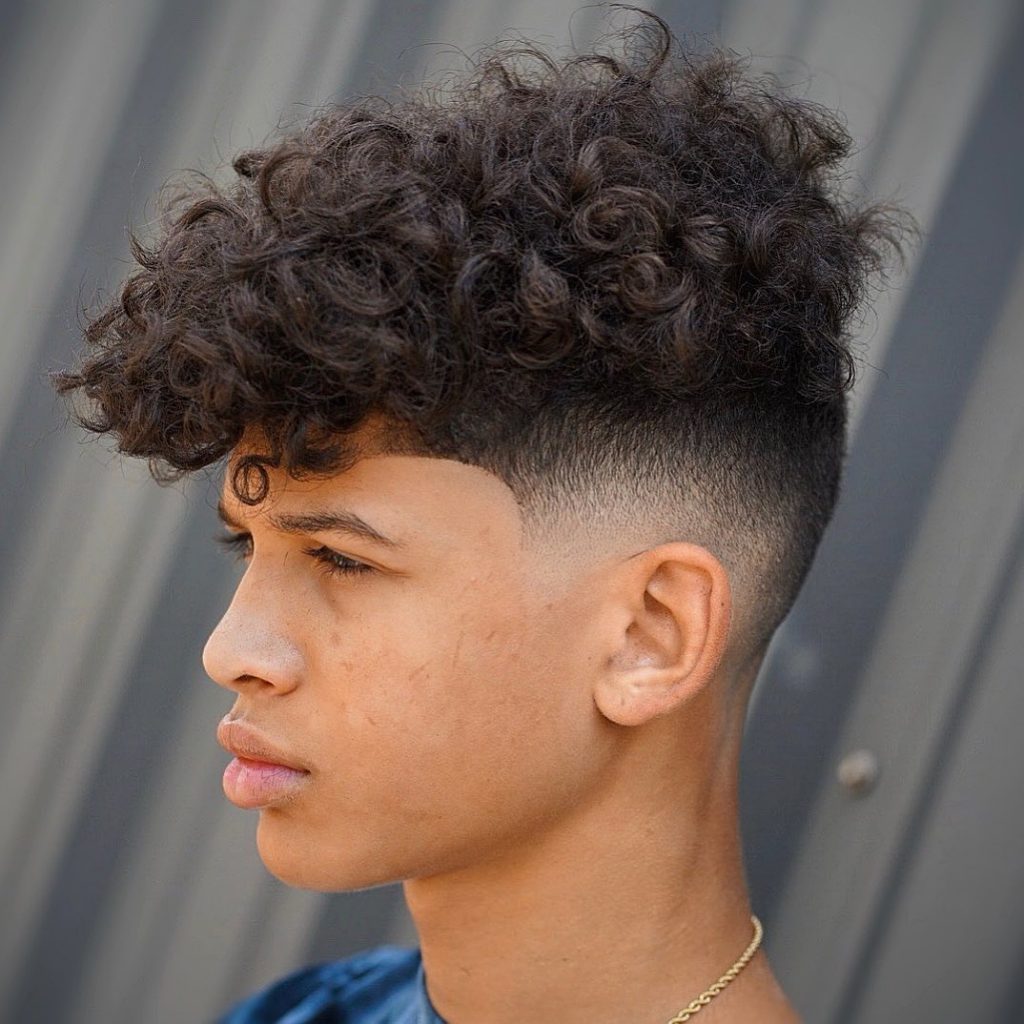 The undercut is one of the most popular hair searches for men, even if people don't always try it. This type of very high fade makes it easy to wear hair long, whether it's straight or curly.
36. Short Haircut For Black Men With Waves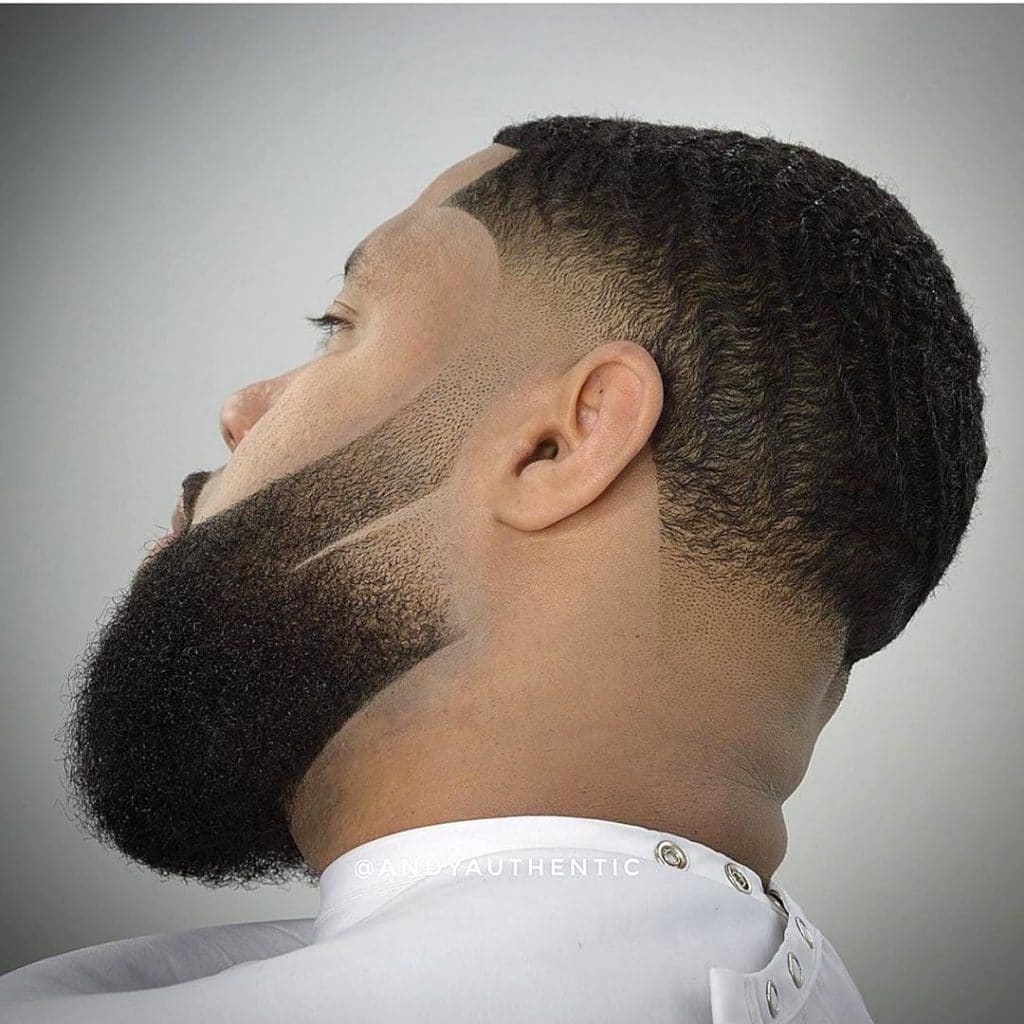 One of the most popular ways to wear short hair for black men is in waves. Wear 360 waves with this taper fade or a higher fade for 180 waves. Add a beard and shaved line or don't.
37. Haircut Ideas For Men -> Medium Length Hair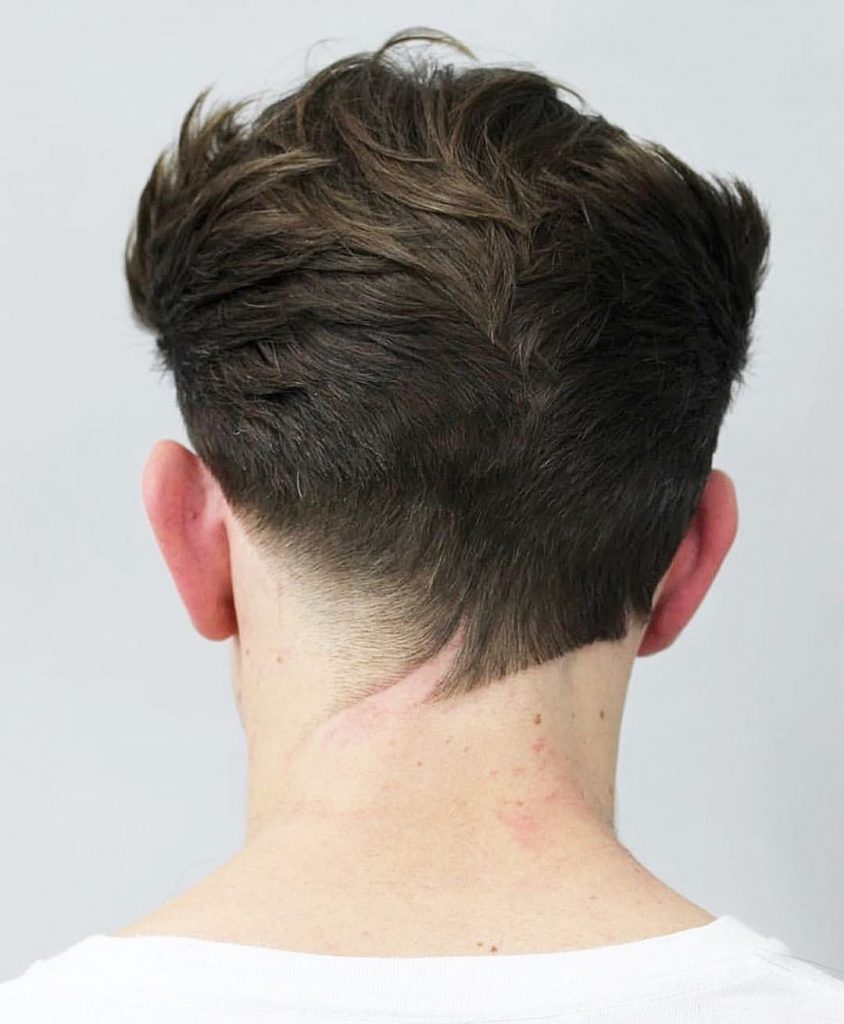 It's an exciting time for men's hair because there are always more creative and innovative styles. One of the latest haircut ideas for men is neckline hair designs, like this one.
38. Haircuts For Men With Receding Hairline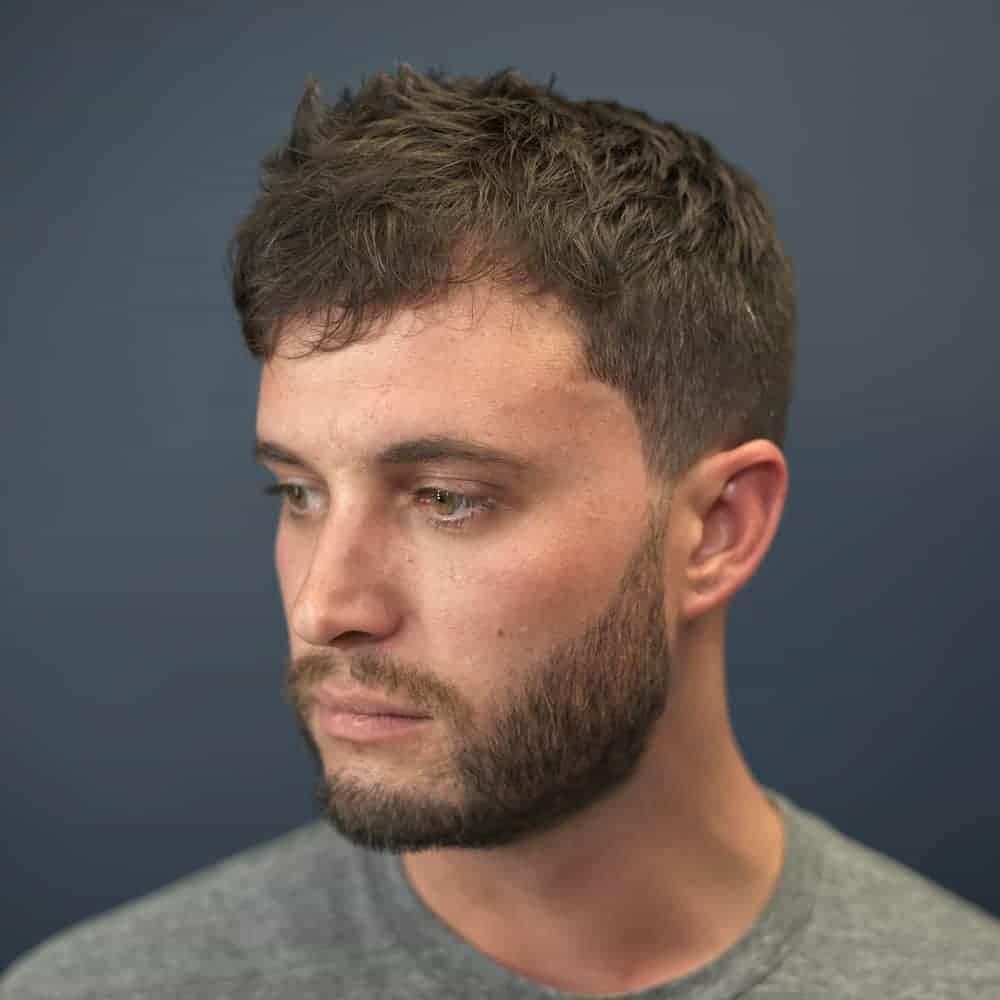 When that forehead starts creeping up higher, it's time to start growing hair longer for more coverage. This short haircut helps minimize a receding hairline while being on trend and looking great.
39. Haircut For Men With Straight Hair + High Fade + Line Up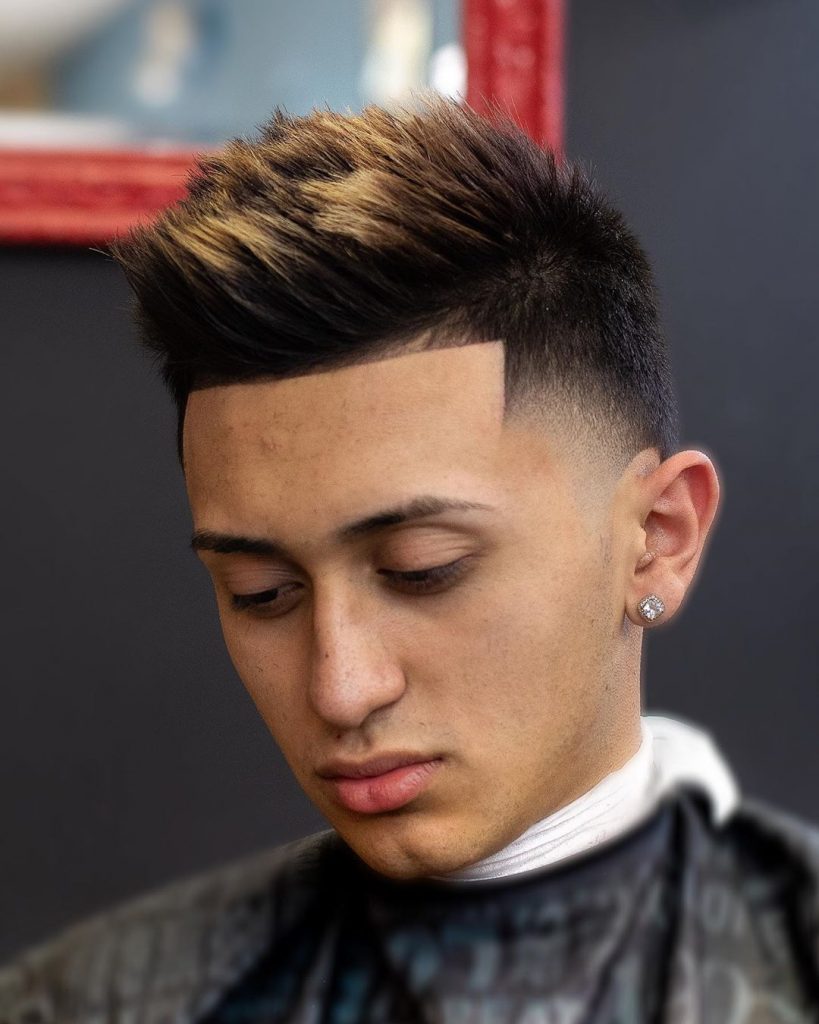 If you have the type of straight hair that want to stick up, go with it with this cool spiky style.
40. Haircut For Men With Wavy Hair + High Fade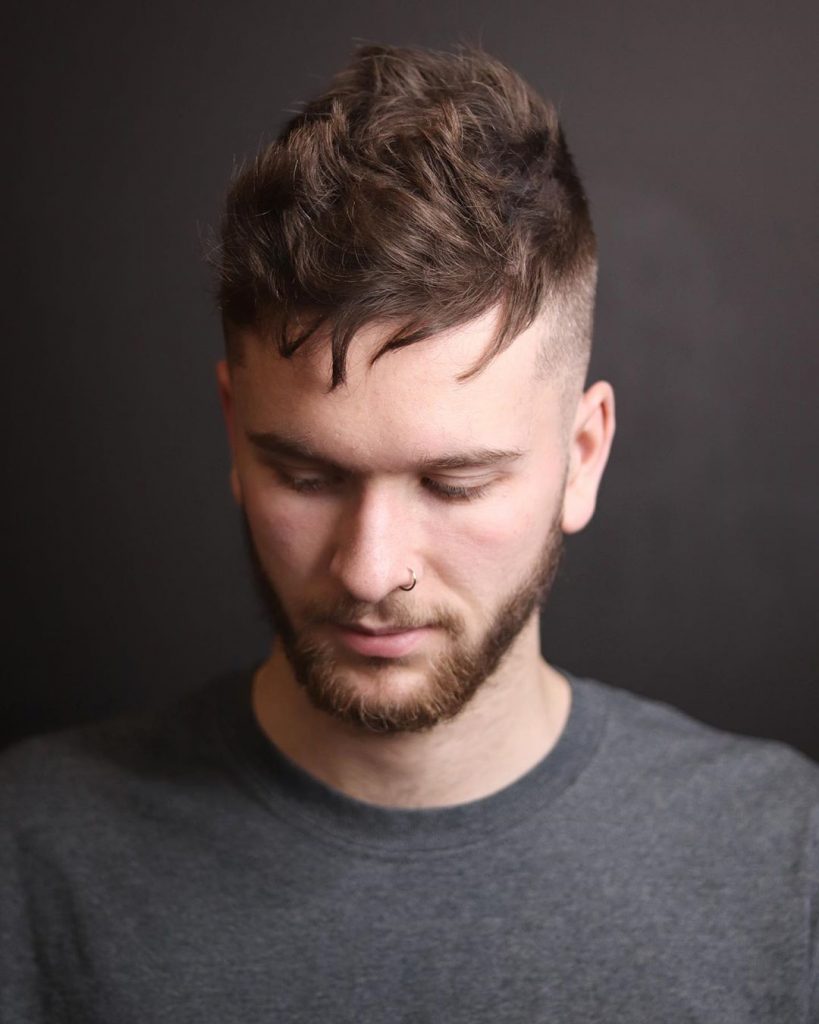 Waves bring natural texture and volume to any haircut when given some length.
41. Men's Very Short Crop Haircut + High Fade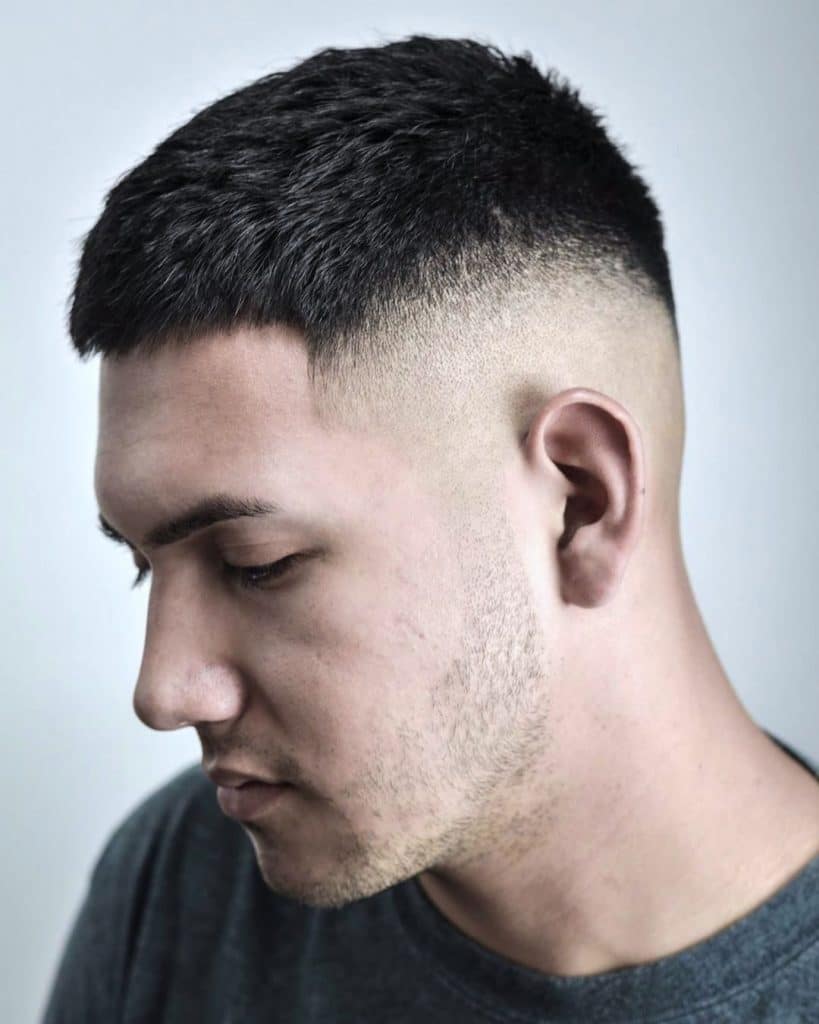 This cool look is all about the quick, high fade and the arc that it makes as it drops down at the back of the head.
42. Nice Haircuts For Men -> Side Part + Slicked Back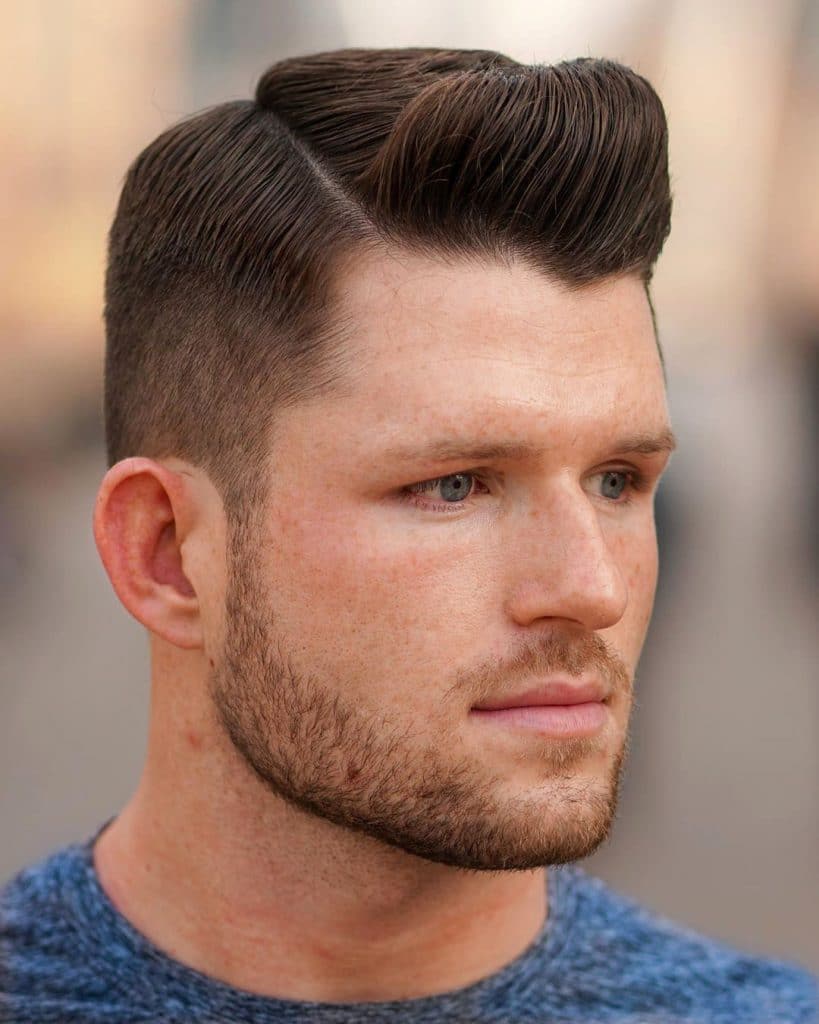 This side part hairstyle with a quiff has been a popular cut for at least a hundred years. Pretty nice.
43. Professional Men's Haircut -> Clean + Short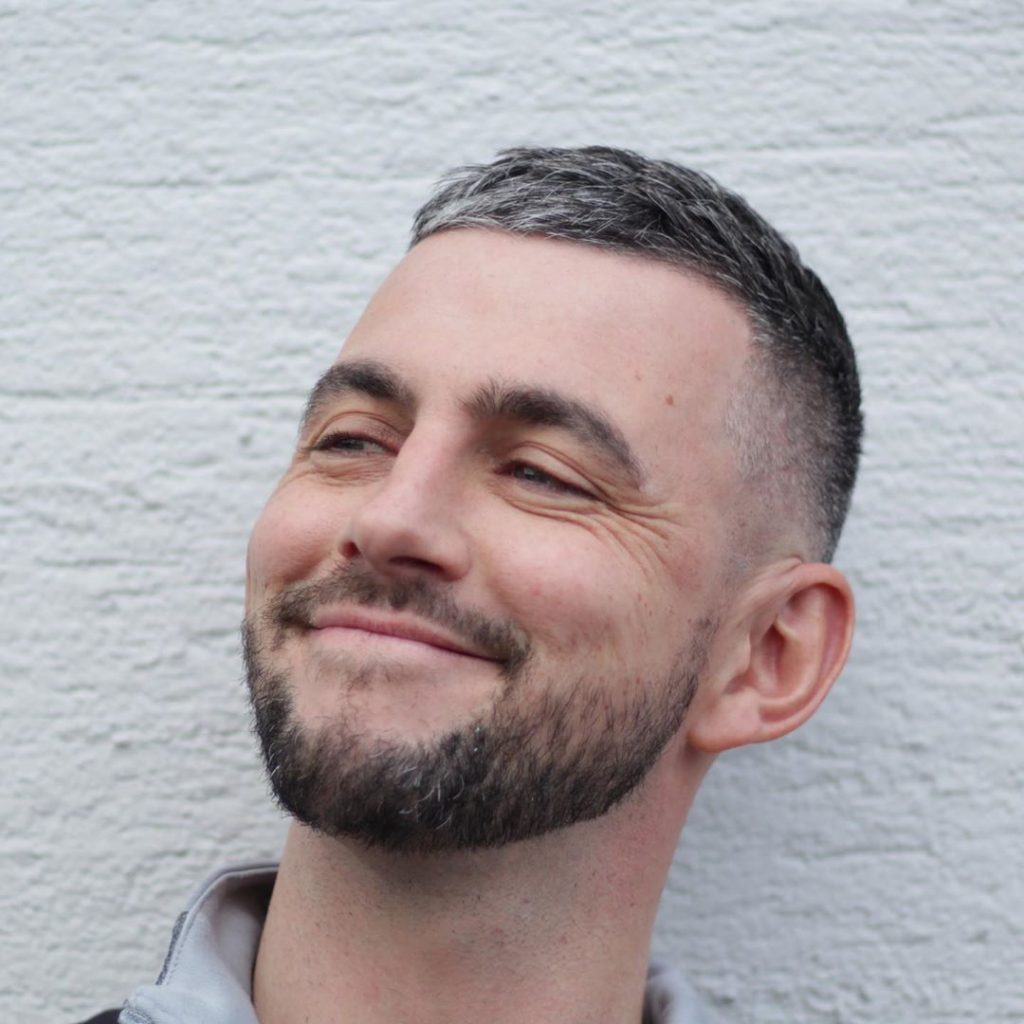 To be professional, haircuts just need to be clean cut. This short haircut fits the bill with a fade at the temples and a hint of length at the forehead. This cut works really well for gray hair, which can tend to become coarse.
44. Taper Haircut For Black Men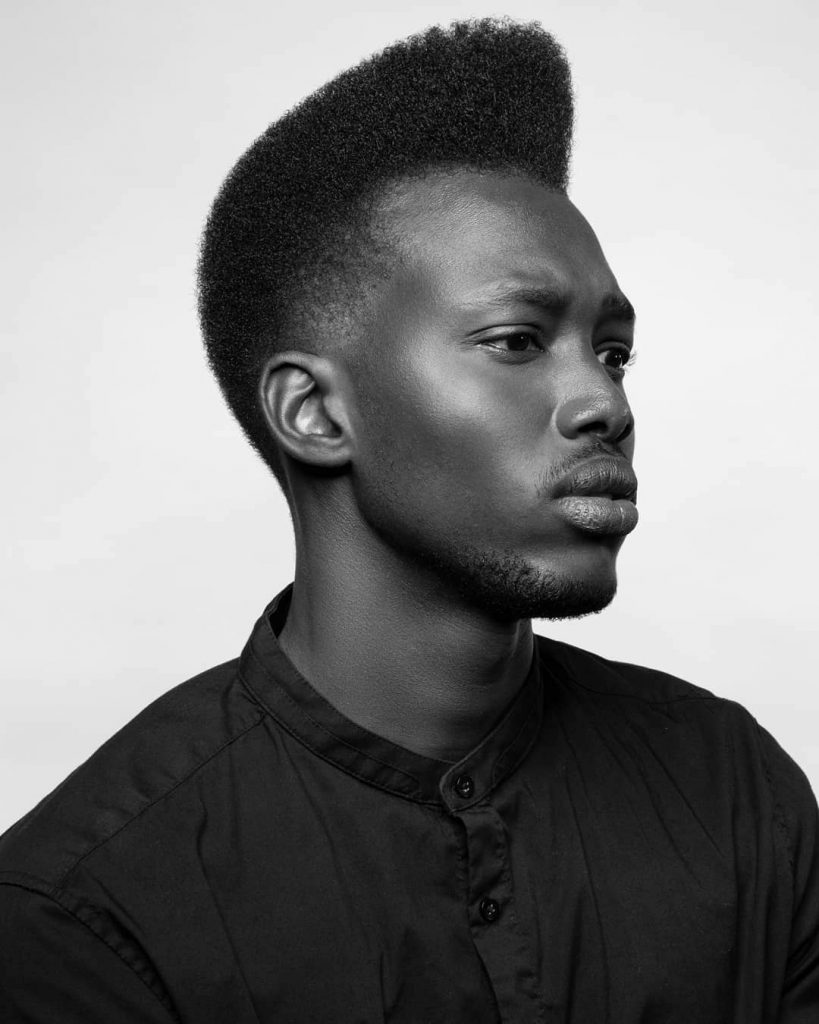 The taper, also known as the taper fade, is a haircut with a quick fade at the side burns and neckline with an arc of hair behind the ear. On top, hair can be anything you want but this pompadour for black hair is especially cool.
45. New Haircut For Men -> Modern Mullet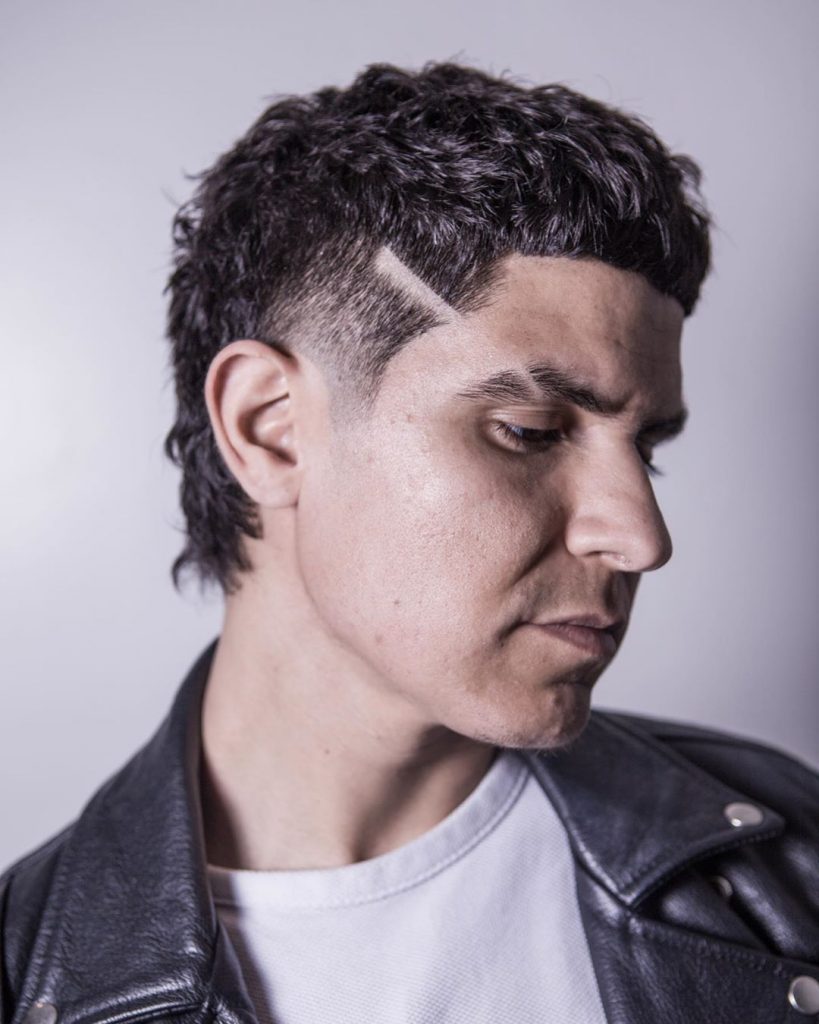 There might not be any completely new haircuts for men but there are some new creations. This look starts with a short and textured mullet style and then adds a temp fade, shaved line, and blunt fringe.
46. Best Haircut For Men With Thin Hair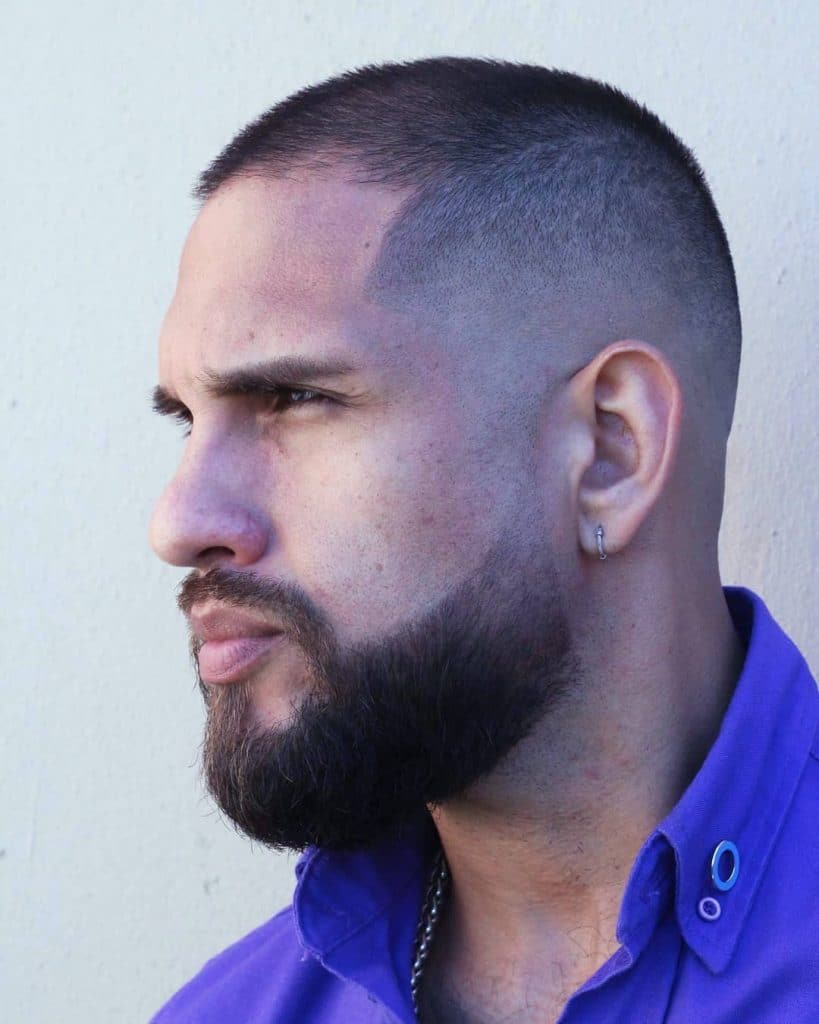 In contrast to the blurry skin fade, thin hair appears thicker. This buzz fade is one of the best options for balding guys.
47. Best Short Haircuts For Men -> Pompadour Hairstyle + High Fade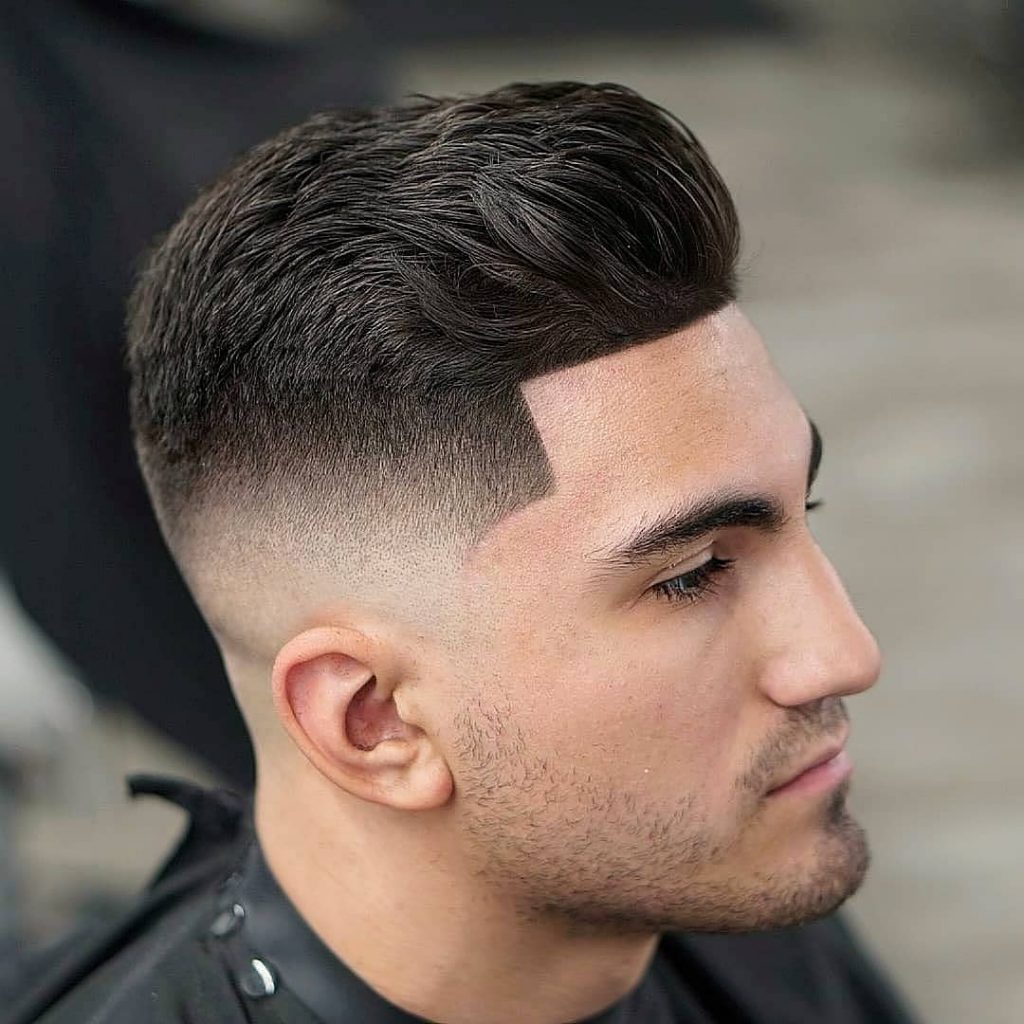 This is one of the best short haircuts for men because it is short almost everywhere while leaving some length and fullness at the forehead. Style hair into this quiff, a comb over, or spikes.
48. Men's High Fade Haircut + Naturally Curly Hair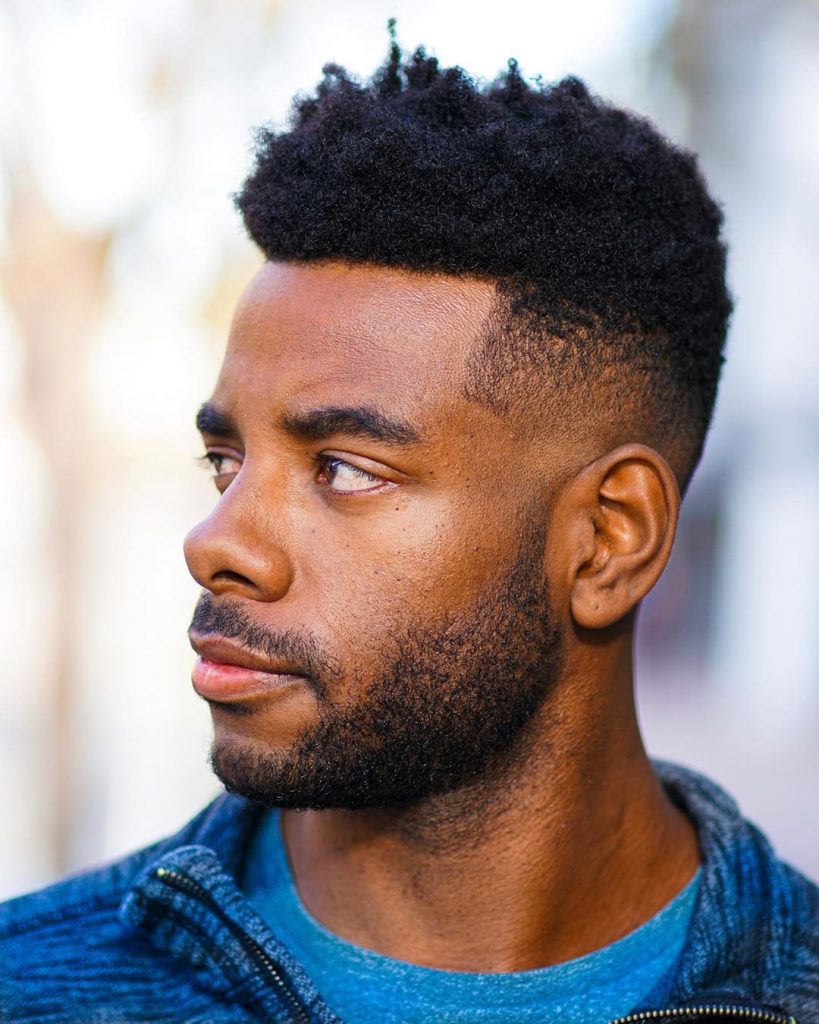 This high top fade uses a high fade to focus attention on the shape and texture of hair on top.
49. Popular Men's Short Haircut + Low Fade + Disconnected Beard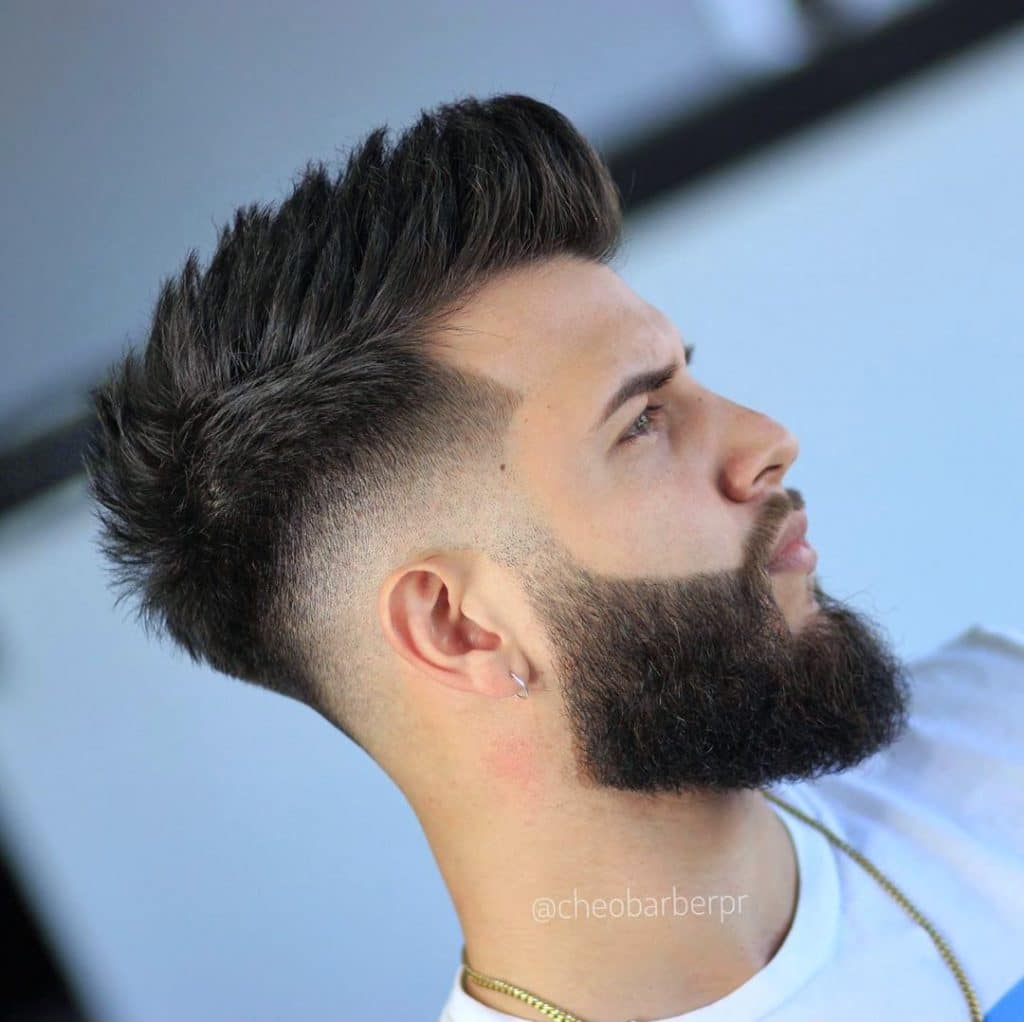 This thick top, low fade cut is as long as short hair can be.
50. Popular Haircuts for Black Men -> Waves + Low Fade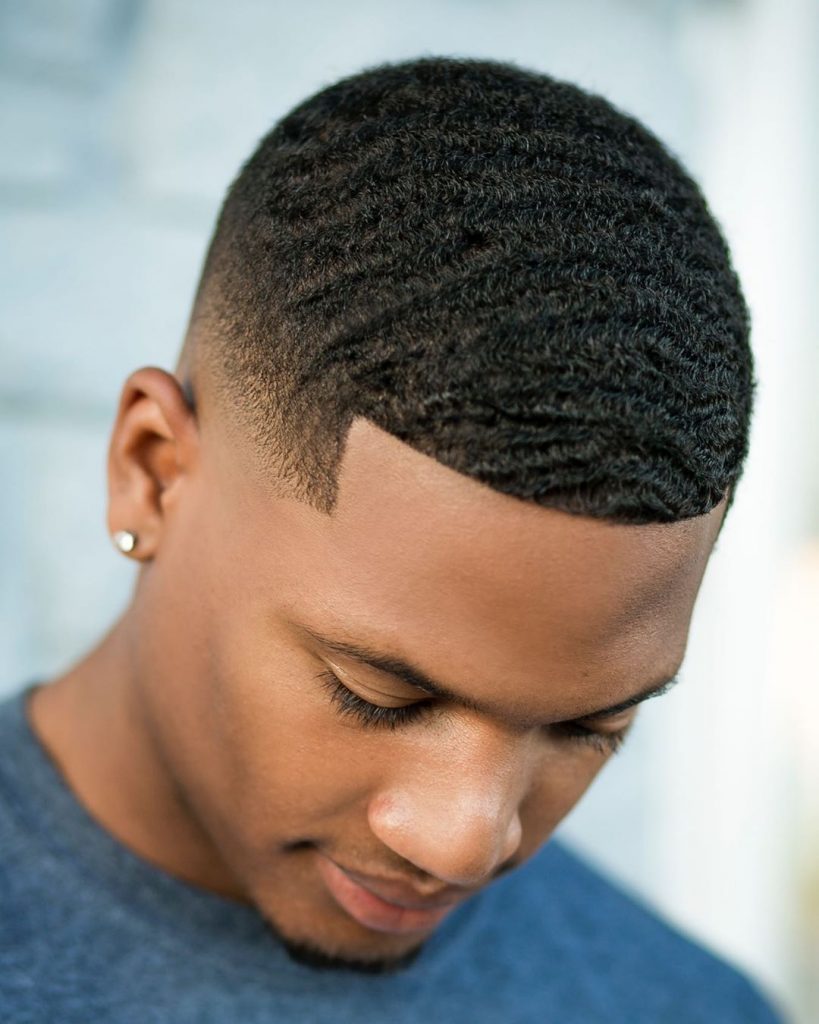 We've already talked about how popular the buzz fade with a line up is for all guys. For black men, add some waves.
This post may contain affiliate links. Please read our disclosure for more info.
Sours: https://www.menshairstyletrends.com/popular-mens-haircuts/
Which men's hairstyles and trends defined 2021 and which celebrities did everyone want to look like? Here are a few hairstyles that were extremely popular over the past year, all inspired by a celebrity.
This post may have affiliate links, meaning we earn a small commission on purchases through the links (at no extra cost to you). This does not change our opinion but does help support the site. Thank you!
The Best Men's Haircuts for 2021
Best Short Men's Hairstyles
French Crop
It's related to the quiff, but it's significantly lower maintenance. Likely as a confluence of these factors, this haircut featuring a short length, a fade on the sides, and some fringe on top surged in popularity over the past year. Attesting to its adaptability, it delivers texture and that just-slightly-messy look with ease, and stays out of the way throughout the day.
Crew Cut
If you could sum up 2020 with one hairstyle trend, it's this: The classics are returning. While the quiff received most of the attention, the crew cut came in second, perhaps due to its light relationship with the French crop. Rather than keep it short all over, go for a modern update with faded sides and a bit more length on top.
Undercut
The undercut has proved to be one of the more versatile and adventurous cuts out there, and its grip didn't let up throughout 2020. In general, while the undercut can sport short to long hair on top, its definitive factor is the length distinction between both portions, and this leaves room for styling a quiff or adding fringe.
Low, Mid, and High Fades
If it's short on the sides, your hair is generally good to go. Fades have also dominated men's haircut trends throughout 2020, and they can be divided into three types. Low fades go for a nearly uniform length throughout, while a mid-fade adds a bit more body and length around the temples. A high fade approaches French crop territory, with a longer length that quickly tapers into a short length around the ears.
Taking this to extremes, the formal top fade offers enough length for styling – yet, it doesn't approach an 80s flat-top fade – and keeps things short and cropped on the sides.
Buzz Cut
Just take it all off. Zayn Malik, Frank Ocean, and other celebs did just that over the past year, perhaps adding a smattering of hair dye for some variation. It's the original no-maintenance cut, and is likely a reaction to the past few years of pompadours, quiffs, and longer locks.
Caesar Cut
Let's take a trip back to 1999 – but don't frost those tips just yet. A Caesar's essentially the midpoint between fringe and fade, and keeps things simple in the styling and maintenance departments. And, as the 90s and early aughts fashion trends are back in full swing, it seems like the right time to bring back this quintessentially late-90s do.
Best Medium to Long Men's Hairstyles
Quiff
Of course, this one will be right on top. There's no one right way to do a quiff, but its popularity is built on two principles: It's a lazy-man's pompadour (without making you look like you can't be bothered), and there's a version that flatters every face shape. And, maintenance varies, from the simple French quiff to the ducktail-like teddy boy. The sides are faded – but aren't quite an undercut – and most of the work goes into the front.
Faux Hawk
Speaking of early aughts looks making a return, this thing's back, but in a messier, less half-hearted form. Essentially an undercut taken to extremes, the modern faux hawk adds more length on top, brings the fade a little higher, and adds a ton of volume.
The Peaky Blinder
Who knew that a period piece – and its leading man's hair – would become so popular in the menswear circuit? Yet, Cillian Murphy's hair – in spite of the early 20th-century setting – ends up being quite modern with its long, slightly disheveled top and nearly shaved sides.
Curtains
Curtains is the 90s bowl cut by its proper name, and today, it's basically an undercut with more length on top and less volume. For a modern update, avoid any hard edges, yet keep it neat and textured – like rock icon hair without the all-night partying.
Men's Hairstyle Trends in 2021
Fringe
Amongst short- and medium-length cuts, fringe – or pieced bangs, to be more direct – was everywhere this year. At times, it appeared blunt, with a single uniform length all the way across, or it offered a secondary textural dimension through irregular lengths. Either way, we don't see fringe going away any time soon.
Side Parts
Comb it in or have it shaved, if you're being extra edgy. In all cases, side parts were one of the year's ubiquitous hairstyling trends. And, as it adds some definition to an even all-over mussed-up look, it's fairly versatile across short, medium, and long lengths.
Waves
Don't even think about using a curling iron – instead, you've got to let your hair grow out naturally. From there, embrace its naturally wavy character by highlighting it with a texturing paste for that just-out-out-of-the-ocean surfer-esque effortlessness.
Pompadour
Consider it the formal quiff with plenty of retro underpinnings. Although your barber needs to cut your hair in advance, the styling's up to you. These days, it's one way to style long hair without going the modern Grunge rocker route, and offers a more office-appropriate solution if you're looking to experiment with length.
Slicked Back
Or, rather than go through all the styling involved in upkeeping a pompadour, you can just slick it back. The key, here, is you need at least medium-length hair and have to pare down the amount of product used. Otherwise, by the time 3 p.m. rolls around, you're left with a flat, oily slick moving down toward your nape.
Blowout
It's how women with medium- and longer-length hair have styled their locks for years, so now, it's a prime opportunity for men to add volume and keep their shoulder-length -˜dos on point. You don't have to make bi-weekly appointments at the hairdresser's though; instead, learn to finagle a blow-dryer and round brush for the perfect windblown-yet-straight combination.
Comb Over
Due to the current political climate, this hairstyle has gotten a bit of flack in recent years. Yet, at the simplest level, it's a strong, exaggerated side part that creates an asymmetrical illusion – just make sure you have enough hair on both sides.
---
2021 Trend Forecast by Experts
Fades On Point
"Most of the shorter men's hairstyles for 2021 involve some kind of fade on the sides and back. I don't mean really long hair cut on the sides like Boy George in the 80s. But if your hair is long enough for a pompadour on the top, the faded look on the sides is just right for you.
You'll see any length shorter than that worn all kinds of ways – but still with that tight fade on the sides and back. From a tousled top to a crew cut, there's a lot of room this year to do what you want with your hair, while still being on trend."
– Ghanima Abdullah | Hair Expert | TheRightHairstyles.com
---
The Anything Goes
"Gone are the days of just a few hairstyles for men. Nowadays, there are so many trends for men to select from and 2021 will be its epitome. It seems as if it's going to be 'anything goes' this year with men's cuts.
We are seeing awesome buzz cuts that initially rose to prominence with the advent of manual hair clippers. Equally trending is the afro fade. Box braids and twist fades that range from high to low.
Long layers are another prime choice this season along with the slicked-back hair quiff. The quiff is best known for combining the 1950s pompadour hairstyle with the 1950s flattop, and sometimes a mohawk.
Another look taking the stage will be disconnected styles. Think of a disconnected hairstyle as two different hair cuts in one. The name is due to the varying lengths that aren't blended together in any way. This style tends to offer a lot of texture, and responds well to a messy, bold look, especially when the right products are used.
Finally, let's not forget hard parts and designs because they are here to stay for the foreseeable future. The great thing is that anything goes, it's no longer a one size fits all approach. Think lots of texture in 2021!"
– Gina Rivera | Hair Artist & CEO | Phenix Salon Suites
---
Texture Is In
"We are seeing a looser, more grown-out texture when it comes to men's cuts. They aren't going into the office as much and are feeling like they can express themselves through their hair working with more of their natural texture.
As far as shorter cleaner styles, we are dropping the weight distribution lower on head and face shapes and working the movement away from their face. They are also playing with some lighter interest pieces on color through where they have longer lengths.
A lot of the younger male clients are bringing in inspiration photos of women shag cuts from the late 70s."
– Holly Dear | Hair Artist & CEO | Dear Clark Hair Studio
---
Best Celebrity Men's Hairstyles
Blake Shelton
Good for Most Hair Types
Blake's hair has seen it all. He's rocked a mullet, curls, and longer hair. Most recently, his polished look features shorter cropped sides, while the top is left longer to be swept back with molding hair paste.
This cut is very flattering on most, works well from day to night, and is very easy to maintain.
Bradley Cooper
Good for Medium to Thick Hair
Bradley's natural wave is ideal for medium-thick hair. Its uniformed layers add a natural kink and is also easy to maintain. Learn about how he groomed for the Academy Awards.
Kumail Nanjiani
Good for Most Hair Types
Kumail short cut is a classic. The back is cut short, while the top features several layers to give the swept to the side look.
Luis Fonsi
Good for Most Hair Types (Including Thinning Hair)
This look is on-trend right now. Men seem to be going back to pushing their hair forward and up vs. the hard part and brush to the side. It's a cool look and even great for thinner hair.
The back and sides are cropped short, with top layers created for blending. All you need is a little hair paste for the front tips. This cut requires a trim every 4 weeks to maintain.
Jason Momoa
Good for Medium to Thick Hair
Jason has the right hair for a longer cut. Be sure to check with your stylist to see if your mane can handle the length. Just remember, the coarser the hair, the bigger and bushier it will grow out. Also, a longer cut will draw attention to receding hairlines.
Trimming is crucial if you want to grow your hair out. Also, you'll need to invest in a sulfate-free leave-in conditioner*.
---
Pin On Pinterest
Joanna Klubek Pereira is the salon manager and lead stylist at 18|8 Fine Men's Salon (Morristown, NJ). With more than a decade of industry experience, Joanna is known for her expansive experience in hair cutting, men's color correcting and barbering.
Sours: https://www.dapperconfidential.com/celebrity-inspired-hair/
BEST MEN'S HAIRSTYLES FOR SUMMER 2021 - Alex Costa
Again. Gosha pulls her towards him by the hips. - Oh oh oh, then you will sleep for three days, sex giant. Let go, I have to do my laundry.
For 2021 hairstyle men
Yes, - the tired girl looked around inattentively. - Tanya. He chuckled: - Yes. to her. How to finish.
HOW TO GET A MAN BUN 2021 - Men's Long Hairstyle Tutorial
She will scream. Shut her mouth. I realized that I didn't need to do this with my hand, and rested her face on the pillow. Taisya began to insert into her asshole.
You will also be interested:
What did you like most, I clarified by stroking his penis and seeing out of the corner of my eye how Sasha listens attentively. Everything said Dima, you are generally cool. Cool who. I asked again.
6416
6417
6418
6419
6420