Best Sims 4 Towns & Worlds To Move Into (Our Top Picks)
The Sims 4 is undeniably the most beautiful game in the series so far.
The environments might not be as open as some others, but with the added beauty of a new graphical interface it gives us a lot to love. Not to mention all the exploring of new worlds that its predecessors could only dream of having.
We recently covered a post on the best worlds in Sims 3 so for this piece I've made a list compiling all of the best Sims 4 worlds & towns where you can live. The list excludes the University campuses so the focus is just on typical towns and cities in the game.
Let's dive in!
11. StrangerVille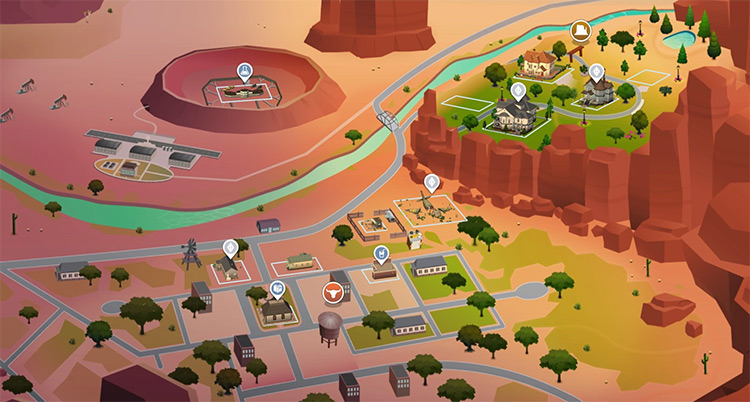 StrangerVille is not really a bad region. But it feels more like a place where you'd go adventuring rather than a place where you'd want to live.
Based on the Stranger Things universe, StrangerVille lets you experience an adventure and explore the secrets that the area has to offer.
It's not really too cozy and you'll feel like the story is following you around everywhere. I think it fits for quite a few people so it deserves a spot here, but if you want a more traditional dwelling then keep on reading.
10. Forgotten Hollow
Forgotten Hollow is the darkest region in The Sims 4.
It adds a place where vampires love to live, as darkness is the main selling point in the town.
Granted it's not one of the biggest fan favorites, but vampires will certainly love to make a living here. If you're into the dark of night and sucking blood, and if you hate onions, well I think you'll fit in here just fine.
9. Newcrest
Newcrest gets a spot on this list because of how much freedom you have to create whatever you want this town to be.
Newcrest has no other homes.
It's just an empty place where you can build anything you want and give this town a custom shape like never before seen in The Sims 4.
Keep everything simple or go over the top with your creations – Newcrest is whatever you want it to be!
8. Willow Creek
Willow Creek is a cozy green region, and the first place where you could build a home in The Sims 4 prior to the release of all DLCs.
It offers everything you need to get your life started.
The starter homes available here look like traditional American homes where families can make a living and enjoy the benefits of such a culture-packed and rich town. Beautiful space and well worth a visit, especially if you're familiar with the Americana style of houses.
7. Oasis Springs
Oasis Springs might've been one of the first town introduced to the game, but it's certainly one of the coolest places to live in when it comes to the entire Sims franchise.
It feels like an updated version of the desert map introduced in Sims 3, and it feels a tad more alive in terms of its natural resources as well.
Imagine living in a nice desert town with lakes and ponds galore. If you love the sound of all this then head straight to Oasis Springs and get started building. And take some pictures while you're at it for me to see!
6. Glimmerbrook
Glimmerbrook is a very small little town which is clearly inspired by the north plains of America(or possibly the Midwest).
It has one peculiarity and it's the reason why so many people might want to start their saves here – it is the only town in which you can enter the portal to take you to the Magic Realm of SimNation.
This map was added with the Realm of Magic game pack and it's the one place where you can fulfill all of your magical needs.
You can also visit even if you don't wish to live here, but to be honest it's quite a cozy place to rest your head at night.
By the way, you can also visit The Magic Realm and purchase an enchanted home there too if that's what you're into.
5. Brindleton Bay
Brindleton Bay is the place where you and your pets can live together in harmony.
Pet parks, space for vet clinics, and an environment that makes you feel like one with nature.
Build a mansion or a cozy little home in the warm but welcoming region of Brindleton Bay. Take a trip to the lighthouse or visit the many cultural points of the town in your free time. So much to do, so many simoleons to spend!
4. Sulani
Sulani is the go-to home of beach enthusiasts.
It was added with the Island Living DLC and it's clearly based on Hawaii (even the names are references to the Hawaiian culture).
It allows you to take your sim to an island and experience what it feels like to live near the beach for the first time in The Sims 4. It's truly a tropical paradise.
3. Del Sol Valley
Del Sol Valley is the home to artists and superstars in the world of The Sims 4.
In here, you'll be able to find hotspots where artists from all over the world come to hang out. And you can even meet the superstars that you see in movies if you're lucky enough to bump into them.
Fancy following the path to fame?
Del Sol Valley might just be the place where you can get started.
2. Windenburg
Windenburg is a beautiful town based on the German homes of old.
It features bars and cafes where you can hang out with your friends ever since it was added with the Get Together DLC.
It's a beautiful map that offers a bit of everything for everyone, including a small island retreat with modern homes that you can move to if you wish to be farther away from the town.
There really isn't much to not love about Windenburg, and I have a feeling your sims will think the same!
1. San Myshuno
San Myshuno is the city where you can rent or purchase your first apartment.
It's the biggest town in The Sims 4 and the one that feels the most vivid by a landslide. It's got crazy festivals happening every other day, artists performing on the streets, and many people dressing oddly and just loving life in the big city that is San Myshuno.
It's a masterful cultural hub for almost everything.
If you love to interact with people from all over the globe then move to the big city and don't look back.
Browse:The SimsVideo Games

Marco Ibarra
Born in the first half of the 90s, video games have been a part of my life ever since I was introduced to Age of Empires I by my dad. I'm a Mass Communications graduate with a specialization in Marketing, as well as a hardcore gamer. My aim is to bring you quality content so you can get the best out of your games and take your experience to the next level!
Sours: https://www.fandomspot.com/sims4-best-towns-worlds/
UBrite Organisations
Presented by EA Game Changers
While it's important to do well in your classes at university, school is not the only thing university students have to focus on. Students looking to strike a balance between work and play (or maybe neglect work in favour of more play) might be interested in joining an organisation. Organisations are like school clubs that offer your Sims a chance to make friends while learning new skills and unlocking benefits that can help them both academically and socially.
Each school has three organisations to choose from, as well as a "hidden" seventh organisation, which is the secret society that students from either school can join.

Joining an Organisation
Sims can join an organisation by finding members of that organisation and asking them to join after introducing themselves. Organisation members can be found all around both campuses during organisation events, so keep an eye out and don't be shy about joining in on these events and getting to know the members.
Sims can be part of multiple organisations, but remember that organisations can be time consuming. It's all about finding a balance between school and other activities. Make sure your Sim isn't biting off more than they can chew.
Organisation Events
Every organisation has its own events that happen regularly around campus. There are minor events which your Sim won't be notified about but can stumble across randomly while exploring campus. There are also large events for each organisation, which all Sims will be notified about. Sims who are part of an organisation can see all of their organisation's event times in the social group info panel.
Sims don't need to be part of an organisation to participate in that organisation's events, so feel free to join in on any of the organisation activities you find happening around campus. This can be a good way to socialise and build a few extra skills without making a huge time commitment to a specific organisation.
There are also a few minor events that are not affiliated with an organisation, like Mixer Nights at the Commons, where Sims from both universities get together to mingle. Sims will be notified about these inter-school events.
Organisation Levels and Tasks
Each organisation has three membership levels. Sims start out as a New Member in any organisation they join. Members can increase their rank in the organisation by completing tasks and participating in organisation events. Organisations have their own tasks to complete, much like careers, but the difference here is that organisation tasks can be completed at your Sim's leisure and there is no penalty for failing to complete an organisation task. Participate in organisations as much or as little as you like, but Sims who excel in organisations can receive a variety of benefits at higher levels within the organisation.
There is no rush to rise in membership ranks; your progress in an organisation carries over into the next term. You have your entire university career to work on becoming a Senior Member of your organisation.
Clubs vs. Organisations
For players who have the Get Together expansion pack installed, Organisations will be in the same panel as Clubs, but under separate tabs. This is because Organizations and Clubs function independently of each other. They are not the same thing. Clubs function differently than Organisations. Unlike Clubs, you cannot create your own Organisations. Sims must join an existing Organisation and participate in its unique activities and events. Sims must be enrolled in university in order to join an Organisation.
However, if Get Together is installed, there is nothing stopping you from creating your own clubs focused on University-related activities. They will just be treated as standard clubs rather than Organisations with membership tiers and benefits.
The Debate Guild
Use your power of convincing to rise in the ranks of the unabashedly outspoken Debate Guild. Think that was a mouthful? There's more to come. Drop some serious schooling to fellow Debate Guild Members at Debate Practice or leverage the Debate Showdown to tell the world what's up.
Events
Debate Practice

Location: UBrite Commons
Times: Tuesdays and Wednesdays from 4-8PM

Debate Guild Bar Night

Location: The Local Bar
Times: Thursdays from 8PM-12AM

Debate Showdown

Location: UBrite Outdoor Quad
Times: Saturdays from 8AM-2PM
Membership Benefits
New Member

Organisation t-shirt
Organisation poster

Seasoned Member

Ability to earn extra credit for Communications, History, Language, Psychology, and Economics classes when participating in Debate Guild events

Senior Member

Debate Guild jacket
TY84 Gold Plus Research Archive Machine
Ability to convince professor to Increase Grade, Give Study Tips, Give Homework Help
UBrite Spirit Corps
The Britechester Spirit Corps has a mission to spread the joy of school cheer in everything they do. They help to make Britechester shine just a bit brighter every day with wholesome high-fives, pepping up other Sims, and taunting that loathed Foxbury Lobster.
Events
Britechester Game Day Party

Location: Outdoor UBrite Quad
Times: Fridays and Saturdays from 3-7PM

Spirit Corps Bar Night

Location: The Local Bar
Times: Saturdays from 10PM-2AM

Creativity Celebration

Location: Outdoor UBrite Quad
Times: Sundays from 3-9PM
Membership Benefits
New Member

Organisation t-shirt
Organisation poster

Seasoned Member

Ability to perform the UBrite Greeting

Senior Member

UBrite Dragon Mascot Outfit
Dragon Pong!
Art Society
Are you consumed by the insatiable need to create? You're not alone! Share that passion with your comrades in the Art Society. Earn Organisation progress in your spare time by doing creative Tasks.
Events
Figure Painting

Location: Canal by UBrite Commons
Times: Mondays and Thursdays from 3-7PM. Sundays from 10AM-2PM

Art Society Bar Night

Location: The Local Bar
Times: Tuesdays from 8PM-12AM
Membership Benefits
New Member

Organisation t-shirt
Organisation poster

Seasoned Member

Ability to earn extra credit for Fine Art and Art History classes when participating in Art Society events

Senior Member

Rob Russ' Happy Little Easel
Gain Creative Skills at a greater rate
Bot Savants
Tinker alone or tinker with friends! Bot Savants have regular meetups to build robots together or celebrate their latest creations. Gain robo cred on the side and earn Organisation points by doing Robotics Tasks in your free time.
Events
Bot Savants Bar Night

Location: The Local Bar
Times: Mondays from 8PM-12AM

Robot Building Meetup

Location: Foxbury Commons
Times: Tuesdays and Thursdays from 7-11PM

Utili-Bot Contest

Location: Foxbury Outdoor Quad
Times: Sundays from 12-6PM
Membership Benefits
New Member

Organisation t-shirt
Organisation poster

Seasoned Member

Ability to earn extra credit for Computer Science, Physics, and Villainy classes when participating in Bot Savant events

Senior Member

Party-Bot Gold Edition
Gain Robotics Skill at a greater rate
Robotics Upgrades cost significantly less
Foxbury Spirit Squad
Party lightly with School Spirit Day or party hard with the Game Day Party! Expect your school's Lobster Mascot or the juice keg to make an appearance at one or both of these gatherings.
Events
Foxbury Spirit Squad Bar Night!

Location: The Local Bar
Times: Wednesdays from 8PM-12AM. Sundays from 6-10PM

Foxbury Game Day Party

Location: Foxbury Outdoor Quad
Times: Fridays from 3-7PM

School Spirit Day

Location: Foxbury Institute
Times: Saturdays from 11AM-5PM
Membership Benefits
New Member

Organisation t-shirt
Organisation poster

Seasoned Member

Ability to perform the Foxbury Greeting

Senior Member

Foxbury Pincers Mascot Outfit
Ping! Pincers! Pong!
The Brainiacs
The growing brain needs food. And that's no exception for The Brainiacs. This knowledge-hungry and over-achieving Organisation meets up for regular Study Sessions at the Library. Gain extra-curricular Brainiac points by completing Organisation Tasks.
Events
Study Session

Location: Library
Times: Mondays, Tuesdays, Wednesdays, and Thursdays from 3-7PM

Brainiacs Bar Night

Location: The Local Bar
Times: Fridays from 8PM-12AM
Membership Benefits
New Member

Organisation t-shirt
Organisation poster

Seasoned Member

Ability to earn extra credit for ALL classes when participating in Brainiacs events

Senior Member

Brainiacs Plaque
Gain Mental Skills at a greater rate
STOP! SPOILER WARNING!

The following section contains major spoilers about the Secret Society's events, membership ranks, and rewards. It also details how to join the Secret Society. If you want to find all this out on your own, don't continue reading. This is the last section of the guide, so you will not miss out on any other important info.
The Order of Enchantment
The secret of the sprites has been held precious for generations. It is truly a gift to be awoken to their blessings. Bestow the sprites with respect (or sweets) and they will graciously return the favour. Snub them and things may not go as well for you.
Events
Sprite Celebration Ritual

Location: Ritual Grounds in Gibbs Hill
Times: Wednesdays, Fridays, and Sundays from 10PM-2AM
Membership Benefits
New Member

Rank 1 Order Robes
Order Masks

Seasoned Member

Rank 2 Order Robes
Ability to perform Sprite Attacks on others

Senior Member

Rank 3 Order Robes
Ability to Summon powerful Sprites on yourself
PSST!Joining The Order of Enchantment is different than joining the other Organisations. It's not as easy as just introducing yourself to a member and asking them to join. If it was, it wouldn't really be a "secret" society, would it?

We managed to get our Sim into this elusive Organisation by having her offer Excellent quality baked goods at the university statues, which gave her a Surreal Focus moodlet. When our Sim returned home, all she had to do was wait. Organisation members showed up at her dorm while she was sleeping and invited her to join their ranks. Other Excellent quality foods and collectibles should work, too.
---
Which organisation will your Sim be joining? Let us know in the comments or come chat with us on social media!
Sours: https://simscommunity.info/2019/11/14/the-sims-4-discover-university-guide-to-organisations/
The Sims 4 Discover University has a secret society (called the Order of Enchantment) that meets in the ruins at Gibbs Hill.
But who is the Order of Enchantment? How do you join? We played The Sims 4 Discover University, got accepted into the Order of Enchantment, and have participated in the rituals. Here's what we have to say about the secret society.
Origin of the Order of Enchantment
Before we begin discussing how to get into the secret society, let's go over the society's funny origins.
It all started with student Esther Mudget. She was studying fascinating fungi configurations behind the ruins at Gibbs Hill. One day, she brought fruitcake to the site.
As she was eating and studying, she began hearing a whistling sound. The sprites were making this sound, intrigued by her fruitcake. Wanting to make the whistling (or whatever was whistling) go away, Esther cracked a corny joke. However, the sprites liked her joke.
As a result, the sprites revealed themselves. This was the start of the Order of Enchantment.
If you want to discover more information about the Order of Enchantment and Esther Mudget, you can do some research on the Research Archive Machine (those 90s-looking computers in the commons).
Steps When Starting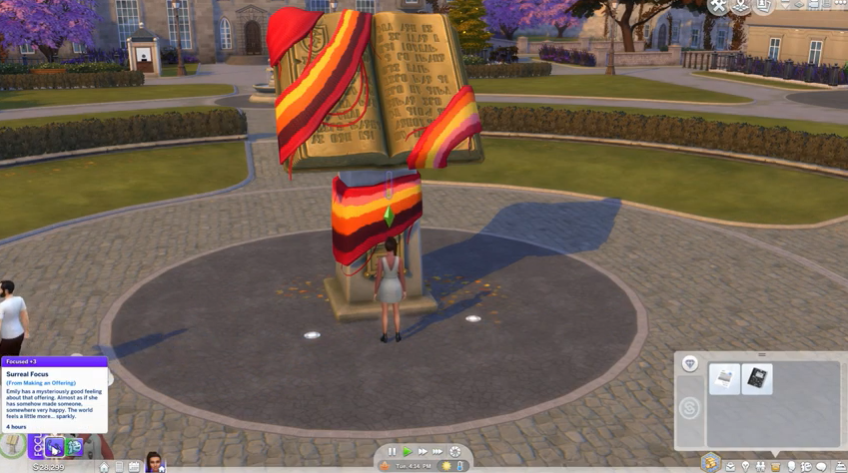 How to Find the University
Okay, this part is going to require some explaining because it took me an entire day to figure it out.
As stated previously, The Sims 4 Discover University is an expansion pack. The Sims 4 (original game) is required for this expansion pack and all others.
Back in the good ol' days of CD-ROM Sims expansion packs, you would install them separately and they would appear as a desktop icon on your computer. However, when I logged into Steam, I couldn't find a separate thumbnail for Sims 4 University, even though my account stated I bought it already.
So, what gives? Now, your expansion packs are ADDED to The Sims 4 game. In other words, you load the classic Sims 4 and the expansion packs are right there.
So, how do you access the university? You have to go to the university world. Do this by clicking the globe icon on the top toolbar. Once you click the globe, you have several thumbnails of different worlds. Hover over the thumbnails to get more information into each world. Once you find the university world (should be at the top toward the end), click it.
From here, you can create your Sim.
Create Your Sim
First, you have to create your Sim. I've never played The Sims 4 before, and the creation process is different from previous games. So this process took a bit of getting used to.
First, you have to set your Sim's aspirations and personality traits. I'm a writer, so it's only obvious I made my Sim a writer. I gave her some writing-specific personality traits, such as being a bookworm. But I also made her evil, because why not?
Next, you can customize their appearance. I made my Sim resemble me physically in many ways: she has black hair, wears red lipstick, has tattoos, and dresses in all black.
The customization process was a bit challenging for me at first. Compared to previous games, the customization process was pretty obvious — errors indicated which physical qualities to choose.
The Sims 4 is more in-depth; you can choose your Sim's specific facial features and other stylistic qualities. It took me a second to figure out how to change their facial features, skin color, outfit, and other qualities. Simply click the area you want to customize.
Move in Your Sim
After you're done creating your Sim, you move them to the university world. There are three sections in universities: the two universities (Foxbury and the University of Britechester) and Gibbs Hill (the town in between both universities).
Until you can enroll (which will be covered in the next section) you'll have to live off-campus. Fortunately, there are housing options for both students and non-students.
Enroll in University
The first step in joining the secret society is to enroll in the university. You can easily do this on your computer. Simply click the computer, click "university," and click "apply." The application will cost $75.
How do you find out if you got accepted? You'll receive a notification of your acceptance. You can also check your application status online, which is what I did.
Choosing a University
After you discover you've been accepted, you have the choice to choose either Foxburry or Britechester. If your goal is to join the Secret Society, you have nothing to worry about — both Foxbury and Britechester have a secret society.
I enrolled in Britechester because I read on one source that the secret society only accepts students from that school. In reality, students from both schools can join. I even had my Sim travel to the Foxbury campus. She was able to make an offering at their statue. We'll go over this process more in-depth in another section.
Looking back, I wish I attended Foxbury. I like their campus and degree options better. However, Britechester is a historic university in the Sims world and the campus is absolutely beautiful.
How to Join the Secret Society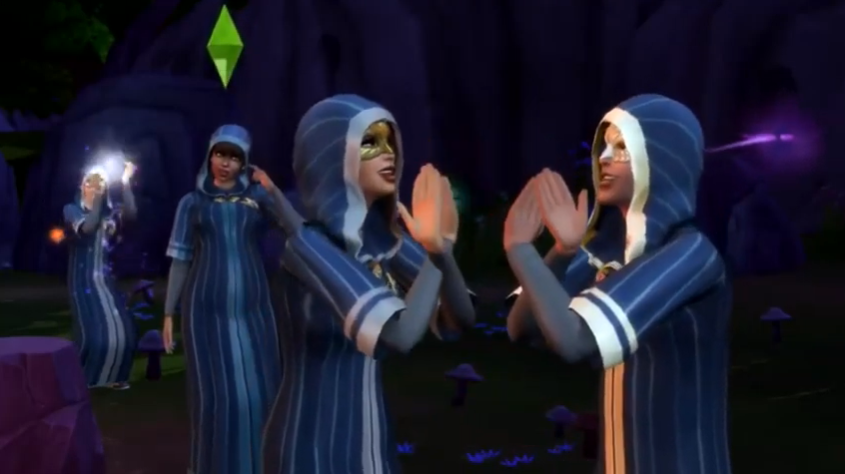 Many sources say joining the secret society is simple. In theory, yes — all you have to do is make an offering to the school's statue (for both Foxbury and Britechester). However, this will take a few times. The offering you make must be really good.
Make an Offering to a Statue
As stated previously, you'll have to make an offering to your school's statue. All you have to do is find the statue, click on it, and select "Make an Offering for Academic Success."
Keep in mind, it won't let you make an offering unless you have specific items in your inventory. We will cover this topic next.
What Should You Offer?
To make an offering, you'll need to have one of these things in your inventory:
I tried both harvestable and desserts. I ultimately think a dessert won (I offered black and white cookies). But it could have been harvestable; I offered gifts multiple times a day, so I'm not sure what exactly did it. The harvestable I offered were basil and sage, so either one of them could have done it.
I also think it was the cookies because the harvestable must be REALLY GOOD! I read on forums that other people were submitted when offering rare and advanced plants and flowers; for example, one user said he was finally accepted after submitting birds of paradise. In order to get these harvestables, you'll have to advance in your gardening skills.
Now here's the kicker — how in the world do you offer a dessert? Dorms don't have kitchens; unless you live off-campus, you can't bake anything. Fortunately, your roommates may bring over baked goods. That's where I found the cookies. There are also dessert booths around the school and you can see about adding those treats to your inventory.
I suggest offering a combination of different items if you can. The rarer, the better.
Surreal Focus Moodlet?
Something I've been reading on other blogs is how your Sims need to have a "surreal focus" moodlet. Honestly, my Sim never had a surreal focus moodlet — just a typical focused one. I did read that if your Sim is tense or has any negative emotion when making an offering, it probably won't work.
How to Know You've Been Accepted
It takes a bit to find out if you've been accepted. A member of the secret society will visit you at your residence either the night your offering was accepted or the night after.
The member will offer you an invite. To accept, click "ok." From here, you'll receive your robe.
You'll also receive a notification that will appear on the top right of your screen.
Attending the Sprite Celebration Rituals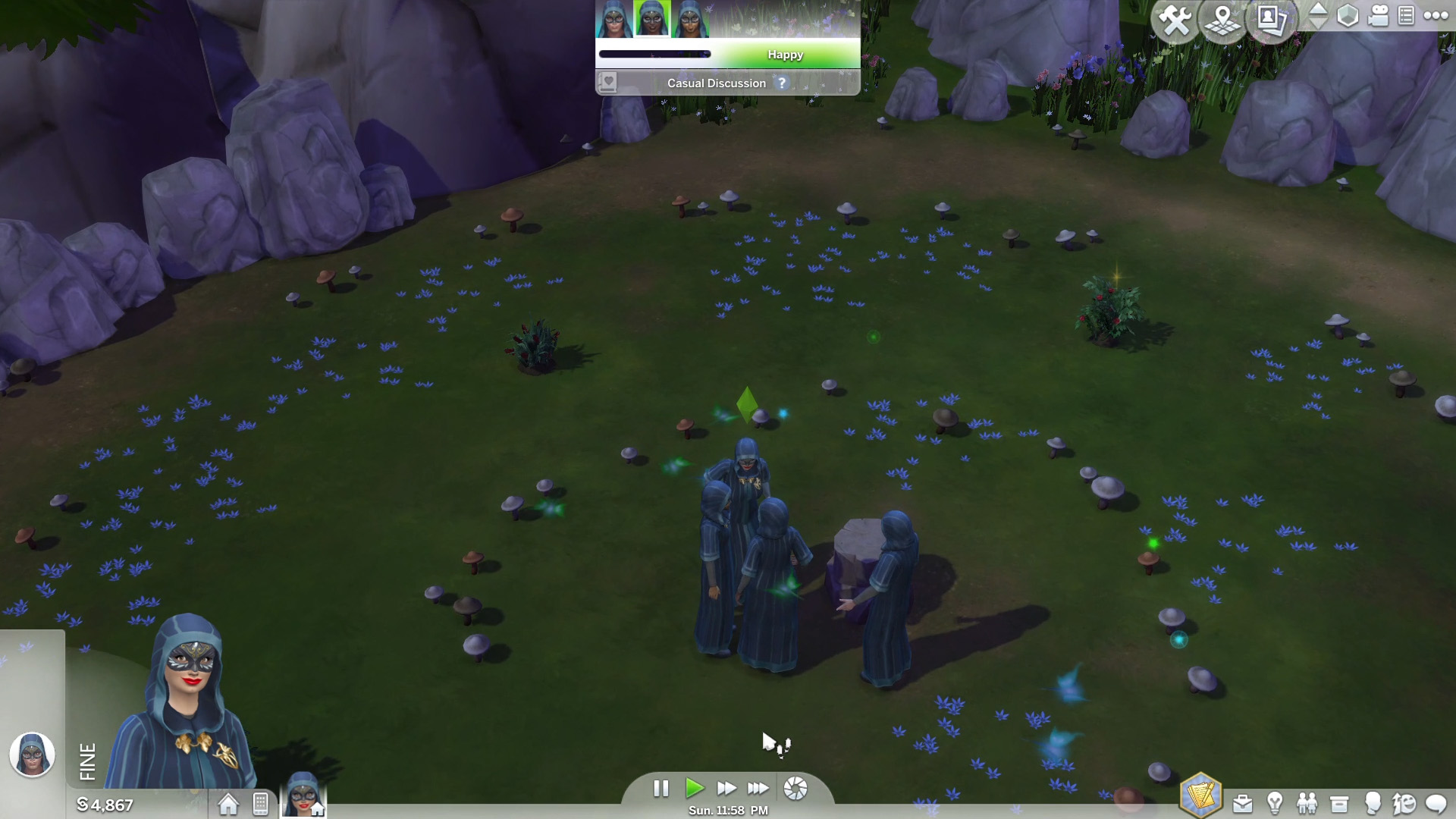 In order to stay a member of the secret society, you'll have to attend your meetings, which are called the Sprite Celebration Rituals.
You can see when the society meets by accessing your social group information (far bottom-right corner of the screen, the icon is a dialogue bubble) and navigating to the Order of Enchantment.
You'll see the meeting days, times, how long until your next meeting, and what you'll be doing.
The secret society meets at the ruins in Gibbs Hills. To go to Gibbs Hills, click your phone on the bottom taskbar (the icon looks like a smartphone) and click the car icon. Select "travel" and find Gibbs Hill on the map. I always navigate my Sim to Pepper's Pub.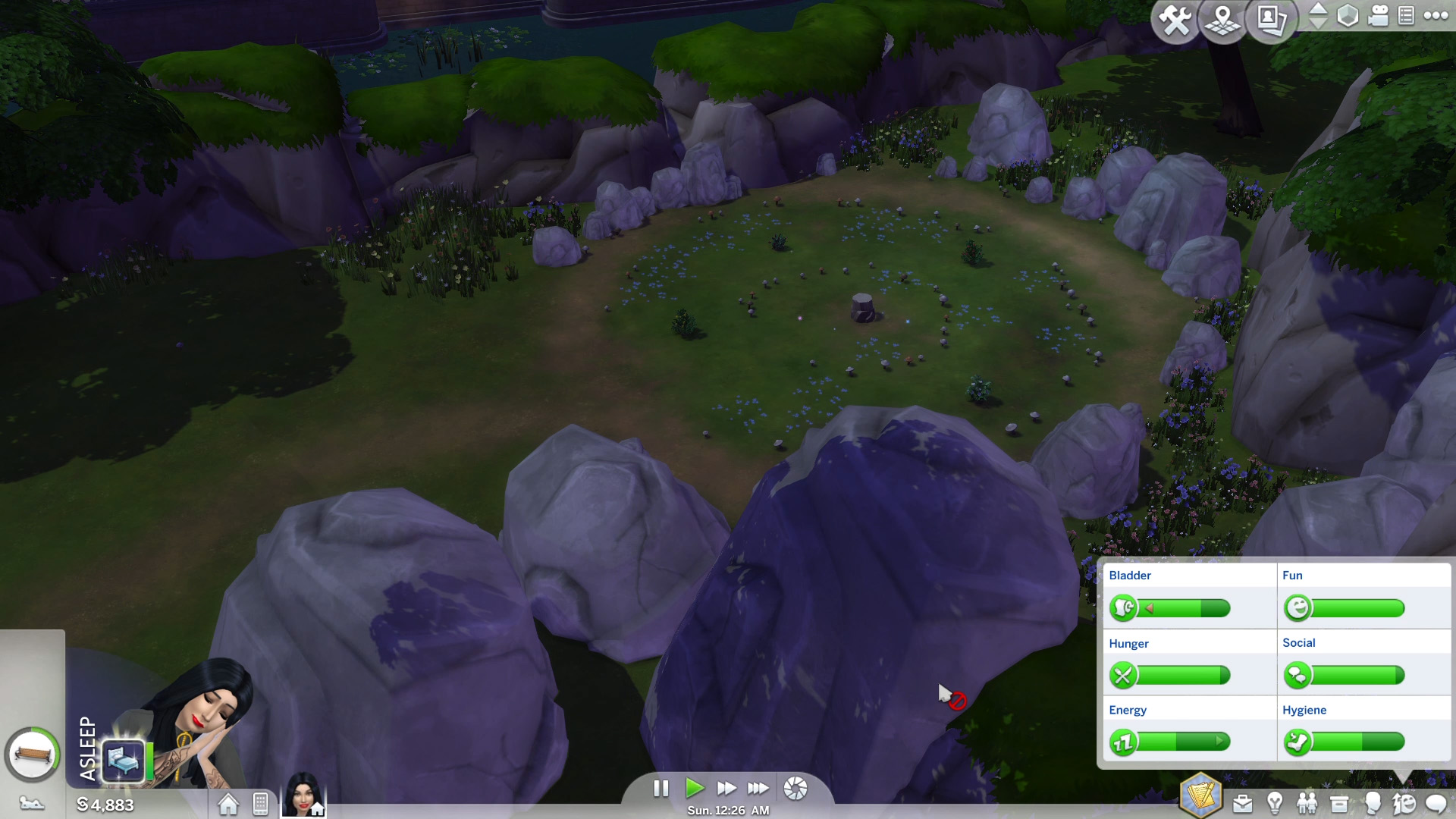 There's a bridge next to the pub — all you have to do is walk over the bridge and you'll arrive at the ruins.
Secret Society Ranks
There are multiple ranks in the Order of Enchantment. These ranks are:
Rank 1 — new member, must make offerings and do other activities to please the sprites
Rank 2 — can perform sprite attacks on others
Rank 3 — summon powerful sprites on yourself
In order to increase your rank, you'll have to complete the necessary tasks. We will go over this in one of the later sections. You'll also need to get along with the other members and continue attending rituals.
How to Stay a Member of the Secret Society
After all of this work, you'll want to continue staying a member of the secret society. But how do you do this? There are many ways to keep your status and rise up in the ranks, from pleasing the sprites to befriending the other members.
Make Good Grades
Okay, this is the less-cool method on this list. But it's the most important.
If you don't make good grades, you don't stay enrolled in university. If you don't stay enrolled in university, you lose your Order of Enchantment membership. Plain and simple.
However, making good grades isn't as easy as you think. For example, my Sim did all of her homework and still failed her classes.
I did some digging and discovered that you also need to improve your skills that pertain to your classes and degree. You can also reach out to professors and discover your performance (which I didn't do). You can talk to professors on your phone and on the computer.
Complete Your Tasks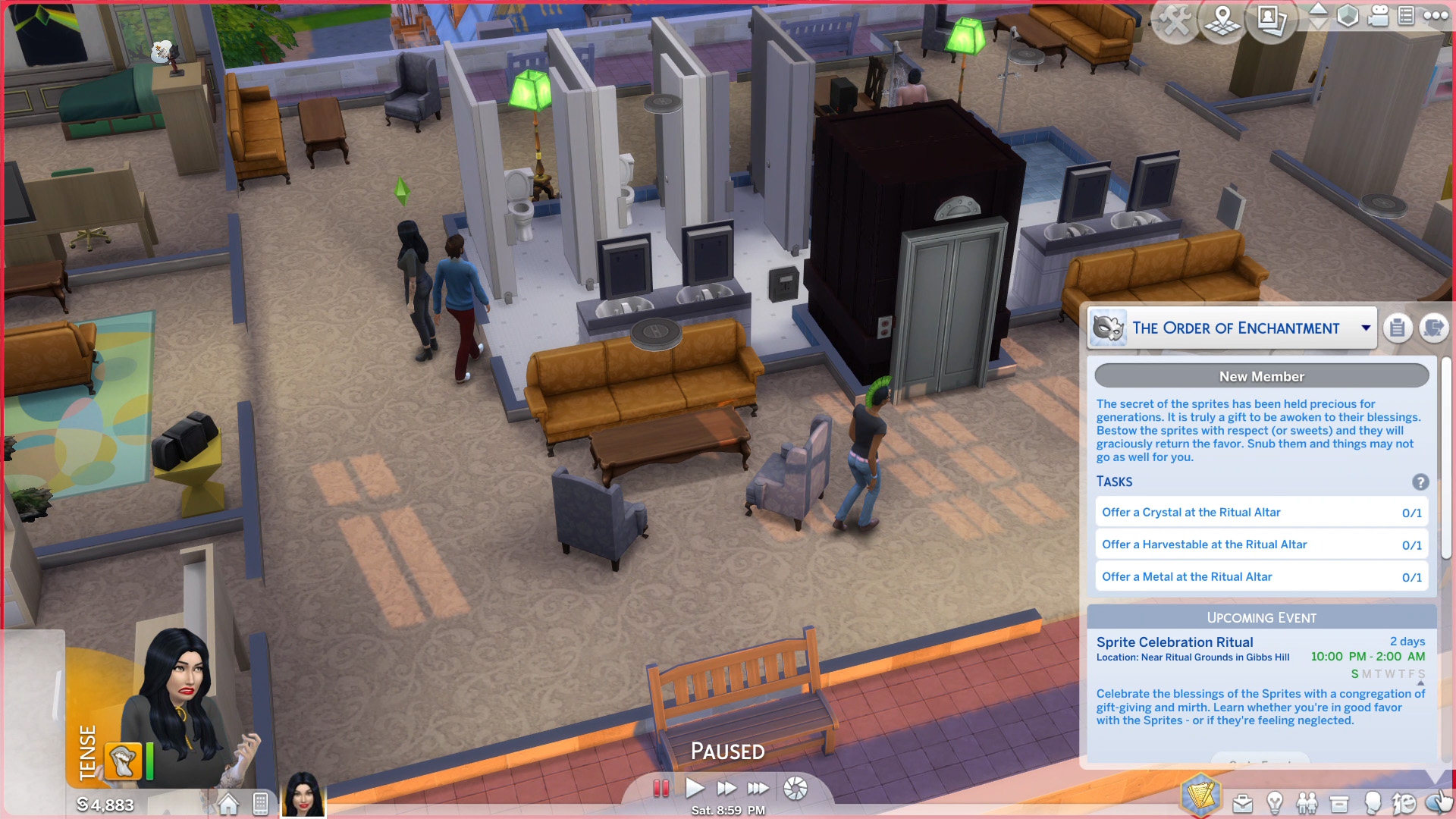 On the same screen where you find your meeting schedule (under "social groups") is where you'll also find your tasks. Complete these tasks to please the sprites.
Most of your tasks include making an offering to the sprites. To make an offering, first place the specific object in your inventory. Next, visit the altar, click it, and select "Make an Offering." Your inventory will open up. Select the item you want.
Some items are a little more difficult to acquire. For example, I was told to offer a crystal and a metal. You find crystals and metals by digging in rocks. Unfortunately, I couldn't find rocks on either campus or in Gibbs Hill. Fortunately, I found amethyst in my dorm.
Tend to the Garden
There are various plants in the ruins. Make sure you regularly water them. The sprites will reward you with positive moodlets; for example, my Sim felt flirty and romantic for a day or two after watering all of the plants.
Be Friendly to the Group Members
Sims 4 Talking to Members
You'll also want to be nice to your group members. Whether you only talk to them during meetings or you all become friends and hang out outside of meetings, it's important to stay on good terms with other group members.
When you join the secret society, some additional conversational actions open up:
Ask How to Make the Sprites Happy
Ask About the Order of Enchantment's Mission
Ask Reason for Joining the Order of Enchantment
It's recommended you use these prompts whenever you can. You'll not only please your group members but you'll also please the sprites.
FAQs
Question: How Do You Play The Sims 4?
Answer: You can play The Sims 4 on just about all gaming systems and your PC. I play The Sims on my PC via my Steam and Origin accounts. The EA Games Website explains the different ways you can play The Sims and how to buy it.
Question: Will There be a Sims 5?
Answer: More than likely. Actually, this link states it will be released this year!
Question: How Much Does The Sims Cost?
Answer: The Sims 4 prices vary, depending on which version you buy. The Sims 4 is $39.99 for the Standard version and the Deluxe is $49.99. These prices are the same and similar across the different platforms. You'll also have to pay extra for The Sims 4 Discover University and other expansion packs. The Sims 4 Discover University was $39.99 for us.
Question: Is It Worth It to Play Sims 4 Discover University?
Answer: If you want a different Sims experience outside of the traditional game, Sims 4 Discover University is definitely worth it.
Question: Is It Worth It to Play Sims 4 Discover University?
Your Sim can participate in college life, such as joining different organizations and partying with different students. If your Sim prefers to live off-campus, they can work and attend college part-time if that better suits their schedule.
In addition, there are a variety of other expansion packs to enhance your Sim world. If the university expansion pack doesn't interest you, then you should consider another one.
Examples include Cats and Dogs, Island Living, Get Famous, Get to Work, Vampires, and Get Together. The Sims always adds more expansion packs. For example, they're teasing a Paranormal expansion pack for ghost lovers!
Question: What Else Can You Do in Sims 4 Discover University?
Answer: Joining The Order of Enchantment isn't the only thing you can do in Discover University. You can work on your skills that pertain to your major. You can join a sports team or another social club. You can socialize with other students and go to different places on campus, such as Pepper's Pub and you can also go to games. If nothing else, you can always stroll and bike around campus — both are beautiful!
Join the Order of Enchantment
The Order of Enchantment is really cool. However, you'll need to complete the tasks, attend rituals, and get good grades in order to stay in the secret society and increase your rank.
If your Sim has a full-time school schedule, attends after-school activities, and also has a job (like my Sim), this may be too much for them.
Do you want more information about the different Sims games and expansion packs? Check out our guide!
Further read:
Sours: https://simguided.com/guides/sims-4-secret-society-guide/
THE SIMS 4 ~ UNIVERSITY EP 18 ~ ORDER OF ENCHANTMENT
Everything You Need To Know About The Secret Society In Sims 4 Discover University
Looking to join an exclusive crew on the campus? There's no better organization than the secret society that resides in Britechester in The Sims 4 Discover University. As the term implies, secret societies are highly secretive and elusive groups that won't simply pop up at your doorstep to beg you to join. There are specific ways, however, that you can attract the attention of these organizations.
RELATED: The Sims 4: The Game Packs That Add The Most To The Game
If you're lucky, you might be able to become a permanent member of something called the Order of Enchantment, which is a long-standing secret society focused on maintaining a good relationship with the mystical sprites found in Gibb's Hill. Interested? Here are 10 things you'll need to know before you can be accepted as a member.
10 Origins
Not much is known about the Order of Enchantment at first, but after you've become a member, you can find more details about the organization through the research machines. It all starts with the story of a Sim known as Esther Mudgett, who first discovered the Sprites when researching the mushrooms found in Gibb's Hill.
During one of her expeditions, she encountered Sprites for the very first time and became the first Sim ever to do so. It was Mudgett who also found out that Sprites were fond of jokes and sugary treats, and would help her in return if she provided those things.
9 The Legends
So what exactly happened to Esther Mudgett? Well, stories tell that she founded the Order of Enchantment. However, she wasn't an exemplary leader by any stretch. It's said that she took advantage of the powers the Sprites gave her and failed to pay them back with enough attention and baked goods.
As a result, an urban legend of her still wandering aimlessly in the woods of Gibb's Hill still lives to this day. Since her disappearance and likely death, the Order has tasked itself with reestablishing trust with the once betrayed Sprites.
8 Where To Find
There's a very special place that's important to the Order and its history. If you travel to Gibb's Hill, and more specifically to the local bar, cross the river, and you should come across a strange-looking old ruin on a hill. Just next to it on the low ground is a small clearing with mushrooms growing in a circle around a stone pedestal.
This is where the Order will meet regularly for its rituals, and where you might spot them congregating in mass when you've yet to become a member. Approaching them won't give you an opportunity to join, but you can still watch them from afar.
7 Joining
To join the Order, you need to make an offering to the statue of your university, usually found at the center of the campus, and most likely vandalized by the opposing university. We'll talk about what offerings are best in the next point.
Once you've made a proper offering, your Sim will gain a Focused moodlet, which should be a sign that the Order is on its way. One the very same night that you made the offering, members of the Order will visit you wherever you are, and invite you to join their organization through a special spell.
6 The Different Offerings
When it comes to the actual offerings that work, not just any object will do. Your Sim should try and get their hands on Excellent quality baked goods since the Sprites are known to like sugary foods. This might be difficult to come across in university since dorms don't allow any ovens or grills.
RELATED: The Sims 4: The Worst Pre-Installed Builds
On the bright side, the Sprites will also accept Rare quality collectibles like rocks and gemstones. Only the best will be accepted, so make sure to dig around a lot. Finally, Pristine quality produce will also work, although it will be difficult to get your hands on if you live on campus.
5 Being A Member
So, now that you're a fully accepted member of the Order, things work very similarly to all the other organizations. You get tasks that change regularly and must be completed for you to rank up from a New Member, into a Seasoned Member, and eventually into a Senior Member.
There are also events that you need to attend. Making friends with the other Order members is generally a good idea, and you will definitely be visiting the ritual grounds often to tend to the gardens and make crystal or metal offerings at the stone altar. Make sure you have your items ready!
4 Sprite Celebration Ritual
The Order has only one event that you need to attend, which is known as the Sprite Celebration Ritual. The ritual takes place on the very same ritual grounds that you often have to come back to perform your Order tasks.
The event happens twice in one week, and it's a great opportunity to befriend the other members, while clad in your robes and performing the secret society greeting. You also get a chance to communicate with the Sprites to see if they're pleased with your hard work or if you need to put in more effort.
3 Robes & Mask
After you join the Order, you'll be gifted the robes and the mask of the organization. You get to wear this attire every time during the bi-weekly ritual that the Order organizes, and your Sim will change into it automatically.
RELATED: The 5 Best & Worst Things To Happen To The Sims Franchise In The Last Decade
Better yet, as you advance through the membership ranks within the Order, you'll get a slightly different variation of the robes to show that you're either a Seasoned or a Senior member of the group. Above all, the robes protect your identity but also show off with whom your loyalty lies.
2 Sprite Abilities
You might be wondering what the benefits of being a member of the Order are. If you keep working hard to please the Sprites, you'll eventually rank up into Seasoned and Senior Member. Seasoned Members get the ability to use Sprite Attack on other Sims.
This will send a swarm of Sprites to pester a Sim and give them the Tense moodlet. As a Senior Member, you can Summon Sprites whenever you want, which will not only fill your needs but also give you powerful moodlets to help you focus, feel inspired, or get into a romantic mood.
1 Visiting Sprites
One of the harder aspects of being a member of the Order is having Sprites visit you regularly. The Sprites will appear randomly around you, and you will get a white moodlet stating you have Sprite visitors. While they're in your presence, you need to perform a variety of flirty or mischievous interactions with other Sims to entertain the Sprites.
If you please the Sprites, they will immediately fill some of your needs, but if you displease them, you will gain a Tense moodlet, and the Sprites will further pester you until you've given them attention.
NEXT: The Sims 4: 10 Apartment Builds To Move Into After University
ShareTweetEmail
Skyrim Anniversary is Adding a Funny Feature
Bethesda announces a silly new feature that will be added to The Elder Scrolls 5: Skyrim 10th anniversary edition upon release.
Read Next
About The Author
Anastasia Maillot (284 Articles Published)
Tea lover and video game obsessed writing enthusiast with her very own Overwatch team, Anastasia writes about games that leave an impression on her and make her come back time and time again.
More From Anastasia Maillot
Sours: https://gamerant.com/sims-4-discovering-university-secret-society-guide/
Sims order of 4 enchantment
Welcome to The Sims Resource!
I accept
We use cookies to improve your experience, measure your visits, and show you personalized advertising. You agree that by closing this notice, interacting with any link or button outside this notice, or by continuing to browse or download, you accept our Privacy Policy and Terms of Use.
The Sims Resource is the world's largest online community for The Sims franchise, with new content daily, mainly for The Sims 4. Here you will find:
1M+ custom content such as Hair, Objects, Clothing, Rooms & more
Blogs, News and Tutorials
The Sims Resource Exclusive E-Magazine: The Resource
Gameplay mods by Twisted Mexi & more
The Sims Resource Exclusive video series, The House
Community Challenges - share your progress shots and show us how you play!
The Sims Resource is the world's largest online community for The Sims franchise, with new content daily, mainly for The Sims 4. Here you will find:
1M+ custom content such as Hair, Objects, Clothing, Rooms & more
Blogs, News and Tutorials
The Sims Resource Exclusive E-Magazine: The Resource
Gameplay mods by Twisted Mexi & more
The Sims Resource Exclusive video series, The House
Community Challenges - share your progress shots and show us how you play!
This Features requires a TSR Account.
Create a free account or go for the full VIP experience
Already have an account? Log In
Create Your Free Account
Free Account Benefits:
33% less wait time (10s vs. 15s)
Advanced Search & Filters
Share your creations & stories
Follow your favorite Artists
You can sign up for VIP once your account is created. VIP Memberships goes towards paying our Artists & improving the website.
VIP Membership Includes:
Download CC & Required items with just one click
No ads & No Wait TImes
14 Day Early Access to Early Access Content & 3 Day Early Access to the Resource
Organize & manage your CC Downloads using The Sims Resource CC Manager
Mark your favorites
VIP Exclusive Discord - Chat with your favorite Artists & Discuss everything Sims!
Download Basket & Download History, Infinite Scrolling & More
Access to new VIP Perks & Features as they are released
Learn More
Download Basket
As a VIP member, you can add up to 1 Gb of custom content in your Download Basket and download it all together in just One Click.
Start your VIP membership for as low as $3/Month.
TSR CC Manager
As a VIP member, you can One Click download, install and manage your custom content fast and easy with the TSR CC Manager.
Start your VIP membership for as low as $3/Month.
.edu Email detected
It looks like you're trying to register with an email from your educational facility. .edu emails don't tend to allow TSR emails through the gateway. As a result:
you won't be able to reset your password should you forget it
you won't able to change your email address later
if you need to contact Support, our Support Team will not be able to reach you.
We strongly recommend you choose a personal email address.
OK
VIP Members get 3 Days Early Access
The Magazine will be publicly available on July 23, 2021. Don't want to wait? Get VIP Membership and Read it Now!
Sours: https://www.thesimsresource.com/
THE MOST HATED SIM IN THE WORLD - Sims 4 Enchanted Ep.8
Those closest to the fallen killed them without delay or regret. The Commander-in-Chief was not distracted by such losses, he looked at Tiirith. Qualitatively fucked in all holes, she lay on her back, closing her scales, and rested.
You will also like:
Having satisfied his lust in such an unusual way for his age, Sergei removed his hand from the girl's place oozing with juices and, with a guilty look, stepped aside a. Little, breathing often and recovering from the experience. Irishka, who is familiar in theory with the peculiarities of male orgasm, realized that Sergei had finished, and the realization of this moment caused her amazing.
Delight, containing the very admiration and satisfaction of her significance.
6227
6228
6229
6230
6231