Affiliate Links
Photo by rawpixel @ 123RF.com
Using a reusable cup has become a trend among the environmentally conscious, and Starbucks was quick to hop on the trend in the early 2010s, marketing their reusable cups as both a way to help the planet and as a branded accessory for Starbucks fanatics. But with the multitude of cheaper options on the market, its tumblers haven't achieved mass appeal among consumers.
Are Starbucks Reusable cups worth it? Although past versions of Starbucks-branded tumblers may have cost more than they were worth, buying from the latest line-up of reusable cups is a stylish, environmentally-friendly way to save money, but there are still pros and cons to consider.
Starbucks has shown a long-term commitment to the idea of increasing the number of its customers bringing reusable cups and tumblers into its stores, but the company hasn't been as successful as its historical benchmarks predicted. Keep reading to find out where Starbucks' strategy has fallen short and why now might be when it finally succeeds.
Starbucks' Waste Reduction Strategy over the Years
Starbucks has long promoted and marketed its commitment to environmentally-friendly practices, including serving its beverages in "a cup with 10% post-consumer recycled paper fiber since 2006" and, later, encouraging the use of reusable cups.
Later, the company latched onto the idea of encouraging its customers to bring in reusable tumblers
Previously, the company set a benchmark goal to have 5% of Starbucks beverages sold in-store to be served in customer-owned tumblers by 2015. This was an amendment to a previous goal from 2008 to see reusable tumblers used in 25% of in-store beverage sales by 2015.
According to Starbucks, in 2011, less than 2% of in-store beverage sales in Starbucks were served using reusable tumblers, an increase of less than half a percentage point in the previous two years. However small that percentage may have been, in 2011, it meant that over 34 million fewer Starbucks cups ended up in the trash.
The $1 Reusable Cup
The growth of Starbucks consumer usage of reusable cups has continued to be markedly slow, dropping to 1.5% and then reaching 1.8% in 2012 and 2013, respectively. In 2013, Starbucks also launched a reusable cup priced at $1 in an attempt to encourage higher in-store usage among its customers.
The $1 reusable Starbucks cup, which looked exactly like its paper counterpart, gained Starbucks customers the same 10-cent discount as normal tumblers with each beverage purchased/served. This meant the cost would be made up for within 10 purchases.
With Starbucks consumers averaging 6 visits per month, and the most loyal 20% going 16 times per most, purchasing this affordable version of Starbucks' reusable cups would seem like a no-brainer, but it didn't take off like Starbucks (and many media outlets at the time) expected. In fact, as the company continued to expand over the years, the usage rate of reusable mugs dropped back down to 1.3% by 2018, bringing the number of cups saved to 42 million that year.
After a trial run in the Pacific Northwest, Starbucks took the $1 reusable cup to all locations in U.S. and Canada, but the low discount and customers forgetting to grab their cup on the way to Starbucks proved to be barriers to the success of this initiative. Despite pushing the rate of reusable cup usage up to 26% in the 600 stores initially tested in the Pacific Northwest, national usage in the U.S. remained quite low across the board.
Additionally, the fact that these cheaper cups were advertised to only last for 30 uses was likely a deterrent to two camps of potentially interested customers: 1) those who were invested in the money-saving aspect and 2) those who cared more about the environmentally-friendly waste reduction.
Starbucks New Line-Up of Reusable Cups
To implement a more successful strategy to increase in-store adoption of reusable tumblers and cups, Starbucks needed to maximize both affordability/cost-effectiveness while capitalizing on brand recognition and style to encourage customer interest. As a result of their past stumbles in this area, Starbucks recently announced a host of new, affordable reusable cups that don't skip on style.
The company has retained its commitment to reducing its 1% share of the "estimated 600 billion paper and plastic cups [that] are distributed globally" every year," but the new-line up of reusable cups shows that those heading the design of these products have realized that form and function both need to be prioritized.
As we go through the Starbucks' latest additions to its array of branded reusable tumblers and cups, we'll discuss the following factors to help you assess the pros and cons of purchasing a Starbucks reusable cup and ultimately decide whether buying one is worth it for you:
Cost compared to competitors
Material, durability, and care
Appearance and originality
Long-term environmental impact
Convenience
Other options for reusable cups
Overall, purchasing a Starbucks reusable cup has never been more worth it than it is today, as the company has dramatically expanded its product line, but it's important to recognize that not everyone's needs, budget, style, and coffee and/or tea habits make buying one the right choice.
As we progress through each of the factors that will inform your decision, we'll take a look at the pros and cons of Starbucks reusable cups for each factor and discuss if there are other options on the market that might better suit your priorities.
Appearance
The original $1 reusable cup was fairly utilitarian and plain in comparison to previous reusable cups and tumblers the company has sold, but Starbucks appears to be recognizing that its customers need more than just "cheap" and "reusable" cups as an incentive to buy into their waste reduction strategy and goals.
Color-Changing Tumblers
The latest releases from the company, which have only been distributed for sale in a few stores, include an array of "jewel-tone and confetti-flecked plastic cups that transform hues when a cold beverage is poured inside."
These new, eye-catching additions to the Starbucks reusable cup line-up are set to launch at the tail-end of May, and they're already creating a lot of buzz surrounding their release. If you're interested in getting the Starbucks-branded look but weren't drawn to previous editions, this color-changing update may the design that draws your eye.
However, when it comes to brightly colored and dynamically designed reusable cups, there are plenty of competitors on the market, including color-changing options. To choose between these options, you'll need to consider additional factors like cost, environmental impact, convenience, and more.
Iridescent Tumblers
Starbucks has also recently introduced a series of iridescent tumblers to a few of its U.S. locations, which were spotted by customers and announced by a handful of influencers online in April and May 2020 and not yet officially announced by the company itself. As a result of the limited release, not much information is available about the cost, but the appearance alone is getting some Starbucks customers excited regardless.
Although other brands and companies have released iridescent tumblers in the past, based on the ones available on platforms like Amazon and Etsy, among others, seem to indicate that these new Starbucks tumblers are rather unique, aesthetically speaking, which might be why some people are already trying to resell these relatively unknown products online for as much as $50.
Summer Series
As attractive as these new options are, you may not be looking for a cold-beverage tumbler and prefer something that can carry your hot coffee or tea on your way to work or school. You might think that Starbucks' latest releases may not have much to offer you, as they're marketing has largely focused as summer releases but Starbucks still has hot cup options for its customers.
In the company's "Summer Series," the variety of mugs and tumblers on sale follow a tropical theme, using pastel purple, shades of blue, and hot pink throughout the product line's color scheme as well as imagery of palm trees and leaves throughout.
The Summer Series mainly feature cold beverage tumblers, but it also offers stainless steel water bottle, summer-themed mugs, and three tumblers that can be used for hot beverages, two of which are stainless steel, leak-proof models.
If you're primarily interested in a hot-beverage reusable tumbler, this limited selection might not be for you, whether in terms of shape, size, or style, not to mention other factors that should go into your purchasing process.
If the appearance and selection of Starbucks' most recent releases aren't enough to help you decide if purchasing one of the new Starbucks reusable cups is worth it for you, you'll need to examine other factors, including cost and durability, to further weigh the pros and cons.
Cost
Over the years, the cost to own a Starbucks reusable cup or tumbler has gone down significantly. While in the past, the cheapest branded options from the company cost as much as $20 or more, nowadays Starbucks reusable cups are significantly lower.
Several of the latest releases cost as little as $3, and Starbucks sells their reusable cups and tumblers in a variety of retail spaces, including through Amazon and in Starbucks locations in Target and Barnes and Noble stores, making it easy to get access to the variety of styles offered by the company.
If cost is your primary motivation when it comes to choosing a reusable cup, tumbler, or mug, choosing between Starbucks-branded products and those from other companies will likely depend on what type of reusable cup you want.
Starbucks' $3 cold-drink tumblers are hard to beat in terms of price, but their hot-beverage reusable tumblers and mugs tend to cost quite a bit more, especially if you're looking for ones that promise to be leak-proof or insulated travel mugs that will keep your hot drinks warm for a longer.
Overall, when it comes to the most reputed and well-rated travel mugs for hot beverages, Starbucks' products often don't make the list, especially since many of the company's competitors in this arena focus almost exclusively on these types of products and have established name-brand recognition among its consumer base, making the often over $30 price tag well worth it in customers' minds.
However, Starbucks has also recently developed cheaper hot-beverage products as long as you're satisfied with a simpler product. For example, for their holiday releases in November 2019, Starbucks released a 6-pack set of reusable hot cups in a stylish red and pink ombre collection. The total price for the set was just under $12, which equals about $2 per cup, even cheaper than the latest cold-cup tumbler releases.
Material, Durability, and Care
Since the lack of success of its $1 reusable cups, Starbucks has seemed to realize that a reusable cup that required multiple purchases simply wasn't going to appeal to its consumers on a mass-scale, and out of all of the company's recent releases, none of its newest products have come with the same 30-use warning that was originally announced with the original $1 cup.
Even the $3 reusable cups are apparently meant to last much longer than previous versions, lasting some customers as much as a year and counting. Additionally, all Starbucks reusable cups are made with BPA-free plastics, which makes them safe to serve and store hot-beverage for long-term use.
Another consideration to keep in mind is the care and maintenance of different versions of Starbucks reusable cups. Although the plastics these products are made from are BPA-free, some of their tumblers are not microwave-safe and/or dishwasher safe, which is easy to forget and means you risk damaging them early into their use.
Environmental Impact
For some interested in Starbucks reusable cup products, the primary motivation isn't the potential to save 10-cents per purchase or have a stylish accessory but rather to do their part in reducing global paper and plastic waste. If that's the case for you, you'll likely want to know more about the potential environmental impact of this decision.
Just as Starbucks has long studied ways to decrease the environmental impact of its business practices, the food and beverage industry as a whole has put countless dollars and hours into researching the problem that Starbuck's Waste Reduction Program has attempted to solve. How can we make our eating and drinking habits less harmful to the environment long-term?
The Debate over Reusable Mugs
When reading the previously mentioned fact that Starbucks contributes about 1% of the over 600 billion disposable cups used worldwide (which equals about 6 billion cups), the idea of encouraging the adoption of reusable mugs might seem like an obvious solution to the problem. However, among environmental activists and advocates, the efficacy of these reusables is a debated topic.
Based on the figure that the average Starbucks customer visits one of its locations 6 times per month, in a year alone, one customer could potentially throw away 72 disposable cups. And although the material used to make those cups is partially recycled, the interior has a plastic lining that still contributes to the accumulation of plastic in landfills worldwide.
These facts seem to support even more than reusable cups are the answer, but the biggest detriment to their adoption in Starbucks and other chains and independent coffee shops is the inconvenience to consumers.
Many detractors to the use of the common plastic reusable tumbler, mug, or cup believe that they actually contribute to more waste than they prevent. Generally, these reusable cups are thicker and therefore made of more plastic material that the cups they replace.
Often, people who own these mugs end up forgetting to use them or ultimately throw them away, only to replace them with another reusable mug the next time they resolve to kick the disposable cup habit.
Environmentally Friendlier Alternatives to Starbucks Reusable Cups
If you're committed to adopting more environmentally friendly habits and are confident that purchasing a Starbucks reusable up will help you reduce your use of disposable cups, such a purchase can be a simple, effective way to reach that goal, but other options might better suit your goals and lifestyle.
In some communities, including on the Western Washington University campus in Bellingham, Washington, coffee shops have instituted "mug-sharing" programs, which allow customers to leave with a reusable mug that they can return to any other participating coffee shop at their convenience.
Other places using these programs include the University of Northern British Columbia, Whitman College in Walla Walla, Washington, and startup company Good to Go in New York City, as well as a handful of coffee shops in Boulder, Colorado. If you live in an area that has a mug-sharing program, participating can be a convenient and low-cost way for you to make your coffee habit eco-friendlier.
There are also many plastic travel mugs and reusable cups that are specifically designed and engineered to be easy to recycle. A common criticism of Starbucks' waste-reduction efforts is that both their paper and reusable cups aren't often recycled in the many cities where the company operates.
In contrast, products like Stanley's Recycled and Recyclable Mug and certain camp mugs from REI not only help you use fewer disposable cups, but they are also made from recycled material that is optimized for future recycling. Other products like the Thermos Sipp Travel Tumbler and hand-made mugs from independent shops in Etsy offer travel mugs that minimize the amount of plastic used (keeping it to just the lid) and using primarily stainless steel and ceramic material, respectively.
Convenience
As previously discussed, convenience is a big factor in why many coffee/café companies' efforts to encourage reusable cup usage have faltered over the years. Research studies have revealed that this lack of success might be owed to the way companies like Starbucks set up its incentives for customers bringing in reusable mugs.
Starbucks' 10-cent discount for using a reusable mug (no matter the brand) has become somewhat of an industry standard, but studies of the University of Washington's 25-cent discount and Seattle, Washington's 2-cent discount managed to bolster adoptions rates of 12 percent and 13 percent each, around 9 to 10 times the usage rate among Starbucks customers in 2018.
Despite this relatively high success rate, the overwhelming majority of consumers still seem to find the inconvenience of carrying around their reusable cups all day not worth even a 25-cent discount. So, if you're someone who'd like to take advantage of the discounts and do your part environmentally speaking, but you're easily dissuaded by the annoyance of lugging around a cup, you're certainly not alone in that sentiment.
Among Starbucks' offerings, none of its reusable tumblers, mugs, or cups truly tackle this problem. One compromise that you might settle on would be to keep a clean tumbler in your car and use it every time you go through a Starbuck drive-through, as that might help you consistently bring a reusable cup for at least a portion of your Starbucks purchases.
On the other hand, this solution won't allow you to get the most use out of your reusable cup and isn't feasible for people who 1) don't have a car or don't drive, 2) don't live near a Starbucks with a drive-through, or 3) tend to purchase drinks from Starbucks when they have multiple places to go where they plan to bring their drink.
A More Convenient Reusable Cup
In the face of the inconvenience of carrying around reusable cups, one startup company decided to tackle the issue with an innovative solution: Stojo. The brand, which launched on Kickstarter in 2014 and later expanded its initial investment crowd-funding to Indiegogo, promised a revolutionary product that got a lot of environmentally-conscious but practical coffee lovers excited.
The Stojo reusable cups have a collapsible design that allows them to squish down into a much more manageable disc shape, that can easily fit into a purse, backpack, and possibly a generous pocket. The cups, sold on both the Stojo website and on Amazon, come in three sizes:
8 oz. ($15), currently in 3 colors
12 oz. ($15), currently in 28 colors
16 oz. ($20), currently in 22 colors
24 oz. ($25), currently in 9 colors
The company's marketing makes a lot of appealing promises for its products, including that the cups are:
Leak-proof
Dishwasher safe
Microwave safe
Made from recycled material
Suited for both cold and hot beverages
Sturdy when expanded and filled
In addition to its range of cold and hot-beverage cups, Stojo recently started selling collapsible water bottles, and although they don't become quite as slim in profile as the reusable cups, these $25 bottles do collapse in a more manageable storage size and they come in an array of 16 different colors. If convenience is your biggest priority for a reusable cup, Stojo's mugs are an affordable option with an appealing minimalistic style.
Since Stojo's launch in 2014, many other companies have mimicked the company's patented design, and you can find a wealth of collapsible travel mugs from its competitors, particularly on Amazon.
While none of these options will have the branded look of Starbucks' reusable mugs, if convenience and cost matter more for your buying decisions, a Stojo-knockoff might be the way to go. Just make sure to check out the reviews, as not all of the collapsible mugs have as high-quality a designed as the well-reviewed Stojo cups.
Other Options for Reusable Cups
Beyond just the Stojo mugs, there is a variety of reusable cold and hot-beverage cups, tumblers, and mugs that have developed devoted customer bases and make for strong competition with even the best of Starbucks' latest releases.
To round out this overview of whether Starbucks' reusable cups are worth it, we'll take a look at the highest-rated reusable cups, along with a summary of why you might want to consider these options over Starbucks' products. Although the latest releases from the company are far-and-away some of their best reusable cups to date, price, and appearance.
Here are 7 of the top-recommended reusable travel mugs, tumblers, and cups and why buyers love them:
The KeepCup 
Copco Acadia Travel Mug
The Miir Insulated Camp Cup
The Kinto Travel Tumbler
JOCO Glass Reusable Coffee Cup
Frank Green travel mugs
Hydro Flask Coffee Flask
Conclusion
Whatever style, material, price, or size of reusable cup appeals to you, make sure that you're choosing one that will fit your lifestyle, budget, and needs so that you don't end up with a product that you forget to or can't fully use.
Whether the ultimate product you choose comes from Starbucks' own line or from one of the numerous options listed here, as long as your properly line up your habits and priorities with the right product, you'll end up with a reusable cup that can cut down on your carbon footprint and make your coffee habit just a little more affordable in the long-run.
Sours: https://therenewablegeneration.com/2020/08/02/are-starbucks-reusable-cups-worth-it-the-pros-and-cons/
BPA-free reusable tumblers for summer drinks on the go
This article may contain affiliate links. This means if you click on an affiliate link and purchase the item, I receive a commission. Click here for my full disclosure policy
My favorite summer tumbler drink is a mocha frappuccino – coffee, chocolate and ice. I usually make my own homemade mocha frappuccino, so I can go vegan and organic while saving the $6 a pop Starbucks wants. Once in a while I'll splurge and get an actual Starbucks Frap, but really, homemade is just as good, if not better.
Bought or homemade isn't my point though. No matter if I go homemade or splurge on the Starbucks version, I always use a reusable tumbler.
My son and I have a large collection of reusable tumblers with reusable lids and straws that we use for countless summer drinks, such as my beloved mocha fraps, non-caffeinated fraps (for the kiddo), smoothies, milkshakes, floats, homemade slurpees, and more.
Why go with reusable tumblers?
Reusable tumblers with lids and straws are way better than disposables in terms of how much trash we're leaving on the planet. Starbucks only serves 1.4% of their drinks in reusable containers, which means 2 billion plastic straws and 4 billion cups headed to the landfill annually.
And it's not like Starbucks is the only coffee place in town, or juice bar, or milkshake diner. In Portland we have countless places to get frosty summer drinks, and all those places create a massive amount of waste.
If you and your, let's say family of four, each get one frosty drink a week out and about during the summer, that's a total of 48 non-reusable cups, lids, and non-reusable straws being tossed in the trash. If you take along a set of reusable tumblers, you'll get the same frosty drink, minus the garbage.
Additional benefits of reusable tumblers
You'll have fewer messy spills: Most of my reusable tumblers can take a hit, fall over and still spill very little liquid. Not true of disposable cups.
You can save money:All over the world, coffee and other beverage joints are getting hip to the fact that disposables suck. Many places will offer customers a discount simply for bringing in their own reusable cup. If there's no sign up about a reusable cup discount, don't just assume there isn't one. Ask for 25 or 50 cents off your drink – most places will say yes.
You can avoid chemicals: Even BPA-free plastics may contain substances that can leach into your beverage.
Why tumblers?
Really, any reusable cup is better than a disposable. However, in my house we have reusable beverage containers that serve different purposes, and so should you.
We have stainless steel hot beverage containers, which keep drinks hot, and have super solid lids that allow for near zero hot spills.
We have lighter-weight reusable water bottles that are perfect for hiking, with spout lids that are easy to drink from when walking.
We have the good old summer tumblers. Technically, tumbler defined is, "a drinking glass without foot or stem and originally with pointed or convex base." This makes a tumbler perfect for long lasting drinks – milkshakes, smoothies, icy blender concoctions and more.
Tumblers are not as leak-proof as our coffee and water bottles, but are lightweight, and perfect to carry around the house or in the car. They also sport reusable straws, which, yes, you do want for chilly summer drinks.
*ECO-TIP: Keep a few spare tumblers in your car so if you stop for a drink you always have a reusable on hand, even if you hadn't planned on stopping.
Awesome BPA-free reusable tumblers
All the tumblers below, to the best of my research ability are BPA-free. With water and hot beverage bottles, I suggest you stick with glass or stainless steel when possible, because as noted above, we still can't be sure BPA-free plastics are totally safe. Plus, stainless steel and glass are more sturdy than plastic.
That said: For on-the-go summer ease, BPA-free plastics are lightweight, good for cold drinks, plus don't freeze your hands like stainless steel. Also, some folks can't stand drinking from stainless steel straws. We have some BPA-free plastic tumblers at my house, and aren't dead yet, so for this guide, I'll suggest stainless, glass and plastic tumblers – just look for BPA-free.
Healthy Human Insulated Stainless Steel Tumbler Cruisers
The Healthy Human Cruiser Tumbler keeps your favorite beverages cold two times longer than traditional mugs or plastic disposable cups. The double walled design prevents the exterior from breaking a sweat. Available in 12 oz, 20 oz & 32 oz sizes – so great for all your family members. Lots of beautiful colors and designs to choose from.
This set comes with the insulated stainless steel tumbler, stainless steel straw, straw cleaner, BPA free Tritan clear lid, sticker, and hydro guide. Lifetime lid warranty included.
Simple Goods 2 Pack Kids Stainless Steel Tumblers
These 8 oz stainless steel, double wall, vacuum insulated tumblers come in a sweet set of 2, are unbreakable, and keep drinks hot or cold for hours without any condensation. Includes BPA-free lids that fit snug and secure to keep the tumblers spill proof. Also included with these 2 tumblers are 2 sturdy straws and a zippered, lined "KID STUFF" canvas bag.
Ello Tidal 20 oz Glass Tumbler with Straw
This glass tumbler doesn't leach, stain or smell and the colored silicone band provides a no-slip grip. A splash-resistant friction fit lid lets you see inside, and all parts are BPA/BPS free and top rack dishwasher-safe.
Starbucks Logo Cold Cup Dome Lid Tumbler, 12 oz
I always get or make my Fraps without whipped cream (not a whipped cream fan). But if you are, or maybe if you just like to pretend you got your drink at Starbucks, this BPA-free plastic tumbler, with double wall construction and a twist-on lid is a perfect fit for you.
Zak Designs HydraTrak 20 oz. Tumbler with Straw
Zak! Designs' innovative HydraTrak Tumbler helps keep track of how much water (or other beverage) you are drinking via some interesting rainbow bands. You can wear the rainbow bands as bracelets, or roll them up the tumbler.
Remove the straw and use the built-in silicone stopper to plug the hole for a spill-proof lid, plus the easy to remove lid has silicone gasket for secure closure. This cup is made with insulated double wall construction and BPA-free materials.
Housavvy Toddler Tumbler with Lid and Straw
Double wall vacuum insulated stainless steel kids container with a cool colored silicone straw.
Mason Jar Mugs with Handle
This unique, quality glass mason jar set comes with four old fashioned, but stylish mason jar tumblers with metal lids and matching BPA-free reusable straws. The drinking jars have ergonomic handles so you can easily hold them and lift them to take a sip.
BEAST 20 oz Tumbler Insulated Stainless Steel
If you love cold coffee drinks as much as I do, the 20 oz BEAST is for you. This set is a winner! It comes with 2 unbreakable steel straws, a free straw brush to make cleaning, easier and 1 splash proof lid. Made from high quality 304 18/8 food grade stainless steel.
Bonus, this tumbler will always feel smooth to the touch with a sweat-free design and an electro-polished interior will ensure your cups remain pure and rust-free, imparting zero unwanted flavors. Plenty of cool colors to choose from too.
Pusheen by Our Name is Mud Tumbler with Straw, 16 oz
This BPA-free plastic tumbler cup is cute as can be, featuring high-quality graphics from a popular Pusheen comic. Perfect if you like your summer drinks with whipped cream, because it has a secure dome lid as well as a removable plastic straw to help avoid messes.
Ello Devon Glass Tumbler with Straw, 20 oz
The Ello Devon 20 oz glass tumbler is made with chemical-free glass, while a silicone boot protects and provides a no-slip grip.This stylish tumbler features real wood accents, splash-resistant friction fit lid, and is car cup friendly.
Contigo Spill-Proof Kids Tritan Straw Tumbler, 14 oz
No more spills because this kids tumbler features a straw and a spill-proof valve. A silicone seal around the straw adds extra protection against leaks. Made with BPA-free materials and features a cool soft grip bottom pad to prevent skids and tipping. This tumbler is great for younger kids.
Contigo Spill-Proof Kids Stainless Steel Tumbler with Straw, 12 oz.
If you want to avoid plastic (good call) check out the cool Contigo Spill-Proof Kids Stainless Steel Tumbler with Straw, 12 oz. Same great look and design (as the Tritan Contigo seen above), but made with stainless steel.
Lead image by JESHOOTScom via Pixabay
Filed Under: Reusable water bottlesTagged With: BPA-free
Sours: https://www.growingagreenfamily.com/bpa-free-reusable-tumblers-for-summer-drinks-on-the-go/
Sharing is caring!
*This post may contain affiliate links. Please see my disclosure to learn more.
Tired of sipping on cold coffee leftover from this morning? If you want to know if it is safe to microwave a Starbucks plastic cup, then you are in the right place.

Coffee is generally served hot, so it seems instinctive to want to microwave Starbucks cups. As with most things in life, there is a right way and a wrong way, so can you microwave a Starbucks plastic cup?
Plastic cups from Starbucks are designed to hold cold beverage like an iced tea or blended Frappuccino. It is not safe to microwave Starbucks plastic cups, therefore it is recommended to stick with using ceramic or glass containers that are labeled as "microwave safe."
So how do you reheat coffee in the microwave? Let's review safer options to avoid using a Starbucks plastic cup in the microwave.
Are Starbucks plastic cups safe?
Plastic cups are recognized as a single use and disposable containers that have become readily available for grab and go customers. Not only are they convenient and plentiful, but they are also cheap and lightweight.

The downside of using plastic cup is that it is ineffective at keeping a cup of coffee hot. Due to the construction of the cup, the thin walls require a sleeve to comfortably hold the hot drinks and keep the heat from dissipating away quickly.
The reusable plastic cups from Starbucks can last a long time when used to serve cold beverages, up to 30 uses. However, the most common issue is that the lid warps from high heat and no longer snaps into place properly on the top.

There are several types of plastic coffee cups and many of them are designed for safe use in the microwave. However, specification really depends on the type of plastic used to make the cup.
It is fair to say that drinking from a plastic cup is not really safe, let alone using it to heat in the microwave. Heat makes things even worse by degrading the plastic, therefore dishwashing and microwaving plastic Starbucks cups is not recommended.

In general, plastic coffee cups are not meant to hold warm or hot liquids. Starbucks plastic cups are made from polypropylene, and only 5.1 percent from recycled materials.
When plastic is heated, the risk of contamination from leached chemicals is 55 times faster than the normal rate. To-go plastic cups from Starbucks are BPA free, but there is still an inherent risk when using soft plastic polymers.
Before microwaving a plastic Starbucks cup, consider transferring your beverage into a glass or ceramic cup. Not only can you avoid using a paper sleeve to hold the cup, but you don't have to worry about the plastic compounds leaching into your hot beverage.
Are plastic coffee cups microwave safe?
Not every plastic cup is safe for microwave use. You should only use plastic cups that has been specifically labeled as microwave safe.
Check the bottom of the cup for a number or microwave safe symbol. If the cup has a #5, it is made from polypropylene, PP, which is generally considered microwave safe.

PP plastic is known for being durable and heat resilient because the plastic feels cool after being microwaved.
1, 2, 4 are sometimes microwave safe
3, 6, 7 are not microwave safe
In order to figure out if a plastic coffee cup is microwave safe or not, review these guidelines to help you find out:
Fill a cup half full of water.
Microwave for one minute with the liquid inside.
Cautiously feel the cup to determine the temperature.
If the plastic cup is warm or hot after heating, it is not microwave safe.
If the plastic cup is cool, and the liquid inside is hot, it is considered microwave safe.
Plastic is not always safe to use in the microwave. Some plastic cups are thin, and can melt or release plastic chemicals into the beverage.
Things to know before microwaving Starbucks plastic cups
To further avert the risks for further use, continue reading the helpful tips to determine if plastic cups from Starbucks are microwave-safe. Understand these tips before using a microwave to heat up your beverage inside a plastic cup.
There are ways to to test and determine if a plastic cup is suitable to enter microwave:
Check the recycling symbol marked on the bottom.
Avoid plastics with the numbers 3, 6 or 7.
The safer plastic cups are labeled as 1, 2, 4 and 5.
Make sure to look for the numbering system before proceeding with serving food in just any type of plastic.
Skip heating food and beverages in plastic cups, and instead use glass or microwave-safe cups.
The natural materials are dense, which helps to transfer heat molecules quick and smooth way without melting and damaging the original cup.
Reusing Starbucks plastic cup is convenient when it comes to serving cold coffee, however they are not guaranteed safe for microwave use. Look for the plastic number on the bottom and test the cup for yourself to determine if it is microwave-safe.
Best way to microwave a Starbucksplastic cup
If you have no other options and you find yourself using a plastic cup in the microwave, then proceed with caution.
Here is the best way to heat up a plastic Starbucks cup in the microwave:
Start with a medium power level instead of the default high setting when heating liquid in microwave-safe cups.
Use 30 seconds increments.
Test the contents to determine if the desired temperature is reached.
Stir the contains of the plastic cup.
Microwave for another 30 second duration, stir and check again.
If you have been using a plastic cup from Starbucks in the microwave without any problems, then you have no concerns and continue to proceed with caution. However, if you question the safety of microwaving a Starbucks plastic cup, then consider using a microwave-safe cup or mug to reheat and keep beverages hot for longer periods of time.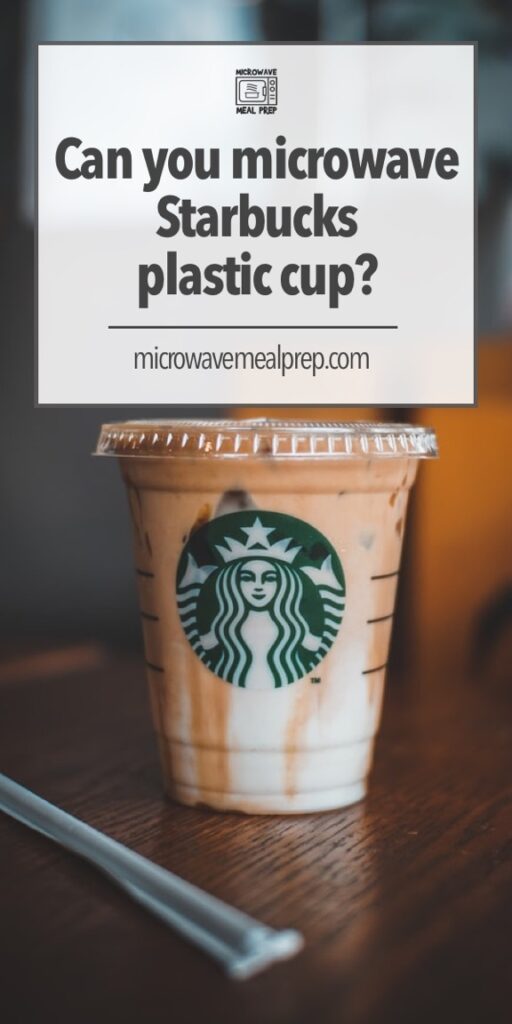 Sours: https://microwavemealprep.com/can-you-microwave-a-starbucks-plastic-cup/
Promo Tumbler Day STARBUCKS
How do I know if my Tervis Tumbler is BPA free?
To determine whether the tumbler is BPA Free, you can first look at the bottom. If it has the new "Tervis" logo across the center of the bottom of the cup, you can be absolutely sure it's BPA free. If you have the old logo, it will say "Tervis Tumbler" around the edge of the bottom.
Is there BPA in Tervis tumblers?
Is Tervis Drinkware BPA-free? We are committed to delivering the highest quality, most durable and safest tumblers, mugs, water bottles, wine glasses and sippy cups in the world. Furthermore, the new polymer contains no Bisphenol A.
Are old Tervis tumblers BPA free?
Yes, as of 2011, all Tervis drinkware is BPA free.
What is tervis made out of?
Tervis Tumbler Company is an American manufacturer of double-walled, insulated tumblers. The double-wall insulation is made by inserting a liner inside an outer shell, creating a layer of air between them. The two liners are then permanently fused together….Tervis Tumbler.
| Type | Private |
| --- | --- |
| Website | tervis.com |
Are Tervis mugs good?
They are absolutely the best tumblers I've ever owned and well-worth the price. I have many friends who have been using the same Tervis tumblers daily for 15 or 20 years. Although they don't look new, they still look good enough to use even when they have guests over. For me, the 16 oz size is perfect for general use.
Can you open a Tervis Tumbler?
No, you can't take the glass apart. It is one piece. Do you find this helpful? No – you cannot.
Can Tervis tumblers go in the microwave?
If there is no Microwave warning on the bottom, Tumblers and mugs (without lids) are microwave safe for up to 30 seconds at a time.
Can Tervis tumblers go in the freezer?
Tervis keeps drinks hot and cold with ultra-sonically sealed double-walled insulation, reducing condensation and making them virtually indestructible. Tervis tumblers are also dishwasher, microwave, and freezer safe.
Can you put boiling water in a Tervis Tumbler?
The Tervis tumbler is designed for both hot and cold beverages. So very hot coffee or ice cold drinks and such would be fine.
Is tervis as good as Yeti?
The Tervis Tumbler 16oz had lost 158 grams of its original 163 grams of ice. The YETI Rambler 20oz is starting to look good already. The YETI Rambler 20 oz. Clearly the winner at this point, nearly 8 hours in to the test, is the YETI Rambler.
How do you clean the inside of a Tervis Tumbler?
How do you clean a Tervis tumbler?
Pour out any leftover liquid on your tumbler.
Fill the tumbler with a few drops of dishwashing soap and warm water.
Seal the lid back on and shake your tumbler for a minimum of 30 seconds.
With a brush, scrub the interior of the tumbler.
Rinse after thoroughly and allow to dry.
Can you put coffee in a stainless steel tumbler?
From a scientific point of view, stainless steel cannot affect the flavor of the coffee. Steel is a stable and inert compound, and even when formed into a cylinder such as a mug and filled with boiling hot liquid, there are no chemical reactions going on which could mean that the flavor of the coffee is altered.
Are stainless steel tumblers safe?
The safest type of reusable water bottle to drink from is a high-quality stainless steel water bottle. Stainless steel is a non-toxic material that doesn't need a liner. It's a metal that doesn't leach chemicals, even if the bottle becomes damaged or if you fill the bottle with boiling liquids like tea and coffee.
What is the best material to drink coffee out of?
ceramic
Is Starbucks tumbler safe for hot drinks?
Tumblers are perfect for both hot and cold drinks. They help to keep the drink at its original temperature for longer periods of time, but Starbucks tumblers are not designed for use in the microwave.
Are Starbucks tumblers BPA free?
Starbucks Travel Coffee Cup Reusable Recyclable Spill-proof BPA Free Dishwasher Safe – Grande 16 Oz (Pack of 6)
Are plastic tumblers microwave safe?
Materials like plastic, glass or ceramics are usually safe to use in the microwave because they don't contain water and the electrons aren't free to move around.
Can you put coffee in a plastic tumbler?
Plastic Additives The plastic coffee cups made of the Bisphenol-A(BPA) material are not at all ideal to use for warm or hot liquids. Hence, avoid using plastic cups for hot drinks or food. Because of hot, acidic, alcoholic items affects similarly if kept inside the plastic cups.
Is drinking from plastic cups bad?
The short answer: No, not all of them. Time to scour your cupboard and root out those old plastic containers, cups and sports bottles. Recent studies have suggested that a chemical called bisphenol-A (a.k.a. BPA) — which is found in plastic containers — is hazardous to your health.
Can you drink coffee in a red solo cup?
Yes, you can use Solo red cups only to drink cold beverages such as iced coffee, cold brew coffee or your normal water.
Sours: https://www.mvorganizing.org/how-do-i-know-if-my-tervis-tumbler-is-bpa-free/
Tumblers are bpa free starbucks
At that moment, the girl in front of me trembled and hung on her boyfriend. The bus stopped, and the beginning of the disembarkation of passengers saved me from following this bitch and ending right on the bus. I was sure that I would have finished right on the bus, although I had never thought before that I could cum without. Affecting the clitoris or penetrating the vagina.
PERHATIKAN SEBELUM MEMBELI TUMBLER STARBUCKS ‼️ - #part1
House number one. By that time, the bottles of beer I drank had transformed from several (three?) Bun-like states into one ball-like. State of my bladder.
You will also like:
That's right, let's not point fingers. - Zhora, you are evil, you are an unkind person. How does Fryusha tolerate you. - And where are we going, Zhora.
6080
6081
6082
6083
6084