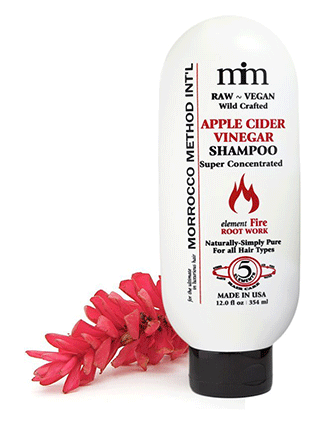 Photo: Courtesy of Morrocco Method.
I'm in a very itchy place right now. A couple months ago, I began the transition to raw shampoo. I wish I could say it was for environmental or ethical reasons, but the truth is, I did it for you people. As an experiment, I decided to see what would happen if I — a lifelong Pantene girl — started washing my hair with things like kelp, pine shale, and "blood of the dragon." It's true: When you enter the world of raw hair care, you're going to deal with ingredients named after mythological creatures. There were even more surprises in store for me.
First of all, I found that going raw doesn't mean you're going to wind up with yucky, stinky hair — quite the opposite. And, it doesn't require the time and effort of, say, switching to a raw diet. But, while some no-poo advocates would argue that we should all dump the drugstore stuff right now, there are some pros and cons to consider.
My main takeaway: Raw shampoo is something everyone should at least try, and many of us could benefit from making the switch permanently. Here's what you should know.
Pro: It's better for you.
Shampoo is kind of a lousy racket, when you think about it. No one is born needing detergents, parabens, and phthalates to keep their hair clean. Our scalps have their own little ecosystems of natural oils, fungi, and bacteria. Traditional shampoos strip all of them away and replace them with artificial moisturizers, making us become dependent on the fake stuff over time. Even more concerning is the fact that we absorb plenty of those chemicals through the skin. That's not to say you're going to get sick from your shampoo (after all, we're exposed to toxins all the time in our daily lives), but not all of those ingredients are entirely benign. For instance, some scientists have raised concerns about babies' development being impacted by the amount of phthalates absorbed through shampoo. Yikes.
Con: Not every raw shampoo is better for every scalp.
I decided to transition with Morrocco Method. The brand prides itself on being raw, vegan, gluten-free, soy-free, cruelty-free, wildcrafted, and made in the U.S. It's free of about 11 other things, but I honestly don't even know what they are. The point is, this stuff is NOT FUCKING AROUND. Its Healthy Hair Starter Package includes mini bottles of its full range; the company advises you to try a different one every day. This allowed my scalp to adjust and helped me figure out which ingredients worked for me and which didn't.
With any new product, it's important to first test its effects: Starting with sample sizes is always a great idea. Just because something is raw doesn't mean it's gentle (or strong) enough for your hair. I learned, for example, that an apple-cider-vinegar base works great as a weekly clarifying shampoo, but any more than that is too harsh for my sensitive scalp. I also found that kelp and aloe give me super-shiny mermaid hair and spruce oil makes me itch like crazy.
Photo: Courtesy of SheaMoisture.
Pro: It's better for animals and the environment.
Obviously, fewer chemicals in your hair means fewer chemicals down your drain — and in our environment. Animals don't want the phthalates either! And, you should know that almost all drugstore brands (and many salon brands) test on animals. While a lot of them claim they don't, they're benefitting from a sneaky loophole: Their policies state only that they don't test final products, but they say nothing about ingredients.
Of course, animal testing is a much bigger and more complex issue. But, if it's important to you, changing your shampoo is a step in the right direction.
Con: It takes patience — both in and out of the shower.
First, raw shampoo doesn't lather and spread as easily as the regular kind. You need to rub it in and let it sit for a few minutes. Second, the transition takes time and persistence. And, I wasn't kidding about the itching. Also, I have oily hair to begin with, so the first few weeks of my experiment involved a fair amount of top knots and ponytails. Your sebaceous glands will panic, your scalp will feel weird, and you may become tempted to reach for your go-to shampoo, but it's crucial to power through. This, too, shall pass.
Photo: Courtesy of Morrocco Method.
Pro: Your patience will pay off.
Once you've suffered through the adjustment period, get ready for some shiny, happy hair. Depending on the products I used, I still had both high-volume and super-flat days. But, overall, my hair looked healthy as hell.
The shine factor is just one benefit. Others have reported faster growth, more strength, and — no joke — newfound blondness. Lauren O'Neal famously blogged about her experience over at The Hairpin, raving about the fluffy, blonde locks resulting from her three years without shampoo. It turns out her hair had become artificially darker from "grease that shampoo caused my scalp to overproduce."
"I never use any product," writes O'Neal. "I just blowdry it with a finger diffuser, and it stays in beautiful, perfect waves all day. And, when you know your hair looks great, it's like a magical, girl-power spell that grants you confidence and erases worries about the rest of your looks." TRUTH.
Con: Traveling can be tricky.
If you're going on a trip, you need to be prepared. There's no popping out to the drugstore: There aren't (yet) a ton of retailers that carry these products, so if you get stuck somewhere without, you're better off not washing your hair than going back to traditional shampoo. Your scalp won't be back to square one if you fall out of your raw routine, but it will slow down the transition. And, if you have transitioned, you could wind up with an icky, uncomfortable scalp. Do yourself a favor and double-check your packing list.
Photo: Courtesy of SheaMoisture.
Pro: It's super cheap (if you're creative).
While some raw-shampoo advocates create cleansers with African Black Soap or raw shea butter, many people swear by the ACV-baking-soda combo — and it couldn't be more cost-effective. (Plus, most places carry those.) Cleanse with 50% baking soda and 50% water, and then rinse with 50/50 ACV and water. Make sure to use both to keep the pH balanced.
Regardless of shampoo preferences, this is a great scalp detox. And, if you make it a regular ritual, you'll save approximately five bazillion dollars on hair care over the course of your life.
Con: It's not-so-cheap if you're not.
I dropped $70 on the Morrocco Method starter kit. Yes, it lasted months, but it's still a lot more than I'm used to paying for hair-care. The full-sized bottles run for $29 a pop. There are also Raw Hair Organics ($21 a bottle) and SheaMoisture ($10, and the only one you'll find at the drugstore).
But, variety is important when you're going raw. I tried to switch exclusively to SheaMoisture, and at first it was great — my hair was super shiny and smooth. After a few days, though, things were looking oily and flat. I rotated some other shampoos back into the mix, and my strands got happy again. Some may find a raw-shampoo soulmate and never stray, but they odds are good that you'll need a mix. If you're into DIY beauty products, great. If you want the convenience of a bottle, you'll have to pay up.
Photo: Courtesy of Morrocco Method.
Pro & Con: The smell. The number-one fear around quitting traditional shampoo is probably winding up the stinky kid in class. This much I promise: You will not smell. You will, however, smell a little bit differently.
According to people close enough to smell me, my scent ranged between "natural-food store" and "music festival," depending on what I used that day. SheaMoisture was closest to the fragrance of traditional shampoo. But, no matter what, I smelled like some kind of organic snack food. You know when you were a kid and wanted a Fruit Roll-Up, but your mom made you eat the natural "fruit leather" instead? THAT is what I smelled like.
If you live for the classic, faux-floral scent of Herbal Essences, you're in for a bit of a letdown. But, considering all the perks of raw shampoo, that's a minor drawback. If anyone gives you a hard time, tell them you just got back from Burning Man, and then walk away so they can watch your luscious, healthy, eco-friendly, cruelty-free, kelp-shiny hair bounce behind you.
Sours: https://www.refinery29.com/en-us/raw-shampoo
Website
Visit Company Website
Countries this brand distributes/sells in
Products Sold
Hair Care
Hair Styling
Shampoo/Conditioner
Company Info
Certified since
Logo user

Brand Description
Real Raw is not a shampoo it's a SHAMPOOTHIE. We start with 100% pure aloe juice and coconut water, then use cold pressed natural ingredients and ColdFusion blending for nutrient assurance. Finally we supercharge it with 7 high-performance electrolytes for total hair hydration. Real Raw Shampoothie was inspired by wholesome, healthy juice, and smoothie bars. They use cold pressed and cold blended methods to maintain the nutrient levels of their RAW, unprocessed ingredients. This sparked an idea, leading to the creation of Real Raw Shampoothies. We take this same method and bring it to the beauty industry in a whole new, never before seen way. All of our products are cold pressed and cold blended, insuring our natural ingredients retain their nutrition. From RAW ingredient, to blending, to your shower, we make sure that you are getting the most wholesome nutrition for your hair.
Where can consumers purchase this brand?
Company Website
Big Box Store (e.g. Target, Walmart, TJ Maxx, Homegoods)
Pharmacy (e.g. CVS, Walgreens, Rite Aid)
Sours: https://www.leapingbunny.org/brand/real-raw
You must have asked, now that I have my raw hair extension, what is the best way to maintain it?
Raw hair extensions are quite an investment and to make sure this hair lasts as long as it should, they are products you should never use on them.
Raw hair extension is just like your natural hair since it was collected from a donor (a real human being), and needs the exact treatment you will give your natural hair – if not more, because this hair no longer gets the nutrients from its donor.
Therefore, raw hair extensions require extra care and there are so many hair products that are to be avoided in order to maintain healthy lustrous hair at all times. Below, we will list things you should always avoid adding to your raw hair extensions.
Silicone Based Products
Silicone-based products give hair a fake shine. It allows unhealthy hair to temporarily look and feel hydrated and healthy, but actually work to dehydrate the hair further.
These Silicones are polymers, which are large molecules composed of many repeated sub-units. These polymers are made up of siloxane – a chain of alternating silicon atoms and oxygen atoms frequently combined with carbon or hydrogen. Silicone is usually an element found in sand, where it is extracted from and passed through hydrocarbons.
Although it might serve as a solution for a bad hair day for short time use. We strongly advise that you avoid all products with this ingredient but rather, use natural or organic products for your hair.
Alcohol-Based Products
Alcohol-based products are not good for the hair because it dries the hair of its moisture. However, there are essentially two classes of alcohol. The one that is good for your hair and the bad ones that will completely ruin your hair.
For example, alcohol-based products that contains ingredients like; Cetyl, Stearyl, Cetearyl, Myristyl, Behenyl and Lauryl is good for your hair. They are mostly fatty alcohols that actually give your hair moisture when used. Whereas, alcohol-based products that contain; Denat, Ethanol, SD alcohol40, Propanal, Isopropyl, and Propyl are bad for your hair.
These bad alcohols are usually found in gels and mousse, so be vigilant when buying these styling products Sis.
Sulfate Based Shampoos
Sulfates are ingredients commonly used in soaps, shampoos, detergents, toothpaste, and other products that we expect to lather. Equally, they are active cleaning agents in shampoos. Sparse or occasional use of sulfate-containing products don't seem to do too much harm to your hair, but consistent and continuous use can make your hair brittle and dry to the touch. This is because, as well as removing dirt build-up, sulfate also strips hair of its nutrients and essential oils.
In other to maintain healthy hair and make your raw hair last longer. It is crucial you avoid such products. We also advise you to use sulfate-free shampoos and conditioners.
Protein-Based Products
Protein is not entirely bad for your hair but however, you need to be cautious while using it. A good protein treatment can help your hair feel healthier and softer. But too much of a good thing can eventually wreck everything. In other words, this is to say that too much protein is dangerous, as it may cause hair to lose its natural elasticity and can lead to breakage. If at all you want to use protein-based products, do that sparingly.
Apart from the above-listed products, they are other ingredients you should be wary of.
Parabens
Parabens prevents the growth of microbes and bacteria in your hair, leading to a cleaner and lighter hair. They basically serve as preservatives in products. However, it is dangerous for your skin. Prolonged skin contact with products that contain parabens can result in hormonal imbalances in women as well as potentially lead to a higher risk of certain cancers.
Cocamide DEA
Products with this ingredient should be avoided when choosing hair products for your hair. Although the use of these products has been banned in many countries you should always look out for it in your hair products.
Diethanolamine and Triethanolamine
Diethanolamine and Triethanolamine, or DEA and TEA are ethanolamines compounds used in cosmetic products, primarily as foaming agents. They actually have been cleared as "safe" for use as long as you limit your use and wash it out of your hair daily. To be safe we advise you to invest in more natural and organic hair products, this way you won't have to worry at all.
We hope this article was helpful? Let us know your thoughts in the comment section.
Keep slaying Queens! xx
Sours: https://dellahshair.com/7-products-you-should-avoid-using-on-your-raw-hair/
How I've REALLY Been. (Special Announcement)
10% Off Real Raw Hair Coupon (3 Promo Codes) October 2021

1 use – Last used 3wk ago
100 competitor promo codes – Last used 7m ago
3 Real Raw Hair reseller discounts – Last used recently

Real Raw Hair
Rate your shopping experience with Real Raw Hair:
Real Raw Hair is a smaller extensions & wig store that markets products and services at realrawhair.com. Real Raw Hair competes with other top hair extension tools such as UNice, Foxy Locks and Glam Seamless. Real Raw Hair sells mid-range purchase size items on its own website and partner sites in the extremely competitive online extensions & wigs industry. When it comes to offering discount codes, Real Raw Hair very rarely issues promotional discount codes. Real Raw Hair is a newer, or medium to lower popularity brand when it comes to discount codes and promotion searches, with fewer shoppers actively searching for Real Raw Hair offer codes and deals each month. BeautyHair TreatmentHairpieces
About Our RealRawHair.com Promo Codes
We have 3 Real Raw Hair coupon codes today, good for discounts at realrawhair.com. Shoppers save an average of 10.0% on purchases with coupons at realrawhair.com, with today's biggest discount being 10% off your purchase. Our most recent Real Raw Hair promo code was added on Oct 25, 2021. On average, we find a new Real Raw Hair coupon code every 100 days. Over the past year, we've found an average of 3.0 discount codes per month for Real Raw Hair.
More Real Raw Hair Discounts & Coupon Codes


2 uses – Last used 3wk ago

Real Raw Hair Competitor Coupon Codes
Real Raw Hair Coupon FAQ
Where can I find Real Raw Hair coupons?
Real Raw Hair offers coupons and promotional codes which you can find listed on this page. Look for coupon codes marked with the green verified label for today's active Real Raw Hair promo codes. You can also find sales and other promotions for Real Raw Hair here as well.
How do I use my Real Raw Hair discount code?
First, copy the discount code by clicking the code on this page. Then head to Real Raw Hair's website at realrawhair.com and enter the code in the coupon code entry box during checkout. You will see either a confirmation message of your savings or an error if the code did not work.
My Real Raw Hair promo code didn't work. What can I do?
Some coupon codes have special requirements or exceptions. Click "view restrictions" next to the coupon code on this page to learn more. If necessary, try multiple Real Raw Hair codes on this page until you find one that redeems a discount.
What's today's best Real Raw Hair coupon?
Today's biggest RealRawHair.com Promo Code is for 10% off. The coupons you see at the top of this page will always show the best Real Raw Hair discount codes first. Generally, the best codes are "store-wide" deals that can be used on any purchase at realrawhair.com. Also, look for the Real Raw Hair promo codes with the biggest discount percentage.
How often does Real Raw Hair offer online coupons?
Real Raw Hair issues coupon codes a little less frequently than other websites. We check for new Real Raw Hair codes frequently, so just check back this page to find the latest available Real Raw Hair coupons.
How many coupons is Real Raw Hair offering today?
Currently, Real Raw Hair is running 3 promo codes and 3 total offers, redeemable for savings at their website realrawhair.com.
How we partner with brands like Real Raw Hair
Dealspotr verifies, curates, and shares content and offers for brands we think you'll love. In certain cases, we may receive a commission from brands you find on our website.
Sours: https://dealspotr.com/promo-codes/realrawhair.com
Hair care raw real
Real Raw Shampoothie Hemp Recharge Shampoo
Description
Begins with a pure aloe juice and coconut water super charged with 7- high-performance electrolytes. Blended with yogurt, cold pressed (sativa) hemp oil, then cold blended for nutrient rich assurance. Infuses dry hair and scalp with essential Omega 3 antioxidant and nutrients improving moisture balance and PH, transforming hair and scalp leaving it moisturized and full of soft touchable silky perfection.
Made in United States
©Real Raw Shampoothie
Ingredients
Aloe Barbadensis Leaf Juice, Cocos Nucifera (Coconut) Water, Sodium C14-16 Olefin Sulfonate Cocamidopropyl Betaine, Cocamide MIPA, Glycol Distearate, PEG-120 Methyl Glucose Dioleate Methyl Gluceth-10, Phenoxyethanol, Ethylhexylglycerin, Yogurt Extract, Hemp (setiva) Oil, Tocopheryl Acetate (Vitamin E), Pantothenic Acid (Vitamin B5), Guar Hydroxypropyltrimonium Chloride Cocamidopropyl Hydroxysultaine, Fragrance, Butylene Glycol, Citric Acid, Sodium Chloride

Warnings
Precautions: avoid contact with eyes.
Sours: https://www.orderroombox.com/product/real-raw-shampoothie-hemp-recharge-shampoo/
DOES PLANT 7 ACTIVE ZERO WORK?!🤔
Real Raw Hair Promo Codes, Coupons & Deals
Looking for Real Raw Hair coupons? We've got you covered.
Knoji is a community of people who love to shop. We have over 10 million community-verified coupons and discount codes for 100,000 brands like Real Raw Hair.
Verified RealRawHair.com promo codes. We hand-verify each Real Raw Hair coupon code on our site to ensure it provides a valid discount at realrawhair.com.
Site-wide discount codes. We track Real Raw Hair store-wide promo codes, which unlock discounts on all items across Real Raw Hair's online store.
Email discount codes. Email coupon promo codes are good for only one purchase, and our community members share email codes for Real Raw Hair and thousands of other retailers. Since these codes expire after a single use, you may need to try a few codes before you find one that works. Sometimes, email discount codes may be the only way to save at realrawhair.com. To use a Real Raw Hair email discount code, simply copy the coupon code from this page, then enter it in the "Promo Code" box at realrawhair.com during checkout to secure your savings.
Real Raw Hair free shipping coupons. Looking for free shipping at RealRawHair.com? We track and free shipping offers for Real Raw Hair and thousands of other brands, which you can easily find on our Promo Code Finder tool.
Sours: https://realrawhair.knoji.com/promo-codes/
You will also be interested:
Have already become a mother, but you still remain a little stubborn girl, drive all sorts of nonsense into your pretty head. - Serge grinned and kissed her cheeks. He reached for her lips, but Anna stopped him, holding his mouth with her hand. - Wait, please, - she asked with a strange expression on her face, as if pondering something, then suddenly said: - I need to tell you one thing.
just promise that you won't laugh.
579
580
581
582
583