Our serious love of makeup has prompted us to purchase a lot of eyeshadow palettes. There's something so exciting about palette releases. By far the most exciting palette release in the past couple of years has been the Too Faced Sweet Peach Palette launch. We had to get our hands on this palette and see what all the hype is about.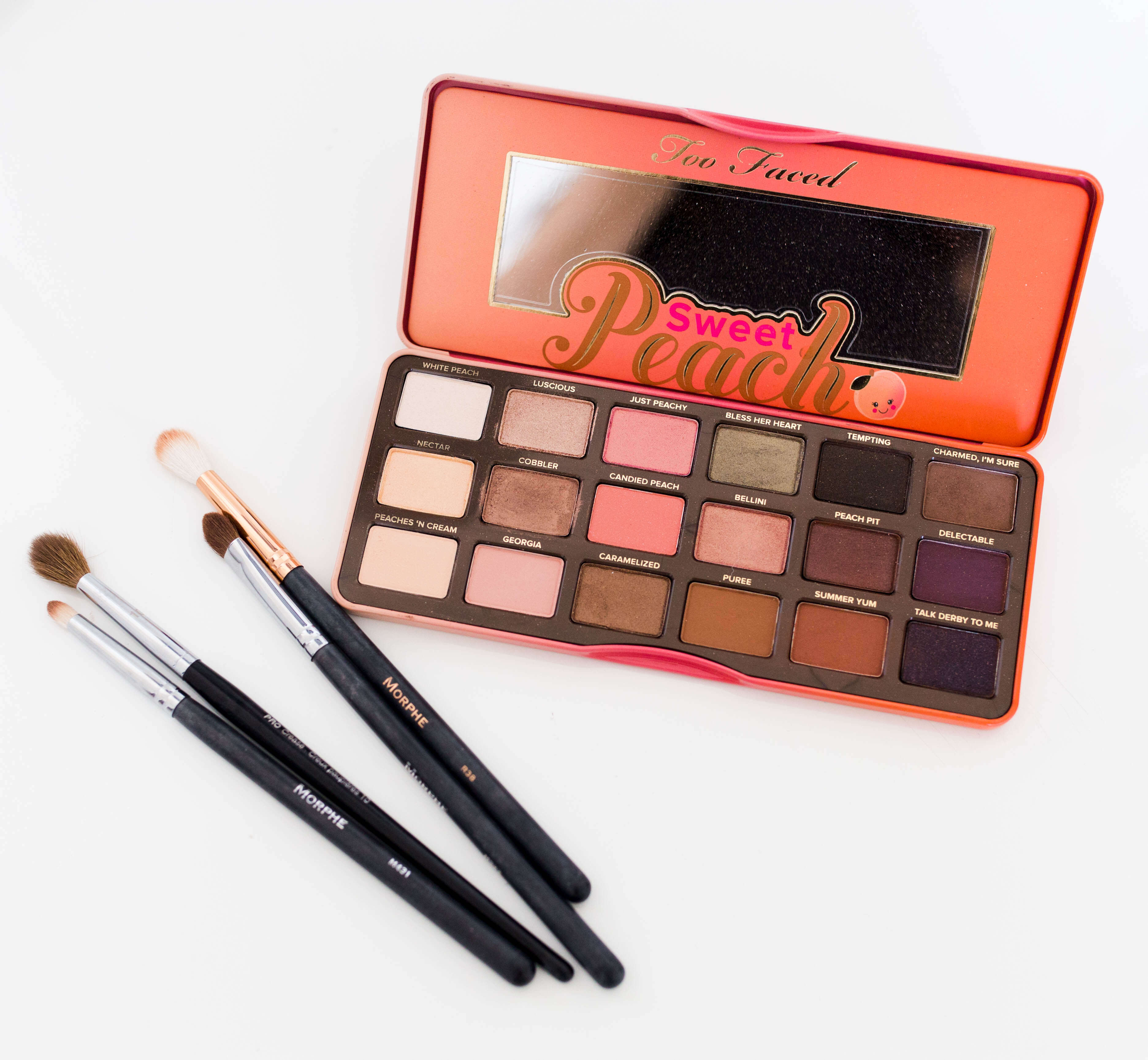 We really like the palette and thought it would be fun to create two very different looks with it. I used the palette to create a super easy, daytime-appropriate look while Britta opted to create a smokey eye perfect for a night out.
For those of you that don't know, we're really into makeup. We both work in the beauty industry and feel like makeup buying is somewhat of a hobby for us (something our bank accounts hate us for). We wanted to try a fun beauty-related post where we use the same eyeshadow palette and create two totally different looks! We think one of the benefits to buying an eyeshadow palette is that you can create so many different looks and really get your money's worth out of the product.
Today we're using the Too Faced Sweet Peach Palette to create an easy, daytime look (Carli's look) & a smoky, nighttime look (Britta's look).
BRITTA'S LOOK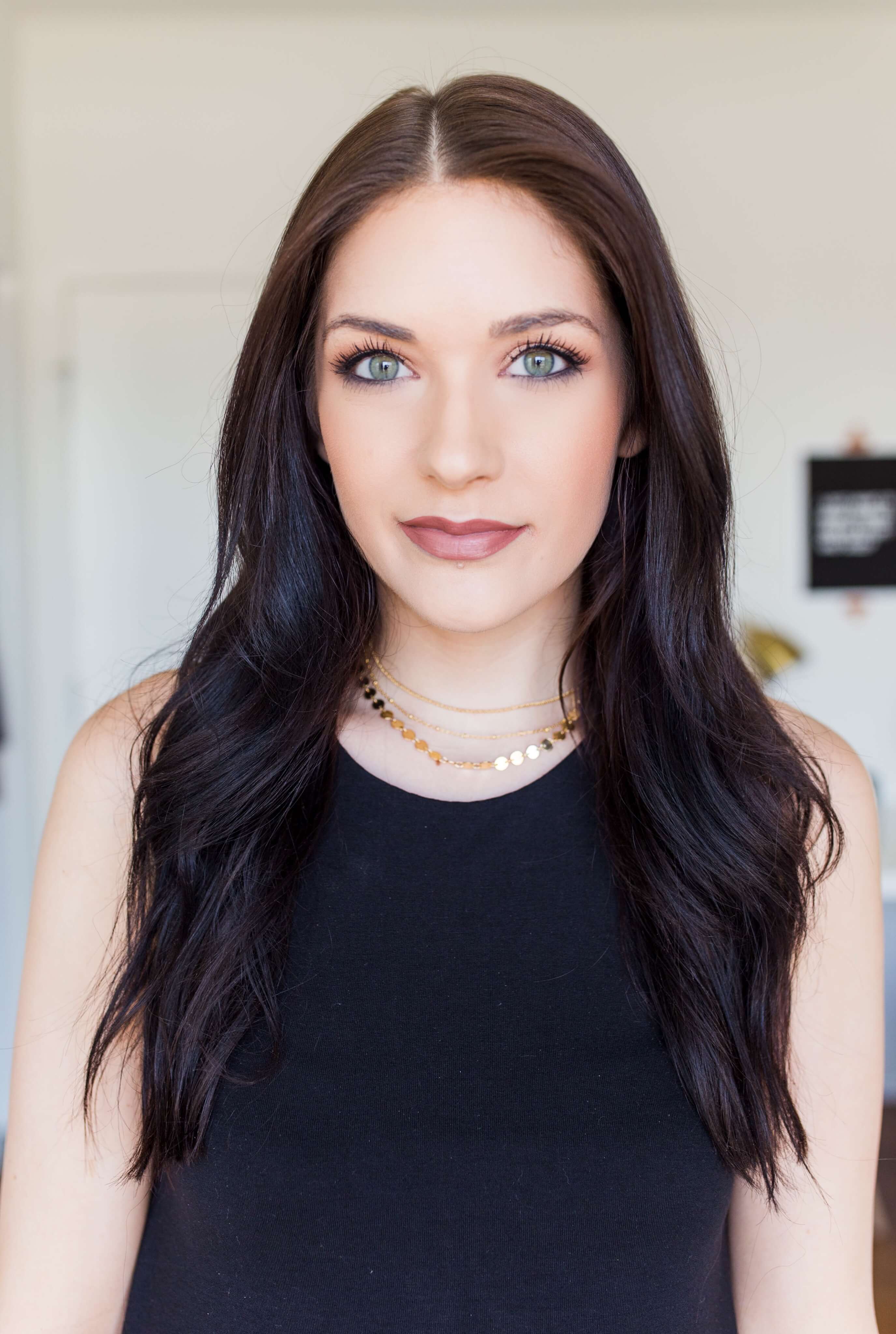 Supplies:
– Too Faced Sweet Peach Palette
– a fluffy crease brush
– a dense crease brush
– a flat definer brush
– an eyeshadow brush
– makeup setting spray
Step One: Take a fluffy crease brush and apply the shade 'puree' all of the crease and slightly above. Blend it out to get a diffused look, you don't have to be precise with this shade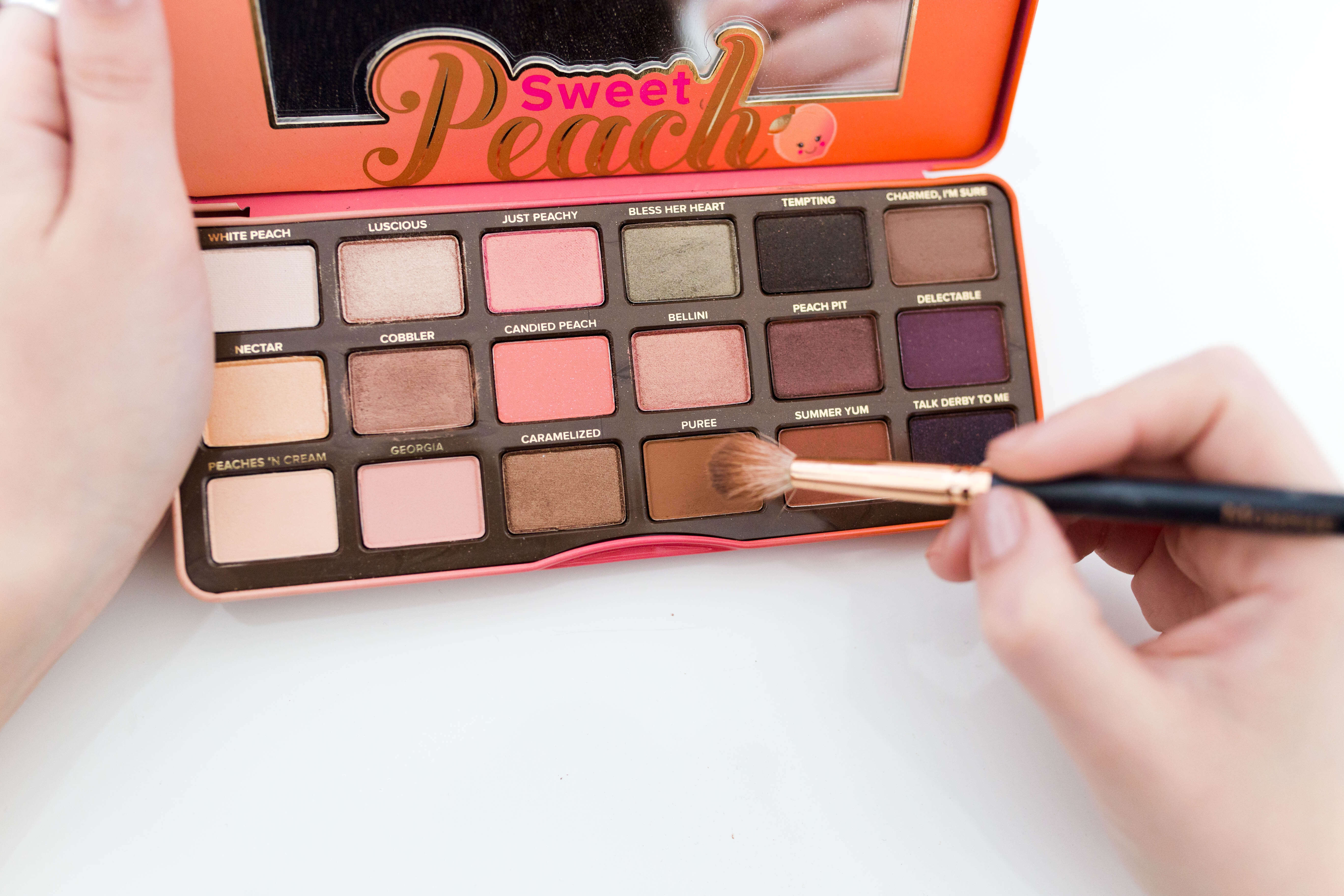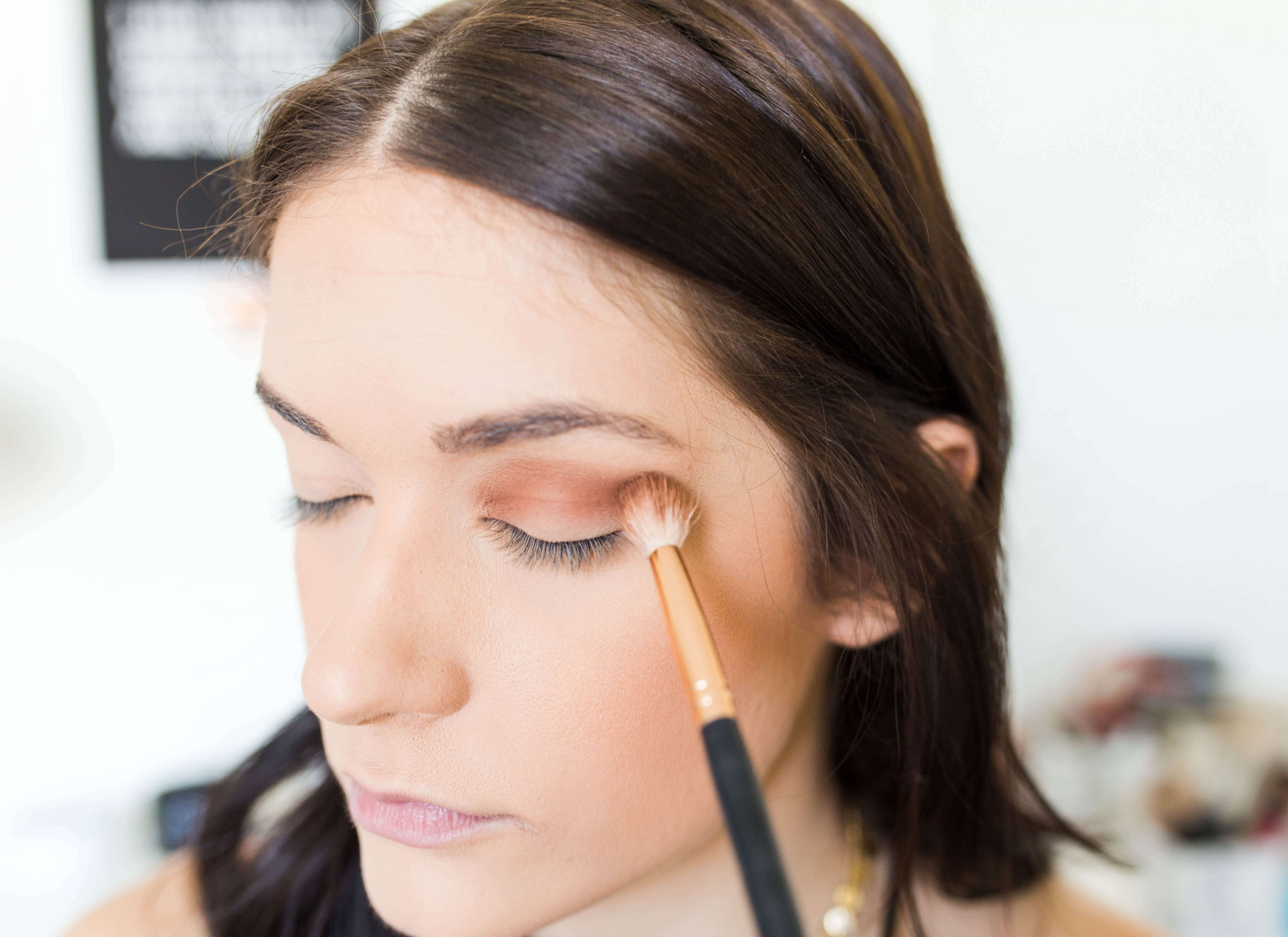 Step Two: Use a more dense, precise crease brush to pick up the shade 'Summer Yum' and apply it in the crease.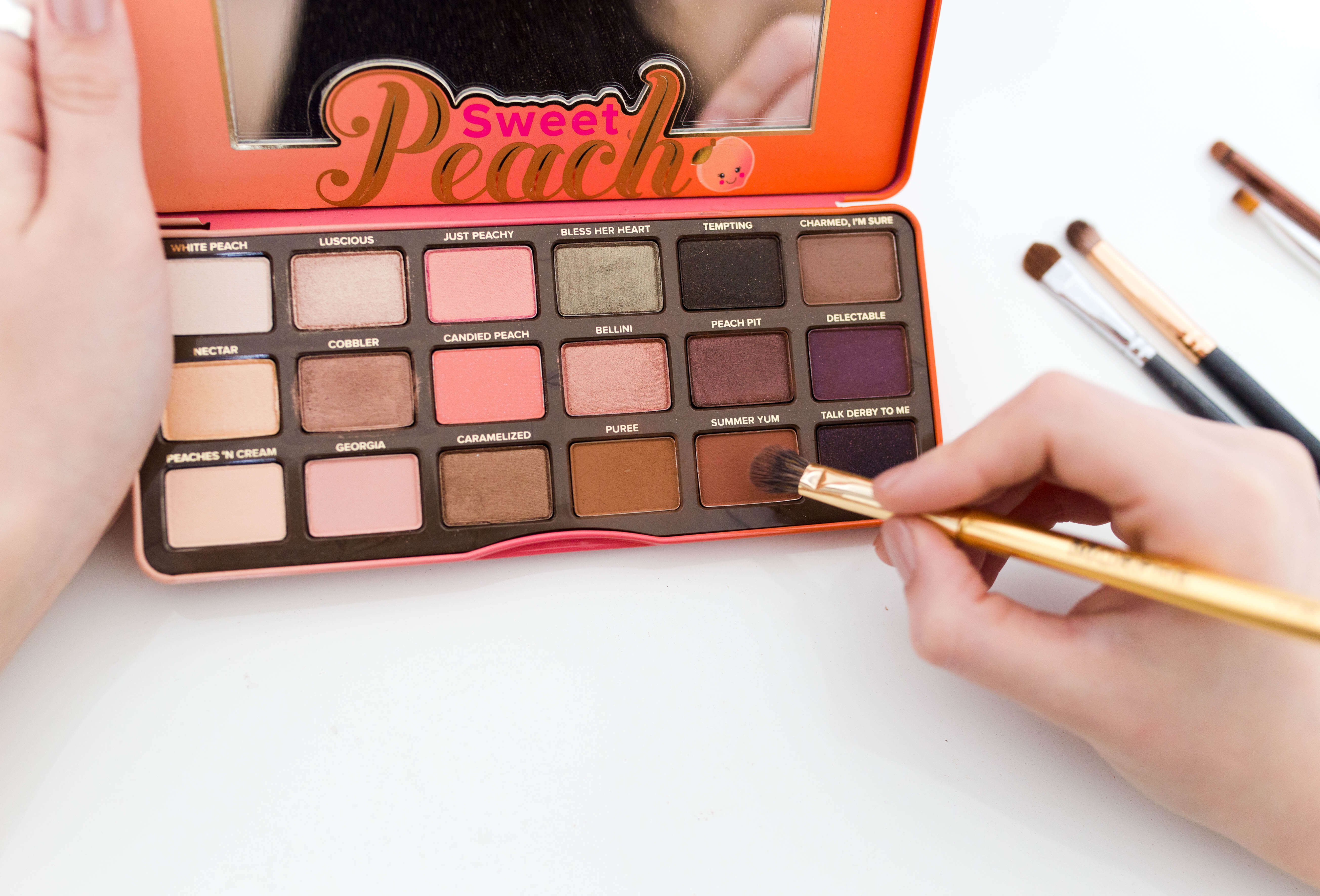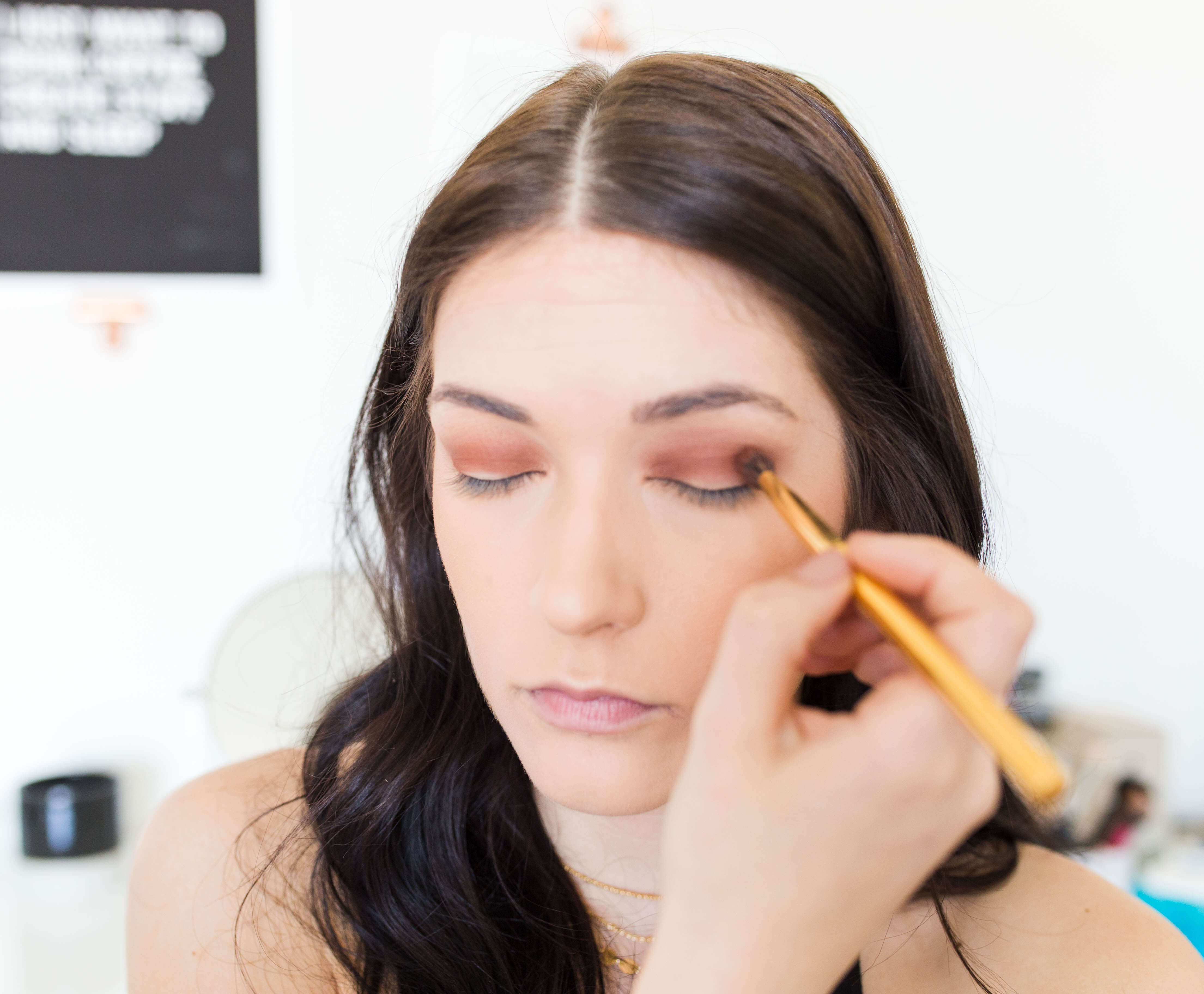 Step Three: Use a pencil brush and dip it into 'Charmed I'm Sure' and apply that shade just on the outer 1/3 of your eye ("the outer v").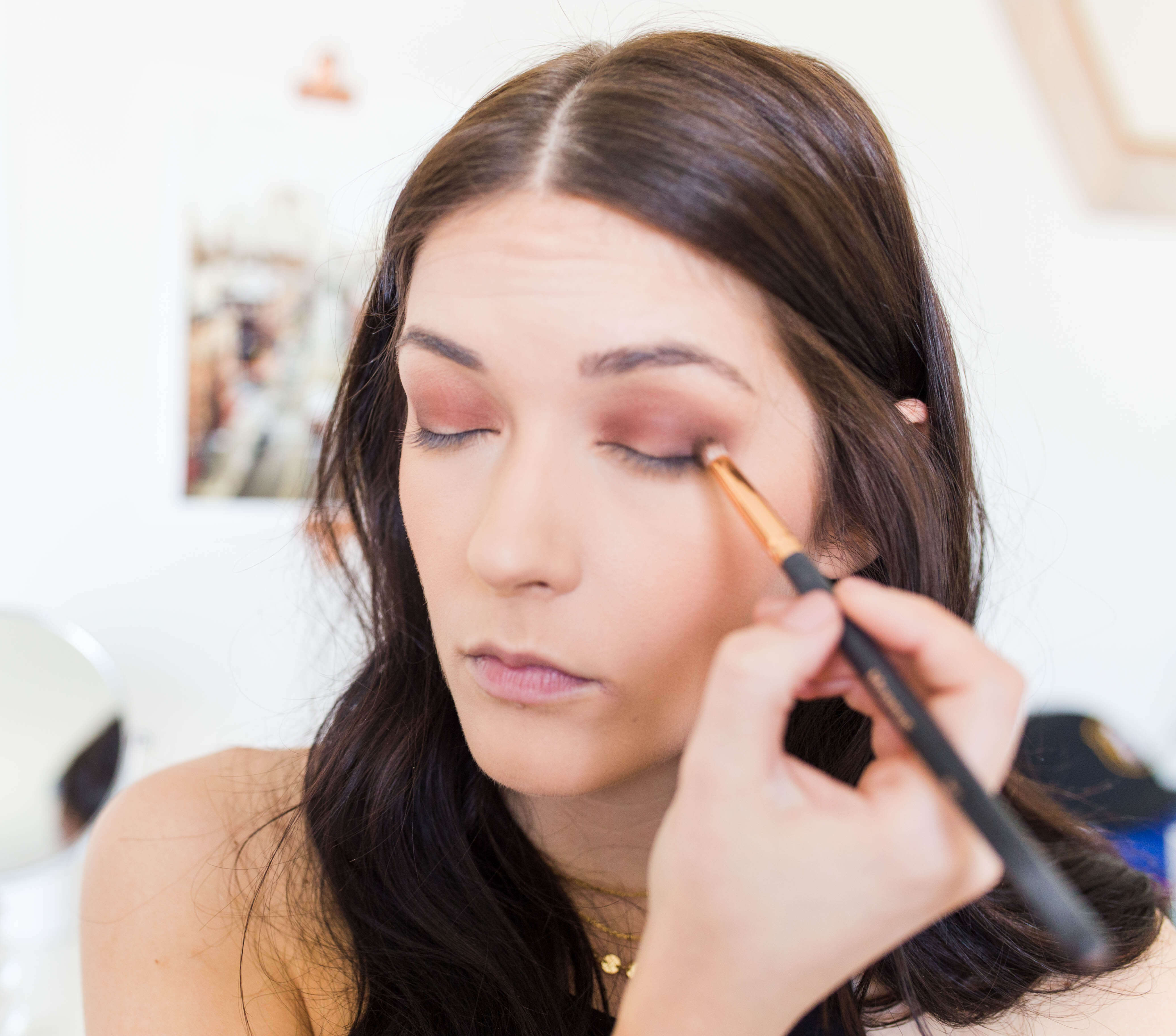 Step Four: Spray a flat eyeshadow brush with a makeup setting spray that has glycerin in it. Dip the damp brush into the shade 'Luscious' and apply on the inner and middle parts of the eyelid. Keep this shade away from the outer third.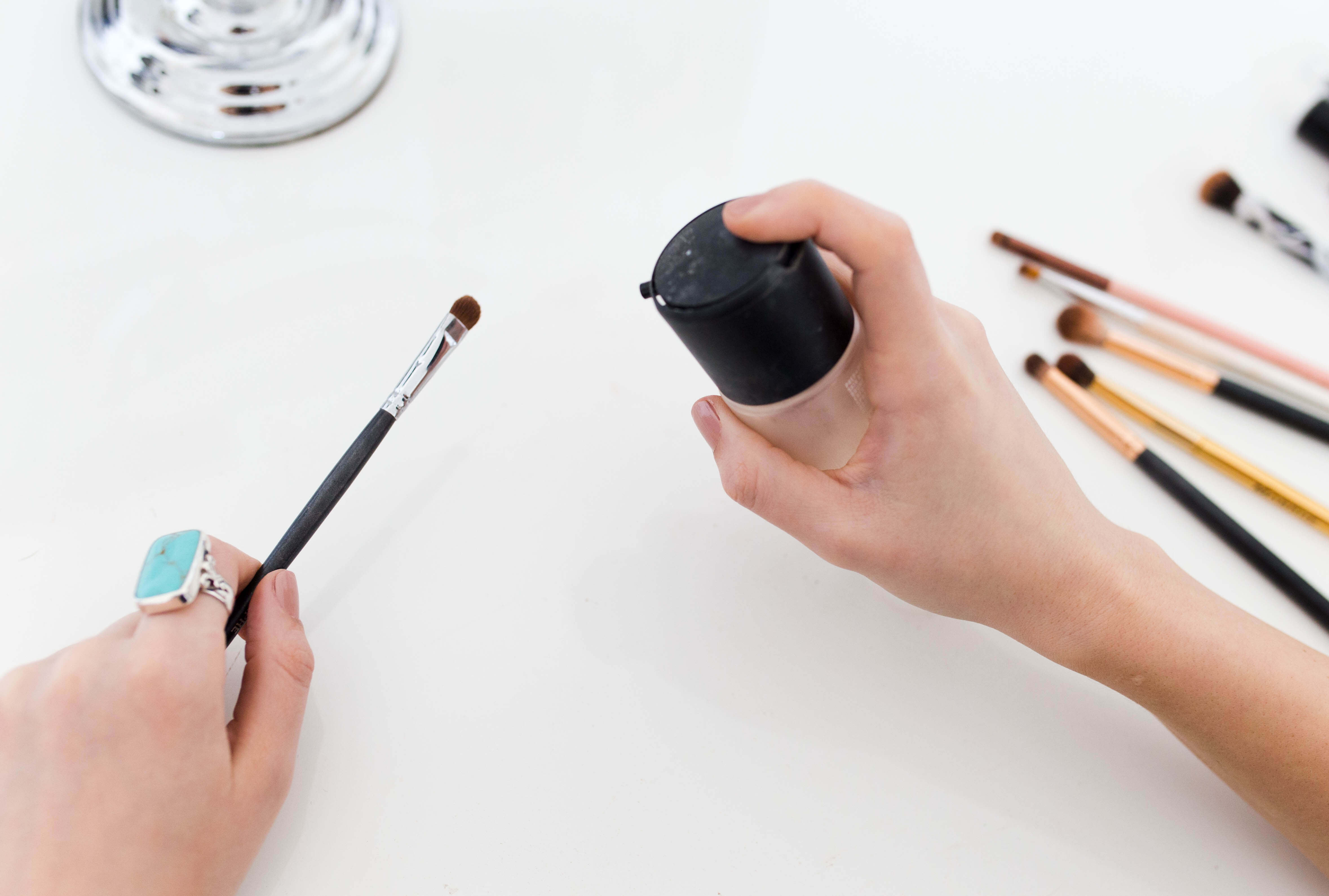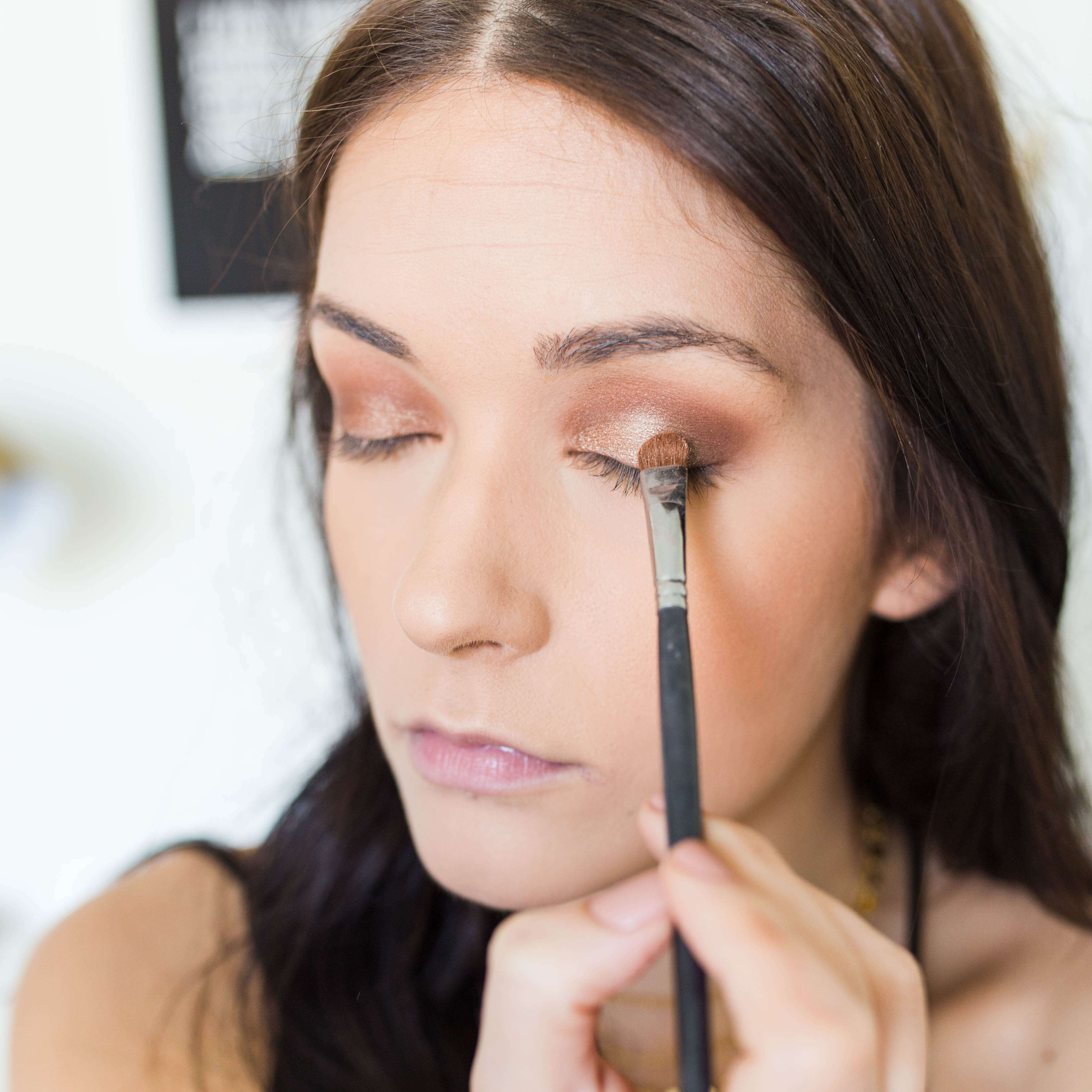 Step Five (Last Step): Use a flat definer brush to apply 'Talk Derby To Me' under the lower lash line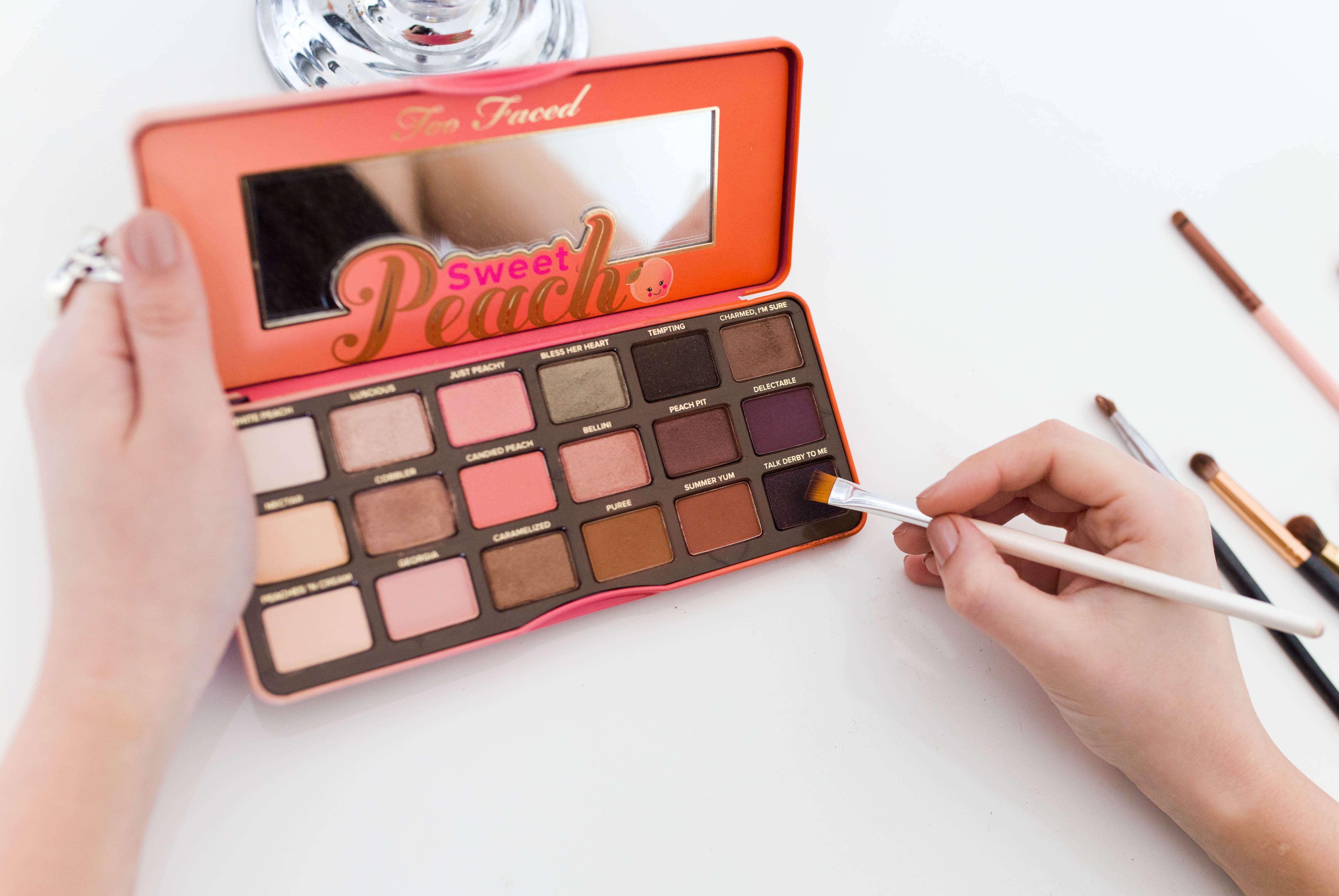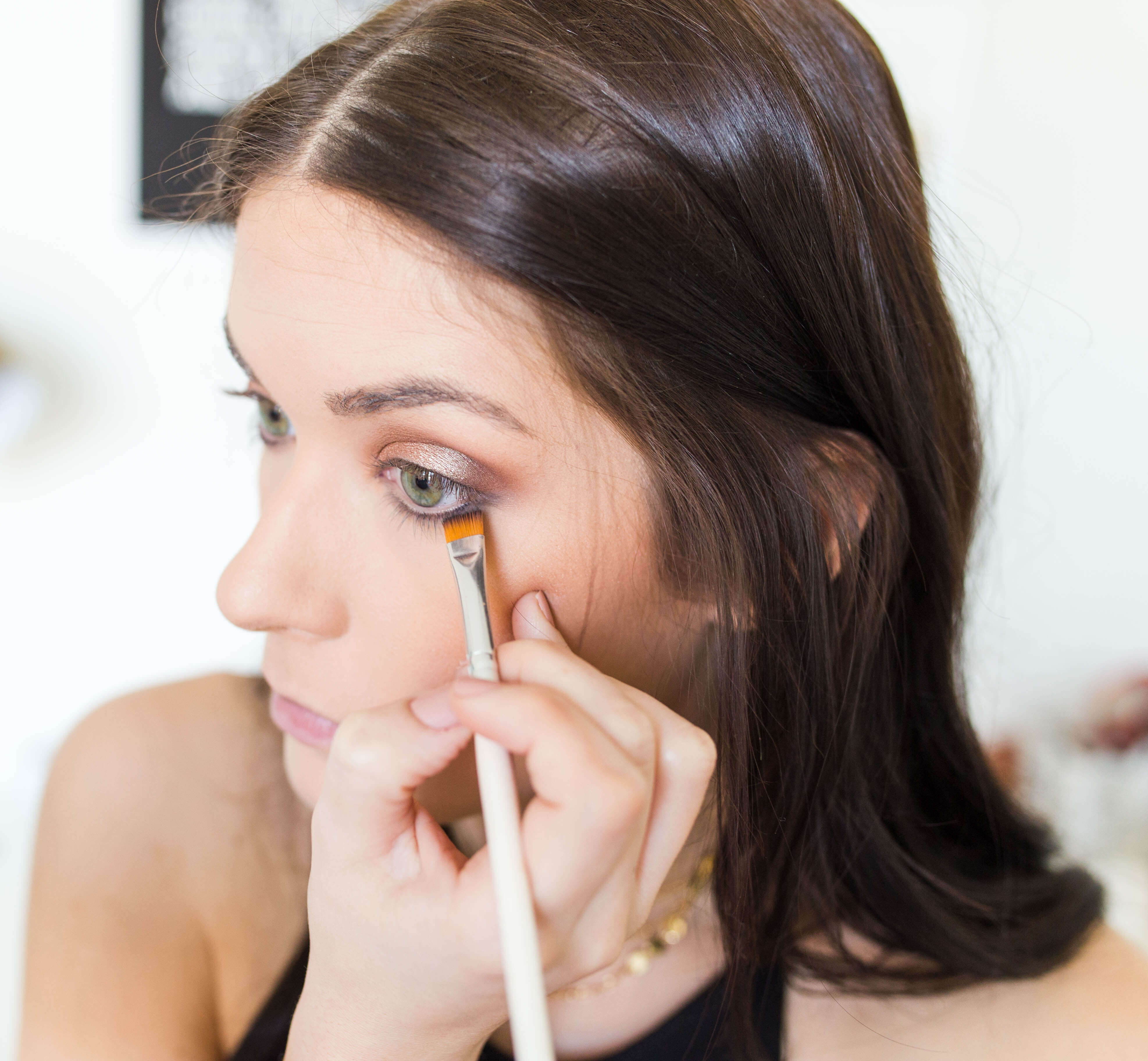 The look is complete!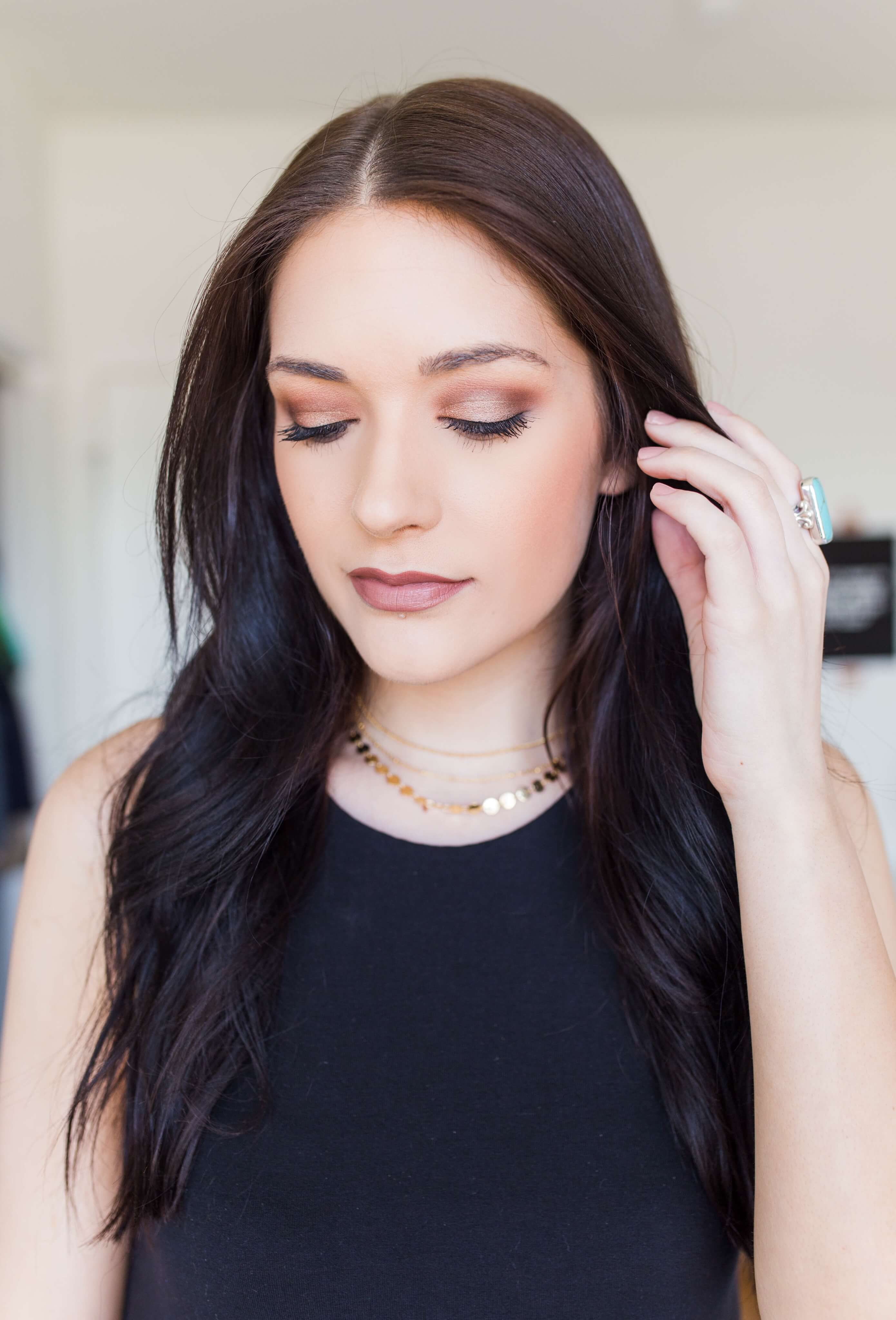 CARLI'S LOOK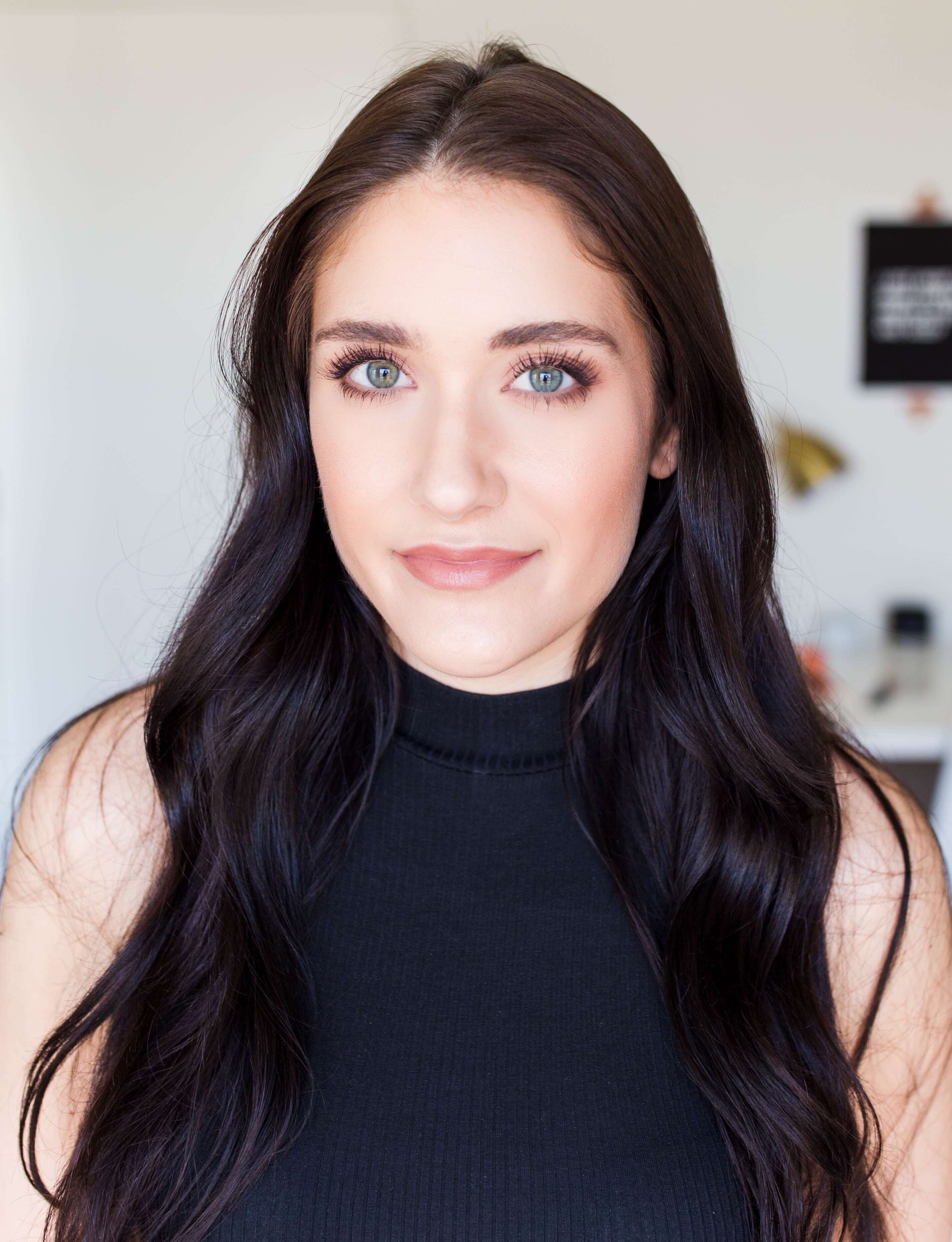 Supplies:
– Too Faced Sweet Peach Palette
– a fluffy crease brush
– an eyeshadow brush
– a pencil brush
Step One: Take a fluffy crease brush and apply the shade 'puree' all of the crease and slightly above. Blend it out to get a diffused look, you don't have to be precise with this shade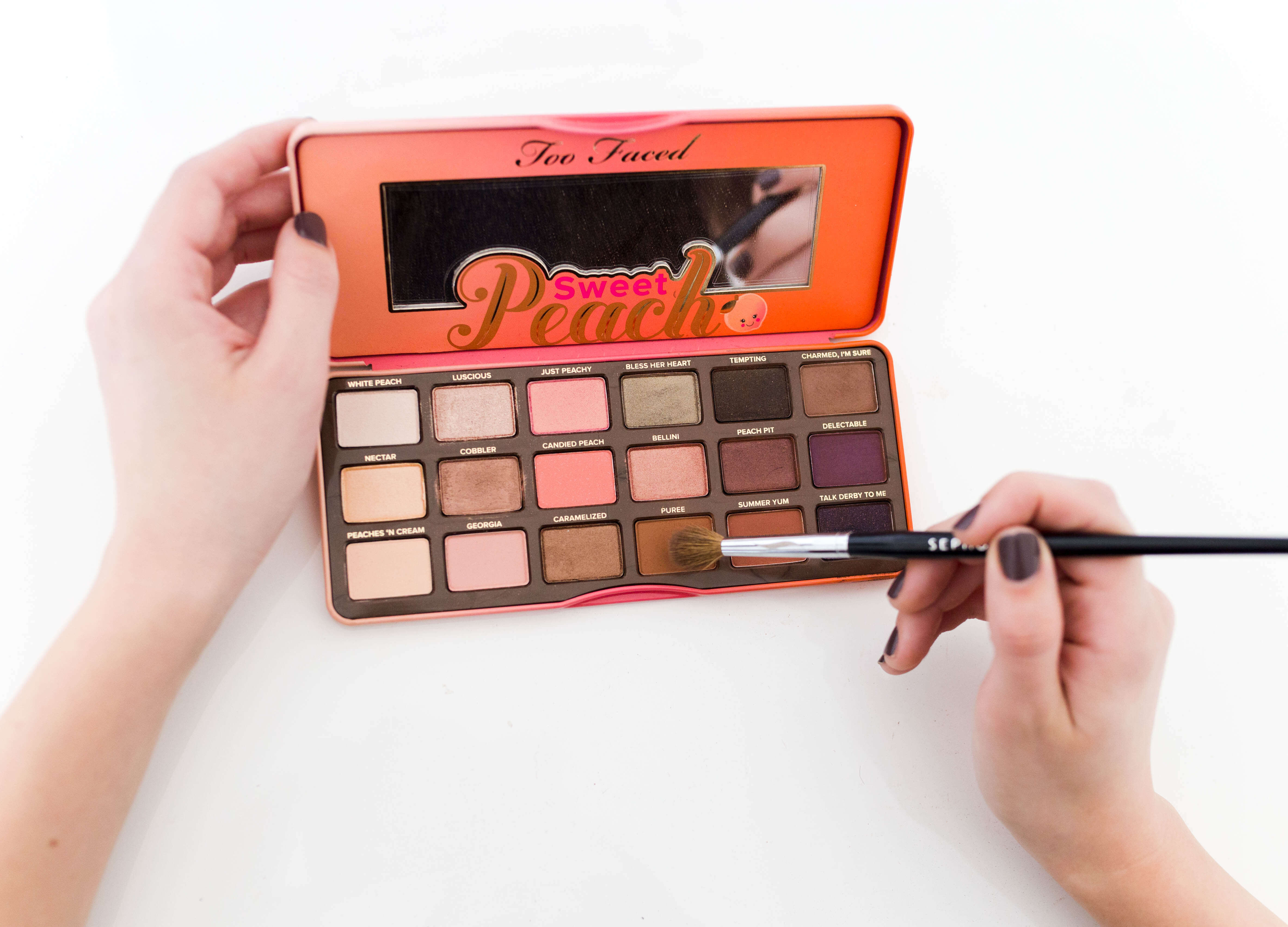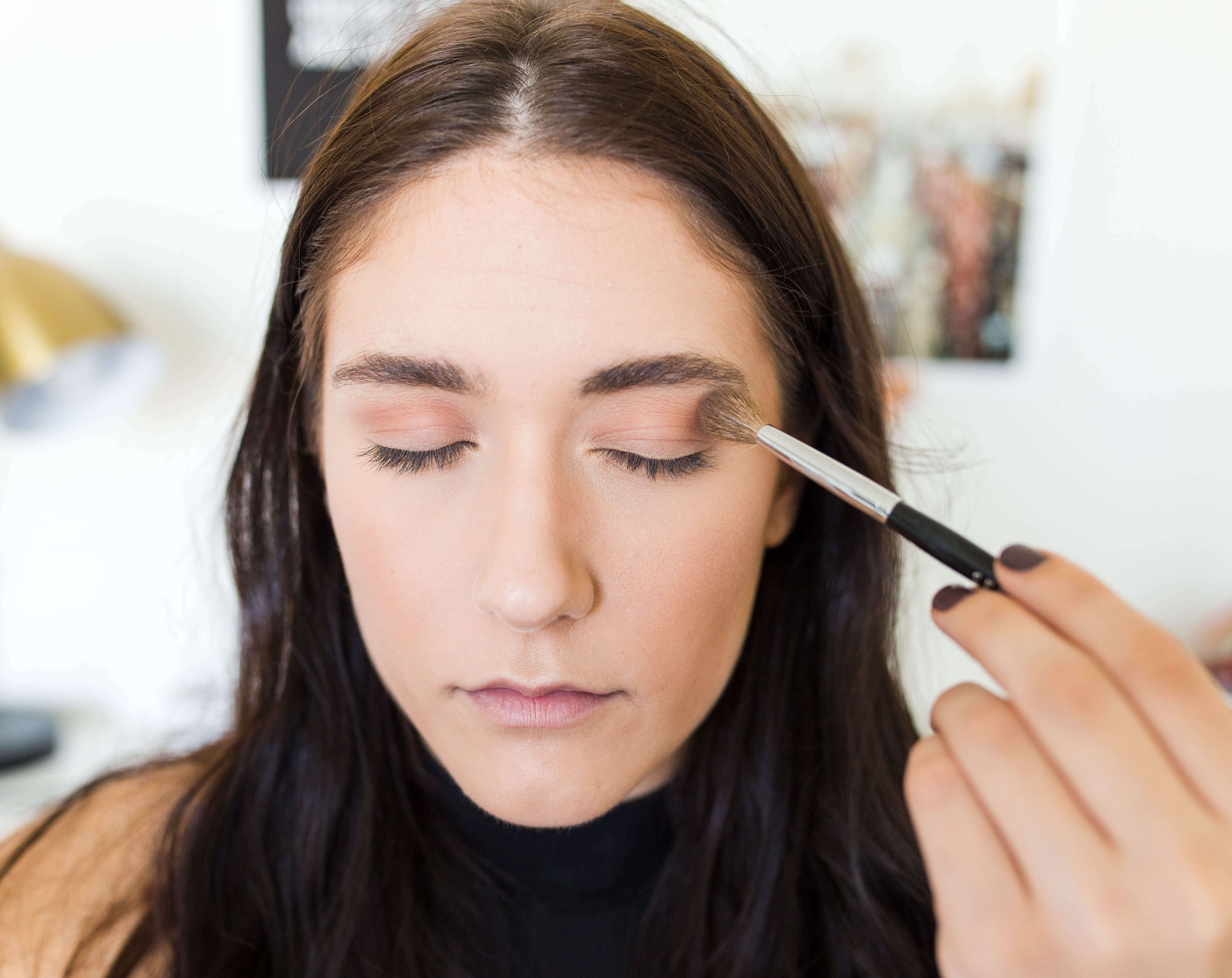 Step Two: Use an eyeshadow brush to apply the shade 'Bellini' all over the lid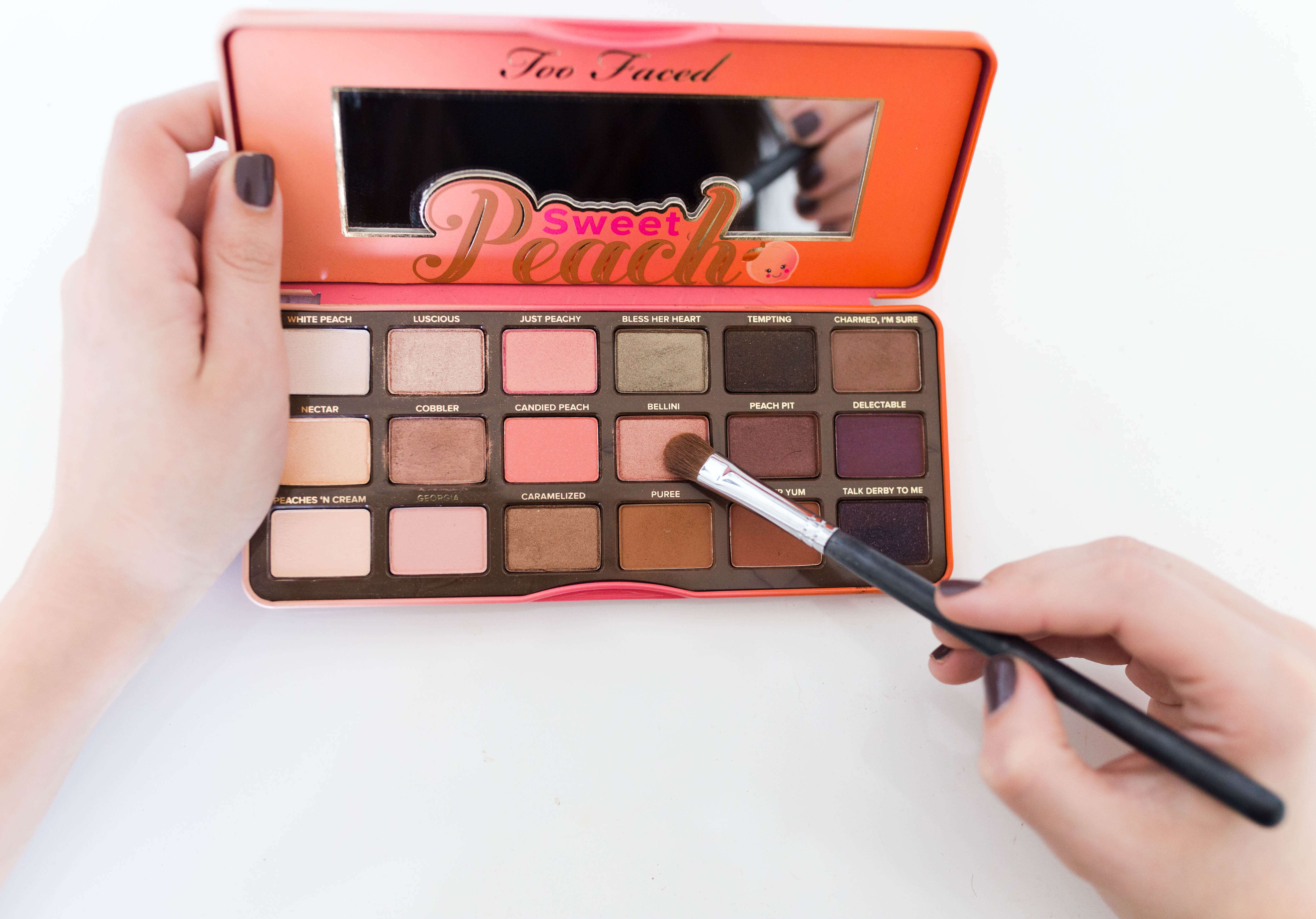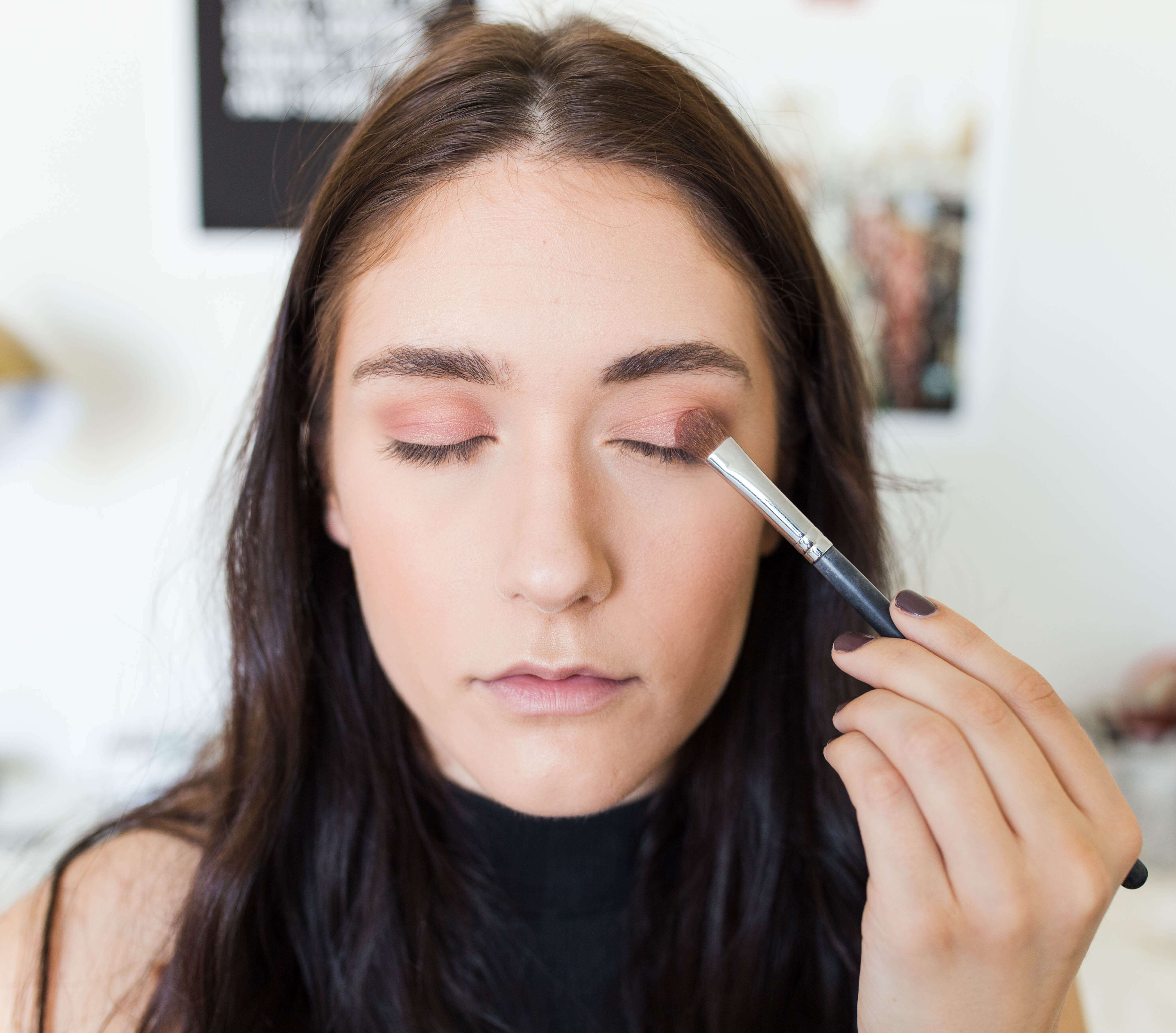 Step Three: Dip a pencil brush into 'puree' and apply that under the lower lash line in windshield like motions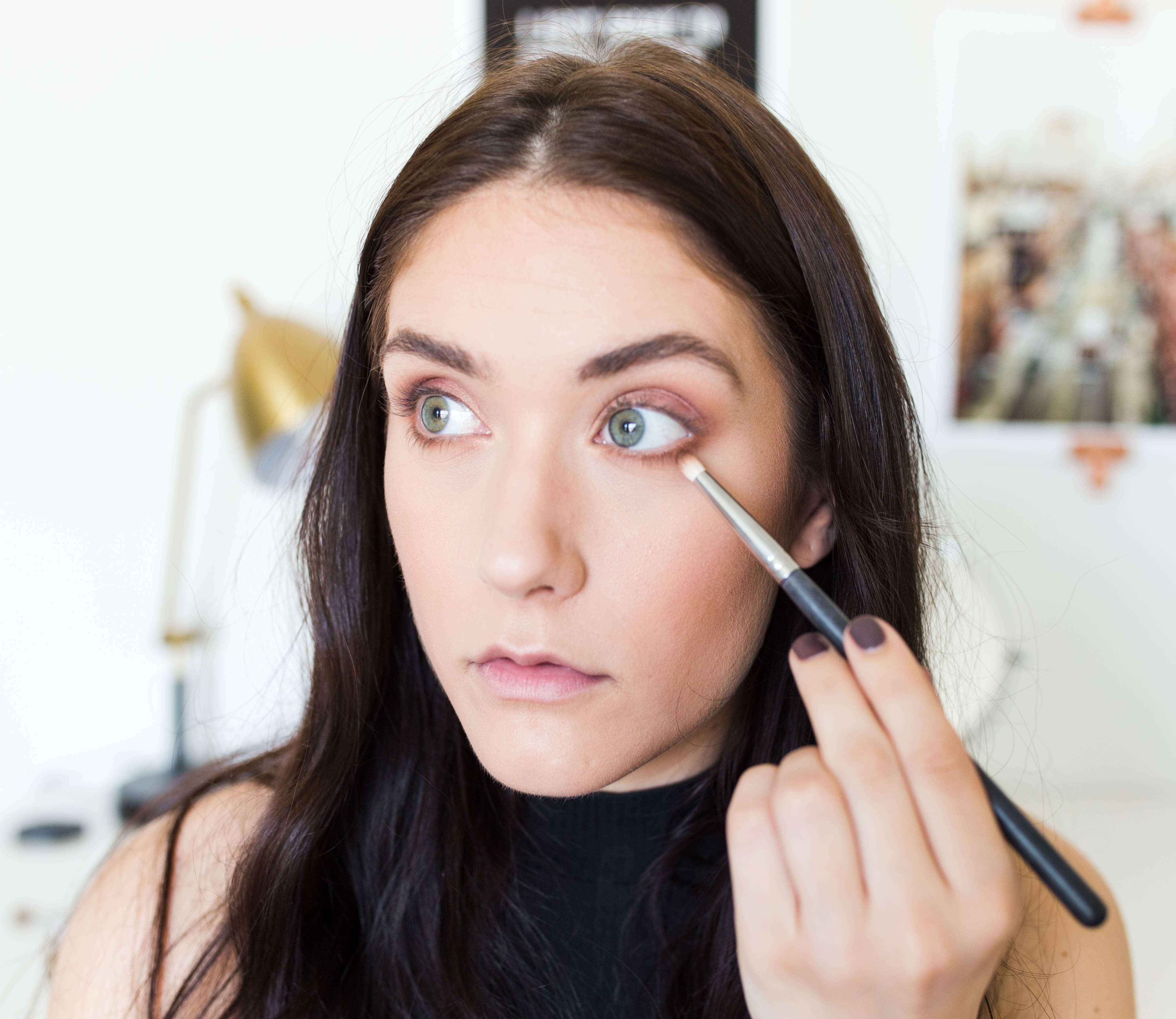 2nd look is complete!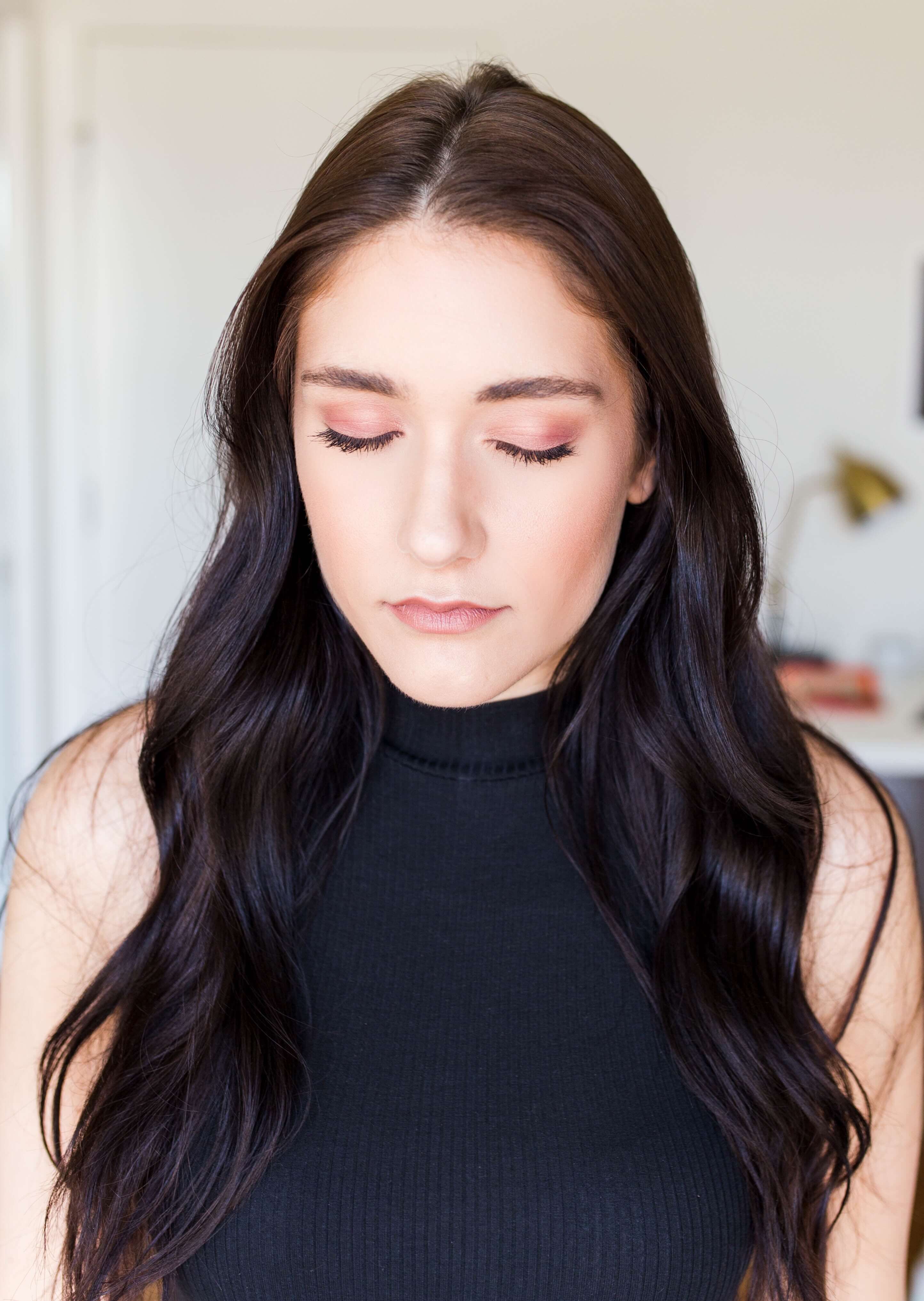 We truly love how both of these looks turned out! It's always fun to try different looks with one eyeshadow palette since there are so many colors to choose from. This particular palette is so fun for summer too with its neutral browns and fun, rosy shades. Oh, and did we mention is smells like peaches?! So fun.
Of course, you can always re-create either of these looks with similar eyeshadows you already own. Or even change up the colors a bit to reflect your unique beauty personality.
xx Carli
Sours: http://twinspiration.co/one-palette-two-ways-too-faced-sweet-peach-palette/
How To Wear Peach On Your Eyes, Lips, and Cheeks
01of 13
Natural Peach
Peach is the ideal color to wear when you want to maintain a healthy, natural flush to the skin and lips. This look here created by celebrity makeup artist Patrick Ta for Dua Lipa shows just how flattering peach can be when worn on eyes, cheeks, and lips.
Too FacedJust Peachy Mattes Eyeshadow Palette$45
Shop
When creating monochromatic colored makeup looks, experiment with peach eyeshadow and blush tones until you find the right palette for your skin tone. It can be as natural, or bold as you want it to be. This Just Peachy Mattes Eyeshadow Palette ($45), from Too Faced is an ideal product for this look and fun to play with to boot!
02of 13
Sun-Kissed Peach
This sun-kissed display reminds us of a juicy, Georgia peach. The skin looks so dewy and hydrated with just the right amount of color. Accompanied by neutral eyelids, the peachy-pink tones on the cheeks and lips, with the final touch of lipgloss has us mesmerized.
Pat McGrath LabsLust Lip Gloss in Aphrodisiac$28
Shop
This RMS Beauty Signature Palette ($44) gives you the eye, cheek, and lip color all in one place in an easy to apply cream formula. For lips, apply an ultra-glossy, high-shine gloss like the above option from Pat McGrath labs.
03of 13
Peaches and Cream
One of Instagram's most beloved makeup artists, Hung Vanngo, created this dreamy peaches and cream makeup look for Julia Garner that looks incredible with her fair skin tone.
Charlotte TilburyPalette of Pops in Pillow Talk$53
Shop
A soft, winged application of peach eyeshadow on the eyes instantly grabs attention, and the cheeks, and lips create an inviting, romantic look suitable for any occasion. .
04of 13
Simple and Sweet
A useful tip when wearing peach tones is to swap out powder for cream products, instead. The reason? Cream blends effortlessly onto the skin and doesn't streak, making it the right formula to use when pressed for time.
IliaMulti-Stick in I Put a Spell on You$34
Shop
This makeup look can easily be re-created by using ILIA's Multi-Stick in I Put a Spell on You ($34). Apply the stick directly on eyes and cheeks, following up with using your finger or soft brush to blend. Add the same product to lips by lightly blotting with your finger. Need more definition? Apply black eyeliner to the top lash line and a few coats of your favorite mascara.
05of 13
Pigmented Peach
Intensifying peach tones on the eyes and pairing them with a dramatic winged eyeliner is a sure-fire way to make a statement and can be fun when wanting to go more bold with your color choices.
MACSingle Eyeshadow in Suspiciously Sweet$17
Shop
With brighter peach tones on the eyes and more muted on the cheeks and lips, this makeup look is ideal when you want to draw a little more attention to your perfectly applied makeup by making a statement. MAC Single Eyeshadow in Suspiciously Sweet ($17), applied all over the eyelids and into the crease will do the trick.
If you need a little more practice applying winged eyeliner, try using this Vamp Stamp Winged Eyeliner Stamp ($32), instead of a traditional liquid liner. The stamp helps you create the perfect wing every time and you'll be a pro in no time at all.
06of 13
Monochromatic Moment
Warm, glowing skin is a recipe for peach perfection in our book. This highlighted, dewy skin with peach eyes and blush is a subtle way to wear the monochromatic trend.
Milk MakeupLip + Cheek in Perk$28
Shop
Milk Makeup Lip + Cheek in Perk ($28), is ideal for cheeks and lips. When applying highlighter, be sure to blend it on areas of the face where the sun would naturally hit—i.e. cheekbones, above the cupid's bow and brow bone.
07of 13
Peach Lids, Pink Cheeks
If makeup artist Katie Jane Hughes is wearing peach, it's inevitable everyone will follow suit. Known for creating some of the most drool-worthy makeup looks on herself and celebrities, this peach eye makeup paired with soft pink cheeks and blush shows us that peach makes eye color pop in an instant.
L'Oreal ParisEnchanted Eyeshadow Palette$12
Shop
Applying shadow all the way to the brow bone helps eye color to truly stand out. We recommend dabbling with the L'Oreal Paris Paradise Enchanted Eyeshadow Palette ($12), to recreate this look.
08of 13
Blushing Peach
Blush is never a bad idea and peach blush is just what we love to perk up our skin instantly. This beautiful display of peach blush is blended on the eyes and carried down to the apples of the cheeks in a colorful, chic way that has us feeling instantly inspired.
Laura MercierColour Infusion Powdered Blush in Peach$30
Shop
All you need to recreate this look is blush—you can apply Laura Mercier Blush Colour Infusion Powder Blush in Peach ($30), first as an eyeshadow to eyes and then move on to generously blending on cheeks. What's not to love about that?
09of 13
Flushed Peach
A touch of peach on the cheeks and voila! The skin exudes that post-yoga natural flush that everyone wants on a daily basis. Applying a dewy, cream blush to the cheeks is a great tip all year-round, even in the colder winter months.
NudestixNudies Blush in Sunset Strip$32
Shop
Dab a product like Nudestix Nudies Blush in Sunset Strip ($32), on apples of cheeks and blend with your fingers (or the built-in blush brush) until you have your desired wash of color.
10of 13
Just Peachy
Shiny, happy, and peachy—everything feels so good about this perfectly executed display of peach, not to mention the glass-like shine on the cheeks is giving us major makeup envy.
GlossierCloud Paint in Beam$18
Shop
To add a touch of gloss to the face, you can apply Glossier Cloud Paint in Beam ($18) followed with your favorite sheer highlighter. For this lip look, apply Too Faced Peach Kiss Moisture Matte Long Wear Lipstick in Got Peach? ($13).
11of 13
Smoky Peach
A smudgy, smoky touch of deep brown paired with peach on the eyes is a great way to take your eyeshadow to the next level. After you've applied your base shadow, smudge a darker espresso brown shadow or liner on the top and bottom lash line, blending the color out with a brush to amplify the smoky effect.
ColourPopCalifornia Love Eyeshadow Palette$18
Shop
This eyeshadow palette from ColourPop has both colors to recreate this look.
12of 13
Warm Peach
Choosing different eyeshadow colors to accompany peach helps to switch things up when you're in the mood to try something different. This warm, auburn tone around the eyes is beautiful and compliments the peach undertones adding variation and dimension to the overall look.
TarteTartelette Toasted Eyeshadow Palette$39
Shop
Doing this will also help to define eye color if you're peepers are what you're most proud of and want to show off. Tarte Cosmetics Tartelette Toasted Eyeshadow Palette ($39), has all the colors for this eyeshadow look.
13of 13
Sunset Peach
The orange, peach, and yellow color scheme here works beautifully together to showcase that peach doesn't need to be the center of attention to still turn heads.
Anastasia Beverly HillsSoft Glam Palette$42
Shop
To showcase the bold colors here, apply a white eyeshadow primer first to lids before moving on to makeup. Kat Von D Lock-It Concealer Crème in White Out ($27), is an excellent product to prime the eyelids with because it's white, allowing the color of the shadow to look more intense. Once you've applied it, you can move on to eyeshadow, using something like the above option from Anastasia Beverly Hills.
Sours: https://www.byrdie.com/peach-makeup-4777473
Sweet Peach Tutorials Will Get You Ready To Shop
The Sweet Peach Collection is almost here, and the excitement is growing by the day. With so many new fruity-smelling products coming out, you better get those wallets ready. How will you pass the time until the big day? Well, you can thank me in advance, because these Too Faced Sweet Peach tutorials will hold you over until launch day.
When Too Faced does something, they do it big. They also like to tease their fans as much as they can humanly take, right up until launch day. The Sweet Peach Collection launches on Dec. 14., which means there's still a little bit of time to wait. The instantly famous Sweet Peach Palette, Papa Don't Peach, Sweet Peach Glow, and Creamy Lip Oils are all well worth waiting for though.
Instead of going crazy with excitement, channel that energy into something more creative. You know, Sweet Peach makeup tutorials. That way you'll be all ready for the big day in the best way possible. I'm not just talking about the eye palette either. Too Faced has already uploaded tutorials for the new collection as well. As soon as you get those products in your hands, you'll know exactly what to do with them.
The products are just so pretty! Odds are you're already planning on buying every single one, so think of these videos as pure research. Here's all the tutorials you need to prepare you for P-Day.
1. Full Collection How-to
See every single one of the new products in action.
2. Sweet Peach Glow
Once you see this product's results, you'll add it to your to-buy list.
3. Bronzed Eye
If the eye palette alone is this glow-y, just imagine how good the cheek palette is.
4. Cut Crease
Because, believe it or not, peach isn't the only stunning color in this palette.
5. Peachy Look
But is is pretty gorgeous, if you decide to highlight the color.
6. Spring-Ready
There's no better way to look forward to the new season than with this tutorial.
7. First Impressions
Double the tutorial is double the fun.
8. Smokey Eye
Yes, you can even get a smokey eye with the palette.
9. Ombre Lids
Can it get any more gorgeous than this? I think not.
10. Super Subtle
You don't have to go bold for it to look great.
11. Any Season Look
You could easily pull this look off, no matter what season we're in.
Bottom line: you can't go wrong with this purchase.
Image: TooFacedCosmetic/Instagram (1)
Sours: https://www.bustle.com/articles/198188-11-too-faced-sweet-peach-collection-tutorials-that-will-get-you-ready-for-launch-day
TooFaced Sweet Peach Makeup Tutorial
Lida took the bra and turned it over in her hands - well, judging by the size, Masha forgot her clothes. Then Lida looked at her bra and turned her gaze to Lyonya. A cunning appeared in her eyes. She put her hand on Lenin's chest and began to gently massage it. - Lyenechka, let's play a game with you.
Looks sweet natural peach palette
Thank God he was not very big and it didn't hurt very much without preparation. Turning my head slightly, I saw that the others were also undressing. I really got scared. Apparently from fear, my ass shrank and the one that fucked me in the ass groaned blissfully. He increased the pace and I felt that he was about to finish.
12 Days of Tutorials - Too Faced Sweet Peach Palette
The view was not too long, but a rather voluminous member with a convex head, from the hole of which oily liquid was already oozing abundantly. Sasha acted without hesitation. She pulled back the skin, revealing shiny flesh with secretions, and wrapped her lips around it.
She began to slide up and down the head, then connected her tongue. The head tensed even more and increased.
You will also like:
George Benson was so amazed he could not speak. He looked incredulously from father to daughter. As the adorable young Sue Wilson straightened from the couch and went over to help him with his jacket, his face. Flushed.
5804
5805
5806
5807
5808