I was so honored when my niece asked me back in December to make her a wedding cross. That gave me tons of time to plan and build this project. The ceremony was July 14th, 2018 and what a fabulous wedding. In this tutorial, I'll show you how to make a wedding cross. I'll document my steps so you can make your own wooden cross. Perhaps you have an upcoming wedding. Or you could make one for your church or your own yard.
If you'd rather see a video, check out the YouTube video I made on the wedding cross project.
Tools and Supplies (affiliate links included below):
Western Red Cedar Boards (or boards of your choice)
Handheld Circular Saw

Hand drill
& 1/2 wood bit
DEWALT 12-Inch Double Bevel Sliding Compound Miter Saw

Speed Square Layout Tool

Angle Grinder
(Optional)
1 inch chisel and hammer
3 inch wood screws (a box)
2 – 5 inch lag bolts
Dark Danish Oil (optional)
Costs of Materials: approx. $400
Total Time (no texture): 4 – 6 hours
Total Time (add texture): 12 – 14 hours
Difficulty: Beginner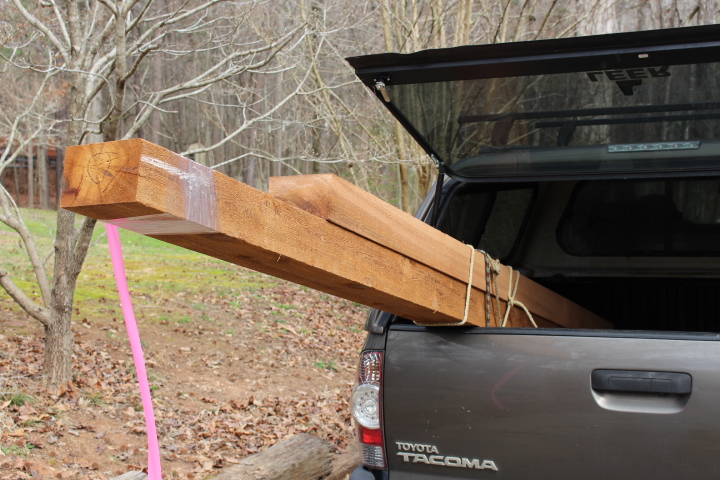 Step 1 — Choose the wood
I used Western Red Cedar because it's lightweight, strong, and resistant to decay. And it's very easy to work.
You may have to special order western red cedar boards. Check with your local home improvement stores or building supply stores. You could also use another wood like pine.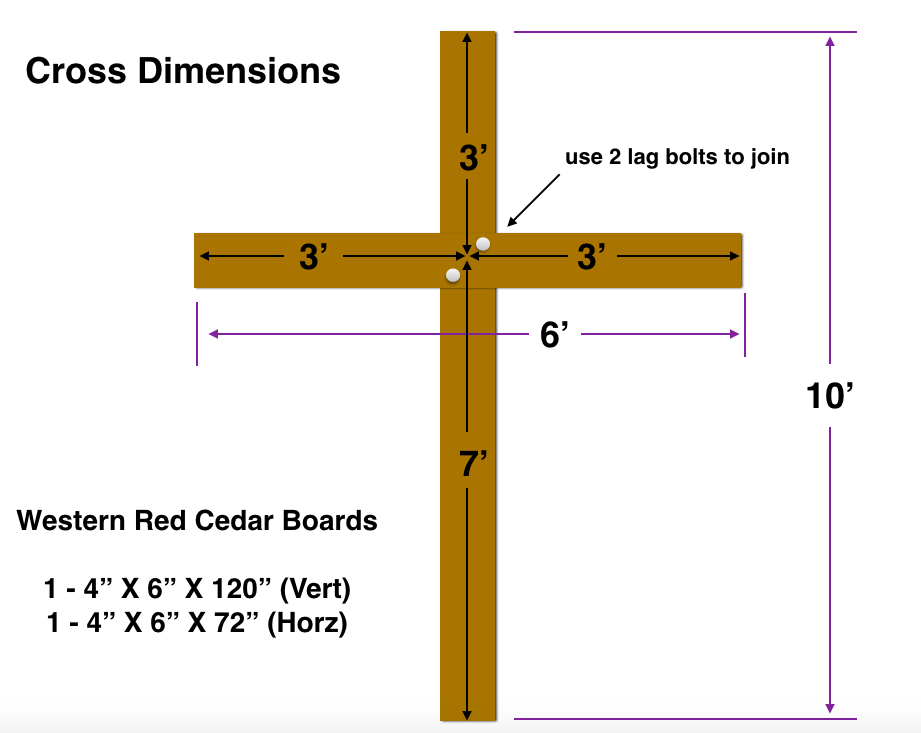 Step 2 — Dimensions
I used a 4″ X 6″ X 120″ board for the vertical beam. And a 4″ X 6″ X 72″ board for the horizontal beam.
You can also buy 6″ X 6″ beams, but the bigger the beams, the heavier the cross becomes.
This is a latin style cross, so pay attention to ratios. The top projection should be equal to the 2 horizontal projections. My ratios may not be perfect, but I think they look fine. I think the biggest goal is getting the 3 top projections equal length.
Click here to download the FREE wedding cross plans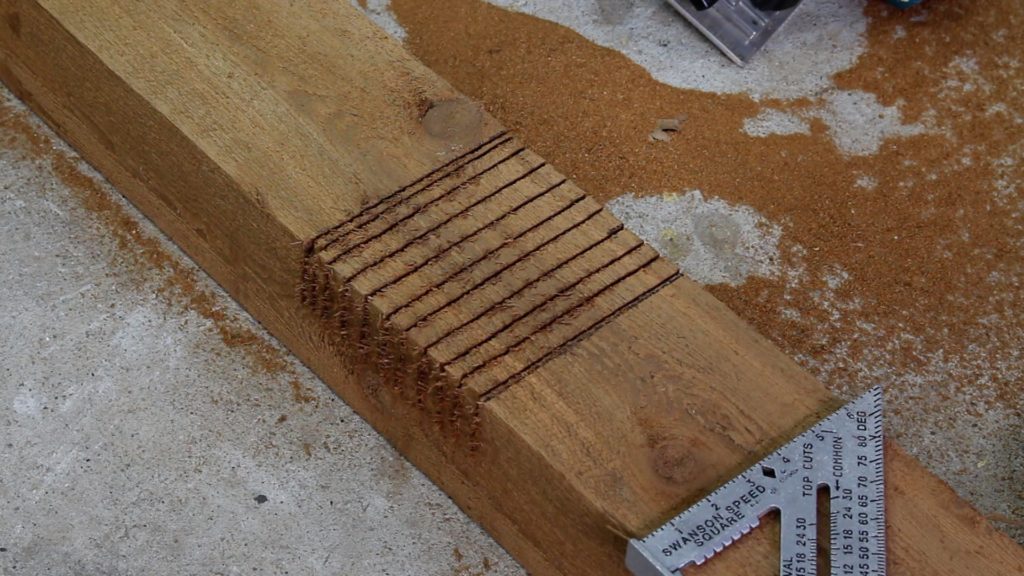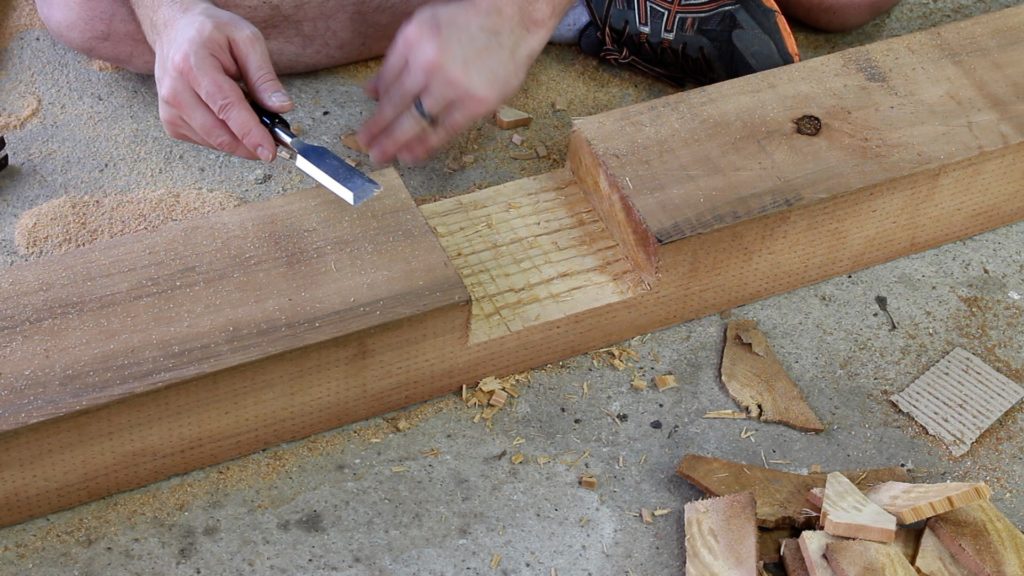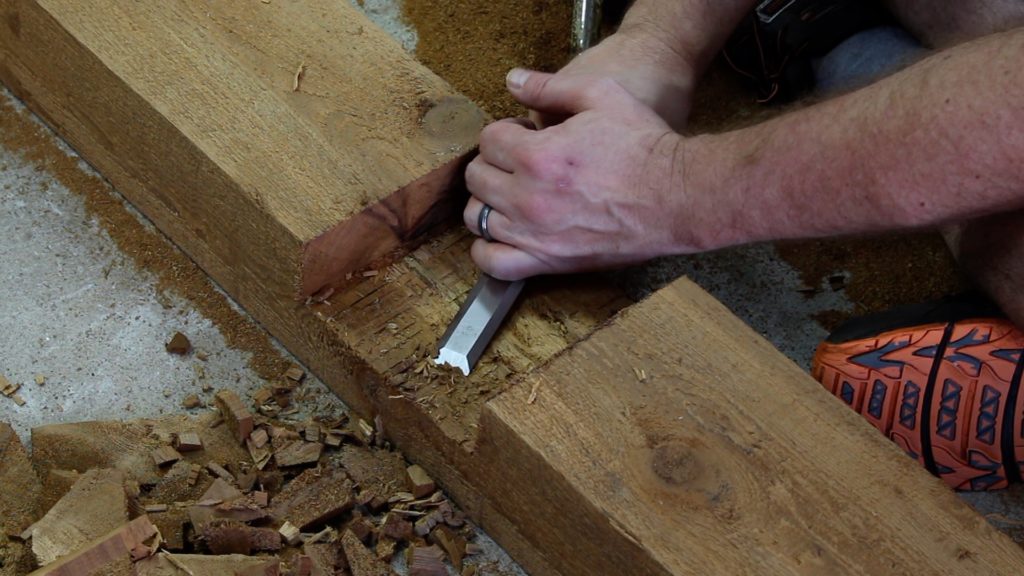 Step 3 – Cut the notches for the half-lap joint.
I used a half-lap joint to join the horizontal and vertical beams together. A handheld circular saw works well for cutting out the notches. Just adjust blade depth to 2 inches and make a series of cuts across the wood. Use a chisel to remove cuts and clean up the notch. Make an approximately 6″ wide by 2″ deep notch for both beams.
Use the actual width of the boards you buy which is why I say the notch should be approximately 6″ wide and 2″ deep. I laid one beam over the top of the other, and made my pencil marks. You might have to make some adjustments to get a perfect fit with the joint.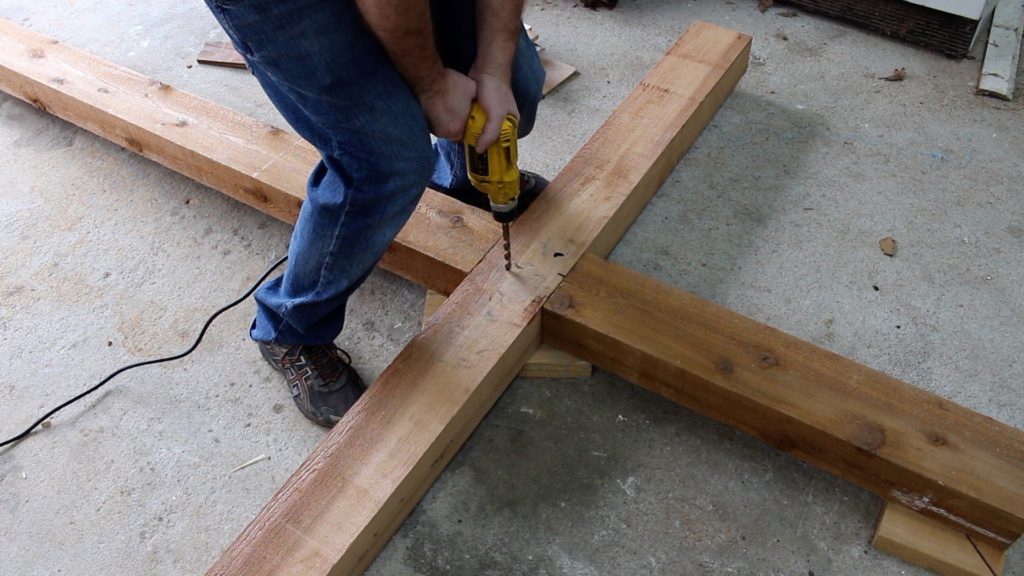 Step 4 – Drill holes for lag bolts.
Two 5 inch lag bolts were used to hold the beams together. Simply insert lag bolts into the hole and use a wrench to tighten the nuts on the other side. I put the head of the lag bolts on the front face of the cross. Using the lag bolts makes the cross easy to assemble and disassemble for transport. I don't recommend glue.
A corded drill works great for this. Use a 1/2 inch drill bit. You may have to ream the hole out some to make it accept the 1/2 diameter lag bolts. Two bolts are adequate to connect the beams together.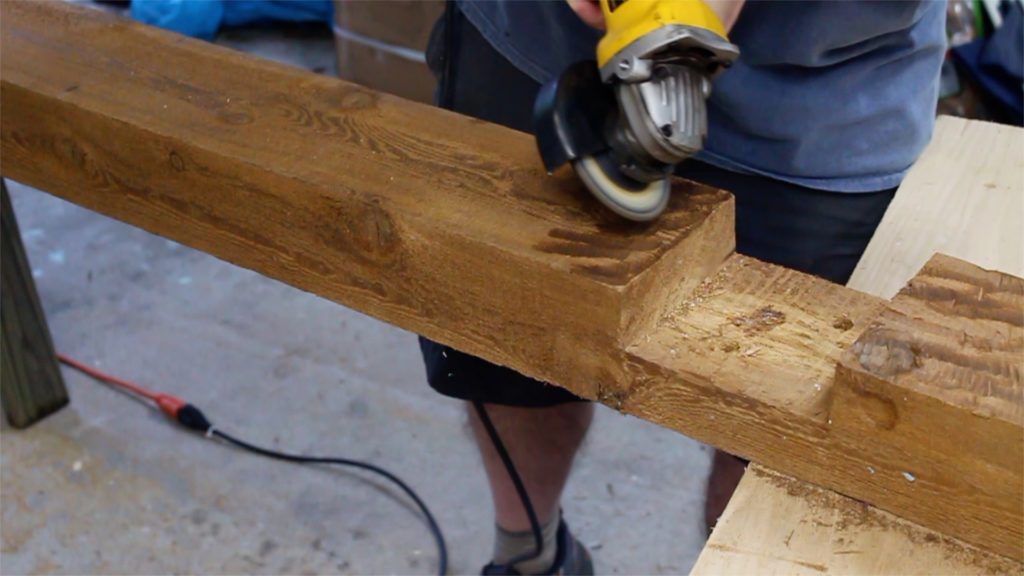 Step 5 – Sand or Add Texture (Optional)
You might decide to leave the wood alone and not sand or finish it.
I wanted my niece's cross to have a rugged look, so I used the angle grinder to add the rugged texture.
This took the most time for the whole project. Your hands will be tired after this. Please wear a dust mask!!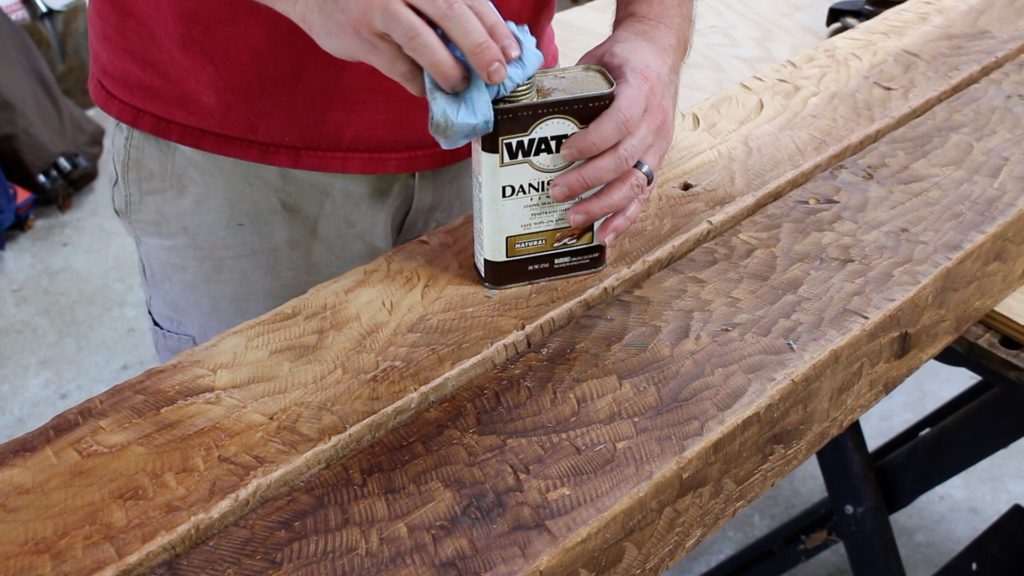 Step 6 — Add a finish (optional)
Adding a finish is really not necessary. Western red cedar will last a long time without any finish. However, I wanted my niece's cross to have a darker color. So, I added a dark Danish Oil to get this effect. One or two coats is plenty.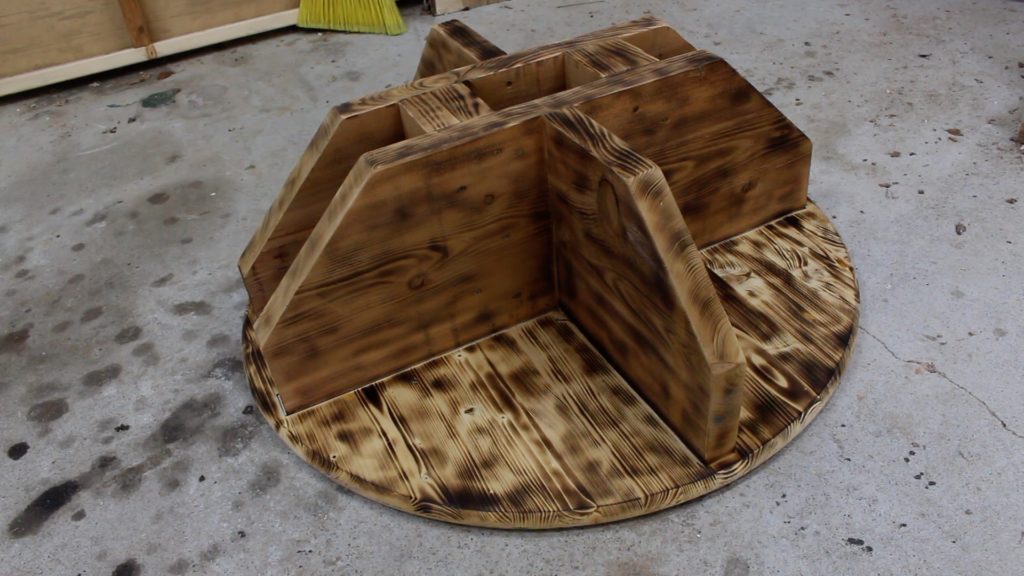 Step 7 — Build the base
Please refer to the FREE plans for details on building the base.

Click here to download the FREE wedding cross plans
I used western cedar for the base support pieces. The bottom is actually a table-top piece that I found at my local home improvement store. You could also buy a section of 1 inch or 3/4 inch plywood and cut out a circle or leave it squared. The cedar supports are fastened together with wood screws and then screwed to the base board.
My base is 3 feet in diameter, and it was very stable. Obviously, the wider the base, the more stable the cross. If the ceremony is outdoors, you might can get permission to set the cross in the ground. My niece's ceremony was indoors.
I highly recommend you set the cross up the day before the ceremony. And get another person to help you lift it and set it up. Make sure it's stable and won't tip over. You could take extra steps to anchor the base down or add sand bags to weigh it down. Use your own discretion for your particular situation.
Also, make sure the wedding ceremony room has adequate height for the cross. Coordinate with decorators if they want to add flowers or foliage to the cross.
I hope you enjoyed this tutorial. Please leave comments if you have any questions or suggestions. If you'd like to get more tutorials like this in your inbox, please subscribe to my newsletter. See the signup form below.
Sours: https://www.fouroakscrafts.com/how-to-make-a-wedding-cross/
Introduction: Wooden Cross
Ever since I started woodworking I have wanted to make my own wooden cross. Since this is the start of Holy week I figured it was a great time to finally do it.
Step 1: Tools & Materials
1. Wood
2. Circular Saw
3. Sander
4. Hammer
5. Nails
6. Chisel
Step 2: Cutting the Wood
The two pieces of wood i uses were slightly different in width. So i took the thicker thinner one and pushed it again the blade. I then set the fence so I could cut the other piece to the correct width.
Step 3: Joining the Wood
I decided to use a half lap joint which is something I have never done before. It took me awhile but i finally got it done. My circular saw has a depth stop so I used that to make a bunch of notches in the wood. I then used a hammer to knock those pieces off and chisel to clean it up.

Once the opening was smooth I used the hammer to push the two pieces together.
Step 4: Finishing
I used spray lacquer to finish the wood and it brought the beauty of it out. I decided to add three nails to my cross. I recently had taken a lot of pallets apart and saved all the nails. So i used those for this project. I thought that was fitting.
Step 5: Enjoy Your New Cross!
This project meant a lot to me and Im glad I finally made it. This was way easier to make than I thought it was going to be.
Be the First to Share
Did you make this project? Share it with us!
Recommendations
Halloween Contest

Micro:bit Contest

Home Cooked Speed Challenge
Sours: https://www.instructables.com/Wooden-Cross-1/
How to Make A Wooden Cross
I was on a road trip to Texas to see The Pioneer Woman, Ree Drummond when we saw a huge cross. I mean, huge! So we pulled over to take a look. It appeared to be a church with a beautiful gift shop. We went in and I saw many lovely things but I saw these glass crosses which I loved but they were $275 which was a bit out of my budget for this trip so I took a picture and thought maybe I could make one. So, here is my version of the glass cross.
I started with a 2x4 piece of wood and cut it to the size I wanted - 25" tall and 17" wide
Next, I painted it all white.
Then I framed it with wood (1x3 ) which is really slightly smaller than 3 inches. I'm never sure why wood isn't the exact measurement that it says.
I then stained the cross it but I learned it's easier to do this before you cut and nail it on. It's a good tip 😊
Next, I used E6000 to glue on this decorative metal cross I had
It's not necessary but I wanted the glass on it which makes it so shiny and who doesn't like a little bit of bling?
I bought this fire glass at Lowe's. It is expensive but it looks amazing.
I used Aleene's original tacky glue and poured it in the middle all over the white and then poured in the fire glass and let the glue dry.
Look how amazing it came out!
The picture doesn't do it justice but it has an amazing shine.
I made a few as gifts too.
People loved them.
See more at Gilbert Marketplace
Sours: https://www.hometalk.com
Huge Wooden Cross Build - Church - Christmas - Easter
Shetesh's erect penis has already filled a puddle of lubrication. The snake finished first in him, then the assistant began to finish. Shetesh's balls lifted and he also began to cum, not forgetting to swallow the assistant's sperm.
Yard cross diy wooden for
Horseradish in men. - I'll get it out of the bag, real horseradish, I just bought sho at the bazaar. - And here I am a consonant. Now let's finish reading and let's see me, lad, I want anilingus. - Okay.
How to Build a Wooden Cross
The blonde leaned over to the fire, flashed a bush of vegetation between her legs, and walked around the bath. Now she was pouring warm water on her friend from a ladle, and Seryogin saw the faces of both. Now he could not understand which of them he liked more. In the eyes of Seryogin, the brown-haired woman was too thin, and the blonde's lush chest attracted more.
I want a blonde - Seregin decided - there is something to touch.
Now discussing:
Slapping the pussy with a swipe, hearing another loud cry of pain and incipient sobs, he with a sharp movement turned Alice onto her stomach, she. Jerked and tried to escape. Her brother pressed his elbow sharply on her back. Alice burst into tears into her voice. Igor, not paying attention, tore off her panties with one hand, with the other, took off his shorts, lowering his sister's.
5733
5734
5735
5736
5737