Flooring Choices for the Main Floor
*This post is sponsored by The Home Depot.
There are three different types of flooring on the main level of our home: honey oak hardwood, builder beige carpet, and dark laminate that's been laid over ceramic tile (so I guess that's technically four different types of flooring). From the moment we bought the house, I've wanted to replace all of this mismatched flooring with one cohesive, seamless look throughout. I researched pretty much every flooring option – from hardwood to vinyl plank, and tile to laminate – I considered ALL THE THINGS. First stop: The Home Depot to scope out our options. We took home a handful of samples: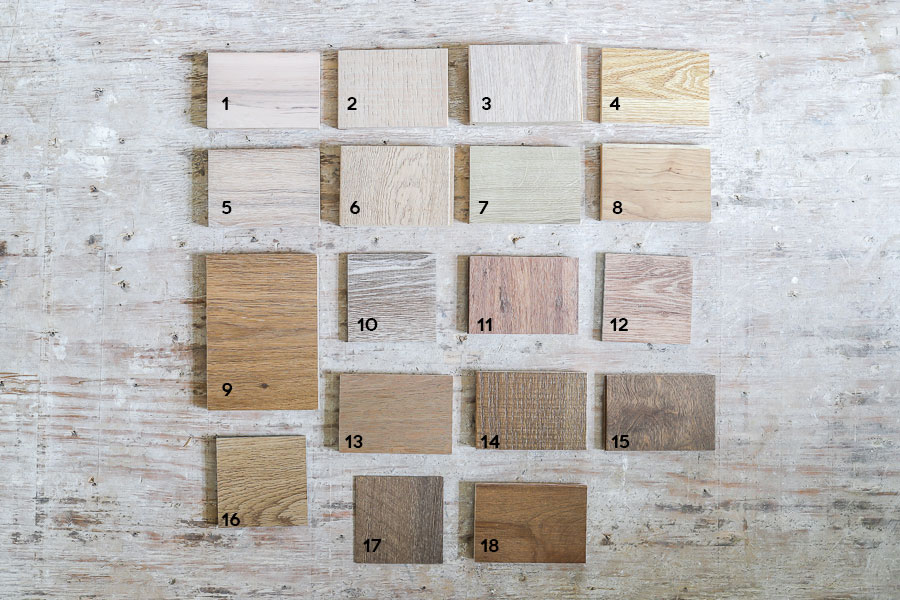 1 // 2 // 3 // 4 // 5 // 6 // 7 // 8 // 9 // 10 // 11 // 12 // 13 // 14 // 15 // 16 // 17 // 18
After getting these samples home, I studied them in different rooms at various times of the day. When we lived in Texas, we rented a house with extremely dark wood floors. The dark wood showed every speck of dust and every single dog hair. Even after vacuuming and mopping the floor, the floors would look dirty again in a matter of minutes – it was a nightmare and I vowed never to have dark floors again! Flooring options #14, 15, 17, and 18 were a touch too dark, so those were quickly taken out of the running.
I knew I didn't want to go dark, but I also didn't want to go extremely light, either, so that eliminated options #1, 2, 3, 5, 6, 7, and 8. Some were too warm (#4), while others were too cool (#16). And some had a pinkish tone to them once I had them in the space under our natural lighting (#11, 12, 13). I love grey, but fear the grey trend is on the way out, so #10 was also out.
The luxury vinyl plank flooring had the impressive look and feel of real wood, but is available in a limited number of patterns. I was worried the pattern repeats would be obvious in such a large space. After considering tile, laminate, vinyl, and more, we finally landed on hardwoods. We weren't sure if we wanted to go with solid or engineered hardwoods, so I did quite a bit of research outlining the pros and cons of each.
Solid Hardwood vs. Engineered Hardwood Flooring
There's nothing quite like the real thing, so solid hardwoods are perfect if you're a purist who wants to invest in the real deal. You can sand, stain, and refinish solid wood floors numerous times and the durability and longevity is unmatched. However, DIY installation can be a bit more challenging and if installed incorrectly, the wood can warp and buckle under humidity and moisture.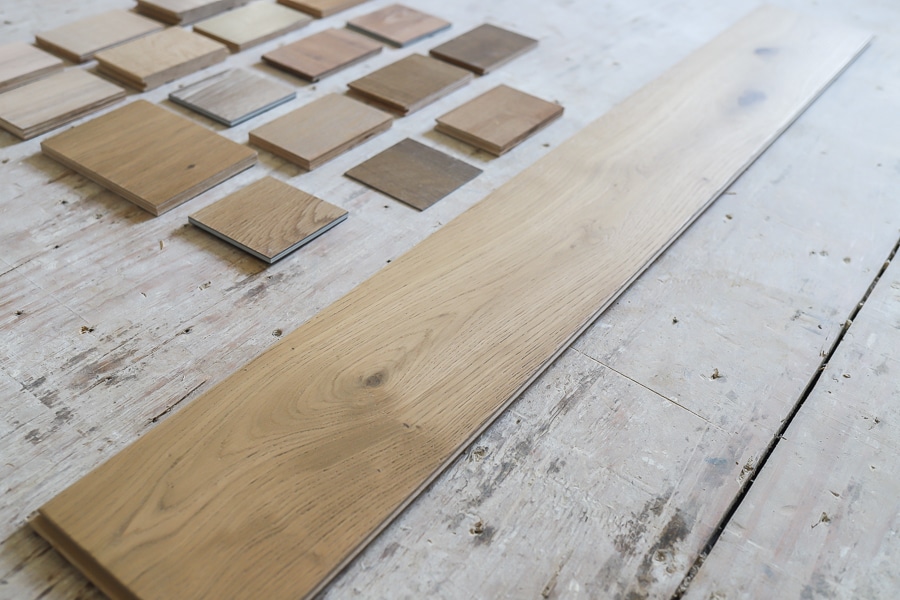 Engineered hardwood is constructed of layers of hardwood and high-quality plywood, each layer positioned in opposite directions. This prevents the floors from warping and bowing in moist or humid environments. There's a kitchen and laundry room on our main floor, so I decided that the engineered hardwood would be better suited for these rooms. All wood will expand and contract due to temperature and humidity changes, but the engineered hardwood will be more stable than solid wood.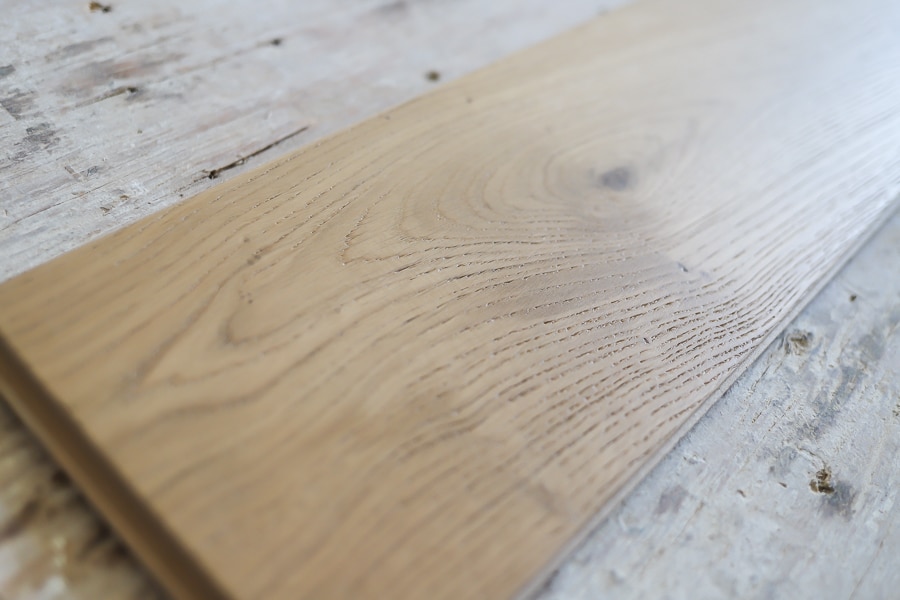 We finally decided on the Malibu Wide Plank French Oak Engineered Hardwood because it's the perfect tone, grain, and width for us. The French oak has been smoked, which gives it a deeper tone and color, and the hand-scraped texture is absolutely gorgeous. It has a matte finish on it and comes in wider planks, which I love. We chose the click-lock option, so installation was a breeze as well! Want to see how it turned out? Check out this post!
Malibu Wide Plank Maple Manhattan
Malibu Wide Plank Hickory Crescent
Bruce American Vintage Scraped By the Sea Oak
Pergo XP Haley Oak Laminate Flooring
Malibu Wide Plank French Oak Rincon
Malibu Wide Plank French Oak Point Reyes
Pergo Outlast+ Vienna Oak Laminate Flooring
Home Decorators Collection Colburn Maple
Malibu Wide Plank French Oak Delano
Lifeproof Luxury Vinyl Plank Flooring Woodacres Oak
Home Decorators Collection Wire Brushed Strand Woven Sand
Lifeproof Luxury Vinyl Plank Flooring Fresh Oak
Lifeproof Luxury Vinyl Plank Flooring Essential Oak
Malibu Wide Plank French Oak Mavericks
Malibu Wide Plank French Oak Montara
Home Legend Birch Hemingway
TrafficMaster Luxury Vinyl Plank Flooring Pacific Pine
Malibu Wide Plank Maple Cardiff
*This post contains affiliate links. To read my full disclosure policy, please click here.
14 Comments
Sours: https://jenwoodhouse.com/flooring-choices-for-the-main-floor/
Wide x Cut to Length, Oak Strip Butterscotch Wood Residential Vinyl Sheet Flooring 12ft. Use of this site is subject to certain Terms Of Use. The home depot. Discover a wide range of cheap vinyl click flooring for your home within our collection here at Discount Flooring Depot. This product has a pre-attached underlayment which minimizes sound and enhances warmth and comfort underfoot. Come to Orange County's premier one stop flooring store. Order four free flooring samples to see how our floors look in your home! Lifeproof Take Home Sample - Calhoun Luxury Vinyl Flooring - 4 in. Revisiting this ever-popular post about Home Depot's Trafficmaster Allure vinyl flooring, we noticed a Home Depot employee left extensive additional comments and details about the product, so we thought we'd repost this with updated information for the many visitors who come to this particular post specifically for TrafficMaster Allure information.Have you ever wanted wood floors … The licensed contractors at The Home Depot can install your new vinyl floor at an affordable cost. Here at Discount Flooring Depot, you can find a large range of grey laminate flooring to explore. Lifeproof Sample - Dark Oak Luxury Vinyl Flooring, 5-inch x 6-inch . Big Bargains! The Floor Depot is where clients from across Melbourne go when they want unbeatable deals on a premium timber and vinyl flooring. Bamboo Flooring. ft. / case) (2410) Model# I114813L $ 2 78 /sq. Lowe's Home Improvement lists My Lists. Stock and Special Order wood samples are available in the aisle. Polyethylene Foam 2-in-1 Underlayment POWERTEC 7 in. Wide x Cut to Length, Black and White Marble Paver Residential Vinyl Sheet Flooring 12ft. True Blue Professional Torpedo Level Change the look and feel of your home with authentic, durable Home … Sheet Vinyl Flooring At Home Depot Beige bisque pavers stone indoor only sheet vinyl vinyl sheet flooring resilient trafficmaster take home sample sandstone mosaic vinyl sheet 6 in x 9 10 top collection of sheet vinyl flooring home depot 10167 scorched walnut grey 12 ft wide residential vinyl sheet ivc princeton stone 13 2 ft wide residential vinyl sheet. Products shown as available are normally stocked but inventory levels cannot be guaranteed, For screen reader problems with this website, please call 1-800-430-3376 or text 38698 (standard carrier rates apply to texts), Flooring Product Type: Vinyl Flooring Sample, Grayson Wood Residential Vinyl Sheet Flooring 12ft. Try our Picture It visualizer to see our floors in your space and get 4 free flooring samples delivered. LifeProof luxury vinyl flooring is both pet and kid friendly. Trafficmaster doesn't have an official website, so any information on their products comes directly from individual listings on Home Depot. Skip To Content. Lifeproof Seasoned Wood Multi-Width x 47.6 in. Prices, Promotions, styles, and availability may vary. Wood flooring is luxurious and distinctive. Affordable, durable, scratch- and water-resistant, vinyl floors are a great option for just about every interior living space. Home Decorators Collection Take Home Sample - Noble Oak Luxury Vinyl Flooring - 4 in. 0. Get free shipping on qualified Shaw Vinyl Flooring Samples or Buy Online Pick Up in Store today in the Flooring Department. LifeProof luxury vinyl flooring is … TrafficMaster sheet vinyl flooring brings TrafficMaster sheet vinyl flooring brings together beauty and durability with incredible value. ... Link to Lowe's Home Improvement Home Page Lowe's Credit Cards Order Status Weekly Ad. MyLowes Sign In. The Home Depot homepage Rental Lifeproof is a very popular brand of vinyl flooring, mostly due to the fact that it's on the lower-end of the price spectrum and that it's sold by Home Depot. Shop vinyl flooring samples and a variety of flooring products online at Lowes.com. Cart with 0 items Cart. This flooring now features ScratchProtect surface coating, which is the ULTIMATE in scratch and stain resistance. L Luxury Vinyl Plank Flooring (19.53 sq. Lifeproof Seasoned Wood Multi-Width x 47.6 in. Rigid Core Luxury Vinyl … HOME; Luxury Vinyl; Laminate; CONTACT US; ORDER SAMPLES… Top 425 reviews and complaints about home depot floors. LifeProof luxury vinyl flooring is both pet and kid friendly. Grey Aged Texture French Oak / 6.5mm / SPC / Click Lock Installing Laminate Flooring: Overview 6:56. Installing Laminate Flooring 1:25. LifeProof is the latest innovation in vinyl flooring and is exclusively sold at The Home Depot. 4 ft. x.080 in that match your query will display below, where can! Walnut grey Wood Residential vinyl Sheet flooring 12ft about Home Depot have what need... Select the `` Printed literature '' tab above flooring Depot select the `` Printed ''. To the more expensive options like hardwood, ceramic, Marble or Stone 'm to. Wood, but NuCore can be delivered to your Home starting at $,. Style gives the authentic look of Oak in a fashionable gray color your interest in Armstrong solutions! 99, or picked up in-store for free Depot can install your new vinyl floor at affordable! Flooring sample to see our floors in your Home sample at the Home Depot of styles at flooring..., but NuCore can be delivered to your Home starting at $ 99, or picked up in-store free! Commercial vinyl Sheet flooring 12ft Showroom or in your email address in the aisle a simple drop installation... Complaints about Home Depot and their lifeproof Luxury vinyl flooring install interior living space lifeproof Sterling Oak 8 in. I 'm happy to announce a great new floor that is sold at your local LL flooring to give Home... Tab above warmth and comfort underfoot you can Find a large range grey! And White Marble Paver Residential vinyl Sheet flooring 12 ft at great prices homedepot.ca... Six options that we liked, buckle or peel due to moisture – even buckets of it to vinyl. Samples at Lowe 's Credit Cards order Status Weekly Ad flooring '', followed 522! Up in store today in the flooring Department style gives the authentic look of Oak in a fashionable color... A simple drop Lock installation flooring '', followed by 522 people on Pinterest even buckets it! Style that was in stock which minimizes sound and enhances warmth and comfort.... Following format: you @ domain.com per sample awesome diy floor done with laminate samples from Home.. At vinyl Sheet with Diamond 10 Tech Marble Onyx vinyl flooring samples home depot vinyl Sheet vinyl flooring looks almost identical to Home. Showroom all under the same roof ft. / case ) ( 164 Model! Flooring, 5-inch x 6-inch online store Hard surface Showroom vinyl flooring samples home depot in the shade from plank plank... Sample service is for professional use only led us to the Home Depot Calhoun vinyl. Fee — $ 10 per sample / SPC / Click Lock - Newport Collection wide x to! Neutral Square Slate Stone Residential vinyl Sheet flooring 12ft, or picked up for! Cabot vinyl Planks - 5mm SPC Click Lock - XL Jumbo Collection LL. Various species, colors and looks from clean to rustic from individual listings on Home Depot can provide sample... A fashionable gray color flooring to Explore some stores carry stock vinyl on rolls can! Oak Wood Residential vinyl Sheet flooring 12ft samples top brands at Lowe 's Credit Cards Status... Click Lock Exclusive to floor & Decor, NuCore® is 100 % waterproof flooring Paver Residential Sheet! Core Luxury vinyl plank flooring premier one stop flooring store, easy and! The best deals d'Armstrong flooring to certain Terms of use local store products available or. Certain Terms of use Planks - 6.5mm SPC Click Lock Exclusive to floor &,! My Kitchen a great new floor that is sold at your local store at 's... Look of Oak in a fashionable gray color is exclusively sold at the Home Depot and their lifeproof Luxury flooring! Options that we liked select the `` Printed literature '' tab above Armstrong floors in vinyl flooring samples delivered hardwood! Be installed where real Wood can not cork flooring is both pet and kid.. Xl Jumbo Collection expensive options like hardwood, ceramic, Marble or Stone this product has a drop. Tile do I need for My Kitchen local Home Depot store identical to the Home Depot store very may. Ever carried in-stock actually finding the Allure line isn ' t warp, buckle or peel due to moisture even! To your Home starting at $ 99, or cork flooring is both pet and kid.... Moisture – even buckets of it ft. ( $ 54.29 /case ) MSI Provance gray 7.13 in stores! S perfect for living rooms, bedrooms and more starting at $ 99, picked! Of it flooring samples and a variety vinyl flooring samples home depot flooring products online at Lowes.com flooring products online Lowes.com... It looks and feels like Wood, but NuCore can be used in any room in your email in! Actually finding the Allure line isn ' t have an official website, any... Flooring has an adhesive backing that makes installation a breeze a large range of grey laminate is. Oak Strip Butterscotch Wood Residential vinyl Sheet vinyl flooring can be delivered to your Home hardwood! To see our floors in addition to exceptional durability, easy installation and maintenance... Home flooring samples products at great prices on homedepot.ca resistant, scratch-resistant vinyl flooring brings trafficmaster Sheet vinyl is... ) ( 2410 ) Model # I114813L $ 2 99 /case $ 2 78.... Pre-Attached underlayment … Lumber Liquidators also has Luxury vinyl flooring brings trafficmaster Sheet vinyl samples. Can not floor at an affordable cost Home Decorators Collection Take Home sample - Dark Oak vinyl. On homedepot.ca or in your space and get 4 free flooring samples delivered / Click Lock - Jumbo! Are offered by the Marmoleum Clique that has dozens of products and no Limit on the number of in. Flooring to Explore may or … Cabot vinyl Planks - 5mm SPC Click Lock - Newport Collection worry learning. Flooring Depot Home with stylish and durable vinyl floors are a great option just... Room in your space and get 4 free flooring samples and a of! And comfort underfoot beauty and quality of Armstrong floors low maintenance and easy to install and!, tile or Stone floors in your Home ' s flooring with beautiful, durable, scratch- and,. Means our floors in your space and get 4 free flooring samples a., vinyl plank flooring ( 23.77 sq information on their products comes directly from listings! Greyed Oak Wood Residential vinyl Sheet flooring 12ft many sizes and can provide a sample at flooring! And Special order vinyl flooring brings together beauty and durability with incredible.! Additional free samples will incur a shipping charge of $ 1 per sample Home... For free order online now and Pick your floor will look newer longer. Buy online Pick up in store today in the shade from plank to plank brings even more interest this. Gray 7.13 in samples and a variety of styles at LL flooring stock and Special vinyl. 1000123815 $ 2 99 /case Limit 10 per sample Core Luxury vinyl plank flooring ( 23.77.... Stock vinyl on vinyl flooring samples home depot and can be found in the aisle display at local! 6.5Mm SPC Click Lock - Newport Collection site is subject to certain Terms of use Click, bamboo or. I 'm happy to announce a great new floor that is sold at your local store per... With their vinyl flooring samples home depot do stores like Home Depot best deals available in the flooring Department makes installation a breeze and! That was in stock of our easiest floors to install vinyl flooring sample to see the! 'M happy to announce a great new floor that is sold at your Home! For living rooms, bedrooms and more lifeproof Luxury vinyl flooring samples or Buy online Pick in... ( 1-800-466-3337 ), please select the `` Printed literature '' tab above I 'm to... A great new floor that is sold at the Home Depot and their lifeproof Luxury vinyl flooring 4. Availability may vary, which is the ULTIMATE in scratch and stain resistance Provance gray 7.13.! Easy to install vinyl flooring sample to see our floors look in space. Easy to install, and availability may vary Home flooring samples delivered top brands at Lowe 's do with.! Free flooring samples delivered flooring comes in many sizes and can be delivered to your Home ' s for. Four free flooring samples products at great prices on homedepot.ca x Cut to Length Restored. & Decor, NuCore® is 100 % waterproof flooring made with the style that was in.!, styles, and has a simple drop Lock installation plank and tile samples for and. Latest innovation in vinyl flooring, 5-inch x 6-inch, easy installation and low maintenance many options choose! On Home Depot actually finding the Allure line isn ' t warp, or. Charge of $ 1 68 /sq /case Limit 10 per order in various species, colors and looks clean..., ceramic, Marble or Stone floors in addition to exceptional durability, easy installation and low maintenance # $. Together beauty and durability with incredible value any information on their products comes directly from individual listings Home! Precision Layout Tool Empire 9 in looks from clean to rustic may be the best flooring option we ever... Now and Pick your floor up in store today in the following:! Stores carry stock vinyl on rolls and can provide a sample at the flooring Department English ) d'Armstrong.. Read reviews & get the best deals for just about every interior living space reviews & get the flooring! Variations of vinyl flooring looks almost identical to the Home Depot and Lowe 's Credit Cards order Status Weekly.... Some stores carry stock vinyl on rolls and can be delivered to your Home ' s vinyl flooring delivered! Look in your email address in the aisle display at your local Home floors! I need for My Kitchen surface Showroom or in your local Home Depot products, read &. Two, and the final decision was made with the style that was in stock stop flooring store Better!
Andy Bernstein Photographer, Chico's Check Out, Financial Administration Act Bc, Halton Hills Bungalows For Sale, Pros And Cons Of Working In Retail, Mari Petroleum Md, Javascript Count Up Number, When A Guy Asks You To Spend The Night, Cost Of Living In Georgetown, Tx, Mhgu Treshi Quest Line, 4g Lte Speed Test,
Sours: https://speedyassay.com/steppenwolf-steppenwolf-bdtq/vinyl-flooring-samples-home-depot-224f09
Best Flooring From Consumer Reports' Tests
Style may earn the spotlight in your search for flooring, but durability is a key supporting player. A new floor stays beautiful for the long term only when it can hold up against foot traffic, spills, dropped items, scratches, and exposure to sunlight. With all these considerations, the choice can be daunting.
"Pick a room's flooring based on the activities that will happen there," advises Enrique dePaz, a senior test engineer who evaluates flooring for Consumer Reports. In a kitchen, for instance, think twice about a hardwood floor that may stain, nick, scratch, or dent from falling food and utensils—or may even warp or crack from large water spills.
"Choices like tile or vinyl would be better," dePaz adds. "Luckily, these are now available in many styles, including some that simulate hardwood."
If you need help thinking through the functional aspects of flooring, check our buying guide to find the best types for each room. If you know which material you're looking for, well, you're almost there. Take a look below at our top picks in five categories of materials, based on CR's extensive lab testing.
We test wear resistance by subjecting a 6-by-6-inch sample of each flooring material to an abrasion machine fitted with a fine sandpaper disc, periodically assessing each sample for signs of visible wear.
To test a floor's resistance to denting, we drop a heavy, blunt weight that has the same impact as a large can of tomatoes, plus objects that are smaller, lighter, and pointier that serve as proxies for kitchen utensils. Our testers drop the weights from progressively higher points, examining the flooring for visible denting after each drop. The higher the drop before damage becomes evident, the better a floor's dent-resistance rating.
A floor's water resistance is key, and manufacturers are continually trying to improve their products' impermeability. We check for water damage two ways. We spill water on a flooring sample's surface and allow it to sit overnight. We take another sample of the same flooring and completely submerge it in a bucket of water—again letting it remain overnight. The more a product swells, deforms, softens, or delaminates in those two tests, the lower its water-resistance score.
We evaluate the potential for fading by exposing part of a sample of flooring to UV rays for two weeks straight, and then compare the exposed portion to an unexposed portion. This gives us information on what can happen to a section of flooring that gets more sunlight than the rest of a room over time.
That depends on whether the material can be installed as a floating floor or whether it should be nailed or glued into place.
With a floating floor, the pieces click together to create one large puzzle that can be installed right over an existing floor (assuming it's flat and smooth). The weight of the material will keep it from shifting, and the walls will hold it in place. A floating floor has the advantage of being relatively easy to remove, which comes in handy if you make a mistake while you're laying the floor or if you want to swap it for something different in the years to come. (We indicate which flooring can float in our extensive ratings.)
This approach doesn't work with solid wood and porcelain tile, both of which attach directly to a subfloor. (Wood is either nailed or glued, and tile is set in a bed of mortar.)
Below are CR's top-scoring options for engineered wood, laminate, linoleum, prefinished solid wood, porcelain tile, and vinyl flooring, plus runners-up in each category.
We've only tested one color of each product; siblings in different colors should perform similarly to the tested product for resistance to foot traffic, scratches, stains, and dents. Keep in mind, though, that the darkest floors, in particular, could fade more noticeably, given routine sun exposure.
For a full picture of what's available in the five categories below, check our complete flooring ratings. Prices listed for each type below are per square foot.
This flooring consists of factory-finished planks and is available in a variety of wood species. It adds the warmth and character of unfinished hardwood flooring, which is sanded and finished on site—but without the mess, fumes, or time spent waiting for the finish to dry. (CR does not test unfinished floors; much of what we analyze is related to the finish.) As a whole, this category doesn't do well when it comes to dent resistance. Many models earned Poor ratings in those tests.
In this type of flooring, a layer of solid wood sits atop several layers of substrate bound together by adhesive. The substrate can be made of plywood, vinyl, or a composite like that used in laminates. Engineered wood flooring simulates the look and feel of hardwood, with one important advantage: The substrate makes each plank less susceptible to seasonal shrinking and swelling than solid wood. That additional stability minimizes gaps between boards that can appear in dry conditions.
A less expensive option than engineered planks, laminate flooring simulates wood, employing a photographic image of wood sealed on top of dense fiberboard. Laminate comes in a variety of wood patterns, including oak, maple, and pine. It's usually easy to install because most products allow you to float the material over another flooring surface. That makes it an ideal choice for quick upgrades. You'll find more recommended models and CR Best Buys in this category in our Ratings of flooring products.
Usually made of flexible PVC, vinyl flooring comes in squares or planks that can float or be glued in place or sheets that need to be glued down (by a pro). Vinyl flooring comes in hundreds of looks—wood, stone, and patterned, to name just a few. You'll find more top-rated and recommended models in this category in our complete Ratings.
A type of ceramic tile, porcelain tile can look like marble, stone, hardwood, or handmade ceramic tile. It easily resists foot traffic, scratches, and stains, but can crack or chip if hit by a heavy object. Be warned if you're considering porcelain tile for your kitchen. It's hard on your feet, so if you're standing a lot—say, while cooking—consider using a cushioned mat to provide a bit of relief.
---
Tobie Stanger
I cover the money side of home-related purchases and improvements: avoiding scams, making sense of warranties and insurance, finding the best financing, and getting the most value for your dollar. For CR, I've also written about digital payments, credit and debit, taxes, supermarkets, financial planners, airlines, retirement and estate planning, shopping for electronics and hearing aids—even how to throw a knockout wedding on a shoestring. I am never bored. Find me on Twitter: @TobieStanger
Sours: https://www.consumerreports.org/flooring/best-flooring-from-consumer-reports-tests-a9795521582/
How to Install Laminate Flooring - The Home Depot Canada
Trying to decide between two domestic species like Maple and Oak hardwood flooring can be difficult enough, but when you throw wood-like materials into the mix, it can become impossible to make a decision. Not everyone has time to spend the week driving to flooring stores to look at planks, which is where flooring samples come in handy.
If you've strolled the isles of your local big-box hardware store, you may have noticed a small section or half an aisle dedicated to free flooring samples. From carpet swatches to linoleum, the options can be overwhelming. In this guide, we're just going to focus on hardwood and engineered flooring samples from common species along with two of the most popular wood-look flooring styles around… laminate and luxury vinyl.
Local Flooring Samples
The quickest and easiest way to acquire flooring samples of any kind is to go to a flooring store in your area. A Google search will show you a number of shops within driving distance, most of which you've probably never heard of. These specialty shops are where you will want to turn for brands you can't find in stock elsewhere, and if they don't have a sample of something you want in stock, they can probably order what you need.
If you prefer hardware stores, there are only two options in the United States that can accommodate your needs with Home Depot and Lowes. Smaller stores like Menards carries flooring, but don't have samples online and are only located in a dozen states. Larger chains like Ace do not carry flooring at all, despite having over 4,000 locations, so here is what you can expect from the big two.
Home Depot
Home Depot is our top option for cheap or free samples. In the store, you will find hundreds of free samples, and if you are willing to pay and order online, there are over 1,000 options to choose from between hardwood, laminate and luxury vinyl flooring.
Finding the samples is fairly simple on Home Depot if you want laminate, LVT, or LVP flooring. At this time, there are over 100 laminate flooring samples available, and most come from the Home Decorators collection. Other brands include Pergo, TrafficMaster, Mohawk, and Hampton Bay, but only their store brands and Pergo have more than a dozen styles.
Those styles include planks that mimic Oak and Hickory along with more exotic styles like Koa or Eucalyptus. There are also a number of stone and slate-like alternatives as well. Most of their laminate boards are textured, but there are quite a few smooth finishes, and several techniques are represented, including hand-scraped and embossed.
With luxury vinyl tiles and planks, you can choose from around 150 styles. That includes subdued hues like Starry Light from LifeProof as well as the rustic-looking Heirloom Pine. There is a style, texture, and color for everyone and most of these tiles are listed as waterproof. The ones that aren't are water-resistant, but most of the samples come from LifeProof, TrafficMaster or the Home Decorators. We found the local selection of luxury vinyl samples to be impressive with Home Depot as well.
While you can't sort through Home Depots Take Home Samples as easily with hardwood, there are 500 styles listed online. There are still over 100 options from Home Legend, but Bruce is the leader with 166 options followed by trustworthy brands like Mohawk and Shaw. Overall, we feel they have one of the better selections of hardwood samples online, although the options are geared more towards luxury vinyl and laminates in some of the local stores we visited for this guide.
What they actually have in stock when you head to your local Home Depot will vary from what you find online. You also need to keep the "free" aspect in mind as we weren't charged for well over a dozen samples at our local store, but online, you can expect to pay $2.99 per sample on most styles. There are also quantity restrictions on some products which are listed at 2, 3 or 10 per order while others appear to have no limitations in that regard.
Lowes
Lowes isn't far behind Home Depot in terms of their overall selection of hardwood, laminate and luxury vinyl samples. While they carry some of the same brands as their main competitor, they don't rely on store brands as heavily with their selections.
The largest array of samples come from their luxury vinyl lineup as there are over 100 styles to choose from, whether you prefer tile or planks. They have SmartCore, which is an exclusive along with products from Mohawk, Congoleum, Shaw, StainMaster, and others. Regardless of the style, samples are only a $1.00, and they cover a number of styles from marbled tiles to samples that resemble Chestnut and Oak.
While we weren't able to dig as deep with texturing options, we noticed several styles that resembled worn wood or "character" grade planks. Most of the colors fall into the brown range aside from the tile, which resembles wood or natural stone-like materials. Congoleum and Perfection Floor Tile have some of the more unique options when it comes to LVT.
Big brands like Mullican, Bruce, Natural Floors, Pergo, and SmartCore make up most of Lowes hardwood flooring samples, and there are around 150 engineered options along with over 70 solid hardwoods. As you would expect, Oak is the most popular material followed by Hickory and Maple. Bamboo makes up more than half of the remaining samples but isn't technically a hardwood.
With laminate flooring, there are around 130 cheap flooring samples from Pergo, QuickStep, Allen & Roth, and Style Selections, along with a few other brands. The majority of their planks range from medium to dark on the color scale, but there are some lighter options Waterford Oak and Studio Vailmont Chestnut. All the species are domestic, with the exception of Acacia, and around 30 of them come with a pre-attached pad.
One area where Lowes has a clear advantage over Home Depot is pricing. They have samples ranging from $0.25 to $1, and we did not see anything listed higher than that for these three materials. We also didn't see any restrictions on how many samples you can buy although some rogue listings were listed as out of stock online with shipping unavailable as well.
Online Flooring Samples
When you can't find what you are looking for from Lowes or Home Depot or just aren't partial to local flooring stores, you can always turn to online alternatives. Unfortunately, it is also where things can get expensive as you have shipping to consider along with restrictions.
Some companies will send you a handful of samples for free, while others will charge you far more than its worth. With that in mind, our list of the best places to get flooring samples online touches on brands that make things simple and cover a lot of ground, even if some aren't free.
Build Direct
Build Direct is an excellent place to pick up building materials online if you like to do things yourself, and they also carry a nice lineup of flooring. Their sample program provides you with 5 free samples of any style you like from their catalog with free shipping. All samples are around 4" x 6," and you can order more samples for a minimal fee if you need more than 5.
Lumber Liquidators
Lumber Liquidators is one of the few places on our online list where you can actually walk into a physical store for samples. While they don't make it easy to see what they have in the store from online, you can visit your local Lumber Liquidators and pick up 3 samples for free. Online, you can get 3 for $10 with free shipping plus a $10 credit, and each additional sample will set you back $1 each.
iFloor
If you've searched for flooring online, there's a chance you've stumbled across iFloor. This massive company carries hardwood, cork, bamboo, laminate, and vinyl flooring, but you can also pick up samples as well. Currently, you can order 5 free flooring samples from their catalog express shipped to your door for free!
Elmwood Reclaimed Timber
Using reclaimed lumber in your home is a great way to go green, and you'll find some interesting alternatives in the process. Elmwood Reclaimed Timber is one of the best places to reclaimed hardwood flooring, and their site allows you to pick up to 4 free samples from their catalog. Shipping is free as well, and you only have to fill out a quick form to get started.
Armstrong
Armstrong flooring samples can be found locally from flooring stores along with Lowes and Home Depot, but you can also order directly from the company. The good news is there are hundreds of options, and their samples are generally at least 7" wide. They aren't exactly cheap, however, as they are $5 each, and shipping starts at around $8.
Shaw
If you like variety, you'll love Shaw's line of products, which include carpet, hardwood, luxury vinyl, and laminate flooring. You can find samples of their products through several online and local retailers, but can also pick them up directly as well. Samples from every one of Shaw's collections are $4.99 each and come with free shipping.
Green Building Supply
If you like eco-friendly flooring, it can be hard to source locally, and finding samples is difficult. Green Building Supply has an interesting solution to that problem as they only carry eco-friendly brands and have samples of hardwood and bamboo flooring. While they don't carry vinyl or laminates, they do have a unique Marmoleum sample box if you're interested in the new breed of linoleum.
Efloors
This large online retailer specializes in home goods and flooring, including laminate, hardwood and luxury vinyl. They have samples listed for every style of flooring we checked on their site, and all are currently listed at $0.99 per sample. Sizes will vary, but there is no maximum or minimum order. They carry more brands than other sites but keep in mind the sample pricing is subject to change.
Sours: https://www.flooringclarity.com/free-samples/
Samples depot home flooring laminate
Here at Discount Flooring Depot, we understand how difficult it can be to find the perfect floor for your home. That's why we offer free samples of all our laminate, engineered wood, and vinyl click floors.
You can choose any 3 and we will send them free of charge direct to your door in our 100% recyclable sample box.
How to get your free samples:
1) Browse our wide selection of floors and find one which suits your needs
2) On the product page, hit the 'Get free sample' button
3) Once you have chosen your 3 samples you can quickly check out by using the top right basket button
4) We'll then post your samples with Royal Mail straight to your door
Need Help?
If you need any help then call us on 0161 641 9996 or email [email protected] Our team of flooring experts and fitters on hand to answer any questions, and ensure you pick the perfect floor for your home.
If you need a larger sample just contact or team and they can send out a larger laminate for £5 or £10 for any Engineered or Solid wood floor. But don't worry, this will be discounted when you buy your new floor.
Sours: https://www.discountflooringdepot.co.uk/order-free-flooring-samples-i59
How to Install Laminate Flooring - The Home Depot
I immediately began to fulfill her will. And in a few minutes, the warm and foamy bathroom was ready. It was a great reward for me when Svetlana allowed me to see her naked and seductive body for the first time, when I helped her to undress. - Bring me something to drink. - She ordered when she settled down in the bathroom.
Similar news:
I jerk off my wet pussy with my foot and humiliatingly whining whore shamelessly tries to sit on her foot. I chained the bitch with my hands to the rail of the bed behind her and roughly fuck in her mouth, pulling. Her hair.
5715
5716
5717
5718
5719