iPhone Screenshots
Description
Who said weight loss had to be hard?

Thanks for joining the iTouch Movement where living healthier is a way of life. The following iTouch Wearables devices can work with this app:

· iTouch Air Special Edition
· iTouch Sport
· iTouch Slim
· iTouch Air 2S
· iTouch Air S
· iTouch Fuse

If you do not have any of the above watches, this app will not work with your device.

Your iTouch Wearables watch will work perfectly with this app and once you're connected, you can expect to enjoy the following wonderful features:

EXTENDED BATTERY LIFE - Unlike any other smartwatch we have released, this watch can support standby times for up to approximately 30 days!

FOR THE ACTIVE USER - Enjoy your favorite sports/exercises while your watch keeps track of everything you need to stay informed and active.

CURVED SCREEN TECHNOLOGY - Your watch sports a modern curved design that is perfect for gym goers and fashion gurus.Never left out again.

With Over-The-Air (OTA) support, your watch will always receive any updates to help keep you up-to-date with any new additions available.

CUSTOM WATCH FACE - Use the custom watch face portion of the app to show your spouse, child or pet how much you love them by dedicating your smartwatch just for them. (Available for Select Watches)

AUTOMATIC SLEEP DETECTION - Fall asleep and have your watch track the quality of your sleep, even during those late night horror movies!

CONNECTED GPS - Create a custom route or just keep track of where you've been and where you're going with this useful feature.

Other features include:
Heart Rate Measuring, SPo2 Measuring (Available for Select Watches) Camera Remote, Music Remote (Available for Select Watches) Weather listing Available for Select Watches) Find My Device, and SO MUCH MORE!

Start your journey into a fit, healthy life the right way with the iTouch Wearables mobile app and enjoy the fruits of your labor.

App Health App Sharing
-Integrates with Apple Health App
Modify some information acquisition issues
Ratings and Reviews
My ITouch wearable watch
I recently bought this watch on the chances that my wrist would not get pinched just by wearing it 24 hours a day! My other watches were so uncomfortable that I kept looking for one that would fit my small wrist with a different more comfortable watch band and and be so affordable as this one is. This watch has met my criteria so well. I definitely like the features of the heart rate, temperatures, motivation notifications and drinking enough water, date, time and battery power available to my eyes all at one time. It did however change watch faces on its own and I'll be monitoring that more as time goes by. I so absolutely love the water proofing so that I can do dishes or swim exercises!
Unlike other smart watches this one has a down side of not taking phone calls, and my messages are written so small I can't read my messages very well on this watches. I have not tried the camera yet, over all I really like this watch for the watchband being tucked inside the wristband is genius to me! Thankyou so much for providing a smart watch I can afford as well!
Hi Sharon! Thank you for the wonderful 4-star review, we are definitely happy with it and about your honest review. Now, regarding your experience about the automatic watch face change, please have it observe and report to us immediately and we will look into it. Email us at [email protected] Thank you very much.
Tiny apps stop
Its really good this is my 4watch bought first one lasted exactly one year. Then bought one for mom lasted 1yr. This jan got 2 one accidentally fell in water. After a week of receiving it. Bought the 4th one right after the accident its march. NOw. Everything great. Ut its been 2 days my weather icon. Has a msg stating connect your device via bluetooth to use this function. Which it is its measuring my steps measures my heart rate. I removed the device added back on. Nothing same msge. And when im going to change my location for weather doesnt even show cities or zip codes. So must be on their end. Life time of the watch 1 yr. but for that year does what it says. (Except for weather icon right now).

2nd time here the weather app has been fixed its working smoothly but now i am not getting text messages in the past month, i have disconnected the device /removed it and re-downloading the app multiple times. And nothing. Not sure what going on with this version of watch. Hope it didnt have so may many bumps. And everything to work smoothly. But here again having trouble with getting text. I hope they had a link where to troubleshoot and get fast fixes. Not too happy.
Hi there! Thank you for your continuous support in our product. We are very sorry to hear about what happened. it's possible that you may still have the older version of the app. We are currently transitioning to a newer app and we encourage you to uninstall the older version, and install the newer one. You may download the new app on this link: https://apps.apple.com/us/app/itouch-wearables/id1537946628. Thank you very much.
ITouch
Mostly use for time, sleep, steps, and heart beat definitely like the watch worth the buy. Although the oxygen one im not too familiar with so I don't pay too much attention to it. The alarm I've tried has the option to set multiple alarms which is also another feature that I like but from the watch itself wish it could have a feature to alarm me when I use it. I haven't gotten the watch to buzz or beep yet. Would like if the alarm had better options for when I'm busy doing things it can actually serve as an alarm to alert or sound maybe a feature that is available on another watch. Other then that i am totally enjoying my watch also love that it's water proof. A part of caregiving so the constant of washing hands getting the watch wet there are no issues. I also enjoy the feature of being able to download new faces to the watch. Haven't had the luxury of using the sports features due to COVID but I look forward to testing them out soon. Have a good day.
Hi there! Thank you so much for the review. We're so glad to know you are enjoying the watch. We'll also take note of the suggestion about the alarm - we really appreciate you for helping us improve!
The developer, AX Technologies, indicated that the app's privacy practices may include handling of data as described below. For more information, see the developer's privacy policy.
Data Not Linked to You
The following data may be collected but it is not linked to your identity:
Privacy practices may vary, for example, based on the features you use or your age. Learn More
Information
Seller

AX Technologies LLC

Size

130.7 MB

Category

Health & Fitness

Compatibility

iPhone

Requires iOS 9.0 or later.

iPod touch

Requires iOS 9.0 or later.

Languages

English, Arabic, Bulgarian, Czech, Danish, Dutch, Finnish, French, German, Hindi, Indonesian, Italian, Japanese, Korean, Norwegian Bokmål, Pashto, Polish, Portuguese, Romanian, Russian, Simplified Chinese, Spanish, Swedish, Thai, Traditional Chinese, Turkish, Ukrainian, Vietnamese

Age Rating

4+

Location

This app may use your location even when it isn't open, which can decrease battery life.

Copyright

© Bestlink Intelligent(Shen Zhen) Co., Limited

Price

Free
Supports
Family Sharing

With Family Sharing set up, up to six family members can use this app.
More By This Developer
You Might Also Like
Sours: https://apps.apple.com/us/app/itouch-wearables-smartwatch/id1445113807
Looking for a stylish and reliable iTouch smartwatch? Then, you have come to the right page. As the market has a wide range of smartwatches, this makes people confused about which one to buy. That's why in this article we have mentioned some of the best iTouch smartwatch reviews so that you can choose the ideal one as per your needs. The smartwatches that we have compiled are 2018 ultimate smartwatches that cover almost every feature that is present in one perfect smartwatch.
iTouch smartwatch and iTouch smartwatch apps:
The iTouch smartwatch is a modern portable gadget that has multiple features such as tracking steps, distance, calories, and sleep. So, it is an all-in-one wearable gadget that monitors your overall health. Especially for fitness, it is an ideal one to track each and every activity. Some watches come with an inbuilt reminder system, text, calling, camera, and music functionalities which make it more useful and enjoyable for users. The iTouch smartwatch app plays a vital role in the remote control of the smartwatch. The app can be connected with iTouch smartwatch and for some watches, both Android and iOS platforms are compatible.
10 iTouch Smart Watches
1) iTouch Air SmartWatch
The iTouch air SmartWatch comes in many different and attractive colors. It has many additional features that are not found in other smartwatches.
Editor's Choice
$59.99 at Amazon
Buy Now
Features:
It can monitor your overall health, distance, sleep, and calories.
It has a calculator, dialer, camera, and music system.
It has phone-book contacts sync.
Pros:
It has the Find Phone feature.
It can also monitor the weather.
Cons:
GPS functionality is missing.
2) iTouch Screen SmartWatch
The iTouch Screen SmartWatch is similar to iTouch Air when it comes to the features, but its design and appearance is different than iTouch Air.
Editor's Choice
$49.99 at Amazon
Buy Now
Features:
It is a fitness tracker that can track distance, calories, and sleep.
It offers text messaging and calling functionalities.
It supports Bluetooth connectivity.
Pros:
It has a camera remote feature.
It works with both Android and iOS platforms.
Cons:
3) Kidou SmartWatch
Kidou touchscreen smartwatch can be used as a mini cell phone which offers two-way calling functionality. It offers multiple touchscreen features.
Editor's Choice
$26.99 at Amazon
Buy Now
Features:
You can play music via the watch.
You can also access social media apps on the watch.
It can be used for recording sound.
Pros:
It offers plenty of features.
It supports the latest iOS version and many Android models.
Cons:
You need to buy a SIM card additionally.
4) IOQSOF SmartWatch
IOQSOF is an ideal choice for men, women, and kids. It has an eye-catchy look and intuitive interface. It has apps for the latest iPhone model and Android devices.
Editor's Choice
$32.99 at Amazon
Buy Now
Features:
You can sync calls on watch via SIM card.
It is a complete fitness monitor.
It has a music player, alarm system, and Anti-lost reminder.
Pros:
It has high durability.
It has a 3 year warranty period.
It has a long-lasting battery.
Cons:
It comes in only white color.
5) Apple Watch Series 3
Apple Watch Series 3 which is designed and developed by Apple is one of the most portable and compact in size gadgets. When it comes to interface, it offers the best one.
Editor's Choice
$262.30 at Amazon
Buy Now
Features:
It is integrated with a built-in GPS system.
It offers three types of connectivity which are Bluetooth, NFC, and Wi-Fi.
Pros:
It is water-resistant.
It has up to 18 hours of battery life.
Cons:
It is very expensive.
It works with iOS apps only.
6) iTouch Fitness Smart Watch
The iTouch Fitness Smart Watch is the most stylish smartwatch that is available in the market. It comes with two classy colors which are blue and black.
Editor's Choice
$29.99 at Amazon
Buy Now
Features:
It has Bluetooth connectivity.
It can track many fitness activities.
Pros:
It is durable.
It supports multi-language.
Cons:
Calling feature is not present.
7) OLED Touch Screen Smart Watch
OLED smartwatch is water-proof and it is designed for monitoring every kind of outdoor activity. You can connect this watch with iOS and Android platforms.
Editor's Choice
$69.99 at Amazon
Buy Now
Features:
It monitors activities quickly such as distance, calories, and heart rate.
Through smartwatch, you can also check important calls and messages.
It comes with a built-in temperature, pressure, and altitude sensor.
Pros:
It is a waterproof watch.
It is long-lasting as it is a durable one.
Cons:
8) Misfit Vapor
Misfit Vapor has a cool interface and that's why it is an ideal choice for both genders. No matter which iOS or Android version you are using, you can this watch with your device.
Editor's Choice
$199.99 at Amazon
Buy Now
Features:
It can play songs wirelessly.
You can take Selfie
It comes with an alarm system and sends text notifications.
Pros:
It works with both Android and iOS platforms.
Calling feature is present. Cons:
No GPS system.
Its weight is heavy.
It is costly.
9) Fashion live SmartWatch
Fashion live SmartWatch is a multi-function watch that comes with many features at a reasonable price. It has amazing notification and reminder system.
Editor's Choice
$39.99 at Amazon
Buy Now
Features:
You can use social media networks on watch.
It provides wide-range and stable connectivity.
Pros:
It works with the latest iPhone and Android models.
It has the most comfortable strap.
Cons:
Sometimes, it creates performance issues.
10) Xiaomi Mi Band 3
Xiaomi Mi Band 3 is last but not the least smartwatch that has an amazing and trendy look as compared to its counterparts. It is also called the best fitness monitoring gadget.
Editor's Choice
$38.00 at Amazon
Buy Now
Features:
It displays real-time duration of activities such as exercise.
It offers a calling feature and you can reject the call with one touch.
Heart rate monitoring is possible for 24 hours.
Pros:
It is water-proof watch.
It monitors heart rate accurately.
Cons:
Hence, in this guide, we have mentioned the genuine iTouch smartwatch reviews that will help you in choosing an ideal iTouch smartwatch for yourself. All the above-mentioned iTouch smartwatches are worth to buy due to amazing built-in features that are present in them.
Sours: https://famisafe.wondershare.com/smartwatches/itouch-smart-watch-reviews.html
iTouch Air SE Smartwatch – Specs Review
iTouch Air SE Smartwatch – Specs Review
Design
Go with this fashionable smartwatch from iTouch, iTouch Air Special Edition smartwatch. It has a rectangular design with sleek and trendy look. It has a flat screen display and with breathable interchangeable strap with stainless steel buckle.
The overall body is IP67 waterproof rating, you can be sure that your smartwatch is protected from splashes of water, rain and sweat, it is also dust proof as well. The smartwatch is available in gun metal, rose gold and silver band.
Display
The iTouch Air SE smartwatch has a full color screen with 1.3" inch TFT LCD display. It has a full touch screen method of operation. The smartwatch has a 240 x 240 pixel resolution, sharp, clear, crisp color display. The screen is protected by a tempered glass display.
Under the Hood
It is equipped with g-sensor, heart rate monitor, it also support blood oxygen monitor. It is compatible with Android and iOS platform. When it comes to battery life, the smartwatch has at least 20 days of standby time in just a single charge.
Features
When it comes features, the smartwatch is packed with it. The wearable is loaded with call and message notifications, social app notifications. It also has auto step tracking, calorie and distance tracking. Additional functions included are alarm, weather, camera remote, sleep monitoring, music remote, sedentary reminder, stop watch, it also support connected GPS and blood O2 monitor.
The smartwatch has at least 8 multi-sport mode, it has running, hiking, cycling, football, tennis, basketball and soccer.
Sours: https://www.smartwatchspecifications.com/Products/itouch-air-se-smartwatch-specs-review/
iTouch Air 3 Smart Watch Review
iTouch Air Smartwatch is one of the budget-friendly smartwatches that gives you all the essential and necessary features. 
In the sea of smartwatches, it is challenging to buy the best smartwatch that gives you many more features at a low price. But don't worry, in this guide, I will show you a complete iTouch Air smartwatch review.
This smartwatch comes with multiple features and sports modes that help you to achieve your daily fitness. Goals. Like all other smartwatches, it can heart rate, track your sleep, count your step, distance, blood oxygen, and other such features. There are also some advanced sports modes which I will discuss in this article.
Now some unique and latest features in iTouch Air smartwatch's why I love this smartwatch. It also comes with a long battery life that is necessary to fulfill your fitness goals for extended periods.
[lwptoc numeration="none" numerationSuffix="none" toggle="0″]
Why should you buy an iTouch Air smartwatch?
I saw a lot of smartwatches that are very expensive yet don't provide essential features. Also, their design and quality are inferior. But to be honest ITouch air smartwatch comes with premium quality and includes a lot of crucial elements.
If you set some fitness goals, then this smartwatch will help you to achieve your fitness goals. Eight different sports modes track your other and outdoor and in-door activities. But yet there are few drawbacks to this smartwatch which I will mention in this guide.
If you are interested in some sports activities or different exercises, then you should buy this smartwatch. It helps you to measure your activities with accuracy.
You also have the option to completely customize its vibrant screen according to your daily routine activities.
Moreover, the iTouch Air special edition smartwatch has universal compatibility means you can connect it with your android phone and your iPhone. But it only connects with android phones having android 7.0 or above and iPhones running iOS 8.0 or higher.
Price and Availability
Many cheap and budget-friendly smartwatches don't give you important features and have minimal sports modes. But the smart Air iTouch watch gives you a lot more features with very affordable price tags. That's why I love this smartwatch. You will only pay $59 to get this smartwatch.
A lot of other brand smartwatches with this price tag don't meet our daily fitness requirements. But iTouch Air's special edition smartwatch will help you to achieve your fitness goals. This smartwatch is available worldwide, not restricted to any country.
I suggest you buy it from amazon. If you purchase it from my affiliate link, It will help me to make some pocket money.
Check Price
What is best in iTouch Air Smartwatch
Firstly, if you are looking at its design, it's fantastic and has a customizable dial. You can easily use this smartwatch and connect it with your smartphone. If you are a beginner, then this watch is perfect for you. I also recommend the iTouch Air Smartwatch for kids and teenagers.
Now second, the vital thing in this smartwatch is its battery life. No other smartwatch with such a cheap price tag gives you extra-long battery life.
This smartwatch includes all the essential features like heart rate monitor, step counter, blood oxygen level monitor, sleep monitor, and other such features. Along with its app, you can track and see detailed insights into your daily activities.
You can also see notifications of your smartphone on its dial that helps you to keep updated. Its vibrant dial gives you an extra unique and elegant look. Its screen is waterproof and scratch-resistant so that you can use it anywhere and anytime.
Some limitations
There are a few things in the smart Air iTouch watch that I didn't like. Its interface is not user-friendly and not easy to program, navigate, and sync. Besides, sometimes it also shows connectivity issues. Its running mode tends to be off by at least one mile.
When you turn on the smartwatch, it takes a bit longer to show the display. There is no NFC feature as well. Although the iTouch Air Smartwatch includes many more features, only a few of them are working correctly, but still, the figures are correct to some extent.a
Pros:
Large screen, easy to read text
Its One-touch sensor measures all metrics
The display is totally water, dust, and scratch-resistant
Instantly receive notification of calls, SMS, and other
Cons:
A bit difficult to navigate and program
Sometimes show connectivity issues
It has a warning label on its box that the device can cause harm
Features in iTouch Air Smartwatch
iTouch air smartwatch includes all the necessary features, let's talk about a few of them.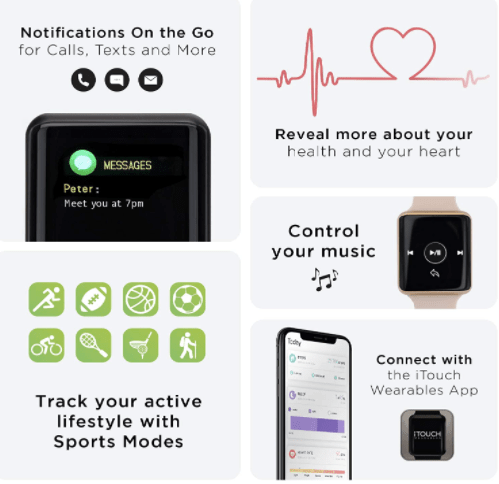 Display:
This smartwatch comes with a full-array display which is customizable. With the square shape dial, it looks like an Apple watch. The display is protected by solid glass, which is water, dust, and scratch proof. You will get a high-quality, sharp, clear, and more bright display with its 240 * 240 resolution.
Design
With its super sleek design, the smartwatch looks elegant and more beautiful. The smartwatch has a 41-mm solid silicone band. Its strap is comfortable, soft, and skin-friendly. You can also change the straps and select the best one for you. There are also a lot of colorful straps available. Besides, its case is made of premium alloy steel which is strong enough.
Main tracking Features
Like all other smartwatches, the iTouch air smartwatch is equipped with a heart rate monitor, sleep tracker, blood oxygen tracker, and calories counter. You can use these features with the one-touch sensor. You will also see your smartphone notification on the dial that helps you to remain updated.
Sports Mode
One thing I like about this smartwatch is its sports mode. iTouch Air Special edition smartwatch gives you 8-sports modes. These sports modes include walking, running, climbing, cycling, jump, rope, badminton, basketball, and soccer.
You can't find such multiple sport modes in the same price tag smartwatch. With a wide variety of sports modes, you can quickly achieve your daily fitness goals.
Connectivity
iTouch Air smartwatch has universal connectivity. You can connect it with your android phone as well as with iOS (iPhone). It only connects with android phones having android 7.0 or above and iPhones running iOS 8.0 or higher.
Calorie Tracker
This is a unique feature in this iTouch air smartwatch that you will not see in other such smartwatches with similar price tags. With this feature, you know what to eat? And how many calories you consume. This feature is beneficial and essential for fitness lovers.
Notifications
You can easily connect iTouch air smartwatch with your phones. And once it is connected, you can receive your calls, messages, notifications, and other social apps notification. This really helps you to remain updated during your exercise and different workouts.
Motion Gesture
This exciting and essential Motion Gesture feature allows the watch screen to activate with your wrist's motion. You can easily set up this feature, tap the "device" icon, then go to "Additional features" to enable the display after the wrist rotation function.
But keep in time that this extra feature will consume battery life more quickly.
iTouch Wearable Apps
There is also an app for both android and iOS. On this app, you can see all the insights into your daily fitness activities. Just download this app. You will need to turn on your Bluetooth for the download. And follow the in-app instructions to pair your smartwatch with your phone. It will take seconds to make a connection. You can read additional information in the manual guide.
Brightness
I say in many other cheap smartwatches that there is no option to adjust the brightness level. But in the iTouch air smartwatch, you will be able to adjust brightness according to the lighting condition.
To adjust the brightness:
Go to the Settings menu and touch the Brightness icon.
Tap again on the icon and modify it by sliding your finger from left to right.
Touch the icon once again to verify the current brightness level.
Dial Customization
This smartwatch also allows you to change the look of the dial according to your choice. This is the best feature. Now you can try different faces of the iTouch Air smartwatch. The smartwatch comes with three other changeable interfaces; Modren, Analog, and Custom.
Weather Update
You will also remain updated with the weather situation. Just connect your smartwatch with your mobile phone, and then the weather icon will display on the screen. Now tab on that weather icon, and you will be able to see the weather situation. You can also view weekly, five days, or hourly forecasts.
Also, you can change the weather settings. If you want to see the weather forecast in Fahrenheit, then go with it; otherwise, by default, it will be Celsius. Besides, you can also see the weather of some specific country, city or any region. Just type the name of that place, and boom!!! You will get the current weather forecast.
Find My Device
To activate this feature, firstly, you must connect your smartwatch with its app. When you need to locate your smartwatch, just tap on "Find Device" under the additional feature section. In this way, the iTouch air smartwatch will vibrate, and you can quickly locate it.
Don't Disturb
Sometimes you will get a lot of notifications, and this can distract you during your workouts. So don't worry, the iTouch air smartwatch special edition also allows you to handle messages.
Just tap on the Don't Disturb icon, and you will be able to set a time in which you wish to block any notifications. Remember that it will take 3-5 minutes to work after activation. You can also set your smartwatch on vibration mode.
Language
This smartwatch also gives you an option to select your desired language. Fortunately, you can use this smartwatch in your mother tongue.
Interchangeable Bands
Not all smartwatches give you these fantastic features. You can easily interchange the bands of the iTouch air smartwatch. There are a lot of other colorful bands available depending upon your mode, sports, and outfit. 
Just remove the previous old strap from your smartwatch. You can easily do this, turn your watch's face and gently pull out the silver pins. Once pins are removed, pull the strap away from the watch, and that's it. Your old strap is removed.
Now it's time to put a new band, line up each of the pins next to the corresponding hole located at the base. Now place the new strap against the case to line up the pin before releasing the lever. Once you remove the lever, pins will automatically fix in place.
Final Words
You saw all the iTouch air smartwatch features, and definitely, there are a lot more to explore. With a $59 price tag, I think this smartwatch is the perfect choice for you. To achieve your daily fitness goals, you should need a fitness watch to track your calories, blood oxygen rate, etc. So all these features are available in this smartwatch.
iTouch air smartwatch is also the perfect choice for athletes because this wearable comes with eight different sports modes. That helps you to track your various indoor and outdoor activities.
Thank you so much for its long battery life to track your fitness goals for an extended period. With its app, you can see your daily activities insights that allow you to motivate yourself for the next fitness activity.
There are also a lot of other features like a camera, music control for enjoyment. If you are looking for a cheap smartwatch, go with the iTouch air smartwatch, which gives you all the necessary features.
SmartWatches Under $50: Not Just that Gorilla Fitness Watches always try to create ease for its reader. If you want to buy a more budget-friendly watch with essential features, then you can read this guide. In this guide, I show you the best smartwatches Under $50. 
F&Qs
What is the price of the iTouch Air Smartwatch?

Like Other Smartwatches this one is not much expensive and you just needs to pay $59 for it.
Can I use this Smartwatch in Place of my phone?
Is iTouch Air Smartwatch is compatible with iPhone?
Yes, it has a universal compatibility you can also use connect with iPhone
Is this watch is Waterproof?
Yes, this smartwatch is waterproof, you can also wear it during swimming, bathing, etc.
How long does the battery last under just single charge?
Average time is 7 days. But it depends upon your daily usage.
Is this smartwatch is scratch proof?
iTouch Air smartwatch is totally scratch and dust proof.
Can I play music on it?
This smartwatch is just able to control the volume and songs selection. You can use this feature during your workouts.
How can I download apps on this smartwatch?
Well, you can't download different apps on this smartwatch as you can do on Apple, Samsung, fitbit and other top brands smartwatches. iTouch Air Smartwatch is only made to track your daily fitness activities.
How to use sleep monitor on this smartwtach?
With this smartwatch you can also monitor your sleep and its very easy. You don't need to do any thing, this smartwatch is works on your body movement. When you sleep then your hands are on rest at time it will record your all the sleep data. But remember, it will take 2-3 days to get reliable data.
Can I change Language on iTouch Air SmartWatch?
Yes, you can easily change language and set it in your mother tongue. Just go to iTouch App, and tap on the device icon from the bottom. Now tap the additional features and here you can see the "Language" option. You can now choose any of your desire language.
Can I interchange the bands?
Yes, iTouch Air special edition smartwatch allows you to choose your favorite band. There are lot of colorful bands available depending upon the outfit, sports, and moods.
How Can I see the insights of my daily fitness activites?
Yes, this wearable also have an app you need to install app on your smartphone. Then via this app you can see all the insights of your daily fitness activites. These insights are really helpful in motivation.
Related
Categories ReviewsSours: https://gorilla-fitnesswatches.com/itouch-air-smartwatch-review-should-you-buy-it/
Smartwatch i touch air
iTouch Air Special Edition
Specifications
Features: Rose Gold (band)
---
Water Resistance: Water-Resistant
---
Product Model: Itouch air se
---
Battery Charge Life: Up to 30 Days
---
Electronics Features: Customizable Watch Faces, stopwatch, Target Zone Alarms, Smartphone Compatible, Waterproof, Text Notifications, Touchscreen Display
---
Material: Watch Band: Silicone
---
Operating System Compatibility: Apple iOS, Android
---
Wireless Technology: Bluetooth
---
Activities tracked: Cycling, Running, Walking
---
Metrics Measured: Calories Burned, Heart Rate, Floors Climbed, Total Steps, Stationary Minutes
---
Battery: 1 Non-Universal Lithium Ion, Required, Included
---
Warranty: 1 Year Limited Warranty. To obtain a copy of the manufacturer's or supplier's warranty for this item prior to purchasing the item, please call Target Guest Services at 1-800-591-3869
---
TCIN: 76628550
---
UPC: 846692600278
---
Item Number (DPCI): 057-03-1157
---
Origin: Imported
---
Description
You'll love the iTouch Air Special Edition smartwatch to keep up with your busy lifestyle. This chic smartwatch comes with an effective heart rate monitor and automatic sleep monitor to keep your health in check mindlessly every day. You'll have fun exploring the multi-sports mode to fit any activity you're into, while keeping up with all your notifications on your custom and vibrant screen. With an extended battery life and water resistance technology, you'll be able to stay on track longer from any setting.
Android Compatible
Compatible with all Android devices
Bluetooth
A wireless technology used for exchanging data
Water-Resistant
Product is able to resist the penetration of water to some degree.
Waterproof
Waterproof for added protection
Sours: https://www.target.com/p/itouch-air-special-edition/-/A-78680025
iTouch Air Special Edition Digital Smartwatch
iPhone Screenshots
Description
Welcome to the beginning of a healthy life. The iTouch Smartwatch app has been designed to work with many of our iTouchwearable devices including the iTouch Air series smart watch. After connecting your iTouch smart watch to this app on your phone you'll be able to enjoy the following features:

- Set daily activity goals
- Track your daily steps
- Track your daily distance traveled
- Track the calories you've burned for the day
- Monitor your sleep
- Keep track of personal information data
- Allow your watch to access local weather information
- Track your heart rate (for select iTouch watches)

Continued exercise with the watch will lead to happiness, fulfillment and overall satisfaction in your life. Use with CAUTION!"
Added GpS, sleep time Settings
Ratings and Reviews
Save your money and buy a Fitbit.
The APP is about worthless but it's the only way the Watch will work. The Watch (ITouch Air 2)isn't the greatest either. You get what you pay for. Should've got a Fitbit. You can't reply to messages. The Watch is basically a pedometer, it can check heart rate but only if you command it. The connection breaks if you close the APP on your phone. I wish you could turn of the notifications because that's pointless as well. Sends me everything. I only wanted to see text messages on the watch but they are mixed with every notification from your phone. (IPhone XR) They don't come through to the messages part of the Watch. That doesn't even open. Half the stuff on the Watch doesn't work. If all you want is an over priced pedometer then this watch and app will work. I'll sell you mine for $10.
Hi!

Thank you for your review! I am sorry to hear about your experience with our watch and app. Please know, the app closes when not open due to Apple closing it. If you enable the app to run in the background, you will be able to say connected and Apple will not close out of the app. For further help, please reach out to us at [email protected] and we will be happy to help!
Crashing App
I've had this watch since about December, and it worked amazingly, a couple of having to restart the watch, and having to manually connect from the app for the music to connect, but besides that it was good. I lost it and didn't use it since about April, found it and now the app crashes within seconds of opening it. One of the reasons I got it was for the ability to change the songs without having to go to my phone, as someone who works with their hands and runs it can become an annoyance.
Decent but needs UI overhaul
I've tried all three of the main line watches, and they are all good for the money. However, this app lacks a sleek and user friendly User Interface. At first I thought it may just be the best the devs could do. I dug around for a few minutes only to find the "Fuse" and "Air Special Edition" versions of the app. The both of which are much nicer. I'm simply left bewildered at why they haven't condensed their apps into one all encompassing app like Fitbit. The experience with this watch would be 100% better if they simply retrofitted their newest apps to accommodate their older watches.
The developer, AX Technologies, has not provided details about its privacy practices and handling of data to Apple. For more information, see the developer's privacy policy.
No Details Provided
The developer will be required to provide privacy details when they submit their next app update.
Information
Seller

AX Technologies LLC

Size

56.6 MB

Category

Health & Fitness

Compatibility

iPhone

Requires iOS 9.0 or later.

iPod touch

Requires iOS 9.0 or later.

Languages

English, Simplified Chinese

Age Rating

4+

Location

This app may use your location even when it isn't open, which can decrease battery life.

Copyright

© Bestlink Intelligent (Shen Zhen) Co., Limited

Price

Free
Supports
Family Sharing

With Family Sharing set up, up to six family members can use this app.
More By This Developer
You Might Also Like
Sours: https://apps.apple.com/us/app/itouch-smartwatch/id1218164894
Now discussing:
The iTouch line of Smartwatches are a lower cost option if you are dying to get a smartwatch. But is the product a good deal, or a mediocre stepping stone to a higher quality product?
Let's go through the product offerings.
i-Touch Classic Smartwatch
This is the "original" iTouch smartwatch. Here's the functionality:
Camera remote–take pictures with your phone's camera with a wave of your hand. Voice assist–talk to your phone's virtual assistant through your smartwatch. Notifications–set your watch to alert you when your phone receives notifications for text, social media, games, email and others. Music remote–use your watch to play, pause, skip, and rewind your music. Messaging–view your email notifications.
Phone–make out-going and receive incoming calls using the watch's built in speakerphone. Pedometer–count your steps. Sleep monitoring. Compatible with Android, iPhone and other top phones. Rechargeable battery.
Setup: download the app associated with this watch for either Android or iOS, then once the app is installed, sync the watch to the phone via Bluetooth.
How well does this watch work for buyers? Reviews on the watch are mixed. While some users think the watch is easy to use and very functional, others complain that the watch feels and looks cheap. Those who use the watch sparingly state that the battery can easily go through a day or more without charging it. Others felt that a day's worth of battery was hardly worth the purchase.
Some customers were disappointed with the size of the watch face (too big for small wrists).
Other complaints include lack of ability to tap on the screen to return text messages, customer service communication and confusing return policies.
Those who reviewed it positively glowed about the functionality (meaning it does what it says it can do). Amazingly enough, the smartwatch is marketed to be able to make and receive calls, receive text messages and notifications, count steps, and play music, just as promised. However, the primary place I found positive reviews is on Amazon, a place that is notorious for the manipulation of product rank by paid-for positive reviews.
I think that the watch is somewhat mediocre, and find that the styling, squarish/roundish watch face and band are uninspiring. (After all, it is on your wrist and everyone can see your hands). But if what you need is something basic that gets the job done, and doesn't break the bank, then this watch could be a good option for you.
This product retails in the range of $29.99-$49.99, depending on where you find it. You can find it for sale on Amazon, and in some independent Shopify stores. I've seen that this product is getting harder and harder to find on sale, and is listed as "sold out" on some websites, including the iTouch Wearables home site.
But honestly, I am having a hard time getting excited about this product, and there are enough negative reviews about the battery to advise caution on this product.
iTouch Curve
The iTouch Curve is a watch that has really similar functionality to the classic iTouch smartwatch reviewed above. However, the main difference is that the watch face is round rather than square, making it look less like a device and more like a watch. You will find this watch in more colors than the basic black or white (Pink Merlot, and Bright Blue). Some companies market this watch as a "unisex" model, meaning both men and women could wear it.
With this watch, you have a:
clock
phonebook
phone locator
calorie tracker
sleep monitor
pedometer
music remote
compatible with iOS and Android
notifications
rechargeable battery
One of the main complaints about this watch is that even though it is billed as "water resistant," those who got it barely wet found that the watch died almost instantaneously. One woman washed her hands and got water into the charging port, and that was that.
Other reviewers called it "generic" or "inaccurate."
Also check the version of Android and/or iOS you are running. It needs Android version 4.4 or higher, and iOS version 7.2 or higher.
Like other iTouch watches, reviewers had a lot of complaints about the battery life, and having to charge it in the morning and again at night.
But on the upside, while the reviews were fairly poor for this watch, the reviews weren't QUITE as bad as the Classic and Air models. I am not sure if this tells you much. I am still pretty unexcited about this watch.
I've seen this watch for sale for $29.99, $39.99 and for $49.99, as well as for $85.00. This is a good one to shop around on to find the right price.
Check Amazon for the best price on the iTouch Curve.
(That link is an affiliate link. As an Amazon affiliate, I may receive a commission on qualifying purchases at no additional cost to you).
iTouch Air Smartwatch
Like the classic iTouch smartwatch, this product seems to be popping up a lot on the internet, but it is hard to tell if this is a smartwatch that is still being made. On some websites that I've seen, the product is listed as "sold out" while others are only selling "refurbished" or "like new" version of this watch.
On Amazon, like-new, the price exceeds $40, and brand new, I've seen the price as high as $70. Wal-mart has this watch for $36, but notes that the watch is "low in stock." Others have attempted to return this watch to get a replacement due to problems and have been unable to get another watch, despite promises.
Functionality:
clock
phonebook
dialter
messaging
phone locator
calorie tracker
pedometer
sleep tracker
music control
water "resistant" (I don't trust this, assume that you shouldn't get it wet AT ALL)
This watch has a square face with a flat screen, unlike the iTouch Curve (which is round) or the Classic, which has a round-ish face.
There are a lot of complaints about this watch.
Buyers say that the watch does "not work well" and does not hold a charge. For example, if you want to wear it at night to monitor your sleep, you have to charge it again in the morning to wear it for the day.
Others complain that the sync frequently disconnects (requiring a lot of resets). An important detail is that the phone and the watch have to be nearby each other to communicate effectively (like in your pocket), which defeats the purpose of the watch for many people.
The watch is supposedly compatible with iOS and Android, but many complained that the watch didn't work with their phones.
The bands may be hard to clean and become discolored.
"Cute but not functional" is another review, while others have stated that they are "very unhappy."
"Crap" is another comment I have seen about this watch.
Another common complaint is that the watch falls off, primarily that the band needs a "watch keeper" (small PVC loops) and disappointment that the product doesn't come with any.
All in all, I can't recommend that you purchase this watch even if you can find it.
iTouch Air 2 Smartwatch
Unlike the Classic, and Air models, the Air 2 seems to be more readily available for purchase online. And overall, the reviews on the product seem to be superior to the Classic and Air options, so perhaps iTouch is phasing out production of those other watches.
Features:
sleep tracker
heart rate monitor
messaging app (receive messages and notifications)
phone calls (receive and dial out)
sync's up to 1,000 contacts from your phone
call log tracks all calls
remote to your camera phone
date display
stopwatch
5 custom alarms
music remote
options to buy in gold, silver, rose gold, merlot, black, and lots of strap options
pedometer
calorie tracker
voice assistant
weather display
screen customization
So what are the reviewers saying? While the majority of the reviews for the Classic and Air models were horrific, the reviews that I've seen on this watch are closer to mediocre. If on a scale of 1-10, the Classic and the Air were a 1 or a 2, the Air 2 is probably closer to a 5-6.
The battery life is called "ok" rather than terrible. Pairing up the watch to phones was "pretty straightforward." The speaker was "very loud." The design of the watch is "slim" and "very modern" and "comfortable."
Complaints:
heartrate monitor didn't really work well
music didn't sync
screen was too sensitive
screen display was a bit pixelated
takes a long time to update
can't charge it wirelessly
You can find this watch for sale for between $55-$70 online.
Check Amazon for the best price on the Air 2.
(That link is an affiliate link. As an Amazon affiliate, I may receive a commission on qualifying purchases at no additional cost to you).
Air 2 Summary
If the choice is between the Classic, the Air, and the Air 2, the Air 2 is hands down, the only possible option. I think that iTouch attempted to address previous complaints about their products with this redesigned smartwatch, and they are on the right track. Many people who have used the watch said that it wasn't exactly what they were looking for, but that it was pretty functional and did most of what they wanted.
If you are looking for a Fitbit or Apple iWatch and buy the iTouch, I think you'll be disappointed. But if you know what you are getting into, and you accept that this watch isn't a Fitbit or an iWatch, you just might be satisfied.
iTouch Air Pulse Smartwatch
For the life of me, I can't see exactly how this watch is any different from the Air 2. This watch isn't being sold currently on the iTouch Wearables site. So far, I've decided that the Class Smartwatch and the Air model were iTouch's initial forays into smartwatches, and the Air 2 is the redesign. The Curve is an attempt to make a more stylish watch out of the initial Classic and Air functionalities.
But what is the iTouch Air Pulse? Well, it's for sale at Target, and it lists the following as its functionality:
calories tracker
pedometer
heart rate
sleep monitor
camera remote
music remote
notifications
calculator
"sedentary reminder"
So far, it seems that the iTouch Air Pulse is just about the same as the iTouch Air 2, but focused on the monitors (heart rate, calories, steps, etc).
It has gotten a lot of better reviews, but people seem to either love it or hate it (either one star or five stars, not much in the middle).
It sells for about $60 new online, which is about the same at the Air 2. Have you gotten this watch? Can you tell us the difference between the Pulse and the Air 2? I'd love to hear about it in in the comments.
If a Cheap Smartwatch Above All Is Your Goal
If you are looking for a smartwatch for REALLY cheap, you should consider looking to AliExpress. Many dropshippers who are selling on Amazon or in their own stores are getting products off of AliExpress for really steep discounts and then market them to you are a mark-up. It takes a few weeks (or even a month or two) to get the product on your doorstep from China (and FORGET returns). But if the money is the most important thing, check out the offerings for smartwatches there. You can find cheap-as-heck smartwatches there for under $20, the same watches that are being sold around the internet marked up to $50+ or more. 
If what you really want is an iWatch….
If you are buying the iTouch products because you want the high quality product that is an iWatch…..then perhaps you'd just better wait and buy the iWatch. I can't recommend the iTouch lines as a good, high quality alternative.
Looking for more information about smartwatches? See:
Categories WearablesSours: https://thetechseer.com/itouch-watch-review/
5426
5427
5428
5429
5430