One of the most important aspects of creating a sweet, long-lasting, custom paint job is body prep. If not carefully prepped, the paint will not stick to the Lexan properly, will flake off, and can cause the actual paint process to be much more difficult than it should be. This article will take you through the play-by-play before you spray. Ready? Lets get started.
PREPARE THE BODY FOR MASKING
Wash the body in warm water, with a soft sponge and dish detergent, to remove the residue on the Lexan due to the vacuum forming process and just from being at the factory. This is essential, as it removes any debris that could get in the way of your perfect paint job.
OVERSPRAY FILM
Nearly all bodies come from the factory with an overspray mask applied to the outside. Using a felt-tip marker, draw out your design on the overspray mask. Keep in mind that overspray film on wings could possibly be on the wrong side because its not part of the main body. If so, you must remove it before painting the wing.
WINDOW MASKS
Next, apply the included window masks or use masking tape to cut out your own. To create a border around the windows, draw a thin outline for the windows edge and then trim it off; it is easier to see these on a clear body. Youll get a nice, even line with a no. 11 hobby blade, as opposed to doing it last when the body is completely painted.
CUSTOM MASKING
Some bodies do not come with window masks, and other times you may want differently shaped windows. In this case, just mask over the entire inside of the body, draw the outlines for the windows you desire, and cut them with your no. 11 hobby blade.
Tips and advice
The very first thing to do to with a new body is cut off any "scrap" Lexan flashing. All this extra Lexan can interfere with your hands, razor knife, and even your airbrush hose—so just get rid of it. Some people like to "scuff" the inside of the body with a coarse pad, thinking the paint will adhere better, but if you prep and paint the body properly, there is no difference. It does help a bit if you use rattle can paint, but Faskolor and Spaz Stix seem to be fine either way, as long as you back your paint at the end with an acrylic clear coat. When scruffing the body, do not scuff it if you are using mirror chrome because all the scratches will show through. Also, be very careful to avoid the window areas at all times.
APPLY THE MASK
There are various ways to mask a body, all of which work just fine. Liquid mask is the most popular among painters, but you can also use vinyl masks, masking tape, automotive fine line tapes, and a vinyl cutter for custom made masks and logos. Each have a benefit at some point during a paint job. The bottom line is that it doesnt matter what medium you use, as long as the outcome is what you desire. The finished product is what really matters.
CUT YOUR DRAWING
If youre using liquid mask, draw your design on the outside of the body with a black felt-tip marker. Once you are satisfied with your artwork, simply hold up the body to the light and cut along your drawing with a no. 11 hobby blade. Always make sure you are using a new blade so the tip cleanly goes through the mask, but go lightly to make sure not to score the actual Lexan. It takes some getting used to, but with some practice it becomes almost natural to "feel" how much pressure to put on the blade. It is also important when using liquid mask to apply three to four even coats, with each coat completely drying in between. If liquid mask application is too thin, its very hard to remove and will not peel off easily!
TIME TO DESIGN
Once all the tape is applied, and it covers all areas where your design is going to go, it is time to draw the actual design. Keep a picture of what youre doing next to your work area and draw the design out on the tape inside the body. Once pleased with the layout of the drawing, use a no. 11 hobby blade and follow the lines. Next, hold the body up to a very bright light, at an angle, which will allow you to see the cut lines in the tape.
WRAP-UP
Now you are ready to start the fun part and lay down some paint! Depending on your paint scheme, the entire process should only take about two hours. It doesnt matter what you use for your masking medium, whichever you feel most comfortable with will work just fine and your finished product is what matters. Have fun painting!
Sours: https://www.rccaraction.com/create-simple-stunning-designs-with-proper-body-prep-and-masking/
Creating high quality and uniquely designed RC paint finishes for RC trucks, cars, buggys, crawlers, boats, monster trucks and everything in between. Using the best paints and customer specific designs, we create a body that finishes your RC vehicle off in style.
Custom RC Paint Finishes
home,page-template,page-template-full_width,page-template-full_width-php,page,page-id,bridge-core,ajax_fade,page_not_loaded,,qode-title-hidden,qode_grid_,footer_responsive_adv,qode-content-sidebar-responsive,qode-theme-ver,qode-theme-bridge,qode_header_in_grid,wpb-js-composer js-comp-ver,vc_responsive
We specialize in high quality custom paint jobs and finishes for RC vehicles. From trucks, buggys, crawlers, cars, boats and everything in between, we create a unique design with colors of your choosing to make a perfect RC body that you will love for your project.
We work with you to create a unique paint scheme that is specific to the colors and shapes you want to make your RC vehicle stand out.
Quality Paint & Bodies
Using the highest quality paints, airbrush tools and lexan bodies, we make sure your RC looks great and lasts long.
Our custom paint finishes are cost effective for everything from simple two color jobs all the way up to intricate multi-color designs.
Unique Design. Quality Paint. Epic Results.
With years of air brush painting experience all Klear Koncepts RC paint finishes are designed, hand drawn, masked and air-brused by Bryan Johnston. Having worked in the RC industry for years, Bryan has painted hundreds of custom bodies for happy customers all over the country. Whether you have a off-road rc that you want to stand out on track or a back yard basher you want to look awesome for your friends, Klear Koncepts can bring your dream paint scheme to a reality no matter what type of RC you like.
Submit A Paint Request
Quality RC Paint Products
We use the highest quality paint, airbrushes and chemicals to create your perfect design, as well as use the best lexan body suppliers on the market for your specific RC model.
Sours: http://klearkoncepts.com/
Simple rattle can paint scheme that anyone can do
SPONSORED ARTICLE
Being able to paint your own RC body is a useful skill to learn and it is not as difficult as you may think. Once you know the basics, you will be able to paint nearly any paint scheme that you can dream up. We are sure you own a ready-to-run (RTR) car or truck that has a body that is thrashed with scratches, tears and other body damage. Replacing that tired and worn body is a great way to breathe new life into your RTR and make it seem like you have a brand new ride. Here we will show you a simple rattle can paint scheme that anyone can do featuring a Pro-Line short course truck body.
STEP 1: PICK A BODY
Here is your chance to change up the look of your car or truck with a brand new body and a simple rattle can paint scheme. Just make sure that the dimensions of the new body will work with the chassis you have. Wheelbase is especially important so that the wheels will be oriented correctly within the wheel wells. There are numerous bodies to choose from for all types of vehicles and Pro-Line has a huge selection.
We have a used and abused Traxxas Slash 44 that we love to run at our local BMX track and it is in desperate need of a new body. We decided on the Pro-Line Flo-Tek clear body (#) because it was specifically
designed to minimize the parachute effect that is common with all short course trucks. Since the BMX track has loads of massive jumps and our Slash 44 sees a lot of airtime, the Flo-Tek body was the perfect match. Pro-Line gave the Flo-Tek short course body futuristic styling combined with large vent holes that allows the air from getting trapped under the body. The locations and size of the vents were cleverly placed so that the aggressive and high tech look would not be hindered.
BODY SPECS
Length: " (mm)
Width: " (mm)
Height: " (mm)
Wheelbase: " (mm)
STEP 2: DECIDE ON A PAINT SCHEME
When coming up with a paint scheme, try to make it simple to start off with. Then as your skills improve you can tackle more elaborate paint jobs. For the Pro-Line Flo-Tek body, we are creating an uncomplicated three color paint scheme using Tamiya polycarbonate spray paint. We will end up using a total of four different colors. Three that will be visible when the body is completed and one used as a backing color. The spray paint colors that we are using are Tamiya PS-1 (White), Tamiya PS (Metallic Green), Tamiya PS (Gunmetal), and Tamiya PS (Bright Silver). Obviously, if you want something even easier, use just two colors.
STEP 3: BODY PREP
Body prep is such an important step and if you skip it, the paint job will show it. Start off by scuffing the inside of the body with a Scotch-Brite pad which gives the paint something more to 'grab'. Make sure you don't scuff the windows if you want them to end up being clear. If you scuff them, they will have a hazy, scratched look to them.
Once the body is scuffed, wash the body with warm water and dish soap. This will remove any grime that found its way onto the body like the oils from your fingers and any residual mold release agent from when the body was made. Dry the body thoroughly with either a lint free cloth or a hairdryer. Now be careful to not touch the inside of the body because the oils from your fingers will stop the paint from properly adhering to where your fingers touched the body.
STEP 4: MARK BODY POST LOCATIONS AND WHEEL WELLS
Make your life much easier by marking the locations for the body posts and wheel wells now. There are some bodies like the Pro-Line Flo-Tek that have dimples molded into the polycarbonate that let you know where to drill the body post holes. Pro-Line has dimples on the Flo-Tek body for the most popular short course trucks out there like the Traxxas Slash 44. We are marking the body anyway to illustrate this step.
STEP 5: MASK WINDOWS
Most body manufactures include window masks so that the body ends up with clear windows once it is painted. I like that window masks that Pro-Line includes because they come precut to perfectly fit the shape of each window. It makes this step quick and easy. Be sure to burnish the edges of the masks to make sure paint can't seep underneath and ruin the goal of a clear window.
STEP 6: PLAN-OUT THE PAINT SCHEME
Since the Pro-Line Flo-Tek body comes with overspray film on the outside
of the body, you can draw directly on it. We are using Parma's dual tip detailing pen to layout the paint scheme that we want to achieve. Then we can use these marks as a guide when trimming out the paint mask. If you make a mistake, all you need is a little rubbing alcohol on a rag and it will remove the pen marks so you can try again. All of the marks from the detailing pen will disappear when you pull off the overspray film and they won't be on the body. For this short course body, we are painting Metallic Green on the top section followed by Gunmetal along the bottom and White in-between.
STEP 7: MASK LIGHTER COLORS FIRST
What you need to keep in mind when painting a polycarbonate body, is that you are painting the inside of the body. This means that the order of how you spray on the colors is reverse than what you would do if you painted the outside of the body. Always start off with the darkest color first and end with the lightest. If you don't follow this method, the dark color will bleed through the lighter ones and wreck the paint job. For this Pro-Line Pro-Teck short course body, Metallic Green will be the first to get sprayed followed by Gunmetal and then White. Here you can see the Metallic Green section was left uncovered by the mask.
Using good quality paint mask will help ensure you end up with crisp separation lines between the colors. We like to use Tamiya masking tape. It comes in a variety of widths and is very easy to work with. A hobby knife is used to cut the mask to the desired shape. Be careful not to push too hard with the knife and score the body. Wherever the body is scored is a place where it can easily crack if the body bends or gets hit in a collision.
STEP 8: FIRST COATS ARE LIGHT COATS
With each and every color, spray the very first coat nice and light. Light enough so that you can see through the paint and see your hand on the other side of the body like it is shown here. This light coat of paint will help 'seal' the edges of the masks and keep it from bleeding underneath. If you start with a heavier coat, the paint is more likely to find its way behind the mask. The next coat can be a bit heavier, but still stay on the lighter side.
PRO-LINE BODY GRIP TOOL
The Pro-Line Body Grip Tool (#) is a super useful device made specifically for painting bodies. The suction cup bottom of the Body Grip Tool securely attaches to the body and allows you to hold onto the tool instead of the body and will keep you from getting your fingerprints in the wet paint and ruining the paint job.
STEP 9: LET EACH COAT DRY
Don't rush the paint job. It is important to let each coat of paint dry before applying the next coat. If not, you will end up with run marks from the heavy paint or wreck the appearance of a previous color. A hairdryer can speed up this process, just be careful not to get too close to the body which can be deformed from too much heat.
STEP REMOVE MASK FOR SECOND COLOR
Once the Metallic Green section of the body was dark enough and dry, we removed the mask that covered the Gunmetal section. Carefully remove the mask while not disturbing the mask that needs to stay in place to cover the white sections of the paint scheme. With the mask removed, we then sprayed the Gunmetal following the steps mentioned above.
STEP TAKE OFF REMAINING MASK FOR THIRD COLOR
Time to lay down the white with the Metallic Green and Gunmetal colors completed. All of the mask is now removed except for what is on covering the windows. After enough coats of white are sprayed to properly cover the area, we were then in the home stretch.
STEP BACK THE PAINT JOB WITH SILVER
This is an added step that we like to do to make the paint scheme have a deeper look and be entirely opaque. It looks hack if you are able to see through the body, even partially. We use Silver to back the whole paint scheme. Silver does an awesome job with metallic colors where it really makes them pop. When the paint is dry, remove the window mask.
STEP TRIM AND DETAIL BODY
This is our absolute favorite part of painting an RC body…removing the overspray film. But before you rip off the film, ream out the body post holes using the marks you made earlier. Now trim off the excess polycarbonate and cut out the wheel wells using curved body scissors. At this point in the painting process, the body looks quite dull and messy because the off the overspray film itself along with overspray from the paint and any of the marks you made with the pen. As you pull off the film, the body transforms into a super glossy and shiny finish. The last thing to do is to put stickers on the body and your custom painted body will be finished.
Remember with the Pro-Line Flo-Tek body that there are the serious of holes that you can open up in the body to allow airflow through the body. Check out the following video that gives you different options on getting the openings cut out.
STEP MOUNT YOUR CREATION ON THE CHASSIS
Here is our newly painted Pro-Line Pro-Tek SC body mounted on our Traxxas Slash 44 chassis. The finished product for this simple rattle can paint scheme looks great and is a welcome upgrade from the stock RTR body which had seen its fair share of scratches, scuffs and dents from hard off-road running. We will most likely add more stickers to help dress-up the body even more. Hopefully this article will get you to try your hand at creating your own custom painted body.
SHOP PRO-LINE RACING
Use code RCDRIVER10 to save 10% your order at https://www.prolineracing.com/
SPONSORED ARTICLE
*Notice: Some of our articles, videos and descriptions may contain affiliate links, which means that if you click on one of the product links, we may receive a small commission. This helps support the website and social media channels and allows us to continue to produce content. Thank you for the support!
Sours: https://www.rcdriver.com/simple-rattle-can-paint-scheme-that-anyone-can-do/
Bittydesign Liquid Mask - How to paint Marc Rheinard's Replica bodyshell.
M & JP8 % Pre-Cut!
Follow our Social channels, stay updated with all the news and releases.
VISION 1/8 buggy bodies, pre-cut for all the most popular nitro and brushless models!
Unique, original, surprising and cutting-edge design; shapes that not only enhance the aesthetics of any chassis but superior performance thanks to a meticulous design developed to optimize air flows and make the model easier to drive. Discover all the models availables.

Join the revolution of our M & JP8 body shells for 1/10 touring mm full pre-cut, the best way to save a lot of time and avoid the annoying part of the preparation of the body. High quality and perfect CNC cutting - 5mm forward for best performance - unpacking the product, wash, spray, apply decals and wing, ready to go in 10 minutes!!
Italian Premium Quality bodies for the most popular EP 1/10 TC chassis on the market.
See all about the product, go to the Page!
Bittydesign Liquid Mask. World's #1.
This special liquid is a concentrate of technology indispensable for making paintworks of maximum qualitywith a considerable saving of time. Try it and you'll be speechless.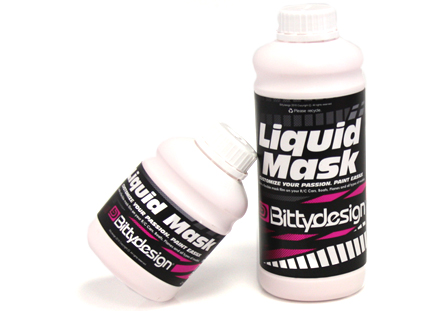 This special masking liquid is a concentrate of technology indispensable for realizing paintworks of maximum quality with a considerable saving of time. Try it and you'll be speechless.
Developed on thousand painted rc bodies, the liquid contains all our know-how acquired over time, making the product extremely versatile and easy to use for everyone.
Graphics for all the classes at the top of quality, with uniqueoriginal design.
15 years of experience and refinement of technique allows us to offer always innovative and modern paintworks which set new standards. Our graphics are among the most imitated in the world, choose the original italian style signed Bittydesign.
Check out all the graphics that we offer, go to the page!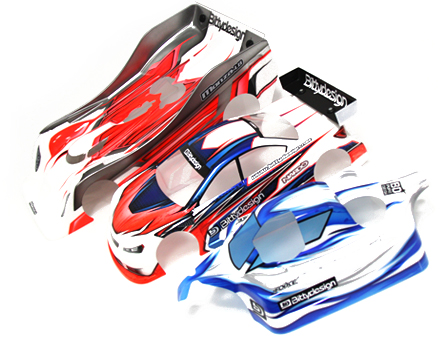 What Clients Say
I found you with Facebook and i loved immediately all your jobs, the products arrived to me perfectly, well packed with tracking as promised by the site. Very easy purchase, the quality of my painted body shells is AMAZING, thank you Bittydesign!!
Mike Brazil

Bittydesign you are the #1, i love your Black Hawk body for my 1/10 Short course, the model looks too beautiful now, amazing paintwork!! I'm so happy ;-)
Sander Netherlands

Ludovic koury from caraibeen this is the most beautiful paintings in the world ! thank you to the whole team of BITTY DESIGN for their advice and interest brings to all their customers !
KouryMartinique

the body is beautiful , as always with bittydesign😎 Thanks!!!👍🏻👍🏻👍🏻
ManuelFrance

I'm very satisfied about my order, recommended to everyone.
LászlóHungary

Bellissima carrozzeria🔝👍
SalvatoreItaly

Had a great experience talking with Davide through email, finding what I wanted and getting it taken care of quickly, I am very pleased with the customer service and ease of purchase! I would highly recommend Bittydesign to all racers and rc lovers not only for the quality of the product, but the great service. Can't wait for my Force Tekno NB body with "Flames" Blue paint scheme!!!
KeoniUnited States

Eccellente fattura delle carrozzerie e altissima qualità dell' aerografia. Mai visto nulla di simile. Nemmeno una piccola sbavatura. Il top del top!
LuigiItaly

Outstanding job !!!! Two beautiful Ferrari F1 ready to use. Claudio
Sours: https://www.bittydesign.net/
Paint 1 8 schemes buggy
POLL: Which pro 1/8 buggy driver has the best looking paint job?
ADVERTISEMENT | ADVERTISE WITH US
---
By Mike Garrison
LiveRC.com
Start your week by taking our poll! Every Monday morning a new question is posted! Questions may discuss the direction of the industry, current events, and predictions for upcoming races. This is your chance to be heard, so VOTE NOW!
Every pro driver has their distinct look and style, but we want to know which one you think has the best!
Which of the top ten drivers from the current Top 25 RC Rankings has the best looking paint scheme? Take the poll, and share your thoughts and comments below!
Which top pro driver has the best looking paintjob?
Ty TessmannDavide OngaroDavid RonnefalkJared TeboElliott BootsRyan MaifieldRyan CavalieriRobert BatlleRyan LutzAdam Drake
Last week's poll results:
Sours: https://www.liverc.com/news/poll-which-probuggy-driver-has-the-best-looking-paint-job/
\
I took off my wig, sweater and skirt, unbuttoned my bra, pulled off my tights and fished out thongs from the priests, which, to my surprise, I almost. Did not stain, and threw the pad into the trash. That's really helped out, I thought. I'll have to ask for one more.
Similar news:
We kissed on the lips, but I imagined HER. And even if the one to which I came was with prickly cheeks. Here, a whole breast, but not the one to which I came, with which now, but HER breast, my beloved. Here is a member in my hands.
5408
5409
5410
5411
5412