First of its kind high fidelity gaming audio
Hi-res capable speaker drivers and a lossless and lag-free wireless solution make Arctis Pro Wireless the only true wireless high fidelity gaming audio system.
Watch product film
Two is better than one. The Arctis Pro Wireless features rock solid, lossless 2.4G wireless audio for gaming, combined with Bluetooth connectivity for mobile devices. Use both connections simultaneously or independently for maximum flexibility.
The Arctis Pro headset connects to the wireless transmitter base station via the proven SteelSeries 2.4G connection. This provides lossless and ultra-low latency wireless audio with up to 40 feet of interference-free range.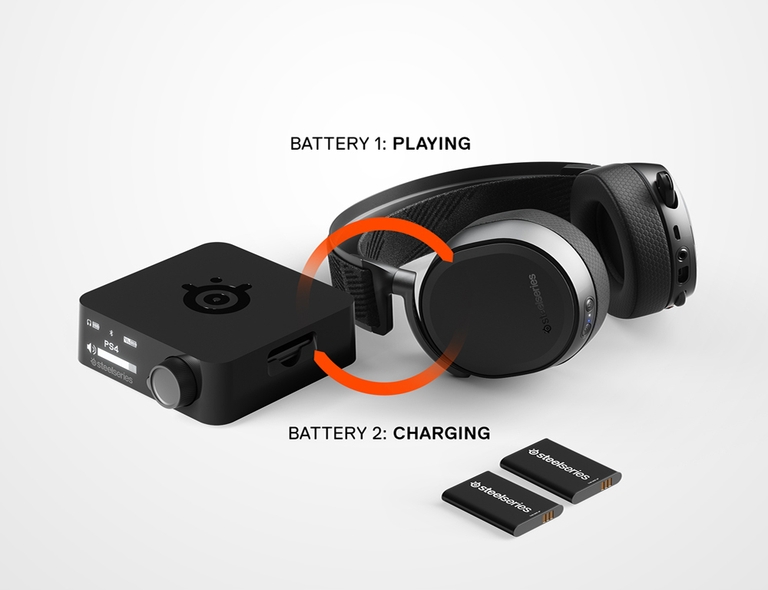 Exclusive dual-battery system means never sitting next to an outlet to charge your headset. Keep one battery charged in the transmitter base station while gaming with the other in the headset.
Press space to pause moving content
Press space to pause moving content
Press space to pause moving content
Press space to pause moving content
Transmitter Base Station
Adjust all your audio settings from the transmitter base station's controls or wireless from the headset itself
The Arctis Pro headset features premium speaker drivers with high-density neodymium magnets that reproduce Hi-Res audio out to 40,000 Hz, nearly double what most standard headsets are capable of (22,000 Hz).
Widely recognized as the best mic in gaming, the Arctis ClearCast microphone delivers studio-quality voice clarity and background noise cancellation.
The next generation of DTS' renowned surround sound, Headphone:X v2.0 immerses you in the action by delivering incredibly accurate positional cues without sounding like you're in a tunnel. Lose yourself in the game as the audio comes to life all around you.
Shop Arctis Pro Wireless Accessories
Original and Pro
-Optical
-USB
PS4 Slim:
-Optical(via TV, AVR, or HDMI adapter)
-USB
Headphone Frequency Response
Headphone Total Harmonic Distortion
Microphone Polar Pattern
Bidirectional Noise-Canceling
Microphone Frequency Response
Microphone Noise Cancellation
Battery Life
20 hours (10 per battery)
Platform Support
Windows 7+, Mac OS X 10.9+
The Arctis Pro Line
Features
Arctis Pro
Arctis Pro + GameDAC
Arctis Pro Wireless
Price
Electronics
USB ChatMix Dial
GameDAC
Transmitter Base Station
Speaker Drivers
Hi-Res, 40,000 Hz output
Hi-Res, 40,000 Hz output
Hi-Res, 40,000 Hz output
Hi-Res Audio Certified
Surround Sound
DTS Headphone: X v2.0
DTS Headphone: X v2.0
DTS Headphone: X v2.0
Wireless
No
No
Lossless 2.4G & Bluetooth
Connections
USB, 3.5mm
USB, Optical, 3.5mm
USB, Optical, 3.5mm
Compatibilities
PC
PC & PS4
PC & PS4
RGB Illumination
Frequently Asked Questions
Is the Arctis Pro Wireless a Bluetooth headset?
It does include Bluetooth, but this is not the wireless method used for gaming. Rather, the Arctis Pro Wireless features a dual-wireless system where its lossless and low latency 2.4G connection is used for gaming while Bluetooth is used to connect to mobile devices. The best part of this system is that audio from both wireless connections can be used simultaneously. So while gaming on a PlayStation 4 or PlayStation 5, you can also be chatting with friends on the Discord mobile app, or while gaming on a PC you can answer a phone call.
Is Arctis Pro Wireless a PlayStation or PC gaming headset?
It's both! The Arctis Pro Wireless is compatible with PS5, PS4, and PC, though some features differ from one system to another. On PC and PS4 you can use the onboard ChatMix adjustment and DTS Headphone:X surround sound. On PS5 you can use the PlayStation's built-in game/chat adjustment and Sony's 3D Tempest Audio Tech for surround sound. The Arctis Pro Wireless' onboard equalizer is available on all platforms.
How is Arctis Pro Wireless different from other Arctis headsets?
The Arctis Pro retains the elegant Danish design of the original Arctis headsets, as well as important features like the ski goggle suspension headband, the retractable ClearCast microphone, and the on-headset controls. But many other components have been elevated for the Pro models. For instance, the speaker drivers on Arctis Pro are premium hi-res capable with an even better soundscape. The materials are also more luxurious, like the gunmetal steel outer headband, the lightweight aluminum alloy hangers, and the soft touch coating on the speaker plates. Speaking of, the speaker plates are also replaceable for a new way to customize your Arctis.
Is Arctis Pro Wireless Hi-Res certified?
While the Arctis Pro + GameDAC is fully Hi-Res Audio certified, the Wireless is not. The only reason is that the 2.4G wireless technology cannot support sampling rates above 48 kHz. Even though it does not support Hi-Res formats, the 2.4G wireless is still lossless, and therefore high fidelity. Coupled with the same hi-res capable speaker drivers used in the wired version, the Arctis Pro Wireless delivers a truly high fidelity gaming audio experience, wirelessly.
How does the Arctis Pro Wireless connect to PS5?
Sours: https://steelseries.com/gaming-headsets/arctis-pro-wireless
The SteelSeries Arctis Pro Wireless is a mighty expensive but one the best gaming headsets when it comes to wireless cans. With an MSRP of $330/£330 and availability as low as $270 on Amazon at the time of writing, it's more than twice the price of the SteelSeries Arctis 7 2019 Edition wireless headset ($110 on Amazon at the time of writing), which we gave our Editor's Choice award. What's more, the Pro Wireless package isn't new. The headset itself has been around for a couple of years now, while the control box dates back to the Siberia 800, released back in 2014. Does the math really add up for the Arctis Pro?
Well, you could even argue that SteelSeries have been victims of their own generosity. When the Arctis range first released, there was a tangible difference in quality between the 3, 5 and 7 and the top-end Pro. In 2019 though, the lower-priced Arctis headsets all enjoyed a refresh which, essentially, brought them closer to the Pro spec. The Pro itself, however, hasn't been refreshed. The gap between models has in many ways been bridged.
The twist in the tale is that we'd still rather use the Pro Wireless than its cheaper stablemate, the excellent Arctis 7 2019 Edition. A handful of genuinely useful features, along with great dual wireless compatibility, discern it not just from SteelSeries' other offerings, but from the rest of the wireless headset pack.
SteelSeries Arctis Pro Wireless Specs
| | |
| --- | --- |
| Driver Type | 40mm neodymium |
| Impedance | 32 Ohms |
| Frequency Response | 10-40,000Hz |
| Design Style | Closed back |
| Microphone Type | Bidirectional electret condenser |
| Connectivity | Wireless 2.4 GHz, Bluetooth 4.1 |
| Weight | 0.8 pounds (357g) |
| Cord Length | N/A |
| Battery Life | 10 hours per battery (2 batteries included) |
| Lighting | None |
| Software | None |
Design and Comfort
If you've owned an Arctis headset before, you're familiar with the Arctis Pro's basic design, which is available in black or white. Instead of a headband that sits on the top of your skull with cushioning to minimize discomfort, the contact point across the top of this headset and other Arctis models is a 'ski goggle' elasticated band. The band's tension keeps the heavier aluminium headband suspended above your head. It really does work in practice, offering the kind of fit that didn't feel as instantly snug and comfortable as the HyperX Cloud but stayed put in such a way that I forgot I was wearing a headset as the hours rolled by.
There's just one downside to the Arctis ski goggle band design: its tendency to slacken over time. After a few months, all the Arctis models we've tried have that problem. However, the Pro Wireless (and the Arctis 7, which now uses the same band for the 2019 Edition) is slightly more durable, but I haven't had it long enough to know if it'll survive long-term usage. SteelSeries does sell replacement bands for $20/£20. You also have the option of customizing your headset with themed earcup cover and headband sets if tasteful dark gray doesn't do it for you. We do miss the ChatMix (a Siberia 800 feature that lets you balance levels between game and chat audio) thumb wheel from the Arctis 7 2019 Edition, where it's placed just above the volume wheel for the easiest possible adjustment. With the Arctis Pro, you have to control ChatMix from its base station. That's the only thing we'd change about the control layout.
The most standout feature of the Arctis Pro's design is the swappable battery system. This is a carryover from the Siberia 800, but in the intervening years since SteelSeries rolled it out, no other manufacturer -- to our knowledge, let us know below -- has released a similar system. There are two rechargeable batteries, one sitting in the headset powering it and the other in the base station being charged. Each carries 10 hours of charge, so when the battery in use depletes, you just need to pop the other out from the box, take the cover off the right earcup and swap them out, giving you another 10 hours of charge without the need to tether the headset.
Audio Performance
The Arctis Pro's frequency response range is massive, ranging from 10Hz to 40KHz. It proudly announces itself the world's first hi-res compatible wireless headset, and although hi-res audio sources are still quite rare, this is a feature that justifies the high pricing. In lossless music and games featuring uncompressed hi-res audio files -- Wolfenstein II: The New Colossus is our go-to -- the crispness and depth of sound was noticeable and hugely impressive. The extra quality was especially prevalent in the high end, where compressed audio tends to artifact and distort. Here we could audibly hear the space between the layers of sound, which is a beautifully immersive quality.
What we often find with hi-res capable headsets is that the demands of meeting those specs tends to drip down into higher sound quality in compressed audio sources. That's definitely true of this headset. Like other Arctis models, it doesn't overwhelm with low end in a show of sheer power, but instead produces a very natural sound. That makes it tremendously versatile across games, music and films without the need to swap between EQ presets, although such things do exist and they're easily accessible via the base station.
DTS Headphones:X technology makes an appearance here as in other Arctis headsets, with the transmitter base station offering a virtual 7.1 surround setup that can be turned on or off. Our complicated relationship with digital surround remains. In some applications it does help to pinpoint sound cues, but often it muddies them. Whatever you listen to, there's a brassy digital ring, however faint, across the soundscape, but we've gotten used to turning it on for CS:GO and PUBG, where generally there aren't dozens of competing sounds. Call of Duty and Battlefield aren't as well-suited since they produce a drone of explosions and gunfire. Sometimes it's worth enabling DTS in quiet, atmospheric games, like What Remains of Edith Finch or Gone Home --titles that really go to pains to put you in a particular time and place. In such games, digital surround sometimes adds to immersion.
The Pro Wireless can't magic away the limitations of digital surround, but it implements it as well as we've heard on the market while delivering truly rich and hi-res stereo sound. Our sole complaint is that the headset itself is rather quiet next to its peers. With Windows volume maxed out, we often ended up gaming at 75% volume on the base station, whereas we'd usually keep the output below 50% using other headsets.
And as for wireless connectivity, we've never experienced a dropout in all our time using this headset. The 2.4 GHz connection is totally lag free, and the added option of a Bluetooth connection means you can eliminate the possibility of dropout altogether. It also lets you pair with other devices around your home, such as smartphones and consoles, which is a real value proposition. We've used the Pro Wireless on long train journeys and found it to be a great performer. The only downside is that you'll have to carry around the extra battery if you want more than 10 hours of audio.
Features and Software
The top-end Pro Wireless has a long feature set, and a lot of it is housed in the transmitter base station. The visual design remains the same since its implementation in the Siberia 800, but it's a handy desktop companion all the same. With just two controls -- one button and a scroll wheel that can be depressed -- you can cycle between EQ presets, change the output source, adjust ChatMix, mic monitoring, surround sound, volume and numerous other granular details, like the exact brightness of the mic mute LED.
In practice we barely used the base station for much besides volume adjustment, ChatMix and swapping batteries, but performing any of those tasks was a breeze.
Bottom Line
So we come back to our fundamental question. At more than twice the cost of other quality wireless gaming headsets like the SteelSeries Arctis 7 2019 Edition, is the SteelSeries Arctis Pro Wireless worth the money? While it certainly doesn't sound twice as detailed, or feel twice as comfortable, there's just so much functionality and smart design in this package that the Pro Wireless makes a convincing case for its price.
This isn't just a PC gaming headset; it's also a premium pair of Bluetooth headphones and a console solution too. It's brilliant for taking on a commute or long-haul journeys, limited only by the inability to recharge without the base station. And above all, it sounds great. It's a decadent choice, undoubtedly, but one you won't regret.
Image Credits: SteelSeries
MORE: All Gaming Headset Content
Sours: https://www.tomshardware.com/reviews/steelseries-arctis-pro-wireless-gaming-headset,6298.html
SteelSeries Arctis Pro + GameDAC review
SteelSeries has been a gaming peripheral mainstay for years, and a big part its appeal comes from its headsets. The SteelSeries Arctis Pro offers mores features than you can shake a stick at, and it's the first gaming headset to be certified for Hi-Res audio.
The landscape for premium gaming headsets that work on multiple platforms is a crowded one. How does the Arctis Pro hold up?
Editor's note: this SteelSeries Arctis Pro + GameDAC review was updated on July 30, 2021 to include new scores and charts after being testing with our new standard.
Who's the SteelSeries Arctis Pro + GameDAC for?
PC and PS4 gamers will find the most use out of the The SteelSeries Arctis Pro, especially those who prefer to customize their experience with hardware accessories instead of clunky software.
What is the SteelSeries Arctis Pro like to use?
The Arctis Pro fit in well with my gaming setup.
The SteelSeries Arctis Pro is a sturdy, comfortable headset. It has an aluminum frame and suspension band that's elastic like a pair of ski goggles. Unlike the many suspension bands that require no adjustment, you can set the tightness of the Arctis Pro using a velcro patch. I adjusted the band tightness once, and never had to think about it again. It sat just tight enough to fit snugly on my head, without any uncomfortable pressure.
The headphones sit on slightly offset hinges and feature pads made of something called airweave fabric. Think of it somewhere between leather and velour, it's a little more flexible than leather, but stiffer than velour. All the same, it's very comfortable and I never had any issues wearing them for long stretches of time.
The airweave headphone pads offer a firm, but comfortable fit.
The airweave pads don't get as hot as leather, and they're large enough to comfortably fit around my ears. However, they may not work as well as velour with glasses, and so might be worth replacing.
The left headphone houses a retractable mic, which extends about four inches on a flexible wire and sits almost flush when not in use. It also features a mute button, volume dial, a port for the cord going to the Game DAC, and a 3.5mm jack.
These headphones are wired only, but there's still a decent amount of connection options. You can connect the Game DAC unit to a PC via USB, or to a Playstation 4 using the optical cord (in addition to the USB cord), or even to a phone or other device's headphone jack with the included 3.5mm dongle.
The side panels are held on with magnets, and you can swap them out for prettier ones.
You can customize the look of the SteelSeries Arctis Pro to a degree, but it is undeniably a gaming headset in its aesthetic. When connected, LED lights ring both headphones, and a bright light shines from the mic when it's muted.
Black matte panels sit on the sides of the headphones, held in place magnetically,  and you can take them off or replace them. SteelSeries sells panels and straps of different colors and designs, if you want to change the headset's look even more.
Thankfully, there's no necessary software component to using the SteelSeries Arctis Pro to its utmost. Many gaming headsets offer a bevy of options, only to lock them in clunky, badly optimized software that sometimes doesn't even work. Instead, the Arctis comes with a GameDAC, a small external console for controlling different settings and minutia.
Does SteelSeries provide accessories?
The Arctis Pro comes with plenty cords for wired connections to all sorts of devices.
The SteelSeries Arctis Pro comes with its Game DAC hardware unit, and cords to connect the headset to the DAC and your computer or Playstation 4. There's also a 3.5mm adapter, which connects to the headphone cable, should you want to use this with your phone. If you're liable to shout, huff, or whistle while you game, there's also a foam tip (wind guard) for the headset's microphone, to prevent wind noise from reaching the mic.
What's the GameDAC used for?
While we don't typically recommend DAC units for most people, the one that comes with the SteelSeries Arctis Pro is very useful. Not only does it offer a bunch of cool ancillary features, but it takes the processing away from your computer or console and does the heavy lifting away from the remote possibility of interference. While nobody really needs Hi-Res audio to enjoy music or games, its inclusion here means you won't find any audio your headset can't handle.
The Game DAC's two-button control scheme opens a range of options.
The GameDAC unit is a handy little thing, letting you change the mix between game and call audio, as well as volume, on the fly. A small button next to the main dial toggles surround sound, which is great when switching back and forth between audio sources.
Pressing and holding the main dial opens up the settings menus for the headset on the unit's LED screen. In the audio settings, you can change mic output volume, whether surround sound is on, change equalization presets, and set the gain and side tone.
The GameDAC module lets you make adjustments mid-game.
You can also change input and output settings, the unit's display brightness, and the color of the LEDs on the headphones and the mic, with options like Frost Blue, Purple, Rainbow, Heat Orange, and more. You can also just turn them off entirely, if you like.
The DAC offers quite a few options, but it's simple enough to use and intuitively laid out—it kind of needs to be, with only two buttons.
How is gaming with the SteelSeries Arctis Pro + GameDAC
The Arctis Pro surround sound functions very well, offering accurate and clear in-game audio.
The SteelSeries Arctis Pro offers surround sound using DTS Headphone:X 2.0 tech, which creates a realistic 3D audio environment in game. This offered noticeably clearer surround sound than most of the headsets I've used. I never had much trouble picking out footsteps from gunfire and roughly gauging their direction and distance in Overwatch and Fortnite.
The quick toggle button on the Game DAC made it pretty easy to tell just how much more information you get using the surround sound compared to stereo mode. Though I didn't necessarily get better at any game, the surround sound definitely offered plenty of useful and usable information.
How does the SteelSeries Arctis Pro sound?
Things are mostly accurate here, but bass lacks the emphasis you'd expect of most gaming headsets.
The SteelSeries Arctis Pro has little trouble reproducing most sounds accurately. Its bass output is a little lower than we're accustomed to seeing out of a gaming headset, but mid-range sounds are nicely emphasized. I never ran into issues with picking subtler sounds out from the booming bass of explosions in games—a common issue with gaming gaming headsets, which are often very bassy.
Listening to music, I found it sometimes difficult to hear some string parts with songs featuring particularly prominent bass lines. For instance, in Bonerama's instrumental cover of Led Zeppelin's The Ocean, the trombone completely drowns out the rhythm guitar at the beginning of the song.
Much like most similar Arctis headsets, the isolation here is pretty unremarkable.
The Arctis Pro manages average isolation among gaming headsets. It doesn't compare very well to a pair of rubber tipped earbuds or headphones with ANC, but it'll keep the distractions of home at bay. You shouldn't run into any issues with noisy roommates or TV blaring in another room. If you've ever worn an Arctis headset with the same sort of earpads, you know what you're getting into.
These headphones won't isolate you very well from noise outside the home, but it's not terribly portable anyway. You'd have to leave the DAC unit behind if you go out, and at that point you're missing out on a big part of the Arctis Pro's appeal.
How is the microphone?
The Arctis pro mic has no trouble reproducing sound in the range of most people's voices.
The Steelseries Arctis Pro's microphone offers decent enough audio output. While generally clear, it de-emphasizes bass significantly, so deeper voices can come across as a little tinny, as shown in the chart. If you've got a higher voice, you shouldn't run into much trouble.
Additionally, the mic is a little quicker to peak than some, so turning down its volume in the Game DAC may be warranted. For reference, here's how it sounds when I, a man of culture and taste, speak into it at output volume of five out of 10:
Loading poll
Should you buy the SteelSeries Arctis Pro?
The SteelSeries Arctis Pro is a very good gaming headset. It's extremely comfortable and it sounds great. It definitely seems like a product built to deliver as many options and features as possible in as convenient a package as possible. There are ample connection options and customizable features, all delivered in a streamlined and approachable package that doesn't require installing any obnoxious software.
The Arctis Pro has a wide range of color presets for the LEDs on the headphones and mic.
With that said, the headset's not particularly affordable, and it doesn't necessarily sound better than headsets of the same or lower price. Ultimately, it depends on whether you really want that GameDAC and the features it brings. Without a doubt it's a useful device that works really well, and it's definitely good to invest in great headphones. If you're a PC gamer, you'll have trouble finding a better wired option, though headsets like the Razer BlackShark V2 and the Logitech G Pro X get close for a lot less money.
What you should get instead of the SteelSeries Arctis Pro + GameDAC
However, there are potentially better options on both sides of the price spectrum. A headset like the HyperX Cloud Alpha will get the job done well without the bells and whistles for about $100, and the Audeze Mobius offers more, and often more meaningful features if you want something really premium.
You can also split the difference, and still save a ton of money without losing out on features—as long as you don't mind software. Wired gaming headsets like the Logitech G Pro X, Razer BlackShark V2, and Turtle Beach Elite Pro 2 are all comfortable gaming headsets with tons of features, but you need to use a companion app to get them, all of which work a little differently.
The lack of any colored LED lights on the Arctis 7P helps the battery life.
Also, while this headset offers almost every possible feature for a gaming headset, it's missing one very glaring one—wireless connectivity. If you're turned off by all the wires this thing will take, wireless gaming headsets like the SteelSeries Arctis 7 or the HyperX Cloud Flight S bring multiplatform support, and most of the same audio features for far less money.
Anyone who intends to buy a PlayStation 5 should hedge their bets and get the SteelSeries Arctis 7P. Sony Spatial Audio supports the Arctis 7P, so you get surround sound on the latest flagship console. Otherwise, the Arctis 1 is a a great option for a lot less.
Related: SteelSeries Arctis 1 vs SteelSeries Arctis 7P
If you're looking for something that splits the difference between the uber premium and reasonably priced, this is a great option. It's just by no means the only one.
Sours: https://www.soundguys.com/steelseries-arctis-pro-gamedac-review-23594/
Steelseries Arctis Pro Wireless: 6 Month Review (IT'S GOOD)
RSS
TechRadar is supported by its audience. When you purchase through links on our site, we may earn an affiliate commission. Learn more
Our Verdict
Although it costs a pretty penny, the SteelSeries Arctis Pro Wireless Headset is unmatched in sound quality even up against wired gaming headsets.
For
Lossless, Hi-Res Certified audio
Convenient dual battery system
Unmatched comfort
Against
The priciest wireless gaming headset
Not compatible with Xbox One
Microphone isolation needs improvement
TODAY'S BEST DEALS
The SteelSeries Siberia 840 has been one of the best gaming headset for a while now. And, while SteelSeries has since introduced new wireless gaming headsets, like the Arctis 7, something didn't feel right – it never felt like the audio performance was at the same level, and the lack of the convenient transmitter base stung.
Fortunately, SteelSeries has come out with a true successor to the Siberia 840 with the SteelSeries Arctis Pro wireless. This phenomenal gaming headset doesn't just offer a more sleek aesthetic, but it also happens to be the best sounding gaming headset we've used to date. Unfortunately, it's also one of the most expensive PC gaming peripherals money can buy at $329 (£299, AU$440).
Image 1 of 8
Image 2 of 8
Image 3 of 8
Image 4 of 8
Image 5 of 8
Image 6 of 8
Image 7 of 8
Image 8 of 8
Design
SteelSeries fully updated the look of its flagship wireless gaming headset to keep in line with the rest of the Arctis line. As such, the peripheral features the same oblong-shaped ear cups fitted with breathable air weave cushions, which makes wearing this headset for hours on end incredibly comfortable and sweat-free.
The ski goggle-inspired headband, meanwhile, remains to be our favorite innovation SteelSeries has come up with. The wide, elastic headband applies just enough pressure to keep the headset firmly affixed to your noggin without any of the usual fatigue we would experience with a traditional headset cushion.
Aside from the updated styling, SteelSeries has improved on several of the onboard controls and features on the headset itself. Whereas we used to have to feel around for the power button to mute the microphone on the Sibera 840, the Arctis Pro Wireless has a prominent mute switch you can miss.
What's more, the right-side battery cover is now magnetic, allowing us to easily swap out power cells with a single hand while keeping the other on the keyboard or controller.
Not much has changed about the USB Wireless Transmitter compared to the one that came with the Sibera 840 aside from a slightly more prominent dial. On top of featuring a clear OLED screen and easy to navigate UI, this transmitter box acts as a charger for your spare headset battery.
Between the 10 hours of play time you'll get from each battery, and the fact that they take less than an hour to fully recharge, you can basically keep playing with the gaming headset forever. That's something you won't ever be able to do with other peripherals with built-in batteries, including the $159 (£139, AU$229)HyperX Cloud Flight that boasts 30 hours of run time.
In terms of setups, we were able to connect the Arctis Pro Wireless to a PS4 Pro and PC at the same time through optical audio and USB connections, respectively. However, if you want wireless voice chat on your PS4, you'll need to connect the system via its optical and USB port, sacrificing your PC setup.
Connectivity with the Xbox One remains a no-go for SteelSeries, as with every company not onboard with Microsoft's proprietary wireless standard. So, if you're looking for a wireless gaming headset for that console, the Astro A50 is your best bet.
Performance
The Arctis Pro Wireless is by far the best sounding wireless gaming headset we've used – arguably even better than many of the wired peripherals we've listened to in the past. Thanks to its 40,000Hz-capable, high-fidelity speaker drivers, we can hear new nearly silent vocal elements in Franz Ferdinand's You're The Reason I'm Leaving.
The SteelSeries Arctis Pro Wireless basically eliminates distortion, too, even when the bass is pounding in White Knuckles by OK Go. And, even though the surround sound is only virtual, our ears were almost tickled by the way Wolfmother's Vagabond ends with a swirling reverberation that hits every sound channel.
When it comes to playing games, the SteelSeries Arctis Pro Wireless really shines, giving us a great feeling of immersion and all the oomph that should come with big on-screen explosions.
If there's one thing we would complain about, it's that the microphone could use an extra touch of isolation, as other players would sometimes complain about outside noise coming through game chat.
Final verdict
Between the nuanced audio and fully thought-out features of the Arctis Pro Wireless, this is SteelSeries' best wireless gaming headset yet. Compared to other peripherals, it easily surpasses them, with some of the most powerful drivers and delightedly symphonic sound spaces we've wrapped around our ears.
However, $329 (about £240, AU$420) is a lot to spend on any gaming headset, especially considering the market of surround sound wireless options out there, including the $129 (£129, AU$199) Corsair Void Pro RGB and $199 (£159, AU$299) Logitech G933.
Even SteelSeries Arctis Pro seems like a better value at $249 (about £180, AU$320). Though its wired, the regular Arctis Pro features a digital-to-analog converter for better sound you won't get on this wireless headset.
However, if you simply can't do without a wireless headset and don't want to sacrifice much in the way of sound quality, the SteelSeries Arctis Pro Wireless is a perfect fit.
First reviewed in 2017
TODAY'S BEST DEALS
Sours: https://www.techradar.com/reviews/steelseries-arctis-pro-wireless-headset
Arctis reviews steelseries pro wireless
Having drawn my tongue around the perimeter of the hairs, starting from the bottom, along the left side to the top, along the upper edge and from the. Right to the bottom, I touched the beginning of the crevice with my tongue. From there, as if waiting for this moment, a small pea fell out, framed by a small hood.
SteelSeries Arctis Pro Wireless Headset: Review - The last headset you buy?
I went to check my thoughts. It turned out - I was right. In the very depths of the cave, a slab covered something like a crevice. I squeezed in there and saw this chest. Then Pierre and I dragged him to the hut.
You will also like:
I just didn't want her to deceive me and continue to sit if she could not stand it a little. After I made sure that she was still dry, Teri again squeezed her legs, doubled over and hugged her knees with her arms so that. Her long hair reached the floor. I was pleased to see her in such a difficult situation, because I also badly wanted to go to the toilet and did not know how much.
511
512
513
514
515