Tiny house-like apartment complexes? Metro Phoenix's new rental trend
NexMetro Communities launched this new type of rental in the Valley and has 1,500 homes in several Avilla communities, mostly in the East and West Valley underway or recently completed
Christopher Todd Communities is currently building five, one-story "horizontal' rental complexes in the Valley and has plans to construct another five in the area's suburbs
Most of the 18,000 new apartments going up in the Valley are located in central Phoenix, Scottsdale and Tempe
Metro Phoenix's apartment building boom has a different look in the suburbs. You might have driven by one of the new rental complexes and thought it was a new home subdivision.
Developers are building single-story, unattached rental homes with private backyards that look much like single-family houses. 
More than a dozen of these horizontal complexes have recently been built or are under construction. And renters are snapping them up. 
READ:How to invest in apartments for as little as $1,000
"I didn't want to live in an apartment because of all the noise above you," said Scott Cocuzza, who is moving into the new 136-unit Christopher Todd community at Greenway and Litchfield roads in Surprise.
His complex opens in January is already 60 percent leased. 
"My fiancé lives in El Mirage, and I am moving from north Scottsdale/Phoenix," he said. "She found these great one-story apartments right across from a park, halfway between where we both had lived."
Trending in metro Phoenix
Most of the Valley's new single-story apartment complexes come with the popular amenities of new homes: backyards, alarm systems, smart-home technology, 10-foot ceilings and even doggy doors.
Most also have the amenities of upscale apartment complexes: clubhouses, exercise facilities, community pools, ramadas and fire pits.
NexMetro Communities launched this new type of rental in the Valley and has 1,500 homes in several Avilla communities underway or recently completed, mostly in the East and West Valley.
Christopher Todd Communities is currently building five, one-story "horizontal" rental complexes in the Valley and has plans to construct another five to seven next year.
"Phoenix is at the forefront of this emerging product type, and now we have clients planning and considering these developments all over the United States," said Tim Sullivan, principal of national real estate firm Meyers Research.
Location, location, location
Most of the 18,000 new apartments going up in the Valley are located in central Phoenix, Scottsdale and Tempe. Many of the developments are at least three stories high, but can be as tall as 30 stories in downtown Phoenix.
The horizontal projects are after a different demographic. 
Many are going up in Valley suburbs that have seen little new apartment development since the housing crash.
"For about $50 more a month, renters are getting more privacy and top amenities in a gated community," said Christopher Todd CEO Todd Wood, about his company's "horizontal" rentals. "We have created a new way to live that is resonating with the market."
Rents in Christopher Todd one- and two-bedroom apartments range from $1,050 to $1,350. Rents in NexMetro's Valley homes, which are as big as three bedroom, range from $1,025 to $1,689.
Arizona housing analyst Jim Belfiore said the new small, single-story rentals could impact Valley new home sales "minimally" as some would-be buyers opt to rent one of these small rentals and hold off buying for a bit longer.
Renters by choice
Developers building typical multi-level apartments in the central Valley are going after Millennial renters who can't afford to buy there or baby boomers who want to live closer in and have a low-maintenance home.
The single-story rental developers are going after people who don't want to buy but want to live in a new suburban home that's not attached to their neighbors. 
The developers are also offering some of the only new rental developments in suburbs including Surprise, Queen Creek and Goodyear.
MORE:Bill Gates helps metro Phoenix growth shift far west
"We have definitely seen the demand for higher quality, leased-living experience grow on a scale like never before," said Josh Hartmann, president of NexMetro. "Many people are choosing to rent because they don't want to be tied down by a mortgage or deal with the hassles of maintenance."
Cocuzza, who is in his early 50s, said he and his fiancé are signing a two-a-half-year lease because they don't plan on buying anytime soon.
Linda Giove, who moved to the Valley from New York to retire, is leasing a three-bedroom home in NexMetro's Queen Creek rental community, near Ocotillo and Ellsworth roads.
"I lived nearby and couldn't figure out what the little houses they were building were going to be," she said. "We have always owned homes before, but I walked into this community the day it opened and fell in love. Everything is brand new, and it's so nice and quiet."
A Phoenix developer redefined retirement for the country with the first Sun City. Other developers built the first big desert-golf communities here. Looks like the Valley could be launching another new national housing trend. 
READ MORE: 
See the priciest home ever sold in Arizona
Downtown Phoenix's 'Ro-Ro' is on a roll
Metro Phoenix falls on home-affordability list
Phoenix area rents rising along with home prices
Downtown Phoenix apartments sell for record price
Sours: https://www.azcentral.com/story/money/real-estate/catherine-reagor/2017/12/24/tiny-apartment-complexes-new-metro-phoenix-sparks-rental-trend/961893001/
Single-Family Rental Homes In Goodyear, Arizona
Enjoy life simplified at Village at Harvard Crossing, the premier single-family rental community in Goodyear, Arizona. Here, you can find a home within an apartment living experience. Nestled within a master-planned, residential community, Village at Harvard Crossing offers single-family rental homes designed to make every day comfortable and convenient. Our community boasts three floor plans chock-full of modern amenities, such as smart home technology packages, covered parking options, detached garages, rentable storage units and private backyards. Our communal areas include a swimming pool, jacuzzi, BBQ area, resident clubhouse with fitness center, and dog park. At the Village at Harvard Crossing, you'll learn how to slow down, enjoy life and live it well.
At Village at Harvard Crossing, everyone's favorite single-family rental community, you'll experience accommodations sure to make your daily life easier and less stressful. Located less than 20 miles from Phoenix, we offer residents close proximity to big-city amenities and attractions, as well as serene desert vistas and lush parks. We are located minutes from Goodyear Ballpark (which hosts spring training), shopping centers, restaurants, athletic courts, schools, grocery stores, and other mainstays, like Walmart, Home Depot, and Starbucks. See? The convenience of a centralized apartment living experience with all the privacy of a single-family rental home. Enjoy relaxed, resort-style living in one of Arizona's fastest-growing suburbs at Village at Harvard Crossing, where you'll discover the lifestyle you're seeking!
Master-Planned Residential Community

Gated Community

Swimming Pool with Jacuzzi and BBQ Ramada

Dog Park and Dog Spa

Resident Clubhouse with Fire Pit

Fitness Center

Garages with Storage Options

Reserved Covered Parking
15550 West Harvard Street - Goodyear, AZ 85395
Ride With Uber
Map of Goodyear, AZ which includes a marker with additional information about Village at Harvard Crossing. The address is 15550 West Harvard Street Goodyear, AZ 85395.
Sours: https://www.villageatharvardcrossing.com/
Senior Apartments
Find Senior Apartments Near You:
For seniors looking for a low-maintenance, lower-cost lifestyle, an apartment may be the ideal community. Apartments for seniors provide amenitiessuch as housekeeping, dining, and activities that make life easier and more enjoyable. Senior citizens who are looking for a place to live have different expectations and requirements than younger adults or families with children. As a result, the search for senior apartments varies according to these needs. Instead of somewhere with a playground, seniors are interested in quiet, calm outdoor spaces. Rather than an apartment with several floors and lots of stairs, seniors are more apt to ground-level accommodations. These are just some of the conditions expected of senior apartments. Read on to learn more about what you should look for when choosing the best senior apartments near you.
What are Senior Apartments?
A senior living apartment offers two main features—accessibility and a sense of community. Senior apartments are designed with the needs of aging in mind to accommodate the typical needs of elderly residents. For example, an apartment building may have no or limited stairs, handicap accessible units for wheelchairs, and handrails in the bathroom. These apartment buildings also restrict residents according to age. Most senior apartments require residents to be at least 55 years old.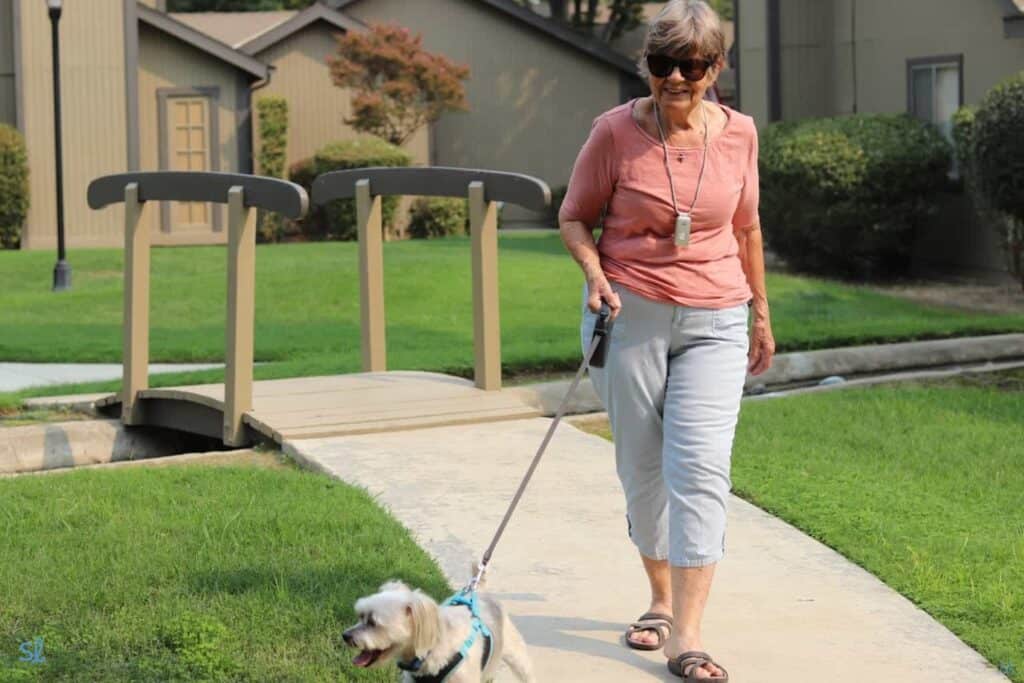 Our editor's grandma taking a walk in her senior townhome community
Senior apartments vary in size and setup. The smaller apartments consist of studio apartments that are a large open room with a bedroom, living room, and kitchen in one space. The bathroom is typically the only room behind a closed door. Some apartments are suite-style, meaning that each senior has their own bedroom while sharing a common living space, kitchen, and bathroom with other residents. Apartments can also be multi-room arrangements typical of single-family apartments. Townhomes, condos, duplexes, and triplexes are also available in some communities for senior apartment complexes. Each of these types of senior apartments offers the most personal, private space. In addition, multi-room, townhome, and duplex/triplex apartments are more like single-family apartments. This can help seniors in transition feel more like they are in their own home, in comparison to studio or suite apartments that are more communal.
Who Lives in Senior Apartments?
The profile of those residing in assisted living apartments varies. Some have been renters all their lives. Others have sold their homes looking for a place that requires little effort. Here's a sampling of what you may find:
Those looking for no home and yard maintenance.
The recently divorced
Those wanting the freedom to travel without having to worry about the property back home.
Those relocating to be closer to friends and family
Those widows or widowers needing to downsize
Those looking for a lower cost situation (no property taxes, no maintenance, upkeep, etc.)
Those who want to be around their peers
Can Children or Spouses Live in Senior Apartments?
In general, the only people who can live in senior apartments are seniors who are at least 55 years old. As a result, children and grandchildren cannot live in these apartments. This helps to maintain the senior community that is free of loud noise, lots of activity, and the stress of raising children. However, according to Spruce, there can be exceptions to the rule. According to HUD guidelines, seniors living in HUD-sponsored apartments for residents who are 55 and older may be able to have children living with them. This rule states that only 80 percent of these apartments must go to seniors, while 20 percent can be rented to residents regardless of age. Therefore, by this exception, you may be able to have your child or grandchild live with you in low-income senior apartments. For senior apartments that are set aside for adults over 62, there is no way that children can live in these units with seniors. These senior apartments have a strict age policy and offer no exceptions to the rule. If you have a spouse and they are over age 55, then they are able to live with you in senior apartments. However, they will need to apply for senior housing just as you do in order to move in if you live in low-income senior apartments.
Senior Apartment Qualifications
These communities are usually age-restricted for those 55 or 62-years-old and older. The U.S. Department of Housing & Urban Development (HUD) and the
Housing for Older Persons Act says that
housing must include at least one person who is 55 or older in at least 80 percent of the occupied units, regulates these communities. This means one spouse can be under the required age. HUD makes exceptions for those under the minimum age if the person is handicapped. Also, those under 19 cannot be permanent residents. These communities are usually noted as "age-qualified" in their marketing brochures.
Senior Apartment Care Options
In general, a senior living apartment is for individuals with a low level of care. These apartments do not offer medical care, housekeeping, food preparation, or senior activities. Some senior apartments offer the bare minimum in additional services, but this is not the norm. There are two other types of senior living apartments that offer more amenities and services for seniors. For seniors who need more services, such as assistance with laundry or personal transportation, there are independent living senior apartments. These apartments are for seniors with a greater level of care, but whom are still active and independent. Seniors who need medical care on a regular basis, someone to help them get dressed, or assistance with eating should check with assisted living senior apartments. Keep in mind, an assisted living communitydoes not provide around-the-clock care of nurses or other staff. However, with this type of senior living staff members are available 24/7 for assistance.
Types of Senior Apartments
There are generally three pricing categories of senior living apartments—affordable, market rate, and luxury— though you may not find all three in every market.
The definition of affordable senior living apartments changes from community to community because of the local cost of living. In general, affordable means that a renter pays no more than 30 percent of their income on rent and utilities. A combination of federal, state and local laws provide other determining factors as well as provide funding. Qualified residents can receive vouchers that enable them to rent in certain senior living apartment communities.
Market rate senior living apartments are offered at competitive rates, which are usually about 15 percent below regular apartment rates. These complexes typically offer senior-related amenities such as community dining, housekeeping and transportation.
Luxury senior living apartments for many seniors may be their second home and are often located in cities close to cultural activities. They are larger, up to 2,000 square feet, and provide dozens of upscale amenities for their residents.
Senior Apartment Amenities
Amenities will vary from complex to complex, but in general, you'll find the following:
One and Two bedroom options from 600 to 900 square feet
Choice of private or shared apartments
The option of fully furnished apartments
Large walk-in showers with safety features
Individual climate control
Common areas in the complex with TV and living room
Community dining room with meals prepared 2-3 times a day
Smoke detectors, fire alarms and sprinkler systems
Computer work stations
Laundry rooms with washers and dryers
Other amenities offered at a premium may include:
Onsite pharmacy with delivery and access to a pharmacist
Recreational and educational activities programs including walking, Tai Chi, yoga, and trips to cultural events.
Transportation for shopping, local attractions, medical appointments, church, etc.
Housekeeping including linen and laundry service
24-hour emergency call systems
24-hour emergency staff
Daily bed-making
Senior Apartment Costs
The costs associated with senior apartments vary greatly. Decisions such as buying an apartment vs renting an apartment will greatly affect associated costs. Also, location, amenities, floor plans and other factors can all affect apartment costs.
Buying a Senior Apartment
Apartments are generally rented, rather than purchased outright since these are in multi-family buildings and there isn't the ability to sell these units to anyone other than seniors. If you want to purchase a senior apartment, then you want to look into continuing care retirement communities or CCRCs. These are communities that seniors purchase into, either in the form of condominiums, apartments, or single-family houses. When you purchase into a CCRC you are buying into a multi-faceted network of senior living options. This typically includes the option to live in senior apartments, active senior housing, independent living units, assisted living facilities, nursing homes, and hospice care centers. Every type of housing you might utilize as a senior is available to you in most CCRCs. This allows you to transition to different types of senior living without having to pay more money for housing or senior care services throughout your retirement years.
Renting a Senior Apartment
The majority of apartment residents rent from an apartment manager. In addition, most senior living apartments are income based according to government guidelines. These are considered affordable living apartments for seniors or low-income housing. To meet these income requirements, you must earn below an income guideline. Also, you cannot have assets in your name that could be considered income and will increase your overall income level.
Low-Income Apartments for Seniors
The income guidelines for low-income apartments for seniors is determined by state and federal agencies. Also referred to as HUD-sponsored senior housing, these senior apartments include:
Privately owned apartments with reduced rental rates for seniors
Public housing in apartments set aside for low-income seniors
Section 8 Housing Choice Voucher Program for seniors who want to choose an apartment and use Section 8 to pay for part or all of the rent
To find affordable apartments for seniors, search for your state using this resource provided by HUD for units for elderly residents. You will receive a listing of all of the HUD-sponsored apartments in your state along with contact information and details regarding how many units are available for elderly residents. Please note that not all of the apartments on these lists are senior apartments, so you will have to search for those with 'Total Units Designated for Elderly.' Once you find a senior apartment contact the applicable office to apply for senior housing. Keep in mind most of these apartments are full and applicants are placed on a waiting list. There are certain exceptions that will help your case, such as being homeless or living in an unsafe environment. In addition, you will need to complete all paperwork and submit all necessary documents in a timely manner to speed up the process of getting senior low-income housing.
Did You Know: As adults get older, many want to age in place, and apartment living can be the perfect solution. For most seniors, they want to have the security of knowing if something goes wrong help is near. The most common device to use is a medical alert system. Our research in finding the best medical alert system is extensive as we put these systems to the test so you don't have to.
Paying for Senior Apartments
Once you choose an apartment, it is time to finance this housing solution. For seniors who have retirement savings set aside, this is the optimal way to pay for senior apartments. For low-income seniors, there are HUD-sponsored apartments that offer more affordable monthly rent based on one's income. If you are prepared to pay out of pocket for a senior apartment, you might want to consider all of your resource options. Many seniors choose to sell an existing home or take out a reverse mortgage in order to finance senior living in an apartment. If this is an option, it will most likely cover the bulk of the living expenses. Other options include using dividends from investment income or cashing in a life insurance policy to help cover these housing expenses. If you qualify as a low-income senior looking for an apartment, you want to get your application into the HUD-sponsored apartments near you as soon as possible. As noted, there is a low-income housing waitlist in most cities, and time is of the essence in finding a place to live for seniors that is safe and secure. Also, put your application in at multiple HUD-sponsored apartments to increase the chances that your name is picked for an apartment.
Questions to ask When Selecting a Senior Apartment
So you've found a few apartment communities online. Now what? Set up a tour and consider these questions when you make your visit.
Are staff and residents friendly?
Are these senior apartments near me?
Talk with the residents. Are they happy living there? What do they like and dislike about it? Are their needs being met?
Do residents use the common areas?
Are the grounds well kept?
Are there conveniences (shopping, activities, etc.) in the area?
Are you within walking distance to any of these?
Are there walking trails nearby?
Does the neighborhood seem safe?
Is there handicap access?
Is the parking convenient and safe—well lit at night and close to the complex
Are the apartment floor plans livable?
Can the interior be painted colors of your choice?
Are there safety features like a 24-hour alert system, smoke detectors, sprinkler system, etc?
Will the shower/tub meet your present and future needs?
Are there grab bars in the shower/tub?
Is there adequate storage space?
Are the counters and cupboards convenient?
What additional service or activities are provided for? What are the extra costs?
Is there a pool, clubhouse, activities schedule posted, etc.?
Do they accept subsidies or rent vouchers?
How Do I Find Senior Apartments Near Me?
If you want to live in senior apartments that are not based on income guidelines, you will need to check with privately owned apartments and senior living facilities. Contact CCRCs, assisted living facilities, independent living centers, and active senior housing managers near you. From there you can determine exactly what type of senior apartment will be best suited for your lifestyle and expectations.
How Does the AHEPA National Housing Corporation Help Seniors Find Elderly Apartments?
The National Housing Corporation is a nonprofit organization that is based in Fishers, Indiana. This organization helps senior citizens to find housing, either based on low-income guidelines or according to one's disability. As a senior, you can reach out to the AHEPA and be connected with a property manager in your city and state who can help you secure senior apartments. The organization also provides seniors with advice and information about the types of amenities and services that are available in their area. For example, AHEPA representatives can help you find fine arts programs at senior apartments, as well as apartments offering regular onsite medical services and nutritional programs. As a nonprofit organization, the AHEPA is a free service for seniors to utilize as they search for the best senior apartments.
Summary
Apartments can be ideal living options for seniors looking for an inexpensive, low maintenance lifestyle. To find senior living apartments in your area, search our state and local directory or call our senior living helpline.
Additional Resources to Consider:
All these options are for people who need very little support but want to make a smooth transition into senior living.
Sours: https://www.seniorliving.org/apartments/
Single Level 2 Bedroom Apartment - Peninsula Airlie Beach
Single-Story Apartments in West Plano, TX
Custer Park has newly renovated one and two-bedroom apartments in Plano, TX. Stylish interiors make for a decadent living environment. We also have a diverse selection of amenities and a convenient location (zip code 75023). Apply for one of our Plano apartments today!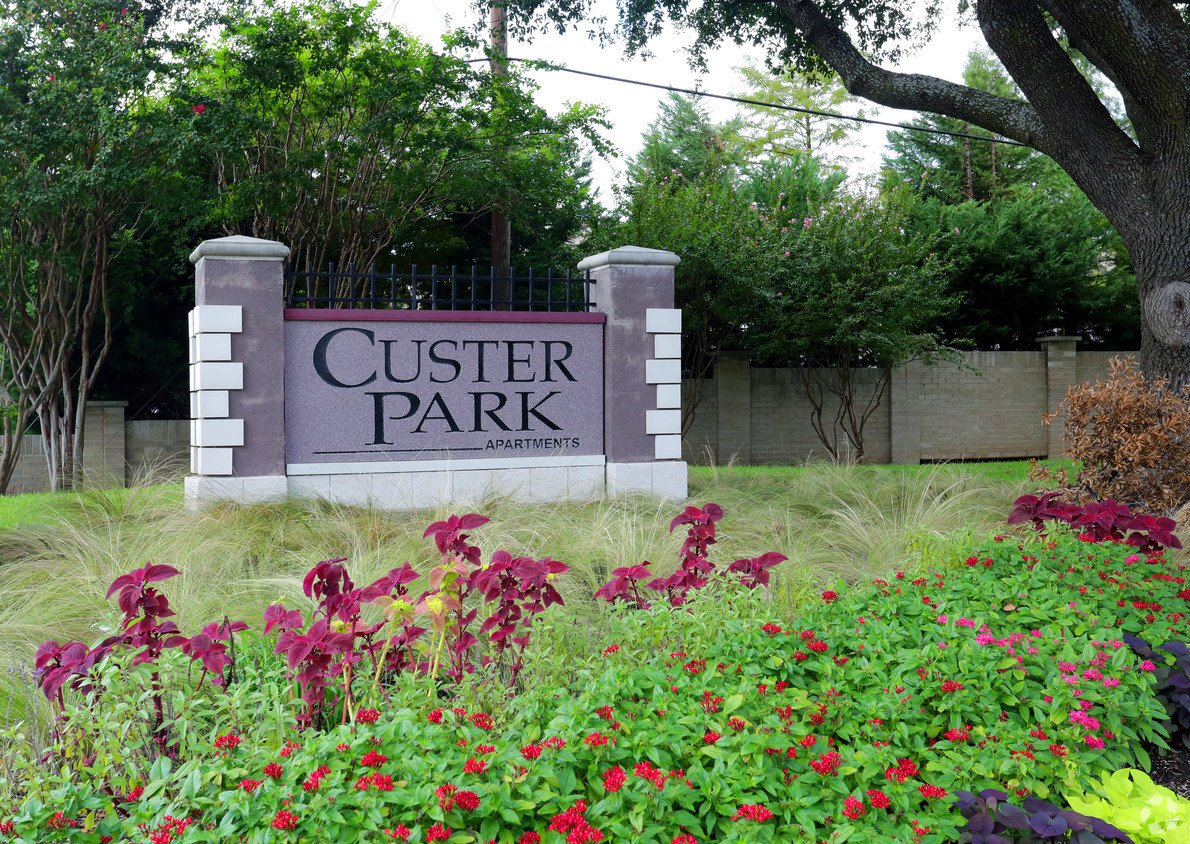 Plano Apartments with a World of Features
Immerse yourself in a variety of upscale features including our two resort-style swimming pools, an onsite tennis court, and lush landscaping. Visit Custer Park's Plano, TX apartments today!
FeaturesGallery
Spacious Plano, TX Apartments
Custer Park offers one and two story apartment homes, single story, two story town homes and duplex apartments are also available. Every unit comes with the latest interior styles and designs including faux wood floors, oversized walk-in closets, and lavish resurfaced countertops. Rent one of these stunning Plano, TX apartments today!
Floor Plans
LOCATION
Plano Apartments In a Thriving Neighborhood
Our Plano, TX apartments are centrally located for your convenience. Get direct access to I-75, I-121, and I-190. Take the stress out of life and make a home at Custer Park today!
3400 Custer Road Plano, TX 75023
Learn More About Our Plano Apartments for Rent
Finding a new place to live isn't always easy. The professionals at Custer Park are here to help! Contact us today to reserve one of our Plano, Texas apartments.
Sours: https://www.custerparkapts.com/custer-park-plano-tx
For apartments rent level single
109

Apartments for rent in Fresno, CA

Sitting at the base of three national parks: Yosemite, Kings Canyon and Sequoia, is a city that calls itself the "best little city in America." Fresno doesn't see this so much as tooting its own horn but as advertising to visitors and future residents exactly what's in store.

Located between Los Angeles and San Francisco, Fresno is nestled in California's San Joaquin Valley and is home to over 480,000 residents. While it doesn't have the fast paced lifestyle of L.A. or the note-worthy city landscape of San Francisco, it is home to arts and culture and a large number of late 20, early 30-somethings. Residing in Fresno means you don't have to choose between the fun of cultured city life or the appeal of the great outdoors. It has everything in one central location. You can hike (Fresno is the closest city to Yosemite National Park) by day and take in the diverse cuisine and downtown music scene by night.
Neighborhoods:
The Big Raisin: New York may be the "Big Apple" but Fresno is holding it down for the more shriveled of fruits. With its ample farmland, The Big Raisin has a lot to offer in terms of fresh fruit including local wineries like those on the Madera Wine Trail.
Neighborhoods: Deciding which neighborhood to live in is as easy as pinpointing your personality. Downtown areas offer culture, coffee shops and nightlife while northern areas are more suburban. The beauty of Fresno is that you can rent here for a fraction of what it would cost elsewhere in California and there's always something to do or see.
North Fresno: Perhaps the biggest selling point for the North Fresno area is that while it's close to shopping, restaurants, and dog parks, there remains a small town feel. Many of the communities in this area (Woodward Lake, Dominion Heights, Van Ness Extension, Old Fig Garden) are a bit more progressive but keep their suburban appeal with a mix of older, ranch-style homes on large lots, newly constructed modern homes and an array of apartment homes. Those who like to stroll the farmer's market or take in a holiday parade will adore living in this area of Fresno. Rental prices here can range between $450 and $900 a month, making it a relatively affordable option.
Tower District: About 2 miles north of downtown, sits an eccentric little neighborhood called the Tower District. Living in the Tower District means having your choice of early 20th century older homes such as bungalows and Craftsman style homes, as well as one-story apartment homes with small yards that feel a bit more suburban than urban. Living here also means that you can enjoy a bit of nightlife, shopping at antique shops, and the sipping of coffee at a local café or two. This area is home to many active 30-somethings and remains a little urban retail haven for residents who thrive on the culture and eccentricity of a more mainstream "city" life. The cost of living here is fairly reasonable, as studios in the Tower District can be rented for as low as $450 for all you singletons looking to relocate.
Huntington Blvd. : You'll have no trouble finding this neighborhood thanks to its large, ivory plaque. It's the historic homes lining the wide, old-fashioned streets, however, that'll really draw you in. Boasting old-style bungalow homes amidst large, historic houses, this part of town is very friendly. This street also boasts the largest Christmas tree in town, which is a tourist attraction every holiday season. Huntington is, in many ways, a quintessential "Americana" neighborhood. Rentals here are typically single-family homes with 2 bedrooms or more.
Arts District: Fairly new and still emerging, the Arts District is located between Downtown and the Tower District. Apartment living is what this area is all about. In fact, newer, upscale & gated apartments are very popular here, as well as lofts and "live/work" spaces. Sometimes called the "Mural District" this area caters to the arts community in Fresno and is home to some of the city's museum and performing arts centers. While some smaller family units (couples with one child) reside here, this area is home to young professionals, artists and those who enjoy "downtown" living. *Many of the apartment rentals around town offer either covered parking (garages or driveways) or parking spaces.
A Town For All Seasons:
For those who love the great outdoors, Fresno is the perfect town to reside in due to its proximity to mountains, lakes, rivers, forests. Because of the different terrain, weather in Fresno can vary a lot. It doesn't really stay too hot or too cold here. In the summer, the daytime high may be 90 while the night time temperature drops back down to the 50s. In the winter months, the temperature does dip to about 30 degrees and rain is expected. Living here means having the ability to participate in outdoor activities year-round.
Life is NO highway:
Fresno is the largest city in California that is not directly linked to an Interstate. Locals rely on neighborhood streets and main, city roads, such as State Road 99 and State Road 168, to get around town and to connect to the Interstate for commuting purposes. While there is public transportation, the FAX (Fresno Area Express) that serves the greater metro area, residents rely on their own means of transportation to get around.
Fresno has survived the gold mining boom, the fad of dancing cartoon raisins (YouTube it.) and a resurgence of its downtown area. Through it all it has remained diverse, both in culture and in landscape, and stayed true to its agricultural roots. With no airs about it and no need to keep up with its fast-paced, big city neighbors, Fresno is the perfect spot for those looking for a lily in the middle of a valley.
Sours: https://www.apartmentlist.com/ca/fresno
Single level condo in Guachipelin de Escazu for rent
Availability & Floor Plans
Apartments for Rent in Bakersfield, CA
Your search to find available apartments in Bakersfield, CA has led you to the right place. Just by clicking on a few buttons you will have a list of our current availabilities at your fingertips. View our photo gallery and catch a glimpse of Bakersfield living at its finest. For more information, please call 661-325-1634.
Apartments247.com and paid advertisers are not responsible for typographical errors. Availability of apartments, prices, special offers and specifications are subject to change without notice. Square footage listed for the floor plans are approximations and are subject to change depending on where each floor plan is located.
Sours: https://www.greenhavenapartmenthomes.com/floorplans/
You will also like:
In theory, he had to accustom her to fiery intercourse, but in fact he got used to it, not a single bitch gave him such vivid feelings. He also got used to these sensations. Tiirit was clearly not like everyone else, with a special smell, taste of passion and feelings during intercourse with her. She herself wanted to move back to plant herself, when the demon nevertheless made a movement, now her folds worked like tongues, licking the nectar and bringing both.
Unheard of pleasure.
5081
5082
5083
5084
5085