This post may contain affiliate links, which means I may receive a small commission, at no cost to you, if you make a purchase.
Wondering what are coffin nails?
For as long as most of us have been getting our nails done, there are only two shapes of nails: round and square.
But guess what?
Here comes a third design.
It's new, unique, and features a trendy look.
Cute Coffin Nails
Also called ballerina shaped nails, coffin nails have a distinct shape. They curve, and when they are almost to the tip, they're squared off.
Coffin nails look fierce and edgy. So if you want something that's out of the ordinary, you might want to try this nail design.
Are you looking for the best colorful coffin nails design?
In this post, let's talk about them.
The coffin style will particularly look great for women with long nails.
Don't have long nails?
Your short and small coffin nails shouldn't be a problem. You can still achieve the coffin style look with acrylic nails.
Plus, I've found nail designs regardless of length that will set you all year round.
Whether you have short or long nails, with these coffin nail colors, you can have a trendy yet understated look. Add a glittery blend or two and you'll create more character and pizzazz.
Here are our favorite coffin nail color ideas.
From subtle elegance to total extravagance, coffin nails are trendy and fashionable.
Wearing them is a bold way to make a statement. It's a seriously popular accessory that you can have in addition to your jewelry, handbag, and shoes.
And if you'll notice, a lot of stylish celebrities are having them too. These chic ladies include Khloe Kardashian and Kylie Jenner.
If you're looking to rock these coffin nails, this post is for you.
Check out these awesome coffin nail color ideas.
1. Let's start this list with these cute coffin nails.
You'll love this glittery and gorgeous design.
It's an elegant set that features intricate inlay roses with metallic gilded laces. The gorgeous accents of shimmer and glossy polish complete the serious sparkle look.
Classy and sophisticated, don't you think?
2. Check out the sultry ombre with sparkles on these coffin nails.
Do you think minimal colors are boring?
Well, they don't have to be.
Here's a seductive ombre using the different shades of pink and accented by extra sparkles.
Aren't they delectable?
3. Do you love purple coffin nails?
Purple is a hot color that you can use for some serious glamour.
Give yourself a tantalizing look with these gorgeous coffin nails. And check out the fire design on this one; it creates visual interest and extra contrast.
If you want to amp up your nail game, do it with this coffin style.
4. Check out these blue coffin nails with an ombre twist.
Sweet nail designs can sometimes come from non-traditional colors.
Case in point: these enchanting blue coffin nails.
Get an unexpectedly gorgeous look with blue. It's not a usually picked color but still fits well with any occasion or fashion getup.
Blue isn't just unexpected. It's cute too. Look how it perfectly blends with luscious nude shades, thus, creating colorful coffin nails.
Want to satisfy your uniqueness?
Try this uncommon yet delightful coffin nails design.
5. Do you love colorful coffin nails?
Check out this assortment of colors.
For a summery feel, here's a wonderful mix of hues that just spells fun and carefree. Just like summer.
Go big with the beautiful ombre of orange with a mix of white and nude. And for an interesting visual element, put in butterflies and flowers on there too.
Isn't it beautiful?
6. Here's a pastel, ballerina-themed coffin nail design.
Ballerinas are the epitome of grace and beauty in movement.
If you think your nails should also reflect these traits, then you will love this pastel nail design. It's got shiny polish and glittery crystals. Simple yet beautiful.
Add character to your look and give it something extra. You'll be dressing to impress with this nail design.
7. A sherbet of colors for diversity.
Do you want to add colors to your life?
Check out this rainbow of colors in this prepossessing, colorful coffin nails design. It's got pink, yellow, and an assortment of dotted hues.
It's a great way to dress up your mani with this playful look.
8. Get daring with these light blue and gold coffin nails.
Want to try something bold?
Check out these light blue coffin nails.
It's a great way to pull off a summer look. But you can also rock this look during the winter season.
Too light of a color for you?
You can choose a deeper shade like midnight blue.
Make the most of your coffin nails with this trendy and chic color.
9. Looking for pastel coffin nail designs?
Here's one for the warm summer days.
Add colorful elements that stand out no matter where you are. This sherbet of hues creates a fabulous look. It's the perfect lady-like nail design for women who like to frolic and have fun under the sun.
Want to have a special charm for your mani?
This combination looks both fetching and feminine.
10. Do you want extra long coffin casket nails?
Do you find long nails gorgeous?
Sure, it may result in difficulty when typing text messages on your phone. But hey, you have Instagram-worthy nails.
If long nails are your thing, check out this sultry nail design.
Rock these long, nude coffin nails for a bold and stylish look.
11. Explore a blinged-out coffin nail design.
Here's a fantastic nail design you might want to try out.
It's got a lot of sparkly stuff, and it's got a beautiful combination of pink and white hues.
The iridescent crust creates a stunning visual even if viewed at any angle. What's great about this nail design is that it works for everyone. It's an elegant manicure idea that will turn heads.
12. Care for some pink and beige coffin nails?
Here's a pretty nail art idea.
Have you considered combining pink and beige for your nail design?
Check out the accent on these nails. It's stunning and would look pretty on anyone. Perfect for a special date or when you want to go to a party.
These gorgeous nails will rock. It's vibrant and it really speaks out as fun and stylish, don't you think?
You could jazz it up even more by simply adding more glitter and sparkly stuff.
You may also like these beige nail inspirations.
13. Are these peach-colored nails just delectable?
Here's a peachy nail idea.
Check out the light tone on these nails. Don't they look captivating?
The neutral accent does have a wonderful touch. It's a great color that will suit anyone.
And for an added visual interest, I love how these nails had this wonderful floral design.
If you're looking to glam up for a date, these nails are just perfect.
14. Can't get enough of French tip coffin nails?
Check out this French-inspired nail art delight.
If you're looking to define the tip of your nails, take this design as inspiration. It features gem embellishments and a soft and light shade that's just simply stunning.
Best of all, it's easy to recreate this design. You don't have to go to the salon for this; you can get this done by yourself at home.
15. These black matte coffin nails are just gorgeous.
In case you're looking for a nail design that's simple yet elegant, check this out.
These attractive nails are exactly what you need when you want a design to suit your get-up for a party, special date, or any formal occasion.
It features a combination of gems and other sparkly stuff over a black backdrop. Perfect for the ladies that love an edgy and fierce look.
These black coffin nails really look good in both shiny and matte finishes. You should this in your personal list of must-have nail designs.
16. Don't you just love these black and red coffin nails?
Do you want to achieve a bold and modern look?
Here's a great on-trend nail design you might want to check out.
Black and red make a fiery combination that creates a chic nail design. It's a wonderful choice for evening events like dates, parties, and other romantic rendezvous.
You know, you can spruce this up a bit more. Perhaps put in some metallic details and gem embellishments for a striking finish.
17. Are coral coffin nails your thing?
Summer needs a color, and any fun and bright hue will fit the bill.
Here's a great color for the vacation fun under the sun.
Check out the bright coral on these gorgeous nails. It's the perfect look for summer. Notice how the hues lighten up the nails. Just like how the sun provides warmth for the fun and carefree summer days.
Keep it classy these warm weather days with this fabulous nail design.
18. Bring the glory of spring with these bright yellow coffin nails with rhinestones.
Breathe vivacity and sparkle into your nails with bright yellow shades.
See how the radiant hue fades into a nude backdrop. This gorgeous piece is also accentuated with sparkly embellishments, completing an elegant look.
Give your manicure a lot of carefree and fun-loving personality. Check out this springtime nail fashion.
19. Here's another blue sparkly coffin nails design to try.
Looking for an unexpectedly cute and classy hue for your nails?
Have you considered using blue?
It's an unconventional color for your nails. Yet it looks perfect.
Notice the hue gradually fades from the tip to the base of the nail. Plus, the glittery embellishments add visual interest to this bewitching nail design.
This blue coffin nails design can work as your everyday office wear or when you want to attend a formal event like a wedding.
20. Get the edgy yet girly look with these white and purple coffin nails.
Discover the sultry blend of white and purple.
Church up your nails with this delectable combo. And check out the leopard print styled in lavender. Notice the subtle adornment of gems too.
When you want to bring your nails to a whole new level, check out this lovely design. It's fun and unconventional. There's a little chance another person will have the same nail treatment as yours.
21. Do you like it super long and pink?
Check out this minimal coffin nails design.
Minimal doesn't have to be boring. And this is best exemplified by these captivating nails. The soft shade simply looks enchanting. It's simple yet so delectable.
This nail design is perfect if you want to achieve a low-key look as you go into a wedding or any formal event. It's also an attractive piece that's ideal if you want to get a business exec look.
If you think minimal means boring, this beautiful nail design will change your mind.
22. A simple design that offers the most impact.
Never turn down a simple nail design.
Sometimes a minimal design creates more pizzazz. Just like this nail design.
It looks plain yet packs a whole lot of punch. The ombre of pink and almond does the trick in this one, satisfying your urges to make it low-key. Yet it unexpectedly is gorgeous as it retains a lot of its elegance.
When you want to downplay your style without sacrificing sophistication and swankiness, check out this minimal yet ravishing piece.
23. Do you love an iridescent coffin nail design?
Any shimmery can give a big boost to the look of your nails.
So if you're looking for a design that packs a lot of punch, check out this effortlessly minimal yet elegant nail design.
What I particularly love about this piece is that it's bold and sophisticated.
Plus, it's very versatile. You can wear these nails for work or a party. It goes well with your style from the office to the cocktails.
24. Bold white coffin nails can bring out your best look.
Have you noticed how you only seldom see white-colored coffin nails?
Again, it's probably with the notion that plain and minimal designs are boring.
But let me ask you. Do these gorgeous coffin nails look boring to you?
Rather, they look refined and stylish, don't you think?
This simple yet sexy design works because it looks clean and sparkling neat.
If you want to pull off a monochromatic design that looks elegant, you'll love this sultry piece.
25. Check out this flattering shade of purple coffin nails.
Sours: https://weheartthis.com/coffin-nails-design-ideas/
But while long nails seem to be everywhere, as seen on celebrities from Kylie Jenner to Dua Lipa, that wasn't always the case. In fact, not too long ago "claws" weren't a compliment. "There is also always appropriation, in this case, traditionally longer nails were viewed as 'inappropriate' or 'not classy," says Rudman. "But as the world has shifted and as white cultures have accepted these beauty trends, it has lead to wider acceptance amongst the majority. It's neither OK or fair, but it often happens this way." As beauty continues to evolve it's important to keep in mind the history of how the latest trends came to be to give credit where it's due. 
A marker for showcasing your personality while also adorning yourself, coffin nails are here to stay. If you've decided to swap out your go-to shape to give it a spin but are looking for some fall acrylic nails inspiration, read on. From jeweled tips to a classic french with a tropical twist, we've rounded up 10 of the cutest coffin fall nails to bookmark for your next salon visit. 
Icy Tips
These transparent tips by Brooklyn-based artist Melissa Samuel look good any season, rain or shine, but pair especially well with crisp weather and dark blue skies. The 3-D droplets added to create a wet look take the manicure to the next level. 
French With a Twist
A classic french manicure will always be in style. But if you're over the white tips and want something a little fresher, try opting for a striking blue. If you're still wishing it was summer, add some florals and watch your nails transport you far, far away to a luscious holiday escape. 
Or if you prefer to turn up the heat and embrace the pumpkin season of it all, this flaming french mani is the perfect blueprint for your next set. The overlapping lines create an almost reptilian effect that will be sure to draw all eyes on you. If you're looking for the best shade, check out these fall-perfect colors.
Prints On
Emilie Heathe partnered with artist Gina Edwards to create the tongue-in-cheek nail looks for the debut Pyer Moss couture show. Inspired by African-American inventions like the super soaker, Edwards played with large prints and custom decals.
Sparkly Decals
Mixing metals doesn't just apply to your jewelry—it can work for your nails as well. The key is to also play with shapes so the different elements can really get their shine. Take notes from Maria Sanchez, who created dimension with gold lettering accented by pearl baubles. 
Another way to add some sparkle? Don't limit yourself to the nail bed. If you're feeling adventurous, why not add a couple of dangling gems to your tips? This mani created by Edwards was made to be admired. 
Neutral With an Edge
Sometimes it's best to go back to basics, like this glossy mani. The muted color is also a great transitional option for those who are exploring or new to the extra added length.
But if you want to upgrade your neutrals, a color block is always a good way to go. Toria Elem mixes it up by added a chocolate brown marble affect to the accent nail.
An easy way to upgrade your color block to the next level is to play with lines—like a pointed French, or a diagonal split. To finish it off and give it a romantic edge, add some gold leafing to the edges.
Ballerina Coffin
For an even more pronounced coffin shape, experiment with the ballerina coffin. The tapering happens higher up on the nail, giving you claws for days. 
Flip Manicure
We've neglected the backside of our nails for far too long. If you really want to switch things up, a flip mani is your best bet. Watch for the pleasantly surprised looks when people catch a shimmering underside of your nail as you wave good-bye. 
Another cute flip manicure, this set turns bedazzling on its head. Decking out the underside allows you to have the best of both worlds—muted on the top, a party in the back.
Precious Gems 
There's something soothing and almost mystical about a gem-inspired mani. This amethyst set by Las Vegas-based nail tech Giselle will take your hands to new heights, not to mention they look incredibly chic. Gold accents really make everything better.
Turns out these nails look really good next to a marble print. If you're looking for direction on how to tie the different designs together, see this set: a couple details like gothic lettering and metallic flakes bring everything into balance. 
Mixed Prints
Sometimes you can't choose just one—so pick them all! This super cute mixed print mani combines thick swirls, a cascade of gradient dots, and a glitter base. Sounds a bit crazy but turns out it looks amazing. 
But if you're into a theme, a childhood fave—like the Toy Story one seen here—is one idea. The blue skies, Woody's plaid shirt…this modern take is sure to inspire countless nostalgic thoughts.
Retro Lines
It's like your aunt's favorite dress from the eighties, with a modern refresh. Add some gold hoops and a bright red lip and you'll be ready to hit the town. 
Sours: https://www.glamour.com/story/the-coffin-nails-trends-youll-be-seeing-everywhere-this-fall
Just recently we discussed different nail shapes. Here let's focus on one particular shape – coffin, aka ballerina nails. Coffin nails are great for all fashion lovers and the true connoisseurs of nail shapes. They got their name because they remind of a coffin shape or ballerina pointy toe shoes in which they dance.
Coffin nails can be both short and long. The longer they are, the most attractive they look on your hands. Nail addicts all around the world wear this nail shape and enjoy the view.
When Did Coffin Nails Became Popular
It's fair to say that coffin nails came out around the early-mid '90s. Around that time short squoval nails became the chic statement, a new trend. Coffin or ballerina nails, as well as their counterparts – stiletto nails, are still fashionable today.
70 Absolutely Cool Coffin Nails For Your Judgement
From nude hues to the interesting patterns, glitter, and gems – everything is allowed. Here are some of our favorite designs that you should try.
Glitter on Top
A bit of glitter never killed anybody, right? You can look amazing with long coffin nails, nude base and just a bit of glittery nail polish on the edges of your fingernails. Watch out though – nails this long should be treated well.
Pink and Gold
Believe it or not, pink took the throne of shades once again. However, this time, instead of neon pink, you need to opt for something more blush and neutral.
Your pink shouldn't be so eye-catching. This blush pink shade goes perfectly well with gold flakes and ballerina nails. Don't take to long to try this great nail art.
Gold and White
White nails are great for summer. But the question is – how to make them look more appealing and unique? We suggest going with gold foils that look like you have scratched your nails. They will give you a specific chic style and provide your nails with a bunch of positive comments.
Ballerina Nails with Marble Effect
Marble effect on nails is more than popular among many stylish girls. As you can see, white and classic marble design is the best option to go for. Your coffin nails will look excellent, whether they are short or long.
Classy Burgundy
Many women opt for classic shades. Burgundy, classic red, or black – it is on your to pick your favorite. Burgundy is a perfect shade for the fall and winter months. You can opt for matte or glittery nail polishes. Anyway, they will make a lovely statement and give your outfits a significant upgrade from casual to fashionable.
RELATED: How To Thin Nail Polish: 4 Easy Methods Explained
Pastels for Summer
As you already know, pastels are more than welcome in your summer wardrobe. But why opting only for wardrobe when you can have lovely and colorful pastel nails? No matter how long or short your nails are, pastel shades in yellow, purple, pink, and mint will blow your mind.
Neon Green
Neons as trend took the hearts of many It girls. However, sometimes, you are not brave enough to wear neons as your attire. We get that. That is why you should go for neon coffin nails! You will look so bold and stylish that no one won't pass without letting you know it!
Pearl Shine
Even though these pink nails can be pretty classic and casual, you can make them look amazing. By adding a nail polish that has pearl shine, you will make your nails look gorgeous – elegant and so sophisticated. Even if you like wearing longer nails, they can still be appropriate for day to nightwear.
Pink Candy
Your nails can be as pink as your favorite candy. You just need to find that perfect pink shade and work with it. Whether your nails are a ballerina or you have made them in another shape, it is more than beautiful to wear them like this for daily events.
Nude Nails with Rhinestone Details
Nude and matte nails are more than enough for a perfect daily manicure. However, you should opt for some detail, right? Go for colorful and delicate rhinestones only at one side of your nail. Even if they are subtle and small, these rhinestones can make a huge difference.
Matte Yellow Nails
Yellow nails in summer? Sure! When Beyonce has made her single Lemonde, everybody wanted that gorgeous yellow dress. Now, all the girls are craving for the perfect matte yellow nails. You can wear this color for both short and long nails.
Nude Pink
Once in a while, we all opt for nails that are nude and neutral. They are the best for day to night wear, since they represent one of those appropriate styles, even for your office. You can make your nails long, coffin-shaped in this lovely nude pink shade. We guarantee – you will adore them.
Floral Textured Nails
Textured nails might not be something that we see every day, but they certainly are so eye-catching. The best option is to go for two textured, and the rest of your nails should be nude or matte, in some neutral shade.
Lilac and Daisies
These nails have it all – shade, shape, and delicate design. They are great for all the girls that like neutral, yet bold nails that help their outfits look better. Daisie design on the ring finger will make a huge difference. Still, your nails will be perfectly stylish.
Black Henna
Black henna is not only reserved for your palm and hands only. You can now recreate this lovely detailed art to your nails as well. Combine this technique with matte black nail polish. Your nails will look sophisticated and most of all, very bold.
Glitter Combo
There are many types of glitter nail polishes. From tiny and delicate glitter to those who really make a statement. You can combine some of them in a manicure. However, make sure to pick colors that are neutral, blush, and nude. That is how you won't overdo your manicures.
Pearl White
Long and perfectly shaped – that is how we would explain how these nails look. Coffin shaped with a pearl white nail polish these nails are great for day-to-night wear. You can only choose the length of the nails – do you belong to long or short nails club?
Rose Gold Glitter
Rose gold glitter is one of the trendiest shades of the moment. You can make a statement with this kind of manicure in no time. All that you need is a perfect glitter nail polish that won't scratch quickly, or you can opt for acrylic nails.
Elegant Bronze
If you have decided to wear coffin or ballerina nails, then now it is the right time to pick a sophisticated and elegant color that will make everybody stare at your nails. Bronze is the right pick, we can guarantee! Combine metallic and glitter shades.
Acrylic Peachy Nails
There is nothing better than acrylic peachy nails that go perfectly with any other color. You don't need to have super long nails for this shade to make it work for you. Whether your nails are long or short, this shade will look perfect.
Mint is In!
Mint is one of those colors that you won't usually wear. However, since the pastels are in trend this year, you can combine mint with other pastel shades or wear it alone. These nails are great for all of you who follow trends and want to look great.
Pink Ombre Nails
Pink ombre nails are simply gorgeous. Whether you like almond, square, or coffin-shaped nails, don't hesitate to dye them in different shades of pink color. They will definitely attract view, and people will give you a lot of positive comments.
Summer Colors
If pink, lilac, and orange are not the colors of summer, we don't know which are. They look stunning in a manicure. And yes, they are mixed together to look like an ombre! You will adore them, trust us. We fell in love with them immediately.
White Nails
White nails are perfect in summer. You can style them with any outfit and with any style. If you wear long maxi dresses with crochet blouses above, these nails will be only perfect for fulfilling that look. You can opt for both matte or shiny versions of white nail polish.
Baby Pink Coffin Nails with Flowers
Baby pink is one of the most favorite shades of many women. It is stylish, chic, and most of all, versatile. These coffin nails are a bit shorter, but that didn't stop this girl to opt for lovely floral design on ring fingernails.
Animal Print on Point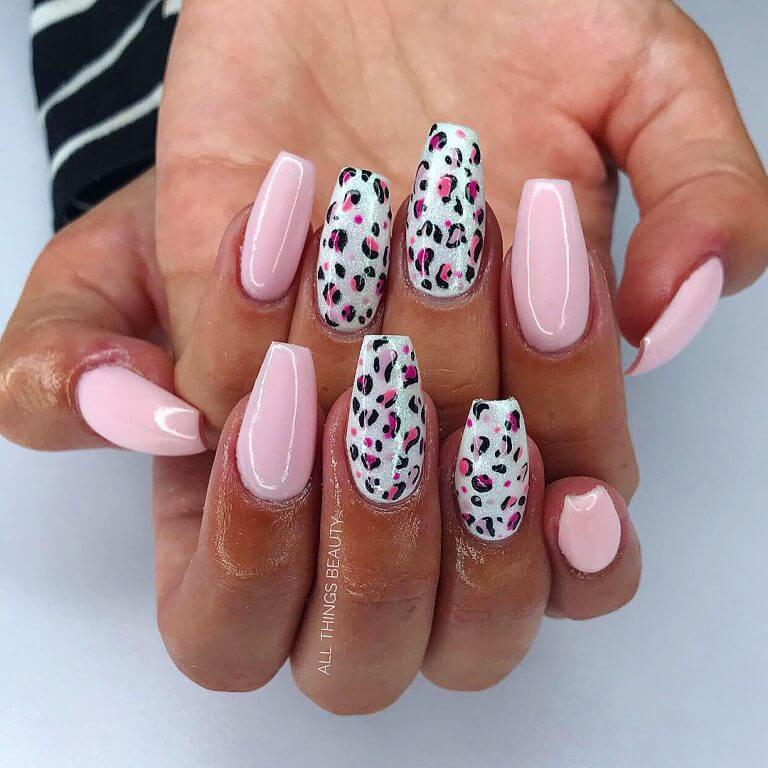 Animal print isn't only present in fashion. As you can see, leopard print looks fantastic on your nails! Whatever color you wear with your animal print design, it will look great. However, we suggest to for neutral ones – that is how your nails won't look overdone.
Matte Grey Nails
Matte nail polishes became super popular a few years back. Since then, most of the girls opt for matte nails, since they do look more eye-catching. These grey nails look fabulous in combination with marble design. They are still low-key so you can wear them for every occasion during the day and night.
Rainbow Pearl Nails
You said pearl shine is not enough for you? No problem then! You can still upgrade your manicure by adding some of the wonderful rainbow colors to your look. These coffin nails will make a huge difference in your everyday outfits.
Black and Gold
Is there any more elegant combination than black and gold one? We don't think so either. This manicure is great for many occasions – both daily and special ones. You can wear your long black coffin nails and still look amazing, wherever you appear.
Like a Night Sky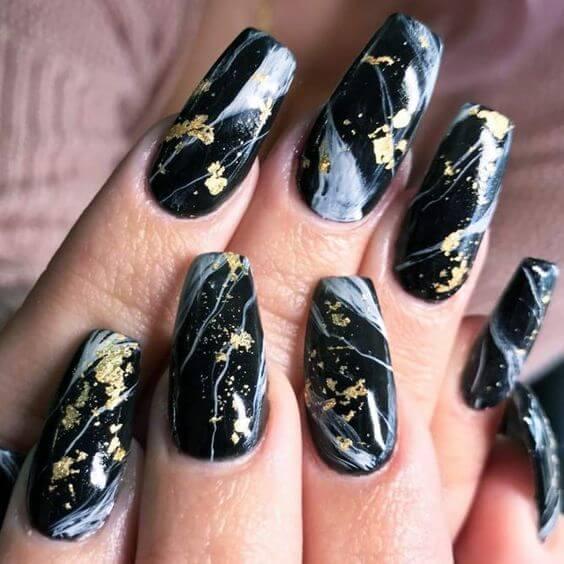 Making our nails look like a night sky is something that we always wanted to achieve. You have to admit that these nails look absolutely fantastic. Marble effect, in combination with gold flakes, gives us the impression that we are looking at the night sky. Hopefully, others will notice it as well.
Interesting Mix
A little bit of everything would be just perfect for this manicure. Gold foils, black matte nail polish, as well as marble design – all that in one look? Sure, why not! These coffin nails will look absolutely fabulous for all those girls who like to make a statement.
Orange Coffin Nails
Matte and orange – is there anything you can do better than this to make your outfits look eye-catching? We don't think so. These neon orange nails will make everybody stare right at them. The reason – perfect summer shade, as well as shape.
Teal Blue Ballerina Nails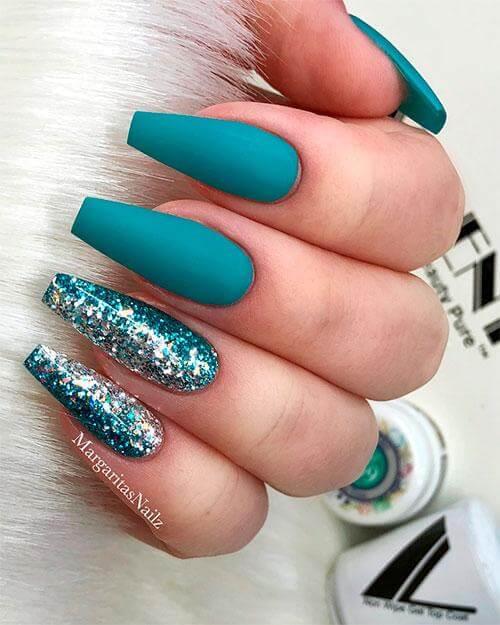 Teal blue matches perfectly with sun-kissed skin. You can absolutely count on this shade if you need to be the main star of some event. Coffin nails in teal blue will only make you look gorgeous, your nails polished, and your looks sophisticated. Add a bit of glitter to enhance the drama effect.
Colorful and Interesting
Instead of going for a one-colored manicure, try something like this. Colorful mani with all rainbow shades will steal your heart on the first view. You can style it with almost anything, but especially with white summer clothes. That is how you will even enhance them.
On the Edges
By adding a bit of color on the edges, you will provide your nails with both style and bold vibes. You can count that these nails will make you look gorgeous, and even though they are colorful, they will be perfect for any occasion.
Purple and Blue Ombre Nails
If you want to make your nails look like a sea in the night, then you should use these two shades and create an ombre effect. Add a few glitter flakes on ring fingernails – that will add a bit of glamour. You can absolutely wear these nails every day.
Baby Blue Nails
Simple yet powerful. You can wear this manicure for everyday wear, as well as for elegant and special occasions. As you can see, the baby blue shade matches perfectly with gold rings and sun-kissed skin.
Classic Red
Sometimes, it is best to go for classic design and classy shade. Red is one of the most popular shades among many other colors. Whenever you feel bored or not in the mood for different trendy shades, go for red. You can't be wrong with it, ever.
Black and Nude
If you are interested in a manicure that will be equally stylish, interesting, and utterly chic, look no further than this one. This will blow your mind off. While the edges are dyed in black, the base is left nude, transparent. You see how simple details can make a huge change – a rhinestone at the center of fingernail looks excellent!
Summer White
White nails might not be the right choice for winter snow, but they will surely be great in summertime! White nails will look even more highlighted on your sun-kissed skin. You simply need to try them, even for your seaside vacation.
Nudish Grey Nails
Nude can have different and quite inspiring shades. It is on you to pick the one that suits your skin, undertone, and your style. You should definitely opt for those grey nude hues. They suit women with a cold undertone, but you can absolutely try it.
Short Ballerina Nails
Short and sweet – these nails are perfect for busy women who don't have time to go to manicure their nails every week. Their length is ideal for doing everyday jobs; still, it looks fancy and stylish. A bit of glitter on the nails will add a touch of glamour to your everyday outfits.
Pinkish Glitter
Pink nails in this neutral hue are great for workwear, as well as for special wear. You can absolutely count on this manicure if you want something stylish for work, but also if you are heading to some event where you need to shine. Glitter adds that sophisticated vibe.
Glittery Nails
Glitter is always a good idea when you need manicure that is not too simple, nor too complicated to do. These different types of glitter allow you to make your manicure look amazing. Smaller glitters or big flakes? It is on you to choose.
Matte and Short
For those girls that really like their manicure to be simple and chic, look no further than this one. Your nails are matte dyed in a really nice hue of pink and beige. Whether you like to have your nails long or short, this kind of manicure will be perfect for any occasion.
Metallic Vibe
Metallic is not the trend that only took the throne of the fashion industry. No, it appeared in the nail industry as well, in many forms and shades. You can combine neutral metallic tones with a bit of glitter. Sometimes it is smart to go for neutral colors like beige or pink and to pick a metallic shade.
Gold Design
While some girls love their nails to be neutral and quite low-key, others love their nails to be eye-catching and unique. If you are into trying something new, then you have to try gold textured nail polish. Along with gold rhinestones, you will find this manicure great for attracting all the attention on yourself.
Peachy with Glitter
Peachy nails make a wonderful combination with white summer clothes. You can also opt for adding a bit of glitter on the edges of your fingernails. It will give you more glamour, style while making your peachy nails look more attractive.
Rhinestones Lover
This manicure is not for everybody. It is only for those who like their manicure to be eye-catching and spectacular. Adding a lot of rhinestones on one or more nails will attract many views, and you will undoubtedly be noticed wherever you go. Instead of dyeing your nails in some vivid shade, opt for neutral tones like beige or nude.
Snow White Nails
No shade can beat the white or black one. They are basic, pairable with everything, and most of all so stylish. Whether you like to do your manicure by yourself or you prefer acrylic nails, white is the go-to choice. This shade is perfect for coffin nails.
Long and Pearl White
When you have nails that are these long, we can't say nothing but – congrats. Functioning with nails that are long is not an easy task. However, they are stylish. Opt for white shade with gorgeous pearl shine, and you can be sure your nails will be perfect.
Stylish Coral Red Nails
Matching nails with your sneakers? Why not! This color might come as intimidating to you, but once you try it, coral red will be your favorite one. You can wear it with anything else, including sporty clothes as well!
Holographic Nails
This summer, opt for something exciting and quite unusual. Holographic nails are undoubtedly the best solution for all those girls who would like something eye-catching yet not too vivid. Since the base is transparent with lovely rainbow shades, you can wear these nails for many different occasions.
Red Ombre Nails
Ombre nails are interesting, unique, and quite the right choice for all seasons. If you have a ballerina or coffin nails, you can count on the additional modern vibe to all your outfits. These nails are long, but you can also opt for a shorter version if that suits you more.
Matte Pastel Blue Ballerina Nails
Pastel shades are everywhere. Since no one can resist them, we can't say that we don't agree. From blouses and suits to your nails. You can match different shades in the best possible way and combine them for all possible event you need to go to.
Decorated and Eye-Catching
Brown nails look warm and cute, but let's make them look even more beautiful. How to do that? Easy! Adding more and more details that will bring out your creative side. A combination of glitter, rhinestones, and other decorations on your nails never looked better.
Blush Pink and Gold Coffin Nails
The combination of blush pink and gold is the best! You can count on it whether you need an elegant and sophisticated look that will blow everyone's minds away. Whether you like to wear this wonderful combination or you like to see it on your nail, don't hesitate to go for it.
Nail Design With Shiny Rhinestones
Just shine! That is the mantra of this manicure. You can be absolutely safe and sure that this manicure will get you some positive comments. Shiny yet delicate rhinestones look great on nude background, while your ballerina nails are practical for everyday wear.
Lilac Glitter
Lilac is definitely the color of summer. That didn't occur overnight. On the contrary, since the last year, pastel shades rule the world, so this comes as no surprise at all. Simply combine glitter and regular nail polish, and you will get a perfect manicure for summer.
Coffin Nails With Astrology Motifs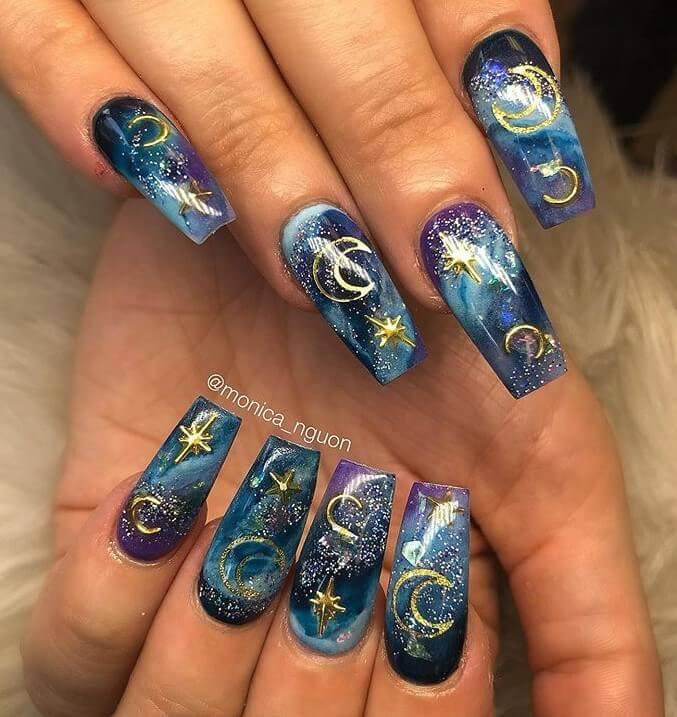 Fans of astrology – unite! This girl makes her nails look like a night sky, with stars and all astrology signs. Isn't that great? It takes a bit of courage to wear the manicure like this since it is really unusual. However, your nails with sky and moon will be more than noticed!
So Elegant White and Transparent Coffin Nails
If you are looking for nails that will be perfect for summer as well as for your sun-kissed skin, look no further. These quite attractive and stylish white nails with a transparent part will be more than enough for you to make a statement.
Dark Green and Gold Details
Dark green may not come to your mind when you think about nail polishes. However, you should definitely consider it as something that is utterly sophisticated. So, if you need your manicure ready for some elegant special occasion, don't hesitate to choose dark green and gold glitter combo.
Black Matte
Black matte nails look eye-catching and sophisticated enough, but the point is to make them interesting. The best way to do that is to add them some glitter. Rhinestones at the edges of your nails will secure this gorgeous black matte look.
Zig Zag Nail Design
Gold lines, made to look in zig zag will definitely make your nails look gorgeous. Pink and gold is a tested-and-proved combo that works, and that is great for summer wear. These coffin nail shape will only enhance the zig-zag design.
Studded Ring Fingers
If you are not afraid of a bit of shine and glitter, then you can check out this lovely manicure. It has everything that you need for a perfect summer look. Studded ring fingernails are made, or a bunch of rhinestones and they look a bit bold.
Blue Coffin Nails
Blue might not be the color that comes to your mind when you think about manicures. However, blue nails are matchy with seawater! You know what to do, right? Pick a manicure like this for your seaside escape or for some fancy beach parties during the day.
Neutral Shade with Marble Design
Neutral nails, in combination with marble pattern, are great for those who like subtle and interesting design in one. For even more elegant appearance, add a few rhinestones, near your cuticles. You can opt for mani like this if you are heading to some summer wedding.
Logos on Point
While you are watching neutral nails, some girls tend to show off their nails as logo polygon. Yes, you can now present to the world which of your branded clothes you like the most. So, are you LV, Nike or some other brand club?
Little Pieces of Art
This manicure really looks unbelievable. Long coffin nails and their designs look like small pieces of art. Every nail is different, and that is the main point here – expect the unexpected! This manicure is for the brave girls that are not afraid to show off to the world how bold they are.
Hippie Revolution
Ballerina nails with hippie revolution messages and symbols are a great choice for summer wear. The peace, yin yang, bit of vivid colors, as well as words of peace and love are all found on these nails. Unusual manicure for an exciting style, don't you agree?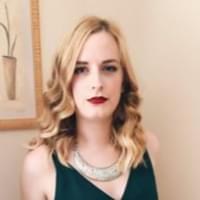 Nevena Zivadinovic
Nevena is a linguist, mom of a one-year-old boy, and fashion enthusiast. She loves writing about everything fashion, beauty, and lifestyle-related.
Her passion is magazines and books. That's why Nevena is mostly seen spending her free time with Kindle in her hands.
Get Nail Designs and Nail Care Tips to Your Inbox
We will send an email from time to time. Not too often. You will get inspirational nail designs, nail care how-to's, guides, and advice.
Sours: https://www.belletag.com/beauty/nails/coffin-nails
Best Acrylic Nail Art Designs 2021 🌞 Amazing DIY Nails Compilation for Short and Long Nails
Your nail is an accessory like your handbag, shoes, and jewelry. Therefore, it is essential to make them look fashionable and popular. It is time to make your look more fashionable this season, and there is no better choice than coffin nails. The acrylic coffin nails feature a square tapered end, which is bold and stylish. They are also popular among beautiful ladies, including celebrities such as Kylie Jenna and Khloe Kardashian. However, choosing rock coffin nails is only the beginning of your nail deciding. When you have your nail shape, you must also select a design to complement it. These are the best coffin shape nail ideas to try right now for Summer nail designs 2021!
Long coffin nails are bold and stylish. Unlike other styles (such as almond-shaped design), coffin nails have flat tips to achieve a striking avant-garde appearance. To shape with nails, file the edge toward the center. Then, sort out the prompt.
Pretty pink coffin nail shape for Summer nail designs 2021!
This Dalmatian design is for dog parents outside. When the project is over, the system automatically fills in the content. So you just need a fine brush to draw pink spots on a nude or soft background. The interesting colors ensure that you have more Roger and Anita vibes than the evil Cruel de Ville.
A french manicure is elegant and looks classy. However, sometimes you might be seeking something a little more interesting. A modern pink French manicure makes the best of both worlds. Use either a steady hand or nail tape to paint a hot pink outline around the edges of a nude nail. It is interesting without being over the top and adds a subtle hint of color. It is an excellent option for situations where an entire pink pin might be a bit much, such as in the workplace.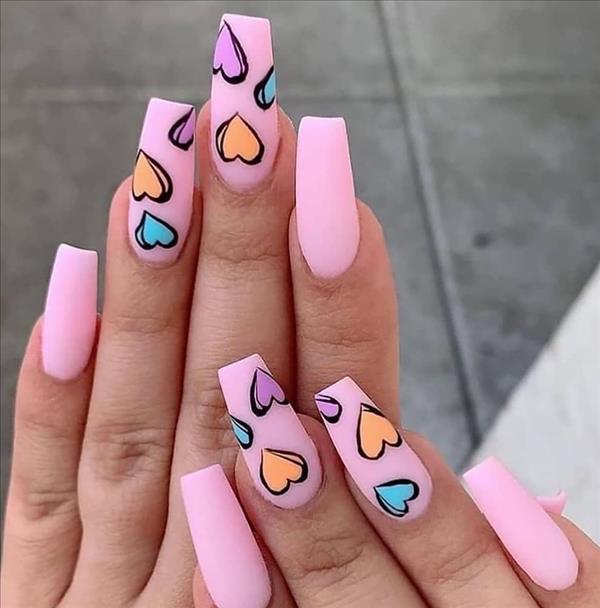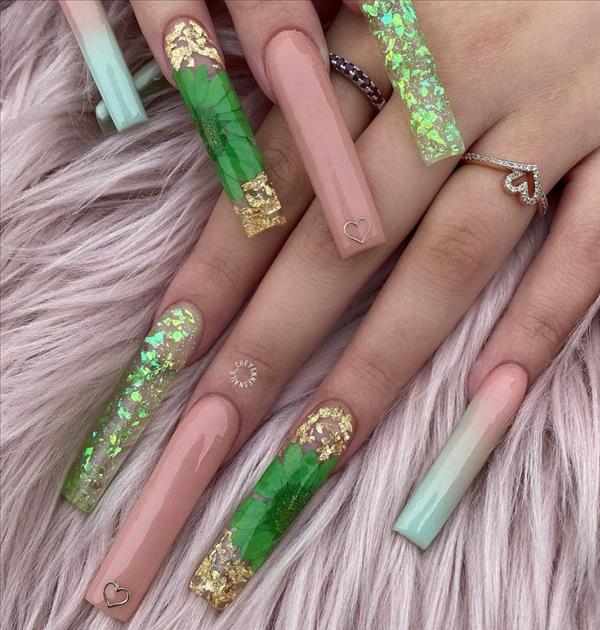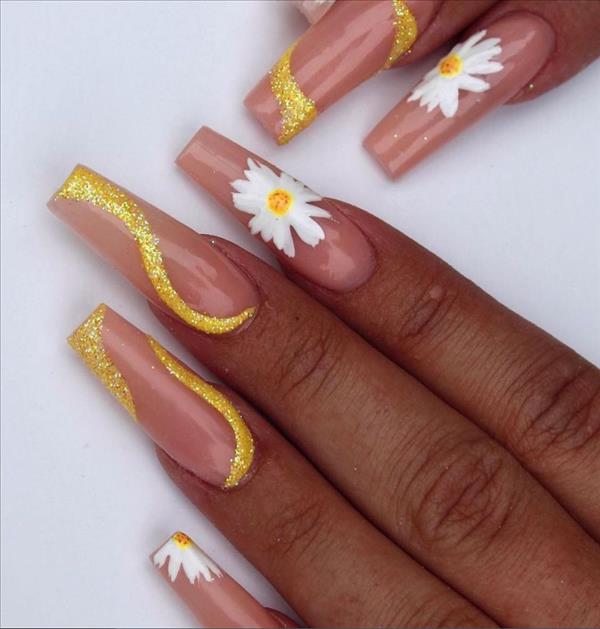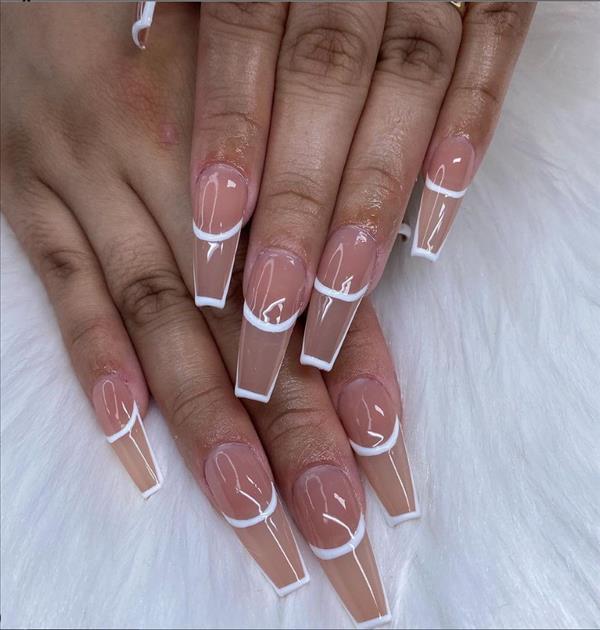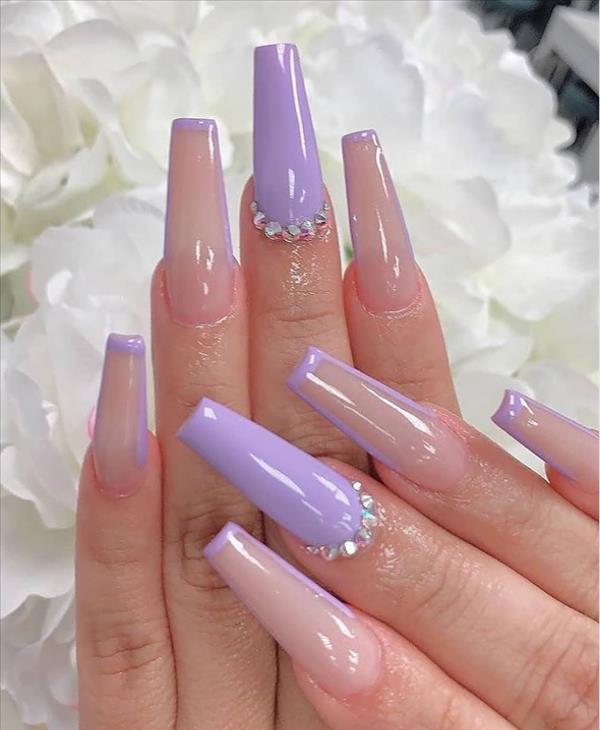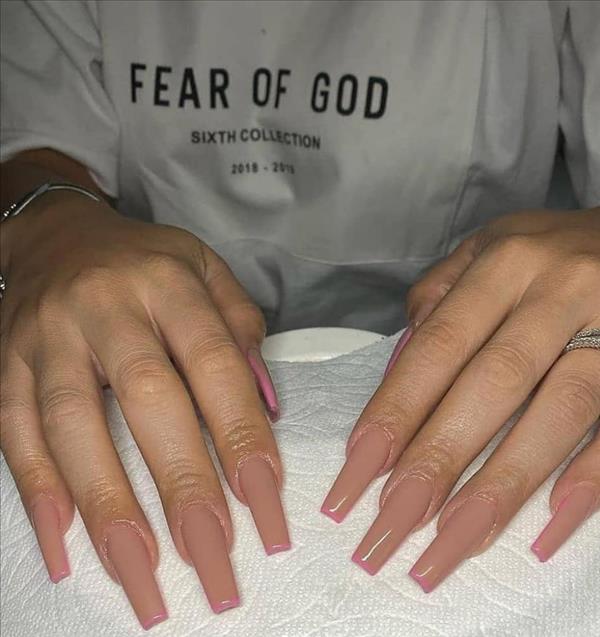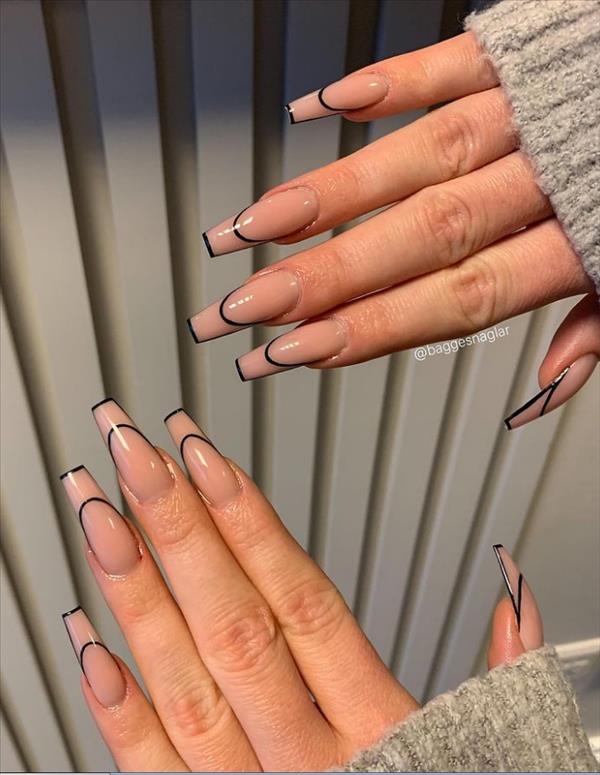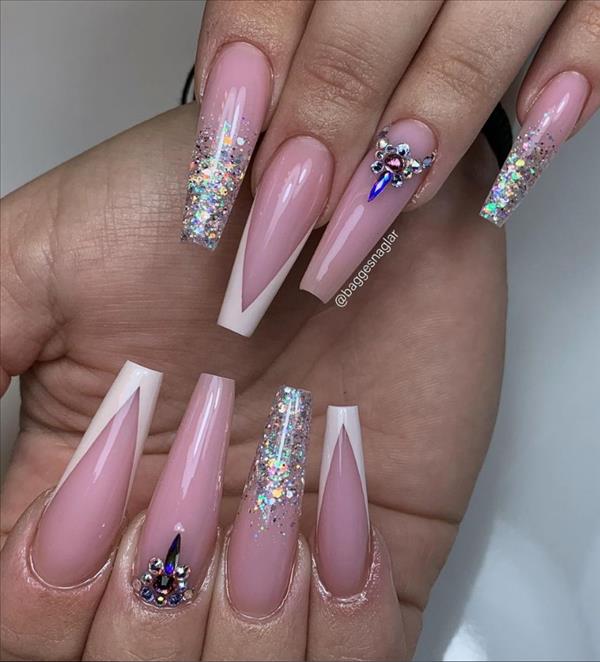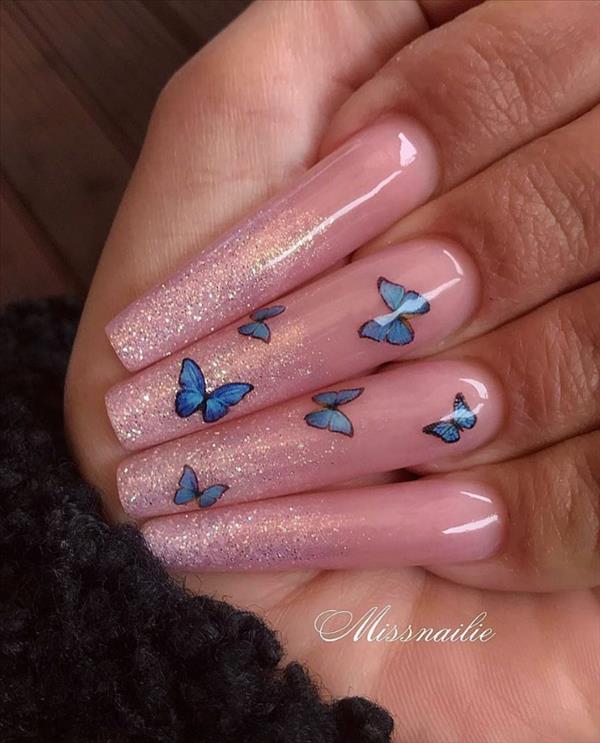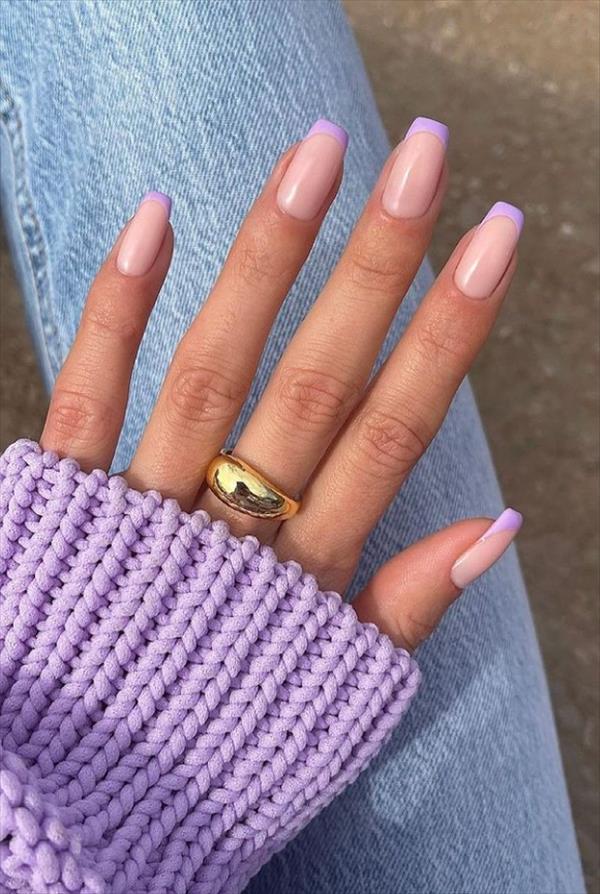 Fresh blue coffin nail shape for Summer nail designs 2021!
This season, shades of blue are popular in everyday parades and street styles, making it one of the fresh colors of the year. Manicure is a great way to try out new styles and designs, and it's a great opportunity to test some of the hottest looks. If you are a fan of this cool tone, or if you want to increase your daily life, we will help you solve it. Find your favorite new look with these coolest Blue nail designs.
Inspired by Caribbean waters, poolside relaxation and Curacao blue, bold blue tones are the summer manicure trend. Celebrities Selena Gomez, Kim Kardashian, Candice Swanepoel subscribe to the color spectrum, decorate the fingers with all kinds of cobalt, cyan and baby blue. It's very different from the soft neutrals and deep vampire tones typically kept in the cooler months of the year. brings benefits. For inspiration to dye your nails a brooding blue, please see our favorite shades below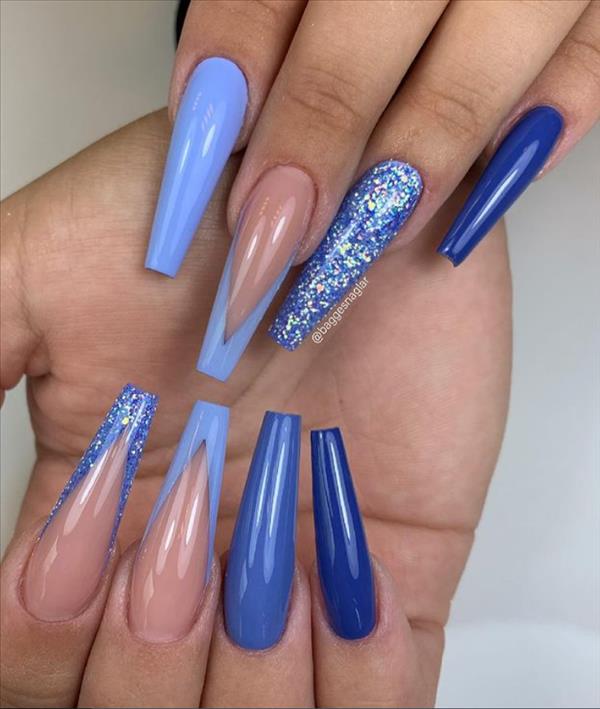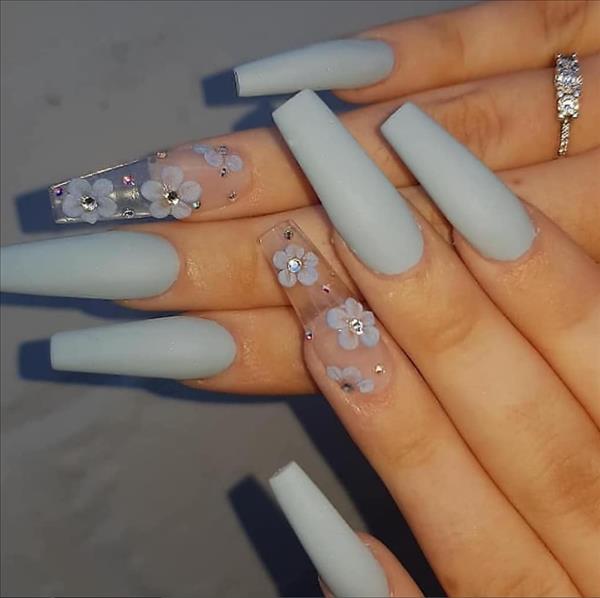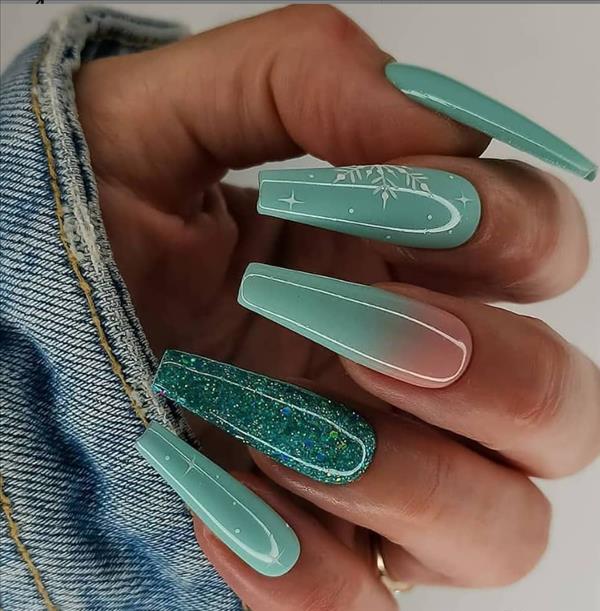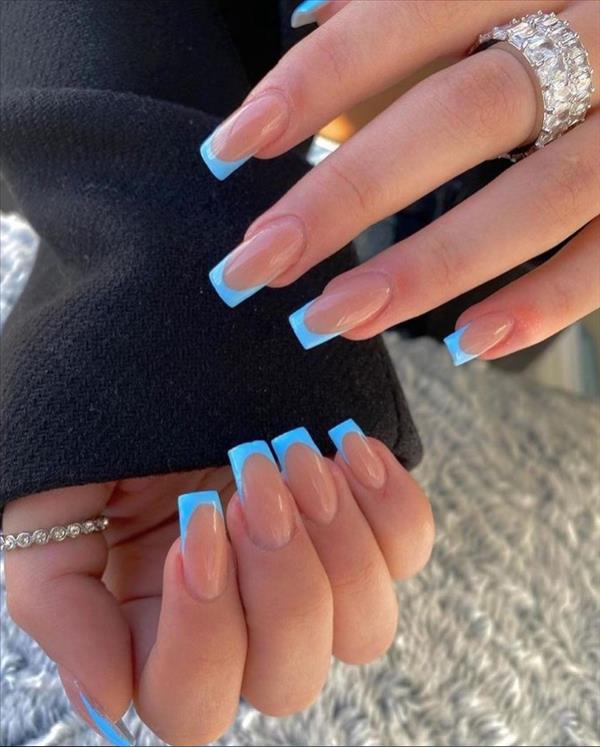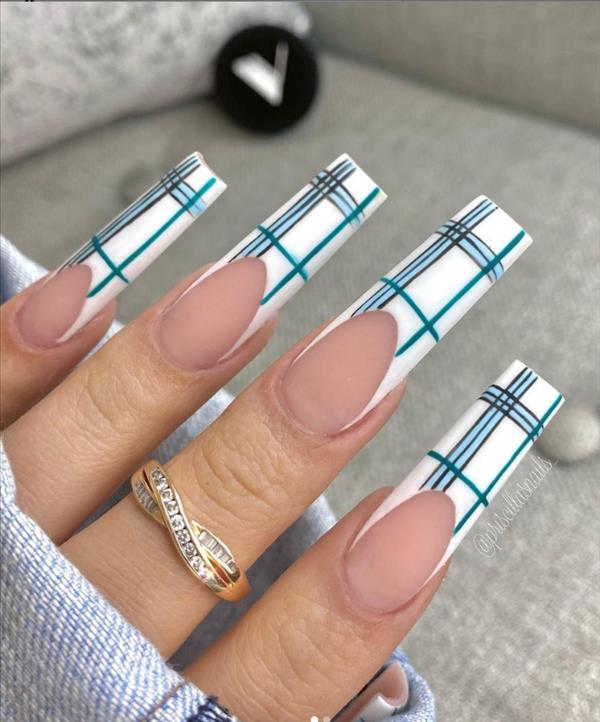 Pastel nail shape for Summer
Pastel nails can remind people of country club sweaters and Easter egg hunts, but they don't have to be so predictable. Of course, pale pink is still a classic. Ballet shoes are one of the best-selling shades of all time for a reason. But now, there are plenty of unexpected attempts: think cream lilac, alternate greens, and sky blues. Paired with trendy manicures, such as plaid acrylic and pointed or elongated acrylic, pastels are fresher than ever. (They're also the perfect contrast to any black sweaters we would wear before spring actually arrived.)
Is it difficult for you to grow your fingernails long enough to rock the coffin shape nail in style? Don't panic now. You can always count on a set of crystal pastel nails to give you the desired length you want.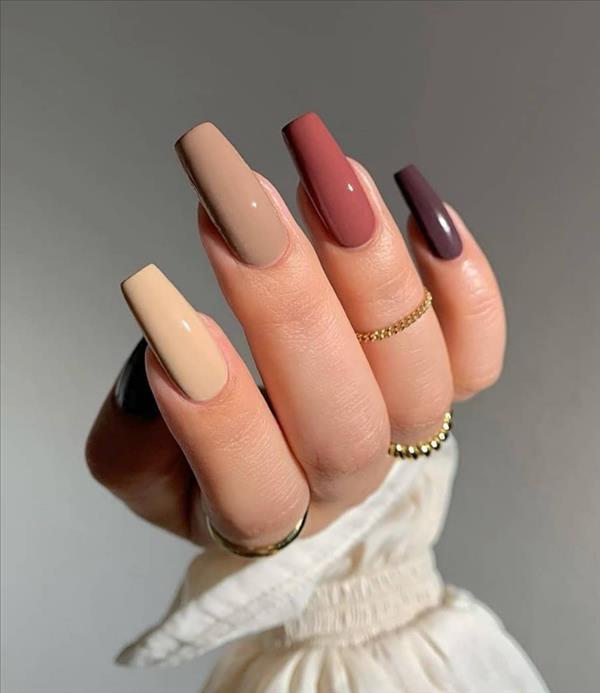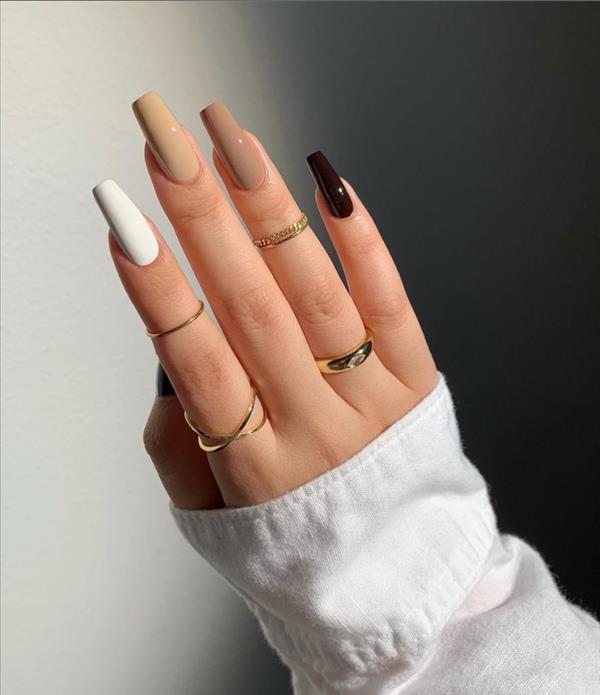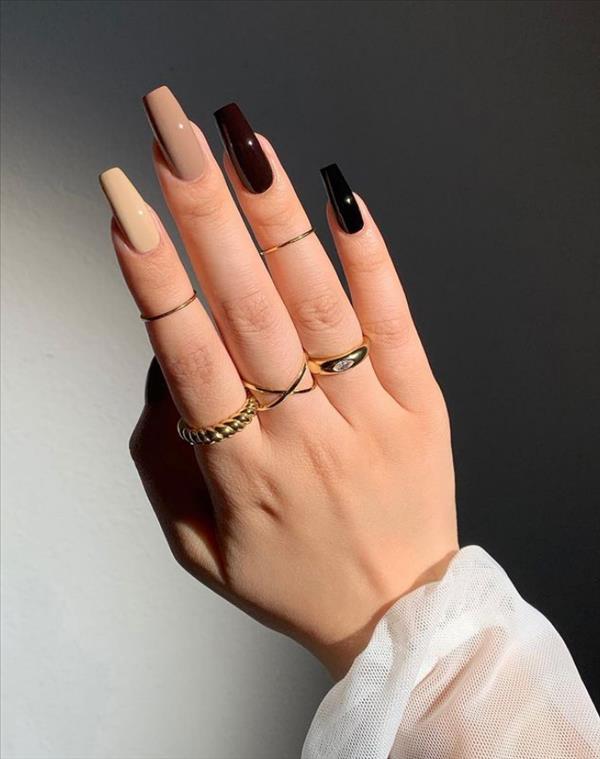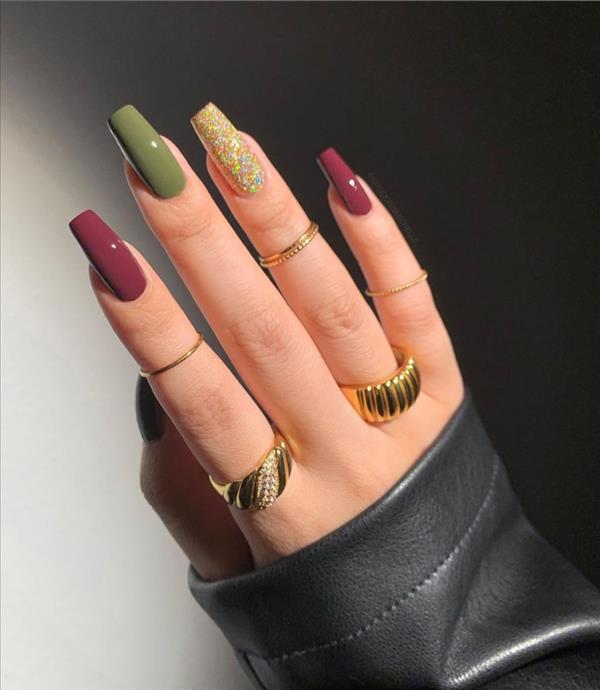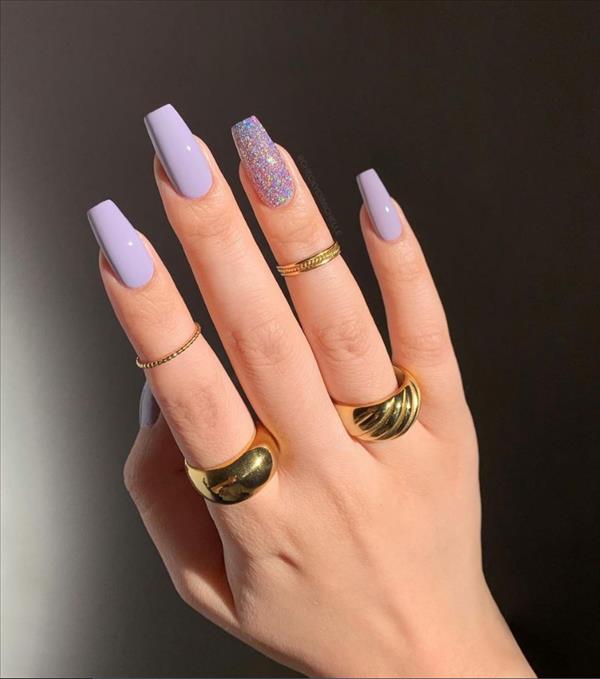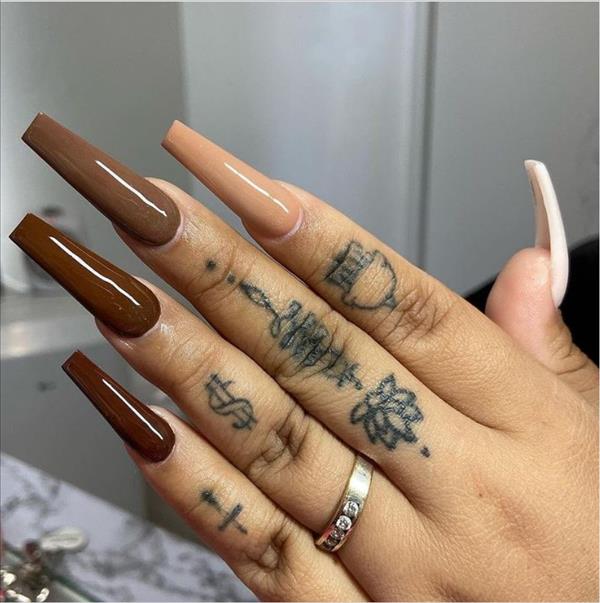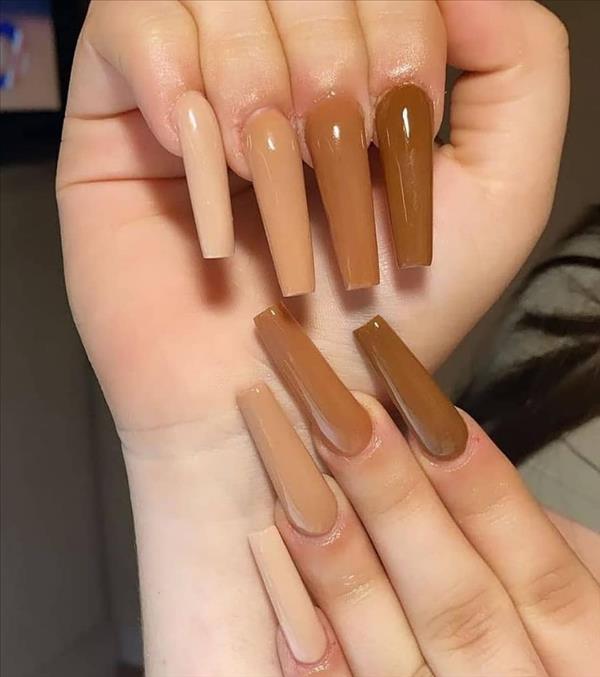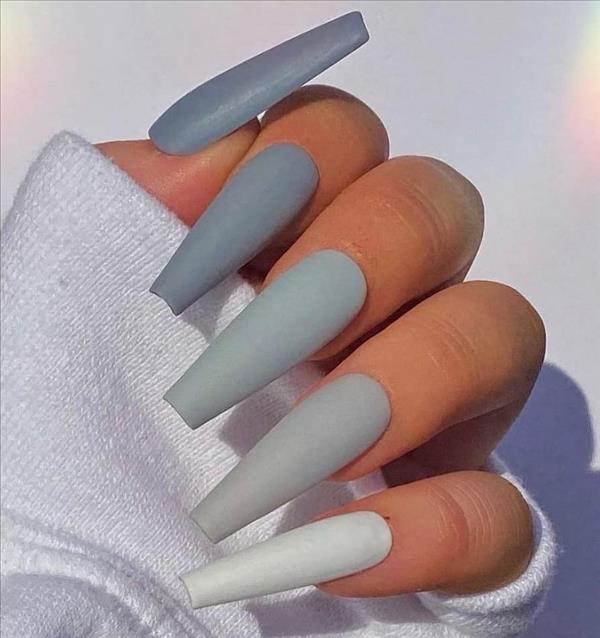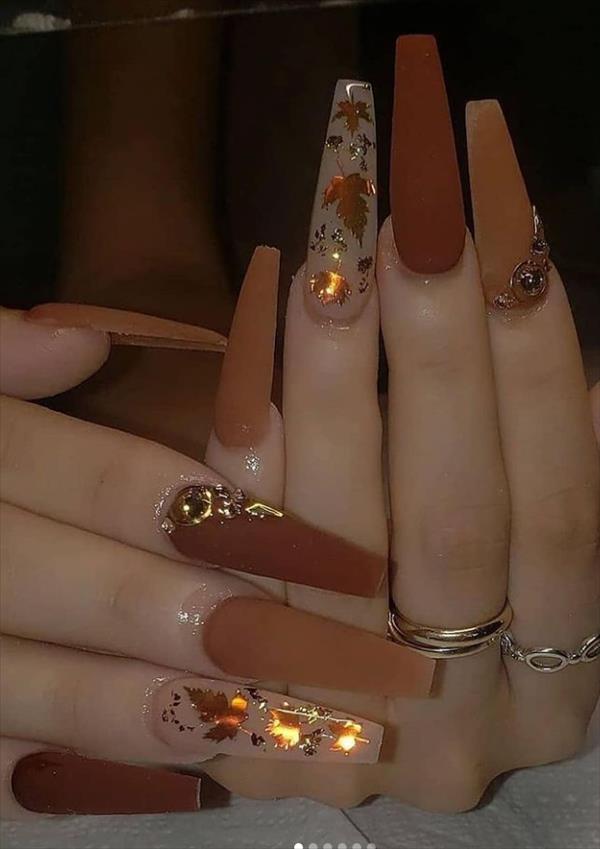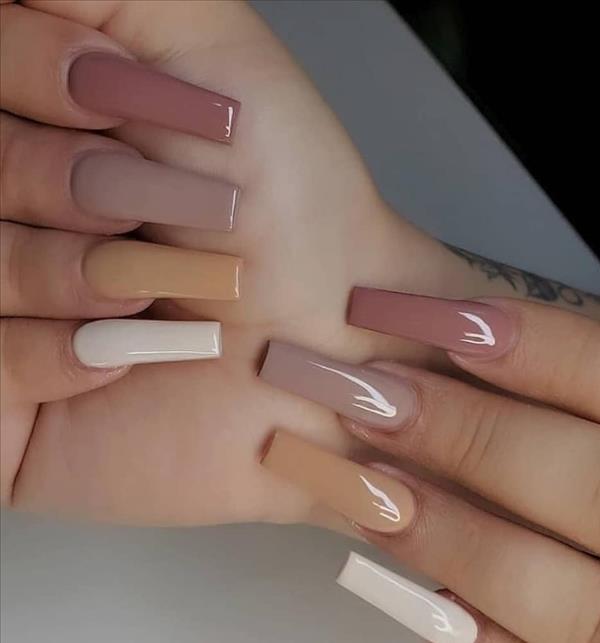 Elegant floral coffin nails and nude nail ideas for Summer!
Whether you want to try these floral nail designs at home or in a salon, long coffin nails are the most fantastic choice. This pretty appearance allows you to express the bold part of your personality at the peak of your personal and professional goals. If you want to try the popular long floral coffin-shaped nail design at home, please file the floral nail sticker to the center point first. After the two sides have been sorted out, you can start rocking this fashion trend as long as this is leveled.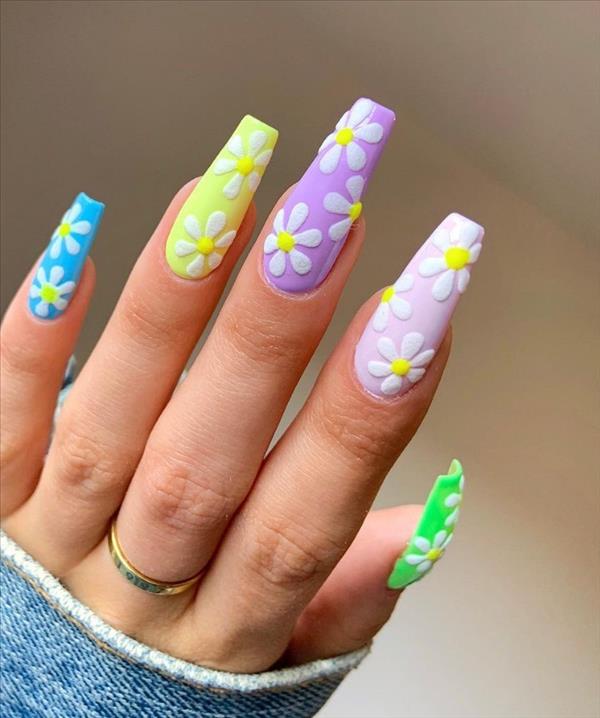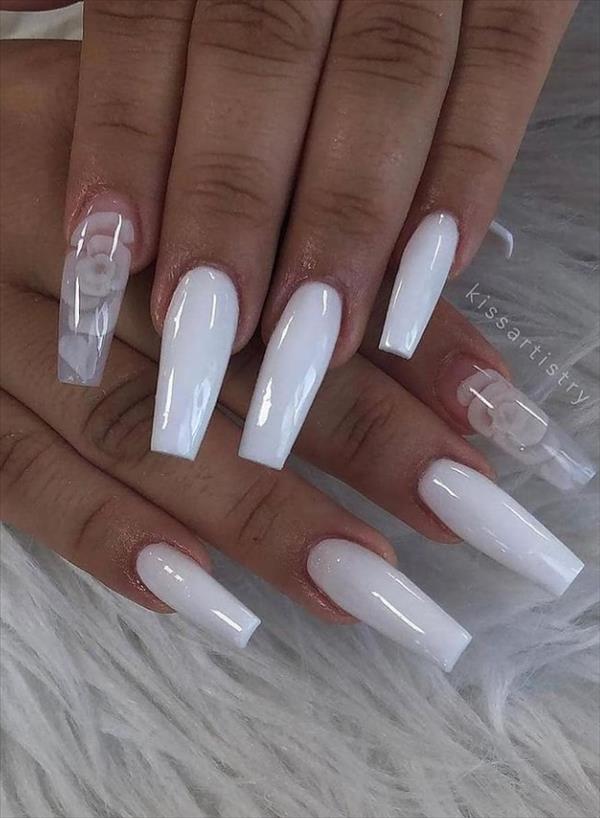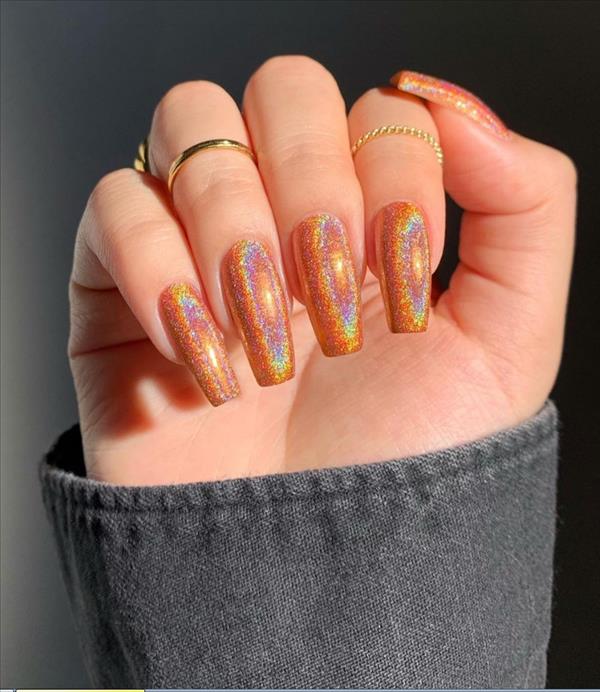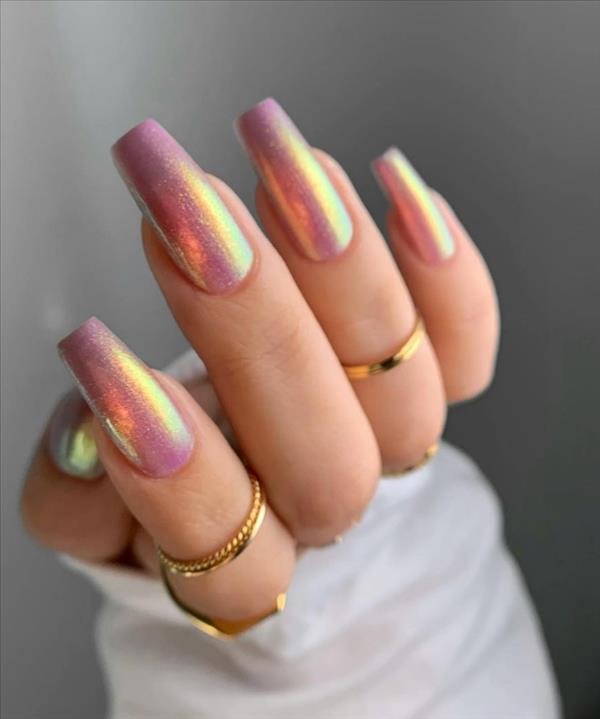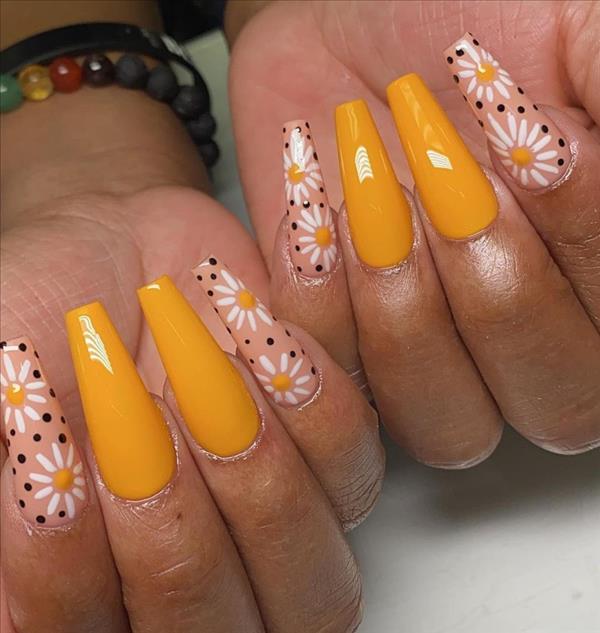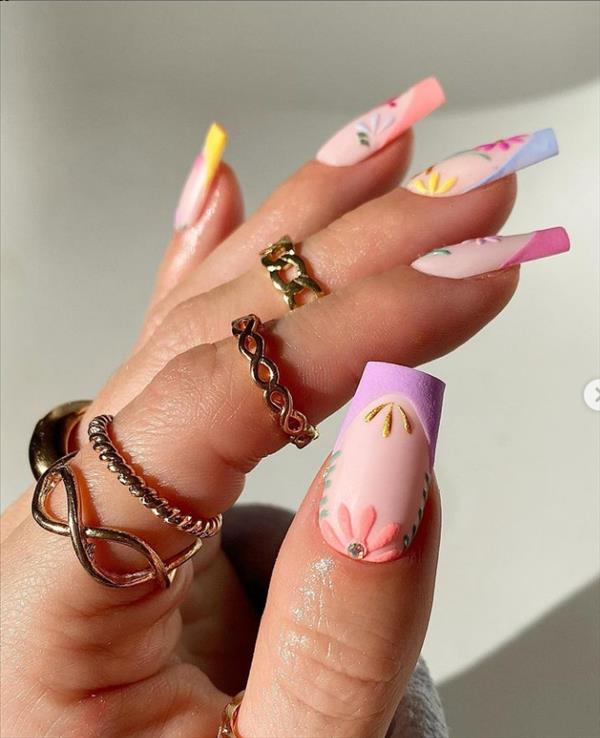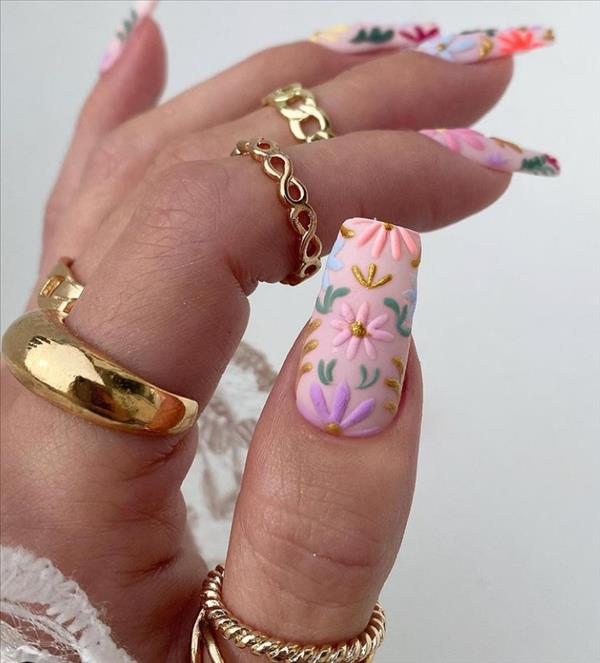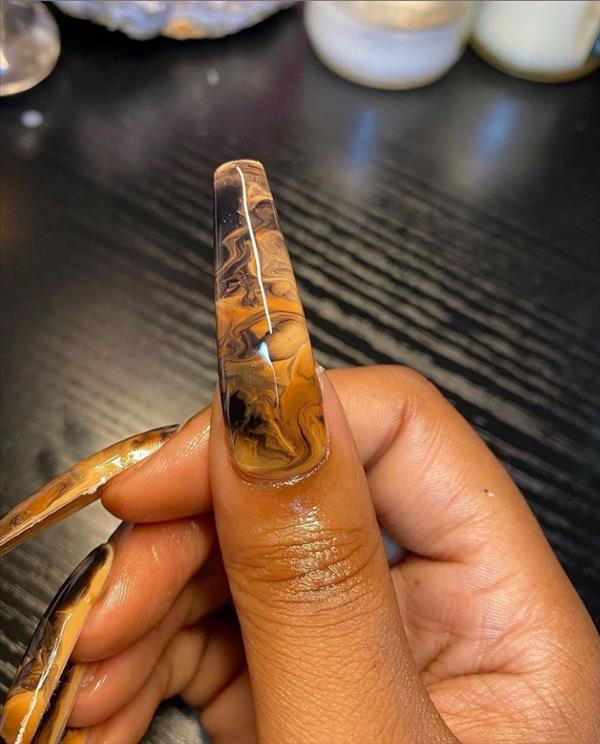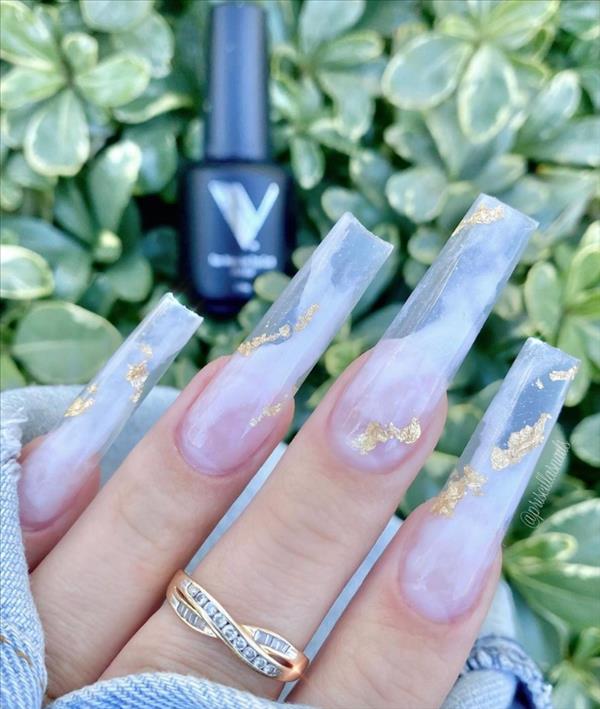 Sours: https://bellacocosum.com/summer-nail-designs-2021-awesome-acrylic-coffin-nails-design-to-rock-your-summer-day/
Designs coffin nail 2021
So what are coffin nails? For as long as people have been getting manicures, there have been two primary shapes: round and square. We are ready for different nail designs. Rejoice, fellow nail addict, because we finally have something new. Coffin nails, or sometimes called ballerina-shaped nails, are a trendy new look for manicures. They curve in almost to the tip where they're squared off to create visual interest and edge. If you're sick of plain round nails and the formal look of square nails, coffin nails are an excellent in-between look and this year's best trend.
The 55 Best Coffin Nail Ideas For This Year
Coffin nail designs look awesome, especially with long nails, but you don't have to have long nails to take part in this trend. Coffin acrylic nails are especially fancy with plenty of nail designs for fantastic manicure types. In fact, we've found enough nail designs that you'll be set all year.
Short coffin nails are great nails for you if you need a trendy, but understated look during the week. Long coffin nails are classy, and the best nails for you if you need some extra drama. Glittery designs blend two of this year's trends into one. Matte black coffin nails are another popular trend mashup. You can go all out or do the subtlest design, and either choice looks fashion-forward.
We've put together a list of our favorite coffin nails to give you enough nail ideas to last forever. We've got from glitter through french tip, as well as designer nails and everything in between. Don't worry fellow nail addict! We've got you covered. Let's find your next best coffin nail ideas and amp up your existing nail polish idea too.
1. "These Are Not The Droids" Space Age Nail Design
Source: instagram.com
Our first coffin nail idea is a space-age shimmer design. Use a shimmery mother of pearl polish on most of your nails for a futuristic glow. On the accent nails, load up on glitter and rhinestones in the same mother of pearl shade for a rainbow effect within some serious sparkle.
2. Ballerina Pink For Ballerina Nails
Source: instagram.com
If you've ever watched ballet, one of the most beautiful pieces of their style is the shoes. Those pretty pink shoes we all wish we had are the inspiration for these ballerina-shaped nails. Keep the shade a soft pastel and use a matte shade for some serious drama. Classy and elegant.
3. Natural Ombre With A Sparkle Detail Coffin Nails
Source: instagram.com
Minimal colors don't have to be boring. Coffin nail ideas can turn the neutral manicure on its head by using two different neutral shades of pink in a fun ombre effect. On the accent nails, paint the entire nail the darker of the two neutral colors and add rhinestone designs for extra sparkle. Subdued but not boring.
4. Yellow Ombre Nails With Diamond Details Coffin Nails
Source: instagram.com
This manicure is the opposite of neutral. Bring all that springtime glory into your manicure with a sunny, bright yellow tip that fades into an almond nail base. Attach small rhinestones to the bottom of the accent nails in a triangle shape for a manicure that gives a bit of sparkle and a lot of carefree fun.
5. Pastel Pink Natural Manicure With A Twist Coffin Nails
Source: instagram.com
Pastel Pink is a great neutral color, but don't stop there. Use negative space to create little designs in several of the nails for visual interest. You can use big or small stripes, chevron patterns, or x shapes, but everything coordinates well because the forms are just a clear coat. It's a pretty workplace manicure without the office politics.
6. Mother Of Dragons Green Manicure With Glitter
Source: instagram.com
We all want to be Daenerys. She's powerful and gutsy (and still alive). Make the same bold choices with your manicure by using her Dragon family as inspiration. Integrate solid greens with glitter and rhinestone designs for a manicure that's light-catching and eye-catching. The different nail designs coordinate because of the edgy green.
7. High Gloss Gold and Tailored Rhinestone Nail Art Coffin Nails
Source: instagram.com
Need a black-tie look that doesn't sacrifice style? These nails begin with an almond and pink ombre. They are accented with chunky gold glitter on other nails. On two accent nails, draw a simple black line down the middle and accent it with rhinestones. It pairs well with that formal designer gown and the flashes of paparazzi cameras.
8. Turquoise Studs Weekend Nail Design Coffin Nails
Source: instagram.com
Turquoise is a hot color, and one of the best nail colors of the year. Give it some serious glamour with accent nails stuffed full of rhinestones. Keep the turquoise a matte shade for extra contrast and visual interest. It's a weekend look that's casual "turned up to 11."
9. Elegant Luxe Pink Glitter And Diamonds Coffin Nails
Source: instagram.com
This manicure uses coordinating shades of pink from light to dark to create a beautiful, luxe manicure. Use a light, medium, and dark shade of pink on different nails with one accent nail in pink glitter. The final touch is a triangle of small rhinestones at the base of your light pink nail. It's a less precious and more glam version of the classic pink manicure.
10. Snow Queen Light Pink Shimmery Glitter Coffin Nails
Source: weheartit.com
Not all winter manicures have to be a dark nail color. While those might be striking, lighten things up around the holidays by taking inspiration from the Nutcracker's Snow Queen. Ultralight pink nails look great against an accent of snowy glitter. It reminds us of the way snow falls at night and looks so fresh first thing in the morning.
11. Pretty In Pink Silver Sparkle Coffin Nails
Source: instagram.com
What's it going to take for a pink manicure to be something a little more unique? On some of your nails, paint a thin silver stripe for something very refined and elegant. On the accent nail, turn up the drama by using a glitter polish with a slight pink hue to catch the light. It's a cool way to style a formal manicure.
12. Black and Gold Coffin Nail Design
Source: instagram.com
Take some inspiration from the luxe style of Egypt's ancient royalty. Use a high gloss black as a backdrop for some serious gold bling. A mix of delicate and chunky gold glitter helps the manicure raise drama and have a bold style. It's not for the faint of heart.
13. Ombre Pink and White Coffin Nail Design
Source: instagram.com
Sometimes you need a simple design. It doesn't have to be a French Manicure. You can use a simple pink and almond ombre design to satisfy those minimal urges but still retain a lot of refined styles. It's an unexpected way to downplay the manicure without sacrificing any of your personal styles.
14. Minimal Manicure with a Cute Twist Coffin Nails
Source: instagram.com
Take minimal up one notch with this fun, nude coffin nail design. Use an ultra pastel pink with high gloss for most of your nails. On the accent nail, use a shimmery, opal pattern for visual interest. The opal is a luxe look against the pure pink, but it's subdued enough to take it to Sunday brunch with your new boyfriend's mom.
15. Natural Ultra Long Coffin Nail Design
Source: instagram.com
Go the opposite of maximal with these stylish, nude coffin nails. Extra-long coffin nails look great with a basic white nail in somewhat sheer color. The skin of your finger shows through the nail base and gives the nail an ombre look. Trendy without trying too hard.
16. Like Diamonds Rhinestones and Shimmer Coffin Nails
Source: instagram.com
The shape of coffin nails looks very good with rhinestones. Go all the way with this nail color by attaching rhinestones to more nails than just an accent nail. Stud at least half of your nails. On the others, use a shimmery mother of pearl polish to keep everything sparkly and full of light.
17. Ultra Long Matte White, Glitter, Rhinestones Coffin Nails
Source: instagram.com
In a twist on the previous manicure, start with a matte white nail. On two nails, use a shimmery fine glitter polish. On the rest, stud the nails with rhinestones for the max amount of glitter you can get. It's a luxe but monochromatic long nail design that fits well with many different fashions.
18. Baby Blues Sweet Pastel Blue Long Coffin Nails
Source: nikeshawty.tumblr.com
Non-traditional nail colors are in, and they look amazing with coffin nails. Choose a cool color like powder blue for an unexpected manicure that fits well with different types of fashion and occasions. Blue is classy, cute, and unexpected. This manicure satisfies cute easy nail designs you can do yourself.
19. Ultra Glitter Pink And Orange Ombre Coffin Nails
Source: instagram.com
Coffin Nails are made for ombre. The shades accentuate the tapering nail shape. Choose a bright pink and a bright orange for an ombre nail design. On top of the colors, use a clear glitter polish for extra fun shine and a can't-take-your-eyes-of-it style.
20. French Manicure Inspired Ombre Natural Coffin Nails
Source: instagram.com
French Manicures are the epitome of refined taste. Take that inspiration and use it here in an unexpected way. Instead of defining the tip of the line, use the white to fade into the neutral pink of the nail base gradually. It's classy and works well with your best work clothing or formal wear.
21. Pink Manicure With Rhinestone Accents Coffin Nails
Source: instagram.com
Need a wedding manicure? This is the perfect manicure for that. Use a dusty pink nail base with gloss and keep the nails long. Use a few rhinestones to accent a couple of nails. Keep the rhinestones to just a few on a couple of nails so that you keep everything classy and elegant.
22. Beachy Coral And Glitter Nail Design
Source: instagram.com
Summertime needs fun bright colors. This is a great color for a vacation in the sun. A bright coral accentuates light peach glitter on alternating nails. It's an excellent way to lighten up the manicure for the fun, carefree days of summer. Keep your nails medium length so they won't interfere with your frisbee playing.
23. Oxblood And Rhinestone Elegant Manicure Coffin Nails
Source: instagram.com
Oxblood is the newest trend in red, and this manicure uses it for a super dramatic effect. The dark red bounces off the rhinestone accents. Keep them at the base of the nails for a rich, elegant look that's made for formalwear or those winter holiday parties stacking up on your schedule.
24. Ombre Nude Coffin Nails with Diamond Accents Coffin Nails
Source: anailzing.com
Minimal nails get an unexpected look with these super matte coffin nails. Create a velvety background for the slight bling on a few of the nails. Keep the diamonds simple and sparse so the matte color can stand out. It's beautiful and unexpected, great for easy weekends. Keep the nails on the short side for the best effect.
25. Super Long Pink White Ombre Manicure Coffin Nails
Source: instagram.com
Casual Friday just got a whole lot better. Don't sacrifice any of your styles for a simple manicure. Coffin nails look great with ombre, and they give this minimal manicure an unexpected style. Style it with diamond-studded accessories but casual clothing for the most visual interest.
26. Extra Long Minimal Nails with A Sparkle Accent Coffin Nails
Source: avrorra.com
Need unexpected french tip coffin nails? Sparkles bring the party. This is a sheer manicure base, but on some of the nails, use a full glitter coat for a fun twist. On the next nail over, use the glitter just at the tip and fade it into the base for a fun, carefree party manicure. It's easy to do and maintain, plus the extra-long nails are a bold choice.
27. Beauty And The Beast Inspired Manicure
Source: instagram.com
Admit it. You wanted that shining rose in Beauty and the Beast. Use it to inspire your next manicure by choosing an almond base for most of your nails. On the accent nail, paint white rose designs that mimic the stained glass of the Beast's castle. It's beautiful and reminds us of unconditional love (and that dress!)
28. Creamsicle Summer Orange Long Nail Design
Source: nailartdazzle.com
Summer is back with unexpected colors and designs in manicures. We had blue earlier on the list, but now orange is something we are just loving. It's fun. It's carefree. It's unexpected. It's bold. Few people display orange so prominently, so go big or go home on this one. Keep the nails long for the biggest impact.
29. The Last Unicorn Shimmer Manicure Coffin Nails
Source: instagram.com
Slight ombre pink and white coffin nails get a huge boost in style from a shimmery iridescent design. Although most of your nails are an effortless, minimal style, iridescence is an amazing compliment to that choice. The shimmer is elegant, bold, and plain awesome. It can go with you from work cocktails straight into the weekend.
30. Gold Dust Woman Glitter Manicure Coffin Nails
Source: instagram.com
Gold doesn't need an accent. Let it take center stage in this manicure. Paint some accent nails with a natural almond color, but on the others use gold glitter to draw an exaggerated nail tip, or go all the way and paint the entire nail with gold glitter. It's almost better than diamonds.
31. Barista Inspired Coffee Glitter Manicure Coffin Nails
Source: lifestylezz.com
What's your favorite coffee? For us, we love a good, well-made latte. It's warm and comforting. Sometimes, we want something a little fancier. This manicure is like our favorite coffee, but with an exciting twist. Use a deep coffee polish on most of your nails, but on alternating nails use a bold, gold glitter for that something fancy.
32. Pastel Ballerina Inspired Rhinestone Coffin Nails
Source: sourireetrespirer.wordpress.com
Ballerinas have to mold themselves into a role so that we can feel the story they dance to. Like Ballerinas, pastel pink manicures are very versatile. They belong to jeans and t-shirts, formal dresses, and work outfits. Add some sparkles in the form of simple rhinestones at the base of the nail to give it that something extra.
33. Unicorn Magic Pink Glitter Nails
Source: instagram.com
Pastel pink isn't always formal. These long coffin nails look great with a shimmery pastel and a high gloss glitter. Pair the two together for a fun visual impact. On the other hand, switch up the pairs. It's fun, perfect for the weekend, and a little bit unexpected. Keep the nails extra long for drama.
34. Matte Pink Cotton Candy Long Coffin Nails
Source: instagram.com
Matte colors are one of the biggest trends in nail art. Use that trend to your advantage with a sweet, cotton candy pink. Pair the manicure with some chunky gold rings and diamonds for a bright, weekend manicure. Keep the nails medium or long for an edgier look.
35. Prince Inspired Purple Glitter Nails
Source: theart123.com
Purple is an amazing color. It's both girly and edgy. Church up your purple by using a deep lavender base color on some of your nails. On others use a marble stencil for a subtle effect on the accent nail. On a second accent nail, use a sparkly, purple glitter polish for an in-your-face accent.
36. Subtle Pretty Pink Long Coffin Nails
Source: stayclassybb.tumblr.com
For a neutral pink during the week, or when you want your nails to take a back seat but still look amazing, choose this look. It uses a subtle dusty pink on each high gloss nail for a beautiful long nail look. It's gorgeous but won't upstage you.
37. Ultimate Sparkle Diamond and Pink Coffin Nails
Source: instagram.com
There's nothing like a glittery, sparkly, diamond-studded manicure set. Soft, pastel pink is the perfect partner for an ultra-high shine, big impact, glitter, and diamond accent nail. Choose the lightest, most pastel pink for a beautiful contrast to the all-out drama of the glitter. Get your glam on.
38. Minimal, Natural Manicure With Silver Stripes Coffin Nails
Source: linasbest.com
This ultra-simple manicure is a great minimal look with a twist. Use a semi-sheer polish on all your nails so that the natural color can show through an ombre style. On an accent nail, use two thin silver stripes across the tip for a little flash of shine. It won't take attention away from your awesome style, but it will give you a slight edge. It's one of the cute easy nail designs you can do yourself.
39. 2001 A Space Odyssey Navy Nails
Source: instagram.com
Deep navy nails are a dramatic and unique choice in nails. It looks great for a lot of different events. Use an equally deep navy glitter to look mimic the cosmos. On other nails, use a slight marble effect for a coordinating design that's interesting and unusual. Go boldly and be creative.
40. Classic Siren Red Long Coffin Nails
Source: instagram.com
Red coffin nails are the ultimate manicure. Lipstick red nails have appeared on every leading lady's hands since the beginning of Hollywood. It's a dramatic, yet classic manicure style. Update the look with a long coffin nail to bring this traditional manicure into this year. It's a beautiful mix of old and new, traditional and trendy.
41. Decoupage Shimmer and Natural Pink Coffin Nails Art
Source: instagram.com
Super long pink nails get a fun and funky update with this cute decoupage style. Use a semi-sheer, pastel pink. On an accent nail, attach chunky, shimmery bits of foil for bold color and light. They're a fun nighttime look that's unexpected, and we guarantee no one will have the same manicure.
42. Sherbet Rainbow Short Coffin Nails
Source: instagram.com
Lighthearted manicures are a nice change from work-appropriate natural nails or more dramatic nighttime manicures. These nails let loose from all the expectations with fun non-repeating colors in a semi-gloss. They're sherbet colors, all bright and fun. Keep it a short nail design so you can still get right into the action.
43. Bold White Geometric Designs with Negative Space Coffin Nails
Sours: https://thecuddl.com/coffin-nails/
LORENZ NAILS - CUT AND DESIGN LONG COFFIN SHAPE - NAIL 2021
65 Best Coffin Shaped Nail Designs
Looking for a new way to style your nails? Follow one of the hottest trends and embrace coffin nails. You've probably seen coffin shaped nails before as they are a favorite of countless celebrities, including the fashionable Kardashian-Jenner clan. The coffin shape is achieved by filing the nail into a tapered point that is then squared off before glitz and polish is applied. Versatile and low-maintenance, coffin nail designs provide you with the stylish edge you desire. Check out the best coffin nail ideas to find colors and styles worth trying at your next salon appointment.
What Are Coffin Nails?
Coffin nails are essentially stiletto nails, but with a square and flat tip instead of a pointy tip. Also known as ballerina nails, coffin shaped nails get their name because the nail looks like a coffin or a ballerina slipper. As one of the most popular nail shapes, professionals have come up with a number of trendy coffin nail designs to try.
From short to long in length with limitless colors, coffin style nails are fun to experiment with and have. Discover the best coffin shape nail ideas to inspire your next manicure.
Short Coffin Nails
Short coffin nails are all the rage when you want elegant nails without the extra length. To develop the signature narrow shape, your existing nails need to reach slightly beyond your fingertip. Even a small amount of length will do the trick since the ends are squared off after the sides have been tapered.
Long Coffin Nails
Whether you want to try this design at home or the salon, long coffin nails are the most stunning option. This fierce look allows you to express the bold parts of your personality as you claw your way to the top of your personal and professional goals. If you want to try popular long coffin shaped nail designs at home, start by filing the sides of your nails to a center point. After the sides are filed, simply square off the point and you're ready to rock this chic trend.
White Coffin Nails
It's time to embrace white coffin nails for a simple and flawless look. Enhance the natural beauty of your nails with shine-coat finish or take a walk on the wild side with a matte coat over your white polish. This casual color choice enhances the coffin shape without distracting from its design.
Nude Coffin Nails
One of the most attractive nail trends in recent years, nudes are given a whole new life with nude coffin nails. Whether you go with shades of tan or pale pink, nude coffin nails provide you with a stylish yet edgy look that works well for daytime errands or evening activities.
Coffin Shaped Acrylic Nails
Coffin shaped acrylic nails to the rescue! Worried about your ability to naturally grow your nails long enough to try this sexy shape? Whether you want long or short coffin acrylic nails, go for the classic look and ask your nail artist to use a coffin shape before you pick out your go-to color and designs. The finished styling is sure to be trendy and hot.
3D Coffin Nails
The boldest of the bold: 3D coffin nails provide you with an added depth and sense of flair to perfectly represent your individuality. The options are endless when heading down the 3D coffin nail route as you can adorn your nails with cute rhinestones and decorative petals.
Matte Coffin Nails
If you're looking for a chic, classy and professional design, matte coffin nails are going to become your next big obsession. This cool take on a classic is easy to accomplish. Start by choosing a bold nail color like navy, black, or crimson, then apply a matte topcoat over the polish after it dries.
Transparent Coffin Nail Design
Transparent coffin nail designs are super simple to achieve but provide you with eye-catching nails you're sure to receive compliments on. To achieve this gorgeous look, purchase striping tape at your local beauty supply store. Apply the striping tape to your bare nails in any design you like, such as stripes or arrows, then apply your selected nail color over the taped sections. Once your nails dry, remove the tape slowly and reveal your transparent coffin shaped nails to the world.
Cute Coffin Shape Nails
Conquering a new nail trend is overwhelming at first, but sticking with traditional options like simple yet cute coffin shape nails alleviates some anxiety. The great thing about these types of nails is that you can choose any color or design you prefer, meaning you can be as pretty or feisty as you want. If you're feeling fierce and edgy, choose a burnt orange hue or a deep red. If you want a classic cute color style, go with ballet pink or light teal.
Coffin Shaped Accent Nails
Be bold with your choices and opt for coffin shaped accent nails to add a pop of color or a sense of intrigue the next time you're at the nail salon. Your accent nail can simply be a glitter polish that works with the plain polish you've chosen for your other nails, or you can get a little bit crazy and add a design as well.
Elegant Coffin Shaped Nails
For a more charming alternative, embrace elegant coffin shaped nails at your next big event. By choosing neutral colors or a classic design, you'll present a sense of elegance without sacrificing the individuality of the coffin nail shape.
Black Coffin Nails
Black coffin nails are a classic choice among those who enjoy more dramatic looks. Whether you choose a standard gloss finish, or you want to take things up a notch with matte black nails, this design will become one of your favorites.
Red Coffin Nails
Red coffin nails are an effortless option if you're looking for a way to bring a splash of elegance to your nail design. Modern, chic and fierce, red has been a staple color for decades and automatically presents you with an air of class and charm. If bright colors aren't your style, consider matte red coffin nails for an understated yet sexy touch.
Pink Coffin Nails
For a softer finish, go with pink coffin nails and embrace a beautiful yet stylish nail choice. This option pairs well with light pink polishes, but if you want to turn up the vibrancy, choose a brighter hue. You'll still look hot without worrying about whether your nail choices are too severe.
French Tip Coffin Nails
French tip coffin nails are a great way to spice up a traditional nail design. To achieve this effect, section off a longer portion of the tip on your manicure and apply a white polish to this section. Then apply a clear or soft pink polish to the bottom portion and voila! You've achieved the charming French tip coffin nails of your dreams.
Blue Coffin Nails
Blue coffin nails are perfect for those seeking a versatile look. Available in a variety of hues, blue coffin nails are an amazing way to incorporate a sense of style into your nail design. Whether choosing a baby blue or a dark navy, blue nails are always chic.
Clear Coffin Nail Designs
Clean coffin nail designs are essential if you want to combine several elements into one overall look. Section off portions of your coffin nails with tape and then paint and adorn each portion differently. For a unique effect, paint the bottom portion of your nail a solid color, leave the middle section clear, and then apply a different color with a row of gems to the top portion before removing the striping tape.
Grey Coffin Nails
Grey may seem like a drab color, but grey coffin nails are extremely stylish and trendy. Ranging from dark grey to lighter hues, these coffin nail designs suit any personality or profession.
White Tip Coffin Nails
If French tip coffin nails are a little too much for you, opt for a simpler white tip coffin nail design instead. Section off a smaller portion of the tip and paint this a solid white before applying a clear polish to the rest of your nails. For an even trendier alternative, ask your nail stylist to complete an ombre white tip coffin effect the next time you get your nails done.
Natural Coffin Nails
Natural coffin nails are the perfect option if you want the coffin nail design but are unsure of whether you want to embrace a bold color or daring design. Shape your nails into the coffin design and apply a sheer coat of nail polish to give your nails a glossy look.
How To Do Coffin Shape Nail Designs
To do coffin shape nail designs at home, you'll need to follow a few basic steps. To start, grab a pair of nail clippers or nail scissors and cut your nails along the side to create a narrow effect. Next, take a nail file or emery board and file the sides of your nails until they taper into a point at the tip. After the sides of your nail are smoothed, file off the tip of your nail into a square shape.
Coffin Shaped Nails
To achieve this effect for the first time, start by cutting and filing the sides of your nails into tapered lines before filing the tip of your nail into a smooth, squared edge.
For those with short nails, either try to achieve a short coffin nail design or head to a salon where you can have acrylic nails placed on by a professional.
Choose a color – whether bold or soft – then decide whether you want a matte or shine finish.
For a funkier design, choose striping effects or embellish your nails with beads and petals.
Sours: https://www.toptrendsguide.com/coffin-nails/
You will also be interested:
I'm not a pervert. Simultaneously with a feeling of curiosity and admiration, Roman looked at her face. Her mouth was ajar. As if expecting a hot kiss, Lera closed her eyes. But he was in no hurry, trying to take a closer look at his beautiful mermaid.
5000
5001
5002
5003
5004