Best TV and Movies to Stream: 'Baker's Dozen,' 'Welcome to the Blumhouse' and More
With Amazon Prime Video, Hulu, Disney+, HBO Max, Paramount+, Netflix, Peacock, Discovery+ and even more streaming services, there's no shortage of options when choosing your next binge-worthy show or the main event at movie night. However, sometimes the amount of great film and television available to stream can be overwhelming and lead to hours scrolling Netflix aimlessly, hoping to land on that perfect piece of content.

Scroll no more! To help you out, we've rounded up the best movies and TV shows to stream right now-- including new arrivals, nostalgia-filled favorites and titles you may have missed the (well-deserved) hype on originally that are worth circling back for.

From a horror flick suitable for spooky season to your next bake-off comfort show, we've got your content covered this week. For even more recommendations, make sure to check out our guide for everything new on Prime Video and Hulu in October.

Here are the best TV shows and movies to stream this week:

From the producers of Get Out and The Invisible Man, Amazon and Blumhouse's horror series, Welcome to the Blumhouse, continues this year with four new films joining the streaming platform. Bingo Hell follows a spirited senior citizen who must fight against a sinister businessman to protect the residents of her low-income community. Black as Night is an action-horror hybrid set in New Orleans in which a teenager crafts a revenge plan against a horde of local vampires. The Manor tells the story of a sleepy nursing home in which an evil force is preying on the residents. Madres is about a young Mexican-American couple in the 1970's who move to a small rural town to manage an isolated farm ahead of the birth of their first child. All of these films, including last year's movies in Amazon's Welcome to the Blumhouse series, are available to stream now.

Watch on Prime Video

---
Hulu is finally hopping on the bake-off train with Baker's Dozen. 13 bakers, some amateurs and some professional, gather and compete for a chance at a $5,000 grand prize. The show is broken into three rounds, the first centers around creativity and presentation, the second around taste, and the third round combines the two in a fantastical dessert mashup. Hosted by The Real's Tamera Mowry-Housley and Former White House pastry chef, Bill Yosses, this delightful (and delicious) competition is streaming now on Hulu.

Watch on Hulu

---
Demi Lovato is confident about their journey through the world of aliens. The pop singer is bringing their friend Matthew and sister Dallas along for the televised ride as they speak with leading experts, interview alien eyewitnesses, and conduct tests to search for the truth about UFOs in this four-part, extraterrestrial docuseries, streaming exclusively on Peacock.
Watch on Peacock

---
Starring the son of the original Tony Soprano himself, The Many Saints of Newark is taking viewers way back to the 60's and 70's, before all of the events in the Emmy-winning show take place. This prequel film shows young Tony's life, growing up when his father and uncle ran the family kingdom in Newark, New Jersey. Frequent Sopranos episode director Alan Taylor and former Sopranos writer Lawrence Konner return alongside creator David Chase to create this highly-anticipated prequel, streaming on HBO Max through the end of October.
Watch on HBO Max

---
Based on the Lois Duncan novel of the same name, I Know What You Did Last Summer follows a group of teenagers who, after a fatal car crash, feel as though they're being haunted by their victim. The teens quickly realize that their perceived ghost is actually a serial killer who is stalking them, and the trailer suggests that it only gets crazier from there. The first season of I Know What You Did Last Summer premieres on Oct. 15.

Sign Up to Watch on Prime Video

---
TV's wildest and most watchable series is back for season in the morning show trenches. Alex Levy (Jennifer Aniston) and Bradley Jackson (Reese Witherspoon) must contend with even more drama on and off screen this year, with Holland Taylor, Hasan Minhaj and Julianna Margulies joining the cast. New episodes every Friday.
Watch on Apple TV+
---
Prom kings and queens and everyone in between, grab your tiaras and highest heels and tune in to The Jamie Show. Based on the musical of the same name, Everybody's Talking About Jamie stars Max Harwood as Jamie New, whose dream of attending prom in drag sends his small English town into a tizzy.
Watch on Prime Video
---
Cry Macho may sound like a movie Clint Eastwood would have directed and starred in the '70s, which is apt because that's when the drama is set. In it, Eastwood plays a one-time rodeo star who accepts a job escorting a boy (newcomer Eduardo Minett) home from Mexico. Macho-ness and some crying likely ensues.
Watch on HBO Max
---
Though he's currently under the sea shooting the Aquaman sequel, the latest from director James Wan is a return to form: With Malignant, he returns to his Insidious and Conjuring roots for a horror flick about a woman (Annabelle Wallis) whose imaginary friend may or may not be committing grisly murders.
Watch on HBO Max
---
The devil is in the details -- and in his final season, as Netflix wraps up the story of TV's most charming fallen angel (Tom Ellis). And though he's been resurrected once before, this time it's ending for good. So, will Lucifer become God? And will he and Chloe (Lauren German) get a happy ending? Tune in to say goodbye.
Watch on Netflix
---
At long last, a Cinderella story featuring the music of Janet Jackson, Ed Sheeran and JLO. Camila Cabello stars as titular princess in this modern retelling/jukebox musical from writer-director Kay Cannon, with Billy Porter as her fairy godmother, Idina Menzel as her wicked stepmother and Nicholas Galitzine as her Prince Charming.
Watch on Prime Video
---
Who could have predicted Disney+ would be the go-to streamer for your favorite pop star's new projects? First there was Beyoncé with Black Is King, then Taylor Swift with her intimate Folklore concert film, now it's Billie Eilish's turn. Happier than Ever: A Love Letter to Los Angeles sees her performing every song from her latest album -- in order -- from L.A.'s legendary Hollywood Bowl.
Watch on Disney+
---
Steve Martin. Martin Short. Selena Gomez. Need we say more? The comedic voices of two different generations (Wizards of Waverly Place was seminal) united for a true crime-inspired comedy about neighbors recording a podcast while attempting to solve a murder in their Upper West Side apartment building. Can they solve the mystery before one of them ends up dead too?
Watch on Hulu
---
Who was Cruella de Vil before she became the puppy murderer we all know and love? As played by Emma Stone in this origin story, she's an aspiring fashion designer named Estrella. You'll have to tune in to find out how Dalmatians factor in, but expect endless over-the-top costumes and appearances by other beloved characters, too. Now available to all Disney+ subscribers.
Watch on Disney+
---
What happens on vacation doesn't stay on vacation in this raunchy comedy about a newly engaged couple (Lil Rel Howery and Yvonne Orji) who befriend a pair of partiers (John Cena and Meredith Hagner) in Mexico -- but regret it when the tequila-chugging, jet ski-crashing twosome show up at their wedding.
Watch on Hulu
---
The funniest show on TV makes the jump to HBO Max for its second season, in which struggling actor Cary (Drew Tarver) and wannabe manager Brooke (Heléne Yorke) not only have to deal with their little brother's overnight fame but their mom's (Molly Shannon) new daytime talk show!
Watch on HBO Max
---
Lizzie McGuire may not be getting the grown up reboot of our dreams but iCarly, with Miranda Cosgrove reprising her role as the titular influencer 10 years after the Nickelodeon series ended, successfully pulled it out. Season 1 is now streaming full as Carly navigates dating and other 20-something drama in the social media age.
Watch on Paramount+
---
Hugh Jackman's private investigator exists in a not-so-far-off future, where global warming has submerged the city of Miami and sci-fi tech allows you to escape into better memories from the past. That's how he becomes entangled with a missing femme fatale (Rebecca Ferguson) in Westworld co-creator Lisa Joy's feature debut.
Watch on HBO Max
---
Octavia Spencer is back as true crime podcaster Poppy Parnell and investigating a new case that involves her childhood friend-turned-media mogul. That's where Kate Hudson comes in, for her first-ever starring TV gig. (If you don't count the string of guest star appearances she did on Glee.)
Watch on Apple TV+
---
If Sandra Oh's on it, we're watching: Grey's Anatomy, Killing Eve, and now The Chair, a dramedy in which she plays the first woman to chair her department at the prestigious Pembroke University. Jay Duplass and Holland co-star, with Amanda Peet serving as showrunner on her first series.
Watch on Netflix
---
The only hearing person in her family, high schooler Ruby (Locke & Key's Emilia Jones) comes of age when she discovers a passion for music. (The title is short for "Child of Deaf Adults.") CODA was the breakout film at Sundance this year and is now streaming, co-starring Marlee Matlin, Troy Kotsur and Daniel Durant.
Watch on Apple TV+
---
If Eugene Cordero was your breakout star of Loki, then you can get a lot more of him aboard the U.S.S. Cerritos, as Ensigns Mariner (Tawny Newsome), Boimler (Jack Quaid), Rutherford (Cordero) and Tendi (Noël Wells) return for a new season of animated hijinks on a journey to live long and prosper.
Watch on Paramount+
---
From the streamer that brought Ted Lasso into your life comes another winsome comedy starring two comedians who deserve the world: Cecily Strong (an undersung hero of SNL) and Keegan-Michael Key play a couple who find themselves trapped in a musical from the '40s and unable to escape until they find true love. Season finale now streaming.
Watch on Apple TV+
---
Based on the beloved Disney attraction, the adventure stars Emily Blunt as Dr. Lily Houghton, a turn of the century researcher who travels to the Amazon in search of a legendary tree with the ability to cure all known maladies. There, she hires a hapless riverboat skipper named Frank (Dwayne Johnson), to take her down the river. Punnery ensues. (Available with Premier Access)
Watch on Disney+
---
Have fun explaining this title to your mom. Hosted by comedian Nikki Glaser, the series drops three single gals onto an island with a cavalcade of guys who are either genuinely looking for love -- or are f**kboys, which in this case means they're just there for the cash (but probably wouldn't turn down a FBOY With Benefits sitch). The women must figure out who's who. As for us? We're already in love with this dumb, dumb program.
Watch on HBO Max
---
Everybody's favorite "football" coach is back for another season of kindness, biscuits and some sports, too. Following a history-making Emmy nominations haul, season 2 will get rom-commyy for Keeley (Juno Temple) and Roy (Brett Goldstein) while Ted (Jason Sudeikis) and AFC Richmond fight to prove themselves on the pitch. New episodes weekly.
Watch on Apple TV+
---
Scarlett Johansson's original Avenger finally gets her own solo film: A globetrotting spy thriller that sees Natasha on the run and teaming up her "sister," Yelena (Florence Pugh), to take on a comic book baddie named Taskmaster. Rachel Weisz co-stars as a fellow Widow-turned-shady scientist with David Harbour as the Russian super soldier, Red Guardian. (Available with Premier Acess)
Watch on Disney+
---
She's baaaaaack. Everyone's favorite digital tattletale has moved on from Serena and Blair to sink her claws into a new clique in this continuation of the iconic series -- with a twist. Kristen Bell returns as the voice of Gossip Girl, alongside a sexy new cast of Upper East Siders.
Watch on HBO Max
---
It's the same Rugrats you loved with a kid, just for the 21 century. The iconic '90s cartoon returns with a CG- makeover, but while it may look different, it will sound the same: Tommy Pickles and his pint-sized friends are all voiced by the same actors from when you were young, ready to embark on new adventures.
Watch on Paramount+
---
Your favorite Central Perk sextet is streaming on HBO Max, and there's no better time to binge the entire series than with the debut of the years-in-the-making reunion. Catch up with Rachel, Monica, Phoebe, Chandler, Joey and Ross, check in on Ugly Naked Guy, grab a coffee from Gunther and figure out, once and for all, if they were really "on a break."
Watch on HBO Max
---
While it's being liked to Gossip Girl meets Downton Abbey, Bridgerton is a true Shondaland original. The ensemble series about high society kicks off as Daphne (Phoebe Dynevor), the eldest daughter of the revered and expansive Bridgerton family, makes her debut in London's marriage market and become the subject of the mysterious Lady Whistledown's scandal sheet.
Watch on Netflix
---
If you haven't caught The Flight Attendant yet, it's time to get on board. Kaley Cuoco returns to TV for her first live-action role since The Big Bang Theory in this HBO Max mystery, playing Cassie, a flight attendant who wakes up after a night of drunken sex with a handsome stranger (Michiel Huisman), only to find her lover gruesomely murdered in her hotel bed.
Watch on HBO Max
---
Disco'sthird season picked up after a game-changing cliffhanger, when Michael Burnham (Sonequa Martin-Green) and the USS Discovery crew blasted off 930 years into the future. Season 3 also welcomed the franchise's first transgender and non-binary characters, plus a mysterious ally, Cleveland "Book" Booker (David Ajala), and his furry companion, a cat named Grudge.
Watch on Paramount+
---
The beloved (and 11-time Tony-winning) Broadway musical is finally available to watch at home, offering fans a composite of several productions of the hip-hop founding father saga recorded at the Richard Rodgers Theatre with the original 2016 cast, which includes Lin-Manuel Miranda, Leslie Odom Jr., Philippa Soo, Renée Elise Goldsberry, Daveed Diggs and more.
Watch on Disney+
---
Twenty years after its premiere season, Survivor has continued to outwit, outplay and outlast, delivering some of reality TV's most grueling challenges and compelling personalities. Stream every season of the ultimate competition show on Paramount+ now.
Watch on Paramount+
ET and Paramount+ are both subsidiaries of ViacomCBS.
RELATED CONTENT:
How to Watch 'The Morning Show'
Here's How to Catch Up on 007 Films Before You Watch 'No Time to Die'
The Best Episodes of 'The Office' You Can Binge Right Now
How to Watch 'Impeachment: American Crime Story'
How to Watch the 'Harry Potter' Films
The Definitive Guide to Binge-Watching 'Friends' on HBO Max
How to Watch 'The Many Saints of Newark' and Catch up on 'The Sopranos
How to Watch 'Justin Bieber: Our World'
How to Watch the Hulu's New Britney Spears Documentary
How to Watch 'Law & Order: SVU' on Hulu
How to Watch Nicole Kidman's New Show 'Nine Perfect Strangers'
How to Watch NFL Football
Sours: https://www.etonline.com/best-tv-and-movies-to-stream-bakers-dozen-welcome-to-the-blumhouse-and-more-143096
List of anime releases made concurrently in the United States and Japan
This list comprises anime titles that have been made available in the United States concurrently with its Japanese release, usually via online streaming, along with the source of the release. The list is in chronological order by season, and alphabetical order within each season.
Spring 2008[edit]
Fall 2008[edit]
Winter 2009[edit]
Spring 2009[edit]
Summer 2009[edit]
Fall 2009[edit]
Winter 2010[edit]
Spring 2010[edit]
Summer 2010[edit]
Fall 2010[edit]
Winter 2011[edit]
Spring 2011[edit]
Summer 2011[edit]
Fall 2011[edit]
Winter 2012[edit]
Spring 2012[edit]
Summer 2012[edit]
Fall 2012[edit]
Winter 2013[edit]
Spring 2013[edit]
Summer 2013[edit]
Fall 2013[edit]
Winter 2014[edit]
Spring 2014[edit]
Summer 2014[edit]
Fall 2014[edit]
Winter 2015[edit]
Spring 2015[edit]
Ace of Diamond: Second Season - Crunchyroll
Baby Steps Season 2 - Crunchyroll
Blood Blockade Battlefront - Funimation[b] & Hulu
The Disappearance of Nagato Yuki-chan - Funimation[b] & Hulu
Fate/stay night: Unlimited Blade Works Season 2 - Crunchyroll, Daisuki, Hulu, Aniplex
Food Wars: Shokugeki no Soma - Crunchyroll
The Eden of Grisaia - Crunchyroll
The Labyrinth of Grisaia - Crunchyroll
Gintama° - Crunchyroll
Gunslinger Stratos: THE ANIMATION - Crunchyroll, Daisuki, Hulu & Aniplex
The Heroic Legend of Arslan - Funimation[b] & Hulu
Hello!! Kinmoza! - Crunchyroll
High School DxD BorN - Funimation[b]
I Can't Understand What My Husband is Saying: 2nd Thread - Crunchyroll
Is It Wrong to Try to Pick Up Girls in a Dungeon? - Crunchyroll
Joker Season 2 - Crunchyroll
Mikagura School Suite - Funimation[b]
My Love Story!! - Crunchyroll
My Teen Romantic Comedy SNAFU TOO! - Crunchyroll
Ninja Slayer - Funimation[b]
Nisekoi: - Crunchyroll, Daisuki, Hulu & Aniplex
Plastic Memories - Crunchyroll, Daisuki, Hulu & Aniplex
Punch Line - Crunchyroll
Rainy Cocoa - Funimation
Re-Kan! - Crunchyroll
Rin-ne - Crunchyroll
Saint Seiya: Soul of Gold - Crunchyroll & Daisuki
Seraph of the End - Funimation[b] & Hulu
Show by Rock!! - Funimation[b]
Sushi and Beyond - Viewster
Sound! Euphonium - Crunchyroll
Takamiya Nasuno Desu! - Crunchyroll
Teekyu Season 4 - Crunchyroll
Tesagure! Bukatsu-mono Season 3 - Crunchyroll
Triage X - Crunchyroll
Ultimate Otaku Teacher - Funimation[b]
Urawa no Usagi-chan - Crunchyroll
Uta no☆Prince-sama Revolutions - Crunchyroll
Wish Upon the Pleiades - Crunchyroll
Yamada-kun and the Seven Witches - Crunchyroll
Summer 2015[edit]
Actually, I Am - Crunchyroll
Aoharu x Machinegun - Crunchyroll
Aquarion Logos - Funimation, Hulu
Bikini Warriors - Funimation, Hulu
Castle Town Dandelion - Funimation, Hulu
Chaos Dragon - Funimation, Hulu
Charlotte - Crunchyroll, Hulu, Aniplex, Viewster & Daisuki
Classroom Crisis - Crunchyroll, Hulu, Aniplex, Viewster & Daisuki
Danchigai - Crunchyroll
Durarara!!x2 Ten - Crunchyroll,[b]Hulu,[b]Aniplex,[b]Daisuki[b]
Fate/Kaleid Liner Prisma Illya 2wei Herz! - Crunchyroll
Gangsta. - Funimation,[b]Hulu
Gatchaman Crowds Insight - Crunchyroll
GATE - Crunchyroll
God Eater - Daisuki, Hulu
Hetalia: The World Twinkle - Funimation, Hulu
Himōto! Umaru-chan - Crunchyroll
The Idolmaster Cinderella Girls Season 2 - Daisuki, Hulu
Junjo Romantica 3 - Funimation, Hulu
Makura no Danshi - Crunchyroll
Million Doll - Crunchyroll
Miss Monochrome - The Animation Season 2 - Crunchyroll
Monster Musume - Crunchyroll
My Wife is the Student Council President - Crunchyroll
Non Non Biyori Repeat - Crunchyroll
Overlord - Funimation, Hulu
Prison School - Funimation,[b]Hulu
Rampo Kitan: Game of Laplace - Funimation, Hulu
Rokka: Braves of the Six Flowers - Crunchyroll
School-Live! - Crunchyroll
Seiyu's Life! - Funimation, Hulu
Shimoneta: A Boring World Where the Concept of Dirty Jokes Doesn't Exist - Funimation, Hulu
Sky Wizards Academy - Funimation,[b]Hulu
Snow White with the Red Hair - Funimation, Hulu
Symphogear GX - Crunchyroll
Teekyu Season 5 - Crunchyroll
To Love Ru Darkness 2nd - Crunchyroll
Ushio and Tora - Crunchyroll
Venus Project: Climax - Funimation, Hulu
Wagnaria!! 3 - Crunchyroll, Hulu, Aniplex, Viewster & Daisuki
Wakaba*Girl - Crunchyroll
Wooser's Hand-to-Mouth Life: Phantasmagoric Arc - Crunchyroll
Fall 2015[edit]
Winter 2016[edit]
Spring 2016[edit]
Summer 2016[edit]
Fall 2016[edit]
Winter 2017[edit]
Spring 2017[edit]
Sours: https://en.wikipedia.org/wiki/List_of_anime_releases_made_concurrently_in_the_United_States_and_Japan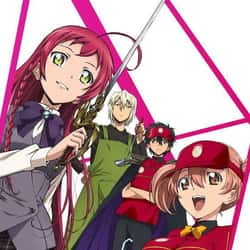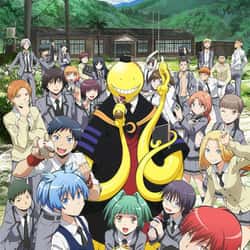 My Hero Academia (MBS, 2016) is a Japanese action anime series based on the manga by Kohei Horikoshi from Bones Studios. Izuku Midoriya, a boy born without superpowers (called Quirks) in a world... more
The Best My Hero Academia Fanfiction, RankedThe 15 Worst Quirk Drawbacks In My Hero Academia, Ranked#4 of 100 The Most Popular Anime Right Now
Is It Wrong to Try to Pick Up Girls in a Dungeon? (Tokyo MX, 2015), also known as DanMachi or Familia Myth, is a Japanese fantasy anime series based on the light novel series written by Fujino Ōmori... more
#4 of 19 Every Major Shonen Anime Ranked by Amount of Fanservice#6 of 16 The 16 Best Anime About Slaying Monsters#4 of 15 The 15 Best Action Romance Anime You Need To Watch
Kamisama Kiss is a Japanese manga series written and illustrated by Julietta Suzuki. An anime adaptation has been produced by TMS Entertainment and directed by Akitaro Daichi and began airing in... more
#1 of 16 The 16 Best Supernatural Romance Anime#40 of 81 25+ Anime With Great Rewatch Value#3 of 70 The Best Shoujo Anime And Manga
Food Wars was a weekly Travel Channel series hosted by Camille Ford that debuted on Tuesday, March 9, 2010. The show featured restaurant rivalries in cities around the United States, with loyal fans... more
#177 of 199 The 100+ Best Anime Intros of All Time#12 of 25 The 25 Absolute Best Anime of 2019, Ranked#12 of 41 The Best Drama Anime on Hulu
Haikyu!! is a Japanese shonen manga series written and illustrated by Haruichi Furudate. Junior high school student Shōyō Hinata gains a sudden love of volleyball after seeing a national championship... more
#43 of 111 The Very Best Anime for Kids#1166 of 1,315 The Best Guilty Pleasure TV Shows#5 of 35 The Best Comedy Anime On Netflix
No Game No Life (Madhouse, 2014) is a Japanese fantasy anime series based on the light novel series by Yu Kamiya. When siblings Sora and Shiro, who are the most feared team of pro gamers in the world... more
#54 of 143 The Best Anime Streaming On Netflix#1 of 40 25+ Anime That Totally Deserve A Second Season#3 of 69 The Best Madhouse Anime, Ranked
Shimoneta: A Boring World Where the Concept of Dirty Jokes Doesn't Exist (J.C.Staff, 2015), officially abbreviated as Shimoseka in Japan, is a Japanese comedy anime series based on the light novel by... more
#3 of 15 The 15 Greatest Guilty Pleasure Anime You Secretly Love#5 of 15 15 Ridiculously Immature Anime That Don't Even Try To Hide It#7 of 13 13 Anime Where the Government is the Villain
Kaguya-sama: Love is War (A-1 Pictures, 2019) is a Japanese romantic comedy anime series based on the manga by Aka Akasaka. Two high school geniuses, Shirogane and Kaguya, can't admit they're in... more
Prison School is a Japanese manga series written and illustrated by Akira Hiramoto. Hachimitsu Academy, one of the strictest girls academies in Tokyo, has decided to admit boys into their system.... more
#3 of 15 15 Anime With Insanely Dark Humor#15 of 15 Anime Drinking Games To Get Your Non-Anime Friends In On The Action#74 of 98 The 50+ Greatest Manga of All Time, Ranked
Gin Tama is a Japanese manga written and illustrated by Hideaki Sorachi. A full anime series debuted on April 4, 2006 on TV Tokyo and finished on March 25, 2010. The story is set in an alternate... more
#44 of 149 The Best Fantasy Anime of All Time#136 of 178 The Saddest Anime Series of All Time#20 of 70 The Best Shonen Jump Anime of All Time
Himouto! Umaru-chan (ABC, 2015) is a Japanese comedy anime series from Doga Kobo animation studio. Umaru Doma is a high school girl who lives with her older brother Taihei who at school, appears to... more
Yoshioka Futaba has a few reasons why she wants to "reset" her image & life as a new high school student. Because she's cute, she was ostracized by her female friends in junior high, and because of a... more
#3 of 15 The 15 Best High School Romance Anime#1 of 30 The Best Love Triangle Anime#1 of 13 The Best Anime Like Orange
I Couldn't Become a Hero, So I Reluctantly Decided to Get a Job, also known in its short form as Yu-Shibu, is a Japanese light novel series written by Jun Sakyou and illustrated by Masaki Inuzumi.... more
#15 of 26 The Best Demon Anime#4 of 15 15 Fantastic Anime About Working At A Job#55 of 82 The Best Fantasy Anime on Hulu
Nisekoi, released in English as Nisekoi: False Love, is a Japanese romantic comedy manga series written and illustrated by Naoshi Komi. Nisekoi follows high school students Raku Ichijo, the son of a... more
#67 of 70 The Best Shounen Anime Of All Time#2 of 15 The 15 Best Slice of Life Anime on Crunchyroll#7 of 15 The 15 Best Romance Anime on Crunchyroll
Date A Live is a Japanese light novel series written by Kōshi Tachibana and illustrated by Tsunako. An anime adaptation series aired on TV from April 6 to June 22, 2013. Each episode was streamed in... more
#27 of 50 The Weirdest Anime Shows of All Time#13 of 13 13 Great Anime That Had Terrible Second Seasons#5 of 15 The Most Anticipated Anime Of 2021
The story follows Sakamaki Izayoi, a boy bored with the entire world. One day, an envelope arrives for him. The moment Izayoi opens the envelope, he is transported to an alternate world. There, he... more
#145 of 278 The Best Anime Series Of All Time#76 of 191 The Best Action Anime of All Time#27 of 154 The Best Supernatural Anime
My Love Story!! (Ore Monogatari!!, lit. "It's My Story!!") is a Japanese romantic comedy manga series written by Kazune Kawahara and illustrated by Aruko and 2015 anime series. Takeo Gōda is a... more
Gugure! Kokkuri-san is a Japanese manga series by Midori Endō, serialized in Square Enix's Gangan Joker since 2011. Kohina Ichimatsu is an expressionless elementary school girl who lives alone,... more
Oreimo, short for Ore no Imōto ga Konna ni Kawaii Wake ga Nai and also known as Ore no Imōto, is a Japanese light novel series written by Tsukasa Fushimi, with illustrations provided by... more
My Teen Romantic Comedy SNAFU (Brain's Base, 2013), also known as OreGairu or My Youth Romantic Comedy Is Wrong, As I Expected, is a Japanese romantic comedy anime series based on the light novel... more
#23 of 129 The Best Romance Anime Ever Made#114 of 137 The Best Anime on Crunchyroll#12 of 15 15 Deceiving Anime That Prove You Shouldn't Judge A Book By Its Cover
No Matter How I Look at It, It's You Guys' Fault I'm Not Popular!, commonly referred to as WataMote, is a Japanese manga series written and illustrated by Nico Tanigawa. It began serialization on... more
#2 of 13 13 Anime That Deal With Arranged Marriage#25 of 30 The Best Supernatural Anime on Hulu#6 of 35 The Best Family Anime
#10 of 13 The 13 Best Anime Like Keep Your Hands Off Eizouken!#8 of 15 15 Anime You Would Never Guess Are Based On True Stories
Amagi Brilliant Park is a Japanese light novel series written by Shoji Gatoh and illustrated by Yuka Nakajima. Seiya Kanie is a good looking, perfectionist boy who is forced by the mysterious Isuzu... more
School Rumble is a Japanese shōnen manga series written and illustrated by Jin Kobayashi. First serialized in Weekly Shōnen Magazine from October 22, 2002 to July 23, 2008, all 345 chapters were... more
#75 of 80 The 50+ Best First Anime To Watch For New Fans, Ranked#95 of 103 The 30+ Best Anime for Teens#43 of 139 The Funniest Anime Shows Ever Made
Aoharu x Machinegun (Aoharu x Kikanjū) is a Japanese manga series by NAOE and 2015 anime series. After hearing rumors that her best friend was tricked by the popular host of a local club, Hotaru... more
#14 of 14 The 14 Best Survival Game Anime Ever Made, Ranked#13 of 21 The 16+ Best Survival Game Anime#7 of 18 The Best Tournament Anime on Hulu
Ranma ½ (Japanese: らんま 1/2, Hepburn: Ranma Nibun-no-Ichi, pronounced Ranma One-Half) is a Japanese manga series written and illustrated by Rumiko Takahashi. It was serialized in Weekly Shōnen Sunday... more
Sours: https://www.ranker.com/list/best-comedy-anime-on-hulu/ranker-streaming
All Mashiro Noises - Engaged to the Unidentified
Mikakunin de Shinkoukei Season 2: Premiere Date, Characters, Plot
Being an adaptation of quite an unheard manga, 'Engaged to the Unidentified' (or Mikakunin de Shinkoukei)came in with very little hype around it. But with time, it gained more popularity than most other similar anime. For the major part of it, it has a very typical story and if you go through its plot summary, you will notice that it is nothing but a series of mundane events. What truly stands out about the anime is how the comedy is executed in the cleverest ways. The overall premise creates a very tense environment and the well-developed characters manage to bring in a vibrant mood to the show. Being a romantic comedy, most viewers would even expect it to have a lot of fan-service, but surprisingly there is hardly any skin show and also, there are absolutely no weird camera angles.
Even the artwork of the anime is quite impressive and the credit for that goes to Doga Kobo studio. The characters have been designed in a very cute and simplistic way which really suits their overall personalities and there is also a strong use of visuals to smartly execute some comic moments of the show. The soundtracks have a more casual feel and are neither good nor too bad. The character mannerisms fit right in with their sweet personalities.
Overall, 'Engaged to the Unidentified' is not an anime that you will instantly like but with time, you learn to love its characters and you'll also start embracing its well-structured comedy. In the end, to enjoy this show, all you need is a little patience till it strikes the right cords with its blend of fantasy, romance, and comedy. And even if you do not enjoy it after watching the first season, it won't really matter much because it only has 12 episodes.
Engaged To The Unidentified Season 2 Release Date: When will it premiere?
'Engaged to the Unidentified' Season 1 consisted of 12 episodes and aired from January 9, 2014 to March 27, 2014. The anime seemed slightly above average and was also accepted well by the viewers. There isn't much of the manga left for a whole new season, which really makes us doubt the possibilities of its renewal. But then being a slice-of-life show, the creators will not have a tough time making up an original story of their own. But this again would be a big risk considering the fact that the anime only did fairly well even after staying loyal to its manga.
As much as we would love to watch a new season, there isn't much we can say about it as of now. Considering most factors, it seems a little less likely for now, but we might still just get a new season when we're least expecting it. As soon as we come to know about 'Engaged to the Unidentified' season 2 release date, we will update this section.
Engaged To The Unidentified English Dub:
You can watch 'Engaged to the Unidentified' on Crunchyroll and HiDive with its original Japanese audio and English subtitles.
Engaged To The Unidentified Plot:
Kobeni Yonomori is just another teenager who lives an ordinary life until one day everything changes. On her 16th birthday, she is beyond surprised when she meets her fiance and sister-in-law for the first time. Before this, she had no clue that they even existed. Her grandfather had made an arrangement where Hakuya Mitsumine and his younger sister were to move from their traditional countryside home to the Yonomori household in order to strengthen their bonds with their future family.
Shocked and at the same time, extremely excited, Kobeni must now learn to adapt to these abrupt changes. She must also learn to accept her new-found fiance as her future husband. But along the way, she will discover various secrets about her own family that will change everything she had ever known about them. Will she be able to live with all the uncertainty that comes with her future now or will she give in to the pressure and eventually give up on the whole arrangement made by her grandfather?
Engaged To The Unidentified Characters:
Hakuya Mitsumine
Hakuya Mitsumine is Kobeni Yonomori's fiance, who suddenly shows up at the Yonomori household, on Kobeni's 16th birthday, along with his younger sister Benio. He is a handsome looking tall guy with long black spiky hair that rests down his forehead covering one of his eyes. He is a little slow when it comes to understanding simple things and later, it is revealed that he is an Inugami with some unusual abilities. His supernatural powers include being able to run long distances at inhuman speeds and also being able to take freakishly long jumps. He also claims that he has the ability to shapeshift into a black dog but refuses to prove it.
For the most part of the show, his true personality remains a mystery to almost everyone because he always maintains a cool and calm demeanor. He also does not like to eat sweets, but goes ahead and eats some when Kobeni makes them. He hides his inner feelings and tries not to reflect them on his expressions. But Kobeni knows him really well and is able to read everything that he feels deep inside. He is very patient and has immense control over all of his actions.
Mashiro Mitsumine
Mashiro Mitsumne is Hakuya's younger sister and is Kobeni's future sister-in-law. She is really afraid of U.F.Os and Monsters and she really hates sticky foods and fermented beans. She loves eating sweets along with some warm tea. She has long dark brown hair and huge yellow eyes. Her hair changes from straightened to curled usually depending on her mood. Her high school uniform is too large for her because she is still of grade school age.
She can act like a spoilt brat a lot of times but she still cares about her brother and also a few of her friends. For her age, she appears to be really small and Kobeni looks at her with a skeptic's eye when she claims to be a 9-year-old. She tries to act older by using a heavy vocabulary and referring to others using their first names. Initially, everyone thinks that she is intellectually very smart but later it is revealed that all this while, she was just using her special abilities to appear intellectually smart.
Kobeni Yonomori
Kobeni Yonomori is the main character of the show, who is an average high school girl. She balances her school life with all of her household work and even cooks for the entire family. On her 16th birthday, Mashiro suddenly shows up at her place along with his younger sister and claims to be her fiance. She is a little short for her age and has pale skin with salmon pink hair. She also gets the attention of many male characters because of her curvy figure.
She is a very cheerful and optimistic girl who believes that everything happens for a reason and eventually, everything will just work out well for her. Even when things don't go as planned, she manages to just shrug it off and uses shopping to relieve all of her stress. Everyone around her holds her in very high regard and all of them have a lot of expectations from her, but sometimes, she really feels burdened and weighed down.
Benio Yonomori
Benio Yonomori is Kobeni's older sister. On the outside, she appears to be an ideal student at the high-school. But she is actually a huge pervert and is the complete opposite of what she portrays herself to be. She has long red hair with brown eyes and at school, she even sports a pair of glasses. According to her schoolmates, she is an extremely talented students' council president. She is the most popular kid in school and is showered with attention all the time. However, she is actually very possessive when it comes to Mashiro and also has a strange obsession with young looking girls. Kobeni has known Benio all her life and that is the reason why she is the only one who accepts her weird behavior.
Read More in Anime Preview: D-Frag Season 2 | Gakkou Gurashi Season 2
Sours: https://thecinemaholic.com/mikakunin-de-shinkoukei-anime/
The engaged hulu to unidentified
The BEST Episodes of Engaged to the Unidentified
#5 - She Is Nothing But a Pervert
Season 1 - Episode 4 - Aired Jan 30, 2014
The morning after learning about Hakuya, Kobeni ends up with a fever due to her weak body. As Benio informs Mashiro and Hakuya about what she told Kobeni, she blames herself for Kobeni's accident back then, as she had Kobeni take her place alongside Hakuya so she could go and play. The next morning, Kobeni opts to stay at home alone whilst the others go to school, though Mashiro comes back to help her as soon as school ends, where Kobeni shows her the scar she received back then. The next morning, as Kobeni starts feeling a bit better, Hakuya suddenly rushes out of the house when he notices Kobeni struggling to face him properly. Kobeni catches up to him and states that, even though she doesn't remember anything, she owes him her thanks, becoming awed by his smile. Later that night, Mashiro and Hakuya receive a letter from their family, saying they will be sending someone to check up on them.
7.73
22 votes
Directors: Yoshiyuki Fujiwara
Writers: Fumihiko Shimo
Sours: https://episode.ninja
Engaged to the Unidentified Official Trailer
Since Valentine's Day has only just recently passed, I figured I would talk this time about one of my favorite, overlooked romance anime, Engaged to the Unidentified (Japanese name: Mikakunin de Shinkoukei). Based on a 4-koma manga, this anime is a slice-of-life comedy with a significant romance element. What helps differentiate this show from other romantic comedies is how it is willing to shake up the status quo with some interesting twists, and how while it does use misunderstandings as a source of comedy, it generally never lets any misunderstanding overstay its welcome, allowing for the main couple to develop their relationship slowly but surely.
The main protagonist of this show is Kobeni Yonomori, an average high school girl who is good at housework and generally lives in the shadow of her good-at-everything older sister, Benio (who also dotes on her excessively). On her sixteenth birthday, though, she gets the surprise of her life when she finds out that she has a fiancée, Hakuya Mitsumine, arranged for her by her late grandfather, and that he and his younger sister Mashiro will be living with them. It's worth mentioning that this "arranged marriage" is the open kind in which Kobeni can ultimately opt out of it if she chooses to. That said, Hakuya seems like a good enough guy, and Kobeni is willing to let things continue for the moment while she figures out just how she feels about him.
Making things more complicated is how Kobeni and Hakuya had met before as kids, but Kobeni does not really remember anything about it due to an accident in her past–an accident that, as it turns out, Hakuya had saved her life from. Hakuya, on his part, would rather not tell Kobeni about that so that she does not feel pressured to accept the engagement out of obligation. Nevertheless, the mystery of their childhood, as well as some hints that Hakuya and Mashiro might not be entirely normal, push Kobeni to try to find out more about her mysterious fiancée.
As a Christian anime viewer, one of the ways a romance can appeal to me is by reminding me of the love God has for us in some way or another. This show already has a slight advantage in that the main couple can be considered childhood friends, one of my favorite type of anime relationship starters, and one I have talked about previously regarding how such relationships are similar to that between God and a Christian who has grown up in the church. There are some differences in this particular case, given that Kobeni doesn't remember much of her childhood and hasn't really grown up with Hakuya, but her engagement to him and her discovery of her own feelings still has some things worth looking into.
Some people who have grown up in the church, like I did, can sometimes feel like they have been "betrothed" to God: They are told all the time about how much God loves them and how His son saved us and how to show love back to God, but it never quite feels like their faith is quite their own. It is just what we had been raised to believe as part of a Christian household, as opposed to, say, a Jewish/Buddhist/athiest/etc. household. For these people, there comes a time when they have to decide what their own, personal relationship with God is. Kind of like how Hakuya does not want Kobeni to feel obligated to marry him, God does not force any of us to ultimately choose to follow Him, even we had grown up being told to do so. And for some people, they ultimately choose to "annul their engagement" with God. Others might have some incredible emotional experience that makes them fall in love with God on their own, like someone who finds out that the partner they are betrothed to is actually really attractive.
And then, there are those who find themselves somewhere in the middle, like I did. During my "soul searching" years, I found no real reason to reject God. The logical bases for the Bible's validity were sound enough, and while I wasn't exactly deeply in love with God, I could at least feel something for Him, as well as just overall appreciate Him for being there for me in my life. I felt like Kobeni did, engaged to some mysterious being that was nice enough that I was willing to look into it more. In my case, through reading the Bible and the Narnia series by C.S. Lewis, serving in various ways, as well as talking with other Christians both in church groups and online, I slowly but surely started to fall in love with God.
For Kobeni, her attitude of wanting to know more about Hakuya, do more things with him and simply spend more time with him, is what slowly brings her heart closer to his. This show does a good job of allowing their relationship to progress naturally, even amidst the various shake-ups that happen every now and then. There is no sudden "falling in love" moment, just two people slowly building a relationship from a bit of a strange starting point, with plenty of antics from the rest of the cast to entertain viewers as well. While I will leave any further details out for those wanting to try the show out, do note that the romance between Kobeni and Hakuya never gets passionate; even something like kissing is well beyond what the slow build between these two could reach. Nevertheless, what their relationship does develop into is still something rather sweet.
Whether or not you grew up in the church, you might still find yourself not really feeling "in love" with God; you might have some affection for Him, but perhaps not that same passion you once had. In some cases, it might feel like you have fallen away from Him, to the point where it feels like just being "engaged" to Him. In these times, though, all you need is at least some desire to just draw a little bit closer to God, and some proactivity to act on that desire: read a bit of the Bible, meet up with other Christians, or serve others in some way. It might not seem like much, but a little bit at a time can be all you need to rebuild a relationship with God. One thing's for sure, though: God is not going anywhere. He is still there, patiently showing just how much He loves you.
—
Engaged to the Unidentified can be streamed for free on Crunchyroll and Hulu. Aside from mild fanservice, the main thing Christian viewers might find objectionable is Benio's obsessiveness over her younger sister and Mashiro.
Also, if you are already a fan of this show, then be sure to look forward to next season's Sansha Sanyo, the anime adaptation of another manga by the same author, Cherry Arai.
Is there an anime you think is overlooked and needs more love? Post about it in the comments and I will consider watching it and writing about it in this column!
stardf29
Frank is known as "stardf29" on various parts of the Internet; it stands for "Star Defender 29", which is something he came up with during his chuunibyou years. Now, when he's not doing things for the Navy or indefinitely delaying his writing projects, he likes engaging in anime, especially of the slice-of-life sort.
Latest posts by stardf29 (see all)
Related
Sours: https://beneaththetangles.com/2016/02/16/the-secret-stars-of-anime-engaged-to-the-unidentified/
You will also be interested:
Blood Lad
What's Included in The Disney Bundle?
Subscriptions to Disney+, ESPN+, and the Hulu plan of your choice for a discounted price. Available with Hulu (ad-supported) for $13.99/month, with Hulu (No Ads) for $19.99/month, or with Hulu + Live TV for $72.99/month.
 Savings of up to $7.98/month compared to the regular price of each service.
 Enjoy all your favorite shows, movies, sports, and more using the Disney+, Hulu, and ESPN apps (or sites, for those on a browser). Download each app separately to access each service.
 Access select ESPN+ content via Hulu.
Cancel anytime.
No free trial available. You must be 18 years or older to sign up.
Sours: https://www.hulu.com/series/blood-lad-a5de81c7-1f90-4b73-8d13-86f1862fbe50
4952
4953
4954
4955
4956