You can receive a refund for your purchase of a phyical product within 30 days from the date of purchase. Physical products must be returned within 30 days from the date of purchase for a refund of your purchase amount, minus a 15% restocking fee. IMPORTANT! Refunds for orders paid with Bitcoin will be made with a gift certificate or equivalent item. Shipping costs cannot be refunded. Digital products (i.e., TCredits, etc.) are not eligible for refunds. No refunds for TCD products unless item received is defective, and defects must be reported within 10 days of receipt.
To receive a refund on a return, please adhere to the following:
* All returns must be returned in a salable condition in order to receive a refund.
* Opened consumable products or damaged products cannot be refunded.
* TripleClicks is not responsible for refunding the shipping costs to either originally send or to return products. The customer is responsible for all shipping costs.
* Items received after the day money-back guarantee are NON-refundable.
* A 15% restocking fee applies to all returns. This fee is calculated on the cost of the product(s) only.
* All returns of phyical products must be received at TripleClicks at the address below on or before the day, money-back guarantee expires.
TripleClicks
c/o: Returns Department
N 70th Street
Lincoln, NE
* All return requests for digital products must be submitted as a ticket to our Support Desk on or before the day, money-back guarantee expires.
TCREDITS: Unused TCredits may only be refunded within 30 days of purchase. Refunds on full packs only. Refund requests must be submitted as a ticket to the TC Support Desk on or before the day, money-back guarantee expires.
Damaged Shipments: Although every effort is made to safely secure and ship all packages, sometimes merchandise can be damaged during the shipping process. Merchandise damaged during shipping should be reported to TripleClicks.com Support Desk as soon as possible. You can access our TC Support Desk here:
http://www.tripleclicks.com/Support/
Returns: Merchandise must be returned in saleable condition in order to receive credit. A 25% restocking fee will be applied to unauthorized returns. Product returns cannot be accepted after 30 days.
Back Orders: Every item carried is regularly in stock. Although every attempt is made to maintain inventory of each product offered, occasionally certain products may run out. In this event, the customer will be given an estimated time of availability and the choice of canceling the out-of-stock items, holding off shipment of the entire order until the product is available, or receiving a partial shipment of the in-stock items first, and the out-of-stock items when they are available. No additional shipping charges will be incurred by the customer for these partial shipments.
Refunds for Credit Card Purchases: If the product(s) were originally purchased with a credit card, a refund will be issued to the same credit card, less the 15% restocking fee and shipping and handling, within 30 days of the date of return.
Refunds for Check Purchases: If the product(s) were originally purchased with a bank draft or check, there will be a minimum of a day waiting period before a refund check will be issued unless affiliate/customer provides a copy of the bank draft or check from his or her financial institution.
For SFI Affiliates: In the case of refunds or returns, any advancements from the SFI compensation plan, bonuses, or awards received by an SFI Affiliate as a result of these purchases will be reversed and the amount(s) deducted from any refund. SFI may also charge back to an affiliates' upline any commissions, rebates, bonuses, or awards received or paid on product(s) refunded or returned by the affiliate.
Sours: https://www.tripleclicks.com//detail?item=
Vera Bradley Performance Twill Grand Weekender Travel Bag, Park Stripe
How does Buyr.com work?
Once you submit your price, the Buyr Shopping Engine goes to work to match it to a top retailer. Say goodbye to coupon clipping and bargain hunting!
Why do I need to enter my information up front?
We validate your address so that when your price is matched, the transaction happens instantly! This ensures you lock in your deal at the price you want to pay.
Why should I input my price for seven days when it didn't instantly match?
By extending your price, the Buyr Shopping Engine can continue working on unlocking a deal for 7 days. The more time we have, the better chance you'll get a deal!
What do our customers say about us?
Buyr.com customers love us, but don't take our word for it - check out our star Google review rating! Shop with us and you'll never go back to the old way of shopping.
Sours: https://www.buyr.com/product/vera-bradley-performance-twill-grand-weekender-travel-bag-park-stripe/bp/P1OL
6 Standout Travel Bags from Vera Bradley
Choosing a travel bag thats going to last for years is a big task. How do you know which one is the right one for you, or if its going to stand up to being tossed around on trips? One of the most beloved travel bag brands is Vera Bradley. These quilted bags are high quality and can stand to long flights, airport connections, and getting toted around the world. They clean up well, easily hold both necessities and accessories, and can be snatched up for less during sales. Shop Vera Bradley to find classic handbags, Vera Bradley purses, crossbody bags, totes, and signature Vera Bradley luggage, all available in a wide range of playful prints.
These six great travel bags from Vera Bradley offer both practicality and fun. Vera Bradley products are available online at VeraBradley.com, which offers free shipping. You can also find the brands signatures brilliant color bags in stores and at Vera Bradley outlets across the country. Find a bag that reflects your personal style and is practical for travel with one of these options.
Weekender Travel Bag
The Weekender Travel Bag is the bag youll be grabbing out of the closet for long weekend with friends or family. The bag has one large central compartment with lots of pockets on the outside to make all of your essentials like chargers or extra face coverings easily accessible. The inside has five mesh pockets to help with keeping things organized. The large over the shoulder strap is removable.
Large Travel Duffel Bag
The Large Travel Duffel Bag is an ultra-functional weekend bag. The quilted bag is made of water-repellent poly and features one large zip and three slip pockets. The interior of the bag has three mesh pockets, allowing for easy storage of small things like lipsticks and portable phone chargers. This bag has two small straps to carry by hand plus a detachable shoulder strap so you can carry the large duffel as a crossbody bag or shoulder bag. This travel duffel comes in both bright and fun Vera Bradley prints and more subdued solids.
Small Travel Duffel Bag
Whether youre just going somewhere overnight or looking for the perfect carry-on bag, the Vera Bradley Small Travel Duffel Bag is the ideal choice. The bag features one large compartment with three mesh slip pockets on the inside. The exterior has three additional slip pockets and a detachable shoulder strap.
Grand Weekender Travel Bag
The Grand Weekender Travel Bag is the best bag for people who want to combine style and functionality. The bag is lightweight and features one slip and two zip pockets on the outside. The bags interior has five mesh pockets for easy organization. Bonus: The back of the bag has a trolly sleeve that allows your bag to slip over the top of a suitcase handle for easy transportation.
Lay Flat Travel Duffel Bag
The Vera Bradley Lay Flat Travel Duffel Bag is perfect for road trips and overnight trips. The bag unzips on three sides, allowing it to lay flat so you can easily access everything youve packed. The exterior of the bag has one zip and one slip pocket to hold essentials like a phone charger or plane tickets. The interior has two mesh compartments to keep everything organized.
XL Campus Backpack
Having a travel backpack is something can be essential. Whether youre touring a theme park or racing through the airport, a backpack offers a secure and comfortable way to tote your necessities. This XL Campus Backpack is a great travel companion packed with pockets and compartments. The exterior has two side slip pockets, a U-shaped front compartment, a front zip pocket, and hidden front and back zip pockets. The bags interior features multiple compartments including a laptop compartment, and the backpack has padded shoulder straps for a comfort boost.
Theres nothing better than packing for vacation knowing that your bag is exactly the right fit for the trip. These Vera Bradley bags have a loyal following of avid travelers and bring an element of fun to travel totes and bags.
More from FamilyVacationist:
As parents and travel experts, we select every product, destination, and attraction we recommend based on independent research, strong reviews, and product testing. Some products are sent to us for free and some visits are hosted, with no incentive to offer a favorable review. If you buy an item through a link on our website, we may earn a commission.
Sours: https://familyvacationist.com/6-standout-travel-bags-from-vera-bradley/
TRAVEL TIPS - Packing only a personal item for a weekend getaway!
Get the DFB Newsletter
We sometimes focus on the parks and hotels around Disney World, but did you know that some of the BEST food and merchandise can be found at Disney Springs?
Disney Springs
This shopping center has Disney gift shops as well as other popular stores, amazing restaurants (some with celebrity chefs), and even a few attractions. We headed down to the Springs to check out whats new in this area, including food, merchandise, and any other updates we spot along the way.
Lets start out with obviously the most important thing the food.
Disney Springs Food Updates
First, we headed over to Vivoli il Gelato, which is known for delicious Italian treats. This spot has several new seasonal items, and we tried out a few of them!
Vivoli il Gelato
First, we had their Mimosa Sorbet (which isnt actually a seasonal item, it just looked too delicious to pass up). This treat was delicious. Its made with Terra Di Baco Prosecco and orange flavors, and there's a little candy orange slice on top for the garnish. It was super refreshing and light, which was great for the warm day.
Mimosa Sorbet from Vivoli il Gelato
Our gelato was $.
We also tried the Pumpkin Waffle, which is a Pumpkin Waffle topped with vanilla gelato, whipped cream, and brown sugar. This was a BIG portion, and we thought all the elements were delicious. There wasnt a ton of pumpkin flavor in the waffle, though it tasted more like fall spices to us.
Sugar topped ice cream? Yes, please!
The Pumpkin Waffle was $12 (and its definitely share-able).
Our last treat was the biggest winner, in our opinion. Its the Mocha Caramel Bombolato, which is a warm Italian donut, filled with coffee gelato, chocolate chips, and caramel sauce. As you might expect from that description, this was VERY tasty. The coffee flavor came through strongly, and the cold gelato against the warm donut was pure heaven. The bombolato was $.
Mocha Caramel Bombolato
At the Wondermade Gourmet Marshmallow stand, we found a few more fall-flavored treats.
Marshmallowy goodness
There were some new specialty flavors, including Pumpkin Spice
Pumpkin Spice Marshmallows
Chai Tea
Chai Tea
and Apple Cinnamon. Each pack comes with 16 marshmallows.
Apple Cinnamon
And rounding out our search for sweets, we stopped by The Ganachery to check out any new offerings.
The Ganachery
And we werent disappointed! There are new Annual Passholder chocolates available, this time with the AP logo on the front.
AP Chocolates
Weve seen other Annual Passholder-exclusives here, like the Orange Bird chocolates from a couple of months ago. So if youre a passholder, you can head down now to buy these chocolates.
Annual Passholder sign
To wash down all the sugar, we stopped by the huge Coca-Cola Store in Disney Springs. We found out that most of the international sodas from Club Cool (the soda-tasting attraction in Disneys EPCOT park) are on tap here!
Coca Cola Store
Since were big fans of the refreshing Cucumber Sprite from Russia (which you can find at Club Cool too), we got a full drink of that.
Cucumber Sprite is here!
Club Cool in EPCOT is free, but theres a paid option to taste a bunch of international sodas at the Coca-Cola store as well. You do get twice as many flavors at the Coca-Cola store, and most of the Club Cool flavors are included (except for Koreas Joy flavor).
International sodas
On our way out, we tried some Coca-Cola Tic Tacs.
Coca Cola tic tacs
The little candies are so cute with the Coke logo!
Coke Tic Tacs
All full of sweets and soda, we made our way to the shops to check out the new merchandise.
Disney Springs Merchandise Update
Its practically mandatory to stop by World of Disney if you go to Disney Springs. This is a HUGE gift shop with all kinds of merchandise.
World of Disney
We spotted the new Mickey Mouse ears from Disney Worlds 50th Anniversary Vault collection here.
Vault Collection Mickey Ears
They were $. Pro tip: these ears make your shadow look awesome.
Our shadow made us chuckle
We headed to the Vera Bradley store next to check out the new Castle Collection.
Vera Bradley Store
There was a pink tote bag with a Cinderella Castle decal on the front for $.
Pink Tote Bag
We also saw some backpacks in this collection, including a pink one
Pink Castle Backpack
and a silver one. Both were $ and featured the Castle decal as well.
Silver Castle Backpack
Now lets see if there are any other updates around the Springs.
Disney Springs Construction Update
Walking around the Springs, we spotted a couple of fun Halloween photo ops! One was at the Coca-Cola Rooftop Beverage Bar. It has some fruit-themed Halloween characters with fun signs that you can pose next to.
Coca-Cola Photo Op
And another was spotted over by the Disneys Days of Christmas store. This one had a 31 Nights of Halloween theme (a seasonal event with 31 different Halloween movies on the Freeform streaming service), with some jack-o-lanterns and candy on the side.
Disney Springs Photo Op
And thats all for our Disney Springs updates! Keep following DFB for more news about whats going on in Disney World.
Click Here to Find Out Whats New at the Disney World Hotels
Join the DFB Newsletter to get all the breaking news right in your inbox! Click here to Subscribe!
Don't Miss Out on Any Disney Fun!
Order Your Copy of the DFB Guide to Walt Disney World Dining Today!
With more than
pages
, the DFB Guide to Walt Disney World Dining is full of tips and planning tools developed by Disney World experts over 30+ years of visits. We've done the research for you, so you'll know just which spots will uniquely suit your family's needs!
With mini-reviews of
every single restaurant, bar, lounge, kiosk and more
; an entire chapter on
the best snacks in Disney World
; full
Disney Dining Plan analysis (and how to get FREE dining)
; and a
full chapter on discounts and deals
; you'll have everything you need to plan your best vacation yet.
Click here to
order your copy of the DFB Guide to Walt Disney World Dining E-book
with code
WDW
to save 25% off the cover price today!
Use code WDW at check-out for 25% off the cover price today!
Our guides are backed by a % money-back guarantee, so you have nothing to lose. 🙂
Whats your favorite thing to do in Disney Springs? Let us know in the comments.
TRENDING NOW
Filed Under: disney merchandise, Disney Springs, Featured, Snacks, Walt Disney WorldTagged With: annual passholder chocolate, annual passholder treat, apple cinnamon marshmallows, chai tea marshmallows, Coca Cola Store, coke tic tacs, cucumber sprite, disney springs, ganachery, halloween photo ops, international soda, mimosa sorbet, mocha caramel bombolato, pumpkin spice marshmallows, pumpkin waffle, vault collection mickey ears, Vera Bradley, vera bradley backpacks, vera Bradley bags, vera bradley castle collection, vera bradley tote bags, Vivoli il Gelato, what's new, what's new disney springs, Wondermade Marshmallows, World of Disney
Sours: https://www.disneyfoodblog.com//10/18/whats-new-at-disney-springs-a-castle-themed-vera-bradley-collection-and-halloween-photo-ops/
Weekender vera bag grand bradley
Best small backpack
Which small backpack is best?
Backpacks are practical and convenient, but sometimes you dont want a huge backpack that will weigh you down and get in the way. Luckily, you can find small backpacks that are more compact in size and just right for everyday use. Backpacks of this size will fit essentials like your wallet, keys, phone, water bottle and a sweater in case it gets cold.
So, which is the best small backpack? Theres no single best small backpack, but there are some excellent options out there to suit people with a range of styles and preferences.
Best small backpacks
JanSport Half Pint Backpack
This compact backpack comes from one of the biggest names in backpacks. It has a simple design with one large compartment plus a front pocket to hold items you need easy access to. It comes in a range of cool colors and designs, including a galaxy print and yellow plaid.
Sold by Amazon and Kohls
Under Armour Hustle Sport Backpack
This is a lightweight, water-resistant backpack that can stand up to wear and tear. This is arguably the best small hiking backpack or small backpack to wear while running or cycling, since its relatively compact yet large enough to fit everything you need.
Sold by Amazon and Kohls
Vera Bradley Performance Twill Small Backpack
Both practical and stylish, this backpack wouldnt look out of place with a smart-casual outfit but has the utility you want from a backpack. The side pockets are great for water bottles and similar, while the front pocket and inner pocket securely hold your phone, wallet or other small items that could get lost in the bottom of your back. Its available in a variety of great colors and prints.
Sold by Amazon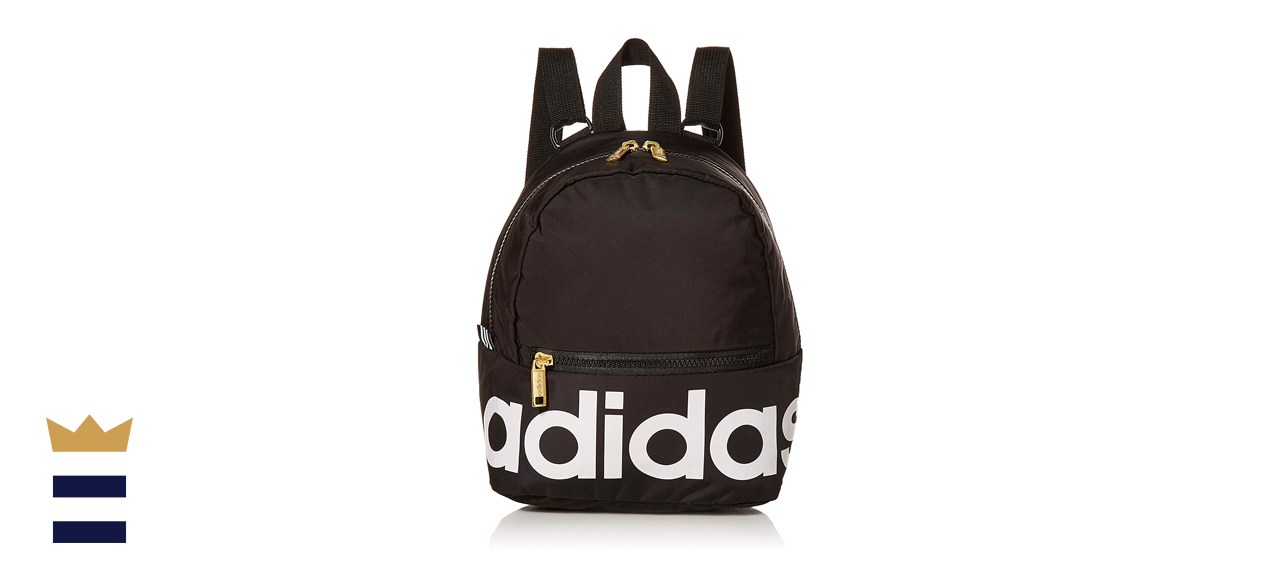 Adidas Linear Mini Backpack
An excellent choice for Adidas fans, this backpack has a bold text logo printed in a prominent position. You can choose from a selection of color combinations to best suit your usual clothing color palette. The front and inner pockets are perfect for holding small items.
Sold by Amazon and Kohls
Fjallraven Kanken Mini Classic Backpack
The perfect size for a daypack, this backpack is large enough to fit a decent amount, such as a book, large headphones, a sweater, snacks and a water bottle, alongside your basic essentials like your wallet, phone and keys. Its made from a highly durable vinyl material thats resistant to water and dirt and it has a large front pocket plus two side pockets. Its available in a large number of color combinations with some striking options.
Sold by Amazon
Everest Basic Backpack
This affordable backpack might not win any prizes for innovative style, but its practical and great for casual use. Its not the smallest of backpacks — it fits a decent amount without being large, so its a good choice if you want something thats bigger than a mini backpack but still quite small.
Sold by Amazon
Core Hemp Mini Backpack
If youre looking for an eco-friendly backpack, this should be high on your list. Its made from hemp, which is fast-growing and sustainable. You can pick from a variety of solid colors and prints. Its compact dimensions make it easy to carry anywhere, while the front pocket is handy for small belongings.
Sold by Amazon
Waterfly Crossbody Sling Backpack
Slightly different from your average backpack with a crossbody design that some buyers prefer to a standard two-strap backpack. Theres a hand pouch on the strap around the chest area so you can access items quickly without even taking your bag off. It comes in several colors.
Sold by Amazon
Vera Bradley Microfiber Small Backpack
A fashionable backpack that comes in black but with a pop of color from the printed interior lining. Made from a microfiber material, its machine washable and therefore easy to keep clean. In addition to the main compartment, it has two side pockets and a zippered front pocket.
Sold by Amazon
Herschel Classic Backpack
This mini backpack has a compact 9-liter volume, but you can also select a larger liter mid-volume backpack if you want something thats larger than mini but still smaller than the standard liter full-size backpack. Its well-made with easily adjustable straps and a spacious zippered front pocket. With several color options to pick from, youre sure to find one you like.
Sold by Amazon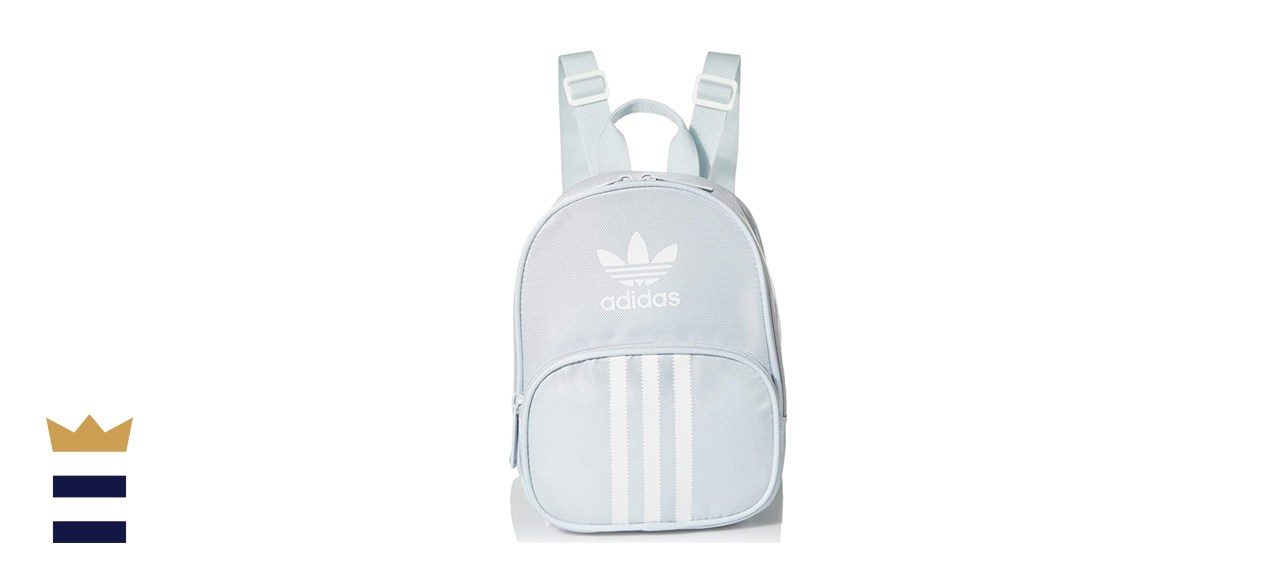 Adidas Originals Santiago Mini Backpack
Made from polyester, this mini backpack is durable with a classic look. It comes in a range of colors and with various logo designs, including the iconic trefoil and the three stripes design. It is extremely small so you wont be able to fit much inside, but its great if you just need to carry essentials like your wallet and keys.
Sold by Amazon
Nike Brasilia Mini Backpack
A small backpack from a big brand, this model is perfect for holding your sporting essentials or for general use. Its a compact backpack for adults or a perfect school-size backpack for elementary school kids who you dont want to weigh down with anything too large.
Sold by Amazon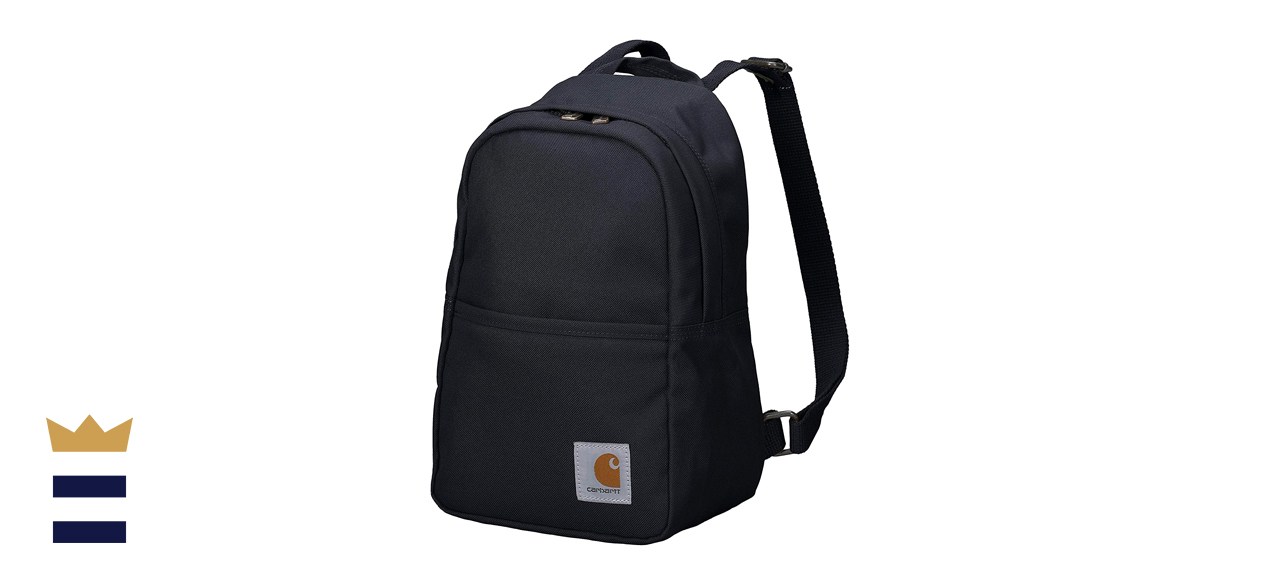 Carhartt Mini Backpack
This bag has all the durability youd expect from Carhartt but in a small package. This backpack measures almost 12 inches tall, so although it is compact compared to standard backpacks, it still fits a decent amount. Its water-resistant with a fleece-lined front pocket to protect your phone or other valuables.
Sold by Amazon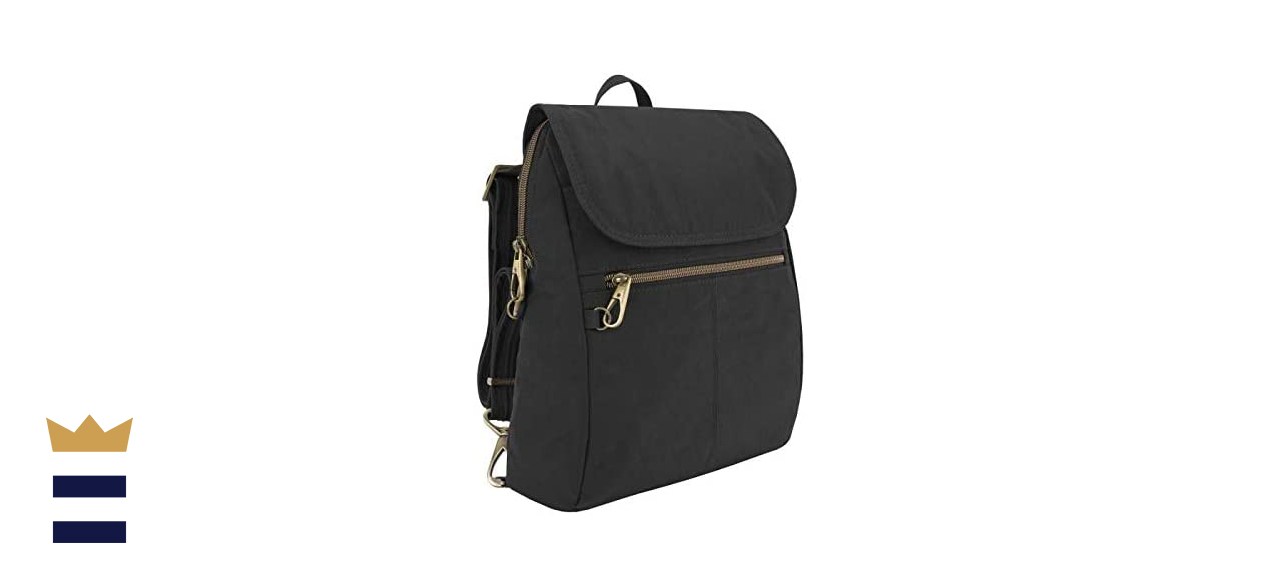 Travelon Anti-Theft Signature Nylon Slim Backpack
If youre searching for the best small travel backpack, look no further. Its a great choice as your personal carry-on item when flying, but its also suitable for everyday use. The main compartment has RFID blocking card and passport slots to prevent your credit card or passport from being read and the locking compartments and slash-resistant straps help avoid potential thefts.
Sold by Amazon and Kohls
Sign up here to receive the BestReviews weekly newsletter for useful advice on new products and noteworthy deals.
Lauren Corona writes for BestReviews. BestReviews has helped millions of consumers simplify their purchasing decisions, saving them time and money.
Copyright BestReviews, a Nexstar company. All rights reserved.
Copyright Nexstar Media Inc. All rights reserved. This material may not be published, broadcast, rewritten, or redistributed.
Sours: https://www.wbtw.com/reviews/br/travel-br/small-travel-bags-br/best-small-backpack/
Grand Weekender Travel Bag - Vera Bradley
Vera Bradley Carry-ons
Sugar Jones said:

I am so jealous you have an outlet! I've been watching EBay for good deals, I've found some great deals, but the shipping to Canada for most is insane!

I love the Very Berry Paisley, and the new Tutti Fruit

Click to expand
I love the Tutti Fruit too, but haven't had a chance to buy anything in it yet.
As far as the Very Berry Paisley, keep an eye on the Vera Bradley site and on ebay. This past December the VB site put several of their prints on sale for like 50% off, including the Very Berry Paisley. I bought a grand traveler, weekender, small duffel, small, medium, and large make up bags, tech case, contact case, coin purse, lanyard with zip ID, slim case, lunch bag, ditty bag, sarong, essentials hanging makeup bag, and probably a few other items I'm forgetting, all for 50% off. I spent a fortune, but got a complete set (I already had the mini hipster, full size hipster, Villager, and a pill box in that print). It was just too good of a deal to pass up to get the whole matching set, in a print that I loved.
However, then last month around the 20th of Feb, the VB site put some different prints on for 50% off again, then a week or so later put some more on for like 40% off. I also like Mocha Rouge print and was able to get the 22" spinner, another weekender, small, medium, and large make up bags, lanyard with zip ID, luggage tag, and tech bag for half price. Then I went on ebay and entered VB Mocha Rouge as the search criteria and picked up a Mocha Rouge all wrapped up, coin purse, and Kiss Me Twice for very little to just about complete that set.
I hate paying full price, so always try to wait until they put them on sale or else I find what I want on ebay. The last two times I ordered the complete sets from the VB site, I got 50% off, plus they also had free shipping for orders over $ and with a coupon I had, I got another $ off the Very Bery Paisley stuff. I'll be down in Orlando in May and plan on making a trip over to the Vera Bradley Outlet. Last time I was there they had some very good deals. I bought so much my husband asked me what I was going to do if it all couldn't fit into our luggage (we had checked just one bag). I informed him to start deciding which clothes of his was absolutely essential, because the Vera Bradely stuff was coming home, if we had to leave our clothes there. lol
Sours: https://www.disboards.com/threads/vera-bradley-carry-ons/
Similar news:
SIGNATURE COTTON -- The fabric you know & love, our quilted cotton is lightweight yet durable, & comes in a variety of colorful patterns BE MOBILE WITH MULTIPLE BAGS - With a 7 inch strap drop & a 53 inch removable, adjustable strap, you can grab the dual straps on the go or throw over your shoulder - or utilize the trolley sleeve to attach it to your luggage handle PACK IN STYLE - Skip the extra carry on & take advantage of the interior pockets of this spacious duffle - featuring 5 mesh pockets to organize your cosmetics, hair products, jewelry, & other toiletries ESSENTIALS AT YOUR FINGERTIPS - The exterior features 1 slip pocket & 2 zip pockets - ideal for stowing wallets, boarding passes, reading material, or snacks to keep them quick to access & soundly fastened for your flight STYLISH, LIGHTWEIGHT & SIZED RIGHT - The Grand Weekender Travel Bag measures 15 inches high, 21 inches wide, & 9 inches deep - giving you a spacious travel bag & essential for your next getaway
Sours: https://www.realsimple.com/shop/vera-bradley-vera-bradley-womens-cotton-grand-weekender-travel-bag-felicity-paisley-one-size-p2acc7cf80eecbecece.html
493
494
495
496
497