A Chat bot, or Internet bot is an interactive piece of software that runs simple and repetitive automated tasks over the Internet. This is aided in part with Artificial Intelligence for a more human-like interaction with people.
Bots are increasingly used on social media (Facebook, Twitter, WhatsApp, Telegram, e.t.c), in banking and customer care, and this is just the tip of the iceberg. They simply work.
Advertisement - Continue reading below
What do Bots do?
Bots simplify online interaction by making it unnecessary to leave your current app to search for content online . Bots can allow you order for read news highlights, translate text, shop, check the weather, etc.
Botstores with thousands of bots to choose from have been set up on Telegram, WhatsApp, Facebook, Kik, Line and Slack to mention a few.
How to Use Telegram Bots
Telegram was one of the first apps to have a botstore and is credited for popularising bots. Users can interact with the botsby sending them messages, commands and inline requests. Or better yet, you can develop your very own bot if you know how to. Here are some of the most useful bots on Telegram in no particular order:
YouTube Bot
@youtube or@vid
Whenever you need to send whoever youre chatting with a YouTube video, in the chat box, just type @youtube, leave a space and type the name of the video you would like t share. the YouTube bot will show you a bunch of videos you can click on and send. You do not have to leave Telegram at any one time during this process.
Poll Bot
@PollBot
A poll bot only works in a group setting. You can formulate the usual YES/NO questionnaire to have your group members vote on something, say to change the group name, or on an issue of contention. The votes are added up incrementally until you decide to close the poll and announce the popular verdict.
Giphy GIF search
@gif
GIFs are animated images. GIFs work inline so all you have to do is type @GIF, leave a space and type a reaction you want to see. Typing anger for example will bring up GIFs showing anger. Scroll through for what piques your interest.
Image Search
Yandex (@pic)  and Bing (@bing)
If you want to show an image of something you are chatting about, all you have to do is type @pic or @bing, then type the name of whatever you are looking for.
Tweeting Bot
@tweetingbot
The tweeting bot asks for permission from your Twitter account before you are able to use it. After setting up, you can send a tweet in the same way as you would send an instant message in Telegram.
To use the Tweeting bot, you enter forward slash (/) and tweet to be able to type your tweet. Other functions are a bit of a chore understanding but that shouldnt be an issue. So next time twitter is blocked by an overzealous govt, you know what to do.
Wikipedia
@wiki
The Wikipedia bot works as a Wikipedia search engine to bring up a list of articles with the search criteria you have input. When you click on one, it sends it to your chat buddy as a link that opens in a web browser.
Yandex Translator
@YTranslateBot
Yandex is to Russia what Google is to the rest of the world. Basically, its an internet company offering internet-based services like search and translation. Enter Yandex Translator. The translation is as good as can be expected. Long sentences are not advised. It will jumble it all into an incomprehensible string of words.
Stickers
@sticker
Stickers are without a doubt the coolest thing on messaging apps right now and no one does it better than Telegram. The process of hoarding your own collection of stickers has been somewhat vague up until now. All you have to do is type @Stickers and then search through your emoji for a face you want as a Sticker. The Telegram Sticker bot takes it from there, bringing you some awesome new stickers.
Markdown Bot
 (Bold, italics, Fixedsys text) @bold
The Markdown Bot enables you to make your sentences bold, italic or fixed system which is the oldest fonts on Windows OS as far as we can tell. Follow the procedure used for bots above. Make yourself Heard! 
URL Reader
@urlreaderbot
The URL Reader bot opens any website inchat after you input the url (link). The website is in its most basic form without images and a few navigation functions. Bottom line is, it works! We opened the Dignited page and successfully navigated to a couple of posts all which we did inside Telegram.
Bot Father
@botfather
They call me the Botfather, I can help you create and set up Telegram bots, reads the Botfather status. And thats what he does. Botfather is the one bot to rule them all. Use it to create bot accounts and to manage existing ones. That is an offer you cannot refuse. Word!
Telegram Store
Store Bot @storebot
The Telegram Store Bot lists all the bots in Telegrams repository including the ones listed here. You can access the bot inside the Telegram app but we recommend doing it in your web browser for quicker navigation. More bots are added daily and old ones improved upon.
Telegram recently launched Bot update which introduced new features such as location-based services and abilitity to send any content such as MP3s, Videos, Animations and Documents. Pre-set buttons can also be used to respond to the bot as opposed to typing out instructions.
Featured Image: TechCrunch
Related
Sours: https://www.dignited.com//guide-using-telegram-bots/
How to Create and Connect a Telegram Chatbot
A chatbot is an automated multifunctional assistant, that can receive send and send triggered messages, and with SendPulse, your bot can save information as variables for future usage.
Follow the step-by-step instruction to create your first chatbot for Telegram messenger or connect an existing one to SendPulse for further configuration.
If you already have a bot, skip the first paragraph and take a look at the next section.
How to Create a New Bot for Telegram
Open Telegram messenger, sign in to your account or create a new one.
Step 1. Enter @Botfather in the search tab and choose this bot.
Note, official Telegram bots have a blue checkmark beside their name
Click "Start" to activate BotFather bot.
In response, you receive a list of commands to manage bots.
Step 2. Choose or type the command and send it.
Step 3. Choose a name for your bot — your subscribers will see it in the conversation. And choose a username for your bot — the bot can be found by its username in searches. The username must be unique and end with the word "bot."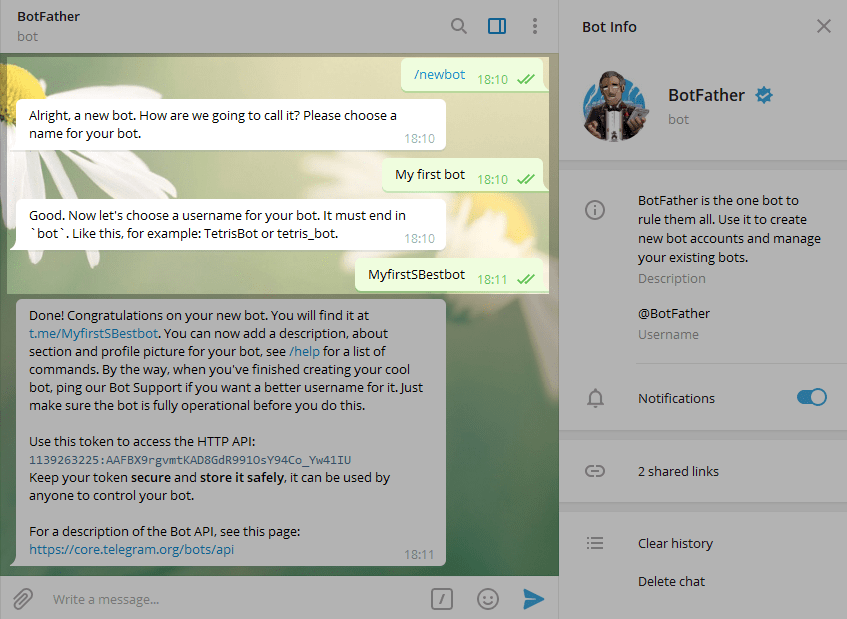 After you choose a suitable name for your bot — the bot is created. You will receive a message with a link to your bot t.me/<bot_username>, recommendations to set up a profile picture, description, and a list of commands to manage your new bot.
To connect a bot to SendPulse you need a token. Copy your token value and find more information about connecting your bot to SendPulse in the last section of this article.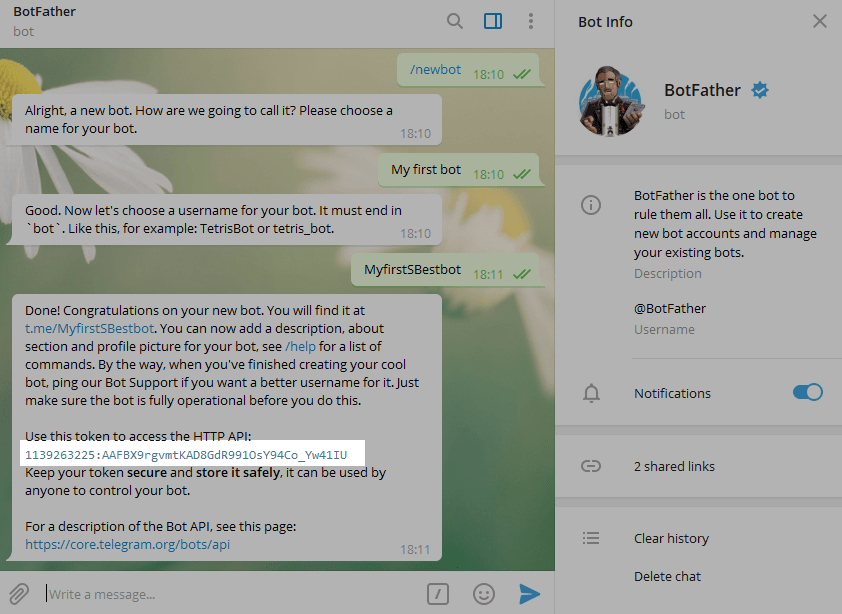 How to Find a Token for an Existing Bot
Step 1. Go to the @BotFather bot and send the command .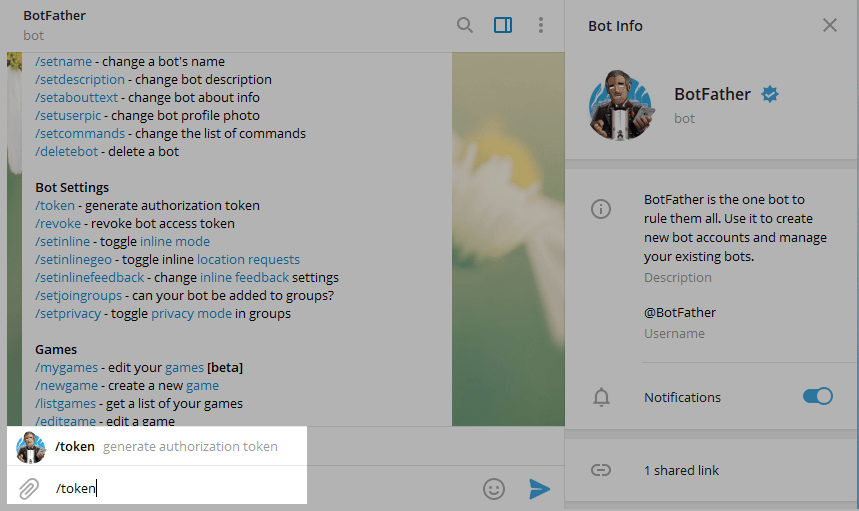 You will see buttons with any bots that you have created.
Step 2. Choose the one you need a token for so you can connect it with Sendpulse.
Copy the token value.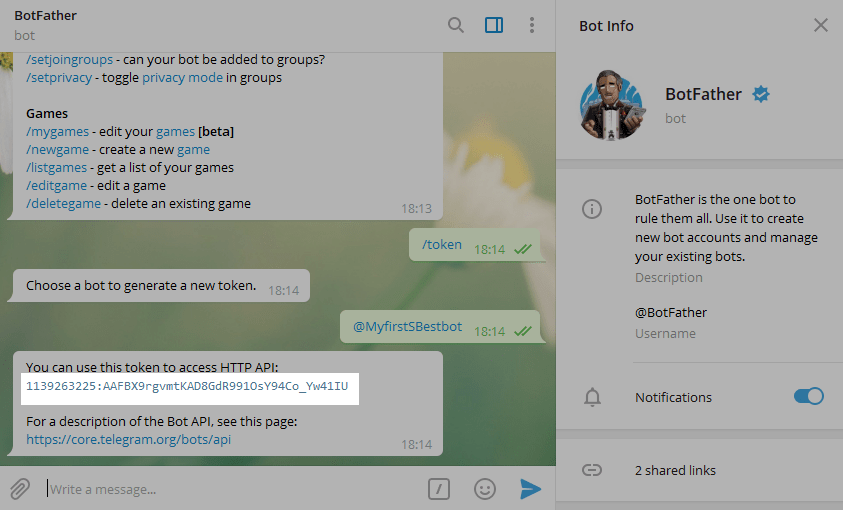 How to Connect a Bot to SendPulse
Navigate to the "Chatbots" section in your SendPulse account. If it's your first time visiting this page and you have not connected any chatbots — click the "Connect channels" button. If you have already connected bots before — navigate to "Main" tab and click the "Manage bots" button.
Then choose the Telegram and click on the "Enable Telegram" button.
Enter your token from the necessary bot and click "Connect."
In the next window click the "Subscribe" button.
You will be redirected to the Telegram app, click on the "Start" button and you will be subscribed to your bot.
Congratulations! You have successfully added your chatbot to SendPulse.
You can choose your bot and start creating welcome and triggered flows, or bulk campaigns.
Note, any existing subscribers are not imported to your SendPulse chatbot auditory. After you connect your bot you can collect subscribers with a website widget or share the link to your bot t.me/<username> directly.
Connect your Telegram bot
Last Updated:
Sours: https://sendpulse.com/knowledge-base/chatbot/create-telegram-chatbot
The 5 Best Telegram Bots
So you've entered the world of Telegram and learned about bots in Telegram. Perhaps you're curious how to use Bots on Telegram or how to create a Telegram Bot of your very own. In the post, we've got a list of the best Telegram Bots.
What are Telegram Bots?
Introduced in , Telegram Bots are third-party chat apps made with the Telegram Bot API. Telegram bots are essentially automated Telegram accounts you can chat with or add as friends to your chats, groups or channels.
While other messaging apps like WhatsApp and Kakao place strict limits on what users can create, Telegram allows their users to create Telegram Bots for pretty much anything. Today, you can easily create tonnes of useful Telegram bots.
Users can create bots that act to play music, send emails, organize tasks, schedule reminders, or even as a digital storefront. There are plenty of bots out there to fulfil almost every need you can think of. One common question is, are Telegram Bots safe?
Are Telegram Bots safe?
While Telegram is known for its end-to-end encryption using MTProto, researchers found that Telegram Bots rely on a less secure protocol called Transport Layer Security. Adding a Telegram Bot weakens the encryption, making it more susceptible to hackers.
However, Telegram has refuted claims over its security issue stating that it's another instance of If I had your keys, I could get into your home story. Considering both sides of the argument, are Telegram Bots truly safe? It's best to use them at your own discretion.
How to Use Bots on Telegram
While creating Telegram Bots require some coding skills, using a Telegram Bot is simple enough and anybody can do it. Simply follow the steps below to start using your first Telegram Bot.
1. Find the bot's username using the in-app search bar and select the bot from the list.
Take note that you should be searching the bot's username and not its display name. There can be multiple accounts with similar display names, but usernames cannot be duplicated. Make sure you're adding the right bot by checking its username first.
2. Start a conversation with the Bot and follow the commands.
And you're done! That's pretty much it, although different bots have their own unique prompts and commands. If you'd like to have an idea of how these Telegram Bots work, don't hesitate to check out our list of Telegram bots below.
5 Best Telegram Bots
It's hard to define what best Telegram Bots mean. It really depends on the kind of functionality you are looking for. To create our Best Telegram Bot list we picked out the best bots for Telegram with functionality that goes above and beyond most bots.
1. Trello Bot (Username: @trello_bot)
Trello is a kanban board for task and project management. If you get tired of using the interface to manage your project, try the Trello Bot. Using the Telegram Trello Bot enables you to create cards and receive update notifications from your Trello board.
Before using the Trello Bot, you will need to let the bot know which board you would like to connect. Once connected you can add the bot to groups, create new Trello cards, and receive card notification as well as user replies.
1. Search for @trello_bot in the search bar and start a chat with the bot.
2. Connect Start a Chat with Trello Bot, an Bot to your Trello account and select the board you wish to integrate.
3. Choose where you'd like to receive your Trello notifications. You can either receive them in a group or as a private message within Trello Bot.
Once you've done that, you can now use Trello within Telegram. Similarly, any updates done on Trello's native platform will be reflected on your chatroom with Trello Bot. Here is an example of what you can do with Trello Bot.
4. Type /new to create a new card and choose the list for your card.
5. Done. You'll see the card reflected on the Trello board under your selected list.
While you're allowed to switch your Trello account by reauthorizing Trello Bot, it's not possible to connect two accounts at the same time. And if you stop the bot, you'll have to authorize it again.
2. Gmail Bot (Username: @gmailbot)
Want to use Gmail without leaving Telegram? Look no further, this is where the official Gmail Bot comes in. With the Gmail Bot, you can receive, send, and reply to emails within Telegram as instant messages.
To start using Gmail Bot, simply search for @gmailbot in the search bar and click Start to chat. Follow the commands on the screen and authorize your account. After authorization, you'll start receiving emails in your Telegram chat.
Replying using the Gmail Bot is as simple as sending a text message. At first glance, you'll not see a reply button but if you're familiar with messaging on Telegram it works the same way.
On the desktop, you can reply by double-clicking or if you're on mobile, simply swipe left on the message. Any action performed with the Gmail Bot will automatically sync to your Gmail account.
This makes managing your emails a breeze, except you can only link one Google account to the Gmail Bot at a time. While you cannot link a second account simultaneously, you can switch accounts by reauthorizing the Gmail Bot.
3. Spotify Bot (@spotify_to_mp3_bot)
Didn't think there were music bots on Telegram? Think Again. With Spotify Bot you'll never have to leave Telegram play music. Linking your Spotify account to Spotify Bot allows you to search, listen to and download tracks from Spotify's database.
Once you're connected, there's a menu list for you to choose from. To start listening to your favorite tracks on Telegram, download a playlist or album. For our experiment, we downloaded an entire album within seconds.
The use case for the Spotify Bot is pretty dubious though. Although Spotify Bot has a music player at the top of the chat with play, backward and next buttons. There is no way to switch to another album quickly. You'd need to download another album to do that.
4. ManyBot (@manybot)
Creating a Telegram bot from scratch may seem like a daunting task to many, but now there's ManyBot to fix that. With ManyBot, you can create bots in Telegram without coding. As its name suggests, there are many things you can do with this bot.
To start, follow the command on ManyBot by going to the BotFather for a new bot name and an API token. Then, link your API token back to ManyBot and give it a short description. Now, follow the rest of the instructions on ManyBot and you're done!
Your new bot allows you to broadcast messages to your subscribers, create custom commands and menus, auto post from RSS, Twitter or Youtube and add more admins to help you manage your groups.
While Telegram Bots can schedule and broadcast messages, bot owners will notice there's nowhere to answer messages sent to the bot. To do so, you can create a free respond.io account and connect your Telegram Bot to the platform.
5. IFTTT Bot (@IFTTT)
We've kept what we thought was the most interesting Telegram Bot for last, the IFTTT Bot. IFTTT, also known as If This Then That is a software platform that connects and syncs your favourite apps and devices using chains of conditional statements.
Need to upload files to Google Drive from Telegram? Or turn on your TV by messaging on Telegram? IFTTT's got you. The IFTTT Bot links Telegram to other services, enabling you to use it in groups, channels or as a personal assistant in various ways.
1. Sign up for an account with IFTTT and start a chat with the IFTTT Bot. Then connect it to a group or channel.
2. Select Telegram Applets on your group, and you'll be directed to IFTTT's platform.
3. Choose an applet you wish to link with IFTTT's platform and click connect.
3. Select a Google account you wish to connect with IFTTT.
4. Authorize IFTTT to connect to your Telegram account.
5. Upload a file on the IFTTT Bot, and it'll automatically sync to your Google Drive.
6. View the uploaded file on Google Drive. And done.
For the more adventurous, signing up with IFTTT also allows you to create and customise your own chain of conditional statements or applets. While uploading applets on IFTTT is a paid service, using the platform and integrating it with Telegram is free.
Interested to know more about Telegram Bots and Telegram?
We'll continue updating our Telegram bots list with new top Telegram Bots in the future. In the meantime, check out the other articles on Telegram.
Sours: https://respond.io/blog/best-telegram-bots-list
Top Essential Telegram bots
A feature that makes popular instant messaging app Telegram stand out is the option to use bots in group chats. Their purpose is to essentially enhance the Telegram experience through convenience and entertainment. If you're an admin for a Supergroup and want to know how to add a bot, we've covered the steps on how-to in this article.
We'll be adding bots to chat groups via different operating systems, learning more about their usefulness and how they differ from human members in chats. Plus, our FAQs include how to create your own unique bot.
How to Add Bots on Telegram?
A Telegram bot is a third-party application used to improve its functionality by performing specific functions, follow instructions, and interact with other members. The following sections are the steps for adding a bot to a Supergroup.
Add a Bot to a Supergroup Chat Using an iPhone
Launch the Telegram app.

At the bottom of the screen, click on the Contacts icon.

At the top of the screen, click on the search bar.

Type in the name of the bot you wish to add @[botname].

Click on the bot name to display it in the chat.

From the top-right hand corner of the chat window, select the bot's profile image.

Locate and select the "Add to Group" option below the "Send Message" option to access a list of groups to add members to.

Select the group you wish to add the bot to.

Click on "Yes" to confirm.
Add a Bot to a Supergroup Chat Using an Android
Launch the Telegram app.

At the bottom of the screen, click on the Contacts icon.
At the top of the screen, click on the search bar.

Type in the name of the bot you wish to add @[botname].

Click on the bot name to display it in the chat.

From the top-right hand corner of the chat window, select the bot's profile image.

Locate and select the "Add to Group" option below the "Send Message" option to access a list of groups to add members to.

Select the group you wish to add the bot to.

Click on "Yes" to confirm.
Add a Bot to a Supergroup Chat Using Mac
Navigate to the "Applications" folder to locate and launch the Telegram app.

In the search text field at the top left-hand corner of the screen, enter the name of the bot you wish to add.

Hit the return key for a list of bot search results matching your query.
Click on the bot you wish to add to the group, the bot will open and display on the right.
To bring up the bot's profile, select the bot's name from the top of the window.

Towards the top-right hand corner of the window, select the "Add to Group" option.
Select which Supergroup you want to add to the bot.

Click "OK" to confirm.
Add a Bot to a Supergroup Chat Using Windows 10
Navigate to the Windows menu to locate and launch the Telegram app.

In the search text field at the top left-hand corner of the screen, enter the name of the bot you wish to add.

Hit the return key for a list of bot search results matching your query.
Click on the bot you wish to add to the group, the bot will open and display on the right.

To bring up the bot's profile, select the bot's name from the top of the window.

Towards the top-right hand corner of the window, select the "Add to Group" option.

Select which Supergroup you want to add the bot to.

Click "OK" to confirm.
Bot Perks
Using bots in Telegram can be practical:
Bots can be used as virtual assistants to provide weather forecasts, alerts, translation, and other admin services.
Bots can deliver relevant content by providing customized news and notifications as soon as it's available.
Accept payments for goods and services. The bot payment API is a free platform where sellers can receive payment from Telegram users.
Bots can help create social connections by connecting people wanting to conversate based on mutual interests or proximity.
Bots can integrate with other services such as YouTube and Music bots for extra entertainment.
Bots provide multi and single-player games, from simple puzzles to real-time strategy games.
How Are Bots Different Than Humans?
The following are differences between human members and bots in Telegram:
For bots running in privacy mode, once added to a group they will not receive messages previously sent to the group.
They have limited cloud storage therefore older processed messages are promptly removed by the server.
Bots are not able to start conversations with people. They must be added to a group or a user must send them a message first.
Their username will always end in "bot."
Their label displays as "bot" with no last seen time or online status information available.
BotFather
"BotFather is the one bot to rule them all."
BotFather is the bot used to create new bots and manage existing ones via Telegram. To contact the BotFather, you can either search for him under username @Botfather or navigate to https://telegram.me/botfather to start a conversation. BotFather will introduce himself and a "Start" button will be available for you to talk back.
Additional FAQs
How to Remove Bots on Telegram?
To remove a Telegram bot from your conversation list via Android:
Note: Removing a bot will also remove the conversation.
1. Launch the Telegram app.
2. Press down and hold on to the bot's name to display a menu at the bottom of the screen.
3. Select "Delete and stop."
4. Click on "OK" to confirm.
1. Launch the Telegram app.
2. Locate the bot you wish to remove and swipe left on the conversation.
3. Click on the "Delete" icon from the set of icons that slide out from the right.
4. Select "Delete and Stop" from the option displayed at the bottom of the screen.
How to Add a Bot to a Telegram Group?
To add a bot to a chat group using an Android or iPhone device:
1. Launch the Telegram app.
2. At the bottom of the screen, click on the Contacts icon.
3. At the top of the screen, click on the search bar.
4. Type in the name of the bot you wish to add @[botname].
5. Click on the bot name to display it in the chat.
6. From the top-right hand corner of the chat window, select the bot's profile image.
7. Locate and select the "Add to Group" option below the "Send Message" option to access a list of groups to add members to.
8. Select the group you wish to add the bot to.
9. Click on "Yes" to confirm.
To add a bot to a chat group using a Mac or PC:
1. Navigate to the Applications folder (Mac) or Windows menu (PC) to locate and launch the Telegram app.
2. In the search field, at the top left-hand corner of the screen, enter the name of the bot you wish to add.
3. Hit the return key for a list of bot search results matching your query.
4. Click on the bot you wish to add to the group, the bot will open and display on the right.
5. To bring up the bot's profile, select the bot's name from the top of the window.
6. Towards the top-right hand corner of the window, select the "Add to Group" option.
7. Select which Supergroup you want to add the bot to.
8. Click "OK" to confirm.
How to Create a New Telegram Bot?
1. First, start up a conversation with BotFather either by searching for him under the username @Botfather or by navigating to https://telegram.me/botfather.
2. Then enter and send the command ""
3. BotFather will ask for a name and username. Provide a friendly name and unique username.
· BotFather will generate an authorization token.
4. Copy the token to your clipboard and navigate to your bot's "Channels" section via the Azure portal then click on "Telegram."
5. Paste the authorization token into the "Access Token" field then "Save."
· Your bot is now created successfully; single, and ready to mingle with other Telegram members.
· Enable "Inline queries" so users can call your bot by entering its username and the query into any chat.
· Check out the Bot API manual to find out what you can teach your bot to do.
Telegram's Little Virtual Assistants
AI-inspired bots in Telegram are used to enhance the messaging experience by essentially performing admin tasks, connecting people, and providing entertainment. Bots in messaging apps have become increasingly common and the option to use them is available via several popular apps.
Now that you know how to add a bot to a chat, create a bot, and other bot information; do you think the bot did a great job at enhancing your experience? How did the bot serve the group – and did it work as expected? Let us know what you think generally about the use of bots in messaging apps in the comments section below.
Sours: https://www.alphr.com/add-bot-telegram/
Telegram bots to use how
Bots: An introduction for developers
Bots are third-party applications that run inside Telegram. Users can interact with bots by sending them messages, commands and inline requests. You control your bots using HTTPS requests to our Bot API.
1. What can I do with bots?
To name just a few things, you could use bots to:
Get customized notifications and news. A bot can act as a smart newspaper, sending you relevant content as soon as it's published.

Integrate with other services. A bot can enrich Telegram chats with content from external services.
Gmail Bot, GIF bot, IMDB bot, Wiki bot, Music bot, Youtube bot, GitHubBot

Accept payments from Telegram users. A bot can offer paid services or work as a virtual storefront. Read more »
Demo Shop Bot, Demo Store

Create custom tools. A bot may provide you with alerts, weather forecasts, translations, formatting or other services.
Markdown bot, Sticker bot, Vote bot, Like bot

Build single- and multiplayer games. A bot can offer rich HTML5 experiences, from simple arcades and puzzles to 3D-shooters and real-time strategy games.
GameBot, Gamee

Build social services. A bot could connect people looking for conversation partners based on common interests or proximity.

Do virtually anything else. Except for dishes — bots are terrible at doing the dishes.
2. How do bots work?
At the core, Telegram Bots are special accounts that do not require an additional phone number to set up. Users can interact with bots in two ways:
Send messages and commands to bots by opening a chat with them or by adding them to groups.
Send requests directly from the input field by typing the bot's @username and a query. This allows sending content from inline bots directly into any chat, group or channel.
Messages, commands and requests sent by users are passed to the software running on your servers. Our intermediary server handles all encryption and communication with the Telegram API for you. You communicate with this server via a simple HTTPS-interface that offers a simplified version of the Telegram API. We call that interface our Bot API.
A detailed description of the Bot API is available on this page »
3. How do I create a bot?
There's a… bot for that. Just talk to BotFather (described below) and follow a few simple steps. Once you've created a bot and received your authentication token, head down to the Bot API manual to see what you can teach your bot to do.
You may also like to check out some code exampleshere »
4. How are bots different from humans?
Bots have no online status and no last seen timestamps, the interface shows the label 'bot' instead.
Bots have limited cloud storage — older messages may be removed by the server shortly after they have been processed.
Bots can't initiate conversations with users. A user must either add them to a group or send them a message first. People can use links or username search to find your bot.
Bot usernames always end in 'bot' (e.g. @TriviaBot, @GitHub_bot).
When added to a group, bots do not receive all messages by default (see Privacy mode).
Bots never eat, sleep or complain (unless expressly programmed otherwise).
---
5. Bot perks
Telegram bots are unique in many ways — we offer twokinds of keyboards, additional interfaces for default commands and deep linking as well as text formatting, integrated payments and more.
Inline mode
Users can interact with your bot via inline queries straight from the text input field in any chat. All they need to do is start a message with your bot's username and then type a query.
Having received the query, your bot can return some results. As soon as the user taps one of them, it is sent to the user's currently opened chat. This way, people can request content from your bot in any of their chats, groups or channels.
Check out this blog to see a sample inline bot in action. You can also try the @sticker and @music bots to see for yourself.
We've also implemented an easy way for your bot to switch between inline and PM modes.
Read more about the Inline Mode »
Payment platform
You can use bots to accept payments from Telegram users around the world.
Send invoices to any chat, including to groups and channels.
Create invoices that can be forwarded and used by multiple buyers to order things.
Use inline mode to help users show your goods and services to their friends and communities.
Allow tips from users with preset and custom amounts.
Accept payments from users on mobile or desktop apps.
Try @ShopBot to create a test invoice – or start a message with in any chat for an inline invoice.
Check out Demo Shop for an example of a Telegram Channel used as virtual storefront.
Read more about the Payments Platform »
Gaming platform
Bots can offer their users HTML5 games to play solo or to compete against each other in groups and one-on-one chats. The platform allows your bot to keep track of high scores for every game played in every chat. Whenever there's a new leader in the game, other playing members in the chat are notified that they need to step it up.
Since the underlying technology is HTML5, the games can be anything from simple arcades and puzzles to multiplayer 3D-shooters and real-time strategy games. Our team has created a couple of simple demos for you to try out:
You can also check out the @gamee bot that has more than 20 games.
Read more about the Gaming Platform »
Keyboards
Traditional chat bots can of course be taught to understand human language. But sometimes you want some more formal input from the user — and this is where custom keyboards can become extremely useful.
Whenever your bot sends a message, it can pass along a special keyboard with predefined reply options (see ReplyKeyboardMarkup). Telegram apps that receive the message will display your keyboard to the user. Tapping any of the buttons will immediately send the respective command. This way you can drastically simplify user interaction with your bot.
We currently support text and emoji for your buttons. Here are some custom keyboard examples:
For more technical information on custom keyboards, please consult the Bot API manual (see sendMessage).
Inline keyboards and on-the-fly updating
There are times when you'd prefer to do things without sending any messages to the chat. For example, when your user is changing settings or flipping through search results. In such cases you can use Inline Keyboards that are integrated directly into the messages they belong to.
Unlike with custom reply keyboards, pressing buttons on inline keyboards doesn't result in messages sent to the chat. Instead, inline keyboards support buttons that work behind the scenes: callback buttons, URL buttons and switch to inline buttons.
When callback buttons are used, your bot can update its existing messages (or just their keyboards) so that the chat remains tidy. Check out these sample bots to see inline keyboards in action: @music, @vote, @like.
Read more about inline keyboards and on-the-fly editing »
Commands
Commands present a more flexible way to communicate with your bot. The following syntax may be used:
A command must always start with the '/' symbol and may not be longer than 32 characters. Commands can use latin letters, numbers and underscores. Here are a few examples:
Messages that start with a slash are always passed to the bot (along with replies to its messages and messages that @mention the bot by username). Telegram apps will:
Suggest a list of supported commands with descriptions when the user enters a '/' (for this to work, you need to have provided a list of commands to the BotFather). Tapping on a command in the list immediately sends the command.
Show an additional (/) button in the input field in all chats with bots. Tapping it types a '/' and shows the list of commands.
Highlight /commands in messages. When the user taps a highlighted command, the command is sent at once.
If multiple bots are in a group, it is possible to add bot usernames to commands in order to avoid confusion:
This is done automatically when commands are selected via the list of suggestions. Please remember that your bot needs to be able to process commands that are followed by its username.
Global commands
In order to make it easier for users to navigate the bot multiverse, we ask all developers to support a few basic commands. Telegram apps will have interface shortcuts for these commands.
/start - begins interaction with the user, e.g., by sending a greeting message. This command can also be used to pass additional parameters to the bot (see Deep linking)
/help - returns a help message. It can be a short text about what your bot can do and a list of commands.
/settings - (if applicable) returns the bot's settings for this user and suggests commands to edit these settings.
Users will see a Start button when they first open a conversation with your bot. Help and Settings links will be available in the menu on the bot's profile page.
Formatting: bold, italic, fixed-width text and inline links
You can use bold, italic or fixed-width text, as well as inline links in your bots' messages. Telegram clients will render them accordingly.
Read more in the Bot API manual »
Privacy mode
Bots are frequently added to groups in order to augment communication between human users, e.g. by providing news, notifications from external services or additional search functionality. This is especially true for work-related groups. Now, when you share a group with a bot, you tend to ask yourself "How can I be sure that the little rascal isn't selling my chat history to my competitors?" The answer is — privacy mode.
A bot running in privacy mode will not receive all messages that people send to the group. Instead, it will only receive:
Messages that start with a slash '/' (see Commands above)
Replies to the bot's own messages
Service messages (people added or removed from the group, etc.)
Messages from channels where it's a member
On one hand, this helps some of us sleep better at night (in our tinfoil nightcaps), on the other — it allows the bot developer to save a lot of resources, since they won't need to process tens of thousands irrelevant messages each day.
Privacy mode is enabled by default for all bots, except bots that were added to the group as admins (bot admins always receive all messages). It can be disabled, so that the bot receives all messages like an ordinary user (the bot will need to be re-added to the group for this change to take effect). We only recommend doing this in cases where it is absolutely necessary for your bot to work — users can always see a bot's current privacy setting in the group members list. In most cases, using the force reply option for the bot's messages should be more than enough.
So what messages exactly will my bot get? »
Deep linking
Telegram bots have a deep linking mechanism, that allows for passing additional parameters to the bot on startup. It could be a command that launches the bot — or an authentication token to connect the user's Telegram account to their account on some external service.
Each bot has a link that opens a conversation with it in Telegram — . You can add the parameters start or startgroup to this link, with values up to 64 characters long. For example:
, , , and are allowed. We recommend using base64url to encode parameters with binary and other types of content.
Following a link with the start parameter will open a one-on-one conversation with the bot, showing a START button in the place of the input field. If the startgroup parameter is used, the user is prompted to select a group to add the bot to. As soon as a user confirms the action (presses the START button in their app or selects a group to add the bot to), your bot will receive a message from that user in this format:
stands for the value of the start or startgroup parameter that was passed in the link.
Deep linking Example
Suppose the website example.com would like to send notifications to its users via a Telegram bot. Here's what they could do to enable notifications for a user with the ID .
Create a bot with a suitable username, e.g. @ExampleComBot
Set up a webhook for incoming messages
Generate a random string of a sufficient length, e.g.
Put the value with the key into Memcache for seconds (one hour)
Show our user the button
Configure the webhook processor to query Memcached with the parameter that is passed in incoming messages beginning with . If the key exists, record the chat_id passed to the webhook as telegram_chat_id for the user . Remove the key from Memcache.
Now when we want to send a notification to the user , check if they have the field telegram_chat_id. If yes, use the sendMessage method in the Bot API to send them a message in Telegram.
Location and Number
Some bots need extra data from the user to work properly. For example, knowing the user's location helps provide more relevant geo-specific results. The user's phone number can be very useful for integrations with other services, like banks, etc.
Bots can ask a user for their location and phone number using special buttons. Note that both phone number and location request buttons will only work in private chats.
When these buttons are pressed, Telegram clients will display a confirmation alert that tells the user what's about to happen.
Manual: Number and location buttons »
---
6. BotFather
Jump to top to learn everything about Telegram bots »
BotFather is the one bot to rule them all. It will help you create new bots and change settings for existing ones.
Creating a new bot
Use the /newbot command to create a new bot. The BotFather will ask you for a name and username, then generate an authentication token for your new bot.
The name of your bot is displayed in contact details and elsewhere.
The Username is a short name, to be used in mentions and t.me links. Usernames are characters long and are case insensitive, but may only include Latin characters, numbers, and underscores. Your bot's username must end in 'bot', e.g. 'tetris_bot' or 'TetrisBot'.
The token is a string along the lines of that is required to authorize the bot and send requests to the Bot API. Keep your token secure and store it safely, it can be used by anyone to control your bot.
Generating an authentication token
If your existing token is compromised or you lost it for some reason, use the /token command to generate a new one.
Botfather commands
The remaining commands are pretty self-explanatory:
/mybots — returns a list of your bots with handy controls to edit their settings
/mygames — does the same for your games
Edit bots
/setname – change your bot's name.
/setdescription — change the bot's description, a short text of up to characters, describing your bot. Users will see this text at the beginning of the conversation with the bot, titled 'What can this bot do?'.
/setabouttext — change the bot's about info, an even shorter text of up to characters. Users will see this text on the bot's profile page. When they share your bot with someone, this text is sent together with the link.
/setuserpic — change the bot's profile pictures. It's always nice to put a face to a name.
/setcommands — change the list of commands supported by your bot. Users will see these commands as suggestions when they type in the chat with your bot. Each command has a name (must start with a slash '/', alphanumeric plus underscores, no more than 32 characters, case-insensitive), parameters, and a text description. Users will see the list of commands whenever they type '/' in a conversation with your bot.
/deletebot — delete your bot and free its username.
Edit settings
/setinline — toggle inline mode for your bot.
/setinlinegeo - request location data to provide location-based inline results.
/setjoingroups — toggle whether your bot can be added to groups or not. Any bot must be able to process private messages, but if your bot was not designed to work in groups, you can disable this.
/setprivacy — set which messages your bot will receive when added to a group. With privacy mode disabled, the bot will receive all messages. We recommend leaving privacy mode enabled. You will need to re-add the bot to existing groups for this change to take effect.
Manage games
/newgame — create a new game.
/listgames — get a list of your games.
/editgame — edit a game.
/deletegame — delete an existing game.
Please note, that it may take a few minutes for changes to take effect.
Status alerts
Millions choose Telegram for its speed. To stay competitive in this environment, your bot also needs to be responsive. In order to help developers keep their bots in shape, Botfather will send status alerts if it sees something is wrong.
We will be checking the number of replies and the request/response conversion rate for popular bots (~ requests per minute: but don't write this down as the value may change in the future). If we get abnormally low readings, you will receive a notification from Botfather.
Responding to alerts
By default, you will only get one alert per bot per hour. Each alert has the following buttons:
Fixed. Use this if you found an issue with your bot and fixed it. If you press the fix button, we will resume sending alerts in the regular way so that you can see if your fix worked within minutes instead of having to wait for an hour.
Support. Use this to open a chat with @BotSupport if you don't see any issues with your bot or if you think the problem is on our side.
Mute for 8h/1w. Use this if you can't fix your bot at the moment. This will disable all alerts for the bot in question for the specified period of time. We do not recommend using this option since your users may migrate to a more stable bot. You can unmute alerts in your bot's settings via Botfather.
Monitored issues
We will currently notify you about the following issues:
1.
Your bot is sending much fewer messages than it did in the previous weeks. This is useful for newsletter-style bots that send out messages without prompts from the users. The larger the value, the more significant the difference.
2.
Your bot is not replying to all messages that are being sent to it (the request/response conversion rate for your bot was too low for at least two of the last three 5-minute periods). To provide a good user experience, please respond to all messages that are sent to your bot. Respond to messageupdates by calling send… methods (e.g. sendMessage).
3.
Your bot is not replying to all inline queries that are being sent to it, calculated in the same way as above. Respond to inline_queryupdates by calling answerInlineQuery.
4.
Your bot is not replying to all callback queries that are being sent to it (with or without games), calculated in the same way as above. Respond to callback_queryupdates by calling answerCallbackQuery.
Please note that the status alerts feature is still being tested and will be improved in the future.
---
That's it for the introduction. You are now definitely ready to proceed to the BOT API MANUAL.
If you've got any questions, please check out our Bot FAQ »
Sours: https://core.telegram.org/bots
How To Create A Telegram Bot With Python
Telegram, the messaging app, is rapidly rising in popularity. Although Russians Nikolai and Pavel Durov founded Telegram in , it has only recently become a serious competitor to messenger giants WhatsApp and Facebook Messenger. It focuses more on encryption and privacy than the Facebook apps. For example, users can have 'secret chats' and send self-destructing messages (much like Snapchat). Telegram has also led the way in terms of AI, and it encourages you to make, download and use specialist Telegram bots, although it hasn't yet developed a formal marketplace for these.
Although not as yet as well-known as Facebook Messenger or WhatsApp, Telegram has become popular because of these features:
Fast messaging
Unlimited file sharing size
Being cloud-based, making it totally portable
Accessible on the Web as well as mobile
Telegram users can set up channels and broadcast content to their followers. People subscribe to their favorite channels.
Bots are small programs that run inside Telegram that enable automation. Third-party developers make bots using the Telegram Bot API. Telegram does have a few official bots for specific purposes, e.g., @gif and @GDPRbot. Any channel owner can run one or more bots to automate processes in their channels.
A chatbot is a specific type of bot. However, there are multiple other uses for bots. If you can visualize a way to automate a process in Telegram, then you can probably find or write a bot to do the job for you.
Bots can even offer their users HTML5 games to play solo or compete against each other in groups and one-on-one chats. Bots can keep track of high scores for every game played in every chat. Whenever there's a new leader in a game, bots can notify other playing members in the chat that they need to step it up.
The lack of a formal marketplace and official bot creation tool has slowed the acceptance of Telegram bots. Hopefully, Telegram rectifies these glaring omissions before long. In the meantime, you will either need to make your own bot (not as tricky as it sounds when you use the bot, BotFather – see below for details) or find an existing app that does what you want. This post suggests some of the best Telegram bots of that you can use as a starting point.
---
23 Best Telegram Bots :
---
What Can Bots Do For You?
You can set up bots to automate many of the activities in your channels. For example, you can set up a bot to create reminders about your text messages or help users save files to the cloud.
1. AlertBot - @alertbot
AlertBot has a straightforward but helpful purpose. You can create simple alerts and reminders using the format: /alert time text.
---
2. BotFather - @BotFather
BotFather describes itself as the one Bot to rule them all. You can use it to create new bot accounts and manage your existing bots. When you go to BotFather within your Telegram app, it links you to help files about Telegram bots as well as the Bot API manual.
---
3. DeLorean - @delorean_bot
You can use the DeLorean bot to send messages to the future, in much the same way that the Doc's DeLorean took Marty McFly Back to the Future in the movie series of that name. You can set a specific time or set a time interval from the current moment.
---
4. Dr. Web - @drwebbot
Dr. Web ensures the safety of files and links transferred via Telegram; it checks them on the fly. The bot promotes itself as being the first anti-virus bot.
You can send files directly to Dr. Web or forward them from other chats. If you prefer, you can add it to a group to check all files and links.
---
5. DropMail.me - @dropmailbot
You can use DropMail.me bot to generate a disposable email address and then receive emails. For example, typing /get will generate a random email address and /start starts a conversation. It uses the disposable email service, dropmail.me. You will most commonly use it if you need a disposable email address for anonymous registrations on distrusted services or websites.
---
6. FB Video Download Bot - @FBvidzBot
You can use FB Video Download Bot to download Facebook videos. All you need to do is copy the relevant video link from Facebook and paste it into Telegram when you run the bot.
---
7. Feed Reader Bot - @TheFeedReaderBot
The Feed Reader Bot monitors websites and blogs (using RSS feeds), YouTube channels, Instagram, and Twitter accounts and sends messages when new articles or posts are available. The bot also works in Telegram groups and channels. You can even import existing RSS subscriptions using OPML files.
Whenever one of the sites you monitor uploads a new post, you will receive a notification in your Telegram inbox.
---
8. File Converter - @newfileconverterbot
You can use this File Converter bot to easily convert image, audio, and video files from one format to another. It supports video messages and audio messages on Telegram and WhatsApp, along with documents, eBooks, and font files. It currently supports 63 file types across conversions.
---
9. File to Bot - @filetobot
With File to Bot, you can save files to the cloud, with unlimited storage in Telegram. It is multilingual, and the first thing the bot asks you is to select from a range of languages. It then gives you a welcome message saying, "Welcome to the Filetobot Bot (@filetobot). Save your files here. Send me any file, and I will save it in the category. There are no restrictions for personal use. If you share a file with others, make sure that it does not violate the law".
You can use it to give access to files for your friends while chatting with them.
---
GameBot - @gamebot
GameBot is one of the more official bots on Telegram. It is a demo for the Telegram Gaming Platform. It allows you to play chat games with friends and links you to a few sample games.
When you start the bot, it presents you with the message: "I can get you 3 fun games to play. Just tap "Play with friends," then choose a chat and select a game." Pick your friend and game, and then you will be able to start your game.
---
GetMediaBot - @GetMediaBot
GetMediaBot allows you to download media from anywhere. For example, you can direct download videos from YouTube, music from Soundcloud, and photos from Instagram.
When you start the bot, it gives you links to search videos and search music. In addition, you can click buttons to search lyrics, direct download, download Instagram stories.
---
GitHubReleasesBot - @GithubReleasesBot
This is a chatbot that notifies you via Telegram whenever a followed GitHub repository has a new release. You begin by selecting the GitHub repositories you want to follow with a /follow command. Then, you can view the ones you have followed with /list. If you later change your mind, you can /unfollow.
---
ImageBot - @imagebot
ImageBot was initially built as a sample bot by Telegram's beta testers. It is a simple bot to fetch images when you request. For example, you use /get for pictures and /getgif for GIFs.
---
Meme Autobot - @memeautobot
Memes can quickly go viral nowadays and have seen widespread use. This bot can generate memes for you quickly and with little fuss.
---
Movies Tracker Bot - @movieS4Bot
This Movies Tracker Bot will provide you with information about a film from IMDB. This is a Bots for Telegram bot (from S4 Dynamics).
You search for a film by using the command /search filmName, making sure to enclose the film name in single quotes if it is more than one word.
---
PollBot - @pollbot
PollBot is one of the Telegram beta tester's bots. It creates simple polls, which you can then share with a group.
---
PosterBot - @pstrbot
PosterBot helps you send posts from different social networks to your Telegram channels. You can send posts from Instagram, VK, RSS-feeds, YouTube, Twitter, Tumblr, other Telegram channels, and social services to your channels and chats.
It offers many customization options, including the types of posts, filtration of ads and keywords, attachment delivery, and the hours when the bot will send messages. You can also customize the appearance of messages. For example, the Bot will create reaction buttons or insert additional text.
---
RateStickerBot - @ratestickerbot
This bot lets you rate random stickers and discover new sticker sets. You can also send a sticker to the bot, and it will return the sticker's rating based on other people's votes. You can select any sticker you want to use in your Telegram chats by double-tapping it and pressing 'Add' to see its sticker set.
---
Sticker Downloader - @stickerdownloadbot
You can use this app to download any Telegram sticker in jpg, png, and webp formats, or a whole sticker pack in zip form. You can use these stickers on your other messenger apps or as part of a custom sticker pack.
---
TriviaBot - @triviabot
TriviaBot is another sample bot made by Telegram's beta testers. It presents you with a series of multi choice trivia questions. When you are ready, you can type /stats to see how well you have performed. You can add it to groups if you'd like to compete with friends.
---
TweetItBot - @tweetitbot
TweetItBot is a Telegram bot that acts as a Twitter client. You can use it to tweet anything you send it, including photos, videos, stickers, and gifs. You can use inline buttons to reply, retweet, like, or delete tweets. You can also use it in line to search tweets.
---
URL Shortener Bot - @LinkGeneratorBot
This URL Shortener Bot shortens long URLs, using sites like bit.ly and tinyurl.com. Long URLs can be unwieldy and unreadable, and a link shortener like this bot makes them more manageable.
---
URL2IMG Bot - @url2imgbot
Although this bot's name may seem like a tumbled mixture of letters and numbers at first appearance, if you read it carefully, it describes what the bot does – taking a web page (URL) and turning it into an image (IMG) as a screenshot.
Sours: https://influencermarketinghub.com/top-telegram-bots/
Now discussing:
5 Best Practices of Using Telegram Bots | How To Use Bots
With these tips on Telegram bots best practices, they can become your personal assistant.
Telegram is a free application that allows you to send texts, videos, and other file types. Telegram has become one of the biggest names in Instant messaging, boasting end-to-end encryption, a wealth of customization, and home to literally thousands of bots! With the use of bots Telegram can become your personal assistant and make your life easier. Time to discuss Telegram bots best practices!
What Are Bots?
But what is a bot, you might say? YWe can't talk about Telegram Bots best practices without knowing that.
Simply put, bots are a software application capable of running automated tasks and often aim to act as a real person. If you have ever ordered a pizza or asked for help on a website, you have probably interacted with a bot.
The most common form of bot is the chatbot. Chatbots recognise text or speech from a user, interpret the information, and then respond appropriately. Some chatbots are so sophisticated they feel like interacting with another person.
Telegram Bots
Telegram bots can do almost anything!
Send information about your favourite football team, play music, create a list, or be your opponent in a game of checkers. Bots are easily accessible in Telegram through the search function.
Search 'Gamee' and you'll find a bot that will let you play games and challenger your friends. You can also share songs and lyrics with 'Spotybot' while 'Yandex.Translate' will translate messages from other languages.
For film lovers 'MoviesTracker bot' will relay film information for any film you ask for. Follow 'Storebot' and 'botostore' to discover new bots and explore the bot charts. Telegram bots can act as another person completing tasks such as:
Building Social Services
Accepting Payments or act as a store front
Integrate with other platforms and services like Gmail and Facebook
Customize your content
WordPress Telegram Bot By CreativeMinds
Before we start, we should mention that CreativeMinds has developed a Telegram Bot that solves many of the use cases described in this article.
CM Telegram Bot is a versatile tool. From repeating group messages to emails to storing and showing all content of a Telegram group in WordPress, the WordPress bot has you covered.
Telegram Bots Best Practices
If you want to automate and customize your Telegram experience, here are 5 of the best ways to use Telegram Bots.
1. Organise Your Day
Use automation to declutter your work and organise every day.
Alter bots can be used to set notifications to be sent to either your own Telegram account, a group, or even a specific chat. Bots can keep notes organise and send written reminders to make sure you don't forget to complete a task.
Travel Assistance bots take the hassle out of travelling by using your preferences to avoid scanning for flights. Bots can find accommodation and travel inspiration by using A.I assistant searches to find what is best for you.
For business travel there are bots, such as 'Eddy Travels', that can arrange travel logistics from within a telegram group chat. Bots can also be used to organise your business and office such as organising group events and arranging attendee's.
There are even bots allowing you to connect to customers in real time on your social media platforms so you can organise customer support directly from your Telegram account. Perhaps a friend or client doesn't have Telegram? There's a bot called 'toEmailBot' that will automatically send files received in Telegram to a selected E-mail.
2. Enhance Your Accounts Security
Telegram boasts many fantastic security features but isn't impervious to malware and unapproved content. Thankfully there are bots for that too. They are essential for keeping up with Telegram Bots best practices.
Bots can protect your account from unwanted and inappropriate content, as well as defend against attempts at uploading malware to your device. Telegram bots can ban other bots from entering a group, filter content, scan attachments, and control behaviour.
Security and content management bots are a great addition if you're using Telegram to communicate within your business or want to keep things private.
Other bots such as 'Dr.WEB' can scan all files and links sent to your Telegram account to ensure they are safe to access.
3. Keep Track of Your Website
One of the most useful things Telegram bots can do for you is directly beam information from Google Analytics straight to your Telegram account. Don't miss out on this Telegram Bots best practice.
Imagine being able to have the number of views of your website messaged to you whenever you request it. Some bots even allow you to share selected information with your friends and colleagues. There are also bots to determine the best time to employ your own marketing or chatbots and boost their performance.
Try using Telegram analytics to receive conversational analytics to see how many people read and react to your posts or notify you of any unexpected website traffic. Web scraping bots can keep track of other websites also such as keeping track of the price of TV's from retailer pages.
4. Marketing and Growth
One great thing about Telegrams giant user base is it is a fantastic platform to market your business. There is a bot for almost every marketing need such as being able to post an image, video, Gif, or text directly from the Telegram app to any of your social media accounts.
Bots can be used to enhance the growth of your business by connecting to a great variety of external sources to answer any of your business trend questions or provide information on the most paid for keywords in your market. Market research is an important component for growing a business, but it can often be difficult to obtain data.
Try using a bot like 'surveybot' to post surveys on your social media pages and receive data straight back to your Telegram account rather than spamming your audience with e-mails.
The ability to promote content across multiple platforms through Telegram bots makes Telegram a vital tool for content promotion.
Want to go beyond and use Artificial Intelligence to boost your business?
You can get a free consultation to understand how Natural Language Processing and Data Science can help boost your business.
Contact CreativeMinds Cminds.AI team today >>
5. Fun and Games
It's not always about the work. Telegram is also a great platform for having fun with friends, family, and complete strangers alike.
Bots offer you and your friends the chance to play HTML 5 games. Bots can track the high scores between you and your friends and invite others to play. You could add a quiz game to your favourite group or play old school single player games like snake.
Are you short of games at a party? Start a group chat and use a 'pokerbot' to play cards. There's a bot for that With bots Telegram can really be your personal digital assistant in your pocket!
Conclusion
There is a bot for any personal and business needs. To learn more about WordPress Telegram bots and grow your website, check in at cminds.com for more tips.
Products You Might Enjoy
Sours: https://www.cminds.com/5-best-practices-using-telegram-bots/
4794
4795
4796
4797
4798