Should You Buy Car Parts on Amazon? We Did The Research to Find Out
Affiliate Disclosure: As an Amazon Associate, Automoblog earns from qualifying purchases.
---
For many people, Amazon is the go-to place for almost everything under the sun. But is Amazon a good place to buy car parts, or should you stick with your dedicated auto parts store – whether online or off?
Here are a few common questions that come up when shopping for car parts on Amazon:
Does Amazon have the right selection?
Are the parts name brand? Do they include a warranty?
Can you return the parts if they're the wrong ones or defective?
Are auto parts as good of a deal on Amazon as household goods?
In this guide, we answer those questions and cover the pros and cons of shopping for car parts on Amazon. We will share insight on how to avoid counterfeit parts, and provide three essential tips for successfully navigating Amazon's massive website. We also make some price comparisons between Amazon and other popular retailers.
Why Choose Amazon For Car Parts?
In our previous article, Should You Buy Car Parts Online, we ended up getting a majority of what we needed on Amazon. While we visited several other online retailers, we decided on Amazon most of the time because of lower prices. Some of our comparisons below will show that Amazon is a price leader (most of the time).
The second reason to consider Amazon is fast delivery. Amazon profits fell 28 percent in 2019 because the company made investments to improve its delivery and logistic services. Amazon Prime members can often take advantage of same-day or overnight delivery, which is great if you're in a hurry to fix that broken water pump.
But let's dive a little deeper.
Buying Car Parts on Amazon: Pros
Selection
In early 2017, Amazon struck deals with a bevy of the largest auto parts suppliers in the U.S. to sell parts on its platform, meaning you should have plenty of selection.
While writing our original article, Should You Buy Car Parts Online, the thing that struck us most was the variety on Amazon. Parts are available for both old and new cars, a trait that rivals most brick-and-mortar parts stores. If you have a one-off project car or an old classic where parts are hard to come by, you will likely have luck on Amazon, although admittedly not as much as specialized stores.
Price
With Amazon's wide selection of car parts, having the ability to compare prices is very useful. Amazon makes comparing prices relatively easy, which is something we take advantage of when shopping for parts. Although there is one caveat. The good deals on Amazon depend more on what car parts you're buying versus them having the lowest price across the board.
Amazon's pricing strategy is unique, to say the least. The platform identifies the most popular products based on customer demand and lowers the price dynamically – in most cases, way lower than the competition. Then they hike up the price of not-so-popular products or products you're less likely to price compare, which is where they recoup any losses and increase profit.
Seasonal demands play a role too. Just because the price on Amazon is good today, doesn't mean it will be tomorrow. We noticed this when we bought a K&N intake kit for our Honda S2000. Here is a screenshot:
Back in December, the air intake kit was around $73 less (with the extra 10% instant discount) than when we actually bought it in January. We think the discounted price was meant to entice buyers since it was December, and the holidays were right around the corner.
The above screenshot is from December ($276.99 + 10% off), while the one below is from right after the holiday shopping rush ended ($322.65). Although you often find lower prices for auto parts on Amazon, some of the traditional, seasonal rules of retail still apply.
In hindsight, we should have purchased our K&N intake kit in December and saved the money.
Buying Car Parts on Amazon: Cons
Only Photos to Guide You
There's no way to physically inspect the part before ordering, which might make some nervous about shopping online in the first place. For some, there is no substitute for being able to touch the part before you buy it.
"My stepdad was that way," recalled Carl Anthony, Automoblog's Managing Editor. "He was a farmer in northwest Iowa for years and fixed everything on his machinery or pickup himself. There was no internet or smartphones back then. And he was adamant that, no matter what you buy, you always take it out of the box and inspect it."
In some cases, the actual serial number of the part will be indicated by the seller in the product description. Make sure, if you are shopping on Amazon, you always double-check the serial numbers. And if high-resolution images are available – and most of the time they are – you can zoom in for a closer virtual inspection.
Counterfeit Parts Are a Lucrative Business
Fake auto parts have become a global concern now that online e-commerce platforms like Amazon have grown into what they are. Although we have never personally encountered counterfeit parts on Amazon, it's something all shoppers need to be cautious of, because it does happen.
"Fake automotive components are a highly lucrative business for counterfeiters," said Sophie Peresson, Director of the Business Action to Stop Counterfeiting and Piracy, or BASCAP. "The amount of fake parts being made and distributed continues to rise despite efforts by national governments."
According to BASCAP, the negative impacts of counterfeiting and piracy are projected to drain $4.2 trillion from the global economy and put 5.4 million legitimate jobs at risk by 2022. The market for fake parts will soon be worth more than the annual GDP of Italy or Brazil by 2022. In Europe alone, it is estimated that up to €2.2 billion is lost each year on counterfeit tires.
"Our goal is not to scare anybody here, but these are the facts based on credible bodies of research," Anthony said. "We don't want our readers buying a part that could potentially reduce the safety of their vehicle."
Fake Parts: How to Protect Yourself
First, some good news: Amazon is also making significant investments in automated machine learning systems to curb the proliferation of fake parts on its platform. Still, here are some tips to help you avoid buying fake, counterfeit, or imitation car parts online.
Tip 1: It's All About The Seller
When shopping on Amazon, it's easy to assume you're buying directly from the actual company or brand that makes the part, but this usually isn't the case. Most of the time, you're buying from third-party sellers or authorized retailers, which is fine.
Even though buying directly from the manufacturer is the best way to avoid piracy, you should click on the seller's name and read the feedback from previous buyers. It's important to know who you're buying from; multiple sellers are often selling the same product.
Tip 2: Read Customer Reviews
Customer reviews are an easy way to spot a fake part or a bad seller. Only buy from sellers with good reviews (over a 4-star rating.) If you bought a car part and weren't satisfied with the quality or packaging, you should contribute to the online community by leaving your own review.
And if you were pleased with your purchase, leaving a positive review will help the honest seller and other shoppers. And remember, there's a difference between product reviews and seller reviews.
Tip 3: Check The Packaging
Granted, you can only check the packaging once the product arrives, but poor packaging or an opened package are considered red flags. If the product is legit, it should come with certifications and/or a warranty inside the box. With some parts, you can verify its authenticity by checking the serial or part number through the manufacturer's website.
Can I Return a Bad or Wrong Part to Amazon?
There's an old article about the quirks of buying on Amazon. This was many years ago, but it has something to do with a DOHC long-tube header which ended up being the wrong one. After initiating the return process with Amazon, the writer of the article found out the seller was not Amazon. Turns out, the headers were sold by a company called OBX, which is based in China.
Long story short, he resorted to selling the wrong part via forums online, where he found out the same part can be bought from another importer at almost half the price.
With genuine parts from legitimate and reputable sellers, you should be okay if you need to return a bad one. Amazon says this on the returns section of their website: If you've purchased a defective automotive item, shipped from and sold by Amazon.com, that is covered by a published manufacturer warranty, Amazon honors the warranty. Amazon will either replace the item or refund the cost of the item for the life of the published warranty.
To help avoid a possible return, double-check to make sure the part you're buying is the one you actually need. Even though you can almost always return the part, it's still a hassle. Below we share three tips to ensure you are getting the right part, each and every time.
3 Quick Tips For Navigating Amazon
Tip #1: Filter According to Your Needs
Amazon is home to a vast array of car parts, so it can be hard to know where to start. We always go right to the Your Garage section. It's nothing more than entering the make, model, and trim of your vehicle. If you do this, Amazon will only show the parts that are an exact fit for your car.
Tip #2: Take Your Time
As you search for car parts – let's say, a set of lowering springs for a Honda Civic – Amazon will present multiple pages of lowering springs from different brands, sellers, resellers, and retailers. When you find what you're looking for, take a minute or two to read the product descriptions.
Here's a hint: comprehensive descriptions (complete with high-resolution images, videos, installation manuals, etc.) are usually created by legit sellers with favorable ratings. Take a moment to go through these additional resources before buying anything so you know what you're getting.
Tip #3: Let The Reviews Guide You
We mentioned this already, but we cannot stress this enough. It's essential to look at the reviews when buying car parts on Amazon (and this holds true for everything you buy on Amazon). Sellers with a 5-star rating are the preferred choice, and products with favorable reviews are a huge plus. Make it a habit to check those before shopping on Amazon. Only buy from sellers with high ratings and good reviews.
With all that in mind, let's make some price comparisons.
Amazon vs. Online Stores: Which Offers Lower Prices?
Price Comparison #1
We got the ball rolling by searching for a new air filter for our trusted 2015 Honda Civic EX-L. We went to Amazon and found a Spearhead Max Thrust performance air filter for less than $13.
The product has a 5-star rating with 1,837 customer reviews. Max Thrust air filters are known for having the same level of quality (if not better) than OEM and other aftermarket air filters.
Before we made a decision, we went to Advance Auto Parts and found a Carquest Premium air filter for less than $20.
Next, we went to O'Reilly's and was offered a choice between two brands of air filters with different prices.
In this comparison, our order goes to Amazon based on price and quality.
Price Comparison #2
Our trusted Civic also needed a pair of rear sway bar links. We first went to AutoZone and found a Duralast sway bar link for $26.99.
However, the product is sold per piece. And since we needed a pair of links, we'll end up paying around $55 if we go with AutoZone.
This prompted us to search on Amazon for the same part, and here's what we found:
We found a pair of rear sway bar links for less than $22. The product comes with free shipping and is sold by Detroit Axle, a manufacturer and distributor of OEM and replacement parts in Ferndale, Michigan.
But we didn't press the Add to Cart button yet. We went to O'Reilly's and found a Beck/Arnley stabilizer end link selling for $28.99 each.
In this round, we ended up buying from Amazon since it offered the best bang for the buck by far.
Price Comparison #3
We were also in the market for a set of front brake pads and rotors. In this round, we decided to forego physical stores with an online presence and went straight to purely online auto parts stores. We compared Amazon, CARiD, and PartsGeek.
First, here's what we found on Amazon:
Amazon is peddling a set of Callahan front brake rotors with ceramic pads for less than $67 with good reviews. Not bad, but we sensed a better deal elsewhere.
Next, we went to CARiD and found a Centric front brake kit for $91.45.
We gave it another shot and found a more affordable set from the same brand.
Now that's better! But there's a catch: The Callahan kit from Amazon came with ceramic brake pads while the Centric kit from CARiD has semi-metallic pads. Experience tells us that ceramic-infused brake pads are quieter (or less squeaky, if you will) than metallic or semi-metallic pads.
We can go either way here, but we decided to keep shopping and visited PartsGeek. We found this:
PartsGeek had a set of DuraGo front rotors and pads for less than $50. This is phenomenal if you're working with a tight budget. But the thing that stood out is the ceramic brake pads included in the kit.
For the first time in our test, Amazon came in third place as CARiD and PartsGeek had a more extensive selection of brake kits for less.
Price Comparison #4
We also have an ailing 2007 Toyota Corolla in our fleet. It had a check engine light and P0301 error code along with misfires and rough idling. After an hour of tinkering around, we traced the problem to a bad ignition coil. We went to Amazon to search for an OEM ignition coil and found this:
Truth be told, we never thought an OEM ignition coil would cost upwards of $70, but that's what we found. Notice the 5-star rating? We know that original/OEM coil packs can last for 100,000 miles before encountering problems. Still, we decided to look elsewhere in search of a better deal.
Next, we went to RockAuto and found the same OEM coil pack from Denso along with a bevy of lower-priced replacement coil packs.
We're pining for Denso, so we took a closer look.
It's the same Denso coil pack selling for around $68 – just $2 less than what Amazon is offering.
We weren't convinced, so we went to PartsGeek and found this.
We weren't expecting this, but Amazon is offering a better deal than PartsGeek. And even though we bought the part from RockAuto (a penny saved is a penny earned), Amazon has proven itself worthy of consideration when buying car parts online.
So Should You Buy Car Parts on Amazon?
Amazon's selection of auto parts has improved drastically over the past few years, and now you can find just about everything you want in their Automotive section. When it comes to buying replacement parts and accessories, it's one of the first places we look. But there are a few things to keep in mind before hitting the Add to Cart button:
Always check the product reviews to make sure you're getting a good part.
Always check the seller reviews to make sure you're buying from a trustworthy seller.
Make sure to comparison shop with other online stores (we listed some below).
Additionally, when it comes to specialized and performance parts, you might be better off shopping at dedicated stores that really know your particular car. But if you know what you're looking for, Amazon can be a great place to find parts and save some money.
Where Else to Shop For Car Parts Online?
Keep in mind that Amazon isn't the only place to buy high-quality and affordable car parts online, as proven by our experience. Here's a shortlist of online retailers we can vouch for, in alphabetical order. We separated them by online-only stores and stores that also have a physical location in case you prefer to go pick up your parts in person:
Sours: https://www.automoblog.net/should-you-buy-car-parts-on-amazon/
Amazon is expanding into the auto parts market
This story was delivered to BI Intelligence "E-Commerce Briefing" subscribers. To learn more and subscribe, please click here.
In its latest step into the auto market, Amazon has struck deals with several of the largest auto parts suppliers in the US to sell their products directly through Amazon, the New York Post reports.
This will put Amazon in direct competition with aftermarket auto parts retail chains like Autozone, Advance Auto Parts, and O'Reilly Auto Parts.
The US aftermarket auto parts space has showed steady growth in recent years, with more sales shifting to online marketplaces, including Amazon.
The market generated more than $68 billion in revenue in 2015, according to Grand View Research. And The Financial Times reported last year that, while US auto sales grew only 1% per year over the previous decade, sales at the major aftermarket auto parts chains grew 7% per year. This is largely due to an aging vehicle fleet in the US, which has drummed up business for aftermarket parts sellers.
E-commerce is comprising a larger share of that. E-commerce auto parts sales in the US grew 16% last year to reach $7.4 billion, with Amazon and eBay holding the top two spots in terms of online auto parts sales, according to market research firm Hedges & Company.
Amazon seems intent to compete with the traditional auto parts retail chains on convenience and lower prices. For example, one RedTop Optima car battery that sells for $216 at AutoZone is listed at $166 on Amazon. Additionally, Amazon offers same-day delivery on auto parts in 40 US cities, investment bank Jefferies said in a report released last September. This could remove the need to ship bulky metal parts via traditional package delivery.
In addition, Amazon's expansion into aftermarket auto parts could help it eventually sell cars online. Last November, Amazon started selling a select number of car models online in Italy. The e-commerce giant could launch a similar initiative in the US in partnership with car dealerships. And given that Walmart recently launched its own online auto sales platform called CarSaver, competition may be heating up in the space. Selling more auto parts online may help Amazon gather data on customers who use its marketplace for car-related purchases to gauge their interest in buying cars through Amazon.
E-commerce has been on the rise in the last several years, thanks in large part to titans in the industry such as Amazon and Alibaba. E-commerce will truly become the future of retail, as nearly all of the growth in the retail sector now takes place in the digital space.
BI Intelligence, Business Insider's premium research service, forecasts that U.S. consumers will spend $385 billion online in 2016. Moreover, BI Intelligence predicts that number will grow to $632 billion in 2020.
This is hardly surprising considering e-commerce's healthy growth. Though the U.S. retail average growth rate in the first half of 2016 was just 2% for total retail, it was 16% for e-commerce.
The number of online shoppers has grown by nearly 20 million from 2015 to 2016. And these 224 million shoppers are spending more, as the total amount spent online grew from $61 billion in the first quarter of 2015 to $68 billion in Q1 2016. Finally, these customers are transacting more frequently, as the number of online transactions has risen by 115 million from 2015 to 2016.
But all of this shopping online creates its own set of challenges, both for consumers and the companies that are trying to get their products onto shoppers' screens and into their shopping carts. In short, you need a plan.
And to create your ultimate e-commerce battle plan, you need the right intel.
BI Intelligence is here to help.
Our team of industry experts has you covered on topics such as:
Shopping cart abandonment
Marketing effectiveness
Merchandise returns
Customer satisfaction
Social media monetization
Mobile payments
Accommodating shoppers at the 11th hour
And much more
Interested in getting the full bundle of nearly 80 reports? Here are two ways to access it:
Subscribe to an All-Access pass to BI Intelligence and gain immediate access to this report and over 100 other expertly researched reports. As an added bonus, you'll also gain access to all future reports and daily newsletters to ensure you stay ahead of the curve and benefit personally and professionally. >> START A MEMBERSHIP
Purchase & download the full bundle from our research store. >> BUY THE REPORTS
Sours: https://www.businessinsider.com/amazon-is-expanding-into-the-auto-parts-market-2017-1
Amazon Prime Day auto parts deals 2021
Automotive Replacement Parts
Automotive
$31.10 - $297.80
Up to 65.00%
Get deal
Up to 50% discount from Carbman
Automotive
$6.18 - $78.32
Up to 64.00%
Get deal
Up to 20% off Husky Liners
Automotive
$32.62 - $112.82
Up to 61.00%
Get deal
DEISNGB Rooftop Cargo Carrier 21ft³ and 15ft³ in One Vehicle Cargo Carrier Expandable 100% Waterproof 900D Fabric with Without Roof Rack Cargo Carrier Car Roof Bag Fits All Vehicle15-21 ft³
Automotive
$54.99
Up to 60.00%
Get deal
Raybestos 980583R Professional Grade Disc Brake Rotor
Automotive
$47.23
Up to 58.00%
Get deal
Model 3/Y Center Screen Protector Model 3 Model Y 15" Center Control Touchscreen Car Navigation Touch Screen Protector Tempered Glass 9H Anti-Scratch and Shock Resistant for Model 3 Screen Protector
Automotive
$16.99
Up to 58.00%
Get deal
Up to 20% off Husky Liners
Automotive
$58.10 - $111.33
Up to 57.00%
Get deal
TruActive Premium Bike & Motorcycle Phone Mount, Bike Phone Mount Holder, Cycling GPS Units, 6 Colors Included, Universal Bike Phone Holder, Bicycle Cell Phone Holder for Bike, ATV
Automotive
$11.89
Up to 56.00%
Get deal
Automotive Exterior Accessories
Automotive
$7.70 - $1,461.50
Up to 56.00%
Get deal
ANYTOP H1 LED Headlight Bulbs, 100W 12000LM 6000K Cool White
Automotive
$17.99
Up to 55.00%
Get deal
Up to 20% off select Camco products
Automotive
$6.62 - $264.30
Up to 54.00%
Get deal
Windshield Wipers,ASLAM Type-G Wiper Blades:All-Season Blade for Original Equipment Replacement and Refills Replaceable,Double Service Life(set of 2)
Automotive
$10.16 - $21.24
Up to 54.00%
Get deal
Auto Ventshade AVS 24901 Bugflector II Dark Smoke Hood Shield for 2007-2018 Jeep Wrangler JK
Automotive
$45.60
Up to 53.00%
Get deal
Car LED Strip Light, EJ's SUPER CAR 4pcs 36 LED Multi-color Car Interior Lights Under Dash Lighting Waterproof Kit with Multi-Mode Change and Wireless Remote Control…
Automotive
$11.99 - $14.39
Up to 53.00%
Get deal
BOKIN Steering Wheel Cover Microfiber Leather Viscose, Breathable, Anti-Slip, Odorless, Warm in Winter Cool in Summer, Universal 14.5inch
Automotive
$13.58 - $15.28
Up to 52.00%
Get deal
Save on Schumacher Fully Automatic Battery Charger Maintainer, and Auto Desulfator with Battery Detection - 15 Amp/3 Amp, 6V/12V - For Cars, Trucks, SUVs, Marine, RV Batteries and more
Automotive
$25.20 - $85.08
Up to 51.00%
Get deal
Up to 45% discount from innislink-US
Automotive
$8.50 - $13.29
Up to 50.00%
Get deal
Up to 45% discount from MotoCho
Automotive
$16.73 - $27.92
Up to 50.00%
Get deal
Up to 60% discount from ToGeeKa
Automotive
$14.83 - $36.96
Up to 50.00%
Get deal
U/D Floor Jack Pad 3 Ton Low Profile Rubber Jack Protector -
Automotive
$7.35
Up to 50.00%
Get deal
DBlosp Universal Vehicle Bling Cup Holder Insert Coaster Car Interior Accessories-2.75 inch Silicone Anti Slip Crystal Rhinestone Car Coaster-Universal (Pack of 2)
Automotive
$5.09
Up to 49.00%
Get deal
Automotive
Automotive
$13.60 - $133.60
Up to 49.00%
Get deal
Gates T275 Premium Automotive Timing Belt
Automotive
$21.06
Up to 47.00%
Get deal
Auto Ventshade AVS 24827 Bugflector II Dark Smoke Hood Shield for 2020-2021 Jeep Gladiator, 2018-2021 Jeep Wrangler JL, 2-Door & 4-Door
Automotive
$50.98
Up to 47.00%
Get deal
Automotive
Automotive
$10.50 - $298.50
Up to 47.00%
Get deal
Deals from Intget
Automotive
$9.51 - $10.80
Up to 47.00%
Get deal
Up to 45% discount from Yaopeing®
Automotive
$6.99 - $9.79
Up to 46.00%
Get deal
MTC 86337-60151 Antenna Mast Toyota Land Cruiser 1998-2007 9099
Automotive
$17.49
Up to 45.00%
Get deal
Power Stop KOE5381 Autospecialty Rear Replacement Brake Kit-OE Brake Rotors & Ceramic Brake Pads
Automotive
$49.88
Up to 45.00%
Get deal
Portable Air Compressor Mini Tire Inflator Digital for Balls Car Bike Motorcycle Swim Rings,12V DC Electric Air Pump with Digital LCD, Pressure Gauge, LED Light and Built-in Lithium Battery
Automotive
$16.73
Up to 44.00%
Get deal
FANTTIK T8 APEX Jump Starter, 2000 Amp Portable Jump Starter for Up to 8.5L Gas and 6L Diesel Engines, Digital Screen, 65W Two-Way Fast Charging, 12V Car Battery Booster
Automotive
$94.97
Up to 44.00%
Get deal
Fahren H11/H9/H8 LED Headlight Bulbs, 60W 10000 Lumens Super Bright LED Headlights Conversion Kit 6500K Cool White IP68 Waterproof, Pack of 2
Automotive
$33.99
Up to 43.00%
Get deal
Titan 22400 12.5A 120-Volt Heat Gun
Automotive
$17.37
Up to 42.00%
Get deal
SEALIGHT H11/H8/H16 LED Fog Light Bulbs, 6000K Xenon White, 27 SMD Chips, 360-degree Illumination, Non-polarity, Pack of 2
Automotive
$16.99
Up to 41.00%
Get deal
Save on Clore Automotive PL2320 20-Amp Fully-Automatic Smart Charger
Automotive
$67.99
Up to 41.00%
Get deal
Up to 40% discount from EZANGKE
Automotive
$15.65 - $16.23
Up to 40.00%
Get deal
Black Panther Luxury PU Leather Car Seat Cover Protector for Front Seat Bottom,Compatible with 90% Vehicles (Sedan SUV Truck Van)
Automotive
$39.09 - $39.94
Up to 40.00%
Get deal
Camco EVO Premium RV & Marine Water Filter, Greatly Reduces Bad Taste, Odor, Sediment, Bacteria, Chlorine and Much More (40631) , White
Automotive
$44.36
Up to 40.00%
Get deal
AUTODECO 22Pcs Car Wash Cleaning Tools Kit Car Detailing Set with Blue Canvas Bag Collapsible Bucket Wash Mitt Sponge Towels Tire Brush Window Scraper Duster Complete Interior Car Care Kit
Automotive
$24.64
Up to 40.00%
Get deal
ACDelco Professional 18J4298 Front Driver Side Hydraulic Brake Hose Assembly
Automotive
$19.92
Up to 40.00%
Get deal
2000A Jump Starter
Automotive
$59.99
Up to 40.00%
Get deal
Iokone Coin Side Pocket Console Side Pocket Leather Cover Car Cup Holder Auto Front Seat Organizer Cell Mobile Phone Holder
Automotive
$15.27 - $16.99
Up to 39.00%
Get deal
Iokone Coin Side Pocket Console Side Pocket Leather Cover Car Cup Holder Auto Front Seat Organizer Cell Mobile Phone Holder
Automotive
$15.27 - $16.99
Up to 39.00%
Get deal
Iokone Coin Side Pocket Console Side Pocket Leather Cover Car Cup Holder Auto Front Seat Organizer Cell Mobile Phone Holder
Automotive
$15.27 - $16.99
Up to 39.00%
Get deal
Iokone Coin Side Pocket Console Side Pocket Leather Cover Car Cup Holder Auto Front Seat Organizer Cell Mobile Phone Holder
Automotive
$15.27 - $16.99
Up to 39.00%
Get deal
AgiiMan Car Wash Brush with Long Handle - 3 in 1 Car Cleaning Mop, Chenille Microfiber Mitt Set, Adjustable Length 24in-43in Glass Scrabber Vehicle Cleaner Kit, Orange
Automotive
$16.82 - $16.99
Up to 39.00%
Get deal
Powerbuilt 648639 1/4" to 3/4" Stud Extractor,Silver
Automotive
$18.26
Up to 39.00%
Get deal
Romondes RD510 3 in 1 Car Battery Tester, Car Battery Desulf
Automotive
$48.99
Up to 39.00%
Get deal
Car Accessories Set for Women, with 1 Pc Universal Fit Steer
Automotive
$11.51
Up to 39.00%
Get deal
300W Car Power Inverter DC 12V to 110V AC Converter 4.8A Dual USB Charging Ports Car Charger Adapter (Red)
Automotive
$24.63
Up to 38.00%
Get deal
Pro-LifT T-6903D Double Pin Jack Stand - 3 Ton, 1 Pack
Automotive
$30.87
Up to 38.00%
Get deal
Trimax TLR51 Lunette Tow Ring Lock , Yellow
Automotive
$43.69
Up to 38.00%
Get deal
Save on Resqme Pack of 2, The Original Emergency Keychain Car Escape Tool, 2-in-1 Seatbelt Cutter and Window Breaker, Made in USA, Safety Yellow and more
Automotive
$9.85 - $41.35
Up to 38.00%
Get deal
Deals from guozhixin
Automotive
$9.87 - $13.29
Up to 38.00%
Get deal
Up to 35% discount from US YUGUANG
Automotive
$22.04 - $23.09
Up to 37.00%
Get deal
NoOne Heavy Duty Booster Jumper Cables with Carry Bag
Automotive
$16.13 - $62.89
Up to 37.00%
Get deal
Bling License Plate Frame for Women,Sparkly License Plate Fr
Automotive
$12.59
Up to 37.00%
Get deal
Car Organizers and Storage Mesh Bag, Purse Holder for Car, C
Automotive
$11.19 - $12.79
Up to 36.00%
Get deal
Marsauto 9005 LED Bulbs 8000LM 6000K, 300% Brightness, HB3 LED Bulb Replacement for Halogen, 12 CSP Chips Cool Bright, Pack of 2
Automotive
$25.49
Up to 36.00%
Get deal
Up to 30% discount from E2E
Automotive
$14.69 - $71.19
Up to 36.00%
Get deal
Automotive Replacement Parts
Automotive
$12.00 - $289.30
Up to 36.00%
Get deal
ACDelco Professional 18E1202 Rear Drum Brake Wheel Cylinder
Automotive
$13.42
Up to 35.00%
Get deal
Car Care
Automotive
$10.90 - $24.10
Up to 35.00%
Get deal
Ampeak Smart Car Battery Chargers for STD, AGM, Gel Batteries
Automotive
$42.49 - $62.89
Up to 35.00%
Get deal
Car Care
Automotive
$14.00 - $47.70
Up to 35.00%
Get deal
GSPSCN Portable Digital Car Tire Inflator with Gauge 150Psi Auto Shut-Off, Heavy Duty Double Cylinders 12V Air Compressor
Automotive
$55.24
Up to 34.00%
Get deal
KAR4KLEANER Car Cleaning Gel, Car Accessories Cleaning Kit Car Cleaner Interior Detailing Kit Essentials for Car Dust Detail Removal Keyboard Cleaner for Automative Care, Air Vent, PC, Laptops
Automotive
$5.94
Up to 34.00%
Get deal
LAUNCH X431 PRO3S+ Bi-Directional Scan Tool(Upgraded Ver. of X431 V PRO),31+ Reset Service OE-Level Full System Diagnostic Scanner,Key Program,ECU Coding,AutoAuth for FCA SGW 2 Years Free Update
Automotive
$1,013.19
Up to 34.00%
Get deal
Save on YITAMOTOR LED Light Bar 288W 50 inch Light Bar Spot Flood Combo Off Road Light with Wiring Harness Compatible for Pickup, Jeep, Truck, SUV, ATV, 4X4, 4WD, Boat and more
Automotive
$23.19 - $91.99
Up to 34.00%
Get deal
ECOGARD XC26175 Premium Cabin Air Filter Fits Ford Fiesta 2011-2019, EcoSport 2018-2021
Automotive
$10.59
Up to 34.00%
Get deal
Torchbeam T2 H11 LED Bulb 12000 Lumens, 400% Brightness, 6500K Cool White H11/H8/H9 LED Bulbs, Plug-and-Play Replacement Bulbs, 50,000+ Hour Lifespan
Automotive
$26.99
Up to 33.00%
Get deal
Autofonder Heavy Duty Tow Strap 12T Recovery Kit: 4WD Tow St
Automotive
$33.91
Up to 33.00%
Get deal
AUXITO H8/H9/H11 LED Light Bulbs, 400% Brighter, Mini Size, 80W 16,000LM Per Pair, CanBus Ready, Beam Adjustable Lamp Conversion Kit, 6500K White, Pack of 2
Automotive
$39.99
Up to 33.00%
Get deal
KYB SB125 - Strut Boot
Automotive
$16.14
Up to 33.00%
Get deal
Save up to 15% on Kolpin Products
Automotive
$76.49 - $96.42
Up to 33.00%
Get deal
Hydro Life 52645 300 Series Model 350 Carbon/KDF Filter Cartridge
Automotive
$42.97
Up to 33.00%
Get deal
RAYTEEN Heavy Duty Tow Strap with Loops Emergency Towing Winch Rope for Recovery Vehicles Winch Strap for Towing Truck Car ATV Offroad from Sand Mud Snow
Automotive
$15.29 - $33.14
Up to 33.00%
Get deal
Automotive Interior Accessories
Automotive
$25.60 - $239.80
Up to 33.00%
Get deal
EcoNour Accordion Windshield Sunshade for Car | Blocks Harmful UV Rays | 2 Variations
Automotive
$15.29 - $20.39
Up to 33.00%
Get deal
1240957, 1240822 Air Filter for Polaris RZR XP 1000 / XP 4 1
Automotive
$13.15
Up to 33.00%
Get deal
DEWALT Screwdriver Set, Security, 31-Piece (DWAX200)
Automotive
$15.10
Up to 32.00%
Get deal
Q9 Toys
Automotive
$33.99
Up to 32.00%
Get deal
AZUNO Digital Tire Inflator with Pressure Gauge, 200 PSI, Heavy Duty Air Compressor Accessories, w/Rubber Hose Lock on Air Chuck and Quick Connect Coupler
Automotive
$20.39
Up to 32.00%
Get deal
Motorcycle & Powersports
Automotive
$7.20 - $258.80
Up to 32.00%
Get deal
ECOGARD XA10304 Premium Engine Air Filter Fits Jeep Cherokee 2.4L 2014-2018, Cherokee 3.2L 2014-2018
Automotive
$11.95
Up to 32.00%
Get deal
10 Pcs LEDVillage 3/4 Inch Mount 5 pcs Amber & 5 pcs RED LED
Automotive
$7.47
Up to 32.00%
Get deal
White LED Rock Lights Under Glow LED Light Kits Waterproof L
Automotive
$16.59
Up to 31.00%
Get deal
BATOCA - Cordless Car Buffer Polisher - with 12V Lithium Rechargeable Battery Brushless Polisher with Variable Speed, 2pcs 2.0Ah Portable Wireless Buffer Kit for Buffer/Polisher/Sander
Automotive
$96.04
Up to 31.00%
Get deal
Save on GOOACC 725Pcs Car Push Retainer Clips & Auto Fasteners Assortment -23 Most Popular Sizes Nylon Bumper Fender Rivets with 10 Cable Ties and Fasteners Remover for Toyota GM Ford Honda Chevy and more
Automotive
$6.89
Up to 31.00%
Get deal
KAMCHAU 6 Layers Waterproof Car Cover,All Weather for Automobiles UV Protection Snowproof Outdoor Full Cover with Cotton Zipper,Universal Fit
Automotive
$45.01 - $50.11
Up to 31.00%
Get deal
BLACK 3.25" 82.5 mm Inlet Cold Air Intake Cone Replacement P
Automotive
$11.72
Up to 31.00%
Get deal
Up to 30% discount from MDSTOP
Automotive
$6.99 - $13.99
Up to 30.00%
Get deal
AUTOBOTS Grade 70 Latch Clevis Slip Hook & Winch Cable Hook
Automotive
$11.19
Up to 30.00%
Get deal
JinsanityPerformance Dual Exhaust Tip 2.5 Inch Inlet 3.5" Ou
Automotive
$53.89
Up to 30.00%
Get deal
K&N PF-2300 Fuel Filter
Automotive
$9.99
Up to 30.00%
Get deal
Automotive Performance Parts & Accessories
Automotive
$12.40 - $297.50
Up to 30.00%
Get deal
Favoto Motorcycle Cover All Season Universal Weather Premium Quality Waterproof Sun Outdoor Protection Durable Night Reflective with Lock-Holes & Storage Bag Fits up to 96.5" Motorcycles Vehicle Cover
Automotive
$17.89 - $21.99
Up to 30.00%
Get deal
BUTURE 2500A Car Jump Starter (All Gas/8.0L Diesel), 23800mAh Battery Jump Starter 10W Wireless Fast Charge 3.0 Power Pack, 12V Portable Car Battery Charger Jump Starter with DC Out, Hammer
Automotive
$69.99
Up to 30.00%
Get deal
SOGLOTY Leather Car Seat Covers Auto Front Rear Cushion Cove
Automotive
$69.99
Up to 30.00%
Get deal
CXFDDV Pair of Front Lower Left Right Control Arm w/Ball Joi
Automotive
$48.21
Up to 30.00%
Get deal
Big Ant Dog Car Seat Cover with Bonus Seat Belt Cover,Waterp
Automotive
$20.29
Up to 30.00%
Get deal
Up to 30% discount from favoto
Automotive
$4.89 - $38.49
Up to 30.00%
Get deal
Hoingpump Portable Multifunctional Battery Operated Liquid T
Automotive
$14.61
Up to 30.00%
Get deal
Car Window Sun Shade, Car Cover with Hooks, Back Mirror Cove
Automotive
$6.29
Up to 30.00%
Get deal
Peakally Keyboard Cleaner,Car Cleaning Gel.Crumb,Grime, and
Automotive
$8.39
Up to 30.00%
Get deal
Deals from Carlysie
Automotive
$5.59 - $6.29
Up to 30.00%
Get deal
C CLINK Centrifugal Clutch 3/4" BORE #40/41/420 Chain 10T fo
Automotive
$13.24
Up to 30.00%
Get deal
Up to 30% discount from COCASE
Automotive
$11.19
Up to 30.00%
Get deal
Sours: https://www.finder.com/amazon-prime-day-automotive-deals
How To Shop For Auto Parts Online (Not Only On Amazon) - Handy Hudsonite
Here's one market Amazon can't easily crack: Car parts
One of them is Advance Auto Parts. Advance has designed a vast logistics network to deliver parts to auto mechanics and do-it-yourself car owners right away.
"Independent garages have got to get that car fixed as fast as possible, or you're not going to them again," said Charlie O'Shea, lead retail analyst at Moody's. "They measure delivery times in hours and minutes, not days."
Speed isn't the only factor separating Advance (AAP), AutoZone (AZO) and O'Reilly (ORLY) from Amazon (AMZN). These companies have sharpened their focus on service, helping guide customers through repairs and the technical auto parts market.
Wall Street believes in the companies' long-term durability: Advance and O'Reilly's stocks have outpaced Amazon's this year.
Amazon's moves into car parts
But Amazon looms. The company started the Amazon Automotive store in 2006 and has been adding services ever since.
"Amazon's auto-part retail business is becoming too big to ignore," MoffettNathanson analyst Greg Melich said in a report last month.
It has recently accelerated efforts to sell car tires, batteries and accessories.
The company struck a partnership with Sears that allows customers to buy Sears tires from Amazon and get them shipped to Sears Auto Centers around the country for installation.
Amazon expanded a tie-up with Pep Boys earlier this month for a similar service at 1,000 of Pep Boys' stores. Amazon also has an agreement with Monro Muffler Brake.
"We're pleased with the customer response to our Ship-To-Store offering," Amazon's director of automotive Adam Goetsch told CNN Business.
Amazon is adding more brands to its website and trying to get customers familiar with buying parts online. During the Black Friday and Cyber Monday stretch Amazon promoted car battery jump starters and wiper blades for the first time. They're 30% off until December 1.
Goetsch said the most popular automotive products among Amazon customers this holiday season included jump starters, wiper blades, cleanings kits, and RV accessories. That makes sense because more DIY customers are shopping online for components and accessories that they don't immediately need to repair their cars.
Amazon may want to sell more hard parts, like engines, crankshafts and flywheels.
Online sales of components like brakes and fuel systems grew 29% in the past year, according to data from NPD Group and Rakuten Intelligence.
"These categories have historically been challenging for the typical consumer to shop online for, but this task is getting easier," NPD analyst Nathan Shipley said in a report.
But those hard parts sales remain in Advance's wheelhouse.
Advance may seem like an unlikely company to thrive in the digital era, but the old-school car shop has taken steps to prepare for Amazon's encroachment.
Advance has close to 6,400 stores — some of them under banners like Carquest and Worldpac — and 54 distribution centers that put them close enough to its customers to make same-day or next-day delivery a snap. It has also built larger "hub" stores in higher-traffic markets that keep more items in stock.
The company makes around 58% of its sales to technicians at garages, service stations and auto dealers, who often don't know what parts they'll need until the day begins. Rapid delivery is critical.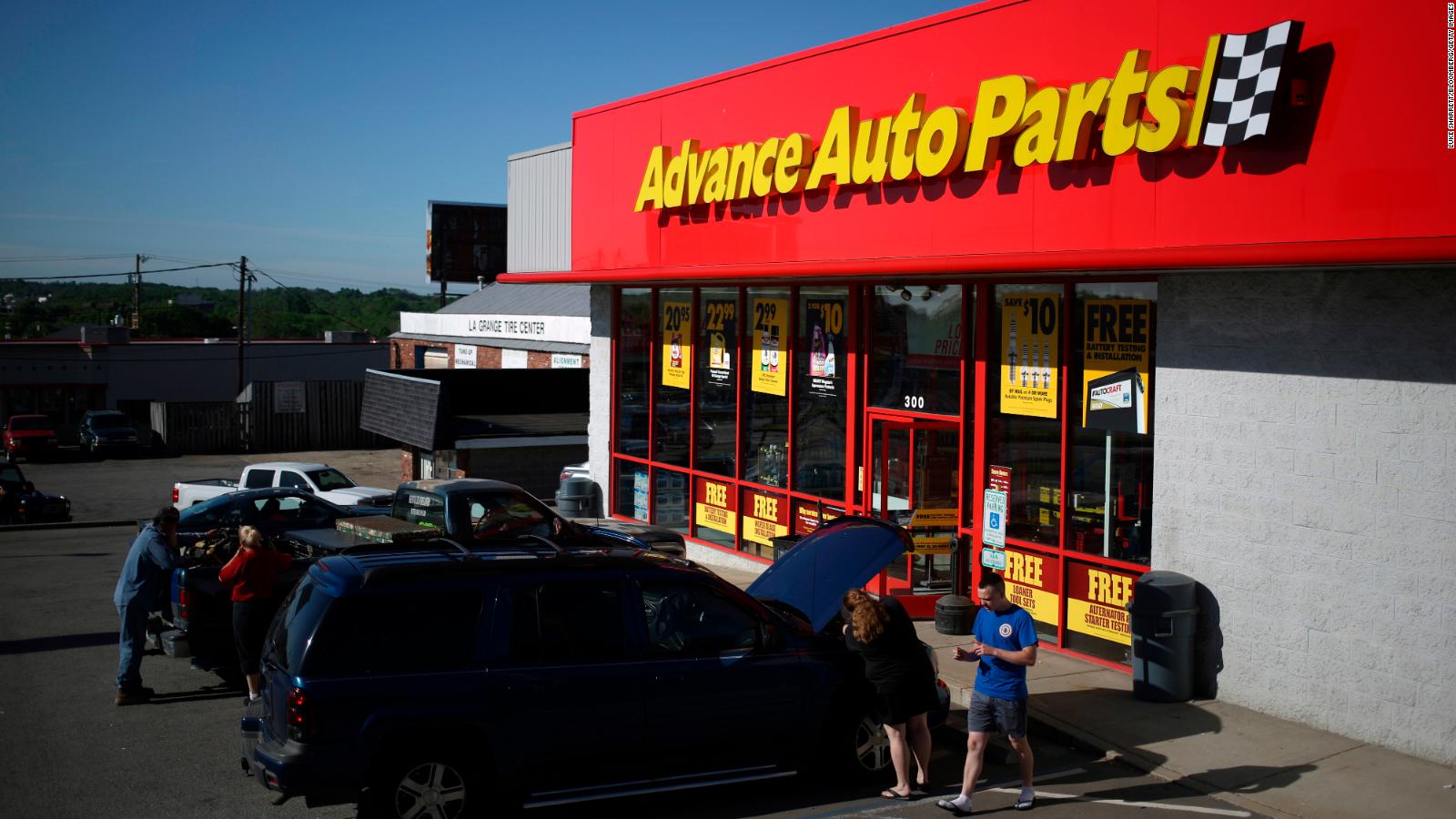 "There's a huge need for inventory availability and quick delivery out there," said Seth Basham, who covers the industry at Wedbush Securities.
Although Amazon is looking to find retail partners, it would need to acquire an auto parts seller with similar distribution capabilities to be able to match Advance's same-day network.
"You're not going to use Whole Foods to deliver auto parts to a garage. A brick-and-mortar presence is critical here," O'Shea said.
Advance offers expert solutions in a complex auto parts market, something Amazon can't provide.
Staffers consult with customers to find the right products, and Advance offers training classes and posts on YouTube to help DIYers with repair jobs.
Amazon is known for its variety, but Advance sells a wider range of national brands, private-labels, and original equipment from manufacturers.
"The garage owners love this model," O'Shea said. "You need somebody that has deep knowledge and knows the parts catalog backwards and forwards."
Adding to its advantage, Advance has close relationships with auto parts suppliers. Many manufacturers are wary of selling through Amazon because they worry that it would help the company learn the business and one day take it over.
Analysts say carrying hundreds of thousands of different parts is ill-suited to a company without deep experience in the field. Amazon might have trouble stocking and selling bulky physical components and batteries — new engines, brakes, and exhausts — which are specific to a car's make and model. On the other hand, selling car parts and batteries make up 65% of Advance's total sales.
But the company will need to keep adjusting its prices to keep up with Amazon's relentless focus on providing value.
A MoffettNathanson analysis found that Amazon's prices were 29% lower than traditional competitors on 30 top-selling items. Advance risks losing its edge with such a wide pricing gap.
But Advance should get a lift from its newest partner: Walmart (WMT).
Advance struck a deal last month with the world's largest retailer for a specialty store page on Walmart's website. It believes the tie-up will allow it to increase its visibility online and reach more DIYers.
Advance may see selling through Walmart as safer ground than Amazon. "I don't know that Walmart wants to start manufacturing auto parts," O'Shea said.
The Walmart partnership is key because it will bring Advance into Walmart's 2,500 auto care centers around the country. Leveraging Walmart's store footprint will help Advance expand same-day delivery as competition intensifies and Amazon finds ways to speed up parts delivery.
"The biggest challenge Advance faces is still the online channel. That's the concern investors have out there," Basham said. "How quickly do solutions by online players develop to become more material threats?"
Sours: https://www.cnn.com/2018/11/29/business/advance-auto-parts-oreilly-autozone/index.html
Prime parts amazon auto
Press release
SEATTLE, Oct 23, 2006 (BUSINESS WIRE) -- Amazon.com (Nasdaq:AMZN) today announced the grand opening of its Automotive Parts and Accessories Store (www.amazon.com/auto) featuring over 1 million new, used and remanufactured parts from leading parts and accessories manufacturers.
A key feature of Amazon's Automotive Store is its innovative Part Finder, allowing owners of approximately 10,000 different American car and truck models to find the parts that fit their vehicles. Amazon customers can simply enter the year, make and model of a car into the Part Finder and trust that they will find items that fit their specified vehicles. Leveraging Amazon's unique technology platform for auto part data, the Part Finder enables third-party data providers and retailers to share part and vehicle information that helps Amazon customers make informed buying decisions.
"We're providing a broad selection of products for auto enthusiasts, who are passionate about the appearance and performance of their cars, but also making the Automotive Store convenient for the everyday motorist who is looking for basic car care and maintenance items," said Steve Frazier, vice president, Automotive at Amazon.com. "Amazon's core principles of selection, convenience and low prices will help us meet the needs of this growing segment in the online marketplace."
Amazon.com provides Free Super Saver Shipping and Amazon Prime on 100,000 automotive products sold by Amazon. In addition to Free Super Saver Shipping, Amazon's Automotive Store is offering $20 off any purchase of $99 or more on products sold by Amazon.com through Nov. 14th. (Restrictions apply; see www.amazon.com/auto for details.)
Core brands carried by Amazon's Automotive Store include Actron, Fram, Holley, Hurst, K&N Engineering, Lund, Meguiar's, Raybestos and Schumacher. And to enhance site selection, hundreds of thousands of additional items are listed on the Amazon site by more than 250 independent auto, truck and motorcycle parts retailers, such as Auto Barn, HoursepowerFreaks, Midway Auto Supply and Summit Racing Equipment. Products are easy to find in categories across Amazon's Automotive Store, including Interior and Exterior Accessories, Replacement Parts, Car Care, Performance Parts, Tools & Equipment and Motorcycle Parts & Accessories. The store also features tires and wheels from The Tire Rack.
About Amazon Prime
Amazon Prime, Amazon.com's first-ever membership program, is available to customers for a flat fee of $79 per year. Amazon Prime members receive unlimited, express two-day shipping for free, with no minimum purchase requirement on over a million eligible items sold by Amazon.com. Members can order as late as 6:30 p.m. ET and still get their order the next day for only $3.99 per item, and they can share the benefits of Amazon Prime with up to four family members living in their household. Sign up for Amazon Prime at www.amazon.com/prime.
About Amazon.com
Amazon.com, Inc., (Nasdaq:AMZN), a Fortune 500 company based in Seattle, opened on the World Wide Web in July 1995 and today offers Earth's Biggest Selection. Amazon.com, Inc. seeks to be Earth's most customer-centric company, where customers can find and discover anything they might want to buy online, and endeavors to offer its customers the lowest possible prices. Amazon.com and other sellers offer millions of unique new, refurbished and used items in categories such as health and personal care, jewelry and watches, gourmet food, sports and outdoors, apparel and accessories, books, music, DVDs, electronics and office, toys and baby, and home and garden.
Amazon and its affiliates operate websites, including www.amazon.com, www.amazon.co.uk, www.amazon.de, www.amazon.co.jp, www.amazon.fr, www.amazon.ca, and www.joyo.com.
As used herein, "Amazon.com," "we," "our" and similar terms include Amazon.com, Inc., and its subsidiaries, unless the context indicates otherwise.
Forward Looking Statements
This announcement contains forward-looking statements within the meaning of Section 27A of the Securities Act of 1933 and Section 21E of the Securities Exchange Act of 1934. Actual results may differ significantly from management's expectations. These forward-looking statements involve risks and uncertainties that include, among others, risks related to competition, management of growth, potential fluctuations in operating results, international expansion, outcomes of legal proceedings and claims, fulfillment center optimization, seasonality, commercial agreements, acquisitions and strategic transactions, foreign exchange rates, system interruption, significant amount of indebtedness, inventory, limited operating history, government regulation and taxation, payments, fraud, consumer trends, and new business areas. More information about factors that potentially could affect Amazon.com's financial results is included in Amazon.com's filings with the Securities and Exchange Commission, including its Annual Report on Form 10-K for the year ended December 31, 2005, and all subsequent filings.
SOURCE: Amazon.com, Inc.
Amazon.com, Inc.
Amazon.com Media Line, 206-266-7180
Sours: https://press.aboutamazon.com/news-releases/news-release-details/amazoncom-launches-new-automotive-parts-and-accessories-store
Amazon Auto Parts
Agree. - Agreed then. If Im right, youll let me fuck any of your boyfriends that I like, and if you are, then Ill have to give you my boyfriend for one night.
You will also like:
Waves of excitement are gradually growing, but Igor is still able to reason. Igor's open face - complete impatience - got bored. - come on soon.
468
469
470
471
472