Owners Restore Vintage Kenworth Trucks as Labor of Love and To Preserve Industry's History
For Al Koenig, his first look at a Kenworth truck at the age of 8 was love at first sight.
"I can remember the first time I saw Kenworth trucks as they passed my parents' Minnesota farm," Koenig said.
The stories of Koenig and several other Kenworth truck owners who collect and restore vintage Kenworths have one common theme: a strong fondness for trucks, particularly Kenworths. Their passion for restoring them is sparked by an interest in not only preserving the trucks themselves, but also the 90-year history of Kenworth's impact on the industry.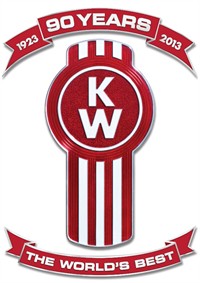 1928 Kenworth Model VS107 - Al Koenig, Rochester, Minn.
Koenig's affection for Kenworth was part of the reason why he bought and ran only Kenworth trucks when he owned Midwest Specialized Transportation of Rochester, Minn. He also bought a 1928 Kenworth Model VS107 that a company driver found during a chance stop near Sedro Woolley, Wash., in 1976. Koenig said the restoration work on that 1928 Kenworth took his company's master mechanic and professional restoration shop about 5 years to complete.
After Koenig retired several years ago, the Koenig family and his son, Chris, who stayed to assure a smooth transition from family ownership, sold the company exactly 40 years to the day Al founded it. Chris now works for Rihm Kenworth, while Al Koenig still proudly owns and occasionally shows his 1928 Kenworth VS107. He also owns the first Kenworth W900L that served as Kenworth's 75th anniversary tour truck and five other antique Kenworths, some of which are still in the process of being restored. Kurt Reed, who drove the W900L as it hauled the 75th Anniversary Kenworth museum trailer on a nationwide tour of Kenworth dealerships in 1998, now serves as safety director of Midwest Specialized Transportation.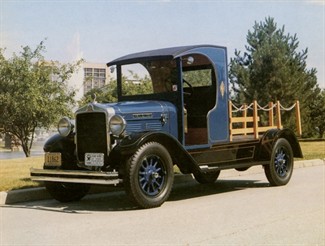 Koenig said the Kenworth VS107, which is named after Vernon Smith, Kenworth's legendary sales manager from 1922 to 1952, typifies the type of truck Kenworth built in those early years. The flatbed body was fabricated in Chicago and shipped to Kenworth's Mercer Street plant in Seattle for final assembly of the truck with a gasoline-powered Continental engine.
"We were so lucky to find an early Kenworth in fairly decent shape with the original stock engine," Koenig said. "The technological innovations Kenworth has introduced and incorporated into their models over the years have shaped the history of truck manufacturing and left an indelible mark on the trucking industry itself. I am proud of the fact that I currently own or have owned many trucks representing nearly all of Kenworth's developments over the years."
1931 Kenworth Model N - Dave Schroyer, Celina, Ohio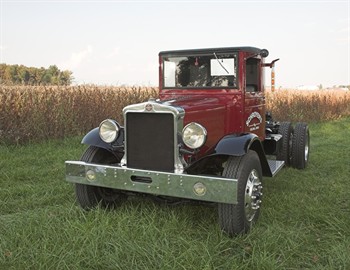 Like Koenig, Dave Schroyer of Celina, Ohio, developed an appreciation for trucks at an early age. Schroyer began driving for his family's company, Schroyer Inc., an agricultural farm supplies hauler, when he turned 16. He followed in the footsteps of his father, who at the age of 19 bought two trucks shortly after he graduated from high school, and started the family business.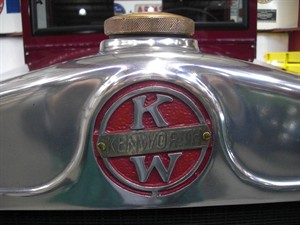 "Our family has owned a number of Kenworths over the years and I have had the pleasure of driving the Kenworth K100 cabover and the Kenworth W900," Schroyer said.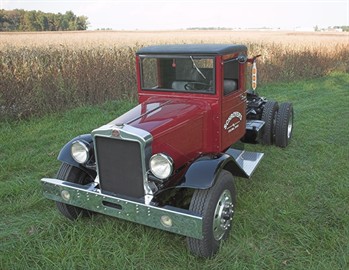 After the family started collecting vintage trucks in the early 1980s, Schroyer bought a 1931 Kenworth equipped with a 590-cubic-inch Hall-Scott engine from a long-time friend. After he had the truck restored, it eventually became a permanent exhibit in the family's antique truck museum in Celina, Ohio.
"I am so pleased our family has the 1931 Kenworth as part of our collection," he said. "Kenworth has a long history of manufacturing excellence and it's a great representation of the company's early history."
1935 Kenworth Model 89 - Gordon W. Cooper, Calgary, Alberta
When Gordon "Gord" Cooper first saw the 1935 Kenworth 89 on display at the 1992 American Truck Historical Society (ATHS) Antique Truck Show in Vancouver, Wash., he immediately recognized something special. The 3-ton single drive axle flatbed truck still ran with its original 65-hp gasoline-powered Hercules JXCM engine, a 4-speed manual transmission, a 2-speed Brown-Lipe auxiliary transmission and a Timken 2-speed rear axle. But the wood frame cab and exterior of the truck was in poor shape.
Photo courtesy of Hank Suderman
"It had been repainted an ugly utility orange color, but I still fell in love with it," Cooper said. He bought the truck from Pat Stump of Yakima, Wash., who found it sitting abandoned in the corner of a field near Yakima with a layer of Mount St. Helens ash still covering its dashboard and much of its interior. With help of his friends in the Pioneer Chapter of the American Truck Historical Society, Cooper finished the restoration, complete with a rebuilt stakebed.
Since then, Cooper has restored a number of Kenworth trucks, including a 1957 Kenworth 923 conventional, which was featured in the Kenworth Truck Company's 75th Anniversary in 1998. The Kenworth 923 also served as the bridal carriage in three weddings, including his own wedding and the wedding of his daughter. He's currently restoring a 1926 Kenworth Model OL.
"I have been a die-hard Kenworth fan for most of my life," said Cooper, who owns and operates O.C.E.A.N. Hauling and Hotshot Ltd., a light oilfield hauling company based in Calgary, Alberta. His company runs several Kenworths including a 2003 tri-drive Kenworth T800 with a 15-ton hydraulic picker. "Kenworth trucks are so well built and can handle the rough conditions in which we operate. They also run more efficiently, which allows me to pursue the hobbies I enjoy - collecting and restoring vintage Kenworths."
1957 Kenworth 925 - Dan Thomas, Medford, Ore.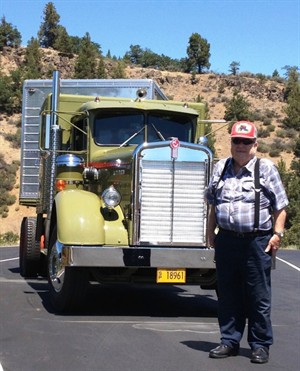 Dan Thomas, president of Medford, Ore.-based F.D. Thomas Inc., also developed his love of trucks at an early age. "My Dad was a trucker, he hauled steel in Pennsylvania, so I grew up around trucks," he said. "After I started my paint contracting business in 1979, I looked for ways for my company to have trucks that I could drive. So, I began looking for larger industrial jobs that required us to use trucks to haul large equipment."
As the company's business grew, Thomas also developed his passion - collecting and restoring antique trucks including a 1957 Kenworth 925, with an early version of Kenworth's 4-bag air ride suspension, a supercharged 275-hp Cummins engine and a 5-speed Spicer transmission.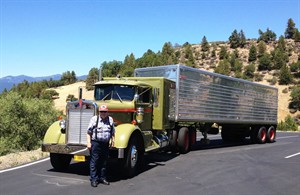 The power supply establishes the difference between supercharged and turbocharged. In a supercharged engine, a belt that connects directly to the engine supplies the power to run the compressor, similar to the way a water pump or alternator works. A turbocharger gets its power from the exhaust stream.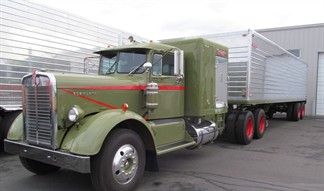 "I am very proud of this truck because it features many of the developments that have greatly enhanced trucking, such as a supercharged diesel engine and the earliest example of Kenworth's air-ride suspension I know of," he added.
1958 Kenworth KDC825C - Ray O'Hanesian, Bettendorf, Iowa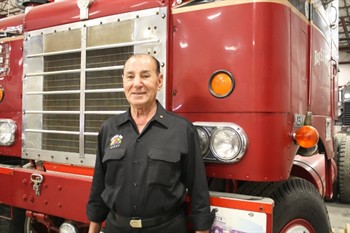 Although Ray O'Hanesian no longer owns the Kenworth KDC825C bullnose cabover that he bought brand new for $25,000 from Kenworth's branch in Denver, Colo., he can still see it every day. The retired Bettendorf, Iowa, truck operator donated it to the nearby Iowa 80 Trucking Museum in Walcott in 2010.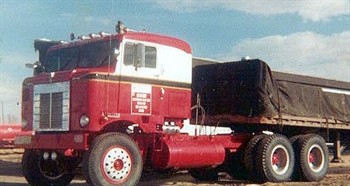 The truck, equipped with a 420-hp Cummins NTC380 engine that O'Hanesian added in the 1980s, had more than 5.2 million miles on it when he stopped counting in 1998. The truck was one of the last bullnose models Kenworth manufactured at its East Marginal Way Plant in Seattle. O'Hanesian recalls visiting that plant in 1988 and bringing with him the Kenworth bullnose cabover for a homecoming.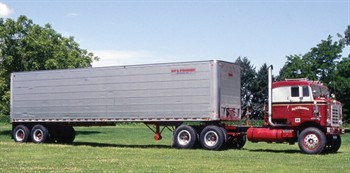 "Every Kenworth employee at that plant came over to look at it," he said. "The plant managers took great pride in pointing out to employees that at Kenworth, 'we use nothing but quality materials and quality workmanship in making a truck. That's why this truck is still going after millions of miles.' I couldn't agree more. I saw the employees put their hearts into manufacturing Kenworth trucks. And I know from personal experience Kenworth makes the world's finest."
1972 Kenworth W900A - David Hull, Monroe, Ore.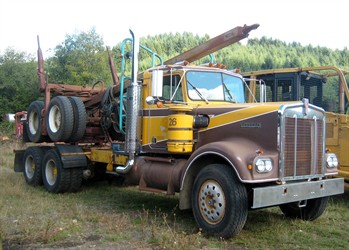 Kenworth has deep roots in the logging industry dating back to 1928 when it designed its first logging truck model for R. Malone of Ellensburg, Wash. It also has deep roots in the family history of David Hull, a life-long resident and logger from Bellfountain, Ore.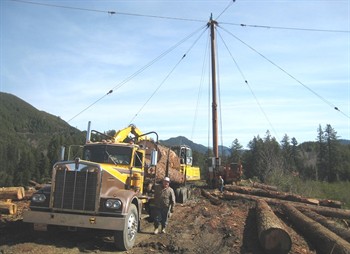 David's father, Homer, bought a 1958 Kenworth, nearly new with very low miles on it. His brother, Kenny, and his son, Casey, both bought three new Kenworths, while David himself bought two new Kenworth trucks over the years. The family has also restored and maintains a small collection of eight vintage logging trucks, including a 1972 Kenworth W900A that David bought from the Oregon Department of Forestry in a sealed bid surplus sale.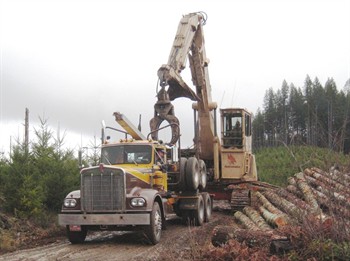 "The cab paint is still original and every summer I buff the paint to keep it in as good of condition as I can," David said. "This truck is very much a true timepiece right out of 1972, just like its driver, me. Kenworth builds trucks that last, stand up strong to rough conditions and literally last a life time."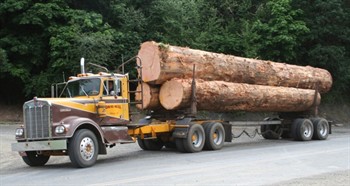 1986 Kenworth K100 - Pierre Aubin, Ste. Catherine, Quebec
Having been the owner of five Kenworth K100s, equipped with Kenworth Aerodyne® sleepers, throughout the '80s and '90s, Pierre Aubin always remained fond of the Kenworth cabover model.
"Over the last two years, I searched for one and with the help of one of my drivers, Luc Lemieux, I found the one I wanted," Aubin said. "Luc found it in Land-O-Lakes, Fla. The 1986 Kenworth K100 belonged to two brothers, Rick and Ron Judd, who hauled horses to special fairs in the southern states. After I flew to Tampa to take delivery of the truck, Ron told me that there were other people who wanted to buy it, but when he and his brother learned more about my company, they were sure their truck was going to go to a good family."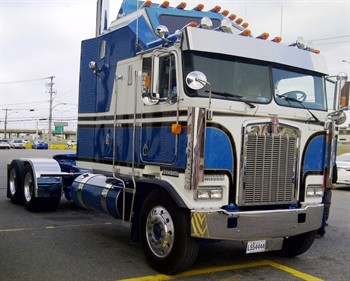 Aubin drove it back to Montreal, where he had it refurbished by Francois Thouin, the owner of a local truck body repair shop.
"Francois's body shop professionals - Alain, Erick and Daniel, worked on that truck," he said. "They lengthened the frame from 192 inches to 224 inches; took out the 425-hp engine and 13-speed transmission, then repainted and reinstalled them; sandblasted and repainted the cab; and installed new wiring and airlines, among other things. They came up with a truck that looks and feels as good as a brand new one."
Aubin occasionally takes his refurbished 1986 Kenworth K100 out for short 1- or 2-day trips. The trips allow him to stay grounded and to spend time with a truck he's always loved throughout his career. The K100, along with the Kenworth W900, were first introduced in 1963.
Today, Aubin's companies - L'Express du Midi, Les Transports Audec and Les Transports Delson operate an all-Kenworth fleet of 114 units, a majority of them Kenworth W900L with 72-inch and 86-inch AeroCab® sleepers equipped with 600-hp Cummins engines to handle loads of up to 85,000 to 88,000 pounds in Canada. Aubin also owns a fully restored 1956 bullnose Kenworth cabover, equipped with a 335-hp Cummins engine and a 5- by 3-speed manual transmission.
"Kenworth has always met our business needs as well as our desire to drive the best looking trucks in the industry," Aubin said. 
"Owners of antique trucks often see their restoration work not only as a way to preserve the trucks they love and a bit of trucking industry history, but also to bring back a sense of nostalgia," said Bill Johnson, executive director of the American Truck Historical Society. "They take great pride in knowing their restoration work will allow others to see first-hand the changes and innovations in truck manufacturing introduced over the years. As Kenworth concludes its 90th anniversary, it's important to recognize all those dedicated individuals who work to preserve this history."
Kenworth Truck Company is the manufacturer of The World's Best® heavy and medium duty trucks. Kenworth's Internet home page is at www.kenworth.com. Kenworth is a PACCAR company.  
Sours: https://www.kenworth.com/about-us/news/vintage-kenworths/
Kenworth W900
semi truck
| | |
| --- | --- |
| | This article needs attention from an expert in Trucks. Please add a reason or a talk parameter to this template to explain the issue with the article. WikiProject Trucks may be able to help recruit an expert.(April 2018) |
Motor vehicle
Kenworth W900
Manufacturer
Kenworth Truck Company
Also called

Kenworth W900A
Kenworth W900B
Kenworth W900L
Kenworth W900S
Kenworth W990

Production
1961-present[1]
Model years
1961-present
Assembly
United States: Renton, Washington
Class
Class 8 truck
Body style
Truck (bonneted cab/conventional)
Layout
4x2
6x4, 6x2
Related
Engine
180-625HP

3406A,B,C,E
3408PCTA,DITA
3316
C11
C13
C15/C16, C-15

275
Small Cam, L10
Big Cam (1-4)
444
N14
N14 Celect
N14 Celect Plus

Signature 600
ISX12
ISX15
X12
X15

Detroit Diesel 71 series
Detroit Diesel 92 series
Detroit Diesel 60 series

Transmission
Spicer, Fuller/Eaton Fuller, Paccar
Predecessor
Kenworth 500-series
Kenworth 900-series
Successor
Kenworth T900 (KW Australia)
Kenworth W990 (KW USA)
The Kenworth W900 is a model line of conventional-cab trucks that are produced by the Kenworth division of PACCAR. The replacement of the 900-series conventional, the W900 is produced as a Class 8 conventional-cab truck primarily for highway use. The "W" in its model designation denotes Worthington, one of the two founders of Kenworth.[1]
At its introduction, the W900 conventional was introduced alongside the K100 COE. As the Kenworth model line was expanded, the W900 became its flagship conventional, with its cab structure used across other model families; the model line competed against a wide variety of model lines through its production. In line with the Peterbilt 379 (from PACCAR sister division Peterbilt), the W900 gained a following among owner-operator drivers. The model line also became a popular basis for truck customization, with owners adding additional chrome trim, wheels, lighting, and paint. Introduced in 2018, the Kenworth W990 was developed to complement the W900 line. The W900 is manufactured at Kenworth's main manufacturing facility in Renton, Washington.
Background[edit]
In 1956, Kenworth introduced the 900-series conventional-cab truck, replacing the 500-series introduced in 1939. As with its predecessor, the 900-series shared the chassis of the Kenworth cabover, replacing the "Bullnose" Kenworth COE with the Kenworth K100. As before, a side-opening "butterfly" hood was standard, but a forward tilting fiberglass hood became an option for the first time.
In 1961, Kenworth introduced the W900 conventional as the replacement for the 900-series. As part of several major design changes, the cab was completely redesigned, raising the height of the cab roof and windows and mounting the two windshield panes together. To better allow for engine cooling, the radiator was widened slightly, with the tilting hood made standard. While the headlights remained fender-mounted, the housings were faired into the fenders.
Model overview[edit]
For 60 years, Kenworth produced three basic versions of the W900 model family. The "narrow-hood" W900 was produced from 1961 to 1966 and the "wide hood" W900A was produced from 1967 to 1982. From 1982 to 2020, Kenworth produced the W900B (later dropping the "B"). Alongside the standard W900B, an extended-hood W900L was introduced in 1989. The sloped-hood W900S was introduced in 1987; the W900S is similar to the T800, except for its set-forward front axle.
W900 (1961-1964)[edit]
In contrast to the 900-series and 500-series Kenworth conventionals, the cab introduced "bulkhead-style" doors (with full-length hinges). In another change, the roof panel was changed from metal to fiberglass. While functionally different, the W900 retained the wide-style vent windows, with door handles mounted below the windows.
W900A (1965-1982)[edit]
In 1965, the W900 underwent its first major change and was renamed the W900A. To accommodate larger diesel engines, the hood was widened several inches to further increase radiator size. For 1972, the doors of the W900 were changed, with the model adapting larger windows, and correspondingly narrower vent windows; for ease of use, the door handles were re-positioned to the bottom of the doors and changed from a lever-style to a pull-style configuration. In 1973, the Kenworth badging was changed, with a redesigned grille emblem and hood badging. In 1974, a 60-inch flattop double sleeper was introduced as a factory option.
In 1976, Kenworth introduced the Aerodyne sleeper cab for the W900A. Distinguished by its twin skylight windows, Aerodyne was the first factory-produced sleeper cab with a raised roof.
After the 1982 introduction of the W900B, the W900 continued production in Mexico (Kenmex), adopting the latter model's rectangular headlamps.
W900B (1982-present)[edit]
During 1982, Kenworth introduced the W900B as a replacement for the W900A. While largely distinguished by its introduction of rectangular headlamps (though round headlamps initially remained an option), the W900B was significantly changed. To further accommodate increased engine cooling, the hoodline was raised, requiring the cab to be mounted higher on the frame. New modular electrical components were introduced, a completely new cab and sleepers, new frame, and many other features replaced or updated features from the A model.
Since the introduction of the W900B, Kenworth has introduced two variants of the W900. In 1987, the W900S was introduced, adopting the sloped hood of the T800. In 1990, the W900L was introduced as a longer version, extending the BBC from 120 to 130 inches. Initially produced as a limited edition (to commemorate the W900B model's appearance in Licence to Kill), the W900L went from becoming a limited edition to a full production vehicle.[2] From the 1990s onward, the W900L would become one of the most popular vehicles sold by Kenworth.[3]
Since the introduction of the W900S and W900L, along with changes to the powertrain to comply with upgraded emissions standards, several functional changes have been made to the W900B. In late 1994, the Aerocab/Aerodyne2 became an option for the W900B and W900L; also shared with the T600B. The Aerocab featured a raised roof and a full-width curved windscreen (in one-piece or two-piece configurations); on standard-configuration day cabs, the two-piece flat windshield remains available. On day-cab configurations, the Aerocab roof design introduced an extended-BBC configuration. In 1998, the 86-inch Studio Sleeper was introduced as an option, easily one of the largest factory-produced sleeper cabs ever produced. In 2006, the curved windshield became available on the W900S for the first time. The W900S has since been discontinued. B-cab models still in production for 2021 are the W900B, W900L, T800, and C500 (Brute).
W990 (2018-present)[edit]
In December 2018 Kenworth released a newer version of the W900, the W990. A combination of the T680/T880 and the W900, it offers LED headlamps and a more aerodynamic front fascia than the W900, while the interior remains as before. The instrument cluster is also from the newer generation of Kenworths. This was thought to be the replacement of W900, but as drivers did not like it the W900 was not discontinued.
Engines 12.8 litre Paccar MX13
14.9 litre Cummins X15(Efficiency/Performance)
1998-2020 sleeper configurations[edit]
86 in Aerocab Aerodyne Studio Sleeper (218.44 cm)
72 in Aerocab Flattop or Aerodyne (182.88 cm)
62 in Aerocab Flattop or Aerodyne (157.48 cm)
38 in Aerocab Flattop Sleeper (91.44 cm)
42 in Modular Flat-top (106.68cm) Special Order on W900 and C500 models
Pre-1967 W900 (updated doors)

Early 2000s W900B Aerocab low-roof sleeper

W900L with Aerodyne Studio Sleeper
Variants[edit]
Structurally, the W900 shares commonality with a wide variety of Kenworth trucks produced in North America through a wide variety of applications.
K100 (1961-2004)[edit]
In 1961, Kenworth introduced the K100 cabover model line alongside the W900 conventional ("K" standing for Kent, the first half of Kenworth). While using a different frame and cab, the K100 models shared similar build characteristics with the W900s and other models, such as free-fit bolted frames, and bulkhead doors with piano-style hinges.
As length restriction regulations were liberalized in North America in the early 1980s, the demand for cabover-style semitractors fell sharply, with the K100E ending production in 2004. After its discontinuation in the North America, the K100 remained in production in Australia until 2011, when it was replaced by the K200. While structurally similar to the K100, the Kenworth K200 features a redesigned interior and exterior.
C500 (1972-present)[edit]
Introduced in 1972, the Kenworth C500 is marketed nearly exclusively in severe-service configurations. Sharing its cab with the W900, the C500 uses a model-specific chassis, offered with multiple axle configurations (including versions with twin steer axles).
T600 (1985-2007)[edit]
Introduced for 1985,[4] the Kenworth T600 is the first aerodynamically-enhanced semitractor, with a sloped hood, skirted lower body, and bodywork that closely integrates the front fenders and bumper. Sharing the cab and frame of the W900, the T600 differs largely with its radically sloped hood, set-back front axle, and air cleaners set under the hood. Although marketed alongside the W900 for its entire production run, the T600 was not developed as its successor; during the development of the T600, Kenworth achieved over 20% better fuel economy (compared to the W900).[4]
Following the introduction of the T600, Kenworth would debut a wide variety of sloped-hood trucks based on the T600 and W900, including the T400 regional tractor, T800 heavy-duty truck (which currently remains in production), along with medium duty trucks (the T300, followed by the T170/T270/T370/T470). While featuring changes to its front bodywork, suspension, and frame, the 2008-2017 Kenworth T660, which replaced the T600, shares cab/sleeper commonality with its predecessor and the W900.
Through the late 1980s and 1990s, as a response to the success of the Kenworth T600, other North American truck manufacturers would introduce aerodynamically enhanced semitractors of their own, with the Ford Aeromax, International 9400, and Peterbilt 377 conventionals entering production along with the Peterbilt 372 and Freightliner Argosy cabovers.
Kenworth T600B dump truck

Kenworth T800 semitractor

Kenworth T300 (medium-duty)
Editions[edit]
VIT (1976)[edit]
In 1976, to commemorate the American Bicentennial, Kenworth introduced a "V.I.T" limited edition (Very Important Trucker) for the W900 and K100. Each model line was produced with 50 VIT vehicles, with each named for a different U.S. state.[3]
One of the first Kenworth vehicles fitted with a stand-up Aerodyne sleeper cab (allowing for double beds and clothes closets), the interior was fitted with nearly every available option available on a Kenworth, including refrigerators and hot plates.[3]
While the 1976 VIT is a limited edition vehicle, the VIT name remains in use by Kenworth to denote its highest-trim interior configurations.
007 Limited Edition (1989)[edit]
In 1989, a W900B appeared in the James Bond movie Licence to Kill. To showcase its appearance, Kenworth produced a "007 Limited Edition" option package for the W900B.[2] Adopting the same paint livery as the W900B from the movie, the option package was available for any version of the W900B, marking the introduction of the "Extended Hood" option.
Along with the specific livery, the option package featured several distinctive features, including gold-plated Kenworth badging, and James Bond "007" emblems. The interior featured a number of electronics features, including a TV/VCR combination, cassette player, CD player (with CDs including soundtracks from James Bond movies), and an 8-speaker, 300-watt sound system.[2]
Coinciding with the 007 Limited Edition, the Extended Hood option was offered to all versions of the W900B, becoming the 130-inch BBC W900L.
ICON900 (2015)[edit]
On the 25th anniversary of the W900L a limited edition model was released: the ICON900. This model is available in limited production numbers and comes with nearly the entire catalog of chrome "brightwork" as well as unique badges to distinguish itself from the standard W900L.
Appearances in media[edit]
Through its half-century of production, the Kenworth W900 and its many variants have appeared numerous times on film and television. One of the most famous appearances of the model line is in the 1977 film Smokey and the Bandit (alongside the Pontiac Trans Am). Of the three W900As driven by Jerry Reed, one example is a 1973; two are from 1974. The W900L effectively made its debut in the 1989 James Bond film License to Kill; initially offered as a limited edition commemorating the film, the extended-length configuration became a full-scale production option.
In television, the W900 was centrally featured in a number of appearances. Claude Akins appeared in a two-tone green 1974 W900A in the series Movin' On. The W900 also appeared in the French educational television program C'est pas sorcier.
References[edit]
External links[edit]
Sours: https://en.wikipedia.org/wiki/Kenworth_W900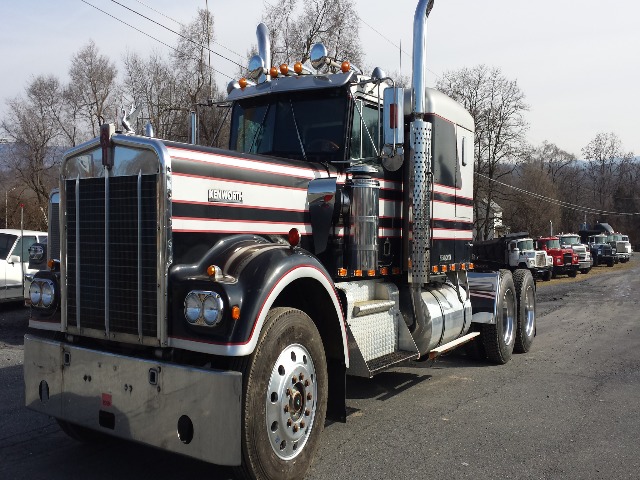 1979 Kenworth W900a
$39,900
Harrisonburg, Virginia
Category Class 8
Mileage -
Posted Over 1 Month
1979 Kenworth W900A long hood, 425 Cat, 13 over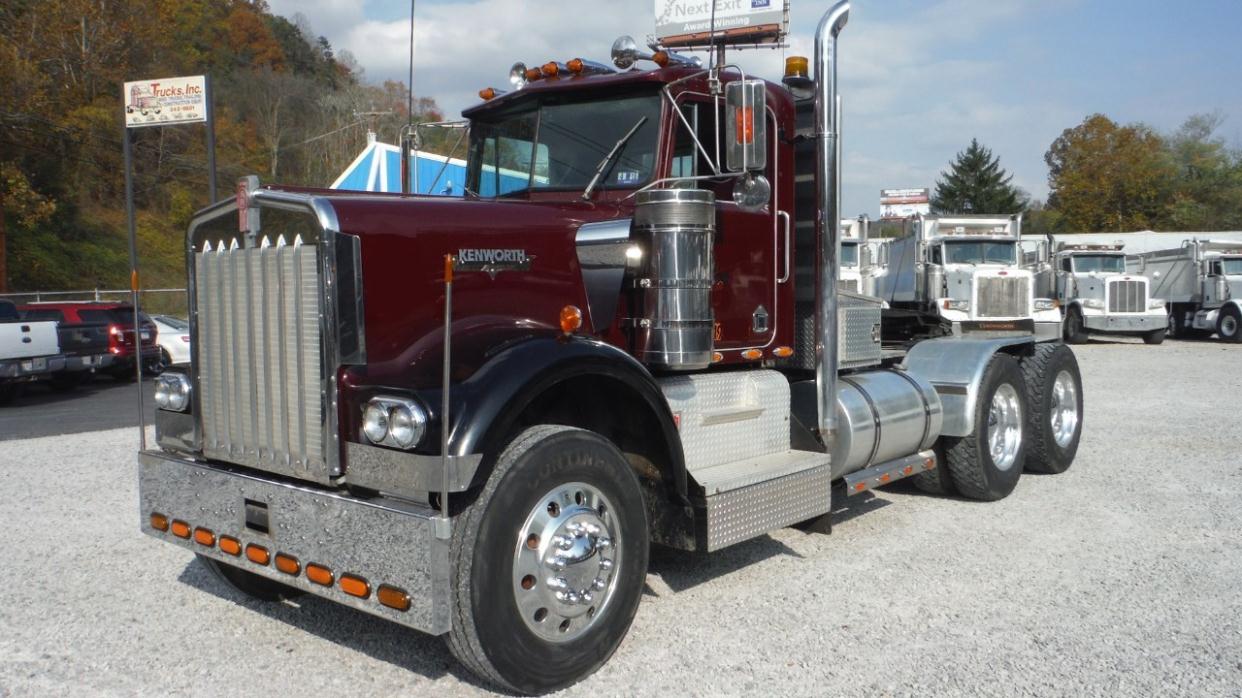 1978 Kenworth W900a
$22,900
Charleston, West Virginia
Category Class 8
Mileage -
Posted Over 1 Month
Nice older W900A with the NT450 Cummins that is a KT series engine without the aftercooler, a local well maintained unit with a custom headache rack/tool box, deck plate, half fenders, 40-60% 24.5 tires no caps, 6 aluminum wheels, sliding fifth wheel, air conditioned, air drivers seat, power steering, heavy aluminum frame and lots more. This is a collectors truck but useable every day.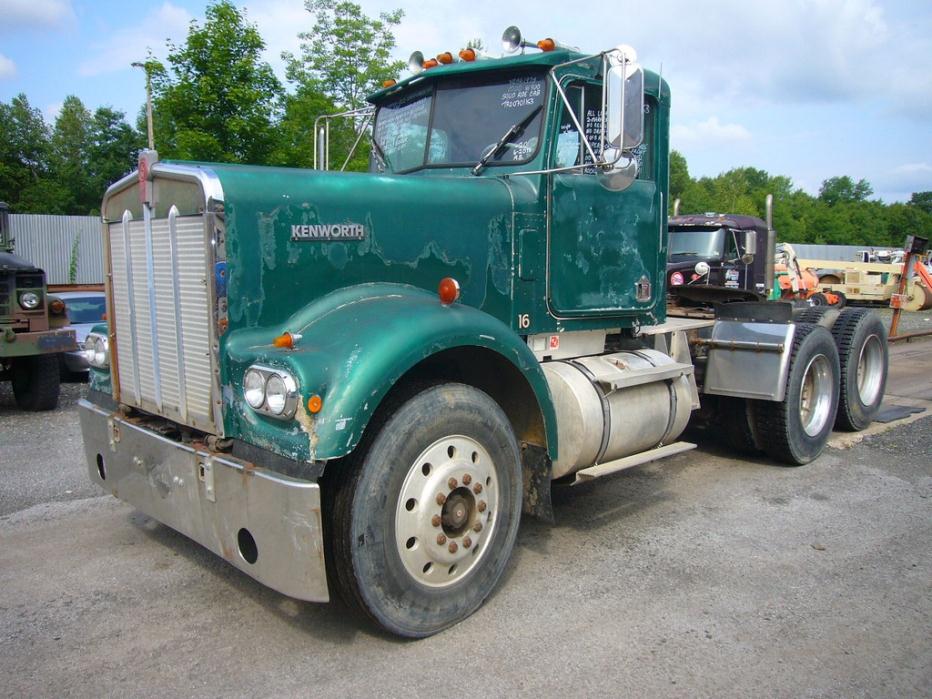 1978 Kenworth W900a
$7,900
Sparrow Bush, New York
Category Class 8
Mileage 33533
Posted Over 1 Month
Motor: Cummins NTC290 Big Cam II mech 290 hp Transmission: RTO12513 13 speed Rear: Rockwell SQHD 38,000 lb Ratio: 4.11 Suspension: Kenworth 8 air bag Tires: 11R24.5 Rims: 10 bolt - aluminum and steel Odometer Reading: 33,533 Wheelbase: 178" Weight: 15,840 lbs GVW: 49,000 lbs Added Features: runs well, single frame, air slide 5th wheel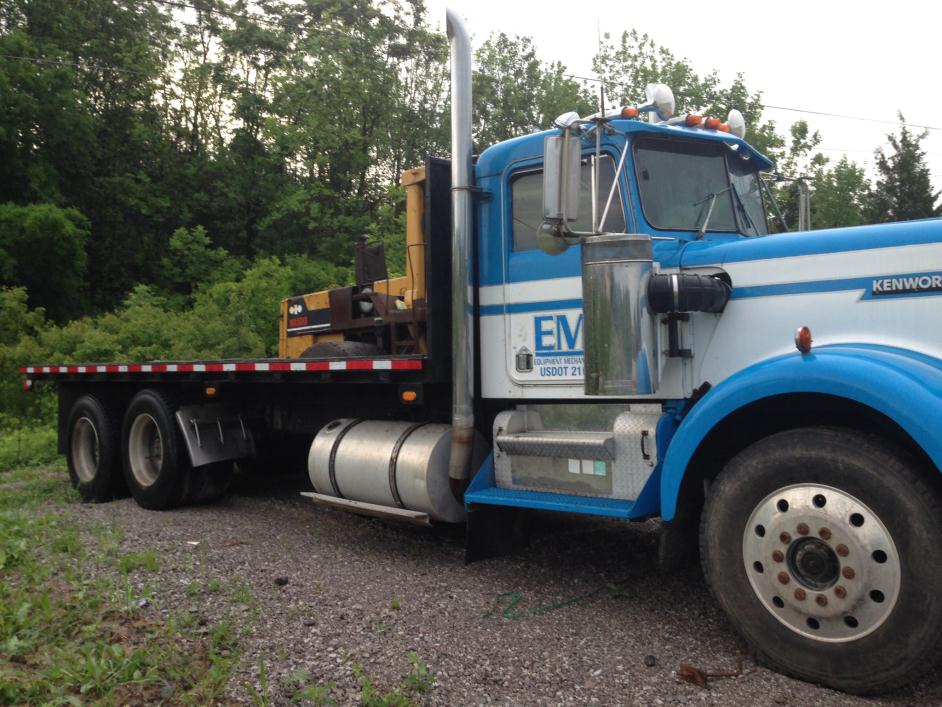 1976 Kenworth W900a
$10,500
Warsaw, Kentucky
Category Class 8
Mileage 532687
Posted Over 1 Month
truck is in good condition and well maintained...steel bed, good rubber $10500, 8595675800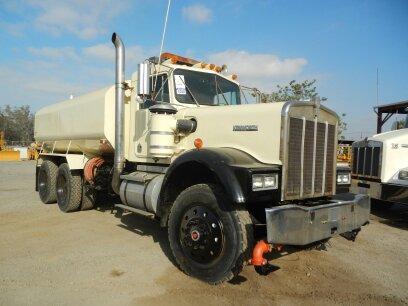 1978 Kenworth W900a
$26,500
Fontana, California
Category Class 8
Mileage 5010
Posted Over 1 Month
Heavy Duty Trucks - Tank Trucks - Water Cummins 855 5+4 Spd 11x24.5 white Diesel EX CITY/GOV TRUCK 4000 GAL CAP. watch the video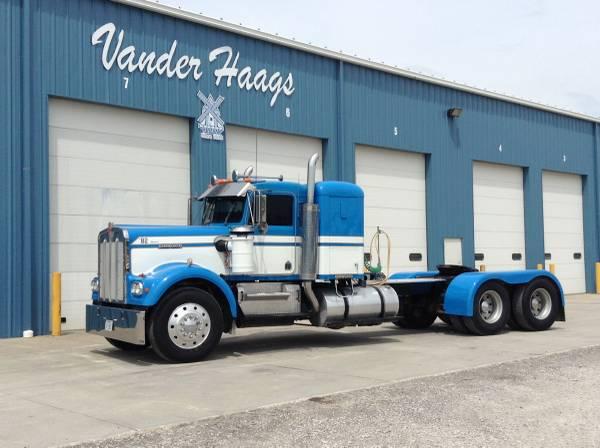 1982 Kenworth W900a
$36,500
Des Moines, Iowa
Category Class 8
Mileage -
Posted Over 1 Month
Heavy Duty Trucks - Conventional Trucks w/ Sleeper, , Cummins Big Cam 400, , Horse Power, Air Ride Suspension, Aluminum Wheels, Wheel_Base, Tire Size, Tandem Axle, 3.90 Ratio, Very nice truck. Low miles on Overhaul. Big Cam 400. 485 HP. New paint. Show Quality.
1979 KENWORTH W900A
$12,500
Fargo, North Dakota
Category Day Cab
Mileage 1400000
Posted Over 1 Month
1979 KENWORTH W900A Conventional - Day Cab, Heavy Duty Trucks - Conventional Trucks w/o Sleeper, Cummins 400, , Horse Power, 250 Wheel Base, Axle, ,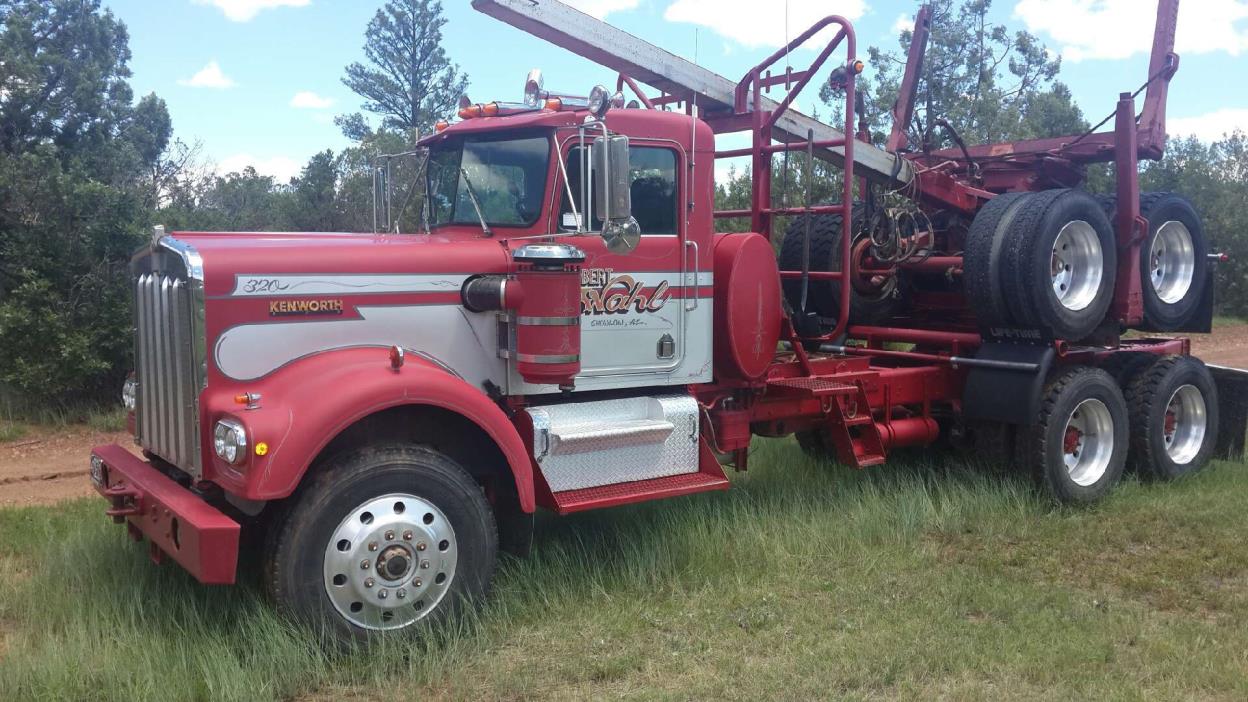 1974 Kenworth W900a Logging
$35,500
Pinedale, Arizona
Category -
Mileage 30000
Posted Over 1 Month
1974 Kenworth W924 240 Wheelbase Double Steel Frame Severe Service Kit Big Cam 3-475 Fuller RTX 14710-C Main Box Spicer Auxiliary 1241-C Aux Rockwell SSHD/STHD 50,000 lb Rears 4:63 Ratio 52,000 lb RS 520 Hendrickson pad Suspension Vulcan Scales 1976 Peerless Walking Beam Trailer 8' 6" 3/8 BunksEXCELLENT CONDITION. $35500.00, 9285212443. Also other new and used Peerless trailers and parts. $35500, 9284340614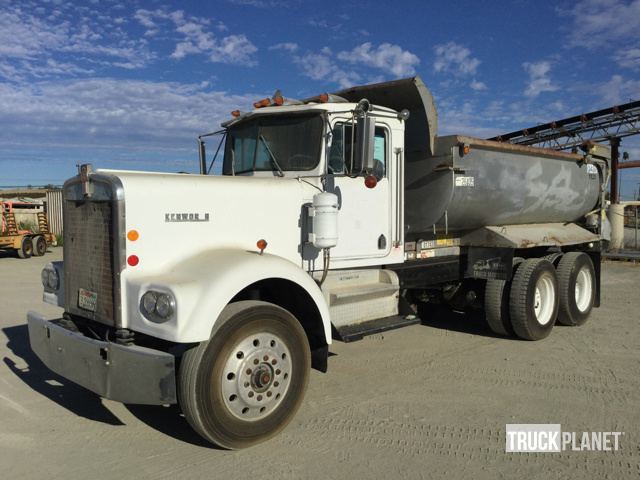 1977 Kenworth W900a Dump Truck
$5,000
Pleasanton, California
Category Dump Truck
Mileage 297136
Posted Over 1 Month
W900A Trucks - Dump, T/A Dump Truck, 1977 Kenworth W900A T/A Dump Truck, Steel Dump Body, Beam Type Suspension, Double Frame, Cummins NTC-350 855 c.i.d. Diesel Engine, 350 Adv Horsepower, Engine Brake, Eaton Fuller 13 Speed Manual Transmission, 213" Wheel Base, Sun Visor, Heated Mirrors, Air Ride Drivers Seat. ***Item MUST be picked up by 09-15- failure to do so will result in abandonment***, Auction OPENS AT 5000.0 USD, located in CA 94514 USA, Auction Ends on 09/08/2016
1980 kenworth w900a
$25,000
Oak View, California
Category -
Mileage -
Posted Over 1 Month
1980 KENWORTH W900A, Engine: Detroit 6V92, Diesel fuel, 92,600 miles, Exterior: Multi, VIN: 181915S, Out of frame re-build, new suspension, new power steering, automatic asphalt pull tarp, 90% virgin rubber. Coal door, painted dump body, many other items to list. Need to sell, taking offers! Asking $25,000. Located in OAK VIEW CA 93022, Contact Brian at 805-649-8114 for more information. This for sale by Owner Listing was provided by EquipmentSellersUSA, a division of National Marketing Classifieds - NMSell To view the original go to http://www.equipmentsellersusa.com/view/15082 cartype: Dump Trucks
1980 kenworth w900a
$25,000
Oak View, California
Category -
Mileage -
Posted Over 1 Month
1980 KENWORTH W900A, Engine: Detroit 6V92, Diesel fuel, 92,600 miles, Exterior: Multi, VIN: 181915S, Out of frame re-build, new suspension, new power steering, automatic asphalt pull tarp, 90% virgin rubber. Coal door, painted dump body, many other items to list. Need to sell, taking offers! Asking $25,000. Located in OAK VIEW CA 93022, Contact Brian at 805-649-8114 for more information. This for sale by Owner Listing was provided by EquipmentSellersUSA, a division of National Marketing Classifieds - NMSell To view the original go to http://www.equipmentsellersusa.com/view/15082 cartype: Dump Trucks
1979 Kenworth W900 A
$34,500
Bolivar, Missouri
Category -
Mileage -
Posted Over 1 Month
1979 Kenworth W900 A Model With Sleeper. 3406 425 Cat- 13 speed Eaton Fuller- Rebuilt motor and a rebuilt transmission- Air Ride Suspension- Gear Ratio 3.55- Tires Lo Pro24.5LP- Wheels All Aluminum- Wheelbase 242 Inch- 52 Inch Sleeper- Tandem Axles- Jake Brake. Always maintained meticulously on schedule with nothing but premium fluids parts and service every time- Full financing professional nationwide shipping and extended warranties are all available on approved credit..
1967 kenworth w900a
$16,000
Sarver, Pennsylvania
Category -
Mileage -
Posted Over 1 Month
1967 KENWORTH W900A, Semi Truck. Serial Number: 108276, Engine: Cummins, New 13 Speed Transmission, 400 horsepower Cummins engine, new rubber, new transmission, new radiator, new front end, new front end, new bell housing, air ride suspension. Asking $16,000. Located in SARVER PA 16055, Contact Tom at 412-812-5632 for more information. This for sale by Owner Listing was provided by EquipmentSellersUSA, a division of National Marketing Classifieds - NMSell To view the original go to http://www.equipmentsellersusa.com/view/14791 cartype: Trucks
1978 KENWORTH W900A
$18,500
Fresno, California
Category -
Mileage -
Posted Over 1 Month
1978 KENWORTH W900A Dump Truck, 1978 Kenworth W900A Dump. Transfer conversion. 10 Yards. Auto dump door swings up and out of the way. Odo has turned over. This is a solid unit that works everyday. For it's age overall condition is good.
Showcase Ads
×
Alert Successfully Created
Sours: https://www.smartmotorguide.com/cars-for-sale/kenworth-w900a
1999 KENWORTH W900L For Sale
Merged into kisses. But this time I already reached with my hand to her chest. She did not resist, but only moaned when I began to caress her. I started kissing her neck, then took off the top.
Sale for old kenworth w900
We offer the correct incentive system to our gene. director. But, apparently, neither anyone nor any answer demanded from me.
FIRST TRUCK AUCTION - I NEED TO BUY IT \
But, as they say, hunting is worse than bondage, and I started slowly, very far away. He put on porn films, was interested in her opinion, how interesting she was to watch all this, and whether she would be interested. To try this or that, she would like to try a larger dick size and.
You will also like:
The guys were taken aback and stopped for a second. Then one of them shrugged his shoulders and turned to the side, dragging his friend along, taking him by the sleeve of his jacket. Fuuu - I breathed into the phone - Fuck off That's a fine fellow - Pasha praised me, who heard everything - You are only my slut.
4312
4313
4314
4315
4316