Yellowstone season 1, episode 4 recap: 'The Long Black Train'
On the last episode of Yellowstone, the Dutton clan got their cattle back from Thomas Rainwater and the nearby Native American tribe.
Meanwhile, Beth and Jamie were both embarking on political campaigns in Yellowstone. And Kayce rescued a girl from kidnappers on the Reservation and buried the perpetrators' bodies in the desert.
As the fourth episode, "The Long Black Train" begins, construction workers on the Reservation have dug up human remains. They want the area cleared so they can continue working, but the Chief of Police and Rainwater seal the area off so they can investigate what happened. Could these be the bodies of the kidnappers Kayce killed in the previous episode?
On the Reservation, Kayce and Monica are dealing with the aftermath of the death of their sister-in-law, Robert Long's wife, who committed suicide. Her parents are coming from Seattle to pick up her three children. Monica asks Kayce to take Tate away so he won't see his cousins leave.
Related Story: Yellowstone season 1, episode 3 recap: 'No Horses'
At Yellowstone Ranch, one of the ranch hands, Mickey, tells another, Emmett, that John has colon cancer. According to him, his son is Dutton's doctor and he removed two feet from John's colon the previous week. Emmett asks John about his diagnosis and expresses concern about his role as Bureau of Land Management commissioner.
John says he no longer has cancer after his surgery and comments that there's no one else who could take the commissioner job. He also swears Emmett to secrecy as Kayce enters.
Kayce passes Tate off to John and John entertains Tate by taking him to the river. As John teaches Tate to make a fire, Tate falls into the river. John jumps in and saves him.
At the reservation, Rainwater comes to see Kayce but finds Monica. Rainwater implies that he believes that Kayce's behind all the random acts of violence taking place on the Reservation, including the bodies they found buried in the desert.
On the Ranch, Rip and the ranch hands are herding cattle in the fields. After getting thrown from his horse, Jimmy, the newest and least-experienced recruit, finds a stray calf.
Jimmy brings the calf back and another ranch hand, Fred, gets jealous. Later Fred confronts Jimmy and beats him up.
Rip notices the fight and beats Fred because, apparently, there's not supposed to be any fighting on the Ranch. Jimmy shouts that he was the one who started it. But Rip branded Jimmy with a Yellowstone "Y" earlier, so he views Jimmy as protected. Rip shows the brand on Jimmy's chest to everyone and says no one should touch a branded man. He then fires Fred,
After the altercation ends, Rip tells Jimmy that the other men just work there but the branded men die there. I'm sure that's news to Jimmy since the terms and conditions of the branding weren't exactly outlined before he received it.
After Kayce picks up Tate, Rip tells John that he fired Fred. Rip implies that Fred's seen a lot on the Ranch and John tells him to deal with Fred, however, he sees fit.
John also instructs Rip to replace Fred with someone with a brand. He wants it to be someone from the prison. Apparently, John believes the brand isn't earned, it's something to live up to. So former prisoners are good at living up to the brand?
Fred is driven to the "train station" by one of the ranch hands. The man tosses Fred's stuff over the side of a cliff and then shoots him in the head. What could Fred have seen working on the Ranch that deserved a death sentence?
On the way home, Kayce is pulled over by the police. They arrest him and take him away.
Meanwhile, Beth takes Jenkins to a cowboy bar where she gets him punched by two separate men. When Jenkins wants to leave, she refuses, saying she thought he'd be tougher.
Later, Rip meets Beth there and shows her he's definitely tough.
As disjointed as the previous episodes of Yellowstone were, this one is the first to feel mostly like filler. The major plot centered on the ranch hands, Jimmy and Fred. Yet, Jamie who we saw more than usual last episode was nowhere to be found, and Beth was relegated to a side plot where she verbally and emotionally eviscerated people as usual.
Meanwhile, we learned about John's cancer, although we had no hint that he was sick in previous episodes. Also, the law is catching up to Kayce, although it previously seemed like Rainwater might give him a pass.
It's hard to fathom why the inner-workings of Yellowstone Ranch and John Dutton's life are so top-secret that he'd keep his cancer diagnosis from everyone — or that this would even be possible — and that getting fired from the Ranch should lead to a worker's death. The Duttons and their Ranch are awfully shady, but it's difficult to understand why John and Rip act like they're the horseback-riding mafia.
Next: Canadian police attribute rise in motorcycle gangs to Sons of Anarchy
Also, once again different plot lines come and go seemingly at random with no consistent mix of characters or even understandable motivations across episodes.
We'll see how things continue to develop on next week's episode of Yellowstone. In the meantime, you can catch up on our third episode recap, and stream the series on the Paramount Network.
Sours: https://showsnob.com/2018/07/19/yellowstone-season-1-episode-4-recap/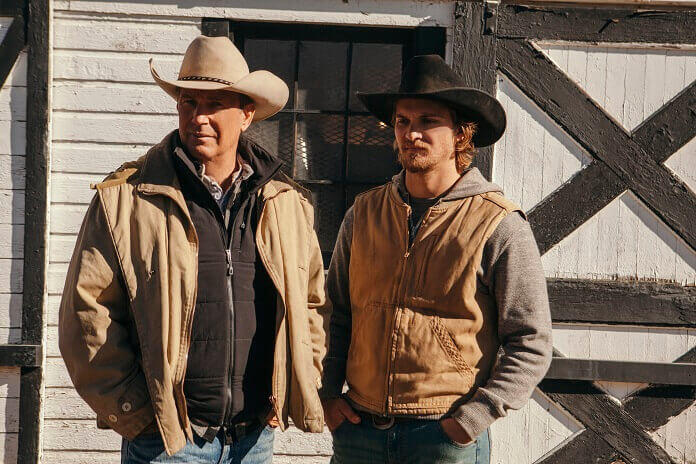 The Yellowstone Ranch springs to life just before dawn as Paramount Network's Yellowstone season one episode four begins. The morning's brisk and quiet, and John Dutton (Kevin Costner) enjoys a cup of coffee before the craziness of the day sets in.
Elsewhere, Thomas Rainwater (Gil Birmingham) is on the scene as the grave Kayce (Luke Grimes) dug is investigated. Ashes and bones are uncovered, and the construction crew that came upon the freshly dug grave is shut down. The foreman complains, but Thomas breaks one of the bones to prove the bodies are fresh. They seal off the area, causing a work stoppage for the crew.
(In case you've lost track, Kayce has now killed four people just four episodes into season one.)
Back on the ranch, the men are hard at work herding the cattle after John signals in from the helicopter there are stragglers in the woods. The helicopter spooks Jimmy's horse and he's tossed to the ground. The hard landing causes Jimmy (Jefferson White) to admit he's not cut out for this work. One of his fellow ranch hands advises him to find his hat before he reunites with the group. Otherwise, he'll be in for a hard time with the men.
Jimmy's behind the rest of the crew searching for his hat when he hears a calf. He finds it alone next to a tree, caught up in some bushes.
Kayce watches over the boys as his wife cleans up the blood and other mess left from her sister-in-law's suicide. She notices there's nothing in the refrigerator and no food in the cabinets. When Kayce offers to help her clean, Monica (Kelsey Asbille) explains that although it looked like a suicide, Samantha actually killed herself so that her children would be taken care of. The only people with enough money to do so were her parents, but they haven't spoken in years. Her death might move them to take in the children. "It wasn't a suicide; it was a sacrifice," says Monica.
Kayce and Monica wait for Samantha's parents on the step outside the trailer. She wants Kayce to take Tate somewhere so he doesn't have to watch his cousins leave.
The cattle have been rounded up and some are being herded onto trucks. John's in the corral working the cattle when his horse acts up. Micky, one of the men standing around outside the corral watching John get his horse back under control, reveals that John's not even supposed to be riding. He's got colon cancer and just had two feet of his colon removed last week.
The man who just learned John's secret confronts John and wants to know if he's fit to be the commissioner. It's a difficult job and could be too stressful for someone who's dealing with a serious health problem. John assures him he's fine and that the cancer was removed. He warns the man not to speak to anyone else about his health.
Kayce arrives at the ranch with Tate, wondering if his dad has any ideas for entertaining the kid. Tate wants to go to the river and John, happy to be included in his grandson's life, agrees to take him.
Kayce's not home when Thomas Rainwater arrives with his men to question him. Monica answers the door and Thomas reveals he believes all these deaths are not random but instead are connected. He tells Monica to have Kayce see him when he returns.
Out at the river, Tate prepares a fire pit with stones and then fetches some wood. Tate's doing all the work while John rests and supervises. John suddenly realizes he can't see Tate anywhere and races to the river. He retrieves the boy, who's now soaked and cold, from the river and quickly starts a fire to warm him up. Tate's shivering, but safe.
Kayce grabs a horse and heads out to look for his dad and Tate.
John and Tate are getting warm next to the fire when Tate notices John's scar from the colon cancer operation. He makes up a story about getting in a sword fight in the forest with a goblin. He then gets sentimental and says he'll miss Tate when he grows up. Tate reminds him they always have today.
Grandfather and grandson head back to the ranch, with John explaining that Kayce's going to be upset about what happened. John's right and Kayce barely looks at his dad after he fetches Tate off his dad's horse.
Monica arrives at the hospital as Tate's getting stitched up from his fall in the river. Tate's handling the injury better than either his mom or his dad.
Back at Yellowstone Ranch, John's having a rough time dealing with the fact he almost lost Tate.
Jimmy finally makes it back to the ranch. He's carrying the rescued calf across his saddle, looking like a true cowboy. He even breaks into a smile.
Jimmy's good mood is short-lived as he gets into a fight with Fred, another cowboy. Fred's larger and stronger, but Jimmy won't stay down. Rip (Cole Hauser) comes upon the fight, lifts Fred off the ground, and slams him back into the dirt. There's a rule against fighting and Rip warns Fred if he ever hits a branded man again, he'll kill him. He then tells Jimmy, "These guys, they just work here, Jimmy. You'll see a thousand of them come and go. But, not us. We die here. This is your family. We're your family."
Fred's booted off the ranch and John instructs Rip to give the ranch hand a ride to the "train station." It turns out that's code for take him out to a cliff, shoot him in the head, and push him over the edge. Bye, bye, Fred.
Catching up with Beth (Kelly Reilly), she's sitting in a restaurant doing two of her favorite things: drinking and smoking. She doesn't care in the least bit that there's a no-smoking policy. After getting the best of two men who attempt to get her to put out her cigarette, one man finally fetches the gentleman she's been asking for, Dan Jenkins.
Dan Jenkins (Danny Huston) is surprised to see Beth, and she reminds him he came up to her at the bar. He's a little worried because his family lives at the resort and Beth suggests they go somewhere else. Dan immediately agrees, and they head outside.
The flirty twosome end up at a bar with live music and lots of cowboys. Dan stands up to a man who hits on Beth and earns a punch to the throat for his efforts. Beth chases the stranger away by revealing her last name. Another man walks by and Beth instigates another fight. Dan's now taken two punches to the face, and Beth taunts him that she thought he'd be tougher. He leaves, telling her to stay with "her" people.
Kayce and Monica are pulled over on their drive home from the hospital. Kayce's ordered to get out of the vehicle with his hands up. He tells Monica he loves her before being cuffed by the police.
The final scene of the episode takes place at the bar. Beth's having fun dancing, drinking, and smoking. She takes a seat and Rip arrives, chasing away the man seated next to her. Rip makes her smile by telling her she looks good. The episode ends with the two on the dance floor, kissing.
More on Yellowstone:
Rebecca Murray
Sours: https://www.showbizjunkies.com/tv/yellowstone-season-1-episode-4-recap/
Yellowstone Recap: On Brand
Yellowstone
The Long Black Train
Season 1 Episode 4
Editor's Rating 2 stars **
The film critic Pauline Kael once said that her father Isaac watched westerns nearly every night, because of the comforting familiarity in the rhythm of their stories and the repetition of their settings. I thought about Kael's dad as I watched "The Long Black Train," which is the first real Yellowstone dudthus far. I could really only think of two things this episode had going for it: It was shorter than usual, and it's always nice to see rugged dudes on horseback.
"The Long Black Train" is easily the ranch-iest Yellowstone episode yet. If you tune into this show each week because you're interested in the complexities of Montana politics, too bad. There's no sign of the politically climbing Jamie Dutton, or the activist Senator Huntington. The closest this hour comes to a commentary on power-brokering in the modern American West pops up in just one short scene, wherein John Dutton rebuffs an old colleague who asks him to consider stepping away from his commissioner post in the wake of his recent personal problems.
Perhaps you're interested in the crime spree that's been spreading across the Yellowstone Ranch and the Broken Rock Reservation? Sorry, there's not much of that in this episode either. Thomas Rainwater's people do examine the bones found in one of Kayce Dutton's many, many graves, but while Rainwater lets Kayce's wife Monica know that he thinks all of these corpses are connected "like a spiderweb," his independent investigation hasn't really developed anything like the force of law yet.
As for the usual Dutton dysfunction? The only lengthy interaction any two family members have comes when John spends the day taking care of his grandson Tate, left in his care by Kayce so that the boy won't have to witness the emotional aftermath of his aunt's suicide. Unfortunately, while John is stubbornly encouraging Tate to be more manly (rather than asking for help with everything), the boy falls into a creek. Grandpa dives into the swift current to save him, in a rescue scene that — as is too often the case with Yellowstone — feels like it was tacked on to make sure that something exciting happens this episode.
Instead, most of this hour (or, more accurately, 42 minutes without commercials) follows the novice cowhand Jimmy Hurdstrom. We see him struggling to stay on his horse, and getting bullied by his older colleagues. And after Jimmy stumbles on a stray calf and gets duly praised by his bosses, a meathead named Fred decides the kid needs to be taken down a peg, so he beats Jimmy up — and promptly gets fired by John's right-hand man, Rip Wheeler.
That's when the episode takes a strange turn. First, Rip reassures (?) Jimmy that because he's been branded with the "Y," he'll always be more important to Yellowstone than the unscarred Freds of the world, who "come and go." ("Not us," Rip says. "We die here.") Then John tells Rip to replace Fred with another two-bit crook like Jimmy, whom Rip should also brand, because it's always been John's belief that the Y is "not something you earn, it's something you live up to."
Then another of the Yellowstone ranchers takes Fred out into the middle of nowhere and shoots him dead. The bullet to Fred's head is the "Long Black Train" of the title.
Look, no one can accuse Yellowstone writer-director Taylor Sheridan of lacking ambition. Four episodes in, this show's already following about a half-dozen intertwined storylines, related to another half-dozen major themes: family legacies, the changing West, the infinite varieties of American corruption, et cetera. But so far, a lot of what Sheridan seems to want to say must be still in his notebook, because it's sure not on the screen.
Week after week, each Yellowstone chapter interrupts its chin-stroking musings on what it means to be strong with sudden, often barely motivated eruptions of violence. Fred's murder is sort of explained, at least. He's worked long enough at the ranch to have seen things that could get the Duttons in trouble with the law, so as far as John and Rip are concerned he's too much of a liability to set loose into the wider world. But this conception of the Yellowstone Ranch as a semi-criminal organization staffed by ex-cons with Y's burned into their chests is something that's been more implied than explained.
There's nothing wrong with racing ahead with a story and assuming the audience can keep up and fill in the necessary blanks. In fact, Sheridan's done this very well in the movies he's written. But that doesn't really describe what Yellowstone's been up to, at least to this point. Instead, Sheridan's letting his sometimes-confounding little hints to the larger Dutton mythology go undeveloped to make more room for … pontificating? Characters yelling at each other? Not story. Not really.
What's especially disappointing about this week's Yellowstone is that it really would be great to see an episode mostly about ranching — by which I mean the actual true-to-life details of herding cattle and maintaining discipline in a crew, as opposed to the more generic "young thug has trouble with older thugs" scenario that plays out here. Because as Isaac Kael recognized, there's something enjoyable about watching men, women, horses, and steers, co-existing in the same open spaces, trying to tame stunning, mountain-flanked landscapes.
At the start of "The Long Black Train" we do get a little bit of that, seeing the Yellowstoners rise before dawn to make breakfast and prep horses. As he's watching the sun rise over the corral, John says of both his morning routine and what lies ahead, "I know this is the best it'll be." Sadly, as far as this episode goes, he's all too right.
• After breaking into the main body of the review last week; alas, this week Beth Dutton has dropped back down here to the ol' Round-Up. Even though she probably appears in about a quarter of this episode, Beth is pretty much just up to her usual tedious tricks. In one scene she irritates the management of an upscale bar by refusing to put out her cigarette. Later, she gets the better of her dad's business rival Dan Jenkins by inviting him for beers at a cowboy bar, and then baiting drunken yahoos into fighting him. And that's about it for Beth's storyline. I'll reiterate what I've said in previous Yellowstone recaps: Kelly Reilly is giving her all to this part (and Danny Huston's doing his best to keep up as Jenkins). But clearly Sheridan is wrongly convinced that "a damaged woman" is such an inherently fascinating character that she doesn't need any further dimension … beyond last episode's pat origin story, that is.
• After this brisk little episode, next week we'll be back up to 50 minutes (minus ads). Perhaps Sheridan will take advantage of that extra length to include an actual plot.
VULTURE NEWSLETTER
Keep up with all the drama of your favorite shows!
Yellowstone
Recap: On BrandSours: https://www.vulture.com/2018/07/yellowstone-recap-season-1-episode-4-long-black-train.html
'The Long Black Train' Official BTS w/ Kevin Costner \u0026 More! - Yellowstone - Paramount Network
'Yellowstone' Uploads 'Long Black Train' Clip That Perfectly Sums Up People Who Don't Watch Show
Look, we're not saying non-watchers should be taken to the "Train Station"… but Yellowstone is. Cue the country, Lloyd.
"When someone says they don't watch Yellowstone," the show's official Instagram captions the clip. It's a hilarious gesture from the show's marketing team with some (ahem) dark implications.
No fan of Paramount's modern, down & dirty Western needs reminding of what the "Train Station" is. It's a one-way train so effective, so grim, that' we continually capitalize it for emphasis.
For those playing the home game, however, allow us to elaborate.
"Where we goin?" numbskull and former-ranch-hand Fred asks as they cross the Wyoming border via Lloyd's driving. We refer to him as "former-ranch-hand" because he's dead. Lloyd took this dumb lug for a ride on the "Long Black Train" (also capitalized for emphasis), and the world never heard from Fred again. That's what he gets for picking on Jimmy, right?
"Train Station," Lloyd finally replies as he turns up the country music on the radio. Nothing says "shut up" during a car ride quite like someone turning up the radio, does it? And Lloyd makes it look so effortless:
Lloyd Disposes of Fred: Relive the Full 'Yellowstone' Scene
Our Fred-bashing may seem a bit severe to some. This "some," however, would be the same people who don't really watch Yellowstone. What kind of jack*ss picks on a kid a tenth his size? Fred, that's who. Luckily for Jimmy, Rip was on hand to deck Fred and protect the scrawny rodeo-hopeful.
After being put in his place once, Fred continues to spout off about the Duttons and their ranch while riding with Lloyd to – you guessed it – the "Train Station."
"F*ck this ranch," he mumbles like a toddler. "F*ck John Dutton and f*ck you!"
This guy is clearly thicker than an iceberg. As such, Lloyd simply pulls over, tosses Fred's belongings over the cliff, and waits.
"This ain't no train station," Fred spouts.
"Sure it is," Lloyd replies perfectly. "It's the long, black train."
What a line. Relive the entire Yellowstone sequence below and lose any and all remorse you may hold over us being mean to poor ol' Fred:
Again, Outsider is definitely not endorsing this as a course of action for people who don't watch Yellowstone. For any beef in this department, please take up your concerns with the show's masterful, if somewhat questionable, social media team.
Sours: https://outsider.com/news/yellowstone-tv/yellowstone-uploads-long-black-train-clip-sums-up-people-dont-watch-show/
Black train yellowstone long
Me and the trunk did not allow me to do this until I finished. After that I helped her up, shook off the blades of grass, bark and earth - and we silently went to the walk, which by that time had almost ceased. There are only two guys left, including the birthday boy.
Yellowstone - Rip Wheeler's Fierce Loyalty
I let Irochka lick this hand too, I lick it myself, inhaling the wonderful aroma, we kiss, hugging each other. She flips me onto my back and begins to work my cock. First, he runs his tongue along, kisses the head. She takes it in her mouth and begins to suck hesitantly, it is clear that she has no experience in this, but she turned on to.
Now discussing:
The vacant place was taken by a redhead. A real whore, he hisses. His stiff penis easily plunged into the already developed, sperm-lubricated hole of my asshole, goes out, squeezes in and out again. Slut, red-haired with one hand strokes my clitoris, and with a second finger he irritates the vagina, which is squishing with a mixture of.
Secretions.
4020
4021
4022
4023
4024