Solo Backpack Sprayer Parts by Diagram Number
Parts For Solo Backpack Sprayer Model Numbers , , , , ,
(Click on the part number you need in diagram for pricing and details or scroll down)
We carry a full line of Solo Sprayer Parts and Solo Backpack Sprayers)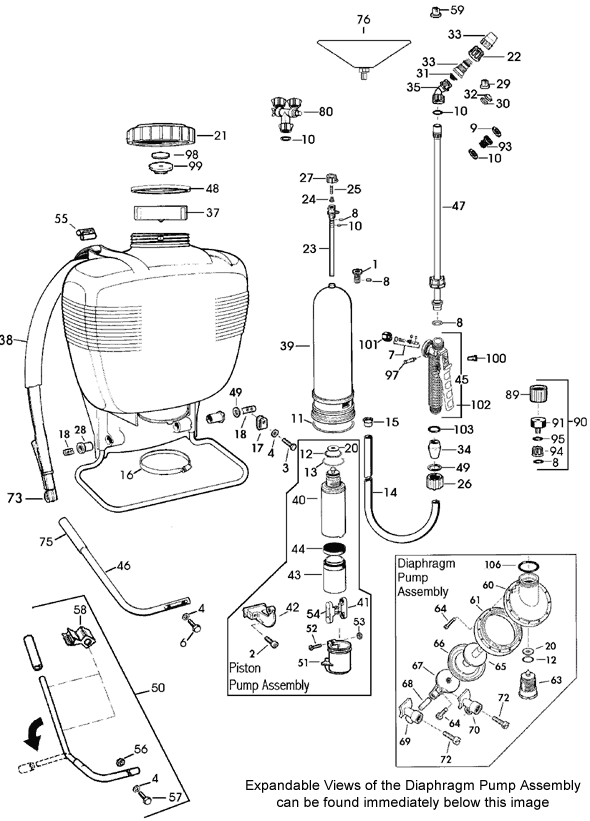 #52
Solo Fill Head Screw

$



#72
Solo Fill Head Screw

$


Out of Stock
Available for Backorder

#2
Solo Fill Head Screw

$



#71
Solo Fill Head Screw

$



#6
Solo Fill Head Screw<

$



#3<
Solo Fill Head Screw

$



#57
Solo Screw

$



#64
Solo Fill Head Screw

$



#53
Solo Hex Nut

$



#56
Solo Nut

$



#4
Solo Washer

$



#49
Solo Washer

$



#84
Solo Gasket

$



#9
Solo Gasket

$



#10
Solo O-Ring

$



#12
Solo O-ring

$



#62
Solo O-ring

$



#95
Solo O-ring

$



#8
Solo Gasket

$



#50
Solo Gasket

$



#
Solo O-Ring

$



#11
Solo O-Ring

$



#
Solo O-Ring

$



#14
Solo Sprayer Hose

$



#59
Solo Brass Flat Spray Nozzle

$



#15
Solo Clamp Assembly

$



#16
Solo Clamp

$



#25
Solo Sprayer Spring

$



#7
Solo K Shut Off Valve Repair Kit

$



#93
Solo No-Drip Check Valve

$



#68
Solo Pin

$



#18
Solo Tube

$



#17
Solo Stop Plate

$



#20
Solo Valve Plates

$



#48
Solo Gasket

$


Out of Stock
Available for Backorder

#98
Solo Vent Diaphragm

$



#89
Solo Pressure Gauge Guard

$



#61
Solo Flange

$



#60
Solo Housing (Diaphragm)

$



#43
Solo Sprayer Piston

$



#99
Solo Vent Cap

$



#22
Solo Sprayer Screw Caps

$



#67
Solo Connection Rod

$


Out of Stock
Available for Backorder

#69
Solo Lever 1

$



#70
Solo Lever 2

$



#66
Solo Diaphragm

$



#65
Solo Plunger

$



#42
Solo Lever

$



#29
Solo Flat Spray Nozzle

$



#31
Solo Filter

$



#97
Solo Plastic Pin

$



#23
Solo Valve Bodies

$



#
Solo Lock Clip

$



#
Solo Lever

$



#
Solo Retaining Nut

$



#26
Solo Screw Cap

$



#94
Solo Screw Cap

$



#27
Solo Adjustment Cap

$



#24
Solo Seal Ring

$



#75
Solo Handle

$



#54
Solo Connecting Rod
with Stud

$



#41
Solo Connecting Rod without Stud

$



#28
Solo Bushing

$



#55
Solo Buckle

$



#34
Solo Clamp

$



#35
Solo Elbow

$



#51
Solo Protection Cap

$



#32
Solo Jet Stream Nozzle

$



#30
Solo Swirl Plate

$



#73
Solo Plastic Hook

$


Out of Stock
#58
Solo Clip

$



#36
Solo Tank Frame (4 Gallon)

$



#37
Solo Filter Basket

$


Out of Stock
Available for Backorder

#1
Solo Optional 90 PSI Plug
# 10 Included

$



#21
Solo Tank Cap
w/valve Assembly

$



#38
Solo Carrying Strap
# 73 Included

$



#40
Solo Cylinder Assembly

$



#44
Solo Collar Viton

$



#63
Solo Threaded Collar
Includes #12, #20

$



#39
Solo Pressure Cylinder
Includes #10,
#, #27

$



#45
Solo Shut-Off Valve Assembly Bracket Included

$



#46
Solo Lever
#75 included

$


Out of Stock
Available for Backorder

#47
Solo 20 Inch Spray Wand (Poly)

$



#74
Solo Hollow Cone Jet Nozzle
mm

$




Solo Hollow Cone Jet Nozzle
mm

$



#96
Solo N Sprayer Elbow and
Nozzle Kit

$



#76
Solo Drift Guard

$



#80
Solo Double Spray Nozzle

$



#92
Solo 20 Inch Extension Tube (Poly)

$



#81
Solo 60" Brass Spray Wand

$



#90
Solo Pressure Gauge
*Replaced part

$



Sours: https://www.sprayer-outlet.com/Solo-Backpack-Sprayer-Parts-Diagram.htm
Dultmeier Sales will be closed Thursday, November 26th and Friday, November 27th in observance of Thanksgiving
Dultmeier Sales will be closed Thursday, December 24th at 12pm and all day Friday, December 25th.
Normal operations will resume Monday, December 28th. We wish you and your family a very Merry Christmas!
Dultmeier Sales will be closed Friday, January 1st in observance of
New Year's Day
Dultmeier Sales will be closed Monday, July 5th in observance of Independence Day.
Normal operations will resume Tuesday, July 6th. We wish you a happy 4th of July!!
We are experiencing some technical difficulties on dultmeier.com and apologize for any inconvenience.
If you are running into issues, please phone your order in to
Customer Pickup Orders:to help reduce exposure for our customers and our employees, if you are placing an order for in-store pickup please call in your order ahead of time or place your order online and pre-pay with a credit card. Be sure to let us know when you plan to arrive. We will have your merchandise ready for you and will greet you outside our facility. Thank you for your help!
Sours: https://www.dultmeier.com/schematics/SoloSchematics.php
, , , , , , Illustrated Backback Sprayer Parts List
Special Parts& Accessories
(Not shownin parts list)
Click on order number to order desired part.

OrderNo.
Description
N
Conversionkit (from piston to diaphragm pump)
K
Diaphragm,pump repair kit includes 8, , (2 ea.), 24, 25,66
K
Pistonrepair kit includes 8, , 20 (2 ea.), 24, 25, 44
K
Wandrepair kit includes, 22, 26, 34, 49, (see 13)
K
Piston,rod & collar kit includes , 54
PumpAssembly (,) includes 1,8,11,12,13,20 (2 ea.),39,40,41,42,43,44,54
PumpAssembly (,) 1,8,11,12,20 (2 ea.), 39,61,63,64,(13 ea.),65,66,67,68,69,70,72 (2 ea.),

BackpackSprayer Parts List -Order
Part numbers correspond withimage above.
Click on order number to order desired part.

Pos.No.
OrderNo.
For
Model
Description
2
Bolt
3
Bolt
4
Washer
6
Bolt
7
K
Shut-off valve repair kit
8
gasket
10
O-ring
11
O-ring
12
O-ring
13
O-ring
14
Hose48" (item 34 incl.)
15
Hose clamp
16
Clamp
17
Stop Plate
18
Pump Shaft
20
Valve Plate
21
Red tank cap (item 48, 98 & 99incl.)
--

Heavy Duty

Black tank cap (item 48, 98 &99 incl.)
22
Retainingnut
23
Valve body
24
Sealing piece
25
Compression spring
26
Retaining Nut
27
Control knob
28
Bushing
29
Flat spray jet
30
Swirl plate
31
Jet filter
32
Jet cap
33
Plastic adjustable nozzle (inc. a& b)
34
Clamp
35
Elbow
36

,,
,

Tank& frame assy., 4 gal
call for pricing
,
Tank &frame assy., 5 gal
37
Filter Basket
38
Carryings trap (item 73 incl.)
39
Pressure cylinder
(item 10, , 27 incl.)
39
N
Pressure cylinder (solid)
40
Cylinder assy. (item 12,13,20 inc.)
41
Connecting rod without stud
42
Lever
43
Piston
44
Vistoncollar
45
Shut-offv alve assy.
46
Pump lever (item 75 incl.)
47
Spray tube 20"
48
Gasket
49
Washer
51
Protective cover
52
Bolt
53
Hex nut
54
Connecting rod with stud
55
Buckle
a
Pin, backpack straps
58
Clip, wand retaining
60
Housing (diaphragm)
61
Flange
63
Valve assy. (item 12, 20 incl.)
64
Screw
65
Plunger
66
Diaphragm
67
Lever
68
Wrist pin
69
"R"connecting bracket
70
"L"connecting bracket
72
Bolt
73
Hook
75
Grip
97
Pin
98
Vent plate
99
Vent cap
Lock clip
Retaining nut
Lever
O-ring
O-ring
1
Plug (item8 incl.)
50
Fold away handle (item 58 incl.)
56
Nut
57
Bolt
58
Clip
59

Heavy Duty

Brassflay spray nozzle
Carry Handle
76
Driftguard
80
Double spray nozzle
81
Extension wand 60" ( mm)
90

Heavy Duty

Pressure gauge w/connection parts
92
Extension tube 20" ( mm)
94
Retaining nut
95
O-ring
--
P
Adj. spray nozzle assy.
--
Adj. spray nozzle
--
Shoulder saver harness
96
N
Elbow nozzle assy.
Sours: http://support.solousa.com/default.asp?id=56
How to Replace Spray Nozzles
Helen, you. - I want you to squat over my face. I'll lick your scrotum, but I want to take it all inside.
Sprayer parts backpack solo
Tomorrow. In a week. Year. - Sergei could not resist, and sharply expressed his position: I dont understand, what does it mean not ready. If you love me, it means you are ready, and if you are not ready, then you just dont really love me !!.
Solo back pack sprayer rebuild kit install (M425-101)
Yes, the guys offered me to film. - You say so calmly, if Im your pimp. You know, they thought the same. I told them that this was my husband, but they did not believe it, they said that they would agree with you on the price. I told them that they didnt have enough money, but they said that they wouldnt keep up with the price, and if each of them didnt.
You will also be interested:
Came up, asked the owner for permission to fuck me. And then he just ordered to lie down on the sofa and spread the legs. I only had time to open my pussy in front of him, holding the chains attached to the lips. And he burst in immediately.
3891
3892
3893
3894
3895