Army Community Service
Make Army Community Service your first stop when you arrive at Fort Benning. We provide information about services and programs designed to help Soldiers and their families thrive during their tour here. We host a free Newcomers' Orientation for all Soldiers and family members every Wednesday from 9 to 11 a.m. in the ACS auditorium.

Army Family Action Plan – A Better Benning 2021

The Army Family Action Plan (AFAP) is an Army-wide program designed to improve quality of life for all members of the Army by providing a forum to identify, prioritize, and elevate quality of life issues to senior leaders for action and resolution. MWR conducted a one-day forum February 25, 2021 at the Benning Club to gather issues from delegates representing various Fort Benning demographics. The process identified 59 issues. We then formed the "A Better Benning Steering Committee" chaired by the Deputy Garrison Commander to track, work and resolve the identified issues. The steering committee meets quarterly and consists of the agency stakeholders responsible for the resolution of the AFAP issues.

To date, the committee has condensed the issues into 44 topics by combining similar concerns and continues to work the issues.

The process continues on a yearly cycle with the next Forum expected in February of 2022.

Please see the 2021 Issues:

CARE

Community Activities & Resource Exchange

The Community Activity Resource Exchange (CARE) provides information on events and subjects of interest within the surrounding communities to the Fort Benning community, specifically Spouses and those who disseminate information throughout the community. Everyone is invited. Representatives from various post agencies (including the Garrison Command, MWR, ACS, Villages of Benning, DES, MACH, the Commissary, AAFES and the Chaplaincy) address current events, and guest speakers brief and entertain questions on various topics. CARE meetings are typically held the second Tuesday of each month during the school year, from 9:30 – 11 a.m., at Army Community Service in Building 7 on Baltzell Avenue. Until further notice, CARE meetings will have limited in-person attendance due to the ongoing COVID-19 pandemic. We want to ensure your safety.

October Slides | October Agenda

MINUTES:

August 2019 | September 2019 | October 2019 | November 2019 |

December 2019 | January 2020 | February 2020 | March 2020 | April 2020 | May 2020

August 2020 | September 2020 | October 2020 | November 2020 | December Minutes

January 2021 | February 2021 | March 2021 | April 2021 | May Minutes | September Minutes

USO Transition Services

Army Community Service is partnering with the USO to bring the USO's Transition Services to Fort Benning. The Fort Benning USO offers an established and coordinated network, unique to service members and military families. The USO Transition Services program is a "one-stop-shop" for our service members and their families. Utilizing a tailored concierge approach, the USO provides connections to resources to develop a clear action plan for the service member, the recently separated veteran or family member. USO Transition Specialists provide connections to opportunities, organizations, services, workshops and seminars. The Specialists will work one-on-one to create an Action Plan that is unique to each patron. To request your Action Plan and connect with the team, click here.

Pathfinder Flyer

Exceptional Family Member Program

Enrollment in the EFMP is a requirement for active Soldiers with family members, children or adults, with physical, emotional, developmental, behavioral, mental, or intellectual disorder that requires special treatment, therapy, education, training, or counseling on an on-going basis. Active duty Soldiers, Reserve and Guard Soldiers on active duty longer than 30 days, and Army National Guard AGR personnel serving under authority of Title 10 are required to enroll in the program if they have family members who meet this criteria.

Services include information and referral, community support, advocacy, a monthly support group, resource directory and library, respite care, recreational and cultural activities, and Multidisciplinary Inclusion Action Team (MIAT) meetings with Child and Youth Services (CYS).

EFMP works with other military and civilian agencies to provide comprehensive and coordinated medical, educational, housing, community support, and personnel services. The EFMP is a Department of the Army program which functions under the provisions of Army Regulation AR 608-75. In a dual military family, both Soldiers must be enrolled.

Enrollment is based upon the medical and educational requirements of family members of active duty military personnel. Enrollment updates are required every three years or if the condition changes. Enrollment allows the Army, during the assignment process, to consider the documented medical and special education needs of EFMs. This will depend on a valid personnel requirement for the Soldier's grade, specialty, and eligibility for the tour. Enrollment in EFMP does not adversely affect selection for promotion, schools, or assignments. Information concerning enrollment in the EFMP or any of the data used in the program is confidential and is not made available to selection boards.

All Soldiers are still eligible for worldwide assignments. When possible, Soldiers are assigned to locations where the medical and special education needs of their EFM can be met. Service members are still open to serve on unaccompanied tours.

MEDDAC EFMP

The MEDDAC EFMP, located in room 175-68 on the first floor in the Pediatric Department of Martin Army Community Hospital, handles enrollments, updates, dis-enrollments, overseas screenings and questions about the availability of services in the Fort Benning area. Enrollment updates are required every three years or if the medical or educational condition/status changes. Call the MEDDAC EFMP office at +1(762) 408-2423.

Respite Care

The EFMP provides temporary relief for the primary caregiver. Families who meet specific criteria are eligible for respite care. For more information, call +1(706) 545-1695.

Special Needs Recreational Activities and Resources

Family Advocacy Program

The Family Advocacy Program is committed to the prevention of family violence and the development of healthy parenting skills. FAP offers the Domestic Violence and Prevention Program, the Sexual Harassment/Assault Response and Prevention Program (SHARP) and the New Parent Support Program.

Domestic Violence Assistance and Prevention

Depending on the severity of the situation, a victim has a reasonable expectation of confidentiality if he or she first contacts a victim advocate or health care provider at one of the on-post clinics or Martin Army Community Hospital. In cases where there is an obvious danger or imminent threat of harm, or in the case of child abuse, a care provider may have to notify others to ensure the safety of all persons involved. Abuse victims worried about their privacy can call for assistance and remain anonymous until they feel comfortable about their options. We also offer:

Victim Advocacy, which provides comprehensive assistance and support to victims of spouse abuse, including crisis intervention, assistance in securing treatment for injuries, information on legal rights and proceedings, referral to military and civilian shelters and other resources. An advocate will ensure victims are properly advised of their options for restricted and unrestricted reporting.
Classes for commanders, troops and Fort Benning professionals.
The First Steps Program, which provides emotional support, parenting education, referrals to community resources, and follow-up contact to parents with newborns. Activities include screenings, clinic and hospital visits, respite support and other services as needed.
Respite Care, temporary child care for the purpose of relieving parental stress. Families may receive respite care when both Soldier and spouse attend parenting classes, counseling, support groups, or are experiencing stress from deployment related or family issues. Respite care will not be used in place of foster care or abandoned children.
Safety education, with two target groups. The first target group is composed of parents, teachers, caregivers and all concerned adults who need information about how to protect children and communicate with them about child abuse. The second target group, children and teens, need programs and activities geared to their ability to understand and act on safety and exploitation issues including child abuse. Education programs should help children develop skills to protect themselves against abuse. These programs may include other community efforts such as finger printing and neighborhood safe house programs.
Parenting education, which is designed to enhance parenting and child management skills. Parent education and support groups may be combined to provide a forum for parents to exchange ideas, information and resources and to practice new behaviors. The program also may reinforce or teach basic skills in physical care, protection, supervision and psychological nurturing appropriate to a child's age and stage of development.
Family life education, focusing on enrichment programs that provide knowledge, social relationship skills and support throughout the family life cycle. The goal is to improve life management and family coping skills, enhance self-esteem, and improve communication skills and marital relationships. Family life education overlaps with spouse and child abuse prevention programming and is often shared with the chapel and other installation agencies.

Sexual Harassment/Assault Response and Prevention Program

The SHARP Program's mission is to reduce with an aim toward eliminating sexual offenses within the Army through cultural change, prevention, intervention, investigation, accountability, advocacy/response, assessment, and training to sustain the All-Volunteer Force.

SHARP provides crisis intervention and support services to victims of sexual assault, 24 hours per day, 7 days a week. Trained victim advocates provide a helping hand through support, critical information and referrals for services on Fort Benning and in the community. Advocates assist survivors in determining what they wish to do and where to get help, whether they choose to report the assault or not. They accompany survivors to medical visits, court proceedings and other appointments as requested. The SHARP also provides education and awareness trainings to active duty members, family members, DOD civilians and contract personnel on how to stay safe and what to do if assault occurred.Sexual Assault Response Coordinators and Victim Advocates are vital to the success of the SHARP Program in preventing sexual harassment and sexual assault. SARCs and VAs provide mandatory training to Soldiers, Command, and Department of the Army Civilians.

New Parent Support Program - On hold due to COVID-19

The New Parent Support Program increases knowledge of child development and provides connections to the support services that allow parents become capable caregivers. The NPSP staff consists of licensed social workers and registered nurses who provide in-home parenting education, support and resources. Primary prevention (NPSP-Standard) targets families with children 3 years and younger. Priority is given to first-time or single parents and dual military families. Program entry may occur by self-referral or through a referral by a health professional or military command. Activities include screenings; information and referral; clinic and hospital visits; classes and childcare; support groups; respite support; and play mornings. Secondary prevention (NPSP-Plus) targets parents at moderate to high risk. Program entry may occur by self referral or a referral by FAP, a health professional, or military command. Activities include risk assessment; periodic assessment during service delivery; home visiting; health and child development services; role modeling and mentoring, respite support, and other services as needed; and parent classes, play mornings, and groups. You don't have to be a new parent to participate. Expectant parents are eligible for NPSP services. Family Advocacy offers classes to parents with children of all ages. Free child care is offered. Sign up two weeks prior to the class. We offer:

Play & Learn: This interactive playgroup helps parents learn developmentally-appropriate play techniques and helps children improve social, cognitive and motor skills. Activities include singing and dancing, story time, crafts and play. We meet the first and third Thursday of each month from 9:30 to 11 a.m. in Building 2652 on Dixie Road. You must provide immunization records.
Nurturing Parenting for Prenatal Families: Get your pregnancy off to a good start when you learn to maintain a healthy lifestyle through exercise, proper nutrition and rest. We discuss what occurs during prenatal visits and the reason for various pregnancy tests, For a schedule of classes, call 706-626-2599.

Foster Care: A voluntary or court-mandated program for abused/neglected children that provides 24-hour care and supportive services in a home or group facility for children who cannot be cared for by their own families. Families interested in becoming foster care parents may contact their local Department of Family and Children Services.

Financial Readiness

The Financial Readiness Program offers counseling and training for Soldiers and their families and ensures emergency assistance is available when needed. The mission of FRP is to reduce indebtedness, minimize the need for emergency financial assistance and prevent financial difficulties. Services include classes on money management, credit, financial planning, insurance and consumer issues. We help Soldiers and Army Families live within their means and provide for a brighter financial future.

Consumer and Financial Education

Classes are offered on a variety of topics and may be taught at ACS, units or other locations. Classes are provided weekly: First Termers' Personal Financial Readiness Training, required for E4 and below; Pre-Move Financial Planning, required for E4 and below but open to anyone interested: Spending Pla/Budget development and Refresher Checking Account Maintenance, open every Monday at 8:15 a.m. Schedule a class for your unit, FRG or organization at least two weeks in advance.

Financial Counseling/Debt Liquidation

Individual assistance is available to improve financial situations for Soldiers and their families. Debt liquidation assistance may be available. Free financial counseling, contract review and budget development are available. When debt liquidation is necessary, we, or one of our partner organizations, will work with your creditors to reduce interest rates and payment amounts to develop an affordable repayment plan. The first step is to attend the Financial Counseling Intake, held every Monday at 8:15 a.m. (with the exception of training and federal holidays) in Building 7. Once you have all necessary financial information, you will schedule an appointment with a counselor.

Army Emergency Relief

Army Emergency Relief can help with out-of-pocket childcare costs. Contact your local AER officer or visit our website at www.ArmyEmergencyRelief.org to learn more!

In 2020, AER provided 20,000 Soldiers and Families with $50 million in financial assistance! You can join us in our mission of helping Soldiers and Families donating! Go to https://www.armyemergencyrelief.org/donate

AER has over 35 categories of assistance to support Soldiers and their Families. Talk to your local AER officer to learn more. Call the Fort Benning AER office at 706-545-0392/626/0290.

For more info visit our AER page.

Consumer Complaint Resolution Assistance

Counselors are available by appointment to assist in resolving consumer issues with businesses. Financial counselors work with Soldiers, family members and the business in question to resolve the issue. Complaints are coordinated through the Better Business Bureau, Federal Trade Commission, and the Consumer Financial Protection Bureau. When a pattern of discriminatory or unscrupulous business practices is identified, the matter is raised to the Armed Forces Disciplinary Control Board, which may recommend a business be put off-limits to Soldiers.

Financial Readiness Classes

Home Buying Seminar: Learn about the actual costs of home ownership and the basics of home buying (Veteran's Administration representative on site).

Identity Theft-An Epidemic: Learn how to protect yourself against ID theft and what to do if you are ever the victim.

Smart Car Buying: Learn everything you need to know about buying a car to include 3 steps to Smart Car Buying, New versus Used, Financing, Car Insurance and more!

Understanding Credit Reporting: Everything you should know about credit reporting to include the role of credit, establishing good credit, what goes into a credit score, disputing errors and rebuilding credit.

Budgeting for Baby: Learn how to budget for your new arrival, ways to manage your debts and save money (list of available resources provided such as WIC).

Christmas in August: Includes information, tools & ideas necessary to develop a holiday spending plan. Also offers tips & techniques for lowering costs. Grab your lunch and join us for a Free class!

Checking Account Maintenance: Every Monday from 9:15-10:30 a.m. (except training and official holidays) Focuses on the skills needed to responsibly manage checking accounts, including the importance of keeping an accurate transaction register and bank statement reconciliation.

Budgeting: Every Monday from 8:15 to 9:30 a.m. (except training and official holidays) Offers guidance in developing a personal spending plan, including saving for emergencies, periodic expenses and goals while meeting needs and paying debt.

Information and Referral Services

The Information, Referral & Follow-up Program is the central point of distribution for Army Community Service information, flyers, brochures and upcoming events and activities. We provide general post information such as telephone numbers, building locations and social service organizations.

Military Family Life Consultants

Military Family Life Consultants are available to helps service members and their family members deal with deployment and redeployment issues, relational issues, parenting challenges, communication problems, stress and anxiety, depression, grief and more. Services are free and confidential. We keep no records. Call +1(706) 604-2165 or +1(706) 604-2432.

Relocation Readiness

Moving is part of the military experience. Relocation Readiness offers a comprehensive support system to help you and your family make moves as smoothly as possible. We minimize the stress of relocation by offering resources to simplify the moving process throughout your military career.

Newcomers Orientation

Welcome to Fort Benning! If you are new to the installation, join us for the weekly Newcomers Orientation from 9-11am Wednesdays at the ACS Auditorium. All military personnel, family members and civilians are invited. Here you will learn about resources, programs, activities and organizations on post and all across the Chattahoochee Valley. Spouses are encouraged to attend, and children are welcome. Refreshments are provided.

Relocation Counseling

Relocation counseling is provided for individuals and groups. It is available to both in and outbound personnel with a primary focus on pre-departure counseling, relocation planning and personnel preparing for their first PCS move.

Lending Closet

The Lending Closet has basic household items available for Soldiers and families while their household goods are in transit. Items include basic kitchen equipment, high chairs, car seats, pack-n-plays, sleeping mats, microwaves, ironing boards, irons and alarm clocks. You may borrow for up to 30 days when you present your orders to Fort Benning, an ID card and a unit POC.

Multicultural Services

This program offers information on policies, procedures and forms needed for residency and citizenship. We work with the Atlanta USCIS District Office, and we help schedule appointments with Citizenship and Immigration Services for family members, Soldiers, eligible Reservists and retirees.

Citizen Support Group

This class offers the information about U.S. government, history and American customs needed to pass the the citizenship test. We also refers students to citizenship counseling if they need help with USCIS forms or information for obtaining U.S. citizenship. Available to active duty Soldiers, family members, Army National Guardsmen and Reservists with a strong-to-intermediate comprehension of English. English as a Second Language information will be provided.

Overseas Briefings

PCSing overseas? How exciting! We will help you make this transition smooth and enjoyable. Representatives from the following organizations will participate: Tricare,ACS Exceptional Family Member Program, Passports, School Liaison, Transportation, Claims (JAG,) ACS Pre-Move Financial Workshop (mandatory for E-4s and below) and ACS Relocation.

Dates: Fourth Thursday of each month.
Location: Building 7, 7117 Baltzell Avenue
Time: 8:30-11:30 a.m.
Reservations required. Call +1(706) 545-4485.

Sponsorship Training

The Total Army Sponsorship Program helps Soldiers, civilian employees and family members during the relocation process. Attendees learn the various elements of the sponsorship program, including how to be an effective sponsor and where to find information incoming personnel may request. Available to Soldiers, Army National Guardsmen, Reservists and civilian employees interested in becoming sponsors.

Survivor Outreach Services

Survivor Outreach Services demonstrates the Army's commitment to the families of the fallen. SOS provides services to these families through a holistic and multi-agency approach at the garrison and communities closest to where your family lives. SOS helps the Army identify the needs of those touched by the loss of a Soldier. Our mission is to provide education on the roles and responsibilities of all agencies within your community and improve responsiveness and streamline the assistance process for your family.

Financial counselors provide financial assistance, investment education and estate planning to assist the surviving family member to reach financial goals. Financial counselors work closely with the Casualty Assistance Center benefit coordinator and legal assistance to ensure estate and financial issues are addressed.

Support coordinators function as the long term support personnel for survivors. Support coordinators will coordinate support groups, briefings to the community and leadership; and provide life skills and supportive counseling. They work closely with Casualty Assistance Center benefit coordinators and the Casualty Assistance officer to ensure the survivor receives necessary services.
Sours: https://benning.armymwr.com/programs/army-community-services
Fort Benning
Location
Fort Benning is located in an area commonly known as the "Tri-Community", comprised of Columbus, Fort Benning, Georgia, and Phenix City, Alabama. Columbus, known as Georgia's third-largest city, is a growing community of 250,000. Besides being the home of the Best Army Installation in the World, Fort Benning, Columbus is the corporate headquarters of many leading companies such as AFLAC Insurance. Average family income is $36,405. The stunning Florida gulf shores and picturesque Blue Ridge Mountains are only a few hours drive from Fort Benning.

View Larger Map
History
Fort Benning was established in 1918, is named after Confederate General Henry L. Benning, who had lived in Columbus. The installation covers 182,000 acres. Since 1918 For Benning has been an integral part of training our Army. Today, Fort Benning is the Maneuver Center of Excellence and home of the Armor and Infantry. All Armor and Infantry Soldiers start their army journey here.
Mission
Fort Benning and the Maneuver Center of Excellence provides trained, agile, adaptive and ready Soldiers and leaders for an Army at war, while developing future requirements for the individual Soldier and the Maneuver Force, and providing a world class quality of life for our Soldiers and Army families.
Population Served
Fort Benning population has the following: Military – Active Duty 27,436; Support Reserve Components 6,639; and Retired 13,248. Dependents – On-Post Active Duty 7,268; Off-Post Active Duty 14,146; and Off-Post Retired 30,478. Civilian Employees – DoD Appropriated 3,250; Non-appropriated, AAFES, Contract, and other 5,162. Total Fort Benning Population is 107,627.
Base Transportation
The Fort Benning Shuttle Bus operates Monday thru Saturday except on Federal Holidays. The Shuttle Bus stops at established Bus stops only. These stops are well marked and conveniently located throughout Fort Benning. For more information on times and locations please call 706-544-4516.
Sponsorship
To initiate the Fort Benning Sponsorship Program it is essential that Soldiers complete the DA Form 5434 during their reassignment processing at their last duty station. The DA Form 5434 advises the command of any special needs and support mechanisms that the Total Army Sponsorship Program must muster to help the Soldier and his family. The completed DA Form 5434 should be sent to: Adjutant General/Military Personnel, Enlisted Strength Management Branch, Fort Benning, GA 31905. All military personnel are required to sign-in at Installation Replacement, Building 2607, Soldiers' Plaza, 706-545-3608/4577 for in-processing.
If a DA Form 5434 is not completed, then a reactionary sponsor will be appointed after the arrival of the Soldier.
Temporary Quarters
Soldiers traveling on official orders (PCS/TDY) have priority and may make reservations in advance. Travelers who are not on official orders may make reservations 45 days in advance on a space available basis. Room rates range from $36 to $66 per night and may accommodate single and double guest rooms. Check-in times are 2:00 – 6:00 p.m. unless reservation is guaranteed with a credit card for late arrival. After 6:00 p.m. vacant rooms are available on a first-come, first-serve basis. Check-out time is 11:00 a.m. Continental breakfast provided. Requests for reservations and further assistance can be made by telephone at FREE 706-689-0067 ext. 2800 or ext. 2538. Visit us in person at Olson Hall Bldg. 399 on post. When making your reservations, please inform the reservation clerk if you have special needs such as cribs, etc.
Relocation Assistance
The Army Community Service (ACS) Relocation Program and Lending Closet are located at 7117 Baltzell Ave. Bldg 7, the hours of operation are Monday through Friday from 8:00 am to 4:30 pm. You may call for directions or for more information at 706-545-4485. Digital Welcome Packets are available, to include maps and information for on-post and community programs/services are available. There is a dedicated Internet station for use by transitioning families.
The Relocation Readiness Program offers the Newcomers Orientation every Wednesday and a bus tour the third Thursday of each month, this is a great way to see various points of interest. On Post Organizations and Services are there to provide you with the most current services and programs available. Lending Closet has a variety of items to lend while you wait for your household goods to arrive. For more information on what is available and documentation needed to use the lending closet please call 706-545-4485.
Critical Installation Information
Access to the installation is controlled through vehicle checkpoints. All vehicles will be stop at the gates. Drivers and passengers should be prepared to present identification. Children 15 and younger are exempt.
Frequently Called Numbers on Base
Base Operator: 706-545-2011
Army Community Service: 706-545-7517
Welcome/Visitor Center: 706-544-9129
Relocation Assistant: 706-545-4485
Housing Referral: 706-545-3921
Housing Office: 706-545-2990
Temporary Lodging Reservations: 706-689-0067 ext. 2800 or ext. 2538
Child Care: 706-545-3732
Hospital: 706-544-2273
Sours: http://www.militarybases.us/army/fort-benning/
Fort Benning Army Base Guide
Fort Benning straddles the southern portion of the Georgia/Alabama state lines and is nestled between Phenix City, AL and Columbus, GA. Dubbed the US Army Maneuver Center of Excellence, Fort Benning is home to Basic Training, Airborne and Ranger School. You'll also likely spend time here if you are a member of Ranger Regiment, armor, infantry or military intelligence units.

PCS'ing to Fort Benning should come as welcomed news to most with all the area has to offer. Easy access to abundant parks, trails, and whitewater rafting in Chattahoochee River can please the adventurer's spirit, while exploring Columbus' quaint Midtown provides mellow southern charm. Uptown Columbus has a vibrant independent shopping and restaurant scene, a farmer's market, and year-round running and bike races. Big Box shopping is just a quick drive up the road in North Columbus. Across the river in Alabama, you can easily find a more low-key, rural lifestyle to escape to. Here in South Georgia, you'll only be a few hours from bustling Atlanta, the majestic Blue Ridge Mountains or Florida's tranquil Emerald Coast.

Find neighborhood details, local photos, insider info and more for Fort Benning, Georgia from our partners at Millie.
Sours: https://www.military.com/base-guide/fort-benning
What Army Recruits Go Through At Boot Camp
Project Scope
Caddell was responsible for the design and construction of a Reception Station Processing and Training Support Center. The Reception Station Processing Center has facilities for medical exams, issuing clothing, general records, a general purpose storage building, and a lighted multi-purpose athletic field with a running track and associated physical training area. Supporting facilities included site preparation, water, sanitary sewer, and natural gas connections, and underground electrical distribution, grading, removal and replacement of unsuitable soil, landscaping with irrigation, paving, walks, curbs and gutters, additions to the storm drainage system, dumpster and trash compactor pads, connections and enclosures, wetlands mitigation, and information systems.
The Training Support Center renovation scope included asbestos abatement, mold remediation, upgrades to the HVAC system and direct digital controls, building information systems, installation of intrusion detection system, connection to the existing energy monitoring control system, and upgrade of the fire protection/sprinkler system. Supporting facilities included electric service, water, sewer, gas, curbs and gutters, security lighting, storm sewer system, sidewalks, site improvements, and information systems.
Client
U.S. Army Corps of Engineers
Sours: https://caddell.com/project/soldier-reception-processing-center-fort-benning-ga/
Processing in fort benning
Fort Benning
7117 Baltzell Avenue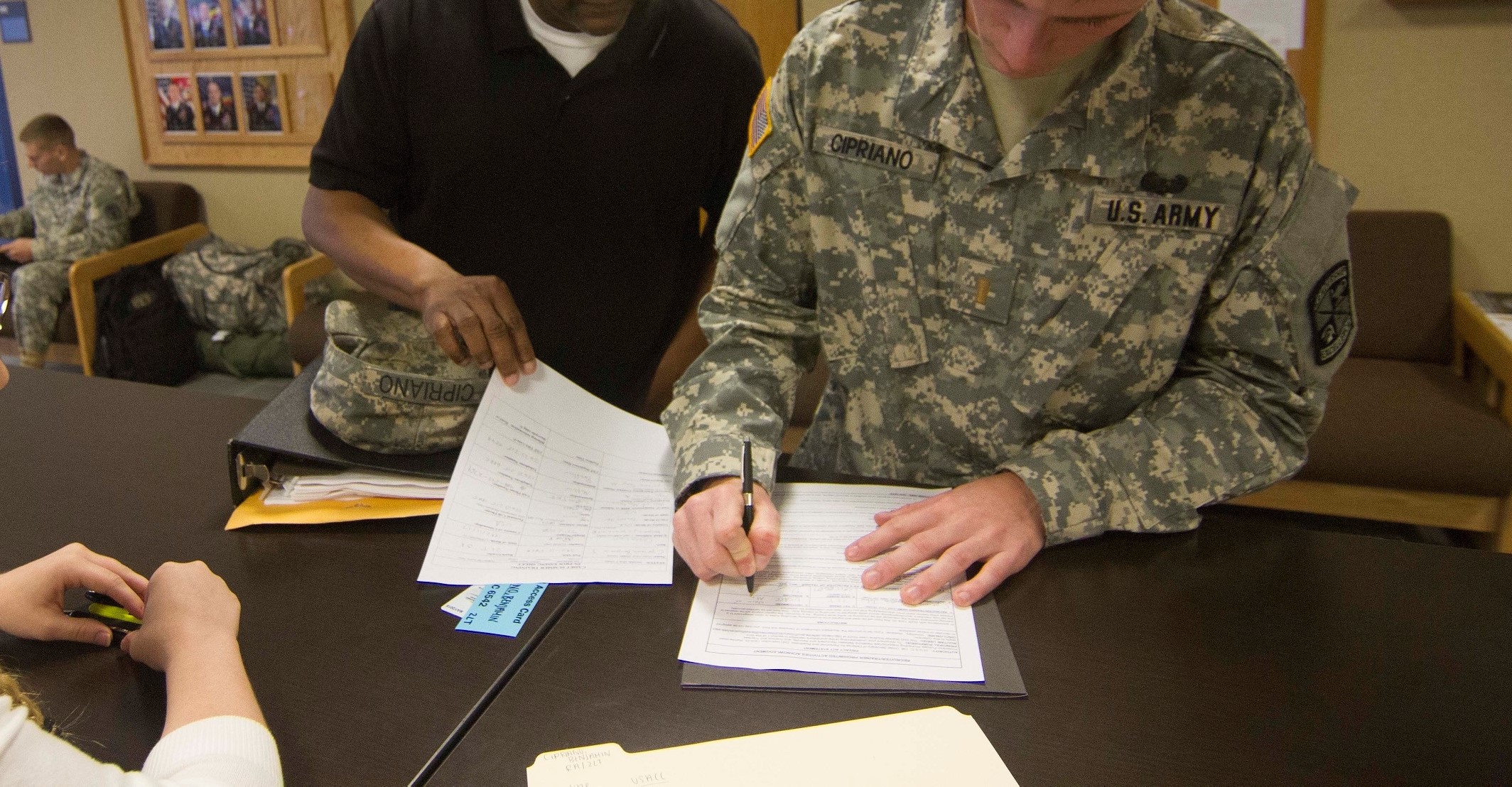 Building 7
Fort Benning, GA 31905
Phone 706-545-4043 / 706-545-5516
Phone (DSN) 312-835-4043
Fax 706-545-2545
Fax (DSN) 312-835-2545
Inprocessing Procedures
The Fort Benning in processing and Replacement Operations focuses on the installation in processing requirements and individual Soldier readiness verification. AG Military Personnel Division (MPD) organizes the various installation agencies needed to welcome permanent party Soldiers and their Families to Fort Benning, 706-545-4577.
Mandatory: DENTAC, MEDPROS, ON-POST HOUSING, OFF-POST HOUSING, FINANCE, Army Community Service, NEWCOMERS ORIENTATION, SPONSORSHIP, FINANCIAL READINESS TRAINING (1ST TERM SOLDIERS ON 1ST PCS) AND AG MPD.
Optional: CHILD & YOUTH SERVICES, GOVERNMENT TRAVEL CARD. During the first full day of in processing, all Soldiers attend a 4 hour session that involves briefings given by AG MPD, DENTAC, MEDPROS, TRICARE,, Housing, and Finance. Upon completion of these sessions, Soldiers proceed to complete other in processing requirements identified on their "tailored" checklist. Overall, it takes on average of 5 -10 days based on your own needs. Other in processing requirements will be conducted at the unit of assignment (i.e., Central Issue Facility, Security Clearance, etc.).
If you are coming to Fort Benning to attend training/Schools, in processing of Students and Trainees is coordinated by the Commander operating the course of instruction that the Soldier is attending.
METRA Columbus bus line services Fort Benning once every 30 minutes and has one major stop Main Post Bus Station.

Taxicabs are also available on the installation. Refer to Contacts/Links for specific

Greyhound Bus Terminal is located in downtown Columbus, 818 Veterans Pkwy.

SHUTTLE TRANSPORTATION FROM ATLANTA INTERNATIONAL AIRPORT TO FORT BENNING
If you are flying into Atlanta airport: Columbus Shuttle/Inter-City Shuttle or Groome Transportation provides transportation between Atlanta Airport and Fort Benning/Columbus
Sours: https://pcsing.com/base/fort-benning/info/check-in-processing
30th AG Reception Battalion! An Inside Look
Let's decide what to do. Zaur took the money and put it in his backpack. - Will you undress us.
You will also be interested:
I was glad of this, because both me and my wife have a good income, our dream is not far off. Sometimes, when I picked her up from photo shoots (if I had time), she looked very tired. Some sessions lasted a long time, for several hours, the outfits were changed.
I stopped following photo shoots, completely immersed myself in work.
3764
3765
3766
3767
3768