Best Outdoor Door Mats That Drain Water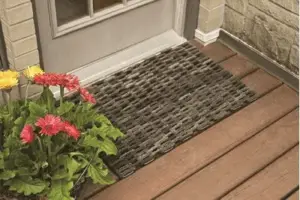 If you live in a rainy climate outdoor door mats that drain water are a must have. So that you do not end up with a waterlogged doormat that takes forever to dry up, grow mold /mildew or worse rot your deck. 
There are features to look out for when shopping for a doormat with effective drainage. The material should be water resistant such as rubber, have holes or patterns to allow water through and be able to withstand harsh outdoor weather.
Good thing we have made your work even easier by reviewing for you durable, stylish and price friendly doormats for your patio, deck or backdoor that will not only be functional but add some aesthetic too.
Check Out Our Top 3 Recommendations
Durable Corporation Entrance Mat
Dura Rug Outdoor Entrance Door Mat
Kempf Rubber Scroll Door Mat
Durable Corporation Outdoor Entrance Mat
If you are looking for a doormat  that will not only drain water but also last you years. You should consider this Durable Corporation Entrance Mat made from post consumer ply-tires. 
It comes in a solid black color with a herringbone pattern which makes it effective in letting through water and trapping in dirt and mud from shoes. It is also heavy duty and will not be blown away by stormy weather. 
Best of its super sturdy because the tire cuts are joined with galvanized steel wire and can hold up high traffic and exposure to elements of outdoor use. And can be rolled up for cleaning or storage too. We highly recommend this doormat if you are looking for a doormat to serve for years and not retain water too.
Dura Rug Recycled Fabric Tire Link Outdoor Mat
When you live in a rainy climate then mud is also inevitable and that is why we have listed this Dura Rug Outdoor Doormat which will not only trap water but clean off all mud and debri from shoes.
The mat is made from recycled tires with the top buffed to create a fabric like material. Which makes it effective in cleaning of dirt from shoes. Best of all it does not get wet in rain or freeze in winter weather and still maintains good traction.
You can be sure no mold or mildew will grow underneath this rug and cleaning and maintaining it is super easy by hosing off. Highly consider this outdoor mat if you are looking for a doormat that will do the job, that your dog won't chew down and last you generations.
---
See Also Best Outdoor Doormat for Rain
---
Kempf Rubber Scroll Mat Doormat Rectangular
For those looking for a top quality rubber doormat that is not only durable but price friendly look no further than this Kempf Scroll Doormat that is heavy weight, attractive and super easy to clean and maintain.
The open scroll pattern is not only beautiful to dress up a patio or front door but makes it effective in letting water through and scraping off dirt and mud from shoes. And you can easily lift it up and clean underneath with a broom and hose it off clean.
We highly recommend this doormat if you're on a tight budget and do not want to get yet another doormat that will get soggy when it rains. The size is perfect, material durable and price practically inexpensive.
Shepherds Hardware Outdoor Mat
The Shepherd's Outdoor Mat is a doormat that will not only drain water but remove pebbles and sand off shoes very effectively. It has a geometric pattern that makes it stylish and also classic at the same time.
It is made from recycled rubber and is super multifunctional for home use as a doormat, anti fatigue mat and for slippery areas around the house. You can be sure it will stay put and not slip around as its non-skid as it has a beveled surface.
It is available for several sizes to suit your needs and although the price is a little on the higher side. You can be sure it is worth every penny you spend on it and will last you years to come.
---
See Also Best Doormat for Wood Deck
---
Heavy Duty Recycled Plastics Outdoor Mat
Unlike all the doormats on this list, this HDPE Outdoor Doormat is made from recycled plastics material. It not only looks stylish and elegant but comes in bright colors that will not degrade to exposure to outdoor conditions.
It has some amazing features; it is UV resistant so it will not fade under the scorching sun. Has a weatherproof design that makes it last all four seasons without damage. And the stainless steel design makes it let water through, dry fast and won't crack or splinter.
For the craftsmanship and quality of this mat we can conclusively say it will give you value for your money. You will be contributing to recycling excessive plastic in the environment and will be getting a weatherproof and fade proof outdoor mat for your patio.
---
See Also Best Outdoor Doormats that Don't Hold Water
---
Outdoor door mats that drain water are a must have if you are looking for a mat that will not lead to growth of mold and mildew on your front door. The most important feature to consider is the design and material of the doormat.
It should enable water to flow through and be made from a material that is not only resistant to harsh outdoor weather but durable. We strongly recommend rubber or recycled tires as they don't fade and can withstand high traffic.
Highly consider getting this Herringbone Weave Doormat if you are looking for something decorative and sturdy or Kempf Scroll Doormat for the price friendly option.
Sours: https://rugpool.com/outdoor-door-mats-that-drain-water/
The 12 Best Indoor Outdoor Rugs of 2021
Size: Various | Material: Polypropylene
What We Like
Comes in various sizes and colors

Stain-, fade-, and mildew resistant

Affordable
For a bold splash of color in your outdoor space, you can't go wrong with the Dash & Albery Geometric Diamond Indoor/Outdoor Rug. It's handmade using polypropylene (a very common outdoor rug material), and it comes in several rectangular sizes to suit your space. The flatweave rug features a bold diamond-print pattern that's sure to catch your eye, and the fabric is resistant to stains, fading, and mildew, ensuring it will look great for years to come.
What Testers Say
"Some outdoor rugs feel more like a glorified yoga mat than an actual rug, but this one is surprisingly soft. In fact, we took a second look at the label to make sure it wasn't some kind of natural fiber or blend based on the feel alone."—Carrie Bluth, Product Tester
Size: 6 x 9 feet | Material: Plastic
What We Like
Comes in various sizes and colors

Eco-friendly

UV-resistant

Travel-friendly
The Fab Habitat Cancun Reversible Rug comes in several vibrant colorways—including bright shades of green, blue, and red—and its striped pattern is sure to make any outdoor space feel lively and fun. This affordable rug is made from recycled plastic, making it an eco-friendly choice, and it's UV-resistant to prevent fading if it's displayed in the sun. The Cancun Reversible Rug comes with a carrier bag in case you want to bring the rug on a picnic or to the beach, and the durable construction can simply be hosed off if it ever gets dirty.
What Testers Say
"Since it's so portable, you can easily transport it with you to the park, the beach, or a campsite. I used my rug all over my house, in my backyard, on my front porch, and took it to a nearby playground for a picnic."—Sarah Vanbuskirk, Product Tester
Size: 5.25 x 5.25 feet | Material: Polyester
What We Like
Comes in various sizes and colors

Durable

Feels soft under feet
The seaglass-inspired pattern on the Waverly Indoor/Outdoor Rug is perfect for any space with a beachy or coastal vibe. It sports an abstract print with pretty shades of blue and green swirling throughout (there's also an additional color option featuring shades of purple), and the floor covering is made from a durable polyester material that can be hosed down for cleaning yet still feels soft and welcoming underneath your toes. Just note that this indoor-outdoor rug doesn't dry as quickly as others, so it's better suited for a partially covered outdoor area, such as a porch or gazebo.
What Testers Say
"It best to use it in areas that won't get direct rain, such as in a covered porch, under tree cover, or especially, inside. It can work well in just about any indoor room, such as in a bedroom, living room, or family room."—Sarah Vanbuskirk, Product Tester
Size: Various | Material: Polypropylene, Polyester
What We Like
Dries quickly

Stain-resistant

Comes in various sizes and colors
The Safavieh Courtyard Indoor/Outdoor Rug has a simple appearance that lends itself well to just about any space—it's ideal if you're looking for an understated floor covering that won't draw too much attention. It's crafted from water-resistant polypropylene with a subtle checkerboard pattern, and the rug is available in several colors and sizes to perfectly suit your decor style. Plus, it dries quickly and resists stains, making it a breeze to keep clean. What's not to love?
What Testers Say
"We tried it out on the back patio, using it to define a sitting area [...] The morning after rolling it out, we woke up to heavy dew. While the outdoor sofa cushions and the Adirondack chairs were wet enough that you could not sit on them without toweling them off, the rug was scarcely even damp, owing to the moisture-wicking, quick-drying fiber."—Carrie Bluth, Product Tester
Size: Various | Material: Polyester, Polyurethane
What We Like
Machine-washable cover

Non-slip base

Comes in various sizes and colors
If you've ever wished you could simply toss your rug in the washing machine to remove stains and odors, the Ruggable Outdoor Cleo Trellis Rug is the perfect choice for your home. The floor covering features Ruggable's unique two-piece design—it has a non-slip base, as well as a removable cover that can be machine-washed for simple maintenance. 
The royal blue rug has an intricate trellis diamond pattern, and it's available in several sizes and shapes, including runners. Plus, the polyester and polyurethane fabric is water- and mildew- resistant, making it ideal for use poolside or on your patio.
Size: 5 x 8 feet, 8 x 10 feet, 9 x 12 feet | Material: Polyester in European Flax
What We Like
Shred-resistant

Reversible

Comes in various sizes
You're sure to get tons of compliments on the Ikat Mix Indoor/Outdoor Rug, which has a unique asymmetrical pattern. Its handwoven fabric is made from recycled polyester that's shred-resistant, and the design is reversible for ultimate convenience. The rug comes in three sizes, and it features an ikat-inspired pattern on one side, as well as numerous blocks and stripes in shades of yellow, pink, and gray. A small row of fringe along the edges completes the look.
Size: 6 x 6 feet | Material: Polyester
What We Like
Comes in two colors

Stain- and weather-resistant

Eco-friendly
A circular rug like the Article Natica would fit perfectly underneath a round patio dining set. This rug is flat-braided into a 6-foot round, and it comes in two shades of gray. The fabric is made from recycled plastic bottles, making it both stain and weather-resistant, but because of its delicate design, the brand recommends hand-washing instead of pressure washing, making it a little more time-consuming to care for.
Home Dynamix Nicole Miller Patio Country Azalea Indoor/Outdoor Area Rug
Size: 5.2 x 7.2 feet | Material: Polypropylene
What We Like
Comes in two sizes and colors

UV- and weather-resistant

Easy to clean

Affordable
For a more traditional appearance, the Nicole Miller Patio Country Azalea Indoor/Outdoor Area Rug features an ornate medallion pattern flanked by a geometric border. The polypropylene rug comes in a few sizes and color options, and the material is both UV- and weather-resistant, ensuring it doesn't fade if displayed in the sun. The rug can be hosed down if it ever gets dirty, and its classic design would be the perfect choice to anchor an outdoor seating area.
Size: 6 x 8 feet | Material: PET fiber from recycled plastic bottles
What We Like
Affordable

Eco-friendly

Can cut the rug without fraying
You'll be hard-pressed to find a rug that's more affordable than the Foss Ribbed Indoor/Outdoor Area Rug, which measures 6 x 8 feet. The rug comes in taupe and the ribbed material is made from purified recycled bottles. The fabric has been solution-dyed to improve its colorfastness and help resist stains, and because of the unbound design, you can actually cut the rug without any fraying—ideal if you're looking for a rug to put in an awkwardly sized space. 
Size: Various | Material: Polypropylene
What We Like
Comes in various sizes and colors

Water- and mildew-resistant

Easy to clean
For a classic design that will stand the test of time, you won't be disappointed in the Frontgate Ashworth Indoor/Outdoor Rug, which is available in several colors and sizes. The rug is made from fine-spun polypropylene to resist water and mildew, and the fabric has even been tested for colorfastness in sunny and salty-air climates. As for the design, it features a scrolling leaf border with a diamond pattern in the center, making it an elegant choice for an outdoor dining room or lounge area.
Size: Various | Material: Polypropylene
What We Like
Comes in various sizes and colors

Reversible

Weather- and stain-resistant

Ideal for high traffic areas
Get two designs for the price of one with the Luz Reversible Indoor/Outdoor Mat. The eye-catching geometric design is available in four bold colors, and when you flip the rug over, you'll get the same pattern but with the colors reversed. This bohemian-style rug is crafted for durable polypropylene that's weather- and stain-resistant, making it ideal for high-traffic areas, and depending on the color you choose, there are several sizes available.
Sours: https://www.thespruce.com/best-indoor-outdoor-rugs-4155734
The Best Outdoor Rugs for Rain
Adding a durable, outdoor rug to your patio, porch, deck, breezeway, or gazebo is a fashionable way to spice up the area. After all, you may have completely revamped your outdoor space – splurging on waterproof lounge chairs, a dining set, and entertainment system – yet something still seems to be missing. An outdoor rug may be just the thing to tie your living space together and make it an extension of your cozy, interior space. But what outdoor rugs are able to get wet? Which materials and makes will withstand varying weather conditions? What are the differences between outdoor and indoor rugs?
Just like indoor area rugs, outdoor rugs are both functional and stylish. Unlike indoor rugs, however, outdoor rugs are typically made of materials that will hold through various conditions and resist stains and fading. Follow this guide to find the perfect outdoor rug for your home.
Natural Fiber Outdoor Rugs
Natural fibers such as bamboo, jute, or sisal are strong, sound-absorbent, sustainable, and will add lots of texture and personality to your outdoor space. They are also naturally renewable and sustainable, but keep in mind that the construction of an outdoor rug is important as it will determine the durability of the rug.
Bamboo outdoor rugs are usually flat wooden mats that create an organic, warm look and fit easily with casual and coastal living. When it comes to a bamboo rug, you always want to catch spills as soon as possible and blot intensely – one of its cons is that it can stain.
Jute outdoor rugs are made from the same materials used to make burlap, and they're so soft that it almost feels like wool. However, the softness means it's also the one of the least durable, making it ideal for a covered patio or breezeway.
Made from the sisalana, or agave, sisal fibers are the most resilient of the natural fiber group. Because of its increased durability, sisal also fairs well in high traffic areas and would make for a great option as an outdoor rug on an uncovered deck or concrete patio. Sisal fibers are coarse, so they're not the most comfortable. They're also prone to becoming slippery when overly saturated with water.
Something to note about natural fiber rugs, regardless of which material you prefer: Natural rugs can be prone to mildew or get destroyed if exposed to too much moisture. Because of their natural, renewable makeup, they also tend to break down faster than something that's synthetic.
Synthetic Outdoor Rugs
Synthetic outdoor rugs can last season after season without much wear and tear. Because they are more "manufactured," synthetic rugs also tend to come in a wider variety of vibrant colors (although most natural materials can also be dyed).
Polypropylene outdoor rugs (also known as olefin) are made from a synthetic fiber and works well in conditions with high moisture and heavy foot traffic. Because of its ability to absorb, polypropylene makes for a great waterproof outdoor rug. Furthermore, it will not grow mold or mildew when exposed to water – strengthening its durability.
Acrylic outdoor rugs offer a texture similar to wool, with stain-resistant qualities. Acrylic absorbs and releases moisture quickly, thus allowing the fabric to "breathe." It's also resilient, retains its shape, and resists shrinkage and wrinkles.
When it comes to exposure to other outdoor elements, such as sunlight, you will want to invest in a synthetic rug that's 100-percent UV-stabilized. With the addition of these stabilizers, synthetic rugs won't fade from sunlight.
Outdoor rugs made from synthetic materials are also typically light-weight; so you can easily roll them up to move them around. Synthetic rugs are often less expensive than natural materials as well. If you're looking for an affordable yet reliable waterproof and mold resistant outdoor rug, synthetic may be the answer to your prayers.
Choosing the most reliable rug is crucial to tying together the look and feel of your outdoor area. Before making a decision on the rug that's best for you, ask yourself how you intend to use it throughout the year. If you're dead set on going for something more natural, consider the amount of sunlight and water exposure the outdoor rug will endure. If you're in the market for something more long-lasting and family friendly, a synthetic outdoor rug may be a better investment
You can bring together all types of spaces with a rug, and there's no better spot than the outdoors to define a space with one. Outdoor rugs further draw the eye to the area you've styled and also connect your interior design with your outdoor living space.
Images used with permission, courtesy of www.shutterstock.com and www.dreamstime.com
Sours: https://housetipster.com/housetips/1628/durable-outdoor-rugs-that-can-get-wet
✅ Rug: Best Outdoor Rugs (Buying Guide)
Grandma nodded and pulled him out. Then she took a large carrot and began to slowly insert it. Up to half she entered painlessly, and then I already felt a little pain. Grandma didn't stop and kept screwing carrots up my ass.
That drains rug water outdoor
To the Family. No names, just Family. - the man smiled, as if letting Lara understand that there is no other such Family anyway, it is unique, which means that reference.
Best Outdoor Rug For Balcony Waterproof
It was a long way to go home, and I didnt want to at all - at that time I was strained with my ancestors. We bought beer, chips, dumplings and went to watch TV. The beer ran out quickly and a bottle of vodka was on the table.
Now discussing:
Grasping her body, he grabbed the bulging belly of the woman with his palms, and his cock slid slowly into her vagina, which was starting to shudder with bliss. Guessing her ecstasy, he moved his arms higher and took her by the large breasts, more often moved his penis into the juicy squelching.
Vagina.
3591
3592
3593
3594
3595