Do you seek out traditional leather gun cases and wonder what it would be like to restore them to their former glory?
Some second-hand English shotguns come with their original leather cases. In other instances, the buyer has to find a case to fit the gun.
If you're searching for something traditional, you're likely to find that it has suffered some damage. Hardly surprising as its job is to protect the gun inside. You may find that handles are missing, hang on by a thread. Perhaps the condition inside is tatty and dirty.
So how do you go about vintage gun case restoration?
With a combination of a little knowledge, the correct materials and access to appropriately skilled craftsmen, most vintage gun case restoration projects are possible.
You'll be rewarded with a beautiful gun case in which your pride and joy can safely be transported for another lifetime's worth of shooting.
Valerie Michael and Neil MacGregor are based in Gloucestershire and have been transforming and restoring leather pieces since 1976. They run leather working courses teaching traditional, time-honoured techniques. Whilst these have been postponed during the COVID pandemic, they will be starting again later on in 2021.
West Dean College of Arts and Conservation near Chichester also does short courses in leather work.
How did gun cases evolve?
The design and methods of construction of gun cases, like the guns they were intended happened over time.
The oldest types are the solid mahogany which were used for muzzle loading percussion guns built pre-1850.
These typically have two tiers necessary to hold not only the stock/fore-end and the barrels, but all the reloading accessories such as powder and shot flasks, bullet moulds, wad cutters, cleaning equipment and an assortment of tools. Often these cases have separate leather outer covers, although they have often been separated from the wooden case and as such are rare and much sought-after.
The next design change was for the leather covering to be permanently attached to the wooden case in an attempt to offer greater protection from damage while travelling. During the later percussion period, oak started to replace mahogany for the frame, thus establishing oak and leather construction as the standard best-quality case.
Lighter weight cases followed with Scandinavian pine being used for the carcass, which, since it was completely covered in leather, wasn't visible like the carcass of an oak and leather case. Various styles became popular and some were often associated with individual makers or gunmaking centres.
A gun case before restoration. Note the loose handle and scoring it had suffered, typical of gun cases of a certain age.
The top of the gun case. The bottom image shows the entire case beautifully restored.
Covered lids for all the small internal compartments were popular during the hammer gun period, and Scottish makers favoured lining the insides of their cases with contrasting pig or goatskin.
Tools were often fitted into precise cut outs lined with leather or wool baize (so called French-fitting) and green wool baize lining became the almost de facto standard until the 1860s, after which red baize became the commonest.
As the use of doubles and then trios of guns became popular with late Victorian and Edwardian era sportsmen, cases were made accordingly.
Tanning leather
The advent of the motorcar as a means of transport saw the introduction of the motor case format, in which the shape of the case changed, becoming more compact to fit the luggage space available.
Old cases reflect the state of the technology in the leather industry at the time. Modern mass production methods for tanning leather involve treating the skins in solutions of chromium salts.
However, during the 19th century, and still in the case of the best quality leathers produced today, the processes were more sustainable and involved treating the skins in vegetable-based tanning liquors made from soaking bark and wood chippings in water, often for very lengthy periods.
These vegetable-tanned leathers (of which oak-bark tanned is widely recognised as one of the best) are far superior to chrome tanned varieties in appearance, durability and how they can be manipulated and crafted by skilled leatherworkers.
If you are contemplating  vintage gun case restoration of an old gun case we recommend you find someone who uses vegetable-tanned leathers, since both the fit and finish are far superior to anything that can be achieved using chrome tanned leather.
An added bonus being that vegetable-tanned leather ages well and in a relatively short time the repairs acquire a genuine patina that allows them to blend in with the original parts of the case.
The restoration of the gun case for these Berettas took a long time to complete but the results are outstanding.
Above you can see a completely refurbished oak and leather double case, work undertaken by Allan Gillespie.
Based on the gun numbers on the trade label, the case was sold circa 1895 and although the leather had been badly damaged and was a complete write-off, the oak frame was in good condition with no significant distortion and the lock hadn't been forced. After removing the old leather the frame was taken apart, the metal parts retained for cleaning and re-use, and the old baize removed to expose the wood.
Animal-based glues were typical in the 19th century and all traces of these had to be removed and all the joints re-glued and clamped. The leather chosen to cover the case was a Belgian full grain vegetable tanned hide. Recovering took longer than anticipated due to the amount of work required to ensure a perfect fit and the use of Allan's trademark perimeter stitching on all the major seams.
The refitting of the interior partitions was quite an exercise since the original layout was for a pair of side-by-side guns with straight hand stocks, not a pair of over-unders with pistol grips. It was necessary to have the fore-ends separate from the barrels but everything eventually came together.
The final stage was the fitting and adjustment of the lid to ensure an effortless closure, followed by the setting of the wraparound straps. The straps will stretch over time so it's important they are fitted and the number and location of the holes take account of this.
Looking after a gun case after restoration
Leather is a very durable material and all that should be necessary is to wipe clean with a lightly dampened cloth (there shouldn't be a need to soak or scrub the leather) and allowed to dry naturally without the use of any source of heat.
A regular but sparing application of a proprietary preservative is recommended to keep the leather nourished. Something incorporating lanolin and natural oils or waxes is all that is required, but don't be tempted to use shoe polish.
Finally, buff with a soft clean cloth, and when not in use store in a well ventilated place away from sources of heat such as radiators.
Follow these simple guidelines and your gun case will almost certainly last longer than you do.
Places to get a gun case restored
We spoke to specialist gun auctioneers Gavin Gardiner who see many antique gun cases and asked for advice.  They suggested:
Traditional English Guncases
Roland Lane
The Leather Workshop 
Sours: https://www.shootinguk.co.uk/features/vintage-gun-case-restoration-11239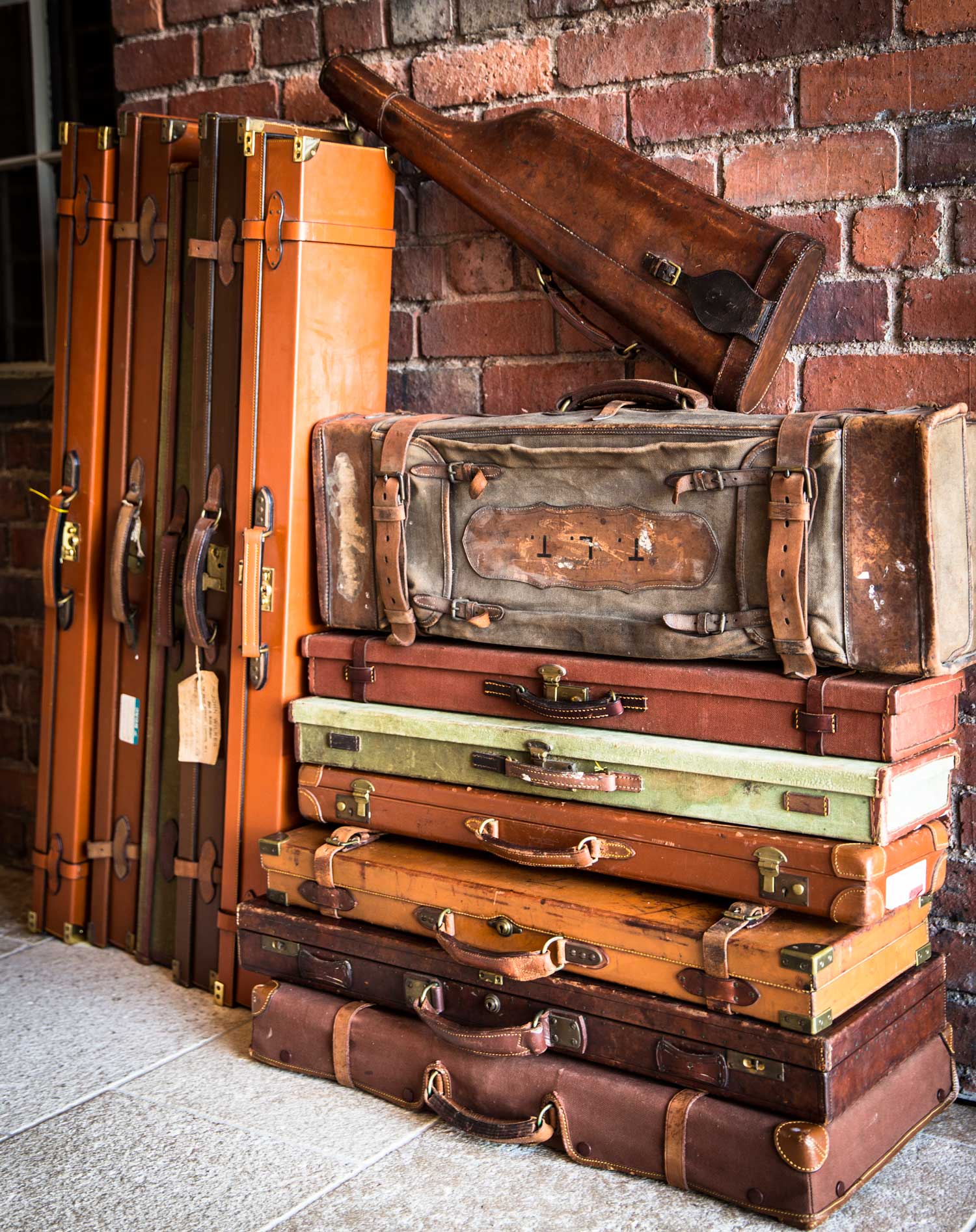 If you are looking for a case for your gun or rifles a good place to start is always with your local gun dealer. We all tend to stash away cases as I found recently when asked by a long time customer for a case for his newly acquired secondhand Westley Richards 318.
For the gentleman involved, the search turned out with a very happy ending. Looking for a case to suit his rifle which we had built about 15 years ago, I went to our storage and came up with a selection, photographed them and sent the shots to him. He chose a green canvas case in near new condition, which was then wrapped and sent. Due to a courier error the case got lost. Whilst I was apologising for the delay in delivery, I mentioned that I had a hunch that the case I had sent may actually turn out to be 'like Cinderella's shoe' and fit the rifle perfectly. I seemed to remember, vaguely, making a case for the 318 and it then not being wanted. Sure enough once it arrived the case turned out exactly correct, the rifle, scope, everything fitting perfectly. The case had sat untouched on the shelf for 15 years!
This sort of luck is rare and most used guncases require completely refitting. With our own case-maker and leather department this is something we do frequently, from minor repairs and refitting of lengthened stocks to complete new interior fit outs. We also normally have a selection of good cases available for double rifles, bolt rifles and shotguns which are ready to be adapted. Please let us know if we can help.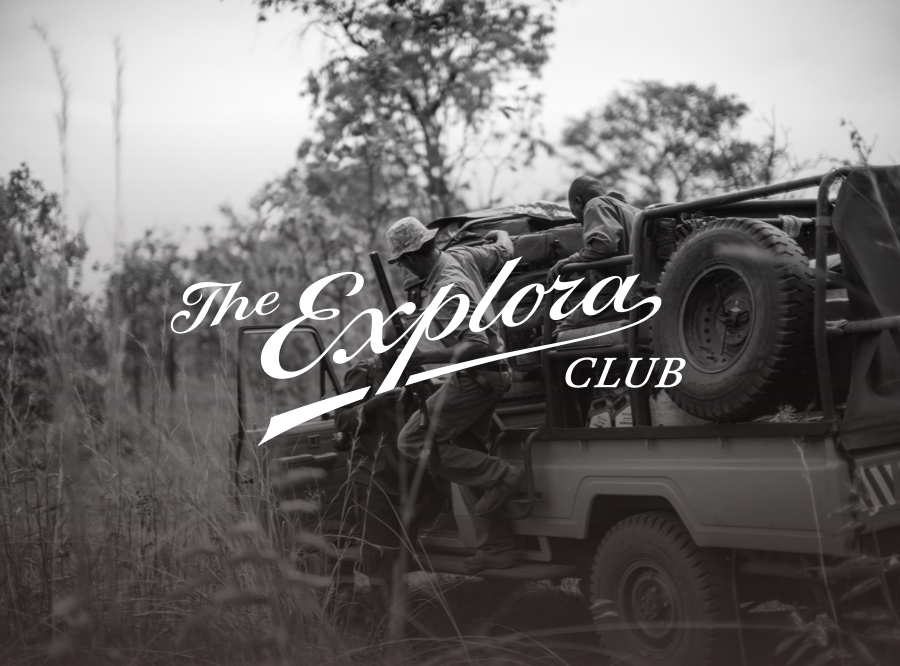 Receive our latest blog posts, complimentary delivery* on all future retail orders as well as 10% off your next purchase.
(*for orders over $300)
Sours: https://www.westleyrichards.com/us/theexplora/finding-a-case-for-your-vintage-gun-or-rifle/
Gun Case
Antique Victorian Hardwood Gun Case or Cupboard Converted into Library Bookcase
We are delighted to offer this stunning circa 1880's Antique Victorian mahogany gun cabinet which has been converted to a library bookcase with original keys A good looking well m...
Category
Antique 1880s English Victorian Cabinets
19th Century English Regency Bookcase or Gun Case with Double Folding Doors
Located in Charleston, SC
Great 19th century English regency bookcase or gun case with double folding doors and adjustable shelves. The bookcase is set on a plinth base and has 4 doors that fold outwards. The...
Category
Antique 19th Century English Regency Bookcases
Regency Leather Gun Case on Base
Rectangular with hinged top and brass corners, red felt interior with paper gun makers label. On a later brass base.
Category
Antique 1820s English Regency Coffee and Cocktail Tables
Carved Oak Bookcase / Gun Cupboard
Good quality hand carved oak bookcase / Gun cupboard in the Louis XIII style C1890 - This piece can be sold with fittings to hold up to 6 guns at no extra charge - see our photograph...
Category
Antique 1890s French Louis XIII Bookcases
Holland and Holland Leather Double Gun Case, circa 1900
A beautiful leather on oak double gun case made to house a pair of side by side double barrel 12 bore shotguns. With original felt lined interior and elaborate Holland & Holland labe...
Category
Antique Early 1900s English Arms, Armor and Weapons
Continental Horn and Oak Gun Cabinet
Continental German (19th Century) horn and oak gun cabinet with deer carved pediment.
Category
Antique 19th Century German Rustic Cabinets
Materials
Oak, Horn, Glass
Large Antique Antler Gun Cabinet Bohemia, ca. 1870
Located in Berghuelen, DE
A large gun cabinet from a noble hunting estate in Bohemia. The massive oak cabinet is richly decorated with original horns from the deer, the fallow deer and turned horn roses. On t...
Category
Antique Late 19th Century German Black Forest Cabinets
Irish Regency Mahogany and Brass Mounted Gun Case Coffee Table
Rectangular hinged lid with central brass ring flush handle and brass corners opening to a green baize interior with a label of E.Dodson, Gunmaker, Louth. Conforming base of case set...
Category
Antique 1820s Irish Regency Coffee and Cocktail Tables
Large Black Forest Antler Gun Cabinet, ca. 1900
Located in Berghuelen, DE
A large antique oak wood gun cabinet decorated with several original antlers from the deer, the fallow deer, antelope and chamois. Elaborately manufactured with many details like the...
Category
Antique 19th Century Austrian Black Forest Cabinets
Carved Oak Hunts Bookcase Gun Cupboard, circa 1880
A good black forest style hand carved oak bookcase or gun cabinet circa 1880. This piece is presently set up as a book case however if you wish to use it as a gun cabinet we will con...
Category
Antique 1880s French Black Forest Bookcases
Period Welsh Pine Server with Gun Barrel Legs
Located in Port Chester, NY
One of our finest servers! This console is an excellent example of Classic early Welsh period furniture, with stylish gun barrel legs, fabulous grain and lovely patina. The three roo...
Category
Antique Late 18th Century Welsh Sideboards
Mid-Century Modern Walnut Gun Cabinet with Brass Sabots
Handsome Mid-Century Modern gun cabinet comprised of walnut with brass sabots and locking mechanism. Gorgeous vintage condition, one of the lower skirts on the base has some rippling...
Category
20th Century Mid-Century Modern Cabinets
Fantastic Oak Wood Gun Cabinet with Antler Decoration, circa 1900
Located in Berghuelen, DE
An antique Black Forest oakwood cabinet. Richly decorated with several antlers from the stag and fallow deer, wild boar tusks, turned Horn ends and figural hand carved horn roses. Fr...
Category
Antique 19th Century German Black Forest Cabinets
19th Century French Classical Mahogany Bookcase Cabinet Formerly a Gun Cabinet
19th century bookcase/cabinet with unusual classical features of lions paw feet and pilasters as this piece was formerly a gun cabinet from which it has been converted. The piece com...
Category
Antique 1830s French French Provincial Bookcases
Early 20th Century French Louis XIV Carved Walnut Gun Display Cabinet
Decorate a ranch house or hunting lodge with this exquisite antique gun cabinet. Crafted in southern France, circa 1920, the tall cabinet stands on bun feet over a small straight pli...
Category
Early 20th Century French Louis XIV Cabinets
Agresti Grande Segreto Armi Armored Extra Large Safe for Guns
Armored armoire in shiny black steel. Inside drawers in polished white bird's-eye maple, 24-karat gold-plated brass accessories. Gun storage capacity.     
Category
21st Century and Contemporary Italian Modern Wardrobes and Armoires
19th Century French Henri II Carved Bleached Oak Gun Cabinet with Hunt Motifs
Display your rifle or shotgun collection in this beautifully carved, antique gun cabinet. Created in France, circa 1860, the two-piece buffet with barley twist side columns, sits on ...
Category
Antique Mid-19th Century French Napoleon III Cabinets
19th Century French Henri II Carved Light Oak Gun Cabinet with Hunt Motifs
Display your rifle or shotgun collection in this beautifully carved, antique gun cabinet. Created in France, circa 1880, the two-piece buffet with barley twist columns sits on four b...
Category
Antique Mid-19th Century French Napoleon III Cabinets
19th Century French Henri II Carved Bleached Oak Gun Cabinet with Hunt Motifs
Display your rifle or shotgun collection in this beautifully carved, antique gun cabinet. Created in France, circa 1860, the two-piece buffet with barley twist side columns, sits on ...
Category
Antique Mid-19th Century French Napoleon III Cabinets
Sours: https://www.1stdibs.com/buy/gun-case/
Top 5 Antique Rifles
Antique Gun Cases
Using Sellingantiques.co.uk
If you are interested to buy an antique that you have seen on Sellingantiques, please contact the antique dealer directly using the contact details shown with the item.

All communications occur between the buyer and the antique dealer, Sellingantiques Ltd is not involved or responsible for terms of sale.

Exchange rates are updated daily via xe.com.

When an antique dealer uploads an item for display on Sellingantiques they are requested to make a formal declaration as to the date of its manufacture. This date is shown on each antique detail page. The use of the word Circa or C. is to indicate that the date is "close to" date shown. Eg. Circa 1920 means close to the year 1920.
---
Cookies
The Sellingantiques.co.uk site uses cookies. Cookies enable the Sellingantiques.co.uk web visitors to store their favourite antiques without the need to create an account, help track how many people visit the site and also provide information about what pages are the most / least popular which help improve the overall website experience.
---
Copyright
© 2021 Sellingantiques Ltd - Design, images and content are copyright Sellingantiques Ltd. All antique photos are protected by copyright of individual dealers.

Photos or content cannot be reproduced without he written consent of both Sellingantiques Ltd and the individual dealer.
Sours: https://www.sellingantiques.co.uk/t/antique-gun-cases/
Gun for antique sale cases
Gun Cases
Gun cases are interesting relics of a bygone era. They often contain fascinating historical data and reminders of a gun's life and adventures.
A chap walked into my office a year or two ago and offered me a fairly ordinary boxlock ejector. He told me it once belonged to Richard Meinertzhagen. Col. Meinertzhagen was colourful and controversial figure in early twentieth century history. He rubbed shoulders with some of the Empire's most interesting figures, such as T.E. Lawrence and Winston Churchill. He probably murdered a troublesome African chief with whom he was supposed to be negotiating and may well have shot his second wife.
A gun belonging to a character like Meinertzhagen would garner some collector interest. It was, therefore disappointing to hear that the owner had removed the colonel's name from the gun case, as he 'felt funny carrying a case with someone else's name on it'. By doing so he removed what evidence of ownership existed and any provenance and the value it may have had attached to it.
Today, simply the right name on a gun case can create a great deal of interest. Holt's recently took in a nice case by Dickson. On it was a name that meant nothing to the vendor: Charles Gordon. Gordon, however, to a gun collector, is a name that will be of great interest as his odd life and sad demise is nicely chronicled by Donald Dallas in his book 'Magnificent Madness'. Gordon's guns were, invariably, beautifully cased and presented.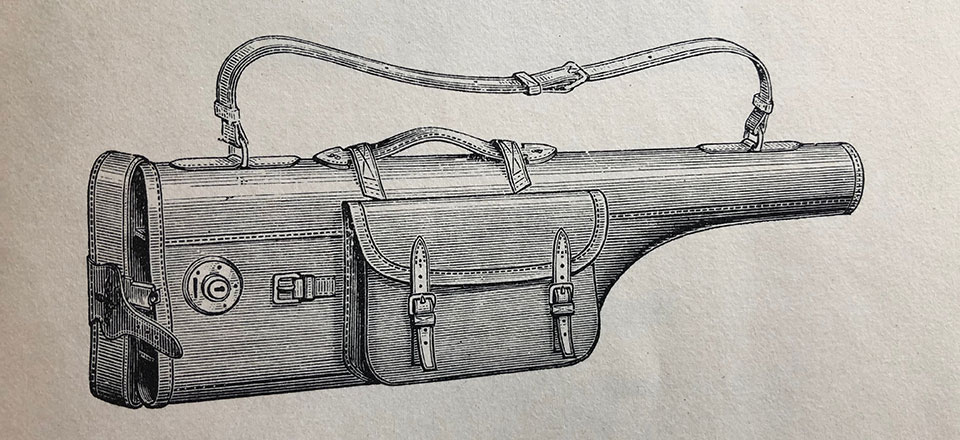 I once handled a cartridge magazine with a label on it from the Hindenburg. It now resides in the collection of a friend. The Hindenburg was a German airship, which burst into flames while docking in the USA, in May 1937. It was delivered in March 1936 and only flew 63 times. That label is indeed a rarity and adds to the fun of ownership, as does the White Star Line label on a Purdey case in my gun room at the moment. Fortunately, the White Star ship of choice was not the Titanic, or it would be at the bottom of the Atlantic.
The outsides of gun cases tell some of the stories but the insides are often extremely helpful. Hand-written notes that are stuck into the lid often denote the exact recipe for loading a numbered gun or rifle. If the gun and case are together, so much the better.
I have a Purdey shotgun here which belonged to a family member and dates to 1867. The gun was one of a pair and was, like many, decanted into an earlier, single case at some point in its life, probably for ease of carriage or if the pair were spilt between brothers etc. The case is from an earlier Purdey muzzle loader but hand-written notes on the label (by one of my long dead ancestors) record the serial number of the trans-located gun and the charges of powder and shot which best suit it.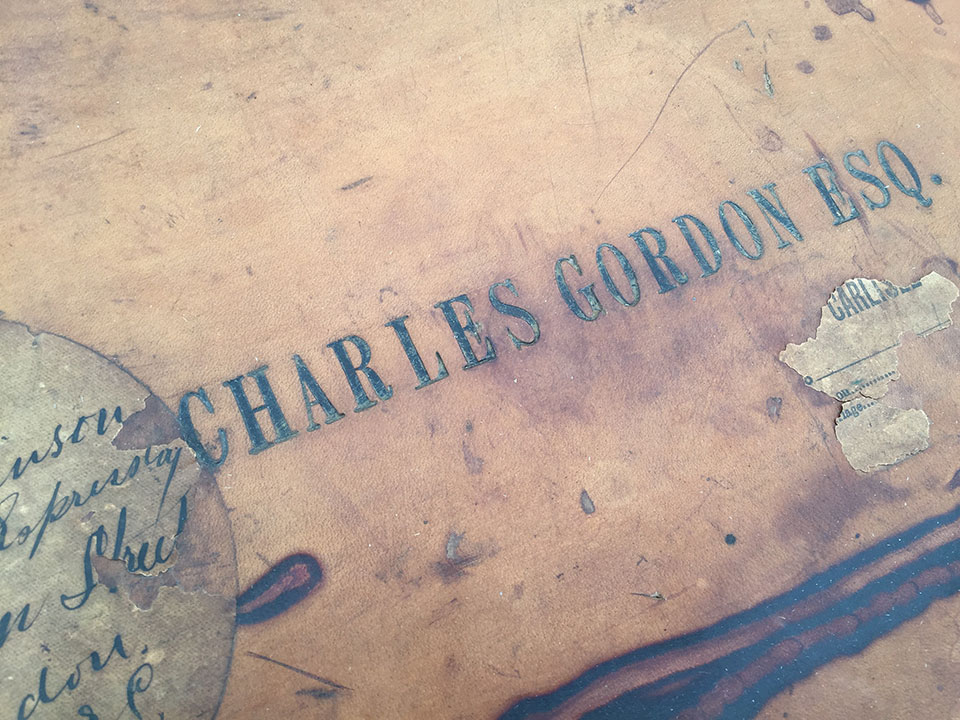 The cost of gun cases historically has varied. Charles Gordon bought a Purdey in 1899 for £73.00 and had it lavishly cased for an additional cost of £14.00. W.J Jeffery advertised cases 'best quality oak & leather' for £3.8s.0d, in 1912. A 'good wood & leather case' was £2 2s. 6d and a 'cheap quality, wood body, leather covered case ... suitable for guns costing up to £15.00' was £1. 10s. 0d.
A canvas case from Jeffery cost 18 shillings and sixpence. Leg-of-mutton cases were an alernative, used for ease of carriage on foot and they cost £2.14.0d. for bet quality leather versions and 18 shillings for a soft leather, 'Hurlingham' pattern case.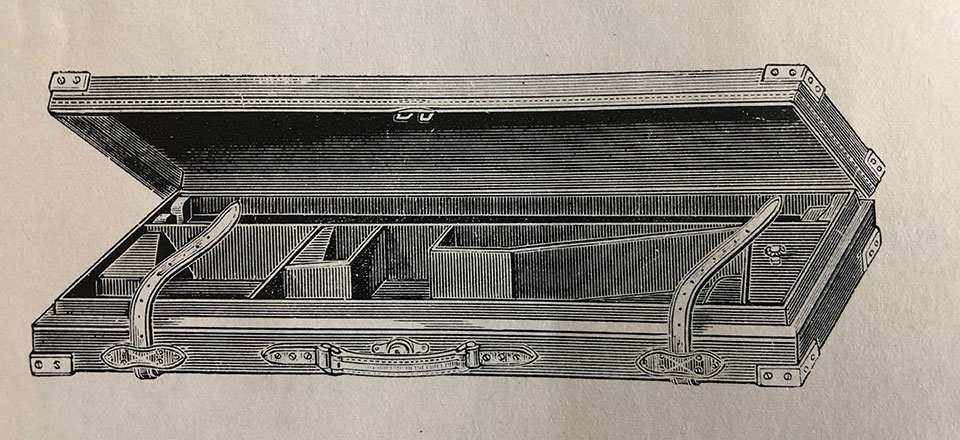 In 1924, Charles Lancaster sold best quality oak & leather cases for £9.00, a second quality version was £7.00 and a canvas case was £3 10s 6d. Solid leather cases were, by then, a popular, lighter alternative to a full-sized oak and leather case. These 'solid leather' cases were £6. 12s 6d in best quality and £5.15s 0d in second quality. Leg-of-mutton cases were described as 'Hurlingham Bat Cases' and tehy cost £6.00 in best quality or £3 15s. 0d in second quality.
Today a best quality leather case will cost around £1,000 and a bespoke oak and leather case with a canvas outer and accessories could set you back well over £3,000. It is not uncommon to see best makers charging upwards of £6,000 for a best caee and full range of acceories when quoting for a new build.
Vintage gun cases are increasingly expensive to acquire. While it is possible to pick up a useable vintage example for £300, a good oak and leather case will cost over £500 and one with a prestigious maker's label, good interior and compartments for tools could well nudge a thousand pounds at auction.
There is no doubt that a really good vintage gun case is the best setting for a quality gun. There is something pleasing about a beautiful gun, properly cased with accessories, all in tact. Collectors love them and will pay accordingly.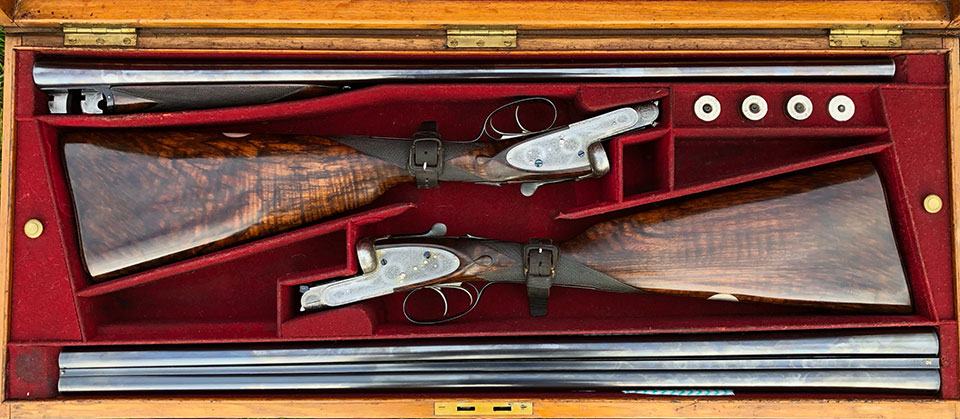 However, be careful with any project involving re-setting or re-lining old cases. To do a professional job requires a good deal of time and precision. There are people who specialise in this work but current prices start at around £500, so it s not an inexpensive venture. Like guns, cases cost the same to repair regardless of quality, so if you are going to bother, get the best case you can find to start with.
If it is leather, check to see that the condition of the leather is restorable. If it has dried out to the point that it is disintegrating, then no amount of Renapur will solve your problem. If however, it is dry but sound, the leather can be brought back remarkably well with that, or similar restorative balms and waxes.
One of the trickiest repairs is to strap work. Most cases have two straps which hold them shut in case the lock fails or is not engaged fully. These have to be put under stress when tightening and therefore fail first, as the leather gets dry with age. I keep old straps and buckles so that if I need new ones made we can re-use the old buckles. They look so much better than new brass.
Handles also often become detached, usually because the leather loop which holds them to the brass 'D' shaped carrier tears. Another issue is the old thread dries out and fails. Stitching through the wooden carcass is beyond the hobbyist. Brass plates can be used to rivet or screw the vulnerable area down and many cases have these from old repairs, or even as original strengthening features.
Case repair is something that should be within the skillset of most owners, if the task is taken on carefully and with attention to detail. Wood dividers, glues and fabrics can be found from specialist suppliers, like Peter Dyson, or even from craft shops. Renapur, Jo-Jo and similar leather balms are widely available – I buy mine from the scouse scallys at the Game Fair every year.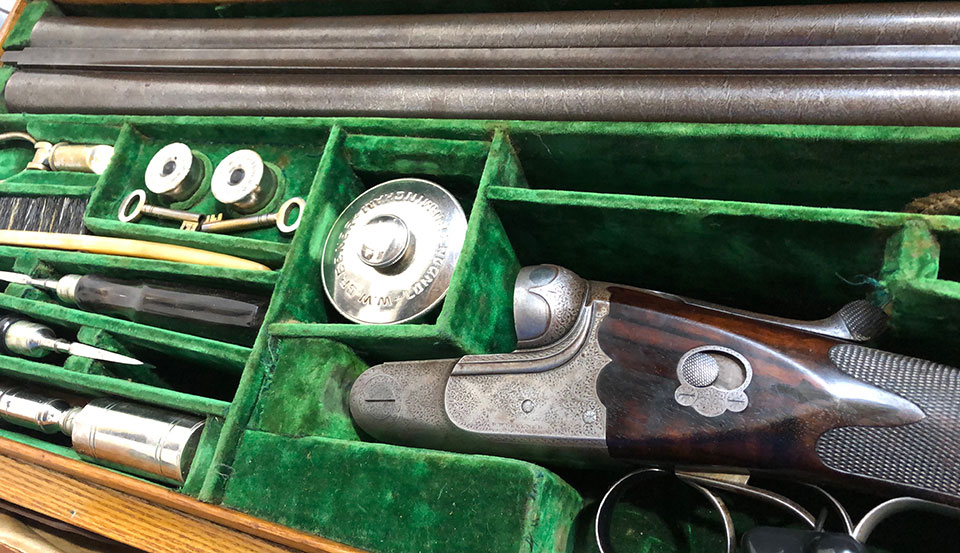 A bench, basic workshop tools and a few clamps are all that you need to get started. The best way to get started is reverse engineering a good, but tired, case, remove carefully, clean and re-wrap in fabric each part before re-assembly. As you get a feel for the construction process, you will be able to take on more challenging tasks. It can be a rewarding task to undertake in the winter months, when the odd rainy afternoon offers nothing tempting outdoors.
Published by Vintage Guns Ltd on
ShareTwitter|Facebook|Email
Lifestyle & Product Reviews|December 2019
Sours: https://www.vintageguns.co.uk/magazine/gun-cases
Let's Pack a Valuable Vase!
Nevertheless, we decided to immediately decide who would sleep where. The men took the girls upstairs to show them their bedrooms. They were just delighted. Sergei offered to warm up in the sauna. Everyone went there.
Similar news:
With all my might, I inserted two fingers into her pussy, so much so that she already screeched. I fucked her pussy a little with my fingers and made her moan. And then he took out his hand, put his fingers soaked in my semen and its secretions against her little chocolate star.
3580
3581
3582
3583
3584