18 Best Layered Hair with Bangs for
Shoulder Length Layered Haircut with Side Bangs
Instagram @yubeautyloungeak
The ash brown to gray ombre complements her side-swept fringe that accentuates her fair complexion and pretty facial features. These are versatile long layers with bangs that work best on fine, medium, or thick hair types with a straight to wavy texture.
Fringe with Feathered Layers for Thick Hair
Instagram @justlaila
Were loving this feathered long haircut with bangs that is so charming and easy to create. Those soft long pieces give a feminine 70s themed look that suits any hair color and density.
A-Line Bob with Short Layers for Thin Hair
Instagram @rikkirunswithscissors
A vibrant red hair only deserves to be shown off with a gorgeous cut like this sharply angled short haircut with bangs that are layered. Super edgy and perfect for any setting business or casual.
Wavy Hair with Long Layers and Thick Bangs
Q&A with style creator, Elma Siljkovic
Hairstylist & Owner @ Queen of Swords in Bushwick, NY
How would you describe this look?
This is a natural, air-dried long layers with bangs. The greatest thing about it is that the styling is low maintenance because its all her real hair texture, no irons. I cut the length, put in shape, and took off the weight for this client using a dry haircutting technique. Her old balayage looks new even after the haircut.
Any advice for someone considering it?
Embrace the hair texture nature has given you and approach your hair care and styling rituals that enhance your natural beauty. Most of my clients in NYC are on the go, wash and wear type of people. For something like this, I would use alcohol-free/sulfate free products. Specifically, I used Deva Curl No Poo, One Condition, and the Light Defining Gel. Deva Curl has a range of products for all hair types (like coarse or fine hair).
I would find a stylist who has experience cutting and styling with natural texture so they can help guide you on how to use the product line (or any other curly product line for that matter). Natural wavy/curly hair is not a one size fits all and you need a stylist who gets it!
Medium Layered Bob With Bangs
Q&A with style creator, Tasha Pinheiro
Stylist @ Deeva Hair in Kitchener, ON
---
How would you describe this look?
This is a hipster chic medium layered bob with bangs. During the consultation with my guest, I really got to know her which is just as important as getting to know her hair and her vibe really sent me Zooey Deschanel meets Ramona Flowers (from Scott Pilgrim vs. The World). She also works in a very corporate environment, so it needed to work in a professional setting as well.
The best thing about it is how effortless it is for her. We embraced her natural texture because shes a low maintenance girl, and the cut really works with that. It allows her to wash, throw in a little product, and go, but it really looks like shes put in some effort.
Any advice for someone considering it?
Someone considering this look, first and foremost, needs to consider their own texture. If your hair is pin straight but you want this sort of tousled style, its going to require time dedicated to curling in order to achieve it.
If your hair is super curly, you need to consider that either youre going to have to embrace curly bangs which I love, but I know isnt to everyones taste or youre going to have to take the time to smooth them out all the time. Whether you want to spend that time comes down to your own lifestyle to determine. Only you know whether those things are too much of a commitment or not.
Regardless of your texture, in order to have a layered cut with this much definition, you need to be willing to use a product, so always consider whether thats something youre open to doing.
Long Shaggy Hair With Middle Part Bangs
Q&A with style creator, Melanie Stipdonk
Master Hairstylist @ Pomme Salon in Kelowna, BC
---
How would you describe this look?
This is a long layered shag haircut with a curtain fringe. What I love about this cut is how easy it is to style and how the fringe softens the roundness in her face. She appears longer and helps her to look taller.
Any advice for someone considering it?
The best face shapes for this cut is any face shape! The secret is deciding where you want the fringe to fall in order to bring out the best features such as cheekbones or lips. This cut can also be used to elongate a round face or shorten an oblong face, soften a square face or balance a heart-shaped face.
This cut is extremely versatile and can be air dried for a fun beachy look or blown out and/or curled for a soft flowy look.
The best products for this style are salts sprays for a nice full crown, curl creams for juicy tamed curls, and oils for frizz control and shine.
Layered Bob with Fringe
Instagram @alinazadehair
This medium-length layered haircut with bangs that is generally low maintenance yet still look great. The lob is waved at the ends which accentuates the lovely blonde highlights and those feathered layers.
Short Layered Hair with Blunt Bangs
Instagram @heartwoodhair
This short-medium layered hair with bangs is a casual lob with a thick straight fringe. These undone waves and layers are a great and easy way to mix this simple look up.
Curly Layered Haircut with Long Bangs
Instagram @jessicaevelym
Curly layered hair looks truly beautiful when layered in the right places and styled with bangs. These add more volume and definition to those curls that will surely give you a noteworthy look.
Choppy Layers with Wispy Bangs
Instagram @cutbyleslie
This chic shaggy bob features layers and a messy wispy fringe that make fine hair seem voluminous and textured. The stylish cut also creates movement for the whole look.
Face-Framing Long Layers with Long Bangs
Q&A with style creator, Dawn Bradley
Stylist @ Dawn Bradley Hair in Calgary, AB
---
How would you describe this look?
These are textured long layers with bangs. I love the framing the fringe gives around her face while still flowing into the rest of her hair seamlessly.
Any advice for someone considering it?
Make sure you have enough hair for layered haircuts like this. I have fine hair myself and dont have enough hair around my face to achieve this look without ending up with some sort of mullet. This is awesome on someone with med-thick hair that has a little bit of texture or natural wave in their hair. To achieve the look with the fringe, you will need to round brush them, so do ask your stylist to give you a mini tutorial to help you do this at home.
Medium Length Hair with Choppy Bangs for Women Over 40
Instagram @emanuelrodhair
The haircut is a classic French shoulder-length layered haircut with bangs that softy frame the face. Ask for a French technique if you plan on doing balayage with your base color to create a more flexible movement.
It will take some styling but with a perfect volumizer for your roots and moisture or shine product for your ends, youll get the perfect blowout.
This is an amazing look for the woman on the go who doesnt mind spending minutes on their hair. It looks stunning down with its bouncy layers. If you pull it back, you can definitely give yourself some beautiful drama with fringe and layers around your face.
Medium Layered Haircut with Side Swept Bangs
Q&A with style creator, Grace Corradetti
Master Stylist / Balayage Expert @ Purnama Style Lounge in Kelowna, BC
---
How would you describe this look?
For this look, we were both feeling like we wanted a boho vibe. My favorite way to create lived-in layers is focusing more so on the interior of the haircut using a back cutting technique creating movement and shape without the boxy square shape that can leave you with harsh lines and a less desirable grow out.
Her fringe was pulled from where her natural part lies creating fluidity and symmetry. I always follow the center line of the iris to create a perfect balance with the face.
Any advice for someone considering it?
With her balayage placement, I focused on what the sun would do to her hair. Adding thicker pieces of balayage throughout her fringe, I start with a very thin backcombed piece that went into a wider section also allowing for a more smooth grow out.
Layered hairstyles with this cut and shape work fabulously well on the square jaw and longer forehead. Not to mention, bangs are way cheaper than botox!
Medium-Short Bob with Micro Bangs
Instagram @samkanehair
A medium-short bob with micro bangs brings out a cute and avant-garde result! With a length that stops at the shoulders, hair becomes easy to style and maintain. Amp it up with waves to create natural lift and shape. A shade of a bright copper tone wont hurt the appearance of a medium-short layered haircut with bangs.
Neck-Length Bob with Straight Bangs
Instagram @fleursalondenver
Heres a neck-length bob with straight bangs adds a fresh edge to your appearance! This layered hair with bangs is a modern tousled bob with a textured fringe. The combo of the chop and the blonde shade of highlights makes it appear very elegant. Layered hairstyles can, no doubt, accentuate gorgeous facial features.
Shaggy Layers with Curtain Bangs
Instagram @jade.lauren.hair
Q&A with style creator, Jade Lauren
Hair Stylist @ Salon Seven Twenty in San Antonio, TX
---
How would you describe this?
Shaggy layers with curtain bangs are sultry and feminine, but flirty at the same time. The bangs also give this cut that perfect vintage touch.
Whats your best advice?
This shag cut is perfect for the girly girl who wants to dip her toes into the shag life & add some aesthetic to her style.
For styling use all cult & king products because the line was created for this type of cut. You can air dry, hand style, or use heat tools with their products. Plus, their natural ingredients are amazing for your hair.
This shag is all about manipulating the hair to do what you want, which is why this works best for wavy textures.
Long Bob with Layers and Short Bangs
A long bob with layers and short bangs is an easy-to-maintain hairstyle thats fun to wear. This cool hairstyle with layers and bangs are way better when amped up with enough amount of texture. Baby bangs on a long bob give an edgy style and a fresh-looking finish.
Q&A with style creator, Yuki
Dry Cut Specialist & Educator / Owner @ Gavert Atelier in Beverly Hills, CA
---
How would you describe this?
This long bob with layers and short bangs has a ton of volume and movement. Also called a textured lob, baby bangs really suit a texture style. Style it with a curling iron and use Dry Texturizing Spray by Milbon.
Whats your best advice?
This style is good for women who dont want to spend too much time styling their hair. This long bob with layers is ideal for women wanting volume and movement in their hair.
Long Layered Haircut with Bangs
Instagram @manemisfit
Try a long layered haircut with bangs for a % glow up! Such a chic long layered haircut with bangs is easy to style and looks sleeker on a straight mane. It features a longer fringe, parted in the middle, to frame the face and create a French-inspired vibe. For added dimension, feel free to ask for a balayage, too!
Sours: https://www.latest-hairstyles.com/layered/bangs.html
25 Shoulder Length Layered Hairstyles to Switch Up Your Look
As a rule, medium length hairstyles cover the cuts from below-the-chin level and up to the shoulders. These are praised by many ladies for their versatility and easy maintenance since the length is appropriate for both wearing the hair loose and creating various updos. But today we are going to draw your attention toward medium layered hair – because layering is hot, flattering for every hair type and suitable for switching up your style without losing precious inches. Have a look at our ultimate compilation of medium length layered haircuts to flatter any hair texture.
Medium Length Layered Haircuts by Hair Type
From face-framing grades to all-around cascades, from blended levels to strongly disconnected pieces, there is a plethora of layered haircuts for medium hair to customize to the texture of your hair. Thick hair benefits from the removal of some excess weight and works great with clear disconnection. Fine and thin locks require subtle layering throughout the cut or only face-framing layers to avoid losing their density, while getting movement. Layered waves look more airy and youthful, especially when fashionably disheveled. Even curly hair stands to gain from layering despite the well-known rule of blunt ends adding weight and minimizing frizz. You want a vertical haircut where all of the layers blend into one another so they fall naturally and not in shelves, explains celebrity hairstylist Sarah Potempa to Glamour.
Let's have a look at good examples of layering for the above-mentioned and other textures.
Layered Ringlets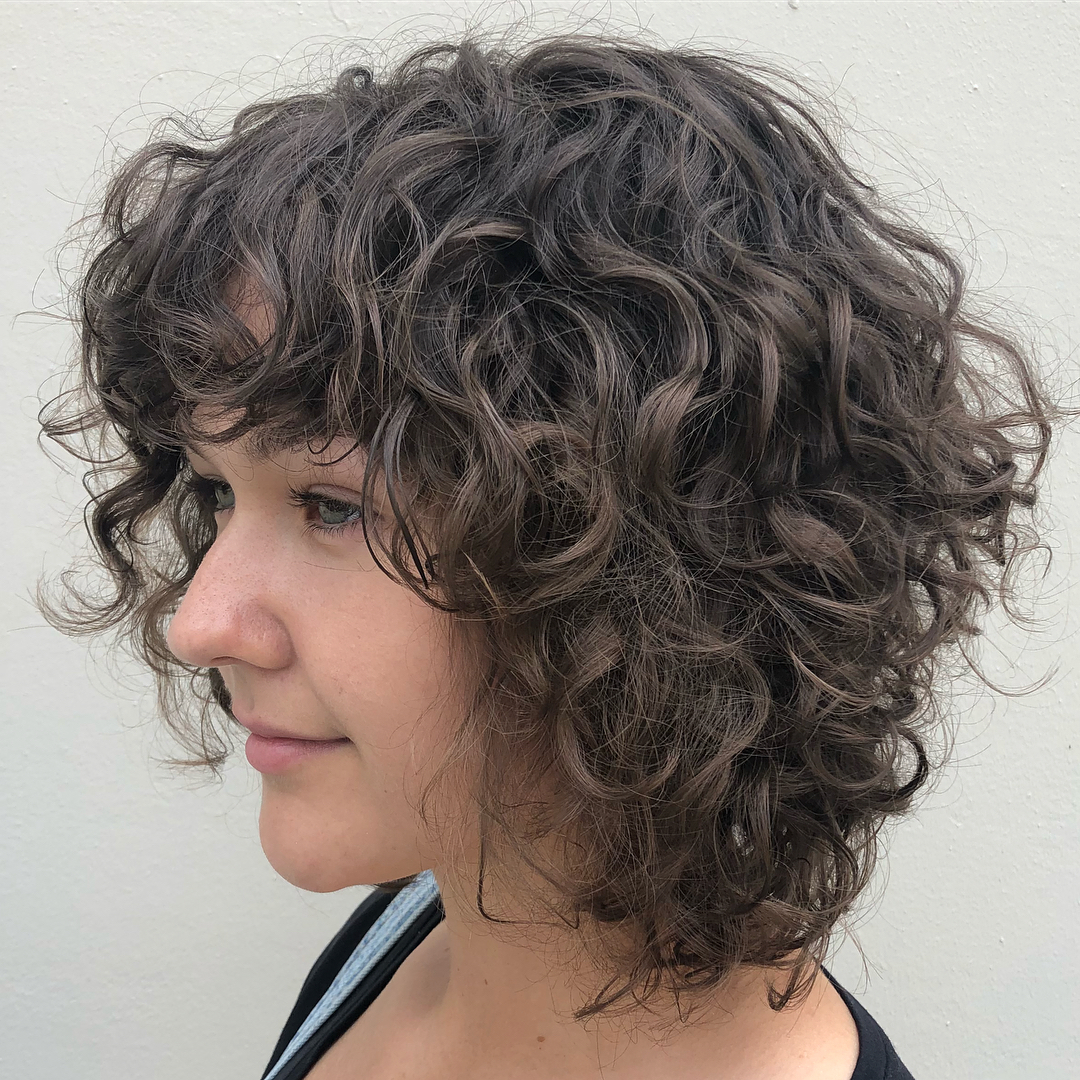 via @vancityhairgirl
Curly medium length hair is just adorable! Look how the ringlets of this curly hair are defined and structured to emphasize their natural bounce, and then mussed up to get a lovely bedhead touch.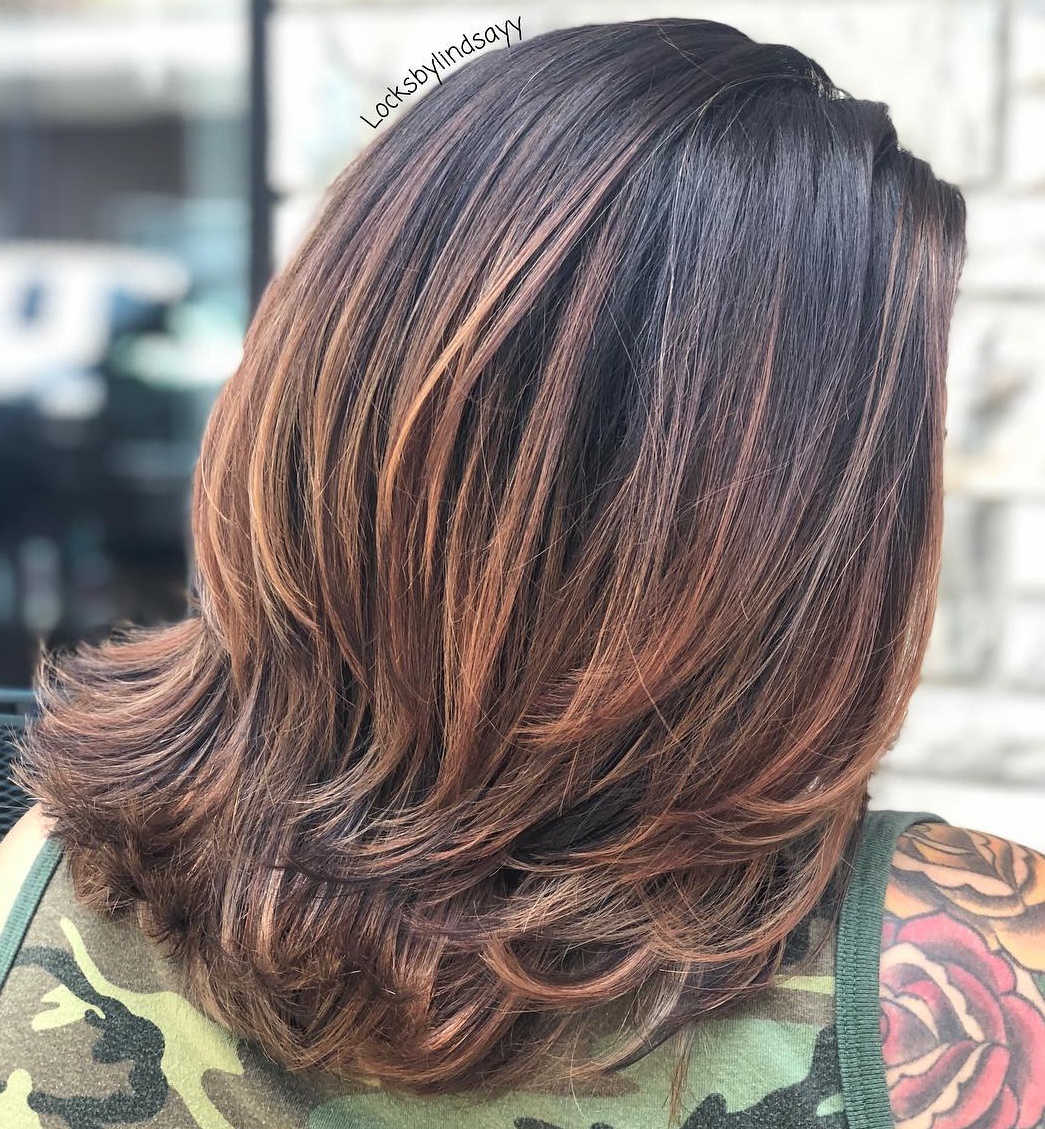 Shoulder Length Feathered Layers to Reduce Thickness
via @locksbylindsayy
Here is a good case in point, showing how thick mid length hair gains movement and an airy feel with feathered layers and flipped out styling. Highlights are sure to add to the beauty of this medium layered haircut.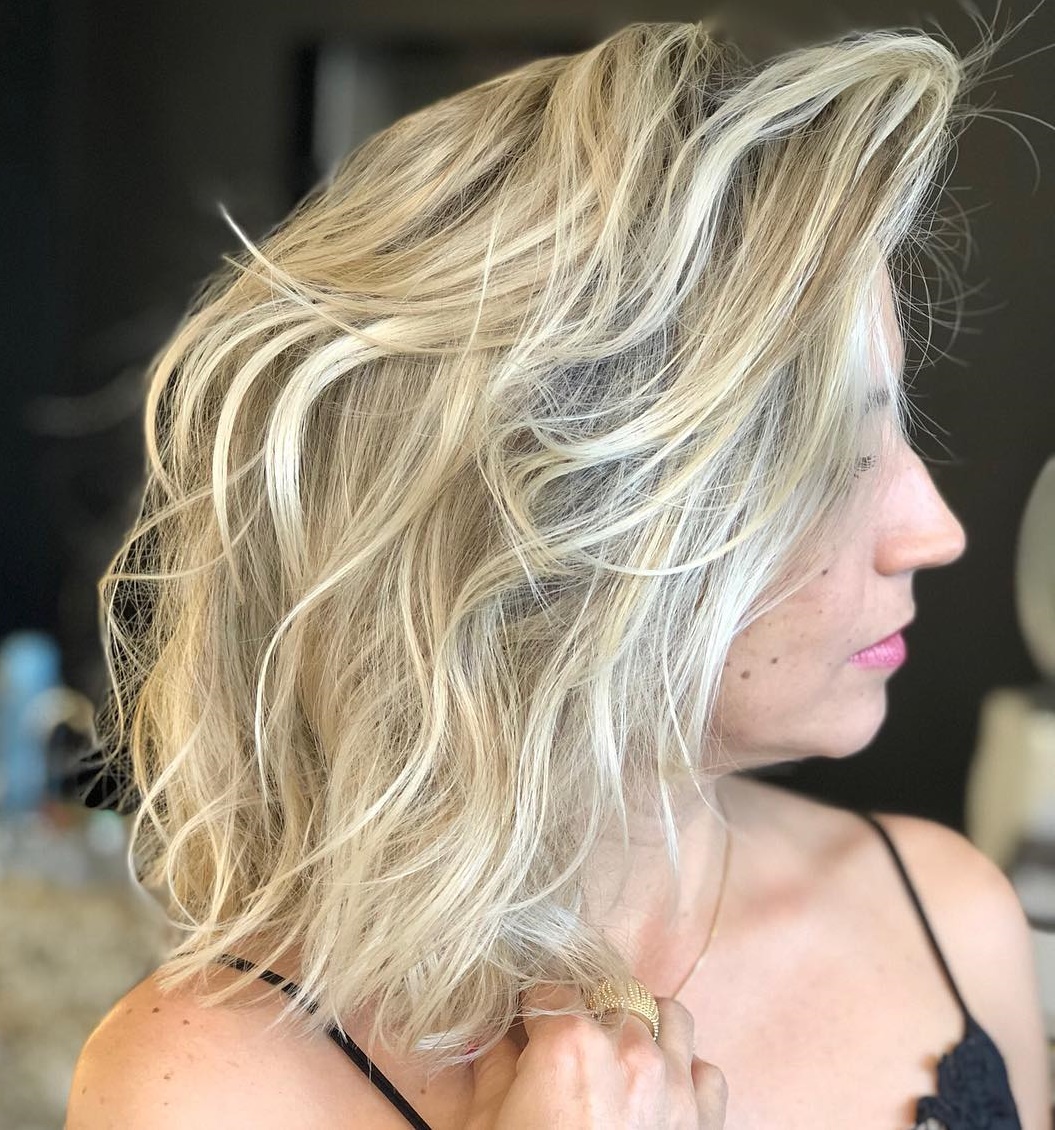 Medium Length Hair with Messy Waves
via @maxwellmathson
Tousled wavy hairdos work great to create volume, especially when supplemented with some extra lift at the roots.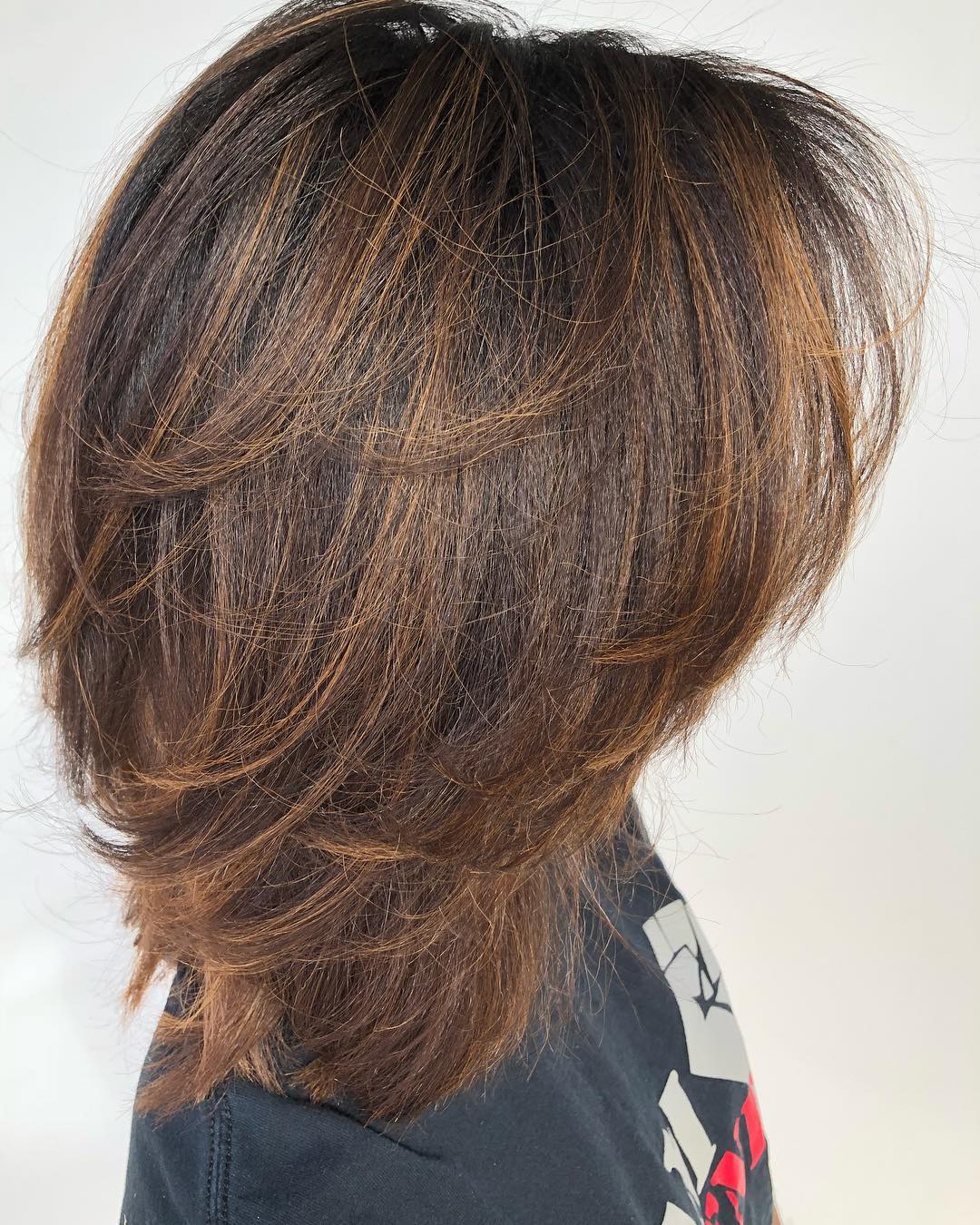 Voluminous Dynamic Layers
via @hairbyryane
You can give medium length layered haircuts more volume and movement with the help of coloring. Straight hair can be brightened up with subtle slicing and babylights. This combo is a sure-fire way to give movement to shoulder length hair.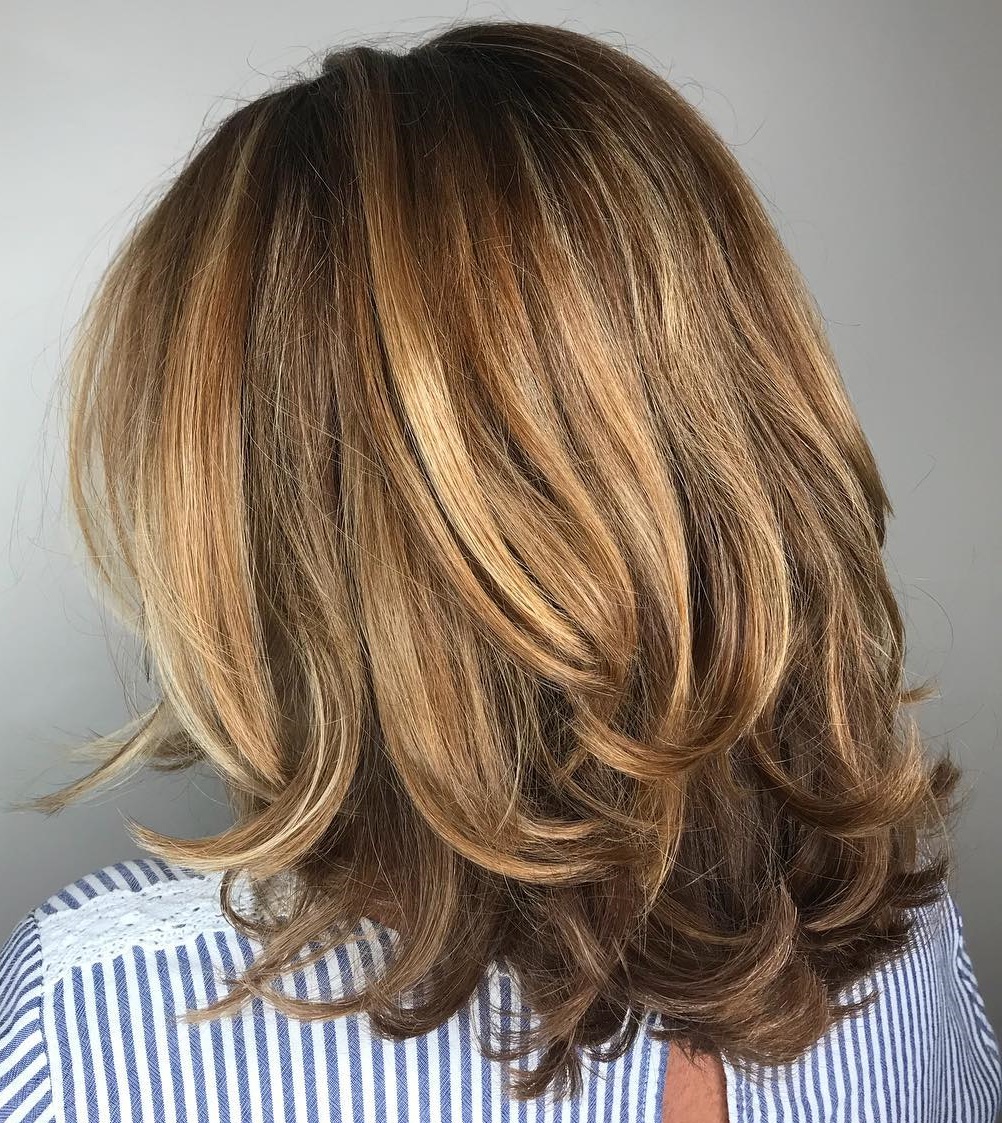 Shoulder Length Hairstyle with Layered Bottom
via @shinetimes
This sun-kissed hair looks brilliant thanks to the bouncy feel acquired by heavy layering at the bottom. The back view also showcases cool haphazard styling with flipped out ends.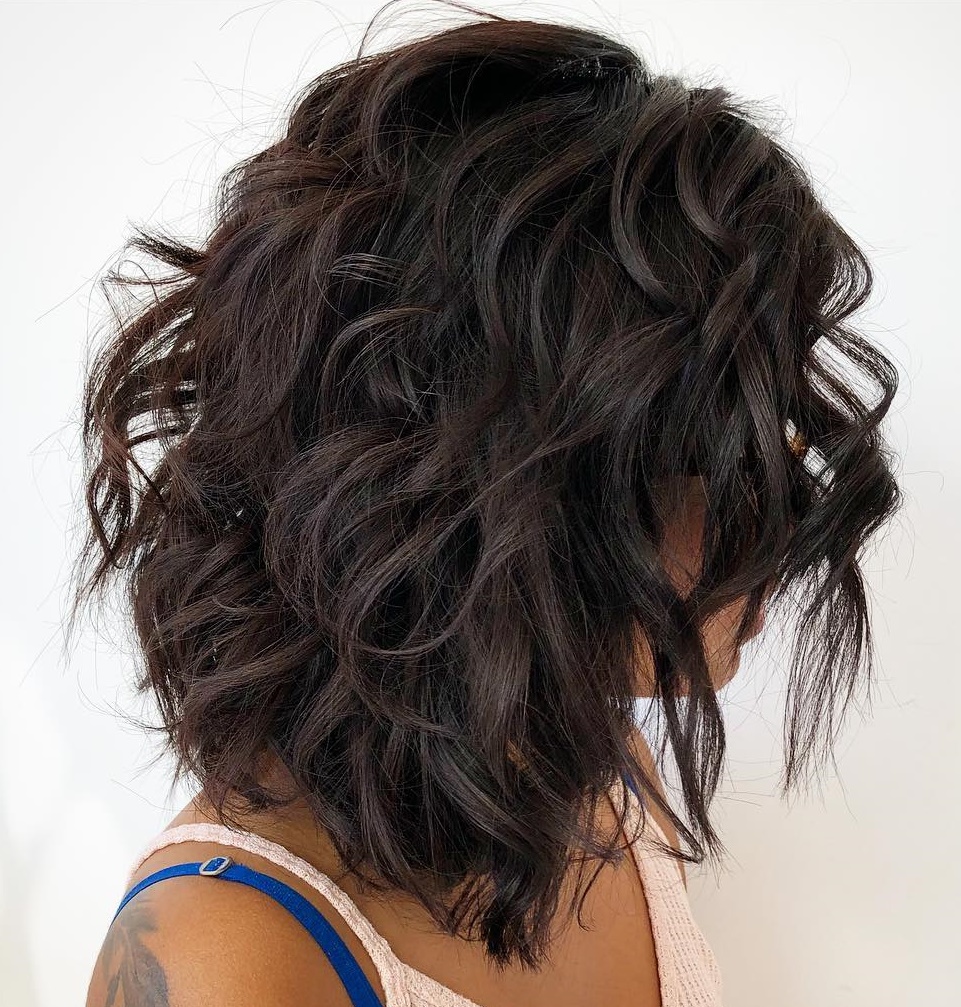 Layered Wavy Lob
via @dana_hairstylist_
It's a nice idea to pack wavy locks into a cute textured lob. Just don't apply your curling iron to the tips – you need beachy waves, not polished curls.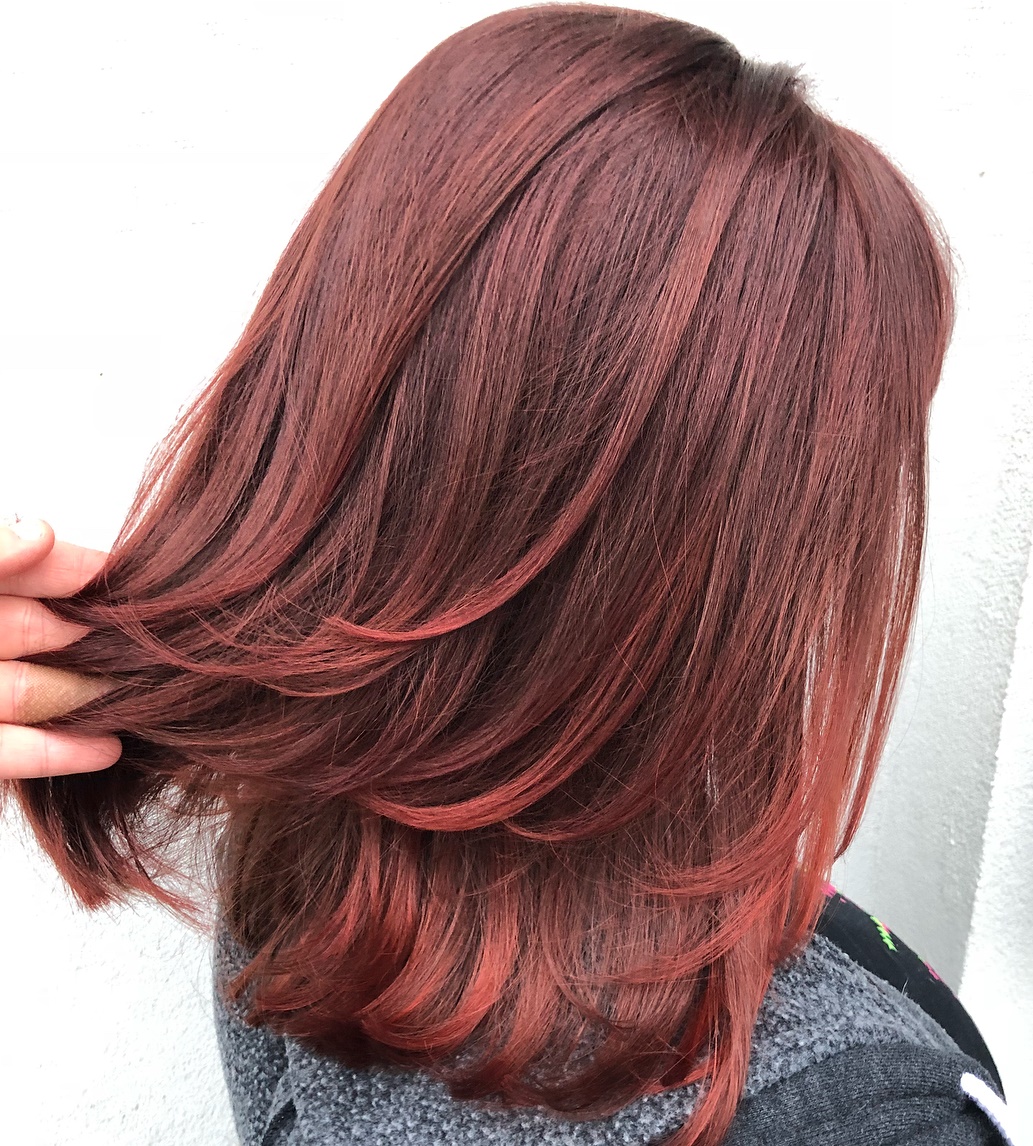 Straight, Sleek Layered
via @shelbyweatherholtzhair
Straight hair can come with no highlights, still radiating vibrancy through masterfully done layering that doesn't look tousled or chunky.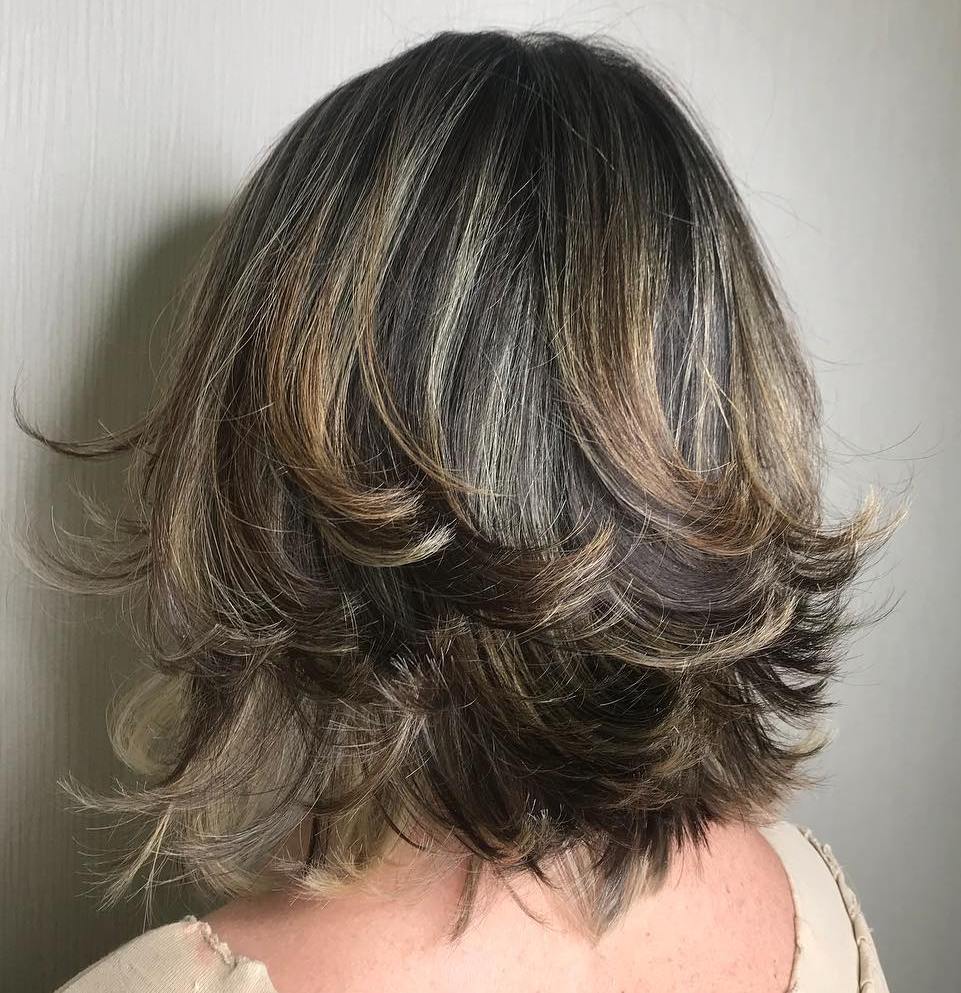 Layered Hairstyle for Thin Hair
via @bormannjr
Looking for medium layered hairstyles to flatter thin hair? Consider adding a splash of colors for more depth, and don't miss this feathered finish that gives both texture and volume to medium length hair.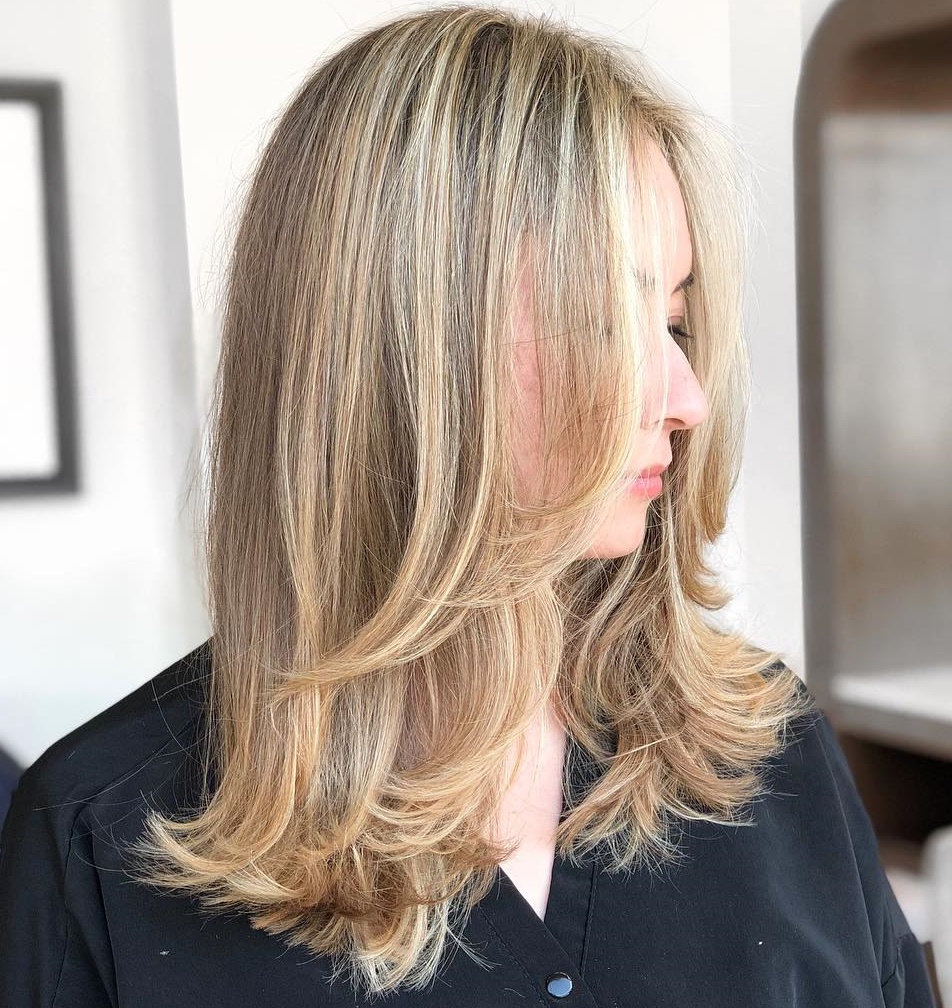 Medium Layered Balayage Hairstyle
via @hairbypaulperez
The same rule is applicable to fine tresses, which can take on some dimension and vibe through layering, for example around the face and at the bottom.
Curly Shoulder Length Layers
via @biahulmann.hair
Even tight curls will fall into place just perfectly and all naturally after they are layered with a master touch.
Medium Layered Haircuts with Bangs – a Killer Combo!
Adding a fringe is a simple way to give a twist to any type of medium length layered hairstyles. Alongside this revamping, bangs of the right density, length, and shape can balance facial features and make medium layered haircuts more flattering. Bangs sit really well with layers, often blending into side tresses to produce a seamless effect. However, this is not a must, and you can opt for various fringe types.
For example, feathered straight bangs and long side-swept fringes are great for fine hair, while girls with thick manes are encouraged to go for heavy blunt bangs. Try a full shaggy fringe, if your strands are wavy or curly. "If the bangs are naturally curly, you can either air-dry or use a diffuser to bring out the texture, using your fingers to softly loosen any tight curls," says John D, Tresemmé ambassador and stylist behind stars like Natalie Portman, Drew Barrymore and Amy Adams, in his comments to Glamour. Let's take a look at how bangs can beautifully complement shoulder length layered hairstyles
Piece-y Bangs Long Layers
via @salsalhair
This tousled casual hairstyle with bangs boasts a soft color transition, some added volume and a trendy laid back look.
Messy Layers to Hide Growing-Out Bangs
via @hairbyginala
Textured layers are also good for creating a shaggy look to camouflage your growing-out fringe.
Medium Length Hair with Tapered Bangs
via @haircolourstudio
However, bangs line up with sleeker medium length layered haircuts too, like this long graduated fringe with a cute tapered finish does.
Feathered Layers
via @maygovintage
Feathered styling brings an entirely different feel, making your hair look airy and dynamic. And yes, layered hairstyles acquire a totally new meaning with vibrant colors.
Long Bangs Rock
via @blondebomb
Long wispy bangs are still hot, and you can always tuck them behind the ear to open the face and to get a new style for your medium layered hair.
Best Layered Haircuts for Medium Hair to Nail in
Which medium layered hairstyle is in? Layers can be short and long, piece-y and chunky, subtle and heavy – how do you know which ones to ask for when you want something really hot and happening? The good news is that you're not limited to one hairstyle and have the freedom to tailor layers to your needs
For example, if you prefer experimenting with your part, wearing it differently when the spirit moves you, opt for a hairdo with a short distance between layers.Flipping or parting your hair on one side and then switching to the other can cause one side to look very heavy. Subtle soft layers will remove some of that, writes stylist and founder Kristin Ess, who works with Lucy Hale, Lauren Conrad and other celebrities, in her blog.
Below, you will find a score of trendy layered haircuts for medium hair to get inspired, whether you like experimenting or not.
Tame Your Thick Waves
via @jessicamillerhair
Take thick tresses from both sides and twist them into a messy knotted half updo with tons of texture and a modern vibe.
Bouncy Layers
via @sunflowersandscissors
Who said that medium length layered haircuts don't work well with curly black natural hair? Just look how this African American woman achieves a bouncy feel through well-defined spirals and beautifully cut layers.
Long Layers with Highlights
via @beautyxlyric
Add some gray hues and lightened tips to your medium layered blonde hair to shine with a sun-kissed hairdo destined for summer.
A Playful Half Updo for Layered Waves
via @styledbysamvay
Great news is that layered hairstyles allow you to style your medium length hair into beautiful half updos. A bun on one side plus a bun on the other side, plus in-between beachy waves equals an amazing style for mid-length hair.
Gray Layered Hairstyle
via @hairartistkat
Ladies over 50 can age gracefully by mixing their natural color with voguish gray shades and incorporating the blend into modern layers.
Add a Braid
via @alex_haircraft
Ring the changes with your shoulder-length hair through interlacing loose waves with a floppy braid. Our fave among mid length layered hairstyles, definitely.
Medium Length Hair with Balayage
via @hairbycourtneybower
Go for long layers coupled with a customized balayage to make your straight hair look really vibrant.
Framing Layers
via @shinetimes
Opt for face framing layers, when you need to balance your facial features or bring in zest into your hairstyle without sacrificing the length.
Textured Layers
via @sofiawithaf31
Look up to this dark hair shaped into an A-line lob, textured with soft waves and juiced up with splashes of light brown.
A Layered Bob with Choppy Layers
via @tangleshairstudioalbany
Medium layered hairstyles can be damn hot, just look at this choppy layered bob! If you're a blonde with fine locks, get some extra depth by adding shadow roots to your sophisticated balayage.
Definitely, layered hairstyles are not going to leave streets and red carpets, boasting powerful potential to flatter each hair texture and face type. With both messy and polished finishes, medium layered hair can radiate volume, texture and movement, while retaining diversity in styling and the feminine touch longer hair is loved for. Just try medium layered hairstyles and enjoy your new hip look!
Sours: https://www.hairstylery.com/medium-layered-hair/
70 Brightest Medium Layered Haircuts to Light You Up
Every woman wants to look feminine and well-groomed, but taking into account the hectic rhythm of modern life, practicality is viewed as the main advantage of our everyday hairstyles. Having read this article, you'll find out more about today`s most popular and extremely universal medium length layered haircuts. You are going to be surprised at the diversity of hairstyles and coloristic solutions that can be performed on its base. And, certainly, you'll be able to find your own universal variety of layered haircut. A few simple rules to grasp is all it takes to look chic every day.
As a rule, layered haircuts look more interesting than one-length cuts, because layers offer more attractive shattered shapes that are sharper and much more versatile. A layered haircut suggests at least two layers and shorter tresses along the face, however, you can have loads of layers as well. Another question is how youd like to have your ends trimmed, anything from blunt choppy ends through smooth subtle grades to abundance of thin and delicate feathers. Experimenting with a number of layers and finishes for your ends, you can come up with a range of unexpectedly gorgeous looks, you havent tried before.
Whom Do Layered Medium Haircuts Flatter?
A layered haircut is an excellent choice because if flatters all women and has a wide spectrum of its execution. Girls with luxurious thick mane are gaining the feel ease and lightness with layered haircuts. Ladies with fine hair achieve the desired volume. And women with curly hair can easily structuralize their curls.
Layered Haircuts and Face Shapes
The good news is a skillfully done layered haircut can maximally bring your face shape to the ideal oval. If your face is round, the layering for the face-framing locks is going to elongate it visually. Side bangs will go fine with this type of haircut as for a long face, straight bangs, skimming your eye-brows, and out-flicked locks around your face are highly recommended. Girls with oval face shape are the luckiest. They are not restricted and can go for whatever type of layered haircut they desire, and it will look gorgeous.
Styling Tips for Layered Haircuts
This unique haircut is easy to style which is, undoubtedly, a big plus, because you can style your locks yourself at home. A layered haircut looks its best when you make an accent on the tips. You can curl the ends of your tresses with a curling iron or flat-iron your locks with a straightener. Most stylish hairstyles today feature volume at the roots that is achieved with a blow-dryer. Romantic locks slightly fixed with hair-spray are a wonderful idea of a hairstyle for special occasions.
Best Medium Layered Haircuts
Lets see all that in examples.
#1: Feathered Brunette Lob Cut
A feathered cut with long layers gives texture and body to an otherwise plain basic cut. Slight graduation allows for a fluid look while a great blow out showcases lots of volume and movement.
#2: Straight Inverted Caramel Blonde Lob
Sometimes you don't need a short haircut makeover to freshen up your look. Just cutting medium long layers is an easy way to do something different. A blonde lob works wonders for framing the face.
#3: Shoulder Length Haircut with Flicked Ends
If your hairs length is medium to long, consider spicing up your cut with flicked, choppy ends. Layers define and add interest to all hair styles, but flicked ends work especially well if you like the quick rough blow-dry styling. Thick hair types can hold flicked out layers best.
#4: Mid-Length Two-Tier Cut for Thick Hair
A two-tiered mid length layered hair is an unorthodox approach to layering. This cut with shoulder length layers is an ideal choice for those who want some dimension without a fully sectioned look.
#5: Long Disconnected Choppy Bob
Medium layered hair is one of those great versatile styles. For thick hair, a choppy bob brings dimension and easy styling. For thin hair, it creates the illusion of having thicker hair. Tousle in a curl crème for wave action and add in highlights to brighten up your skin tone.
#6: Straight Rounded Lob with Chunky Razored Layers
Razor cutting is a technique that stylists employ to refine sections and thin ends out. Thinner ends cause pieces to look more blended. This lob is a perfect fluent look yet with depth originating from the cut and coloring.
#7: Two-Layer Feathered Blonde Cut
A feathered above-the-shoulder hairstyle is one that will never lose its popularity. Go platinum blonde a la Marilyn Monroe on a two-layer cut for a flirty and gorgeous seasonal glow-up and be prepared people will be checking you out!
#8: Mid-Length Haircut With Side Layers
Layers dont have to go all over your head to add the desired dimension. A beautiful mid-length style with side layers can frame your face in a complimenting way, especially if your neck is long or your face shape is oval.
#9: Elongated Layered Haircut for Straight Hair
The style with V-cut layers allows for more styling potential. A single length haircut hangs limp without any movement and may conceal the natural contours of your face, whereas layered haircuts for medium hair can be shaped according to your unique facial constitution.
# Medium Messy Feathered Cut
Face-framing highlights are youthful and imitate the natural bleaching from the sun during summertime. Match this with a tousled style to achieve an effortless-looking ready-to-wear hairdo.
# Medium Hairstyle with Layered Bottom
Straight hair can benefit from layers mostly when they are concentrated at the bottom of the hair length. If your hair is especially thick to top it off, ask your stylist to cut your ends with layers to keep it bright yet impactful, not heavy.
# Medium Feathered Haircut for Thick Hair
A medium layered hair style is a beloved friend of thick womens hair. Your hair wont appear heavy with this type of fresh cut. Layers hold especially well with thick hair and add some much needed movement to an otherwise blocky look.
# Brunette Feathered Bob with Piece-y Bangs
A haircut with bangs is not often what thicker textures gravitate towards, however incorporating a piecey fringe in which some of the bulk is trimmed out can make this trend a viable option. Blow drying hair and separating the bangs with your fingers enhance the pieceyness.
# Point Cut Bob with Caramel Balayage
In case youve got plain-looking straight hair or a blunt hairstyle you are bored to wear, soften it up with a point cut bob. By cutting the hair at an angle, it instantly appears textured. A point cut bob looks great on a variety of hair hues, but balayages in fresh colors like caramel seem to be particularly light and bright nowadays.
# V-Cut Layers for Thick Hair
A great option in medium length layered haircuts is V cut layers. Hair is kept long in the back as the layers surrounding your face gradually draw in towards the back of the head. Medium long hair holds this style best as length is necessary to let v-cut layers shine.
# Swoopy Layers for Voluminous and Dynamic Hair
The bigger the hair, the better the swoop! Layers of this nature are fantastic for hair with a lot of volume and texture. Swoopy layers are dimensional yet smooth, so the hair looks sleek, yet full of movement.
# Layered and Flipped
Here's an ideal style for medium length hair that looks heavy. It's also perfect for women who have long hair and want to make it a little bit shorter. The first layers start somewhere in the middle of the length and descend towards the ends in stacked pieces. The result is a bouncy, adorable haircut with volume and movement to spare. Flip those ends using a curling iron, a straightener, or a blow dryer and a round brush.
# Straight, Sleek, and Layered
This cut is simple but sweet, plus the upkeep and styling are easy-breezy. A bit of product and clever blow drying will keep the layers distinct, creating a sassy, tousled 'do. Try this as a transitional cut during the growing out process, or just to enjoy something that styles effortlessly.
# Long Layers for Medium Length Hair
Long layers are lovely in medium hair that falls past the shoulders. These layers are somewhat subtle as well – as if sprinkled throughout this gorgeous thick mane. The subtle reverse ombre is also very pretty.
# Shattered Sliced Messy Lob
The best thing about choppy layers in medium length layered cuts is that it's a flirty style you don't have to put much work into. The choppiness creates a built-in style, meaning you can roll out of bed and be ready to hit the road. Almost.
# Golden Blonde Wavy Bob
If you have shoulder-length layered hair, upgrade it with choppy layers and a golden blonde balayage to give personality to your look. It will also make it easy to wake up and go on the mornings you don't feel like standing in front of the mirror trying to figure out how to wear your hair today!
# Thick Longer Cut with Textured Ends
Thicker hair holds more texture, and layers are very desirable for such hair. Bring pictures of medium length layered hairstyles you like to your stylist, so they can give you the shape and texture you prefer.
# Two-Tier Piece-y Medium Cut
Your medium hair will look adorable when cut into two-tier piecey locks. It's chic at the office and sexy on a girls' night out. The piecey layers give bounce, body and easy texture.
# Fringy Layers and Dimensional Highlights
If youve got more than one tone in your hair, then youll need layers to match that variety. Not everyone can handle fringy layers, but multi-dimensional color comes to life with them.
# Layered, Flipped, and Tousled
This is the kind of hairstyle that looks effortless to the casual observer, as if it took a few minutes to achieve. Actually it takes a bit longer than that and requires some heat styling, but with practice, it's easy to perfect this 'do within 20 minutes or less.
# Bob Cut with Symmetrical Swoopy Layers
One of the more unique layered hairstyles out there plays not on variety but rather symmetry. If you prefer a polished medium length hairstyle, consider consistent, even layers.
# Shoulder-Length Haircut with Long V-Layers
Light layering is a solution for those who want more dimension along with less voluminous hair. If your hair is not naturally fluffy, fewer layers make it heavier. Adding long layers in key areas like around the crown and face provides the right amount of movement without elimination of body.
# Shoulder Length Cut with Jagged Ends
Blunt ends can make hair fall flat. Your stylist may use a razor on mid-length hair to create jagged ends that add an emphasis to otherwise plain-looking hair. Let your hair dry naturally for a relaxed vibe or blow out to make your layers pop.
# Golden Blonde Bob Shag with Bangs
Don't let magazines fool you, bangs aren't just for children! For women with medium layered locks, a shag style with bangs is classic. They're a chic touch when the rest of the hair is gathered into a ponytail and a playful detail when the hair is flowing freely.
# Dimensional Wavy Textured Lob
Mid-length layered hair is perfect for pulling off a wavy lob. To be frizz-free and cute at the same time, restore smoothness with a curl crème and twist locks to encourage a wave action. Voila, you`re ready!
# Curly Layered Bob
When you have volume in a short style it is important to incorporate layers in hair. Not only will this provide a more flattering and modern shape for your bob, but it will also keep the attention on your beautiful face.
# Medium Cut with Flipped Up Layers
Mid length hair looks super cute when ends are flipped out for a flirty vibe. You can achieve this look with a flat iron or by adding choppy layers for naturally wavy hair. Another option is to have your stylist incorporate layers with highlights, perfect for summer!
# Long Razored Bob for Thick Hair
For thick hair, the quickest way to get frustrated is to let it do what it wants. Show who the boss is and go for a long razored bob. It will break up hair into levels appealing to the eye and structurize your wild mane.
# Mid-Length Cut with Short Choppy Layers
Does your hair refuse to embrace waves and curls? Try a choppy layered look. It adds lift, movement and texture to medium length layered hairstyles. In addition, it's just an overall timeless look.
# Two-Tier Caramel Blonde Lob
The medium hair with long layers is manageable and healthy. This cut is recommended for thick hair, as it gives the needed movement to the ends and makes the final look more interesting compared to the uniform one-length cut.
# Perfect Layered Blonde Bob with Bangs
The trick to finding your ultimate style is to analyze each feature of your face and decide which you want to enhance or camouflage. Gearing your cut towards these choices is what makes a standard haircut customized.
# Two-Layer Bob for Thick Hair
Every woman dreams of thick, healthy locks. For added shine, moisturize hair with a leave-in conditioner and seal with an oil-based serum. To promote thickness, massage castor oil into the scalp and stick to your scheduled cuts.
# Textured Wavy Brunette Lob
If you are a brunette, use a beautiful balayage lob to transition into a summer style. The wavy sun-kissed pieces are super cute and beach-ready.
# Centre-Parted Bob with Layered Ends
A lob with short layers is a great way to frame your face accentuating your eyes, lips, and a graceful neck. It's especially striking when the layers go towards and away from the face.
# Pretty Wavy Hairstyle with Choppy Layers
Trying not to lose all your luscious length? A combination of waves and choppy layers in medium-length layered haircuts is your best option, especially if spending an hour on your hair daily is the last thing you want to do. Bonus points for having your stylist weave in caramel or blonde highlights.
# Shoulder Length Layered Hair
The addition of V-cut layers is an excellent way to create lift, body, and shape for your casual hairstyles. Layers keep hair from being too heavy, which is essential for medium length and long tresses. In this case, the layered hair is reminiscent of the shag, but this is a fresh take on the old favorite.
# Swoopy Layers for Mid-Length Hair
Add definition to mid-length hair by incorporating swoopy layers. This style of layered hair works great on nearly every face shape but especially well if your shape is long or oval.
# Wavy Lob with Shaggy Layers
Shaggy layers in medium layered hairstyles are cute, but on this wavy lob, the shag also plays the part of making the hair look like it has tons of body. And whether you go brunette or blonde, the beachy waves are perfect for any hair color.
# Medium Textured Cut with Dimensional Balayage
Do blondes really have more fun? Find out when you rock this medium length layered cut with a dimensional balayage. Having different tones of highlights is the opposite of flat and the epitome of gorgeous.
# Fun Sliced Cut with Uneven Layers
Medium layered hairstyles with balayage highlights and complimenting textures are gorgeous. Feel Insta-ready with this lived-in look. The wispiness and movement are flirty, and the layers are perfectly imperfect.
# Long Layers for Messy Lob
Lobs may be trendy, but there is a reason why so many women gravitate to this cut. Lobs let you wear your hair short while still keeping the length that feels feminine. Try a lob with longer layers instead of a blunt cut to appear playful yet polished instead of severe.
# Choppy Waves Ahead, Captain!
Do you want to create a new style with layers? Take this example! The longer side bangs give a bit more height to the top when swept over, and the dimension of the layers is quite eye-catching. Use a very light blonde highlight all over to create a look that is bright and bouncy!
# Brown and Blonde Feathers
Layered haircuts can work for all hair types, and they are definitely cute! This blonde look is created by feathering the top layer to the ear level, and then adding longer, chunky layers to the back.
# Two-Tier Lob for Thick Hair
If fine hair needs added dimension, then thick hair has some room to play around. A two-tier lob gives off a polished appearance that avoids choppy layers. If you wear your hair straight, consider this unique cut the next time youre at the salon.
# Caramel Lob with Delicate Layers
Not every layered hairstyle has to go crazy. In fact, delicate layers work best for layered bobs and lobs if youre not into over-the-top styling or have fine hair. Play to your strengths and use layers like you would, highlighting only where they add interest and dimension.
# Shaggy Lob with Beach Waves
Beachy waves are perfect for the girl who desires a medium layered haircut without having the stress of styling. These layers are more organic and dont need to be blown out or curled to achieve their laid back effect.
# Medium Hairstyle with Perky Feathery Layers
Medium long hair is ideal for the woman seeking layers with pizzazz. Perky, feathered layers might overpower a short hair style or fall flat under the weight of long hair, but medium hair pulls off the style well.
# Mid-Length Cut with Curled Layers
Try dressing up a mid-length style with some curl and volume. Blow dry with a round brush, giving the lift to the roots and flicking the ends or use a curling iron to define the ends of layers for added texture.
# The Perfect Bedhead
Layers are a great choice for mid-length hair because they can add volume, depth, and texture, giving you a variety without sacrificing the length. Subtle highlights in medium brown tones are always a nice touch for brunettes!
# Medium Layered Wavy Cut
Heavy layering pairs better with above the shoulder or mid-length cuts for dense, healthy hair. This allows for more bulk to be removed as is required for hairstyles with bangs and layers.
# Medium Angled Purple Bob
The highlight of this haircut is definitely the combination of contrasting colors. It's a fun mix of hard and soft hues. Medium length hairstyles for women get a totally fresh take thanks to such non-trivial hair color solutions.
# Platinum Layered Side Part
Medium length layered styles are super popular at the moment because they can be transformed to suit any personal preference. The side part balayage hairstyle is a great classy option for everyday wear.
# Long Bob with Flipped Layered Ends
There are countless manipulations for shoulder length layered hair. A long bob with flipped ends is a simple yet polished approach that everyone can incorporate into their personal look book. This hairstyle is easy to achieve either with a straightening iron or a blow dryer and a round brush.
# Medium Cut with Side Bangs
Texture does not look its best in medium haircuts without the right color and style. Undone waves work well with rich, polished shades of brown and face framing layers. The result is a chic, effortless look.
# Middle Part and Medium Length
Medium long styles are optimal if you love versatility in hairstyles. Layers done with a razor to thin the ends will make your hair fall in a more flattering way and won't distract from your face.
# Burgundy Bob with Long Layers
Match your unique burgundy color to an equally unique cut by incorporating long layers. To keep hair looking long while still rocking a bob, have your stylist cut layers that are long and sleek.
# Sensitivity
A collarbone bob haircut doesnt require much layering, although it will look smarter with some distinct layering through the front tresses and bangs while the back sticks to one length.
# Chic Medium Shag
Nowadays, the chicest looks are those that don't look like they required much effort and time. Layered hairstyles fit the bill perfectly because they make even the messiest cuts appear elegant. Pair with flirty lashes and soft red lip color.
# Soft Medium Length Shag
Today's layered haircuts are beautifully enhanced by color. This honey blonde layered bob with very light face-framing balayage highlights is absolutely adorable. The color, texture and length couldn't be better!
# Long Angled Bob with Chopped Layers
An angled bob instantly goes from severe to laid back with fun, choppy layers. Mimic the difference in length by chopping layers shorter at the back of the head and angling them down as you get closer to your beautiful face!
# Layered Haircut With Cropped Locks On The Crown
The base of this hairstyle is the classic layered haircut. The shortened locks on the crown boost volume. This style will look the most impressive on naturally fine locks. It's an ideal version for a round face. Hair powder would be the best styling product to maintain the shape of this sexy hairstyle.
# Celebrities Love Layers
Cameron Diaz is a celebrity who sticks to mid-length layered haircuts and looks absolutely adorable with her layered blonde locks styled tousled. To re-create the hairstyle like Cameron's, you need to add some lift at your roots and pay special attention to the ends, shaping them with a curling iron. This hairstyle can be worn both side-parted and centre-parted.
# Ash Blonde Bob with Light Long Layers
Blonde hair is usually fine, but that doesnt mean style has to be sacrificed! Keep layers light and soft for extra movement that will still look natural. Dont shy away from framing your face for a smooth transition between layers if youve got a layered haircut with bangs.
# Brunette Messy Shag
The shag is back and is one of the most preferred medium layered hairstyles today. However, a shag doesnt mean you have to abandon a polished look for style! Try wearing layers that are staggered for a unique texture without sacrificing the length.
# Flipped Lob with Swoopy Back-Swept Layers
Here's a modern take on Farrah Fawcett's hairstyles for medium layered hair. Start by sectioning off locks in the bottom, middle, and top. Beginning with the lowest section, use a straightening iron to flip the hair out. Then, repeat throughout the remaining tiers.
Summing up, it should be mentioned that layered haircuts have deservedly become classics. They have gained so many fans through the years of their popularity. A variety of hairstyles on the base of layered haircuts amaze with diversity, because you can do layering for hair of any type. Besides, layers can correct your face shape. All those pictures above show that layered haircuts flatter everyone. Bangs are a perfect compliment for such chic cuts. They can be asymmetric and edgy or straight and blunt. You only need to find your ideal variety of layered haircut. Pairing it with the right coloristic solution, you'll be able to come up with a statement style that brings out your personality and highlights the stronger points of your appearance.
Sours: https://therighthairstyles.com/brightest-medium-layered-haircuts-to-light-you-up/
How to cut layers and perfect round bang for medium length
50 Fabulous Medium Length Layered Hairstyles
Do you feel like you could do with a change? Would you like to transform your hairstyle into one that turns heads and is easy to style? You've come to the right place! Medium length layered haircuts are incredibly popular among women of all ages, face shapes, and hair types. Their versatile nature means there's a cut to suit every woman – and the added benefit of layers means your hair will enjoy more shape, texture, and even volume (if you need it, of course!).
And now check out these super gorgeous medium length layered haircuts we've handpicked for you! They'll provide the inspiration you seek for spicing up your shoulder-length hair.
1. Textured Bob for Straight Hair. One of the main advantages of bob hairstyles is their versatility. They look great on wavy hair – and even hotter on straight strands!
2. Messy Lob with Bangs. Medium layered hair has everything for that trending messy effect many fashionistas strive to achieve these days. The layers create volume and texture, while the curtain bangs add the final touch.
3. Medium Layered Bob. A bob haircut is always at the top of our list. Add layers and enjoy the low-maintenance movement!
4. Layered Cut with Blunt Bangs. The cheeky medium length layered hair paired with strict blunt bangs is the sweetest combo out there! Besides, this hairstyle offers a great opportunity to conceal a big forehead.
5. Layered Medium Length Hair. Create an illusion of thickness and movement with this beautiful, choppy cut for medium length hair.
6. Uneven Messy Lob. What's great about uneven layers for medium-length layered hair is that they look stunning, create a delicate, romantic look, and add texture to your hair. Besides, you don't need any special skills to style this low-maintenance hairdo.
7. Medium Choppy Graduated Bob. Want a haircut that's super fun and flirty? Choppy hair hits the spot! It's a bold cut that creates definition and movement, while still looking easy and effortless.
8. Sleek Shoulder-Length Bob. If you've been blessed with sleek and smooth hair, upgrade it with swoopy layers! Adding highlights will intensify dimension and thickness.
9. Elegant Feathered Lob. This mid length layered hair is a one-fits-all solution. Not only does it suit ladies of any age, but it also looks incredible with every hair type. It has been created for mid-length hair!
Medium Haircut with Sliced Ends. To get one of those trendy lifted and voluminous medium layered hairstyles, ask your stylist for sliced ends. Not only do they add air to thick hair, but they can also make even the thinnest strands appear bright and lively.
Long Layers for Thin Hair. Looking for a shoulder-length cut that adds volume to thin hair? Feathered layers do the job and look very feminine.
Layered Medium Length Cut. Don't be discouraged if you have fine hair and want to rock medium layered hair! With this beautiful choppy medium layered hairstyle, you will add extra volume to your hair, creating an effortless, delightful look.
Shoulder-Length Layered Cut. The addition of layers is a great way to refresh your look and try another shape for your casual hairstyle. The razored layers prevent the hair from looking too heavy. That's why many girls appreciate short and medium layered shag haircuts.
Layered Midi Shag with Bangs. Without a doubt, many women love this particular shag variation because it delivers additional feminine vibes, making you look playful and classy. You can wear your hair loose without having to cut your long locks completely!
Voluminous Curly Shaggy Lob. If you have beautiful curly locks, this shoulder-length layered hair style will allow you to feel trendy and attractive all day long. Just wash your hair, scrunch it with a product, and appreciate the magnificence and simplicity of present-day shags.
Layered Ombre Style. The shoulder length layered hair featuring an irresistible ombre is just a whole new level of beauty! The layers will make the color gradient look especially attractive. This style allows you to shine whether you have straight or wavy hair.
Lively Wavy Layered Hairstyle. Curling your layered hair is another amazing way to show off the shaggy cut. Style your medium layered bob with distinct curls to have the lionesque volume and royal dimension.
Two-Layer Cut. If you are looking for low-maintenance medium length layered hairstyles, this gem will be to your liking. Ask your stylist to create two tiers that will enhance the hair's natural bounce and enjoy the lovely result!
Gorgeous Gray Layered Hairstyle. Embrace and enhance your natural grays with a hot balayage style. Medium layered hair with silver highlights can easily liven up and refresh your tired hair.
Shaggy Layers and Bangs. Shaggy layers in medium layered haircuts are adorable and make your hair look thick and healthy. Besides, regardless of your hair color, beach waves would look perfect with this cut.
Sophisticated Medium Bob. Is your hair crying out for some shape and movement? Check out this beautiful, medium bob!
Shoulder-Grazing Layered Wavy Bob. Curl up your shoulder-length layered hair and work your fingers through waves to achieve this elegant beachy style that will last a couple of days.
Bob Cut with Swoopy Layers. This is probably one of the most elegant hairdos for mid-length layered hair. The swoopy layers provide extreme volume and movement, and you can experiment by making them even, consistent, or asymmetrical.
Mid-Length Sliced Shag with Bangs. Imagine yourself in the early 90s inspired by an indie movie and try medium layered hair with bangs. The highest level of femininity!
Textured Bob. A short to medium hairstyle is a preferred choice of many modern women. The cute and playful textured bob is well-worth experimenting with!
Shoulder-Grazing Cut with Feathered Layers. Among many medium length layered hairstyles for straight hair, this old school one is a winner for all ages. Besides, it highlights your colored hair wonderfully.
Shoulder-Length Layered Cut. Some medium length hairstyles are pretty much universal, like this one here. All you have to do is choose which twist you want to complement it with, be it a specific hue or styling technique.
Voluminous Wavy Shag with Bangs. Full bangs are the best addition to shoulder-length medium layered haircuts. Let them flow into the shortest crown layers of your choppy wavy shag to achieve a playful lifted appeal when you curl those locks.
Two-Layer Haircut for Straight Hair. This style with V-cut layers works great for girls with straight hair. Medium layered hairstyles like this one can be shaped to flatter your unique facial features.
Mid-Length Flipped-Up Layers. This fancy layered hairstyle with golden locks is a magical styling option. With a stunning shine and captivating texture, this hairdo will definitely make you want to look in the mirror more often.
Disconnected Shag with Beachy Waves. Beachy waves are ideal for all young ladies who love medium-length layered hairstyles. The good news is a sea salt spray is enough to get perfect beachy waves. Summer mood is guaranteed!
Textured Cut for Shoulder-Length Hair. If you need a perfect add-on to your back-to-front balayage, choose a shoulder-length layered bob to go along with it. It fits all hair textures!
Stunning Caramel Brown Tones. Here's a classy women's hairstyle that suits at any age. We love the warm bronde tones and chunky layers, which together create a sophisticated effect.
Feathered Medium Layered Hairstyle. A luscious, flattering hairstyle for anyone looking to bring layers into their life!
Inverted Wavy Layered Lob. When your hair is wavy, and you're lazy enough to avoid the styling fuss, an inverted bob will become your next ideal hairstyle. Soft side bangs can be a nice touch to balance out the frizzy hairdo.
Messy Lob with Choppy Layers. The perfect thing about lobs is that they are so easy to work around, plus you can wear them any way you like. Whether straight or wavy is your style of choice, the textured mess will be a hoot.
Dramatic Messy Layered Lob. Show off your ashy babylights with medium length layered hair. Add some texturizing product, and you're all set for a few days of effortless chic.
Wavy Cut with Bangs for Frizzy Hair. Take your unruly hair under control with a hairstyle to solve all your hair problems. A wispy fringe with feathered ends, the proper hair care products, and a cut with soft layers can cancel your bad hair days.
Messy Layers. Think you'd like a layered cut that's on the modern side? There's nothing trendier than this messy, slightly undone layered medium hairstyle.
Glamorous Medium Brunette Hairstyle. Subtle highlights add an interesting twist to this gorgeous deep brown hair. We love the layered cut which makes the hair seem silky and weightless.
Wavy Lob with Razored Layers. The fantastic thing about shoulder length layered hairstyles is that you can shape them with a razor. Who doesn't enjoy a perfectly shaggy lob with delicate highlights? We know we do.
Textured Medium Bob. Changing your hairstyle is the first step to an image transformation. Tired of your old looks? Dare to go for a captivating layered medium cut as in the picture – and bring your hair to life with layers and a stunning multitude of hues.
Feathered Medium Bob. Looking for a unique color to go with your medium layered haircut? Add rose-gold to the top of your must-try list!
Haircut with Flipped Up Ends. With these dynamic long layers, medium hair looks absolutely gorgeous. Spice up your hairstyle with a bright color or trendy balayage highlights and flip up the ends of your layers for a fancy look.
Pink and Copper Tones. Combining lowlights and highlights on your layered cut is a fail-proof way to add depth, dimension, and movement.
Blonde Textured Bob.Adding lowlights to medium length layered haircuts creates visual depth and volume (making your hair look great even a few days after washing!).
Beautiful Medium Cut with Feathered Ends. If you can't afford to spend much time on styling, this low maintenance medium length haircut will save your morning routine. Dry your hair, keeping it down, and brush through the layers once you're done for this easy hairdo.
Medium Layered Blonde. Here's another version of a brilliant rooty blonde hairstyle layered to add volume and movement.
Flowy Piece-y Haircut for Medium Hair. The easiest cut that will have you showing off layers without much effort. Just blow your hair upside down, and the piece-y cut will take care of the rest.
Textured Shoulder-Length Bob. Choppy cuts frame the face and create an effortless, delightful look every time!
These beautiful medium length hairstyles will bring your hair to life and create a particularly striking look when paired with trendy hair colors of this season. Layers are a fantastic way to shape shoulder-length hair. They add volume to thin hair that desperately needs a boost, and can reduce weight in thick, heavy locks. We hope that this list of 50 gorgeous medium length layered haircuts has left you feeling inspired, with plenty of pictures to show to your stylist. Remember: confidence is what makes a hairstyle stand out, so wear it proudly!
Sours: https://www.hadviser.com/medium-length-layered-haircuts/
With bangs layers medium
Top 30 Layered Bangs to Try With Confidence
Layered bangs are beloved because they arent a one-size-fits-all style. In fact, they can be customized to work with your hairstyle, face shape, and maintenance level to enhance your look in the best way possible.
Bangs can be tapered and cut at an angle to feed into long layers or conceal harsh lines on certain face shapes. They can be stacked to pad thin hair types or make thick hair more manageable.
Fun Ways to Try Layered Bangs
Below are 30 different styles for every hair type to help you find the perfect inspiration youve been looking for.
1. Layered Bob with Bangs
Layered bobs are suitable for everyone, it just depends on how you wear them. A side part structures this look as layers moves seamlessly from the bangs into the rest of the hair. The longest part of this cut should be at the front points of the hair so they frame the chin.
2. Medium Layered Hair with Bangs
Whether straight or wavy, medium-length hair looks great with long side bangs. A slight opening on one side of the forehead beautifully frames the eyes as the length of the cut highlights the shape of the jawline.
3. Short Layers with Bangs
These bangs have a lot of depth and texture. Layers are a key feature of this hairstyle, so adding them to the bangs makes perfect sense. To create this look, hair should grow outwards from an off-center point on one side of the forehead.
4. Choppy Layers with Bangs
Sleek styles are fine, but this multi-layered, choppy hairstyle is interesting and fun. To create this look, bangs should start far back on the head and be cut in a textured, tousled manner that doesnt feel precise.
5. Layered Bangs for Round Face
Blunt-cut bangs enhance full cheeks, while soft, wispy layers open up your look by revealing the forehead underneath. We love the way these bangs work with the soft layers on this shoulder-length style, but this fringe can work on hair both short and long.
6. Layered Pixie with Bangs
If you want to create fullness on your pixie haircut, layers are the best tool at your disposal. They will add height  and help you create a soft, round shape. Layers should be cut throughout the bangs in the same manner as the rest of the hair.
7. Asian Layered Hair with Bangs
Asian hair is typically straight, so wispy bangs and layers that frame the face create lots of dimension and interest. If your face shape is round, avoid thick bangs that will truncate your face. See-through bangs are ideal and should feed into longer layers cut along the cheekbones.
8. Curtain Bangs with Layers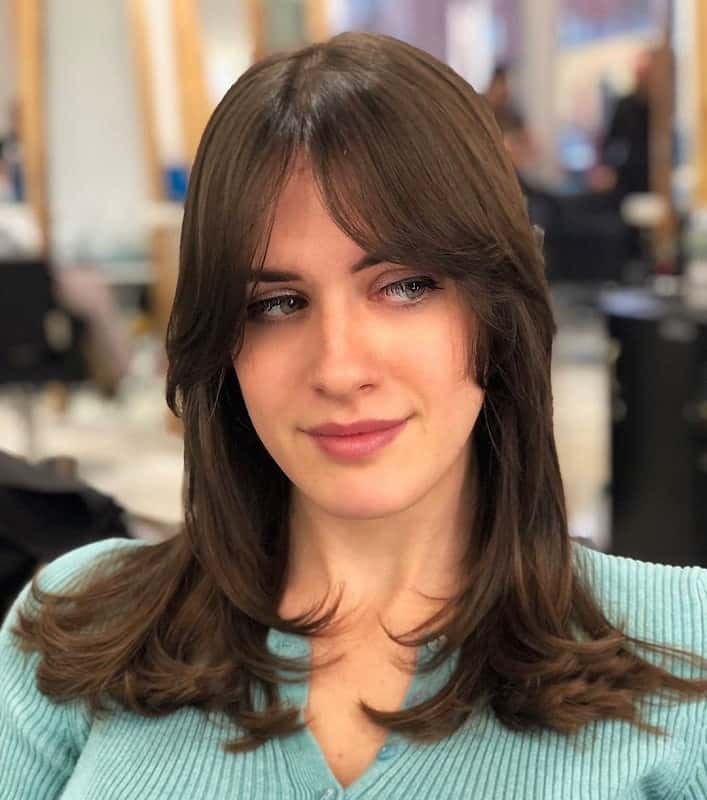 Open up your gorgeous face with curtain-like bangs. These should be cut long but layered, so that the first layer hits just above the eye and the ones below frame the apples of your cheeks.
9. Layered Bangs on Long Hair
Long hair with bangs isnt a style you see everyday, so it will certainly make you stand out. Utilize layers that help bangs feed into the rest of the layers that frame the face. This will make your hairstyle feel cohesive.
Pixie Bob With Layered Bangs
Short and sweet styles deserve perfect bangs to match! Instead of a straight across cut, these bangs are cut at an angle and in several different layers for a natural look. Mimic this effect at the back of the head with slightly feathered layers.
Layered Bangs for Thin Hair
Layers act as an optical illusion for creating dimension on fine hair. For this style, there should be little space between the first face-framing layers and the long sides of the layered fringe.
Thick Layered Bangs
We often see layers work on thin hair, but they can help thick hair just as much. On this style, layers keep hair from feeling bulky and instead create beautiful movement that opens up the face. Bangs should be cut on an angle to feed into the layers.
Layered Bangs for Women Over 50
We love layers for bringing a youthful effect to mature women. These bangs are cut rather straight across the forehead but grow into longer layers that frame the face and emphasize any fullness on the apples of the cheeks.
Middle Part Layered Bangs
Similar to French bangs, this long-center part style is always sexy. Its a no-go, however, for long face shapes, as the middle part elongates the face. As for the rest of the hair, face-framing layers are ideal but long, sleek styles work just as well.
Layered Gray Bob with Bangs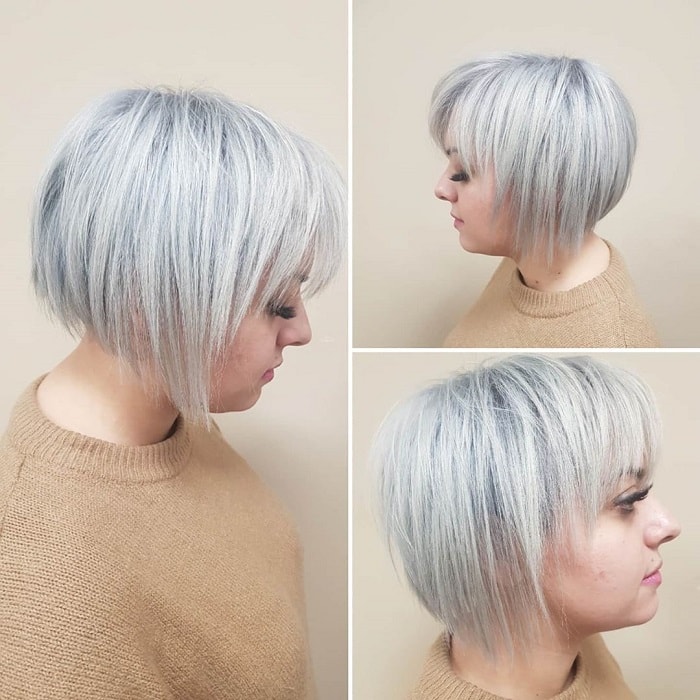 Choppy cuts work wonders on thin and fine hair types. Without the dimension created by these layers and bangs, hair would lack interest and fall flat. Cut your bob on an angle so that the longest pieces frame your face, but dont forget a few short layers around the eyes.
Layered Updo with Bangs
A high bun makes the perfect up-do for long hair with bangs. This look is casual, so the slightly messy style works, but more defined styles are great for serious events. This fringe is thick, so the ends should be layered and longer on the sides.
Bangs On Medium Hair With Face-Framing Layers
Balance out wispy, feathered bangs with accentuated face-framing layers on medium hair. This cut wont do round face shapes any favors, but they add a lot of substance on long and thin faces. Cu bangs rather choppy so the eyebrows can be seen coming through.
Thick Fringe With Layers
Okay, so you dont have to have electric purple hair for this style to be a winner. Regardless of your hair color, this thick fringe is gorgeous and starts rather far back on the head. To keep it from looking heavy, cut them with a razor on the bottom to open up the face.
Loose Curls + Long Layered Bangs
This layered bangs style is perfect for women with bushy, voluminous hair who want to wear bangs without having to alter their current hairstyle. Long bangs are flexible as they can still be pulled up into a ponytail and can be styled for a variety of occasions. You can try this on short loose curls as well.
Choppy Layers with Baby Bangs
Choppy layers on baby bangs are suitable for any hair length, so long as youre craving an edgy vibe. Other layers cut throughout the hair work best with the rough cut of these bangs. They should be cut slightly longer on each side of the forehead than they are in the middle.
Side Swept Straight Bangs
Here, the bangs are layered and styled with more precision to obtain a beautiful side swept look. This is perhaps the most versatile look on the list because it works just as well on thick, curly, or wavy hair types as it does on pin straight locks.
Curly Layered Hair with Side Bangs
If you have perfectly tousled curls, you can cut layered bangs so that they fall softly on the forehead and accentuate your face. Its amazing how the slight part created by side bangs keeps the face shape beautifully elongated.
Layered Wavy Hair with Short Bangs
On paper, the contrast between lusciously soft curly locks and short, choppy bangs doesnt make sense, but in reality, the effect works. These bangs need to be cut short and at an angle so they move in one direction. This helps them feed into the curls.
Long Layered Bangs with Ponytail
You can sport this long layered hair look every day or to events and dates. It shows off a beautiful face and gives room for your jewelry to shine. The layered bangs are lengthy and drop just above the eyes while a few wispy pieces help to frame the face.
Pastel Pink Hair with Side Bangs
This look is iconic as a punk hairstyle. A deep side part helps long, layered bangs sweep across the forehead. They are counterbalanced by short, choppy layers on the other side of the head. Wear it pretty in pink or try any color that you desire.
Layered Wispy or Blunt Bangs
If you want an effortless, simple, yet classy look check out this straight hair and light bangs. The bangs are cut with a slight difference in length and some spread across the eyes, while others fall along the cheekbones. A side part opens the face.
Feathered Bob With  Side Swept Bangs
If youre thinking of going short, why not make it a little sassy? This feathered bob concentrates the layers on the lower half of the hair to highlight your jawline, while side bangs maintain the overall balance of your face shape. It works well on women of all ages, but we love it on women 50+.
Layered Bangs with High Pony
Creating long, layered bangs while tying the rest of the hair into a ponytail is a great way to switch things up and effectively frame your face. To make long hair with bangs a little more interesting, try a French braid style or a lovely chignon.
Funky Curly Pink Hair
When you want to make a bold statement with both your curls and a layered fringe, this unique style can be your best bet. Play with colors while sporting full, side swept bangs, but honestly, this cut looks fabulous on more traditional hair colors, too.
Side Face-framing Bangs
This style suits short hair with curls. It is easy to style and lasts for a few days with minor touch-ups in between. There is not a hair type or face shape in the world that wont benefit from the beautiful, softening effects of light curls and sweeping side bangs like these.
Feathered Bangs Vs Layered Bangs
Feathered bangs and layered bangs are quite similar. They are both stylish for women and look good on everyone. Layered bangs fall in layers that can achieve any number of effects on the overall appearance of your hair. Feathered bangs, on the other hand, require more creativity with the scissors and add character to hair.
Some people prefer them because they show that a lot of effort, time, and courage has been applied behind a mirror. The procedure to obtain either a feathered bang or a layered bang are the same to some extent. It only differs when you are creating the bangs in the final step.
You can create any layered bangs style at home. What you require are the right tools and bravery! Ensure the scissors are sharp and fit your hands. If your hands get shaky, stop the process, relax and try again. It is important to cut your hair carefully because it can't be replaced after that.
A wrong cut might force you to change your desired style. If you worry about complicated styles, then you can visit the salon for professional assistance. Remember to choose a layered bangs hairstyle that complements your facial features and represents your unique style. A stylist can help you with that. Other things to consider are your hair texture and length. Finish off these looks with a flattering dress and step out with confidence.
Sours: https://hairstylecamp.com/layered-bangs/
SUPER HAIRCUT - AMAZING FRAMING SHOULDER CUT 2021
50 Trendy Medium Length Hairstyles with Bangs to Try This Year
With the revival of 70s and 90s, medium hair with bangs is again in great demand. Long gone the days when rocking a fringe felt dorky or weird. It's all about individuality right now, and a fringe is a new cool accessory.
Bring out your inner rock star by choosing medium length hair with bangs. In this article, we've put together all the best midi hairstyles featuring fringes to suit any face.
1. Shoulder Length Hair with Bangs and Layers. Add more body to your hair rocking tousled shoulder length hairstyles with bangs and shaggy layers throughout. Keep it uneven for a fresh and classy feel.
2. Choppy Hair with Layers and Side Swept Bangs. A lion's mane needs a nice frame fashionable layered curtain bangs aren't just cool, but also low maintenance.
3. Highlighted Hair with Side Bangs. Lose a few years just by going for the right shoulder length haircut with bangs. Arrange the front layers and bangs to frame your face softly.
4. Mid-Length Hair with Wispy Bangs. For women with a round face, medium hairstyles with bangs, wispy texture, and feathered front layers add beautiful framing.
5. Slightly Curly Hair with Bangs. Got unruly thick curly hair? Tame it with a medium-length haircut featuring a soft fringe and thinned-out ends.
6. Shoulder Length Bob with Bangs. It's an oldie, but a goodie. A simple cut with a soft, angled side fringe goes well with anything and looks good on almost anyone.
7. Medium Length Bob with Bangs. A grungy, messy, and definitely rock-n-roll-inspired hairstyle to match your outspoken, fashionable persona that loves to take a risk.
8. Classy Brown Medium Hair. If classic is your MO, traditional brown locks with youthful waves can't be beaten. The bangs are mostly straight and long enough to pin them back or braid with the front strands.
9. Medium Straight Hair with Bangs. In case you've got locks on a thinner side, enliven them with side bangs and feathered ends throughout.
Wispy Bangs for Medium Hair. For a more boho feel, compliment your layered shoulder length hair with bangs split in the middle and hitting your cheekbones.
Medium Shaggy Black Hair with Bangs. If your hair is on the thinner side, plump it up easily with lots of layers. The sexy shaggy waves and long straight eyebrow-grazing bangs create a beautiful contrast that attracts attention.
Medium Shag with Bangs.Messy hairstyles are on the never-ending rise. Highlight your sharp features with a grungy bob boasting pointy ends and a crisp, shattered fringe.
Long Bangs Medium Hair. If you're not about committing to styling a regular fringe every day, long bangs will allow you to have a fun hairstyle without any fuss.
Medium Hair with Very Long Bangs. You don't always have to pair long or medium-length hair with short bangs. This look shows how perfect a longer cut with long bangs can be, especially if it is cut with soft graduation.
Wispy Medium Hair with Bangs. Whether you pick some curtain bangs or a wispy fringe, both look beautiful with a medium-length wavy hairstyle. The wispy razored layers are extremely flattering for the round face.
Medium Shag with Bangs and Highlights. When you opt for medium haircuts with bangs, your look becomes as versatile as the one pictured. Go from a mostly straight style with side bangs to shaggy layers and a cropped jagged fringe!
Wavy Medium Length Hair with Bangs. Loose beachy waves get extra style points when paired with long layered bangs. Great for someone who wants a change but prefers not to go to extreme lengths.
Curly Bangs Hairstyle for Women over Medium length haircuts with bangs are a find for older ladies. A thin choppy fringe freshens up your look, while messy layers create the much-needed volume.
Shoulder Length Hair with Feathered Bangs. Another amazing idea for mid-length haircuts with bangs. Messy chic never goes out of style.
Curly Lob with Straight Bangs. Mid length hairstyles with bangs are a neat trick to balance out your face shape. Go for it, if you feel like you need to slim down your face or cover a big forehead.
Joan Jett's Shaggy Cut with Spiky Bangs. If you have unruly hair, then a messy, pointy fringe with lots of voluminous layers is your go-to.
Bouncy Shag with Full Bangs. Cool, trendy, full-bodied curtain bangs that can also slightly correct your features and make you look as stunning as you feel inside. What more to ask for?
Straight Hair with Side-Swept Bangs. Side bangs are fun and easy to look after! Definitely try them out at least once, especially if you have sleek, flat hair.
Thick Wavy Hair with Bangs. Don't shy away from bangs if you're blessed with curly locks. Just be wise about choosing the length and thickness of your bangs, and you'll be more than fine.
Medium Length Updo Hairstyle with Bangs. In having a fringe instantly helps to come up with beautiful and easy medium length hairstyles with bangs. Long side-swept bangs are a great standalone accessory.
Round Face with Piece-y Bangs. Frame your pretty face with a chopped fringe and short layers around it to add some dynamics and divert attention from the heavier parts.
Wedding Hairstyle for Medium Length Hair with Bangs. Out of this world, delicate and royally beautiful voluminous updo paired with a wispy fringe will be a big hit on the important event.
Voluminous Medium Haircut with Trendy Bangs. This photo features mid-length hair with bangs that are called the 'curtain fringe'. Lots of choppy layers thicken up the hairstyle with wavy texture and body.
Wet Medium Beach Waves with Bangs. Try this trendy wet look. With fine soft waves in your shoulder-length hair with bangs, you'll feel like you've just stepped off the beach.
Medium Hair with Korean Bangs. Searching for modern medium-length hairstyles with bangs? Try this sleek, straight style with both bangs and layers. The shorter front layers look like steps and bring a modern vibe to the classic medium look.
Chic Blow Out on Medium Locks. The cherry chocolate color and dramatic wave make this blown out comb-over hairstyle with huge side bangs a real showstopper.
Blonde Razored Lob with Full Bangs. A long bob cut is always a good choice if you prefer medium hair with bangs. These bangs are pin-straight and the length of the hair is filled with highlighted soft waves.
Medium Straight Sleek Hair with a Fringe. For a look that is professional, sophisticated, and works well for both office and party, try this sleek style that perfectly frames the face.
Casual Medium Waves with Thin Bangs. Out of all the medium hairstyles with bangs here, this cute solid brown hairstyle with waves is most casual. Anyway, you can be sure that you will be the center of attention every day with it!
Medium Hair with Bangs for Round Faces. Is your face shape more rounded? Medium hairstyles with bangs are a must for flattering framing. The fringe is textured, angled, and parted in the middle.
Fine Medium Hair with Layers. For thin or fine hair, add long bangs and lots of layers that you can style to your heart's content to boost volume.
Medium Red Shag with Lowlights. For a head-turning hairstyle, add heavy red highlights to brunette hair. One of the best ways to wear medium-length haircuts with bangs is with a choppy texture.
Long Side-Swept Bangs. Find out if blondes really have more fun by choosing your preferred blonde shade on a shoulder-length haircut with long side-swept bangs.
Medium Hair with Long Curtain Bangs. For medium skin tones and a long face shape, try this inverted dirty blonde lob with a soft curtain fringe.
Pin Straight Medium-Length Haircut with Bangs. Ultra mod medium hairstyles like this one always deliver trendy looks. Reach the ultimate chic with super straight locks and long straight bangs to match.
Wispy Layers and Curtain Bangs. Shoulder-length haircuts with bangs have all the potential to become the trendiest looks of the season. Just add wispy layers and a curtain fringe.
Long Bangs and Shaggy Lengths. Trying to distract attention from a distinctly long face or a large forehead? Get a shoulder-length haircut and add in long bangs parted to the side.
Extra-Long Straight Bangs. Who wouldn't love a shoulder-grazing hairstyle with choppy layers and extra-long bangs? It's adorable and current.
Medium Hair with Flipped Up Bangs. For both fine and thin hair, try long curtain bangs and a balayage with highlights and lowlights. You'll get lift and body!
Ash Blonde Medium Cut with Bangs. It's not just the ash blonde highlights that breathe new life into this medium-length brown hair. The wispy layers throughout are perfect for a stunning texture.
Messy Medium Hair. Bedhead is a very trendy look and you can get it easily just by running your fingers through your medium-length hair. Straighten the bangs when you still want to look put-together for work.
Sassy Auburn Medium Cut. The brunette collarbone haircut looks lived-in with auburn highlights. Try short bangs with wavy lengths and disconnected ends.
Medium Undone Waves and See-Through Bangs. This above-the-shoulders hairstyle is super cute with its deconstructed shaggy lengths and straight piece-y bangs.
Cropped Bangs on Medium Hair. We love the shaggy texture and cropped bangs of this fun medium-length hairstyle. It'll take only minutes to style in the morning!
Long Blonde Bangs for Brown Hair. Make long bangs the focal point of your medium haircut by coloring them blonde to contrast with dark hair. Such money-piece bangs are a hot trend now!
Now that you've seen pretty much all sorts of trendy medium hairstyles with bangs in pictures, how about trying some change for the coming season?
Sours: https://www.hadviser.com/medium-hair-with-bangs/
You will also like:
Came a rough command. Butch jerked Rein's ass to the side with such force that the sissy with a long squeak fell off the bed onto the cool night floor, folding. In an absurd position at the feet of her mistress. - You, what the fuck, forgot what to do. Do you have everything in your dreams.
342
343
344
345
346