70 Brightest Medium Layered Haircuts to Light You Up
Every woman wants to look feminine and well-groomed, but taking into account the hectic rhythm of modern life, practicality is viewed as the main advantage of our everyday hairstyles. Having read this article, you'll find out more about today`s most popular and extremely universal medium length layered haircuts. You are going to be surprised at the diversity of hairstyles and coloristic solutions that can be performed on its base. And, certainly, you'll be able to find your own universal variety of layered haircut. A few simple rules to grasp is all it takes to look chic every day.
As a rule, layered haircuts look more interesting than one-length cuts, because layers offer more attractive shattered shapes that are sharper and much more versatile. A layered haircut suggests at least two layers and shorter tresses along the face, however, you can have loads of layers as well. Another question is how you'd like to have your ends trimmed, anything from blunt choppy ends through smooth subtle grades to abundance of thin and delicate feathers. Experimenting with a number of layers and finishes for your ends, you can come up with a range of unexpectedly gorgeous looks, you haven't tried before.
Whom Do Layered Medium Haircuts Flatter?
A layered haircut is an excellent choice because if flatters all women and has a wide spectrum of its execution. Girls with luxurious thick mane are gaining the feel ease and lightness with layered haircuts. Ladies with fine hair achieve the desired volume. And women with curly hair can easily structuralize their curls.
Layered Haircuts and Face Shapes
The good news is a skillfully done layered haircut can maximally bring your face shape to the ideal oval. If your face is round, the layering for the face-framing locks is going to elongate it visually. Side bangs will go fine with this type of haircut as for a long face, straight bangs, skimming your eye-brows, and out-flicked locks around your face are highly recommended. Girls with oval face shape are the luckiest. They are not restricted and can go for whatever type of layered haircut they desire, and it will look gorgeous.
Styling Tips for Layered Haircuts
This unique haircut is easy to style which is, undoubtedly, a big plus, because you can style your locks yourself at home. A layered haircut looks its best when you make an accent on the tips. You can curl the ends of your tresses with a curling iron or flat-iron your locks with a straightener. Most stylish hairstyles today feature volume at the roots that is achieved with a blow-dryer. Romantic locks slightly fixed with hair-spray are a wonderful idea of a hairstyle for special occasions.
Best Medium Layered Haircuts
Let's see all that in examples.
#1: Feathered Brunette Lob Cut
A feathered cut with long layers gives texture and body to an otherwise plain basic cut. Slight graduation allows for a fluid look while a great blow out showcases lots of volume and movement.
#2: Straight Inverted Caramel Blonde Lob
Sometimes you don't need a short haircut makeover to freshen up your look. Just cutting medium long layers is an easy way to do something different. A blonde lob works wonders for framing the face.
#3: Shoulder Length Haircut with Flicked Ends
If your hair's length is medium to long, consider spicing up your cut with flicked, choppy ends. Layers define and add interest to all hair styles, but flicked ends work especially well if you like the quick rough blow-dry styling. Thick hair types can hold flicked out layers best.
#4: Mid-Length Two-Tier Cut for Thick Hair
A two-tiered mid length layered hair is an unorthodox approach to layering. This cut with shoulder length layers is an ideal choice for those who want some dimension without a fully sectioned look.
#5: Long Disconnected Choppy Bob
Medium layered hair is one of those great versatile styles. For thick hair, a choppy bob brings dimension and easy styling. For thin hair, it creates the illusion of having thicker hair. Tousle in a curl crème for wave action and add in highlights to brighten up your skin tone.
#6: Straight Rounded Lob with Chunky Razored Layers
Razor cutting is a technique that stylists employ to refine sections and thin ends out. Thinner ends cause pieces to look more blended. This lob is a perfect fluent look yet with depth originating from the cut and coloring.
#7: Two-Layer Feathered Blonde Cut
A feathered above-the-shoulder hairstyle is one that will never lose its popularity. Go platinum blonde a la Marilyn Monroe on a two-layer cut for a flirty and gorgeous seasonal glow-up and be prepared – people will be checking you out!
#8: Mid-Length Haircut With Side Layers
Layers don't have to go all over your head to add the desired dimension. A beautiful mid-length style with side layers can frame your face in a complimenting way, especially if your neck is long or your face shape is oval.
#9: Elongated Layered Haircut for Straight Hair
The style with V-cut layers allows for more styling potential. A single length haircut hangs limp without any movement and may conceal the natural contours of your face, whereas layered haircuts for medium hair can be shaped according to your unique facial constitution.
#10: Medium Messy Feathered Cut
Face-framing highlights are youthful and imitate the natural bleaching from the sun during summertime. Match this with a tousled style to achieve an effortless-looking ready-to-wear hairdo.
#11: Medium Hairstyle with Layered Bottom
Straight hair can benefit from layers mostly when they are concentrated at the bottom of the hair length. If your hair is especially thick to top it off, ask your stylist to cut your ends with layers to keep it bright yet impactful, not heavy.
#12: Medium Feathered Haircut for Thick Hair
A medium layered hair style is a beloved friend of thick women's hair. Your hair won't appear heavy with this type of fresh cut. Layers hold especially well with thick hair and add some much needed movement to an otherwise blocky look.
#13: Brunette Feathered Bob with Piece-y Bangs
A haircut with bangs is not often what thicker textures gravitate towards, however incorporating a piecey fringe in which some of the bulk is trimmed out can make this trend a viable option. Blow drying hair and separating the bangs with your fingers enhance the pieceyness.
#14: Point Cut Bob with Caramel Balayage
In case you've got plain-looking straight hair or a blunt hairstyle you are bored to wear, soften it up with a point cut bob. By cutting the hair at an angle, it instantly appears textured. A point cut bob looks great on a variety of hair hues, but balayages in fresh colors like caramel seem to be particularly light and bright nowadays.
#15: V-Cut Layers for Thick Hair
A great option in medium length layered haircuts is V cut layers. Hair is kept long in the back as the layers surrounding your face gradually draw in towards the back of the head. Medium long hair holds this style best as length is necessary to let v-cut layers shine.
#16: Swoopy Layers for Voluminous and Dynamic Hair
The bigger the hair, the better the swoop! Layers of this nature are fantastic for hair with a lot of volume and texture. Swoopy layers are dimensional yet smooth, so the hair looks sleek, yet full of movement.
#17: Layered and Flipped
Here's an ideal style for medium length hair that looks heavy. It's also perfect for women who have long hair and want to make it a little bit shorter. The first layers start somewhere in the middle of the length and descend towards the ends in stacked pieces. The result is a bouncy, adorable haircut with volume and movement to spare. Flip those ends using a curling iron, a straightener, or a blow dryer and a round brush.
#18: Straight, Sleek, and Layered
This cut is simple but sweet, plus the upkeep and styling are easy-breezy. A bit of product and clever blow drying will keep the layers distinct, creating a sassy, tousled 'do. Try this as a transitional cut during the growing out process, or just to enjoy something that styles effortlessly.
#19: Long Layers for Medium Length Hair
Long layers are lovely in medium hair that falls past the shoulders. These layers are somewhat subtle as well – as if sprinkled throughout this gorgeous thick mane. The subtle reverse ombre is also very pretty.
#20: Shattered Sliced Messy Lob
The best thing about choppy layers in medium length layered cuts is that it's a flirty style you don't have to put much work into. The choppiness creates a built-in style, meaning you can roll out of bed and be ready to hit the road. Almost.
#21: Golden Blonde Wavy Bob
If you have shoulder-length layered hair, upgrade it with choppy layers and a golden blonde balayage to give personality to your look. It will also make it easy to wake up and go on the mornings you don't feel like standing in front of the mirror trying to figure out how to wear your hair today!
#22: Thick Longer Cut with Textured Ends
Thicker hair holds more texture, and layers are very desirable for such hair. Bring pictures of medium length layered hairstyles you like to your stylist, so they can give you the shape and texture you prefer.
#23: Two-Tier Piece-y Medium Cut
Your medium hair will look adorable when cut into two-tier piecey locks. It's chic at the office and sexy on a girls' night out. The piecey layers give bounce, body and easy texture.
#24: Fringy Layers and Dimensional Highlights
If you've got more than one tone in your hair, then you'll need layers to match that variety. Not everyone can handle fringy layers, but multi-dimensional color comes to life with them.
#25: Layered, Flipped, and Tousled
This is the kind of hairstyle that looks effortless to the casual observer, as if it took a few minutes to achieve. Actually it takes a bit longer than that and requires some heat styling, but with practice, it's easy to perfect this 'do within 20 minutes or less.
#26: Bob Cut with Symmetrical Swoopy Layers
One of the more unique layered hairstyles out there plays not on variety but rather symmetry. If you prefer a polished medium length hairstyle, consider consistent, even layers.
#27: Shoulder-Length Haircut with Long V-Layers
Light layering is a solution for those who want more dimension along with less voluminous hair. If your hair is not naturally fluffy, fewer layers make it heavier. Adding long layers in key areas like around the crown and face provides the right amount of movement without elimination of body.
#28: Shoulder Length Cut with Jagged Ends
Blunt ends can make hair fall flat. Your stylist may use a razor on mid-length hair to create jagged ends that add an emphasis to otherwise plain-looking hair. Let your hair dry naturally for a relaxed vibe or blow out to make your layers pop.
#29: Golden Blonde Bob Shag with Bangs
Don't let magazines fool you, bangs aren't just for children! For women with medium layered locks, a shag style with bangs is classic. They're a chic touch when the rest of the hair is gathered into a ponytail and a playful detail when the hair is flowing freely.
#30: Dimensional Wavy Textured Lob
Mid-length layered hair is perfect for pulling off a wavy lob. To be frizz-free and cute at the same time, restore smoothness with a curl crème and twist locks to encourage a wave action. Voila, you`re ready!
#31: Curly Layered Bob
When you have volume in a short style it is important to incorporate layers in hair. Not only will this provide a more flattering and modern shape for your bob, but it will also keep the attention on your beautiful face.
#32: Medium Cut with Flipped Up Layers
Mid length hair looks super cute when ends are flipped out for a flirty vibe. You can achieve this look with a flat iron or by adding choppy layers for naturally wavy hair. Another option is to have your stylist incorporate layers with highlights, perfect for summer!
#33: Long Razored Bob for Thick Hair
For thick hair, the quickest way to get frustrated is to let it do what it wants. Show who the boss is and go for a long razored bob. It will break up hair into levels appealing to the eye and structurize your wild mane.
#34: Mid-Length Cut with Short Choppy Layers
Does your hair refuse to embrace waves and curls? Try a choppy layered look. It adds lift, movement and texture to medium length layered hairstyles. In addition, it's just an overall timeless look.
#35: Two-Tier Caramel Blonde Lob
The medium hair with long layers is manageable and healthy. This cut is recommended for thick hair, as it gives the needed movement to the ends and makes the final look more interesting compared to the uniform one-length cut.
#36: Perfect Layered Blonde Bob with Bangs
The trick to finding your ultimate style is to analyze each feature of your face and decide which you want to enhance or camouflage. Gearing your cut towards these choices is what makes a standard haircut customized.
#37: Two-Layer Bob for Thick Hair
Every woman dreams of thick, healthy locks. For added shine, moisturize hair with a leave-in conditioner and seal with an oil-based serum. To promote thickness, massage castor oil into the scalp and stick to your scheduled cuts.
#38: Textured Wavy Brunette Lob
If you are a brunette, use a beautiful balayage lob to transition into a summer style. The wavy sun-kissed pieces are super cute and beach-ready.
#39: Centre-Parted Bob with Layered Ends
A lob with short layers is a great way to frame your face accentuating your eyes, lips, and a graceful neck. It's especially striking when the layers go towards and away from the face.
#40: Pretty Wavy Hairstyle with Choppy Layers
Trying not to lose all your luscious length? A combination of waves and choppy layers in medium-length layered haircuts is your best option, especially if spending an hour on your hair daily is the last thing you want to do. Bonus points for having your stylist weave in caramel or blonde highlights.
#41: Shoulder Length Layered Hair
The addition of V-cut layers is an excellent way to create lift, body, and shape for your casual hairstyles. Layers keep hair from being too heavy, which is essential for medium length and long tresses. In this case, the layered hair is reminiscent of the shag, but this is a fresh take on the old favorite.
#42: Swoopy Layers for Mid-Length Hair
Add definition to mid-length hair by incorporating swoopy layers. This style of layered hair works great on nearly every face shape but especially well if your shape is long or oval.
#43: Wavy Lob with Shaggy Layers
Shaggy layers in medium layered hairstyles are cute, but on this wavy lob, the shag also plays the part of making the hair look like it has tons of body. And whether you go brunette or blonde, the beachy waves are perfect for any hair color.
#44: Medium Textured Cut with Dimensional Balayage
Do blondes really have more fun? Find out when you rock this medium length layered cut with a dimensional balayage. Having different tones of highlights is the opposite of flat and the epitome of gorgeous.
#45: Fun Sliced Cut with Uneven Layers
Medium layered hairstyles with balayage highlights and complimenting textures are gorgeous. Feel Insta-ready with this lived-in look. The wispiness and movement are flirty, and the layers are perfectly imperfect.
#46: Long Layers for Messy Lob
Lobs may be trendy, but there is a reason why so many women gravitate to this cut. Lobs let you wear your hair 'short' while still keeping the length that feels feminine. Try a lob with longer layers instead of a blunt cut to appear playful yet polished instead of severe.
#47: Choppy Waves Ahead, Captain!
Do you want to create a new style with layers? Take this example! The longer side bangs give a bit more height to the top when swept over, and the dimension of the layers is quite eye-catching. Use a very light blonde highlight all over to create a look that is bright and bouncy!
#48: Brown and Blonde Feathers
Layered haircuts can work for all hair types, and they are definitely cute! This blonde look is created by feathering the top layer to the ear level, and then adding longer, chunky layers to the back.
#49: Two-Tier Lob for Thick Hair
If fine hair needs added dimension, then thick hair has some room to play around. A two-tier lob gives off a polished appearance that avoids choppy layers. If you wear your hair straight, consider this unique cut the next time you're at the salon.
#50: Caramel Lob with Delicate Layers
Not every layered hairstyle has to go crazy. In fact, delicate layers work best for layered bobs and lobs if you're not into over-the-top styling or have fine hair. Play to your strengths and use layers like you would, highlighting only where they add interest and dimension.
#51: Shaggy Lob with Beach Waves
Beachy waves are perfect for the girl who desires a medium layered haircut without having the stress of styling. These layers are more organic and don't need to be blown out or curled to achieve their laid back effect.
#52: Medium Hairstyle with Perky Feathery Layers
Medium long hair is ideal for the woman seeking layers with pizzazz. Perky, feathered layers might overpower a short hair style or fall flat under the weight of long hair, but medium hair pulls off the style well.
#53: Mid-Length Cut with Curled Layers
Try dressing up a mid-length style with some curl and volume. Blow dry with a round brush, giving the lift to the roots and flicking the ends or use a curling iron to define the ends of layers for added texture.
#54: The Perfect Bedhead
Layers are a great choice for mid-length hair because they can add volume, depth, and texture, giving you a variety without sacrificing the length. Subtle highlights in medium brown tones are always a nice touch for brunettes!
#55: Medium Layered Wavy Cut
Heavy layering pairs better with above the shoulder or mid-length cuts for dense, healthy hair. This allows for more bulk to be removed as is required for hairstyles with bangs and layers.
#56: Medium Angled Purple Bob
The highlight of this haircut is definitely the combination of contrasting colors. It's a fun mix of hard and soft hues. Medium length hairstyles for women get a totally fresh take thanks to such non-trivial hair color solutions.
#57: Platinum Layered Side Part
Medium length layered styles are super popular at the moment because they can be transformed to suit any personal preference. The side part balayage hairstyle is a great classy option for everyday wear.
#58: Long Bob with Flipped Layered Ends
There are countless manipulations for shoulder length layered hair. A long bob with flipped ends is a simple yet polished approach that everyone can incorporate into their personal look book. This hairstyle is easy to achieve either with a straightening iron or a blow dryer and a round brush.
#59: Medium Cut with Side Bangs
Texture does not look its best in medium haircuts without the right color and style. Undone waves work well with rich, polished shades of brown and face framing layers. The result is a chic, effortless look.
#60: Middle Part and Medium Length
Medium long styles are optimal if you love versatility in hairstyles. Layers done with a razor to thin the ends will make your hair fall in a more flattering way and won't distract from your face.
#61: Burgundy Bob with Long Layers
Match your unique burgundy color to an equally unique cut by incorporating long layers. To keep hair looking long while still rocking a bob, have your stylist cut layers that are long and sleek.
#62: Sensitivity
A collarbone bob haircut doesn't require much layering, although it will look smarter with some distinct layering through the front tresses and bangs while the back sticks to one length.
#63: Chic Medium Shag
Nowadays, the chicest looks are those that don't look like they required much effort and time. Layered hairstyles fit the bill perfectly because they make even the messiest cuts appear elegant. Pair with flirty lashes and soft red lip color.
#64: Soft Medium Length Shag
Today's layered haircuts are beautifully enhanced by color. This honey blonde layered bob with very light face-framing balayage highlights is absolutely adorable. The color, texture and length couldn't be better!
#65: Long Angled Bob with Chopped Layers
An angled bob instantly goes from severe to laid back with fun, choppy layers. Mimic the difference in length by chopping layers shorter at the back of the head and angling them down as you get closer to your beautiful face!
#66: Layered Haircut With Cropped Locks On The Crown
The base of this hairstyle is the classic layered haircut. The shortened locks on the crown boost volume. This style will look the most impressive on naturally fine locks. It's an ideal version for a round face. Hair powder would be the best styling product to maintain the shape of this sexy hairstyle.
#67: Celebrities Love Layers
Cameron Diaz is a celebrity who sticks to mid-length layered haircuts and looks absolutely adorable with her layered blonde locks styled tousled. To re-create the hairstyle like Cameron's, you need to add some lift at your roots and pay special attention to the ends, shaping them with a curling iron. This hairstyle can be worn both side-parted and centre-parted.
#68: Ash Blonde Bob with Light Long Layers
Blonde hair is usually fine, but that doesn't mean style has to be sacrificed! Keep layers light and soft for extra movement that will still look natural. Don't shy away from framing your face for a smooth transition between layers if you've got a layered haircut with bangs.
#69: Brunette Messy Shag
The shag is back and is one of the most preferred medium layered hairstyles today. However, a shag doesn't mean you have to abandon a polished look for style! Try wearing layers that are staggered for a unique texture without sacrificing the length.
#70: Flipped Lob with Swoopy Back-Swept Layers
Here's a modern take on Farrah Fawcett's hairstyles for medium layered hair. Start by sectioning off locks in the bottom, middle, and top. Beginning with the lowest section, use a straightening iron to flip the hair out. Then, repeat throughout the remaining tiers.
Summing up, it should be mentioned that layered haircuts have deservedly become classics. They have gained so many fans through the years of their popularity. A variety of hairstyles on the base of layered haircuts amaze with diversity, because you can do layering for hair of any type. Besides, layers can correct your face shape. All those pictures above show that layered haircuts flatter everyone. Bangs are a perfect compliment for such chic cuts. They can be asymmetric and edgy or straight and blunt. You only need to find your ideal variety of layered haircut. Pairing it with the right coloristic solution, you'll be able to come up with a statement style that brings out your personality and highlights the stronger points of your appearance.
Sours: https://therighthairstyles.com/20-brightest-medium-layered-haircuts-to-light-you-up/
50 Gorgeous Medium Haircuts and Shoulder-Length Hairstyles for 2021
If it's been too long since your last hair change-up, you're probably ready for something new. However, sometimes it can be hard to see what potential your medium hair has if you're already bored with it. Looking through magazines can be helpful, but sometimes they don't have advice for your particular hair type. Luckily, there is quite a lot you can do to refresh your hair, whether it's waves and highlights, a sleek pin-straight shoulder-length hairstyle, or a shaggy layered cut – there is definitely something for you below.
Before you head to the salon for a makeover, look through these 50 beautiful medium-length hairstyles for ideas.
1. Straight Layered Medium Length Hair. Sophisticated and chic, this haircut is a sure stunner. Straight cuts may be hard to maintain, but the flare and confidence they deliver are more than worth it!
2. Sliced Bangs and Layers. Medium haircuts for straight thick hair need layers for texture and lightness. With this cut, you can enjoy the ease and volume of multiple sliced layers throughout the length of your hair.
3. Medium Brown Blonde Shag. Want a cute do you can easily dress up or down? Go for a wavy lob.
4. Textured Layers.Layered hair gives an illusion of more body and the waves add a dash of pretty.
5. Sleek and Straight Haircut. Need a nice frame for your face? Try straight, smooth locks! Paint on a few highlights for extra beauty, not that you need it!
6. Low-Maintenance Medium Hairstyle. A honey lob with soft waves. Spend a few minutes with a curling iron or run fingers through your hair with texturizing spray.
7. Soft Brown Style with Highlights. With a beachy style like this choppy bob you can enjoy summer vibes all year long!
8. Medium Hairstyle for Women with Blonde Hair. A hairstyle that grazes the shoulders can easily maintain a gorgeous wavy length and an effortless overall look.
9. Layers and See-Through Bangs. Medium hair is commonly the perfect length for creating voluminous downdos. The soft layers and see-through bangs amplify the effect by visually adding texture and depth to the hair.
10. Shadow Roots and Swoopy Layers. This hairstyle is a staple for women who wish to make their medium hair seem longer. The layers that appear wind-swept and shadow roots do the trick!
11. Inverted Mid-Length Bob. Here is a fabulous option for straight fine hair. It frames your face beautifully, delivers a flattering shape, adds volume, and looks neat at all times.
12. One-Length Medium Bob. Another choppy haircut, but given highlights for warmth.
13. Choppy Wavy Hairstyle. This shoulder-length hair is a sure stunner! Add an off-center part and long bangs for a dreamier and more delicate appearance. We also recommend soft babylights for an utterly splendid makeover.
14. Wavy Shoulder-Length Hair. Harness your inner bombshell with this hairstyle! You can choose to go with a solid color or add highlights, depending on your taste. Curl your hair for soft waves, and you're picture-ready!
15. Straight Medium Hair with Side Bangs. Medium haircuts for women can still look flirty; keep things soft with a side-swept fringe.
16. Textured Messy Lob. Fine hair and medium cuts can and should coexist! Lob is one of the brilliant medium-short cuts that can be easily customized for any hair texture. Tousling the hair is a great idea for a more voluminous look.
17. Feathered Layers for Blonde Hair. Blonde mid-length hair only gets more attractive when complemented with feathered layers. A side part and long bangs are the universally flattering styling options that you should definitely consider!
18. Voluminous Shaggy Lob. Medium-length hair looks awesome when cut in messy layers. This shaggy lob variation, for instance, is a trendy hairdo that is tomboyish and sweet at the same time.
19. Wavy Female Haircut in Warm Brown. Show your fun side and create positive vibes with this hairstyle. Do balayage or sombre for more colors in your hair and an additional cozy feeling.
20. Straight Shoulder-Length Haircut. Feel like your straight hair is getting boring? Jazz it up with a medium bob.
21. Disheveled Ash Blonde Shag. Messy medium haircuts are here to stay! And so is the growing trend for platinum and pearl blonde hair shades. Try this magical style to feel like a character of a romantic movie!
22. Piece-y Midi Shag with Bangs. Medium length hairstyles for women completed with bangs are a perfect fit for the ladies who want to conceal a big forehead. Add a darker color such as deep brown and a lighter shade at the tips for more depth.
23. Highlights and Lowlights for Medium Hair. Medium hairstyles and mixed highlights are BFFs of the styling world. Talk to your stylist and come up with three or more tones that you should like to blend into your hair and watch the glorious transformation!
24. Transformational Medium Cut. Medium-length haircuts can be a way to drive radical changes when it comes to your overall look! If you feel like you've had enough of long locks, do not hesitate to follow the urge of cutting some centimeters off.
25. Choppy Blonde Balayage Haircut. Be the talk of the town with a straight choppy bob.
26. Center-Parted Messy Hairstyle. Keeping your style simple is an awesome decision, especially when there are plenty of medium-length hairstyles to choose from. This choppy cut with a center part is an old-time classic that never fails to impress.
27. Layered Midi Cut with Bangs. Red hair would combine beautifully with a medium-length and an inventive cut. If bangs are your thing, try a wispy fringe to draw attention to your eyes.
28. Medium Long Hair with Balayage. Whether you are blonde, brunette, or red-haired, a balayage is a terrific opportunity to add a twist to your usual style. The good news is that this highlighting technique fits mid-length hair greatly.
29. Ruffled Lob with Curtain Bangs. The bob with shaggy layers is a chic hairdo that would look dazzling in any setting. It has a hint of grunge and is effortlessly cool!
30. Medium Haircut for Thin Hair. Put a little pep in your step, and some body in your thin hair, with a cute layered bob.
31. Blonde Angled Lob. An angled cut with highlights will make you look and feel youthful and fresh.
32. Medium Cropped Locks. A piecey cut such as this sliced lob looks playful and pretty.
33. Collar-Length Haircut. Work your hair into an edgy style by adding some textured body to straight strands and letting face-framing pieces fall naturally.
34. Long Thick Bob Haircut. Add some vavavoom vibes to your haircut with highlights and a middle part.
35. Ash Blonde Balayage Lob. With little adjustments, the long ash-blonde balayage bob looks professional for work and playful for your free time.
36. Copper Red Medium Waves. Add a pop of glam with a bold all-over color accented with piece-y waves.
37. Soft Waves in Blonde. This effortless hairstyle would actually look beautiful in any hair color. Shoulder-length haircuts for women work well when you just have your hair cut to a suitable level and add waves for more volume.
38. Ash-Blonde Medium Cut. Looking for a style you can work with bangs? Try a cute blonde bob with a length that touches your shoulders and keeps bangs long.
39. Icy Blonde Mid Haircut. Upgrade your typical brown blonde hair by adding in a few ice-blonde pieces and parting it to the side you prefer.
40. Medium Shag with Full Bangs. Those with bangs might think it's hard to stand out, but take on a medium shag bob and your bangs will pop!
41. Honey Blonde Medium Haircut. The beautiful mane shines with different shades of blonde, and a rounded lob is a good base for this gorgeous color solution.
42. Messy Wavy Med Haircut. Play up your wavy hair and bring the body to the crown of your head with a textured style.
43. Hairstyle with Face-Framing Volume. Try a shaggy lob with dimensional waves for thick hair.
44. Icy-Blonde Haircut. The cute choppy bob is absolute perfection, especially with a little wave at the ends. And with hair these soft and beautiful, you won't be able to resist running your fingers through it!
45. Golden Neck-Length Waves. A hint of blonde in layered wavy hair is perfect for a formal look at the office or something simple on the weekends.
46. A Peek of Purple. Wondering how to spice up your dark mane? Angle hair and insert a few colored highlights, like this pretty purple, for easy drama.
47. Caramel Brown Waves. For dark medium hair with waves, hints of caramel brown bring life to an otherwise blah style.
48. Choppy Wavy Hairstyle. Soft, choppy waves and a short side part do wonders for thick hair.
49. Lived-In Medium Hair. With a relaxed, easy, beachy style like this one, people will really believe you "woke up like this."
50. Past Shoulders Hair with Choppy Bangs. Bring the Emma Bunton out of your hair with longish bangs and layered waves.
As you can see, there is no shortage of medium hairstyles for women! Grab your besties, pore over your options, and cheer each other on as you embrace a whole new haircut! You never know, you may come out of the salon feeling fiercer than ever!
Sours: https://www.hadviser.com/medium-length-hairstyles/
25 Shoulder Length Layered Hairstyles to Switch Up Your Look
As a rule, medium length hairstyles cover the cuts from below-the-chin level and up to the shoulders. These are praised by many ladies for their versatility and easy maintenance since the length is appropriate for both wearing the hair loose and creating various updos. But today we are going to draw your attention toward medium layered hair – because layering is hot, flattering for every hair type and suitable for switching up your style without losing precious inches. Have a look at our ultimate compilation of medium length layered haircuts to flatter any hair texture.
Medium Length Layered Haircuts by Hair Type
From face-framing grades to all-around cascades, from blended levels to strongly disconnected pieces, there is a plethora of layered haircuts for medium hair to customize to the texture of your hair. Thick hair benefits from the removal of some excess weight and works great with clear disconnection. Fine and thin locks require subtle layering throughout the cut or only face-framing layers to avoid losing their density, while getting movement. Layered waves look more airy and youthful, especially when fashionably disheveled. Even curly hair stands to gain from layering despite the well-known rule of blunt ends adding weight and minimizing frizz. "You want a vertical haircut where all of the layers blend into one another so they fall naturally and not in shelves," explains celebrity hairstylist Sarah Potempa to Glamour.
Let's have a look at good examples of layering for the above-mentioned and other textures.
Layered Ringlets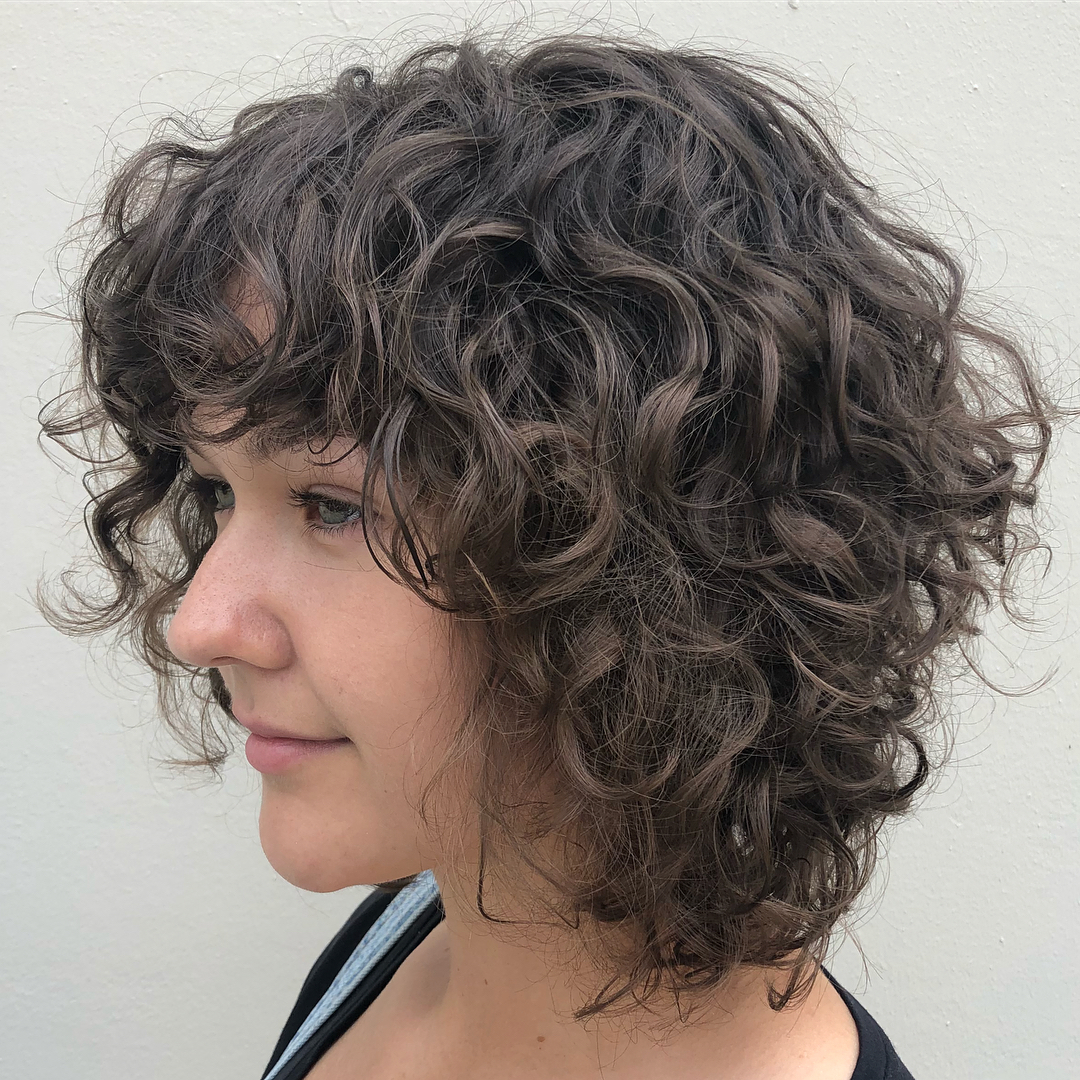 via @vancityhairgirl
Curly medium length hair is just adorable! Look how the ringlets of this curly hair are defined and structured to emphasize their natural bounce, and then mussed up to get a lovely bedhead touch.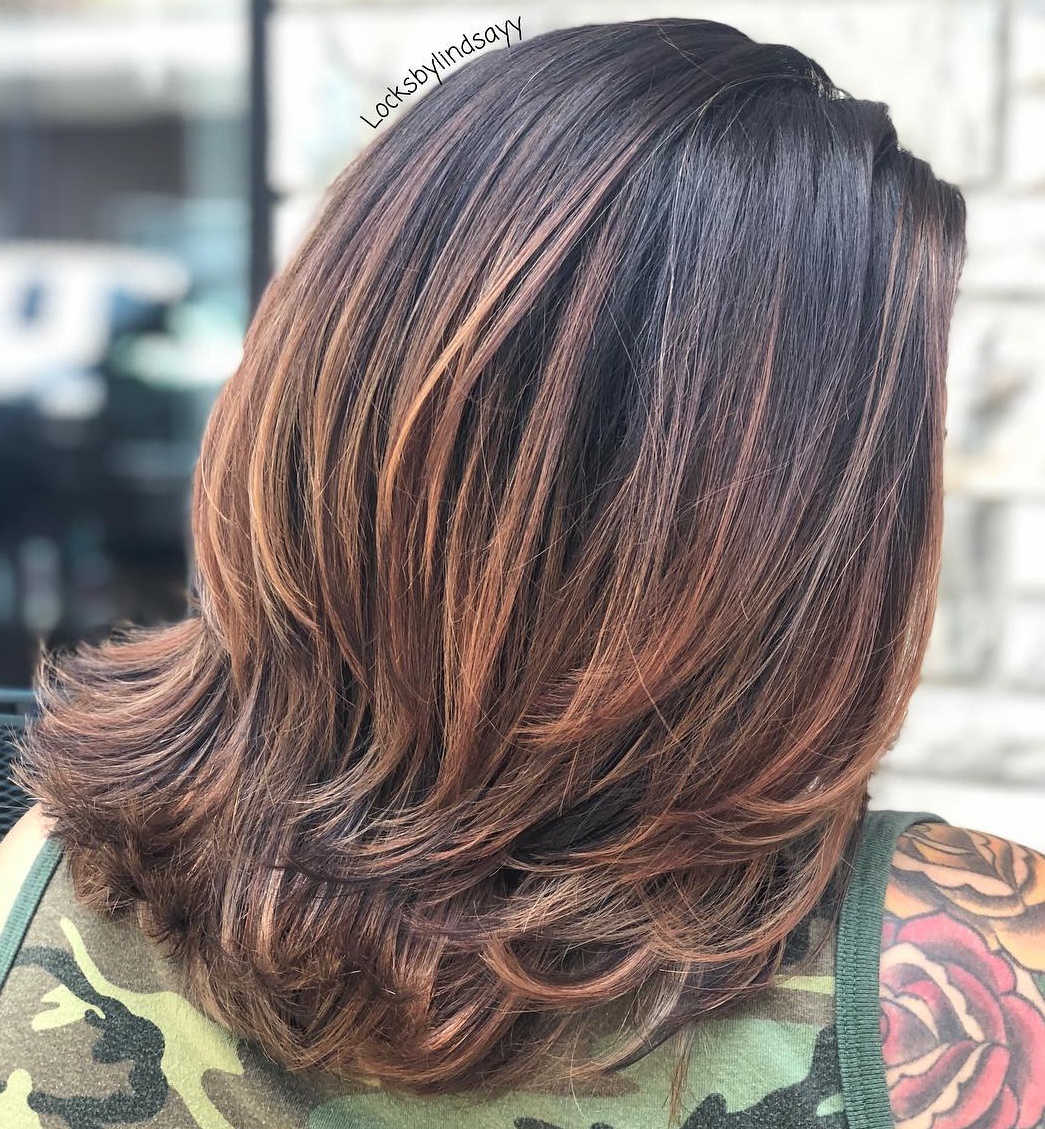 Shoulder Length Feathered Layers to Reduce Thickness
via @locksbylindsayy
Here is a good case in point, showing how thick mid length hair gains movement and an airy feel with feathered layers and flipped out styling. Highlights are sure to add to the beauty of this medium layered haircut.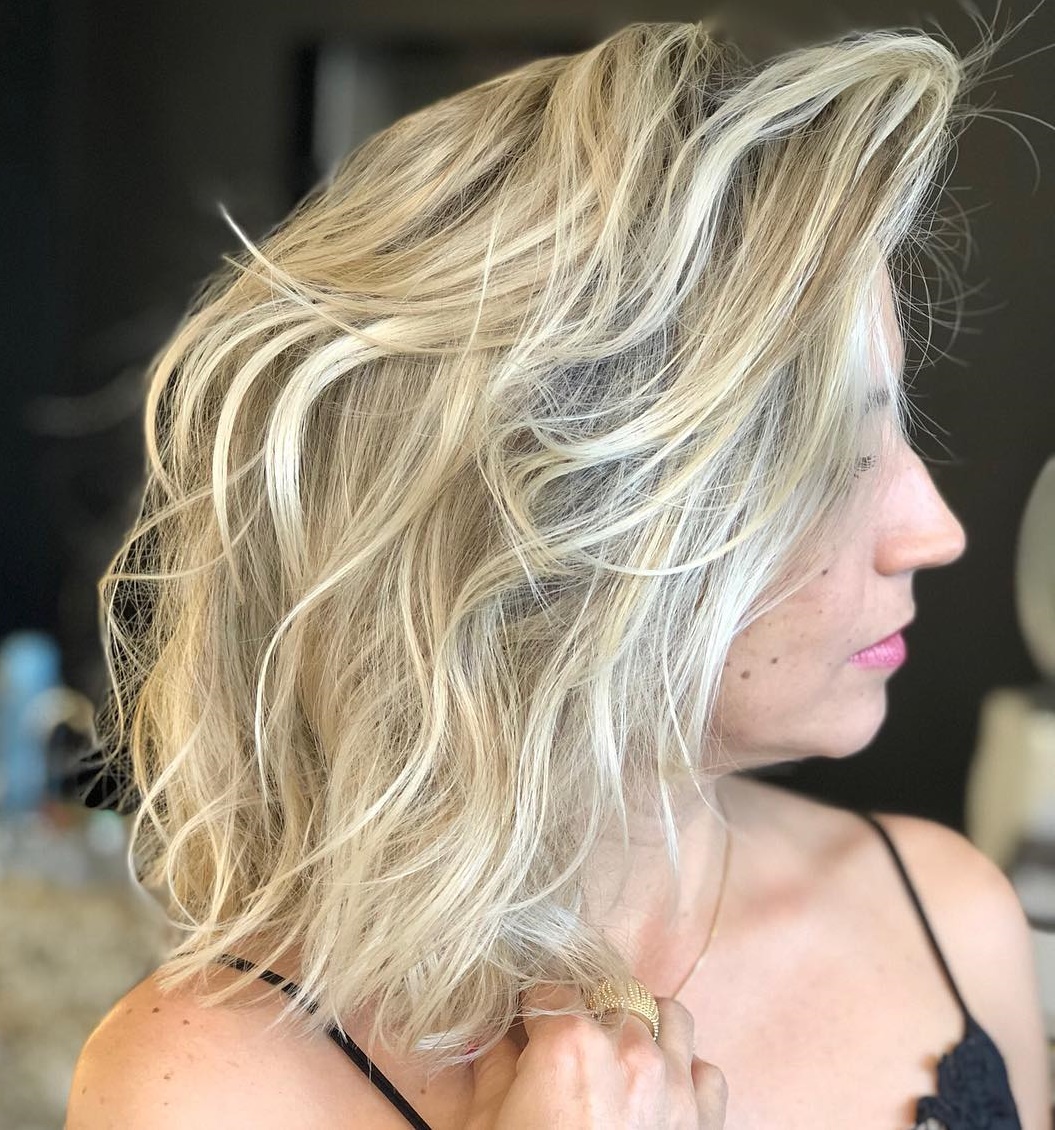 Medium Length Hair with Messy Waves
via @maxwellmathson
Tousled wavy hairdos work great to create volume, especially when supplemented with some extra lift at the roots.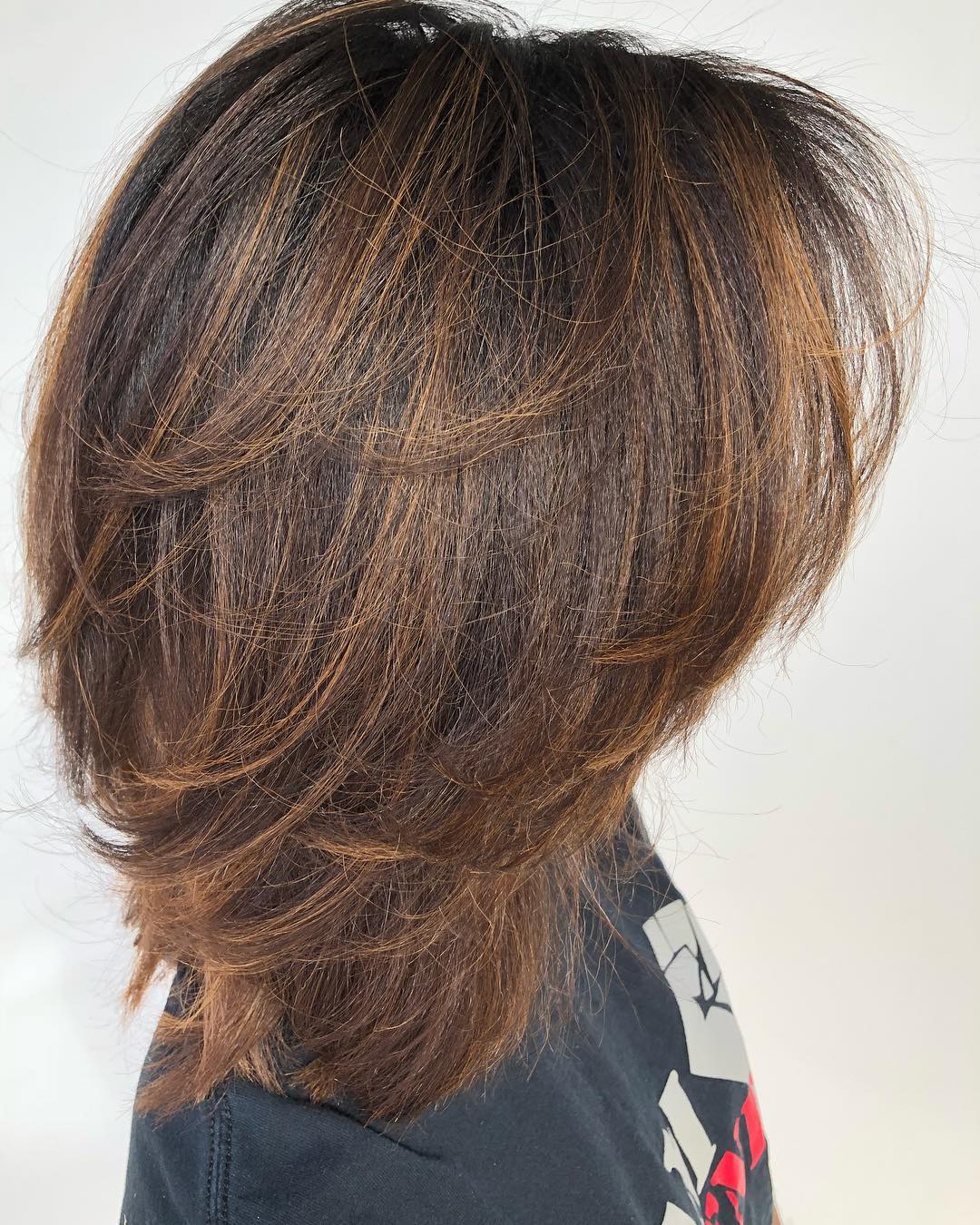 Voluminous & Dynamic Layers
via @hairbyryane
You can give medium length layered haircuts more volume and movement with the help of coloring. Straight hair can be brightened up with subtle slicing and babylights. This combo is a sure-fire way to give movement to shoulder length hair.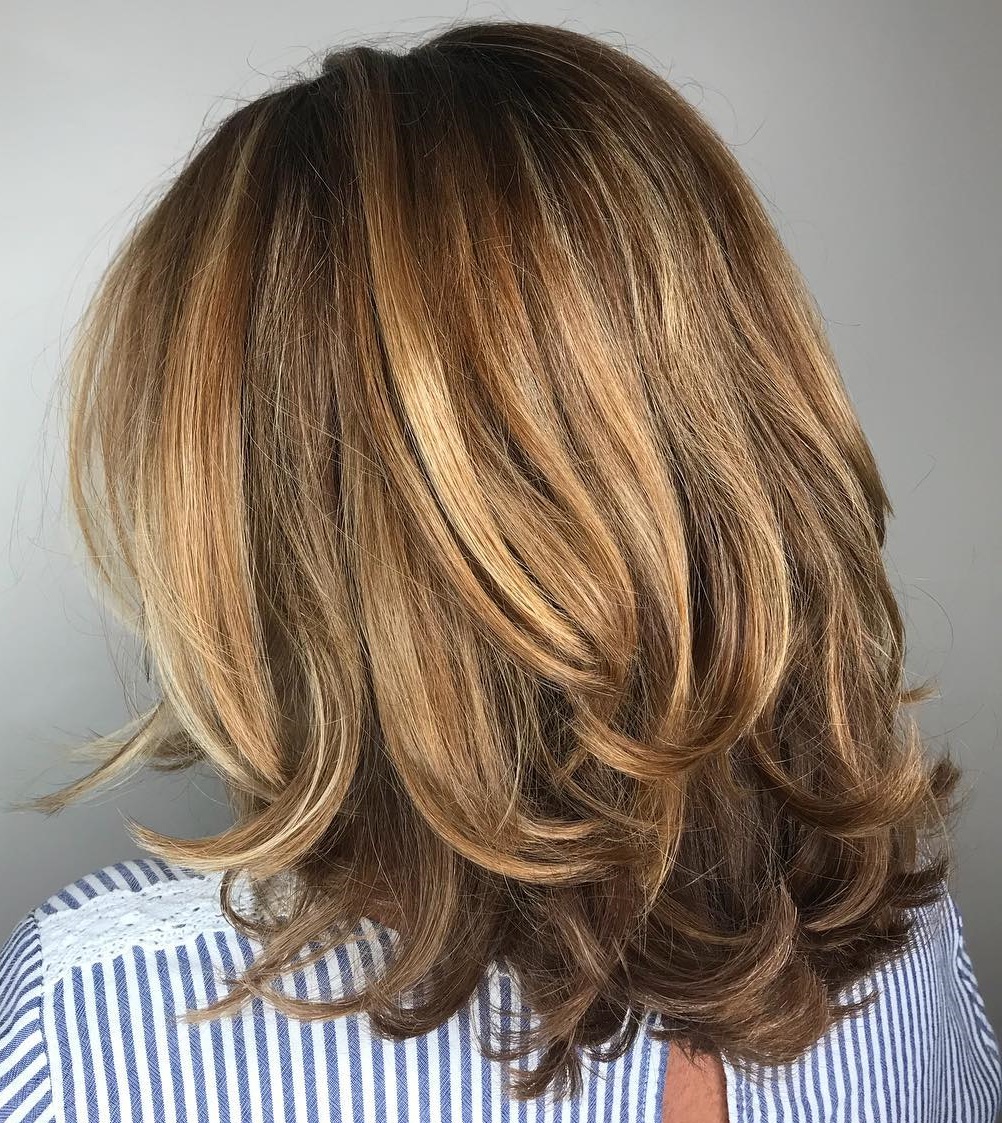 Shoulder Length Hairstyle with Layered Bottom
via @shinetimes
This sun-kissed hair looks brilliant thanks to the bouncy feel acquired by heavy layering at the bottom. The back view also showcases cool haphazard styling with flipped out ends.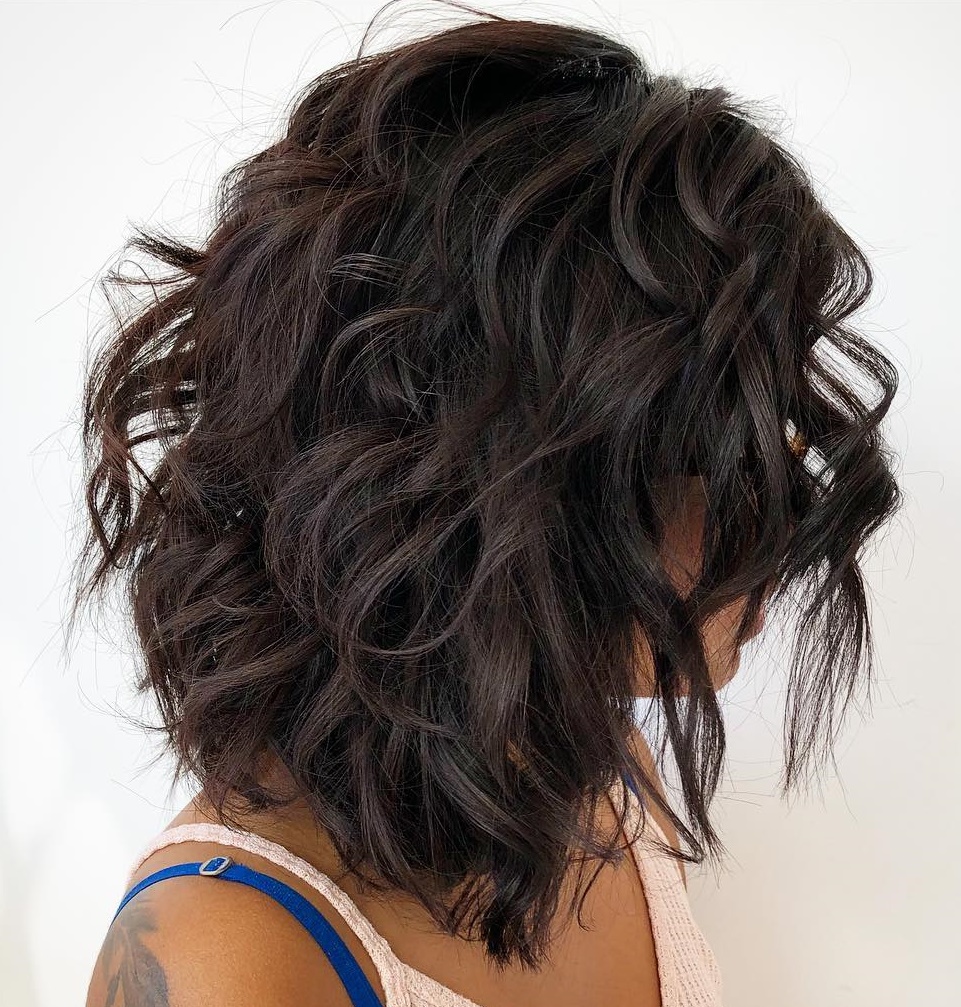 Layered Wavy Lob
via @dana_hairstylist_
It's a nice idea to pack wavy locks into a cute textured lob. Just don't apply your curling iron to the tips – you need beachy waves, not polished curls.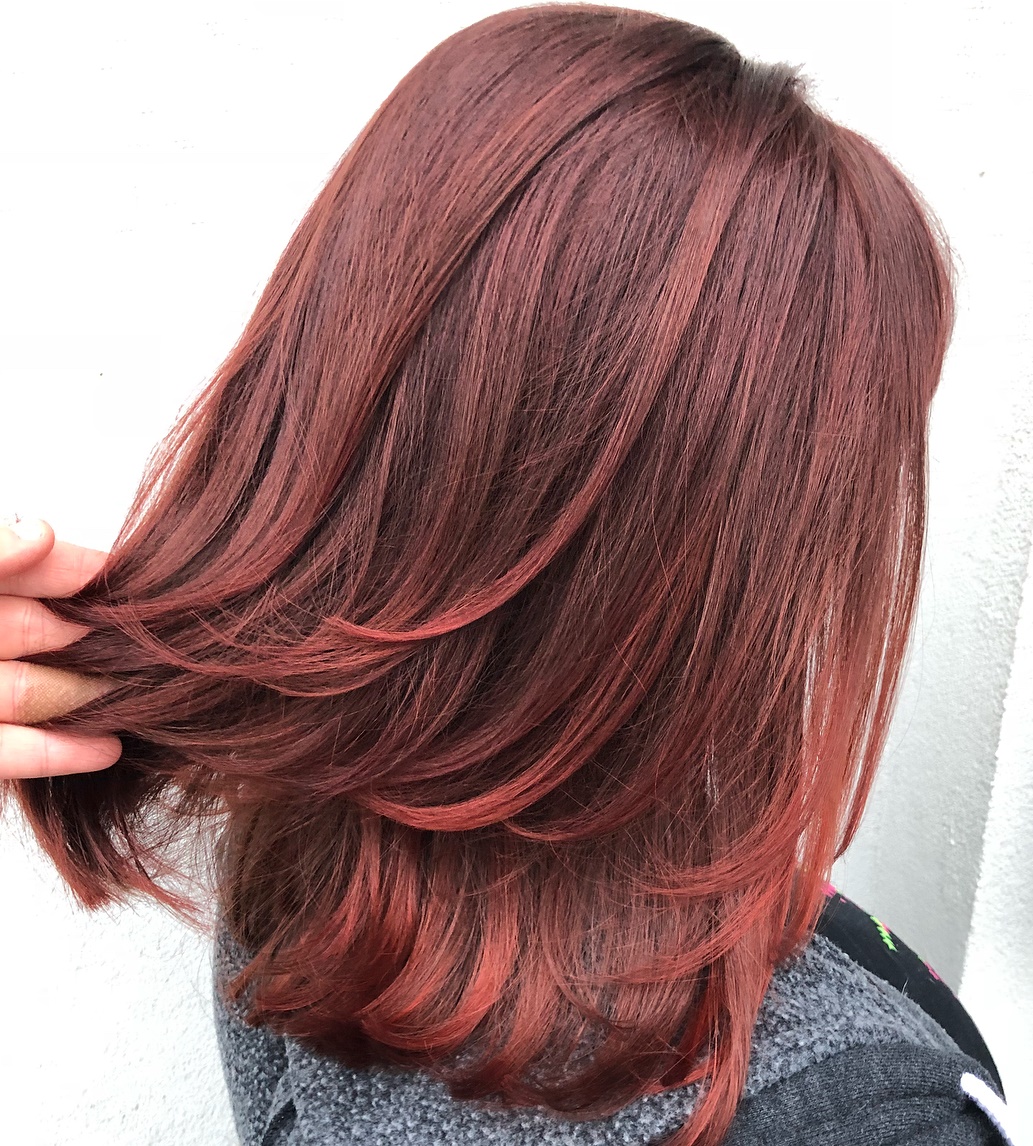 Straight, Sleek & Layered
via @shelbyweatherholtzhair
Straight hair can come with no highlights, still radiating vibrancy through masterfully done layering that doesn't look tousled or chunky.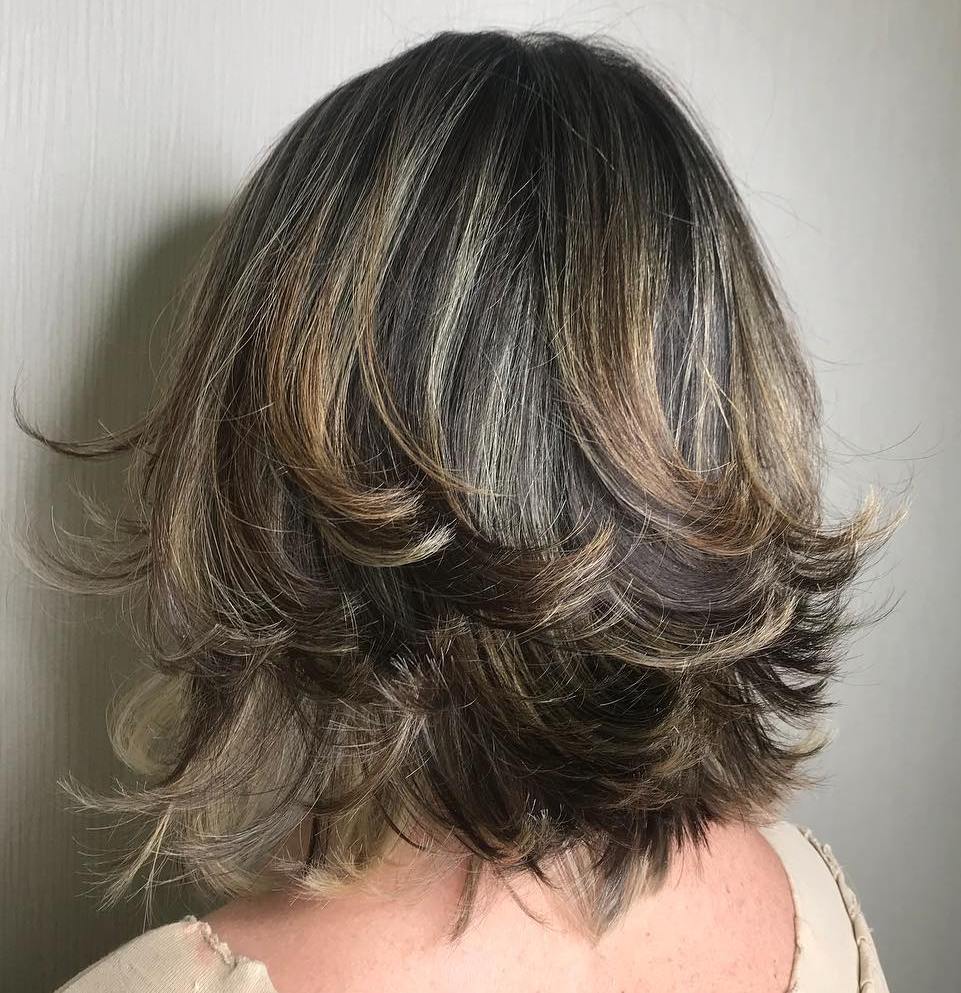 Layered Hairstyle for Thin Hair
via @bormannjr
Looking for medium layered hairstyles to flatter thin hair? Consider adding a splash of colors for more depth, and don't miss this feathered finish that gives both texture and volume to medium length hair.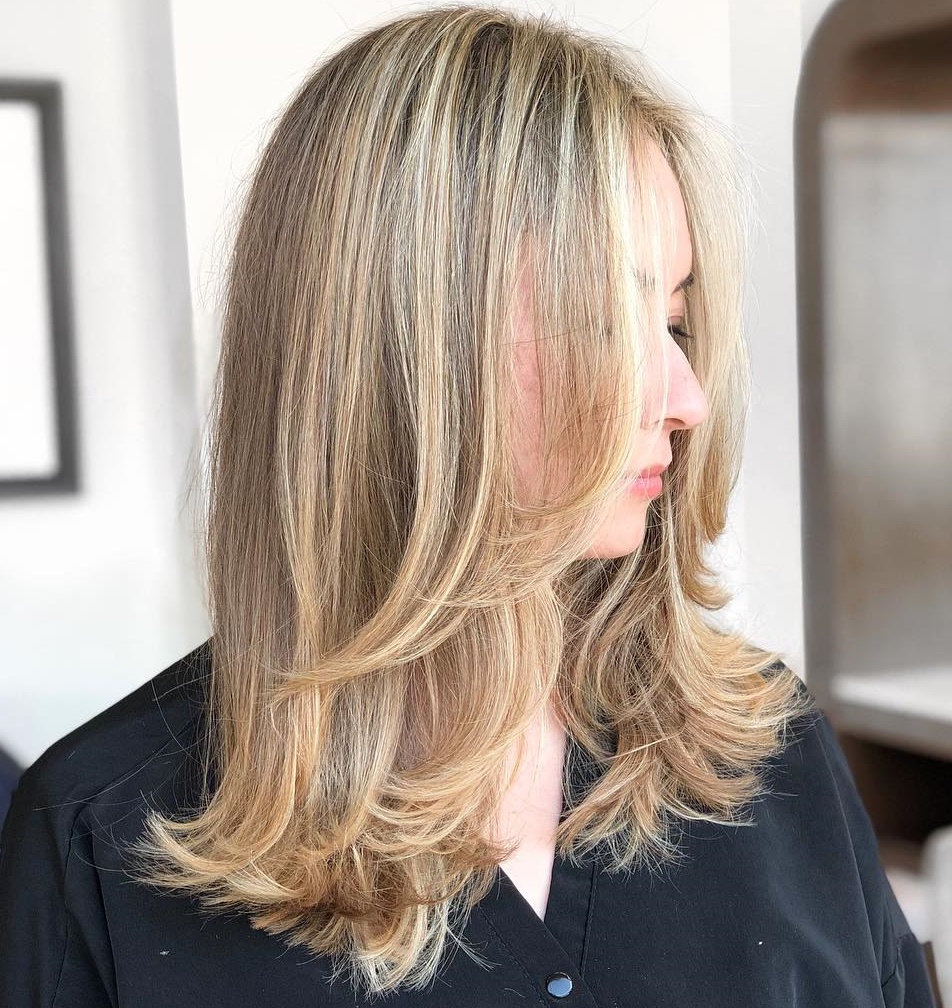 Medium Layered Balayage Hairstyle
via @hairbypaulperez
The same rule is applicable to fine tresses, which can take on some dimension and vibe through layering, for example around the face and at the bottom.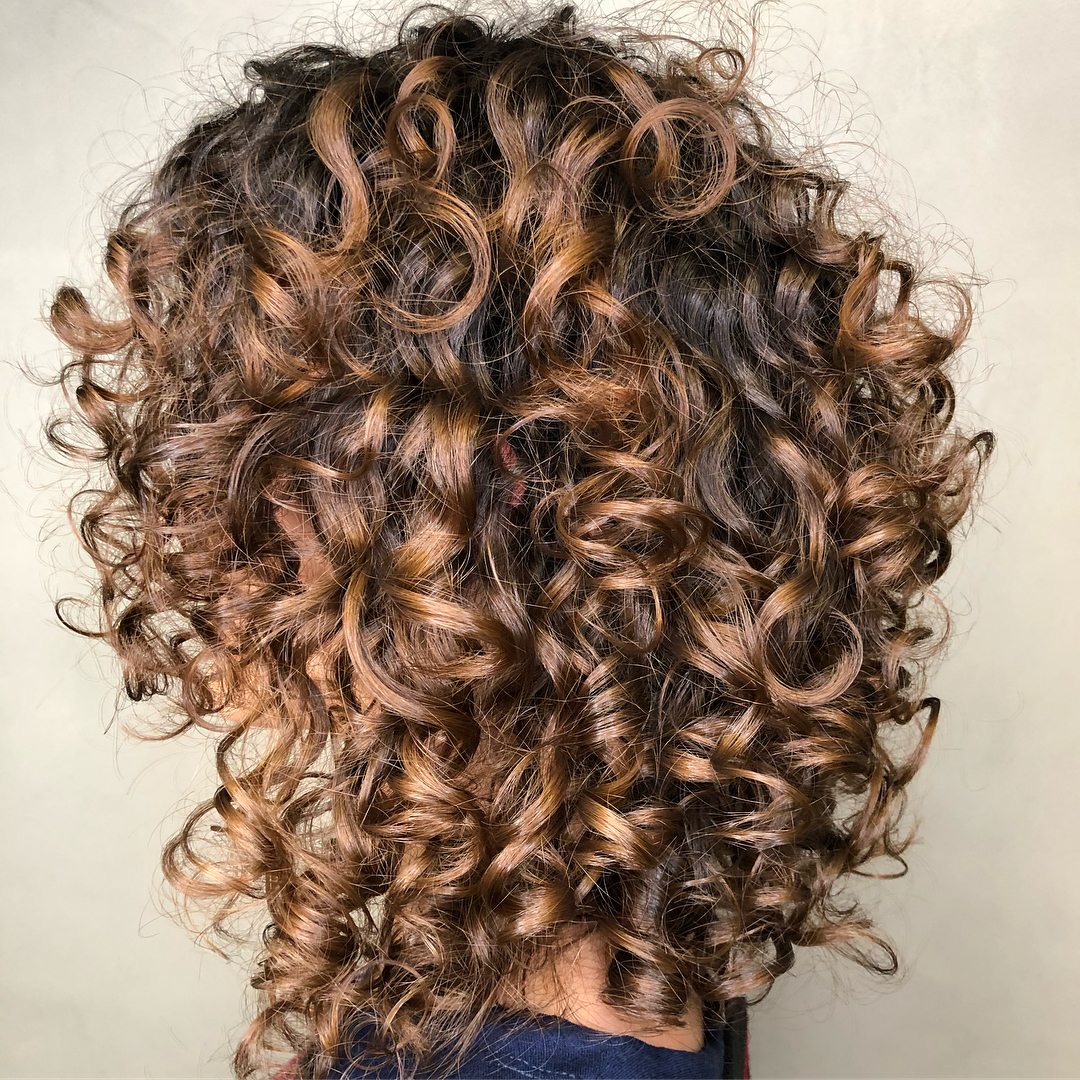 Curly Shoulder Length Layers
via @biahulmann.hair
Even tight curls will fall into place just perfectly and all naturally after they are layered with a master touch.
Medium Layered Haircuts with Bangs – a Killer Combo!
Adding a fringe is a simple way to give a twist to any type of medium length layered hairstyles. Alongside this revamping, bangs of the right density, length, and shape can balance facial features and make medium layered haircuts more flattering. Bangs sit really well with layers, often blending into side tresses to produce a seamless effect. However, this is not a must, and you can opt for various fringe types.
For example, feathered straight bangs and long side-swept fringes are great for fine hair, while girls with thick manes are encouraged to go for heavy blunt bangs. Try a full shaggy fringe, if your strands are wavy or curly. "If the bangs are naturally curly, you can either air-dry or use a diffuser to bring out the texture, using your fingers to softly loosen any tight curls," says John D, Tresemmé ambassador and stylist behind stars like Natalie Portman, Drew Barrymore and Amy Adams, in his comments to Glamour. Let's take a look at how bangs can beautifully complement shoulder length layered hairstyles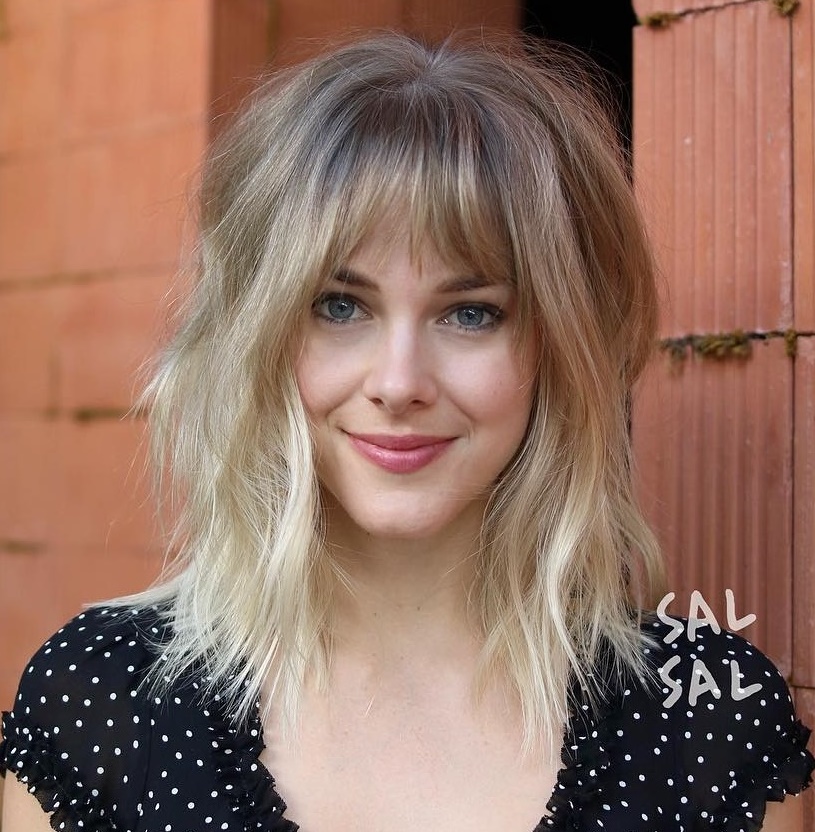 Piece-y Bangs & Long Layers
via @salsalhair
This tousled casual hairstyle with bangs boasts a soft color transition, some added volume and a trendy laid back look.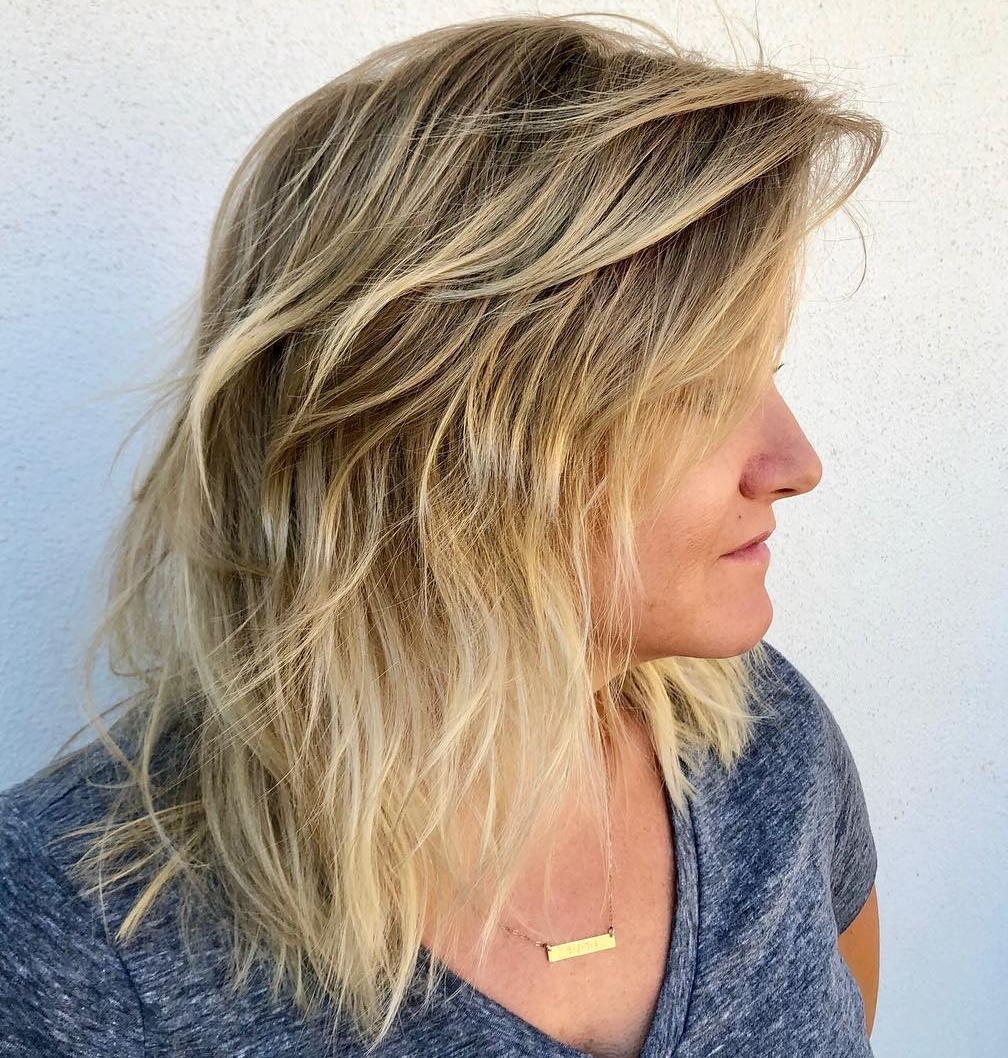 Messy Layers to Hide Growing-Out Bangs
via @hairbyginala
Textured layers are also good for creating a shaggy look to camouflage your growing-out fringe.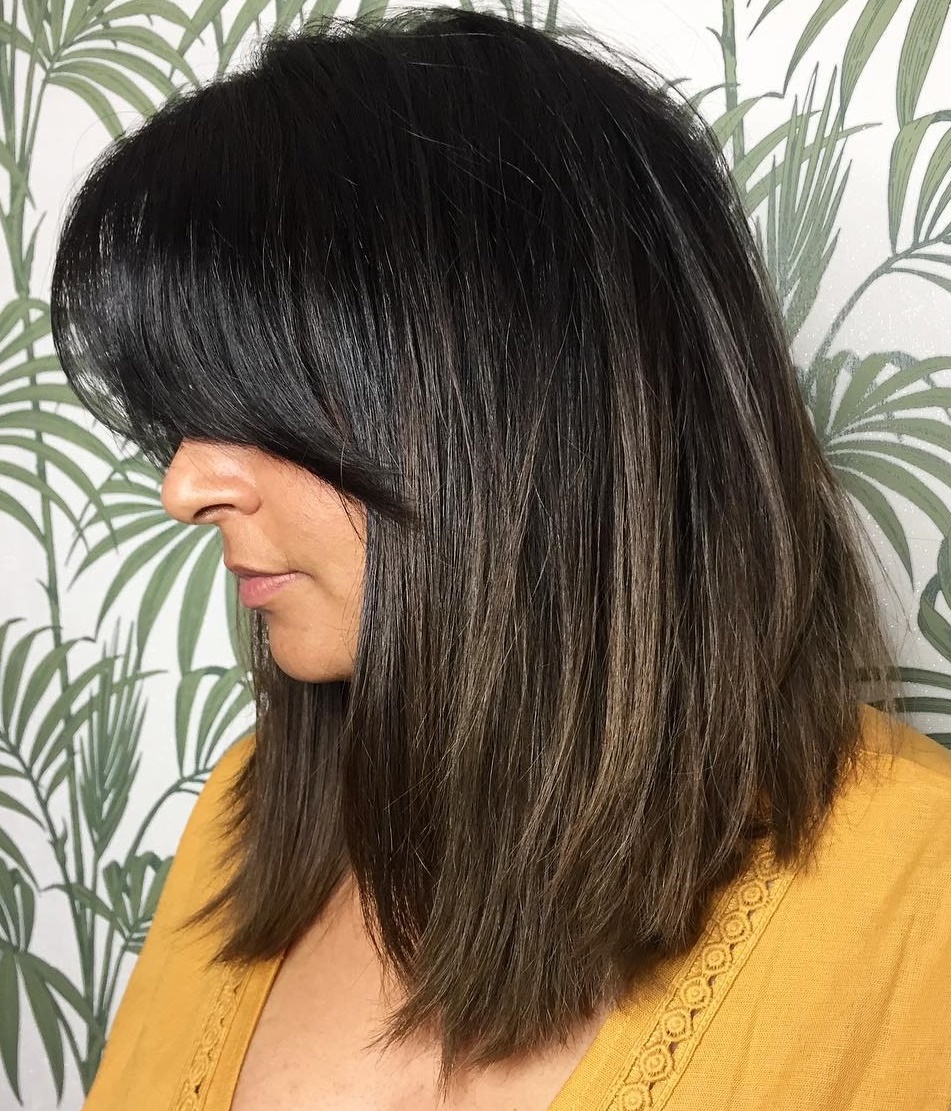 Medium Length Hair with Tapered Bangs
via @haircolourstudio
However, bangs line up with sleeker medium length layered haircuts too, like this long graduated fringe with a cute tapered finish does.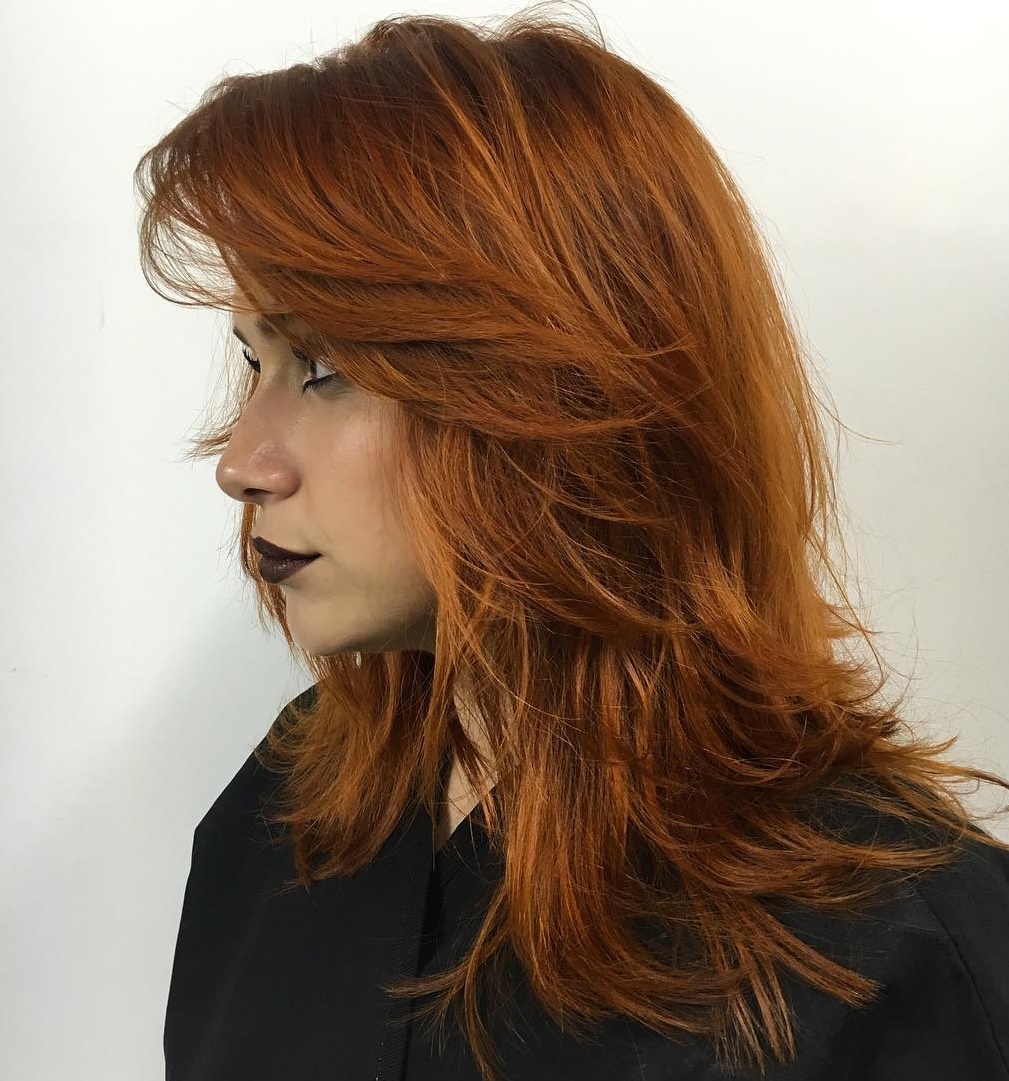 Feathered Layers
via @maygovintage
Feathered styling brings an entirely different feel, making your hair look airy and dynamic. And yes, layered hairstyles acquire a totally new meaning with vibrant colors.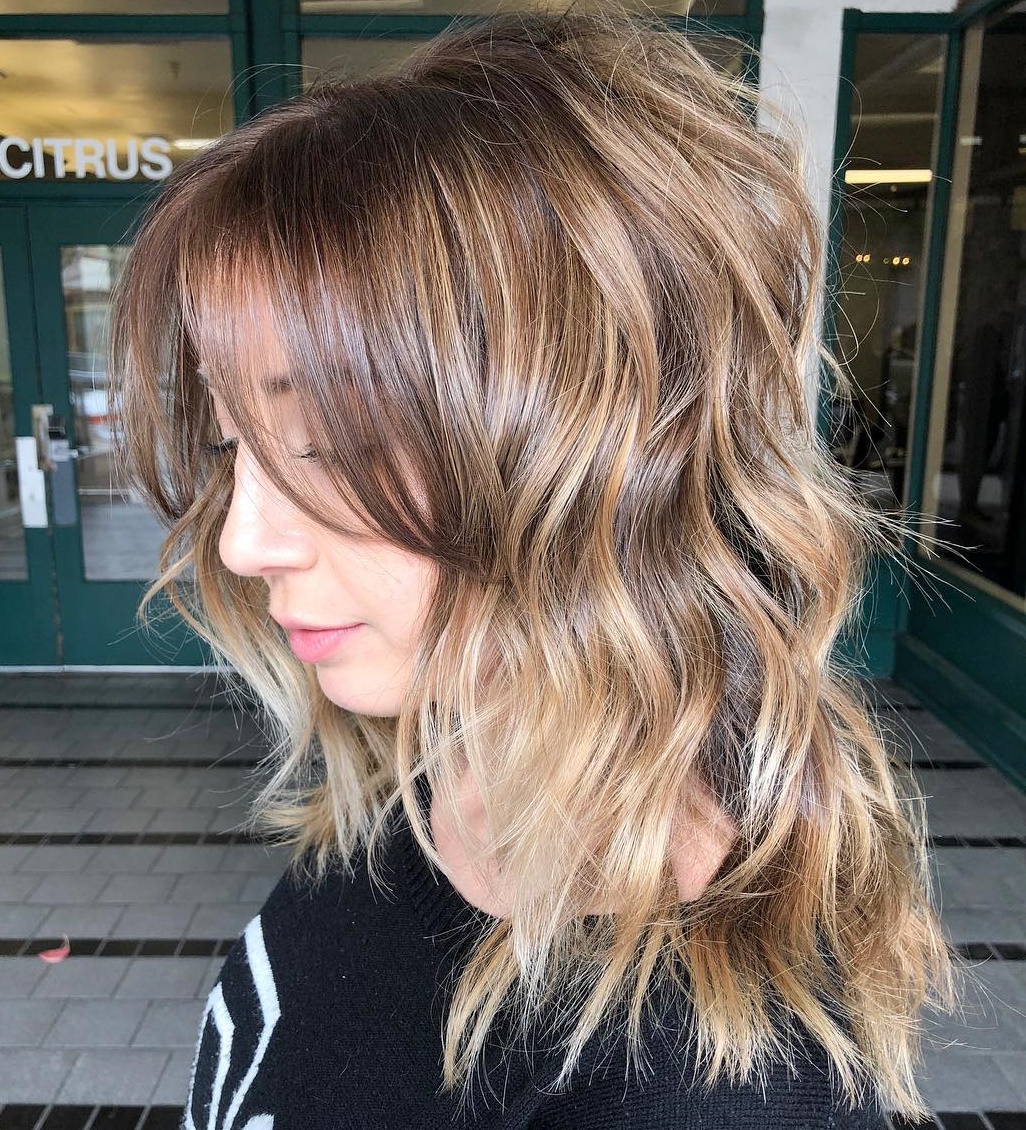 Long Bangs Rock
via @blondebomb
Long wispy bangs are still hot, and you can always tuck them behind the ear to open the face and to get a new style for your medium layered hair.
Best Layered Haircuts for Medium Hair to Nail in 2021
Which medium layered hairstyle is in? Layers can be short and long, piece-y and chunky, subtle and heavy – how do you know which ones to ask for when you want something really hot and happening? The good news is that you're not limited to one hairstyle and have the freedom to tailor layers to your needs
For example, if you prefer experimenting with your part, wearing it differently when the spirit moves you, opt for a hairdo with a short distance between layers."Flipping or parting your hair on one side and then switching to the other can cause one side to look very heavy. Subtle soft layers will remove some of that," writes stylist and founder Kristin Ess, who works with Lucy Hale, Lauren Conrad and other celebrities, in her blog.
Below, you will find a score of trendy layered haircuts for medium hair to get inspired, whether you like experimenting or not.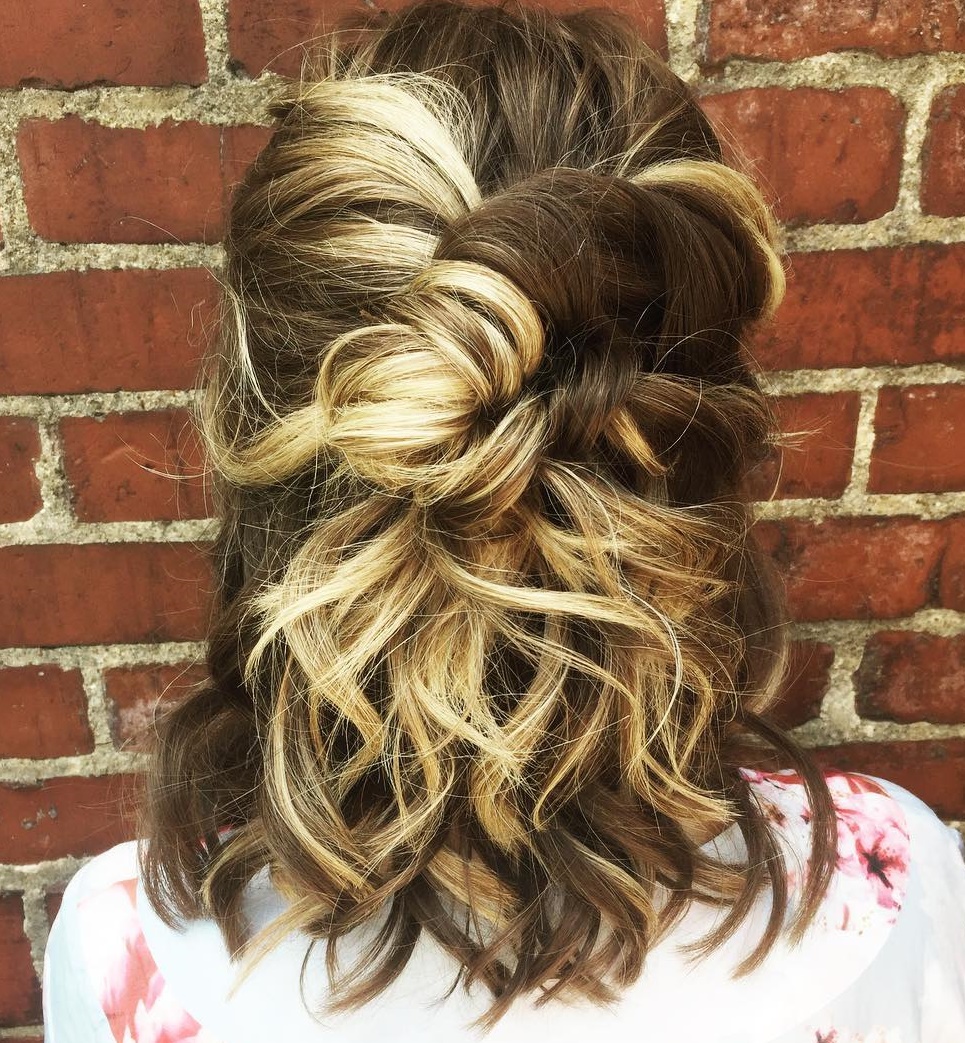 Tame Your Thick Waves
via @jessicamillerhair
Take thick tresses from both sides and twist them into a messy knotted half updo with tons of texture and a modern vibe.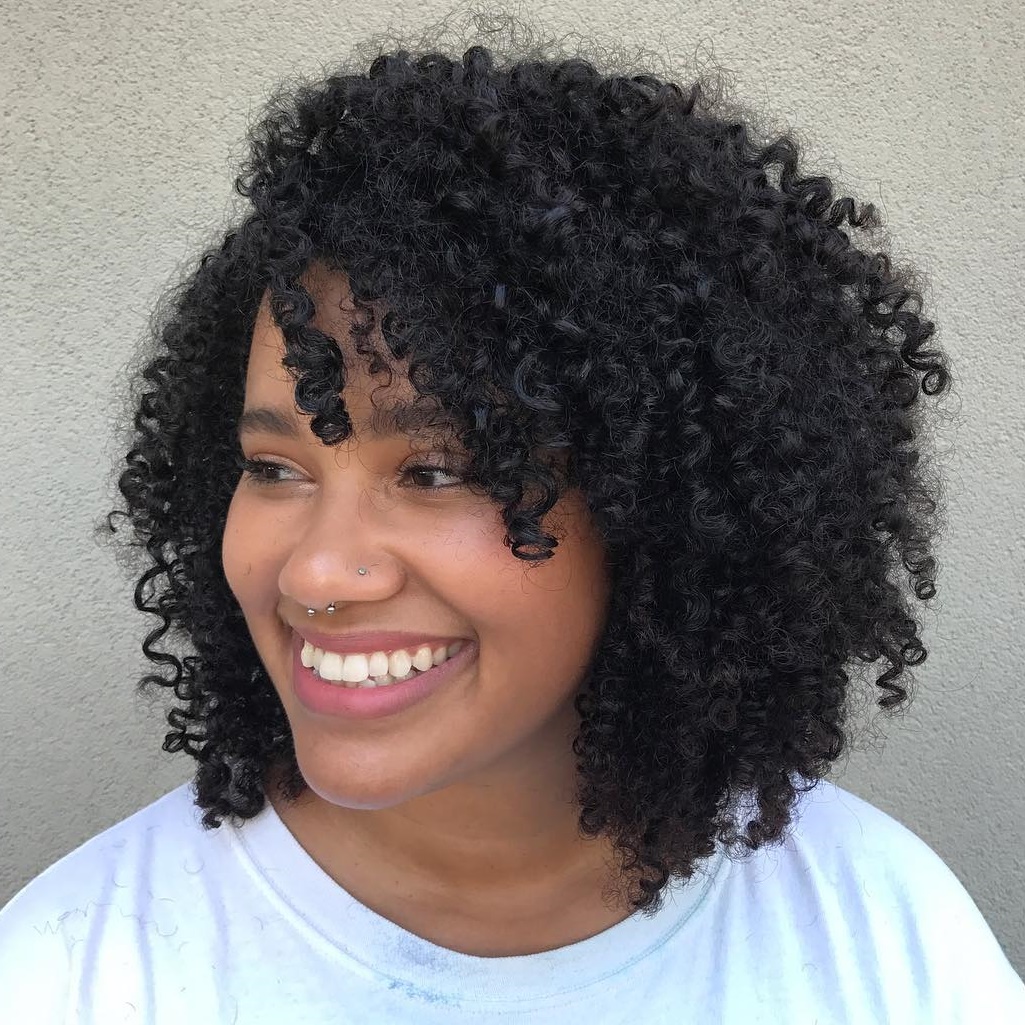 Bouncy Layers
via @sunflowersandscissors
Who said that medium length layered haircuts don't work well with curly black natural hair? Just look how this African American woman achieves a bouncy feel through well-defined spirals and beautifully cut layers.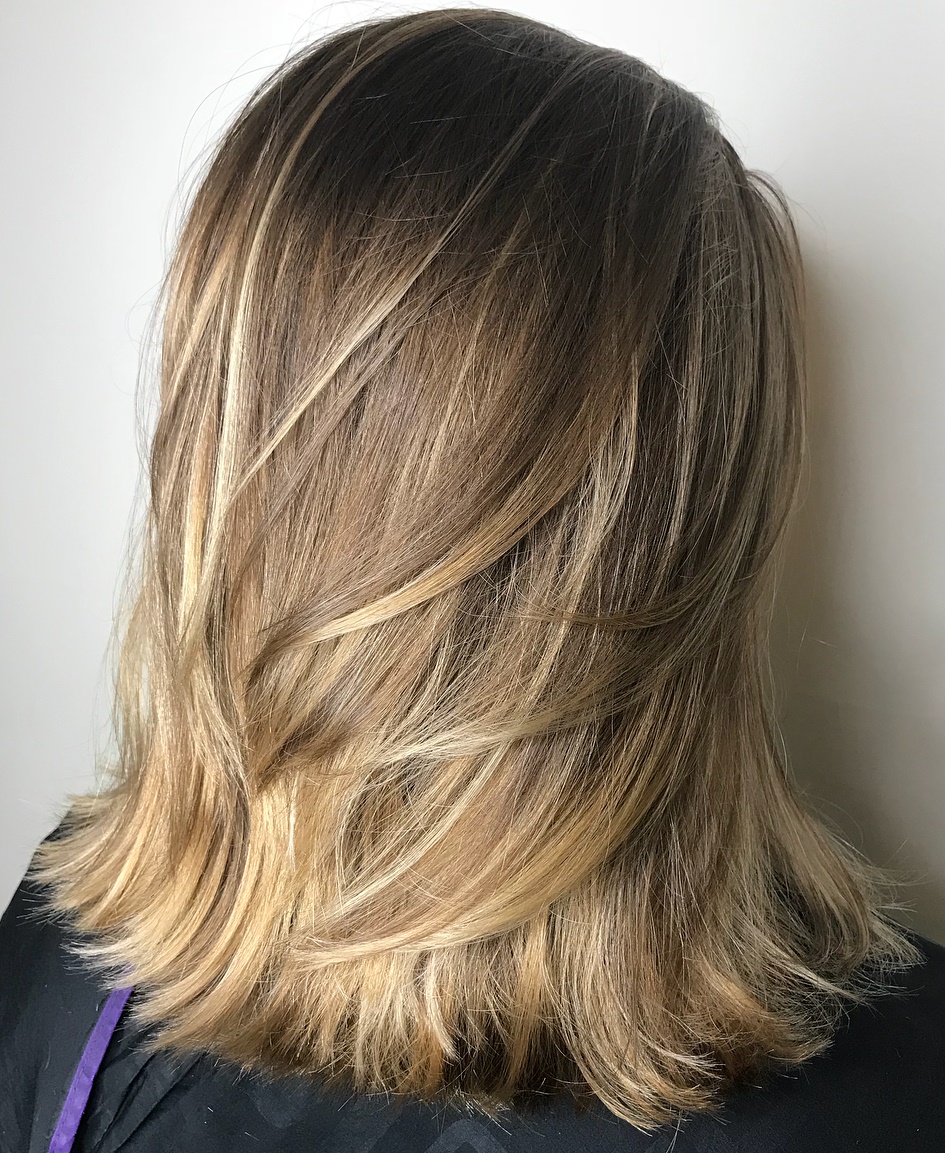 Long Layers with Highlights
via @beautyxlyric
Add some gray hues and lightened tips to your medium layered blonde hair to shine with a sun-kissed hairdo destined for summer.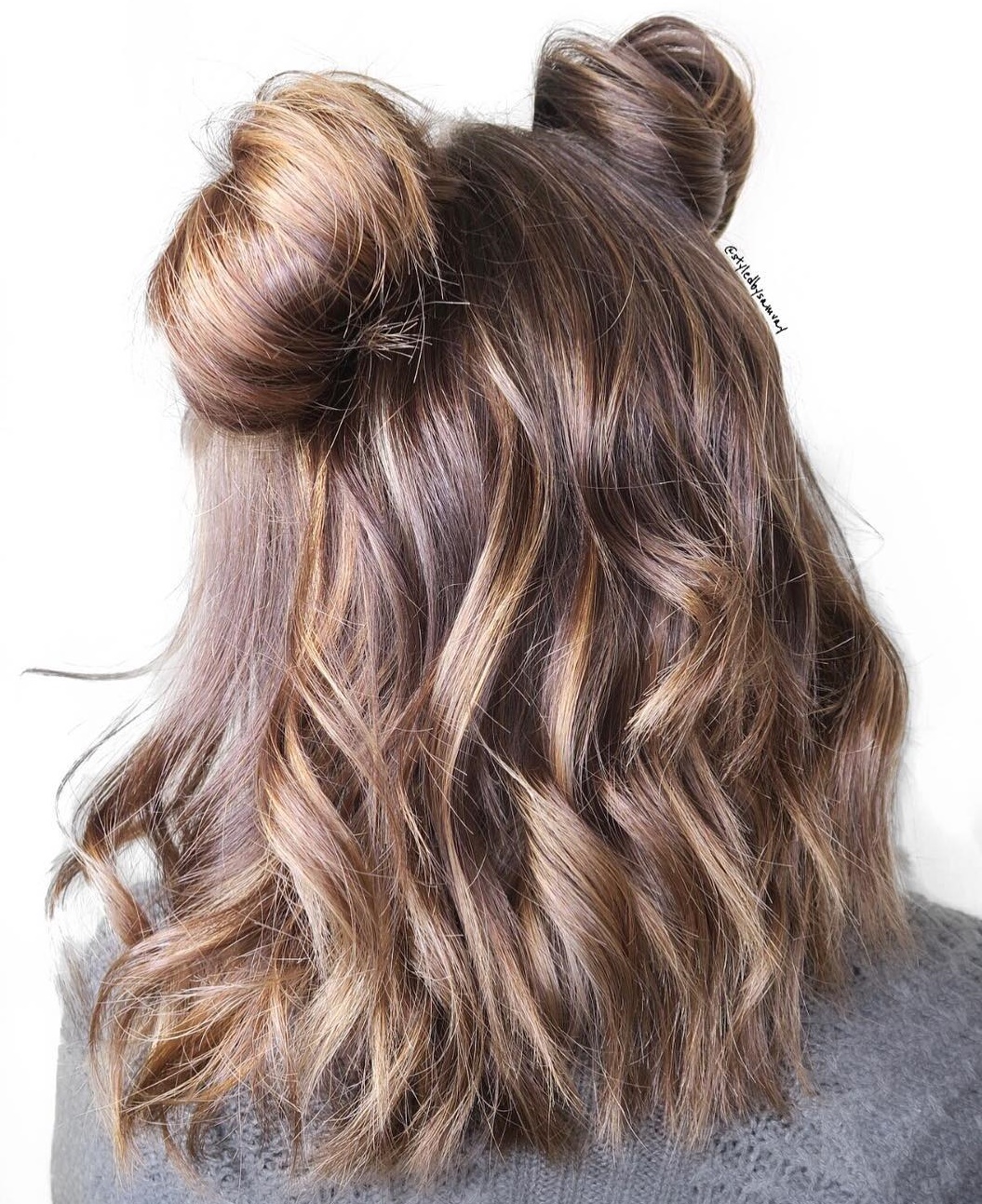 A Playful Half Updo for Layered Waves
via @styledbysamvay
Great news is that layered hairstyles allow you to style your medium length hair into beautiful half updos. A bun on one side plus a bun on the other side, plus in-between beachy waves equals an amazing style for mid-length hair.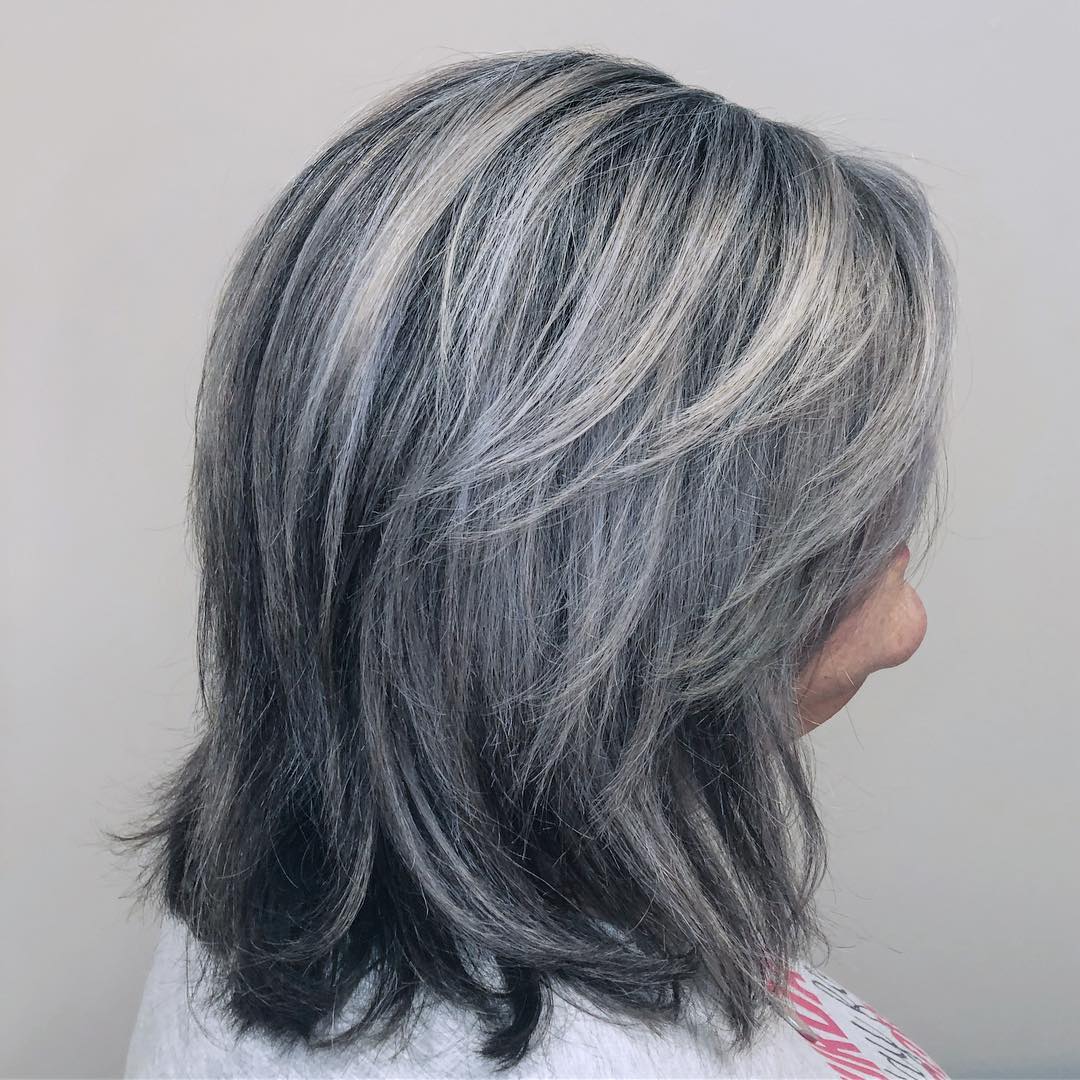 Gray Layered Hairstyle
via @hairartistkat
Ladies over 50 can age gracefully by mixing their natural color with voguish gray shades and incorporating the blend into modern layers.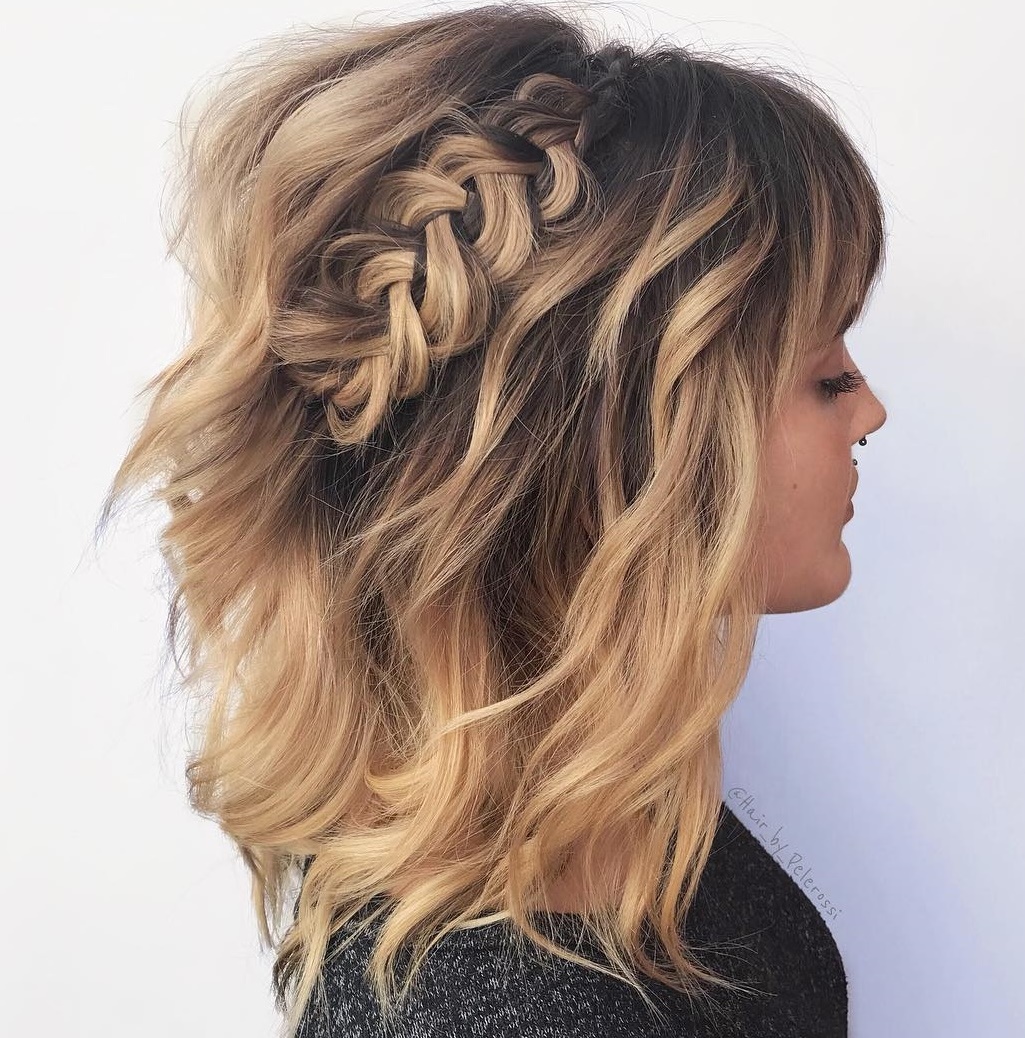 Add a Braid
via @alex_haircraft
Ring the changes with your shoulder-length hair through interlacing loose waves with a floppy braid. Our fave among mid length layered hairstyles, definitely.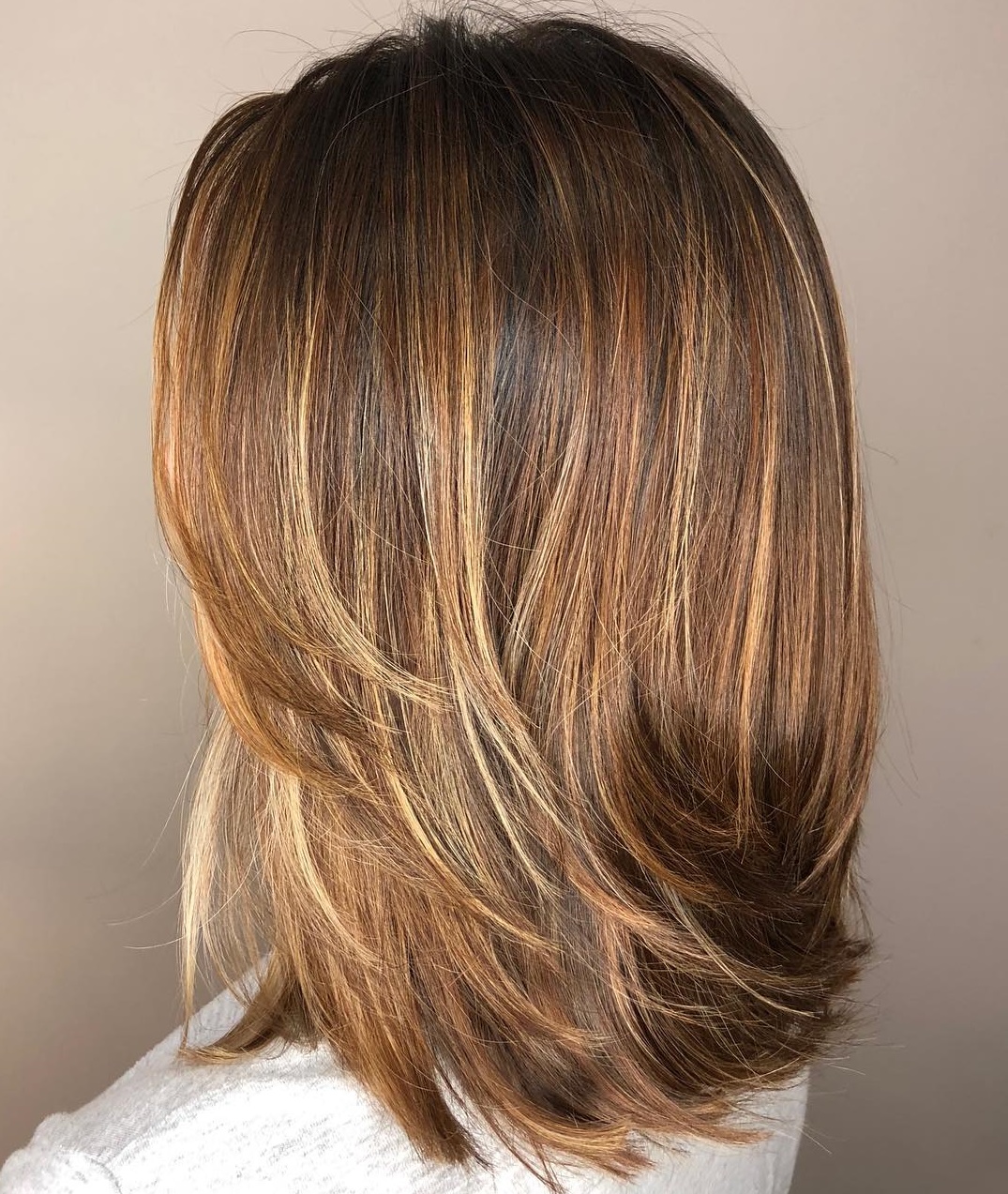 Medium Length Hair with Balayage
via @hairbycourtneybower
Go for long layers coupled with a customized balayage to make your straight hair look really vibrant.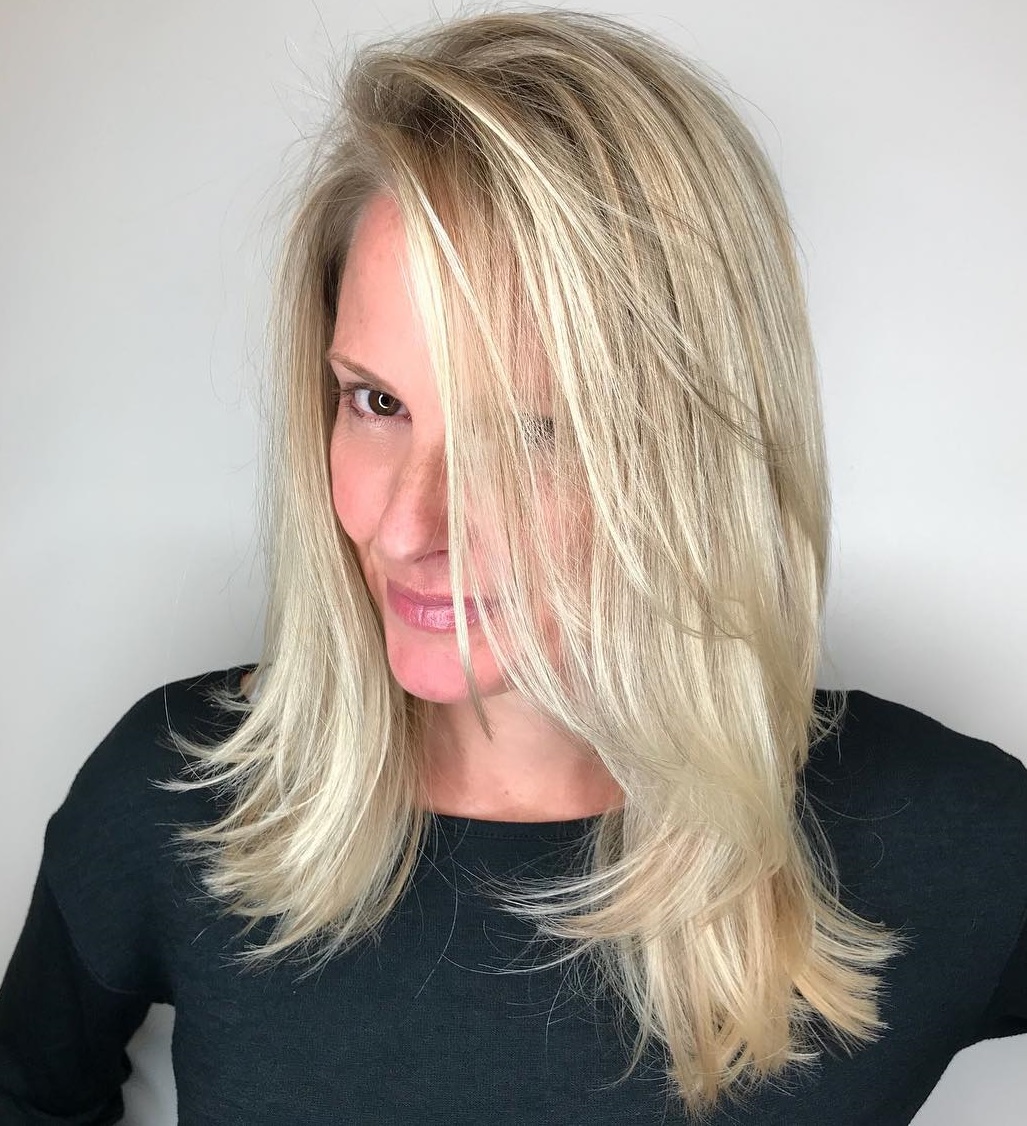 Framing Layers
via @shinetimes
Opt for face framing layers, when you need to balance your facial features or bring in zest into your hairstyle without sacrificing the length.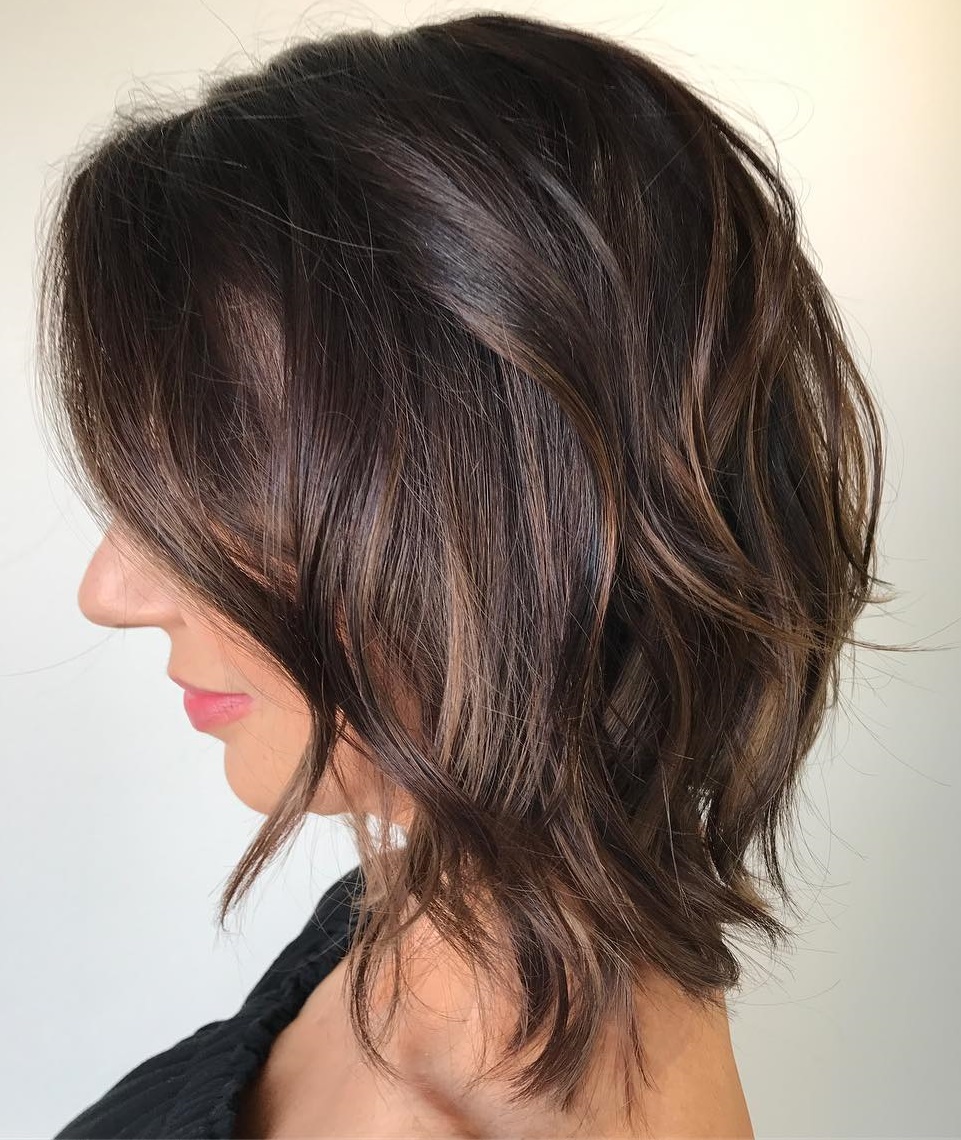 Textured Layers
via @sofiawithaf31
Look up to this dark hair shaped into an A-line lob, textured with soft waves and juiced up with splashes of light brown.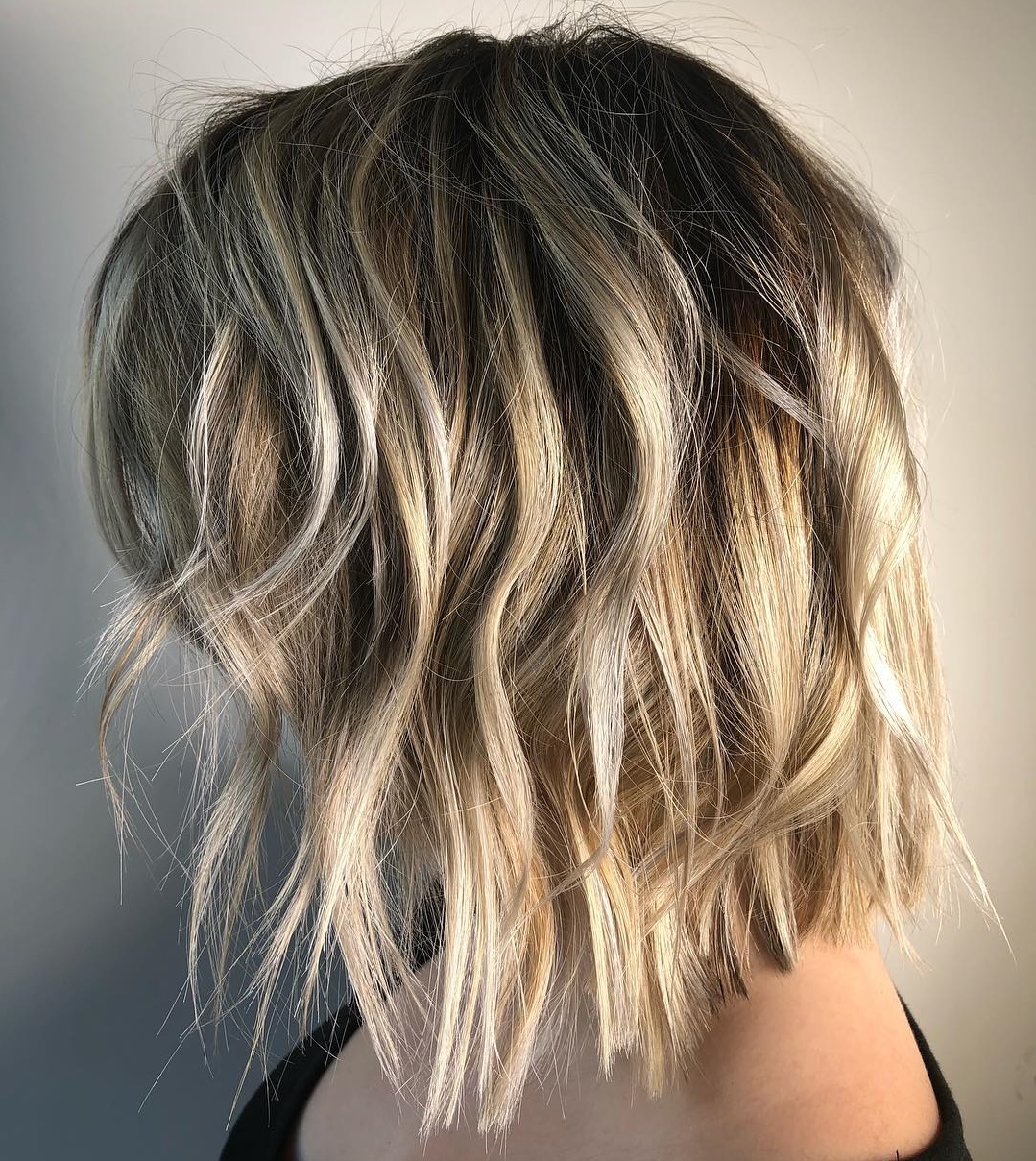 A Layered Bob with Choppy Layers
via @tangleshairstudioalbany
Medium layered hairstyles can be damn hot, just look at this choppy layered bob! If you're a blonde with fine locks, get some extra depth by adding shadow roots to your sophisticated balayage.
Definitely, layered hairstyles are not going to leave streets and red carpets, boasting powerful potential to flatter each hair texture and face type. With both messy and polished finishes, medium layered hair can radiate volume, texture and movement, while retaining diversity in styling and the feminine touch longer hair is loved for. Just try medium layered hairstyles and enjoy your new hip look!
Sours: https://www.hairstylery.com/medium-layered-hair/
SUPER LAYERS - STRAIGHT SHOULDER LENGTH LAYERED HAIRCUT
50 Fabulous Medium Length Layered Hairstyles
Do you feel like you could do with a change? Would you like to transform your hairstyle into one that turns heads and is easy to style? You've come to the right place! Medium length layered haircuts are incredibly popular among women of all ages, face shapes, and hair types. Their versatile nature means there's a cut to suit every woman – and the added benefit of layers means your hair will enjoy more shape, texture, and even volume (if you need it, of course!).
And now check out these super gorgeous medium length layered haircuts we've handpicked for you! They'll provide the inspiration you seek for spicing up your shoulder-length hair.
1. Textured Bob for Straight Hair. One of the main advantages of bob hairstyles is their versatility. They look great on wavy hair – and even hotter on straight strands!
2. Messy Lob with Bangs. Medium layered hair has everything for that trending messy effect many fashionistas strive to achieve these days. The layers create volume and texture, while the curtain bangs add the final touch.
3. Medium Layered Bob. A bob haircut is always at the top of our list. Add layers – and enjoy the low-maintenance movement!
4. Layered Cut with Blunt Bangs. The cheeky medium length layered hair paired with strict blunt bangs is the sweetest combo out there! Besides, this hairstyle offers a great opportunity to conceal a big forehead.
5. Layered Medium Length Hair. Create an illusion of thickness and movement with this beautiful, choppy cut for medium length hair.
6. Uneven Messy Lob. What's great about uneven layers for medium-length layered hair is that they look stunning, create a delicate, romantic look, and add texture to your hair. Besides, you don't need any special skills to style this low-maintenance hairdo.
7. Medium Choppy Graduated Bob. Want a haircut that's super fun and flirty? Choppy hair hits the spot! It's a bold cut that creates definition and movement, while still looking easy and effortless.
8. Sleek Shoulder-Length Bob. If you've been blessed with sleek and smooth hair, upgrade it with swoopy layers! Adding highlights will intensify dimension and thickness.
9. Elegant Feathered Lob. This mid length layered hair is a one-fits-all solution. Not only does it suit ladies of any age, but it also looks incredible with every hair type. It has been created for mid-length hair!
10. Medium Haircut with Sliced Ends. To get one of those trendy lifted and voluminous medium layered hairstyles, ask your stylist for sliced ends. Not only do they add air to thick hair, but they can also make even the thinnest strands appear bright and lively.
11. Long Layers for Thin Hair. Looking for a shoulder-length cut that adds volume to thin hair? Feathered layers do the job and look very feminine.
12. Layered Medium Length Cut. Don't be discouraged if you have fine hair and want to rock medium layered hair! With this beautiful choppy medium layered hairstyle, you will add extra volume to your hair, creating an effortless, delightful look.
13. Shoulder-Length Layered Cut. The addition of layers is a great way to refresh your look and try another shape for your casual hairstyle. The razored layers prevent the hair from looking too heavy. That's why many girls appreciate short and medium layered shag haircuts.
14. Layered Midi Shag with Bangs. Without a doubt, many women love this particular shag variation because it delivers additional feminine vibes, making you look playful and classy. You can wear your hair loose without having to cut your long locks completely!
15. Voluminous Curly Shaggy Lob. If you have beautiful curly locks, this shoulder-length layered hair style will allow you to feel trendy and attractive all day long. Just wash your hair, scrunch it with a product, and appreciate the magnificence and simplicity of present-day shags.
16. Layered Ombre Style. The shoulder length layered hair featuring an irresistible ombre is just a whole new level of beauty! The layers will make the color gradient look especially attractive. This style allows you to shine whether you have straight or wavy hair.
17. Lively Wavy Layered Hairstyle. Curling your layered hair is another amazing way to show off the shaggy cut. Style your medium layered bob with distinct curls to have the lionesque volume and royal dimension.
18. Two-Layer Cut. If you are looking for low-maintenance medium length layered hairstyles, this gem will be to your liking. Ask your stylist to create two tiers that will enhance the hair's natural bounce and enjoy the lovely result!
19. Gorgeous Gray Layered Hairstyle. Embrace and enhance your natural grays with a hot balayage style. Medium layered hair with silver highlights can easily liven up and refresh your tired hair.
20. Shaggy Layers and Bangs. Shaggy layers in medium layered haircuts are adorable and make your hair look thick and healthy. Besides, regardless of your hair color, beach waves would look perfect with this cut.
21. Sophisticated Medium Bob. Is your hair crying out for some shape and movement? Check out this beautiful, medium bob!
22. Shoulder-Grazing Layered Wavy Bob. Curl up your shoulder-length layered hair and work your fingers through waves to achieve this elegant beachy style that will last a couple of days.
23. Bob Cut with Swoopy Layers. This is probably one of the most elegant hairdos for mid-length layered hair. The swoopy layers provide extreme volume and movement, and you can experiment by making them even, consistent, or asymmetrical.
24. Mid-Length Sliced Shag with Bangs. Imagine yourself in the early 90s inspired by an indie movie and try medium layered hair with bangs. The highest level of femininity!
25. Textured Bob. A short to medium hairstyle is a preferred choice of many modern women. The cute and playful textured bob is well-worth experimenting with!
26. Shoulder-Grazing Cut with Feathered Layers. Among many medium length layered hairstyles for straight hair, this old school one is a winner for all ages. Besides, it highlights your colored hair wonderfully.
27. Shoulder-Length Layered Cut. Some medium length hairstyles are pretty much universal, like this one here. All you have to do is choose which twist you want to complement it with, be it a specific hue or styling technique.
28. Voluminous Wavy Shag with Bangs. Full bangs are the best addition to shoulder-length medium layered haircuts. Let them flow into the shortest crown layers of your choppy wavy shag to achieve a playful lifted appeal when you curl those locks.
29. Two-Layer Haircut for Straight Hair. This style with V-cut layers works great for girls with straight hair. Medium layered hairstyles like this one can be shaped to flatter your unique facial features.
30. Mid-Length Flipped-Up Layers. This fancy layered hairstyle with golden locks is a magical styling option. With a stunning shine and captivating texture, this hairdo will definitely make you want to look in the mirror more often.
31. Disconnected Shag with Beachy Waves. Beachy waves are ideal for all young ladies who love medium-length layered hairstyles. The good news is a sea salt spray is enough to get perfect beachy waves. Summer mood is guaranteed!
32. Textured Cut for Shoulder-Length Hair. If you need a perfect add-on to your back-to-front balayage, choose a shoulder-length layered bob to go along with it. It fits all hair textures!
33. Stunning Caramel Brown Tones. Here's a classy women's hairstyle that suits at any age. We love the warm bronde tones and chunky layers, which together create a sophisticated effect.
34. Feathered Medium Layered Hairstyle. A luscious, flattering hairstyle for anyone looking to bring layers into their life!
35. Inverted Wavy Layered Lob. When your hair is wavy, and you're lazy enough to avoid the styling fuss, an inverted bob will become your next ideal hairstyle. Soft side bangs can be a nice touch to balance out the frizzy hairdo.
36. Messy Lob with Choppy Layers. The perfect thing about lobs is that they are so easy to work around, plus you can wear them any way you like. Whether straight or wavy is your style of choice, the textured mess will be a hoot.
37. Dramatic Messy Layered Lob. Show off your ashy babylights with medium length layered hair. Add some texturizing product, and you're all set for a few days of effortless chic.
38. Wavy Cut with Bangs for Frizzy Hair. Take your unruly hair under control with a hairstyle to solve all your hair problems. A wispy fringe with feathered ends, the proper hair care products, and a cut with soft layers can cancel your bad hair days.
39. Messy Layers. Think you'd like a layered cut that's on the modern side? There's nothing trendier than this messy, slightly undone layered medium hairstyle.
40. Glamorous Medium Brunette Hairstyle. Subtle highlights add an interesting twist to this gorgeous deep brown hair. We love the layered cut which makes the hair seem silky and weightless.
41. Wavy Lob with Razored Layers. The fantastic thing about shoulder length layered hairstyles is that you can shape them with a razor. Who doesn't enjoy a perfectly shaggy lob with delicate highlights? We know we do.
42. Textured Medium Bob. Changing your hairstyle is the first step to an image transformation. Tired of your old looks? Dare to go for a captivating layered medium cut as in the picture – and bring your hair to life with layers and a stunning multitude of hues.
43. Feathered Medium Bob. Looking for a unique color to go with your medium layered haircut? Add rose-gold to the top of your must-try list!
44. Haircut with Flipped Up Ends. With these dynamic long layers, medium hair looks absolutely gorgeous. Spice up your hairstyle with a bright color or trendy balayage highlights and flip up the ends of your layers for a fancy look.
45. Pink and Copper Tones. Combining lowlights and highlights on your layered cut is a fail-proof way to add depth, dimension, and movement.
46. Blonde Textured Bob.Adding lowlights to medium length layered haircuts creates visual depth and volume (making your hair look great even a few days after washing!).
47. Beautiful Medium Cut with Feathered Ends. If you can't afford to spend much time on styling, this low maintenance medium length haircut will save your morning routine. Dry your hair, keeping it down, and brush through the layers once you're done for this easy hairdo.
48. Medium Layered Blonde. Here's another version of a brilliant rooty blonde hairstyle layered to add volume and movement.
49. Flowy Piece-y Haircut for Medium Hair. The easiest cut that will have you showing off layers without much effort. Just blow your hair upside down, and the piece-y cut will take care of the rest.
50. Textured Shoulder-Length Bob. Choppy cuts frame the face and create an effortless, delightful look every time!
These beautiful medium length hairstyles will bring your hair to life and create a particularly striking look when paired with trendy hair colors of this season. Layers are a fantastic way to shape shoulder-length hair. They add volume to thin hair that desperately needs a boost, and can reduce weight in thick, heavy locks. We hope that this list of 50 gorgeous medium length layered haircuts has left you feeling inspired, with plenty of pictures to show to your stylist. Remember: confidence is what makes a hairstyle stand out, so wear it proudly!
Sours: https://www.hadviser.com/medium-length-layered-haircuts/
Straight hair medium length layered
Medium length layered hair is always a great choice, as it is flattering for any woman. All, in all we all wish to look well-groomed and elegant, no matter how old we are. However, we have quite a busy life. So, besides being beautiful, we want our hairstyles to be practical, as well. And that is why shoulder-length layered haircuts are so popular in 2021 – they are universal.
For that reason, we have selected the hottest picks for women who know the value not only of time but also of stylishness. Whether you have thin hair that often lacks volume or you have trouble taming your coarse locks, our ideas have an approach to everyone! Dive in to see how you can get the most of your hair type with the help of layers.
A-line Medium Hairstyles
Credit photo: instagram.com/hairbybrittanyyCredit photo: instagram.com/styled_by_carolynnCredit photo: instagram.com/styled_by_carolynnCredit photo: instagram.com/coloredbycaitlinCredit photo: instagram.com/artistrybyjenniferCredit photo: instagram.com/texasbalayageCredit photo: instagram.com/maeipaint
If you sport haircuts with an edgy or pointed structure, you won't be mistaken in choice if you opt for layers. Not only will such haircuts accentuate the distinctive look of your cut but they will also enhance the natural movement in your hair. We love layered A-line haircuts for their amazing versatility. On fine hair, they give tons of volume and bounce with the help of waves. And when it comes to thick hair, they work wonders with their sleek body and curvy ends. Well, no wonder such cuts are so popular these days!
Medium Layered Hairstyles With Bangs
Credit photo: instagram.com/taha_safariCredit photo: instagram.com/daphnenarcyCredit photo: instagram.com/hugosalonCredit photo: instagram.com/salsalhairCredit photo: instagram.com/ashleenormanhairCredit photo: instagram.com/rachelwstylist
Although not everyone is ready for commitment, chic bangs can be a perfect idea to style your medium hair in 2021. As for layering, it can take place wherever you want. Shoulder length layered hair gives you plenty of options. You can either leave your bangs as they are or get them layered, too. While layers go well with any type of bangs, you should pick yours based on your face shape. Whatever fringe you choose, it will look its best if you ask your stylist to blend it with the rest of the hair. Needless to say, there's no better way to work on your facial features than to get bangs.
Middle-Parted Medium Hairstyles
Credit photo: instagram.com/salsalhairCredit photo: instagram.com/johnnyramirez Credit photo: instagram.com/heyclaireCredit photo: instagram.com/johnnyramirezCredit photo: instagram.com/dancsicsaihair
Medium length layered hair looks ravishing when it's middle-parted. Not only do such hairstyles get the most out of your texture but they also give a pleasant framing touch. In case you want to focus on its face-framing features, make sure to spread your hair evenly. The point is to create a nice and clean center part so that the hair falls evenly to the front. The front pieces, in their turn, will do the framing magic. Give them a pass of a flat iron so that they lye exactly when you need some framing. To finish the style with volume, apply some spray to the roots.
Credit photo: instagram.com/mikaatbhcCredit photo: instagram.com/richardatkuthausCredit photo: instagram.com/sazanhendrixCredit photo: instagram.com/AmandaSteele
Parting your hair to the side is another nice way to add some volume to the crown. And since your layers are here to provide all of your hair with lift, you can get a cool outweighed silhouette where both sides are full and chic. Waves would be a fantastic finish, by the way. When waving your locks, make sure to change the direction of your curling wand. In this way, wavy layers will create an effortless flow. If you're afraid of damage, there's no need to wave all your locks. Instead, you can wave only the top layer of your hair. Trust us, this would be enough to amp up your hair with movement and volume.
Straight Medium Length Layered Hair
Credit photo: instagram.com/beautyandbalayageCredit photo: instagram.com/hairluvbytiffanyCredit photo: instagram.com/jesstheebesttcolorCredit photo: instagram.com/martafeschukCredit photo: instagram.com/rochellegoldenhairstylistCredit photo: instagram.com/texasbalayage
Perfectly straight hair always looks neat and tidy, especially when it voluminous and balanced enough. Once you add a touch of layers, it will get a little bit twisty at the edges which will make it even more attractive. A rounder silhouette is indeed the best choice for straight styles. The best thing is, a round brush is all you need for styling. For the best results, we recommend you getting choppy ends. It will lighten up the weight of your tips, thus making your hair more manageable. At the same time, choppy ends are what allow for everyone's favorite beach waves. Simply spritz your locks with some sea salt spray to get the look!
Q:What is considered medium-length hair?
A:Medium-length hair is the middle ground between long and short hair, and it's basically 12 inches long. In case you don't have a measurement tape at hand, you can define your length visually. Mid-length is also called shoulder-length hair, so if the ends of locks are longer than the chin line and cover the neck fully, they're medium length.
Wavy Medium Hairstyles
Credit photo: instagram.com/colorbyashleyCredit photo: instagram.com/jens.addictionCredit photo: instagram.com/caitycaattCredit photo: instagram.com/hairluvbytiffanyCredit photo: instagram.com/texasbalayage
In fact, experimenting with the ways of trimming the ends and the number of layers, you can explore a surprisingly big number of stunning looks. On top of that, these haircuts work great for all hair textures. Just look at these pics! As you can see, 2021 layers look ravishing when they're wavy! Waves can be different, and your task is to style them so that they fit your hair type. For fine hair, little thin waves will be the best choice. And if you have thick locks, they will look best with bigger waves. You can also enhance the effect of wavy layers with a touch of highlights. As a result, your waves will look even more alive.
Q:Do layers make your hair look thicker?
A:Layers can make your hair look fuller rather than thicker by providing movement and volume to the texture. In general, for thicker-looking hair, you should use products designed for thickening the hair texture or go for salon treatments. Layers, however, may be a better alternative, as they can get the most of your locks naturally.
Messy Layered Hairstyles
Credit photo: instagram.com/elainabadroproCredit photo: instagram.com/jilmorrishairCredit photo: instagram.com/salsalhairCredit photo: instagram.com/buddywporter
Ladies who want their waves to be deep and dynamic at the same time just need to layer up their haircuts. When styling, a bit of slight texturing and a hint of tousled finish are enough to take your texture to the next level. Also, don't forget that you can play around with different types of layers. Your layers can be short and smooth, as well as long and edgy. Obviously, it's all up to your taste! Most layers are wash-and-go, so they will never take a lot of time for styling. For messy styling, a texturizer and tousling are all you need. Simple yet stylish, who could ask for more?
Choppy Medium Length Layered Hair
Credit photo: instagram.com/centro_degradeCredit photo: instagram.com/muhamed_balasievCredit photo: instagram.com/breekleintopCredit photo: instagram.com/hairbykatlin
If you have long hair and do not want to chop it, you can make it a little bit shorter with a middle length haircut instead. Basically, layers don't get rid of length. On the contrary, they cut off the extra weight from your tresses. Therefore, tell your stylist to start layering from the middle and slowly go down to the ends of your hair. For your everyday look, add a few curls with the help of a blow dryer in order to flip those ends! Or, apply some texturizing mousse to your wet hair. Yes, layers also look cool when air-dried.
Q:Is layered hair better than one length?
A:When it comes to choosing between layered and one-length hair, the choice pretty much depends on your hair type. For fine and thin hair, for example, one-length won't look its best, as this hair type requires more movement and volume of layered texture. As for thick hair, it goes well with both layers and one-length, so it depends on the look you want to achieve.
Besides breathing a new life in your hair type, layers will also provide you with an easy styling routine. When your hair is layered, sometimes a texturizing product is all you need for a perfect hairstyle. And last but not least, nothing can compare to the beauty of layers when you want to have a chic yet low-maintenance routine. Now that you've seen the latest medium layered cuts, not recreating one would be a crime! Remember: you can't go wrong with layers!
FAQ: Medium Length Layered Hair
Should thick hair be layered?
Above the shoulders, thick hair looks best with movable layers. Your hairdresser can make a graduated or stacked style with layers on the sides to make hair less weighted. On thick hair, one-length bob hairstyles look great. How layers look also depends on texture, as well as on hair thickness.
Are layers bad for thick hair?
Layers fit well to thick hair if they are done with hair and length type in mind. Experts advise long layers with light ends. They won't give you the "hat" effect that you don't like.
Is layered hair easy to manage?
In fact, layered hair is a simple approach to get rid of weight and bulk, while also making extraordinarily thick hair more obedient. This is how you can make fine hair appear thicker and create more volume without affecting length. The hair that is layered is perkier and has more flexibility.
REFERENCES:
Hairstyles for medium length hair are having a major moment. Source
Medium length hair is more popular than ever. Source
Sours: https://lovehairstyles.com/medium-length-layered-hair/
Best Layered Haircut For Fine Hair
29 Hottest Medium Length Layered Haircuts & Hairstyles
Perfect Layers for Thin Hair
Instagram @j_manes_
This mid-length bob offers the perfect layers for thin hair. Such a blessing when your chosen look can make fine or thin hair look thicker. Jazz up this medium-length layered hairstyle with soft curls to accentuate your blonde, or where it straight like the model in the picture above for a sleek look.
Medium Shaggy Layers
Instagram @nothingobvious
The shag is back, ladies! Medium-length layered haircuts with shaggy layers are easy to wear and oh so flattering.
Medium Choppy Layers
Instagram @soraverly
Medium choppy layered hair on a long bob are fun, sexy and easy to style. The more lived-in, the better! The all-over dark hair color on this medium to short haircut looks radiant all year long.
Asymmetrical Bob with Side Bangs
Instagram @cris_loxhairstudio
Side-swept bangs on an asymmetrical medium wavy bob offer all the dimension and interest you want in a medium layered haircut. It's a pretty top-notch bob that suits round faces.
Bob with Bangs for Thick Hair
Instagram @mathiasdavidhair
A thick, blunt textured lob like this makes every sharp feature you have standout without effort. If you're proud of your brilliant bone structure and sexy collar bones, medium length layered styles like this one are just for you.
Blonde Layers
Instagram @american_salon
This is a trendsetting look for medium-length layered hairstyles. It looks even better with the natural-looking dark roots to a blonde ombre.
Perfect Mid-Length Haircut for Women Over 40
Instagram @yukistylist
These shoulder length layers are very trendy and popular. It can be worn by any type of lifestyle. From businesswomen to busy moms.
This medium hairstyle can be styled down but is also long enough to be styled in a low ponytail. What I love the most about a LOB (long bob) is that it can be edgy and playful but can also be worn sleek and classy.
A LOB can be customized for any hair type. It can be subtle or dramatic. You don't need to always use heat tools to style.
It looks great naturally straight or with natural kinky curls or natural layered waves.
I really love using a texturizing spray to create a messier and second-day look!
This haircut can be blunt or whispy.
A lob is great for any face structure including a round face shape. It has the perfect amount of hair length around the face to create a slimmer silhouette.
Shoulder-Length V-Cut
Instagram @domoniquemosely
A beautiful shoulder-length V-cut that suits shiny, black tresses! Achieve a fuller-looking edge by wearing this mid-length layered cut. Waves plus v cut are ideal hairstyles for medium layered hair like this, adding movement and life.
Razor Cut LOB
Q&A with style creator, Priscilla Ochoa
Senior Stylist & Director of Education @ 42 Fair Salon in Pasadena, CA
How would you describe this look and what is your favorite thing about it?
This is a razored and angled LOB. It's perfectly texturized with internal layers to bring out the hair's natural wave. I love medium length layered haircuts like this because you can have fun with styling!
What products do you recommend to maintain and recreate this look?
Apply a frizz-fighting thermal protectant to damp hair. I used Shu Uemura Ultimate Remedy Duo-Serum. Not only does it protect against heat and natural aggressors, but it leaves the hair silky as well.
Take sections throughout the hair and twist them going in different directions to bring out the natural wave, then diffuse or air dry. Touch up waves with a medium-sized wand or curling iron, leaving the ends of your hair out. Mainly focus on the front and crown area.
Finish by misting the hair with a beach spray to add definition and separation for a lived-in look. I used Tecni Art Beach Waves Spray. I LOVE THIS STUFF! It gives you the perfect amount of texture without feeling too gritty or sticky, plus it smells fantastic.
What type of client would you recommend this look for?
This haircut is ideal for someone that already has a bend or wave to their hair. The length can be tailored to every face shape, making it flattering for anyone. Styling is a breeze!
Classic Shoulder-Length Layered Shag
Instagram @brentdanielbasore
A modern and more glamorous take to the 70s shag like this is one of the chic layered hairstyles for medium hair. This classic shoulder-length layered shag will add movement and volume to your locks.
Wanna make it look more youthful? Upgrade this shoulder-length layered hairstyle with voluminous bangs up and to the side.
Straight Hair with Bangs
Instagram @ro.hsiqueira
One of the medium layered hairstyles that are rich and stylish, indeed! Suitable for any age, this shoulder-length straight hair with bangs can be your best asset. If you have natural dark tresses, add hints of brown hue to bring out subtle glossiness.
Lovely Long Layers for Medium Hair
Instagram @hair_salon_by_hadis
The kind of medium layered cut like this plus blow-dry? What an astonishing result! These lovely long layers for medium hair don't only offer volume but also take away weight and bulk. Try to pair it with a dark golden blonde hue to complement your fair skin tone.
Perfect Wedding Updo
Instagram @beersandshears
Medium layered hairstyles can totally be turned into a simple updo for formal events. All you need are simple twists and a lot of hairpins to achieve a splendid updo like this that's perfect for a wedding or prom! Really quick and easy to do for anyone to try!
Blow Out Medium Length Layers
Credit: Pinterest
A voluminous blowout shows off these gorgeous layers just right. It's a popular choice for medium length layered haircuts.
Curly Bob
Instagram @hair_by_amanda.k
This takes curly medium length layered cuts to the highest levels by going all out with highlights and lowlights! Finish with a layered back and impressively painted straight bangs in the front for the perfect look.
Face Framing Layers for Medium Length Hair
Instagram @suedub
Gorgeous face-framing layers for medium-length hair are in! This trend is a dashing way to turn locks to looking very light. It's a medium layered hairstyle that offers more volume and texture. To amp up your medium hair with long layers, explore dark-rooted blonde balayage.
Inverted Bob
Instagram @rachelwstylist
As one of those typical mid-length layered haircuts, this inverted bob is exquisite. Styling with soft boho waves can create a dimensional effect in this platinum blonde hair. If you plan on flaunting this look, a regular trim every 6-10 weeks is vital to keep it healthy without the split ends.
Permed Layers for Mid-Length Hair
Q&A with style creator, Taylor Bennett
Stylist & Barber @ The Desert Lounge Salon in St. George, UT
---
How would you describe this look?
This bouncy layered medium length hair was permed and wrapped in an effortless ringlet style. Her short to long layers and course texture made the perfect curly canvas. Say hello to this easy bouncy fun where curls and layers go hand in hand.
Any advice for someone considering it?
With perms making a comeback, it is important to know that you won't wake up with perfect ringlets or a smooth wave. Curly hair still needs styling and products, whether the curl is natural or permed. Layers will take the weight off and allow your curl to be bouncier and form ringlets.
You'll need products! For a dry soft look, a lightweight curl cream will help smooth the curl and reduce frizz. For a wet look, mousse can be used throughout the hair. For a little extra shine, use a small amount of shine mist or spray through the mid-section to ends.
Scrunch, scrunch, scrunch! The biggest thing when styling curly layers is to scrunch your hair while it dries. Water weighs your hair down. If you let gravity do its thing, it will cause your hair to dry flat. Continuously scrunch as it dries so that the curl can form.
Short curly hair is perfect for those who would like to complement their round face shape. Curls will also produce a round look for those with an oval or oblong shaped face. Overall, ask your stylist what type of curl and layers will produce the best outcome for your shape and lifestyle.
Feathered Layers for Over 50
Instagram @susanj_hair
Who loves layered haircuts for medium hair? The key to this stunning shoulder-grazing chop lies in its blended layers. They result in a natural-looking movement, giving your mane a bouncier finish. These are the feathered layers for over 50 that's sure to make you fall in love with your grey locks.
Layered Cut with Side Bangs
Instagram @nikitenko_elen_
Look smart and confident with this layered cut with side bangs! The length where it stops a few inches below the shoulders will keep the fullness of your straight hair. A deep, dimensional rose gold hue in this long layered bob haircut will grant your look a touch of youthfulness.
Side Fringe
Q&A with style creator, Rachelle Yarnell
Hairstylist / Salon Owner @ The Studio Salon in Cleveland, OH
---
How would you describe this look?
This is a long bob, or "LOB" as some would say. It's versatile in the fact that this could still "feel" long, but also can be easily managed.
It is great for fine to medium hair. I cut this into a triangular shape to leave length around the front.
I used Donald Scott Carving Comb to give the layers softness, and Donald Scott Chop Stick to detail the layers around the face and sketch the perfect face-framing look.
I styled using Paul Michell invisible wear foam giving a soft texture to the hair when applying to wet hair. I blew dry with a large round brush and finished with a beach curl using my Paul Mitch smoothing iron. Spray with Worked Up to give a light hold.
Any advice for someone considering it?
It's very easy to manage, best with a light styling product, and ideal for medium to fine hair. It's also great for people who still love a ponytail but want a more stylish look. It's recommended for oval, round, or square face shape, as it can show off your look!
It is great for a busy lifestyle. A ponytail can be achieved but only when you have time and a quick blow out it holds its style.
Shag With Bangs
Layered haircuts for medium length hair like this one look even more stylish with wispy bangs, don't you think?
Q&A with style creator, Hannah Lynne
Hairstylist @ Beauty Bar Boutique in Wilmington, NC
---
How would you describe this look and what is your favorite thing about it?
This is a more conservative shag that was cut with a feather plier razor. I love the movement and piecey-ness and how it looks perfectly disheveled! This look was inspired by Amanda Wall, the creative director of R+Co.
What products do you recommend to maintain and recreate this look?
We are #randcoobsessed and #oribeobsessed over here! I used Park Avenue Blowout Balm from R+Co to blow dry in to protect from heat damage and add substance to the hair. Once fully dried and smoothed with a Mason Pearson flat brush, I rubbed a pea-sized amount of Oribe Airstyle Finishing Cream into my palms and pulled at the ends to add definition and moisture.
What type of client would you recommend this look for?
This look is for the normal to fine-haired woman that has a lot of hair and craves movement and texture. It works great with a fringe and looks best when product is used to define the ends. This look isn't for hair that has a rough cuticle layer or expands with humidity!
This haircut air-dried on slightly wavy hair gives a great beachy, lived-in look. Any face shape can pull this haircut off! The stylist will just need to determine where to start the shortest face-framing layer dependent on the face shape, and whether or not bangs are an option based on style and commitment to upkeep!
Layered Bob
Instagram @hairbycassandrazoe
Here's a medium-length layered bob haircut, allowing you to rock a textured style. If you always part your ginger mane in the middle, you won't go wrong with a few face-framing pieces for a softer look. Plus, another reason to love this mid-length hair is its ability to wear all up or half down.
Feminine Mid-Length Layered Hair
Instagram @rafaelbertolucci1
The perfect and very versatile mid-length layered haircut for women in their 30s, 40s, and 50s is here! Enjoy an alluring image as you pull off this feminine mid-length layered hair. With the combo of a deep side part and soft waves, the outcome looks voluminous and fuller. Complete the elegance of your locks by painting it with a dark-rooted diamond blonde hue.
Short to Medium Bob with Layers
Instagram @wellbezerraoficial
A gorgeous short to medium bob with layers to show off your blonde ombre! What makes this layered bob cut seem perfect is the strong and sharp perimeter around the neck. The short to medium length gives a fuller finish while looking a slightly longer.
Beachy Waves with Layers
Q&A with style creator, Megan Colburn
Stylist @ Amarte Salon & Spa in Redding, CA
---
How would you describe this look and what is your favorite thing about it?
This look is a medium length bob with long layers and lots of texture around the bottom. The texture adds volume and keeps the cut from getting too heavy around the perimeter. I love that you can get that great beachy wave when you style it!
What products do you recommend to maintain and recreate this look?
I always use Aveda products. The best products for this look are Volumizing Tonic at the roots, Thickening Tonic for your mids and ends, and a lightweight smoothing product like Aveda's Smooth Infusion styling creme. I like to finish with a lightweight hairspray like Aveda's Air Control to add weightless texture and hold.
What type of client would you recommend this look for?
The beauty of this layered medium hair cut is that it works on all types of hair! It also looks amazing on almost every face shape as it is extremely customizable. If your stylist knows what they are doing, this look is great for everyone!
Since it's still fairly short, it's quick to style with your curling iron. Just make sure you're using your heat protectant! It is the perfect look for the on-the-go woman who still wants a stylish cut.
Soft Shoulder-Length Cut for Straight Hair
Instagram @styledbybravo
Imagine wearing this shoulder-length cut with layers—you'll love it, for sure! It's such an ideal soft shoulder-length cut for straight hair like yours. Looking great on a strawberry blonde shade, this medium-long hair will suit your fair or pale skin. The Bardot or curtain fringe doesn't only add style but also frames your best facial features.
Middle Parted Textured Lob
Q&A with style creator, Tory Blewett
Hairstylist @ Medulla & Co in Toronto, Canada
---
How would you describe this look and what is your favorite thing about it?
I would call this shoulder-length hairstyle an updated textured lob. It's the new, "grown up" version of the long textured bob that has been popular for the past two years. It has soft, minimal layers and texture throughout, but with a beautiful and blunt silhouette that we will be seeing more of this year, especially coming into fall.
My favorite thing about this look is definitely the fringe. We started with a blunt, straight across fringe about four months ago and transitioned it into this beautiful 70s-style curtain fringe by adding some sophisticated layers.
What products do you recommend to maintain and recreate this look?
For fine to medium hair, I would use a volume mist at the roots and a bit of a blow dry cream from the mid-shaft to the end. This adds that little bit of shine we all love and controls frizz. My go-to's are the Volumist from Davines and Hair Cream from TO112.
For thick hair, I would I would use a combination of the TO112 Hair Cream and TO112 Serum, starting at the ends and working your way up.
With textured hairstyles, I always finish the look with the Davines Texture Spray to give it a bit of definition and hold.
What type of client would you recommend this look for?
The great thing about this cut and length is that it basically works for any hair type or face shape. That said, medium length hair is the most versatile because it allows for the movement inherent in a textured lob. That being said, there is no "one size fits all", and even a cut like this needs to be tweaked to suit the client's lifestyle. If they are more wash-and-go, I would leave the fringe out and do a more A-line silhouette so it's less work. If they are into styling and drying their hair, the fringe adds that extra bit of interest to this look.
Textured Mid-Length Layers
Instagram @jessicabubb.thestudio
Whether you're a teen or a lady, these textured mid-length layers will look fantastic on you. Make it more dramatic by incorporating waves that can provide volume and movement. Never let this shoulder length layered hair grow out while causing distress. So, opt for a blonde balayage and enjoy a dimensional, low-maintenance payoff.
Sours: https://www.latest-hairstyles.com/medium/layered.html
You will also like:
Serge smiled and, without waiting for her answer, said: - I'm sure he did not follow us. This unfortunate, perhaps, old, - he smiled. But be that as it may, do not worry, my love. I'm with you, - he gently touched his lips to her mouth. Its already completely dark, Anna remarked a little later.
3320
3321
3322
3323
3324