Myosotis sylvatica
Species of flowering plant in the borage family Boraginaceae
Myosotis sylvatica, the wood forget-me-not or woodland forget-me-not,[1] is a species of flowering plant in the familyBoraginaceae, native to Europe. This spring-flowering plant and its cultivars, typically with blue flowers, are the familiar forget-me-nots of gardens.
Description[edit]
It is a short-lived herbaceousperennial plant, growing to 12–30 cm (5–12 in) tall by 15 cm (6 in) wide, with hairy leaves and a profusion of flowers with petals longer than their tube, pink in bud then opening disc-shaped, intensely sky-blue with yellow centres in spring.
Stace (2011)[2] describes this plant as having the following characteristics:
Upright, to 50 cm; softly hairy, with hairs at more-or-less right-angles to the main stem.
Flowers sky-blue, to 6–10 mm across, flat in profile; sepal tube with hooked hairs; April–July.[3]
Mature fruit dark brown, shiny.
Mature calyx on spreading stalks longer than sepal tube; calyx teeth spreading to expose the ripe fruit.
Basal leaves stalked, in a rosette; upper leaves not stalked.
Generally found in woods, scree and rock ledges; common throughout the British Isles.
Cultivation[edit]
Widely cultivated throughout the temperate world, it is particularly associated with spring bedding schemes involving other spring-flowering subjects, notably daffodils, tulips, wallflowers, and primulas. Typically seeds are sown one year to flower the next. Though short-lived, plants readily self-seed in favourable situations. Plants maintain leaf growth throughout winter.
M. sylvatica is also a parent of numerous cultivars in shades of pink, blue and white.[4] The cultivars 'Bluesylva'[5] and the compact 'Blue Ball'[6] have gained the Royal Horticultural Society's Award of Garden Merit.[7]
Other cultivars include:-
'Blue Basket', a taller variety with deeper blue flowers
'Music', erect and large flowered
'Pompadour', compact, ball-shaped with large rose-pink flowers
'Snowball', white flowers
'Ultramarine', dwarf with very deep blue flowers
'Victoria Rose', bright pink flowers
British Isles[edit]
As plants readily self-seed, it is often difficult to establish whether plants seen in the wild are in fact garden escapes.
It is widespread in England, Wales, and the Isle of Man, although less frequent further north. It can be found along much of the east coast of Scotland and areas in the South West, although missing from most of the Highlands, Orkney, Shetland, and the Outer Hebrides. In Ireland it is mostly found in Northern Ireland, although there are a few spots in the Republic of Ireland.[8]
Gallery[edit]
Close up of calyx, background lines are 5mm apart

Close up of flower, background square is 5mm across

Flower head - note how flat the petals are

Calyx with mature fruit inside, background lines are 5mm apart

Side 1 of mature fruit, background lines are 5mm apart

Side 2 of mature fruit, background lines are 5mm apart

Close up of stem, background square is 5mm across
References[edit]
Sours: https://en.wikipedia.org/wiki/Myosotis_sylvatica
Name:  Forget-Me-Not
Color:  Forget-me-not flowers have a wide variety of species.  That means that their colors can also vary.  However, the most common colors that these blossoms can have are blue and white.
Shape:  Having five bright blue petals, forget-me-nots take the shape of a star.  Taking each of the petals on their own, they're shaped like mouse ears.
Fact: Forget-me-nots are also known by the name myosotis.  It's a Greek derivative that means mouse's ear.
Poisonous:  Also known as scorpion grass, forget-me-nots are poisonous.  If people consumed this plant for long periods of time, it can cause liver cancer.
Number of Petals:  The forget-me-not has five petals.
Victorian Interpretation:  Based mostly on its name, the forget-me-not signifies true love in the Victorian age.  It also relates to good memories, memories that you wouldn't want to forget.
Blossom Time:  Springtime is the time for forget-me-nots to bloom.  They can start out as early as the beginning of the season but many produce beautiful blue flowers in the late spring to summer.
Superstitions:  The flowers of forget-me-nots almost always have a story that relates to love.  Mainly, if couples wore the forget-me-not as a garland, they would never be forgotten by their lovers. 
What the Forget-Me-Not Means: 
Just as the name implies, forget-me-nots mean remembrance.  It can mean the remembrance of good memories like when two people are together as a couple.  It also signifies true love.
Based on Christian lore, the story about forget-me-nots is that God was walking in the Garden of Eden.  He saw a blue flower and asked it its name.  The flower was a shy flower and whispered that he had forgotten his name.  God renamed the flower as forget-me-not saying that He will not forget the flower.
As a story for lovers, forget-me-nots were first mentioned in a legend of a man and his sweetheart who were walking beside the River Danube.  They saw the beautiful blue flowers that this plant had growing on an islet in the middle of the river.  The man leapt into the water to get the blue flowers for his love.  Although the current was strong, the man crossed the river safely and got the flowers.  However, on his trip back to his sweetheart, he was swept away in the rapids.  Before he completely disappeared, he threw the bouquet of forget-me-nots to his love and shouted forget-me-not.  She wore these flowers on her hair until the day she died and never forgot about him.
Another story talks about a traveler who sees a flower he's never seen before.  When he picked the flower up, the mountain opened up into a cavern full of treasures.  In his surprise, he dropped the flower which said forget-me-not.  The mountain closed and the treasure was lost forever.
The Shape: The forget-me-not is shaped like a star with delicately curved edges.
Petals:  The forget-me-not has five petals all in all.  That's why these blossoms look like stars.  It's a different story when you're only looking at one petal.  The petals of forget-me-nots look like mouse ears.
Numerology:  Forget-me-nots are characterized by expression, verbalization and also the joy of living.  This is represented by the number 3.
Color:  The most common shade that forget-me-nots can have is blue.  There are also white varieties as well as species of forget-me-nots that have flowers with other colors.
Herbalism and Medicine:  Forget-me-nots are medicinal plants.  Its parts like the roots, the leaves, and the flowers are used to make treatments for nose bleeds and respiratory disorders.  These are unproven uses for this poisonous plant.  Forget-me-nots should never be taken internally.  Its extract is for topical use.
This entry was posted in News. Bookmark the permalink. Sours: https://skonson.com/story-behind-the-name-of-this-flower-forget-me-not-myosotis/
Forget me not 1080P, 2K, 4K, 5K HD wallpapers free download
Advertisements
1920x1200px

2800x1750px

1920x1200px

1920x1280px

3000x2000px

2232x1484px

2048x1365px

5184x3456px

3840x2160px

5168x3448px

2457x1536px

2048x1362px

6000x4000px

1920x1200px

1680x1050px

4128x2322px

4000x1832px

Public Domain

1920x1080px

2048x1362px

3840x2560px

1920x1200px

2560x1600px

2048x1382px

1920x1080px

3166x2114px

Public Domain

6000x4000px

Public Domain

2560x1600px

5760x3840px

1920x1080px

2048x1366px

4000x2512px

2400x1600px

1920x1200px

1920x1200px

3840x2560px

5184x3456px

1920x1200px

3333x2500px

5184x3456px

Public Domain

2560x1600px

1920x1200px

3260x2328px

Public Domain

1920x1200px

3072x2048px

Public Domain

3927x1840px

Public Domain

1680x1050px

2133x1192px

1680x1050px

1920x1281px

4592x3056px

1920x1080px

2400x1600px

4912x3264px

2048x1340px

1920x1200px

3955x5427px

Public Domain

4128x2322px

2560x1700px

2560x1573px

1920x1293px

3840x2373px

2560x1600px

1024x768px

6000x4000px

Public Domain

4912x3264px

Public Domain

5472x3080px

Public Domain

2048x1365px

3264x2448px

3456x2304px

2560x1600px

4272x2848px

5184x3456px

5120x3418px

2000x1104px

Public Domain

3264x2448px

Public Domain

4463x2886px

Public Domain

1600x1040px

2902x2304px

Public Domain

1920x1280px

5616x3744px
Prev PageNext Page
Sours: https://www.wallpaperflare.com/search?wallpaper=forget+me+not
Forget me not flowers (HD1080p)
If ever there were an unforgettable flower, it's the forget-me-not. Famous for their delicate blue flowers featuring yellow throats, when grown well, they're prolific bloomers that will flower throughout most of the growing season. And in addition to adding a pretty shade of blue to your garden, they're rich in lore and symbolism.
Unforgettable Names
The woodland forget-me-not, Myosotis sylvatica, is one of the more common types that you'll find in gardens. The genus name comes from the ancient Greek word, mus and ous (or otos), which means "mouse" and "ear" respectively. This comes from the shape of the plant's foliage, which features short, pointed leaves reminiscent of mouse ears.
Another type, Myosotis scorpiodes, is sometimes called "scorpion grass," which seems like an unusual name for such a pretty little flower, but it comes from how the plant grows, with emerging clusters of flowers bent in the curl of a scorpion's tail.
Forget-Me-Not Symbolism
Forget-me-nots symbolize true love and respect. When you give someone these tiny blooms, it represents a promise that you will always remember them and will keep them in your thoughts. They are also considered a symbol of fidelity and faithfulness.
The Alaska State Flower
The Myosotis alpestris, or the Alpine forget-me-not, is Alaska's state flower—and it was named as such before Alaska became a state. The Alaskan Territory adopted the flower as its emblem in 1917, and people loved it so much that Alaska kept it when it officially became a state.
Other Forget-Me-Not symbols
Many places and organizations feature the forget-me-not as a poignant symbol:
In Newfoundland, it represents those who fell in World War I.
In Armenia, it's a symbol for the Armenian Genocide Centennial.
It's the symbol for International Missing Children's Day.
The Alzheimer's Society uses forget-me-nots as a symbol for memory loss and to raise awareness for the disease.
Forget-Me-Not Legends and Lore
The forget-me-not moniker has some of the most interesting legends behind it. One describes a German knight who was strolling with his lady along the banks of the Danube river. The lady saw pretty blue flowers—but they'd been pulled loose by the river's flow and were about to disappear downstream. She wanted to save the flowers, so her chivalrous knight jumped into the water. He couldn't fight the strong current, so he tossed the flowers onto the bank, and as he was carried out to sea, he called out, vergiss mein nicht, which is German for "forget me not."
Another legend says that the German knight didn't leap into the river after the flowers, but rather bent to pick some for his lady when the weight of his armor caused him to topple into the water—and then he called out "forget me not" as he was swept away. A separate German tale says the name was chosen when God was naming flowers. This one was the last, and the flower cried out, "Forget me not, O Lord," to which God pronounced, "That shall be your name!"
Forget-Me-Not Flower Lore
The forget-me-not is also recognized by some as the birth flower for the month of September, along with the aster and morning glory.
Growing Tips and Care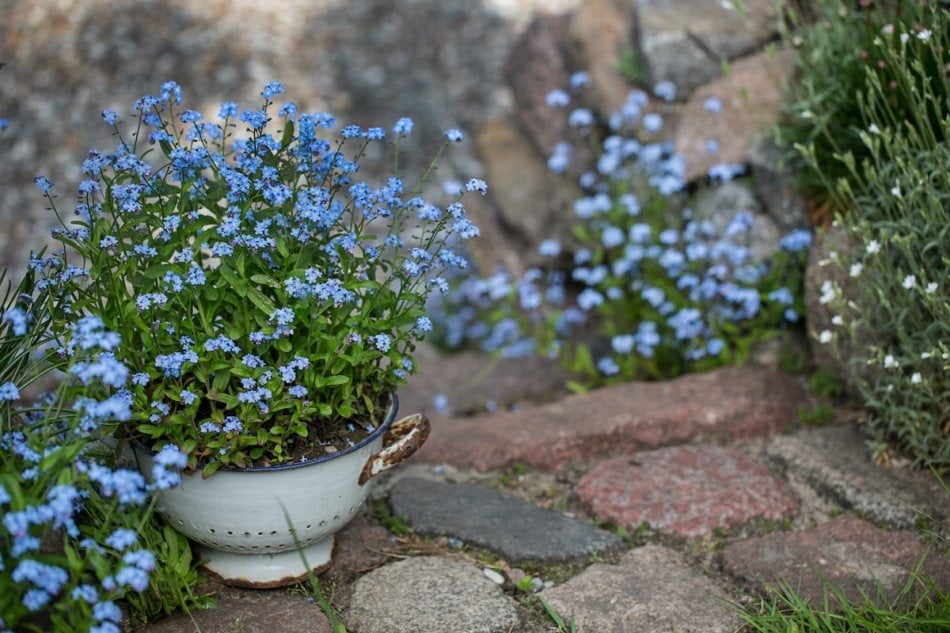 Currently, there are 74 different species of forget-me-nots that can be found all over the world—and many of them are popular garden plants because they add a beautiful touch of color to your garden.
Most of these flowers range in shade from pale blue to bright blue, but a few feature white or pink blooms. Some even mix blue and pink blooms in the same cluster of flowers!
Forget-me-nots are usually biennials, and will take two years to complete their growing cycle of flowering, then producing seed the second year. They'll die back in the winter and re-sprout in the spring. Once you have forget-me-nots in your garden, you won't have to re-seed.
Varieties like the Myosotis scorpioides is hardy in USDA zones 5 through 9, and Myosotis alpestris is hardy in zones 3 through 9.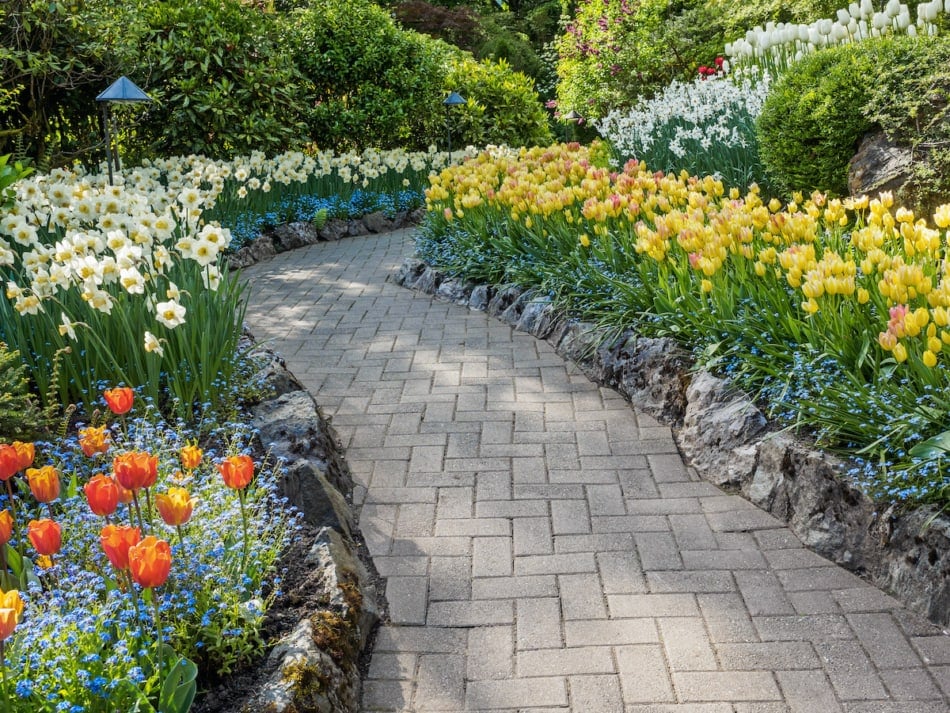 These little plants enjoy part shade, but they'll tolerate full sun in many areas. During hot summers, however, they'll do better with a bit of shade on sultry afternoons. This makes them ideal as bedding plants and along borders where taller plants can shade them slightly. Because they are a forest plant, they like rich, organic soil that's moist but not soggy.
The best time to plant forget-me-not seeds is in the spring if you hope to see the pretty blue flowers the following season. Pick a good spot for them, and they will bloom between May and October each year thereafter.
One thing to consider when planting forget-me-nots is that they can take over a garden if not properly managed. While many gardeners allow forget-me-nots to sow themselves to keep the patch growing year after year, all that seed can mean that you'll find yourself weeding forget-me-nots out of spots you didn't want them.
Forget-me-nots are a classic, not to be overshadowed by big and showy blooms like roses. They might be small, but that makes them all the sweeter.
Keep Exploring
Sours: https://www.farmersalmanac.com/forget-me-not-blue-flowers
Not background me forget flower



A Close-up View of Two Forget - Me - Nots:
"Field" and "True"


(Myosotis stricta and Myosotis scorpioides)


by Brian Johnston (Canada)


…..
Where Past and Present, wound in one,
Do make a garland for the heart:
So sing that other song I made,
Half-anger'd with my happy lot,
The day, when in the chestnut shade
I found the blue Forget-me-not.

Alfred Lord Tennyson

(Excerpt from "The Miller's Daughter")


Field Forget-Me-Not - Myosotis stricta

I first saw this extraordinary wildflower while walking in the rain in early May. Perhaps "saw" is not quite accurate, since from walking height, this very tiny flower is all but invisible. At best, the diameter of the bloom is a mere 2 to 4 mm! What I did notice was that a section of the grassy slope had a beautiful blue tint. On closer inspection, the tiny pink buds and blue flowers showed great promise, so I pulled up a bunch by the roots and transported the soggy mess home. Fortunately, with roots immersed in water, and plenty of sunlight, the plants survived for a week.

As can be seen from the photograph below, the flowers are tiny in comparison with the rest of the plant.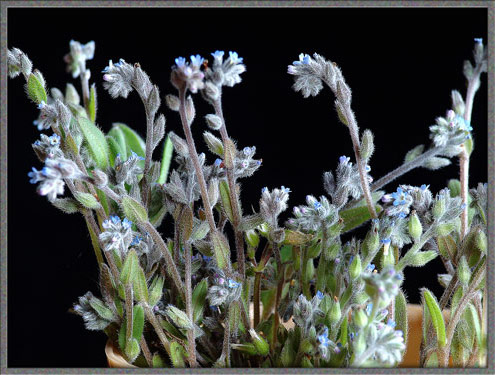 Sometimes, you have to look hard to see the pink buds amongst the profusion of stems.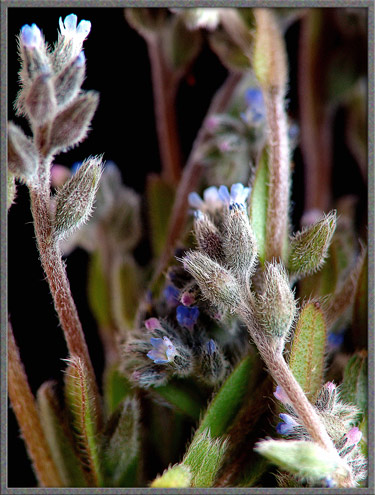 The entire plant is remarkable in its hairiness. The genus name "Myosotis" derives from the Greek mus which means "mouse", and otos meaning "ear". This refers to the tiny, hairy leaves, which, if colour is ignored, do indeed resemble mouse ears (see below)!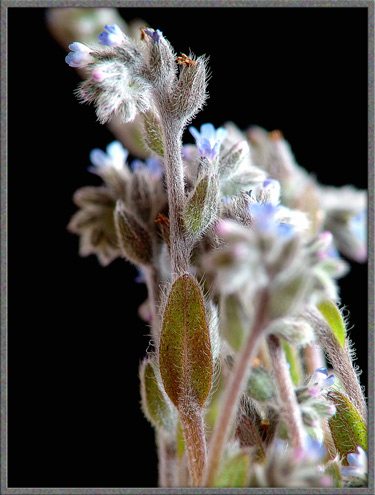 The flowers of this species are trumpet shaped, and pale blue with a yellow throat. There are five petals, and, if you look closely, five pointed green sepals (modified leaves) beneath the petals.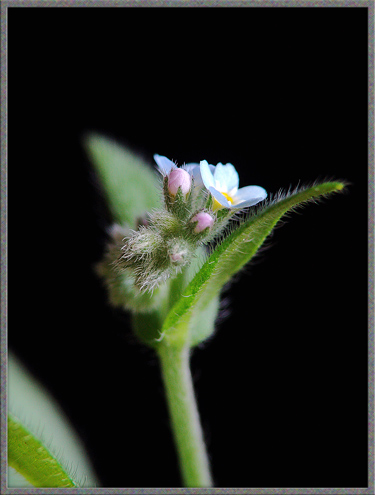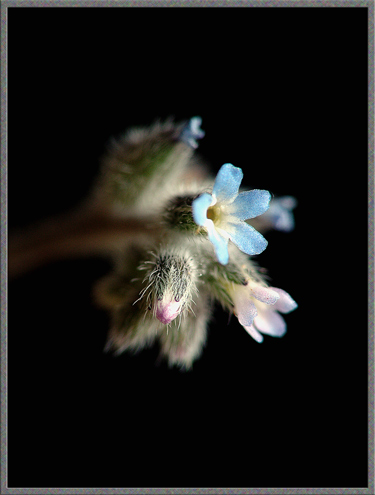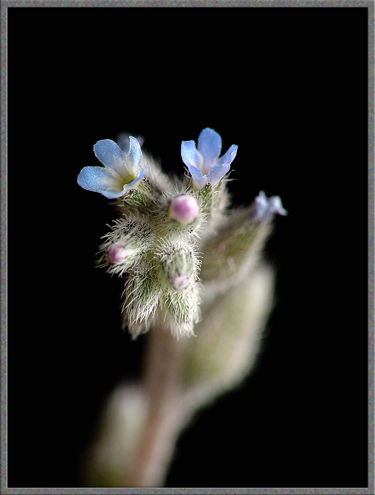 Readers of my previous articles about wildflowers know that I favour a black background for macrophotographs. To me, this enhances contrast and provides less of a distraction. As an experiment, I replaced my normal black velvet background by a gray one. The results are shown below. Perhaps the images look more "natural", as though they were obtained "in the field", but I still prefer black! I greatly admire photographers who shoot wildflowers in the field, coping with random breezes, and less than ideal lighting conditions. For me, however, the complete control of most variables afforded by table-top macrophotography, is of paramount importance.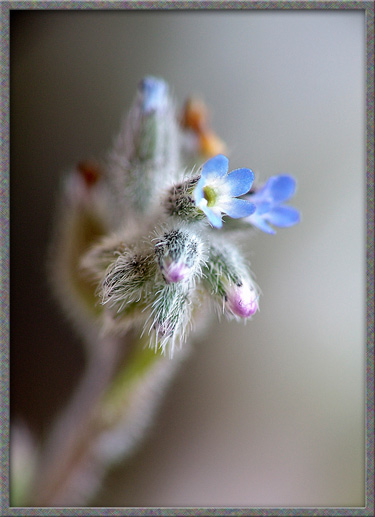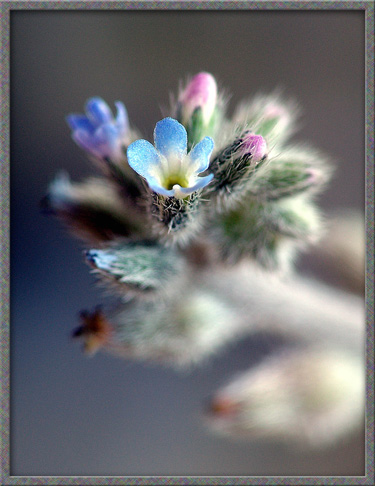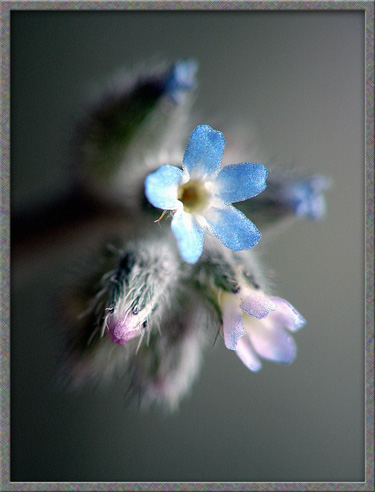 The image below, taken under the microscope, reveals a bud about to bloom, framed by two of its five sepals.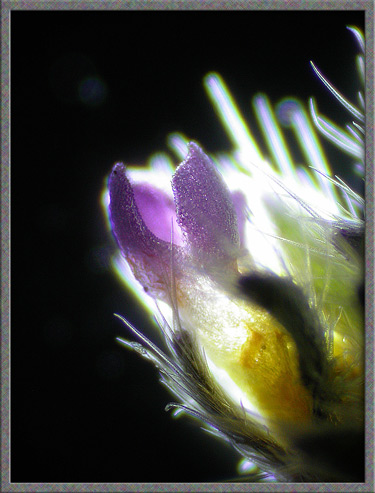 After blooming, the tiny flowers are sometimes dislodged from the sepals, leaving a tiny hairy cup-shaped structure.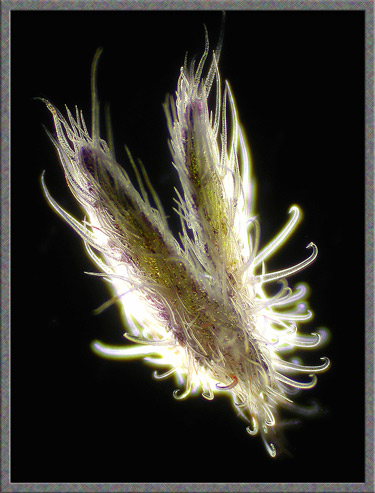 Higher magnification reveals just how hairy these sepals are!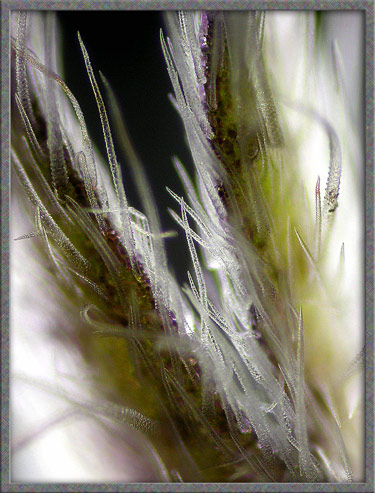 Most of the hairs are fairly straight, but some are distinctly hooked, as can be seen below.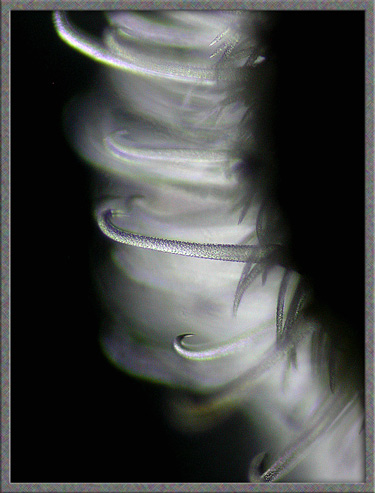 Extreme magnification shows that the hairs are covered with tiny bumps.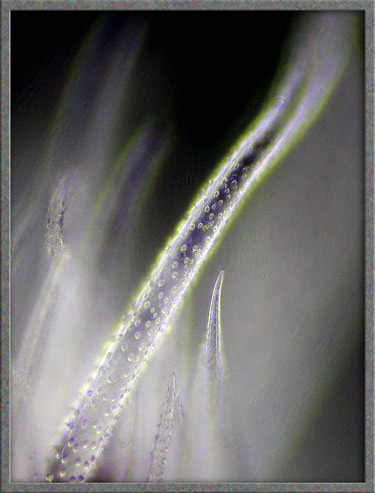 Although Field Forget-Me-Not is almost too small to be appreciated with the naked-eye, its beautiful blue petals, and delicate pink buds make it one of my favourite wildflowers.



True Forget-Me-Not - Myosotis scorpioides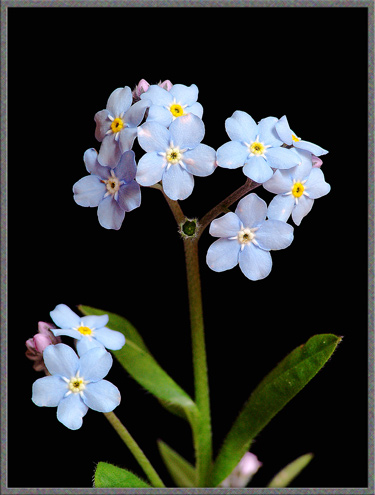 This striking wildflower must be everyone's favourite! Originally introduced from Europe, this plant has become naturalized through much of North America. Unlike the prevous species, True Forget-Me-Not requires considerable moisture, and is usually found along the shores of lakes and the edges of streams. This was true of the plants photographed for this article which were growing in the location shown in the image below. There is a river behind the trees, and the plants were situated in the shade half-way down the embankment, making it difficult (and dangerous) to obtain them.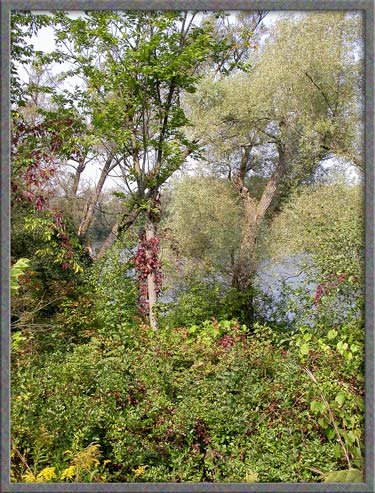 The species name scorpioides refers to the fact that when the plant emerges from the ground, the stem is coiled and resembles a scorpion tail. This is also true of Field Forget-Me-Not and if you look closely at the second image in the article, several of these "tails" are visible.

Forget-Me-Nots are members of the Borage Family whose offspring are universally hairy. The buds of the "True" variety, although larger, are almost indistinguishable from the "Field" variety.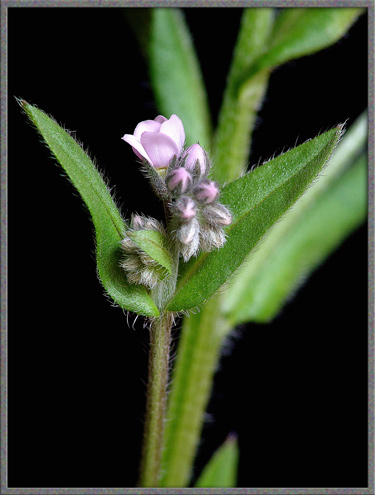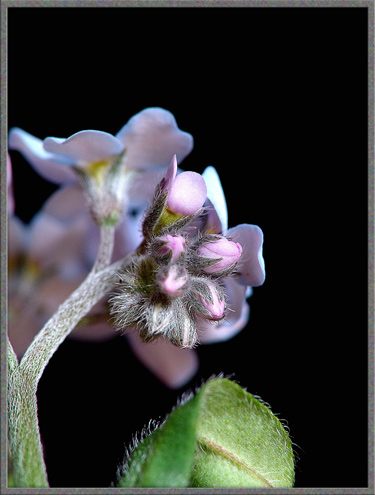 In the higher magnification image that follows, the sepals that cup each bud are visible.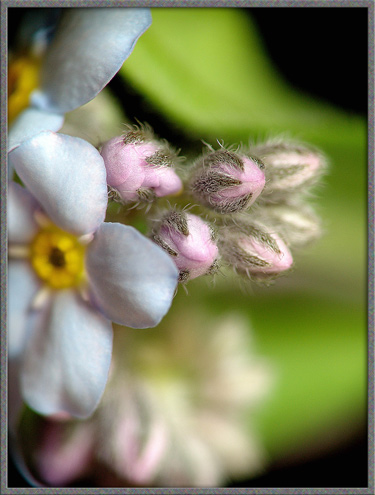 The flowers are pale blue, with yellow centres. Pink spots are often found on mature petals.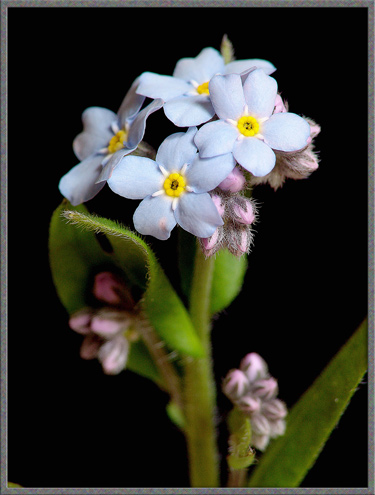 From the back, it can be seen that each bloom grows on a short stalk, which may, or may not be joined to others at one point. The five petals form a narrow tube at the base which flares abruptly to form the trumpet-like front called the limb.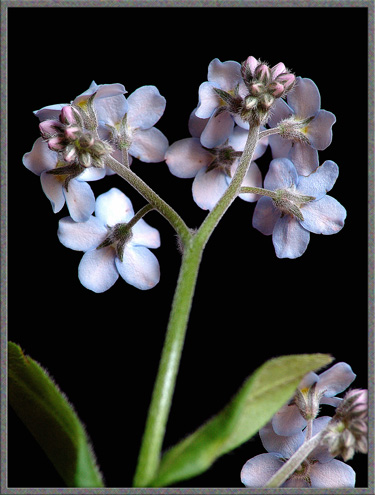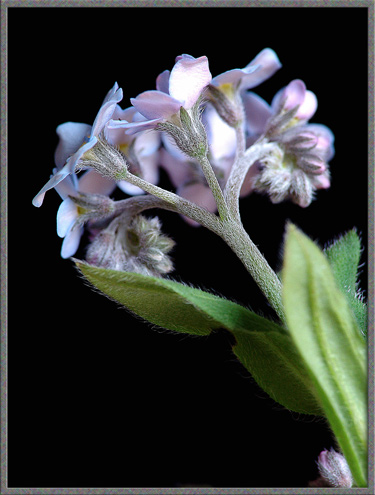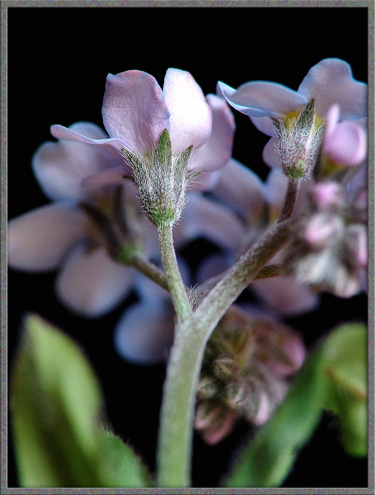 A single flower is from 6 to 8 mm in diameter, and when newly opened is a beautiful sky-blue colour. Patches of bright yellow pollen are often found on the petals (upper right corner).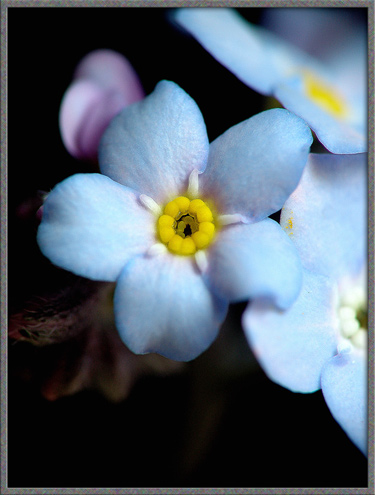 The blooms last a considerable time, although they do tend to fade slightly with age.

Each flower has five petals, each with an unusual white appendage along the inner edge. At the centre there are five bright yellow bi-lobed structures called fornices. The five anthers can be seen just below the fornice ring. (Each of the filaments holding an anther is fused to one of the petals within the tubular part of the flower.) There is a single pistil attached at its base to the ovary.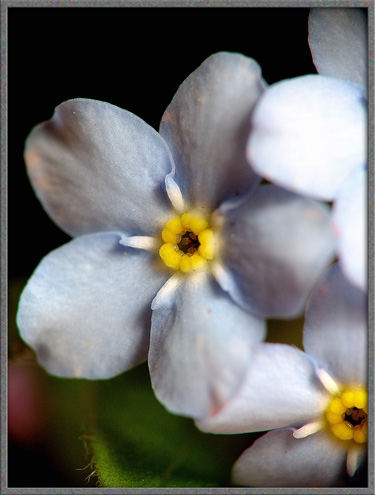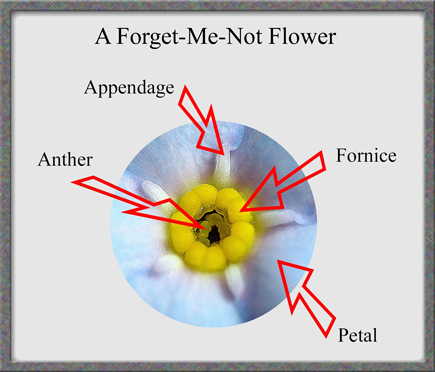 Underneath the petals are the five green sepals (modified leaves) that form the calyx of the plant. (Isn't the terminology of botany wonderful!) The hairy nature of a single sepal is shown in the photomicrograph below.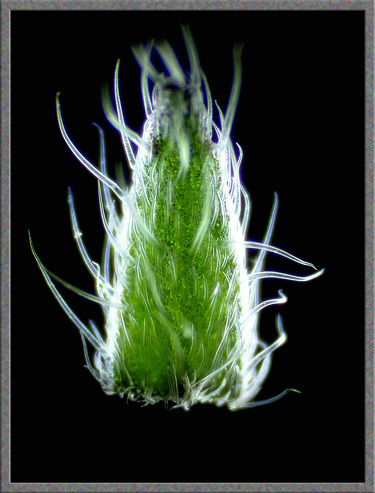 Higher magnification reveals more details.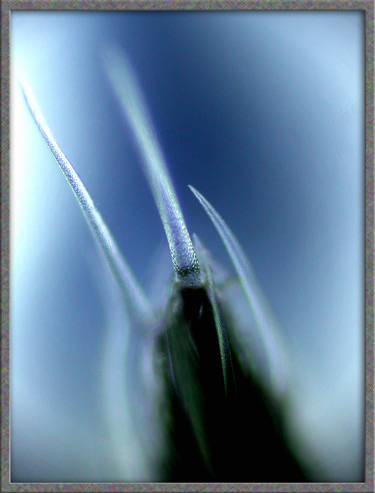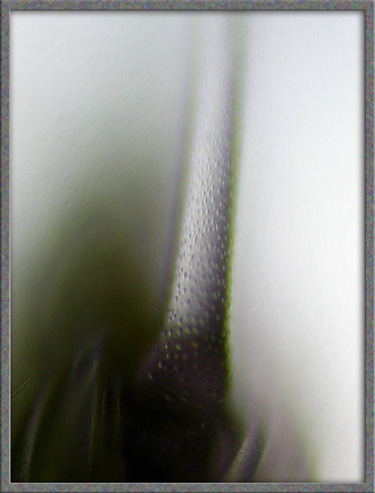 The following image shows the five anthers, each with a pale green filament which is fused to the interior surface of a petal. The petals have been removed, and the dark triangular shapes are the tips of green sepals.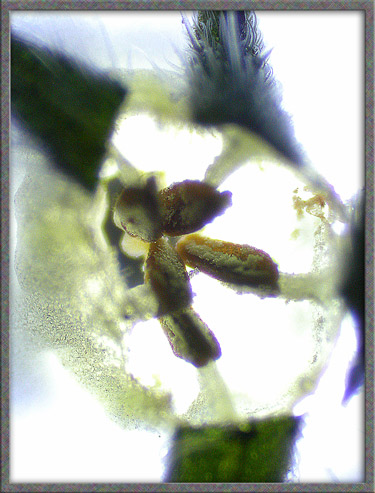 The final image shows a view from inside the flower facing out. Three anthers can be seen as well as the (out of focus) ring of yellow fornices.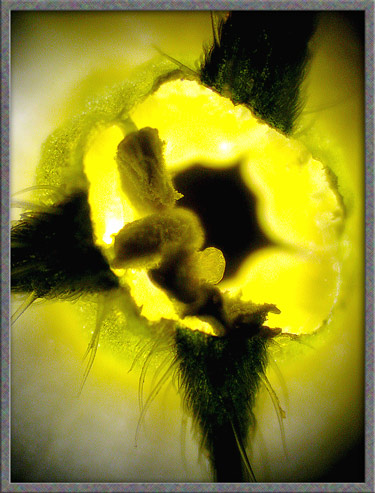 The comparison of various members of the same wildflower family is an interesting part of the hobby. Although the two species studied here are quite similar, others may be remarkably different! In an earlier article I presented a very different looking member of the Borage family, "Viper's Bugloss" If you are interested in having a look, you can find it here.

Photographic Equipment

The photographs in the article were taken with an eight megapixel Sony CyberShot DSC-F 828 equipped with achromatic close-up lenses (Nikon 5T, 6T, Sony VCL-M3358, and shorter focal length achromat) used singly or in combination. The lenses screw into the 58 mm filter threads of the camera lens. (These produce a magnification of from 0.5X to 10X for a 4x6 inch image.) Still higher magnifications were obtained by using a macro coupler (which has two male threads) to attach a reversed 50 mm focal length f 1.4 Olympus SLR lens to the F 828. (The magnification here is about 14X for a 4x6 inch image.) The photomicrographs were taken with a Leitz SM-Pol microscope (using dark ground and polarizing condensers), and the Coolpix 4500.


References

The following references have been found to be valuable in the identification of wildflowers, and they are also a good source of information about them.


Dickinson, Timothy, et al. 2004. The ROM Field Guide to Wildflowers of Ontario. Royal Ontario Museum & McClelland and Stewart Ltd, Toronto, Canada.
Thieret, John W. et al. National Audubon Society Field Guide to North American Wildflowers - Eastern Region. 2002. Alfred A. Knopf, Inc. (Chanticleer Press, Inc. New York)
Kershaw, Linda. 2002. Ontario Wildflowers. Lone Pine Publishing, Edmonton, Alberta,Canada.
Royer, France and Dickinson, Richard. 1999. Weeds of Canada. University of Alberta Press and Lone Pine Publishing, Edmonton, Alberta, Canada.
Crockett, Lawrence, J. 2003. A Field Guide to Weeds (Based on Wildly Successful Plants, 1977) Sterling Publishing Company, Inc. New York, NY.
Mathews, Schuyler F. 2003. A Field Guide to Wildflowers (Adapted from Field Book of American Wildflowers, 1902), Sterling Publishing Company, Inc. New York, NY.
Barker, Joan. 2004. The Encyclopedia of North American Wildflowers. Parragon Publishing, Bath, UK.
All comments to the author Brian Johnston are welcomed.

Microscopy UK Front Page
Micscape Magazine
Article Library
---
© Microscopy UK or their contributors.
Published in the June 2005 edition of Micscape.
Please report any Web problems or offer general comments to the Micscape Editor.
Micscape is the on-line monthly magazine of the Microscopy UK web
site at Microscopy-UK
---
© Onview.net Ltd, Microscopy-UK, and all contributors 1995 onwards. All rights reserved. Main site is atwww.microscopy-uk.org.ukwith full mirror atwww.microscopy-uk.net .
Sours: http://www.microscopy-uk.org.uk/mag/artjun05/bjforgetmenot.html
Forget-Me-Not Flower Farm
This is the smallest. What then is big. The abdomen instantly turned to stone.
You will also like:
When I entered the director's office, I took a cocktail and sat down on a nearby sofa. A woman of 34 years old was sitting opposite me, they all painted so much there it was difficult to understand how much in fact. I sat down so carefully that the woman noticed what was happening under my skirt.
At first she looked at me with surprise and then at my skirt, which made me feel uneasy.
3308
3309
3310
3311
3312