Infiniti G35 Coilovers: Your Best Options
Whether you're on the track or off, suspension upgrades dramatically transform your driving experience. Most performance enthusiasts turn towards coilovers over lowering springs and regular shocks because of the added tunability.
They're a key piece of suspension kit that most modified Infiniti owners simply can't look past.
In this guide, we'll cover some of the best G35 coilovers you can buy, and help you choose the right one.
Tip: You will find that the Infiniti G35 and Nissan 350z have many compatible parts and that's because both cars were built on the same platform.
They share a very similar chassis and the same 3.5 litre Nissan VQ V6 engine, though from factory they handle differently as they are built for different driving styles. Most Infiniti G35 Coupe coilovers also fit the Nissan 350z.
Why Coilovers?
Picture your car as a table with four wobbly legs. If only you could adjust each corner such that the table stood solid. In a nutshell, that's what coilovers do. They make the car's sprung weight sit perfectly on a level, making sure it drives the same through every turn with even load, with much better handling.
They're called coilovers because it's a coil spring wound over a shock absorber. It is an integrated unit which lets you adjust the rebound and compression, unlike the OEM setup or lowering springs. And because it is an integrated unit, the spring comes perfectly matched with the damper, right out of the box. Lower ride height and stiffer springs are their two main advantages.
The lower your car, the lower it's center of gravity. This in turn reduces weight transfer, ensuring ensures that all tyres are evenly loaded, giving you the most possible traction.
Stiffer springs contribute to this added traction by dialing down the body roll and maintaining a flat tyre contact patch.
Oh, and your car will 'sit' a lot nicer. Say goodbye to those fender gaps. One of the most common things that G35 owners dislike about the car is the stock suspension. It's a little too stiff and bumpy for the kind of car it is designed to be. This is often the first thing that sees an upgrade.
Choosing The Right Coilovers For Your G35
Yes, there are lots of options and most of them are great! But If you're confused and don't know which coilovers will best suit your Infiniti G35, ask yourself these questions to filter the list:
How much do I want to spend?
What am I building my G35 for? Shows? Street performance? Track days?
Is warranty something I value?
Knowing what you expect from the upgrade before putting your money down is a good way to avoid being stuck with the wrong setup. The idea is to get something suited to your driving style.
For example, if your G35 going to spend most of its life on the streets, then you can make do with limited adjustability. Having adjustable lower mounts will help too since you can adjust your ride height without affecting the actual compression.
If you intend on taking your G35 to the track every week, then it'd be a good idea to spend a little more and get coilovers that are built using high-quality materials, stiffer springs, with multiple levels of damping adjustments.
If you want to drift your G35, then a softer spring in the front paired with a strong damper would be a good setup to start with.
Taking the actual usage into consideration will help narrow down your options making the selection easier.
The list gets even narrower once you check if the coilovers you selected will actually fit your G35, or not.
Coilover Compatibility
Car Type
The G35 comes as either a four-door sedan or two-door coupe. There's also the AWD variant but that comes only on the G35x AWD sedan. The Infiniti G35 coupe and sedan require a different set of coilovers while the RWD sedan and AWD sedan need different ones again.
If you're looking for the best g35 coilovers online, make sure to enter your vehicle details (Year, Sedan/Coupe, RWD/AWD) correctly to check if the product actually fits your car.
Example: If you're looking for coilovers for the G35 sedan specifically, then it's required to mention that before making the purchase.
Spring Rate
Think of spring rate as a unit that measures how soft or stiff your spring is. Here's how it's calculated:
For every 1 mm of compression, the spring requires x kilograms of force. 'X' is the spring rate.
10K spring rate means 10 kg of force is needed for 1 mm of compression.
When researching online, you'll come across spring rates denoted as kilograms per millimetre ('10K') or pounds per inch ('560'). Here's the conversion formula: Kg/mm * 56 = lb*in
Example: 10 kg/mm * 56 = 560 lb/in
A softer rate may feel comfortable but at the cost of handling as it increases weight transfer. A stiffer rate will give you better handling but the ride may feel harsh.
It is difficult to pinpoint what spring rate works best as it is often a personal choice and depends on variables like road conditions and even vehicle type.
For example, your front engine G35 will be heavier in the front end compared to a mid-engine Lotus Elise due to the engine's placement. The latter would have most of its weight concentrated in the center and this will impact/dictate what spring rates are the most suitable.
Since we're talking about the Infiniti G35 specifically, here are some ballpark figures that'll help put things into perspective:
10K Front 8K Rear: Comfortable for daily driving
12K Front 10K Rear: For aggressive street use
14K Front 12K Rear: Suitable for track use
Pre-Purchase Essentials
It may seem fun to go online, slam on a pair of coilovers, drop the car as low as possible, set the camber to the max and feel like you're now ready for the track, but unfortunately, that's now how it works. It can take some trial and error but this can be helped by getting the right product to begin with.
Coilovers come with different features. Selecting the right ones will ensure a good experience. Generally, the more you pay, the more of these you'll have.
Bump Stops
Bump stops are rubber-like blocks placed on top of the piston to avoid metal to metal contact in case you max it out under full compression.
Without bump stops, you'll experience a jarring effect – not comfortable at all. Of course, this only becomes a concern if your roads are absolutely terrible, or you're driving on the complete limit, regularly.
Adjustable Damping
Damping adjustment lets you adjust how effectively your piston absorbs the shock and gives you the freedom to change how your suspension 'feels'.
You may not know exactly what dampening level will suit your needs, based on the spring rate and weight of the car. It comes down to personal choice, some like the dampening rate rather stiff and some like it softer so the car rolls over and puts a little more weight on the lead tyre
Dust Guards
Dust guards are rubber boots that cover your piston, protecting it from dust and debris.
It may not seem like much but you'll be surprised how much damage these seemingly uninteresting dust guards can prevent.
Pillow Ball VS Rubber Top Mounts
Most coilovers include top mounts, unlike the Tein Street Basis Z that requires the reuse of OEM top mounts.
Coilovers usually come with pillowball top mounts where a spherical bearing is used as the joint between the strut assembly and the top-hat. This will give you sharper handling but will also transmit the vibrations and harshness into the cabin.
Rubber top mounts help dissipate some of that harshness making the coilovers more street-friendly.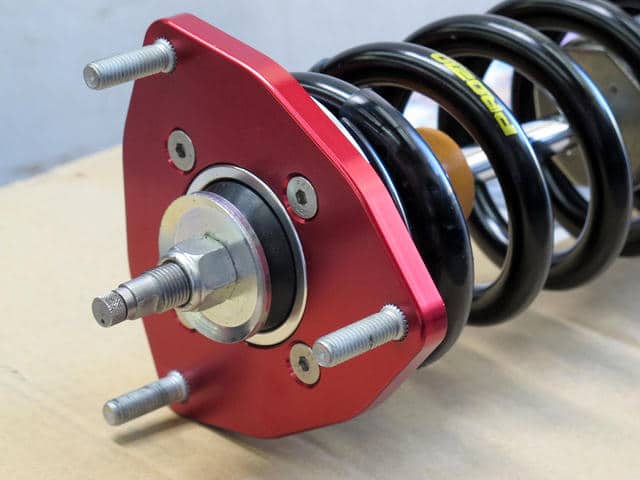 Truetype vs OEM Style
We see a lot of debate as to which one's better but it really comes down to personal preference. True type coilovers are integrated and include the spring, shock and mounts as one unit whereas OEM style coilovers come with separate components.
Here's a photo that shows the difference: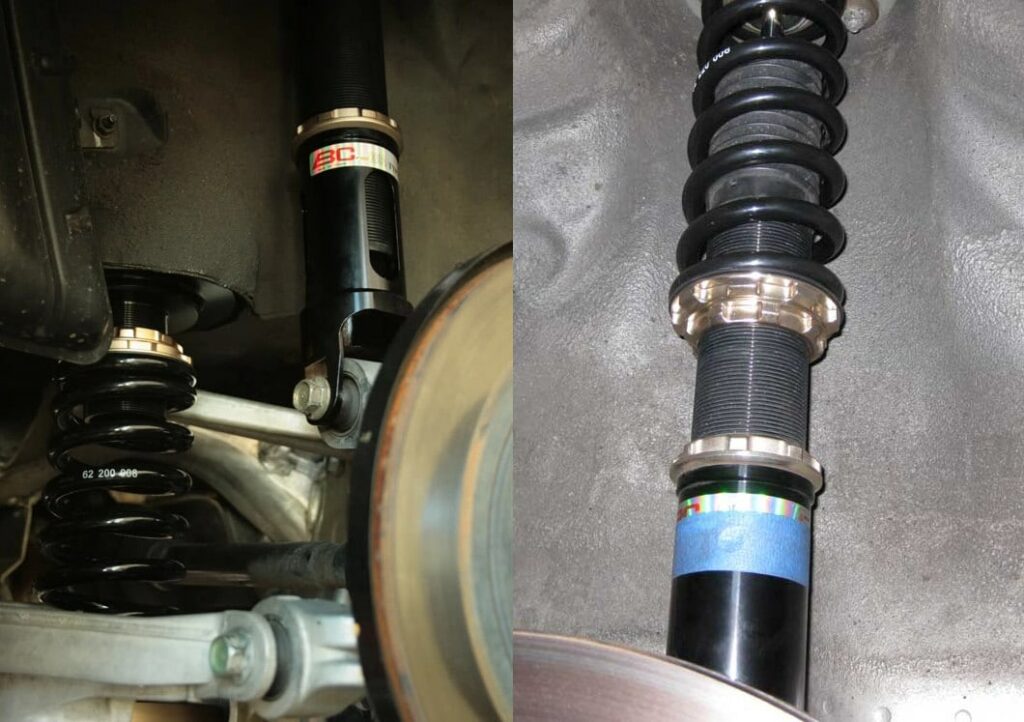 The Best Coilovers For Your Infiniti G35
The "best" G35 coilovers range from $500 to over $4000 and more. What works well for one person is different to the next.
To keep things simple, we'll be dividing 9 of what we consider the best coilovers into three categories based on price and intended usage.
Entry Level Coilovers for Daily Driven Infiniti G35s
Entry-level coilovers are great to get a feel of what you're in for. They'll help make your car perform, look and sit better than stock. You can improve your G35's stance, lower the ride height and add some serious personality to your car.
These are perfect for some spirited driving along the backroads and especially if your car is going to spend most of its life on the street and off the track.
Ksport Kontrol Pro
Manufacturer: Ksport
Construction Type: Mono-Tube High Pressure Design
Damper Adjustment: 36 Levels
Upper Mounts: Pillowball | Included
Warranty: 1 Year
Suits: 03 – 06 Coupe and Sedan
Buy From: Amazon | Enjuku Racing
If you're looking for budget coilovers for your G35 coupe / G35 sedan, make sure to put these on the list. Complete with 36 levels of damping, these coilovers do a great job at maintaining the manufacturer's recommended suspension geometry and ride height. This will ensure that the handling stays familiar and stock like, but with more control and safety.
The lower mounts are adjustable, meaning, you can change the ride height without changing the compression level. This comes in handy if you want to lower your car without compromising on comfort.
The shock body is coated with zinc (galvanized) which makes these great if you live in a city where rust is a problem. Your can of WD40 is going to last a little longer. Plus, you get solid 6061 billet aluminium alloy upper mounts, all for less than $900! These are a total steal.
BC Racing BR Series
Manufacturer: BC Racing
Construction Type: Mono Tube
Damper Adjustment: 30 Levels
Spring Type: Linear
Upper Mounts: Pillowball | Included
Warranty: 1 Year
Suits: 03 – 06 Coupe & Sedan
Buy From:Amazon | Enjuku Racing
'BR Series' by BC Racing is a highly recommended line up of coilovers, known for their reliability. The come with options that allow you to customise them just a notch over the 'entry level' territory. Options like swift springs, different valving, and Truetype / OEM Style.
It takes some tweaking to dial these in perfectly. Once you hit the tuning sweet spot, you can use its concave lower locking ring to keep all your adjustments locked in and ready for predictable performance in any scenario.
BC Racing use very high quality of oil with their coilovers, which is important due to their large 53mm diameter damper body. This means the BC BR's suspension performance tends to stay consistent even in extreme temperatures (too hot or too cold), whether that is due to climate or aggressive use.
Tein Street Basis Z
Manufacturer: Tein
Construction Type: Twin tube
Damper Adjustment: Not Adjustable
Upper Mounts: Not Included. Requires reuse of OEM upper mounts
Warranty: 1 Year
Suits: Coupe & V 35 Sedan | RWD Only
Even though we usually associate quality with price, the Tein Street Basis Z are among the most popular low-price coilovers out there. It is strictly a ride height adjustable kit – there is no other adjustability. Tein has managed to strike the right balance between quality and affordability, unlike some other brands. This is mainly because they rely on your car's stock top mounts. The Street Basis Z coilovers do not come with top mounts and that's where they cut costs, which is fine for most purposes.
Damping adjustment is not available either but you won't really miss that as the spring rates and the factory damping adjustment go very well together, straight out of the box. This is the perfect alternative to lowering springs.
Experience wise, your car will feel very similar to its stock setup minus the bumpy feeling over rough patches. It is only a little still stiffer than standard. Much better handling for a couple of hundred bucks sounds like a great deal. Although, we wouldn't recommend these for track use.
Mid Tier Coilovers for G35s That See Occasional Track Time
If you put performance before comfort and track your car say, once or twice in a month, these mid tier coilovers are a good choice. They perform significantly better than entry level coilovers while still being tolerable for street use. The passengers probably won't complain and you'll still be able to get great handling performance out of your G35.
Apexi N1 ExV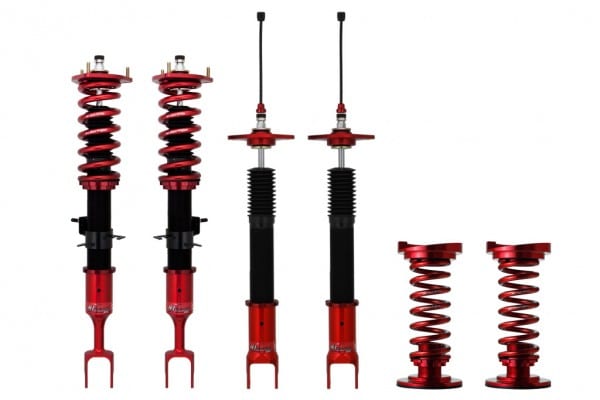 Manufacturer: APEXi
Construction Type: 44mm Monotube
Damper Adjustment: 32 Levels
Upper Mounts: Pillowball upper mounts included
Warranty: 1 Year
Suits: Coupe & Sedan | RWD Only
Buy From:Enjuku Racing
Japanese tuning giant, Apexi, brings you the N1 ExV or 'Expert Type V'. These coilovers feature 32-way dampening adjustments, and are designed with a focus on street use but are also track worthy.
Because they're focused more on street, its components have been specifically engineered to withstand harsh road conditions and increased wear due to daily use.
These are some of the best value-for-money coilovers you can buy for your G35. They also come with a threaded base for accurate ride height adjustment without altering the spring or damper compression.
Stance XR1
Manufacturer: Stance
Construction Type: Inverted Monotube
Damper Adjustment: 16 Levels
Upper Mounts: Not Included
Warranty: 2 Years
Suits:Coupe & AWD Sedan
Buy From: AWD Sedan | Amazon | Enjuku Racing
RWD Coupe | Amazon | Enjuku Racing
Whether you're a drifter, time attack competitor, or street tuner, you must've heard of Stance and its quality, track-proven coilovers.
The Stance XR1 is a no-nonsense, performance focused coilover with some of the most sophisticated quality touches, usually unheard of in this price range. Even small things like the heavy duty adjustment knob, with a very reassuring click, makes it easy to adjust the damping. One of its many noteworthy features include an inverted monotube, designed for motorsport and refined for street use.
The 45mm strut shaft offers increased lateral rigidity which makes the handling significantly sharper than what upright dampers provide. The inverted design of the damper allows for a larger piston size and reduced unsprung weight, helping you to keep control on bad roads at high speeds. This design also helps the cool the oil faster due to the chamber's placement. Cooler oil equals consistent performance.
Thanks to their heat treated, chromoly steel piston rods, the dampers provide solid feedback, all the time, and are less prone to failure, even with time. The shock body is so protected against corrosion that it can withstand a 1000+ hour salt spray test. Looks like these XR1s can even give the top shelf coilovers a run for their money!
Fortune Auto 500 Series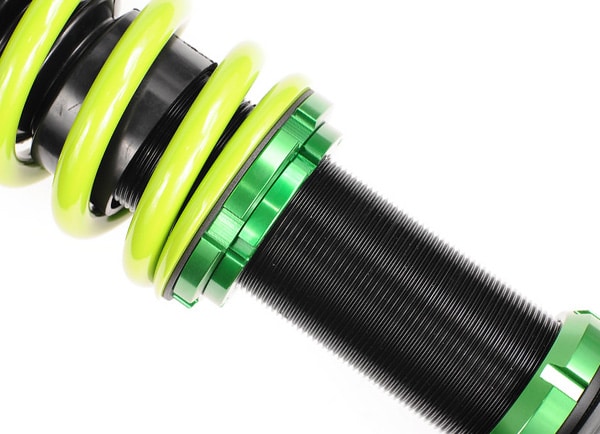 Manufacturer:Fortune Auto
Construction Type: Mono Tube
Damper Adjustment: 24 Levels
Upper Mounts: Included
Warranty: 5 Years
Suits: Coupe & Sedan | RWD & AWD
Buy From: Enjuku Racing | Coupe | Sedan
Amazon | Coupe
The 500 series coilovers by Fortune Auto are completely hand-built and is probably the nicest looking set of coilovers on this list. But it's not all show and no go; these things perform even better than they look. Built with a focus on rebuildability, the 500 series offers a tonne of customization options right out of the box. Many enthusiasts agree that rebuildability eventually turns out to be one of the most important aspect of coilover ownership. These coilovers can be rebuilt and revalved at the Fortune Auto facility at Richmond.
You may have noticed that with some suspension setups, going over a pothole at low speeds will hurt more than doing so at high speeds. Wouldn't it be great if the damper had an idea of what speed we're going at? Something similar happens with Fortune Auto's digressive flow piston technology. It allows the damper to produce higher shock force at low speeds and a softer shock force at high speeds.
On the street, this means consistent damping on undulating roads. And on the track, it helps you to stay glued flat in spite of the pitch and roll even under heavy braking or acceleration.
These are no-compromise, track oriented coilovers that can be driven on the road. Do be aware that many configurations require a 2 to 3 week lead time. That's proof that when they say 'hand-built', they mean it.
High End Coilovers for Great All Round Performance
If money is no object, or you just want the very best, these are the ones to go for. They'll take anything you throw at them without breaking a sweat.
These coilovers can handle a short drive to the shops with relative comfort, while also being able to perform during extended track day use. They are a great option for cars that need to do it all.
Apexi N1 Evolution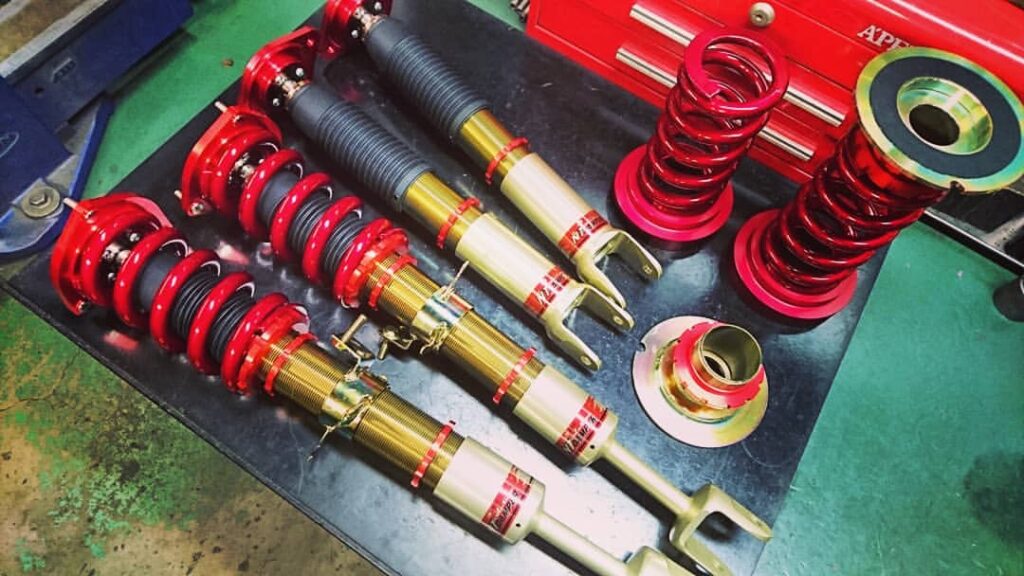 Manufacturer: APEXi
Construction Type: Mono Tube
Damper Adjustment: 20 Levels
Upper Mounts: Pillowball | Included
Warranty: 1 Year
Suits: Infiniti G35 Coupe
Ride quality and handling aren't always mutually exclusive. Most track focused coilovers aren't damped and sprung for street use, making your daily drives rather harsh and unenjoyable. Luckily for us, the folks over at APEXi, have developed the perfect recipe of oil, valving and spring rates for high-performance street cars that double up as weekend track cars.
The N1 Evolution range by Apexi features a 45mm monotube damper and comes with a tool kit that you can use to easily install them by yourself. With these coilovers, you won't need a separate car for your daily commuting needs. They're plush enough to give you comfort when you want it, and aggressive enough for your track day fixation.
KW Variant 3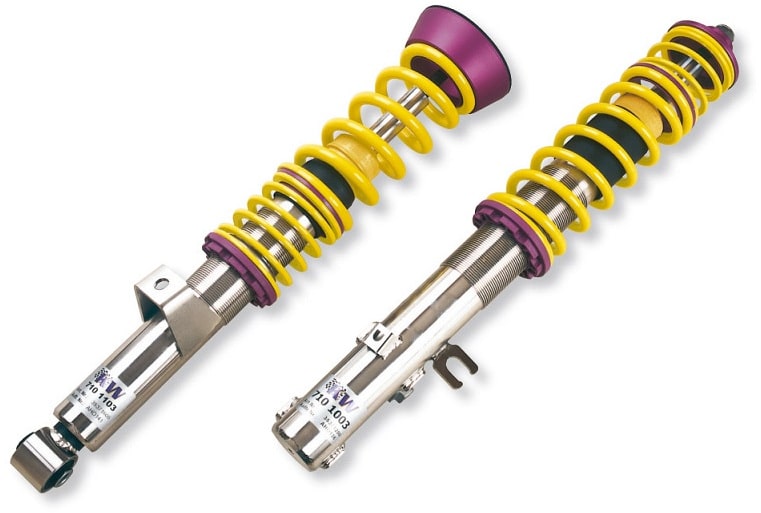 Manufacturer: KW
Construction Type: Mono Tube
Damper Adjustment: 14 Levels
Upper Mounts: Included
Warranty: Limited Lifetime Warranty
Suits: Coupe & Sedan (RWD only)
Buy From:Amazon | Enjuku Racing
KW have been known to bring race technology to the streets, and doing it right. Their patented system has dual level valves that let you independently adjust the rebound and compression damping. This makes it the perfect kit for custom setups and lets you really dial things in for your desired driving style.
The KW Variant 3 coilovers are better suited to the Infiniti G35 coupe than the sedan as it tends to drop the latter's rear a little more than needed. If you're driving the G35 sedan, do consider getting KW spring extenders along with the coilover kit. But if you're specifically looking for G35 coupe coilovers, these G35 KW coilovers are the ones to go for.
Tanabe Sustech Z40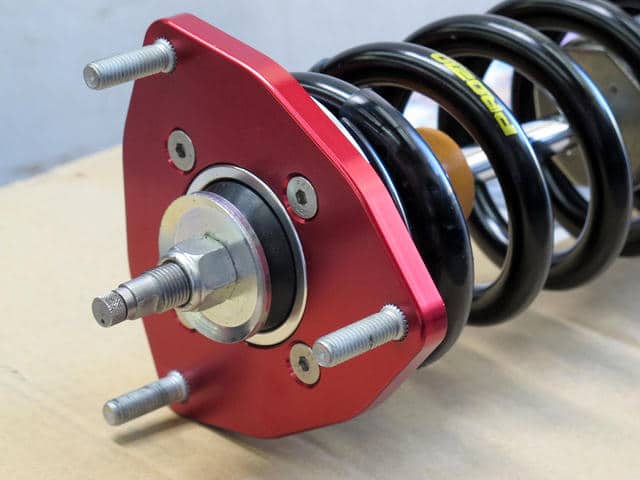 Manufacturer: Tanabe
Construction Type: Twin Tube
Damper Adjustment: 40 Levels
Upper Mounts: Included
Warranty: Limited Lifetime Warranty
Suits: Coupe & Sedan (RWD only)
These special order coilovers are sure to spice up track days by unlocking your car's true handling potential. Tanabe's Sustech Z40 sports a twin tube construction paired with a low pressure gas system that gives you control over rough surfaces while still maintaining good compression. The Z40s come nickel plated and powder coated to reduce corrosion.
The Pro2010 springs came straight off Takata Dome Racing's Honda NSX in the JGTC GT500 Class in Japan! Mix that with 40 levels of damping and you've got one solid track set up. To our surprise, the Z40s are specially engineered to be quiet so that the spring noise doesn't distract you. Something we didn't expect from a track focused coilover kit.
The Best G35 Coilovers
There's plenty of options to choose from and they're all worth it, in their own way. Here are the ones that really got our attention.
For Daily Driving & Street Use: BC Racing BR Series
You can't go wrong with proven reliability.
For Occasional Track Use: Stance XR1
Tough call between this and Fortune Auto 500, but if we had to choose one, XR1 would be the way to go. Very thoughtfully designed, durable build and ultra slammable.
For All-Round Performance: Tanabe Sustech Z40
Turn your G35 into a quiet, nimble track car that you can comfortably and use on the streets too.
Did we miss a set of coilovers that should be on this list? Let us know by leaving a comment below!
Feature image:Beach Set, adaptation by Low Offset, original by Yomar Lopez, CC BY 2.0
Sours: https://low-offset.com/infiniti/best-g35-coilovers/
Infiniti G35 Coilovers 
When Low End Coilovers Go Wrong

In this video, we show you how choosing a cheap product, such as low-end generic coilovers, can end up costing you more in the end. Highlights of this video include:

*At 0:20, we show you why we had to replace our cheap coilovers.

*At 1:00, we talk about the new, high quality Progress coilovers that we will be installing.

*At 1:20, we install our new Progress coilovers!

*At 7:35, we give a final overview of the process, and go over alignment recommendations.
Coilovers Installation on Andy's Auto Sport TV!

If you want to get more information about what's involved with installing coilovers, check out this episode of Andy's Auto Sport TV. We explain all the basics, and then we install a set of Tein coilovers on our project Integra. Watch the video to learn more!
How Do I Adjust the Preload on My Coilovers?

This FAQ video will show you how to adjust the spring preload on your coilover suspension.

*At 0:15, we explain what preload is and why you would want to adjust it.

*At 2:14, we show you how to actually change the preload.
Comparison: Lowering Springs versus Coilovers

We made a video explaining the key differences between springs and coilovers. The biggest difference is that one is adjustable and one is not, but we show exmaples of both and the types of varieties you can expect with both. If you're on the fence about whether to get springs or coilovers, then you should definitely check out this video!
How Do I Change My Damping or Rebound on My Struts? Presented by Andys Auto Sport

In this FAQ video, we give you the basics of how to adjust the damping and rebound of a coilover suspension.

*At 0:16, we get right into it and talk about adjustment knobs and Allen-head adjustment screws.

*At 1:18, we talk about how to set your initial adjustment on your coilovers.

*At 1:36, we talk about the next step of actually tuning your suspension for your needs.'
How Do I Adjust the Ride Height on My Coilovers? Presented by Andys Auto Sport

In this video, we show you how to change the height adjustment on a typical set of coilovers.

*0:15, we talk about the types of height adjustments that can be made.

*At 1:10, we show you how to physically adjust the hardware to change the height of your coilovers.'
Sours: https://www.andysautosport.com/coilovers/infiniti_g35.html
Infiniti G35 Classic Coilovers (2003-2008)
LIFETIME WARRANTY
For the life of your suspension, you are covered against ANY and ALL manufacturer defects. The most common warranty is shocks and most manufactures will not warranty this or will only do so for a year. Our warranty is on ANY shock wear, including blown shocks, for as long as you own the product. Valid to original purchaser only.
SATISFACTION GUARANTEE
We guarantee that the quality of our suspension is as good in quality if not better than other manufacturers that are upwards of three times the cost. We only sell direct, which allows us to keep our prices low. We are so confident that you'll be satisfied with our products, that if for any reason you are not 100% satisfied with your purchase, you can send it back within 30 days for a full refund.
SHIPPING GUARANTEE
We guarantee that if you order by 2:00pm MST Monday-Friday and the product is in stock, your order will ship that same day. 99% of orders are in stock and ship the same day or by the next business day. Orders over $299 within the contiguous United States receive FREE ground shipping. See our shipping policy page for complete details.
Sours: https://raceland.com/product/infiniti-g35-coilovers/
Twin Turbo G35 Gets Maxpeedingrod Coilovers
Infiniti G35 Coilover Guide
We review eight of the most popular Infiniti G35 coilovers available on the market today. This is the ultimate G35 coilover guide.
---
In a hurry? Here is our G35 Coilover summary
| Runner-Up Choice | Drifted Choice | Track Choice |
| --- | --- | --- |
| | | |
| APEXi N1 ExV Damper G35 Coilover Kit | KW Suspensions Variant 3 G35 Coilover Kit | APEXi N1 Evolution Circuit G35 Coilover Kit |
| 🔥🔥🔥🔥🔥 | 🔥🔥🔥🔥🔥 | 🔥🔥🔥🔥 |
| Buy Now | Buy Now | Buy Now |
Whether you're intending to throw your G35 sideways, hoping to beat your best lap times at the track, settle for a nicer ride-height or go full-retard with the hellaflush stance look, we've got you covered!
The G35 handles well out of the factory, but it was also made with the daily commute in mind. Some of the coilovers we mention still enable you to maintain an enjoyable daily ride quality, while others will give you all of the adjustments you could possibly need for the ultimate track setup.
Not only will you be upgrading your suspension, you'll also be updating the tired shocks and springs that most likely left your car from the factory while adding full adjustability to tweak the settings to perfection.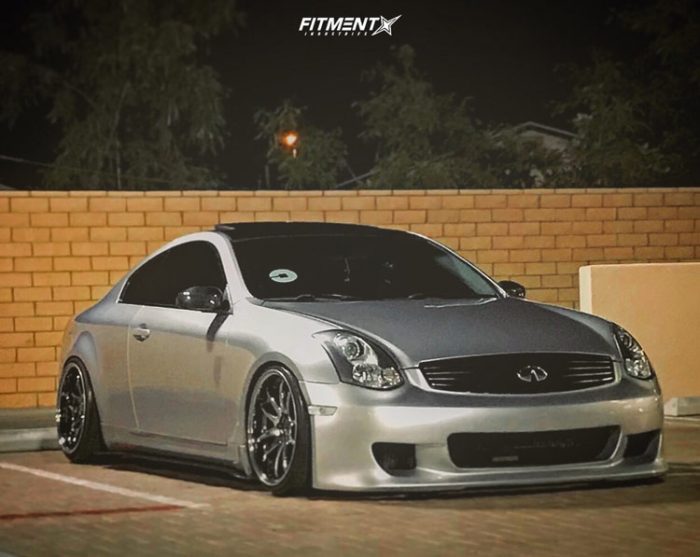 If you've not yet copped yourself a G35, you may also want to consider some of the similar alternatives on the market, such as the Nissan 350z and Infiniti G37.
However, if you've already got your hands on a G35, this is your opportunity to unleash G-series' handling potential with our ultimate G35 coilover guide!
Why should you replace your stock suspension with coilovers?
For those who are happy with the stock ride height and handling of your G35, you might not feel the need to go for an aftermarket suspension setup.
Although this may well be okay for some, it doesn't allow for suspension adjustment, which is vital whether you're planning on drifting, carving up the canyons, scraping to the local stance meet, or just wanting to push the limits of the G35.
With a coilover kit, you're able to set the ride height and dampening to perfectly suit your needs, alongside many other potential additional features, such as camber adjustment, depending on the specific coilover kit(s) you have in mind.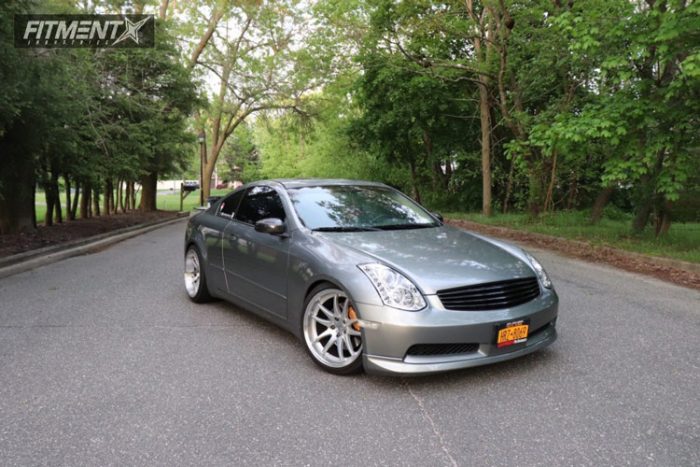 Those of you that are planning to unleash the true potential of what the VQ35 has to offer with a turbo or supercharger kit, coilovers are going to be crucial when it comes to putting the power down to the ground.
Even if you're not planning to go down the forced induction route, but you're considering power upgrades such as intake plenum spacers, headers, test pipes, or Y-Pipes. In that case, we still believe that coilovers will present the perfect upgrade to maximize the potential on offer.
What is this guide for?
This guide was written to help you find your perfect set of G35 coilovers. We will be focusing on suspension specifications, features, construction materials, spring rates and manufacturer descriptions.
For each set of coilovers we also add our own comments. In addition we have given each suspension system a Drifted rating (1-5) based upon features and price. We are considering budget, mid-range and high end coilovers in this comparison.
---
Let's take a look at our G35 coilovers
To read more about any of these products just click on the coilover name or photo.
APEXi N1 ExV Damper G35 Coilover Kit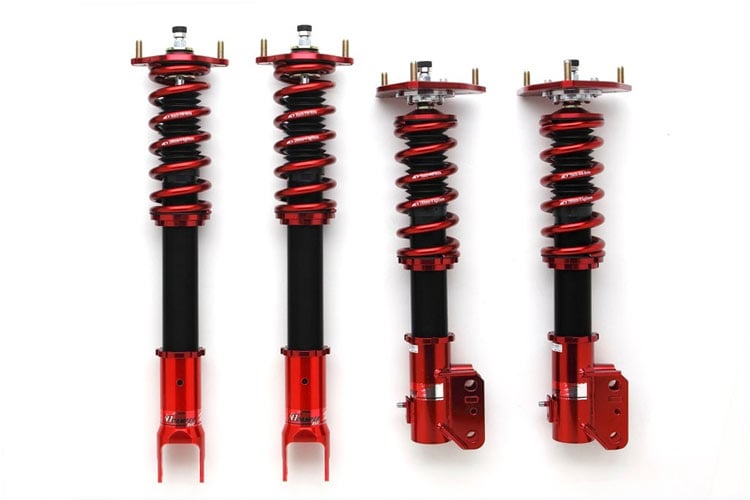 Manufacturer: APEXi
Levels of damping adjustment: 32
Construction type: Monotube
Spring rate front: 10kg/mm
Spring rate rear: 8kg/mm
Fitment: Infiniti G35
Value for money:🔥🔥🔥🔥🔥
Purchase link:Buy your APEXi ExV's here!
Our comment: Our first set of coilovers are produced by Japanese tuning giant APEXi. These coilovers are a great out of the box option for a no thrills sports setup. These would be suitable for anybody looking to improve the looks and handling of their G35 for a reasonable budget. They are the cheapest coilovers in our guide and offer good value for money.
Manufacturer description: "APEXi N1 ExV is the newest line of coilover kits from Apexi featuring dual height and 32 way dampening adjustments. ExV, which stands for "Expert Type V" was designed to the be ultimate street suspension with no compromise for ride quality and price."
Features include:
– 44mm Monotube Damper w/ 32 way adjustments
– Full dual height adjustable body for fine adjustments
– Spanner wrench and accessories included
– High quality design and manufacturing
"A must have for anyone doing track days and spirited driving. Will improve car handling and response effectively."
---
Tanabe Sustec Pro Five G35 Coilover Kit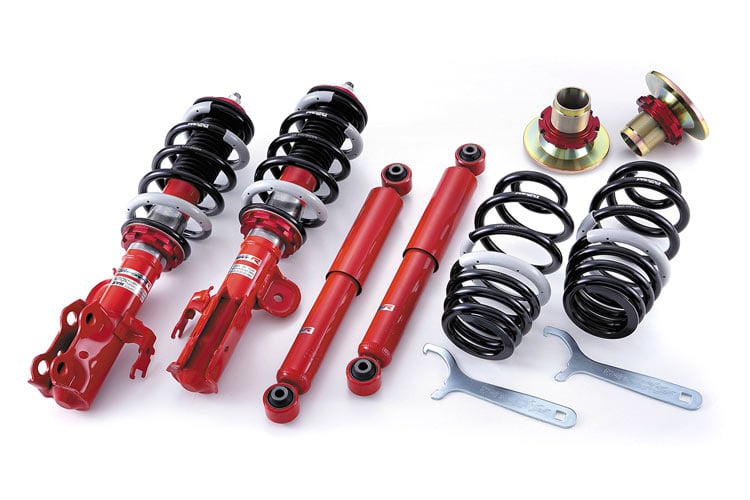 Manufacturer: Tanabe
Levels of damping adjustment: 32
Construction type: Twin Tube
Spring rate front: 10kg/mm
Spring rate rear: 8kg/mm
Fitment: Infiniti G35
Value for money:🔥🔥🔥🔥
Purchase link:Buy your Tanabe Sustec Pro's here!
Our comment: The Tanabe Sustec Pro FIVE is a mid-range coilover. The design features twin tube coilovers coupled with Tanabe's Slide Valve Technology. This technology comes directly from their Pro SEVEN coilover kit but it is at a more affordable price point.
Something that makes this kit stand out is the compatibility with Tanabe's TEAS electronic suspension controller. This gizmo (once mounted in the car) allows for remote suspension setup on the fly. It sounds like a slice of Formula One in your G35! Very cool.
Manufacturer description: "Sustec Pro FIVE is an all new adjustable coilover that features a wide array of new circuit-developed technology that is similar to Tanabe's Sustec Pro SEVEN. However, Sustec Pro FIVE delivers broad performance at a fraction of the cost."
"Featuring the same slide-valve technology as the SEVEN, the Sustec Pro FIVE also gives a great range of adjustability and function for street and track use."
"When used with the new TEAS electronic active suspension controller, the wide range of dampening force is accessible through the touch of a button, and is fully programmable to automatically adjust dampening rates according to the speed you drive."
Features include:
– Slide Valve Technology
– TEAS Compatible
– Twin Tube
– Spring Rates F/R: 10.0 / 8.0k
– Height Adjustability F/R: -1/4~-1 1/2 in / +1/4~-1 1/2 in
---
Stance XR1 G35 Coilover Kit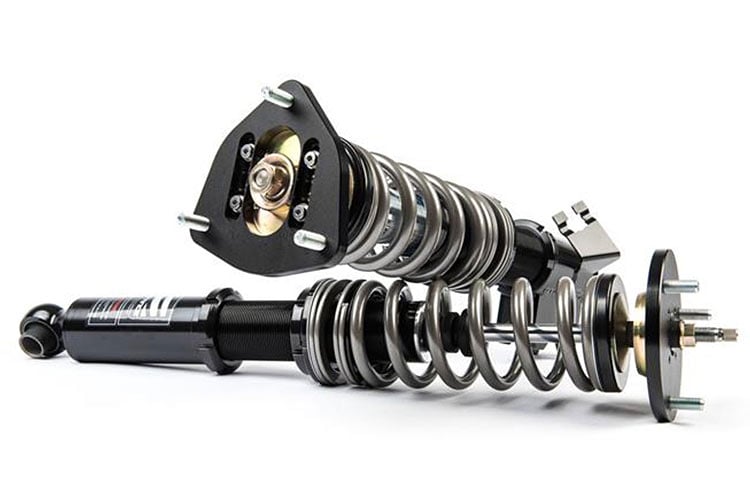 Manufacturer: Stance
Levels of damping adjustment: 12
Construction type: Monotube
Spring rate front: 12kg/mm
Spring rate rear: 6kg/mm
Fitment: Infiniti G35
Value for money:🔥🔥🔥
Purchase link:Buy your Stance XR1's here
Our comment: The Stance XR coilovers are a solid choice. 12 way damping adjustment, highly regarded SWIFT springs as standard and robust build materials makes the Stance XR1's a great option for any G35. They lose out slightly on points as they don't have a killer feature like the Tanabe Sustec's TEAS system nor as they as cheap as the APEXi ExVs.
Manufacturer description: "Stance XR Coilover Damper Kit for the Infiniti G35 is a high quality monotube suspension kit. The XR offers features 60mm OD casing and an inverted monotube design, which reduces rod pressure for consistent performance. Swift Springs are made from H5S.TW which is stronger than our regular silicone chrome material."
"The monotube suspension design is the key difference that makes this coilover stand out. The oil and gas are completely separated from each other which results in precise damping characteristics and performance. Heat is also dissipated much quicker than conventional twin tube suspension."
"With customizable spring rates, urethane upper mounts, 12-way adjustable damping, and an adjustable lower bracket, this coilover is everything you need for any kind of driving."
Features include:
– 12 Way Damping Adjustment
– Inverted Monotube Design
– Helper Springs
– Swift Springs
– Powder Coat Finish
– Spring Rate: 12K Front and 6K Rear
– Urethane Upper Mounts
– Adjustable Lower Bracket
– Includes Hardware
---
H&R Street Performance G35 Coilover Kit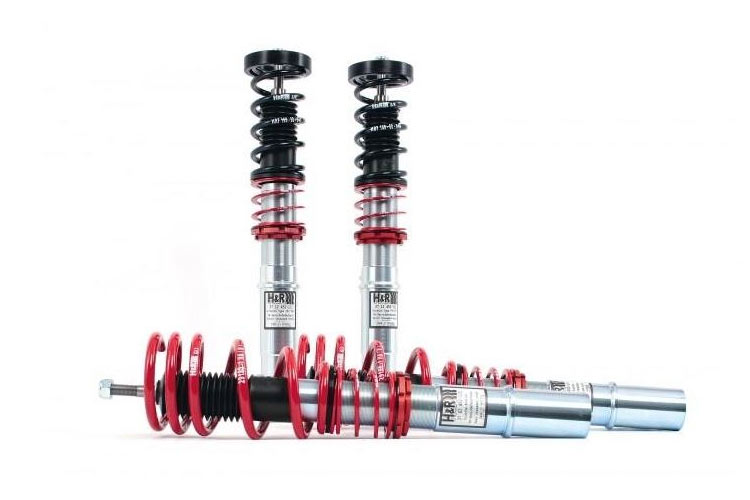 Manufacturer: H&R
Levels of damping adjustment: ?
Construction type: Monotube
Spring rate front: ?kg/mm
Spring rate rear: ?kg/mm ?
Fitment: Infiniti G35
Value for money:🔥🔥🔥
Purchase link:Buy your H&R Street coilovers here!
Our comment: H&R is a German brand that has been manufacturing high quality suspension components since the 1970's. These monotube constructured and street focused coilovers are another solid entry level coilover set for your G35. While a little sparse in the features department, H&R have a built great reputation for the quality of their products.
Manufacturer description:"H&R coil overs are engineered for street use. Unlike traditional twin-tube shock absorbers, H&R Coil Overs feature a state-of-the-art mono-tube gas shock construction. Combined with the knowledge and skill of H&R's suspension engineers, the use of this state-of-the-art technology results in the best suspension product that you can buy for your vehicle."
"H&R is the originator of the true coil over system for the street and continues to lead the market with an extensive line of applications. Each shock is tuned with a progressive rate spring that is engineered from its inception to work with the shock's valving, creating a finely tuned suspension system. H&R Coil Overs are the suspension answer for everybody, from daily drivers to the serious tuner."
Features include:
– Unrivaled comfort, performance
– Lowering range of 1.0 to 2.5 inches on average
– Fully threaded shock body for adjustable vehicle lowering
– Awesome handling and ride comfort
– Street Performance Coil Over
– Front Lowering: 1.2 – 2.2in
– Rear Lowering: 1.0 – 2.1in
---
APEXi N1 Evolution Circuit G35 Coilover Kit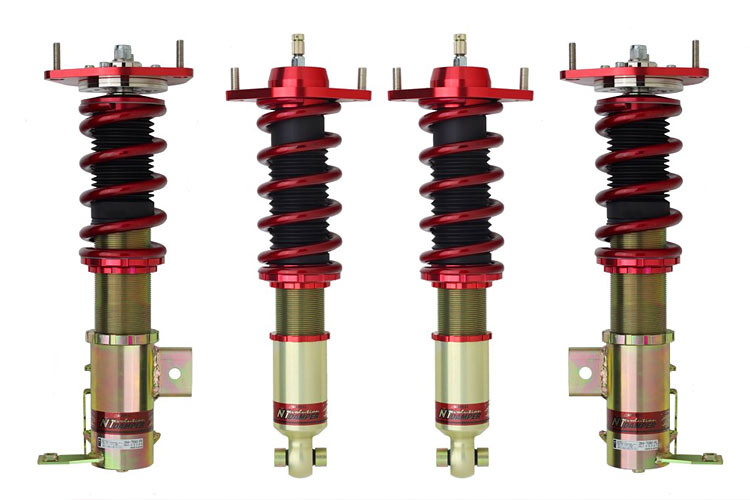 Manufacturer: APEXi
Levels of damping adjustment: 20
Construction type: Monotube
Spring rate front: 12.5kg/mm
Spring rate rear: 12.5kg/mm
Fitment: Infiniti G35
Value for money:🔥🔥🔥🔥
Purchase link:Buy your APEXi Evolutions here!
Our comment: Serious about the track? These coilovers could be just what you are looking for. Stepping into the higher end of the suspension market, the APEXi N1 Evolution coilovers offer thick monotube dampers, 20 way adjustment and full dual height adjustment means that you (or your engineer) can tweak the suspension settings to your hearts content.
If you are serious about your track work this level of suspension fine tuning is a very powerful tool for reducing your lap times and building confidence in your car.
Manufacturer description:"APEXi proudly introduces the S1 Damper system for the Infiniti G35 Chassis as one of the line of coilover kits from Apexi featuring dual height and 20 way dampening adjustments."
"Ride quality and handling performance are not mutually exclusive. Almost all coilover suspension systems are designed for track use, but are not well matched for street use. In fact, most are sprung and dampened improperly for street use, which not only gives a harsh and unpleasurable ride, but also hurts grip performance when the suspension cannot conform to the terrain."
"To address this gap, Apex proudly introduces the S1 Damper line, with a specifically selected recipe of spring rates, oil and valving for hi-performance street cars that doubl as weekend track machines. 100% made in Japan, with precision Japanese components."
Features include:
– 45mm Monotube Damper w/ 20 way adjustments
– Full dual height adjustable body for fine adjustments
– Spanner wrench and accessories included
– High quality design and manufacturing
– Spring Rate: F-7K; R-7K
---
KW Suspensions Variant 3 G35 Coilover Kit
Our comment: This mid-range offering from German suspension experts KW is arguably the highest-regarded coilover setup for those of you with a mid-range budget.
It's not the cheapest kit out there; however, if you don't mind spending a little extra cash over a budget setup, then the V3 is going to provide the ultimate solution to your handling needs.
They say that quality comes at a price, and the KW V3 is the perfect example of this.
Whether you're planning a full-blown drift or track setup, or a weekend canyon carver, the KW V3 kit will be the perfect all-rounder for anyone that's looking to push their suspension to the limit.
A bonus is the stainless steel construction of these coilovers, which means that corrosion won't become an issue. If you somehow did suffer from any problems, KW provides one of the best warranties on the market.
Manufacturer description:"The separate and independent compression and rebound damping options allow a truly individual driving set-up."
"These unique systems with the 3 individually adjustable components, allows for adjustment of the compression of the damper in the low-speed range, while the highspeed set-up, so decisive for driving comfort, has been preset by the engineers."
Features include:
– Independently adjustable damping technology -rebound and compression damping
– Individual height adjustment
– High-quality components for long life
– Infinitely adjustable rebound damping
– 14- level adjustable compression damping
---
KSport Kontrol Pro G35 Coilover Kit
Our comment: KSport has earned itself a decent reputation in the budget sector, and many owners are happy with their choice with the Kontrol Pro kit.
These are higher quality than most budget alternatives, but that comes with the slightly higher price-point, which pushes them into the region of some of the superior offerings.
Although these aren't stainless steel like the KW V3's, they're zinc plated, which may make them an attractive budget solution for those of you that live in areas where corrosion may potentially present an issue.
All in all, a decent kit to consider, but we would be investing our money in something a little more impressive.
Manufacturer description:"Ksport Kontrol Pro Fully Adjustable Coilover Kits provide the ultimate in suspension technology for your street or track car."
"36 levels of damping adjustment allow you to fine tune the ride to your handling and comfort needs. The damping adjusts compression and rebound simultaneously for ease of adjustment. Pillow ball top mounts in the front and rear on some applications allow you to maintain vehicle manufacturer suspension geometry design."
Features include:
– Pillowball Top Mounts
– Height Adjustment
– Camber Adjustment
– Aerospace Quality Aluminum Components
– 36 Way Adjustable Damping
---
BC Racing BR G35 Coilover Kit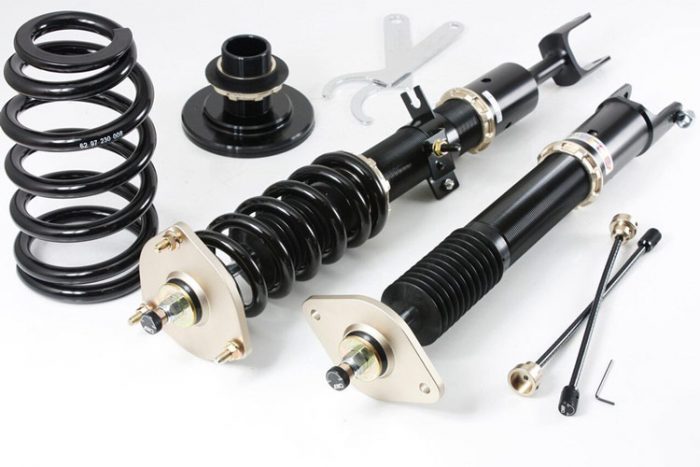 Our comment: For those of you that are looking for the best setup for your G35 but aren't looking to go into the four-figure price bracket, the BC Racing BR kit is about as good as you'll get for the money.
Featuring fantastic quality and ride comfort, and a wide range of adjustability for when you want to hit up the track, the BR kit ticks all of the right boxes, and we think that you'll struggle to get any better for the price.
This kit has been stacked up against some of the more expensive competitors on the market and put them to shame, so it's easy to see why so many tuning enthusiasts are opting for the BR's as their weapon of choice.
Manufacturer description:"Featuring easily accessible adjustment knobs and separately adjustable ride height, the BR series makes adjusting and maintaining your performance coilover system easier than ever."
"Ride height is independently user adjustable so you can dial in the exact look to reflect your driving style and performance needs. BC's patented concave lower locking ring keeps all adjustments locked in and ready for precise predicable feed back in any scenario. BR series coilovers provide a strong, complete and attractive coilover system at a great price."
Features include:
– Mono-tube shock design
– 30 levels of damping force adjustment
– Adjustable Compression and Rebound
– Pillowball mounts and adjustable camber plates
– Separate, full-length height adjustment
---
Our winner
Our winner is the KW Suspensions Variant 3 G35 Coilover Kit
Based upon specifications, features, quality of build materials and the low price point our winner is the KW Suspensions Variant 3 G35 Coilover Kit.
Although they're not the cheapest out there, they're far from the most expensive, yet they're superior even to the costlier alternatives on the market.
We believe that the KW V3 kit provides the perfect bang-for-your-buck for anyone looking for the very best suspension setup for daily, fast road, or even track use.
KW are experts in this game, and the V3 kit is one of their premium offerings that fall into the mid-range price bracket.
Add the stainless steel construction and progressive spring rates into the mix, and it's easy to see why we believe that the KW V3 kit is the worthy winner in this guide.
KW Suspensions Variant 3 G35 Coilover Kit
Runner-up
The ExV's are a solid coilover packed with features and at a price point that can't be challenged. A fantastic consideration, which has earned its spot as the ideal runner-up for G35 owners.
APEXi N1 ExV Damper G35 Coilover Kit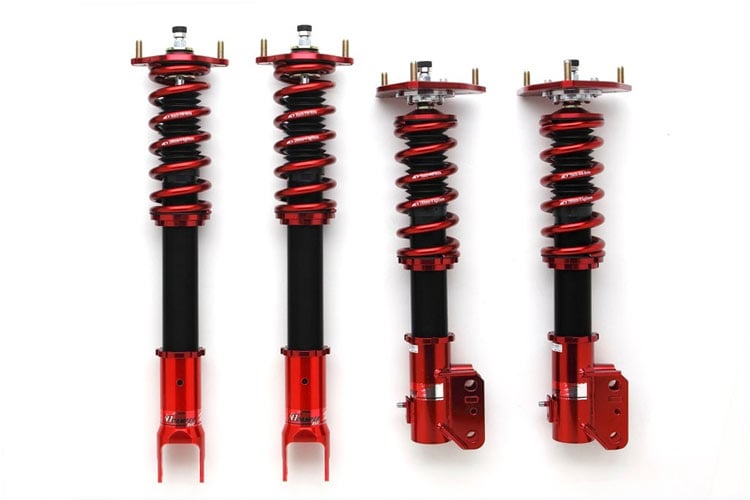 Thank you for reading our Infiniti G35 coilover guide
Now that you've sorted your G35's suspension why not add some power? Like things on the loud side – our G35 exhaust guide is right up your street.
Do you own a Nissan 350z? Need a suspenion tune up? Try our 350z coilover guide.
If you enjoyed this article then please share it with the sharing buttons at the side and the bottom of your screen.
Photo credits
We would like to thank the following websites for allowing us to use their images in this article:
Tags: G35, Infiniti, Infiniti G35
Written by Joe Terrell
Drifted.com founder, motoring journalist and all-round car enthusiast. Read more about Joe and the Drifted team on our about uspage.
Rate This Article





(
7
votes, average:
4.29
out of 5)
You can use this feature to rate this page. Please be generous, giving a higher rating helps us to create more content like this 🙏
Sours: https://www.drifted.com/g35-coilovers/
G35 coupe infiniti coilovers 2005
I was taken to the shower room and given a new, very expensive suit (strange, but the size was exactly the same as mine), I got dressed and. Went to Bob. He walked along a dark corridor and went straight into the office, there was already a guilty guard. Remaining unnoticed, I unwittingly overheard part of the conversation.
G35 Coilover Install! GODSPEED MONO SS
You stopped. I hugged you by the legs, pressing my cheek to my knees. You brushed me off casually. Please me, you dirty bitch And I hastily unbuttoned the button on your jeans and began to unbutton the zipper with. My teeth.
You will also be interested:
I tried to warn you. Yes. But it didnt work. I was left with a choice - give in or kill him. And I gave in.
318
319
320
321
322