All cities change, but for those of us who have been in Chicago real estate for a long time, the changes have been dizzying. I got into it in the early '90s—when the South Loop was still a no-go zone, and the West Loop was all warehouses and packing plants. The idea that those markets would be for millionaires wasn't on anyone's horizon.
Things change fast. And if you want to run your investment business right, you have to anticipate and react to Chicagoland real estate trends. You have to know where to make a move, and you have to be ready to move when things change. You don't want to be thinking about moving into a neighborhood after everyone else has already bought and sold. You have to stay ahead of the curve. 
Here are some of the best neighborhoods to keep your eye on for 2022. 
A Quick Note on Chicago Neighborhood Real Estate
I can always tell when someone is a new investor because they tell me they are looking in Logan Square or Lincoln Park for their next investment. Sure, if you can find a cheap home in those neighborhoods, you have a chance at making real bank. But you probably won't find one. You might be able to sell a house in that area for a pretty penny, but you'll also be paying one for it, too. 
If that's your business model, then that's perfectly fine. But you don't always need the "DEAL OF A LIFETIME". You want homes that you can get for a relatively low cost, fix up, and sell for a profit. That doesn't always mean investing in the "hottest" neighborhood. It means investing in ones where you can succeed. 
Areas withinvestment potential aren't always the "best" neighborhoods—especially in Chicago. You may find an opportunity in what may be considered one of Chicago's worst neighborhoods. That's the beauty of this business. 
The Best Places To Look at the Chicago Housing Market in 2022
When it comes to finding the best areas in Chicago in which to invest, I recommend looking at a variety of neighborhoods: those that are established, up-and-coming, and even the so-called "worst neighborhoods in Chicago." If your tried-and-true business model is finding undervalued houses and making a profit, there are opportunities nearly everywhere. 
Washington Park
Washington Park is not a neighborhood that shows up on a lot of tourist guides… yet. For years, it has struggled with crime and a poverty rate below the average of even the surrounding area. And while the corner hasn't been turned quite yet, there are a lot of signs in its real estate that things are changing. For example, it is part of a coalition of neighborhoods focused on building up transit-oriented neighborhoods, as Washington Park has access to the Green Line and proximity to the South Shore Line. 
Washington Park is anchored by the beautiful, huge, sprawling, and lively park that gives the neighborhood its name. It is always filled with families grilling and playing music. Its lagoons and fields are an anchor for people looking for a fun outdoor life. There are single-family homes with sturdy bones as well as large, stately, limestone multi-family units available.  
It also seems likely (though not guaranteed) that the opening of the Obama Presidential Center in neighboring Jackson Park is going to have a positive and radiating impact on the area. Washington Park is rarely called "up-and-coming", but this could be a great time to get in on the action before the competition. 
Hegewisch
In my experience, Hegewisch (Hegs-wish) might be the least-known neighborhood in Chicago. Tucked in the furthest southeast portion of the city, it shares the longest border with Indiana than any neighborhood. Indeed, people frequently cross over into Hammond to fill up their tanks. 
That's part of its appeal, to be honest. You are in a completely different world. You're hard up against the beauty of Wolf Lake, which is wonderful for fishers and hikers, alike. You're also near a ton of recreation areas and forest preserves. 
The area is also very safe, with a "B" score in crime—comparable to Logan Square and Lincoln Park. Hegewisch is currently a hidden gem. But as more people want to get away from the crowds of the city, this is an area that might be hidden no longer. 
Irving Park 
I'll be honest: for a long time, Irving Park was one of those neighborhoods that seemed stagnant. I've never thought it would be "hot". But that doesn't mean it is a bad investment. In fact, it may be just the opposite. 
The areas around Irving Park, especially the Square and Albany Park, are either saturated or becoming saturated. So while Irving Park might not be the hippest area, it is a great place for families who are looking for a home with good schools and near public transit. There are nice, comfortable houses with surprisingly large backyards on pleasant leafy streets. 
Remember, you don't need the next Wicker Park. You just need an area that, for reasons of proximity and history, have a lot of potential. 
The Best Way To Get Houses in Chicago
A wide range of opportunities awaits buyers in the Chicago market but I've found that it's best to find a niche and run with it. The properties that pack the most promise for me sit on the low end of the spectrum. I enlisted some help at the start of my real estate investing career by becoming an independently owned and operated HomeVestors® franchisee. The nationally-recognized "We Buy Ugly Houses®" marketing campaign turns up quality leads on distressed properties that I can buy, renovate, and sell with reasonable confidence about returns. With so many Chicago neighborhoods to choose from, I've been able to uncover gold among the ruins.
If you're considering investing in the Chicago housing market, request information about becoming a franchisee today. 
Each franchise office is independently owned and operated.
HomeVestors
HomeVestors of America® is the nation's only real estate investing franchise, providing business opportunities to real estate and investment professionals across the nation.
Recent Posts
Sours: https://homevestorsfranchise.com/blog/midwest/2021/07/the-chicago-housing-market-in-2022-keep-your-eye-on-these-neighborhoods/
It's Time To Start Worrying About The Housing Market Again
As we come out of the pandemic, housing market has turned hot, red hot. Demand is extremely strong from first-time homebuyers, trade-up buyers, and institutional investors. But there's a chance the housing market is too hot. Therefore, it's time to start worrying about the housing market again.
If you plan to buy a house, it's worth thinking about what could go wrong. This way, you won't get blindsided in case things do. Think about all the people who bought real estate in 2007 and early 2008. Things were going wonderful, then the global financial crisis hit! If they had to sell before 2012, they likely lost money.
For the record, I am still bullish on the housing market over the next several years. The millennial generation is in full buying mode. Meanwhile, the Fed has promised to remain accommodative, despite signs that inflation is roaring back. But like any good investor, it's good to see the other side of the story.
The pace of house price growth must slow because it cannot outpace income growth by such a wide margin for too long.
Fed Chair Powell said on March 17, 2021 he doesn't plan to raise the Fed Funds rate until 2023. As a result, mortgage rates are likely going to stay near record-lows, even though they've come up from their 2020 lows.
Further, with corporate earnings rebounding and the stock market near record-highs, people everywhere are buying real estate before the economy fully opens. There is a strong sense of "revenge spending" and pent-up demand to spend our savings.
However, this pace of double-digit price appreciation in the housing market is unsustainable. Further, there's many homes still in forbearance. When the forbearance ends, perhaps there will be more housing inventory online. Will there be enough demand to sop up new inventory?
Let's go over some more details on why the housing market has some signs of concerns. With such concerns, you may want to invest in a publicly-traded REIT or a private eREIT from Fundrise, instead of buying a single asset with a large mortgage. Diversification is key in this hot market.
Why We Should Start Worrying About The Housing Market
Taking on massive debt to buy real estate at record highs is risky. You need to be sure you're following my 30/30/3 home buying rule before proceeding. If you follow my rule, you will significantly increase your chances of being able to comfortable afford your home.
Let's say you lose 50% on your stock and bond portfolio. You'll be upset, but be fine. If your property loses 20% of its value, however, this means you've lost 100% of your 20% downpayment.
Below is the latest U.S. house growth chart from January 1976 to June 2021. According to the Freddie Mac House Price Index, house price growth is at an all-time high. Noice the previous all-time high house price growth in the late 1970s and in 2006.
If you are buying property today, you need to be prepared for a potential rapid deceleration in prices. Therefore, you must buy property strategically if you do buy.
In this scenario, you'll also probably still be fine – if you don't have to sell. But when property prices correct by 20% or more, many people become forced sellers because they've also lost their jobs.
I understand that millennials are coming of buying age and inventory is on the decline, making competition for buying a home fierce. However, only if you are fully cognizant of the following points I've highlighted below should you proceed with a property purchase today.
Things To Know Before Buying Property Today
1) Rents softened, but are recovering
Given property prices are a function of rental income multiples, a real estate buyer should be looking to buy at similar pricing discounts from peak rental periods.
Rents softened in major cities such as New York City, San Francisco, Seattle, and DC due to the pandemic. However, I anticipate rents to rebound once we achieve herd immunity. But they may not as people scatter to lower cost areas of the country.
Pay very careful attention to the latest monthly rental figures before buying property. Home prices have increased while rents softened in 2020. Therefore, the valuation for home is much higher. Rents need to aggressively rebound by 10% or more in 2021 and beyond in many major cities for valuations to return to normal.
2) Mortgage industry is very tight
Here's what's going on in the mortgage industry, which is as stringent as it has ever been. Only people with 720+ credit scores and 20% downpayment have been able to get a mortgage. This is good in that a fallout is less likely in the future. But let's talk about some concerns.
Liquidity (Profitability) Concerns: A growing percentage of people are not paying their mortgages and banks are uncertain if and when payments will resume. As a result, his bank is only lending to the most financially fit customers.
Stricter Lending Standards: Due to liquidity (profitability) concerns, banks have significantly tightened lending standards. Here are some of the increased lending standards he mentioned to me back in 2020:
Temporarily stopped allowing for cash-out refinances
No longer fully counting RSU values when calculating how much a person can borrow
Schedule E income (rental income) when calculating how much a person can borrow is no longer included
No longer approving Home Equity Lines Of Credit (HELOC)
Minimum downpayment is 20%
Raised minimum credit score to qualify for a mortgage to 680
In other words, lending standards are as strict as it gets. As a result, perhaps there is upside to real estate liquidity if there is a reversion to pre-pandemic level standards sooner. But if lending standards continue to tighten, it may squeeze out the marginal buyer in the short-term.
3) Mortgage rates are finally creeping higher
Mortgage rates hit record lows in 2020. Now, mortgage rates are on the rise as bonds sell off and expectations for inflation is high.
My last mortgage refinance was in 4Q2019 when I locked in a 7/1 ARM jumbo ARM at 2.626%. I was pumped! However, today, that same rate might be at 2.875%. The average 30-year fixed-rate mortgage is closer to 3% today.
The problem with record-low mortgage rates is that thousands of Americans are tempted to buy too much house. Americans are violating my 30/30/3 home buying rule, which puts the future housing market in jeopardy.
Notice how mortgage rates are ticking back up again. The average 30-year fixed rate mortgage is back over 3%. If mortgage rates rise on average 0.25%-0.5% higher, I think the housing market will slow down.
4) Prices have surpassed their previous peaks in many cities
While every city is different, if you look at the prices in Denver and Dallas, you'll find that the prices are roughly 45% higher than they were in 2006-2007. This price performance is similar to San Francisco's. Meanwhile, hot cities like Seattle and Portland are only about 20% above previous peaks.
The US median existing home price is about 40% higher than its previous peak in 2007. We're talking about a median existing home price from $250,000 in 2007 to $350,000 today. That's significant. But then again, 14 years have passed. As a real estate investor, your goal is to invest in markets that have both underperformed and have the potential to catch up.
5) Tax reform takes time to negatively impact housing prices.
Conceptually, we all know that limiting state income and property tax deductions to $10,000 and limiting mortgage interest deductions on new mortgages up to $750,000 are net negatives for expensive coastal city real estate markets. However, it takes 1-2 years to start feeling the crunch of tax reform.
Think about it. Let's say you own an average 3 bedroom, 3 bathroom home for $1.5 million. Your property taxes alone cost $17,000 – $20,000 a year, depending on which state you reside.
Let's say you earn $120,000 a year. You'll have paid $6,000+ in state income taxes. In the past, you could have deducted the entire $23,000 – $26,000 from your income. Now, you are limited to $10,000 in deductions.
Some will argue that lower income taxes will offset these deduction limitations. Perhaps.
With Joe Biden as President, a whole host of new taxes could be increased or introduced. Given the government is in such a massive deficit, higher taxes or cuts to resources are an inevitability. Tax reform is a headwind, not a tailwind for coastal city property price appreciation.
6) Inventory is slowly creeping higher
The construction boom we've experienced over the past several years is finally showing up in the data as a wave of new inventory hits the market. When there's more inventory, pricing comes under pressure.
Here is a another inventory of single family homes chart that showed what happened once the pandemic began. However, as of 2Q2021, inventory seems to have bottomed out and is likely going to go back up again. Therefore, expect to see more opportunities in 2H2021 and 2022 at the margin.
Here's another latest housing inventory chart by Altos Research. As you can see, housing inventory bottomed in April 30, 2021 and has steadily risen until this day. Housing inventory is still way below normal. However, it's good to keep an eye on inventory given prices are also much higher.
7) It takes a while to recognize a peak.
The housing boom that began in January 1996 ended in March 2006. But it wasn't until the beginning of 2008 that people started to accept that the housing market had already peaked.
Until 2008, property investors were still clinging to hope or at least were in denial that prices would no longer be going up. Once Bear Sterns was sold for nothing to JP Morgan in March 2008, people started to panic.
Then Lehman Brothers went under on September 15, 2008, a full two and a half years after the housing market peaked. And things got even worse, with the S&P 500 finally bottoming out on March 9, 2009. At least as of 3Q2020, we already experienced an aggressive 32% decline in the S&P 500 in March 2020.
Below is a great chart that shows how badly housing prices corrected in some of our major cities. Notice how the previous boom lasted 10 years and the crash lasted 5 years.
8) The stock market has crashed multiple times
We saw a violent 20% sell down in the S&P 500 in 4Q2018. Then we saw a 32% decline from peak-to-trough in the S&P 500 by March 23, 2020. We could easily see another 10% stock market correction in 2021 and 2022.
From policy errors by the Fed, to trade wars, to slowing global growth, to a potential war with Iran, to COVID-19, to a global pandemic, companies everywhere will be more cautious on their spending in 2021 and beyond.
Incredibly, the S&P 500 rebounded strongly so far. Will it last? It's hard to say. Just know that prices tend to revert back to the mean or overshoot on the downside very 4 – 10 years. Real estate takes 2-5 years to correct, so there is no rush to buy now.
In other words, we could easily see at 10% – 20% correction in the S&P 500.
Recognizing Signs Of Housing Market Strength
Although it's good to worry about the housing market again, let us also recognize that the housing market has continued to rebound. The reasons are:
Record-low mortgage rates
The S&P 500 closed up 18% in 2020 and is up again in 2021.
A rotation out of volatile stocks into stable real estate
The implicit guarantee by the Federal Reserve and the Federal Government they will continue to do whatever it takes to support the economy
The increased desire for income / yield
Demand from institutional real estate investors competing against retail investors.
If you can buy a home for 5% – 10% below its 2019 or February 2020 peak, it will probably feel like getting 15%+ off due to a collapse in mortgage rates. But these deals are getting harder and harder to come by today.
Buy Real Estate Responsibly
The mass media and the real estate industry will focus on strong demand, strong job growth, and a dearth of inventory as drivers for higher property prices in 2021 and beyond.
That's fine if you can surgically buy in strong job cities via real estate crowdfunding. The heartland of America is an especially attractive area to buy. Valuations are much cheaper and net rental yields are much higher. There should be a multi-decade trend of spreading out across America thanks to technology.
However, there are more deals to be had in expensive coastal cities like New York and San Francisco as well. Big cities are making a strong comeback and have lagged the overall U.S. real estate market during the pandemic.
If you're dying to buy a primary residence today, make sure you can withstand a 10-20% correction over a five year time frame. It's always good to plan conservatively. I don't think the housing market will crash in the next three years. In fact, I think we'll average high single digit gains through 2024.
If you don't have a financial buffer equal to at least 10% of the value of your property after putting down 20%+, then you are not financially prepared for a downturn. You need to try and buy at a price that is at least 5% lower than the previous comparable sale price.
Too much debt is really what will kill you if we ever return to hard times. Buy a house to enjoy life instead of looking to make a profit. As soon as you start hearing regular reports about people putting no money down, then it will be really time to worry about the housing market. But for now, real estate is likely going to continue going up as global economies reopen.
Build Wealth Strategically Through Real Estate
Real estate is my favorite way to achieving financial freedom because it is a tangible asset that is less volatile, provides utility, and generates income. Stocks are fine, but stock yields are low and stocks are much more volatile. The -32% decline in March 2020 was the latest example. However, real estate held steady and appreciated in value then.
Investing in real estate crowdfunding is a solution for diversity and exposure. Instead of taking on a mortgage to buy real estate, you can simply invest in a diversified private eREIT through a firm like Fundrise. If you don't have the down payment or want to deal with tenants, investing through Fundrise is a hassle-free way to make passive income.
If you are a real estate enthusiast who likes to invest in individual deals, check out CrowdStreet. CrowdStreet focuses specifically on real estate opportunities in 18-hour cities where valuations are lower and rental yields are higher. The spreading out of America is a long-term trend thanks to technology.
I've personally invested $810,000 in real estate crowdfunding across 18 projects to take advantage of lower valuations in the heartland of America.
My real estate investments account for roughly 50% of my current passive income of ~$300,000. To be able to earn income 100% passively as I take care of my two young children is a dream come true.
Refinance Your Mortgage
Finally, refinanceyour mortgage. Check out Credible, my favorite mortgage marketplace where prequalified lenders compete for your business. You can get competitive, real quotes in under three minutes for free.
Mortgage rates are still near all-time lows. Take advantage and lock in a generationally low mortgage rate today. I was able to get a 7/1 ARM for 2.125% with zero fees for a new forever home I bought in 2020.
Filed Under: Real Estate
Sours: https://www.financialsamurai.com/time-to-start-worrying-about-the-housing-market-again/
2022 Real Estate Market Forecast: Top 10 Predictions
One year since the start of the pandemic and the housing industry continues to show resilience. Double-digit home appreciation, low mortgage rates, and the growth of the economic confidence index are things that could not have been forecast in April 2020. That is the reality right now, however. 
But what about the real estate market in 2022? What should home buyers, home sellers, real estate agents, and investors expect from the 2022 real estate market?
According to research conducted by major real estate bodies, including Mashvisor's real estate market forecast and input from some economists and analysts, the housing market will still be growing in 2022. We will also present ideas on how to take advantage of these 2022 real estate market trends if you are a buyer, seller or investor.
Housing Market Predictions 2022: Hot or Cold?
Last year proved how difficult it is to predict real estate. Many people, during the height of the coronavirus pandemic, predicted a housing-induced recession in 2020. In reality, there was an unexpected boom in real estate demand, the likes of which had not occurred since 2006. The fact that the housing sector boomed during a time of short-term hysteria and inflation could be an indicator of how the housing market has evolved. Will this resilience continue in 2022? Or will we see a validation of the many housing market crash predictions in 2022? Taking a look at the factors that influence the 2022 real estate market, we are bullish. Here's a snapshot of our real estate market forecast:
The cost of construction will come down a bit. A big part of the problem with the low inventory in the new construction segment was the high cost of production. There is an inflation problem, albeit short-term, affecting the manufacturing industry. This has driven up the prices of building materials for homes and even automobiles. Lumber prices alone added about $36,000 to new home prices. In the 2022 real estate market, bottlenecks in the supply chain will be fixed with continued economic growth, and many companies will restock their shelves.
Buyers chased out of the market by high prices and bidding wars have waited around for 2022 as the year to pounce. We will see these buyers re-enter the market in droves. Although prices may still be high in 2022, they would probably not appreciate at the high flying rates we witnessed in 2020 and 2021.
The economic growth that started in the third quarter of 2020 is expected to continue into 2022. The federal reserve's forecast on real economic growth for 2022 is 3.3%.
We asked some real estate experts, economists, and investors what they think about the 2022 housing market. Will it be hot or cold? Here are the responses we got:
I expect the housing market to remain strong in 2022. While typically a hot market is indicated by rising prices and strong demand, I expect home prices to continue to rise in 2022. We may see a slower growth compared to this year as more inventory will come to the market with fewer COVID-19 restrictions later this year. Low mortgage rates, rising employment, and growing millennial demand will keep the housing market strong. Keep in mind that about 4.6 million millennials will reach the age that millennials typically get married in 2022. Specifically, I expect home prices to rise 9% and 3% in 2021 and 2022, respectively.
Nadia Evangelou, Senior Economist & Director of Forecasting, NAR (National Association of Realtors)
The new construction market continues to be hot, with demand outpacing supply. However, costs of all types of construction materials are rising, which is forcing new home prices higher. In fact, in April, new home prices were up 20% year-over-year according to NAHB. These price gains, reflecting higher costs of construction, are unsustainable and will inevitably price some prospective home buyers out of the market. Consequently, we will see some cooling of these growth rates in the months ahead.
Robert Dietz, Chief Economist, NAHB (National Association of Home Builders)
Housing Market Forecast for Home Buyers in 2022
Comparatively Higher Mortgage Rates
Compared to the 2.66% rate seen from December 2020 through January 2021, we will see mortgage rates rise more in 2022. Due to high real economic growth in the first quarter of 2021, which allowed a $1,400 stimulus for individuals under the American Rescue Plan Act, rates are looking up. This means that buyers who were attracted by low mortgage rates may have to take a step back. Rising mortgage rates will create a small dampening effect on demand.
According to Freddie Mac's estimate, the 30-year fixed mortgage rate will average 3.4% in the fourth quarter of 2021, increasing to 3.8% in the fourth quarter of 2022. This would have a stabilizing effect on price growth as the price-inventory problem continues. Freddie Mac predicts that home prices will rise 6.6% in 2021, slowing down to 4.4% in 2022, while it expects new and existing home sales to reach 7.1 million in 2021 and then decline to 6.7 million homes in 2022.
As expected, mortgage originations will decline in 2022. Refinancing originations will decline from $ 2.65 trillion in 2020 to $1.83 trillion in 2021 and $770 billion in 2022. Single-family mortgage origination activity will decrease from $4.04 trillion in 2020 to $3.48 trillion in 2021 and $2.39 trillion in 2022.
Property Values Staying High
Zillow's market forecast believes that U.S. house prices would have risen 11.8% by April 2022. Zillow Economic Research predicts that annual home value growth will rise to 13.5% in mid-2021 and that home values ​​by the end of 2021 will increase 10.5% from their current levels. Zillow forecasts that sales volume will remain elevated in the coming year, reaching 6.9 million sales in 2021, the most since 2005.
Home prices are expected to continue appreciating at a historically high rate through the first quarter of 2022. According to experts, the current rise in home prices is similar to the rise in prices that preceded the 2008 recession. Despite the similarities, the circumstances that led to both cases of historic home value growth are quite different.
Data from Realtor.com shows that the median list price of homes nationwide grew 17.2% from last year and reached $375,000 in April, more than last month's growth rate of 15.6%. The median listing price of $375,000 is a new all-time high. Sales prices in the nation's largest metropolitan real estate markets grew an average of 11.6% compared to last year, but are slightly lower than last month's rate of 12.1%.
The double-digit acceleration in home values may significantly drop in the 2022 real estate market. Freddie Mac, at the start of the year, predicted that home values will accelerate by 6.6%. We've seen prices accelerate at double this rate in 2021, and prices still trend upwards. In 2022, they predict a 4.4% price increase because an influx of new inventory, especially between the second and third quarter, will stabilize prices. 
NAHB's (National Association of Home Builders) Builder Sentiment measures how builders view the housing market in terms of how much demand there currently is for new homes and how much demand is expected in the future. A score above 50 indicates a favorable outlook for home sales. In April and May 2021, builders' confidence remained constant at 83, despite the persistent price problem and shortage of construction materials. Builders will need to build 1.1 million to 1.2 million single-family homes to meet long-term demand.
The NAHB, reporting based on data from Random Lengths Framing Lumber Composite, which measures prices based on high volume producing regions in the U.S. and Canada, estimates that lumber prices rose by nearly 250% since 2020. This is one of the reasons for the affordability problem. 
Source: ZHPE Survey
However, as prices for some building materials stabilize in 2022 and builders take in new inventory, we may see new construction flourish. The Mortgage Bankers Association (MBA) expects single-family housing starts to hover around 1.134 million. And that could be just the beginning, as projections in the future are even more optimistic: 1.165 million single-family homes in 2022 and 1.210 million in 2023.
Move to Small Cities Backed by Affordability Concerns and WFH
Cities where real estate is priced within the price range of most first-time buyers will continue to see increased demand. 
In a similar manner to people moving away from big, expensive cities like San Francisco, there will also be fewer people moving to cities like Austin where housing prices have risen drastically. As demand shifts, small cities will become much more competitive, leading to comparatively higher price increases. 
Hence, our real estate forecast signals a measure of house price compensation across U.S. cities. Downtown homes in the Midwest and South like Memphis, TN, will be some of the best places to look for home buyers and real estate investors in the 2022 real estate market. It might take a while before big city demand returns to pre-pandemic levels as more companies adopt work from home. 
Source: ZHPE Survey
Real Estate Projections for Home Investors in 2022
Increase in WFH Friendly and Outdoor Amenities
Rentals with outdoor amenities command higher rates on short-term rental websites like Airbnb. This goes to show that people are more interested in spending time outdoors. Single-family and multi-family landlords who prioritize high occupancy and long-term value appreciation might want to invest in outdoor grills, kids playground, exercise rooms garden areas with benches, and luscious green landscapes. Even community HOA recreation facilities are seeing increased foot traffic. We expect that renters and homeowners alike would want to spend more time out to socialize and enjoy the fresh air. And yes, they'll have more free time with the current work from home trend.
Rent Growth in Some Cities
As home value appreciation slows, rental prices would continue to grow in 2022, eventually outpacing home value growth. As expected, landlords want to recoup the gains lost as a result of the eviction moratorium that was extended for more than 12 months. According to a BusinessInsider article, "shelter inflation, which tracks prices – is forecast to boom just as price growth elsewhere cools."
"Forecasts suggest that rising shelter inflation could also push inflation expectations permanently higher. Shelter prices are expected to grow by 3.8% year over year by the end of 2022," Goldman economists said.
Currently, year-over-year rental prices have grown at a comparatively lower rate compared to home value appreciation, leading experts to conclude that renting is still more profitable than buying. If home price appreciation slows in 2022, rental prices could continue to grow.
The national Apartment List Rent Report for June 2021 suggests that rents are still on the rise across the country. The national Apartment List index increased 2.3% from April to May, representing the third consecutive month of record rent growth. Year-over-year rent growth now stands at 5.4% nationally. Cities like Boise, which had the fastest year-over-year rent growth, saw rents rise a staggering 6.6% in June alone. In Boise, rental prices are up 31% since April 2020.
Apartment Guide's May 2021 Rent Report highlights rental trends and year-over-year price fluctuations that renters may experience in various parts of the United States. They compare rental prices for studio, one-bedroom, two-bedroom, and three-bedroom apartments to determine which unit types and which of the country's most populous cities are becoming more affordable or more expensive for renters.
The report shows that all unit types reflect price increases since last month, possibly reflecting growing demand. Every apartment type is also increasing year over year, except studio apartments.
Source:Apartment Guide
Riverside was the fastest growing metro area, with median rent reaching $1,950 in April, up 15.0% year over year. The other metro areas topping the list for fastest-growing rents were Sacramento, CA; Memphis, TN; and Tampa, FL, where rents grew by more than 12% compared to last year. As home prices reach record highs, mortgages rise and affordability becomes an issue for prospective homebuyers, the appetite for renting may increase as prospective buyers opt to rent.
Rent Control Going into Effect in Some Cities
When the federal moratorium on renting expires, policymakers would have to decide how best to prevent a wave of evictions. Currently, nearly 11 million renters have at least one month of missed rent payments.
Source:CNBC
Rent control might be a way to take a stab at the problem. Rent control is already in effect in some U.S. states like DC, New York, and Oregon, even though there are arguments both for and against it. Rent control or rent stabilization laws place a cap on the maximum rent that landlords in a particular state, city, or municipality may charge. Currently, here's a map showing which states have rent control and which states preempt it. There could possibly be propositions by policy makers in some states to review rent control bans, especially in states with high rates of rent growth.
A major disadvantage of rent control is that when it becomes too much, investors may have to reconsider how much they invest in multifamily apartments and possibly consider converting them to shadow rentals (SFHs, condos, or co-ops).
Source: NMHC
How Should Buyers and Investors Prepare for the 2022 Real Estate Market?
Start preparing now. The 2022 real estate market might be a lot less hard on buyers than the past 12-18 months, but it's not going to be a walk in the park. There'd possibly be bidding wars, especially in desirable locations. Buyers and investors can give themselves an edge over the competition by putting themselves in a good position financial-wise. You want to make sure your credit score and DTI (debt to income) is in top shape, and that you have up to 20% down payment savings. 
Stick to a budget. Currently, you would need to raise your budget a bit higher to win the deal if you are interested in buying your dream home or investment property. At the same time, having a ceiling on how high a price you're willing to pay for a property keeps you objective instead of emotional. Ideally, as a home buyer, you shouldn't be spending more than 30% of your monthly income on mortgage payments. As a real estate investor, you should also set up an upper limit on much you can afford to spend on monthly mortgage payments. Use an investment property calculator like Mashvisor to figure out how much a home will cost you monthly.
Always conduct a home inspection. In 2020's frenzy, some sellers bought money pits (houses that eat up lots of cash on repairs) because they bought without due diligence. When a particular home has more than 10 offers, it's easy to waive the inspection contingency. Although the 2022 real estate market might not be such a frenzy, real estate projections point to a fair deal of competition. However, make sure you conduct proper due diligence before signing on the dotted line. 
Housing Market Forecast for Home Sellers in 2022
Sellers Troop into the Market
On April 17, 2021, the national inventory of homes for sale fell 53% below the same period last year.
Source: Realtor.com
One of the reasons sellers have been reluctant to list their homes is due to the unpredictability caused by the coronavirus. In March 2020, no one could have guessed that half of all homes in Manchester-Nashua, NH will be sold in less than 19 days, 1 year later. Currently, Manchester-Nashua, NH remains the hottest market in the U.S., according to Realtor.com's market hotness statistics, based on the number of days a listing remains active on Realtor.com.
Realtor.com market trends suggest that 10% of all U.S. homeowners would list their homes for sale in the next 12 months.
Source: Realtor.com
With the Federal Reserve planning to keep rates low until at least 2022, homebuyers will have more options to choose from. Much of the real estate-driven economic rebound was due to the Fed keeping short-term borrowing costs low, creating a boomerang effect on all types of interest rates, including mortgage rates. The Fed is also helping to keep mortgage rates low by buying large amounts ($40 billion each month) of agency mortgage-backed securities (MBS) and up to $80 billion in Treasury securities.
However, the low rates will have to come to an end at some point. Bill Gross, Financial Analyst and Co-Founder of Pacific Investment Management Co. says:
When the Fed begins to dial back on its policies, assets that have been supported by low yields, such as Treasury bills and equities, regardless of the growth potential for 2021 and 2022, will be in for a reckoning when they lose that support.
Eliminate low mortgage rates and buyers may need to be incentivized through other means to keep demand high when sellers storm the market.
Jerome Powell, the Fed Chairman, has indicated that the Fed is not even ready to start talking about when it might reduce that support.
We will be looking carefully into the future… When we see that we're on the right path," then "we'll say so, and we'll say so well in advance of any decision to actually taper.
Days on Market Will Increase
Right now, if a home is priced right, there will likely be multiple competing offers. In addition, it would take an average of 25 to 45 days from listing to contract. In May, the average days on market in the U.S. was 39 days. With comparatively less competition and more inventory, days on market will likely increase in 2022. Another reason for the likely increase in days on market is affordability, as the long period of home price growth over the past 12-18 months has left some locations out of reach for some buyers.
Home Sellers Facing Foreclosure Can Cash in on Home Equity
Due to the foreclosure moratorium that will end on June 30, there has been a relatively low number of foreclosures. This trend is also supported by banks' willingness to implement forbearance measures. In March and April of this year, foreclosures have accounted for less than 1% of all home sales, compared to 3% in April 2020.
First-time buyers were responsible for 31% of sales in April, compared to 32% in March and 36% in April 2020. Individual investors or second-time homebuyers, who account for many cash sales, purchased 17% of homes in April, up from 15% in March and 10% in April 2020. Cash sales accounted for 25% of transactions in April, up from 23% in March and 15% in April 2020.
In the first quarter of 2021, lenders began the foreclosure process on 17,652 U.S. properties, up 3% from the previous quarter but down 78% from a year ago. Nationwide, 1 in 4,078 housing units had a foreclosure filing in the first quarter of 2021. There were 7,320 foreclosure default properties repossessed through foreclosure (REO), up 14% from the previous quarter but down 875 from a year ago.
Over the past four quarters, 5.4% of homeowners missed four or more mortgage payments, while more than 3% of homeowners missed 2-3 payments. Obviously, there could be a wave of foreclosures in 2022. But homes today command higher prices. In April, 52% of homes sold above list price. According to ATTOM Data, RealtyTrac's parent company, about 70% of homeowners have more than 20% equity and more than 90% of borrowers in default have at least 10% equity in their homes. This presents a get-out-of-jail-free card for distressed homeowners.
How Should Sellers Prepare for the 2022 Real Estate Market? 
Price your home right. An appraiser or real estate agent can help you determine the right price. Your home will get stale on the market if you overprice it. One tactic sellers in today's market use to amass offers and spark bidding wars is underpricing their homes slightly and going with the highest bidder. This might still work in 2022.
Work on your curb appeal. Sight unseen purchases might reduce in 2022 with the spread of the COVID-19 vaccine. Some potential buyers would want to drive by your house. Your home's curb appeal would help create a good first impression.
Sell first before buying. Buying a home and selling a home simultaneously can be tricky since the real estate market favors selling over buying. Due to the shortage of inventory in 2022, finding a home that fits your criteria at your desired price could be a slow process. On the other hand, you could use the cash you earn by selling first to compete during the home search. 
Strike bargains. In the low inventory environment, sellers hold the cards. If you probably want to re-rent the home after it sells or include a contingency that allows you to stay in your home until you find a new one, you can do so.
Where Are Home Prices Expected to Rise in 2022?
According to Zillow's housing market outlook, prices will keep rising in most of the nation's cities in 2022, yet at a slower rate. Considering demand and supply factors, home prices is going to rise in the following 7 places, based on Mashvisor data and Zillow's YoY home value changes (April 2020-April 2021):
1. Memphis, Tennessee (Shelby County)
YOY Home Value Change: 16.2%
Median Property Price: $281,156
Average Traditional Rental Income: $1,093
Average Traditional Cash on Cash Return: 2.77%
Average Airbnb Rental Income: $2,590
Average Airbnb Cash on Cash Return: 4.66%
Average Airbnb Occupancy Rate: 66.52%
2. Riverside, California (Riverside County)
YOY Home Value Change: 16.5%
Median Property Price: $575,242
Average Traditional Rental Income: $2,165
Average Traditional Cash on Cash Return: 2.35%
Average Airbnb Rental Income: $4,824
Average Airbnb Cash on Cash Return: 5.52%
Average Airbnb Occupancy Rate: 65.3%
3. Phoenix, Arizona (Maricopa County)
YOY Home Value Change: 21.2%
Median Property Price: $523,779
Average Traditional Rental Income: $1,588
Average Traditional Cash on Cash Return: 2.08%
Average Airbnb Rental Income: $3,311
Average Airbnb Cash on Cash Return: 3.90%
Average Airbnb Occupancy Rate: 66.59%
4. Sacramento, California (Sacramento County)
YOY Home Value Change: 15.6%
Median Property Price: $454,560
Average Traditional Rental Income: $1,646
Average Airbnb Cash on Cash Return: 1.98%
Average Airbnb Rental Income: $3,534
Average Airbnb Cash on Cash Return: 4.92%
Average Airbnb Occupancy Rate: 74.09%
5. Charlotte, North Carolina (Mecklenburg County)
YOY Home Value Change: 14.9%
Median Property Price: $499,199
Average Traditional Rental Income: $1,765
Average Traditional Cash on Cash Return: 2.16%
Average Airbnb Rental Income: $2,548
Average Airbnb Cash on Cash Return: 2.49%
Average Airbnb Occupancy Rate: 58.07%
6. Columbus, Ohio (Franklin County)
YOY Home Value Change: 14.2%
Median Property Price: $293,618
Average Traditional Rental Income: $1,225
Average Traditional Cash on Cash Return: 2.67%
Average Airbnb Rental Income: $1,903
Average Airbnb Cash on Cash Return: 3.37%
Average AirBnB Occupancy Rate: 58.37%
7. Austin, Texas (Travis County)
YOY Home Value Change: 25.5%
Median Property Price: $733,314
Average Traditional Rental Income: $2,005
Average Traditional Cash on Cash Return: 0.95%
Average Airbnb Rental Income: $3,936
Average Airbnb Cash on Cash Return: 2.89%
Average Airbnb Occupancy Rate: 59.31%
Source: ZHPE Survey
COVID-19 and Its Effect on Prices of Building Materials
COVID-19 caused a lot of disruption in many industries. The housing industry and the building materials industry were one of the hardest hit. But while housing has bounced back robustly, construction is still trying to gather steam. Not only has it been hard to find labor subsequent to the COVID-19 lay-offs, but the prices of almost all building materials have increased. In order to better understand how prices for homebuilding materials changed during COVID-19, UpNest analyzed Federal Reserve Economic Data (FRED). Some of the reasons for scarcity in building materials aren't directly tied to COVID-19. 
While production slowed down during the COVID-19 pandemic and the consequent restrictions, there were also supply chain issues from wildfires and low supply of labor. The result is the increase in new construction home prices. Softwood Lumber (78.8%) saw the most gain in price majorly due to a slowdown in production and its use for DIY home remodeling projects, while the price of steel wire (0.1%) didn't change notably. Experts predict that lumber prices will drop considerably in 2022.
Data Sout
Data Source: SCNOW
Housing Bubble 2022: Will the Housing Market Crash in 2022?
There are three major reasons why there will probably not be a housing market crash in 2022:
1. Inventory is low. 
Unlike 2008, inventory has declined to critical levels. The U.S. housing industry is 3.8 million single-family homes short of what is needed to meet the country's housing demand, up 52% as compared with 2018's shortfall, according to a new analysis from mortgage-finance company Freddie Mac. In 2018, Freddie Mac had estimated that the housing market was 2.5 million units short of what it needed to meet long-term demand. The new estimate is as of the end of 2020, and it emphasizes the severity of the housing supply.
While low inventory is a problem, it also creates an opportunity for home equity to rise, and hence the 2022 real estate market is likely going to be a seller's market. This means a housing market crash isn't likely to happen in 2022.
2. Lenient forbearance terms and home equity.
The Federal Housing Finance Agency (FHFA), Fannie Mae, and Freddie Mac announced new payment deferral options in June 2020. Borrowers who can return to making their normal monthly mortgage payments may choose to defer their missed payments until they sell or refinance their home, or until mortgage maturity.
FHFA Director Mark Calabria said:
For homeowners in forbearance due to COVID-19, payment deferral allows them to make up missed forbearance payments when they sell their home or refinance… This new forbearance repayment solution responsibly simplifies options for homeowners while providing an additional tool for mortgage servicers. Borrowers who can pay their mortgage should, because missed payments remain an obligation that will ultimately have to be repaid.
3. The economy continues to grow
The Bureau of Labor Statistics (BLS) publishes an occupational outlook each year that goes into great detail about each industry and occupation. Overall, the BLS expects total employment to increase by 6 million jobs between 2019 and 2029. Manufacturing and retail industries will continue to shed jobs, while e-commerce continues to grow.
A 2013 prediction by the BLS expects that from 2012 to 2022, GDP will grow at a rate of 2.6% per year, reaching $17.6 trillion in the target year of the projections. The unemployment rate is projected to gradually decrease to 5.4%, accompanied by a gain in household employment of 12.3 million jobs. 
Diane Swonk, Chief Economist at Grant Thornton, said she expects 2021's growth rate to be 6.6%, the strongest year since 1984. She expects 4.3% annualized pace of growth for Gross Domestic Product in 2022. 
Real Estate Market Forecast: Housing Affordability Will Be the Problem
In a new report from the Urban Institute, researchers found that over the next two decades the U.S. homeownership rate could decline to 62.1%. They project that the overall homeownership rate will fall from 65% in 2020 to 62% by 2040.
Household growth averaged 12.4 million per decade between 1990 and 2010, and 7.3 million between 2010 and 2020. They estimate an average growth of 8.5 million from 2020 to 2030 and 7.6 million from 2030 to 2040. This decline is the result of slowing U.S. population growth AND lower headship rates for most age groups.
Another key finding is that renter growth will more than double the rate of homeownership growth from 2020 to 2040. Between 2020 and 2040, there will be 9.3 million net new renter households, an increase of 21%.
The number of families spending more than 50% of their incomes on mortgages or rent has significantly increased. Rising building materials cost and low inventory is pricing first time buyers and investors out of desired locations and this may be the real issue. California housing market predictions 2022, for example, indicate steadily rising home prices. It is likely that many people who have waited to buy in 2022 will have to buy their dream home at the high end in 2022 if mortgage rates remain low.
When Will the Housing Market Crash?
The good news is that the real estate forecast next 5 years by many analysts is that we aren't going to witness a housing market crash. The more likely scenario is that price growth will slow down till normalcy is reached. But when will housing prices drop?
Earlier this month, the property data and analytics company CoreLogic published a housing market update that focused on prices. According to their real estate market forecast:
Nationally, home prices increased 10.4% in February 2021, compared with February 2020…  Home prices are projected to increase 3.2% by February 2022.
This 3.2% price appreciation projection is close to the normal rate of price appreciation in a stable market. Based on CoreLogic's prediction, it appears we will see the frenzied rate of growth witnessed in the recent past stabilize in 2022.
Will Home Prices Come Down in 2022?
We do not think home prices will come down in 2022. Experts forecast a slow down in price appreciation, but the imbalance in demand and supply will keep home prices up. 
This real estate market forecast offers projections on what we think the 2022 real estate market will be like. However, it is a prediction. Just as 2020 taught us that nothing is certain, this real estate market forecast is not set in stone. But it can help guide you as you plan towards navigating the housing industry in 2022 either as a real estate buyer, a realtor, or an investor. 
And if you're looking to buy an investment property in 2022, now would be the best time to start planning. Want to view and analyze top performing investment properties? Check out the Mashvisor real estate software platform.
Start Your Investment Property Search!
Sours: https://www.mashvisor.com/blog/2022-real-estate-market/
2022 Housing Market Predictions with @Ken McElroy
A plurality of economists and real estate experts surveyed by Zillow expects the second half of 2021 to deliver relief to the seemingly endless drought of housing inventory that has bedeviled U.S. markets during the pandemic.
Forty-three percent of respondents to the first-quarter Zillow Home Price Expectations survey expect inventory to improve in the second half of the year, followed by 26% who expect it in the first half of 2022.
Homeowners, many of whom have stayed put during the pandemic, finally listing their properties, are expected to be the main driver of the inventory increase, with 38% of survey respondents citing existing housing as the most likely catalyst for supply growth.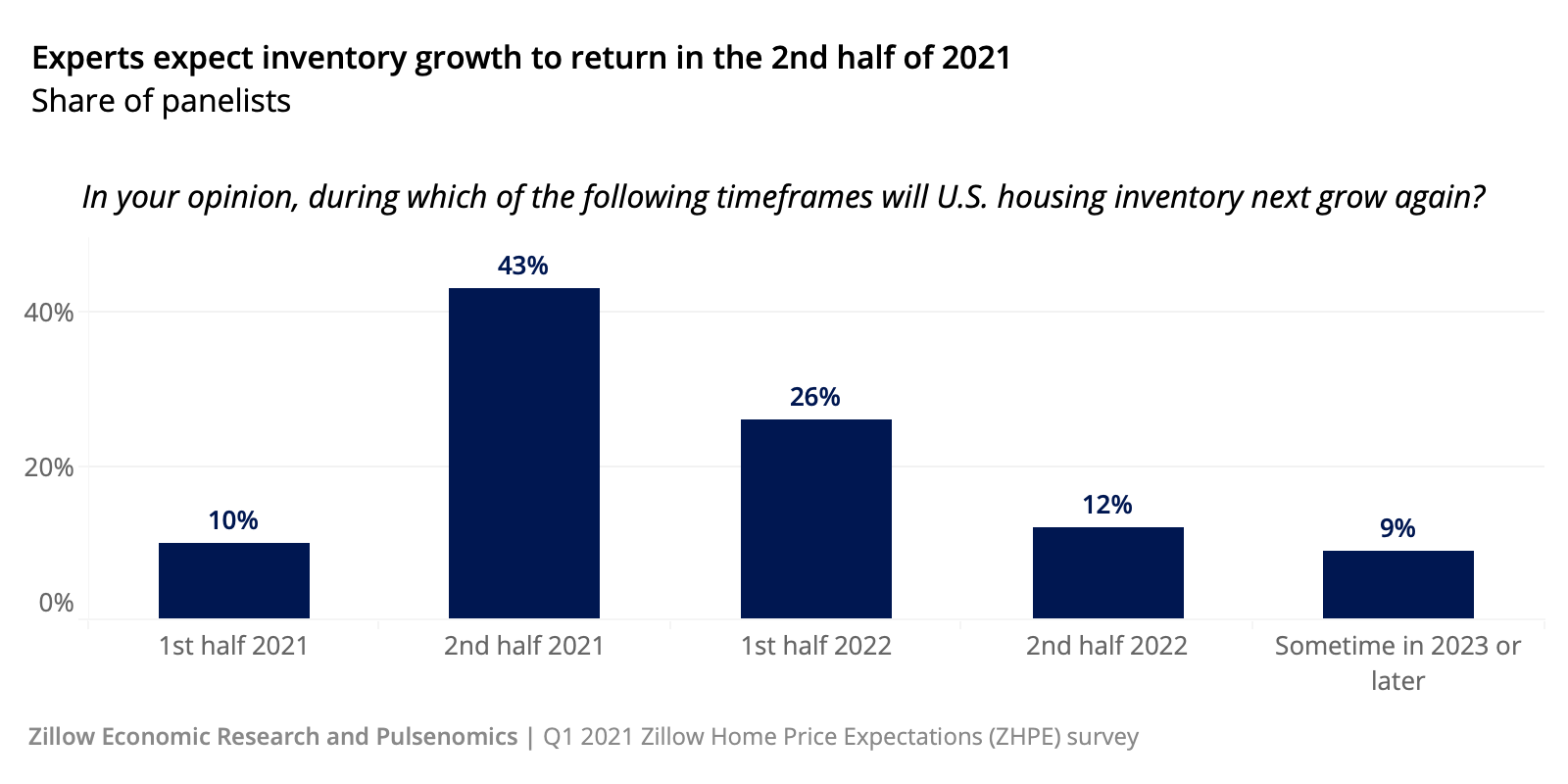 Image courtesy of Zillow.
As supply increases, the fast pace of home-price growth is expected to slow from 6.2% in 2021 to 4.5% in 2022, 3.7% in 2023, 3.5% in 2024 and 3.6% in 2025.
"This is the most bullish near-term outlook for home prices we've seen from our experts since the early stages of the post-bust recovery, and the panel's five-year average annual home price forecast has never been more optimistic," said Pulsenomics founder Terry Loebs said in a press release, adding that "even with a robust economic rebound in the coming months affordability will likely remain a challenge for many aspirational renters looking to move into homeownership this year."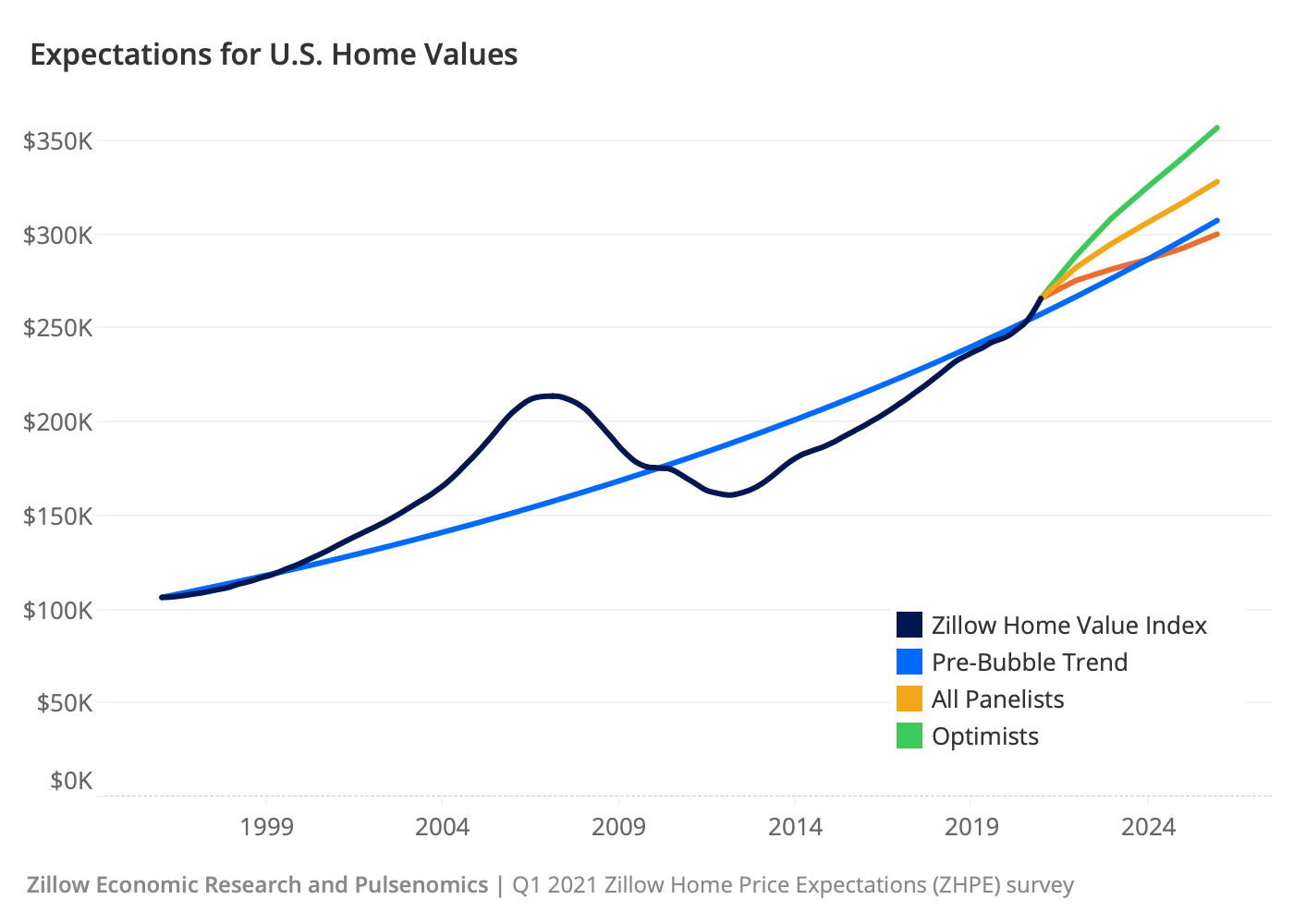 Image courtesy of Zillow.
The survey found other notable pandemic-related expectations as well.
Of the 110 experts surveyed between Feb. 15 and March 1, 95% expect remote working is here to stay, at least part of the time.
The shift to a suburban life from an urban one is expected to be permanent by 46% of respondents, while an equal percentage expects the movement to be temporary. The shift to smaller cities from larger ones is similarly split, with 45% believing it to be permanent and 44% believing it temporary.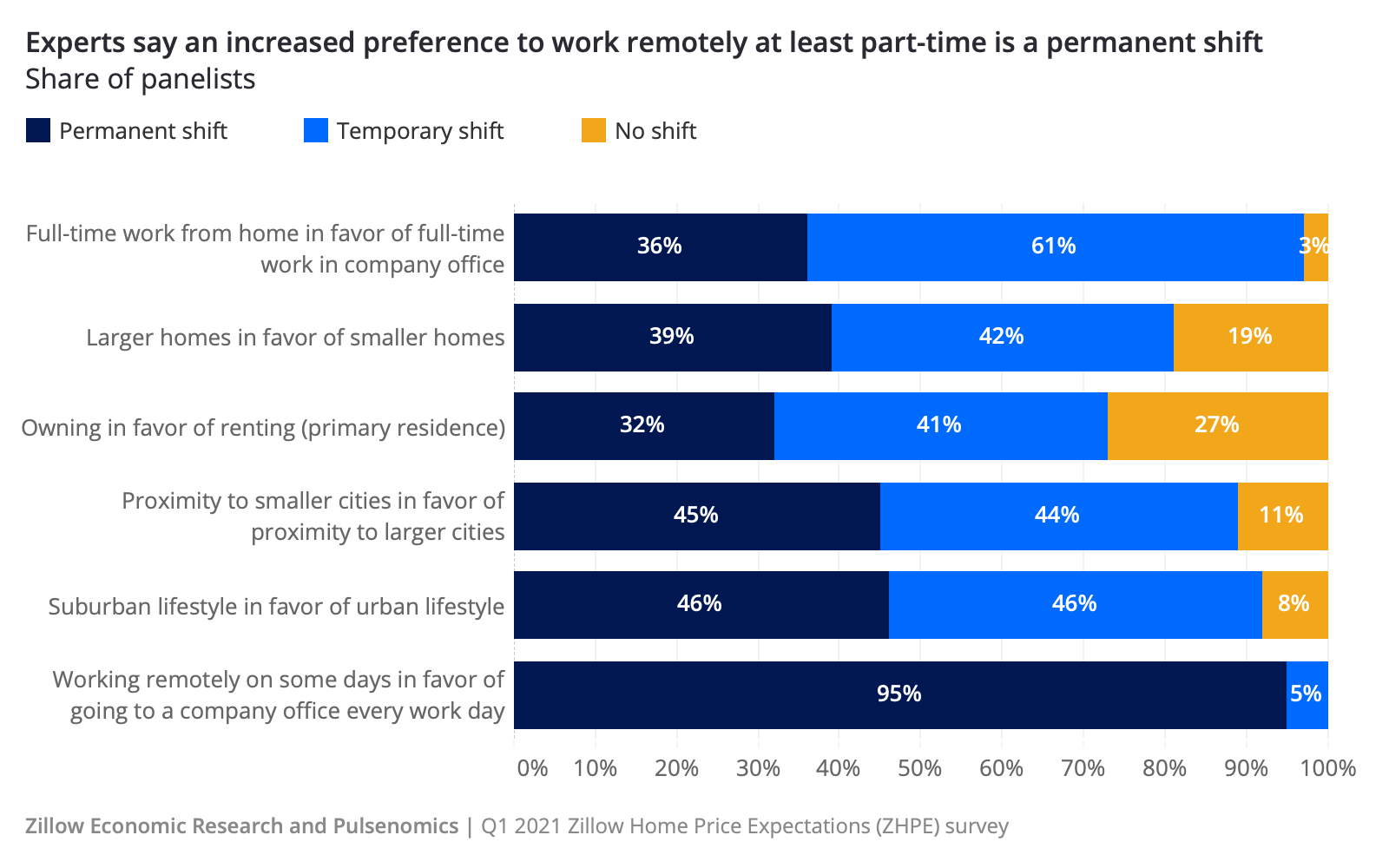 Image courtesy of Zillow.
Sours: https://chicagoagentmagazine.com/2021/04/15/zillow-most-experts-expect-relief-to-supply-woes-later-this-year-early-2022/
2022 forecast housing illinois market
Chicago housing market is still booming, but a 'relative cooling' could be here
The Chicago-area housing market has continued to boom through the spring and summer, new data shows — but it might be easing up somewhat.
In the nine-county Chicago metro area, the median home sale price from January to June rose to $300,000, up about 16.3% over the first six months of 2020, according to Illinois Association of Realtors data made public this month.
About one-third fewer homes were listed for sale between March and June, and they were on the market for 38% less time, the data shows.
But the frenzy of early 2021 might be dying down, said Dawn McKenna, of the Dawn McKenna Group at Coldwell Banker, who works in the city and suburbs. Buyers now are taking more time and being more methodical in their searches, she said.
"It's not a multiple-offer frenzy like it was at the beginning of the year," she said. "But I will say this: if the house looks good, and it's well priced, and it's (a type that is) scarce in the market, we're still getting multiple offers."
The Chicago market remains strong, but might be easing somewhat for buyers, said Nykea Pippion McGriff, president of the Chicago Association of Realtors.
The median home sale price in Chicago was about $345,000 in July, up 5.3% from the same month in 2020. That was smaller than the 6.8% increase the city saw year-over-year in June, data from the Chicago and Illinois associations of realtors shows.
There remained about 9% fewer homes for sale and homes spent an average of just 18 days on the market, indicating buyers are still looking, McGriff said.
"It's a relative cooling," she said.
What happens next in the market could depend on a number of factors including the spread of the delta variant of COVID-19, said Geoffrey Hewings, emeritus director of the Regional Economics and Applications Laboratory at the University of Illinois.
A report Hewings helped compile for the Illinois Association of Realtors projected prices and sales in the Chicago area will remain far above 2020 numbers in the coming months, and he said he didn't expect the supply of homes for sale to increase.
Compounding the problem is little new construction of homes, while material prices remain high, Hewings said. A recent announcement that Fannie Mae will have lenders include a borrower's rent payment history as part of the mortgage underwriting process will make it possible for more renters to consider buying, but could also drive up competition for homes, he said.
Alternatively, another COVID-19 wave might dampen optimism about the economy, leading to fewer buyers and sellers, he said.
"There's so much turmoil in the market," he said. "And depending on what you're looking for, where you're looking, there could be a reasonable amount of supply, there could be zero."
Sours: https://www.chicagotribune.com/real-estate/ct-re-chicago-housing-market-sale-price-20210816-ljlia3cznrd6vffqtxyxxbhtrq-story.html
A Housing Price Cooldown? - 2022 Housing Market Predictions
US Housing Market August
The US real estate market outlook is suggesting a period of slow sales and less price growth ahead.  For the next 4 to 6 months, sales will be subdued but by March 2022, we'll see activity rev up significantly.
Most buyers are eager to find an opportunity to buy and thus avoid renting and losing their personal wealth. Growing one's knowledge of the current real estate market can help sellers too find that same opportunity to sell their home fast. Success in buying and selling is in timing and persistence.
This slower period for sales won't last as the Covid pandemic will recede and the economy will fully reopen. With the Fed announcing planned rate hikes in later 2022, home buyers will feel more impelled to buy a home in the next year. Higher employment and wage raises will add to the force of demand as prices rise. More sellers will list their home, but it won't nearly be enough to satisfy demand.
Total sales of single-family homes, townhomes, condominiums and co-ops, fell 2.0% to an adjusted annual rate of 5.88 million in August. That is a 1.5% drop from 5.97 million homes sold last August of 2020.
Housing inventory has dropped to, to a new volume of 1.29 million units, which is 1.5% of less from July's numbers and 13.4% less than 12 months ago (1.49 million). Unsold inventory of homes stayed the same at 2.6-months supply and that is down from 3.0 months home supply in August 2020.
The median home price is up 14.9% from last year $310,400 to $356,700 and this is the 114th straight month that home prices have gone up in year-over-year gains. See more on the Los Angeles, Bay Area, San Diego, Dallas, Denver, Austin, New York, Boston, Chicago, Philadelphia, Atlanta and Miami real estate markets. Check the state stats for California, Florida, and Illinois.
"Sales slipped a bit in August as prices rose nationwide.  Although there was a decline in home purchases, potential buyers are out and about searching, but much more measured about their financial limits, and simply waiting for more inventory." said Lawrence Yun, NAR's chief economist. "
It appears first time buyers are dropping out of the market due to the high prices and a lack of homes at an affordable level.  There may also be fewer reasons for first time buyers to buy given many are returning to the city to begin their pre-pandemic routine of commuting to their employers workplaces.   Student loans are cited as an additional issue for Millennial buyers. Investors may still be heavily involved in purchasing real property, especially in the multifamily sector. First-time buyers accounted for 29% of sales in August, down from 30% in July and 33% in August 2020.
Sales of single-family detached houses fell 1.9% from July to an annual rate of 5.19 million in August. The number is down 2.8% from one year ago. The median price of a resale home sold in August rose $363,800 in August which is  15.6% more than 12 months ago.
Sales of resale condos and co-ops dropped 2.8% to an annual rate of 690,000 units vs 710,000 units in July. However this is still 9.5% higher than 12 months ago. The median existing condominium sold for $302,800 in August, which is up 10.8% from last August.
Home Sales and Prices
People still ask if home prices and rent prices will fall are likely to be continually disappointed. With shortages and an improving economy amidst record low mortgage rates, the forecast for continuing rising prices, especially for renters since homebuyers will be forced to rent a home, until inventory grows.
Zillow Home Prices
Zilllow is a bull on the housing market and sees house prices rising 12% by next July.
Real estate agent optimism has waned this month, except for cash sales. A topic you should explore.
Instead, selling a house now provides a quick exit at a price you expect to receive. Of course, with a Realtor, you could engineer a bidding war via real estate marketing strategy, and earn a bonus. Something to think about.
These key charts show home prices rising even as mortgage payments rise.
Many consider 2022 the beginning of a 5 year period where moderation in prices will happen just as sales have begun to slump.  Yet sales and prices don't always correlate.  Instead the prediction for sales and prices will continue to diverge, until the economy fully reopens. That will enable new construction, and give homeowners the confidence to sell their homes at a very attractive price. With nowhere to go and economic uncertainty with Covid fears, the real estate market forecast remains subdued, at least for this year.  2022 is a different story.
Buyers and sellers are nervous about the Housing Market.
Please do share this post generously, so they can make good choices!

While employment is slow to grow as progress out of the pandemic, wages are rising, and those who are employed will have more credibility and ability to buy a home. That should bolster demand for homes. As stimulus money begins to flow, it's hard to imagine any scenario that would support lower home prices across the US. Given the intensity of buyers, you may be considering whether to sell your home fast. See the post on iBuyers.
Hottest Major Metros in May
Interested in your local real estate market?  See the metro reports for Boston, Atlanta, New York, Philadelphia, Los Angeles, San Diego, Bay Area, Dallas, Denver, Houston, Chicago, and Miami. See also reports for smaller centers including Salt Lake City, Austin, Colorado Springs, San Antonio, Tampa, Seattle, and Manhattan.
Are you considering selling your home? See the post on selling for a higher price, . Realtors are you tired of so few seller leads? It's time to step up to a more sustainable real estate marketing effort. See the Realtor marketing services, Realtor Websites, to generate more leads this year. Digital marketing is the route to market supremacy.
US Regional Home Sales
The south as cooled as the other three regions have roared forward with buying and selling.
Sales in the Northeast dropped 1.4% in August, to an annual rate of 730,000, and that is a 2.7% fall vs August 2020. The median price in the Northeast rose 16.8% to $407,800, vs 12 months ago.
Sales in the Midwest dropped 1.4% to an annual rate of 1,370,000 units in August and that is a 2.1% fall vs last year. The median home price in the Midwest rose 10.5% year over year to $272,200.
In the South, sales dropped 3.0% in August to an annual rate of 2,550,000 units. That is down 0.8% from 12 months ago. The median home price in the South climbed 12.8% to $303,200 vs last year.
And in the West home sales fell 0.8%, to an annual rate of 1,230,000 in August. That is a drop of 1.6% from one year ago. The median home price in the West rose 11.4% year over year to $507,900.
Luxury home sales and prices:  More availability and at higher price points means sales in the luxury category has grown this year.
Cites with Highest Growth Rate
NAR has named 10 cities with the highest price growth rate. A friend of mine just moved to Coeur D'alene, Idaho and it's completely understandable to make the change post pandemic to a city that beautiful.
Coeur d'Alene, Idaho
Median list price in March: $799,000
Median list price change: 82%
The other cities were:
Santa Maria, CA (list price in March: $2.9 million, up 48%)
East Stroudsburg, PA (list price in March: $285,000, up 43%)
Billings, MT (list price in March: $428,500: up 41%)
Boulder, CO (list price in March: $912,500: up 40%)
Austin, TX (list price in March: $520,000: up 36%)
Tupelo, MS (list price in March: $278,500: up 35%)
Pittsfield, MA (list price in March: $581,500: up 33%)
Bend, OR (list price in March: $589,450, up 33%)
Sioux City, IA (list price in March: $274,950, up 32%)
What marks these amazing locations is how far they are from everything. The trend to the countryside has seized the US property market. Buyers want bigger homes on bigger properties with fresh air and recreation close by.
There will also be intense competition from investment buyers who see the capital gains and rental income benefits of housing stock too. They're studying the best cities to buy homes. For those who instead may want to invest in real estate, there are offerings in the stock market (ETFs), to consider.
Real estate is the best investment — you can live in it or earn revenue renting part of it out to pay off your big mortgage.
As the stats below from NAR, Zillow and Redfin report, we're still seeing strong sales and record high prices, and some recovery in urban markets curshed by the pandemic. Read more on the New York, Los Angeles, Bay Area, Miami, and Boston real estate markets.
US Housing Market Forecast
The US Housing Market & Forecast Report is the single most comprehensive view available on residential real estate in the US. You'll find all the data, videos, charts, expert opinions and predictions vital to your decision to buy or sell a home this year.
You'll find data and resources from NAR, Zillow, BEA, Mansion Global, CBO, Knoema, Freddie Mac, and other authoritative sources below in this extensive review of the US housing market and the new home construction market. See more on the spring housing market outlook and 5 year forecast.
New home construction will rise, but material costs, labor, and interest rates will retard production, thus shortages will likely worsen as American's begin spending in 2021. The key is that home sellers have nowhere to go, and available housing is being bought up by real estate investors who see the potential of the house rental market.
Due to work from home freedoms, millions of prospective buyers will choose to rent, yet rent prices will be on the rise too. In the end, the housing shortage is about to touch almost everyone.
I like what Glenn Kelman CEO of Redfin said in an interview with Emily Chang of Bloomberg that housing has been neglected and the bill for that has to be now.  He says fewer people want to come back to the office and companies can't push the market back to where it was pre-pandemic.  People are happier after moving and they want to work at their house for many reasons. Work is changing the US housing market.
Yes, sales are up in the higher, more unaffordable levels which may be getting out of hand. There are more fears and predictions of a possible housing crash, but if the economy is going well, there will be no shortage of buyers. There are plenty of savings to support sales, but rising price will curtail activity.
Note: A record number of mortgages for second homes are being taken out, which further magnifies demand.
Please do share this post with others who might be considering buying or selling this year.
Recent, Up to Date Real Estate Stats!
See the California housing market, Florida housing market, New York real estate report, and Illinois housing market report.
Hopefully, this resource will save you time in understanding the residential real estate market and keeping up to date on supply and sales trends.  See the stats and trends in your regional market:   Los Angeles, San Diego, Denver, New York, Manhattan, Dallas, Boston, Philadelphia, Atlanta, San Francisco, Atlanta, Chicago, Austin, Houston, San Antonio, Salt Lake City, Tampa and Miami,
Housing Market Report Sections:
Projections for Growth
Optimism for 2021 and 2022 Forecast
Should You Buy a House This Year?
Is a Housing Market Crash Even Thinkable?
28 Key Factors Driving the Market
Will the Recovery Add Fuel?
Hottest State Housing Markets
Predicting the US Property Market
What's Happened in the Housing Market in 2021?
Who Are US Realtors
How US Realtors Market Your Home
Hottest Cities in the US
Residential Real Estate Forecast & Predictions
New Home Construction
Housing Affordability
Mortgage rates
Mortgage Forbearance, Delinquency and Foreclosure Report
The US Economy
Realtor Housing Recovery Index
Which Metros Will Do Best in 2021?
Will the Housing Boom Continue?
 1. Projections for Growth
2020 was a record but strange year for sales and prices where the US market gained $2.5 trillion in value and grew $274 billion from new housing construction. It is now valued at $36.2 trillion.
Zillow forecasts that 2021 will be even better. And NAR too has a rosy forecast which you can read below.
 2. Optimism for 2021 & 2022
A recent Reuter's poll of nearly 40 housing analysts forecast the U.S. Case-Shiller house price index will rise 5.7% in 2021 and a further 4.6% in 2022, the highest forecast ever from the analysts.
The survey showed that as a group, they're divided about the 2021 economy and housing sales outlook.
44% believe there will be a pullback while 56% believe it's all systems go. They believe the economic recovery and homebuyer's desire for more living space will drive the housing market this summer. As time passes, experts predictions become more positive for growth.
"The U.S. housing market will continue to expand this year, perhaps at a little slower rate than recently as some of the pent up demand has been exhausted, but overall it should be a fairly good year," said Sal Guatieri, a senior economist at BMO Capital Markets. — from Reuters report on poll of housing experts.
"Two factors here: exceedingly easy monetary policy and changes in tastes and preferences away from crowded cities in favor of areas with lower population density. This will likely continue for all of 2021," said Troy Ludtka, U.S. economist at Natixis. — from Reuters report on poll of housing experts.
Housing Market Forecast 2022
2022 will be a special, transitional year, out of the pandemic where the economy is fully back to normal. Several situations will make 2022 a stellar year in the US housing market including:
stimulus spending by the US government
recovering US and global economy
un-satiated demand from Millennial and space seeking work from home buyers
demand from investors for rental properties
home builders able to increase new construction output
inflation in 2021 starts easing in 2022 and mortgage rates may decline
Homebuyers are wondering if home prices might fall in 2022 and 2023. Not just a few buyers are hoping for a downturn or a recession to help out with their goal of buying a house.
Expert prognosticators in the industry only expect price rises to moderate next year, and not to head downward. As the previous graphic forecasted for 4.6% price growth.
U.S. house prices will continue to race ahead this year, at nearly twice the pace predicted just three months ago, according to a Reuters poll of analysts who said risks to that already upbeat outlook were skewed to the upside — from Reuters report.
 3. Should You Buy a House This Year?
The big question a lot of homebuyers are asking right now is whether this is a wise time to buy a home?  Should you wait until the Covid 19 variant threat is finally stopped? Will mortgage rates jump?
The best answer might be no.  With prices this high, the risk of economic failure in 2023, including a potential stock market crash, you could lose the home you just bought.  The current wave of euphoria is driven by a fear of missing out, and a poor understanding of what is to come in 2023 and the next 5 years.
Best advice for homebuyers might be to wait for a major real estate market downturn or even a crash.  However, there is a risk of a major currency devaluation stemming from significant inflation and government debt. The crisis with the US border and with China trade will handcuff the Biden government. Biden's plan to raise capital gains is pushing money out of the country and this will help ease demand for US housing.  However, corporate buyers of homes for conversion to rentals is a significant trend that may not stop.
 4. Is a Housing Market Crash Even Thinkable?
Anyone considering buying a home right now has to be aware of events that could lead to a housing market crash. At the very least, we'll see a significant financial event within 5 years. Not this year or next though. The immediate outlook is too strong.
The run-up in home prices in the luxury, high-riced levels has been steep. This sector would crash first should Biden's economic policies not work.  Previous recessions were highlighted by steep oil prices. If the US stock market were to crash, the property market may go with it.  Few people see crashes coming, yet with prices so high amidst a weak economy dependent on Fed stimulus, while the trade deficit grows, you'll hear many warnings online. It's a good idea to review the crash factors and weigh against your own situation.
The uncertainty of Covid 19 variants is causing anxiety, however the trend seems to easing.  The summer sun is not far away. Globally too, the infection rate is falling and vaccinations continue. This should ease restrictions on house hunting and of course, and seeing people return to work.
Each month, home prices grow amidst shrinking supply (except January) and many experts and buyers alike are asking how high this will go before prices either level off or collapse?  Growing construction and a lower number of pandemic-related buyers are bound to take some of the steam out of home prices during the 2nd half, however the impact of new construction really won't be felt until 2022.
Although Covid vaccinations are happening, it's unlikely to stem the tide of buyers seeking single detached houses for some time yet. Low mortgage rates, rising employment, and growing millennial demand will maintain prices.  The delay of the economic recovery further extends the delay of home construction yet makes Fed stimulus more likely.  The danger to the markets is the end of the moratorium on mortgage payments and rent payments. Those debts keep mounting and represent future bankruptcies.
Much of the swell in demand in the last 12 months was from a select group of buyers, not from the unfortunate unemployed the media focus on. And as international buyers return to the bidding wars in 2021, the outlook for prices is a jump of 10% or even 15% more.
Let's look at more statistics and influences on what is driving the buying decision. Because if the reasons people are buying are really strong, then sales and prices will rise even if the economy sags. And didn't it do that in 2020?
 4. 28 Key Factors Driving the Home Buy/Sell Decision this Spring
strong economic recovery expected in 2nd half
fear of missing out amidst record low housing supply
millennials and even Gen Z's forming new families and need a house
homeowners have nowhere to go thus can't sell
home buyers want homes in more suburban and rural areas
Americans who moved back to parents or with relatives will want their own place to live this year
work from home expected to continue
government will spend more stimulus money because they want to ensure the employment, stock market and housing markets don't stagnate
Fed promised to keep interest rates down
supply of homes making it unlikely many will be able to buy
new home construction, material and land prices rising faster
foreclosures may free up some homes for sale
migration: work from home still driving buyers out of the cities for more room for a home office, backyard, space to relax
migration: businesses moving out of high tax states to lower-tax states
inflation plus money supply plus need for housing could inflate house prices severely
buyers holding high-value stock portfolio's could sell to buy a home
buyers see a house as a potential rental income property
many sellers want to get out of the city they live in for something new after a horrible pandemic period
real estate is a preferred asset when cash, savings, and stocks can only go down in value
cities and regions will still not allow housing development (NIMBYs) thus more demand for the limited available stock of homes
homes are a safe haven (those renting saw how insecure their week to week lifestyles are where they could be left with nothing later in life, and wondering whether social security will even over their bills)
speculation (real estate investors including the new crowdfunding buyer who can take more risk don't see a big downside to real estate and are willing to pump money in for houses or rental properties)
as employment grows there will be more demand for homes in 2021, 2022 and for 5 years ahead
states such as Texas, Florida, Arizona drawing new residents (climate, jobs, business growth, low taxes)
Los Angeles, San Francisco, New York losing residents (cost of living, taxes, failing economies)
global economic growth will hit 4% in 2021 (world bank report)
225,000–500,000 homeowners could face foreclosure this year
homelessness in the major cities will become a negative factor driving people out of the cities and shunning buyers
 5. Will the Recovering Economy Add Fuel to the Price Fire?
If home prices soared during a major recession wouldn't further gains logically follow when the economy does a 180 turn? And these economic swings guarantee that the one side of a shift will equal the opposite side. We have volatility and speculation as a new normal making the house buying decision a difficult one.
Houses for sale this year will be significantly higher, and that's because it takes time for markets to cool. With no big negative influences in sight (other than oil and energy shortages) there might not be anything to cause sudden drops.
And a K-shaped recovery doesn't necessarily mean the lower wage earners won't have the financial act together by 2022. There will be a lot of pain, but the odds of it affecting the single-detached home market is low.
Overall, economic growth is expected to be strong in the 2nd half, after vaccinations have been given to more than half of vulnerable Americans. Covid 19 could disappear, only kept alive by a few vaccine refusers who are so sparsely located that the disease isn't transmitted much.
As businesses reopen, fed by 3 trillion dollars, and as international trade and tourism resumes, Americans and foreign visitors will be spending again. This economic resurgence won't happen in a hurry, which helps to bring confidence to conservative investors and help to allay inflation.
The CBO expected economic growth, employment consumer spending to grow strongly in Q4 2020, but it didn't due to continued shutdowns from the Corona Virus threat.
 6. Hottest State Housing Markets
According to our friends at Bankrate.com, here are the current rankings of each state's situation.
| | | | | | |
| --- | --- | --- | --- | --- | --- |
| Overall Ranking | State | Home Price Appreciation | Job Growth | Cost of Living Ranking | Tax Rank |
| 1 | Utah | 3 | 2 | 31 | 8 |
| 2 | Montana | 2 | 12 | 29 | 5 |
| 3 | Nebraska | 12 | 6 | 22 | 28 |
| 4 | Idaho | 1 | 1 | 21 | 20 |
| 5 | Indiana | 10 | 10 | 11 | 9 |
| 6 | Arizona | 4 | 8 | 27 | 24 |
| 7 | Washington | 6 | 27 | 38 | 16 |
| 8 | New Hampshire | 9 | 46 | 43 | 6 |
| 9 | North Carolina | 17 | 16 | 12 | 10 |
| 10 | South Dakota | 45 | 11 | 24 | 2 |
| 11 | Tennessee | 19 | 14 | 5 | 18 |
| 12 | Georgia | 18 | 5 | 8 | 31 |
| 12 | Kansas | 25 | 18 | 16 | 35 |
| 12 | Ohio | 11 | 30 | 6 | 39 |
| 15 | Alabama | 28 | 4 | 10 | 41 |
| 16 | Oregon | 15 | 39 | 40 | 15 |
| 17 | Maine | 8 | 38 | 39 | 29 |
| 18 | Missouri | 36 | 13 | 3 | 12 |
| 19 | Arkansas | 32 | 9 | 2 | 45 |
| 20 | Kentucky | 26 | 25 | 7 | 19 |
| 21 | Iowa | 43 | 20 | 17 | 40 |
| 22 | Wisconsin | 31 | 36 | 20 | 25 |
| 23 | Wyoming | 42 | 19 | 32 | 1 |
| 24 | Vermont | 20 | 47 | 41 | 43 |
| 25 | Florida | 22 | 23 | 25 | 4 |
| 26 | South Carolina | 37 | 7 | 18 | 33 |
| 27 | New Mexico | 13 | 37 | 23 | 23 |
| 27 | Virginia | 35 | 21 | 30 | 26 |
| 29 | Mississippi | 30 | 3 | 1 | 32 |
| 30 | Michigan | 23 | 50 | 4 | 14 |
| 31 | North Dakota | 48 | 32 | 33 | 17 |
| 32 | Colorado | 27 | 26 | 36 | 21 |
| 33 | Connecticut | 5 | 28 | 46 | 47 |
| 34 | Rhode Island | 7 | 45 | 45 | 37 |
| 35 | Minnesota | 38 | 44 | 28 | 46 |
| 36 | Oklahoma | 40 | 24 | 9 | 30 |
| 36 | California | 16 | 43 | 50 | 49 |
| 38 | Pennsylvania | 24 | 40 | 26 | 27 |
| 39 | Massachusetts | 21 | 48 | 47 | 34 |
| 40 | Alaska | 44 | 34 | 48 | 3 |
| 40 | Texas | 39 | 15 | 14 | 11 |
| 42 | Delaware | 41 | 41 | 34 | 13 |
| 43 | New Jersey | 14 | 42 | 42 | 50 |
| 44 | Maryland | 33 | 22 | 44 | 44 |
| 45 | West Virginia | 46 | 29 | 13 | 22 |
| 46 | Nevada | 34 | 33 | 35 | 7 |
| 47 | Illinois | 47 | 35 | 19 | 36 |
| 47 | Louisiana | 50 | 17 | 15 | 42 |
| 49 | New York | 29 | 49 | 37 | 48 |
| 50 | District of Columbia | 51 | 31 | 51 | 46 |
| 51 | Hawaii | 49 | 51 | 49 | 38 |
 7. Predicting the Housing Market
Even the top housing market experts can't predict because the variables are unknowns – often political reactions. It's going to come down to home buyers doing their homework about the property market in their city or state and weighing the risk of buying in 2021.
The fact so many are hesitant due to the economic insecurity, might be the saving grace in easing a bubble condition. Because if buyers are certain, they will be bidding up high. The sales and price velocity are very high.
Some housing economists and economic experts are talking about this year's potential residential real estate boom while others are warning about a downturn this year. In this article, we take a closer look at housing statistics, opinions, and the trends or velocity of the market, as we move deeper into 2021 and onto 2022.
There are some strong demographic trends supporting brisk home construction, home sales, and mortgage buying. Add the pandemic work-from-home-migration trend and you have strong reasons to buy a house. There are renters who would do anything to move out of their tiny apartments to a bigger place with a walkable neighborhood.
And this is all taking place in an ultra-low mortgage rate period, with some homebuyers holding a lot of cash savings for a down payment.
With the growing vaccination rates across the country from New York to Florida to Texas to California, we could an unleashing of buyer demand and a return to work and recharging economy.
---
 8. What's Happened in the Housing Market in 2021?
Median Home Price:
$334,500 sold price for single detached homes
Average Mortgage Rates
Down to 2.73%, for 30 year fixed rate from Freddie Mac
Total Homes Sold
842,000 existing homes sold in 2020
Total Housing Inventory
Declined by 23% in 2020 to 1.9 months supply which is a record low
Days on Market
DOM declined by 10 days to 76 days on average
---
 9. Who Are US Realtors?
Just a quick diversion here to look at the professionals you may be hiring to sell your home or assist in buying a house. While you can sell your home fast now, having a Realtor able to help you sell it for more may be a better option.
REALTOR® Demographics 2021
65% percent of REALTORS® are licensed as sales agents, 22% hold broker licenses, while 15% have broker associate licenses.
64% of all REALTORS® are female , 55 years of age, who attended college and own a home.
Average experience of US REALTORS® is 9 years and have been with their current firm for only 4 years. They normally work about 36 hours per week, and earned a median gross income of $49,700 in 2019, up $8700 from 2018.
Realtors averaged about 12 transactions (sides) in 2019. Most Realtors are independent contractors with a very low number of homes to sell.
 10. How Realtors Market Homes
Realtors are increasingly turning to online real estate marketing strategies to market client's homes and build demand. From bidding wars to reaching homeowners willing to sell via predictive analytics tools, the modern real estate is very different from their forebears.
Here's some facts you need to know about Realtors® in the US:
Realtors® communicate with clients via email (93%), while 92% use SMS text messaging, and 37% use instant messaging (Facebook).
11% of REALTORS® under 49 years of age owned a real estate blog, and 76% of female REALTORS® and 73% of male REALTORS® use social media for communications and real estate marketing purposes.
Agents believe their most valuable technology tools are: local MLS websites/apps (64%), lockbox/smart key devices (39%), and social media platforms (28%).
The top 3 tech tools they believe bring them the best quality of home buyer and seller leads ares: social media (47%), MLS sites (32%), brokerage's website (29%) and listing aggregator sites (29%).
48% of real estate brokerages and companies believe that keeping pace with new technology as the most formidable challenge they face in 2021 and 2022. Of course, finding seller leads is easily the toughest challenge and then closing a sale with them.
On the other home buyers they serve tend to about 47 years of age, are 31% first time buyers who are typically 33 years old. They have a median household income of $106,700 and typically buy a home built in 1993 with 3 bedrooms and 2 bathrooms.
Homebuyers typically finance 88% of the home price and buy or sell using a Realtor, whom they would recommend to others.
Homebuyers found their home via:
⦁ Internet: 52%
⦁ Real estate agent: 29%
⦁ Yard sign/open house sign: 6%
⦁ Friend, relative, or neighbor: 5%
⦁ Home builder or their agent: 6%
⦁ Directly from sellers: 2%
⦁ Newspaper ad: 1%
The typical home seller is 56 years of age, has a median household income of $107,100, and has lived in their home for a decade. 89% of sellers used a real estate agent to sell their home and they typically received 99% of the listing price, after the home sat on the market for 21 days.
Recent sellers typically sold their homes for 99% of the listing price, and 38% reported reducing the asking price at least once.
The typical home sold was on the market for 3 weeks. 41% of sellers found a real estate agent through a referral by friends or family, and 26% used the agent they previously worked with to buy or sell a home.
Most homebuyers shop for homes online however, and public interest in in-person open houses is43% lower than a year earlier. Realtors will be doing more real estate marketing online.
 11. Hottest City Housing Markets United States
City
Nielson Hotness Rank
NAR Hotness Rank
NAR hotness rank change M/M
NAR Hotness Rank Y/Y
Tupelo, ms
300
268
-8
-5
$245,000
Lebanon, pa
299
82
-44
13
$283,900
Battle Creek, mi
298
154
-18
-79
$156,000
Springfield, oh
297
16
1
-3
$137,000
Bismarck, nd
296
277
-5
4
$304,900
Wausau, wi
295
232
-24
-97
$189,900
Pittsfield, ma
294
227
14
52
$475,000
La Crosse-Onalaska, wi-mn
293
74
3
16
$272,500
Odessa, tx
292
269
-10
-137
$235,000
Yuba City, ca
291
13
17
2
$445,000
Johnstown, pa
290
234
-13
11
$89,500
Eureka-Arcata-Fortuna, ca
289
77
-13
-3
$449,000
The Villages, fl
288
142
14
-136
$315,000
Morgantown, wv
287
242
8
9
$279,900
Wichita falls, tx
286
66
40
-3
$140,000
Texarkana, tx-ar
285
184
-12
59
$194,900
Concord, nh
284
12
25
68
$355,000
Elizabethtown-Fort Knox, ky
283
57
-34
100
$210,000
Monroe, mi
282
46
-7
24
$230,000
Jefferson City, mo
281
54
-36
77
$178,000
Hattiesburg, ms
280
173
36
-45
$232,000
Albany, ga
279
265
-20
26
$145,000
Pottsville, pa
278
113
-14
-2
$110,000
 12. Residential Real Estate Forecast & Predictions
Home Price Forecast
Realtor.com forecasts a price rise of 5.7% in 2021.
Home Supply Forecast
"Buyers may finally have a better selection of homes to choose from later in the year, but will face a renewed challenge of affordability as prices stay high and mortgage rates rise," said Danielle Hale, realtor.com's chief economist.
New Home Sales

New home construction starts decreased 6.0% to a new annual rate of 1.580 million units last month.  This drop is much more than economists had forecast (1.658 million units in January). Homebuilding overall fell 2.3% compared to January of 2020.
New Home Construction
Privately-owned housing starts in July 2021 grew 7% to a new annual rate of 1,534,000 below the June 2021 estimate of 1,650,000 starts.
The National Association of Home Builders offered an optimistic look on the new home construction market in July. NAHB says single-family and multifamily starts were 9.3% higher in the Northeast, 5.9% higher in the Midwest, 5.2% higher in the South and 1.4% higher in the West.
Overall new home permits rose 18.8% to a 1.50 million unit annualized rate in July. Single-family house permits increased 17.0% to a 983,000 unit rate and multifamily permits rocketed 22.5% to a annualized 512,000 pace.
Screenshot courtesy of NAR
 13. Housing Affordability
What is hampering housing affordability is competition and rocketing prices, housing development regulations, lack of developable land, lack of builder subsidies, stagnant wages and high unemployment, and rising building materials and labor costs. Government regulation and NIMBYism are overpowering the market's opportunity to create more housing hence we can expect higher home prices.
Rising inflation and interest rates could be the key factor affecting housing affordability in the next 3 years. Political disruption about actually ruin the market, perhaps even pushing us into a housing market crash.
 14. Mortgage Rates
The rate for a 30 year fixed rate mortgage has reached an amazing low of 2.7 to 2.8% of recent according to this chart below courtesy of NerdWallet and Zillow.
30 Year Fixed Rate Mortgage Rate
15. Mortgage Rates and Payments
According to Freddie Mac, In August, the average rate for a 30-year, conventional, fixed-rate mortgage was 2.84% which was down from 2.87% in July. The average rate in 2020 was 3.11%.
According to Freddie Mac, the 30-year fixed mortgage rate dropped to 2.86% from 2.88% from the previous week. NAR believes mortgage rates to inch higher, to perhaps 3.5% by mid-2022 as the Fed moves forward with tapering. That will affect the stock market too, perhaps causing a sell off and a movement of investment money to the stock market.
The typical US monthly mortgage payment on a single-family home is up to $1,215 and the household income required to be able to buy a house increased to $58,314. In 17 major cities, buyers need a $100,000 down payment on a purchase.
 16. Mortgage Forbearance, Delinquency and Foreclosure Report
Black Knight reported that almost 3.6 million 90-day defaults occurred in 2020 – the largest number since 2009. 2.1 million homeowners are currently seriously delinquent on their mortgage payments, and with 600,000 forbearance plans expiring in March, it will create 1.5 million more serious delinquencies than at the start of the pandemic. As of last month, there were above 2.7 million homeowners in active forbearance plans. 12% of borrowers are now in forbearance.
Home Foreclosures
The good news is that home foreclosures hit an all-time low in January. ATTOM Data Solutions January 2021 U.S. Foreclosure Market Report showed a total of 9,702 U.S. properties had foreclosure filings — default notices, scheduled auctions or bank repossessions. It is 11% down from a month ago and down 80% from 12 months ago.
The bad news is that this is due to President Biden's foreclosure moratorium on repossessions of homes on government-backed mortgages. the fear is that when it ends in March, there will be little to prevent foreclosures.
Home Repossessions
The World Property Journal reports that US lenders repossessed 1,428 U.S. properties in January 2021, which was 28% lower than December 2020. It was also 86% less than last year.
Those states with an annual decrease in REOs in January 2021 included: Illinois (-86%); Florida (-83%); Maryland (-83%); California (-82%); and Texas (-82%).
 17. The US Economy
There are plenty of varying forecasts and predictions for the 2021 US economy. Most outlooks are optimistic after a disastrous 2020.
The Conference Board has this to say about the US economic forecast:
The Conference Board forecasts that US Real GDP growth will rise by 2.0 percent (annualized rate) in 1Q21 and 4.4 percent (year-over-year) in 2021.* Following a lull in the economic recovery in recent months, we expect the pace of the rebound to reaccelerate as new COVID-19 infection rates decline, the vaccination program expands, and the prospects of another large fiscal support program improve. We expect the recovery to continue into next year and forecast growth of 3.1 percent (year-over-year) in 2022.
BEA reported that the U.S. international trade deficit increased in 2020 from $576.9 billion in 2019 to $678.7 billion in 2020 As a percentage of U.S. gross domestic product, the goods and services deficit rose .5% from 2.7% 2019 to 3.2 percent in 2020. The goods deficit increased from $864.3 billion in 2019 to $915.8 billion in 2020. The services surplus decreased from $287.5 billion in 2019 to $237.1 billion in 2020.
BEA reports that Real GDP fell 3.5% in 2020 vs 2019. It had increased 2.2 percent in 2019. Real (GDP) grew 4.0 percent in the fourth quarter of 2020 according to the "advance" estimate released by the Bureau of Economic Analysis. 3rd quarter of 2020 had a rebounding 33.4 growth, in comparison with the Q2 shutdown period.
The Fed believes more harm would result with low inflation rather than higher inflation. The expected inflation rate for 2021 is 2.2%.
 18. Realtor Housing Recovery Index
The realtor recovery index grew strongly beginning in May, but as the reality of the fight with Covid 19 has worn on, confidence in the recovery has waned. Those lofty expectations were perhaps a little rosy but as summer 2021 approaches it will rise again.
For the week ending February 6, 2021, the realtor.com Housing Market Recovery Index reached 101.5 nationwide, down 2.7 points over last week. The New Supply Growth Index declined by 7.9 points from the prior week which means home sellers are pulling back. That means how sellers perceive their own future affects whether they will list.
As the economy lifts, and prices rise, we'll see many more homes come on the market, which should help to moderate price increases. The housing demand component decreased slightly to 118.7 this past week, down 2.2 points over last week.
The pace of sales held well above the pre-COVID baseline at 110.0, and was .3 points higher than the previous week. 31 of the 50 largest markets had growth in asking prices.
 19. Which Housing Markets Will Do Best in 2021?
NAR believes these 10 housing markets will enjoy the best sales and price growth this year.
All markets, including Los Angeles, San Diego, Denver, New York, Manhattan, Dallas, Boston, Philadelphia, Atlanta, Chicago, Austin, San Antonio, Salt Lake City, Tampa and Miami, have felt the crush of demand and much higher home prices. Florida is booming while California's housing market is hurting.
Whether it's a good time to buy a home might depend on who you are and why you're buying. For renters stuck with high rents and zero equity going forward, anytime is a good time. Overall, the HPSI is rising again a grim economic performance in December. Buyers sentiment is down significantly from just one year ago. As the pandemic eases, we could see the index rise slowly back to previous levels around 90.
 22. Will the Housing Boom Continue?
If the economy recovers, we know demand for homes and condos will improve too. There are strong fundamental drivers of housing demand as noted earlier, and even high bubble-like prices might not deter home buyers in 2021 and 2022.
"Home sales could possibly reach 8 million if we had more inventory," said Lawrence Yun, chief economist for the Realtors. "Mortgage rates should remain very low throughout 2021, although we may have seen the lowest already."
It's unlikely we'll experience a housing market crash in the next two years, but we can't completely discount one. More likely is the Biden admin won't medal with something so fragile while the economy is rebounding.
Sources, Citations & References and further reading:
nytimes.com/2021/02/01/business/economy/cbo-economy-estimate.html
worldbank.org/en/news/press-release/2021/01/05/global-economy-to-expand-by-4-percent-in-2021-vaccine-deployment-and-investment-key-to-sustaining-the-recovery
blackknightinc.com/black-knights-december-2020-mortgage-monitor/
census.gov/construction/nrc/index.html
nar.realtor/blogs/economists-outlook/december-2020-nar-sentrilock-home-showings-report-highlights
wsj.com/articles/us-gdp-economic-growth-fourth-quarter-2020-11611802382
worldpropertyjournal.com/real-estate-news/united-states/irvine/real-estate-news-attom-data-solutions-january-2021-foreclosure-data-2020-bank-foreclosure-filings-rick-sharga-cares-act-mortgage-forbearance-program-12366.php
zillow.com/research/november-2021-sales-forecast-28499/
www.reuters.com/article/us-usa-property-poll-idUSKBN2A2005
www.realtor.com/research/2021-national-housing-forecast/
cdn.nar.realtor/sites/default/files/documents/2021-02-08-weekly-housing-market-monitor-02-11-2021.pdf
learn.roofstock.com/blog/cheapest-states-to-buy-a-house
gobankingrates.com/saving-money/savings-advice/cities-plenty-jobs-cheap-housing/
cdn.nar.realtor/sites/default/files/documents/metro-home-prices-q4-2020-ranked-median-single-family-2021-02-11.pdf
Please do Share this epic report with your Friends and Clients on Facebook!
Housing Market Forecast: Looking for specific data related to theDallas housing market, San Antonio, Austin, Salt Lake City, Los Angeles real estate market, New York real estate market forecast, Atlanta real estate market, Seattle real estate forecast, Chicago home sales projections, Philadelphia home sales report, San Diego County real estate update, Miami condo market, Boston housing market, Bay Area housing forecast, Tampa Sarasota housing outlook, Denver housing outlook, and Houston housing market predictions? See forecasts for California housing, and Florida housing market.
Many Americans will soon be on their own without Fed assistance and facing back rent and overdue mortgages. Cities such as Denver, Dallas, Houston, San Antonio, Austin, Salt Lake City, Las Vegas, Tulsa, Seattle, Boston, New York, New Jersey, Chicago , San Antonio, Austin, Colorado Springs, Salt Lake City, an Los Angeles may see some new home listings out of this distressed homeowner market, but not as much as some forecasters are predicting.
See more property market forecasts here on the blog for cities and states including: California, Utah, Texas, Massachusetts, and Florida including the major metros of Los Angeles, New York City, San Diego, San Francisco, Houston, Miami, Denver, Phoenix, Denver, Seattle, Chicago, Atlanta, Boston, and Tampa.
Sours: https://gordcollins.com/real-estate/us-housing-market-forecast/
You will also be interested:
Yes. Was she good. Yes.
3137
3138
3139
3140
3141