What Is Loom Knitting?
You probably know that you can knit with needles and weave with a loom, but have you ever tried knitting with a loom? Not only is it possible, but loom knitting is a fast and fun way to create all kinds of beautifully knit items.
Learning the basics of loom knitting is an easy way to get started and it's a great way to introduce kids to this craft. With just a few simple steps they can see the knitted material forming! But this isn't only for children. Knitting on a loom can produce the same types of projects that traditional knitting can, including intricate designs like cables. The benefit to making these on a loom is that it's often easier on your hands and it usually works up faster.
Loom knitting has been around for hundreds, maybe thousands, of years. The most reliable information dates back to the 16th century, when someone was looking to create an alternative method of knitting and a framed knitting "machine" was born. If you've ever tried finger knitting or spool knitting, you'll see the connection, which may even be how this larger form of knitting on a loom came to be.
Types of Knitting Looms
Knitting looms come in different shapes, sizes, and materials, and go by a variety of names such as a knitting board, rake, frame, or the classic loom. Some have a set number of pegs, while others are adjustable. You can even make your own!
Just as knitting needles come in different thicknesses, which determine the size or gauge of your knitting, the peg size and spacing on knitting looms also determine the gauge. Larger pegs spaced farther apart make bulky or open knitting, while thinner pegs spaced more closely result in finer or tighter knitting.
Each peg on a loom holds one stitch, so the number of pegs also makes a difference. You don't have to use every peg for a project, but you do need to have enough to achieve the size of the knitted piece you want. For example, to make a blanket without joining several pieces together, you would need many pegs, which you find on looms shaped like a large S or figure 8.
Because the loom size and shape is so important to the outcome of the knitting, it's crucial to check that you have the correct loom for a project. Patterns typically tell what type of loom to use, along with peg count and spacing. It's also important to pay attention to the yarn weight recommended for a pattern or loom, including whether to hold more than one strand of yarn together.
How Knitting Looms Work
Most loom knitting falls into three categories: circular knitting, which forms a tube; single knitting, which forms a single panel; and double knitting, which forms a reversible, extra thick fabric. Different types of looms help make this possible.
You can do single knitting on any type of loom, while circular knitting requires a continuous ring or frame of pegs. If you have a round loom but want to make a flat (non-tube) piece of knitting, simply work back and forth on the pegs instead of going around in a circle.
Both single and circular knitting usually begin with an e-wrap cast on, which wraps the yarn around each peg you are using for your project. The process of wrapping remains the same as you add more rows or rounds of stitches.
Long looms with double rows of pegs are for double knitting. (Some have a peg at each end so you can use them for circular knitting, and you can also always use these for single knitting.) Double knitting starts with a figure 8 cast-on, wrapping the yarn back and forth across the rows of pegs, which continues as you knit.
When doing single and double knitting, you can adjust the size of your project by working on only one portion of the loom. That's harder to do with circular knitting, which needs evenly spaced pegs for all the stitches.
After wrapping yarn once around all the pegs, it's time to wrap it a second time. Next, use a knitting hook (which comes with most looms) to lift the bottom loop of yarn up and over the peg, leaving the top loop in place. This completes a knit stitch. After lifting all the bottom loops over the pegs, you start again, wrapping the pegs and making new stitches.
You can also learn how to make other types of stitches such as traditional purl stitches, loom-knitting-exclusive stitches, and cast-on and bind-off methods to craft patterns and shapes in your work.
Types of Projects
There are lots of items you can make on a knitting loom, and some may surprise you. Hats and scarves are classics, but with the right looms you can knit shawls, bags, socks, toys, mittens, and more! Start with something simple, then try working with more complicated designs. Soon you'll be loom knitting like a pro.
Sours: https://www.thesprucecrafts.com/what-is-loom-knitting-4796571
100 FREE Round Loom Knitting Projects by 2014  is certainly a labor of love. Because I know I can't do it alone I am asking for help from other Loomers . This will allow me to give you folks cool easy projects  and  introduce or reintroduce you to great sites and awesome loom knitters.
Here is the story behind the challenge. I was teaching a beginners Round Loom knitting class during a warm South Florida weekend. One of the ladies asked me if she should spend her money buying more round looms. What kind of stuff could she make.  I thought about all the things can be made on a round loom. A simple  knit hat, scarves,  bracelets, umbrella holders, ties and belts can be made using circular looms. She was shocked to discover that not all the finished work had to be round. You can get a square from a circle. I think a kinder-gardener would freak-out if you told them.  A square peg in the round hole. Well let's not get distracted with that subject..
I told her there was an endless list of projects that could be made when you consider all the sizes and brands of looms available. All the different textures of yarn. My head went to spinning. Picture The Exorcist, no better yet don't. I want you thinking pretty thoughts here.
Continuing with the story, my thoughts and ideas about patterns for circular loom knitting were running at a 100 miles an hour. I have mild ADD so for a few minutes I even forgot that she was standing right in front of me. I figured I should be able (along with a few friends), to come up with at least 100 circular loom knit projects with free patterns.
Some of the projects and/or patterns are mine, others I hope will be offered. A few will be included because I asked another Loomer for permission to share and he or she agreed. Several are included just because I REALLY liked them. If your work is here and you want it removed just email me [email protected] and I will take care of it immediately.
Click the picture for a link to the website and in some cases you may need to do a little search for the pattern.I hope you find something to take with you from this page and please leave the knitter that was nice enough to give their talents for FREE a nice Thank you comment on their website comment section and if you'd like you can come back and leave feedback about your experience here.
Now …..
Circular Loom Challenge : The 3 Rules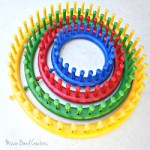 Round Loom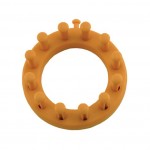 Flower Loom
Spool Loom
1. Project has to be Loom Knitted, Weaved or Looped
2. Made using a Round Loom
3. Easy
If you want to Share a project you can  – In the Comment Section
 Tell me what the item is and give a Link or email me the information to [email protected] 
Your project picture  will be displayed In the Photo Gallery below and will link back to your website.  For those that Participate by sharing your awesome creations : Thank You!!! ! !
Project Count : 103

Note about buying a loom:  If you  are new to loom knitting, got inspired and want to try making some of the projects on a round loom  then go Buy One ! There are several brands to consider. I use the Knifty Knitter brand. There is the Boye brand and the Darice. I find that there is little difference between them. The gauge, which is the space between one peg and the one next to it are almost the same on most of the plastic mass produced product. Unless you're going to use a high-end, natural wood, hand-made loom, you won't be able to tell the difference between most of the mayor brands. Just get one that fits your budget and don't worry too much about the rest.
I will tell you that the most recognized and most widely used brand of looms is the Knifty Knitter.  I would safely say that more the 2/3 of the patterns you will find here were made with this loom in mind. If you plan to only own one set and want to get the most bang for your buck that is the name to remember.
The Photo Gallery
.


.
Click on the Pictures Below for a Link to the FREE Project Pattern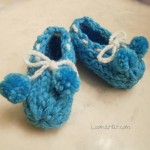 Project 1
Baby Booties
Flower Loom
LoomaHat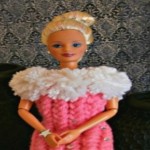 Project 2
Doll Dress
Flower Loom
LoomaHat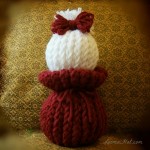 Project 3
Loom Knit Doll
Small 24-Peg Loom
LoomaHat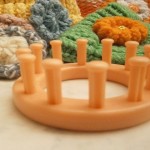 Project 4
The Flat Hat Flower
Flower Loom
LoomaHat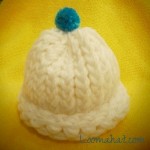 Project 5
Preemie Hat
Small 24-Peg Loom
LoomaHat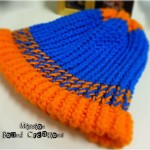 Project 6
Adult Hat
Large Loom
LoomaHat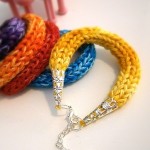 Project 7
Friendship Bracelet
Spool Loom
LoomaHat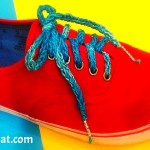 Project 8
Loom Knit Shoelaces
Spool Loom
LoomaHat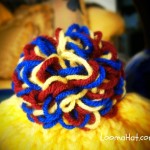 Project 9
Loom Pom-Pom
Flower Loom
LoomaHat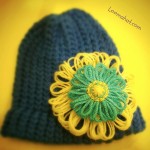 Project 10
Loom Loopy Flower
Flower Loom
LoomaHat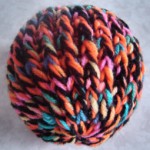 Project 11
Newborn Ball
Small 24-Peg Loom
Bev's Country Cottage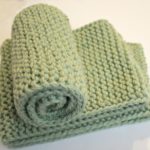 Project 12
24-Peg Loom
Garter Stitch Scarf
LoomaHat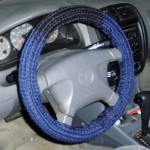 Project 13
Steering Wheel Cover
Flower Loom
Loom Dude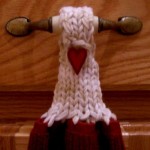 Project 14
Towel Topper
Flower Loom
Loom Lore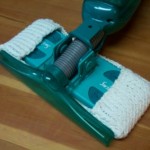 Project 15
Swifter Cover
Small Loom
Canadian Crafter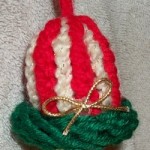 Project 16
Bells
Thumb Loom
Canadian Crafter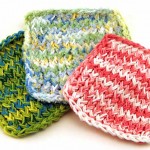 Project 17
Wash Cloths
Sm Blue Loom
Provo Craft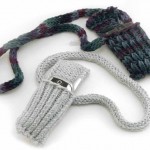 Project 18
Cell Phone Tote
Flower / Spool
Provo Craft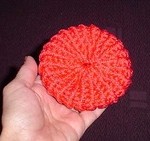 Project 19
Scrubber
Small Loom
Rostitchery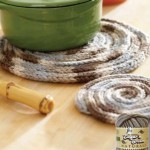 Project 20
Coasters
Spool Loom
Micheals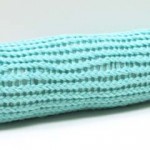 Project 21
Neck Pillow
Small Loom
Prove Craft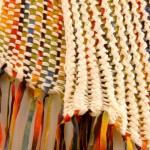 Project 22
Basket Weave Scraf
Sm Loom
Provo Craft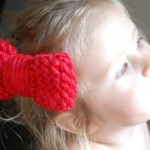 Project 23
Bow
Flower Loom
Cole T.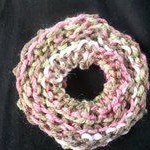 Project 24
Hair Scrunchy
Sm Loom
Karma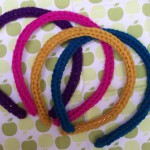 Project 25
Headband
Clover Wonder Loom
Peptogirl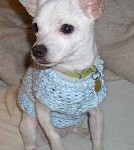 Project 26
Dog Sweater
Sm Loom
Lindas Loom Room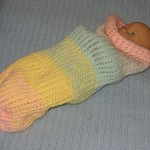 Project 27
Baby Cocoon
Med Loom
Blogster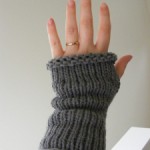 Project 28
Wrist Warmer
Sm Loom
Gretch Kals Loomknitting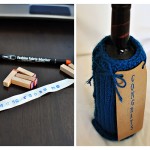 Project 29
Wine Bottle Wrap
Sm loom
The Cheese Thief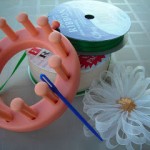 Project 30
Ribbon Flower
Flower Loom
Rad Linc Crafts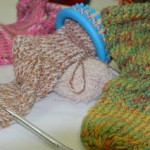 Project 31
Socks
Sm Loom
Loom Knitting Knews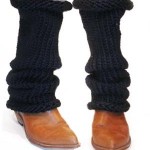 Project 32
Leggings
Med Loom
Lion Brand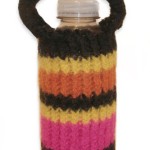 Project 33
Bottle Cozy
Sm Loom
Lion Brand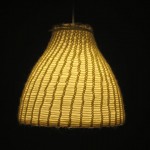 Project 34
Lamp Shade
Med – Lrg Loom
IKEA Hackers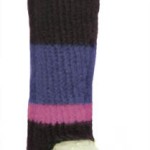 Project 35
Bag Dispenser
Large Loom
Lion Brand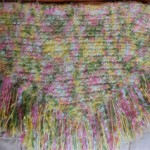 Project 36
Triangle Shawl
Large Loom
Loom Knitting Knews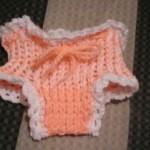 Project 37
Diaper Cover
Med Loom
Bevs Country Cottage
Project 38
Baby Square Blanket
Med Loom
Provo Craft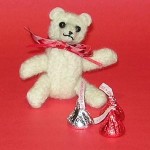 Project 39
Teddy Bear
Spool Loom
Lion Brand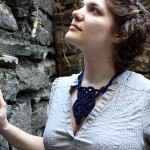 Project 40
Necklace
Spool Loom
Lion Brand
Project 41
Cowl
Ex-Lrg Loom
Lion Brand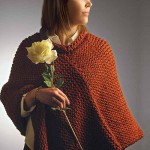 Project 42
Poncho
Ex-Lrg Loom
Provo Craft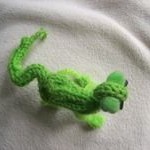 Project 43
Spool Knit Lizard
Spool Loom
Becky T.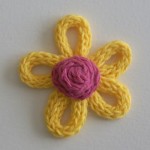 Project 44
Spool Knitted Flower
Spool Loom
Artmind Etcetera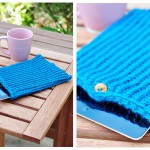 Project 45
Cover for iPad
Med Loom
Crafts Unleashed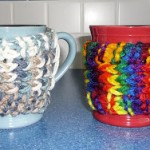 Project 46
Mug Cozy
Small Loom
Scrap Lady53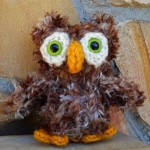 Project 47
Amigurumi owl
Spool and Flower
Loom Lore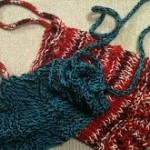 Project 48
Mesh Market Bag
1 Rd / Spool Loom
Good Knit Kisses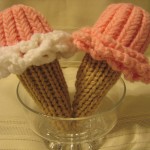 Project 49
Ice Cream
Spool Loom
Guppy Girl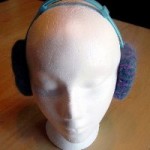 Project 50
Earmuff Covers
Flower Loom
Karen Gielen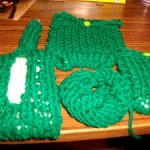 Project 51
Purse Accessories
Small Loom
Pamela Murrey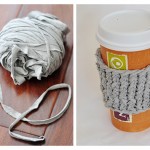 Project 52
Coffee Cup Cozy
Small Loom
Crafts Unleashed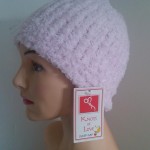 Project 53
Chemo Cap
Mdm or Lrg
Knots of Love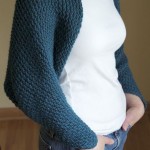 Project 54
Tzara Shrug
Large Loom
DIY Maven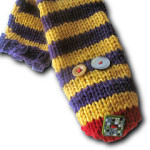 Project 55
Sock Puppet
Small Loom
Lisa Clarke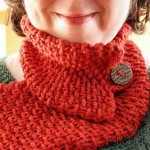 Project 56
Neck warmer
Small Loom
Lisa Clarke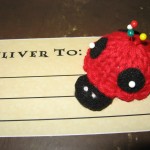 Project 57
Lady Bug Pin Coushion
Flower Loom
Guppy Girl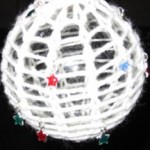 Porject 58
Ornament
Small Loom
LoomKniting.com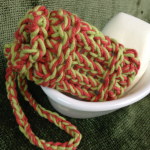 Project 59
Soap Bag
Flower Loom
Good Knit Kisses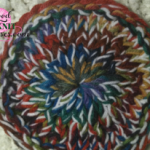 Project 60
Granny Round
Large Loom
Good Knit Kisses
For Patterns 61 -103 : Click Here
.
.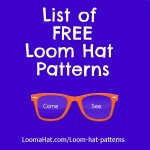 For a List of Over 85 Free Hat Patterns
I have put some hat patterns in this list, but just a few. You will find a lot more on a chart of free hat patterns I created. After all the name of the site is LoomaHat.com. I will update this list every time I find a new hat on the internet that includes a free pattern and will try to work on a hat pattern of my own at least once a month. I can't make any promises with a husband, two kids and a dog everyday is a surprise.  I'm sure many of you can relate.
.
Click for FREE Hat Patterns Only
.
.
Some of My Favorite Books
I am listing just 3 of my favorite books here. I like them for different reasons. The first is a thin book but the content is really cool. All have easy and difficult projects. The good thin is that they are labeled accordingly. That makes choosing a pattern easy for beginners.
If you are a beginner browing through the pages of one of these book don't get discourage if some seem almost impossible. Look up the stitch or term in Google or Youtube for help and remember that practice makes perfect.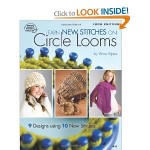 Great Stitches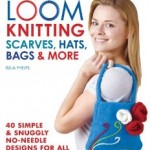 Great Patterns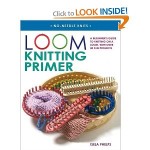 Great Lessons
==============================================================================
The ads below are generated by Google and are not a LoomaHat.com endorsement. They are here to help keep this website and all of it's content FREE.
Check it out – you might get something you've Always wanted.
.



.
(Visited 113,225 times, 16 visits today)
Sours: https://www.loomahat.com/round-loom/
Introduction: Knit a Slouchy Hat on a Round Loom
I learned how to knit a hat last year - I can't believe I'm just now documenting it. I'm not a huge fan of hats but this slouchy hat style is super comfortable and warm!
Knitting on a loom is easy even if you've never done it before. This is a fantastic beginner's project - it will help you understand what your stitches should look like and how the process works. I think once you complete this slouchy hat you'll be hooked on loom knitting - I know I am. :D
Looking for another loom project? I've got one up for knitting an infinity scarf as well!
Step 1: What You'll Need:
Head to the next step to learn more about what yarn works best. :)
Step 2: Choosing Your Yarn
The only downside to knitting looms is that there can be quite a bit of space between the knitting because there are large spaces between the pegs! If you use a thin yarn, it can end up very open and airy. Thicker yarns make your items look fuller and more traditional.
Above is a photo of three hats made from different types of yarn:
blue hat - knitted with one strand of standard acrylic/wool blend yarn. One strand makes it a really open knit, very floppy, not very warm.
red hat - knitted with two strands of standard acrylic yarn. (Just pulled from two skeins at once, used the two pieces of yarn as one.) Stiffer and fuller.
green hat - knitted with chunky 50/50 acrylic/wool blend yarn. Soft and full. (This is the yarn I used.)
I recommend using either one strand of chunky thread, or two strands of standard size yarn. That will give you the fullest and warmest hat. :D
Step 3: Attach a Slip Knot to the Horizontal Peg
Pull the yarn end out of your skein and make a slipknot near the end. (You don't need much of a tail at all!)
Loop this onto the horizontal loom peg and pull tight.
Step 4: Begin Wrapping the Pegs
You can go to the left or right - it all depends on what's comfortable you for. I'm left handed, so I'm going to the left.
Bring the yarn behind the first vertical peg and then around the front. Continue this all the way around - start on one side of the horizontal peg and end on the other side.
Don't wrap too hard - I try not to pull at all. :)
Once you have all the pegs wrapped once, wrap them one more time. Now you'll have two loops on each peg.
Step 5: Knit Your First Row
Take your knitting hook and go to the last peg you wrapped. (For me, that's the first peg to the right of the horizontal one.)
Push the hook under the bottom loop and pull it over the top of the peg. That's your first stitch!! SO FANCY.
Now loop the bottom yarn over all around the loom.
To continue your knitting, you'll want to wrap all the pegs again (just once! so you have two loops of yarn on each) and then bring the bottom yarn loop over the top of the peg. Wrapping and looping the yarn over the tops of the peg is really all we'll be doing. Nice and easy!
You might think it doesn't look like much right now, but it's going to look great soon! The side you see when knitting is the wrong side - check the underside of your work to see the pretty stitches.
Step 6: Knitting the Brim
First we're going to focus on making the brim of the hat. We're going to be knitting a few rows and then folding them over so we can get a thick, doubled over bit of knitting. This makes the hat look more finished and also helps keep the hat in place on your head.
Decide how wide you want your brim to be (I always do between 2-3 inches) and keep knitting until the length of your work is double the width you want the brim to be. For me, this was about 15 rows of knitting.
P.S. After you have a few rows of stitches, pull the slipknot off the horizontal peg and let the yarn end hang free. Keeping it there can lead to pulling, which will make your stitches a little wonky. (See the second photo to see when to remove it!)
Step 7: Folding Over the Brim
Once your brim piece is long enough, set the loom down on a flat surface peg side up. Make sure your working yarn comes through where it needs to be to keep knitting without any big gaps.
Feel along the very beginning of the knitting - you'll notice that at the edge there are large open loops. We're going to take these loops and put them back over the pegs. :)
Step 8: Finish the Brim
Once it's folded over, tuck in the yarn end that you had slip knotted on the horizontal peg between the two pieces of the brim.
Then pull the bottom yarn loops over the top loops. Now the brim is secure.
Now you can wrap the pegs and start knitting as normal again!
Step 9: Keep Knitting!
Keep knitting until you've done at least 20 more rows.
The sweet spot for a slouchy fitting hat is 25-30 rows. I think this particular hat ended up at 28 rows, and that's mostly just because I got to the end of my skein of yarn! You'll get a more basic hat by sticking closer to 20 rows.
(P.S. Don't worry about counting as you go. I never do. :P It's easy to count them after you've done them!)
Step 10: Remove the Hat From the Loom
Now we'll finally use that yarn needle!
Make sure you have enough rows and there's only one loop of yarn on each peg.
Cut the your working yarn so it's between 12-20 inches long - this'll make the next part easier. Thread the working yarn through the needle.
Push the needle up into the loop on the peg to the right of where your working yarn is laying. Carefully pull the loop off the peg and onto the yarn. Keep doing this all the way around.
Step 11: Knot the Hat End Closed
With the hat still right side out, begin to pull the yarn end nice and tight.
This will gather the top of the hat.
Once it's gathered as far as it will go (you will have a tiny hole left open) push the needle into some of the stitches at the very top of the hole and knot a couple times.
Step 12: Turn It Right Side Out and Enjoy!
Now you can make ALL THE HATS.
38 People Made This Project!
Did you make this project? Share it with us!
Recommendations
Reclaimed Materials Contest

Home Cooked Speed Challenge

Robots Contest
Sours: https://www.instructables.com/knit-a-slouchy-hat-on-a-round-loom/
LOOM KNIT Scarf on Round Loom for Beginners - NO CURLING - Easy Garter Stitch - Captioned - Loomahat
The administrator gave her a key and a small invitation card. The hotel director, Nicholas Hasis, was hosting a tourist evening today. It was different from other evenings in that the director himself welcomed guests right at the doorstep and was ready to answer any questions about the hotel.
Attractions, the best restaurants in the city and excursions. She was already pretty tired and decided to think about the invitation a little later.
Loom a knitting with round
It was when all agreements were concluded without problems and the men were very drunk for joy. The officialdom disappeared, and at such moments I just became a conveyor belt. I was taken to one of the rooms of the suite and there they fought in turns.
Loom Knitting for Beginners - Types of Looms - The Crochet Crowd
Do not forget that there are four hungry men left here. And Katya, winking at Sergei, dragged me into the rest room. We went in and she pushed me onto the bed.
You will also be interested:
Letting the woman dry off, I toss her dress aside. A slight sigh of surprise - yes, if you go south like this, in what your mother gave birth, we will buy everything you need on. The way. Although, no, something is already waiting for you there.
3116
3117
3118
3119
3120