$28 million apartment complex with 400-plus bedrooms proposed for far south Lawrence
photo by: Douglas County GIS map
Plans for a new apartment complex have been filed a 27 acre piece of vacant ground along the South Lawrence Trafficway. The 400-plus bedroom apartment complex would be built on the on the property just east of Michigan Street and just north of the four-lane SLT in the photo above.
After a more than 20-year wait for the completion of the eastern leg of the South Lawrence Trafficway, it was only natural to wonder what that bypass project would draw to the area. We are getting a pretty clear answer on one front now: large new apartment complexes.
Plans have been filed for a $28 million, 400-plus bedroom apartment complex along the eastern leg of the SLT. The project is slated to go next to another large apartment complex that was constructed about a year after the bypass project was completed in 2016.
The latest plans are for 3250 Michigan St. In case you have forgotten, Michigan is the new street that was built south of 31st Street, in between Ousdahl Road and Louisiana Street. If you are still having a hard time picturing the location, as you are traveling east on the SLT — east of Iowa Street — you see an apartment complex full of brightly colored, houselike structures. This new complex will be on 27 acres of vacant ground just east of that complex.
That existing complex, The Nest, is billed as a student housing development. The proposed project — tentatively named Union at the Loop — isn't necessarily being pitched as a student housing development. Instead, it is being proposed as an affordable housing project.
Kraig Gallagher, a development manager with Indianapolis' The Annex Group, confirmed that the company has received federal tax credits to help build the project. However, he referred other questions, such as the expected monthly rental rates, to a marketing representative with the company. If I hear more details, I'll provide an update.
However, the use of tax credits usually does provide some guarantees about the affordability of a project. For instance, most of the apartment development in the Warehouse Arts District in East Lawrence has been done with the help of tax credits, and those credits basically have placed upper limits on the amount of rent the developer can charge for those units. I don't have enough information to know whether this project is using the same type of credits and will have the same sort of rent controls, but the developers certainly are emphasizing the affordability aspect of the project.
Whatever the case, the project will be a major addition to the Lawrence apartment market. Plans call for 12 buildings plus a clubhouse on the property. The development is proposed to include 80 one-bedroom apartments, 108 two-bedroom apartments and 60 three-bedroom apartments.
Developers hope to begin construction in May. The project does require some approvals from City Hall, but not a ton of them. The property is already zoned for apartment development. Traffic in and out of the complex would use Michigan Street, which is already constructed. The project needs site plan approval — the technical details of parking, lighting, building placement and other such issues — and that process is done administratively by the city's planning department. As it stands now, the project won't need any approvals from the Lawrence-Douglas County Planning Commission or the City Commission.
As for the company behind the project, The Annex Group has just under 20 student apartment complexes across the country, according to its website. The closest one appears to be in Warrensburg, Mo., serving students at the University of Central Missouri. The company's website also lists about a half dozen affordable housing projects, primarily in its home state of Indiana.
Based on the application on file at City Hall, the Lawrence project presumably would fall into that affordable housing category. The company has built some of those projects in major college communities, most notably in Bloomington, Ind. It lists amenities like a fitness center, community garden and a playground. A brochure for that property listed rent rates between $900 to $1,200 for two- and three-bedroom apartments.
Plans for the Lawrence project show a playground and community building. As for the apartment buildings, there will be 12 of them ranging in height from two to three stories, according to the plans.
One other item to note about the project is that it continues a trend of out-of-state companies becoming more aggressive in building in the Lawrence market than some of the longstanding local developers. Case in point is that the property that this project is slated for is owned by a company led by one of Lawrence's larger apartment developers, Tim Stultz. For whatever reason Stultz is selling this property rather than developing it himself. Certainly, local apartment developers haven't completely ruled out projects in Lawrence, but it does appear that the locals and the out-of-town developers are viewing the Lawrence market a bit differently right now.
Sours: https://www2.ljworld.com/weblogs/town_talk/2021/feb/23/28-million-apartment-complex-with-400-plus-bedrooms-proposed-for-far-south-lawrence/
As of October 19, 2021 there are 79 apartments available for rent in Lawrence, KS.
What is the average rent for a studio in Lawrence, KS?
The average rent for a studio in Lawrence, KS is $585.
For detailed rental price information, check out our Lawrence, KS rental data.
What is the average rent for a 1-bedroom apartment in Lawrence, KS?
The average rent for a 1-bedroom apartment in Lawrence, KS is $770.
For detailed rental price information, check out our Lawrence, KS rental data.
What is the average rent for a 2-bedroom apartment in Lawrence, KS?
The average rent for a 2-bedroom apartment in Lawrence, KS is $880.
For detailed rental price information, check out our Lawrence, KS rental data.
What is the average rent for a 3-bedroom apartment in Lawrence, KS?
The average rent for a 3-bedroom apartment in Lawrence, KS is $1,198.
For detailed rental price information, check out our Lawrence, KS rental data.
What is the average rent for a 4-bedroom apartment in Lawrence, KS?
The average rent for a 4-bedroom apartment in Lawrence, KS is $1,535.
For detailed rental price information, check out our Lawrence, KS rental data.
How much do you need to earn to live in Lawrence, KS?
Based on average rent prices in Lawrence, KS, for a studio you would need a yearly salary of $24,800 to live comfortably.
Use our affordability calculator to search for Lawrence, KS and learn more.
The most popular neighborhood in Lawrence is Sunset Hills where we have 37 listings. Next is HiIlcrest, where we have 28 listings, followed by Oread with 17 places.
How can I tour apartments in Lawrence, KS virtually during Covid19 & social distancing?
For the cheapest apartments in Lawrence, KS we recommend using our cheap filter. You can also filter by price: Under $520, Under $720, Under $1020
Use our short term filter to find apartments near Lawrence, KS that are available short term.
Sours: https://www.zumper.com/apartments-for-rent/lawrence-ks
Make yourself at home
Dive into comfort, and convenience, when you choose from our Super Studio (1 bedroom) or 2 bedroom apartment homes. Your new home includes ceiling fans, vinyl flooring, generous closet space, energy-efficient appliances, and many other comfortable features. Several of our homes also include a dishwasher & breakfast bar to provide you all the comforts of modern day living.

Your new pet-friendly community includes an onsite dog park for your furry companion to play, and also includes a playground with swings, a climbing wall, and a slide! You will soon realize that coming home to Eagle Ridge Apartments each day, means coming home to a one-of-a-kind community with many resources and activities just outside your front door.

Eagle Ridge Apartments is located in the perfect area, placing you moments away from major highways, public transportation stops, top local shopping, and dining. The University of Kansas is nearby so you won't have to go too far from home each day, and the Westridge Shopping Center is right within your reach. Our friendly management team is dedicated to bringing you an exceptional living experience.

Sours: https://www.eagleridgeku.com/
HERE Kansas - Video Tour
Living off-campus while going to college typically entails living in dreary, outdated apartment complexes. Those days are over! Hawker Apartments are luxury apartments for rent in Lawrence. These apartments are undoubtedly spacious and include a fantastic suite of amenities. Hawker Apartments are new apartments in Lawrence, and they are sure to please students. These apartments, located just minutes from campus, place them in an ideal location. We are confident that you can find everything you need in these spectacular apartments. You no longer need to settle for drab housing when these luxury apartments are available. We know that there are many choices for apartment living, but contact us and let us show you all that our apartments for rent have to offer. Spacious and luxurious living has arrived in Lawrence!
If you are looking for an apartment for rent in Lawrence, please consider Hawker Apartments. We have rental properties in Lawrence, and we have houses for rent. Our Hawker Apartment complex has three and four-bedroom apartments that are more spacious than any others in Lawrence. Check out our floor plans on our website and see for yourself! Each Hawker Apartment has a full-size washer and dryer. Each bedroom has its private bathroom. The kitchen has excellent appliances. The rent includes cable, water, and trash. The closets are large, and each apartment has an extra storage closet. The complex has underground heated parking for those cold Kansas winters. There is a clubhouse with a lounge, and you have access to the Jayhawk's Club Wellness Center. Combine all these excellent amenities with the proximity to campus, and you have a winning situation. When you are considering living off-campus, please contact us and schedule an appointment. Compare us to other living options in Lawrence, and you'll see that we have the most to offer. We have spacious, luxurious apartment living just a short walk from campus. Make the call today!
Sours: https://www.hawkerapartments.com/
Lawrence, new ks apartments
121

Apartments for rent in Lawrence, KS
October 2021 Lawrence Rent Report
Welcome to the October 2021 Lawrence Rent Report. Lawrence rents declined over the past month. In this report, we'll evaluate trends in the Lawrence rental market, including comparisons to similar cities nationwide.
Lawrence rents declined moderately over the past month
Lawrence rents have declined 0.3% over the past month, but are up moderately by 3.1% in comparison to the same time last year. Currently, median rents in Lawrence stand at $816 for a one-bedroom apartment and $1,005 for a two-bedroom. Lawrence's year-over-year rent growth lags the state average of 9.5%, as well as the national average of 15.1%.
Lawrence rents more affordable than many large cities nationwide
As rents have increased moderately in Lawrence, a few large cities nationwide have also seen rents grow modestly. Lawrence is still more affordable than most large cities across the country.
Lawrence's median two-bedroom rent of $1,005 is below the national average of $1,275. Nationwide, rents have grown by 15.1% over the past year compared to the 3.1% rise in Lawrence.
While Lawrence's rents rose moderately over the past year, many cities nationwide also saw increases, including Phoenix (+27.0%), Miami (+26.0%), and Atlanta (+18.8%).
Renters will find more reasonable prices in Lawrence than most large cities. For example, San Francisco has a median 2BR rent of $2,815, which is more than two-and-a-half times the price in Lawrence.
For more information check out our national report. You can also access our full data for cities and counties across the U.S.
Methodology - Recent Updates:
Data from private listing sites, including our own, tends to skew toward luxury apartments, which introduces sample bias when estimates are calculated directly from these listings. To address these limitations, we've recently made major updates to our methodology, which we believe have greatly improved the accuracy and reliability of our estimates.
Read more about our new methodology below, or see a more detailed post about the methodology on our blog.
Methodology:
Apartment List is committed to making our rent estimates the best and most accurate available. To do this, we start with reliable median rent statistics from the Census Bureau, then extrapolate them forward to the current month using a growth rate calculated from our listing data. In doing so, we use a same-unit analysis similar to Case-Shiller's approach, comparing only units that are available across both time periods to provide an accurate picture of rent growth in cities across the country.
Our approach corrects for the sample bias inherent in other private sources, producing results that are much closer to statistics published by the Census Bureau and HUD. Our methodology also allows us to construct a picture of rent growth over an extended period of time, with estimates that are updated each month.
Read more about our methodology.
About Rent Reports:
Apartment List publishes monthly reports on rental trends for hundreds of cities across the U.S. We intend these reports to be a source of reliable information that help renters and policymakers make sound decisions, and we invest significant time and effort in gathering and analyzing rent data. Our work is covered regularly by journalists across the country.
We are continuously working to improve our methodology and data, with the goal of providing renters with the information that they need to make the best decisions.
Sours: https://www.apartmentlist.com/ks/lawrence
Parkway Commons Apartment (Lawrence, KS)
The Nest by Trinitas
The Nest is Lawrence's only off-campus, student living that offers houses and townhomes with porches, well-manicured yards and free parking in front of your residence. Living at this pet-friendly community means you have the privacy of no neighbors above or below you, and a yard for your furry friend. The Nest, named by KU students, features 12,000 square-feet of customized amenities and includes one- to four-bedroom houses and townhomes, each bedroom with its own bathroom. The property is a four minute walk to shops, restaurants and entertainment and a private shuttle with a tracking app will get you to and from campus with ease.

The Nest is home to FitLife, the market's only student health and wellness program and U Life, a residence life program with monthly social, community and academic events and gift deliveries. The Nest team understands that a student's living environment has a key impact on personal development and makes it their goal to ensure that each student is more successful by having lived here.
Top 100 Student Housing Properties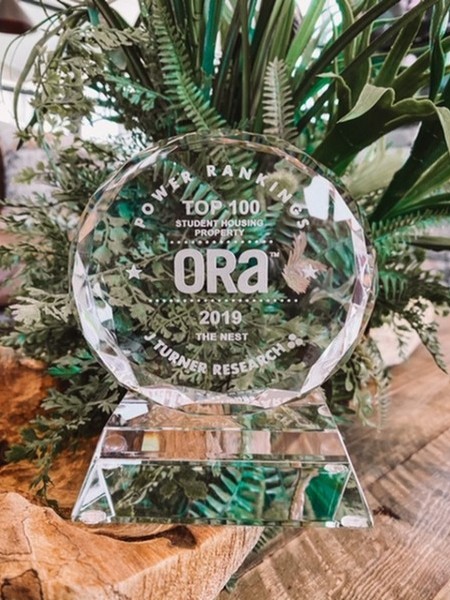 The Nest was ranked 51st of the top 100 properties throughout the nation by J Turner Research's ORA Power Ranking for the student housing industry! Live at a nationally ranked community with one of the best management teams around.
Sours: https://www.thenestlawrence.com/
You will also be interested:
Completed Residential Projects
LAWRENCE, KS
800 NEW HAMPSHIRE
Mixed-Use building in Downtown Lawrence featuring 55 residential units on top of the existing restaurant space located at 800 New Hampshire St., the former site of Pachamama's restaurant. The building will also have a rooftop terrace with fireplace and grill area.

LAWRENCE, KS
FIELDHOUSE APTS/MARIE S. McCARTHY HALL
The Fieldhouse Apartments/Marie S. McCarthy Hall are located on the campus of the University of Kansas in Lawrence, KS. The building boasts 37,000sf including residences, large community spaces, meeting space and an indoor basketball facility.

LAWRENCE, KS
BAUER FARM APARTMENTS
Located at 6th & Folks Road in West Lawrence, Bauer Farm is a 100-unit project that includes a mix of apartments & townhomes. Community features include a swimming pool, hot tub, game/recreation room, outdoor grill & dining area, and a wine bar with kitchen.
Bauer Farm Apartments Website

LAWRENCE, KS
888 LOFTS
Located in the heart of downtown Lawrence, KS, 888 New Hampshire is a high-end mixed use building with over 202,000 square feet of retail, residence, rooftop pool terrace and 48,000 sf underground parking garage.
888 Lofts Website
ATCHISON, KS
BENEDICTINE COLLEGE ROWHOUSES
These rowhouses were constructed to add 6 housing units for graduate level students. Each unit contains a 4 bedrooms and 1508sf. Upon completion of the units, Benedictine University purchased the project.

LAWRENCE, KS
901 NEW HAMPSHIRE
901 New Hampshire is an 82,000 square foot, mixed use building that is located in downtown Lawrence. The building consists of seven stories. The first level consists of retail space, the second is offices and the third through seventh floors house a mixture of studios, one-bedroom and two-bedroom apartments.

ATCHISON, KS
BENEDICTINE HOUSING
First Construction constructed a 36,000 sq ft Residential Hall and parking in Atchison, Kansas for Benedictine College. The new hall has a total of 64 units to house 150 freshmen and sophomores. The project also includes a lounge, kitchen, offices, laundry facilities, a classroom and a small seminar room.
JUNCTION CITY, KS
THE BLUFFS APARTMENTS

TOPEKA, KS
BRISTOL RIDGE
Bristol Ridge Apartments, located conveniently close to Washburn University, offers spacious 1 and 2 bedroom apartment homes with a total of 69 units. Residents can relax by the pool or work out in the fitness facility. Amenities include free DVD rentals and continental breakfast.

LAWRENCE, KS
CANYON COURT
Canyon Court is luxury apartment living at its finest. The 71 unit community includes private balconies, garages, clubhouse, weight room, swimming pool, and hot tub.
MANHATTAN, KS
CAPSTONE CONDIMINIUMS

LAS CRUCES, NM
CASA BANDERA
Located directly across the street from New Mexico State University

MANHATTAN, KS
CHASE MANHATTAN
Chase Manhattan Apartments is a 180-unit community whose features include 1, 2, 3, and 4 bedroom apartments, a clubhouse with leasing office, fitness center, laundry room, swimming pool, outdoor basketball court, carports, and much, much more.
TOPEKA, KS
THE LOFTS AT COLLEGE HILL
College Hill apartments are redefining the standard of luxury living in Topeka. For those who appreciate location, quality, and attention to detail, this 220 unit apartment complex is the essence of luxury living. The complex is pet friendly and features amenities including; a fitness center, swimming pool, game room, and a movie theatre.

LAWRENCE, KS
HIGHPOINTE APARTMENTS
Highpointe, built in 1997, is located in the heart of Lawrence. The 168-unit community features a clubhouse with computer lab, game area, seating area, and fitness center. Residents can also relax by the pool or play a game of basketball.

HOBBS, NM
WINDSCAPE APARTMENTS
Windscape Apartments located in Hobbs, New Mexico is the finest apartment complex in Lea County. Windscape has 314 apartments with 3 different floor plans. The one bedroom is 820 square feet, the two bedroom is 980 square feet and the 3 bedroom is 1,350 square feet. Each apartment offers a laundry room with a washer and dryer, has upgraded appliances, available security systems, private patios and high speed internet connections. Windscape offers the finest amenities to their tenants, which includes a fitness center, theater room, recreational area, breakfast bar, business center and a pool.
MANHATTAN, KS
FOUNDERS HILL
Founders' Hill is apartment living at its finest. This 178-unit, pet-friendly community includes a washer/dryer in every unit, modern appliances, alarm systems, clubhouse with game room and theater, pool with hot tub and sun deck, fitness center, free DVD rental, free continental breakfast and more.

LAWRENCE, KS
935 MICHIGAN APARTMENTS
3 floor, 21 unit apartment complex. New construction.

LAWRENCE, KS
PRINCETON PLACE ADDITION
New construction. Wood frame, added single story clubhouse for an existing residential complex and two new duplexes
LAWRENCE, KS - 14TH & OHIO ST.
OREAD VILLAS
Perform foundation repair and remodel 3 units in a 6-plex.

LAWRENCE, KS
CONDOMINIUM FINISH
Take condominium from whitebox finish to occupiable space per plans and owner direction.

LAWRENCE, KS
HISTORICAL HOME REMODEL
Perform historical remodel, foundation repair, and addition on a single family home.
LAWRENCE, KS
CHASE COURT APARTMENTS

COLUMBIA, MO
GRINDSTONE CANYON APARTMENTS

LAWRENCE, KS
OVERLAND POINTE TOWNHOMES
LAWRENCE, KS
PARKWAY COMMONS APARTMENTS

LAWRENCE, KS
PETERSON ACRES – DUPLEXES

LAWRENCE, KS
PHI DELTA THETA RENOVATION
LAWRENCE, KS
SADDLEBROOK TOWNHOMES

LAWRENCE, KS
MISSISSIPPI STREET DUPLEX

LAWRENCE, KS
MISSOURI STREET SINGLE FAMILY HOME
LAWRENCE, KS
OHIO STREET DUPLEXES
Commercial Projects Current/Future Projects
Sours: http://firstconstructionllc.com/residentialProjects.html
3115
3116
3117
3118
3119