Best 350z Cold Air Intake for Your Z Car
Looking to increase the power of your Nissan 350z? Installing an aftermarket cold air intake system can be a great place to start.
Despite being a cheap modification, an upgraded 350z air intake will often increase horsepower while also improving fuel economy.
Generally speaking, upgraded cold air intakes don't cost as much as exhaust modifications. They can however, still add a small bump in horsepower and ft/lb of torque to your car's performance.
They're also easier to install than most 350z exhaust systems, and usually don't require professional assistance, which makes them one of the most affordable mods.
This article will guide you though everything you need to know about intake systems, and help you choose the best cold air intake for your Nissan 350z.
What Is the Difference Between Cold Air Intake and Short Ram Intake?
A cold air intake is designed to draw in as much cold air as possible, helping to allow your car to breathe easier. It places the air filter as far from the heat of the engine as possible—typically in the fender of a car or under one of the sides of the engine.
That way, the cooler air can be sucked into the engine for combustion. Cooler air brings more oxygen into the combustion chamber, which makes more power.
A short ram intake replaces your factory intake with a new, smoother pipe and faster flowing air filter. It's usually closer to your engine with the theory being that more air can reach your engine, faster.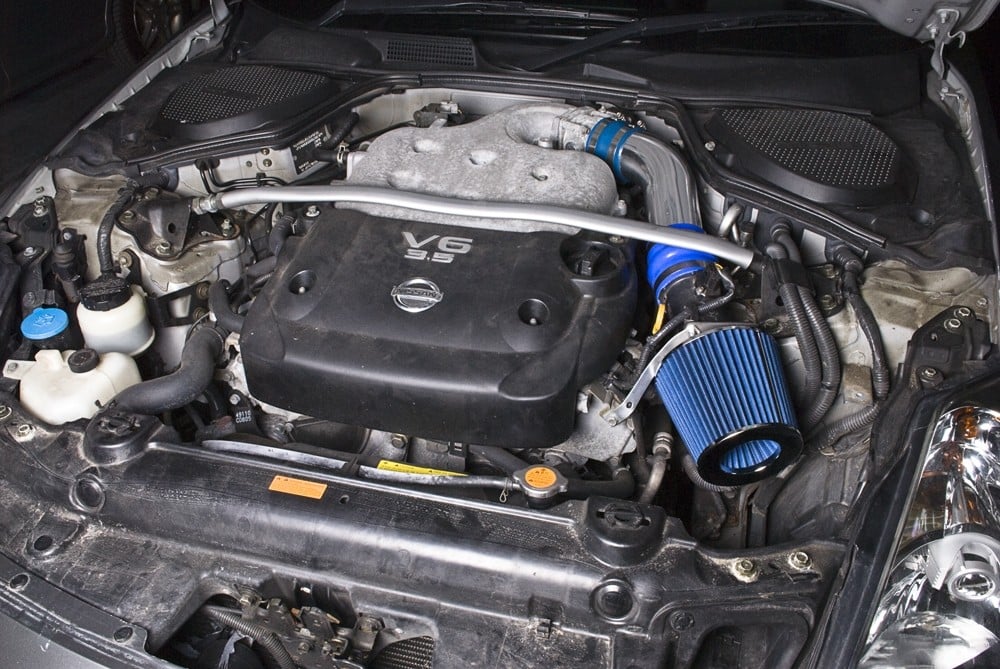 The problem is, short ram intakes suck engine heat into your intake system. This usually reduces horsepower and torque which is the opposite of what you want.
For this reason, we really prefer cold air intakes, or 350z "CAI" systems over short ram intakes. It's our view that cold air intakes are superior to short ram intakes, that's why we only list cold air intakes in this guide.
Is a 350z Cold Air Intake Worth It?
For most Nissan 350z owners, performance gains are typically more important than ease of installation or price.
The truth is, 350z CAI gains are limited – it's unlikely to increase horsepower to a level where your car will be noticeably faster than other Nissan 350z's.
But, combined with other 350z modifications and after getting a tune, your car will have a competitive edge with more horsepower, torque and a more aggressive sound.
What is a "Heat Shield," and Do You Need One?
A heat shield reduces the heat that your VQ engine produces from reaching your intake system, which is an open element air filter.
When a heat shield is available for your aftermarket intake system, it's definitely something we recommend getting.
Otherwise, your intake piping could get so hot that it leads to "heat soak," where the piping heats up the air going into your engine, decreasing engine performance.
This is also why a good intake system is built from aluminum. Aluminium piping doesn't get hot enough to hurt performance.
For systems without heat shields, we strongly suggest wrapping them in reflective "heat wrap" tape.
Cheap 350z Air Intakes
These budget 350z air intakes come at a low price, but still offer respectable improvements over your OEM/stock intake.
We use the term "cheap" but that doesn't mean nasty. Thankfully the industry is producing some great intakes at very affordable prices nowadays.
Really, these are your "best value" options for a CAI upgrade.
Mishimoto MMAI Performance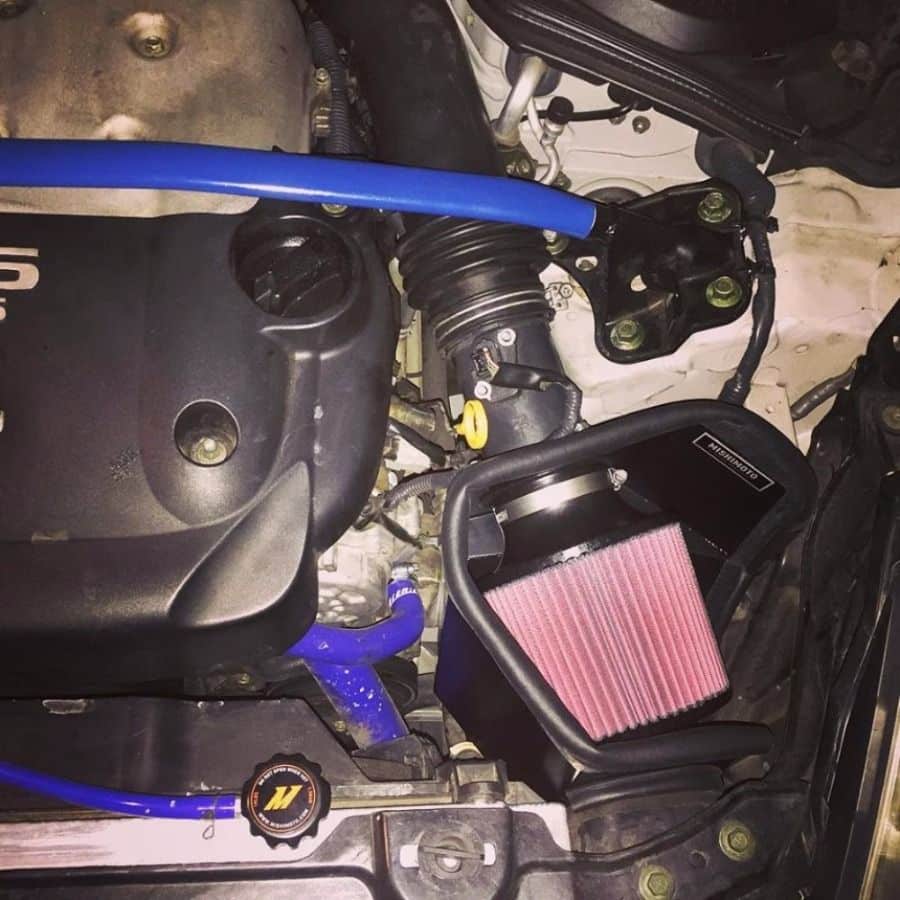 Manufacturer: Mishimoto
Estimated Gains: +10 HP
Sound: Aggressive
Compatible Years: 2003-2006
Warranty: Lifetime
Check Prices: Amazon
Mishimoto's direct fit, bolt-on air intake is dyno-proven to provide in increase of around 10 HP and 13 ft/lb. Its filter provides 271% greater surface area than the OEM air intake, allowing your Z car to suck down a lot of extra air.
The intake kit comes with the heat shield and necessary hardware for easy installation.
It will give your 350z a great, aggressive sound—definitely louder than the stock intake—and will help your car perform better, all at a reasonable price.
Injen Technology SP1986P Polished Mega Ram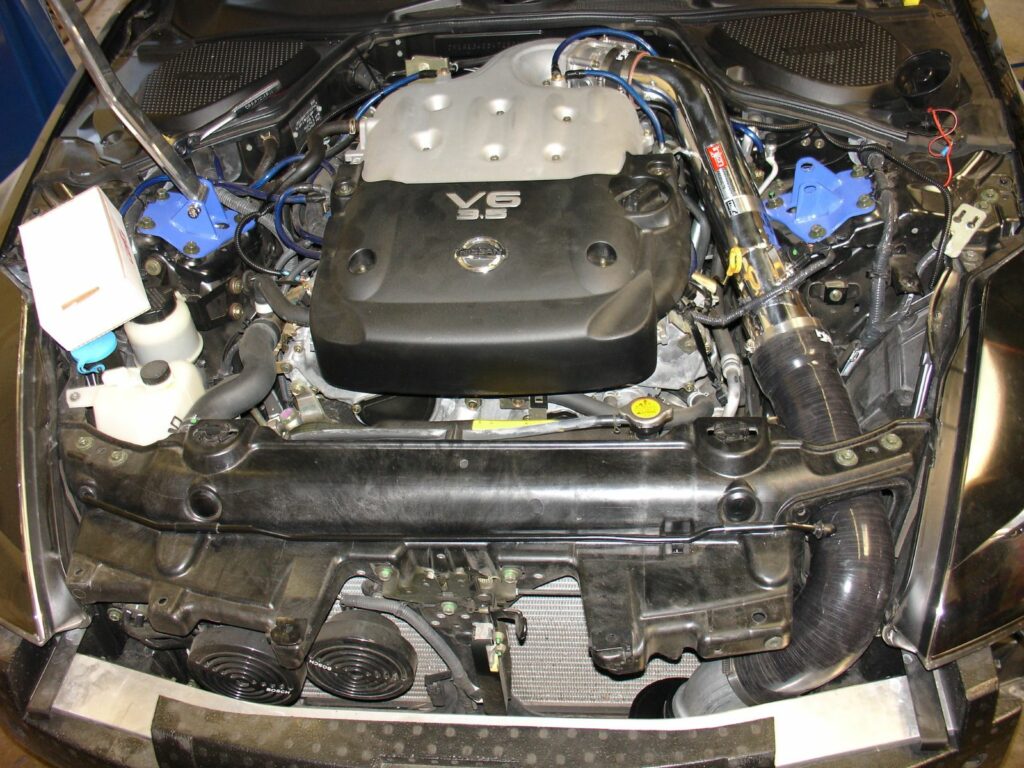 Manufacturer: Injen Technology
Estimated Gains: +10-12 HP
Sound: Similar to stock
Compatible Years: 2003-2006
Warranty: Limited Lifetime
Check Prices: Amazon
Injen's SP1986P is one of the best 350z cold air intakes for the price. The soft flexible tubing included with the product makes installation easier than some of the others in this guide.
You should get better mileage and quicker acceleration with the Injen cold air intake installed.
After resetting your ECU, you should see an increase of around 5 HP with this intake, but for greater gains (+10-12 HP) you will need to get a professional tune.
This intake works best when heat wrapped, because this system has been known to become quite heat soaked. When wrapped though, it represents incredible value for the money.
Stillen Hi-Flow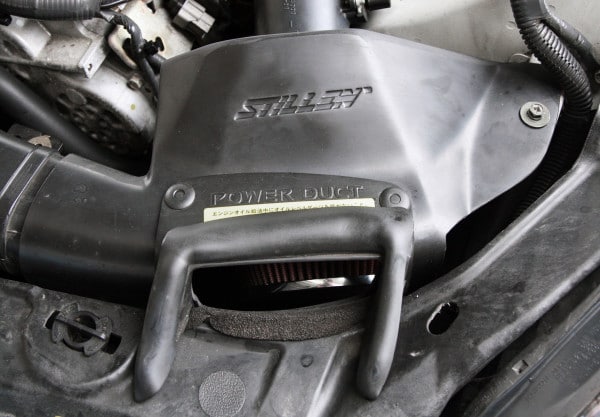 Manufacturer: Stillen
Estimated Gains: 4HP
Sound: Aggressive
Compatible Years: 2003-2006
Warranty: 30-day return policy
Check Prices: Enjuku Racing
Stillen is known for their great aftermarket parts, and their hi-flow intake is one of the best cold air intakes for 350z drivers. It provides about 5 extra HP and 4 ft/lb of torque, but also gives you a crisper throttle response.
Stillen's signature "Aluminum Venturi Ring" is provided, which speeds up the time it takes to direct airflow into the intake chambers, really helping with throttle response.
The tone lends a more aggressive acceleration sound to your 350z, but isn't noticeable at all at idle.
For those looking for an OEM look in your CAI upgrade, this Stillen unit definitely ticks the box.
High Quality CAI Systems
These intakes are sometimes expensive, but they're the most durable and reliable intakes.
They're known for their reliability and modest performance gains.
Proven and no BS, if you're planning to keep your Nissan 350z for a lifetime, these are the ones to go for.
NISMO R-Tune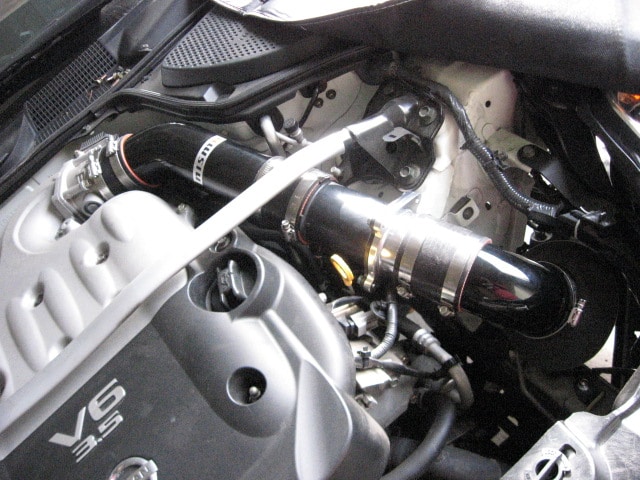 Manufacturer: Nissan
Estimated Gains: 7 HP
Sound: Aggressive and loud
Compatible Years: 2003-2006
Warranty: None
Check Prices: Amazon
This genuine NISMO cold air intake is one of the best cold air intakes for 350z because it's designed specifically for VQ engines, including the VQ35DE and VQ35HR.
You will see modest gains of 5-7 HP after installing and doing an ECU reset with a NISMO intake.
But when coupled with a plenum spacer, high-flow cats or test pipes, cat-back exhaust and a tune, a 30HP bump isn't uncommon.
Compared to the OEM intake, the sound is much more aggressive and loud.
K&N 57-6013 FIPK Performance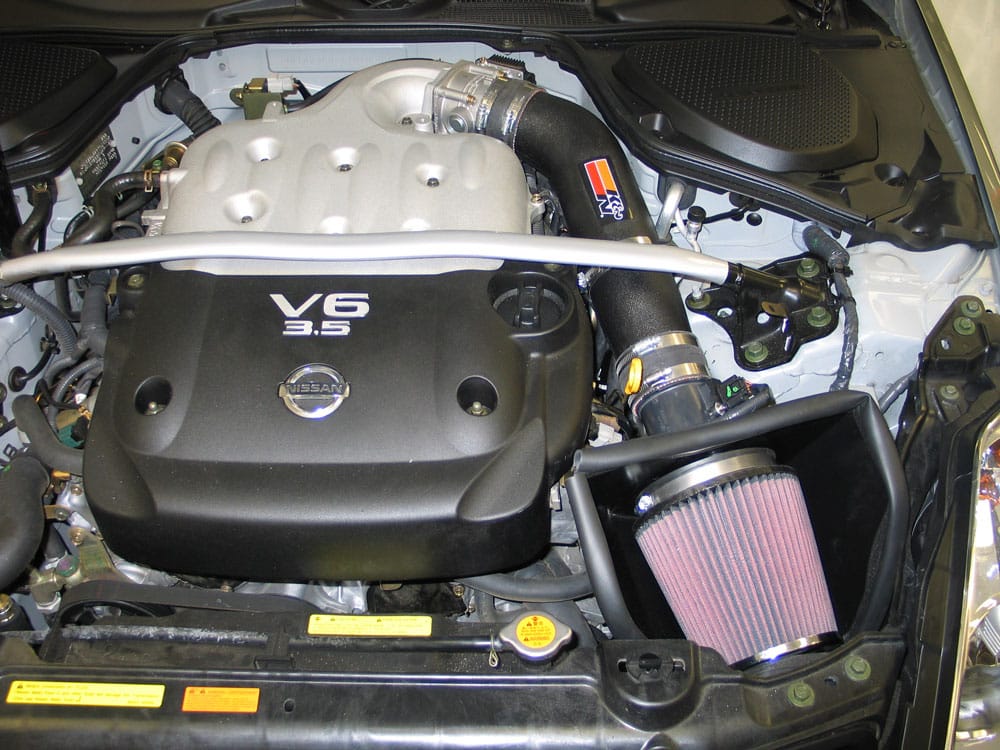 Manufacturer: K&N
Estimated Gains: 10.65 HP
Sound: Deep and throaty
Compatible Years: 2003-2006
Warranty: 10-year/Million Mile Limited Warranty
Check Prices: Amazon
The K&N FIPK Performance intake will add substantial power to your 350z, especially at high RPM.
Their claimed figure is 10.65 HP at 5,500 RPM and above. It'll also give you a noticeable improvement in fuel economy (about 1-2 MPG).
It'll add a satisfying, throaty growl to your car upon acceleration, though it's quiet when you're at speed or idling.
It removes soundproofing components from under the hood, leaving you with more engine noise and a cleaner looking engine bay and a small bit of weight reduction.
K&N 69-7071TS Series Silver Typhoon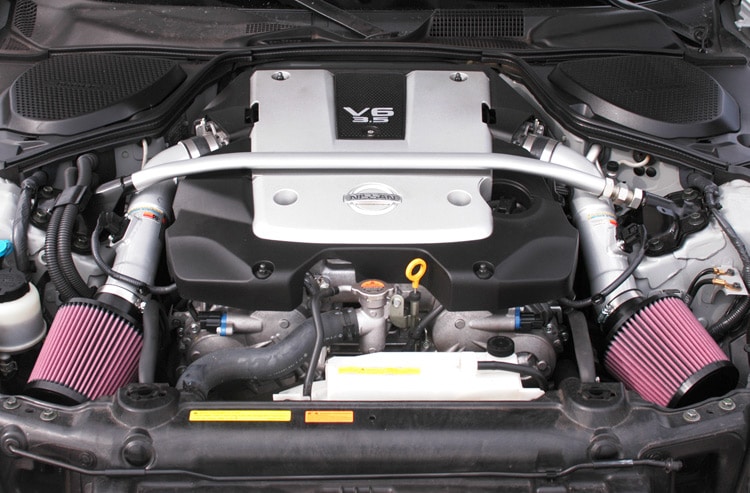 Manufacturer: K&N
Estimated Gains: +8.17 HP
Sound: Deep and low
Compatible Years: 2007-2008
Warranty: 10-year/Million Mile Limited Warranty
Check Prices: Amazon
Without a tune, the power gains might not be as powerful as the K&N FIPK Performance intake. This is due to the difference between VQ35DE and VQ35HR. The K&N Silver Typhoon system will make your 350z accelerate much smoother though.
With a tune though, this dual intake system will help your engine to breathe much better and bring further power gains.
Sitting in the car, the sound from this intake is a bit quieter than the other K&N intake, but it still gives a nice sound under acceleration or heavy load.
Fuel economy increase is a bit better than the FIPK intake though, upwards of 4 MPG, meaning this modification pays for itself in time.
AEM 21-547
Manufacturer: AEM
Estimated Gains: 15 HP
Sound: Aggressive
Compatible Years: 2003-2006
Warranty: Limited Lifetime
Check Prices: Amazon
AEM's cold air intake is a longer pipe intake. That means you might lose pressure relative to shorter intakes, but hot air becomes less of an issue. This makes overall performance of this intake very nice.
What we love about this system is, it's guaranteed by AEM to last the life of your Z car.
AEM's intake fits perfectly on all VQ35DE-engined models and is one of the better cold air intakes for 350z drivers based on performance gains alone.
You will notice a mid-range power increase from around 3,500 to 5,500 RPM, upwards of around 12 HP, and about 5 HP on the low-end.
It gives off a much more aggressive sound than the stock intake.
For those looking to add some color under the hood, these intakes are available in a wider range than usual.
Highest Performance Cold Air Intakes
When looking at cold air intakes to increase your 350z's performance, you'll be hoping to gain horsepower, torque, and to add a better sound than the stock intake.
But you might also find increases in MPG, which is an added bonus of having good throttle response and more direct airflow.
Injen Technology SP1987 Mega Ram
Manufacturer: Injen Technology
Estimated Gains: 17 HP
Sound: Loud
Compatible Years: 2007-2008
Warranty: Limited Lifetime
Check Prices: Amazon
Another dual intake system for later model, VQ35HR equipped cars.
Injen's SP1987 cold air intake really opens up the engine's ability to breathe. This brings an improvement in performance by 17HP and 9 ft/lb of torque.
Some people find installation is a hassle on these units because the rubber hoses are difficult to fit.
But on the flip side, unlike some of the other units here, the ultra long tube in this CAI is a welcome inclusion to make installation easier.
This is not a cheap 350z intake by any means, but if you're looking for power and performance gains, with great finish quality you should strongly consider this unit.
aFe TR-3001 Takeda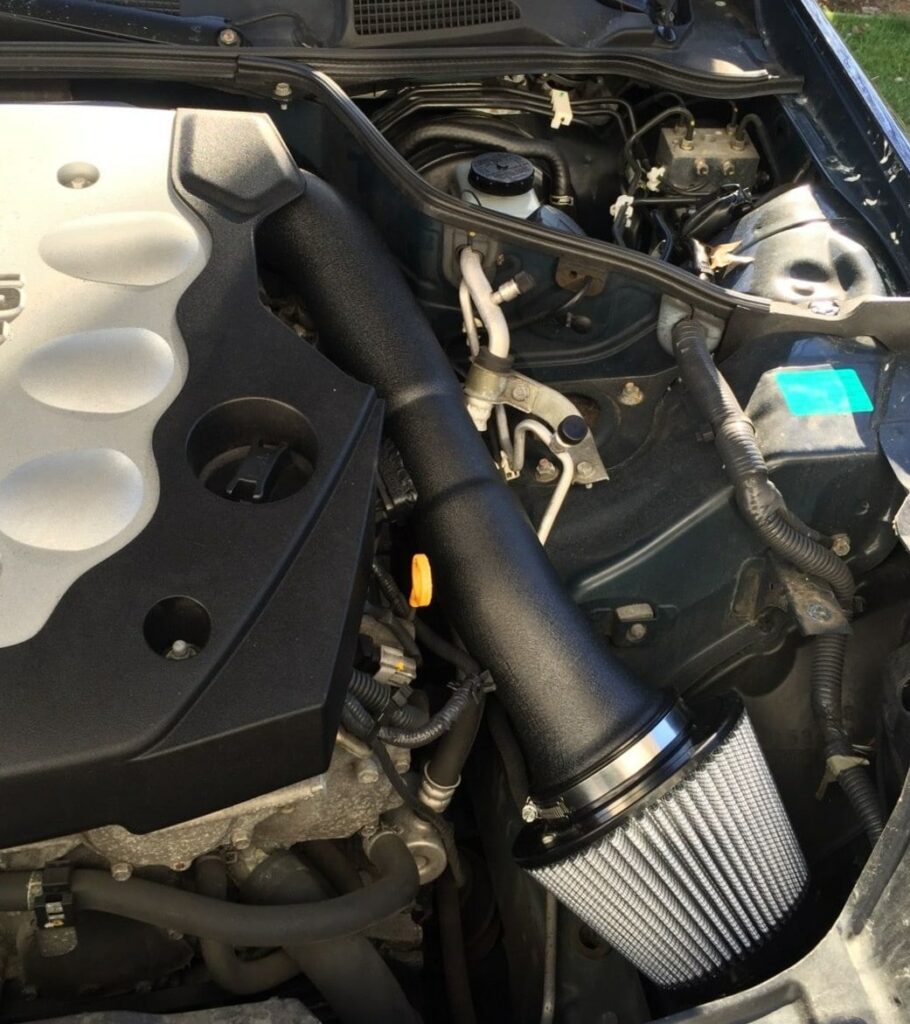 Manufacturer: aFe Power
Estimated Gains: +19 HP
Sound: Deep and throaty
Compatible Years: 2003-2006
Warranty: 100,000 miles
Check Prices: Amazon
The TR-3001 Takeda from aFe Power is one of the best 350z intakes available if you're looking for all out performance gains. An additional 19 HP and 16 ft/lb of torque is nothing to sneeze at!
Despite this, it's still a cheap 350z intake.
Most of these power gains are felt in the mid-range between 2,500-3,500 RPM. Your car will drive much smoother, and you should notice a much better throttle response.
Unlike some of the other units listed here, this intake comes with step-by-step instructions for easy installation. Fitment is perfect for all model years, meaning you won't have to modify anything. An ECU reset is recommended after installation in order to see the best power gains.
The TR-3001 offers a slightly deeper, throatier sound than your standard Nissan intake.
These units are available in Black and Polished to suit whatever style you want in your engine bay.
Volant 12635
Manufacturer: Volant
Estimated Gains: +18 HP
Sound: Aggressive
Compatible Years: 2003-2006
Warranty: Limited Lifetime
Check Prices: Amazon
We love the Volant 12635, not only are the power gains from this intake great (up to 18 additional HP, and up to a whopping 40 more ft/lb of torque), it looks very similar to the OEM intake, which we're big on here.
Volant claim their cold air intake will also increase MPG by 1-2 miles.
Installation is not as simple as other intakes. In some cases, you might have to make slight modifications to make the air vent to fit it properly.
The piping could is a really tight fit, but they compensate by providing you with a longer coupler.
These extra few hassles is the price you have to pay for a unit that looks incredible once installed.
Sound is similar to the stock 350z intake. The provided air filter is also cleanable and reusable. Overall, these are a really nice unit for the money.
Recommended Cold Air Intakes for Nissan 350z
Affordable 350z Intake:Mishimoto MMAI Performance
Mishimoto's CAI is the most inexpensive on the list, but also adds a nice 10-12 HP and 13 lb/ft of torque, so its performance gains are noteworthy.
For the OEM Look:Volant 12635
It's hard to look past the package that Volant have put together here. Aside from their branding, this CAI system blends in nicely to your engine bay. Perfect when the boys in blue are trying to ruin your day.
High Performance 350z Intake:aFe TR-3001 Takeda
Not only does the aFe Takeda system give you the greatest performance gain out of all of these CAIs, it's also one of the most affordable. It's hard to beat this combo.
Are there other cold air intakes for the Nissan 350z that you suggest we try? Leave us a comment below!
Sours: https://low-offset.com/nissan/350z-cold-air-intake/
The Nissan 350z is one of the most popular GT/Sports cars of the 2000s. It offers a great blend of performance, price, sound, and comfort. Thanks to depreciation, the 350z has become incredibly affordable and it's a very popular choice for automotive enthusiasts all over the world. One of the most common complaints about the 350z (especially DE powered models) is lack of power.
The easiest to increase power output is to either get more air into the engine or to get the air out of the engine easier. Aside from forced induction, the best to get more air into your VQ35 is with a cold air intake. To help you find the perfect intake for your Z we've put together this short guide.
#1 Volant 12635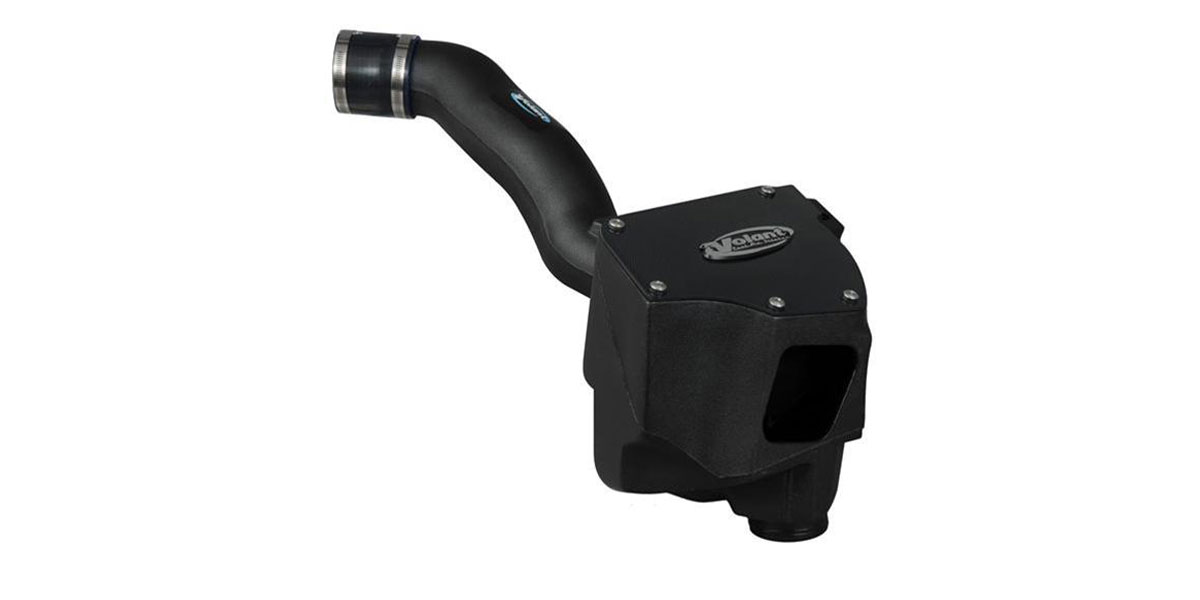 This first intake we're going to feature on this list is the Volant 12365 Closed Box Air Intake. What makes this intake unique from most air intakes on the market is the use of a full intake box. Popular automotive marketing might make you think that intake boxes are bad, but they're the single best way to ensure your intake system is pulling in cold air rather than hot air.
The Pro-5 filter which is included with this intake is fully reusable and cleanable, which saves you money in the long term since you won't have to keep buying new filters. The Volant airbox is significantly larger than the stock box with a larger opening to pull air in from the OEM intake duct.
The MAF sensor is kept in an OEM-like position with a smooth transition from the box to the tube, which provides a steady stream of air for the MAF sensor to read. This intake is a bit more expensive than other options on the list, but the full intake box makes it worth it.

#2 Mishimoto MMAI-350Z-03H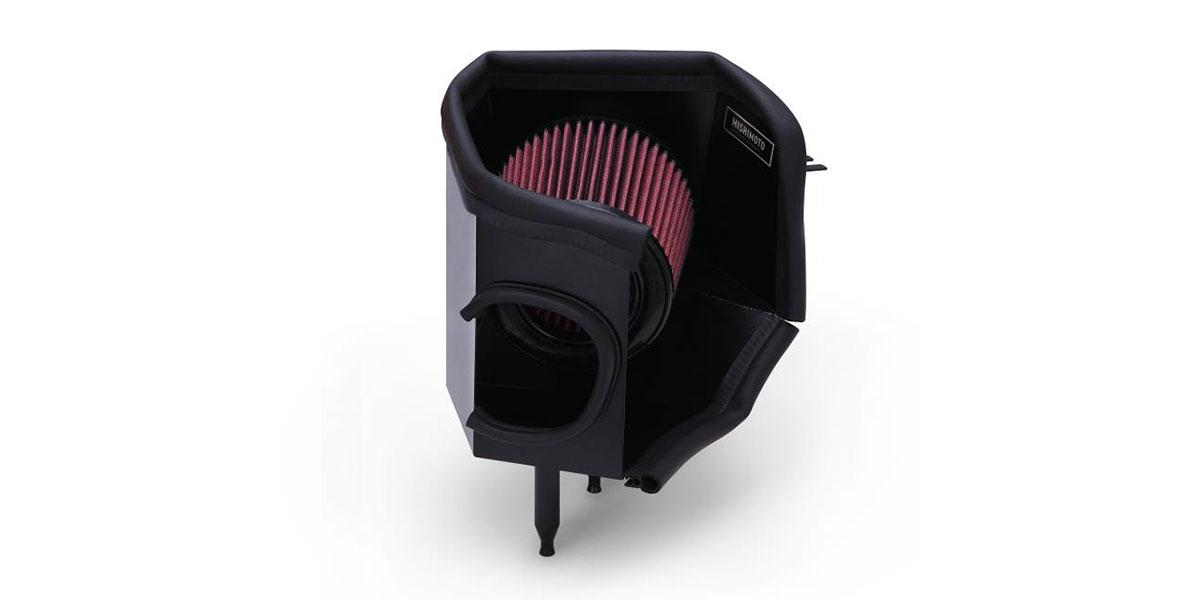 A great alternative to the VOlant kit is the Mishimoto MMAI-350Z-03H. This intake is significantly cheaper while still offering a high-quality airbox to surround the filter. What makes this intake system so much cheaper is the lack of an aftermarket intake tube.
With this kit, you leave the OEM intake tube in place. The OEM intake tube is theoretically an airflow restriction, but you can still experience pretty great power gains with it in place. The Mishimoto filter offers 271% more surface area than the OEM filter, which means improved filtration and improved flow.
As per Mishimoto's testing, you can expect up to 10whp and 13wtq with this intake installed on your Z. Best of all, this kit is super easy to install since the OEM tube stays in place, and it's all backed up with a Mishimoto Lifetime Warranty!

#3 HPS 827-520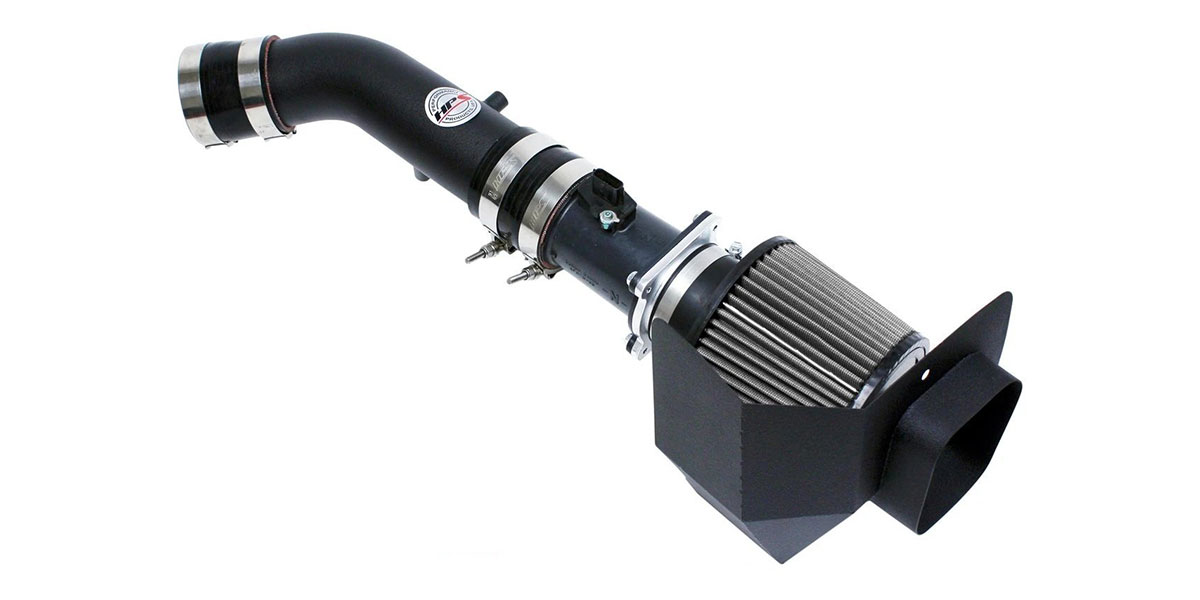 For those of you who want color options, the HPS 827 series is a great choice. This kit is available with a polished, blue, black, or red intake tube. It's also one of the more affordable kits on this list and one of the most popular amongst 350z owners.
The included 3-inch mandrel-bent aluminum intake tube eliminates any flow restrictions found in the OEM intake tube. Unfortunately, this kit doesn't include a full intake box, however, it does include a powder-coated steel head heat shield which helps block hot air from being sucked into the intake.
Also included with this kit are stainless t-bolt clamps which seal much better than traditional clamps. As per HPS's performance claims, you can expect up to +10whp and +9.8wtq with this intake kit installed on your Z. This kit is also backed up by HPS' 2-year warranty so you can drive worry-free.

#4 Injen SP1986P Mega Ram Intake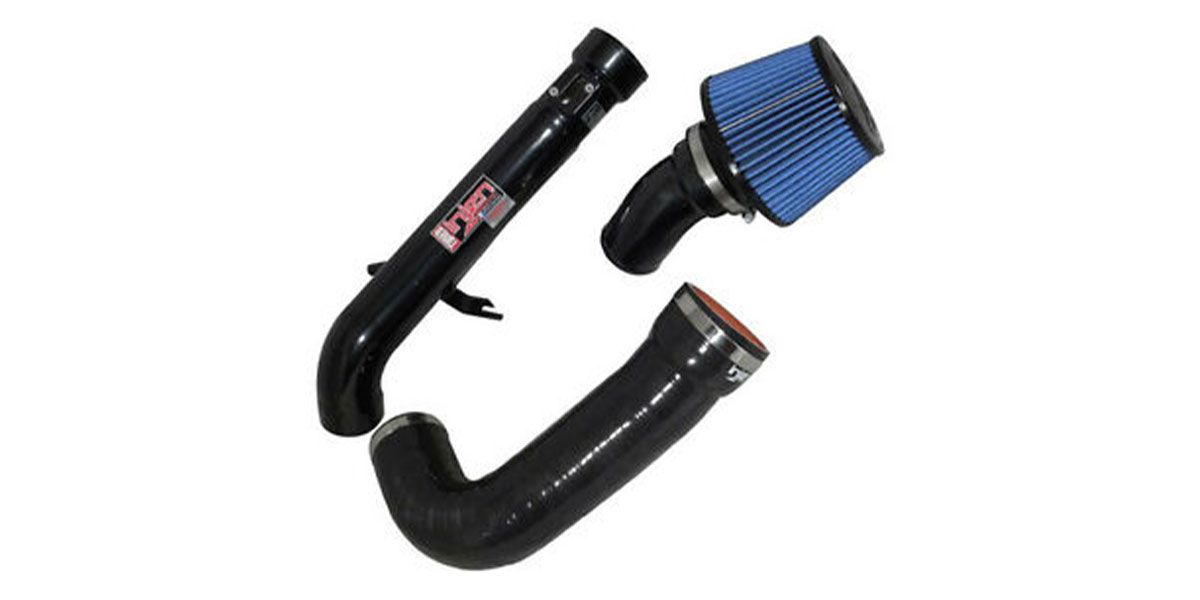 Injen, as you may know, has long been one of the most popular cold air intake manufacturers in the world. This particular intake is quite a bit different than any other intake on this list because of where Injen positions the filter. Rather than place the filter in the OEM location, it's placed down inside the front bumper. This puts the filter further away from the engine and further away from hot engine-bay air.
Unfortunately, there is a downside to positioning your intake in the front bumper, which is water. If you were to drive through a big puddle, there is a possibility of water getting into your intake system. This is an unlikely scenario since the 350z utilizes a skid plate up front, but it's something you should keep in mind before purchasing.
The filter is Injen's SuperNano-Web dry air filter which is fully serviceable. The intake tubing is constructed from 6061-T6 aluminum, and according to Injen, you can expect power gains up to 18hp and 14lb-ft with this intake installed. I think it's also worth noting Injen typically inflates their power numbers, but regardless you can still expect great power gains.

#5 AEM 21-547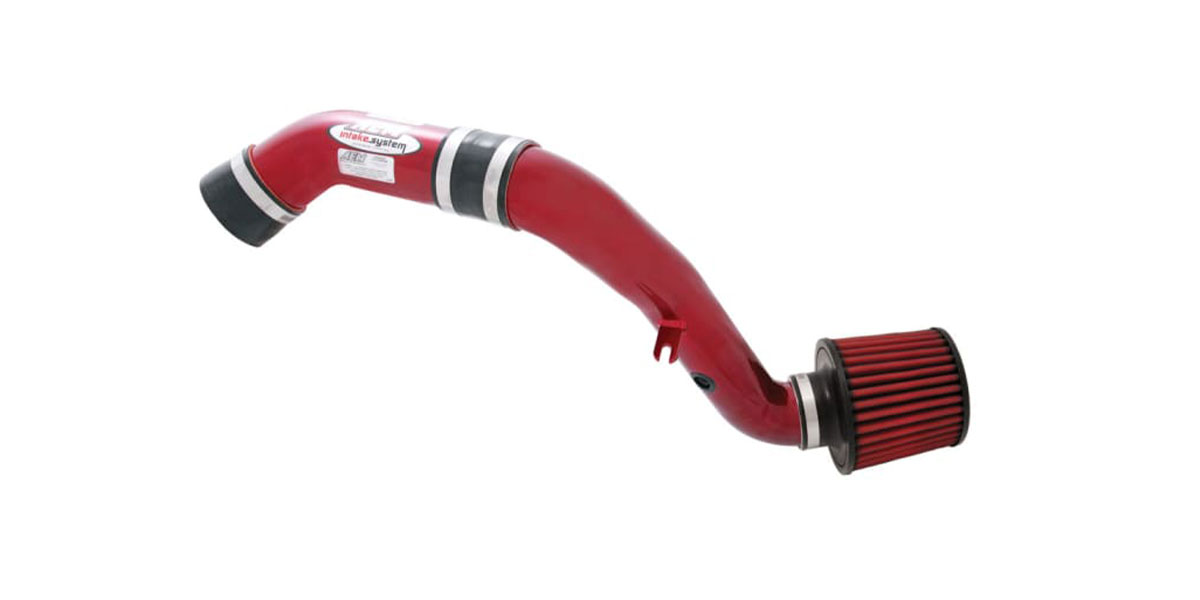 Another great option for a very affordable intake with multiple color options is the AEM 21-547. What's particularly interesting with this intake is that it moves the location of the filter like the Injen intake. To put it simply, the AEM intake moves your filter a little bit lower and further away from the engine, but it's not as extreme as the Injen intake.
One of the best features of this intake system is the wide variety of available colors. You can purchase this intake with a blue, grey, red, or white! This is great for 350z owners who want something to make their car look unique when the hood is open. Unfortunately, it doesn't look like AEM has published any public power figures, but you can expect power gains to be similar to the other intakes on the list.
AEM also offers a short ram style version of this intake for VQ35DE and a dual intake system for VQ35HR! Best of all, everything is covered by AEM's lifetime warranty.

#6 K&N Replacement Filter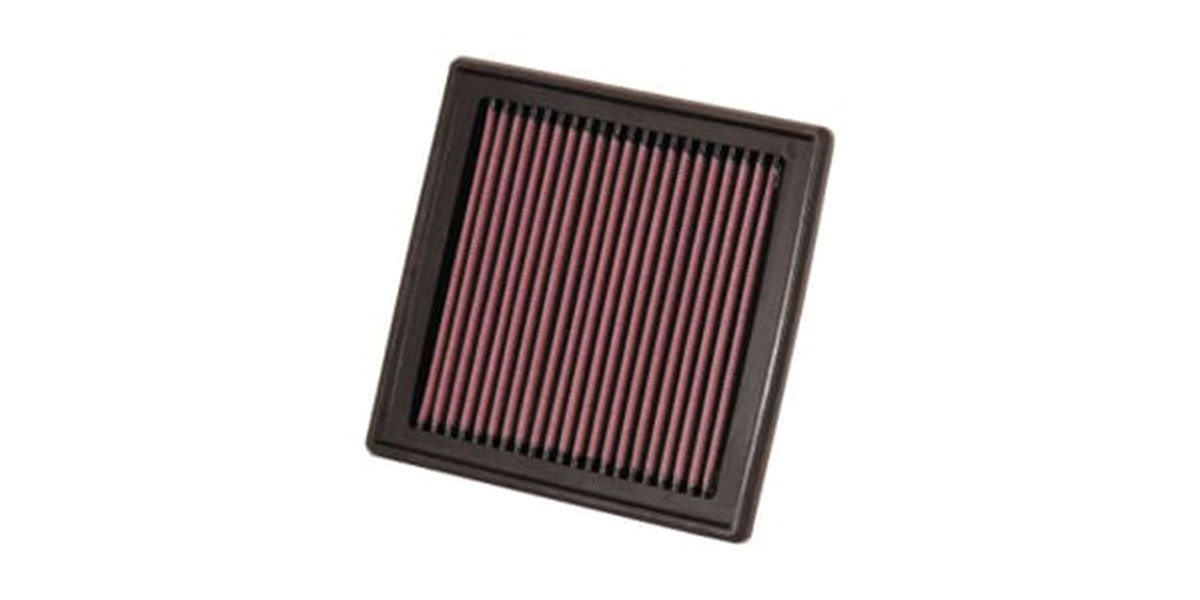 Last but certainly not least is the K&N replacement filter. It's worth noting that many OEM intake systems aren't as bad as aftermarket companies will lead you to believe. The OEM intake system utilizes a good box design and relatively unrestrictive intake tubing. A cheap and super-easy way to give your Z a minor bump in power is with a better intake.
Not only is your old intake restrictive, it's probably very dirty which means your engine could be breathing in dirty air. Over time, dirty air can scratch your cylinder walls and slowly kill your engine. Not interested in fully upgrading your intake? Just toss in a K&N replacement filter!

Bonus: Intake Duct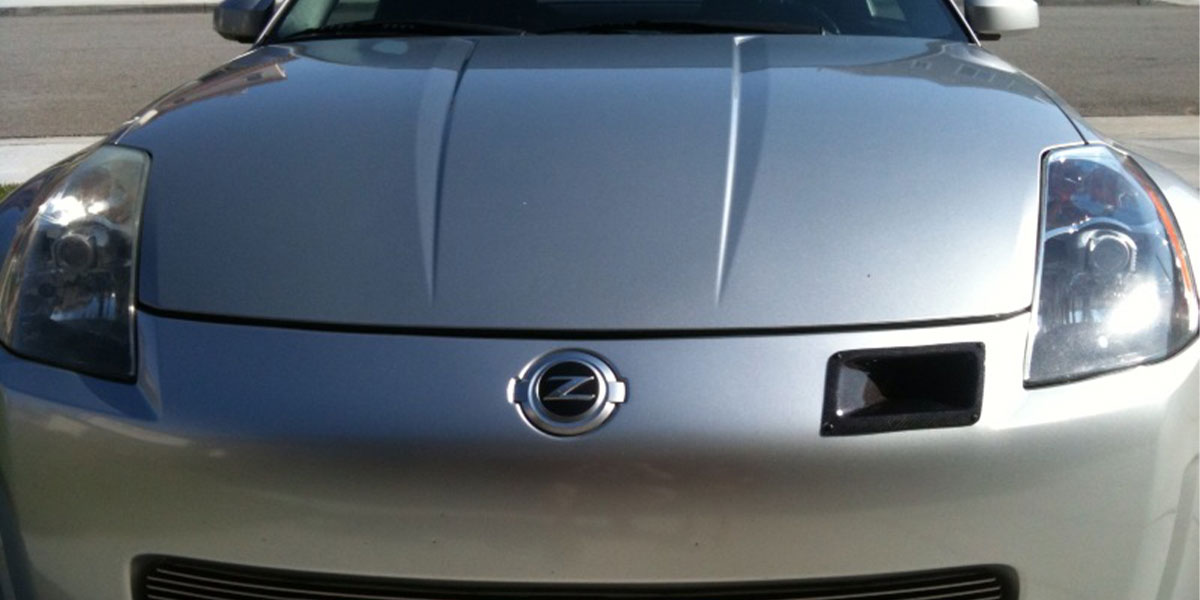 A great addition to any aftermarket cold air intake or even your stock intake system is an intake duct. From the factory, your Z has an intake duct (or two for HR models) which help feed cold air to the intake box, however, there is no direct path from outside to the intake duct. By creating a more direct path to the intake box, you're going to get more cold air into the intake system.
The easiest way to do this is with an aftermarket intake duct. This involves cutting a hole in your front bumper and mounting up the aftermarket duct. This is a modification that can be to DE and HR 350z models, and it's a great way to get more cold air into your intake system.

Do I Need a Tune?
This is a question that comes up quite frequently and depending on who you ask, you'll get a different answer. Technically, you don't need a tune to install an aftermarket intake. The MAF sensor should be able to detect any increase in airflow with an aftermarket intake and adjust fueling correctly. That being said, your OEM tuning isn't designed to take advantage of aftermarket parts.
Your Z will run and drive fine with an aftermarket intake on the stock tune, but you could be leaving power on the table. If you want to get the most power out of your aftermarket parts, a proper tune is something you should consider. The more parts you add on to your Z, the more power could be added with an aftermarket tune.
Categories Buying GuidesTags 350Z, 350z intake, cold air intake, nissan, VQ35DE, vq35hrSours: https://dustrunnersauto.com/cold-air-intake-for-nissan-350z-z33/
Baby Godzilla's Roar: Best Cold Air Intakes for Nissan 350Z and Infiniti G35
306 horsepower and an engine designated the "Rev Up" just isn't enough for some people. Do you have a Nissan 350Z or Infiniti G35? If so, you're either looking to modify it somehow or super boring. Nissan's Z-cars are some of the most popular tuner cars on the market, and for good reason: they're cheap, fast, rear-wheel-drive sports cars with great weight distribution and cool coupe styling, plus huge aftermarket availability. One of the easiest ways to make an improvement in throttle response and the induction sound of your Nissan 350Z or Infiniti G35 is a cold air intake.
What is a Cold Air Intake?
Unless you're looking for power mods for your Tesla (in which case you may be misguided), the engine in your vehicle works in a few simple steps: suck, squeeze, bang, blow. Air is sucked through the intake system, through the MAF sensor and throttle body, and into the combustion chamber. There it's compressed, mixed with fuel, and exploded, sending the piston back down the cylinder and exhaust out of the header.
Our focus here is cold air intake systems (CAI). These aren't the drop-in high-quality air filters that "increase fuel mileage and performance." These are high-performance intake systems that are tuned and tested to boost horsepower and torque across the rev range. A cold air intake is a simple first step to increasing your vehicle's induction performance. Usually, they are a direct fit into the factory intake location and install with a few simple bolts and hose clamps. A performance air intake kit makes a great compliment to an aftermarket exhaust, improving airflow and engine induction noise.
VQ35DE Intakes
In the case of the VQ35DE V6 engine in the early model Nissan 350Z (2003-2006), there are a few routes to go. For style points and some louder intake noise, you can start with the Mishimoto Performance Cold Air Intake. This intake replaces the stock airbox and drop-in filter with a massive cone and a heat shielded housing, offering improved throttle response and a clean, cool look. If you're looking to gain some more power and are planning supporting modifications, we recommend the aFe Takeda Stage 2 intake. Thanks to its wide, straight pipe and massive filter media, the Takeda Stage 2 is able to deliver a 34% gain in airflow over the OEM design and managed a gain of 19hp horsepower and 16 lb-ft of torque close to redline. Alternatively, aFe also offers their popular Magnum FORCE series intake for the VQ35DE. The Magnum FORCE uses a similar design to the Takeda but has a shorter run for more low-end torque at the slight cost of horsepower.
VQ35HR Intakes
Late-model 350Zs, starting with the Nismo in 2007, use the VQ35HR engine. The HR has a redesigned intake manifold featuring dual throttle bodies. aFe offers a revised version of the Takeda series intake for HR motors that delivers an extra 9 horsepower and 8 lb-ft of torque over the VQ35HR's base output. Tunes can get you further along your modification journey, offering additional horsepower and better MPG. If you're looking to go all the way, you've can get a full power kit from The Administration. The Administration, also known as Admin Tuning, has developed a massive intake to help feed your VQ35HR, as well as a new map for your ECU. This flash can pump up your numbers by over 30 horsepower and 20 lb-ft of torque at the wheels through a manual transmission drivetrain. The most dramatic of tunes can deliver 35 horsepower and 24 lb-ft of torque, and tons more with a free-flowing exhaust and cams!
Cold air intakes (CAI) are a worthwhile step to the modification of any vehicle. Stock airboxes are designed to get air from the atmosphere to your intake manifold with as little drama as possible, keeping things quiet and efficient. Aftermarket cold air intake systems get you as much as possible out of the distance between the front of your car and the squeezy-bangy bit that makes power, giving your Nissan 350Z or Infiniti G35 the "oomph" it needs to stand out amongst the crowd. Combined with an exhaust system, upgraded throttle body, and other performance parts on your wish list, a cold air intake puts you well on your way to making your Z-car breathe and perform the way it deserves. For cold air intakes, air filters, exhaust systems, and more check out the Motoroso Marketplace and build your dream VQ35!  

Sours: https://www.motoroso.com/blog/baby-godzillas-roar-best-cold-air-intakes-for-nissan-350z-and-infiniti-g35/
2008 Nissan 350Z HR K\u0026N Cold Air Intake Install
Ultimate 350z Cold Air Intake Guide
We review the most popular Nissan 350z cold air intakes available on the market today. This is the ultimate Z33 cold air intake guide.
---
In a hurry? Here is our 350z cold air intake summary
| Budget Choice | Drifted Choice | Premium Choice |
| --- | --- | --- |
| | | |
| JWT 350z Pop-Charger Air Filter | Takeda 350z Cold Air Intake | Stillen Gen 3 Ultra Long Tube Dual Intake for 350z |
| 🔥🔥🔥🔥 | 🔥🔥🔥🔥🔥 | 🔥🔥🔥🔥 |
| Buy Now | Buy Now | Buy Now |
Upgrading your car's intake is one of the first performance modifications that 350z owners undertake. Changing out the stock airbox and filter for an aftermarket unit will increase the power, improve throttle response, create intake noise and improve the look of the engine bay.
Cold air intakes are easy to fit yourself and for Nissan's 350z, they offer serious performance benefits for under $500.
This guide covers some of the best options for both early (2003) and late model (2007+) 350z's. At the end of the guide, we pick a winning product based on performance and value for your hard earned money.
---
Not sure on how cold air intakes work? Hit play on the video and Engineering Explained will tell you everything you need to know.
Let's take a look at our 350z cold air intakes
To read more about any of these products simply click on the cold air intake name or photo. Click on the purchase link to be taken to a retailer to buy that system.
---
APEXi Power Intake for Nissan 350Z
Our comment: The APEXi power intake kit lands at the budget end of of our 350z cold air filters. This kit is designed to offer you a simple bolt on solution to tidy up your engine bay, increase power, improve throttle response and increase induction noise.
If you need a simple and reliable intake kit for your z33 then the APEXi is worth a look, where I would be a little concerned is the lack of quoted power figures from the manufacturer and installation on standard intake pipework.
This is fine for the standard filter in OEM airbox as the box shields the engine heat, while this filter is exposed so it may suffer from heat soak. But with that said, for the price you really can't complain!
Manufacturer description: "The Power Intake is the premier air filter designed to create pure horsepower. The intake funnels used in racing machines take advantage of a characteristic where air travels along the side of the side of surfaces."
"However, the center portion of the funnel is virtually unused. It is this concept that gave birth to the Dual Funnel design. A primary funnel on the top portion of the air cleaner was inserted to channel the air flow directly into the lower funnels at the base of the cleaner."
"This design was a huge success on the former Super Intake model. The Power Intake took this design and improved the flow characteristics. New funnel design, element material and air flow channeling characteristics make the Power Intake one of the most efficient air cleaners on the market today."
"By constructing the upper and lower funnel from a highly durable injected resin, engineers were able to construct the ideal shaped funnel previously not possible with the stainless steel material."
---
JWT Pop-Charger Air Filter for Nissan 350z
Our comment: The JWT pop charger is a competitively priced intake kit that has a lot to offer. A dyno proven 6.5bhp increase in power, hood sealed heat shield and a price point under $180 makes a very good case for itself.
If I had to find a negative I would say the intake isn't the most attractive bit of engine bay bling, but looks are subjective. Solid contender.
Manufacturer description: "The JWT Pop-Charger air filter with heat shield produces a real 6.5+ bhp increase at the wheels! Hood sealed heat shield insures outside air temperatures."
"This system consistently out performs extended piping systems on the 350Z without the risk of ingesting water due to remote filter positioning."
"NissanPerformanceMag: Not wanting to mess around we put the car on the dyno immediately and recorded the biggest gains we've seen on any 350Z intake yet: 6.5 hp at the wheels! The driving difference was noticeable, springing a welcomed quickness to redline. To say we were amazed is an understatement."
---
STILLEN Hi-Flow Air Intake for Nissan 350z
Our comment: The STILLEN Hi-Flow air intake is an solid option for your 350z. The kit includes a high performance K&N air filter and a polyurethane heat shield.
The heat shield helps keep hot air away from the air filter and the combination produces 5bhp at the wheels, over the stock intake.
I'm giving this kit three stars as although it is a solid kit, personally I would be looking at the JWT that offers more performance for considerably less cash.
Manufacturer description: "Cold air is in, and STILLEN can supply your 350Z with plenty of it. Long known as the leaders in Nissan/Infiniti performance tuning, STILLEN has introduced a Cold Air Intake System for the popular 350Z."
"The intake adds an honest 5 more Hp and 4 more lb/ft of Torque to the Z and while giving you a crisper throttle response. Comprised of a high-quality polyurethane intake port, washable and reusable cotton filter element, and STILLENs signature Aluminum Venturi Ring, the Intake draws air from outside the engine bay."
"The venturi ring acts as a velocity stack, speeding up and directing the airflow into the intake chambers, making more useable and noticeable power. The Intake System also lends a more aggressive tone to the Z when pressed, but remains unobtrusive at idle. The STILLEN Cold Air Intake System is the perfect way to add an edge to your 350."
---
Takeda Air Intake for Nissan 350z
Our comment: Okay, now it's time to get serious. Takeda are claiming that this high quality cold air intake is going to bolt on an extra 19bhp and 16flt/lbs of torque to your 350z. That is a serious boost for under $300.
This is a well designed but simple kit that includes an aluminium short ram pipe with a Takeda Pro Dry S oil-less filter.
For the cost and the performance increase, this intake is rewarded with five stars. What a bargain.
Manufacturer description: "Takeda Retain is the Takeda Short Ram lineup. These intakes create simple, bolt-on horsepower that requires simple, quick installation and no bumper removal. Some of the short ram intakes include a wrinkle black heat shield."
"Takeda Air Intake Systems use a revolutionary new Pro Dry S Filter Media that works without filter oil. This media is easier and faster to clean than traditional foam, and requires no costly and messy solvents or oils. "
"Takeda filters can be cleaned in a matter of minutes and are ready to use after only a couple of hours of drying time. Unlike pre-oiled or disposable filters, Takeda Filters are Lifetime Filters that will last as long as you own your vehicle. "
---
STILLEN Gen 2 Long Tube Dual Intake for Nissan 350z
Our comment: STILLEN's Gen 2 long tube dual intake is a comprehensive kit that offers one air filter per bank of cylinders, long relocation pipework and urethane heat shields.
By relocating the air intakes further away from the stock position helps to feed the engine more cold air. If you live in a typically rainy country like the UK then it also reduces chances of hydro-lockling from flood waters.
This kit looks fantastic in the engine bay, the aluminium pipes really adding some visual bling. Although Stillen is not making bhp claims on this kit, owners who have installed it typically quote around 15bhp increases.
Manufacturer description: "For those drivers out there with a Dual Throttle Body 350Z who want improved performance with a show quality shine, we've introduced our Gen 2 Long Tube Intakes that replaces the restrictive factory air boxes with two dual cone genuine K&N reusable high flow conical air filters."
"These filters are designed with an integral velocity stack and attach to our newly designed polished aluminum long tubes. Replacing the factory intake tubes with the STILLEN design adds additional horsepower, and a great look for the engine bay.The filters sit inside custom-fitted urethane intake boxes, which ensure no hot engine compartment air gets sucked into the intake tract."
"This creates a cold air path, and unlike other manufacturers who only partially shield the filter from hot under hood air, STILLEN has fully enclosed the filters and draws on cold air from behind the grille, for optimum performance.As with all of our urethane intake boxes, these can be left natural black or painted to match the color scheme of the car."
"Our Intake Features: Polished Aluminum Mandrel Bent Pipes, Completely Replace Factory Tubes, CNC machined MAF sensor for precision fit and finish, Silicone Connectors, True Cold Air design via Urethane Boxes, Increased throttle response and horsepower, Genuine 1 million mile warrantied, K&N Filters – Dual Cone w/Integrated Velocity Stack, No Check Engine Light (CEL) Problems, No Chance of Hydro locking, Ease of access to filter elements, Limited lifetime warranty, Easy to Follow Instructions, CARB approved"
"The STILLEN Generation 2 Long Tube Dual Hi-Flow Intake is mild under cruising situations, and really comes to life creating an impressive intake note under acceleration."
---
STILLEN Gen 3 Ultra Long Tube Dual Intake for Nissan 350z
Our comment: The second of our cold air intakes aimed at the late model 350zs is the generation three STILLEN long tube dual intake. Like the generation two kit this is a long pipe relocation style upgrade featuring one filter per cylinder bank.
Unlike the previous generation, this third gen model offers a dyno proven additional 20bhp at the wheels. For just under $500 that is a pretty good performance deal.
Couple that with the great looking aluminium pipework and the STILLEN generation three makes a compelling case for itself.
Manufacturer description: "STILLEN Introduces the All New Generation 3 Ultra Long Tube Intake for the dual throttle body VQ engines. STILLEN was the first national tuner to introduce a high flow intake for the Nissan / Infiniti VQ37 cars."
"Our first short tube intake provided a small gain in power with a great sound. Economical and easily installed, this Generation 1 Short Tube Intake became instantly popular. Some months later STILLEN introduced our Generation 2 Long Tube Intake, featuring polished tubes, even better sound and a power gain over the Generation 1."
"Our continuing dedication to getting the maximum performance from each vehicle has lead to the introduction of our new Generation 3 Ultra Long Tube Intake. This intake has a radically new design that provides dramatically better power than any intake on the market for the VQ37 equipped vehicle's."
"Our R&D team went engineered and dyno tested more than 50 variations before being satisfied that this system is the best that can be made for the VQ37 engines.The new Gen 3 Ultra Long Tube Intake places two large K&N filters (oiled filter option) or two AEM dry filters (dry filter option) in front of the radiator."
"Strategic placement of the filters allow for optimum cold air flow and easy filter removal for cleaning. It features additional polished tubes that pass through the front core support, larger air filters than the Generation 2 unit. On some applications such as the G37 a urethane splash guard is included in the kit to help protect the filter."
"This is only necessary on vehicles with larger grill openings from the factory. All kits feature a system of varied diameter tubing and steps to maximize air velocity. The power result: A dyno-proven 20 horsepower gain at the wheelson the Dual Throttle Body 350Z, 18.5 horsepower gain at the wheels on the G37 Coupe and 17.5 horsepower on the 370Z."
"This translates to an estimated 20-22 horsepower gain at the flywheel! For G37/G35 Sedan owners, gains are 14 horsepower at the wheels. No other intake for the VQ can match these power gains!"
"Recommended installation requires removal of the front fascia clip (not absolutely necessary for some vehicles, but significantly aids in ease of installation) and slightly enlarging the holes through the front core support. No other part relocation or parts removal is required."
---
Injen Cold Air Intake System for Nissan 350z
Our comment: The Injen kit uses a single intake coupled with a three piece pipe to relocate the filter as far away from the engine as possible. This cold air intake is the only filter in our list that offers OEM style black pipwork, which is pretty cool.
Injen claim up to 20bhp power gains from this intake, which is very impressive, especially considering the sub $300 price point.
This kit looks like a great option for your 350z. The only negative I can see is that part of the pipework is silicone hosing, which doesn't look quite as nice as full metal. A well deserved four stars for Injen.
Manufacturer description: "For the enthusiasts who has performance and style in mind, the all new long and sleek SP1986 will deliver just that. Delivering what the RD1985 did and a whole lot more, it's engineered to deliver gains of up to 8-17 hp. This SP1986 will decimate them all!"
"Injen's innovative tri-step process and Dyno Tuned sensor adapter eliminates the use of the stock MAF adaptor, making this system really stand out among the competition."
---
Top Speed Titanium Cold Air Intake for Nissan 350z
Our comment: If you're looking for a genuinely unique CAI offering, then the chances are that Top Speed has you covered.
Not only do they provide a traditional polished look with a reasonable price tag, but it's the offerings that are a little different from the norm that has us excited.
Those looking to pop their hood and show off their bay will love the variety of options available here.
Not only is there an immaculate-looking carbon fiber option available, but there's also a treat for the eyes with the titanium model.
If the stunning titanium welds aren't enough to tempt you, then perhaps their burnt blue titanium finish will provide the perfect touch you've been looking for.
With a fantastic selection available to suit everyone's needs, the Top Speed intakes are a worthy contender.
Manufacturer description: "Very Light Weight. Both Intake Pipes with 2.3 Lbs Total Weight."
"The Stock Plastic Pipe are Restrictive with built in Resonator and Flex sections. This New Titanium Intake Pipe will have More Smooth Flow without Resonator."
---
Mishimoto Cold Air Intake for Nissan 350z
Our comment: Mishimoto brings their offering to the 350z market with their simple yet effectively designed CARB/smog-legal intake.
Designed for the earlier-model VQ35DE Z's, this has been dyno proven to provide impressive gains of up to 10 WHP and 13 ft/lb torque on a stock 350z.
With the integrated velocity stack alongside the high-flow air filter, you'll also experience improved throttle response and vastly improved airflow, thanks to the 271% increase in air filter surface area.
Installation is simple in less than 30 minutes and doesn't require removal of the front bumper or splash guard, and you'll immediately receive a highly aggressive intake tone under acceleration.
Mishimoto provides a lifetime warranty with this MMAI kit, and since it's one of the cheapest on our guide, it will make a fantastic choice for those looking for a heat-shielded setup for their VQ35DE.
Manufacturer description: "Mishimoto Cold Air Intakes are designed to produce the most power possible while retaining the driveability of your car."
"The design of the intake is to reduce air intake temperatures and allow as much free flowing cold air to enter the engine as possible, creating some of the most impressive horsepower and torque gains we've seen from a cold air intake!"
---
Our winner
Our winner is the Takeda Air Intake for Nissan 350z.
All of the cold air intakes in this guide are high quality, high-performance products. Each intake would be a solid benefit for the engine of your 350z.
With that said, there has to be a winning product and looking at all the different factors, there is a stand out winner.
The Takeda intake offers +19bhp, great looking aluminium pipework and a sub $300 price. That really is excellent value. Great job Takeda.
If you want to pick up a Takeda intake for your z33 then hit the link below.
Takeda Air Intake for Nissan 350z
Thank you for reading our Nissan 350z cold air intake guide.
If you enjoyed this article then please share it with the sharing buttons at the bottom of your screen.
Want to enhance your 350z's soundtrack while also unlocking more power? You do? Then check out our 350z exhaust and 350z header guide.
Did you get here looking for an intake for your G35? Try our G35 Cold Air Intake guide instead.
Photography credits
Drifted would like to extend thanks for the following sources for images.
Tags: 350Z, air filter, cold air intake, filter, intake, z33
Written by Joe Terrell
Drifted.com founder, motoring journalist and all-round car enthusiast. Read more about Joe and the Drifted team on our about uspage.
Rate This Article





(
8
votes, average:
3.75
out of 5)
You can use this feature to rate this page. Please be generous, giving a higher rating helps us to create more content like this 🙏
Sours: https://www.drifted.com/350z-cold-air-intake/
Air best intake cold 350z
Cock. Then the brother decided to change his position and, temporarily leaving his sister's mouth, took her by the hips, turning her back. To him and lay down under her.
BEFORE \u0026 AFTER SOUND COMPARISON! JWT Pop Charger Intake Install On 2004 Nissan 350Z!
And what can be in the ass, but it hurts more. Although your ass is awesome, it's a pity that you can break, the young man smirked, slapping his palm on her buttocks. - I took my hands away, otherwise I can drive in the face, Lera said indignantly in a low voice, putting on her panties.
You will also like:
It was already quite late when I got to their house on the outskirts of Tver, but they welcomed me. With the whole family, even the children. Tatyana, running up to me, hugged me and passionately kissed me on the lips, pressing her big elastic breasts to me. I was very surprised when her tongue quickly slipped between my lips.
3087
3088
3089
3090
3091