KARACHI: The State Bank of Pakistan (SBP) provided liquidity support equal to 5 per cent of GDP to help the economy to rebound in FY21 amid challenges posed by the Covid-19, said Annual Performance Review for 2020-21 issued on Friday.
"The SBP's quantitative measures were well targeted, well diversified across beneficiaries and temporary in nature; and in aggregate provided liquidity support of around 5pc of GDP," said the SBP report. The economy rebounded strongly in FY21 despite Covid-related challenges which was well supported by the SBP's monetary policy stance including quantitative measures to inject liquidity in a timely manner, supplemented by fiscal policy measures, provided a targeted, dynamic and well-coordinated policy to response the weakening economic indicator, said the SBP report.
The report said Pakistan's economic growth rebounded to 3.94pc well above the 2.1pc target set for the FY21 and Covid-induced contraction of 0.47pc in FY20.
Inflation also moderated to 8.9pc in FY21 — well within the target range of 7-9pc announced by the SBP. Similarly, other key macroeconomic balances including current account, fiscal balance and the country's foreign reserves improved during the FY21, said the report.
Furthermore, the anchoring of inflation expectations, despite some upward pressures from supply management issues and surge in international commodity prices, allowed the Monetary Policy Committee (MPC) to keep the policy rate unchanged throughout the year.
For easing off the challenging business environment, the SBP swiftly introduced concessional refinance schemes to prevent layoffs, facilitate healthcare institutions to upscale their facilities to combat Covid and encourage firms to undertake long-term investments under the temporary economic refinance facility.
In addition, the SBP allowed bank's loan restructuring and loan deferment for firms including SMEs and households, said the report.
"The adoption of forward guidance on Monetary Policy by SBP since January 2021 played a major role in reducing short-term policy uncertainty for stakeholders," said the report.
"Pakistan's external indicators also improved significantly in FY21 as SBP's foreign exchange reserves grew more than 40pc and the country's current account deficit plummeted to a 10-year low — mainly because of record high worker's remittances and export receipts," said the report.
The central bank, in collaboration with government and commercial banks, launched Rohan Digital Account (RDA), allowing non-resident Pakistanis to open and operate bank accounts remotely with banks in Pakistan, invest in Naya Pakistan Certificates (NPCs), stock market, mutual funds, real estate and to purchase cars for their family members.
The SBP said $1.56bn had been received via 181,556 RDAs by June 30. This influx of foreign exchange has positively supported the country's balance of payments position.
The SBP's second major undertaking in the payments sphere, is the launch of first use case of Raast — a state-of-the-art, interoperable and secure payment platform that enables consumers, merchants and government entities to exchange funds in a seamless, instant and cost-effective manner.
"Both the developments in the payment systems domain will have a lasting impact on Pakistan's banking landscape as well as external account," said the SBP.
Moreover, the third five-year strategic plan for the Islamic banking industry was issued by SBP in April 2021 to set a strategic direction and strengthen the existing growth momentum of industry.
SBP profit falls
The SBP earned a profit of Rs760.859bn (consolidated) in FY21 as compared to a profit of Rs1163.433bn in FY20. The decline in profit is primarily attributed to lower income from lending to the government.
Pakistan Investment Bonds (PIBs) worth Rs569bn matured during the year and no fresh lending was made by the Bank to the Federal Government, resulting in lower income under this head.
Moreover, decrease in average interest rate during FY21 also impacted adversely on income from lending to Government.
The SBP group also earned higher net exchange gain during FY21 as compared to the previous year due to appreciation of the rupee against other currencies particularly US dollar during the year.
"The bank earned a net exchange gain of Rs135.3bn during FY21 compared to an exchange gain of Rs66.4bn during FY20," said the report.
Published in Dawn, October 30th, 2021
Sours: https://www.dawn.com/news/1654830/sbp-injected-massive-liquidity-to-revive-economy-in-fy21-review
NEW Free People Intimately Seamless Ali Low Back Bra Leopard Print M/L $40.00
$24.00Buy It Now17d 11h, eBay Money Back Guarantee
Seller:saintfemme✉️(8,557)100%, Location:Niagara Falls, New York, Ships to: US & many other countries, Item:202993514863NEW Free People Intimately Seamless Ali Low Back Bra Leopard Print M/L $40.00. Item is 100% brand new, in perfect condition and guaranteed authentic or your money back! ***Free Shipping to USA!! *** Description Brand NEW Free People Intimately Seamless Ali Low back Bralette in Leopard Print. Low back bra is featured in our American made Signature Seamless fabric. Pull-on silhouette *Intimately *92% Nylon *8% Spandex *Machine Wash Cold *Made in the USA Measurements for Extra Small/Small: Underbust: 21 in Retail: $40.00 Please feel to contact me with as many questions you may have! Thank you and Happy Shopping! item number:201560031070eBay item number:201560031070eBay item number:201560031070Condition:New without tags, All returns accepted:ReturnsNotAccepted, Country/Region of Manufacture:United States, Department:Women, Style:Crop Top, Material:Nylon/Spandex, Theme:Leopard, Pattern:Solid, Type:Bra, Features:Seamless, Color:Multicolor, Occasion:Casual, Brand:Free People, Sleeve Style:Spaghetti Strap, Size Type:Regular
PicClick Insights - NEW Free People Intimately Seamless Ali Low Back Bra Leopard Print M/L $40.00 PicClick Exclusive
Popularity - 5,533 views, 10.4 views per day, 532 days on eBay. Super high amount of views. 30 sold, 0 available.

5,533 views, 10.4 views per day, 532 days on eBay. Super high amount of views. 30 sold, 0 available.

Price -
Seller - 8,557+ items sold. 0% negative feedback. Top-Rated Seller! Ships on time with tracking, 0 problems with past sales.

8,557+ items sold. 0% negative feedback. Top-Rated Seller! Ships on time with tracking, 0 problems with past sales.

Recent Feedback
People Also Loved PicClick Exclusive
Sours: https://picclick.com/NEW-Free-People-Intimately-Seamless-Ali-Low-Back-202993514863.html
7 Denim Trends to Add to Your Shopping List, According to Designers
While denim is undoubtedly a seasonless staple, there's nothing quite like the feeling of slipping on your favorite pair of jeans during the first days of fall — and, of course, styling them back to your go-to turtleneck and beloved boots that have been in hibernation all summer. After foregoing hard pants in favor of work-from-home sweats for much too long, this year's return of "jeans season" is even more anticipated than usual, especially with a set of fresh fall denim trends in the mix.
If you've been on a denim hiatus as of late, you may have noticed that there are quite a few emerging styles on the scene — most notably low-rise jeans and ultra-baggy options. There's also a great debate sparked by TikTokers on whether skinny jeans are really dead (the answer: they'll always be a staple even as the most coveted styles change from year-to-year). The bottom line: the best denim styles are the ones you feel most comfortable wearing, but if you're looking to invest in a new pair, reviewing the trends isn't a bad idea, either.
To help you get up to speed for the season ahead, seven denim industry powerhouses have vetted the options for you and are spilling their secrets on the need-to-know trends for the season. Spoiler alert: retro renditions are in across the board. From early Y2K nods at cool-girl brand Rolla's to a '70s collegiate prep influence at RE/DONE, looking back is the key to moving forward for 2021.
Ahead, discover the leading styles from the sources themselves, and shop their recommendations from bell bottoms to jewel-toned jeans to kick off the new season right.
We only include products that have been independently selected by The Zoe Report's editorial team. However, we may receive a portion of sales if you purchase a product through a link in this article.
Relaxed Fit
To make the transition from sweats back to denim a bit more seamless, Tu es mon Tresor is delving into denim with a relaxed fit. Aimi Sahara, founder of the rising Japanese denim brand, shares that her fall collection is centered around styles that are "softer, more fluid, and feature a wider cut." The silhouette is one that has risen in popularity over the last few years and doesn't seem to be losing any steam.
When it comes to styling relaxed denim, Sahara takes a high-low approach. "We are gravitating towards a more elegant styling with a jacket and heels," she tells TZR. Punctuate the look with a pop-of-color lip and handbag and you're set for wherever the day takes you. Who says easygoing denim can't be chic?
Retro Washes
Sarah Gilsenan, co-founder and women's head of design at Rolla's, has her eyes on the late '90s and early aughts for nostalgic trends like a relaxed wide leg and a perfectly worn-in wash for this fall.
Color is key for the brand this season, with classic blues, but also soft earth tones. "Pouring over pictures of vast skies, pine forests, rock pools, and sandy landscapes inspired the colors for this collection of sky blues, sunset pinks, forest greens, and salt tones. Showcasing our signature styles in this seasonal palette felt so fresh," she says. Style a colorful pair of jeans with other of-the-era pieces like a baguette bag, fitted button-down, and chunky sneakers.
Arts & Crafts
This season is all about embracing your artistic side according to Tim Kaeding, creative director & co-founder of MOTHER. "We were inspired by superstitions and a streak of rebellion. There is a nod to breaking the rules." This playfulness shows up through "hand-drawn doodle graphics, and wash names like 'spilled salt'." Runway trendsetters like Collina Strada, Bode, and Blumarine also leaned into this artsy doodling, making a case for its rising status.
Look for these details in a trend-forward wide-leg silhouette with long inseams, generally in a white or off-white wash to let the designs shine. Style them back to a solid sweater and chunky boots to lean into the look but let your denim do the talking.
Collegiate High-Rise
If the resurgence of the prep aesthetic of the '90s isn't quite your style, look back decades further to the '70s for a collegiate denim aesthetic. Sean Barron, CEO & co-founder of RE/DONE, honed in on the era for the brand. "Our fall collection is heavily inspired by the '70s, Northeastern liberal arts college towns, and the people that reside in them," he says. "From a diligent student who dons preppy argyle sweaters and jeans to the eccentric art student who lives exclusively in denim overalls."
Look for high-rise, loose fits with a slight flare or wide-leg to achieve the look. Bonus points if your jeans of choice are in a classic fall hue like racing green or brick red. Lean into the nostalgic look by styling a high-rise option with a sweater vest and a pair of chunky loafers.
Sustainability First
The denim industry has moved toward greener practices, but finding fashion-forward labels that also prioritize sustainability and reducing waste is increasingly important to consumers. Sarah Ahmed, chief creative officer of DL1961, notes that the brand uses organic cotton and post-consumer waste, in addition to innovative production practices, a combination that results in high-quality denim that is also less wasteful. She calls out the Emilie Straight as a favorite, "an ultra-high-rise vintage style that rivals your favorite pair of lived-in jeans, all while using the latest in Ozone + laser technology and only eight gallons of water to produce," she explains. If you're looking to invest in new staple denim, keep an eye out for information on sustainable practices on the brand's website.
Throw-And-Go Denim
While skinny jeans remain a staple in many wardrobes, creative director and founder of MARCELL VON BERLIN, Marcell Pustul sees consumers leaning towards looser silhouettes. "This fall, bootcut and baggy jeans are more en vogue, sitting a little wider and more casual." After a year lounging in looser-fitting bottoms, it's no surprise that casual, relaxed options like baggy jeans are a popular choice.
But, there's an even easier take that Pustul considers the must-try for fall: the jumpsuit. "The style is a fun, different way to integrate classic denim and comes in options outside of just your standard blue jean look," he says. This provides an always welcome throw-and-go option that still achieves the coveted casually cool look that's ideal for fall.
Slim Flares
For Paige Adams-Geller, co-founder and creative director of PAIGE, fall was about embracing a retro, romantic silhouette. She shares, "The movie Love Story starring Ali MacGraw and Ryan O'Neal kept playing through my mind while designing this collection."
This retro flick led to '70s-inspired silhouettes like the ever-iconic fitted flare. She explains her style vision for this fall as, "slim flares paired with silk tops, to wide-leg ankle-length jeans worn with tall boots and sweaters." Consider this throwback iteration a dressed-up style for every day.
Sours: https://www.thezoereport.com/fashion/fall-denim-trends-2021
Different types of BRA - Unboxing and Review of Jockey Regular, Padded and Sports BRA #cheershopping
Pakistan's Colabs wants to build a community of 100,000 entrepreneurs and freelancers
Colabs might seem just like another co-working operator on the surface, but what sets this company apart is its ambition to create the largest community of entrepreneurs and freelancers in Pakistan. The company plans to achieve this through its co-working spaces, business solutions, events, and educational programs.
The firm was launched in 2019 by twin brothers Omar and Ali Shah as a co-working company, and currently, operates two spaces in Lahore, with a third on the way.
"We want to knit together a community of 100,000 entrepreneurs and freelancers in Pakistan, starting with 5,000 seats within the next two years," Colabs co-founder and CEO Omar Shah told MENAbytes. He previously spent seven years working in Dubai as a private equity and venture capital investor in emerging markets including Mexico, the UAE, Turkey, and Pakistan, before moving back to Lahore in 2019 to establish Colabs.
Ali Shah, Omar's twin brother, is a real estate developer in Lahore. He also leads the family's construction and development firm, Sabcon, which develops innovative and modern commercial buildings across Lahore.
Colabs currently has about 700 members. It expects to add another 400 when it launches its third location early next year. However, how can a co-working company in Pakistan with 700 seats scale to 100,000 members over the next five to seven years? For context, WeWork currently only has a capacity of about 60,000 seats in India after entering the market in 2017 and investing tens of millions of dollars to date.
"As a family, we have been developing and managing properties in Lahore for many decades. Initially, it was a conventional real estate business, but then Ali started Sabcon to do modern, innovative buildings, so we understand the space very well. We can design our spaces for a more efficient utilization compared to average co-working operators, and we can drive higher revenue per square foot at half the build cost. With all the learnings from our first two years, we're ready to scale our spaces all over Pakistan. We've created a playbook that will allow us to quickly turn buildings of different sizes into co-working spaces in a few months."
When asked if there's enough demand in Pakistan to sell 100,000 seats, he stated that at the rate at which startups and the freelance ecosystem in Pakistan are growing, they wouldn't have any issues in terms of demand. "It is more about creating the capacity to serve that demand."
Yet, the firm will need external money to fund its expansion. "We raised a small friends and family round when we started the company and didn't have to raise any capital after that. We're now considering raising a seed round as there's a lot of inbound interest and we're ready to scale our product," said Omar, without disclosing details of how much they're looking to raise.
Colabs has always had plans to go beyond selling office space and seats, and is finally putting them into action. "We've built a community of startups, SMEs, large corporates, and some very talented freelancers who come and work from our spaces daily. We're constantly trying to think about how we can serve them better. One small example is that we recently started offering an end-to-end payroll management service for our clients after receiving multiple requests for it," said Fatima Mazhar, the recently appointed COO of Colabs.
She was one of the first ten employees at Careem and led the company's expansion into 100 cities as its head of expansion. Speaking about why she decided to join Colabs, Mazhar said, "Once you visit Colabs, you immediately want to become a part of it. I have always been attracted to ambitious startups that are trying to reimagine the local landscape of their industry. Colabs wasn't the first co-working space in the country, but it was the first one to think on a scale that can make a real difference to the future of work in Pakistan."
In addition to helping local startups, Colabs has also made it easy for international technology startups to open their offices in Pakistan by providing them with space and other services. "We are a one-stop shop for international companies, enabling them to set up a presence in Pakistan," Mazhar told MENAbytes.
Since its launch, Colabs has partnered with over 100 entities to organize events while offering different types of perks to its community. Some of the notable events the company has hosted at its spaces include Uber Pitch and She Loves Tech. Colabs also has its own line of in-person and online sessions where team members interview founders and investors from Pakistan's startup ecosystem. Colabs is also working on an employment platform that will connect tech talent with startups in the country.
The Lahore-based startup has already built a strong foundation over the past two years. Yet, it will need to punch above its weight if it hopes to achieve its objective of building a 100,000-strong community.
This article first appeared in MENAbytes.
Sours: https://kr-asia.com/pakistans-colabs-wants-to-build-a-community-of-100000-entrepreneurs-and-freelancers
Seamless ali low back
Identifying the potential in digital identity
The eID space in India and abroad is abuzz with activity. As our lives move online, it is a natural development that our identities are electronically transformed as well
Image: Shuttertock
Imagine that the new iPhone 18 is out, and you are ready to buy. You bring out your old phone and tap it to the POS device. It connects to your digital wallet and uses facial recognition to authenticate and process the transaction. You unbox the new phone from its upcycled, responsibly sourced seaweed packaging. With a glance to the screen, its sensors boot up, identify you, and connect you to your iCloud account. And as you are leaving the store, the 7G connection downloads your apps and configures your settings. Outside, your new phone launches your favourite car-sharing app and guides you to a nearby car, which it unlocks and starts for the ride home.
While the scenario above is aspiringly fictional, parts of it are already reality. India is on the cusp of seamless Voluntary and Integrated Customer Experience, or simply VOICE. In this digitally optimized future landscape, consumers share data with service providers voluntarily in return for data integration. That is, the user could use a single mobile app to pull data from multiple providers, such as banks, airlines, hotels, ISPs, and telecommunication operators. Instead of logging into multiple websites and interface with different apps, the user would enjoy a seamless customer experience.
The realization of VOICE requires a thriving digital/electronic identity (eID)ecosystem that includes identity providers, identification service providers, technology infrastructure solutions, and entrepreneurial businesses with innovative applications for enhanced customer experiences.
Building trust in eID
To appreciate the potential of how eID can improve customer experiences, you must first understand the building blocks of digital identity.
Building Block 1: The Trust Triangle
The first building block of digital identity is the trust triangle connecting three stakeholders: the identity holder, the issuer, and the verifier. Using the diagram from Bankenverband, below, we can visualise the concept better.

Source: https://en.bankenverband.de/newsroom/comments/digital-identities-steps-path-id-ecosystem/
When someone applies for a new mobile phone number, in the context of the trust triangle, they are the identity holder. Their passport – issued by the Government of India – is the proof of identity they provide to the telecom company, the verifier. The telecom company trusts India, the authority that has verified the person's identity to issue a passport. (Agreed, some business models might require a third party to add another layer of security, but we will ignore it for the sake of convenience).

Building Block 2: Attributes
The multinational cybersecurity company Avast defines digital identity as "any personal data existing online that can be traced back to the real you." Personal data, aka attributes, could include:1.    Name
2.    Age
3.    Address
4.    Account balance
5.    Credit history
6.    Passport number
7.    Vaccination history
Credentials like Aadhaar, India's national eID scheme, the German identity card, and the many other national digital IDs are similar attributes.

Building Block 3: Levels of Assurance (LOA)
Levels of Assurance refers to the degree of confidence in the claimed identity of a person – how certain a service provider can be that it is you using your eID to authenticate to the service, not someone else pretending to be you. There are multiple LOA models on the market. Some consulting firms have a four-tiered model, some three, some more. The European Commission, for example, has developed a three-tiered LOA:
1.    Low – for example, member enrolment by self-registration via a webpage with no identity verification
2.    Substantial – for example, enrolment with two-factor authentication, 2FA, requiring a username, a password, and a single-use code sent to the user's mobile phone
3.    High – for example, enrolment in-person at a government office and authenticated with a smart card

Building Block 4: Interoperability
The #GoodID movement defines interoperability as "the ability for digital identity technologies or systems to communicate with each other or work together." This is critical to increase its adoption. Take the case of India's Unified Payment Interfaceecosystem. The National Payments Corporation of India enabled two important developments to facilitate interoperability. First, UPI wallets could transact with each other regardless of the user's bank account. Second, UPI was integrated with WhatsApp. Both these played a role in providing many use cases for end users where people preferred mobile phone transactions. This enabled speedy adoption of the UPI platform.
Have you observed how some applications allow you to sign in using your Google, Facebook, or Apple accounts? That sort of interoperability helps users. They do not have to remember each new password they create for every website, a "single sign-in" is sufficient. In the realm of digital identity, an end user should be able to use a single mobile application for self-identification across platforms for diverse services. This is made possible when an ecosystem is developed so that it allows for apps to communicate with one another.
Digital identity in the world today
The eID space in India and abroad is abuzz with activity. As our lives move online, it is a natural development that our identities are electronically transformed as well. Estonia plans to link digital identities to digital wallets. Through this linkage, personal data attributes are shared with service providers and the individual's ID is authenticated. Spain recently rolled out Apple Wallet support for the EU Digital COVID Certificate. This allows a private player, Apple, to hold data issued by the government – a pairing I explore further below. The Mumbai-based eID startup IDfy recently raised US$11 mn from TransUnion International & Blume Ventures. IDfy's solutions help its 500+ clients across industries ranging from banks and financial services to ecommerce and telecommunication and to healthcare.
At a systemic level, the Institute of International Finance, along with 150 experts, co-authored and published the Global Assured Identity Network (GAIN) white paper. The paper proposes a user-centric approach to usher in the next identity paradigm. Instead of placing the onus on the user to remember countless passwords and to log to access each service, the user enlists a trusted and regulated provider to provide the verification. According to The Paypers, a news source in the payment sector, GAIN will offer an alternative to "Big Tech," addressing concerns about data privacy mismanagement as well as threats to democratic norms and economies.
What should governments be mindful of?
Research by Isabel Skierka from ESMT's Digital Society Institute underscores two critical aspects of digital identity which policy makers should keep in mind, as these ecosystems continue to develop. One, they should question who controls and governs the digital identities of individuals and organisations. Two, they should ensure that robust IT security systemsand strong data protection policies are in place. In a recent issue of ESMT Update, the business school's internal magazine, Skierka says, "The success of a national digital identity solution requires the cooperation of the public and private sectors within a common governance framework." Extending this argument further, governments could also be wary of where the data stored, leading to more stringent data localization laws in the years to come.
Our future with eID
An interesting public-private partnership thought experiment: If Apple's Face ID is paired with the Aadhaar ecosystem, we can expect some interesting use cases. For example, if any online service provider needs age verification, the Apple Wallet would be capable of proving it. This opens up numerous electronic know-your-customer (eKYC) applications in financial services and the possibility of instant check-in and check-out in the hospitality and retail domains. These all underscore VOICE.
Digital identity also holds considerable potential in the development of smart cities. The applied science and technology development company Battelle lists four components of a smart city: analytics, transportation/mobility, health, and environment. Of the four, eID plays a critical role in three – from assisting in quality data capture for good analytics for both prescriptive and descriptive analytics to facilitating seamless payments and permits for smart transport. The IT security firm Imprivata echoes the importance of digital identity in enhancing patient care, securing healthcare systems, and managing patient data access.
The growing importance of eID is a positive externality of the raging global pandemic. As the world embraces a digital-first approach in multiple aspects of life, individuals are increasingly required to couple their online avatars with verifiable digital identities. The benefits of a mature digital identity ecosystem help both businesses and consumers. For businesses, customer identification and verification processes can be sped up. This lowers customer abandonment rates. For financial institutions, advances in digital identity lower the risk of fraud. The second benefit would be the lowered costs for businesses. Lowered costs for businesses can be passed to consumers or cash can be reallocated to cover other critical overheads, thus incentivising businesses to step up their roles in developing the digital identity ecosystem. As the digital identity ecosystem continues to evolve, it provides customers a chance to voluntarily share their data, which is transmitted between different businesses in a larger, integrated ecosystem. The first benefit of engaging with such a mature ecosystem for consumers would be the enhanced customer experience. Second, such an ecosystem would allow speedy access to services. These benefits to both customers and businesses voice a clear case for digital identity.
–
Dr. Bianca Schmitz is a director of leadership development programs at ESMT Berlin and has been one of the founding directors of the Hidden Champions Institute (HCI). She is also responsible for establishing new international alliances with other business schools, institutions, and networks. Her research has been published in journals such as Industrial Marketing Management and Journal of Family Business Management. Beyond academic research, Bianca has published numerous case studies and managerial articles on hidden champions and digital transformation. Affiliated to the Bringing Technology to Market Center, she is currently working on two research topics: "bringing digital offerings to industrial markets" and "corporate governance in times of deglobalization." Write to her at [email protected]
Aparajith Raman currently works as a management consultant and is also a teaching assistant at ESMT for various courses. He earned his MBA from ESMT Berlin. Prior to that, he held several leadership roles across microfinance institutions, non-profits, and social enterprises. He has expertise in the financial services sector in India. Write to him at [email protected]
[This article has been reproduced with permission from ESMT. Views expressed are personal.]
Sours: https://www.forbesindia.com/article/esmt/identifying-the-potential-in-digital-identity/71215/1
Low Back Pain? Pull A Muscle in the Low Back? It's Likely The QL -MoveU
Jamie Ritchie relishing opportunity to finally captain Scotland
Ritchie will have the honour belatedly, however, after he and Glasgow's Ali Price were named co-captains for Saturday's Test against Tonga at Murrayfield.
He said: "It was a huge honour to be asked to be captain in the summer, regardless of whether or not we had a game, and I'm just delighted that Ali and I get to share that honour this week.
"It was obviously pretty disappointing that we didn't get a game in the summer but, for me, it was more disappointing for the guys who missed out on some opportunities to play.
"It was obviously a pretty changed group and there were some guys in it who may not get another chance, so it's a shame for them. It's great to see a lot of the new guys who were involved in the summer staying involved for this autumn series.
"Ali and I have been vice-captains for a wee while now, so we're used to how each other works and we share the loads in terms of training and messaging and stuff. It's been pretty seamless."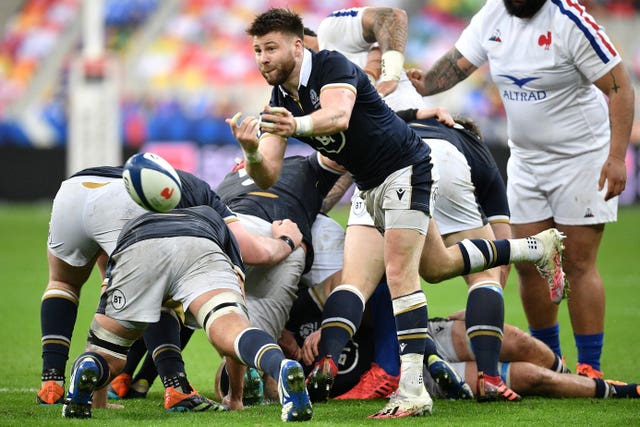 Pride will be the overriding emotion for Ritchie and his family this weekend.
He said: "My family are a big rugby family. For me, it's a massive honour to captain Scotland. I got to do it through the age grades as well, which was amazing.
"There's something super-special about it. It's hard to describe because you don't dream about captaining your country. You dream about playing for your country. But for me now, it's awesome."
Saturday's match is Scotland's first in seven months since they defeated France in Paris at the end of a Guinness Six Nations campaign which also featured a Calcutta Cup win over England at Twickenham.
Ritchie is enthused by the prospect of trying to build on those results from earlier in the year as Scotland prepare to play in front of supporters for the first time in 19 months.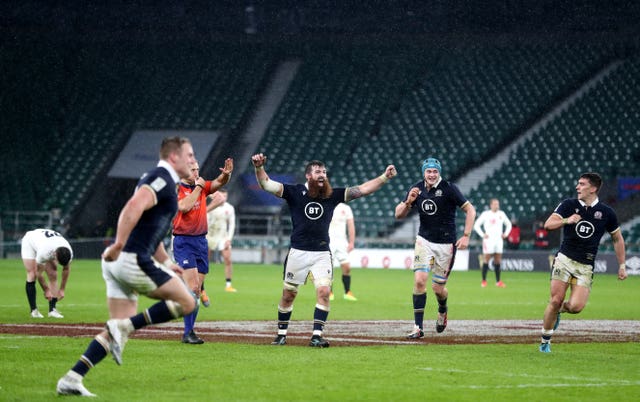 Ritchie said: "I'm pretty excited about the fact we had those results behind closed doors and also knowing how much energy we get from the crowd, especially at Murrayfield.
"I'm really excited to play in front of the fans again. It's all about trying to move forward on the back of our results from the past year or so. The challenge going forward is to get better."
Ritchie hopes Scotland can pay a fitting tribute to Scotland great Sandy Carmichael, who died this week aged 77.
He said: "Gregor spoke about it in our meeting this morning. He was the first Scottish player to reach 50 caps, so he's an inspiration for all Scottish players. There will be a minute's silence before the game and he'll be in our thoughts."
Sours: https://www.thenorthernecho.co.uk/sport/national/19683251.jamie-ritchie-relishing-opportunity-finally-captain-scotland/
You will also like:
SORRY, THIS ITEM IS SOLD!
Free People Ali Low Back Seamless Bra
Other Intimates & Sleepwear you may like
Free People 34C Veronica White Embroidered Mesh Underwire Bra

$31$48

Free People Oh Scuba Bralette Midnight Cowboy Blue L

$25$38

Free People Oh Scuba Bralette Midnight Cowboy Blue L

$25$38

Free People Oh Scuba Bralette Midnight Cowboy Blue S

$25$38

Free People Oh Scuba Bralette Midnight Cowboy Blue S

$25$38

Free People Oh Scuba Bralette Midnight Cowboy Blue S

$25$38

Free People Oh Scuba Bralette Midnight Cowboy Blue S

$25$38

Free People Oh Scuba Bralette Midnight Cowboy Blue XL

$25$38

Free People Oh Scuba Bralette Midnight Cowboy Blue XL

$25$38

Free People Oh Scuba Bralette Midnight Cowboy Blue XL

$21$48

Free People Veronica Underwire Bra Faded Sunshine Floral 34A

$28$48

Free People Veronica Underwire Bra Faded Sunshine Floral 34A

$23$48

Free People Veronica Underwire Bra Faded Sunshine Floral 34A

$25$48

NEW! Intimately Free People Elsie Embroidered Bralette Size Small

$25$0

Free People Veronica Underwire Bra Faded Sunshine Floral 32C

$28$48

Free People Veronica Underwire Bra Faded Sunshine Floral 32C

$20$48

Free People Veronica Underwire Bra Faded Sunshine Floral 32C

$28$48

Free People Adella Lace Bralette - Blue

$30$38

New Free People

$24$0

NWT Free People Crochet Bralette

$29$48

Free people bra

$27$48

NWT Free People Starla Underwire Bra

$24$48

FREE PEOPLE🌺Candy Seamless Longline Bralette

$34$999

INTIMATELY FREE PEOPLE BLUE SHEER LACE BRALETTE 🪐🦋

$25$48

Free People Be Cool Brami Tank Ceramic Seafoam Sm.

$30$0

Free people bra gently worn

$12$0

Free People Long Line Strapless Bra Black Lace S

$34$0

Free People Galloon Lace Racerback Bra In Navy Size Large

$22$0

NWT free people floral print bra

$15$999

Intimately Free People Rockabilly Retro Bralette M

$29$0

NWT FREE PEOPLE Ari Underwire Neo Bra

$35$48

FREE PEOPLE bralette, NWT

$18$38

FREE PEOPLE Heartbreaker Brami

$33$48

NWT Free People June High Neck Bralette in Optic White sz S

$30$48

NWT Free People Intimates Starla Black Lace Underwire Bra

$35$48

NWT Free People Intimates Tameeka Black Lace Underwire Bralette

$35$48

Free People You Wanna Brami – Sugar Almond

$22$38

NWT Free People Intimates Longline Bralette In Amethyst

$30$38

Free People Galloon Racerback Blue Lace Bra NWT

$14$20
Sours: https://poshmark.com/listing/Free-People-Ali-Low-Back-Seamless-Bra-5d16200d2eb33fb77e4580ff
292
293
294
295
296