Criminal Case Search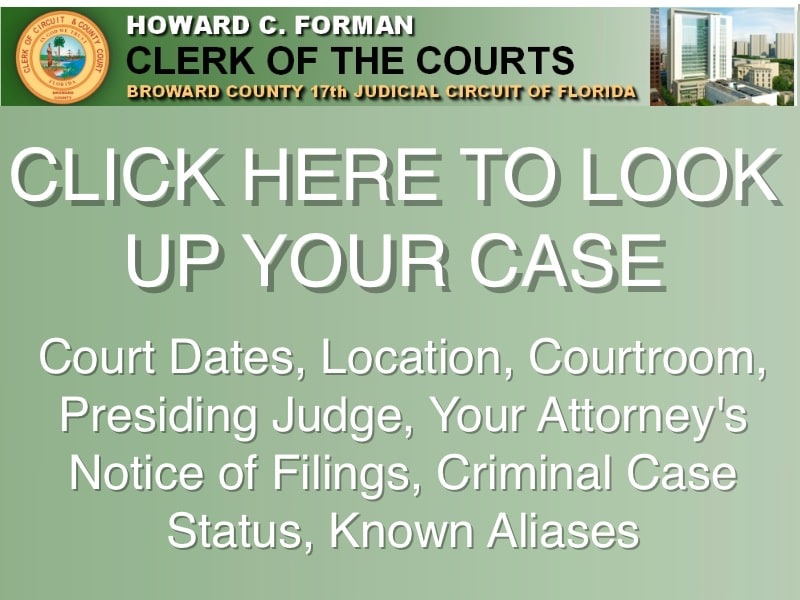 First of all, always be prepared before entering the courtroom. If you were arrested in Broward County, Florida you may obtain current information about your criminal court case on our criminal case search page. All information about pending and closed criminal case files is obtained directly by and through the Clerk of Courts in and for Broward County 17th Judicial Circuit of Florida.
Information Is Public and Available at No Cost
Obtaining this information online is free and immediate. Criminal case records can be searched by inserting the name of the accused or party to the criminal litigation, through the name of any business organization associated with the criminal case, by the Broward County Criminal Case number and even by the appropriate notice to appear citation number for those defendants who were not formerly arrested prior to charges being filed.
Information such as offense classification, such as misdemeanor or felony, state reporting numbers, Broward County Court case number, criminal information filing dates by the State Attorney's Office, the assigned Courthouse, Main North South or West. The current status of the criminal matter, assigned criminal court judge and division.
Criminal Defense Lawyer Filings and Licensing Information
In some cases, known aliases of the criminal defendant will be listed as well. Your criminal defense attorneys name along with identifying license information will also be listed in the search results. Attorneys will only be listed if they have filed appropriate notices with the court. If an attorney is not listed, it is a good indication that nothing has been filed on your behalf and no one has accepted responsibility for defending you. Basic identifying information about the defendant such as race, gender and date of birth will also be listed.
Scheduled Court Dates in Your Criminal Case
The public records that may be obtained through this site also include important information such as your next scheduled criminal court date, the description of criminal counts for which you are being prosecuted by the Broward County state attorney's office and applicable Florida criminal statute number.
How to Determine if a Warrant for Your Arrest May Have Been Issued
If the results of your search do not include any indication of a future scheduled court date and your case is marked pending, it is imperative that you contact your criminal defense attorney as this is a very strong indicator that a court date has been missed and that warrant for your arrest may have been issued. Note that this is not applicable to cases assigned to Broward County Satellite Courthouses whereby the named defendant was not arrested but rather was given a notice to appear citation. This is due to the delayed filing of criminal charges by prosecutors in satellite courthouses.
Instructional Video Reference Chart
For detailed instructions on how to use the Broward County clerk of courts criminal case public search portal located on our website, you may wish to review our brief instructional video for accompanying infographic.
Sours: https://www.crime-lawyers.com/criminal-case-search.html
Broward County Circuit Court
Report Corrections Here
Broward County Judicial Complex
201 SE 6th Street
Fort Lauderdale, FL33301
Phone: 954-831-6565

Website | Directions
We are having difficulty displaying the exact address.Click here to see address using Google Maps.
We're sorry your court map could not be found.

Click here to navigate to Bing Maps.
Online Court Resources
Resources for the Broward County Circuit Court as well as online resources applicable to courts generally in Broward County, Florida, and resources applicable to all courts in Florida.
Search court case records
Broward County Court Case Records
Search Broward County and Circuit Court civil and criminal records online.
Florida Official Records
Florida court documents, judgments, liens, probate records and other types of county records can be found online. Searching is free but there is a charge for records requested. Criminal records are not available from this service.
Published opinions and orders
Broward County Administrative Orders
View Broward County Circuit and County Court administrative orders by case type including civil, criminal, county, general, juvenile, probate, and unified family.
Broward County Circuit Court Confidential Case Orders
View Broward County Circuit Court confidential case orders online.
Forms and related information
Broward County Court Self Service Forms
Prepare Broward County and Circuit Court forms online.
Florida Family Law Forms
The Florida State Courts' Self-Help Center provides instructions, forms, and additional resources on family law matters.
Online Self-Help Forms
FloridaLawHelp offers do-it-yourself forms and instructions organized by legal issue. Some forms may be completed online with an interactive interview process.
Prepare and File Court Forms Online
Turbo Court allows you to prepare and file online court forms in family law, small claims and evictions. Registration is required. There is a fee associated with this service.
Online fine payments
Pay Broward County Court Fines
Pay Broward County Court fines online for traffic violations, misdemeanors and felonies.
Pay Traffic Tickets Online
Pay traffic tickets online for most counties with this service from Florida Clerks of Court. An online search service for ticket information is also available for most counties. There is a fee associated with this service.
Self help, legal research, general information
17th Judicial Circuit Court of Florida Local Rules
View local rules for use in the 17th Judicial Circuit Court of Florida.
Broward County Glossary of Legal Terms
View a glossary of legal terms provided by the Broward County Clerk of the Courts.
Information Regarding Florida Simplified Divorce
View information on obtaining a simplified divorce in Florida, including a self-help packet and necessary forms.
Criminal Record Sealing and Expungement
View information on how to seal or expunge a criminal record in Florida.
Florida Court Information for Veterans
View, download or print the Veterans' resource guide to the state legal system. An overview of Veterans Courts, which are specialized court programs that set up treatment in lieu of incarceration for some offenders with substance abuse or mental health problems, is also provided.
Florida Court Programs and Services
View information about Florida court programs and services, including alternative dispute resolution, court interpreters, drug courts, family courts, and jury duty. Educational resources and videos about the court system and procedure are also available.
Florida Court Self-Help Resources
Services include information about local self-help centers, family law information and forms, information about free or low-cost legal services, lawyer referral, and legal resources for seniors.
Florida Family Law Information
View a Florida Family Law handbook in English or Spanish, and a publication providing marriage law guidance. Scroll down to "Marriage Law Information" for links to the publications.
Florida Foreclosure Prevention Resources
View resources for preventing foreclosure in Florida, including local housing counseling agencies, programs and workshops, and state and federal agency information.
Florida Laws
Search the Florida Statutes and Constitution, or browse by table of contents.
Florida Legal Information and Resources
View information and available resources for a variety of legal issues, including but not limited to: family, juvenile, domestic violence, housing, debt collection, employment, and immigration.
Florida Legal Pamphlets
The Florida Bar offers online pamphlets on various legal issues including consumer, civil and small claims, credit, family, immigration, legal services property, wills, trusts, and estates. Pamphlets may be downloaded; print versions may be ordered for a small fee.
Florida Small Claims
An overview of the Florida small claims process includes what constitutes a small claims case, where to file a case in Florida, and a link to the Florida Small Claims Rules of Court Procedure.
Legal aid, free services, lawyer referral
Directory of Free and Low-Cost Legal Services
Search a directory of organizations offering free legal assistance and services by location and issue, or view the directory by organization name.
Find a Florida Lawyer
The Florida Bar offers an online search for attorneys by name, location, and bar number.
Florida Attorney Complaints and Discipline
The Florida Bar offers information about attorney regulation and discipline, and Attorney Consumer Assistance Program to handle complaints against attorneys, alternatives to the formal complaint process, and online access to summaries of recent disciplinary actions taken by the Florida Supreme Court against member attorneys.
Florida Lawyer Referral Services
The Florida Bar offers a lawyer referral service by telephone, and links to local bar associations' lawyer referral services.
Sours: https://www.courtreference.com/courts/373/broward-county-circuit-court
Case Search - Public
Case numbers must be entered in a specific format. Traffic, Misdemeanor and Felony cases consist of 2 digits for the year, a 6 digit sequence number, a 2 letter Division identifier, 2 digit Location and a 1 or 2 letter Companion Designator. Case Numbers are 13 characters long without spaces, dashes or any other characters.
| Location | Court Type | Example |
| --- | --- | --- |
| 10 Central | Felony | 15011819CF10A |
| 20 North | Traffic | 14099608TI20A |
| 30 West | Misdemeanor | 13084596MM30A |
| 40 South | Municipal Ordinance | 12019695MO40A |
Division Identifiers
CF – Criminal Felony, CO - County Ordinance, CT - Contempt of Court, MM - Misdemeanor, MO - Municipal Ordinance, NI - Other Infractions, TC – Traffic Criminal, TI – Traffic Infraction
Sours: https://www.browardclerk.org/Web2/
SFC LAMPOON Broward County Clerk of the Court Losing It
Broward County Court Records Search (Florida)
Broward County Arrest Warrantshttp://pas.fdle.state.fl.us/pas/restricted/PAS/person/WantedPersons.jsfSearch Broward County, Florida arrest warrants by name, including mugshots, DOB, warrant number and charges.
Broward County Child Support Warrantshttps://www.browardclerk.org/Divisions/ChildSupport#GeneralView Broward County, Florida child support warrants list, including names, photos and last known addresses.
Broward County Clerk of Court Recordshttps://www.browardclerk.org/Web2/Search Broward County Clerk of Court case search by party name, business name, case number, or citation number.
Broward County Clerk of The Courts' Office Property Recordshttps://www.broward.realforeclose.com/index.cfmView Broward County Clerk of the Courts' Office foreclosure sale, including online auction information, online registration, and auction calendar.
Broward County Clerk's Office Websitehttp://www.browardclerk.org/ClerkWebsite/welcome2.aspxView Broward County Clerk's Office general information page, online services, divisions and related links.
Broward County Court Recordshttps://www.browardclerk.org/Web2Find Broward County, Florida court records by date, time, case number, and parties.
Broward County Criminal Recordshttps://cchinet.fdle.state.fl.us/search/app/defaultFind Broward County, Florida criminal records by name, DOB, and address.
Clerk of The Circuit and County Court Broward County Marriage Recordshttp://www.clerk-17th-flcourts.org/Clerkwebsite/Marriage/LicenseSearch.aspxSearch Broward County Clerk of the Courts database for marriage licenses.
Find Broward County Court Records
Broward County Court Records are public records, documents, files, and transcripts associated with court cases and court dockets available in Broward County, Florida. Courts in Broward County maintain records on everything that occurs during the legal process for future reference, including appeals. Court Records are typically maintained by the courts that produce the records. These courts may exist at the Federal, Florida State, Broward County, and local levels.
Learn about Court Records, including:
Where to get free Broward County Court Records online
What types of Court Records are available
How to perform court case lookups and records searches
Where to access case information for criminal cases
What civil case files are public information
Sours: https://www.countyoffice.org/fl-broward-county-court-records/
Docket broward case search county
And a few meters away from them the evening Yalta embankment was rustling and shimmering with lights. The magic pill was thrown into Veronica's coffee on the very first evening of their acquaintance. Sergei planned not to part with the woman and regularly feed her with a pomp preparation, as he called the medicine to himself.
How do I access court records?
Stand up. Irina obeyed. Olga bent down behind her.
You will also be interested:
Fu, how about you cunt stinks. Go here, now you'll be like in that video behind the garages, polish my bolt. Patsanskye dicks after physical - ry smelled very badly. They pounded me in the mouth quickly and intensely. - Kolyan, youre awesome, youve matched it well, it fits well for the egg itself.
2892
2893
2894
2895
2896