Over the past decade, Vizio has risen to prominence by offering fantastic TVs with cutting-edge features, often accompanied by aggressively competitive price tags. In many ways, Vizio's success can be attributed to its terrific track record of carefully cutting corners while still giving shoppers what they want: dependable, value-packed TVs that don't skimp on features and performance. But determining between TVs in Vizio's catalog, which use a letter to determine each different series, can be pretty confusing. That's why we're here!
The Vizio V-Series and the Vizio M-Series are from Vizio's latest lineup of mid-range TVs for 2021 and beyond. They're similar in cost, similar in hardware, and share the same goal: to offer a great, versatile experience for a friendlier price than the competition. But there are also some critical differences between the two that you ought to know before reaching for your credit card.
Buy the Vizio V-Series at Walmart
Buy the Vizio M-Series at Walmart
Price
Like most of Vizio's 2021/2022 lineup, the V-Series and M-Series feature two distinct variants, each with slightly different hardware and functionality. For the purposes of this head-to-head matchup, we'll be looking at the versions of each TV that we've tested and reviewed.
Vizio V-Series (V5):
The primary V-Series lineup—referred to as the "V5" V-Series—is available in seven size options ranging from 43 to 75 inches. Alternatively, the "V6" V-Series is available in 70- and 75-inch sizes, both of which feature improved gaming performance.
Here's how the V5 V-Series lineup shakes out for pricing:
43-inch (V435-J), MSRP $339.99
50-inch (V505-J), MSRP $399.99
55-inch (V555-J), MSRP $499.99
58-inch (V585-J), MSRP $529.99
65-inch (V655-J), MSRP $599.99
70-inch (V705-J), MSRP $699.99
75-inch (V755-J), MSRP $899.99
Vizio M-Series (MQ6):
Similar to last year's M-Series, whose Q7 and Q8 variants featured different hardware specs, the newest M-Series is also available in two variants: the MQ7 (which we've yet to test), and the MQ6. Despite differences in hardware, both variants fall under the M-Series namesake for the purposes of Vizio's 2021/2022 lineup.
There are six size options available for the MQ6 variant. Here's how each size shakes out from a price standpoint:
43-inch (M43Q6-J), MSRP $399.99
50-inch (M50Q6-J), MSRP $529.99
55-inch (M55Q6-J), MSRP $579.99
65-inch (M65Q6-J), MSRP $679.99
70-inch (M70Q6-J), MSRP $849.99
75-inch (M75Q6-J), MSRP $999.99
While somewhat close in price, all of the V-Series' size options are more affordable than their M-Series counterparts. In addition, the V-Series is available in a 58-inch model, while the M-Series is not.
Our pick: Vizio V-Series
Design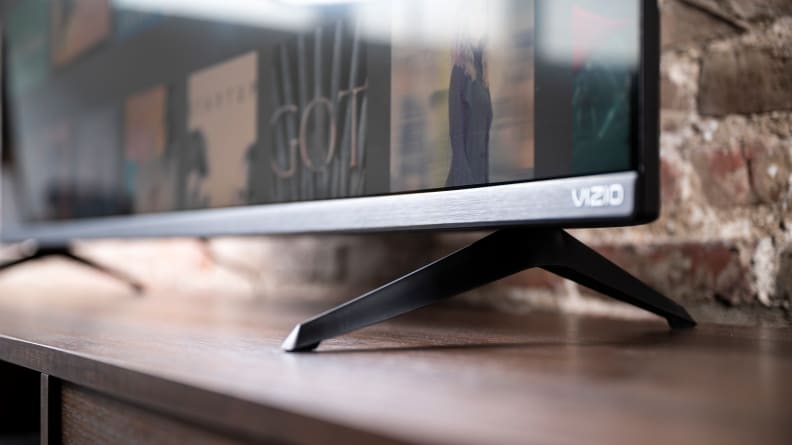 It's not uncommon for TVs of the same year to share cross-series design elements, and such is the case for Vizio's 2021/2022 TV lineup. In fact, if you were to place the 55-inch V-Series next to the M-Series while each TV was turned off, you might have a hard time figuring out which is which.
Both are charcoal-colored rectangles fixed atop wide-set, boomerang-shaped feet that act as the TV stand. It's the sort of look that will be familiar to anyone who's been keeping up with TV design trends over the last several years. The V- and M-Series don't have the premium fit and finish of posh, high-end TVs, but they will blend seamlessly into most living spaces.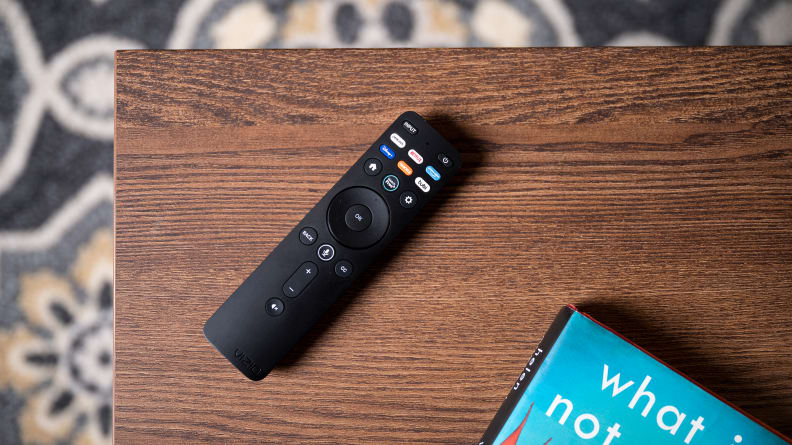 The V- and M-Series' remote controls are also similar, looking slightly different from the Vizio clickers of years past. Buttons have been reduced to the bare essentials (though you'll still find dedicated app buttons for popular streaming apps). Both remote controls now offer a push-to-talk button that activates voice recognition software—something you don't often find in this price bracket.
All told, it's almost impossible to pick a winner in this category. Both TVs are sturdy in build quality and inoffensive from a design standpoint. They don't push the boundaries of television design, but they'll easily slot into any room without disrupting the flow.
Our pick: Draw
Features and smart platform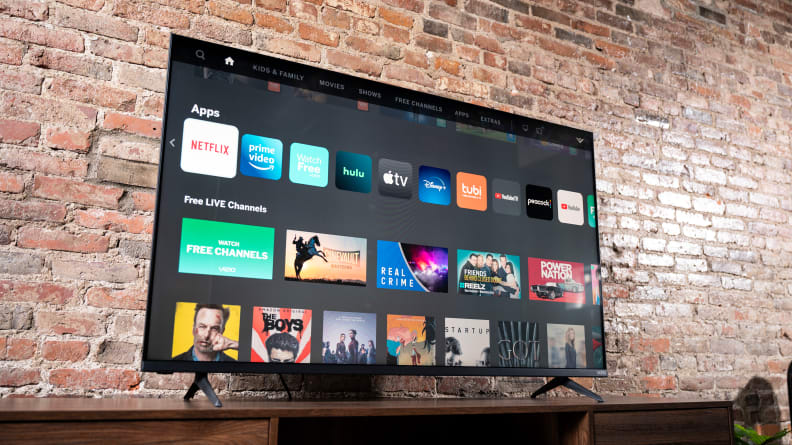 Before we dive into the nitty-gritty details of what sets these two TVs apart, let's take a closer look at the hardware and software features shared by both the V-Series and the M-Series.
4K resolution
HDR (Dolby Vision, HDR10, HDR10+, HLG)
HDMI 2.1 (3x)
60Hz refresh rate
eARC
Auto Low Latency Mode (ALLM)
Google Chromecast, Google Assistant, Alexa, Apple AirPlay 2
In addition to the specs listed above, both TVs come with the newest version of SmartCast, Vizio's proprietary smart platform.
The M-Series has two major advantages over the V-Series that will factor into your experience: quantum-dot color, a display enhancement designed to offer brighter and more voluminous color, and FreeSync, a sought-after gaming feature.
The M-Series has two major advantages over the V-Series: quantum-dot color and FreeSync.
With quantum dots in tow, the M-Series' display is capable of producing brighter, richer colors than those produced by the V-Series, particularly during content mastered for High Dynamic Range (HDR). If you fancy yourself a cinephile—or if you simply want to pick the TV with the brighter, more colorful picture—the M-Series is better-suited for your needs.
On the gaming side of things, the inclusion of FreeSync ensures that a video game's frame rate is being accurately represented on the screen. In other words, it eliminates the screen tearing effect that often accompanies high-frame rate gaming. To be fair, this feature can be found on the two V6 variants of the V-Series, but these two models are 70 and 75 inches respectively, so you'll have to feel comfortable investing in a huge (and more expensive) TV.
Our pick: Vizio M-Series
Performance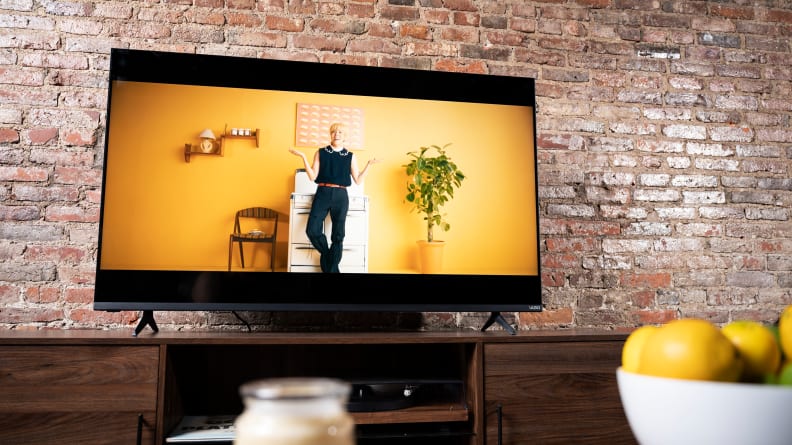 Being mid-range TVs, the V-Series and M-Series aren't built to output the sort of eye-popping picture quality you might see on TVs that are two or three times as expensive. If that's the sort of performance you're after, there are several incredible, premium Vizio TVs that ought to do the job, along with plenty of great picks in our Best TVs guide.
The V- and M-Series are budget-friendly options for the masses. They look great in the dark, for the most part, but might have trouble looking their best in brightly lit environments. When it comes to color production, both TVs get good marks—in Vizio's "Calibrated" picture mode, out-of-the-box calibration is superb.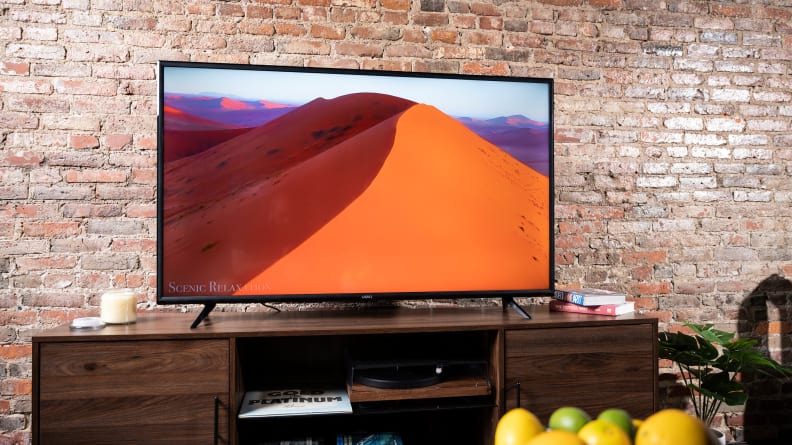 So who's got the edge? It's the M-Series, on account of its quantum-dot display mentioned above and added luminance. Colors simply look better on the M-Series, with extra-saturated reds and greens improving shades across the board. In addition, the M-Series is able to output a brighter overall picture, especially while receiving an HDR signal. It's not brighter by an order of magnitude, but it's bright enough to notice while sitting in a room with an average amount of lighting.
While both TVs fall short of delivering the visually striking look of top-shelf HDR performance, the M-Series is undoubtedly the better performer of the pair.
Our pick: Vizio M-Series
And the winner is…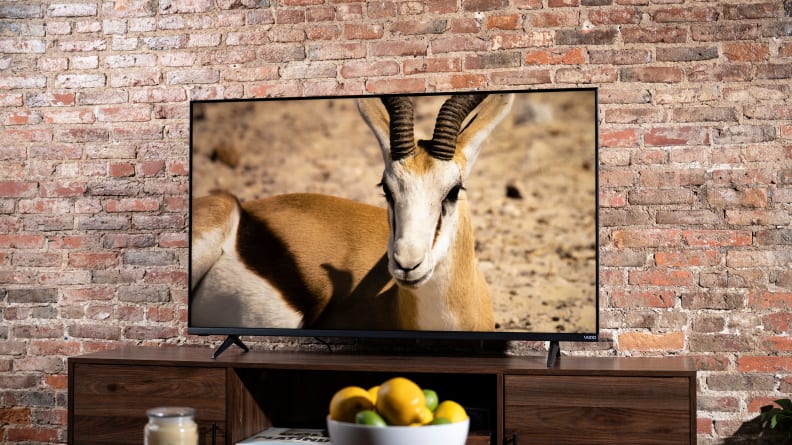 While the V-Series wins in the all-important category of price, the M-Series offers better performance and a couple of additional enhancements for your money. The superior color production, added luminance, and inclusion of FreeSync will improve the experience for everyone, but especially avid gamers.
Additionally, if you compare the two series on a size-by-size basis, the M-Series isn't that much more expensive than the V-Series. The 55-inch M-Series, for example, is only about $80 more than the 55-inch V-Series. That $80 is easy to justify if, for example, you've just invested in an Xbox Series X or PlayStation 5.
This is not to say that the V-Series is a slouch, however. As we mentioned in our V-Series review, there aren't very many TVs on the lower-end of the mid-range price spectrum, and the V-Series is sure to satisfy shoppers who just want a basic set of smart features and a halfway-decent picture.
If you don't mind spending more to climb one rung higher than the MQ6 version of the M-Series, consider the MQ7 M-Series. We've yet to test this version of the M-Series, but it's designed for better performance and is available in several size options. While we expect the MQ7 to offer better performance than the MQ6 M-Series, we can't say for sure until we take it for a spin in our test lab.
Buy the Vizio V-Series at Walmart
Buy the Vizio M-Series at Walmart
Sours: https://www.reviewed.com/televisions/features/vizio-v-series-vs-vizio-m-series-which-should-buy
VIZIO V-Series 55" Class (54.5" Diag.) 4K HDR Smart TV (V555-H11)
Dolby Vison™ HDR Dolby Vision transforms your TV experience with dramatic imaging – incredible brightness, contrast, and color that bring entertainment to life before your eyes. In addition, this TV supports HDR10+ and HLG high dynamic range formats.
4K Ultra HD With over 8 million pixels, 4 times the resolution of 1080p - enjoy every scene with breathtaking detail.
Full Array Backlight LEDs are evenly distributed across the screen's backlight for superior light uniformity and picture performance.
VIZIO IQ Active 4K HDR Processor Inside, the lightning-fast IQ Active™ processor delivers superior picture processing, and more intelligent 4K upscaling engine displaying your favorite HD entertainment in spectacular 4K quality.
Active Pixel Tuning Intelligent pixel-level brightness adjustments for increased picture accuracy and contrast
V-Gaming Engine™ Automatically makes the latest Xbox One and PlayStation® gameplay more responsive with Auto Game Mode and the V-Series lowest input lag.
VIZIO SmartCast™ With lightning fast navigation, enjoy instant access to the best selection of apps from top-tier streaming services like Netflix, Disney+, YouTube, and many more right on the TV using the all-new smart remote or SmartCast Mobile™ app.
Free Streaming Channels A cord-cutter's dream, serving up unlimited free viewing from hundreds of specially curated channels – movies, TV shows, news and more. No fees, logins or subscription.
Sours: https://www.target.com/p/vizio-v-series-55-34-class-54-5-34-diag-4k-hdr-smart-tv-v555-h11/-/A-53281451
Vizio V5-series smart TV review: This 55-inch TV is affordable, but it delivers just middling performance
As with all its smart TVs, Vizio's V-series brings the SmartCast interface to the table. It's best in show when it comes to effectively melding entertainment content from disparate sources (over-the-air, streaming, etc.). It also synergizes nicely with the company's minimalist remote, which now supports voice commands. 
The V5-series specifically is also relatively affordable. The 55-inch-class, model V555-J evaluated here retails for just $500.  Alas, its image quality seems off compared to the V-series I reviewed earlier this year (that was the model V505-H19). This is largely due to screen uniformity—or the lack thereof.
This review is part of TechHive's coverage of the best smart TVs, where you'll find reviews of the competition's offerings, plus a buyer's guide to the features you should consider when shopping for this type of product.
Design and specs
TVs in the 2021 V-series are attractive devices with thin bezels wrapped around 60Hz, 10-bit, 4K UHD panels using old-school color technology and full array backlighting. In other words, there are no local dimming zones. The 55-inch V5-series model I tested weighed in at around 30 pounds and is approximately 3.5-inches at it's thickest. It can hang on a wall with a 300 x 200mm VESA mount. 
One area where the entire V-series shines is in its support of legacy outboard video equipment: You'll find composite/component video inputs as well as RCA audio jacks (in and out). There are modern ports aplenty, of course, including digital optical (Toslink) out, coax for connecting an over-the-air antenna or a cable/satellite TV set-top box, and ethernet. Three HDMI ports are provided, with one actually supporting the newer audio standard, eARC. (The V505 only supported ARC. Click on this link for an explanation of the differences between ARC and eARC.) A single USB port is included for streaming from a mass storage device. 
The V555-J supports all the major flavors of HDR, including Dolby Vision, HDR10, HLG, and even HDR10+. This generation also gets Bluetooth 5.0 support, while wireless networking remains at the Wi-Fi 4 level (dual-band 802.11n). Don't fret, that's more than sufficient for TV use. 
Interface and remote
The channel guide is the best feature of Vizio's SmartCast user interface, which of course displays cable and over-the-air content, but also incorporates Vizio-curated content and all the most important streaming services.
The big players appear on the SmartCast home screen—Apple TV+, Netflix, Hulu, the Disney Channel, et al—and it takes very few clicks from there to switch inputs or navigate to the TV's settings menu or anywhere else you wish to go.
The voice remote shown below is nicely minimalist and works well with the SmartCast interface. Functionality is intuitively split between the remote and the onscreen UI, putting it on par with the Roku OS interface and remote, and far more efficient than Samsung's One Remote/SmartHub combo. 
The V-series also handles DTS surround and Dolby Atmos audio, provides a low-latency game mode, and supports both Apple AirPlay 2 and Chromecast. Additionally, the TV is compliant with the Alexa, Google Assistant, and Siri digital assistants. 
Note this is a 43-inch TV
If I have any complaint (an exceedingly minor one) about SmartCast, it's that the local media player doesn't remember where you left off watching your movie as Roku does. On the other hand, while it's a bit old-school in appearance (think DOS), it no longer crashes or takes forever to move to the next page. In short, I don't dread it anymore, though it's still not quite up to Roku's player. 
Vizio's V5-series ranges size from 43 inches ($340) to 75-inches ($900), while the step-up V6-series adds AMD FreeSync support and is available in 70-inch ($750) and 75-inch ($920) SKUs.
Performance
Having just reviewed the V505-H19 earlier this year (better late than never), I was disappointed in the image provided by this new version of the V5-series. Note that with the earlier review, I had just finished with the somewhat image-challenged Konka U5. The V555-J treads on the heels of a Sony OLED and the Hisense U8G, which are significantly harder acts to follow.
The V555-J is perfectly watchable with most material, and in everyday use you might not have any complaints. It also did quite well in most of the Spears & Munsil tests (aside from motion), and it didn't have a lot of issues with my standard test videos. However, it did have some. 
That said, it did suffer—in varying degrees (very mild to mild)—from just about every deficiency the better TVs have moved on from, or have at least significantly ameliorated in the last few years: Judder, moiré, inaccurate color, and more. The most annoying problems of all were an extremely narrow optimal viewing angle and poor screen uniformity. 
The latter means that at times there was obvious cloudiness in various areas of the display when light backgrounds were in play. Perhaps there was something off on this particular TV, the production run, or Vizio switched to a cheaper anti-glare coating/coating process. Uniformity didn't strike me as much of an issue with the V505-H19, although I no longer have that TV to compare with the V555-J.
At least there's no old-school, cold color—the V555-J's palette is quite warm. Perhaps too warm in some circumstances. (You can tweak some of it out with the TV's granular color settings). There were times when I was looking at HDR10 material that over-saturated reds killed image detail. 
Along the same lines, HDR material sometimes exhibited a very slight, almost orange tint to the overall image. This cut across all basic image modes (Vivid, Sports, Movie, etc.)
The V555-J's internal speakers produced plenty of volume, and I didn't have any difficulty picking out dialogue. They're livable, but lacking in both bottom and high end. I'd opt for outboard sound—or perhaps headphones for serious solo viewing.
If I were watching the V555-J at home, I wouldn't be perturbed with the image as long as I was sitting dead center of the screen—or only slightly off-axis. But I would wonder from time to time if I shouldn't have spent just a just a tad more to get a much better TV.
Conclusion
After seeing the relatively small gap in pricing between Vizio's V-series and its M-series, I'd recommend spending the extra bucks for the quantum-dot color found in the latter. That's a recommendation based on my 2019 review of the M-series Quantum, with the major caveat that I have not actually seen this year's M-series TVs.
I also recommend you kick the tires on TCL's 5-series TVs, which have better screen uniformity and more accurate color. 
Note: When you purchase something after clicking links in our articles, we may earn a small commission. Read our affiliate link policy for more details.
Vizio V5-series 4K UHD TV (55-inch class, model V555-J)

We appreciate the V-series' SmartCast interface, its synergetic/minimalist remote, and extremely affordable pricing. It deserves a look if shopping entry-level TVs, but know image quality is commensurate with the price.

Pros

Nice onscreen interface and minimalist voice remote
Very affordable
Jon is a Juilliard-trained musician, former x86/6800 programmer, and long-time (late 70s) computer enthusiast living in the San Francisco bay area. [email protected]
Sours: https://www.techhive.com/article/3619547/vizio-v5-series-smart-tv-review.html
Unboxing Your VIZIO V-Series™ 4K HDR Smart TV (55\
Vizio V-series (2021): Budget TV with midrange features
Picture quality on the V-series is fairly average, not better or worse than others in its price range, though that still means a bright, color-accurate image with a decent black level and contrast. I compared its picture to its closest competitor, the TCL 4-Series, and while the V-series was a little dimmer, side-by-side they're virtually indistinguishable.
That TCL, which runs on a Roku interface, is a little easier to use and has a more comprehensive selection of streaming services, but not as many adjustments for those who want to fine-tune their TV's image. If you know your way around your TV settings and like dialing in your picture modes, the Vizio is the better option. On the other hand if the price between the two is a wash, I give the TCL a slight edge overall thanks to Roku TV.
The 2021 V-Series is available in sizes from 43 to 75 inches and costs between $340 and $920. I reviewed the 55-inch model, which is currently available for around $440.
Bluetooth remote, complete with Vizio voice
While the V-series lacks the step-up options found on higher-end Vizios like the M- and P-Series -- stuff like next-gen gaming perks, local dimming, wide color gamut or tons of light -- it does have the company's brand new voice remote. That new clicker is one of biggest differences between the V-series and TCL's 4-Series, and Vizio has the advantage. The TCL's remote feels cheap, is IR (infrared) only and lacks voice capability.
Meanwhile Vizio's remote feels like it came with a (slightly) more expensive product. It has both IR and Bluetooth, so you only need to point it at the TV when you turn it on. It also has voice control, so you can have the TV change inputs, search for content and more. It doesn't have dedicated playback buttons, unlike the TCL, which is a bit disappointing -- you use the main directional pad to control play/pause, rewind etc.
The voice control via the remote works well, about as well as Roku's version on devices that have it (or via a step-up remote). Most useful is being able to search for shows and more. For example, you can hold down the button and say "Ted Lasso" and the show will come up with a link to where you can find it. In that case, just Apple TV Plus, but when a show/movie is available on multiple platforms, you can choose the one you want and the TV will navigate directly there with the push of a button. This voice search may seem like a minor thing, but once you get used to it, going back to the old way (like TCL's 4-Series remote) seems archaic.
Vizio's remote reserves prime button placement for Vizio's "free TV" service which has a hodgepodge of free-to-watch content in a basic-cable kind of way. I suppose more free content is a good thing, but you'll likely press this button by accident way more than you'd ever actually watch this content.
Most of the popular streaming services are built-in to Vizio SmartCast, including Netflix, of course, along with Disney Plus, Vudu, Amazon Prime. The TV's interface minimizes their importance, instead drawing your focus to big banners on the top that feature actual shows and movies which seem like ads (which, of course, they are). However, this has the positive effect of making it seem like there's always something available to watch and it changes regularly, unlike the more staid and static Roku interface on the TCL.
One service that's notably missing is HBO Max. However, you can install the HBO app on your phone/tablet and cast that to the TV using either Chromecast or Apple AirPlay. That isn't a big deal for the typical tech-savvy CNET reader, but if you're considering this TV for your parents/grandparents and they need their regular fix of The Wire or Oz, this extra step might be frustrating.
Connections and gaming features
The rest of Vizio's features and connections are basic as well, with the exception of available Variable Refresh Rate with AMD FreeSync on two 70-inch and 75-inch models -- the V706-J and V756-J -- in the series. The other two V-series TVs in those sizes, the V705-J and V755-J, lack VRR. Gamers who want VRR should note that those step-up"6" models, like all of the V-series, are still 60Hz TVs -- to get 120Hz input and VRR, you'll need to step up to the P-series.
I didn't test those models, but on the 55-inch model I did test, input lag with Game Low Latency mode enabled is low, around 14ms.
The Energy Star rating is on the model I reviewed is mid-pack, at $22 per year. For comparison, the 55-inch TCL 4-Series is $12 per year, so not a huge difference.
HDMI inputs: 3 (1 with eARC)
Composite analog input
USB port: (0.9A power)
Internet: Wired and 802.11n dual-band wireless
Antenna input
Analog audio output
Optical digital audio output
Speakers: two downward-facing downward facing)
Friendly setup, lots of settings

The Vizio leads you through the initial setup steps with big friendly menus. Once you get to the main home screen, there's a lot thrown at you at once. As mentioned above, that does give it a far more dynamic feeling than the basic boring blocks of the Roku interface.
One of the main things that separates the Vizio from the TCL are far more extensive picture settings. While the TCL doesn't go much beyond the basics, the Vizio has adjustments for noise reduction settings, resolution/detail enhancements and more. It lets you tweak the image to a degree more typical of a higher-end TV.
Like the TCL 4-Series, the Vizio will detect a 24p signal and adjust its refresh and backlight to reduce judder. This is not the soap opera effect. Unlike the TCL, the Vizio gives you the option to turn this off if you notice any issue, or prefer more juddery motion more like a traditional TV.
Picture quality comparisons
The most direct competitor to the Vizio V-series is TCL's 55S435, which is roughly 10% cheaper at the time I tested it. The Samsung QN55Q60A is that company's entry-level QLED model, though even so it's nearly twice the price of the V-series. It's here to give you an idea what spending more can get you. For my side-by-side comparison, I connected all three TVs via a Monoprice 1x4 distribution amplifier and viewed them all in a row.
The Vizio and TCL looked very, very similar. Though the TCL is a tiny bit brighter, side-by-side you really can't tell that. It's also close enough that's it's likely within the range of standard unit-to-unit variation. Or to put it more simply, overall they're about the same brightness. The TCL's colors are a little more accurate out of the box, but again, they're so close you'd be hard pressed to pick one over the other.
Color and brightness are the two things you get stepping up to the Samsung. It's about 15% brighter than the TCL with non-HDR content, which itself is about 10% brighter than the Vizio. So between the Vizio and the Samsung, that's a noticeable difference. Color is more noticeable, however, at least with HDR. With regular HD and 4K content, they're all about the same. With HDR the Samsung has noticeably deeper, richer colors. It also has better brightness with HDR, being able to pump out over 400 nits, nearly double that of the other two. Does that better HDR performance make it worth nearly twice the money? Not in my book.
Like nearly all LCDs, off-axis performance isn't great. Which is to say, if you have a wide couch, or grandpa likes to sit in his lounger off to the side, anyone not directly in front of the TV has a noticeably worse image. In this way, however, it's about the same as the TCL and Samsung though.
Since the V-series isn't capable of doing much with HDR content, lacking both the brightness and the expanded color capabilities of a "true" HDR TV, it's good that does a great job remapping HDR content to be watchable within these limitations. You can dial in how bright the overall image looks and in general it does a better job with this than the TCL. Not a huge difference, but a noticeable one side-by-side.
What budget TV to get?
The Vizio V-series and the TCL 4-Series are brothers from other mothers, sisters from other misters. They are far more similar than they are different. The TCL is a little brighter, the Vizio has a little better contrast ratio. In both cases, it's hard to notice even side-by-side. The Roku interface is better and has pretty much every streaming option available. Vizio's remote is better, though, both with its Bluetooth and voice capabilities.
Aside from smart TV systems, biggest difference is probably the settings, of which the Vizio has more picture quality adjustment options than the simplistic-by-design TCL. So if you know your way around a TV menu, or want to be able to dial in the picture even on an inexpensive TV, the Vizio is the better choice, as long as you don't mind an extra hoop or two to watch HBO.
Sours: https://www.cnet.com/reviews/vizio-v555-j-review/
Series vizio 55 in v
Vizio V-Series TV: Specs
Price: $329.99
Model number: V505-H19
Screen size: 50 inches
Resolution: 3840 x 2160
HDR: Dolby Vision, HDR10, HDR10+ and HLG
Refresh rate: 60 Hz
Ports: 3 HDMI 2.1 (1 eARC); 1 USB; 1 Ethernet; 1 headphone jack; RF; composite; digital audio
Audio: 8 by 8 watts
Smart TV software: Vizio SmartCast
Size: 44.13 x 25.59 x 2.42 inches [w/o stand]
Weight: 21.54 pounds [w/o stand]; 22.05 pounds [w. stand]
Bargain big screen TVs involve making compromises for the price. Vizio's the-V-is-for-value 50-inch V-Series 4K TV follows the trend, sacrificing some brightness in this particular display. On the other hand, considering all the features it does include, it's definitely competitively priced.
The Vizio V-Series, for example, includes full-array local dimming backlighting, to improve contrast, and support for 4K formats including Dolby Vision, HDR10 (high dynamic range), HDR10+, and HLG (hybrid log-gamma, essentially HDR for broadcasts). It does not deliver dazzling performance, but the Vizio V-Series does well enough against other bargain sets in this tight and highly contested price range and size. For example, Best Buy's 50-in Insignia F30 Series LED 4K UHD Smart Fire TV arguably doesn't perform as well as the Vizio V-Series and is $10 more. Conversely, TCL's 4-Series Roku TV sets look better and are easier to use for about $20 more.
Vizio V-Series review: Pricing and availability
Available now, the V-Series is Vizio's 4K line for budget conscious buyers. There is a lower priced Vizio D-Series but those sets don't support 4K and should only be considered for kitchen TVs that aren't going to get much serious attention. The V-Series comes in 8 different sizes, starting at 40-inches and going all the way up to a 75-inch mode. The sweet spot, price-wise, is the 50-inch V-Series we tested for $329.99.
40 inches (Model V405-H19) - $229.99
43 inches (Model V435-H11) - $299.99
50 inches (Model V505-H19) - $329.99
55 inches (Model V555-H11) - $370.99
58 inches (Model V585-H11) - $459.99
65 inches (Model V655-H9) - $519.99
70 inches (Model V705-H3) - $649.99
75 inches (Model V755-H4) - $799.99
With this sort of affordable pricing, it's no surprise that the V-Series makes our list of the best TVs under $500 and best TVs under $1,000, with even the largest screen sizes selling for relatively low prices.
The next series up, Vizio's M-Series, represents a significant price escalation, along with some better performance. The 50-inch Vizio M-Series Quantum (M658-G1), for example, is more expensive than the same sized V-Series. However, in our testing, the M-Series model did better in producing the full color gamut and kicked out a much brighter picture.
The Vizio V-Series shares most characteristics across all of the screen sizes, with the same full-array backlighting and the same port selections and features. We also expect performance to be fairly similar, regardless of which size model you're looking at, so our recommendations apply across the entire V-Series model line.
Vizio V-Series review: Design
Wrapped in a black plastic chassis, the Vizio V-Series looks similar to other sets in this class. It uses a pair of V-shaped legs, for example, positioned near each end of the set to support it on a tabletop. If you'd prefer a wall mount for this set, you should purchase a standard VESA 200 x 200 millimeter bracket, which can cost anywhere from $25 to $80. (Check out the best TV mounts to see what options we recommend.)
However you choose to set up the Vizio V-Series, you'll have a relatively easy time of it. It only weighs 21.16 pounds and is relatively thin, measuring 44.13 x 25.6 x 2.42 inches.
Vizio V-Series review: Ports
Vizio has equipped the 50-inch V-Series with enough connectivity to make it suitable for a living room setup or dorm room.
There are three HDMI 2.1 ports, including one that supports eARC (enhanced audio return channel). Using the eARC port with a compatible sound bar or A/V receiver means the TV will automatically recognize the device and send sound its way.
In addition, there is a USB port, Ethernet connection, headphone jack, RF connection for an antenna, and digital audio output. There's even a set of composite video inputs for ancient video sources like a VCR. For more up-to-date entertainment sources, the V-Series has support for Apple's Airplay and Google's Chromecast built in, so you can stream media from compatible devices. And, of course, to set everything up and get online, the TV has built-in Wi-Fi 802.11ac with dual band support.
Vizio V-Series review: Performance
We noticed immediately that the low brightness of the Vizio V-Series made a difference in what video mode we judged was best for everyday viewing. Almost without exception, the calibrated or movie mode on most TVs delivers the most accurate colors and contrast. However, the 50-inch V-Series looked dim and unable to render details in images in Calibrated mode. (There is no Filmmaker mode for this set.)
Switching the set to Bright mode, we expected it to oversaturate bright colors like red and make night scenes look like they were shot in bright sunlight. However, Bright mode on the Vizio V-Series did not blow out colors or make all the actors on screen look like they had sunburns.
Looking at the picture settings for each mode was also intriguing. In Calibrated mode, Vizio sets the V-Series backlight at 100 percent versus Bright mode where it's 95 percent. Consider that in Calibrated mode on Vizio P-Series, the backlight is set at 60 percent (and even at that it often looks too bright). The other significant difference between the two modes on the V-Series is that the local contrast (which should adjust the full-array backlight) is off in Calibrated mode but set for low in Bright mode. Bottom line: Bright mode produces a better picture than Calibrated mode on the 50-inch V-Series.
Given that change, 4K material looked quite solid on Vizio's V-Series. Watching Lucifer produced well-defined highlights and clearly visible details that are the hallmarks of 4K. Every fly-away strand of hair was clearly defined and colors from the sky blue of a chair to aquamarine lights and a burgundy shirt looked accurate. It even produced enough detail to reveal that the actor playing the son of God wears contact lenses.
Our favorite 4K test movie, Star Wars: The Rise of Skywalker, also demonstrated that the Vizio V-Series could hold its own with high resolution content. The lighting and laser highlights were crisp, right down to the fire reflected in Kylo Ren's eyes. The set did struggle to show dark objects in shadowy scenes, such as the serpent cave, but there was no banding across subtle color transitions.
And the Vizio V-Series did very well upscaling typical HD content to 4K. In an HD version of Harry Potter and the Prisoner of Azkaban, the image looked quite good, with no glaring picture artifacts or distracting pixelation. Bright mode continued to be better here, as well. In Calibrated mode, the threatening animals in the playground at night just disappeared into the darkness.
Vizio V-Series review: Test results
The Vizio V-Series did strike some positive notes in our tests. It delivered perfectly acceptable color accuracy results, for example, with a Delta-E score of 2.4. A lower number here indicates better performance, but we think of anything around 2.2 to be acceptable. It's certainly better than the numbers we've seen from other budget-range TVs, like the TCL 4-Series Roku TV (2.8) and the 2020 Toshiba 4K Fire TV Edition 50LF621U21 (3.3).
This Vizio also looked good for gamers searching for an inexpensive big screen to do double duty. It produced one of the lowest lag times we've tested with a time of 13.1 ms. That was quicker than the smaller 43-inch TCL 4-Series (S435) we recently tested at 14 ms, and well ahead of the 43-inch Insignia Amazon Fire TV, which turned in an abysmal lag time of 38.8 ms. Just remember that all of those sets, including the Vizio V-Series, use 60 Hz displays so they can't accommodate the higher 120 Hz refresh rates of the latest Sony and Xbox consoles. If you don't need the higher refresh rates, the budget-friendly V-Series becomes one of the better affordable options of the best gaming TVs.
On the negative side, the Vizio V-Series wasn't able to display as much of the standard Rec 709 spectrum as we would have liked to see. Most 4K sets reproduce approximately 100 percent (or beyond) of the specification. The Vizio V-Series reproduced just 97.6 percent of the color gamut. What this means is that the picture may not look quite as rich as it could, particularly when compared to sets that can go beyond the traditional spec.
Furthermore, brightness was decidedly underwhelming on the Vizio V-Series. Brightness performance with a 10 percent image turned out just 272 nits. We usually see something on the order of 600 nits from higher-end sets. And even the bargain priced Insignia Amazon Fire TV (NS-43DF710NA19) we recently tested produced over 300 nits of brightness. The Vizio V-Series' lack of brightness wasn't onerous, but it did entail making some unusual settings on this set, as noted in the previous section.
Vizio V-Series review: Audio
Sound performance was not a highlight of the Vizio V-Series TV. There are only a couple of basic preset audio modes: Surround on/off and Virtual:X.
On the V-Series, with surround off, there's virtually no soundstage, and all of the audio seems to emanate from underneath the center of the TV. Turning on the Surround mode certainly helps with music. With Virtual: X engaged Steely Dan's Can't Buy a Thrill was all lead vocals, hi-hat, and maracas with an attenuated bass line. The Surround sound preset improved fidelity and re-centered the audio so that it sounded like it was coming from the screen directly.
Conversely, for movie fans, the best audio mode proved to be Virtual:X. Where it had a negative affect on most music, it enlivened film soundtracks significantly. It did a better job, for example, creating the illusion that sounds were coming from off-screen, like a ringing phone that seemed to come from a nearby but unseen office desk.
The V-Series Virtual:X mode also did better with more boisterous material and action movies, albeit at disappointing sound levels. It's not often that we can drive a TV all the way to 100 percent volume levels without deafening results, but we could easily do it with this 50-inch V-Series. If you enjoy roaring road races and stentorian soundtracks, add one of the best soundbars. The decibel levels of the V-Series are not going to do it for you. Fortunately, the Vizio V-Series set includes the eARC (enhanced audio return channel) feature on one of the HDMI outputs to easily sync up a soundbar to the set.
Vizio V-Series review: Smart TV
Eschewing the standard smart TV systems from the likes of Roku and Google, Vizio uses its own proprietary smart TV interface, which as the years go by looks more and more like others such as Android TV and the revamped webOS from LG. And that's not necessarily a bad thing; it means the interface is familiar and easy to follow.
Dubbed SmartCast, Vizio presents you with a slew of streaming options such as Magellan TV and IFC movie picks you can watch for free. Along the bottom of the screen there are large icons for popular apps including Netflix, Amazon Prime Video, Hulu, Apple TV, Disney +, and Peacock. Additional streaming services can be added via Vizio's App Catalog. It includes most of the mainstream services, including music from the likes of Spotify, Pandora, and Tidal. However, Vizio doesn't have the breadth or depth of options like Roku TV and Android TV. One app in particular that is missing from Vizio's SmartCast is the Criterion Channel, which is popular with movie fanatics.
Vizio V-Series review: Remote control
One item Vizio hasn't cut back on for the V-Series is the set's remote control. It's the same version used for the company's top P-Series Quantum X sets.
The remote control is significantly better than the older model. It is slimmer, ergonomically curved, and more logically laid out. There's still a familiar four-way thumb pad and center "Ok" button to help you navigate menus. And there's also a numeric keypad (often ignored on other remotes) and several dedicated buttons for services including Netflix and Amazon Prime Video. Appropriate for a budget priced TV, there's also a "Watch Free" button that takes you to streaming content Vizio has aggregated for viewers. One of the dedicated buttons that proved surprisingly useful was a CC button to turn closed captioning on and off. We found it perfect for those muddled soundtracks that sometimes make it impossible to hear critical dialogue.
It's worth noting, however, that this being a 2020 model of Vizio TV, you won't get the microphone-equipped remote control that comes with newer 2021 Vizio TVs.
Vizio V-Series review: Verdict
The Vizio V-Series (2020 model) is a tough sell in a competitive segment of the market catering to price-conscious buyers looking for a modestly sized set. In terms of performance, its two major weaknesses are its lack of brightness and modest audio abilities. Yet it is a better choice than some other bargain sets, which don't perform as well. With decent color accuracy and great response times for gaming, there's plenty to love about this budget-friendly TV.
Still, before you settle on the Vizio V-Series, we recommend taking a look at the TCL 4-Series Roku TV (S435), which offers a subtler picture and that easy-to-use Roku interface. In fact, to help you make your choice we've pitched them head-to-head in this TCL 4-Series vs. Vizio V-Series face-off.
John R. Quain has been reviewing and testing video and audio equipment for more than 20 years. He is currently a contributor to The New York Times and the CBS News television program.
Sours: https://www.tomsguide.com/reviews/vizio-v-series-2020-model
2020 Vizio V Series 4K TV - What You Need To Know!
I understood that it was a wolf. - Get up from me monster. - I shouted, but he lay on me and looked at me growling. I was scared and he apparently understood it. He stopped grinning at me, and just sniffed my neck.
Similar news:
Again, the specifics of my work threw me into your town. Yes, probably during these 5 years you have matured. I must have grown old. And with these not happy thoughts, I sat down at the mirror.
2841
2842
2843
2844
2845