How to Install War Thunder Skins
War Thunder is a popular military-based massively multiplayer online game from Gaijin Entertainment. It features large-scale battles across land, air, and sea, and has hundreds of different vehicles that players can pilot. Since its launch in , the developers have continued to add new content, including tanks, ships, planes, and factions. During that time, War Thunder has produced a thriving community of players who are dedicated to the game. One interesting element to develop from this community is War Thunder custom skins. We look at what they are and how you can install them.

War Thunder Custom Skins
In a separate article, we did a deep dive on War Thunder skins. We looked at the importance of them and the different types available. Here, we'll quickly recap some of the key points.
War Thunder skins give players the chance to change the appearance of the game. They can modify how vehicles appear, giving a degree of freedom for the imagination. The game does feature a custom camouflage creator which allows players to come up with their own camo designs for the vehicles. However, custom skins give even more variables to play with. There are two main types available:
Client-side skins. These are free designs that you can download from a variety of different websites. They change the appearance of vehicles for the player only; other players will see the default setting during online matches.

Server-side skins. These are purchasable designs from the War Thunder marketplace. They can be redeemed in-game and change the appearance of the vehicle for everyone.
Each of these has its benefits. Client-side skins can give almost any appearance to the game's vehicles. Historical accuracy aside, there are some spectacular designs. However, only you will be able to see them. The marketplace skins have some tight regulations, meaning they're not quite as expressive. However, every other player can see your cool designs.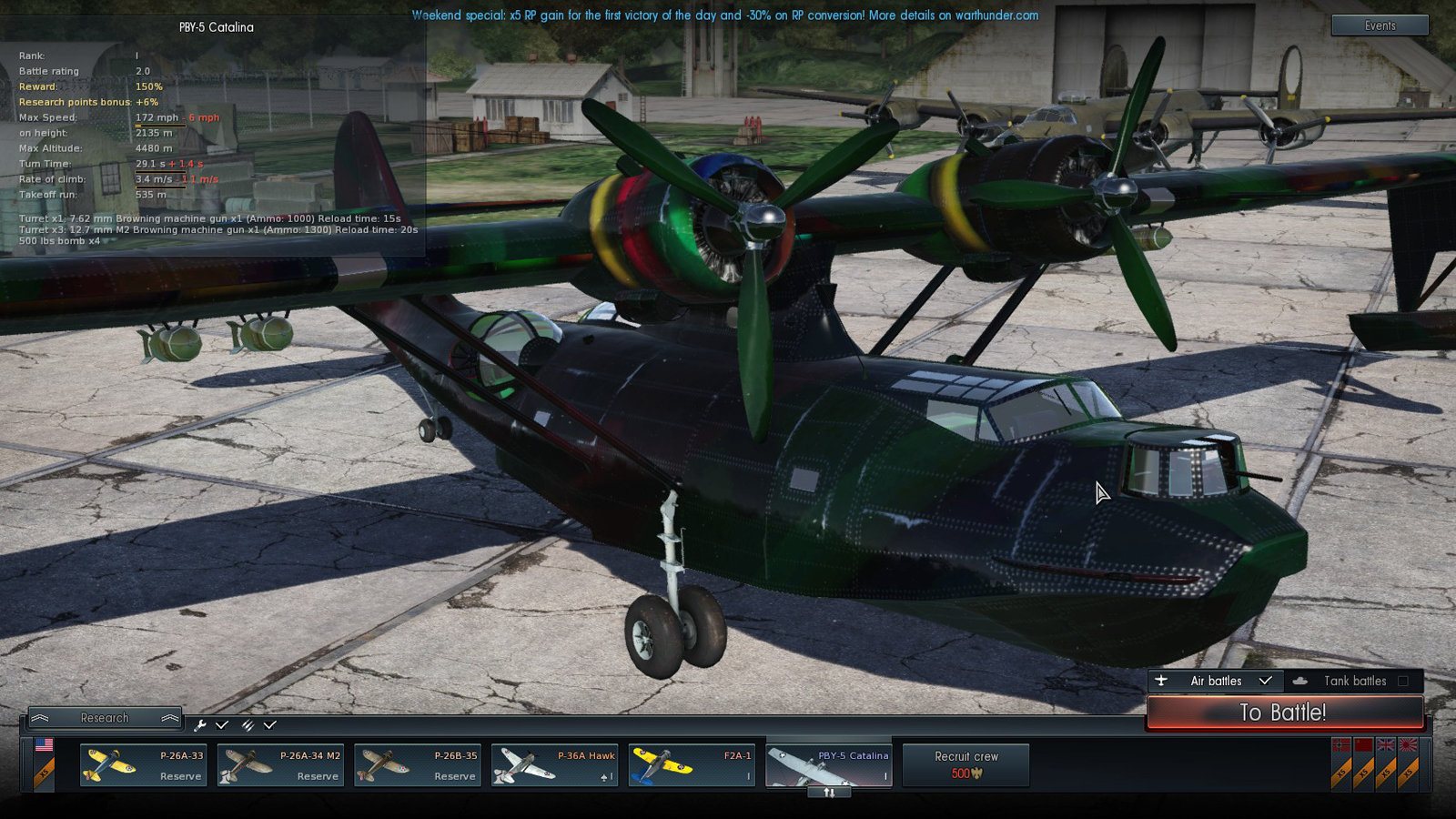 Installing Client-side Skins
This is the more complex way of changing the game's appearance, as you'll have to poke around in the game's install files. When making changes, it's always good to have a backup of the folders or files you're editing in case something goes wrong.
Below, we've outlined the steps you'll need to take to install War Thunder skins you've downloaded:
Launch War Thunder and find the vehicle you wish to create a new skin for. Click on the customisation tab to create a new template for said vehicle. Make sure you note down the name of this.

Find a website where you can download custom skins from. Live.warthunder.com is a popular choice as it has an extensive library that you can search and filter. Find one that suits your tastes and download it.

Once the file is downloaded, navigate to your War Thunder main install file. Here, you'll want to navigate to a folder called UserSkins. In here, you'll hopefully find a folder for the custom template you created earlier.

Drag and drop the downloaded skin files into your custom folder. If prompted, press 'move and replace' for all options.

Open the game again and go to the vehicle you applied the skin to. Click on User Skins to see the new look of your vehicle.
It's a fairly straightforward process that you can repeat for almost any vehicle in the game.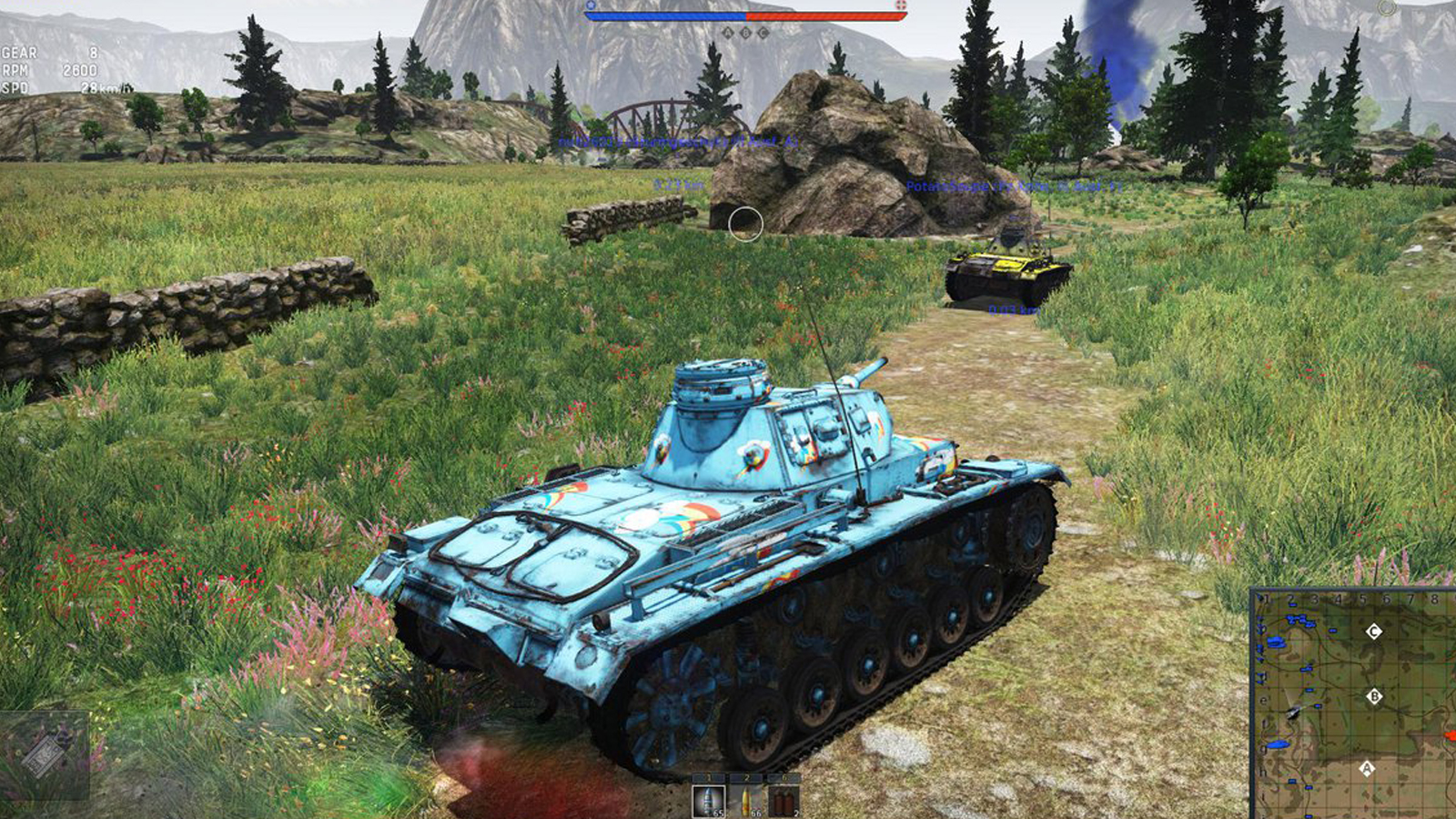 Installing Marketplace Skins
Gaijin Entertainment recently launched a marketplace for War Thunder custom skins. Thankfully, this makes the process of changing vehicle appearances a lot easier. The major downside is that you have to purchase or trade for skins. We've outlined the steps below:
Navigate to the War Thunder Marketplace and click on the 'Market' tab.

You'll need to buy coins to use on the marketplace. You can do this by pressing on your account name and selecting 'Buy Gaijin Coins.' You'll be directed to a page to complete the purchase.

When returning to the marketplace, you'll immediately see a range of different skins and decals available.

You can sort by name, popularity, price, and quantity, giving a range of ways to filter the results.

Click on a skin that appeals to you to get further details.

You'll see a screen that shows details on how many are available, the price, and historical activity.

Click on the 'Buy' button and agree to the Gaijin Store terms of use. On the next screen click 'Place order.'

Go to the Inventory tab to see your purchases.

Return to the game and open a vehicle that you wish to apply a skin to.

Click on the 'Shop' icon on the top right. You'll see a notification saying you have items in your inventory. Press on this.

You can redeem your skin from this screen by pressing the 'Consume' button. However, once redeemed you can no longer resell it on the marketplace.

On the vehicle customisation, select camouflages and select your new skin.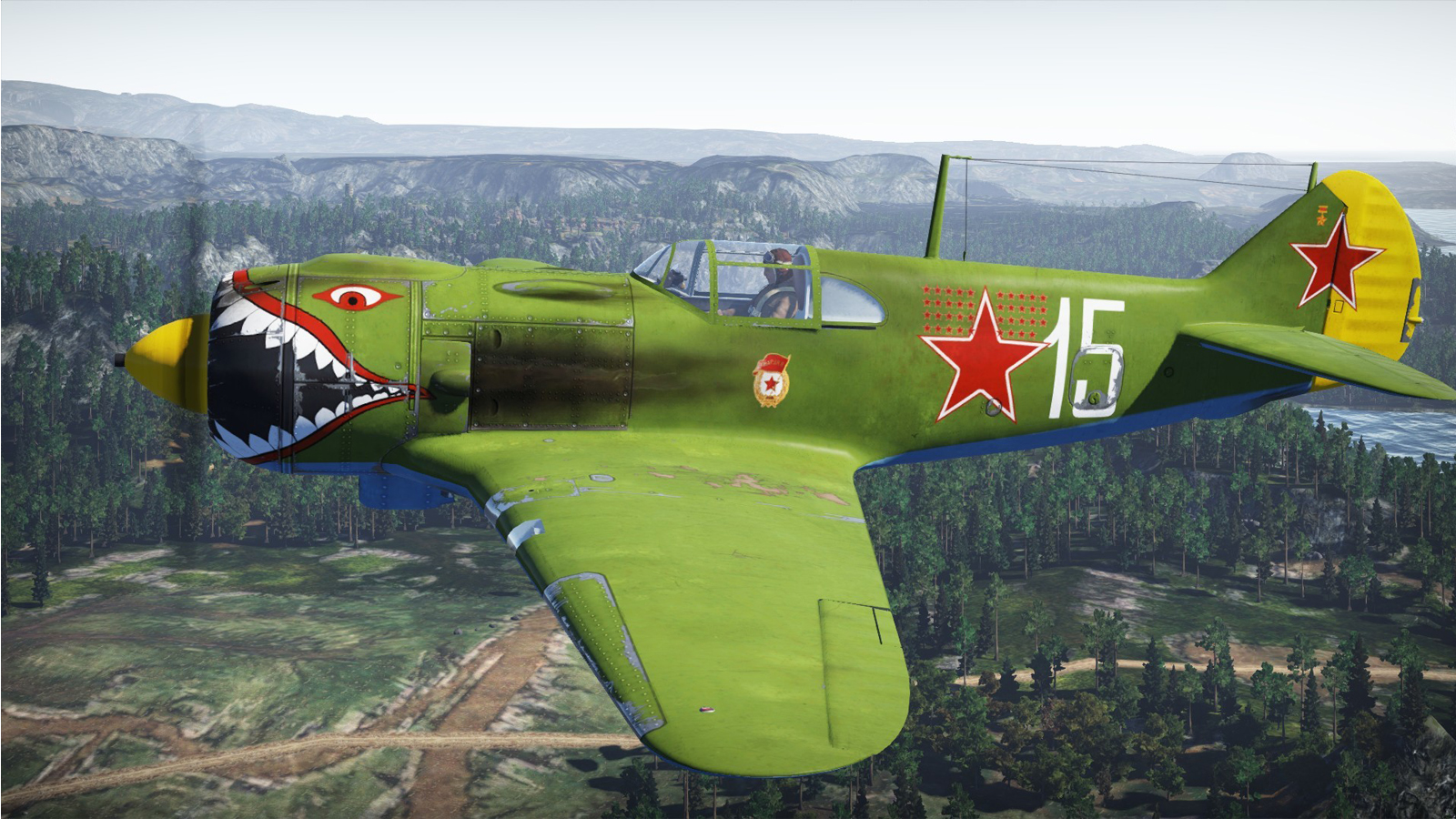 How to Install War Thunder Skins: Tips
Using custom designs can really enhance your gameplay experience. Here are some tips to get the most out of it:
Test free skins first. Don't jump straight into the marketplace and spend your money. Experiment with the free skins available first and see how you like them.

Historical accuracy. Not all skins are representative of the time period. This may matter to you or not, but consistency is key!

Situation appropriate. Don't forget, some custom skins are going to make you stand out quite a lot. Even with the marketplace's submission rules, some available skins will put you at a disadvantage.

Copy your files. You should never edit your install folder without backing up first. Make a copy of the files you're about to edit in case something goes wrong. It's always better to have a backup than have to reinstall the whole lot.

Control your spending. Don't get too carried away on the marketplace. Have a budget in mind and stick to it!

Sours: https://www.bananatic.com/blog/how-to-install-war-thunder-skins
War Thunder skins are simply essential if you're serious about the game. Imagine: you've downloaded War Thunder, played a few matches, and reckon you can take anyone who dares challenge your seafaring, aviation, or vehicular prowess. You understand not to silhouette your aircraft against the sun; you know the importance of studying the map for natural choke points; and you've mastered the bullet drop of your naval cannons to pierce enemy warship hulls at any distance. But can you do all of these things while remaining the height of fashion?
That's right, the objective of War Thunder's infamous grind isn't merely to achieve ultimate mastery of combat skill on land, sea and in the air – but also decking out your vehicles in sick new skins. A host of unlockable camouflages are included in-game, offering new colour schemes and options to better attune your war machines to different environments. Once you've tired of these, however, you'll likely want to delve into the depths of War Thunder's custom user skins. Fan-made and ever so chic, these offer the best solution to creating a unique appearance for your aircraft, tanks, and ships.
One thing to bear in mind: while the camouflages provided in-game by Gaijin or approved for sale on its Marketplace are visible to other players in a match, user skins are purely local. Only you will be able to see whatever visual spruce you lovingly give your vehicles. Doesn't this defeat the purpose? Not at all! As with most aesthetic sensibilities, fashion only matters if it makes you feel good. They're a great way to personalise your arsenal, without having to purchase or unlock new official camouflages.
Although you'll find War Thunder skins popping up all over the internet, a handy collection can be found at Gaijin's official War Thunder live portal. Fortunately for those of you who aren't keen to wade through hundreds of possible paint jobs, we've done the hard work for you and collated a handy list of the best War Thunder skins below. Enjoy!
War Thunder Skins for Aviation
AK3P SILVER PHOENIX
Spruce up the Yak3p by coating a silver phoenix design across the breadth of its wingspan, complete with flaming tail. No historical accuracy or practical use has been thought of here – it's pure style, and inches you closer to flying a giant mechanical bird than a standard plane. A little gaudy? Well, maybe a little. But tell that to the enemy pilot you've shot out of the sky, as you gaze lovingly at your majestic feathers.
HO V3 TRUE STEALTH
The distinct 'flying wing' design of the Ho makes it stand out in any crowd, but what if there was a way to remain unseen? Say hello the latest development in true stealth technology – glass.
Modular warfare: These are the best world of tanks mods
Or perhaps some futuristic light-emitting material? We don't know, but either way, this skin will have you looking directly through the wings of your plane, disguising it among the foliage below. Snazzy.
IP Red Baron
Is there any plane more iconic that Manfred von Richthofen's Albatros D.V.? The Red Baron's own biplane, that loosed so much fury in the skies of World War 1, is available to play in the game, but this adaptation of the IP recreates its essence more purely – that is, a lot of red, with the infamous German Iron Cross pasted at the right locations on its tail and wings. Who knows, maybe some of the Baron's flying flair will rub off on you.
MiGPFM: "GrafFiti"
Sometimes the best artistic refinement is no refinement at all, as this graffitied MiG proves. Playful, colourful and all-round silly, not all skins need to prove your machismo or aerial superiority, but can embrace the lighter side of life – among the salvos of hellfire missiles raining down on the enemy.
Round two: Read our guide to the best WW2 games
Grab this paint job if you want to bring some colour to the occasional high-octane dreariness of modern (grey) aerial war.
Marcel Bloch C1
Perhaps you're not interested in making aviation light and airy, but want to lean into the historical side of War Thunder – preserve, as it were, a veneer of authenticity. In that case, check out this reproduction of the Bloch MB C1. Replacing the original brown-splodge paint job with blue and green hues, and adding decals in all the right places, you'll be convinced you're shooting down the Luftwaffe in no time.
Grumman F11 "Tiger"
The Grumman F11 Tiger doesn't need much visual adjustment to look cracking, but one sure-fire decal to spruce up any plane is some 'shark's mouth' nose art. Killer of the ocean, become killer of the sky. A few more stars and stripes are added for good measure, too – this is a very patriotic fish.
War Thunder Skins for Tanks
Daimler AC MK II Desert
A famous British armoured car of the Second World War, the Daimler usually sports a tepid military green. But green is now considered passé in the inner circle of martial fashion.
Think ahead: These are the best tactical shooters
Replace it with a sandy colour scheme to add a little variety to your tanking experience and become the (miniature) desert fox you want to be.
Leclerc – Saintblade
Mix universes with this Warhammer 40K-inspired tank skin. A crimson body decorated with gold leaf highlights fit for any marine of the gothic future, this custom skin lets you show your allegiance to the Blood Angels and their eternal hunt for heretics, xenos and garlic-free recipes. Tote your cannon knowing you loyally serve the emperor and visit his might upon those who defy you.
Pz.Kpfw Ersatz M10
An alternate history skin that dresses up the Ersatz M10s like a Panther G. Some Panther Gs were, in fact, modified into Ersatz M10s and distributed across German forces during WWII.
Watery grave: Read our guide to the best naval games
This skin imagines one of these chimeras assigned to fight the Soviets in Hungary, providing a darker, stripped-down colour scheme with some subtle camouflaging in the form of squiggly lines. Not bold, not bright, but understated.
Zebra Stripe
Say goodbye to subtlety with this zebra stripe skin. Everybody who's anybody knows zebra patterns are always in vogue and give an air of respectability to an establishment, pair of legs or armoured fighting vehicle. Largely useless for blending into neighbouring terrain though – it's a good thing no one else can see your custom War Thunder skins.
T Polish Winter Camo
A semi-historical skin, this one gives the T medium tank a whitewashed winter camo. The T was used frequently by the Soviets in their frosty fighting, and a light dusting of icing sugar will make it blend in with the terrain. I'm kidding, it's snow, but it will still blend in.
War Thunder skins for ships
ELCO Class 80ft PT
You know what's better than a shark decal on a plane? A shark decal on a ship – it just makes more sense. Based on an experimental camouflage scheme tested in the Mediterranean and Pacific, this skin paints some evil eyes and gnashing teeth on the front of the Elco 80 ft PT
Getting chilly: These are the best cold war games
Cruise across the water and gobble up enemy ships. Don't be surprised when you find digestion difficult.
HMS Invincible dazzle camouflage
True to its name, this geometric dazzle skin sits closer to an optical illusion than a practical paint job. Deck out the famous British battlecruiser with bright blue polygons and pretend you're at a 70s disco, floating precariously in the ocean-faring equivalent of platform heels. Maybe the angular patterns will disrupt enemy targeting systems? No, they won't, because custom user skins can't be seen by other players [but they damn sure hurt my eyes – Ed.]
Pr. Wedding Boat
Amongst the war, the fighting, the pain, there's one common thread that binds humanity – love. Start some early celebrations of humankind's commitment to planetary pacifism with this wedding boat, kitted out with decadent red carpets, gold rims, and bridal white paint.
Forgotten war: The best Korean War games
A big love heart sits at the rear too, so you won't forget what life is all about. It is, as the Beatles taught us, all you need.
PT-3 "NYPD"
Switch uniforms for the day with this NYPD skin for the PT-3, complete with police badge decal, so you know it's genuine. Closer in appearance to a yacht than a New York police vehicle (bar the two gun turrets on the side), you'll be pretending to cruise around the oceans in search of rustlers and villainy, only to shoot them on sight.
If, for some bizarre reason, you haven't yet sampled its highly-detailed martial-vehicle simulation delights, you can play War Thunder free right now.
Sours: https://www.wargamer.com/war-thunder/skins
Search results for «» Clear search
Nothing found
Suitable for ages 12 and older
© — by Gaijin Network Ltd. Gaijin and War Thunder are trademarks and/or registered trademarks of Gaijin Network Ltd. or its licensors, all other logos are trademarks of their respective owners.
XF5F-1 Skyrocket, XP, F4F-3 Wildcat, F4F-4 Wildcat, F4U-1A Corsair, F4U-1B Corsair, F4U-1C Corsair, F6F-3 Hellcat, F8F-1 Bearcat, F8F-1B Bearcat, F9F-2 Panther, F9F-5 Panther, OS2U-1 Kingfisher, OS2U-3 Kingfisher, PD Thunderbolt, and PD Thunderbolt are trademarks of Northrop Grumman Systems Corporation and are used under license to Gaijin Network Ltd.
LOCKHEED MARTIN, CONSOLIDATED B LIBERATOR, CONSOLIDATED PBY CATALINA, LOCKHEED HUDSON, LOCKHEED MARAUDER, LOCKHEED VENTURA, LOCKHEED P LIGHTNING, LOCKHEED F SHOOTING STAR, associated emblems and logos, and body designs of vehicles are either registered trademarks or trademarks of Lockheed Martin Corporation in the USA and/or other jurisdictions, used under license by Gaijin Network Ltd.
P and P emblems, logos, and body designs are trademarks of Textron Innovations Inc. and are used under license by Gaijin Network Ltd.
-
Up
Sours: https://live.warthunder.com/feed/camouflages/
how to create your own war thunder skin
The most I could do was move my right hand. Doing my best to sit on the bed. Finally, it works. I sit, trying to move my legs. Useless.
Skins war thunder custom
Sanya, do you like Katya. Katya - super - I answered sincerely, shifting my gaze from one to the other. Well, let's go - Nastya got up, and, swinging her poured breasts, took Mishka by the hand and walked with him past the already not surprised Katya. At the door she turned around and, looking at me, added - join me.
And she left, closing the door for some reason Katya, is everything all right.
how to make a tank skin in war thunder
Everything shines from above and below. This is the most important point in my sexual relationship. It is so erotic and sexy, he is so defenseless and you want to eat, swallow, kiss everything around for a long time. And swallow eggs in your mouth.
Similar news:
He, just the same, opened her mouth and rested against her throat. Then, sniffling and drooling, Kelly sucked Antonio into her mouth and cock. And after that, she began to diligently suck at both men, moaning with pleasure.
2810
2811
2812
2813
2814