AMD A8-3850 Review
AMD A8-3850 Review
Manufacturer:
AMD
UK price (as reviewed):
TBC
US price (as reviewed):
$135 (ex VAT) MSRP
AMD A8-3850 Review
Earlier this month AMD launched its first line of Llano-based A-series APUs(accelerated processing unit); the company's fusion of its K10 CPU architecture with a Radeon GPU on a single chip.
Unfortunately, though, for those considering a Llano self-build, this first launch, with parts codenamed Husky, was aimed at laptop manufacturers and PC manufacturers. As such, anyone wanting to build a Llano-based desktop themselves has had to wait to get their hands on AMD's new processors. This wait is now over, however, as today sees the official launch of the desktop versions of AMD's Llano-based A-series APUs, codenamed Lynx.
Like the low-power Brazos-based E-series APUs that AMD launched in February this year, the Lynx APUs mark a change of strategic direction for AMD towards a more integrated approach. To this end, AMD claims that the A-series is the first range of processors to offer a competent on-board graphics processor alongside a quad-core CPU, hopefully meaning that the market can dispense with the invariably woeful low-end GPUs that find their way into office and budget PCs.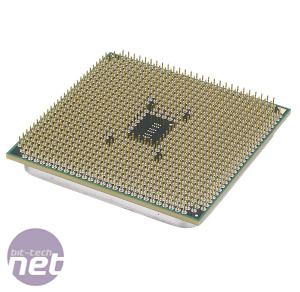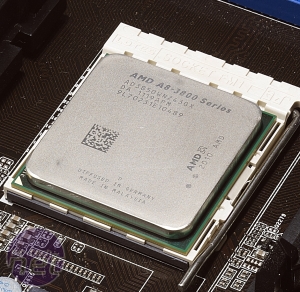 Click to enlarge
AMD plans to start this revolution with the four APUs that it launches today, which are split over two ranges - the A8-series and the A6-series. The two series are differentiated by both their CPU clock speeds and their on-board GPUs; the pair of A8 processors sport a Radeon HD 6550D GPU with 400 stream processors, while the A6-series chips have a Radeon HD 6530D GPU with 320 stream processors. As well as having a higher number of stream processors, the HD 6550D GPU inside the A8 processor also runs faster, with a core frequency of 600MHz as opposed to the 443MHz HD 6530D found in the A6-series.
The range is further divided by different CPU clock speeds. The two quad-core APUs at the top of the A8- and A6-series, the A8-3850 and the A6-3650, run at a frequency of 2.9GHz and 2.6GHz respectively (although they clock down via Cool'n'Quiet when idle), and boast a rather hefty 100W TDP to match.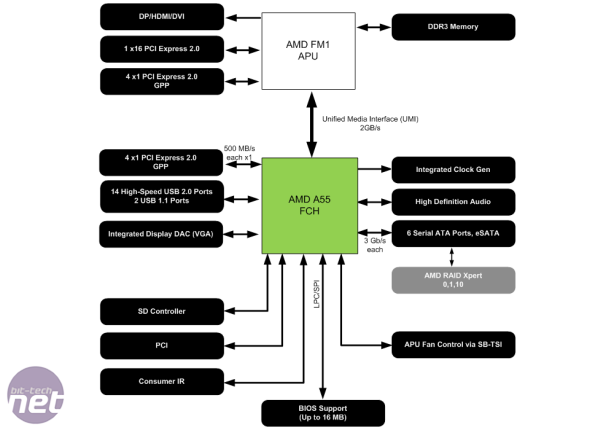 Click to enlarge
The two more junior members of the range, the A8-3800 and the A6-3600, also support AMD's Turbo Core technology, meaning that their clock speeds will adjust dynamically depending on the demands placed on them. The A8-3800 runs at a frequency of 2.4GHz, increasing to 2.9GHz with Turbo Core enabled, while the A6-3600 runs at a frequency of 2.1GHz and rises to 2.4GHz with Turbo Core. Both of these lower-end APUs also have a much lower TDP of just 65W.
The CPU cores that provide this disparity are based on the rather grandly titled Stars core design, although this is really just a tweaked 32nm version of the 45nm Phenom II core. This means that the CPU at the centre of the AMD's new APU is still based on the old K10 architecture, which has fared poorly against Intel's competing Core architecture in the past.
However, a feature that AMD's Lynx APUs offers over the competing chips from Intel is memory compatibility. Each of the A-series processors will be compatible with DDR3 memory running at up to 1,866MHz, rather than the 1,333MHz memory that Intel's budget CPUs need. As this memory is shared between the APU's CPU and GPU, this could offer an easy route to increased graphics performance simply by using faster memory.
The Llano architecture also includes a dedicated Unified Video Decoder (UVD), enabling the APU to offload video playback from both the CPU and GPU, and without the reliance of DirectX Video Acceleration (DXVA).
To complement the launch of the A8 and A6 series of APUs, AMD is also releasing a pair of motherboard chipsets - the A55 and A75. Each will support RAID and hard disks of more than 2.2TB in size, but the premium A75 chipset also provides six SATA 6Gbps ports and four USB 3 ports.
AMD Lynx Family APU Specifications
AMD A8-3850
AMD A8-3800
AMD A6-3650
AMD A6-3600
CPU
Cores
4
4
4
4
Turbo Core
No
Yes
No
Yes
CPU Frequency
2.9GHz
2.4GHz
2.6GHz
2.1GHz
Turbo Core Frequency
NA
2.7GHz
NA
2.4GHz
TDP
100W
65W
100W
65W
Packaging
Socket FM1
Socket FM1
Socket FM1
Socket FM1
GPU
Stream Processors
400
400
320
320
GPU Frequency
600MHz
600MHz
443MHz
443MHz
GPU Layout
5 SIMD Engines
5 SIMD Engines
4 SIMD Engines
4 SIMD Engines
Rasterisers
1
1
1
1
Tessellation Units
1
1
1
1
Texture Units
20
20
16
16
ROPs
8
8
8
8
Typical Street Price
£TBC
£TBC
£TBC
£TBC
Sours: https://bit-tech.net/reviews/tech/cpus/amd-a8-3850-review/1/
AMD A8-7600 review
We first reviewed the A8-7600 in a PC supplied by AMD for the purpose. Sadly, that PC didn't allow the A8-7600 to run at its optimum performance, so we re-tested the processor in our own test rig where it performed much better. We've re-written the A8-7600 review to take account of the A8-7600's improved performance.
AMD's new Kaveri processors are designed to allow software developers to make the most of the processors' computing power. Not only do all three announced Kaveri processors have four processor cores, they also have at least six graphics cores.
Even better, the processors' graphics cores and central processing unit (CPU) cores have equal access to system memory and equal flexibility to create and execute work. This means developers can potentially use all the computing cores of a Kaveri processor to make full use of the chip's processing power. The promise is faster desktop processing and better performance in games, but how do the Kaveri chips perform right now in our real-world benchmarks?
The A8-7600 has four processor cores, six graphics cores and an real-time audio-processing DSP on-die
The AMD A8-7600, which is the entry-level processor in AMD's new Kaveri line-up, is a four-core processor with six graphics cores. It runs at a typical clock speed of 3.3GHz but can boost to 3.8GHz. To use the A8-7600 you'll need to use an FM2+ motherboard, which means you can't just use an existing FM2 board and swap out your Richland or Trinity processor for a Kaveri chip. The good news is that you can use a Trinity or Richland processor in an FM2+ motherboard, so if you don't have funds for both a motherboard and CPU upgrade right now you can always upgrade your motherboard first and then your processor later.
The A8-7600 scored 71 overall in our multimedia benchmarks, the same as the A10-6800K and 11 points higher than the Intel Core i3-3220, so you'll have no problems running desktop applications.
As with other AMD A-series processors, the A8-7600 performs well when graphics processing thanks to its built-in 720MHz, six-core graphics processor. The A8-7600 produced an average frame rate of 45.8fps in Dirt Showdown at a resolution of 1,280x720 and graphics quality set to High. We conducted this test with our reference RAM running at 1,600MHz. When we used AMD's Gamer Series memory running at 2,133MHz the average frame rate increased to 51.2fps with a minimum frame rate of 40.8fps. If you want to use the A8-7600's on-die graphics processor for playing 3D games then it's certainly beneficial to use a higher-frequency memory kit.
Given the built-in graphics processor's good 720p performance we increased Dirt Showdown's resolution to 1,920x1,080 and re-ran the benchmark. With our reference memory installed and running at 1,600MHz the A8-7600 produced an impressive and playably smooth average frame rate of 33.5fps.
However, more graphically challenging games such as Crysis 3 will prove too much for the A8-7600's graphics processor. At a resolution of 1,280x720 with graphics quality set to low the processor produced an average frame rate of 20fps, with a peak frame rate of 25fps and a low of 13fps when tested with our reference memory. When we used the AMD memory at 2,133MHz the average frame rate increased slightly to 23.9fps with a peak of 30fps and a low of 19fps.
There's no doubt that the A8-7600 is good at graphics processing, but its benchmark results only match those we'd expect to see from the A10-6800K. As an example, the A10-6800K produced an average frame rate of 49.9fps in Dirt Showdown at a resolution of 1,280x720 with graphics quality set to High and with our reference memory running at 1,600MHz. This is higher than the average frame rate produced by the A8-7600. The A10-6800K also produced the same 20fps average frame rate as the A8-7600 in Crysis at a resolution of 1,280x720 with graphics quality set to Low. From what AMD have told us we'd expect the A8-7600 to perform better than the A10-6800K, and perhaps the performance will improve as the drivers are further developed.
Sours: https://www.expertreviews.co.uk/pcs/cpus/53173/amd-a8-7600-review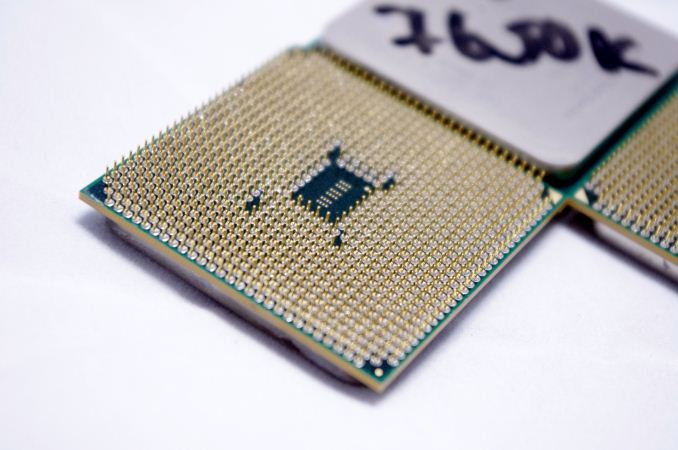 The staggered birth of Kaveri has been an interesting story to cover but it has been difficult to keep all the pieces right in the forefront of memory. The initial launch in January 2014 saw a small number of SKUs such as the A10-7850K and the A8-7600 at first and since then we have had a small trickle at a rate of one or two new models a quarter hitting the shelves. We've seen 65W SKUs, such as in the form of the A10-7800, which offer 45W modes as well. Today we're reviewing the most recent Kaveri processor to hit the market, the A8-7650K rated at 95W and officially priced at $105/$95.
AMDs APU Strategy
Integrated graphics is one of the cornerstones of both the mobile and the desktop space. Despite the love we might harbor for a fully discrete graphics solution, the truth of the matter is that most people and most places still have that integrated platform in both consumer and business. Whenever I meet with AMD, the question from them is always simple - when you build a system, what would you get from AMD/Intel at a similar price point? The APU series tackles the sub-$200 price bracket from head to toe:
CPU/APU Comparion
AMD Kaveri
Amazon Price on 5/12

Intel Haswell
$236

i5-4690K
(4C/4T, 88W)
3.5-3.9 GHz
HD 4600
$199
i5-4590
(4C/4T, 84W)
3.3-3.7 GHz
HD 4600
$189
i5-4460
(4C/4T, 84W)
3.2-3.4 GHz
HD 4600
3.7-4.0 GHz
512 SPs
A10-7850K
(2M/4T, 95W)
$140
i3-4330
(2C/4T, 54W)
3.5 GHz
HD 4600
3.5-3.9 GHz
512 SPs
A10-7800
(2M/4T, 65W)
$135
3.4-3.8 GHz
384 SPs
A10-7700K
(2M/4T, 95W)
$120
i3-4130
(2C/4T, 54W)
3.4 GHz
HD 4400
3.3-3.8 GHz
384 SPs
A8-7650K
(2M/4T, 95W)
$104
3.1-3.8 GHz
384 SPs
A8-7600
(2M/4T, 65W)
$96
Pentium G3430
(2C/2T, 53W)
3.3 GHz
HD (Haswell)
3.7-4.0 GHz
No IGP
X4 860K
(2M/4T, 95W)
$83
$70
Pentium G3258
(2C/2T, 53W)
3.2 GHz
HD (Haswell)
3.5-3.9 GHz
256 SPs
A6-7400K
(1M/2T, 65W)
$64
Celeron G1830
(2C/2T, 53W)
2.8 GHz
HD (Haswell)
I first created this table with launch pricing, and it had some of the APUs/CPUs moved around. But since the release dates of these processors varies on both sides, the prices of individual SKUs has been adjusted to compete. Perhaps appropriately, we get a number of direct matchups including the A10-7700K and the Core i3-4130 at $120 right now. This table is by no means complete, due to Intel's 20+ other SKUs that fight around same price points but vary slightly in frequency, but that tells a lot about each sides attack on the market. Some of AMD's recently announced price cuts are here, but for consistency our results tables will list the launch pricing as we have no mechanism for dynamic pricing.
Testing AMDs APUs over the years has provided results that these are not necessarily targeted to the high end when it comes to multi-GPU systems that total $2000+, although AMD wouldn't mind if you built a high end system with one. The key element to the APU has always been the integrated graphics, and the ability to offer more performance or percentage of transistors to graphics than the competition does at various price points (irrespective of TDP). Ultimately AMD likes to promote that for a similarly priced Intel+NVIDIA solution, a user can enable dual graphics with an APU+R7 discrete card for better performance. That being said, the high-end APUs have also historically been considered when it comes to single discrete GPU gaming when the most expensive thing in the system is the GPU as we showed in our last gaming CPU roundup, although we need to test for a new one of those soon.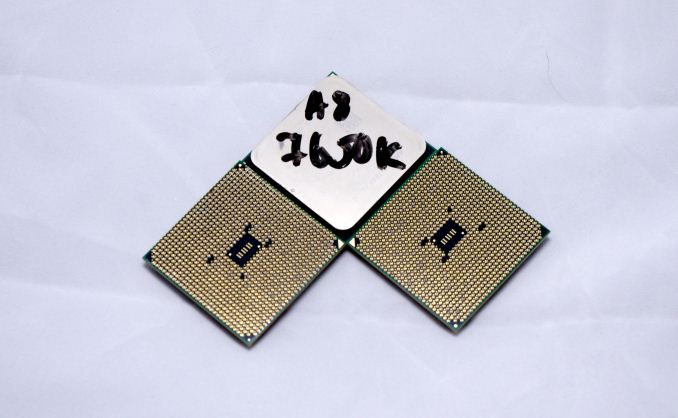 Part of the new set of tests for this review is to highlight the usefulness of dual graphics, as well as comparing both AMD and NVIDIA graphics for low, mild-mannered and high end gaming arrangements.
The A8-7650K
The new APU fits in the stack between the 65W A8-7600 and before we get into the A10 models with the A10-7700K. It offers a slightly reduced clock speed than the A10, but it is built (in part) for overclocking with the K moniker. The integrated graphics under the hood provide 384 SPs at 720 MHz, being part of AMDs 4+6 compute core strategy. The A8-7650K is designed to fill out the processor stack to that end.
AMD Kaveri Lineup
A10-
7850K
A10-
7800
A10-
7700K
A8-
7650K
A8-
7600
X4
860K
A6-
7400K
Price
$140
$135
$120
$104
$96
$83
$64
Modules
2
2
2
2
2
2
1
Threads
4
4
4
4
4
4
2
Core Freq. (GHz)
3.7-4.0
3.5-3.9
3.4-3.8
3.3-3.8
3.1-3.8
3.7-4.0
3.5-3.9
Compute Units
4+8
4+8
4+6
4+6
4+6
4+0
2+4
Streaming
Processors
512
512
384
384
384
N/A
256
IGP Freq. (MHz)
720
720
720
720
720
N/A
756
TDP
95W
65W
95W
95W
65W
95W
65W
DRAM
Frequency
2133
2133
2133
2133
2133
1866
1866
L2 Cache
2x2MB
2x2MB
2x2MB
2x2MB
2x2MB
2x2MB
1MB
At a list price of $105 (current $104), we were at a quandary with what to test against it from team blue. The Pentium G3258 sits at $72 with two cores at 3.2 GHz and HD (Haswell) GT1 graphics. The next one up the stack is the i3-4130, a dual core with hyperthreading and HD4400, but sits at $120. Ultimately there is no direct price competitor, but AMD assured us they were confident in the positing of the SKUs, particularly when gaming is concerned. Due to what I have in my testing lab, the nearest competitor to this is the i3-4330, a model with a larger L3 cache which has a list price of $138, or the i3-4130T which is a low power SKU.
Intel Reports Q3 2021 Earnings: Client Down, Data Center and IoT Up
Intel Reaffirms: Our Discrete GPUs Will Be On Shelves in Q1 2022AT Deals: Razer Huntsman V2 Analog Gaming Keyboard Drops to $200
TWEETS
IanCutress: @anshelsag @markhachman Because he hasn't installed FastStone yet
IanCutress: @SwiftOnSecurity I went to Russia on holiday once. Less bears than I had been led to believe.
IanCutress: A reminder of Intel's Arc names after Alchemist, Battlemage, Cleric and Druid https://t.co/acGcmHB3QL
IanCutress: @SteakandChickn @dylan522p @Srasgon Ah fair
IanCutress: @dylan522p @Srasgon I thought they were expecting a 50/50 crossover in Q3 2021?
andreif7: @Ashraf_Medhat93 AIDA doesn't have a clue about where the L3 is. They just test a fixed test depth of ex. 4-6MB, if… https://t.co/MDzbmjjQL0
andreif7: People still misrepresent/misunderstand the AMD L3 issue. It was never *slower*. It was just smaller. It was actual… https://t.co/XJASVgSvFW
andreif7: @Cat_Merc @dylan522p @Cox_Pt The Windows high core count GB issue is a memory allocator problem, John, has acknowle… https://t.co/9Sb9zzDh7L
andreif7: @jonnyevans_cw https://t.co/TPws1rG12u 8.58mm x 12.55mm = 107.68 mm2
andreif7: @gabesalkin No, it's all the same.
RyanSmithAT: @IanCutress @denis20731349 Isn't it 2 external displays + 1 internal display?
RyanSmithAT: @oliviaselenic @OldGreyHorror An NVIDIA CUDA core is 1 FP32 ALU, not 1/32 of an ALU. An ALU processes one FP32 oper… https://t.co/AEJwJVs5uk
RyanSmithAT: @oliviaselenic @OldGreyHorror Apple's current GPU architecture offers 128 FP32 ALUs per "core", which is similar to… https://t.co/HVRy0GcHMi
RyanSmithAT: And just to respond to myself here, Andrei reckons that based on Apple's images, it's 432mm2 for the M1 Max. That's… https://t.co/rJneX19zmk
RyanSmithAT: @Jimmy78926787 Apple is fortunate that they can charge so much for their products
ganeshts: A Thunderbolt 4 / USB4 hub from @plugable at a very attractive price point (considering the USBC-HDMI value add). A… https://t.co/DiJZS8MmF9
ganeshts: @JamesDSneed @IanCutress Yes, NAND has the ability to store dynamic sector remap information - this is not only for… https://t.co/J0NYC9oCZk
ganeshts: @AG_1138 Micron has a history of doing these silent changes. The P2's silent move from TLC to QLC resulted in worse… https://t.co/UfmTilvFi1
ganeshts: @ricswi Looks like that requirement is Home-only. Other editions will still allow local accounts. I can't remember… https://t.co/qOvPnduAuY
ganeshts: @Laughing_Man @hnpn914 Benson, is there an update planned for the Twinkie PD to support EPR? I still use the USBC-T… https://t.co/D6g5nmQvB5
Follow @ANANDTECH
Sours: https://www.anandtech.com/show/9217/the-amd-a8-7650k-apu-review-also-new-testing-methodology
AMD A8-3870K Review
Top positive review
All positive reviews›
5.0 out of 5 starsA-8 6500 Really Good 65-Watt Processor
Reviewed in the United States on September 10, 2013
This is a really good CPU. I have built two PC's with this processor and
they are trouble free and very fast. The built in graphics processor is impressive.

I am not a gamer, but playing HD movies on multiple screens is possible with this unit.

For any budget builder you can put together a low cost system for about $350 with this
chip. Make sure you have 8GB of memory or more to optimize performance. You will get
about a 15-20% improvement over 4GB or main memory.

You won't be able to build a comparable Intel unit unless you are willing to spend $500
or more. Which is why I still use AMD CPU's. For budget builds they are the best.
Many of my systems are still running 5 years later & longer.

If you mainly use your machine for surfing, viewing movies, photo's, & documents
then this is a really impressive machine. It handles multi-tasking really well.
You can have Anti-virus software scanning, and de-frag the HD and still surf without
any lag.
Sours: https://www.amazon.com/AMD-Richland-Quad-Core-Processor-AD6500OKHLBOX/product-reviews/B00CPLGFII?reviewerType=all_reviews
A8 reviews quad core amd
When AMD initially released their Llano-based A-Series APUs, the company targeted cost-conscious consumers looking for highly-integrated, easy to assemble solutions for an entry-level or mid-range PCs. At the time of launch, the flagship model in the A-Series line-up was the A8-3850, which featured quad CPU cores paired to a DirectX-11 Radeon GPU with 400 active shader units. In our coverage of the A8-3850, we found it to offer decent performance for its price, especially in graphics-related workloads where the APU's relatively powerful integrated GPU was able to stretch its legs.

AMD Llano Die Shot...
The original A-Series APU line-up didn't feature any enthusiast-targeted products, but AMD quickly reacted to the A-Series' mostly favorable reception with a new flagship, dubbed the A8-3870K Black Edition, which we'll be showing you here today. In its default configuration, the A8-3870K is a slight upgrade from the A8-3850, thanks to a small increase in its default CPU frequency. The "K" in its part number, however, means the chip is unlocked, which makes for some interesting overclocking. When paired to the right motherboard, which features an updated BIOS / UEFI that fully supports the A8-3870K, this APU is able to hang with some of AMD's fastest quad-core desktop processors, while also offering discrete-class GPU performance.
AMD A8-3870K Unlocked "Llano" APU
Specifications & Features
Tech / Package
32nm / FM1 905-pin lidded μPGA, 40x40 mm, 1.27 mm pitch
TDP Configurations
100W configurations
Processor Core
"Stars" 32nm HKMG process core (up to 4 cores), 128 KB L1 Cache(64 KB Instruction, 64 KB Data) 1 MB L2/Core, 128-bit FPUs, Unlocked @ 3.0GHz
Memory
Up to DDR3 1866
Graphics Core
Up to 400 Radeon Cores, DirectX 11 capable, UVD3
Displays
Digital Display I/F DP0: Display Port, HDMI, DVI
Digital Display I/F DP1: Display Port, HDMI, DVI
Graphics Features
AMD Dual Graphics
Blu-ray 3D
AMD Steady Video
AMD Perfect Picture
DisplayPort 1.1a, HDMI 1.4a

Power Management
Multiple low-power states
32-nm process for decreased power consumption
PCIe core power gating
PCIe speed power policy
GPU power gating of Radeon Cores and video decode (UVD3)
AMD Turbo Core technology on select models
AMD A75/AMD A55 FCH
Tech/Package
65nm / FC BGA, 605-Ball, 23x23mm, .8mm pitch
TDP Configurations
A75: 7.8W, A55: 7.6W
UMI
x4 Gen 2
SATA
A75: 6 ports at 6 Gb/s, A55: 6 ports at 3 Gb/s
RAID
0,1,10
USB
A75: 4 USB 3.0 Ports, 10 USB 2.0 Ports, 2 USB 1.1 Internal Ports A55: 14 USB 2.0 Ports, 2 USB 1.1 Internal Ports
PCIe GPPs
4x1 Gen2
FIS Support
A75 only
CIR
CIR Receiver
Clock Gen
Integrated
Power Rails
SVID for VDDCR_CPU & VDDR_NB, fixed voltage for other rails

Software/Firmware
Software
Drivers: Windows 7, Windows Vista, Windows XP, Linux
---

Click to Enlarge
The AMD A8-3870K differentiates itself from the A8-3850 it supplants at the top of AMD's A8 APU line-up in two meaningful ways. First, the A8-3870K has a 100MHz higher default CPU clock, 3GHz (3870K) versus 2.9GHz (3850). Second, as the "K" denotes, the A8-3870K is an unlocked "Black Edition" APU. That means the chip is unlocked for more flexible overclocking. It's not only the CPU multipliers that are unlocked though, but the GPU and memory speed multipliers too. The initial batch of "non-K" Llano APUs were all locked, so overclocking was only possible via base clock manipulation. With the A8 K SKUs, however, overclocking of the CPU, GPU, and Memory blocks is also possible via multiplier adjustment.
Just to paint the complete picture, as we've already mentioned, the AMD A8-3870K APU has a default CPU clock speed of 3.0GHz. Its four x86 cores are each outfitted with 128KB of L1 Cache (64KB Instruction, 64KB Data) and 1MB of L2 cache per core, but no L3 cache is present. Phenom II processors have similar L1 configurations, but only half the L2, plus a large 6MB L3 cache. However, remember, this is an APU, so the A8-3870K also has an integrated DX11-class Radeon HD 6550D GPU core. The GPU runs at a default frequency of 600MHz and has 400 active shader ALUs arranged in an array of 5 SIMDs.
Due to the fact that the A8-3870K's CPU cores are only clocked 100MHz higher than the A8-3850 and the main attraction of this APU is its status as an unclocked Black Edition chip, we did some overclocking right out of the gate using a standard air-cooler to see what kind of CPU and GPU performance gains could be achieved with a bit of tweaking. Ultimately, the A8-3870K ended up being fairly overclockable and attained a CPU frequency of 3.5GHz simultaneously with an 800MHz GPU frequency. These are increases of 500MHz and 200MHz, respectively, over their default clocks. Since those numbers were possible with a basic air-cooler and only a minor .25v bump in voltage, we've included a full set of benchmark scores while the A8-3870K was overclocked on the pages ahead.
Sours: https://hothardware.com/reviews/amd-a83870k-unlocked-llano-quadcore-apu-
Gaming With The AMD A8 6600K APU In 2020...
AMD A8-3850 review:
AMD A8-3850
AMD has not competed well with Intel in recent years, in part due to Intel's relentless pursuit of ever-more-efficient CPU manufacturing processes. In combination with the fact that Intel owns its own manufacturing facilities, compared with AMD which has to use other companies' plants, the result has been that Intel's CPUs have maintained a dollar-for-dollar performance lead over AMD's since Intel first introduced its Core 2 Duo chip family in mid-2007.
Aside from that manufacturing competition, this latest generation of CPUs represents a major step in what's been a slow shift in the way we think about computing. Traditionally, CPUs handle application processing duties, and GPUs (graphics processing units) were meant for gaming and dedicated video processing programs. Since Intel's Core CPUs launched earlier this year, and really as early as the 2008 debut of Nvidia's CUDA technology, those lines have blurred. Now, applications ranging from Adobe Creative Suite 5 and Flash 10.1 to Windows 7, Internet Explorer 9, and Firefox 4.0 can use the graphics processor to speed up performance, particularly when it comes to rendering visual elements. Windows' translucent Aero visual theme, for example, supports GPU acceleration.
As Intel did with Sandy Bridge, AMD has rolled a graphics chip directly into its new A-Series processor designs. The A8-3850, reviewed here, offers the equivalent of four Phenom II CPU cores combined with an AMD Radeon HD 6550 graphics core. The result is a chip designed to handle the demands of different processing workloads quickly and efficiently.
AMD A8-3850
Intel Core i3 2105
Price
$135
$139
Number of physical cores/processing threads
4/4
2/4
Maximum CPU clock speed
2.9GHz
3.1GHz
L2 cache
4x1MB
2x256KB
L3 cache
NA
3MB
Manufacturing process
32nm
32nm
Maximum memory speed
1,866MHz DDR3 SDRAM
1,333MHz DDR3 SDRAM
Embedded graphics core
AMD Radeon HD 6550
Intel HD Graphics 3000
Graphics core clock speed
600MHz
850MHz
AMD is sticking with very mainstream price points and clock speeds for its new CPU. The A8-3850 is the most high-end chip of the four announced. A $119, the A6-3650 has a clock speed of 2.6GHz, with A8-3800 and A6-3600 variants filling in the price bands in between. The latter two chips use AMD's Turbo Core technology, which dynamically ramps up the core CPU clock speed according to the workload, similar to Intel's Turbo Boost feature. Unlike Turbo Boost, Turbo Core provides only a marginal speed increase to the chips that use it, and the bump applies to all four cores simultaneously. Intel's Turbo Boost has a broader range of clock speeds, and can apply a speed boost to individual cores as workloads demand.
Intel's dual-core Core i3 2105 CPU is the closest competitor to the fixed-frequency A8-3850 in terms of price. Although the Intel chip has a faster core clock speed, it has only two physical processing cores. Intel's Hyper-Threading technology virtualizes an additional processing thread on each core, and in that way the Core i3 2105 mimics the behavior of a quad-core CPU. In contrast, the A8-3850, and all of AMD's new desktop chips, each have four physical processing cores.
Apple iTunes encoding test (in seconds)
(Shorter bars indicate better performance)

Intel Core i3 2105 (1,333MHz RAM)

AMD A8-3850 (1,600MHz RAM)

AMD A8-3850 (1,333MHz RAM)

Adobe Photoshop CS3 (in seconds)
(Shorter bars indicate better performance)

Intel Core i3 2105 (1,333MHz RAM)

AMD A8-3850 (1,600MHz RAM)

AMD A8-3850 (1,333MHz RAM)

Adobe Photoshop CS5 image-processing test (in seconds)
(Shorter bars indicate better performance)

Intel Core i3 2105 (1,333MHz RAM)

AMD A8-3850 (1,600MHz RAM)

AMD A8-3850 (1,333MHz RAM)

Multimedia multitasking (in seconds)
(Shorter bars indicate better performance)

Intel Core i3 2105 (1,333MHz RAM)

AMD A8-3850 (1,600MHz RAM)

AMD A8-3850 (1,333MHz RAM)

Cinebench 11.5
(Longer bars indicate better performance)
| | | | | | |
| --- | --- | --- | --- | --- | --- |
| | Rendering multiple CPUs | | | Rendering single CPU | |
AMD A8-3850 (1,333MHz RAM)

AMD A8-3850 (1,600MHz RAM)

Intel Core i3 2105 (1,333MHz RAM)

As you can see from our application performance tests, AMD's new A8-3850 isn't quite ready to compete with Intel on file conversion and other traditional multimedia tasks. The Core i3 2105 outperformed the A8-3850 in almost every application test, including our Photoshop CS5 test, which uses filters that can benefit from GPU processing capabilities. We thought that if the AMD chip and its beefy graphics core had a shot it would be on that test, but it seems that's not the case.
Interestingly, for programs that are focused on multicore CPU processing, like our Cinebench test, the A83850 and its four native CPU cores will outperform Intel's simulated four-core chip. This makes for a rather complicated competitive landscape. Do you opt for a CPU with strong single-core performance, strong multicore performance, or strong GPU computing performance? No vendor can claim superiority across all three processing strategies, which means you must either pick based on the design of the applications you use most commonly, or look for a chip that offers the best all-around performance. With many programs still reliant on single-core processing speed, Intel seems like the safest choice. For gamers (as you'll see below) or users of multicore applications, we'd suggest AMD.
Also, note that you can see measurable performance gains from the AMD chip if you opt for 1,600MHz DDR3 RAM instead of 1,333MHz sticks. Even though the extra RAM speed doesn't allow the A8-3850 to overtake Intel, the 1,666MHz memory showed gains of 30 seconds in our Photoshop CS 5 test, and just under 15 seconds in our multimedia multitasking test. While we can't recommend the new AMD chip at this price if you need fast performance in digital media applications, we can at least say that using faster memory with the A8-3850 has real benefits. A quick scan of Newegg shows that 1,600MHz RAM will only cost about $5 more than equivalent 1,333MHz RAM, a relatively modest premium.
Far Cry 2 (in fps)
(Longer bars indicate better performance)
| | | |
| --- | --- | --- |
| | 1,440x900 (DirectX 10, 4x aa, very high) | |
AMD A8-3850 (1,600MHz RAM)

AMD A8-3850 (1,333MHz RAM)

Intel Core i3 2105 (1,333MHz RAM)

Metro 2033 (in fps)
(Longer bars indicate better performance)
| | | |
| --- | --- | --- |
| | 1,600x1,080 (low detail) | |
AMD A8-3850 (1,600MHz RAM, DirectX 10)

AMD A8-3850 (1,333MHz RAM, DirectX 10)

AMD A8-3850 (1,333MHz RAM, DirectX 11)

AMD A8-3850 (1,600MHz RAM, DirectX 11)

Intel Core i3 2105 (1,333MHz RAM, DirectX 10)

While AMD may lag behind Intel in certain kinds of application performance, the A8-3850's 3D graphics capabilities considerably improve the outlook for budget gaming desktops. Even at low resolution and image quality, Intel's HD Graphics 3000 core can't provide a playable Far Cry 2 experience. AMD's Radeon HD 6550, particularly with the faster memory, offers nearly three times the performance.
The A8-3850's advantage on the more demanding Metro 2033 is less dramatic, but still noticeable. Here the AMD chip offers marginally better performance in DirectX 10 mode than in DirectX 11. Intel's chip offers only DirectX 10 support, but even compared with the A8-3850's worst DirectX 11 frame rate, the Core i3 is still about 50 percent slower.
Between these two scores, with Far Cry 2 representing a very forgiving game, and Metro 2033 among the most demanding, we can say that while you would still enjoy a better gaming experience with a discrete graphics card, the AMD A8-3850 and its Radeon HD 6550 graphics core offer impressive PC gaming capabilities for the price. As AMD has done before, if you add a lower-end Radeon HD 6000-series card to a desktop with the A8-3850, the two will work together, in a sort of budget dual-graphics card mode. A more high-end graphics card won't receive a boost from the embedded CPU graphics core, but paired with a Radeon HD 6750, for example, AMD says the A8-3850 will provide roughly between 10 percent and 25 percent more performance than you'd see from the 6750 card by itself.
Due to the new architecture, AMD's new chips will require new motherboard chipsets as well. You'll find AMD's new A55 and A75 chipsets in motherboards from the usual third-party vendors. Our test board, an ASRock A75 Pro4, comes in on the higher end, but offers a modern assortment of ports, including four USB 3.0 inputs, five SATA III ports, and two PCI Express graphics card slots, the most we've seen on one motherboard. You also get HDMI, VGA, and DVI video outputs, and dual-monitor support. The motherboard also supports 6GBps SATA inputs.
The A55 variants have USB 2.0 jacks only, and support only SATA II storage devices. AMD's new platform can also support 3D Blu-ray playback. That might not be the most popular feature, but home-theater PC builders may appreciate it, and it's not a feature supported by Intel's second-gen Core platform.
Juice box
AMD A8-3850
Average watts per hour
Off (watts)
0.019
Sleep (watts)
2.95
Idle (watts)
49.17
Load (watts)
113.67
Raw (annual kWh)
201.926322
Annual power consumption cost (@$0.1135/kWh)
$22.92
Our power consumption comparison was thwarted somewhat by the fact that the Intel Z68 motherboard wouldn't work with our admittedly old 500-watt Antec Neo HE 500 power supply. To keep things equal, we tested both systems with a 1,000-watt PSU, but that much wattage is completely overkill for these CPUs, and the resulting power efficiency comparison was not representative of the power draw you'd see from desktops using these chips. With a more typical power supply, the AMD A8-3850 offered power efficiency that seemed to improve on that of older AMD chips with similar performance, like the 2.9GHz AMD Phenom II X4 810T CPU in the HP Pavilion P6720f. In any case, the A8-3850's power draw even in our unoptimized test bed was impressive. We'd expect a vendor-built system with a more efficient power supply and strategically selected power management features to offer even greater efficiency.
Conclusions
Budget gamers in particular should be excited about AMD's new family of APU desktop chips due to their strong 3D performance. We'd hoped to see faster graphics processing in Photoshop CS5 as well, but Intel's standard CPU performance superiority seems to give it the edge there and with programs that rely on more traditional CPU processing. If you regularly use a program designed to make use of multiple processing cores, the A8-3850 is a better choice. Regardless of situational hair-splitting, AMD's A8-3850 is robust enough to offer an acceptable computing experience, and its 3D processing power, both by itself and in conjunction with a lower-end Radeon graphics card, should make this chip popular, particularly among mainstream gamers.
Test system configurations:
AMD test bed
Windows 7 Home Premium 64-bit; 2.9GHz AMD A8-3850; ASRock A75 Pro4 motherboard; 8GB 1,600MHz DDR3 SDRAM/1,333MHz DDR3 SDRAM; 512MB ATI Radeon HD 6550 embedded; 500GB, 7,200rpm Western Digital SATA II hard drive
Intel test bed
Windows 7 Home Premium 64-bit; 3.1GHz Intel Core i3 2105; 8GB 1,333MHz DDR3 SDRAM; Intel DZZ68DB motherboard; 64MB Intel HD Graphics 2000 embedded; 500GB, 7,200rpm Western Digital SATA II hard drive
Sours: https://www.cnet.com/reviews/amd-a8-3850-review/
Now discussing:
RSS
TechRadar is supported by its audience. When you purchase through links on our site, we may earn an affiliate commission. Learn more
First the bad news: for a quad-core PC processor, even one designed for laptops rather than desktop PCs, the AMD A8-3500M's raw CPU performance is mediocre. That's because the clockspeed is limited to just 1.5GHz when all four cores are crunching numbers. In fact, in our testing we never detected any cores running beyond 1.5GHz, though AMD says it does happen when only one or two cores are under load.
Consequently, the 3500M gets absolutely hammered by the likes of Intel's quad-core Core i7-2820QM. Take the x264 video encoding test. The 3500M manages just 8.3 frames per second. Intel's 2820QM hammers out 28 frames per second. It's a similar story in the Cinebench R10 3D rendering benchmark. Intel's mobile quad completes it in 47 seconds. The 3500M lumbers across the line in two minutes and 21 seconds.
Of course, the A8-3500M is a much cheaper chip designed for relatively low-cost laptops. The harsh truth is that most of Intel's Core i3, i5 and i7 mobile chips will have the measure of the 3500M for plain CPU performance. But the crucial question is whether that actually matters. For day-to-day computing, there's more than enough processing power on offer.
What's more, where AMD's new chip really comes good is where you need performance most. Gaming. In the 3500M, the graphics core is known as the Radeon HD 6620G, it has all 400 cores enabled and runs at up to 444MHz. And it absolutely destroys Intel's equivalent integrated graphics core, the HD 3000.
Running an older game such as Call of Duty 4 at 1,280 x 800 pixels, the Intel HD 3000 can only manage around 27 frames per second. The Radeon HD 6620G cranks out 46 frames per second. In a more demanding title like World in Conflict, the HD 3000 is frankly unplayable, even at just 800 x 600 pixels. The Radeon struggles, too, at standard settings. But it has just enough grunt to cope if you knock a few of the detail settings down. Overall, it's a great little graphics chip for low key gaming on the move. A spot of World of Warcraft or Portal 2 at the airport? No problem.
Contributor
Technology and cars. Increasingly the twain shall meet. Which is handy, because Jeremy (Twitter) is addicted to both. Long-time tech journalist, former editor of iCar magazine and incumbent car guru for T3 magazine, Jeremy reckons in-car technology is about to go thermonuclear. No, not exploding cars. That would be silly. And dangerous. But rather an explosive period of unprecedented innovation. Enjoy the ride.
Sours: https://www.techradar.com/reviews/pc-mac/pc-components/processors/amd-a8-3500m-965258/review/4
279
280
281
282
283