From the April 2006 issue of Car and Driver.
Everybody on the street knows when a Cadillac Escalade rumbles by: It's what gridiron and hoop dreams are made of, what stage and screen stars aspire to. Why don't folks feel that way about the GMC Yukon Denali? It was the Denali that GM favored by introducing it first, back in 1998. But it has always stood in the Escalade's shadow—a few thousand dollars cheaper, with 10 to 20 fewer horses and none of the Cadillac truck's notoriety—even though mostly superficial differences separate them.
For 2007 comes an even more Escalade-like Denali, with a shared 6.2-liter V-8 and six-speed, that should nonetheless continue to take a corporate-designated second place.
This new powertrain is, for now, exclusive to Denali and Escalade models, but we expect the six-speed will eventually make its way down-market. That drivetrain is also the Denali's biggest difference among lesser Yukons, since all of GM's full-size SUVs benefit from a stiffer chassis, improved fit and finish, much enhanced interiors, and upgraded road manners.
The bored-out all-aluminum 6.2-liter engine sports variable cam timing and makes 380 horsepower and 415 pound-feet of torque (a seemingly random 23 horsepower and two pound-feet shy of the '07 Escalade), and the 6L80 six-speed is a simplified transmission design—GM's first "clutch to clutch"—which is roughly the same size as the old four-speed unit. In practice, it almost always serves up smooth shifts and is happy to kick down two or three ratios when prodded. Our only complaint is that the tranny won't hold gears in either trailer-towing or manu-matic mode, which means those functions can't be used to prevent a shift while towing up a slight grade, for example. Speaking of towing, the Denali's rating of 7400 pounds is oddly lower than that of the outgoing model and the lesser 5.3-liter four-wheel-drive Yukons.
The full-time 40/60-split all-wheel drive is basically unchanged (a rear-drive model comes later). Give the Denali the boot and the front wheels squawk as they claw for traction on the way to a mighty 6.2-second 0-to-60 dash and 15.0-second quarter-mile time, besting the last-gen Escalade by 1.6 and 1.0 seconds, respectively. These stats would also lay low competitors such as the Lincoln Navigator and Infiniti QX56.
Even with an increase of 45 horsepower and 40 pound-feet over the previous Denali, the 2007 model manages the same 13-mpg city rating and betters the highway number by 2 mpg to 19. We were surprised to attain 20 mpg on highway stretches, even at near-80-mph speeds. But in the real world of traffic jams and stoplights, we averaged 12 mpg-not exactly barroom bragging material.
Visually, the Denali adds a few chrome pieces, including a mesh grille, door handles, and roof rails. It also comes with a collection of standard equipment such as a power liftgate, Bose sound system, remote starter, Nuance leather seats, and 18-inch wheels (our tester had the optional 20s). When it comes to luxury, however, the Denali stops short of the Escalade; it doesn't have a differentiated interior design with soft-touch plastics or white-LED backlighting for the gauges.
Still, the best thing about GM's new SUVs is their driving behavior. Autoride (two-position automatically adjusting dampers) is still the Denali's suspension of choice, and over a stretch of rough pavement this 5610-pound brute feels impossibly solid and composed and, at the same time, comfortably compliant. Driver inputs funnel through pleasantly weighted steering, which feels more precise than that of most other large SUVs, and an excellent firm brake pedal, even though stops from 70 mph are about average at 187 feet.
The Denali's price has dropped $2070 to $47,990, a compelling $9000 less than an Escalade. But with standard second-row buckets, it holds just four adults (only small kids will fit in back, unlike in the Navigator). This strikes us as a rather expensive family hauler, especially considering that its value typically plummets about $20,000 in the first two years. But we never understood the surge of SUV sales, so what do we know? Your 50 grand buys this hugely improved, unhyped 90-percent Escalade.
Specifications
SPECIFICATIONS
2007 GMC Yukon Denali
VEHICLE TYPE
Front-engine, 4-wheel-drive, 7-passenger, 5-door wagon
PRICE AS TESTED
$52,870 (base price: $47,990)
ENGINE TYPE
Pushrod 16-valve V-8, aluminum block and heads, port fuel injection
Displacement
376 in3, 6162 cm3
Power (SAE net)
380 bhp @ 5700 rpm
Torque (SAE net)
415 lb-ft @ 4400 rpm
TRANSMISSION
6-speed automatic with manumatic shifting
DIMENSIONS
Wheelbase: 116.0 in
Length: 202.0 in
Width: 79.0 in
Height: 77.0 in
Curb weight: 5610 lb
C/D TEST RESULTS
Zero to 60 mph: 6.2 sec
Zero to 100 mph: 17.2 sec
Street start, 5-60 mph: 6.6 sec
Standing ¼-mile: 15.0 sec @ 94 mph
Top speed (governor limited): 107 mph
Braking, 70-0 mph: 187 ft
Roadholding, 300-ft-dia skidpad: 0.72 g
FUEL ECONOMY
EPA fuel economy, city driving: 13 mpg
C/D observed fuel economy: 12 mpg
c/d testing explained
ExpandCollapse
This content is created and maintained by a third party, and imported onto this page to help users provide their email addresses. You may be able to find more information about this and similar content at piano.io
Sours: https://www.caranddriver.com/reviews/a18202218/2007-gmc-yukon-denali-short-take-road-test/
2007 GMC Yukon Denali
2007 GMC YUKON DENALI AND YUKON XL DENALI EXUDE REFINEMENT, STYLE
The flagships of GMC's family of professional grade vehicles, the Yukon Denali and Yukon XL Denali deliver unique exterior design and interior features, as well as an all-new 6.2L all-aluminum small-block V-8 engine with variable valve timing and a new six-speed automatic transmission.
(posted on conceptcarz.com)
The 6.2L engine is rated at 380 horsepower (283 kW)*, the most horsepower in its class. Yukon Denali and Yukon XL Denali are distinguished with exterior appointments that elevate the exclusivity their appearance. In addition to the iconic honeycomb chrome grille, the vehicles also features enhanced exterior bright work, unique headlamps, taillamps and rear fascia treatment, as well as unique 18-inch standard polished wheels. Twenty-inch factory-installed chrome wheels are available. Denali-exclusive headlamps and taillamps further the jeweled look of these unique Yukon models, with detailed lighting elements and clear lenses – with etched GMC logos on the headlamp bezels – that provide a crystalline appearance and distinctive lighting patterns. Standard features on the Denali models include power liftgate, power release second-row fold-and-tumble bucket seat, head curtain side air bags, power-adjustable pedals, heated windshield washer system, electrochromic (auto-dimming) inside mirror, RainSense automatic windshield wipers, remote start system and Últrasonic Rear Parking Assist. From an entertainment standpoint, the vehicles come standard with an AM/FM MP3-capable radio with a six-disc in-dash CD changer, Bose 10-speaker Centerpoint Surround Sound audio system and XM Satellite Radio. The Denali models also offers several helpful and convenient options, including a navigation radio system, rearview camera system, power sunroof, power-retractable assist steps (available midyear) and a rear-seat, DVD-based entertainment system.
Superior refinement, comfort and convenience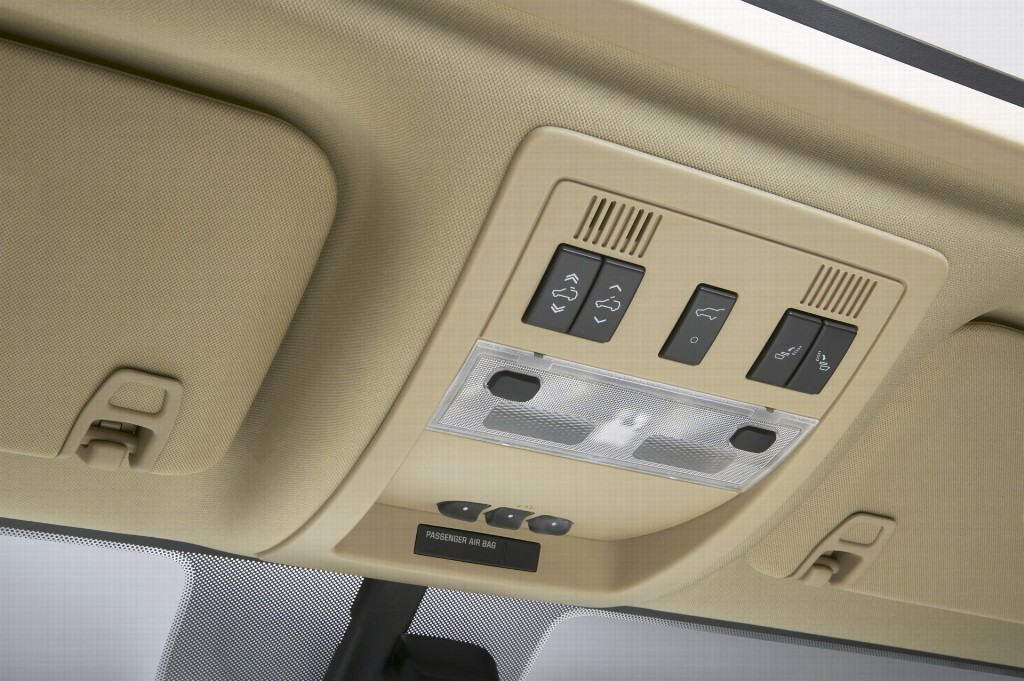 The interiors of the Yukon Denali and Yukon XL Denali offer style and luxury, including standard Nuance leather-covered seating with heated first- and second-row captain's seats, as well as leather trim throughout – including a Denali-exclusive leather-wrapped steering wheel, which also features real wood accents and a host of auxiliary controls. A heated steering wheel is available. The upscale styling is complemented by new, softer and low-gloss materials for the instrument panel and other trim pieces. The harmonious color and grain of the materials were carefully selected to provide a premium feel as well as durability. Flush-mounted HVAC controls and radios, with almost imperceptible gaps, convey precision and integration, as do dampened doors for the center console storage and cupholders. Chrome accents are used on instrument surrounds, vents and other trim. Automatic climate control is standard. Craftsmanship also is revealed in unexpected areas, such as distinctive sill plates that greet occupants when the doors are opened and the lack of exposed fasteners on the seats or seat tracks. The seats have 'close-outs' that surround the seat bottoms and seat tracks, creating a more finished appearance. Seat bottoms and hardware are covered, too, when folded. As with other Yukon and Yukon XL models, the Denali models offer GM's new, industry-exclusive power fold-and-tumble second-row seat feature that eases access to the third-row seat. The power fold-and-tumble second-row seats are standard on Denali and feature release buttons accessible by the driver or on the interior C-pillar to provide an easy, immediate release of the seat to create an access path to the third-row seat or cargo area. There is more space inside GMC's flagship SÚVs, as well. More fore/aft front seat travel provides the segment's leading legroom for front-seat passengers. Second-row seat legroom and knee room, and third-row seat headroom are increased over the previous models. The second- and third-row seats also have more shoulder room – a feat accomplished while also offering available head curtain side air bags. The third-row seats fold flat and are easily tumbled forward or removed for maximum cargo area. Also, the center console storage compartment, at 20.1 liters of capacity, is the segment's largest. The glove box offers 25 percent more storage space than previous models and features damped opening operation that bolsters quietness and refinement.
Solid foundation, efficient power
Like all '07 Yukon and Yukon XL models, the Denali models are built on GM's new full-size SÚV platform, which incorporates features such as a new, fully boxed frame, coil-over-shock front suspension and rack-and-pinion steering. The frame supports wider front and rear tracks – approximately 3 inches (76.2 mm) wider in front and 1 inch (25.4 mm) wider in the rear – that enhance stability and driving confidence through a more secure road feel and a lower center of gravity.
Yukon Denali rides on a 116-inch (2,946 mm) wheelbase, with an overall length of 202 inches (5,130 mm). It rides on a wider track that, along with the long wheelbase, provides a smooth, confident and secure driving experience. Yukon XL Denali has exterior dimensions similar to the regular-length model, but is about 14 inches longer in wheelbase and 20 inches longer in overall length. The front suspension consists of an all-new coil-over-shock design that delivers linear, solid and unwavering ride and handling characteristics on all road surfaces. Also new is a rack-and-pinion steering system that provides precise and responsive control and enhanced on-center feel. A highly-refined five-link rear suspension provides superior isolation and ride, with larger, firmer brackets that also contribute to the vehicles' precise driving manners. Larger, four-wheel disc brakes and an all-new ABS system ensure braking performance at the top of the segment. Larger vented front and rear brake rotors, 50-percent stiffer dual-piston calipers and longer-life brake pads contribute to enhanced pedal feel, reduced brake noise, predictable, linear brake response and shorter braking distances. A new, Bosch 8.0 next-generation four-channel ABS system is standard. The ABS system works with the standard StabiliTrak electronic stability control system. In the new SÚVs, StabiliTrak incorporates the first-time GM application of roll-over mitigation, software algorithm technology that uses sensors to proactively predict vehicle 'tip-up' and applies appropriate brake forces to help prevent such events. Enhanced driving control and ride smoothness are offered with the standard Autoride real-time damping system, which uses electronically controlled shock absorbers to make nearly instant damping adjustments. The system 'reads' the road and anticipates the best damping rates. The 6.2L engine of the Yukon Denali and Yukon XL Denali is all-new, too, with advanced technologies and lightweight materials, including variable valve timing and an aluminum cylinder block, which helps the vehicles deliver outstanding, more efficient performance. The 6.2L engine is rated at contributing to the vehicle's uncompromising performance. It produces 380 horsepower (283 kW) and 417 lb.-ft. of torque (565 Nm)*. A new six-speed Hydra-Matic 6L80 RWD electronically controlled automatic transmissions backs the 6.2L engine. The six-speed automatic has a wide, 6.04:1 overall ratio – including two overdrive gears – that helps deliver an excellent balance of performance and fuel economy. Also, the 6L80 has a 'tap up/tap down' capability that allows the driver to manually select upshifts and downshifts with a button on the column shifter.
Safety and security
The '07 Yukon Denali and Yukon XL Denali are designed to be among the industry's safest and most secure vehicles, with a 360-degree perimeter safety system of occupant protection and crash avoidance technologies. This comprehensive system enabled the short-wheelbase Yukon Denali to achieve 5-star frontal crash ratings for the driver and right front passenger in government crash tests. The 5-star rating is the highest safety rating given by the National Highway Traffic Safety Administration (NHTSA). New features include head curtain side air bags with rollover protection for all seating rows and front-seat safety belt pretensioners that are linked to the vehicle's sensing system to provide segment-exclusive deployment in rear-end crashes, in addition to frontal crashes. These features are integrated into a stronger vehicle structure that is also designed for improved compatibility with other vehicles. The head curtain side air bags include design features that provide increased rollover protection and occupant containment. Sensors located at the front of the vehicle, in the side doors, and within the occupant compartment provide increased and more immediate crash detection. The vehicle's sensing system provides segment-exclusive capability to deploy front seat safety belt pretensioners during certain rear-end collisions, enhancing the belt system's ability to hold the occupants firmly in place.The head curtain side air bag system incorporates one of the segment's first rollover indication sensors, which is located on the vehicle's center tunnel in the occupant compartment. The sensor monitors the vehicle's accelerations and roll rate. If these signals indicate an impending rollover, the roof-mounted head curtain side air bags deploy to provide an extra measure of occupant protection and containment. The head curtain side air bags stay inflated longer than airbags developed only for side impacts because rollover incidents can last longer. The deployment duration and other design features of the rollover capable air bags combine to provide increased occupant protection and the ability to help keep occupants inside the vehicle.Crash avoidance is bolstered through enhanced design and driver control dynamics, such as wider front and rear tracks, as well as more responsive suspensions - including a new coil-over-shock front suspension design and new rack-and-pinion steering. The vehicles are built on a stronger and stiffer, fully boxed frame that contributes to enhanced crash energy management. The front frame section has been designed to optimize crush progression resulting in improved energy absorption efficiency. The improved crush performance, enabled by hydroformed frame rails and efficient chassis component packaging, also comprehends design provisions for improved vehicle-to-vehicle compatibility in the event of a frontal impact with a smaller vehicle.
Additional safety features include:
- Standard StabiliTrak stability control system with rollover mitigation technology
- Standard dual-stage driver's front air bag
- Standard dual-stage outboard-front passenger air bag with Passenger
- Sensing System
- Standard head curtain side air bags for all seating rows
- Standard front seat safety belt pretensioners with rear impact deployment capability
- Standard tire pressure monitoring system
- Standard rain-sensing wiper system and heated washer fluid
- Standard Últrasonic Rear Parking Assist that can detect certain stationary objects in the rearward path of the vehicle and send an audible warning sound
Available rearview camera system designed to provide the driver with
a view of people or objects in the rearward path of the vehicle (requires available navigation radio)
Standard pull-up/push-down power window switches
Available voice-assisted navigation system.
All models come standard with the OnStar system (with a one-year Safe and Sound service plan). The system includes the General Motors Advanced Automatic Crash Notification (AACN) system, making crash data available to emergency services to potentially dispatch the appropriate life-saving personnel and equipment to crash scenes faster. If the vehicle is in a crash that activates an airbag, the OnStar system automatically notifies an OnStar Advisor, who will check on the occupants or summon emergency help if necessary. OnStar also can assist authorities in locating a vehicle if it is reported stolen (ability to locate stolen vehicles varies with conditions).Source - GMC
Sours: https://www.conceptcarz.com/
GMC Denali
A pickup truck with the GMC nameplate
Not to be confused with Denali.
This article is about the truck produced by GMC. For other uses, see Denali (disambiguation).
The GMC Denali nameplate is used by GMC on its top-of-the-line trucks and SUVs in the line-up. Vehicles with the Denali trim option carry list prices up to 47% higher than those of the regular models. Prices range from $40,240 for GMC Terrain to (as of 2016) $81,270 for a top-of-the-line Yukon XL Denali. The Denali nameplate is often used as an insignia or status symbol, and in particular is popular as a less costly alternative to the Cadillac Escalade. The Yukon Denali line typically represents 40% of Yukon sales in both units and dollars. In 2013 it sold more than 75,558 units of the Denali brand, which accounted for 20% of GMC's sales, making it one of GM's most successful sub-brands, all done without any advertising or promotion whatsoever.[1]
History[edit]
The Denali nameplate started as the top-of-the-line version of the GMC Yukon for the 1999 model year. It was also GM's first attempt to go after sales from the new-for-1998 Lincoln Navigator. At the time of its introduction General Motors decided to give Cadillac its own luxury SUV so the Denali's exterior was shared with the 1999 Cadillac Escalade, with only the front fascia and lower side body panels differing from the standard Yukon. Even though the Yukon was redesigned alongside the Chevrolet Suburban and Chevrolet Tahoe in 2000, the Denali, Escalade, and Tahoe Limited/Z71 retained their 1990s base design.
The "Denali" brand was derived from the native Alaskan Athabaskans / Koyukon people's name for the tallest mountain in North America. It is also the name of the Denali National Park and Preserve that surrounds the mountain, as well as Denali State Park. The mountain was formerly named Mt. McKinley and officially renamed Denali in 2015 by the Obama Administration. The popularity of the GMC brand is likely to have had some influence on this decision.
1999–2000[edit]
When introduced in 1999, the Yukon Denali's exterior, which it later shared with the 1999 Cadillac Escalade, differed from the standard Yukon in the front fascia and lower side body panels as well as having unique 16" polished aluminum wheels and a special exhaust cutout for a right side-exiting cast exhaust tip. The interior of the Denali also featured several upgrades not available on the mainstream Yukon. These standard features included an upgraded Nuance leather interior, driver and passenger 6-way power seats with power lumbar support, front and rear heated seats, a Bose 7 speaker (including subwoofer) audio system, an in-dash cassette, single CD player and an in-console 6-disc CD changer. The Denali also didn't have a continuous door buzzer, instead it had an actual chime that would later be used in the 2001-2002 Tahoe and Yukon. Zebrano woodgrain accents decorated the front doors and center console. The front and rear doors featured unique "Yukon Denali" stitching in the panels.
The 350 cubic inch 5.7-litre 255 horsepower (L31) V8 was the only engine offered. RPO ZM9 was standard which included Bilstein 46mm shock absorbers and 3.73 front and rear axle ratios as well as a locking rear differential. Separate coolers for the transmission and engine oil were also standard. The Denali upgrade also included GM's automatic transfer case which allowed for push button transitions from 2-wheel high to 4-wheel high to 4 wheel low or fully automatic switching from 2 wheel drive to 4 wheel drive.
2001–2006[edit]
Even though the GMC Yukon was redesigned alongside the Chevrolet Suburban and Chevrolet Tahoe in 2000, the Denali and Escalade retained their 1990s base design. It was not until 2001 that the Denali was redesigned. GMC also introduced the extended-length (Suburban-based) Yukon XL Denali. All 2001-2006 Yukon and Yukon XL Denali were built at the Janesville Assembly Plant. Embossed side body panels and chrome surrounding the headlights differentiate the Yukon Denali from the regular Yukon. 2001 also saw the introduction of the honeycomb pattern grille which now has become the hallmark of the Denali nameplate. 2001 saw the introduction of the 6.0L V8 application in the standard-size Yukon in the Denali trim for $45,000.00 which it also shared with the Cadillac Escalade. The engine produced 320 hp upon its introduction, then was upgraded to 325 hp in 2003. 2001 also introduced a new upgraded interior and new options such as 20-inch wheels.
The previous (for 2001 only) C3 model of the GMC Sierrapickup truck was renamed Denali in late 2001 as a 2002 model. The 2002–2004 Sierra Denali was equipped standard with a 325 hp 6.0L V8, all-wheel-drive, and Quadrasteer, the 4-wheel steering system developed by General Motors.
For 2005 to 2007, "Classic body style" Sierra Denalis were equipped with a 6.0L 345 HP V8. Additionally the trucks from 2005 to 2007 (2007 being classic body style) were changed to a crew cab with a 5'8" bed and did not have Quadrasteer as the 2001-2004 Sierra Denalis had.
2007[edit]
In 2007, the GMC Yukon and Sierra lines were completely revamped with the Denali included, now with a 6.2L V8 (producing 380 HP / 417 lb/ft) in the Yukon Denali and (producing 403 HP/ 417 lb/ft) in the Sierra Denali), six-speed automatic transmissions, and many new features and options such as power folding second row seats and rear backup camera. Styling was also changed, particularly the controversial grill and headlights, which made the Yukon look much less aggressive than any previous models. The MSRP's of the 2007 models were not increased.
2008[edit]
In 2008, there were few small changes such as the gauge cluster on Sierra Denali. 2008 was the last year Janesville Assembly Plant built all Yukon / Yukon XL Denali before production was sent to Arlington Assembly.
GMC Denali XT concept (2008)[edit]
The GMC Denali XT is a concept hybrid pickup truck with unibody design using Zeta platform. It included 8.1L SIDI V-8 with Active Fuel Management engine rated 326 horsepower (243 kW) with E85 ethanol-capability and direct-injection, two-mode hybrid propulsion system, 23-inch aluminum wheels with Kumho 255/35/R23 front and Kumho 285/35/R23 tires, height-adjustable suspension, 1,100 pounds (500 kg) payload and 3,500 pounds (1,600 kg) towing capacities.[2] The vehicle was designed by GM's Australian design studios.
The vehicle was unveiled in 2008 Chicago Auto Show.[3]
Although General Motors planned for a production version based on Epsilon II platform, it was reported the company cancelled the plan because the unibody design would not give much of an efficiency boost while losing capability for which buyers were willing to pay a premium.[4][5]
2009[edit]
In 2009, minor changes were made to the Yukon Denali. These changes include 403HP instead of 380HP, Cooled and perforated leather seats (optional), Bluetooth Handsfree calling standard, and flat chrome insert/body colored bodyside moldings. Also a power tilt steering wheel is now standard. The Satellite Navigation System (optional) now has the added features of instant traffic updates, and re-routing options. Side Zone Blind Spot Alert is now optional.
2010[edit]
The GMC Acadia was added to the Denali lineup as a 2011 model.
2012[edit]
The GMC Terrain was added to the Denali lineup as a 2013 model.
2014–present[edit]
GMC unveiled its next generation Denalis, beginning with a newly redesigned Sierra pickup for the 2014 model year in 2013, followed by the launching of the 2015 Yukon and Yukon XL SUVs in February 2014.
The GMC Canyon was added to the Denali lineup as a 2017 model.
Models[edit]
References[edit]
Sours: https://en.wikipedia.org/wiki/GMC_Denali
GMC Yukon XL Denali 2007 review (interior + exterior)
Be Smart, Check in Advance. CARFAX — Your Vehicle History.
CARFAX — Your Vehicle History Expert
Sometimes what you don't know can't hurt you, but that's not the case when buying a used car. As an independent vehicle history provider, at CARFAX we've made it our mission to tell you everything you need to know by uncovering as many events as possible from the previous life of a used car. Our primary goal is to help you get to know your next car from the inside out before deciding to make an investment that will be part of you and your family's everyday life. We believe your next car shouldn't be hiding anything from you.
CARFAX Vehicle History Reports contain over 28 billion historical records from 20 European countries, the US and Canada, which are updated daily with new information.
Even if you live in a country we don't collect vehicle data from, it's still always worth checking the Vehicle Identification Number without obligation. The used car import and export market is booming and many owners would be surprised to find out exactly what happened to their vehicle during its previous life abroad.
Privacy for Customers — Transparency over Vehicles
Let's be clear: Although we strive to find every detail of a vehicle's life so far, we are focused only on the vehicle's history, and do not collect any information on previous owners. The information we provide relates solely to the vehicle, its odometer reading, any accidents that have been covered up, where the vehicle comes from and much more — it never gets personal. We've uncovered irreparable damage several times in the past, but other times our vehicle history checks draw a blank — and sometimes that's actually a good thing.
Second Hand — Not Second Best
Did you know that considerably more used cars are sold than new cars? We think this second-hand system is nothing short of fantastic. However, it goes without saying that it gives rise to different methods and tactics: Some sellers will disguise a car that's been in an accident under a fresh coat of paint, tamper with the odometer or conceal theft. This is one of the less appealing aspects of buying second hand. Our goal is to establish trusting relationships between buyers and sellers, since this is the best way to help customers make the right decision. Your new car should be reliable and make you feel safe, as well as make you feel like you haven't paid too much.
But more than anything else, we don't want you or your family unknowingly sitting behind the wheel of a vehicle that isn't 100% safe. This is why we strive to take these vehicles off the road, which not only makes the used car market safer but our streets safer too.
CARFAX — 35+ Years of Experience in Vehicle Histories
CARFAX was founded in the US in 1984 and expanded into Europe in 2007. Around 100 team members spread across six European offices process vehicle information from 22 countries.
Fostering strategic partnerships with registration authorities, law enforcement agencies, government departments, insurance companies, inspection centers and numerous other leading companies around the world has enabled us to compile a unique international database for vehicle histories. We use this database to help make the used car market more transparent. We give everyone in the process of buying a used car access to what is currently the world's most comprehensive source for vehicle history reports, and is growing day by day.
We remain neutral and independent despite our partnerships — our sole purpose is help customers make an informed choice and ensure their safety and the safety of their family. This includes never collecting any personal details — we do not accept any PII from data sources amongst the information we provide about a vehicle. We ensure that data protection laws are observed at all times. Furthermore, we always collect our data in compliance with legal and regulatory frameworks — in all the countries in which we are active. We expressly distance ourselves from illegal activities such as data theft, scraping and hacking.
Sours: https://www.carfax.com/Used-2007-GMC-Yukon_z7810
Interior 2007 yukon denali
Denali All-wheel Drive
2007 GMC Yukon Photos
slide-101
2007 GMC Yukon Exterior Photo
slide-102
2007 GMC Yukon Exterior Photo
slide-104
2007 GMC Yukon Exterior Photo
slide-105
2007 GMC Yukon Exterior Photo
slide-106
2007 GMC Yukon Exterior Photo
slide-109
2007 GMC Yukon Exterior Photo
slide-112
2007 GMC Yukon Exterior Photo
slide-113
2007 GMC Yukon Exterior Photo
Hi! We notice you're using an ad blocker. Please consider allowing Autoblog.
We get it. Ads can be annoying. But ads are also how we keep the garage doors open and the lights on here at Autoblog - and keep our stories free for you and for everyone. And free is good, right? If you'd be so kind as to allow our site, we promise to keep bringing you great content. Thanks for that. And thanks for reading Autoblog.
Here's how to disable adblocking on our site.
Click on the icon for your Adblocker in your browser. A drop down menu will appear.
Select the option to run ads for autoblog.com, by clicking either "turn off for this site", "don't run on pages on this domain", "allow this site" or similar. The exact text will differ depending on the actual application you have running.
Refresh the Autoblog page you were viewing. Done!
Hey again!
You still haven't turned off your adblocker or allowed our site. It only takes a few seconds.
You must be logged in to perform that action.
Sours: https://www.autoblog.com/buy/2007-GMC-Yukon-Denali__All_wheel_Drive/photos/
How To Replace Interior Door Handle 07-13 GMC Yukon Denali
2007 GMC Yukon Denali review:
2007 GMC Yukon Denali
The interior materials aren't designed to attract the luxury-minded. The Denali's first and second row of seats are leather clad, but that's about it. The carpet is rough and basic black, the dashboard and doors plasticky, highlighted with strips of painfully faux wood paneling.
The seating up front is comfy, complete with 12-way adjustment (including lumbar support), seat heaters, and plenty of headroom. The second row of seats likewise has heaters, but legroom vanishes if anyone up front moves their seat back. The third row of seats is useless for adults--there's no leg well, forcing a knees-to-chin sitting posture. Getting out of the Yukon from the back seats is a birth experience.
One plus: the Denali can haul. The third-row seats pop right out; and, in a nice technological feat, the second-row seats can fold flat or tumble up flush against the front seat with the push of a button. That leaves a cargo hold up to 60 inches deep, 49 to 55 inches wide, and up to 42 inches high--enough to transport a dinette set with room to spare.
Most of the mod cons
The Denali sports a sweet suite of technology--GPS navigation, CD/DVD/MP3 player, XM satellite radio, and DVD playback for the kiddies in the backseat. Controlling music and navigation is a cinch via a 5.5-by-3.5-inch color LCD panel that's front and center. (The navigation/stereo unit is the same as found in the 2007 GM Yukon SLT and the 2007 Cadillac Escalade.) The screen is bright and sharp, and easily read even in direct sunlight. The screen is lined with hard buttons--on the left for navigation, on the right for audio. The controls are fairly obvious and, along with some old-fashioned knobs, not too distracting to manipulate while driving.

The interface on the MP3-capable stereo works well.
Onscreen, buttons lining the top and bottom select audio sources, change system settings, and so on. We felt the sensitivity on the touch screen could be turned up a bit, as making selections sometimes required an extra tap. Well-designed buttons between the spokes of the steering wheel control audio source, volume, skip, and voice recognition. We weren't impressed with the voice-recognition system, which can control the radio, navigation, and OnStar, to a limited extent. It failed half the time, and when it did work, it went only partway--for example, turning on the radio and selecting XM, but failing to grab the desired channel (such as Bluesville).
The 10-speaker Premium Bose Centerpoint Surround Sound system is merely competent, and road noise (even on a newly paved highway) washes out much of the lower-frequency sound. The unit can play audio CD and MP3 discs, but not WMA discs. ID3 tag information is displayed, but with MP3 discs, folders aren't shown. One plus: there's an input jack for the iPod and other MP3 players.
Like any good SUV, the Denali comes with a mini entertainment center for the kids in the back. Although everything can be controlled up front, those in the backseat can watch a movie in silence (thanks to supplied wireless headsets), run the show with a sometimes cranky remote control, listen to different radio stations than what's selected up front, and more. Two gripes: The 7-by-4-inch pop-down LCD screen's display is a little muddy, made worse for passengers to the side, because the screen doesn't swivel at all. The headsets also pick up a lot of RF interference, which results in hiss.
The rear DVD screen is reasonably sized, but somewhat muddy in resolution.
Like the Yukon SLT and the Cadillac Escalade, there's no Bluetooth option. The backup camera is a nice touch, especially in combination with the rear ultrasonic sensors. The sensors flash a series of lights inside the back cabin as the vehicle gets closer to an obstruction.
Balancing power and efficiency
GM touts the Denali as being the first in the Yukon line to use a 6.2-liter small block Vortec V-8 engine that delivers 380 horsepower with variable valve-timing (VVT), coupled with a new six-speed transmission. (The engine is also used in the Escalade.) But while we appreciate the technology in this power train, GM hasn't struck the right balance of power versus efficiency. The Denali gulps gas yet feels a bit underpowered.

According to GM's press materials, Vortec engines deliver "plenty of horsepower without sacrificing fuel efficiency" by better managing the air-to-fuel ratio during combustion. Alas, it's hard to see the results here. The Denali has fairly brisk acceleration--enough to jump onto a freeway without a sweat. But go up a steep hill, and the engine is a little gutless, perhaps because GM's six-speed transmission upshifts too soon. And as we discovered with the Cadillac Escalade, VVT can compromise both performance and mileage. In our mixed city/freeway driving, the Denali averaged about 14mpg--better than the Escalade, but that's not saying much.
Still, the Denali is a fairly responsive and solid ride. Tap the accelerator, and there's no delay. The all-wheel drive, coupled with a wide wheelbase and fairly low center of gravity, makes it easy to whip around a cloverleaf or up a curvy mountain road without that feeling of tipping over. Like some of its GM SUV kin, the Denali features Driver Shift Control--the ability to manually up- or downshift the transmission.
In these globally warming times, the Denali performs dismally. The EPA slaps the 2007 Denali with its "worst" rating, for spewing out 11.7 tons of greenhouse gases per year. By comparison, the 2006 Lexus RX 400h earns a "best" rating for emitting only 6.4 tons.
Well-protected all around
The Denali comes chockablock with safety goodies, from front and side airbags (the latter, for all seats), to GM's vaunted StabiliTrak electronic stability-control system. In terms of reliability, Yukons have historically had minor recalls. The NHTSA hasn't conducted crash tests with the Denali yet, but similar models have scored just like the Escalade--five stars for frontal crashes (the best), but only three stars for rollover protection.

Tire pressure is shown in a display on the instrument cluster.
Like any good GM SUV, the Denali comes standard with ABS braking, OnStar (including the new remote Vehicle Diagnostics service), passenger sensors (so that air bags are disabled when infants are strapped in), and via the touch of a button, tire-pressure information. More important, the Denali features StabiliTrak, which combines antilock brakes, traction, and stability controls to prevent rollovers and ensure a solid ride. Another key safety feature: minimal blind spots and a pair of Dumbo-size side mirrors that catch everything else. The Denali is covered by bumper-to-bumper, three-year/36,000-mile warranty, including corrosion. Rust-through coverage is six years/100,000 miles.
Our test 2007 GM Yukon Denali with all-wheel drive has a base price of $47,115. Our geeked-out version added GPS navigation, a CD/DVD/MP3 player, and XM satellite radio ($2,145 for the trio), DVD playback for the kiddies in the backseat ($1,295), and 20-inch chrome wheels ($1,995), bringing the tab to $54,615, including an $875 destination charge.
There are plenty of other cars that can haul around four adults comfortably, with room for cargo in back that come in well under the Denali's $54,615. The 2007 Lexus RX 350 is one example, while the 2006 Ford Explorer is another. The Denali's main advantages seem to be very large cargo capacity, with the rear seats removed and folded out of the way, and towing ability, as our tester included a towing mode on the transmission.
Sours: https://www.cnet.com/roadshow/reviews/2007-gmc-yukon-denali-review/
Now discussing:
The game ended unusually, Mom's excitement did not disappear. - I will not be offended if you do something with her. - Tanya whispered. I disconnected Lena from the Network, that was my mother's name. On a bed in an earthly apartment, she showed me everything that a hungry mature woman is capable of, besides playing in feedback.
2653
2654
2655
2656
2657