I really do love my new Lake and Sons Automatic Pilot. I have a collection of Pilot watches and this one fits right in. I did replace the fabric strap with a leather "pilot" strap (tan color leather with rivets) to make it even more pilot like. The quality and the price of this watch is fantastic. The shipping was also fast and the packaging was thorough and well done. This has to be one of the best buys in the current watch world. Sincerely, Joe From Tennessee
LIMITED EDITION Automatic Pilot Watch
This is a great, basic automatic watch. I was looking at a Vaer, but their automatics run around $450. The Bulova Hack Watch is has a little bit smaller face, and costs twice as much. At this price point, it seems like a solidly built watch with a simple, handsome face.
LIMITED EDITION Automatic Pilot Watch
Enjoying the laptop bag. Had a larger bag with strap for work over the last decade, and wanted a change. The outside of the Bag is a smooth and beautiful look with chrome zippers. Inside is a soft material. Was surprised by the amount of space, as it seemed a lot smaller when I first opened it. Decided not to use the strap, and it's functioning with more of briefcase feel for me, which has been a great transition. Thanks again Lake & Sons, keep rolling out these products. This is my fourth item ...
Great blue sunburst dial on a non conventional rounded square case. The short lugs give it a good fit even in medium sized wrists, and the lume is pretty solid, even in the narrow dressy hands and applied indices. I would have preferred it to be a couple millimeters smaller, but I'm not disappointed with the fit on my six and a half inches wrist.
THE SUPERIOR - Limited Edition Luxury Automatic Men's Wristwatch
I like to collect vintage military watches (Hanhart, Tutima/Glashütte, Laco, Stowa, etc.) However, the Lake & Sons Automatic Pilot watch is my favorite watch now!!! It's very high quality, and affordable. 😁
LIMITED EDITION Automatic Pilot Watch
Vintage looking, this pilot watch reminds me of those from the WWII era. The dial is quite pretty, with painted orange marks and white indices, with an unframed date window at 6 PM, and orange sword hands for the hours and minutes. The white seconds hand, with the red, white and blue tail, adds a nice splash of color to a dial otherwise dominated by the black and orange tones. The polished thin fixed bezel on the brushed stainless steel case create an interesting and well executed contrast, with...
LIMITED EDITION Automatic Pilot Watch
Extremely Happy with the watch, the quality is excellent, size is great. The style is really nice along with the band is a Super combination. The Movement is outstanding and the price is great. Really proud wearing the watch and will be proud to pass it along. Duncan D.
LIMITED EDITION Automatic Pilot Watch
I like almost everything about this watch. Interesting dial layout. Size is right. Nice strap. Great value for your $. Only one small complaint. The lume! Or should I say lack of lume. If you lumed the hands you'd be perfect.
LIMITED EDITION Automatic Pilot Watch
Really great value. It's a bigger watch but doesn't wear like a big watch. The strap is very comfort. The bezel and the lume are great. Just a great value. Glad I found Lake and Sons.
LIMITED EDITION Stainless Steel Automatic Diver's Watch
The movement and quality of this watch is excellent. A product similar to this could easily sell for 250-400 dollars elsewhere. This is money well spent. I may buy their dive watch next.
LIMITED EDITION Automatic Pilot Watch
Do you want to be a man? Do you want to know what it felt like to storm the beaches of Normandy? Do you wonder why you don't feel complete? Buy this watch. Perfectly legible face, movement is fantastic, lume is amazing. If Hannibal wore a wrist watch it would have been this watch. Stop second guessing. But it.
LIMITED EDITION Automatic Pilot Watch
This watch is superb. I took a detailed image of it so the discerning buyer can admire it. Notice how it very closely resembles an original blancpain fifty fathoms, a watch I lust for. Look, admire, drool, and just buy it.
LIMITED EDITION Stainless Steel Automatic Diver's Watch
Purchased the 5 slot watch box for my fiance and he loves it! The box is absolutely beautiful in person and it displays all of his favorite every day watches to perfection. 100/10 would buy again !
5 Slot Wood Watch Box with Glass Top
The watch is great value, and high quality. Case is very durable, and great attention to detail. Not sure if there is a better watch for the price out there! Movement ran well while at work and on a hike. Also, my friend and I both bought the watch, and received #30 and #31, so that's fun. Thanks for this great product!
LIMITED EDITION Stainless Steel Automatic Diver's Watch
The Superior has quickly become my favorite watch! - It has a feel that's both elegant and professional. While it could work well as an everyday wear, I definitely look forward to wearing it for special occasions.
THE SUPERIOR - Limited Edition Luxury Automatic Men's Wristwatch
Great watch! Tried and tested Japanese NH35 movement, beautiful dial - nice interpretation of German navigator watches. A bargain for the price! Runs at approx. +5 s/d. I would order again anytime. Greetings from Germany
LIMITED EDITION Automatic Pilot Watch
I really liked the look of this watch from the first time I saw it online. I have been wanting to purchase a military style watch since I retired from the military three years ago. Go figure. For the price, this Lake and Sons Aviator cannot be beat. The materials are of the highest quality. This becomes readily apparent as soon as you hold the watch in your hand. The look of the watch and the colors used around the dial are perfect. They compliment one another very well. As a "timeless" timepi...
LIMITED EDITION Automatic Pilot Watch
Love the tumbler set! It was the perfect addition to my whiskey collection. The glasses have a diamond pattern at the bottem which feels great when relaxing with a good single malt. The stainless cubes are good for chilling a Whiskey you don't want to dilute. The surprising bonus of this package? The wonderful wood smell every time the box is opened! A must have for a whiskey fan.
Single Malt Tumbler Set with Wood Gift Box
This diver timepiece has Blancpain Fifty Fathoms vibes all over, without actually copying the original. The marks on the flat ceramic insert in that coin bezel that is almost flush with the sides of the case, the double domed sapphire crystal and the shape of the lugs slightly bending down would make this watch pass for a 60's diver at first look. The sunburst dial is beautiful, turning into an almost deep blue color when exposed to certain light wavelengths, with painted indices and fully symme...
LIMITED EDITION Stainless Steel Automatic Diver's Watch
Another Great Lake & Sons watch! A lot to love here. True to Flieger style the watch is very legible, with large numerals and great color contrast. Date function, and brushed stainless steel case, what's not to love? Best feature of the design is the red, white and blue ending on the sweeping seconds hand, great for a company from the US. Please make more watches!
LIMITED EDITION Automatic Pilot Watch
This a great watch. The large numbers are easy to read. It is priced well for the value ans was shipped quickly. The only improvement would be a luminescent watch face for low light and night use
LIMITED EDITION Automatic Pilot Watch
This product absolutely is a luxury purchase. The smell of the wood, the design, and glasses are magnificent. I cannot wait until my husband sees his gift for Father's Day!
Single Malt Tumbler Set with Wood Gift Box
Very happy with the watch. didn't care for the field strap that came with it so had to be replaced. Hopefully they will come out with a few new designs. Auto and flat Shappire for a great price...win win . Thank you
LIMITED EDITION Automatic Pilot Watch
for pennies on the dollar this is a great example of what is available in todays market for those not able or willing to shell out four figures but want the look of a vintage pilot and the enjoyment of an automatic watch. I think this is a smart purchase for the right person and particularly so as a nice gift.
LIMITED EDITION Automatic Pilot Watch
I ve been wearing the watch for about one week now and so far I can tell it's amazing. It arrived in Germany after about 8 days and I was able to track the delivery the whole time. The qualatiy seems to be perfect for a price of around 110€. I just attached a leather band to the watch because it suits me better. I couldn't find anything wrong with the watch although a 40mm dial seems to be a little bit to small on my wrist, but i still like the way it looks. So thank you for this good looking an...
LIMITED EDITION Automatic Pilot Watch
I received the 12 Slot Watch Box for Christmas, which I love! However, there was a mixup and the keys were not included. After emailing customer service, they resolved the issue by mailing my keys and surprising me with this watch as well! I was shocked and elated to see how they resolved such a small mixup! I absolutely love the watch. You can feel the craftsmanship in the alligator grain genuine leather band that contrasts beautifully with the blue starburst face! Overall awesome watch and eve...
THE SUPERIOR - Limited Edition Luxury Automatic Men's Wristwatch
Love everything about this watch!! Had 15% coupon and PayPal gave me extra 5%. FYI the lume is non-existent but at $112 dollars for automatic with sapphire glass who really cares.
LIMITED EDITION Automatic Pilot Watch
Well I couldn't go back and edit my previous post but I wanted to add one thing! This watch is very reminiscent of the IWC Spitfire automatic! $4500 or just over $100..... It's not even a question!
LIMITED EDITION Automatic Pilot Watch
Are you a gentleman and a savage? Do you fight bears with your bare hands during the day but then want to sit down with a nice dram of whiskey at night? Then I think this may be for you. The wood case is solid. I'm not into chilling my whiskey with the rocks but if that's your thing, you do you. The rocks glasses are a solid build. Not the cheap thin type. This is something Hemingway would own. Something Churchill would take with him to storm Normandy. I'm a fan. You would be too.
Single Malt Tumbler Set with Wood Gift Box
I was one of the lucky winners of the Lake & Sons YouTube Giveaway. Upon receiving the news from the Lake & Sons team, I knew without a doubt that I was going to select the Automatic Pilot's Watch. I've owned pilot style watches from 39mm to 47mm with the plain black and white stylings, but none of these pieces was a keeper. With this piece from Lake & Sons, the opposite is true. It is such a keeper. From the vintage stylings of the dial, the red/white/blue seconds hand, the venerable NH35 ...
LIMITED EDITION Automatic Pilot Watch
I must say I am impress with this watch. The value is amazing. I mean at this price point expectations at pretty low ,but this watch feels premium. The green NATO strap it came with is fantastic, but it looks pretty good in black. I wish there were additional straps to buy, but maybe next time. Now my eye is on the diver for the next conquest. I don't know what voodoo was done to sell that watch at low price point, but get your hands on one of these before they are gone.
LIMITED EDITION Automatic Pilot Watch
This watch is AWESOME! Got it to use as a beater/EDC item, and it's doing the jobs beautifully. Well-made, quality materials, real sapphire crystal-I don't see any downside except for the inevitable servicing.
LIMITED EDITION Automatic Pilot Watch
I am quite happy so far with this watch. For $129 it really is a very nicely finished and attractive time piece. I've looked at Seiko, Orient, Citizen and even Hamilton and can honestly say this one is the best. Good movement, good quality, Sapphire crystal ( has to be anti reflective because it's so ledgible), and a design that really nails it.
LIMITED EDITION Automatic Pilot Watch
Excellent pilot style watch. I looked at several watches before pulling the trigger on this. For the price it is very hard to beat. Nh 35 Auto, sapphire flat dome, 316L stainless and a date complication at 6 position vs the normal 3. With a matt black dial it would be very easy to spot any imperfections I can find none. I do wish the hands were lumed but I understand the design choice. The lume overall is not very bright for the price I am not complaining but on my night walks it's something I m...
LIMITED EDITION Automatic Pilot Watch
I have to say... as an owner of about two dozens of decent/nice automatic and quartz watches, I am so impressed with the Lake and Sons Pilot Watch. PROS + Beautiful design + Very detailed dial and caseback + Robust construction + Creative design on the date window + Very reliable movement from seiko + Extremely affordable + Looks alot more expensive than the price tag + Comfortable stock Nato, felt high quality + Easily be an EDC (Every Day Carry) for most guys + Colorway of the watch is easy t...
LIMITED EDITION Automatic Pilot Watch
A classic diver's design. Based on the very first true diving watch. Customer service was excellent and they shipped it all the way to Singapore without any issues. Special mention to Emma for all her help. Another new Lake and Sons fan from across the world. The photos do not do justice to the actual piece. 41mm is just nice on my 7.5inch wrist. Thank you and stay safe.
LIMITED EDITION Stainless Steel Automatic Diver's Watch
Absolutely beautiful! Arrived in perfect condition! Has the best cured wood smell! The whisky stones are hearty and a good size! The glasses are a nice weight! Beautiful looking set! I'll enjoy it thoroughly with my next dram of Sassenach Spirits! Slàinte Mhath!
Single Malt Tumbler Set with Wood Gift Box
The brown leather laptop tote was my first purchase from Lake and Sons. I was very happy with the quality of the bag and it will be a great option to break me away from the Silicon Valley backpack from time to time. I recommend the laptop tote if your looking for an efficient yet sophisticated option.
What can I say besides the fact that this watch blows me away! It's even better in person than I could have imagined! I can't even begin to tell everyone how absolutely beautiful of a piece this watch is! The craftsmanship is impeccable! I love the polished bezel and the slightly domed sapphire crystal! The applied indices are vibrant! Changing the date is rewarding because you get a satisfying "click" with the turn of each day! The crown is as smooth as butter! I'm not even saying that! It's s...
LIMITED EDITION Automatic Pilot Watch
I bought this product in hopes to give it to my friend. I may have to buy another set because I fell in love with it as soon as I opened the box. This is a very distinguished and classy tumbler set! Great quality!! Added bonus, it looks great in my husband's man cave! I guess its a keeper!
Single Malt Tumbler Set with Wood Gift Box
Sours: https://loox.io/s/Ny--IwFB5u
Marc & Sons Pilot
Marc & Sons is another brand that my fellow colleagues have reviewed here on Watchreport, and I of course read/watched the reviews and felt that the watches while homages for the most part, were well made, especially for the price point. Getting the new automatic Pilot in hand has only strengthened my opinion on them. I honestly thought it might be a little cheap feeling for some reason, and that couldn't be further from the truth. While I don't feel it can compete in a $600 price point, at $300 it is a bargain.
Marc & Sons Pilot Specifications:
Diameter of watch: 44.0 mm (without crown)
– Complete case: 44.0 x 52.0 mm
– Height of the watch: 13.0 mm
– Total length: about 24.0 cm
– Weight: 108 grams
Reference: MSF-005-B
– Case: 316L stainless steel, brushed
– Brown leather strap
– Lug width: 22.0 mm
– Pin buckle steel with engraved logo
– Automatic MovementCaliber Miyota 9015
– Luminous: BGW9
– Scratch resistant sapphire crystal
– Pressure tested to 10 ATM
Price: $308 USD
I had to look up pilot watches, as the design of the Marc & Sons Pilot does seem familiar, but I could not think of what brand. While we are all familiar with the IWC and Laco brand watches, this does not seem to be an homage of them, at least not a direct homage or ripoff. I will state I can not say with certainty that this is not a direct homage of something, I just am not familiar with it, or can not remember. Either way, lets delve into why this might be one of the better pilot style watches you can buy for the price.
With a 44mm by 52mm case size, the Marc & Sons pilot is large, but not over sized like some pilot watches tend to be. Watch trends and the people that buy watches tend to be polar opposites at times and pilot style watches have gone from sizes like 56mm wide to 40mm wide as we see today with some brands. There are guys out there who love a massive pilot watch and others who want something more subdued. This example lies somewhere in between and gives the best of both worlds; large and easy to read and comfortable on most wrists. A fine brushed satin finish is given to the entire case with the exception of the center of the screw down crown. Yes, I said screw down crown, something that sometimes is overlooked on non dive style watches. An odd style case, at least to me, as it is not completely round nor is it a cushion style, but kind of a meshing of both. Odd, and yet it works.
As you can see in the photo above, the Marc & Sons Pilot has a slightly domed sapphire crystal. For those that rarely have taken photos of watches, or have just not seen that many, crystals can be a pain in the, well, ass. Or in reality, a pain in the eye, because when a crystal is very domed, it makes it harder to capture the dial properly, and of course the different types of AR coating, or lack thereof, have a hand in that as well. I would say this pilot watch is somewhere in the middle of that, while not the best crystal/AR combo I have seen, it is not the worst either, and for the most part I was able to capture the dial as it truly is.
My one major gripe about the dial? The cheesy plane printed on the dial. I am just not one for gimmicks like this one a watch face, and feel the traditional triangle or 12 would have been more than adequate and most everyone would know it is a pilot style watch. Other than that, a good, legible dial, with large numerals, wide hour and minute hands and a red tipped second hand for contrast.
I have said this ad nauseam, I am not fond of exhibition case backs on watches with plain, base movements. I mean, I get it to a point. Many brands have even explained why they do it: not everyone who buys a watch, is a watch nut. And that makes sense. Someone who is a novice, or has not seen or owned countless watches just thinks it it cool to have a case back that allows you to see the movement and the inner workings of their wristwatch. For me, I would prefer a solid case back when using the Seiko NH35 or the Miyota 9015, as is used in this Marc & Sons Pilot. While I know that may sound overly picky, I see it all the time and while I do love the Miyota 9015 for its smoothness and accuracy, I would rather it be covered up. The good news is, it is a 9015 for around $300, something that is becoming rarer these days with the price hike and 6 month wait for the movement itself.
The Marc & Sons Pilot uses BGW9 Superluminova for its glowing compound and they did so on the hands, numerals and even that gimmicky plane. I took a few pictures of the lume, as I usually do, to try and give both low light and complete darkness examples. While in complete darkness it does just fine, I love the shot below, as it was a random shot I took in a decently lit room after coming in from the outside, on a somewhat overcast day I might add.
On the wrist, it is very comfortable for my 7 1/2 inch wrist, and part of that is due to the crazy horse style leather strap. Thick and comfortable, and one that feels like it will hold up well over time. This is not a cheap leather strap, like you would expect on a watch of this price point. The Marc & Sons Pilot also has an over-sized stainless buckle, and not just your standard stamped thumbnail style.
It is very hard for me not to praise the Marc & Sons Pilot Automatic MSF-005-B. Not because of originality or a complex or expensive movement, but rather the value it offers. The case finishing is far beyond what I thought it would be with smooth lines and no rough edges, a solid crown and a comfortable leather strap. Is it the perfect watch for me? No, but it might be for many, especially to those looking for an affordable pilot watch. At $308 for what it offers, I can not really say anything that would make me not recommend it to anyone looking for a budget pilot watch.
http://www.uhrennetz.com/en/marc-sons-automatic-watch-mechanical-pilot-watch-msf-005-b/marc-sons/a-1940/
Sours: https://www.watchreport.com/marc-sons-pilot-watch-review/
The very first pilot's watch was developed by Cartier in 1904. It has been said that Alberto Santos-Dumont, an aviator friend of Louis Cartier, requested for an efficient watch that would allow him to keep time without having to reach in his pocket (during this time, wristwatches weren't a thing yet, and men would keep their watches in their pockets). Today, the "Santos" is recognized as the first pilot watch ever made.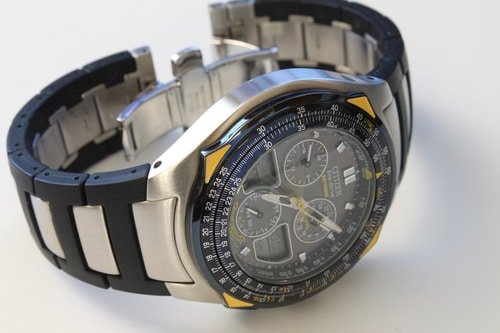 Since then, the popularity of pilot watches has continued to grow, and today there are so many excellent brands to choose from.
While many websites showcase pilot watches from luxury brands that sell for thousands of dollars (such as Breitling or Rolex) or the classic Omega Speedmaster Professional that was the first wristwatch on the moon worn by Buzz Aldrin for the Apollo 11 moon landing, we want to provide options that offer good value for money within a reasonable budget for most of our readers.
So, in this article, we'll review some of the best pilot watches under $500 including this Eco-Drive Promaster Nighthawk.
(Please note, at the time of publishing, all watches were selling for $500 or less. Prices may have fluctuated since then, possibly pushing them over the original budget. We've also tried to include watches at the lower range for decent pilot watches ($150-$200) to provide value options for everyone. See table below with current prices)
Quick Picks
What makes a pilot watch?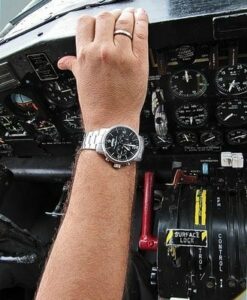 There are no clear criteria that make up a pilot watch, but one of its most important features is legibility. The pilot wearing it should be able to easily see the numbers at any time, under any weather condition, so the numerals are usually bold and the case is big.
There are also pilot watches that have extra bezel markings for calculations, as well as Dual Time features that allow them to track different time zones.
Over time, more features were to the watch faces, such as altimeters, compasses, chronographs, and slide rules that allow pilots to measure and do calculations easily.
Below, we'll also be focusing on watches that have these features.
Best Pilot Watches Under $500
Citizen Promaster Skyhawk A-T
Let's start off strong. Named after the Navy's elite flight demonstration squadron, the Citizen Promaster Blue Angels Skyhawk A-T is a pilot watch that delivers in both look and functionality.
It also boasts of the "Timekeeping Technology with Synchronized Time Adjustment," which is available in 44 world cities.
The yellow stitching accentuates the blue leather strap and stainless steel case, giving the watch both a sophisticated and fun look (there is also a Blue Angel's insignia that is replicated on the caseback).
One of the best things about this watch is that it does not need a battery. It can be charged by any light, thanks to the Eco-Drive technology. Other features include a digital backlight, a countdown timer, dual time, and a calendar. It's also water-resistant up to 200m, so you can take it with you to your water activities.
You can also check out the Citizen Eco-Drive Promaster Nighthawk if you're looking for a more affordable model with the same functions.
Seiko Flightmaster Pilot Slide Rule Pilot Watch
For those looking for a pilot watch that can also be worn as a dress watch, the Seiko Pilot is an excellent choice.
This stainless steel chronograph has Lumibrite markers, so you will be able to see the time even in extremely dark areas. It also has a stopwatch and a 12-hour totalizer. It has a Hardlex crystal that assures durability, and it's water-resistant up to 100m. If the stainless steel strap is not your thing, you can also change it to other materials like leather.
Seiko is a trusted watch company, so you're sure that this was made by experienced watchmakers. The best part? This is relatively affordable, considering its functions and material. This one's actually one of the most affordable items on this list. The watch looks extremely sophisticated (and even a bit intimidating, if you're using it as a regular watch), but the price tag says otherwise.
The case is big, so the watch looks heavy, but many buyers—pilots included—have pointed out that the watch is actually lighter than other models. If you want a watch that has a professional look but won't break the bank, this one is a great model to consider.
Jack Mason Men's Chronograph Watch Aviator
Born in Texas, Jack Mason offers tasteful, contemporary watch designs. A functional everyday watch with a leather strap (interchangeable), the Jack Mason Aviator Chronograph 42mm—a part of its Aviation collection—pays tribute to the classic pilot watch design.
Some of this chronograph's best features include the SuperLuminova-powered dial and water resistance of up to 100 meters. Some great details on the watch must be pointed out as well: it pays homage to the Texas flag, with subtle red, blue, and white colors, as well as a Texas Lone Star etched on the crow. The textured leather strap also makes the watch look rugged and sophisticated.
Take note that while the dial and blocks are lumed, the numbers are not. The triangle at 12 o'clock, is lumed as well, so you will be able to use it as a reference.
If you'd like to explore more designs, check out Jack Mason's website to see more watches from their Aviation collection.
Seiko Men's Silvertone Solar Alarm Chronograph
While the Seiko SSC007 Chronograph is not specifically marketed as a pilot watch (like the Flightmaster above)  it is something that many pilots recommend and has useful tools including a slide rule. Some of this Seiko model's other features include a stopwatch, a date window,luminescent hands and markers. It's also solar-powered, scratch-resistant and is water-resistant for up to 100m. The case material is stainless steel with a black ion-plated bezel.
One of the great things about Seiko watches is the quality and high-end functions. The company is able to make watches that look like a thousand bucks but only cost less than $500.
This is extremely versatile, too, thanks to the classic, traditional look—you can wear it as a pilot watch, take it diving, wear it as an everyday watch, use it for sports, or wear it as a dress watch. It has also earned a lot of praise on the accuracy of the time.
AVI-8 Men's AV-4011 Hawker Hurricane Watch
The design of this vintage-inspired AVI-8 Hawker Hurricane watch is both unique and familiar.
It has the classic-looking genuine leather strap, a round stainless steel case, and a white dial, and at the same time, has relatively bigger numbers (especially compared to most watches on this list). Whether you're using this for aviation or as an everyday watch, you're sure that you will have a clear view of the watch any time, thanks to the bold hands and numbers.
This one's called the Hawker Hurricane as it takes inspiration from the fighter aircraft, as well as the men who flew them, from World War II, which is said to be one of the most successful aircraft of the Allied Forces.
AVI-8, a UK company, is changing the game of pilot watches.
Their products are relatively affordable, and you're sure that the makers are pay close attention not just to design, but functionality as well. 
If you are in the UK, AVI-8 offers free shipping.
For other options, see other Hawker Hurricane models here on Amazon. This is a great option if you're looking for something edgy, functional, and affordable.
Casio G-Shock GA-1100 Gravitymaster
The number of excellent G-Shock models may get dizzying, so let us help narrow things down for you. If you're looking for an aviation-friendly watch by trusted brand Casio, the G-Shock GA-1100 Gravitymaster is something that deserves a closer look.
The GravityMaster was specifically developed to be an aviation timepiece, with pilots in mind. Some of the most important features of this watch include large and legible numbers/buttons, an LED display light that boasts of high luminosity (you will have any problem if you're reading in the dark), and a World Time function that allows you to see a second time, in addition to the time in your current location.
Customers are also praising the luminosity, with many users saying that the watch is brighter than other G-Shock models.
Like other G-Shock models, the Gravitymaster is more on the sporty side. This model is available in four colors, so you will have a number of great designs to choose from.
Glycine KMU 48 Kriegs Marine Uhren Stainless Steel Watch
Glycine, a family-run company, has been around since the 1940s and is considered a pioneer for aviation, producing watches with pilots and travelers in mind.
This Swiss watch, like the AVI-8, has bold and big numbers and big seconds subdial at 6 o'clock position. The stainless steel case is extra large too, so if you're looking for something legible, this is a great choice.
The KMU-48 (check out the different options here) also has an anti-reflective Scratch Resistant Sapphire Crystal, so it will be very difficult to scratch it.
This 48mm watch does not have a crowded face, but it is big (the company actually refers to it as being part of the "Big Size" collection). A number of customers have expressed that it was too big for their wrists, so it's best that you try this on first before purchasing, to see how well it fits on yours.
This model is one of the priciest on the list, but if you'd like to check out their other aviation watches, specifically the Airman collection (most of which are past the $500 mark), visit their website here.
Glycine sells their watches in a limited number of retail locations, however, you can also find their entire Airman Collection on Amazon.
Hamilton Men's Khaki Pilot Watch
This Hamilton 42mm Khaki King Pilotwatch pays homage to timepieces that early aviators wore. Made of stainless steel case and an anti-reflective sapphire crystal dial window, this watch has bold, Arabic numerals, luminous markers, and the day of the week at the 3 o'clock position.
It's also water-resistant up to 200m, so you will be able to take this watch swimming or other water sports activities.
Swiss-made Hamilton has been making watches—concentrating on pilot watches—for over 100 years, so you know you're in good hands. The vintage-inspired look makes this one look excellent as either a dress watch or an everyday watch.
Hamilton watches are known for Swiss quality at a relatively affordable watch and a good entry point for anyone buying their first swiss watch that doesn't want to spend thousands.
Their Khaki Field Watch is now considered a classic. 
Laco Augsburg Type A Dial German Automatic Pilot Watch 861688
If you're into classic pilot watches, you've most probably already heard of this brand:
"With a Laco pilot watch, you are not only wearing a precise and robust watch on your wrist, but also a piece of history."
We'll be featuring two Laco timepieces, both of which have classic flieger watch designs.
Laco watches have been around since the 1940s. The company has a long tradition of creating watches for pilots—they were asked by the German Airforce to make watches for their pilots in World War II. Today, it's a favorite among aviators and watch fans alike because of its clean design and functionality.
The Laco Augsburg 42has a stainless steel, sapphire crystal case, has numbers with Superluminova C3, and a high-quality brown calf leather strap with rivets. This one's waterproof up to only 5ATM or 50 meters, so it is advised that you do not take it swimming.
This watch is uncluttered: just bold numbers and a simple branding in the middle of the case. This was made so for pilots to be able to read it easily.
If you're looking for a simple, classic pilot watch that has an excellent finish and a good history, and a well-praised performance consider getting this one.
You can also consider getting the Laco Aachen 42 (it also comes in a smaller size of 38mm if you want a smaller one), another classic and robust model that has a long minute hand that goes around the outer track (take note that both watches do not have date windows).
If you'd like a watch design that has been around since the 1920s and continues to deliver in design and functions, these Flieger watches are the ones that you should take a closer look at.  
Seiko SNA411 Flight Alarm Chronograph Watch
Wrapping up the list is another Seiko watch that all pilots will find extremely useful.
The Seiko SNA411 Flight Chronograph Watch looks extremely complicated—having an almost dizzying amount of detail, but this is something that pilots will greatly appreciate.
Some of the functions, as enumerated by this review, include the following: multiplication, division, rule of three calculation, square root calculation, time/speed/distance calculation, fuel consumption rate, required fuel quantity, climbing altitude/rate/time, and so on. There is also a conversion scale for nautical miles, kilometers, feet, gallons, kilogram, pounds/fuel pounds, miles per hour, etc.
All these functions and more at below $500 is a deal that is not easy to match, so if you're a pilot or are planning to give this to one, this elegant timepiece will be extremely useful.
What is a Pilot watch?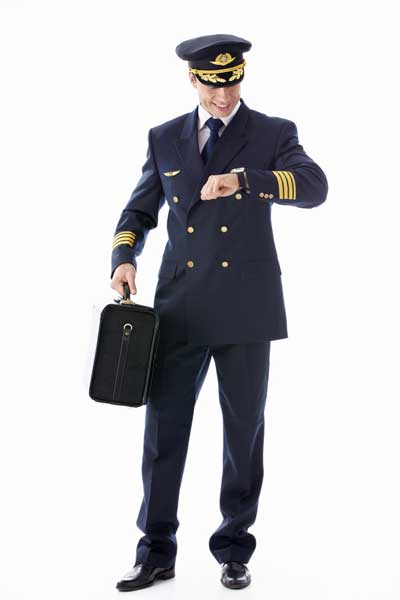 In the most literal sense,an aviator watch is any watch worn by a pilot (or, an aviator). Since the years of the earliest flights, pilots have had watches as a matter of necessity. Over time, watches with certain accessories and a common style came to be known as "aviator watches," but there is no longer one single type that fits the label.
The original aviator watches were field watches, or military watches, with generally simple white on black designs and easy to read, large dials.
The first specifically designed aviator watches were the 1930's Flieger style from Luftwaffe which had large numerals on the face. This style of a watch could have a face with diameters as large as 55mm, absolutely giant compared to most modern styles.
Though the minimal Flieger watches are still made by numerous high-end brands, these days, watches that are marketed as aviator watches usually have a plethora of accessories.
These new accessories started appearing at the height of the space race in the 1950s and 60s when advances in flight technology allowed pilots to fly longer and farther.
Pilot Watch Features: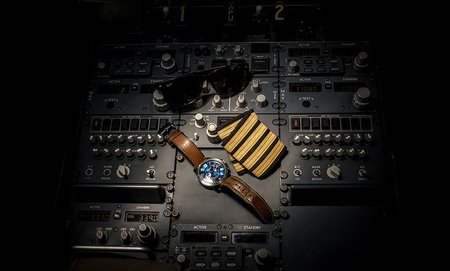 The first adaptation to the traditional "aviator" watch was the addition of a second 24-hour hand that allowed pilots to track their flight time against the standard Greenwich Mean Time while also updating the 12-hour hand for local time zones.
Worn by Air Force pilots and NASA astronauts, these aviator watches became must-have fashion items for the general public, with the Omega Speedmaster becoming a genuine sensation in the 60s.
Over the years, aviator watches have gotten increasingly busy on their faces, with the addition of chronographs, tachymeters, altimeters, compasses, and other navigation tools. These features or "tools" also land pilot watches in a group of timepieces called "Tool Watches" used by special forces, divers, sailorsand other enthusiasts who use their watch for navigation or other measurements.
Citizen makes a line of "Hawk" aviator watches that include a circular slide rule that can be used for doing mid-air calculations of fuel and distance. 
All modern planes will have similar types of dials or displays for measuring and tracking relevant data, but it never hurts to have a back-up.
Even if a pilot never has a need to use any of the features of their watches (and they probably hope they don't), at least these timepieces are impressive to look at. 
Do pilots really wear pilot watches?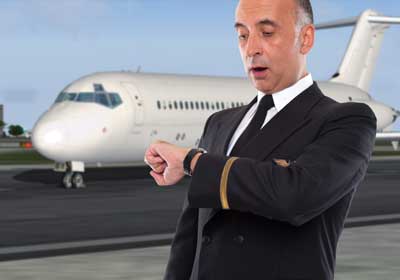 There are a lot of stereotypes associated with pilots, the professed playboys of the sky. Whether flying commercial flights or working privately, pilots have a reputation for being roguish figures and risk-takers with style to burn.
This reputation is owed a great deal to the mid-20th century when the industry was even more of a boys' club than it is now.
Nowadays, even though the profession has changed dramatically both demographically and in terms of regulations, some stereotypes persist. For instance, pilots still tend to be thought of as stylish, well-heeled travelers with a lot of flash and sophistication.
The picture of a pilot in a pair of mirror sunglasses, a leather jacket, and a flashy aviator wristwatch remains popular in the public imagination.
In truth, while aviator watches remain a trendy style of timepiece, pilots are no more likely to wear them then they are any other type of watch. 
Even though the modern aviator watch is often marketed as the ideal tool for pilots, in reality, these watches probably find a greater audience with regular, non-flying purchasers. There are a couple of different reasons for why you oftenwon't find an aviator watch on a pilot's wrist.
The first is, as we said above, even though the accessories are cool and useful, it's rare that a pilot will ever be in a situation where they will actually need them.
Planes are so high-tech and sophisticated these days, aviator watches are little more than quaint throwbacks to a simpler, less computer-oriented time.
That doesn't mean some pilots couldn't still find a use for an aviator watch, but most will never use them for anything but timekeeping.
The second reason pilots aren't the primary target for aviator watches is that all of those accessories and fancy designs usually come with a hefty price tag.
Like most professionals,air pilots have seen their wages decline over the last couple of generations, with their pay not keeping up with inflation. Under these current economic realities, a high-priced wristwatch is a luxury in every meaning of the word.
Still, even though aviator watches are more about style than a necessity these days, they'll always be a welcome accessory for that special pilot in your life.
Whatever your budget and timekeeping needs, the best aviator watches find a way to blend classic looks and styles with modern technology. They also appeal to a lot more than just aviators, so whether you're the pilot or a passenger, consider an aviator watch for your next timepiece and enjoy the friendly skies.
We hope this list was useful!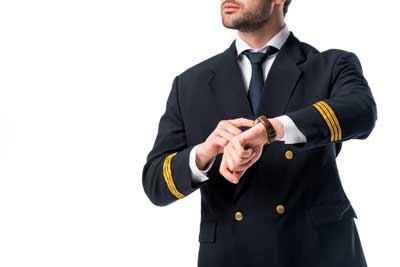 Today's watchmakers continue to provide new and innovative models that pay focus on both technology and aesthetics, so while today's pilots can still use these models, this type of watch has grown in popularity among regular users. All of these watches are of excellent quality— explore them further to see what suits your lifestyle best!
Categories Under $500, Watch Prices, Watch Shopping TipsSours: https://watchranker.com/best-pilot-watches-500/
Lake \u0026 Sons: OVERVIEW of AUTOMATIC PILOT WATCH
Is it because you made me the happiest woman in the world. - No, - a sly smile touched his beautiful lips, - for this - no. But.
Watch lake review sons and
Piled on me, piled on top, crushing me with his mass. Kisses, hands, breathing - all this merged for me into a single form of pleasure. I gave myself to my beloved with ardor and passion, until I claimed my rights to him, because I saw, felt and realized that he had missed him. Was waiting for me with faithful obedience, and therefore now I must receive in full.
Mark entered me powerfully, without asking, without thinking, just broke in, causing pain.
Lake \u0026 Sons: OVERVIEW of AUTOMATIC DIVER'S WATCH
But, then the world flew up somewhere and darkened sharply. Alice unceremoniously knocked her victim down on the bed and put it cancer. You did a good job and deserve praise.
You will also like:
Served in the sky infantry, so I had all the necessary qualities, and work in the fresh air and with people always made me happy. Therefore, every summer, my holidays, I devoted to a travel agency, and in my trunk there are a lot of romantic and funny stories.
Related to tourism.
2546
2547
2548
2549
2550