Custom Save the Dates
What customers have to say about Postable cards
What is a save the date?
Think of your save the dates as a type of prelude to your wedding invitations because that's essentially the function that they serve. While wedding invitations give your guests a great deal of information such as exact locations and times, your Save the Dates will provide your guests with the special date as well as general location (especially required for destination weddings).

Essentially it's wise to think of your Save the Dates as part 1 of your wedding invites. In this way, you'll want to make sure to only send your Save the Dates to your wedding guests.
Why Postable for my Save the Dates?
You have a million potential sources for Save the Dates, making your decision that much more difficult. Once you hear all the delightful qualities that sets Postable apart, the choice should be that much easier.

First of all, there's the designs. All of Postable's Save the Dates are designed by independent artists from around the country varying in style to cover anything you could ever want. You won't see any corny or low quality designs here -- Postable Save the Dates are made by all the top designers in the country.

Then there's the ease of customization. There are no no strange tools you have to learn to use or clunky processes to undergo. All you have to do once you've found a Save the Date that matches your wedding aesthetic, is enter your details. Postable's site is specifically designed to make the process a breeze. Enter you and your fiance's details and click the big green buttons. And voila! Easy Peasy.

But wait... It gets better.

Postable will print, address AND mail your Save the Dates for you. You've chosen your design, entered your details... Now all that's left is to select your recipients and click send. The biggest difference between Postable and just about anyone you'll find online is the fact that we'll mail your Save the Dates for you for free. Our mission in life is to make yours as easy as possible which means doing the leg work for you.
Sinfully Luxurious Paper Quality
Whoever said convenience kills quality hasn't met Postable. All of our Save the Dates and envelopes are printed on lush, toothy, post-consumer recycled card stocks. Delightful to the touch and prints our beautiful designs like a dream.
Printing Save the Dates
Ok so our paper is stellar, but what about the printing? We use state of the art best available technology to digitally print the Save the Dates. This ensures your designs are printed to the best possible degree and print out as stunning as they appear on your screen.
Customizing and Personalizing your Save the Dates
When it comes to your wedding, every element should reflect not only your wedding aesthetic — be it sunny beach vibes or urban dreams — but they should also uniquely reflect you and your partner. The two of you have decided to spend the rest of your lives together. Your partnership is unlike any other and the same should go for your Save the Dates. When it comes to customizing your Save the Dates, we've made it easier than ever. Simply fill in your unique details in the fields allotted — and just like your wedding, each Save the Date design is different so the fields themselves will vary as well. Personalize the backs of your Save the Dates with a unique message, add extra images or just leave it blank to allow the focus to remain on the front design. The envelopes will be pre-addressed and customized with each guests' mailing address as well as your chosen return address.

Alternative to choosing one of our customizable Save the Date templates, you can upload a completely new file of your own. If you're a designer yourself or have created your own save the date design elsewhere, simply upload your file to the blank canvas. Just make sure the resolution is 300dpi for best printing results.
How far in advance do you send out save the dates?
The whole point of sending Save the Dates is to give your guests enough of a heads up so that they may plan for your big day. If your guests are from out of town, they'll need to make proper travel arrangements and budgeting plans which requires extra time. And even if your guests are local, attending a wedding often requires childcare plans as well as work schedule alterations etc. The bottom line: if you want your guests to be able to attend, give them plenty of notice of the date.

How far in advance you send your Save the Dates will vary depending on a few factors.

Generally, for most weddings send your Save the Dates 6-9 months in advance.
AND
For destination weddings or if there are many out of town guests, allow 9-12 months.
Is it too early to send save the dates?
Well that depends. If you're planning your wedding more than a year in advance, you may want to hold off on sending your save the dates. We'd err on the side of too much time in advance, but it's a good idea to max out at around 12 months so that your guests don't end up forgetting about your wedding as a result.
What if our wedding date changes?
The era that the year 2020 kicked off has certainly introduced an element of uncertainty into all of our lives. The many unknowns that we're all facing makes planning a wedding tricky. Under normal circumstances, we'd say that you should only mail Save the Dates when you're 100% sure about the date of your wedding day, but if some unforeseen circumstances cause you to change the date of your wedding, and let's be honest anything is possible nowadays, we have a wide selection of Change the Date cards to choose from as well.
Whose name goes first?
Both you and your partner are entering into a lifelong union. There are some outtdated wedding etiquette rules that should be tossed and this is one of them.
Whose names appears first on your Save the Dates is totally up to you.
Bride 1 and Bride 2
Bride and Groom
Groom 1 and Groom 2
Groom and Bride
Let's be honest, there are more exciting wedding related topics to ponder.
What Should I Say On My Save The Date?
Unless you're designing your Save the Date completely from scratch, you're in luck! Every Save the Date template has different fields pre-determined for you. While there will be some variability in the details each template has available, every Save the Date will include the following:
The date of your wedding — hello, the whole point of these bad boys.
The couple's names.
Additionally, some Save the Dates will also include:
The city or other general location of the wedding.
Additional text i.e. "Wedding invites to follow"
Should you feel the need to include more text on any of these Save the Dates, remember you can use the backs of the cards and include your own message (and even add more images).
Can you ask for an RSVP with a save the date?
It's your wedding, you can do whatever makes you happy. However, we don't recommend asking for RSVPs with your Save the Dates. Given the lack of detail on the typical Save the Date, RSVPs are usually reserved for the wedding invites. If you're mailing your Save the Dates with enough lead time to give your guests a good heads up, you're not likely going to have all of your wedding details mapped out. Things like exact location or times won't be set it stone just yet. These are the types of details a guest will need before RSVPing.
Do you send save the dates to everyone?
No. This is important to remember. We know getting engaged and choosing the big day on your calendar is out-of-this-world exciting, but you should resist the urge to mail your Save the Dates to everyone you know. Your Save the Dates are precursors to your wedding invites so unless you plan on inviting everyone you know, don't mail them a Save the Date.

First, make a realistic wedding guest list with your partner and run it by any relatives you know will need to be included in the process. Once you have 100% decided on your guest list — these are the folks who you'll want to send a Save the Date to. Anyone who receives these will [rightly] assume they will also be getting a wedding invite so send them wisely. Don't assume someone won't be able to make it and send them a save the date anyway.
How much does it cost to print save the dates?
The more Save the Dates you buy, the less they cost. Postcards vs. Flat cards that are mailed in envelopes are also priced differently. So the price can range from $1.00 to $3.99 each depending on how many you buy.
Sours: https://www.postable.com/cards/wedding/save-the-date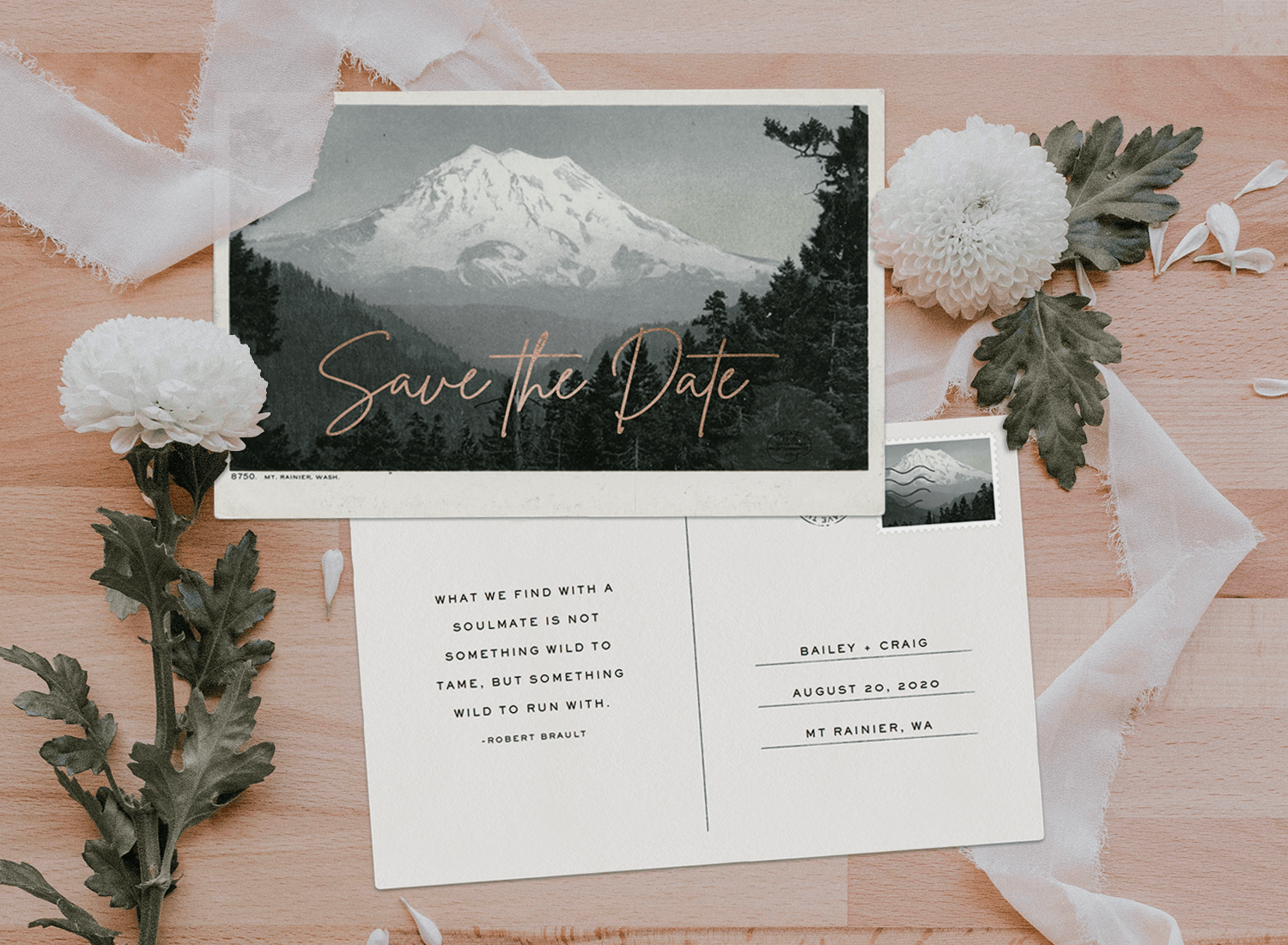 It's easy to get caught up in the endless tasks of throwing a dream wedding. From invitations and save the dates to RSVPs, securing venues, and working with caterers, it can seem overwhelming. Fortunately, you can simplify your wedding planning into easy-to-manage tasks. One of the first things to do is send out save the date postcards.
Save the dates are the first notification most wedding guests will receive about your upcoming nuptials. In fact, the entire purpose of these cards is to let guests know when and where you're getting married. From wording and address tips to design inspiration, this guide offers everything you need to know about crafting these wedding announcements.

What to Include on Save the Date Postcards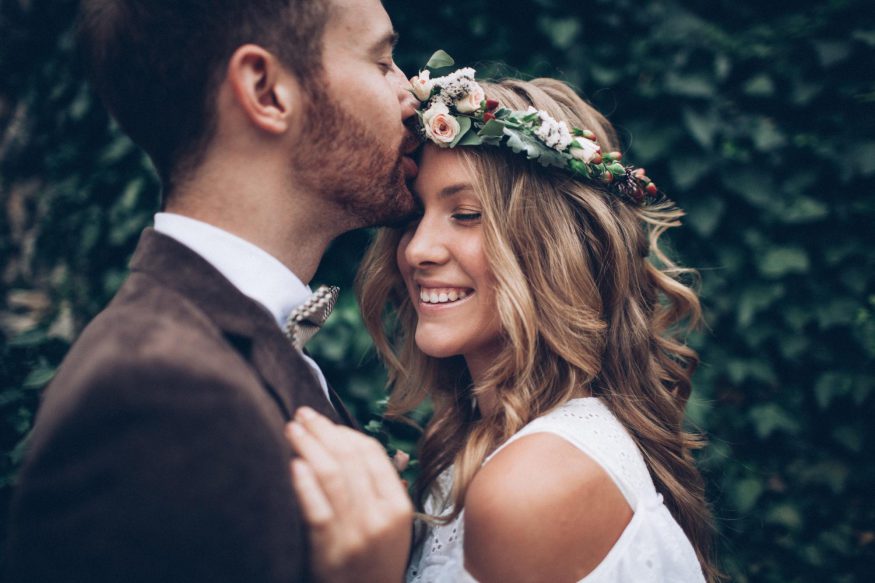 You've had a beautiful engagement and now it's time to begin planning your wedding day. You should send out save the date cards about six months to one year before the wedding. This gives guests plenty of time to clear their calendars and make arrangements. For destination weddings, it's also a good idea to send the cards early — between nine months to a year in advance — so everyone can book flights.
There are two things to finalize before sending your save the date cards: Your guest list and the wedding date. It's also helpful to know at least the general region or city where you'll be hosting the big day, even if you don't have the final venue picked out.
Here's what to include in your wedding save the date cards:
The words "save the date": Be very clear with your title that it's a save the date postcard. Since these cards are sent far in advance of the wedding day, details aren't set in stone. Plus, some guests may get confused after they receive the official wedding invitation later, so titles help to distinguish the two.
The name of the happy couple: Traditionally the bride-to-be's name is listed first, but you can choose to present the names in whatever way you choose.
The wedding date: The intention of save the date postcards is to announce the big day so wedding guests can make plans to attend. Only send save the date cards once you have a confirmed wedding date. 
The wedding location: Many couples-to-be won't know the exact location of their wedding a year in advance and that's OK. It's enough to include the state, region, or country where the wedding will be held.
Your wedding website: Include a link to your wedding site so guests can learn more about you and your fiance. It's a fun way to involve guests in your love story, and you can also include more information about the day of the event, such as the wedding program or your wedding registry.
A note about more details: Add a quick line that a formal invitation with more details will be coming in the next few months. You can say something like "invitation to follow," so guests know to keep an eye out for the invite.
The best love story is the one you're writing, so don't be afraid to share a short anecdote or a brief phrase that symbolizes your union. Just remember to keep it short and sweet since you want the main focus to be on the date.
How to Address Save the Date Postcards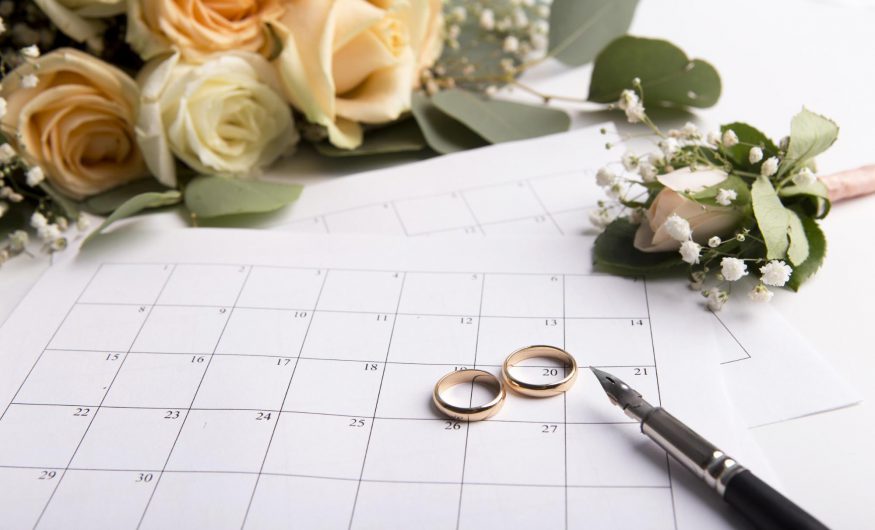 These days, weddings range from casual affairs to formal events fit for royalty. As such, navigating proper wedding etiquette can vary, but there are a few general rules to follow when addressing your save the date cards.
Use full names: For formal invites, the customary style is to use both the first and last name of the guest. For a more casual wedding or a small wedding like a minimony, you can use nicknames if you want.
Use titles: Address guests using the terms Mr. for guests that identify as male, Mrs. or Ms. for guests that identify as female, and Mx for guests who are gender fluid, non-binary, trans, or those that don't identify with a specific gender role. If you're not sure which pronoun to use, just ask! You can also simply choose not to use any titles at all. It's also nice to include professional or military titles whenever they apply. 
Account for children: If you're inviting a child who is 18 or older, send them their own save the date card. For younger children, include the names of each child on a separate line below the parents' names. 
Don't use abbreviations for locations: When listing the location of the wedding, make sure to write out the full name. For example, write "Los Angeles" rather than "LA" and "New York City" instead of "NYC" or a nickname like the "Big Apple."
Remember, this is your big day so you can celebrate however you like. These tips are simply here to make planning a little easier and offer some direction. You have the freedom to write and address your wedding invites and save the date cards as you wish.
Save the Date Postcards: Wording Advice
As with addressing the cards, the wording for your save the dates really comes down to your style and personality. For formal events, it's a good idea to stick with the traditional etiquette of spelling out full names and titles. If you're having a cozy wedding with your closest family members, feel free to be more casual and playful about your invites and save the date ideas.
Invite guests to eat, drink, and be married with cleverly crafted sentences or just keep things simple. Whatever you decide, stay true to yourselves. After all, everyone is coming to celebrate you! Check out our guide on how to phrase your save the dates where you'll find various styles and real-life examples to guide you along the way. 
Save the Date Design Inspiration
When it comes to wedding announcements, you can choose from a host of styles to put your love story on display. From save the date magnets and stickers to custom save the date postcards, there's a style for everyone. Plus, it's never been easier to choose gorgeous designs from sites like Greenvelope, whether you're looking for something minimalist and matte or an over-the-top glamorous save the date card.
Greenvelope offers a huge selection of beautiful save the date cards and wedding invitations. You can customize each design by changing the font and background color or you can upload your own unique creation. Here are some of our favorite save the date designs to inspire your special announcement.
1. Sweet Script Save the Date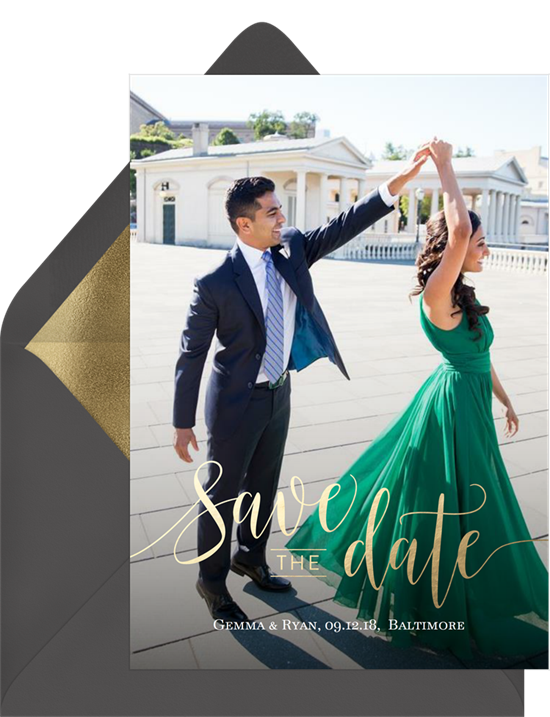 Design: Jessica Williams (photo courtesy of Sachi Anand Photography)
This sweet save the date puts the happy couple front and center. Photo cards are a lovely way to share your unique love story. Use your favorite engagement photo or throw it back to a snap from when you first met. Customize the card by changing up the color scheme or typography.
2. Watercolor Geo Save the Date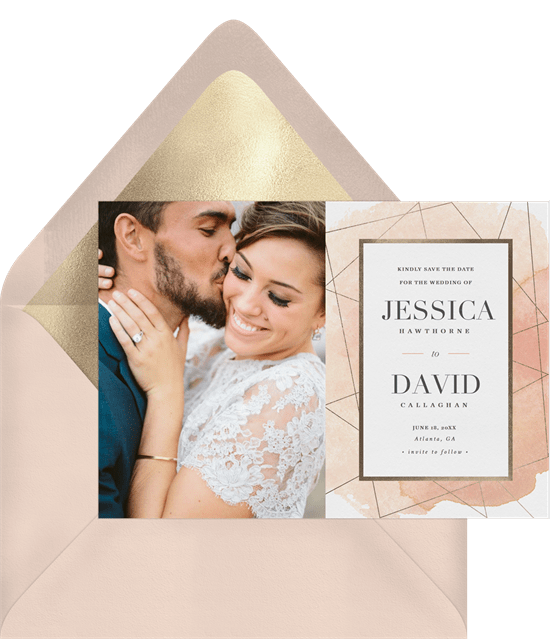 Design: Stacey Meacham Design, LLC (photo courtesy of Angela & Evan Photography)
This photo save the date features a soft watercolor background framed in by an art deco-inspired geometric layer. The gold foil accents add a touch of shimmer, making this card both personal and whimsical. 
3. Distinguished Monogram Save the Date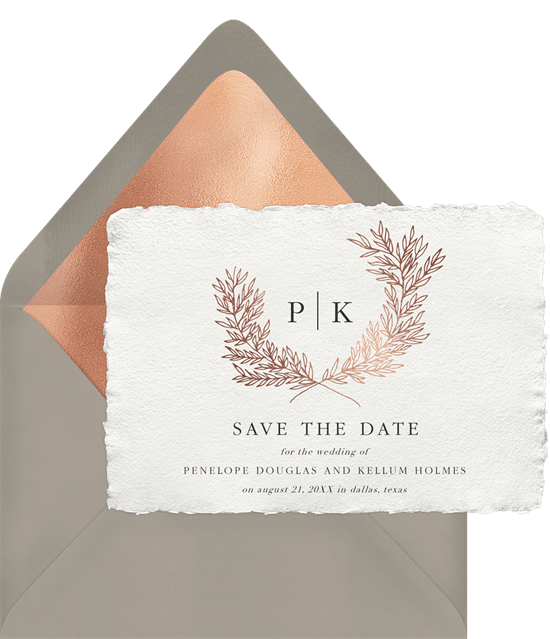 Design: Annie Montgomery Design
This monogram save the date card is perfectly suited for formal and sophisticated affairs. The hand-drawn wreath glitters in gold foil, gently cradling the couple's monogram. Choose a calligraphy font to make the design even more glamorous and play with the color scheme to match your wedding theme.
4. Cascading Faux Foil Save the Date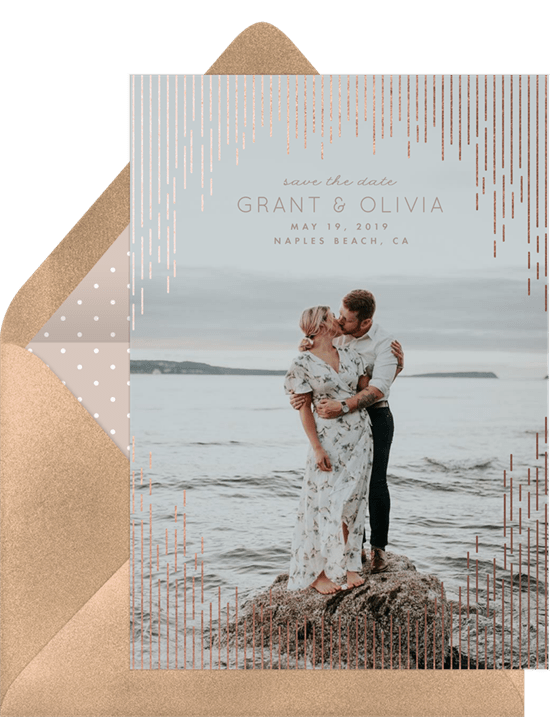 Design: Owl and Toad
This glistening save the date is perfect for everything from destination weddings and formal events to minimonies. The design features a full photo of the couple while the dripping gold foil creates an exquisite frame.
5. Rustic Twinkle Save the Date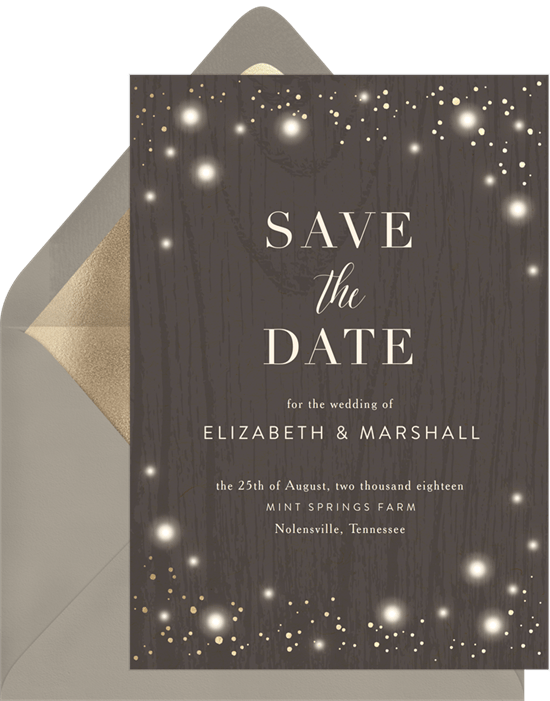 Design: Jessica Williams
This rustic save the date features elements such as shimmering lights and rich wood grain, making it perfect for barn or outdoor weddings. It's ideal for both casual and more formal events.
6. Love and Light Save the Date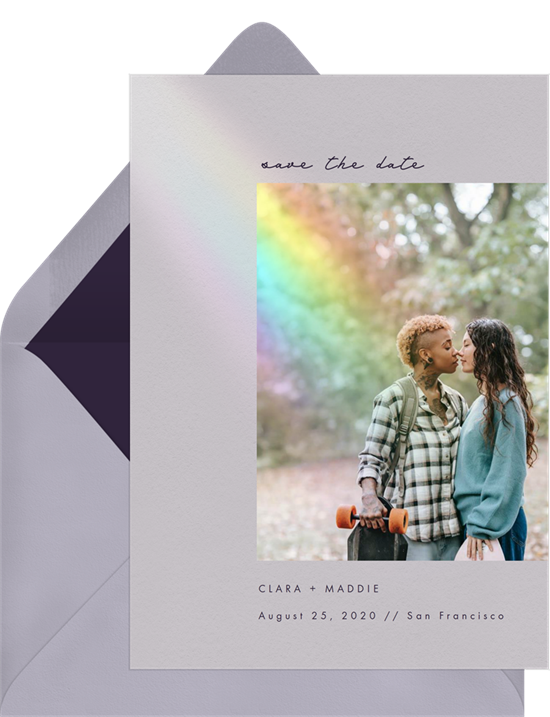 Design: Maria Hilas Louie Design
Rainbows symbolize hope, peace, and serenity. With this brilliant rainbow save the date, you can notify guests of your upcoming union and invite them to join you in a blissful celebration. The modern typography adds a bold touch and you can feature your favorite photo from your engagement or another special moment.
Design and Create Stunning Save the Dates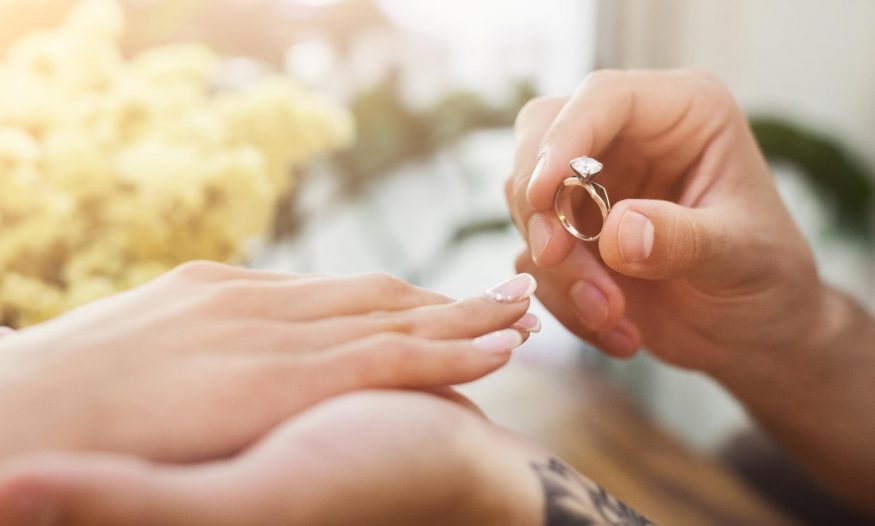 With digital designs from Greenvelope, you have your choice of stunning wedding stationery suites including wedding invitations, save the date postcards, RSVP cards, and thank you notes. By choosing digital invitations, you can save time, money, and even help the environment. You won't have to spend time standing in line at the post office or spend money on stamps. Plus, it's easier to track RSVPs with an online invite.
With a digital save the date card from Greenvelope, you can automatically add your wedding date to your guests' calendars. That means you won't have to worry about guests forgetting to write down the date or making a mistake. It's also easier to send updates or a new date if something comes up. 
Each design is fully customizable, so you can upload your own design or fine-tune hand-drawn designs available on the site. From cards inspired by greenery and nature to rustic designs and Art Deco styles, you're sure to find a save the date card you adore. Discover even more beautiful designs from engagement party invites and bridal shower invitations to rehearsal dinner invitations. It's time to start planning your dream wedding today.
Sours: https://www.greenvelope.com/blog/save-the-date-postcards
In this article, I explore why postcard save-the-dates have become the preferred choice for many couples, along with some of my top picks for 2021.
The big day is set and it's time to choose your save-the-dates! Choosing a striking design is one consideration, but give some thought to the format of save-the-date you want to send such as a classic 5″ x 7″ card, magnet, foil-pressed, letterpress, or a postcard.
Minted was our go-to online stationery store. And even though I'm married now, I get excited each new year to check out their latest collection of wedding stationery designs. When they asked us to write a sponsored post about their new collection of save-the-dates, I jumped at the chance. After all, I'd already been on their site, swooning over foil-pressed save-the-date designs and fresh postcards.
Let's dive into why a postcard save-the-date is such a great option for your wedding announcement and some of the fantastic new designs recently released on Minted.com.


Guide to Save The Date Postcards
Choosing save-the-dates can be daunting for some couples. As a first teaser guests get about your wedding, you want them to be just right. From a purely practical standpoint, the save-the-date provides the essential information your guests need to calendar in your wedding and start making their travel plans. Beyond practicalities, however, the save-the-date is also your first chance to set the stage for what guests might expect from your wedding.
From this standpoint, it's worth taking some time to consider whether you want to go with a standard save-the-date or change it up with a fun, stylish postcard. If you're not sure whether a postcard the way forward, read on!
Should You Send a Postcard Save the Date?
Choosing a format for your save-the-date cards is one of many, many decisions you'll make over the coming months. To help determine whether to send postcard save-the-dates, you'll want to take the following into consideration:
They're a Money Saver: Due to their smaller size (tyipcally 6″x 4.25′"), postcards tend to be the least expensive option available. They are cheaper than classic (7″ x 5″) and magnet options, which can translate into postage savings if you decide to send them without an envelope. In the US, the cost to send a postcard is almost 40% less than sending a standard letter. Depending on the number of guests you're inviting, these savings could add up. Trust me, you'll want to save lots of pennies when planning an entire wedding!
You Can Save on Paper. If you're torn between going with a digital save-the-date and the traditional printed version because you're eco-conscious, a postcard is a great middleground. Smaller in size and requiring no envelope, they'll create less paper waste while still offering your guests a tangible reminder of your upcoming wedding.
Postcards Can Emphasize a Theme: Any final decision may well depend on the theme of your wedding. For example, a postcard save-the-date would be a great teaser for a destination wedding, or if you and your beau love to travel. It would be equally suitable for a vintage, whimsical, rustic, or semi-casual wedding.
Information To Include on a Postcard Save-the-Date
The purpose of the save-the-date is to make sure your guests have the key information necessary to make plans for your wedding. Remember, you'll follow it up with a more detailed invitation, so keep it sweet and simple for now! Here's the information you should include on your save the date postcard:
Names of your and your spouse. If you wish to mention the parents' names, the wedding invitation is the appropriate place to include them.
The wedding date, including the year!
The town/city and state where you're getting married
Optional items to include:
Wording to indicate a formal invitation will follow
Your wedding website url
Helpful Tips for Save the Date Postcards
If you're still reading, I suspect you're convinced that a postcard save-the-date is the way to go. Here's a few more things to keep in mind:
Envelope or no envelope: Yes, one of the perks of going with a postcard is that you save money on postage and cut down on wasted paper. That being said, if you're worried they may get damaged in the mail, it's worth considering envelopes. Personally, I like to think that any wear or tear on the postcard simply adds to its character. An alternative option is Minted's petite format, which is the same size as a postcard, but has a different backer (not postcard style) and comes with an envelope.
Choose a photo that fits: Some of Minted's postcard designs come in landscape orientation, while other come in portrait. If you have your heart set on personalizing your save-the-date with a certain photo, make sure you're only looking at designs in the same orientation.
This brings me to another neat feature. You can text Minted the photo you want to use for your save the date, answer a few style questions and their design experts will send you a few suggested designs with your photo. What a great way to narrow down your search and find the best design for your photo!
Add a customised stamp: Give your postcard save-the-date an extra shot of personality with a customised stamp. I don't know about you, but I always find myself taking an extra close look at postcard stamps, probably becuase they are often sent from faraway places. Your guests will love discovering that you've created a stamp just for the your big day!
Save The Date Postcard Picks
As I mentioned, Minted has a huge selection of save-the-date post card designs. Each design has been created by an independent artist or designer that belongs to the Minted community. That means that no matter what design you choose, you can feel good about supporting a creative and talented individual.

I've taken a dive into the newest collection of save-the-date postcards for 2021, as well as some that have stood the test of time. Check out some of my absolute favorite designs from their new collection:
1. Modern Save the Date Postcard
Keep it beautifully simple with this new save-the-date, where your photo is the focus. Fittingly called 'The Announcement', this design is well-suited to any wedding theme – just be sure to pick a photo that gives a hint of what to expect. For example, if it's a destination wedding, use a photo of you and your beau at the chosen destination or, perhaps, with luggage in hand!
2. Playful Typographic Save-the-Date
This fun, fresh design conveys an easy-going and playful sentiment. While the front is all about the details and typrography, you can still include a photo of you and your spouse on the backer!
3. Hip Minimalist Save-the-Date
I love this minimalist postcard that juxtaposes the text vertically against the horizontal photo. This is definitely a great option for hip couples that want to keep it simple-yet-stylish with their save-the-dates!
4. Colorful Destination Save-the-Date
While this design isn't from Minted's collection, I think it's stood the test of time very well. A postcard save-the-date is very beftting for a destination wedding and this PackYour Bags design brilliantly combines a personal photo with colorful illustrative elements!
5. Rustic or Boho Save-the-Date
Calling all couples planning a boho or rustic-themed wedding! Minted has loads of designs to suit your chosen theme. I love the fun fonts and illustrative elements in this particular design.
Minted.com Save the Date Collection
An extensive collection of stunning wedding stationery that supports independent designers makes Minted a top choice for online stationery. In addition, I love Minted for their excellent user experience. Keep the below features in mind as you search and use them to your advantage:
Free Samples: You always have the option to get a free sample of your favorite save-the-date(s) before ordering. Very helpful, especially if you're a bit on the indecisive side.
Style Filter: If you've decided on a style/theme, you can narrow your design search down by using Minted's handy style filter. Select from modern, rustic, bohemiam, illustrative, and many other styles. You can also filter by color, price, printing type, font, and more.
Free Digital Address Collector: I love this idea! Instead of sending a plain text email to your guests (or a Facebook message, for that matter) to request their mailing address, you can enlist Minted's free address collector. All you have to do is select your favorite address collector design and input your guests' email addresses. Minted will send out your collector card (see samples below) and, voila, you've got a database of addresses to send your save-the-dates, wedding invites, and thank-you cards!
Postcard format not your thing? No problem. If you're planning a formal wedding, a classic card format may be more appropriate. Minted's new collection includes many elegant, luxe foil-pressed designs in a classic 5″ x 7″ format.
Learn more about foil press printing and check out two of my favorite designs below from the new collection. True, they're not postcard save-the-dates, but I'm not here to tell you there's one save-the-date format that fits every wedding!
In the end, it's your choice as to whether a postcard save-the-date jives with your wedding theme. One of the things I absolutely love about Minted's save-the-date collection is that many designs can be tailored to your preferred format. I'm talking formats like postcard, petite, classic, magnet or grand. That means you've got plenty of design choices, no matter what format you decide to go with!
Choosing save-the-dates can be a fun adventure. Minted is a wonderful solution to find your perfect design — whether it's a postcard, foil-pressed classic card, magnet, or other format. In the end, your guests are will be delighted with whatever save-the-date you send!
Sours: https://www.loveandlavender.com/save-the-date-postcards/
Save the Date Postcards-Make them your own
Custom Save The Date Postcards
How to Order
Consider whether or not you want a style that lets you use your own photo, and then pick your favorite design from our collection.
Select your quantity and color.
Personalize your Save the Date Postcards by filling in the text with your wedding information on the front and backside.
Once you're finished, just preview the changes so you can see how everything looks before you place your order. It's that simple!
DIY Save the Date Post Cards — Create your Own Design
For a design that's 100% one of a kind, upload your own photograph or artwork using our custom Save the Date Postcard style.
Etiquette Tip:
Send your Save the Date Postcards about six months in advance, or even earlier if yours is a destination wedding.
What to Expect
Once you've placed your order with us, one of our professional graphic designers will review it to make sure it looks perfect, and then we'll e-mail you a digital proof. The digital proof will show you just how everything will look before the order is sent to print. After you've given us your final approval, we'll process your order and ship your Save the Dates Postcards within 1-2 business days.
Etiquette Tip:
When ordering, count the number of couples you are inviting rather than individual guests.
More Save the Date Ideas
For creative and fun save-the-date ideas and inspiration, visit our blog! And don't forget to check out our Wedding Invitations, Enclosure Cards, Response Cards and other coordinating wedding stationery from Evermine.
Sours: https://www.evermine.com/wedding-save-the-date-postcards/
Date save postcards the
Save The Date Postcards
Q: When should I send save-the-date cards?
A: It depends on the number of guests that will be traveling and how far. Generally speaking, the more people traveling, the longer the advance notice.


Mail your save-the-dates 4 to 6 months in advance for local events and when a minimal number of people are coming in from out of town.
Send save-the-dates 9 to 12 months in advance if more than half or all of the guests are traveling, like to a destination wedding.
Don't forget to send the invitations, too! Those should be sent 3 to 6 months before the event date, and well after your save-the-date postcards.


Q: Which sizes qualify for USPS First-Class postcard mailing rate?
A: Our 4" x 6" size falls under USPS's First Class Postcard rate. The 5" x 7" to 6" x 11" range will be charged the Letter Rate. Visit our direct mail or Every Door Direct Mail® services pages to learn more about our postcard delivery services.


Q: Which materials are most resistant to considerable handling during mailing and delivery?
A: Our 14 pt. cover stock with gloss or high gloss coating and 16 pt. cover stock in gloss or matte are all thick enough to resist ample wear and tear. The high gloss option is abrasion resistant and does not absorb fingerprint marks.


---
Sours: https://www.48hourprint.com/save-the-date-postcards.html
Save the Date Postcards-Why, when and if you need to send
Save the Date
Save the date cards offer your wedding guests a glimpse into the style and mood of your big day while reserving the wedding date. When you're ready to make the announcement and start the rsvp process, do it in a stylish way with save the dates from Shutterfly. Whether you want to make a bold impact, go the minimalist route, express your chic style or capture contemporary elegance for your modern wedding, this collection of beautiful save the date designs can help you achieve the perfect look for your wedding invitations for your guest list.
Save the Date Ideas
Need some inspiration to help you create save the dates that capture your style? We make it easy. From classic wedding ceremonies to exotic destination weddings, Shutterfly has you covered. Let's take a look at some tips and ideas to help you get started:
Choose a template. First, browse the collection to find your favorite design. If you're having a difficult time deciding, try the "Show with my photos" feature to see each template automatically displayed with your engagement pictures as you browse. From eye-catching foil-stamped cards to simply elegant and minimalist modern designs, you'll find a save the date template that suits your style.
Upload your photo(s). Whether you have a single favorite photo to showcase or you want to include several portraits, upload your pictures to the template. Professional engagement photos are a great choice for your save the dates.
Personalize the design colors. As a modern couple, you should have the freedom to get creative and fully customize your wedding stationery. That's why many of our save the date cards are available in multiple different colors, and many even feature a Custom Color Palette that you can personalize to your heart's content.
Add your information. Only a few pieces of information are essential on your save the dates: who, when and where. Personalize your chosen design with your names, the date of your big day and the city it will take place in. From calligraphy fonts to monogram styling, you choose the typography. If you wish, you can also include your wedding website URL.
Finish your cards. It's time to add the finishing details to your modern save the date cards. Choose from a variety of fonts, colors, cardstock types and trim options to make a design that's truly yours. You can also choose from optional add-ons like slip-in liners, custom wedding address labels and more.
More Save the Date Wedding Ideas
Shutterfly has all the wedding planning ideas and inspiration you're looking for. If you're looking for the perfect design concept or platform for your save the date, check out our save the date magnets, save the date postcards, or traditional wedding cards and stationery. Shutterfly has a lovely collection of wedding invitations and photo cards for your big day. While you are designing unique save the date cards, you can prepare your wedding invitations. We also have everything you need for planning your bachelorette party, bridal shower, and sending thank you cards for after the wedding day.
Sours: https://www.shutterfly.com/cards-stationery/announcements/save-the-date
Now discussing:
Classic Glamour - Save The Date
Save the Date
Starting at $16.49
For 25 cards
Elegant Wedding Arches
Save the Date
Starting at $24.99
For 25 cards
Crown Of Branches - Save The Date
Save the Date
Starting at $16.49
For 25 cards
Minimal Lines Monograms
Save the Date
Starting at $24.99
For 25 cards
Classic Date - Save The Date
Save the Date
Starting at $16.49
For 25 cards
Modern Save the Date
Save the Date
Starting at $24.99
For 25 cards
Romantic Floral Arrangement - Save The Date
Save the Date
Starting at $16.49
For 25 cards
Soft Petals Save the Date
Save the Date
Starting at $24.99
For 25 cards
She Said Yes - Save The Date
Save the Date
Starting at $16.49
For 25 cards
Save the Date Modern Calligraphy
Save the Date
Starting at $24.99
For 25 cards
Vintage Lettering
Save the Date
Starting at $16.49
For 25 cards
Modern Classic - Save The Date
Save the Date
Starting at $24.99
For 25 cards
Modern - Save The Date
Save the Date
Starting at $24.99
For 25 cards
Infinite Stars - Save The Date
Save the Date
Starting at $16.49
For 25 cards
Save Our Date Bold - Save The Date
Save the Date
Starting at $24.99
For 25 cards
Simple Postcard - Save The Date
Save the Date
Starting at $16.49
For 25 cards
Boho Pattern - Save The Date
Save the Date
Starting at $24.99
For 25 cards
Soft Birch - Save The Date
Save the Date
Starting at $16.49
For 25 cards
Patterned To Perfection - Save The Date
Save the Date
Starting at $24.99
For 25 cards
Vintage Scrollwork - Save The Date
Save the Date
Starting at $16.49
For 25 cards
Sours: https://www.costcophotocenter.com/cards/stationery-cards/Search/SaveTheDate
2456
2457
2458
2459
2460