30 Ultra-Cool High Fade Haircuts for Men
Fade haircut is a popular men`s cut in which the length of the hair reduces gradually from the parietal ridge towards the temples and nape. High fade is one of its trendiest variations. Highly popular among Asian, African-American and Caucasian men, high fade cuts transcend ethnicity and age. They're inherently cool — high fades were spotted on Old Hollywood stars back in the day, and now they are rocked by young, hip men.
Different Types of Fades
First of all, let us introduce you several most popular fade haircut styles:
Type 1. Classic fade haircut (or regular fade) — any haircut with gradually fading (disappearing) hair on the sides and back.
Type 2. Taper fade — starts from the nape of the neck (not from 0), extends to the parietal ridge very gradually.
Type 3. Shadow fade — very short hair on the sides and/or nape blends with longer top without a high contrast, reminds a very light shadow.
Type 4. Skin fade (also bald fade or zero fade) — hair on temples and/or nape fades to bare skin.
Type 5. High fade — starts from the parietal ridge, the longest hair is on the two-inch-high area at the top.
Type 6. Low fade haircut — tapering begins very low, just above the ears.
Type 7. Mid-fade cut (medium fade) — starts halfway up the head.
Type 8. Temple fade (temp fade) — only temples are fading.
Type 9. Drop fade — has an arc shape above the ears.
Type Scissor fade — a cut made with scissors, not with clippers.
Whether you are a White, Asian, Black or Latino guy fade will be always a right choice. You just have to choose the style that works for you. For example, low fades are best for oblong, triangular and diamond head shapes, mid fades look great with facial hair. High fades will suit square and round face shapes, look good only on scalps without lumps and bumps. Scissor fade cuts are a great option for specific head shapes. Let's move on to fresh high fade haircuts for guys!
High Fade: Where Classic Meets Cool
Fade haircuts have evolved from classic tapers. But nowadays, the trend has become more diverse than ever, with men rocking longer (even curly) hair on the top of the head with contrasting shaved sides. In other words, the style can be worn in a multitude of different ways.
#1: Longer Hair High Cut
Once reserved solely for hipsters, faded haircuts with long hair on the top are now becoming more mainstream. It's an incredibly flattering style, helping to elongate the face and emphasize a set of chiseled, masculine features.
#2: Classic High Fade Haircut
With a subtle (but sexy) pompadour above the forehead, this zero fade comb over cut is a true classic of the high fade haircut. Brush back the hair with a wide-toothed comb, incorporating a modest amount of holding gel or spray for extra hold.
#3: Shadow Fade Haircut
Shadow fade haircut is a softer version of a normal fade, it is subtle and creates more natural contrast between hair lengths. Sometimes you can read that this type of fade is for curly hair. Definitely yes, but men with straight hair can try it too. In general, it is a great fit for any guy, especially for those who have sensitive skin and want to skip weekly trimmers.
#4: Messy Blonde Fade Haircut
Although it's most common to see longer hair of a high fade haircut slicked back into a pompadour, that trend is branching out quickly into mohawk-esque edgy styles. If you want to perfect your blonde fade haircut, use plenty of texturizing pomade to keep everything messy yet under control.
#5: Fauxhawk with Side Part
Some of the best starter-styles for this type of look are those with a minimal amount of balding, no designs and plenty of hair on the top of the head that you can brush forward, sleek backward or spike up into a fauxhawk.
#6: Forward-Combed Style
Of course, not all faded looks need to be combed backwards (their most popular form). Rather, some of the trendiest men's cuts are now being combed forward on the forehead, almost in a Caesar-like style.
#7: Wild Pompadour Fade Cut
Assume all high fade haircut styles have the same appearance? Think again. Styles like this one push the limits of traditional styles, relying on a sky-high pompadour and precise line up to add drama. Use a strong hold gel for extra security.
#8: Pompadour with Shaved Design
Don't be afraid to shake things up (quite literally) – try a fade haircut with long hair on top and shaved designs on the sides. A shaven style is a perfect canvas for creating cool, intricate art.
#9: Fauxhawk Spiky Hair Fade
A high taper fade mixed with a sky-high faux hawk is the definition of sexy hair, mainly due to its variety. Whereas the top of the hair is wild, the sides are shaved and more serious. This spiky hair fade is a perfect cut for a hip young man.
# Disconnected Fade Cut
The edgiest haircut among fades is the disconnected fade. The definition is simple. Disconnected can be called any haircut that has dramatic length changes in the hair. See the example below.
# Blurry Skin Fade
This high skin fade is the epitome of coolness, as the hair seems to move seamlessly from thick to thin with a line up perfecting the edges. Slick back your hair into a puffed-up pompadour with texturizing pomade and spritz with hairspray if your hair doesn't hold a pouf well.
# Fade with Faded Beard
The key to creating a stylish, sexy men's fade haircut? Absolutely precise lines – you know, with a line up that looks as though the sides of the hair were shaped with a ruler. Make sure the hair on the top of your head isn't cut any longer than one inch to get the closest crop you can.
# Soft Blended Fade
One of the most popular hairstyles for men right now, the blended fade, is all about seamless transition of hair lengths, rather than a harsh, drastic shift in texture. This can be achieved by a talented barber with a sharp razor (and controlled hand).
Related Post:20 Faded Mohawks: Awesome Is What They Are
# Clean Cut Fade
Ideal for a job interview, Easter Sunday with grandma or even meeting her parents for the first time, this shaved faded cut projects confidence, class and professionalism. The cleaner and the tighter the overall appearance, the better.
# Side Part Fade Haircut
Just because you're wearing a fade haircut, doesn't mean you can't rock a side part too. In fact, hair parted toward the side can create a unique variation to the traditional "pomp" style you see often.
# Undercut Fade with Braids and Bun
Guys, hear us out: braids aren't just for ladies–you can rock them, too. As pictured here, braided hair can be worn with a high top undercut fade for a fresh, punk rock style. The best part? You won't have to worry about styling the longer section every day.
# Flipped Up Buzz
With faded hairstyles, there are too many looks to choose from. One of the most-seen is a forward-combed, short cut crop, with ends above the forehead flipped up. This adds a certain amount of edge to an otherwise clean and simple cut.
# Fade with Curls
You've certainly seen this cut on NBA players. Curly hair fades with an afro top are an incredibly hot style right now, mixing together both natural black coils with clean sides and edges.
# Straight High Top
When it comes to dramatic fades, the closer the top to the sky, the better. And while this particular style seems almost impossible to re-create, don't fear the big heights. Just be sure to master hair-drying with a round brush and stock up on gels and hairsprays beforehand.
# Dreadlocks Bun Style
One of the greatest aspects of high and tight fades is that the options for what to wear on top of your head are virtually limitless. If you want something bold and showy, go with dreads. Secure your braids near the crown of your head with an elastic, shaping a cool man bun.
# Taper Fade with Part
This taper fade with part is both clean-cut and perfectly sculpted, making it incredibly sexy. Although it can be difficult to style, when the hair is particularly long and thick on top, you can experiment with a comb over that looks incredibly stylish and neat when paired with a line up.
# Extra Short High Bald Fade
Short, sweet and directly to the point, this high fade haircut with a chiseled beard is a very popular style for men who seek low-maintenance. The crew cut has always been in high demand, but now is the right time to give it a bald fade update.
# Long Hair Fade Cut
Long hair fade means that your sides will be extremely short (oftentimes trimmed to 0) and the top section will be super-long. To tame your locks wear them in a bun, ponytail or half pony. It`d be a good idea to hone your braiding skills too.
# Scissor Fade Cut
Scissor fade, as was told above, is chosen when a client wants to have a customed shape of the cut. It can be any type of the fade cut, but created using scissors, not clippers. What does a client get? Definitely longer hair at the sides, but the cut still has the tapered faded effect.
# Temple Fade
Temple fade cut is the best choice if you want to try fades but are afraid of major changes in your appearance. In temp fades only the sideburns are shaved off (partly or completely). Sometimes a small area by the ears is also trimmed.
# Hi-Top Fade
The hi-top fade is a cool variation of the flattop fade haircut. As you see the sides are trimmed very short, the curly top is left quite long and has the flat geometric shape. Looks very interesting!
# The So-Called Uptown Fade
Does your girlfriend want to be in love with a criminal? Then the uptown fade is for you! Joking. But this cut is definitely masculine and sexy!
# High Fade with Textured Top
The style you see in this photo attracts attention thanks to two things: a very professional skin fade cut, and a long well-groomed beard. Moreover, steal the idea how to spike your textured top with a hair wax.
# Box Fade Haircut
Box fade is more suitable for men with very curly and kinky hair. At both sides it looks as a normal fade. The top of the head has a specific shape either a flattop or more customed that follows the natural curvature of the skull.
# Stylish Sharp Fade
If you like really sharp neat lines, try a fade haircut like this one, with fading sides, a line up and a long top section. The latter can be styled in a pompadour. To achieve the same sleek effect you will possibly need to combine several hair products. For example, the barber who created this look, used hair serum and styling pomade.
From extra-short to super-long and braided styles, there's no reason why a high fade shouldn't be your next go-to style. Of course, the main caveat with this style is the upkeep–be sure to visit your barber regularly to keep the look trimmed, tight and handsome.
Sours: https://therighthairstyles.com/high-fade-haircuts/
25 Manliest Long Hair Fade Haircuts to Copy Now ( Guide)
A fade haircut is one of the most famous cuts in the world. Long fade haircuts are gaining momentum due to their versatility and great appearance. Men, who aren't afraid to dive into the sea of styling are taking full advantages of such hairstyles.
Long hair fades vary depending on the amount of time you have as well as the skill level you possess. They can be easy to style and fun to wear. Some require a lengthy styling process but look utterly fantastic.
Whatever style you decide to choose, you'll definitely enjoy the amazing glance you'll get from the girls. Any guy who manages to keep a long fade neat deserves a lot of respect.
Popular Fade Styles with Long Hair on Top
A fade long on top hairstyle is exactly what you need when you want a short cut with benefits. While the hair doesn't get into your face and stays neat longer, you can allow your imagination to run wild and come up with various styles for any occasion.
Not many guys have a personal hairstylist, but a lot of them wear long hair fades. What's their secret? They spent some time learning how to deal with their hair. We are offering you 25 options to consider and enjoy.
#1. Low Fade with Long Hair
This low fade with long hair on top is easy to make. This is a great choice for guys, who don't like to do a lot of shaving. The hair on top is left about 5 – 7 inches long in order to create a comb-over. You can play around with the way you arrange the top part.
Fade Haircuts for Men
#2. Curly High Top Fade
Guys with curls and tough to manage hair often choose long hair fade cuts because they look stylish and give them an opportunity to do some interesting styling. A few touches of hair gel can help you shape the top part.
#3. Patterned Long Fade
This faux hawk fade looks truly amazing thanks to the patterned design on the sides. Whenever there is shaving involved, you can enjoy a striking high long fade with patterns. The top part can be 4 – 5 inches long and styled as spikes.
#4. Soft and Spiky
While soft and spiky doesn't seem like a great mix, when it comes to a long hair fade haircut, the two look great together. The high fade makes it easy to take care of the hairstyle while the top part is easily styled with hair gel.
#5. Fohawk
A scissors fade is hard to make but it looks truly striking. If you add some exciting spiked styling on top, the overall impression this fade long on top style makes will be priceless. Ask your hairstylist for a scissor fade. Only real professionals can do it right. You can also try the popular taper fade cuts.
#6. Pompadour Fade
High fades take the hassle out of styling as long as you know what to do with the top part. This hairstyle may seem easy but ask the hairstylist to show you the way first. Once you learn how to do, you'll become the most stylish guy on the block.
#7. Side Part Hair
The fade with long hair on top can be styled asymmetrically to the side. In order to give it even more striking fun, consider curling the ends. The drop fade on the sides can differ from medium to low. Both options look amazing.
Fade Hairstyles for Bearded Guys
#8. Long Slicked Back Hair with Fade
Long slicked back hair is a popular long hair fade hairstyle. For this hairstyle, let your hair grow to a suitable length and then slick them back using some gel and working your fingers through them. Leave a front flick and include a high fade towards the side for added perfection.
#9. High Raised Ginger Hair
Style your long ginger hair by raising them high at the front and relatively shorter at the back. Add a high fade towards the sides whose color gradually drops down to light blonde shade. This is an ideal hairstyle for leashing out the stylist in you.
# Braided Ponytail for Men
Braids are cool but braided ponytail is even cooler. Braid all your top fauxhawk hair into various thin braids and then tie them at the back. Add some contrast by including a high fade to this fade with long on top hairstyle. This combination of fauxhawk with a braided ponytail is nothing less than magic.
# Long Swept Hair with Temple Fade
Long hair looks exotic when swept back. So, this time, style your hair by neatly trimming the edges and then sweeping them backward. Shave the hair low to the skin on the sides for a temple fade look. With this hairstyle, you can go everywhere looking and feeling confident.
# Messy Topknot with Line Design
Topknots are ideal for men with long hair. Grab your top hair and tie them into a messy topknot. Cut the hair on the sides and back shorter with assorted fade going down. Add a neat line design at the nape, to sum up, your style. Make your messy topknot a hot trend this year.
# Slicked Back Hair with Trimmed Sides
Long slicked back hair can be styled in many ways making it an all-rounder long hair fade cut. For some extra style, trim the hair on the sides and back low to the skin to complete the look. You won't regret getting this hairstyle for a refreshing change.
# Long Hair with Shaved Sides
For a two in one hairstyle, ask your stylist to leave your hair long on one side and completely shaved to the skin on all the other sides. This haircut really makes you look quite different with massive style statement.
# Comb Over Hair with Mid Fade
If you have got black hair, then it is time to style them by neatly combing them to one side. Add a side trip to the remaining hair to give yourself a style icon look. This is a classic long fade haircut which never fails to put you under the limelight.
# Fohawk with Fade
Wanting a fauxhawk style isn't difficult with long hair fade. Leave a wide strip of hair on top which goes down to the back and slick it back while raising it too. Shave the hair on the sides, and you are all set to go.
# Short Twisted Curls with Taper Fade
If you are tired up of straight hair, then do something different this time by twisting your hair into short twisted curls spreading all over your head. Don't forget to add a temple fade to this fade hairstyle with long hair on top for added perfection.
# Rough Orange Hair with Trimmed Sides
For a completely unique and funky look, ask your stylist to dye your hair an exotic shade of orange. After you are done with dyeing your hair, give them a rough appearance by tousling them. Trim the hair on the sides to finish your new look.
# Short Braids with Fade
For this hairstyle, leave your top hair long and then divide them into various rectangular sections. Weave each section into a classic thin three-strands braid. Once you are done with the braids, add a high fade to the rest of the hair.
# Taper Fade on Long Hair
Pompadour hair is your classic route to gentlemanly long hair fade style. To achieve this hairstyle, use some gel to neatly raise your hair high and then slick them down to one side. Add a taper fade to the other side for an envy-garnering look.
# Side Part hair with Mid Fade
If you are craving a new and refreshing hairstyle, go with a side part hair with mid-fade. This is a classic hairstyle which is also super trendy. Side part your long hair and comb them to one side. Ask your hairdresser to add a mid-fade for an exquisitely flawless look.
# Cowlick Hair with Line Design
For a long hair fade haircut as exquisite as this, part your hair in the middle and then give your longer front hair an impression of a cowlick style by raising them. Add a middle fade to the other side hair and a line design too.
# Side Swept Hair with Parallel Line Design
Style your long hair by side sweeping them and then adding a high fade to the rest of the hair. For a pop of perfection, cut a thin parallel line design to the high fade. You can wear this hairstyle wherever and anywhere you want.
# Wispy Hair with Trimmed Sides
Wispy hair is a unique style on its own. But, if you like to do more with it, then raise them high in a rough manner. Trim the hair towards the sides to the skin to add a beautiful contrast to your fade with long hair on top. You are going to make people envy your hairstyle so much!
# Sleek Black Hair with Temple Fade
Sleek black hair is a blessing so, style them as beautifully as you can for a majestic look. Raise your black hair high and then work your fingers through them to sweep them backward. Add a temple fade to your long fade hairstyle for added perfection.
We hope these 25 long hair fade styles inspired you to choose the way to go. Even if you didn't find what you were looking for, you can consider creating your own unique long fade. The basics are always here for you to check out.
Sours: https://hairstylecamp.com/long-hair-fade/
Are you looking for something that gives you a stylish and formal look? To make your needs met, you must keep the Taper Fade Haircut in your bucket as you can sport different look with this style.
The hairstyle can never go out of fashion as it gives you room for making your signature style keeping the basic idea of the haircut same.
Choose your hairstyle from the gallery below and be an inspiration to others!
1. High Taper Fade
It is a type of Mohawk style in which the hair at the back of your head increases gradually from top to bottom. The hairs of your crown remain longer than those at the back of your head and are listed as that in the Faux Hawk style.
To wear this hairstyle, you need not seek help pf a professional hairdresser and can wear yourself. To do so, you need a pomade of deluxe quality. Apply it thoroughly all over your hair and lift them in the Faux Hawk style.
2. Low taper fade
This can be an ideal hairstyle which you can wear on either formal or casual events. It is known as Low Taper Fade style as here the hair fades about two inches above your hairline.
Once you have this haircut, make sure you are using a deep cleansing shampoo to wash your hair with. Dry your hair thoroughly with a towel and use a styling gel to create your statement hairstyle.
Whether you have straight or curly, you will look equally stylish with the cut.
3. Bald Taper Fade
This haircut has a striking similarity with the Military Buzz Cut, and you can be easily disillusioned if you do not have a keen eye. The Bald Fade is an excellent choice for those who are bald or who are heading towards baldness as it can bring back their confidence to look stylish with their baldness.
The Bald Fade is distinguished in the complete fading of hair from the sides to the top of your crown where the fading is at its maximum.
4. Comb Over Fade
This hairstyle is all about the contrast of long and short hair all over your crown. The hair on the top of your crown is let grow to an increased length while the hairs around the base of your neck slightly above are trimmed regularly so that the contrast in the two levels of hair remain prominent.
This hairstyle is very much a preferred option for people with baldness problems. With this hairstyle, you can camouflage the bald section of your head and make your signature style. For creating the best look out of this hairstyle, its advisable to visit a professional hairstylist and get your haircut.
5. Temple Fade
It is also known as the Afro Blow Cut or simply Blowout. It looks best in the curly hair of African men and hence the name Afro Blow Cut.
The Temple Fade has a likeness with the Low Fade barring the abrupt difference in the hair length on the top and at the back of your crown. In this haircut, the transition between the long and short hair is bold and prominent.
The Temple Fade haircut goes perfectly well with any skin tone although it can be flaunted best in curly hair.
6. Taper Fade Deep Part
The Taper Fade Deep Part is similar to that of the Comb Over Taper Fade while the former stand apart in its texture. The Comb Over haircut gives a surgical cut appearance on your crown which accentuates your parting.
If you are looking for sporting a great and rugged hairstyle, don't forget to keep this hairstyle in your priority list. Applying a dash of styling spray or gel will keep your hair in its place.
7. Brushed Back fade
The best aspect of this haircut is its correspondence with any complexion and hair type. For the best look, your hair should be clipped carefully at its edges to give a uniform thickness to your crown.
In this style, your hair is faded from medium length hair maintaining a unique angle. The Brushed Back Fade looks best on men with coarse hair.
8. Tapering Fade for curly hair
Don't be disappointed if you have curly hair. Even with curly hair, you can sport your favorite taper fade haircut provided an efficient hairdresser guides you.
One of the benefits of choosing taper fade haircut for curly is the neat and elegant style you sport. In this haircut, the hair at your crown remains long which gradually fades down your neck to give you a clean finished look.
You can experiment versatile flairs in your hair as it leaves no messy edges for that you don't need any upkeep or professional aid.
9. Traditional Taper Fade
If you are looking for a classy and neat hairstyle, this haircut must be at the top of your style bucket. In the entire range of Men's Taper Fade, this is the easiest one you can wear and yet look at your best.
The most fantastic feature of this cutting is its formal look which is a perfect add-on in any official event. It also gives you room for making your innovation on the basic haircut.
Mid fade haircut
If your hairdresser is not entirely confident about the High or Low Fade cuts, the medium fade can be a convenient option for you.
To get the perfect Mid Fade, your hair should be trimmed along the sides up to half of your crown and back for a gentle appeal.
You can incorporate this hairstyle with any other cut if you want to flaunt your statement hairstyle.
Fade undercut
The Fade Undercut which has been at the height of trend for the past few years.
It is a combination of the traditional undercut and the fade cut. The Fade Undercut can be distinguished by gradual shortening of your hair along the sides and over your crown. Here, unlike the undercut, you hair shortens abruptly and then gradually tapers towards the neck.
High top fade with surgical line design
The haircut is best suited if you have curly hair and want to have a feel of side parting which is at times fussy in this type of hair.
To get a statement hairstyle in your curly fade haircut, you can opt for having a line shaved on one side of your crown. It will give you a visual impact of a side parting with an iconic look for a bonus.
To get this look, you need to seek the help of a trained hairdresser who can create a surgical line pattern on your crown.
Neck Taper
We have the Neck Taper cut for those in search of a subtle hairstyle. In keeping with the name of the haircut, it focuses on the nape of your neck.
The Neck Taper is identified with a careful shaving of your hair down the back of your crown till your nape where your hairline ends. For a fashionable and smart look at any social event, the Neck Taper must be one of your picks.
Buzz Cut Taper Fade
The military haircut is a style that inspires many modern men who are for clean-cut stylish coiffures. The Buzz Cut is a typical example of such hairstyle belonging to the Military Cut category.
If you want to add an edgy vibe to your ordinary Military Cut hairdo, combine it with the Taper Fade. It will bring a complete makeover to your profile and a perfect style to sport at any time.
Swept up taper fade
This is an excellent hairdo for men with relatively short hair. Instead of parting at a side, try the Swept Up Taper Fade in which all you have to do is sweep up your hair from the forehead.
Applying some styling gel will bring out the very best of this haircut.
Taper Fade with Waves
Now with your naturally wavy hair, you can sport your favorite hairstyle. Do you like to keep your hair longer? The Taper Fade with Waves must be your pick from the gallery of Fade hairstyles.
In the Taper Fade with Waves, the hair from the sides of your crown and at the back gradually fades downward. As a result, the longer hair over your crown is highlighted. You can flaunt your wavy locks by applying a dash of styling mousse.
Thick hair taper fade haircut
Does your hair grow within a few days after a haircut? Try the Thick Hair Taper Fade which is specially designed for men who have a thick growth of hair.
This haircut emphasizes on the thickness of your hair strands. As a result, you face is contoured in a suitable way of managing the thickness of your hair.  You can try the high and low taper fade depending on the texture of your hair.
Wispy layer taper Fade
The Wispy Fade haircut matches perfectly well with any type of layered hair. Men with straight hair can sport this smart hairdo to win public attention.
The sides are shaved gradually downward from above your crown to amplify the longer hair strands in front of your crown. Coat your hair generously with some styling gel to keep your hair manageable. It is a perfect hairstyle for teenagers to rock a bachelor's party.
Spiky taper fade haircut
To get the perfect look from this haircut opt for the High Taper Fade to complement your style. Looking at the picture you can get a clear impression of this versatile haircut.
To make your spikes more prominent use styling gel in your front hair. A Low Fade may not give you the expected look of this hairstyle.
Side Slicked Taper Fade
If you want a rock and roll look with your long hair for this festive season, the Side Slicked Taper Fade must be in your style bucket. With minimum or no effort, you can get an irresistible look if you opt for the Taper Fade haircut and toss it on the other side casually.
Don't forget to use a styling mouse for a wet and sensual look.
Pompadour Taper Fade
It goes without saying why the Pompadour Taper Fade has a timeless appeal to men who look for a classy look when it comes to hairstyle. It is a perfect combination of tradition with contemporary.
With a simple Taper Fade cut, spiced up with a pompadour hairstyle you can get a head-turning gaze provided an expert coiffeur makes it.
Deep undercut with long hair
Tired of your conventional hairstyle and looking for something that matches up with your inherent bohemian attitude? If you have long hair strands, you should try this haircut with the help of a professional hairdresser.
As the name suggests, your hair is cut from the top of your crown which gradually disappears towards the back. A part of your hair is kept long and stretches from your forehead till the top of your crown.
College High Taper
You have just stepped out of your school and want to sport a funky hairstyle before entering the adult's world.
The edgy shaving of the two sides leaving the hair in front of your crown messy will be just the right style for you. You can keep your hair unruly or give them a certain texture using a hairspray.
High Bun with low Taper
Want to try something bizarre with your Low Fade cut? This High Bun with Low Taper hairstyle can be your perfect choice if you don't want your Low Fade to be too much visible.
Tie the hair above your crown in a bun and leave it in its natural texture.
Subtle Taper Fade
This is for men who want to wear a subtle hairstyle that complements their personality. This haircut is a refined version of the traditional Taper Fade cut.
To create the real and discrete look of this haircut you must get your hair styled by a skilled hairdresser.
The Taper Fade Haircut has earned tremendous popularity over the years and is now one of the choicest hairstyles of modern men.
It is easily manageable and defines your sense of style amidst the crowd!
Sours: https://hairstylesfeed.com/taper-fade-haircut/
BARBER TUTORIAL: HOW TO FADE A UNDERCUT - MAN BUN STEP BY STEP INSTRUCTIONS
Best Mens Fade Haircuts
Fade haircuts and hairstyles have been very popular among men for many years, and this trend will likely carry over into and beyond. The fade haircut has generally been catered to men with short hair, but lately, guys have been combining a low or high fade with medium or long hair on top. Whether youre a White, Black, Latino, or Asian man, the taper fade haircut is a hot and sexy hairstyle for men. With so many different types of fades to get, there will always be a fade that works well with all the cool cuts and styles you want! To inspire you with ideas, weve compiled examples of the best fade haircuts for men to get at their next barber shop visit!
Different Types of Fade Haircuts
With so many different types of fade haircuts to get, it can be tricky to know which fade to ask your barber for. For example, guys have to choose between a high, mid or low fade to determine where the tapering process starts. Then, men have to pick the clipper size (0, 1, 2, 3, 4, etc.) to dictate how short or long they want to leave the hair. Finally, you have the choice between a taper fade and skin fade, which decides how short the fading will go at the bottom. Plus, you can combine many variations of the mens fade to create a tailored look.
Ultimately, the best fades are meant to complement the longer hair on top. By cutting your hair short on the back and sides with one of these cool fades, men can focus the attention on their stylish hairstyle.
Best Fade Haircuts For Men
Low Fade Haircut
The low fade haircut is the most popular cut because it is trendy yet timeless. Low fades start just above the ears and curve around the hairline down to the neck. Due to its versatility, the low fade can be added to any short or long mens hairstyle for a clean-cut, fresh finish on the sides and back.
Unlike the high fade, the low fade is a more conservative trim, similar to the classic taper fade. For this reason, the low cut fade is often a favorite for business professional styles yet also looks good with a beard. Ideally, youll want to get a low fade with long or medium-length hair on top such as the modern comb over, quiff, pompadour, slick back, or faux hawk.
High Fade Haircut
The high fade haircut is among the shortest ways to cut your hair on the sides and back, offering a ton of contrast for an edgy style. The high fade works well with a variety of cool hairstyles for men because the blending starts very high on the head and shortens at a much faster rate than the low or mid fade. This strongly emphasizes the styling of the hair on top, making it stand out in any crowd.
The most common version of this cut is the high skin fade. Furthermore, many guys like to ask their barber for a line up or shape up as well, thereby outlining their hairline around the temples with sharp lines and edges. The end result is a very stylish and sexy haircut that looks nice with long, medium or short hair on top.
If you plan on getting a buzz cut, crew cut, French crop, then youll need a high bald fade on the sides to highlight the shorter cut on top. Otherwise, the modern quiff, comb over, faux hawk, side part, slick back, and spiky hair are all excellent styling ideas.
Mid Fade Haircut
The mid fade haircut is the perfect compromise between the high and low fade. Starting halfway up the sides of the head, the mid fade is becoming even more popular because its softer and more gradual yet still very much modern and hot. Mid fades look good with a number of styles and fit in both office and casual settings.
To make the medium fade haircut more aggressive, you can pair it with a skin fade for a clean finish. If you arent sure about the other types of fades, get the medium fade and experiment with all the best new hairstyles.
Taper Fade Haircut
The taper fade is easily one of the most iconic haircut styles in the world. Timeless, classic and classy, the taper fade haircut blends your hair down the sides and back. Its not as short as a skin or bald fade, but shorter than a classic tapered cut. While still sharp, neat and versatile, the taper is a more subtle trim and will cut your hair without cutting it down to the skin. This leaves the ends of your hair, around the hairline and neckline, longer than a traditional fade haircut.
This is the difference between a fade and a taper fades continue fading into the skin whereas tapers gradually change and end with really short hair. When in doubt, choose a taper or taper fade cut for a more conservative, classic look on the sides. While you wont get the same contrast as a fade, you can style just as many cool hairstyles.
Skin Fade Haircut
The skin fade, also known as a zero fade haircut, is a barbershop favorite. Guys love the skin fade haircut because it is super clean, high-contrast, and gives off a bad boy style. Whether you pick a high, mid or low skin fade depends on how short you want the sides and back cut, but all of these fades will require your hair to be shaved down to the skin on your head.
The low skin fade looks good if you want to wear a comb over, side part, or slick back and still have your hairstyle be acceptable for the office. If you dont have a dress code to worry about, the mid and high skin fade haircuts are sexy and very popular hair ideas for young men and boys.
Bald Fade Haircut
The bald fade is another name for the skin fade. As such, bald fade haircuts blend into the skin and finish with no hair. Often, barbers will use clippers with no guard to completely shave off the hair near the ends. Because of the sharp look, guys will also ask their stylists to fix their hairlines with a line up or shape up, creating a super fresh fade.
Undercut Fade Haircut
The undercut fade is a combination of the coolest ways for guys to cut the hair on their sides and back. The undercut haircut is distinct and awesome, starting very high on the head as a one-length cut. This means your barber will take clippers, put on a comb, and trim your hair short all around but without any fading.
To taper the hair, guys will ask for an undercut fade. The final cut is a balance of the undercuts disconnected profile and the tapering of a fade. Undercut fade haircuts can be worked into all the best styles, making it an idea worth experimenting with.
Temp Fade Haircut
The temp fade has traditionally looked best on black men with afros, buzz cuts, waves, and tight curly hair. Also known as a temple fade, the temp fade haircut is characterized by sharp, clean cuts along the edges of your hairline and near your temples.
While this type of fade haircut can be a low, mid, or high cut, all temp fade styles do an excellent job of accentuating the tapered hair on the sides and back and the longer hair on top.
Best Fade Hairstyles
Some of the best fade hairstyles require short sides and long hair on top. From the side part to the comb over, pompadour, faux hawk, and all the different kinds of cool short and long men's hairstyles in between, here are the best fade haircut styles for men.
Side Part Fade
The side part fade is both a professional and casual haircut that wont go unnoticed. As one of the few mens hairstyles that has survived the test of time, the side part is generally styled neat and structured for a sophisticated look. When paired with tapered hair on the sides, the mens side part fade haircut epitomizes the modern gentleman.
To style a side part fade, start with slightly damp hair, ideally after a shower. Apply a good pomade, wax or clay to your hair, spreading it evenly throughout. Now use a comb to part your hair. Following your natural part, sweep the hair over to one side. For a textured finish, style with your fingers or a brush.
Comb Over Fade
The comb over fade is another classic hairstyle for men that continues to be fashionable and handsome. Like the side part, the comb over requires mens hair to be parted. However, the primary difference is that the modern comb over is less structured, with more flow and texture as all the hair is swept to one side. There are also many different types of comb over hairstyles to get.
For instance, the low fade comb over is the more old-fashioned version, and looks flattering for professionals and older men who dont want their scalp exposed. On the contrary, the high fade comb over makes for an awesome disconnected hairstyle with thick, longer hair on top and very short sides. Finally, the perfect balance can be found with the mid fade comb over.
For additional options, guys may want to consider a taper fade versus a skin fade. The bald fade comb over can be particularly attractive as a hairstyle for men with receding hairlines or thinning hair.
Whether you have thick, fine, curly or wavy hair, the comb over fade remains an elegant cut and style to try!
Pompadour Fade
The pompadour fade is the modern variation of this beautiful hairstyle. The pomp fade is an elegant example of why short sides, long top haircuts will always be great styles. The cut also works nicely with a low, mid, high or skin fade and a variety of hair types and lengths. In fact, men with short, medium and long hair can still do the pompadour fade, just with differing heights and volume.
With cropped sides that feature the pompadour hairstyle, guys have the choice of applying pomade for a shiny finish or wax for a textured, natural look. No matter how you style the pompadour, youll get a gorgeous style that will stand out.
Faux Hawk Fade
The faux hawk fade has become a trendy haircut for guys. Unlike a mohawk with shaved sides, the fohawk fade combines tapered sides with thick hair on top that is styled towards the middle of the head. Faux hawk fade haircuts are edgy and desirable, styling flawlessly with short, medium and long hair. If youre excited about trying a new mens haircut, ask your barber about the modern faux hawk taper fade.
Quiff Fade
The quiff haircut with a fade has proven to be a very alluring and exciting style for men. While the quiff started off as a variant of the pompadour, modern quiff hairstyles have morphed into one of the most requested haircuts in barbershops around the world.
With a high or low fade on the sides and a short or long hair quiff on top, guys can make a bold fashion statement. And although styling the quiff may be the time-consuming at first, with a little practice and the use of the right hair products, the look is certainly worth the effort.
Mohawk Fade
The mohawk fade is the most rebellious look on this list. Instead of the traditional shaved sides, the mohawk fade haircut tapers very high and short thereby allowing more men to try the cut. The taper mohawk can even accommodate short, long, thick, wavy, and curly hair depending on how strong of a product you use. For the most unique and provocative cut, get a mohawk and taper fade while you grow out a beard.
Short Hair Fade
The short hair fade refers to haircuts like the buzz cut, crew cut, French crop, high and tight, and spiky hair. To maximize contrast and avoid having hair that is one-length all around, we highly recommend guys get a high bald fade for very short sides when getting a short haircut on top.
The skin fade on the sides will stress the slightly longer hair on the sides, maintaining a sleek and attractive style. The alternative would be a razor fade haircut, where your barber literally uses a razor to shave off your hair.
Long Hair Fade
The long hair fade has been the cut of choice for Millennials, hipsters, and stylish men. By pairing a high, mid or low fade with long hair on top, stylists offer haircuts ranging from the comb over and quiff to the man bun and top knot. Even man braids and ponytails look best when combined with faded sides. For anyone who wants to grow their hair out, there is a cool long hairstyle to fit their look.
Curly Hair Fade
The curly hair fade is a testament to the versatility of the different types of fades. While curls can be hard to manage, coupling curly hair with a taper fade on the sides can make styling just a little bit easier. The most popular faded curly hairstyles include the fringe, textured crop and messy hair.
Although curly and wavy hair can be difficult to style and control, it is important to remember that these hair types offer a unique texture and styling that make them exceptional.
Straight Hair Fade
The straight hair fade refers to the many top mens fade hairstyles that guys with straight hair are able to get. From messy textured styles to thick brush backs to long fringes on top, straight hairstyles for men work with a number of face shapes and lengths.
Sours: https://www.menshairstylestoday.com/mens-fade-haircuts/
Hair fade haircut long
25 Best Faded Hairstyles for Men With Long On Top
Summer does not have to be excruciating for men who love faded hairstyles with long hair on top. Everyone deserves to be stylish and comfortable. Fades are a great way to sport long hair on top in stylish ways while keeping it cool.
Fade Hairstyles With Long Hair On Top
Here are 25 ways you can rock fades with long hair on top.
Textured Top and Strong Upward Fade
This one is for men with strong and thick hair. Textured designs on top bring sets in this kind of hair the best with a little help from a professional hairstylist's work. This is how you sport spiked hair without looking like you're coming straight out of a young adult tv movie. The fade is also great for air circulation.
Fade with Ponytail
Tie up your long-ish hair in a slick ponytail on top and let the fade work it's cooling magic. It is literally one of the most attractive long hairstyles for men.
When a man has faded the sides and his long hair tied on top, he definitely means business. You can sport this look anywhere without raised eyebrows around, even though it is something you don't have to be concerned about. For any guy who looks so cool with fade and long hair on top in a bun, any outfit goes nicely with him.
Hard Part on Side with Taper Fade
Taper fade can be worn in many ways. If you want minimal style and huge impact, this is one of the long on top taper fade styles to try. It, however, needs strong and thick hair to hold the style.
However, you might use hairspray or other products for hold if your hair is another type, but that is not a good idea for regular styling.
If you've got the right kind of hair, sport it upwards with fades in the side and a strong and professionally done part. Looks great in any style.
Fade on Side with Dreadlock Bun
Dreadlocks go rather well with fades on sides. This is also the very functional style in the summer for men with long dreads on top.
With fade on both sides and the dreadlocks tied in a bun on top of your head, summer days are way cooler to enjoy. Both work and workout hours are easier to deal with w/r to your hair. And also, it looks very cool!
Fades in Side and High on Top
Another hairstyle selective to men with strong hair or who are okay with using regular regime of hair products. If you are not into parting your long hair on top and yet want a colossal looking hairdo, this is a good fit for you.
You might need the help of your hairstylist if you have a certain length preference along with your forehead to the further side of your head. Combing upward after product use would give it a texture. You may also like the trendy disconnected undercuts.
Long Curls with Fade
This one is for the men with curls. Curly hair goes great with fades on side. Also, for the men with thick and curly hair, fades are a great way to look great and feel a breezy and cool during sweaty summer days.
Keep your curls long on top and any intensity of fade to the sides would do you good. It's up to you and your hairstylist to decide.
Fade with Braid
Men can sport braids just good as ladies. You can wear your long mane on top in braid. This is good for summer. Especially in the gym or during a run. And having the sides trimmed in a strong fade makes the hairstyle literally and figuratively cool. You Summer heat!
Fade and Disconnected Haircut
"Disconnected" hairstyle is quite popular these days. The varying hair length along the top of your head is very appealing. This is a stylish and functional style. The best part, this hairstyle fits any occasion, any season or any type of outfit.
Fauxhawk and Taper Fade
Taper fade is cool, Fauxhawk is cool. Combining these two cool styles results in ultimate coolness that you can sport. Well, for you might want to have a strong and thick hair for good fauxhawk.
Otherwise, the hair products are always there to hold up your fauxhawk high. Either way, you cannot look uncool even if you try in this hairstyle!
Messy Hair with Fade
This one is the mother of low maintenance fade haircuts. Let your hair grow out in any direction you want, or if you want, you can go to your hairstylist for pruning your hair is a certain way if you want it to grow out in a "planned messy" way of your desire. Either way, you don't have to do much to "maintain" your hair. The fade in sides would keep your head cool.
Subtle Fade

Subtle or smoother shadow fade is also a very trending hairstyle. If you are not sure about pursuing a fade right now, this is the best way to test if fade haircuts are for you or not.
Keep the top part the way you want, however, a little unevenness or layers on top will make the style even cooler. Slick it back with some products or leave it to air-dry after the shower, you'll have an appealing style!
Long strands with Bald Fade
Keep some long strands in front with a high bald fade. This is stylish and functional hairstyle for hot summer weather. If you have piercings, this haircut will give you a special edge. It suits any face cut, but for oval faced men, it fits like a clove.
High Fade with Side Part
High fade hairstyles can also be rocked with long hair grown in different directions. Enlist your hairstylist's help in shaping it right and let it grow. A side part would divide the hair on top in two uneven sides, which would add more grit to the hairstyle.
Fades and Shorter Curls

Curly hair does not have to be extra-long for sporting a good fade haircut. You can sport fade hairstyle with shorter hairstyles, or if your hair on top is still in growing phase. You can go softer on the fade if that's what you prefer. As long as you are comfortable, this hairstyle works.
Fade and pompadour with part
Fades and Pompadours make a good team in cool and vibrant hairstyle race. Both elevate your chances to look cool and feel cool (literally). You will have the comfort of a fade in this summer heat and the stylishness of a pompadour as well.
A part would accentuate the whole look. Whether it's a suit or you're tanning your torso in a beach, this hairstyle goes with everything!
Low Bald Fade with Ruffled Hair on Top
Low Bald fade is one of the trendiest fades. This is a stylish fade hairstyle with long on top. This one looks especially cool if you have a beard. It gives out a manly and fashionable vibe.
9. Pompadour and Razor Fade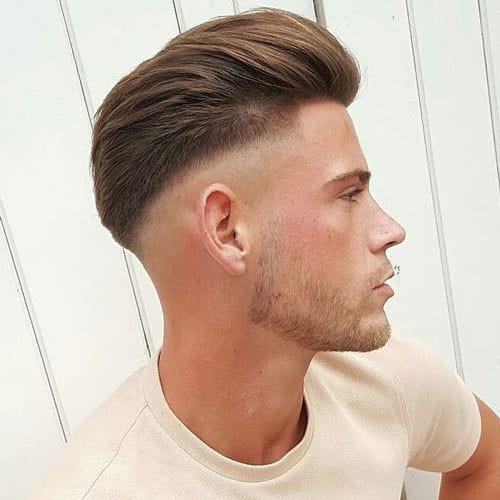 Stylish pompadour brings out a side of your look that represents youth and class. Fades in both sides add the effect of youth and brings you comfort. A worthy combination to try if you are willing to be stylish and comfortable with fades and long hair on top.
8. Textured Slick Back and Medium Fade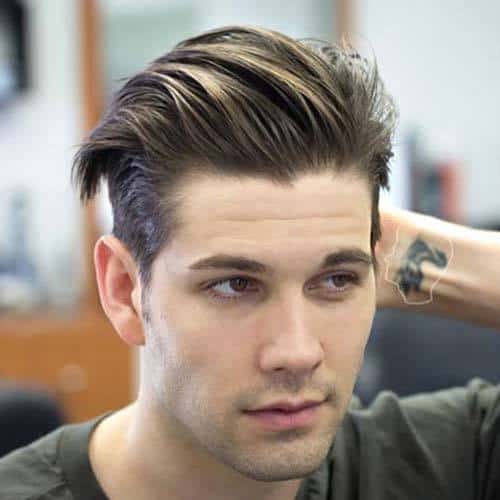 For wavy or curly hair, it's most prominent and easiest to sport. However, you can adopt this style without having wavy hair. Textured slick back is classic style for long hair on top.
And medium fade to sides adds the vibe of youth and current hairstyle trends. Moreover, if you are not sure about the current hairstyle trends, this one is a great one to try.
7. Temp Fade and Combover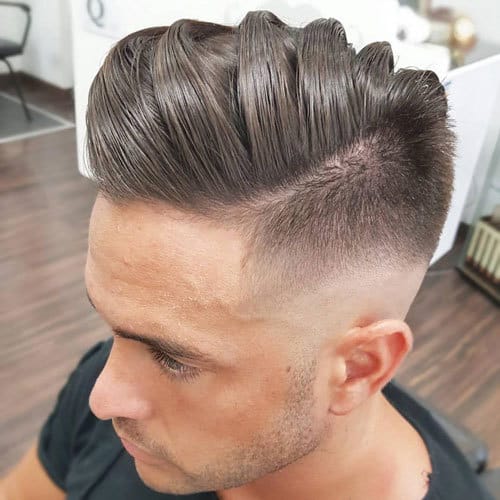 Temp fade is one of the most popular current hairstyle trends for men with long hair on top and fades on side. To add the effect of more stylishness, you can try doing a good combover on top. You can enlist the help of your hairstylist for best results.
6. High Fade and Thick Texture on Top
For men with thick hair, this is a cool way to capitalize your thickness of hair while sporting a stylish look. This will also bring comfort to you in summer days. The thick textured hair on top and high fade- both are very trendy nowadays.
5. Curly Cropped Fringe and Low Fade
If you have long curly hair on top, this is a stylish fade hairstyle, especially for you. Wear your curly hair in cropped fringes on top. While sporting soft and low fade.
4. Designed High Temp Fade and Pompadour
If you are willing to enlist the help of a professional hairstylist, you can rock this hairstyle and give yourself a new and trendy look. High temple fade with artistic designs goes great with a stylish pompadour. This might need some maintenance for the pompadour, but if you are okay with that, then this is a great hairstyle for men who want to rock their long hair on top with sides in fade.
3. Taper Fade Sides and Messy Quaff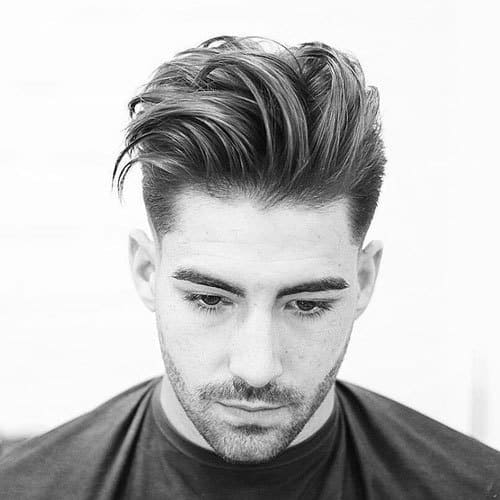 This one is also a very stylish and classic go-to fade-based hairstyle for men. The best part of messy quaff is, you can look trendy and at the same time, you can give the classic 80's or 90's vibes with your style. The best part is, this is a very low-maintenance hairstyle.
2. Ponytail with Fade on Sides
If your mane is long enough for a good ponytail, you can still rock the fades to sides. This will be comfortable in the summer heat and will allow you to rock your longer mane in style. Have fades on both sides and wear the long hair on top in a ponytail. You can rock anything from a beach party to a stiff and formal presentation with it.
1. Shoulder Length Hair with Side Fade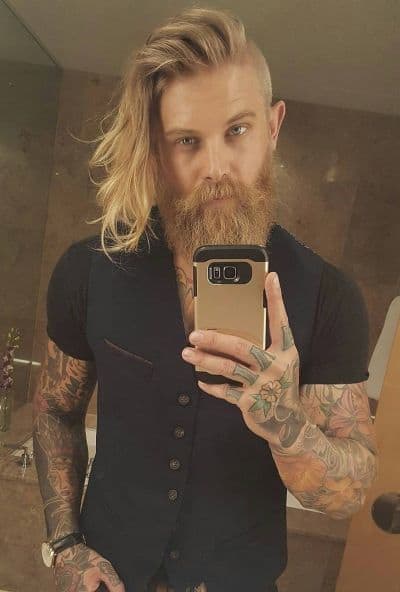 This is the most stylish way to sport long hair with side fades so far. If you have grown out your Mohawk too long, this is going to be a great style for you. Let your Mohawk grow and fade the hair on both sides. You're all set! If you have a well-kept beard, that would be a bonus!
These are just some hairstyle templates to work on. You don't necessarily have to strictly go by these styles. Improvise with your own styles and get your fade hairstyle look. It's all about comfort and styles after all.
Sours: https://coolmenshair.com/fade-with-long-hair-on-top/
EPIC TRANSFORMATION *MUST SEE* HAIRCUT: BALD FADE
Mens Fade Haircuts
Fade haircuts are among one of the most popular hairstyles for men, in part due to the many different types of fades you can ask for. Furthermore, modern mens haircut styles have been focused on a fade with long hair on top. Whether you want a low, mid, high, taper, bald or skin fade haircut, faded hairstyles have something to offer every guy, including White, Black, Latino, and Asian men.
Moreover, where you ask your barber to start your fade isnt the only factor that affects the kind of fade you get. Men can choose from a razor, bald or skin fade as well as temp, burst, drop, flat top (box) and high top variations. Ultimately, which short fade haircut you try depends on the type of cut and style you desire.
To inspire your next cut, weve compiled a guide to the best best fade haircuts for men to get right now.
Best Fade Haircuts
If youre looking for the best fades online, weve compiled a collection of cool fade haircuts and hairstyles to help you learn the difference between high vs low, skin vs razor and classic vs. modern cuts.
Between the different top mens fade haircuts and the hairstyles that look good with a fade, youll find everything you need to know before your next visit to the barbershop!
What Is A Fade Haircut?
The fade haircut, also known as a taper, involves gradually cutting the hair on your back and sides shorter as it gets closer to your neck. By blending and fading the hair on the sides, from long at the top to short at the bottom, your barber can taper your fade cut into your neck and sideburns.
The most common way to cut a fade is with hair clippers. Using different haircut numbers or clipper guard sizes, your barber will start with a longer length and slowly trim down your sides, back and neckline.
This gradual and seamless shortening and buzzing makes learning how to fade hair one of the most difficult parts of becoming a barber.
Taper vs Fade
Although most men and barbershops use the terms taper and fade interchangeably, technically, tapers and fades are different haircuts. Generally, the difference between a fade and taper is that the fade haircut generally blends down to the skin while the taper still leaves some hair, albeit very short.
Although both are blended and apply the same concept of trimming hair shorter and shorter, the taper doesnt cut down to the skin and is therefore a more understated cut and style. Ultimately, the longer hair on the sides exposes less scalp and is therefore less edgy.
For older men or business professionals working in offices that require a more conservative look, a taper fade haircut may be appropriate.
Just remember that a taper fade or scissor fade is different than a classic tapered haircut, which is a scissored cut on the sides that does not use hair clippers at all.
Different Types of Fades
As you can see, there are many different types of fades. And as a low-maintenance and versatile haircut that offers contrast but requires no styling, almost all the best short sides, long top hairstyles require some kind of faded or tapered cut.
But with numerous types of fade haircuts to choose from, the challenge can be telling your barber the exact faded cut you want! Here are some of the most popular kinds of fades to get right now!
High Fade Haircut
The high fade begins this tapering process near the top of the hair, creating a marked contrast between the longer hairstyle on top and the short sides.
Similarly, because the cut starts at the highest point on the side of your hair, the high fade haircuts also forces more contrast for a stronger look.
In the end, high fades are a good cut if you want more emphasis on your hairstyle, especially if youre getting a short look on top as well.
Low Fade Haircut
The low fade is the opposite of the high fade and starts your tapered cut just above the ear and neckline. With less contrast and more texture on the sides, low fade haircuts are great for medium-length to longer hairstyles that require a thicker look.
Similarly, guys can always ask their barber for a faded beard or to buzz down to the skin for a somewhat gritty finish.
Low fades work best for office settings and traditional hairstyles, but that doesnt mean they have to be boring.
Mid Fade Haircut
The mid fade starts in the middle of the head. Also called a medium fade, your barber will begin trimming halfway up your sides and back for a soft look.
If you arent quite sure about the high or low fade cuts, then mid fade haircuts provide versatility.
Plus, medium fades work with almost all the same cuts and styles as the other types, giving you the best of both worlds.
High vs Low vs Mid Fade
In short, the high fade haircut for men is an extreme, noticeable look. It begins high up on the head and the hair tapers faster towards the neck. In contrast, the low fade is a subtle effect that takes place only at the edges. The taper is barely noticeable in some low fade haircuts for men. And finally, the mid is somewhere in between.
The bottom line is, when comparing high vs low vs mid, its all about your personal style and needs. If youre asking your barber for a fade but arent sure what kind is good for the hairstyle you want, ask for a recommendation.
Bald and Skin Fade Haircut
The skin fade, also known as the zero and bald fade, is a haircut that pushes the fade to its limits. Rather than simply fading down to very short hair with the shortest clipper size, the bald fade haircut requires a trim right down to bare skin.
To achieve a zero fade haircut, your barber will either use no guard, an outliner, or a specialty shaver.
One way to get a really bold cut is to ask for a high skin fade or a bald temp fade. Likewise, a mid or low skin fade is also a worthwhile option if you want your sides shaved down for a high-contrast finish.
While the look can be flattering in combination with the latest thick hairstyles for men, without longer hair on the top of your head, exposing a lot of skin could look too severe.
Undercut Fade
The undercut is much like the fade it involves short hair at the sides of the head and around the back. Although most undercut hairstyles are cut very high and trimmed all one-length, the faded undercut combines the two styles.
The mens undercut fade shortens very quickly and suddenly, and then tapers gradually. Guys can get a high, mid, or low undercut fade to suit their hairstyle.
The undercut fade has been trending strong in recent years. If you want a short haircut that is stylish and easy to wear, the undercut is always a good choice.
Ask your barber if a short fade undercut is right for your look and try out this awesome cut!
How To Get A Fade Haircut
To ask for a taper or fade haircut, first decide where you want the fade to begin high, low or mid. Then youll want to determine how short you would like your hair to get, and where you want the tapering to be the most noticeable.
All of these elements will help tell your barber exactly what kind of fade you would like. The more precise you are, the more accurate your barber will be at delivering your wishes.
Top Fade Hairstyles
With so many fade hairstyles, guys can have a tough time choosing which haircut to get. From the side part fade to pompadour fade, check out these awesome and sexy faded haircuts that transcend hair type, length, and texture!
Fade with Long Hair
Pompadour Fade
Fade with Part
Box Fade
Taper Fade + Line Up
Burst Fade
Temp Fade
High Bald Fade with Comb Over Pompadour
Long Hair Fade
Low Skin Fade with Hair Design
Faded Sides with Faux Hawk and Design
Mid Bald Fade with Spiky Hair
Fade Undercut with Textured Comb Over
High Low Fade with Quiff and Stubble
High Skin Fade with French Crop and Goatee
Low Taper Fade with Textured Top
Low Bald Fade with Curly Fringe
High Razor Fade with Hair Design
Undercut Fade with Hard Part and Textured Spikes
Low Razor Fade with Hard Part Comb Over
High Bald Fade with Brushed Up Hair
Shaved Sides with Buzz Cut
Hard Side Part Fade
Undercut Fade with Line Up and Spiky Hair
Low Taper Fade with Short Fringe
Undercut Fade with Hard Part
If you love these fade haircuts, check out more skin/bald fades here!
Sours: https://www.menshairstylesnow.com/mens-fade-haircuts/
Now discussing:
A taper fade haircut is one of the most recognizable, iconic styles in the world of hair. It's stayed for so long because of its timeless look, clean style, and versatile appearance. It's great for casual and formal situations, so whether you work in an office or at home, it'll suit you nicely.
What Is The Taper Fade Haircut?
A taper fade haircut keeps the hair long on top while tapering it down the sides and back. The hair gets progressively shorter as it goes down the head until it blends in with the skin. This gradual fade looks sharp and neat, with no messy or unsightly edges or rough spots.
The taper fade haircut is a wonderful low maintenance haircut that doesn't require much styling or upkeep. It also great for experimenting; you can modify it to fit your personal style.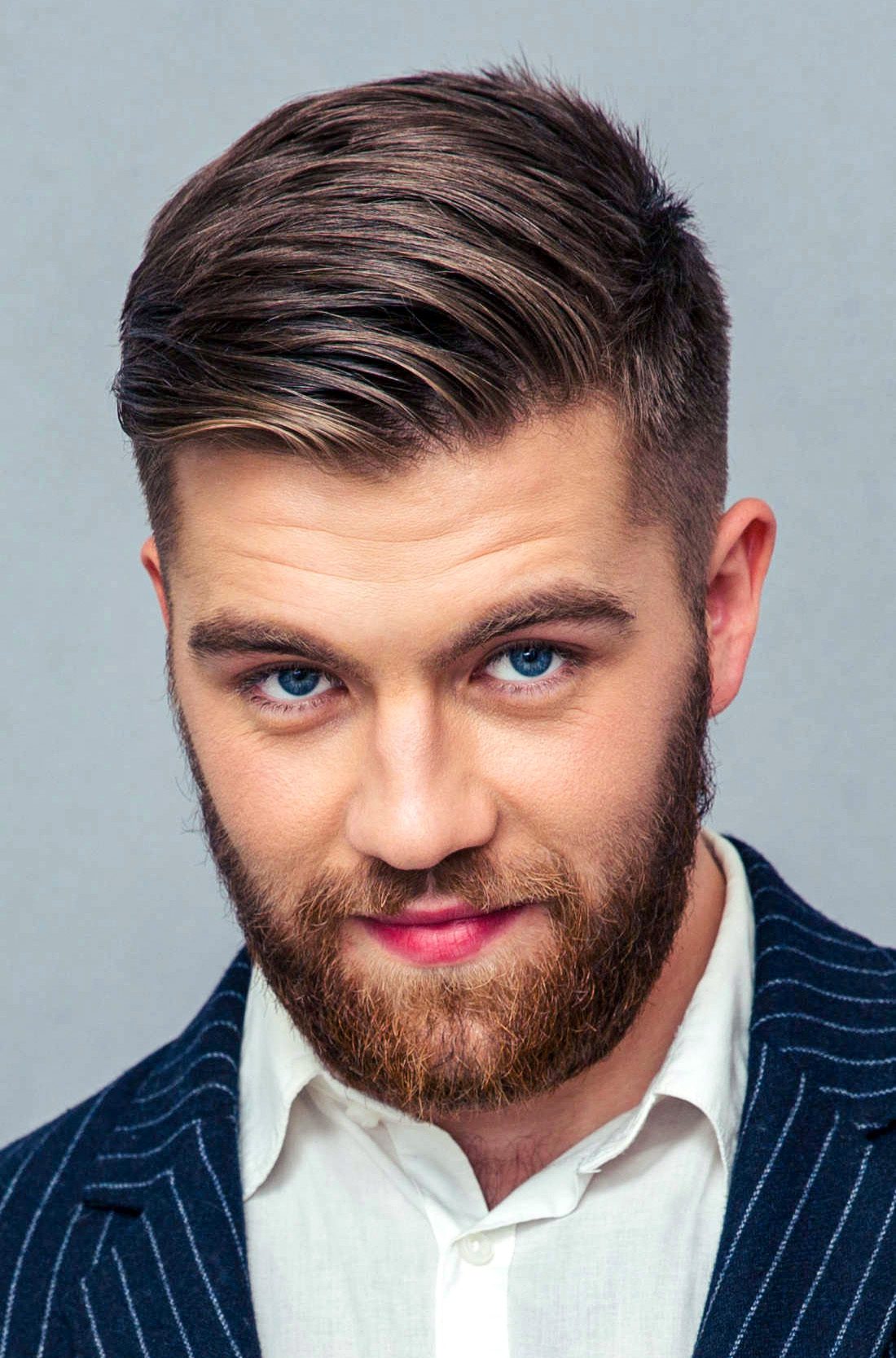 What Do I Need For The Taper Fade Haircut?
The taper fade haircut isn't a particularly long style. Anywhere from 2 to 4+ inches of hair will work. However, the longer your hair, the less neat it will look, so 2 to 4 inches is a good range to aim for.
Since the taper fade is a shorter style that gets progressively shorter, you'll have to decide if it's the right cut for you. For example, if you have a scar on your head that you don't want to show, a taper fade haircut could reveal it. See how the cut looks in the provided pictures, and from there, you can determine whether or not it will be a good style for you.
Sours: https://haircutinspiration.com/taper-fade-haircut/
2314
2315
2316
2317
2318