The ASP 9: The coolest custom gun you weren't suppose to hear about
Paris Theodore.
If you're under the impression that the current generation of shooters 'practically invented' super modified combat carry guns, it might come as a shock to stumble across something like the 1960s ASP 9 and realize this trend is just a case of just building a better mousetrap.
Never heard of the ASP 9? Well friends, this story begins with one Mr. Paris Theodore of Seventrees Ltd, and the year was 1966.
Who was this man?
Paris Theodore was the product of New York in the 1950s. The son of a vaudeville dancer and an art professor, he grew up on and off Broadway. After disappearing and allegedly working for shadowy government agencies for a few years, in 1966 at the age of 23, he started Seventrees Ltd, which specialized in custom and semi-custom holsters.
From his shop on West 39th Street in New York, he made several radical departures from the standards of the time, filing more than a dozen patents on new concepts. His work used hand boning to fit the exact pistol, for the express purpose of reducing wear and simultaneously retaining the pistol. He also pushed for muzzles that extended beyond the holster; and molded front sight protection, industry standards in many cases today. Nevertheless, he was much more than a holstersmith.
ASP Patent.
Behind a safe in his holster shop, Theodore also made clandestine firearms for a number of government agencies. These included 22 pen guns, cigarette lighter guns, a clipboard for the FBI that could fire live rounds, and briefcase guns. In his spare time, he invented the Quell shooting system, a reactive point-shooting technique that concentrated on central nervous system shots using muscle memory.
In the late 1960s, he was approached by those unknown and asked to make a very special gun. One that could be used overseas where 9mm was readily available. A gun that could be carried concealed but when put into service could win a gunfight. This gun became known as the ASP 9.
The ASP 9
S&W Model 39, the base model for the ASP 9.
At the time, one of the most popular up and coming semi-auto handguns on the U.S. market (that wasn't a .22 LR or .45 ACP) was the Smith & Wesson Model 39. This single-stack, double-action 9mm was produced by S&W from 1955 and had an anodized aluminum frame, a blued carbon steel slide, and walnut grips. Using this weapon as a starting point, Theodore made 200+ changes to the gun.
ASP 9 Guttersnipe replaced both the from and rear sights.
First, he lightened the already light 7.3-inch long, 28-ounce frame, and slide as much as possible, shortening the slide in the process. He removed the sights and added his own special 'guttersnipe' sight that ran most of the length of the slide.
To be able to tell how many rounds were left in the gun without ejecting the magazine, he replaced the elegant checkered walnut grips with simple clear plastic GE Lexan panels through which the user could look into a cut-away window in the magazine and see how much brass was left in the fuel tank. On the magazines themselves, a curved baseplate was added for an extended grip.
Beating today's manufacturers by decades, he 'melted' all of the surfaces making every sharp edge blend smoothly so that the gun was virtually snag free. A bobbed hammer spur and reduced slide stops and safety levers complemented this. He added a forefinger hook to the trigger guard and cut away another part of the guard to aid in better grip alignment and faster trigger time. To keep the coating simple and rugged in the days before Duracoat and Cerakote, Theodore covered the gun inside and out with a Teflon-S, which also had self-lubricating properties. The final product was 6.7-inches long, weighed in at just 21-ounces, was a dream to conceal, could acquire a target rapidly out of the pocket, and had a 6-pound DA trigger pull to get those quick shots off.
A S&W M39 modified to become a ASP 2000.
More a ground-up re-manufacture than a simple conversion the "procedure" cost $299 in the 1970s (to a gun you had to already own).
Use
ASP 9 advertisement.
Theodore converted an unknown number of M39's over to his new firearm from 1968 onwards. He patented the design itself (#230400) in 1971. After 1982, he stopped building them himself and licensed it to Kevin Parsons of Armament Systems and Procedures of Appleton, Wisconsin, for a more extensive build.
Billed as the gun that is 'unseen in the best places', ASP made/converted about 3000 or so of the gun with less quality control than Theodore for $760 gun included. Nevertheless, it proved popular with people on all sides of the shooting world (among the few that knew about it). Others tried to copy it over the years, especially after Theodore stopped working on firearms after 1987 and his patent on the design expired the next year.
Ken Null, another famous holster maker, took over the 'unseen' motto, Theodore's designs, and a lot of the ASP9 legacy, which continues to this day.
ASP 9, with transparent grips.
Even James Bond 007 carried an ASP 9 in several of the novels written by John Gardner in the 1970s and 80s before going back to the Walther after the Regan era. James Bond expert James McMahon would later write: "If Bond were a gun, he'd be the ASP. Dark, deadly, perfectly suited to his mission." This is appropriate as many gun writers equate Paris Theodore to the Q scientists in the James Bond series.
Right hand side view of ASP 9 made by ASP. Note the difference in the trigger guard and the snake logo on the grip.
Collectability
Very few Paris Theodore originals and even fewer genuine ASP 9 handguns were ever made. Probably far less than a thousand including very good fakes are in circulation. This gun however has a loyal following and correct ASP9s can easily go for over $3,000 with nice examples going twice as much. On the flip side, 60 percent examples of these converted guns that are still in working condition appraise at around $600ish.
'Quest for Excellence" ASP 9. Note snake patch, CIA dagger and 'book case'.
ASP-produced guns will have a jagged snake that resembles the heart monitor cardiac flat line and be plainly marked 'ASP Appleton WI' while Paris's handmade guns will have very little if any markings. Among ASP's 3000 guns are a special 100 that were of the "Quest for Excellence" series with buffalo horn grips that were sold with a CIA letter opener/dagger, ASP patch, and hollowed-out book case that can go for $3500+ in 100 percent condition.
Today the ASP Company sticks to batons and handcuffs and Theodore's shop has long since been shuttered, the former shadowy figure with the tactical turtleneck himself went to that great secret gun shop in the sky in 2006.
Rare shot of an ASP 9 in the daylight.
ASP magazine. Note the curved baseplate and the cut away. These magazines can bring in $200 on their own.
The 'ASP 9 build' is fairly easy to pull off (at least parts of it) and is often seen on small frame S&W 9mm pistols. Charles Kelsey of Devel made several conversions both of the Smith M39 and its big brother the M59 that are very similar to the ASP9 concept, but go a few steps further. One company, ASP2000 (no relation to the original) makes a version today based on the S&W 3913/3914/3953 series, themselves Smith's own more mainstream take on the ASP, that is fairly close to Theodore's original.
Overall, many of Paris Theodore's ideas are still around even though he and his guns have faded from the public's mind. Just look at the subcompact pistols of today and judge for yourself.
Sours: https://www.guns.com/news/2013/05/28/the-asp-9-the-coolest-gun-you-never-heard-of
PLEASE READ: At the request of the auction company, this auction permits bids to be placed by the auctioneer, an employee of the auctioneer, or the seller or an agent on the seller's behalf. While Proxibid's Unified User Agreement prohibits this behavior, in accordance with UCC 2-328, this auction is permitted to engage in this activity by providing this clear disclosure to you, the bidder.
Internet Premium : 26%
Cash Payment Discount: 3%
Participation Requirements: Valid Credit Card required for bidding approval
Payment Options: Visa, MasterCard, Discover, American Express, Check, Money Order, Wire Transfer, and Cash
Visa MasterCard Discover American Express
Payment Instructions: PAYMENT, INTEREST and STORAGE FEES Any invoice totaling more than $100,000 must be paid within three (3) days. All other merchandise must be paid in full within seven (7) days of the date of the invoice. If payment by cash, check, money order or wire transfer is made within 7 days of the invoice, a 3% discount on the Hammer price may be taken by the buyer. DISCOUNT IS ONLY AVAILABLE IF INVOICE IS PAID WITHIN 7 DAYS from the invoice date. No discount is permitted on split payments where a credit card is used as any form of total payment. Payments can be made by going to your account online at www.morphyauctions.com, call 877-968-8880 or mail payment to: Dan Morphy Auctions LLC 2000 N Reading Rd, Denver, PA 17517. Interest will be charged on all balances not paid at the rate of 1-1/2% monthly (18% APR) effective 30 days from the invoice date. All goods not retrieved by Buyer within 120 days after the invoice date, shall be subject to a storage fee of $50 per item per month. Absentee bids placed through www.morphyauctions.com and Proxibid.com will be auto charged to the credit card entered 48 hours after the end of the sale. If you wish to pay by another method please contact us within 48 hours after the sale. We accept Visa, MasterCard, Discover, American Express, personal checks, certified checks, wire transfers, money orders, and cash. • We accept cash, wire transfer, check, certified checks and money orders only. No credit cards. • CREDIT CARD – For first time buyers and credit card charges greater than $2,500 buyers must complete the bottom portion of the invoice and must specifically sign the acknowledgement of our terms of sale before we will accept payment via credit card. We do offer the convenience of paying automatically by credit card. If you wish have your card automatically charged for all purchases please complete our "Authorization for Automatic Credit Card Use." We have this form available online or upon request. Split payments are subject to a 26% buyer's premium if a credit card is used as any form of total payment. • CHECK - There will be a $30.00 service charge for returned checks. Make checks payable to: Dan Morphy Auctions LLC. MORPHY'S reserves the right to hold items paid for by personal or company check until said check clears (14 days). MORPHY'S has the right to hold all checks over $2,000. Customers who have an established successful buying history with MORPHY'S may be exempt from this. We will accept a personal or company check >$2,000 and/or from a first time buyer if you provide a Bank Letter of Credit, available on our website, www.morphyauctions.com. • WIRE TRANSFERS – There will be a $30 charge added to all wire transfers less than $2,000. Please add this amount to your invoice total before sending a wire transfer. In the few situations where a successful bidder does not remit payment when due, MORPHY'S will proceed with the legal steps necessary to protect its interests and will block the bidder from future auction participation.
Currency Type: USD
Shipping Instructions: Please see our terms and conditions.
Preview Date & Times: On display now at Morphy Auctions Gallery. Gallery is open 5 days a week. Open Monday-Friday 9AM to 4PM. Private preview sessions can be arranged.
Checkout Date & Times: Gallery is open 5 days a week. Open Monday-Friday day 9AM to 4PM.
Location: 2000 North Reading Road, Denver, PA 17517
Driving Directions: Morphy Auctions 2000 N. Reading Road Denver, Pa 17517
Special Terms
Bidder Terms and Conditions We advise all bidders to read the Terms and Conditions of the Sale before bidding with Dan Morphy Auctions LLC and/or its affiliates Morphy Firearms LLC, and Morphy Auctions, Las Vegas collectively referred to below as MORPHY'S. Those who bid are bound by those Terms and Conditions of the Sale, as amended by any oral announcement or posted notices, which together form the contract of the sale between the successful bidder (purchaser), MORPHY'S and the seller (consignor) of the lot. TERMS OF SALE When bidding on any lot offered by MORPHY'S, the bidder indicates acceptance of the following Terms of Sale. Any participation in the auction binds you to agreement of these terms whether or not you read or understand said terms. CONDITION OF ITEMS MORPHY'S makes every effort to accurately describe all items offered in its sales, however all items for sale are "as is," and it is the bidder's responsibility (present or absentee bidders) to determine the exact condition of each item. MORPHY'S will not be held responsible for typographical errors. Neither we nor the consignor, make any guarantees, warranties, or representation, expressed, or implied, in regard to the property or the correctness of the catalog or other description of the authenticity of authorship, physical condition, size, quality, rarity, importance, provenance, exhibition, literature or historic relevance of the property or otherwise. No statement anywhere whether oral or written, shall be deemed such a guarantee, warranty or representation. Prospective bidders should inspect the property before bidding to determine its condition, size and whether or not it has been restored. It is the bidder's responsibility to initiate contact with MORPHY'S in request for additional information regarding the items. Submit all questions regarding upcoming auction items at least 48 hours prior to the date of auction. We will make every effort to answer all submitted questions in a timely manner. However, we cannot guarantee that questions submitted within 48 hours of the auction date will be answered prior to the auction. The consigner and we make no representation or warranty as to whether the purchaser acquires any reproduction rights in the property. Returns will not be accepted under any circumstances. All items will be available for preview approximately one (1) month prior to the auction. All items are sold for display purpose. If electrical, mechanical, or other working parts are inoperable, even if working at the time of sale, we are not liable due to the inherent nature of the age of these antiques and items. AUTOMOBILES – These terms do NOT apply to our automobile auctions. To view the terms and conditions for our Automobile Auctions, please go to: www.morphyauctions.com/autoterms FIREARMS – All firearms transfers will be in strict accordance with all International, Federal, State and local laws. Be sure to check your country, state and local laws before bidding. If you are unable to import, purchase or own a firearm according to your residency laws, do not bid on these items. If you bid and find out later you cannot legally own/accept delivery, the bid is still a valid contract that the buyer must pay. • Condition of Firearms and Related Items o Condition is always a subjective evaluation. Final responsibility rests with the buyer to assess the condition of items. It is not possible to adequately describe in text or photos an antique or collectible item, and many modern items, that have seen use and show wear. MORPHY'S's goal at all times is to be as fair and honest in our catalog descriptions. MORPHY'S recommends that you personally inspect all items, or enlist a trusted professional to do so for you. o MORPHY'S will only consider a refund when there is a major description discrepancy or authenticity issue that has a major effect on value. Examples that apply are major restoration or repair not described, counterfeits, reproductions or major fabrications. o MORPHY'S will not refund sales with buyers that have disputes regarding a firearm's bore condition. o If the discrepancy is less than major, MORPHY'S will not under any circumstance provide a refund. This means that if you are purchasing an item and find undisclosed blemishes, finish differences, wood-to-metal fits issues, surface cracks or chips in wood, dings and dents, and other similar differences, it will not qualify for refund consideration. o Should the buyer have a major dispute regarding an item, the buyer must notify MORPHY'S within three (3) days of receipt of the item to receive consideration. MORPHY'S in its sole discretion may provide refunds for major description discrepancies or authenticity issues. Should MORPHY'S deny an authenticity issue dispute of the buyer, and the buyer is not satisfied, the buyer may, at his or her own expense, obtain the written opinion of two mutually agreed upon recognized experts in the field of the disputed item. The final decision of those experts will determine any refund consideration. o There will be no options for refunds of any type beyond 35 calendar days from the auction date. o Paying late and thus receiving items late will not change the limitation on the dates above for refund consideration. MORPHY'S ships items in order of payment. o These terms are available only to the original buyer of record. All sales are final. • Firearms Catalog Designations o A: antique o M: modern (post 1898), Federal Firearms License (FFL) requirements apply o C: curio & relic eligible o N: National Firearms Act / Title II Gun Control Act of 1968 (Class III SOT) requirements apply o ^:Modern firearm imported from Canada, will have an unassuming marking that contains at least "BV LYNDEN WA" and any of the following not already marked on the firearm: serial number, caliber, country of manufacture, manufacturer name and model. Marking letters are 1/16" tall and just over 0.003" deep. Buyers must consider this in their bidding. Marking will not appear on antique firearms imported from Canada. • Checkout and pickup at our location: o The same person to whom the bidder number is registered must be the person to pick up the firearm(s) at the conclusion of the sale – Federal Law disallows anyone else from accepting the transfer. o Modern firearms sales to non-licensed bidders who are picking up guns at our location will require the completion of a form 4473 background check. o PA auctions only - Handgun purchases also require an additional PICS form/background check for each handgun purchased. This process to fill out forms and obtain a response may take 5-10 minutes. Any applicable state fees associated with these checks will be added to the customer's invoice. o NV auctions only – If you have a Conceal & Carry permit issued July 1, 2011 or later, you do not need to complete the background check. o If you are "Denied" by FBI / PICS background check you will not be able to take possession of the firearm and the firearm will be consigned to the next available firearm auction. Dealers and Individuals that bid on and win items own the items and are fully responsible for payment within terms regardless of whether the FBI / PICS approves their taking physical possession of the items. MORPHY'S will not cancel the sale due to disapproval for any reason. o If you are appealing a "Denied" decision, we will hold the firearm only if you pay in full. o Licensed bidders, i.e. Federal Firearms licensees or Curios & Relics license holders must present a current signed copy of their license. C&R licensee purchases must conform to the BATF C&R requirements. o National Firearms Act (NFA) Class 3 Weapons Processing ? Dealers: Buyer must provide MORPHY'S with a copy of their active FFL and SOT license. Estimated time for processing and approval of the required Form 3 normally takes two months. ? Individuals: Law requires a completed Form 4, or Form 5 for deactivated guns. MORPHY'S will prepare and sign the front of the applicable transfer form, and send to the individual buyer. Individual is responsible for completing requirements for fingerprints, photo, and a fee of $200, as well as completing applicable portions of the reverse side of the form. Estimated time for processing and approval of Form 4 is 6-8 months. ? Dealers and Individuals that bid on and win NFA items own the items and are fully responsible for payment within terms regardless of whether the Bureau of Alcohol, Tobacco, Firearms and Explosives (BATF) approves their taking physical possession of the items. MORPHY'S will not cancel the sale due to BATF disapproval for any reason. • Shipping o PA auctions only - Non-Residents of Pennsylvania may not pickup modern handguns. Any firearms shipped are legally required to be shipped to an ATF licensed FFL dealer within your state of residence for transfer and pickup. You will be responsible for all shipping and transfer costs incurred. o NV auctions only - Non-Residents of Nevada may not pickup modern handguns. o Modern handguns are required to be shipped via FedEx 2-Day Air. o Modern long guns are shipped via FedEx ground to the FFL dealer. o Upon paying for the firearm you can contact a licensed dealer to send their FFL to [email protected] with the paid invoice number notated. o MORPHY'S will not be responsible for exporting modern firearms or any ammunition. Buyer may contact Borderview International Firearm Logistics or another third party provider. Borderview may be contacted prior to bidding for pricing, process and timeline information. • Long guns will only be sold to persons 18 years of age, or older. Handguns will only be sold to those persons 21 years of age, or older. Dealers are bound by these minimum age requirements. • Since all firearms sold are "collectible" items, MORPHY'S does not test the safety or warrant functionality of these firearms. All firearm purchases should be examined by a certified gunsmith prior to shooting. • MORPHY'S reserves the right to deny the sale of a firearm to any buyer. GOODS MADE FROM OR CONTAINING MATERIALS FROM PROTECTED SPECIES - MORPHY'S does not accept any responsibility or liability for the sale of items containing materials from protected species or for any omission in marking or labeling goods as containing materials from protected species. Such material includes, but is not limited to, ivory from elephants and walruses, tortoise shell, crocodile skin, whalebone, rhinoceros horn, some species of coral and certain woods. Restrictions on the importation, exportation, sale, transfer, and/or possession of goods containing materials from protected species derive from international, federal, and state laws and regulations promulgated thereunder. Laws include, but are not limited to, the Convention on International Trade in Endangered Species of Flora and Fauna (CITES), the Endangered Species Act (ESA) and the Marine Mammals Protection Act (MMPA). States currently restricting trade of protected species include, but are not limited to, California, New York and New Jersey. Prospective purchasers are on notice that several countries completely prohibit importation of property made, all or in part, of protected materials. Some countries require special permits, such as a CITES permit, from the relevant regulating authority in the countries of exportation and importation as well. Potential purchasers intending to import the property into another country should be familiar with the relevant customs laws and regulations prior to bidding on goods containing material from protected species. Regulations may vary as the U.S. generally prohibits importation of articles containing material(s) from species it has designated endangered or threatened if the articles are less than 100 years old, subject to certain exceptions. It shall be the potential purchaser's sole responsibility to research and satisfy the requirements of any laws and regulations that apply to the import and export of property as described in the aforementioned paragraphs. All purchasers agree to comply with any and all domestic and international restrictions on the trade of protected species as a condition of the sale. Please note that the ability to obtain an export license or certificate does not ensure the ability to obtain an import license or certificate in another country, and vice versa. It is the purchaser's responsibility to obtain any export or import licenses and/or certificates as well as any other required documentation. MORPHY'S is not able to assist the purchaser in attempting to obtain the appropriate licenses and/or certificates, and there is no assurance that an export license or certificate can be obtained. The inability or delay in obtaining permits, licenses or other permissions to import or export goods containing material from protected species will not constitute a basis for rescission or cancellation of the sale of said goods or the delay in payment of purchased items in accordance with these Bidder Terms and Conditions. Grading Scale: Near Mint Plus 97% - 100% Near Mint 90% - 96% Excellent 80% - 89% Very Good 70% - 79% Good Below 70% BIDDING RIGHTS & RESPONSIBILITIES The auctioneer will determine the highest bidder. The auctioneer alone has the right to reopen the bidding of an item if deemed necessary due to a dispute. If there is a tie bid between the floor and Internet or absentee bid, the floor bid takes precedence. MORPHY'S and its representatives reserve the right to remove those attendees who impede preview and/or the auction. Title to all merchandise shall pass to the highest bidder at the fall of the auctioneer's hammer. The buyer will then assume all risk and full responsibility of the lot purchased once ownership has changed. We recommend that you arrange insurance for your items immediately upon becoming the highest bidder. MORPHY'S is not responsible for any errors in bids, omissions of bids, or failure to execute bids and shall have no liability to any bidder for any technical or other failure associated with the internet, absentee bidding, or telephone bidding. • ABSENTEE BIDDING - MORPHY'S will accept absentee bids if pre-authorized by mail, fax or through www.morphyauctions.com online. Absentee bidders must use the absentee bid form and clearly mark the lot number, title and maximum bid amount. Absentee bidding forms may be accessed online at www.morphyauctions.com. If there are two (2) identical bids placed on the same item, priority will be given to the first bid received. All bids must be left in increments as explained on our bid form. If a bid is "out of increment," the auctioneer has the right to round the bid up to the next correct increment. Bidders may preview, register and place bids online through our website, www.morphyauctions.com. Absentee and online bids placed through www.morphyauctions.com will be auto charged to the credit card entered 48 hours after the end of the sale. If you wish to pay by another method please contact us within 48 hours after the sale. Seller(s) agree to allow the Auctioneer to accept and execute absentee bids in a competitive manner for potential buyers and under the MORPHY'S absentee bidding terms and conditions. During the live sale, the auctioneer will execute your absentee bid competitively up to the maximum amount you have indicated. • ONLINE BIDDING - Online bidding through www.morphyauctions.com, Live Auctioneers, Invaluable, Proxibid, or other bidding platforms may be available; all Terms and Conditions still apply. A surcharge may be added for third party online platforms. Refer to your bidding platform of choice for the final buyer's premium. If there is a tie bid between the internet bidding venues and the floor, the floor bid takes precedence. If a credit card has been provided to one of the online bidding platforms, MORPHY'S reserves the right to use and charge the credit card if the winning bidder has not paid via another method by the 7 day term in Payment Terms below. Due to our fast paced auctions and bids coming from floor bidders, phone bidders, internet bidders and absentee bids, the auctioneer has the final word on all item(s) sold. You (the bidder) assume the risk of winning an item online and not having the item actually sell to you. This is due to the final call of the auctioneer and the operator not being able to re-open that lot. Online bidders are fully responsible for accidental bidding as if they bid normally. • BID RESULTS – MORPHY'S will only contact successful bidders. Please allow 24-48 hours post auction to receive your official invoice from MORPHY'S. The invoice will include item, hammer price, premium, packing and handling, shipping, insurance, and any other charges that apply. Please hold phone inquiries regarding bid success until after receiving your invoice. For verifications, MORPHY'S cannot provide winning bid information until the second business day after the auction. MORPHY'S will not provide bidder information to any outside sources. • TELEPHONE BIDDING - Requests for phone lines must be received at least three (3) days prior to the auction date. MORPHY'S cannot guarantee phone lines but will make every attempt to accommodate those who wish to participate through that method. Phone lines are provided on a first come first served basis. Please visit www.morphyauctions.com or call 877-968-8880 to request a call from our representatives during the live auction. BID INCREMENTS Bid increments listed are a general guideline. Actual increments are at the auctioneer's discretion. If a lot does not receive a bid of 50% of the low estimate, the lot will be passed by the auctioneer. $0 - $500…$25 $500 - $1,000…$50 $1,000 - $2,000…$100 $2,000 - $5,000…$250 $5,000 - $10,000…$500 $10,000 +… Auctioneer's discretion RESERVES The majority of our items are unreserved, but occasionally items may carry a moderate reserve. Please note that when a lot carries a reserve, the reserve is usually somewhere below our low estimate. In the case of a reserved item, the seller has authorized the auctioneer to bid on their behalf until the reserve price is reached. BUYER'S PREMIUM A 26% buyer's premium will be added to all successful bids and is payable by the purchaser as part of the total purchase cost. If payment by cash, check, money order or wire transfer is made within 7 days of the invoice a 3% discount may be taken on the Hammer price by the buyer. DISCOUNT IS ONLY AVAILABLE IF INVOICE IS PAID WITHIN 7 DAYS from the sale date. Split payments are subject to a 26% buyer's premium if a credit card is used as any form of total payment. . A surcharge will be added for certain third party online bidding platforms the bidder utilizes. Refer to your bidding platform of choice for the final buyer's premium. SALES TAX Lots delivered to you, or your representative are subject to all applicable state and local taxes, unless appropriate permits are on file with MORPHY'S. Bidder agrees to pay MORPHY'S the actual amount of tax due in the event that sales tax is not properly collected due to: 1) an expired, inaccurate, or inappropriate tax certificate or declaration, 2) an incorrect interpretation of the applicable statute, 3) or any other reason. The appropriate form or certificate must be on file at and verified by MORPHY'S five days prior to Auction, or tax must be paid; only if such form or certificate is received by MORPHY'S within 4 days after the Auction can a refund of tax paid be made. Lots from different auctions may not be aggregated for sales tax purposes. PAYMENT, INTEREST and STORAGE FEES Any invoice totaling more than $100,000 must be paid within three (3) days. All other merchandise must be paid in full within seven (7) days of the date of the invoice. If payment by cash, check, money order or wire transfer is made within 7 days of the invoice, a 3% discount on the Hammer price may be taken by the buyer. DISCOUNT IS ONLY AVAILABLE IF INVOICE IS PAID WITHIN 7 DAYS from the invoice date. No discount is permitted on split payments where a credit card is used as any form of total payment. Payments can be made by going to your account online at www.morphyauctions.com, call 877-968-8880 or mail payment to: Dan Morphy Auctions LLC 2000 N Reading Rd, Denver, PA 17517. Interest will be charged on all balances not paid at the rate of 1-1/2% monthly (18% APR) effective 30 days from the invoice date. All goods not retrieved by Buyer within 120 days after the invoice date, shall be subject to a storage fee of $50 per item per month. Absentee bids placed through www.morphyauctions.com and Proxibid.com will be auto charged to the credit card entered 48 hours after the end of the sale. If you wish to pay by another method please contact us within 48 hours after the sale. We accept Visa, MasterCard, Discover, American Express, personal checks, certified checks, wire transfers, money orders, and cash. • We accept cash, wire transfer, check, certified checks and money orders only. No credit cards. • CREDIT CARD – For first time buyers and credit card charges greater than $2,500 buyers must complete the bottom portion of the invoice and must specifically sign the acknowledgement of our terms of sale before we will accept payment via credit card. We do offer the convenience of paying automatically by credit card. If you wish have your card automatically charged for all purchases please complete our "Authorization for Automatic Credit Card Use." We have this form available online or upon request. Split payments are subject to a 26% buyer's premium if a credit card is used as any form of total payment. • CHECK - There will be a $30.00 service charge for returned checks. Make checks payable to: Dan Morphy Auctions LLC. MORPHY'S reserves the right to hold items paid for by personal or company check until said check clears (14 days). MORPHY'S has the right to hold all checks over $2,000. Customers who have an established successful buying history with MORPHY'S may be exempt from this. We will accept a personal or company check >$2,000 and/or from a first time buyer if you provide a Bank Letter of Credit, available on our website, www.morphyauctions.com. • WIRE TRANSFERS – There will be a $30 charge added to all wire transfers less than $2,000. Please add this amount to your invoice total before sending a wire transfer. In the few situations where a successful bidder does not remit payment when due, MORPHY'S will proceed with the legal steps necessary to protect its interests and will block the bidder from future auction participation. PACKING/SHIPPING • It is the bidder's responsibility to take shipping, handling, and insurance costs into consideration when bidding on items. • BIDDERS PRESENT AND TAKING ITEMS AFTER AUCTION – Since item liability transfers upon a successful bid, items paid for must be packed, transported and/or removed by the purchaser at his/her own risk after the close of the sale. We recommend that you arrange insurance for your items immediately upon becoming the highest bidder. If any employee or agent of MORPHY'S shall pack or transport the merchandise, it is fully at the risk and responsibility and expense of the purchaser. MORPHY'S shall not be held liable for any loss or damage that may be caused by the said agent or employee. • ITEMS NOT PICKED UP THE DAY OF THE SALE – Packaging, shipping, and insurance on all items to locations that can accept shipments will be made available as an added courtesy and at an additional cost. We recommend that you arrange insurance for your items immediately upon becoming the highest bidder. All applicable charges will be applied to the invoice. Shipping will be based on actual costs via FedEx, USPS, or other carriers required based upon the contents of the shipment. Packaging and insurance will vary in cost depending on the items on each invoice. All packages will be shipped with insurance. Standard items packed internally by MORPHY's will ship seven to fourteen (7-14) business days after payment is received. Oversize and breakable items, which will appear on a separate line of the invoice, will ship based upon a date our shipper partner will provide to the purchaser after payment and pickup of the items. MORPHY's cannot combine standard item shipments with oversize and breakable item shipments. Again, if any employee or agent of MORPHY'S shall pack or transport the merchandise, it is fully at the risk and responsibility and expense of the purchaser. MORPHY'S shall not be held liable for any loss or damage that may be caused by the said agent or employee. • SHIPPING TERMS - MORPHY'S will ship all items to the buyer at the listed address via FedEx or other carriers, FOB Denver, Pennsylvania or FOB Las Vegas, NV or FOB other auction locations. Any risk of loss or damage to the item(s) during transit via FedEx, or any other carrier, in excess of the insurance provided by or purchased from MORPHY'S, is at the risk of the buyer. Any additional insurance coverage should be purchased by the buyer through the carrier. Buyer releases MORPHY's from any and all claims for loss or damage to any item during transit and agrees to pay all costs of defense, including attorney's fees, for any claims brought against MORPHY'S for loss or damage occurring during transit. • INSURANCE - Shipping insurance is automatically added up to $1,000 for every package. If your package is valued at >$10,000 we will also automatically add "Additional Insurance", which you can decline by contacting us. If you wish to arrange for "Additional Insurance" for packages valued between $1,000 and $10,000 please contact us prior to payment and we can quote this additional insurance amount for you. Oversize and breakable items shipments include full insurance. Insurance for all 3rd party shipments must be arranged through that carrier. Insurance provided or purchased through MORPHY's applies only to shipments to the United States and Canada. Buyers must purchase their own insurance for shipments to other countries. • INTERNATIONAL SHIPMENTS – MORPHY'S has the capability to ship to international bidders. By law, MORPHY'S cannot, and will not, declare lesser values for any international purchases and all shipments will include the invoice with purchase totals including the buyer's premium and shipping cost. All international bidders are responsible for knowing their country's laws on importing items and for paying all customs and duties on the items. • 3RD PARTY SHIPPING of OVERSIZE AND BREAKABLE ITEMS – Should bidders choose to use a shipper other than MORPHY'S, the bidder MUST arrange and pay for 3rd party shipping. As a general guideline, the following will indicate which packages apply, as they are of a certain weight, length, or dimensional size. o Dimensional size is length (the longest measurement) + (height x 2) + (width x 2). For example a 36" x 36" x 12" package = 36 + (36 x2) + (12 x 2) = 132" o USA home shipments must be less than70 lbs. and less than108" length and less than165" dimensional size o USA business shipments must be less than150 lbs. and less than108" length and less than165" dimensional size o International shipments must be less than150 lbs. and less than108" length and less than130" dimensional size o There may be certain shipments that meet these requirements that will still require 3rd party shipping, and we will communicate the reason in those cases. • BREAKABLE, DELICATE, FRAGILE ITEMS MORPHY'S reserves the right to choose items and orders that it will pack, ship, and/or insure directly using our shipping department. Those items that MORPHY'S will not ship will require that the winning bidder either pick up the items personally or arrange a 3rd party shipping service. Examples of items that may apply after determination by our shipping department include but are not limited to: items with neon of any type (working or non-working), all glass display cases of any size; coin-operated, arcade and vending items with fragile parts and/or glass; signs with parts or protrusions beyond the main body of the sign, oversized vases (guideline – larger than fit in a 20" x 20" x 40" box), high value lamps and glass of all sizes, high value artwork including but not limited to paintings, statuary, sculpture, figurines, dioramas, and other intricate items; and items subject to impact by moisture and known handling issues in the supply chain. Under no circumstances will MORPHY'S be responsible for shipping damage to picture frames of any kind. • For any buyers who wish to arrange for their own shipping, MORPHY'S must be notified at least seven (7) days prior to arrival of the shipping company name, arrival date and time. Pickup must be scheduled to begin and end within our normal business hours (9am – 4pm weekdays). Buyers must arrange weekend pickups in advance with MORPHY'S staff, and additional charges may be necessary for overtime. All 3rd party shippers must arrive with a copy of the invoice, • STORAGE FEE – MORPHY'S will charge a storage fee of $50 per item per month for any items awaiting pickup for more than 120 days following the invoice date. AGREEMENT REGARDING GOVERNING LAW, VENUE, AND LEGAL RIGHTS I hereby understand and agree that any controversy or claim arising out of or relating to MORPHY'S Bidder Terms & Conditions, which includes this provision (hereafter referred to as "Terms & Conditions"), MORPHY'S, or the breach thereof (hereafter referred to as "Claims"), shall be governed by and construed in accordance with the laws of the State of Pennsylvania, without regard to its conflict of law provisions. I hereby irrevocably submit to the personal jurisdiction of the appropriate court in Lancaster County, Pennsylvania in any action or proceeding arising out of or relating to the Claims and their enforcement, and I agree that any and all Claims must be adjudicated, heard, determined, and resolved in said court, and I hereby irrevocably waive any objection on the ground that any such action or proceeding in said court has been brought in an inconvenient forum. MORPHY'S failure to exercise or enforce any right or provision of these Terms & Conditions or any other legal rights, shall not constitute a waiver of such right or provision. Any waiver of any provision of these Terms & Conditions by MORPHY'S must be made in writing and signed by an authorized representative of MORPHY'S specifically referencing the provision(s) contained within the Terms & Conditions to be waived. Headings used in the Terms & Conditions are for convenience only and are not to be relied upon. If any provision of the Terms & Conditions is found by a court of competent jurisdiction to be invalid, the parties nevertheless agree that the court should endeavor to give effect to the parties' intentions as reflected in the provision, and the other provisions of the Terms & Conditions shall remain in full force and effect. These Terms & Conditions will inure to the benefit of, and are intended to be, enforceable by MORPHY'S, its parents, subsidiaries, affiliates, successors, assigns, members, directors, officers, and licensees. There are no third party beneficiaries to these Terms & Conditions; a person or entity who is not a party or signatory to these Terms & Conditions has no rights under the Contracts (Rights of Third Parties) Act 1999 to rely upon or enforce any term or provision of these Terms & Conditions. POST-SALE RETURN POLICY MORPHY'S engages knowledgeable experts to provide catalog descriptions on the merchandise we sell. Every effort is made to ensure those descriptions are accurate and that they fully disclose any exceptions to condition. Any buyer who has made their payment within the due date of 7 calendar days who wishes to report a problem must notify MORPHY'S within three calendar (3) days of receipt of their purchased item. Buyers who have not made their payment within the due date of 7 days may not return any items under any circumstances. No lots purchased by floor bidders (including those bidders acting as agents for others) may be returned. A Return Authorization Number (RA#) must be issued by MORPHY'S before you ship anything back to our address. Any items arriving without a return authorization will not be given a refund. The item in question must be shipped with the RA# on the outside and inside of the package, with full insurance, so it arrives at MORPHY'S within one week of the aforementioned authorization. PRIVACY TO REVIEW OUR PRIVACY POLICY, PLEASE VISIT WWW.MORPHYAUCTIONS.COM/PRIVACY-POLICY All rights reserved. Entire contents copyright 2018, Dan Morphy Auctions LLC. Copyright includes, but is not limited to, print media, microform and electronic media, such as CD-ROMS and online computer services.
Sours: https://www.proxibid.com/aspr/lot/42380259/LotDetail.asp?lid=42380259
The ASP 2.0: Re-Imagined with a Shield
RECOIL and ROBAR Reinvent One of the Coolest Pistols You've Never Heard of
Photos by Straight 8 and Iain Harrison
[This story first appeared in Concealment #6]
The last several years have seen a veritable blossoming of the concealed-carry pistol market, as well as the culture of self-reliance that comes with it. And we strive to bring you the latest and greatest in carry guns. But sometimes you need to take a look back to move forward. Many of the features that we all consider standard fare for defensive pistols can be traced back more than 30 years to a man, whom most people have never heard of, and the pistols he built, which few have ever seen.
We teamed up with Robar Guns in Phoenix, Arizona, to examine the innovations of this unique gunsmith and pay homage to his pioneering with a 21st century reimagining of his pistol that (we hope) would make him proud.
Sneaky Stuff and a Man Named Paris
The name Paris Theodore is all but obscure gun trivia now, but in the early 1970s he ran a small holster shop in New York known as Seventrees Ltd. His holsters were designed for deep concealment and rapid access. They were known to be popular among undercover police officers and intelligence agents — so popular that he was awarded small contracts by federal agencies whose people specialized in this kind of work.
While gun leather was their primary front, Paris was a dedicated tinkerer and basement engineer. Seventrees had a much smaller sister company known as Armament Services and Procedures, based out of the same office on West 39th St in Manhattan. ASP focused on designing and building clandestine and concealed weapons for several intelligence organizations. If ever there were a real life (American) counterpart to James Bond's quirky techno-nerd "Q," Paris Theodore was it. But beyond the mythos of being a super spy gadget guru, Theodore conceived and implemented some cutting-edge handgun improvements that we still consider ideal on a self-defense gun.
The Gun. The Myth. The Legend.
Their most well-known design was a compact 9mm pistol with no name, eventually known simply as The ASP 9mm. The ASP started life as a Smith & Wesson M39 or M39-2. For those unfamiliar, the M39 is a double-action/single-action, single-stack 9mm auto with an aluminum frame and steel slide. It was the first of S&W's "first gen" semi-autos and one of the oldest mainstream American-made auto-loading pistols. It saw use by everyone from the Illinois State Police to Navy Special Warfare units. When Paris Theodore started building ASP pistols in the early '70s, it was one of the most widely used duty pistols of the time.
The list of modifications made by Mr. Theodore was extensive. The slide and barrel were both shortened. The barrel was throated and ramped. He replaced the traditional bushing system with a  fixed version. All metal parts were coated with Teflon-S.
On the outside, he checkered the front and backstraps of the frame. The side panels were deliberately left smooth to avoid snagging on clothes. Said side panels were made of clear Lexan, offering an instant visual index of your round count. The trigger guard was reshaped to include a hook for the support side index finger, a popular shooting grip at the time. The trigger guard was also thinned out along one side, the shooter's dominant side, to facilitate a higher grip.
Both front and rear sights were removed and replaced with a unique sighting system known as the Guttersnipe. This was a U-shaped half pipe coated on the inside with fluorescent paint. The tube narrowed from back to front, channeling the eye toward the target. It was one of the earliest (modern) attempts to create a single focal-plane sighting system for defensive pistols — a feat we now accomplish with micro red-dots. The entire exterior of the pistol thoroughly de-horned and every hard line or sharp edge was "melted" down to be totally snag free during draw and presentation.
We're willing to bet most of you have at least one or two of these upgrades on your current carry gun. We sure do, and all of us can thank Paris Theodore for pioneering these mission-specific refinements to the contemporary compact autoloader. It's said that less than 500 of the original pistols were built by ASP. An unknown, but equally small number, were produced by a now-defunct company known as Devel. Unable to get our hands on a sample of either for less than a kidney, we decided to update a classic.
The Rest of the Story
Since the original ASP guns were built on Smith & Wesson pistols, we went straight to the source. Luckily, we didn't have to cut down a full-size duty pistol since S&W already makes a very popular compact single-stack nine. Their M&P Shield is one of the most recognizable concealed carry pistols on the market today, enjoying a hefty helping of aftermarket support. The folks at S&W were kind enough to send us one to have our way with. Then the wizards at Robar Guns gave us a hand with the labor. Here's what we asked them to do:
> Enhance texturing around the frame
> Undercut the trigger guard
> Mill slide and install Shield SRS sight
> Install Apex action enhancement kit with flat-faced trigger
> Cut channels in the grip and install Lexan inserts
> Skeletonize magazines to make rounds visible through Lexan
> De-horn pistol
> Refinish slide and internals in lowfriction Rogard and NP3 finishes.
After all that, we slapped on a Streamlight TLR-6 subcompact weapon light. While the original ASP lacked a light, we believe it was only due to technology lag. Considering that the pistols were hand built for personnel doing good work in bad places all over the globe … if they could have had a light on board, they would have. The TLR-6 offers 100 lumens. Some might turn their noses up at a "measly" 100 lumens in this age of 1,000-lumen light sabers, but the TLR-6 fills an important niche of providing illumination on guns that are too small for such super lights. Streamlight's offering also adds no length or width to the original dimensions of its host gun. Not to mention that given the choice, we'd rather have 100 lumens than fight in the dark.
The result is a pistol that includes almost all the features of an original ASP with modern conveniences like a polymer frame and electronic optics. Nano-sized red-dots on pistols are the natural evolution of the guttersnipe — both are single focal-plane sights that draw the eye with bright color and allow you to focus on the target rather than the sight. As a bonus feature, the UK-made SRS sight includes an integral rear sight that co-witnesses perfectly with the OEM Shield front sight. That means with this particular setup there's no need to use a suppressor-height front sight. This maintains the lowest possible profile and keeps your viewing window free of garish sight posts sticking up under the dot. Out of the box, the M&P Shield comes with one 8-round extended magazine and one 7-round flush-fit magazine. We improved the flush-fit with the addition of a Strike Industries +2 baseplate. This combination gives the end user a total of 17 rounds in a package that's very low profile while still being comfortable to shoot and chock full of all the modern amenities that any secret agent could ask for.
The Full Package
The original ASP pistols came with a custom leather holster and mag pouch. That design is still available through Milt Sparks. But in keeping with our theme of modernization, we decided to go the Kydex route. While there are plenty of holster solutions for the M&P Shield, there aren't any that accommodate a Shield with TLR-6 light attached. At least, not any that we liked. So we visited our friends at We Plead The 2nd and asked for a lowvis Kydex sheath for our super-spook project pistol. They delivered in force with a squat, flat holster in "Gray man" gray that's both low profile and comfortable. Their original design had to be slightly modified to accommodate the slide-mounted red-dot. But this proved to be no obstacle, and after a little alteration work in a gun store parking lot, we were off and running. This wasn't our first
encounter with WPT2 and likely won't be our last. Their service is quick and craftsmanship top notch. Our holster featured a single-wide clip and adjustable retention. A loose Tshirt made the ASP 2.0 hard to spot. A cover shirt or light jacket made it practically invisible.
Of course, this fancy project isn't worth the polymer it's molded with if it can't actually perform. Fortunately, the Shield is a market-proven design that demonstrated both reliability and accuracy. While its light frame and short barrel will forever prevent it from achieving "tack driver" status, we were able to print sub 2-inch groups as far as 15 yards thanks to the red-dot and crisp Apex trigger kit. The trigger seemed to dance back and forth on either side of the 5-pound mark, gauged by a Lyman digital. There's no over-travel, thanks to a small stop
molded into the trigger guard. While we'd love a slightly lighter trigger, the Apex bang switch breaks crisp with a loud snappy reset. That's plenty good enough for us and miles beyond the average OEM striker trigger.
We ran a proper gamut of duty-worthy JHPs including SIG's 115-grain V-Crown and three versions of Federal's HST: 124-grain standard, 147-grain +P, and their ultra-heavy 150-grain standard, specially crafted for sub-3-inch barrels. While this homage to firearms history is currently a RECOIL one-off, ROBAR is ready and willing to do all of this work to your pistol. The full package, as shown here, runs in the $1,100 range. Not inexpensive. But the value added is undeniable, and we're sure ROBAR would be willing to scale back the package based on your budget and priorities. Not only do these upgrades enhance the capabilities of your carry gun, they also pay tribute to a pioneer of combat pistol innovation. If you decide you just gotta have it, reach out to ROBAR and ask for the ASP 2.0 package. Don't forget to tell them you saw it in RECOIL.
Sours: https://www.recoilweb.com/smith-wesson-mp-shield-asp-2-0-128661.html
TNW Firearms Aero Survival Pistol Review
ASP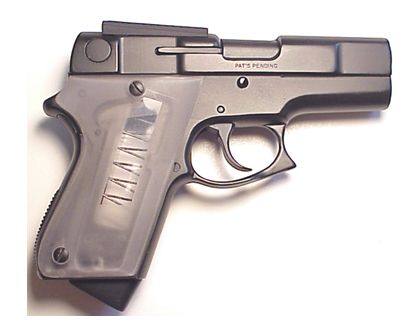 ASP pistol, right side
ASP pistol, left side
Diagram of Guttersnipe sight for ASP pistol, from original patent
Type: Double Action
Calibers: 9×19 mm Luger/Parabellum
Weight unloaded: not known
Length: ~ 173 mm
Barrel length: ~83 mm
Capacity: 7 rounds
The ASP pistol has been developed by American gunsmith Paris Theodore in early 1970s. It is believed that the design was inspired by some US government organisation(s) which required a compact and powerful handgun for its undercover agents, operating worldwide. Some years later (circa 1982-83), small batch of ASP pistols (about 250 to 300 pieces) has been released to the American market; these guns were manufactured by Armament Systems and Procedures company. After that, this gun was never manufactured.
The ASP pistol was designed as a deep concealment weapon, and thus had a compact size and no-snag appearance, with distinctive shape. The most interesting thing about the ASP is its patented Guttersnipe sight, which required no front sight blade. The relatively large rear sight block had an open-top tunnel, through which the shooter aimed the gun. This was not the best long-range arrangement, but the ASP was intended for close-range clandestine work only, so this sight was good enough – fast and snag-proof.
The ASP pistol was not an entirely original design. Instead, it was a major rebuild of the well-known Smith&Wesson Model 39 double action semiautomatic pistol. The rebuild procedure included cutting off the parts of the slide, the barrel and the grip frame, removal of the hammer spur, reshaping of the trigger guard and grip frame, and many other changes. The grip panels were made from translucent Lexan plastic, allowing the shooter to quickly observe the rounds, remaining in the magazine. All sharp corners were smoothed out, and all external surfaces were covered with black Teflon finish. The ASP retained the double action trigger with slide mounted safety-decocker of the S&W M39, as well as its short recoil operated, locked breech action. Standard S&W M39 magazine has been shortened to fit into the shorter grip of ASP, and held seven rounds of 9mm ammunition instead of original eight.
Sours: https://modernfirearms.net/en/handguns/handguns-en/u-s-a-semi-automatic-pistols/asp-eng/
2000 sale asp pistol for
ASP 9mm Auto Pistol
The ASP 9mm Auto Pistol was an answer to the U.S. Government's quest for new concealable pistol. Almost 20 years ago the clandestine services of the U.S. Government stated a requirement for a concealable but powerful automatic pistol, and the first response was a cut-down .45 M1911A1 Colt developed by the C.I.A.
Early Design
While this worked, it could hardly be said to be an elegant solution. It was noisy, had excessive muzzle flash, a magazine capacity of only four rounds, and less target effect than the average .38 special revolver.
Another solution was sought, which was to be based on the 9mm Parabellum cartridge, and this led to the design which is now commercially available as the 'ASP', named for the company who makes it.
The ASP pistol was in-fact a custom made handgun designed and built by Paris Theodore, owner of Seventrees, Ltd. a custom gun leather shop in New York City from the early 1970s to 1987.
Smith & Wesson Model 39
The ASP is actually a re-manufacture. It begins life as a standard Smith & Wesson Model 39 which is then severely cut about. The butt, slide, slide stop and safety catch are all dimensionally reduced and lightening cuts are made in the slide so as to distribute the balance correctly. The barrel is shortened, throated and polished, the feed ramp smoothed and polished, and a custom-built barrel bushing pressed into the slide.
New recoil spring and guide are fitted, every edge od the weapon hand-smoothed, ant the entire surface coated with 'Teflon' to give a smooth, black, resistant finish. The butt plates are replaced with special models, with that on the left side having a transparent panel which allows the contents of the magazine to be checked. The trigger-guard is given a forward hook and the magazine floor given a finger rest, both aiding the holding of the pistol in combat mode. Finally, a 'Guttersniper' combat sight is fitted to the slide.
This is a trough with the interior walls colored yellow, and if the sight picture is correct, the target can be seen within three equally-proportioned walls. If the aim is off, then the walls of the sight display an unbalanced picture which indicates the sighting error.
Conversion Kit
The resulting weapon is not cheap, it is necessary to buy the Smith & Wesson Model 39 first and then add $350 for the conversion. But for those whose lives could depend upon quick and accurate firepower, the price is immaterial a the ASP promises to be the right answer.
Technical Specifications
| | |
| --- | --- |
| Manufacturer: | Paris Theodore, Seventress Ltd. |
| Type: | Double action, tilting barrel, locked-breech |
| Caliber:  | 9x19mm Parabellum |
| Barrel: | 3.25 in (82,5 mm) |
| Weight: | 1,5 lb(680 g) |
| Magazine capacity: | 7-round box magazine |
Sours: https://special-ops.org/asp-9mm-auto-pistol/
Our Best Selling Surplus Pistol Is Back
ASP pistol
Pistol
ASP handgun (notice clear lexan hand grips for keeping count of ammunition in magazine) .
The ASP is a custom made handgun designed and built by Paris Theodore (owner of Seventrees, Ltd., a custom gun leather shop in New York City) from the early 1970s to 1987. The ASP was based on the Smith & Wesson Model 39pistol. The ASP featured clear Lexan grips allowing the shooter to see how much ammunition is left, a rounded hammer, hooked triggerguard and no front sight. The ASP was responsible for later innovations made in the development of concealable handguns.[2]
Background[edit]
The ASP was a reworked Smith & Wesson Model 39 or 39-2, employing a shortened slide; a fixed bushing (in lieu of the Smith & Wesson designed collet bushing); the unique Guttersnipe sight system; clear Lexan grip-panels; a fully ramped and throated, shortened barrel; and a smoothed and radiused profile to ensure no risk of snagging on the draw.[3]
The fixed bushing was tightly fitted to the shortened barrel and dry-lubricated by Teflon-S, which was applied to all components of the pistol, with the exception of the clear Lexan grip panels. This coating is somewhat more durable than the more typical Teflon formulations used in cookingappliances and utensils. The unique sighting system, referred to as the "Guttersnipe", was a narrowing U-channel with fluorescent yellow panels that would form three triangles, all pointed at the target when the sight was properly aligned.[3]
Checkering was kept to a minimum, and reserved for the frontstrap and backstrap, as opposed to the grip panels, which were smooth to prevent the drawing hand from catching prematurely on draw, thereby minimizing the risk of any misalignment of the pistol during presentation, aiming, and firing.
The ASP 9 mm handgun was made in either right-handed, or left-handed models, as the extended trigger guard (which included a recurved hook for the index finger of the supporting hand — one of the earliest known instances of such a feature) was cut away on the side of the strong-sided hand (which would depend on the handedness of the individual using the pistol).[2]
Included with the gun was a patented double magazine pouch which used a magnet to hold the spare magazines in place. The cost for the complete ASP modification package on a customer-supplied handgun was $475, and was done by a subsidiary company, Armament Systems and Procedures, Inc..[4]
Production of holsters and magazine carriers for the ASP 9 mm were contracted out to Ken Null, who still produces those designs. Theodore ceased production of the ASP in 1987.[5]
Devel pistol[edit]
In 1976 a gunsmith from Cleveland, Ohio named Charles Kelsey ordered an ASP pistol and never received one. His experience led him to develop an improved version of the ASP. Working with Firearms Instructor Ken Hackathorn, he developed the Devel pistol.[2]
The wood grips featured a clear lexan insert, allowing the shooter a visual account of the number of rounds in the magazine. The pistols were coated in an electroless nickel finish and featured traditional sights. Kelsey sent a sample gun to Smith & Wesson, for a factory agreement to produce these pistols on a large scale. An agreement was never reached, yet several of Kelsey's improvements were incorporated into the S&W 3913.[2]
Unique to this pistol, Guttersnipe Iron sights become narrower from back to front, painted in bright yellow for faster target acquisition.
Cultural presence[edit]
In his quest to replace the fictional secret agent's traditional sidearm, Walther PPK, novelist John Gardner goes through an array of weapons before settling for an ASP 9mm for almost the remainder of the continuation novels to equip James Bond with. The weapon also serves as Bond's sidearm in the 1989 comic book, Permission to Die.
This pistol is a usable weapon in Call of Duty: Black Ops.[6]
References[edit]
Sours: https://en.wikipedia.org/wiki/ASP_pistol
You will also be interested:
Sweet ass sparkled under the rays of the ever-noon sun, beckoning to beautiful distances. It was enough to lie down next to her in the same position and, gently kissing her back, insert the piston. What's in the way. Absolutely nothing. But the fifth hunter, and he was well-known to you, my dear readers, Maxim, climbed the highest tree and from there looked.
2196
2197
2198
2199
2200