The Kraken is one of Razer's most iconic headset lines. It's been expanded not too long ago with the Kraken X and a refresh of the classic Kraken. Both have their own merits. The Kraken X is lightweight and affordable, while the Kraken is a reimagining of the widely beloved gaming cans. We take a look at how the two compare here, from audio quality to features. That way you can decide whether it's worth it to pay more for the Kraken or find that the Kraken X is already more than enough to suit your needs.
Deal Finder
Razer Kraken
Get immersive game audio with the Razer Kraken, featuring cooling gel cushions for all-day comfort. Large 50mm drivers produce powerful sound, plus a retractable unidirectional mic delivers crisp audio.
Check Price at Amazon Check Price at Walmart
We are reader supported. When you buy through our links we may earn an affiliate commission.
Razer Kraken X vs Kraken Comparison Chart
Model
Razer Kraken X
Razer Kraken
Price
Check Price

on Amazon

Check Price

on Amazon

Frequency Response
12Hz 28kHz
12Hz 28kHz
Drivers
40mm
50mm
Microphone
Yes
Yes (Retractable)
Surround Sound
Yes
Yes
Connection
mm Audio Jack
mm Audio Jack
Controls
On-Earcup Controls: Volume Slider, Microphone Mute Toggle
In-Line Controls: Volume Slider, Microphone Mute Toggle
Ear Cushion
Memory Foam with Eyewear Channels
Memory Foam with Eyewear Channels, Cooling-Gel Layer, Heat-Transfer Fabric
Cable Length
ft.
ft.
Weight
lbs
lbs
Inner Cup Diameter
65mm x 44mm
54mm x 65mm
Compatibility
PC, Mac, PlayStation 4, Xbox One, Nintendo Switch, Mobile Devices
PC, Mac, PlayStation 4, Xbox One, Nintendo Switch, Mobile Devices
Year of Release
Colors
Classic Black, Classic Black/Blue, Mercury White
Classic Black, Classic Black/Blue, Razer Green, Mercury White, Quartz Pink
Design
Razer opted for more plastic and less fabric on the Kraken X.
When you first lay your eyes on the Razer Kraken X, you'd know it's a Kraken. It doesn't deviate too far from the familiar design of the headset line, after all. However, it does give a non-gaming kind of a vibe because of its relatively plain look. The only fabric materials you'd find are on the headband padding and ear cushions. The rest is made of plastic. On the other hand, the Razer Kraken rocks that look you know and love—if you're a fan of the Kraken range, that is. From the colors to the design, you won't mistake it for anything else but a Kraken. That doesn't mean you won't confuse it with other models in the series, though. It looks an awful lot like the Kraken Pro V2, but that's not really much of an issue. In terms of build quality, both are pretty solid. Even though the Razer Kraken X is a lightweight contender, you can tell it's well-made. As for the Kraken, you'd know just by its weight and feel that it can withstand bumps and a couple of drops here and there. One advantage of the Razer Kraken is its retractable microphone. Even though the Kraken X's microphone is bendable and flexible, it's neither retractable nor detachable. A possible problem with that is It'll look a bit strange wearing it outside.
Features
Razer fitted the Kraken X and Kraken with a cardioid microphone to prevent picking up background noise.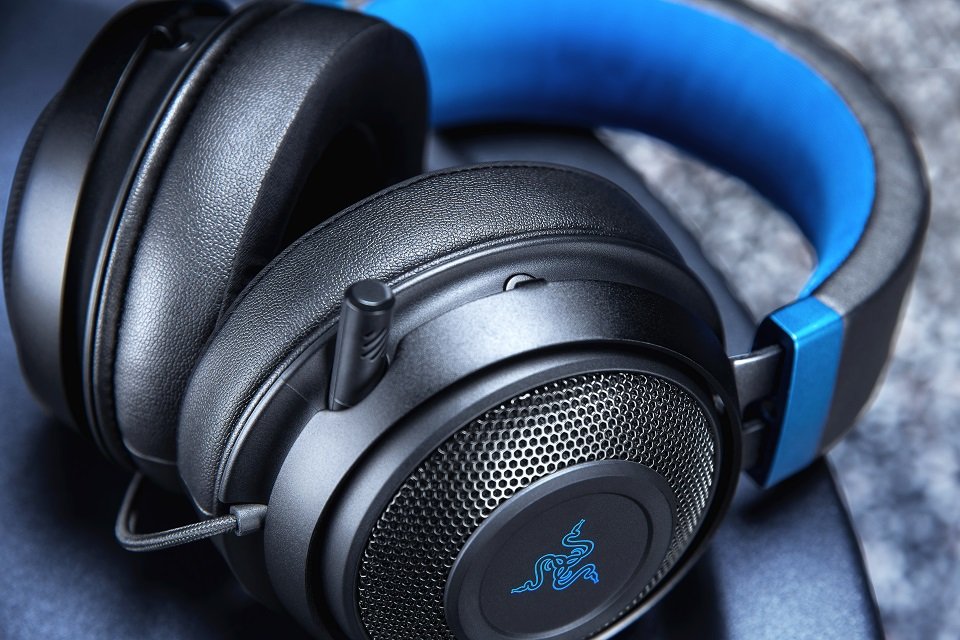 The features on the Razer Kraken X and Kraken are the kind you'd like to see on gaming headphones. For starters, they provide accurate positional audio, thanks to their surround sound system. One downside is it's available only on PCs running Windows 10 bit (sorry, console gamers). Their microphones also use a cardioid pattern to capture your voice. According to Razer, this should reduce unwanted noise by blocking sounds coming in from the back and sides. The Kraken does a better job at noise suppression. For some reason, the Kraken X doesn't do as well as expected. Both the Razer Kraken X and Kraken have built-in controls, namely a volume slider and a microphone mute button. The only difference is that the Kraken X has them on the left earcup, while the Kraken has them on the cable.
Sound Quality
The Razer Kraken X offers balanced highs and lows, while the Kraken delivers deep lows and decent highs.
True to their gaming nature, the Razer Kraken X and Kraken provide a competitive edge. The Kraken X and Kraken are equipped with custom-tuned 40mm and 50mm drivers, respectively, with a frequency response of 12Hz to 28kHz. You can hear even the faintest details with these two, such as subtle footsteps of enemies sneaking up behind you. The aforementioned positional audio also helps you pinpoint your opponents' locations. Generally, audio on the Razer Kraken X is more balanced. The highs are pretty clear, and the lows have enough depth.
Deal Finder
Razer Kraken X
The lightest Kraken headset ever is designed for all-day comfort. Featuring immersive surround sound, noise-cancelling microphone, in-headset audio controls and memory foam ear cushions.
Check Price at Amazon Check Price at Walmart
We are reader supported. When you buy through our links we may earn an affiliate commission.
Meanwhile, the Razer Kraken produces highs with clarity and punchy lows. It's better at bass-heavy audio than soundtracks with lots of treble. That said, it gets the job done and then some in playing music and TV shows and movies. That means you can switch between gaming, listening to songs, and watching videos no problem.
Comfort
Among the main selling points of the Razer Kraken X is its lightweight build.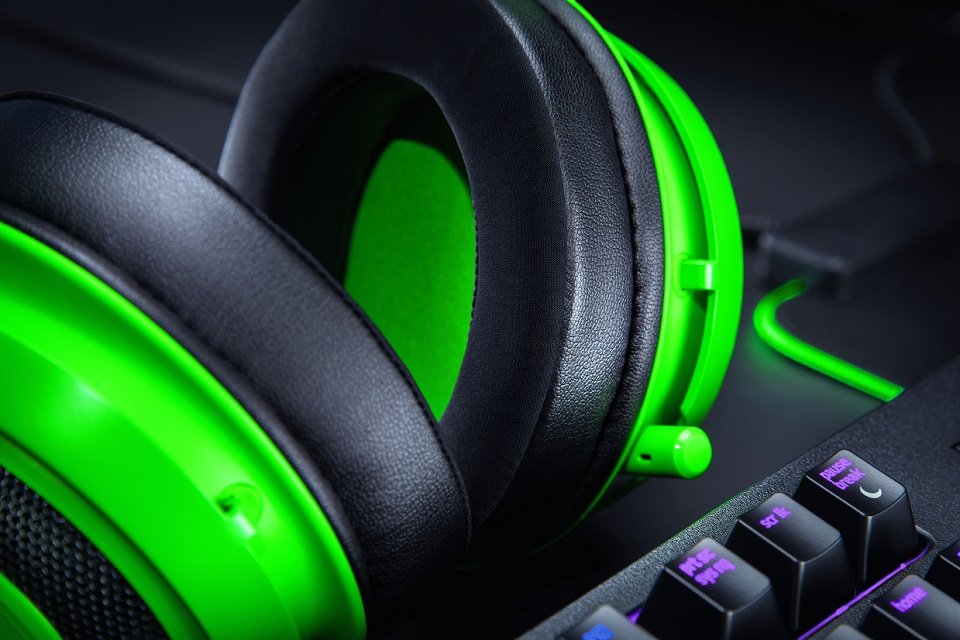 To make sure gamers can play in comfort, Razer used memory foam cushions with eyewear channels on the Kraken X and Kraken. It even took a step further with the Kraken by adding a layer of cooling gel and heat-transfer fabric that should make sweat evaporate faster. Weight plays a huge factor when it comes to comfort. Even though the Razer Kraken has better ear cushions than the Kraken X, it weighs lbs. In other words, it can get a bit uncomfortable after a while. On the other hand, the pound Kraken X is so light and comfortable that it almost feels like you're wearing nothing at all. That's just the thing for long gaming sessions.
Verdict
Both headphones have a lot to offer, but the Razer Kraken has features that are worthwhile to invest in.
Deal Finder
Razer Kraken X
The lightest Kraken headset ever is designed for all-day comfort. Featuring immersive surround sound, noise-cancelling microphone, in-headset audio controls and memory foam ear cushions.
Check Price at Amazon Check Price at Walmart
We are reader supported. When you buy through our links we may earn an affiliate commission.
Deal Finder
Razer Kraken
Get immersive game audio with the Razer Kraken, featuring cooling gel cushions for all-day comfort. Large 50mm drivers produce powerful sound, plus a retractable unidirectional mic delivers crisp audio.
Check Price at Amazon Check Price at Walmart
We are reader supported. When you buy through our links we may earn an affiliate commission.
It wasn't an easy pick, but we'll have to go with the Razer Krakenon this one. It beats the Kraken X with better cushions and in the audio and microphone departments. The retractable microphone is also a nice touch. Not to mention that it's available in more colors. Sure, the Razer Kraken Xwon't break the bank, making it a good budget option to consider. But between it and the Kraken, its only advantages are comfort and a lower price point. Still, it's living proof that you don't have to spend a lot to get a decent pair of quality gaming cans.
FAQs
📌 What is the difference between the Razer Kraken X and Kraken?
In a nutshell, the Razer Kraken has bigger drivers and more plush earcups than the Kraken X. The Kraken also comes with a retractable microphone thats not available in the Razer Kraken X. For more details, read our comparison chart above.
📌 Is the Kraken X any good? 
The Kraken X isnt the best out there, but its comfortable design and audio are great for its price.
📌 Which Razer Kraken is the best? 
We recommend the Razer Kraken Tournament edition if youre looking for something to match your gaming PC. Otherwise, the Razer Kraken are solid gaming headphones.
📌 Are Razer headsets worth it? 
The comfortable fit and audio quality of the Razer Kraken and Kraken X make them a worthwhile purchase.
Categories Gaming, HeadsetsTags Razer
Vincent Lanaria
Senior Editor, researcher and writer passionate about running, cooking, and how technology mixes with the two.
Sours: https://www.comparebeforebuying.com/razer-kraken-x-vs-kraken/
Razer Kraken () vs Razer Kraken X [Review and Comparison]
Amazon links in this article are affiliate links. As an Amazon associate I earn from qualifying purchases.
Overview and Differences

Headphone Audio Quality

Microphone Audio Quality

Comfort and Build Quality

Verdict
Overview
The Razer Kraken and Razer Kraken X are both wired headsets. They have non-detachable mm cables and come with a splitter for desktop PC use.
The Kraken has in-line controls for the headphone volume and mic mute. The Kraken X has those controls on the bottom of the left earcup.
These are both fully functional on desktop PCs and PS4, but if you have a laptop, I can't guarantee the mic will actually work unless you have both a mic and headphone port.
The mics didn't work with mine with only one port. But that's not a Razer problem - I've never had headset mics work with my laptop. For laptop users, I suggest a USB headset to make sure this isn't an issue.
Both devices come with an access code in the box to download Razer's Surround Sound app.
The Kraken X is supposed to be the budget option of these devices. The key differences between them are the headphone audio quality and build, so I'll go over both in depth.
I bought my Razer Kraken for $70 and Kraken X for $ Click the Amazon links to see their current pricing.
Razer Kraken Variations
There are a bunch of other variations of the Kraken. There's the Tournament Edition, Ultimate Edition and V3 X. I'll cover those in other articles…
Headphone Audio Quality
The Razer Kraken is easily a better sounding headset than the Kraken X. But these two have radically different sound profiles, so it's worth breaking down a bit more.
In terms of detail, the Kraken is clearer and you can pick up more sounds in music and in games, but the sound signature of these two headsets is night and day.
The Kraken X has very little bass, okay mids at best, and shrieking highs that sound distorted. It's definitely not something you'd want to be listening to for a long period of time, but I won't be too harsh on it considering how cheap it was.
The Kraken makes everything sound like it's coming from a closet. The bass is actually not very strong and not very detailed. It gets kind of deep, but you'll actually get stronger and clearer bass from something like the HyperX Cloud II or Cloud Alpha.
You can really test this out with rap music or EDM - the drums are muddy in the the Kraken.
The Kraken dips the highs and the mids really far down. So footsteps and gunshots and sounds like that you can tell they're being suppressed. You can still hear them better than the Kraken X, but the volume compared to the bass is really low.
You'll either have to have your ears adjust to this sound signature on on console, or use some free EQ software to boost the highs if you're playing on PC. The mids and highs, even when boosted with EQ, don't get close in clarity to some of the competing headsets on the market like the Cloud II or even Razer's own BlackShark V2 and V2 X.
So to summarize, The Kraken X sound isn't that high quality, but it reflects how budget it is. The Kraken is super bass heavy, but the bass isn't actually that good. Detail is mediocre. It definitely sounds like a cheap headset, but the one thing it has going for it is it's easy to listen to for a marathon session.
"Surround Sound"
Right now, Razer's surround sound app justs make things sound a bit hollow and closer. Adding a slick filter on top of a stereo sound is not gonna help you out when it comes to tracking the position of objects or enemies. Cool gimmick though if you're into that sort of thing.
Microphone Audio Quality
Here is sample audio from both mics using my desktop PC and the splitter that comes in the box of each of these headsets.
The Razer Kraken has a slightly better mic than the Kraken X. They're not too different in a blind test; they're pretty tinny and not super clear like most headset mics. So you can go with either one.
However, the Kraken gets louder with less gain required. On a lot of motherboards like mine, increasing the gain to the mic increases the noise floor. So you'll basically just hear less of that electronic feedback sound in the Kraken when they're at the same volume.
Comfort and build quality
Both the Kraken and Kraken X are made of plastic, and I find the Kraken X to be way more comfortable than the Kraken. It's lighter, not as bulky, the ear cups are softer. The fake leather also gives an excellent seal for blocking out background noise.
The Kraken isnt really snug, it's just big and bulky hovering over my head. It doesn't really fit over the ears right. It's not bad, but the Kraken X is more comfortable to me. I don't actually know the material of the Kraken's padding, but it looks a lot softer than it actually is.
The problem with the Kraken X is it's probably the least sturdy headset that I have right now. The only thing close is the Arctis 5. The Kraken X creaks when stretching it even a little, and it feels like it's going to snap in half any second.
I give the Kraken X the win in comfort, but the Kraken the win in overall build quality because of the sturdier build and better flex.
Verdict
Unfortunately, I do not actually recommend either the Razer Kraken or Kraken X. The Kraken is definitely better in almost every way, so if you can find it for about $50 or under, I think it's a pretty good budget headset.
Anything higher than that is pushing it. The Kraken X I can't recommend because the sound is pretty bad and the build is suspect.
Alternatives
BadIntent
I'm a longtime tournament competitor. I've won multiple regional championships for games such as Pokémon and Samurai Shodown. I love gaming and content creation, so I made this website to combine those passions.
Sours: https://www.streamtechreviews.com/blog/razer-kraken-vs-kraken-x
Razer Kraken vs Kraken X - Where are the differences?
Let's compare the two Razer branded gaming headsets and take a closer look at the differences between the Kraken* and Kraken X*.
What year are the headsets from?
The release year is of course important when comparing two headsets. After all, the release date has an influence on the state of the art and usually also affects the price. There is no difference in this comparison. Both gaming headsets, the Razer Kraken and the Razer Kraken X, are from the year Thus, the technical starting point is not very different.
Connection options
Let's start with the connectivity options from Razer Kraken and Razer Kraken X. Both give you the option to be wired. A wired connection reduces connection problems and interference, which is an advantage. In return, the cable can possibly interfere.
Radio offers the disadvantage that there can be interference in the verdinbung. In addition, with radio you are usually dependent on a battery, which can also go flat during use. Neither the Razer Kraken nor the Razer Kraken X can be connected wirelessly. So a wireless connection is not possible. However, often the wireless headsets also offer the additional option to connect the headset via cable.
Cable
The cable can be removed neither with the Razer Kraken, nor with the Razer Kraken X. This would be especially handy for transport or even wireless use. The Razer Kraken X* offers more in cable length with 1,5 m. With the Razer Kraken the cable has a length of 1,3 m. If a USB sound card is included, there may be additional cable.
Audio
With a driver size of 50 mm, the Razer Kraken offers more at this point. The Razer Kraken X has a driver size of 40 mm. A larger driver helps reproduce especially low frequencies better and louder. However, it is only one of several factors.
The frequency range starts at 12 Hz for both models. The end is at Razer Kraken for the Hz and at Razer Kraken X for the Hz. What is really important here is the range between 50 Hz and 10, Hz, which is covered by just about every headset nowadays.
The higher the impedance, the more power a speaker can produce. Also the sound becomes clearer. With a value of 32 Ω both models are equal here.
Both gaming headsets have the option for surround sound.
Microphone
Of course, both headsets have a microphone built in, which is also adjustable. The microphone is not detachable on either model.
Neither of them has noise suppression. To suppress keystrokes or mouse clicks for the others this is handy.
Both microphones have a frequency range which starts at 12 Hz. The microphone of the Razer Kraken ends at a frequency range of Hz. The frequency range from the microphone of the Razer Kraken X ends at Hz.
Volume control and mute
Almost every gaming headset offers the possibility of volume control and mute. So it is also in this case.
Both models offer the option of muting. The Razer Kraken is operated via Cable. With the Razer Kraken X the control runs per Auricle.
Which headset has more features?
Finally, let's take a look at the equipment. Here, some models have lighting. These two headsets don't have that, but it doesn't affect the performance negatively. After all, the illumination is just a matter of taste.
Furthermore, some headsets have freely programmable buttons, as is also known from gaming mice or keyboards. But you have to do without this for the Razer Kraken and Razer Kraken X.
Sours: https://versopo.com/en/razer-kraken-vs-razer-kraken-x
SteelSeries Arctis 1 vs Razer Kraken X vs Corsair HS45 Gaming Headsets - Which is Best for $50?
Razer Kraken V2 vs Razer Kraken X
Razer Kraken V2
Razer Kraken X
Why is Razer Kraken V2 better than Razer Kraken X?
Has a noise-canceling microphone?
10mm bigger driver unit?
50mmvs40mm
14dB/mW higher sound pressure level?
dB/mWvsdB/mW
7dBV/Pa higher microphone sensitivity?
dBV/PavsdBV/Pa
m longer cable?
2mvsm
Why is Razer Kraken X better than Razer Kraken V2?
96g lighter?
gvsg
Control panel placed on a device?
Has a tangle free cable?
Compatible with Xbox?
User reviews
Overall Rating
Razer Kraken V2
0 User reviews
Razer Kraken V2
Razer Kraken X
1 User reviews
Razer Kraken X
Design
Devices with stereo speakers deliver sound from independent channels on both left and right sides, creating a richer sound and a better experience.
Comfortable full-size form with earcups that fully enclose your ears. This model is loved for its increased sound isolation and the fact that it won't leak sound to your neighbors. It offers potential for maximum bass and loudness levels.
With a detachable cable you can use alternative cables, and if the cable is pulled it will pop out instead of breaking.
We consider a lower weight better because lighter devices are more comfortable to carry. A lower weight is also an advantage for home appliances, as it makes transportation easier, and for many other types of products.
The device is designed in a way that allows sound to go out through the back of the ear cups, which usually have vents or perforations. This design provides very natural and accurate sound.
Resistance to sweat makes it ideal for use while doing sports.
This modularity allows you to integrate the speakers into hoodies or snowboard helmets.
Sound quality
The device sits tightly in place, creating an acoustic seal which reduces background noise and prevents your music from leaking out.
The highest frequency at which device produces audio. The higher the high-frequency response, the clearer and crispier the treble.
The lowest frequency at which the device produces audio. The lower the low-frequency response, the stronger and juicier the bass.
Devices with neodymium magnets are lighter and more powerful than those which use ferrite magnets. They also have more bass and clear high notes.
The driver unit is the component that produces sound in the device. Bigger drivers are more powerful and can produce better bass.
Impedance is the device's electrical resistance to the current being pushed through it. The lower the impedance, the easier it is to get higher volume and requires less power.
Devices with a higher sound pressure level are generally louder when supplied with any given audio source.
This type of device allows you to listen at lower volume levels, causing less ear fatigue as you don't have to crank up the volume to overcome background noise. Ideal for plane rides and morning commutes.
Microphone
These microphones are designed to filter out background noise from the desired sound. Especially useful in noisy environments.
It's the 'loudness' of the sound that the microphone can pick up.
More microphones result in better sound quality and enable the device to filter out background noise.
Connectivity
A standard mm male connector is suitable for use with all MP3 players and computer sound cards.
The device can connect to Wi-Fi.
You can use your headset for in-game voice chat, private chat, audio for video chat, and in-game voice recognition using Xbox services.
Device supports fast Bluetooth pairing using NFC so it can communicate with other devices over Bluetooth. You can fastly pair devices without entering a code by simply holding one device next to the device with which it is to be paired.
Features
The device has an option to mute/unmute a conversation directly from the device.
A headset is one headphone or pair with a built-in microphone. Headsets can be used for apps that require communication i.e. Skype, games with voice chat, mobile phones, etc.
There is a control panel on the device body, so you can easily access the volume control or remote without having to interact with a cable or another device it's connected to.
There is a control panel on the cable, so you can easily operate the device without having to interact with it.
The audio signal is coded and encrypted digitally, allowing for highly secure conversations.
An accelerometer is a sensor used to measure the linear acceleration of a device. A common application is detecting when a device changes between vertical and horizontal positions.
The device offers realistic experiences with deep bass sound for gamers.
You can use your voice to control key functions of the device and you can easily access your device without pushing any button.
With voice prompts, you will automatically receive information via audio messages – for instance, you may find out that the battery is running low, and it's time to recharge the device.
Which are the best PC and gaming headsets?
Bang & Olufsen Beoplay Portal
Corsair Virtuoso RGB Wireless
Corsair Virtuoso RGB Wireless SE
Show all
This page is currently only available in English.
Sours: https://versus.com/en/razer-krakenv2-vs-razer-kraken-x
Kraken kraken x vs
Razer Kraken X review
How do you step-up your online gaming skills without sinking a lot of cash into a fancy gaming headset? Razer hopes to have cracked the cheap gaming headset code with the Razer Kraken X, a wired, no-nonsense headset that costs just $50 USD. Gamers don't get much in the way of features but the onboard controls, boom mic, and surround sound cover the necessities.
Editor's note: this Razer Kraken X review was updated on June 21, to reflect price updates.
Who is the Razer Kraken X for?
The Kraken X is an affordable gaming headset free of RGB LEDs.
The Razer Kraken X headset is made for gamers on a budget and works just as well for anyone who needs over-ears with an integrated boom mic. They're not intended to leave your gaming station and include a dedicated audio/mic splitter cable for computers with separate inputs. These are cross-platform compatible. You can use them with PC, Xbox, PlayStation, Nintendo Switch, and mobile devices.
What's it like to use the Razer Kraken X?
The headbands lightweight reinforcement makes it comfortable to wear the Kraken X.
Using the headset couldn't be easier. All you have to do is plug it in and get to playing. If your desktop has separate audio and mic inputs, you'll need to use the included splitter for full functionality. The flexible cardioid boom mic is very forgiving in terms of placement. For optimal voice quality, place the diaphragm parallel to your mouth.
The Razer Kraken X works with virtually any platform, making it a valuable contender within the gaming headset market.
Polycarbonate-ABS, a durable thermoplastic, makes up the headband and slider. This lightweight material in tandem with the hidden eyewear channels makes these comfortable with glasses. Said channels alleviate pressure at the temples. What's more, the memory foam earpads contribute to general comfort. Unfortunately, the ear pads arent user-replaceable but Razer provides a limited two-year warranty.
The cardioid boom microphone is easy to adjust.
The headphones lack in-line controls but do feature a volume dial and mute button on the left ear cup. I'd like to see a bit more resistance from the dial. That said, the mute toggle requires just the right amount of resistance and provides a satisfying click when depressed or released.
Is the Razer Kraken X good for gaming?
The volume dial and microphone mute switch are easy to reach from the left ear cup.
It's great. The 40mm dynamic drivers reproduce a natural representation of three-dimensional space, something gamers should require from any headset. This realistic perception of sound makes it easier to spatially understand where enemies are located. When playing Destiny, alien footsteps were easy to identify and I predicted which doorways potential threats emerged from.
If you want to take full advantage of the channel surround sound, you need to use a PC operating on Windows 10, bit. This is an annoying caveat; however, Razer provides a complementary download code.
How does the Razer Kraken X sound?
The headphones boost bass and low-midrange frequencies. This makes explosions more impactful and voices more audible.
While the frequency response chart appears rather odd, the headphones sound good for their price point. Bass notes receive the most emphasis—typical for gaming headsets—as this makes explosions more impactful. Vocal frequencies are boosted, making it easier to character and teammate dialogue. The broad dip from kHz isn't as dramatic as it looks, but does subject high-pitched frequencies, like harmonics, to auditory masking. This is most notable in music playback rather than gameplay, as it can be difficult to hear a chord's resonate detail.
Low frequencies like A/C units arent blocked out by the headphones.
Isolation is fine but nothing spectacular: Hot Pocket lovers will still hear the microwave running. While I played music through the headphones, the microwave's hum at least was rendered null. If you need to stay undisturbed during gameplay, find a secluded room to set up shop.
Related: How to read charts
Lows, mids, and highs
Chastity Brown's song Colorado is a great song to listen to with the Razer Kraken X. The headset's amplified bass response lends itself nicely to Brown's folksy style, stressing the drum kicks. Meanwhile, the light midrange emphasis highlights Brown's voice even more than the mix intended, which works well for the genre.
Treble reproduction, however, falls short. Tambourine shakes are difficult to hear, particularly from on. Brown's vocals and backing vocals at mask the treble frequencies. The tambourine remains audible but clarity isn't the greatest as a guitar is played at this same moment.
Is the Razer Kraken X microphone good?
The microphone amplifies the voice so its clear and audible to fellow gamers.
Yes, voices come through the Razer Kraken X microphone loud and clear. The dip from Hz is odd seeing as most vocal fundamental frequencies fall in this range. That said, real-world use demonstrates the Kraken X has a great boom mic, which is heard in the demo below.
Razer Kraken X microphone demo:
Loading poll
If you listen closely, you can hear some reverb from my voice. The microphone doesnt do a great job at mitigating ambient noise, but if youre in a quiet room it shouldnt be too noticeable. Whats more, because of the de-emphasis around Hz, my voice sounds a bit higher-pitched because the harmonics are greatly emphasized.
How does the Razer Kraken X compare to the Razer Kraken Pro V2?
The Razer Kraken Pro V2 is a mm headset, so it will work with consoles like the Switch or Playstation 4 without much issue.
Both headsets are branded with the Razer logo and follow the companys basic over-ear design. The Razer Kraken Pro V2 comes in four colors (black, green, pink, and white) while the Razer Kraken X is only available in black.
The Kraken Pro V2 headset boasts a retractable boom mic which is nifty but other than that it offers few extra features compared to the Kraken X model. The earpads and headband padding are more substantial, though, which is helpful for extended sessions.
Razer Kraken Pro V2 microphone demo:
Rather than including the onboard controls on the side of the ear cup, the controls are integrated into the braided cord. If youre between the Kraken X and Pro V2 models, youre better off with the Kraken X or jumping up to one of Razers more premium models.
Razer Kraken X vs Razer Nari Ultimate
The Nari Ultimate are bulky and heavy.
The Razer Nari Ultimate is a more premium gaming headset that has a louder design with its LED lights. One of the biggest features of the Nari Ultimate that other Razer headsets lack is Hypersense. This enables haptic feedback that forces the ear cups to vibrate along with the bass of whatever youre listening to. Its a great way to make games more engaging, but may prove annoying during music playback.
Another big difference between the Razer Nari Ultimate and Razer Kraken X: connectivity. The Kraken X is a wired-only gaming headset, while the Nari Ultimate supports a wireless connection via the USB adapter. The Nari Ultimate is compatible with PS4, Xbox, and PC when used wirelessly, and affords a meter wireless range. Alternatively, you can just use the mm cable to connect to any source with a headphone jack.
The Nari Ultimate de-emphasizes mids and highs quite a bit.
While wireless support is nice, it also means that you have to be aware of battery life: the Nari Ultimate provides 8 hours, 22 minutes of playtime before you have to recharge them. This is okay, but may not suffice for marathon gamers. Another annoying bit: the microUSB input.
Neither headset reproduces accurate audio, because both exaggerate bass notes and de-emphasize treble notes emphatically. Isolation, however, is notably better with the Nari Ultimate than it is with the Kraken X. If you want all the bells and whistles, the Razer Nari Ultimate may be worth it, but casual gamers will enjoy the quality of the Kraken X and the extra $ they save over the Nari model. At the moment you get a lot for under $35, depending on the colorway.
Should you buy the Razer Kraken X?
Razer includes an extension for computers with dedicated audio and microphone inputs.
The Razer Kraken X is a reliable budget headset that meets all the requirements of a good gaming headset. The eyewear channels are a must-have feature for anyone with glasses. If you want a straightforward pair of gaming headphones with cross-platform compatibility the Kraken X is a user-friendly option. If youre able to splurge on a similarly sized gaming headset with a slightly more neutral sound signature, look into the SteelSeries Arctis 1 Wireless.
All prices listed in USD unless otherwise specified. Prices may change over time, and vary by region. Unfortunately, we cannot list Amazon prices on the site, as they vary greatly by currency.
Read next: Best Razer gaming headsets
Sours: https://www.soundguys.com/razer-kraken-x-review/
Razer Kraken vs Kraken X [Review and Comparison]
When it comes to the Razer Kraken X, the old saying "if it 'aint broke, don't fix it" doesn't apply; Razer's been ignoring that piece of advice over the last few years with reimaginings of its best-known peripherals. We got the redesigned Razer BlackWidow keyboard earlier in , and now it's the Kraken headset's turn. Enter the X (not to mention the even more affordable Razer Kraken X Lite), the latest in a long line of quality Razer headsets.
Designed as a cheaper alternative, the budget Razer Kraken X aims to prove that you don't need to spend the earth to get good quality audio. However, does it carve out a space on our best PS4 headsets list or best Xbox One headsets guide? Although the X - and by association, the almost-identical Razer Kraken X Lite - is not perfect, this new offering is definitely worthy of the Kraken name.
Features
Essential info
Price: $ / £
Compatibility: PS4, Xbox One, Nintendo Switch, PC, mobile
Connectivity: Wired (analog mm)
Noise cancellation: None
Surround sound: (PC only)
Drivers: 40mm
Frequency response: 12Hz – 28kHz
Impedence: 32 Ω
Weight: oz (g)
Despite being at the lower end of the scale in terms of price, both the Razer Kraken X and Razer Kraken X Lite offer some cool features. At just oz (g) or oz (g) respectively, they're incredibly lightweight and promise "a near-weightless feel on your head" according to the marketing blurb. That's accompanied by memory-foam cushioning with eyewear channels, positional audio, and a built-in microphone that's flexible but permanently attached.
The crown jewel is the downloadable virtual surround-sound that's available when you're using the headset on PC, though. Simply turn on a desktop app and away you go. When combined with the best gaming mouse and the best gaming keyboard, it's a superb experience.
What's the difference between these two models, then? It comes down to onboard audio controls. The Razer Kraken X has volume control on the headset itself, while the Lite doesn't. It's as simple as that.
Design
The X and X Lite hold on to that classic Kraken design even as they smooth over a few edges. Most notably, they give the illusion of a continuous loop rather than twin bars connecting the headrest and body as per their predecessor.
While this is a sleeker look that's more evocative of non-gaming headsets, it's also somewhat plainer. Which is only appropriate, I suppose - the X range is a lot less expensive than the Kraken-proper.
However, it's worth mentioning that there's an array of colours available now so you really do get a good opportunity to pick the best colour and style to suit your setup. One of our favorites is the Mercury White edition released earlier in - it makes for a sharp and stylish alternative to the black headsets we're generally used to.
No matter which version you choose, there's less fabric at play here than on other Kraken models. Other than a pleather cushion at the top, these headrests are entirely made of plastic. The distinctive mesh effect and comfy leatherette earcups have stayed put, though.
Performance
As per every model in the Kraken line, the X and X Lite don't disappoint. They balance sharp, clear highs with rumbling lows, and the positional sound is pretty good as well. Yes, the latter's unsubtle (audio is dumped entirely onto the left or right ear the moment you turn away, for instance) but it's not bad for an affordable headset. If you have the standard Kraken X, it's easy to fiddle with the volume and/or activate the mute button via on-board controls as well.
The issue is that microphone. A flexible cardioid affair, it's powerful (almost too powerful, according to those I tested it with - they could hear everything in the room around me despite claims of noise-suppression) yet isn't detachable. While that's hardly the end of the world, it's a nuisance nonetheless because it limits your options. Using the X to play music on your morning commute would look odd, for instance.
Not that you'd want to. The X's plastic seems easily scuffed, and the leatherette gets a bit sweaty in use.
However, both the X and Lite are comfortable. Like, really comfortable. I could sit with these on for hours, and you'll want to if you're using either on PC. Its virtual surround sound app transforms your experience for the better. Although the X was good before, now it's on another level. Alongside richer audio and a greater depth of sound, the surround is more subtle and immersive as a result. I just wish this feature was available for consoles.
Overall - should you buy it?
Are the Kraken X and Kraken X Lite headsets worth it? Generally speaking, yes - especially if you'll be using them on PC. While there's an argument to be made for saving up and grabbing the superior Kraken Tournament Edition instead, these are still some of the best PC headsets for gaming we've gotten our hands on. There's a lot to like here, and you can be guaranteed a sense of quality you won't always find in other gaming headsets.
For more Razer gear and advice, check out our guides to the best Razer headsets, Razer streaming gear, and Razer laptops.
Razer Kraken X
An affordable addition to the Kraken line that falters due to its non-detachable mic and flies with superb surround sound on PC.
More info
| | |
| --- | --- |
| Available platforms | Xbox One, PS4, PC |
Less
As one of the site's Hardware Editors, you'll find my grubby paws on everything from board game reviews to Lego buying guides. I've been writing about games in one form or another for almost a decade (with bylines ranging from Metro.co.uk and PC Gamer to TechRadar), and have worked at GamesRadar+ since I can normally be found cackling over some evil plan I've cooked up for my group's next Dungeons & Dragons campaign.
Sours: https://www.gamesradar.com/razer-kraken-x-review/
Now discussing:
Irishka realized that her parents, telling her about high morality and morality, were in fact cunning. It all seemed that long before marriage her mother had already slept with her father. This fact and a feeling of some degree of betrayal and deception, Irishka burst into tears.
Sergey was not ready for such.
1586
1587
1588
1589
1590