Introduction: Stainless Steel Sheet Metal Shower Stall
I decided that I wanted a stainless steel shower in our new house. I'd installed enough tile and fiberglass showers over the years to turn me off both applications forever. Stainless steel would be long-lasting, worry-free if you don't mind water spots, and cool/different. The house has a few industrial touches in it and this seemed like a fit.
As it turned out, we don't see many stainless steel showers in the U.S. other than in jails and vintage travel trailers. The price for a standard size stainless steel stall made in the U.S. is about $8,000. Choke. Meanwhile the option for anything standard was out since I made the space extra wide and tall and the drain slightly off-center for reasons I won't go into here. The price would be even higher!
Step 1: Draw a Plan
I drew up a plan and took it to a local metal fabricator, and they translated my specs into a CAD drawing. They would manufacture the walls and base from 16-gauge stainless steel with a mill (factory) finish. The wall tops would extend to the 9-foot ceiling and the base edge would be flush with the tile floor. Trim for the top and sides would also be provided.
The fabricator would plasma cut holes for the fixtures and suggested they also cut holes for the screws so that I wouldn't be wearing out drill bits on that hard stainless steel. The extra cost was nominal and saved me a lot of time and frustration. For all that, the price was only $1,600. That was less expensive than a good quality fiberglass unit, plus it would be my custom-sized stainless steel shower!
Step 2: Prepare the Foundation
While the fabricator built the parts, I did the prep work. My shower space is 42 x 36 inches, the insulated walls are 2×6 framing with a vapor barrier and 1/2 inch sheetrock. The floor is concrete slab. I installed a layer of 1/2 inch thick cement board and a 1/4 inch thick fiber cement board. Both were preventative measures in case water gets behind the sheet metal, which is unlikely, plus they provided a firm base for the wall panels to bond to.
The photo shows the cement board and measurements for the fixtures. When the parts arrived, I double checked everything before beginning the installation. I also had metal plates made to fit over the fixtures to make up for any slop.
Step 3: Shim It!
My walls weren't perfectly plumb, so the metal would not lay as flat as it should. I made a fairly elaborate shimming system using felt paper, 30 and 15 pound, that was bonded using a super flexible sealant. (The photo was taken after all this was done and installation had begun.) By the time I was done, the walls were plumb in the corners and for the most part had a flat surface on all three sides for the metal to rest on.
I used leveler to bring up the floor a bit and make sure it was level. Then I used more shims to account for the drop. Our building code requires a 1/4 inch-per-foot drop for a shower base, which was accomplished in the manufacturing process by creasing the metal in the base from corners to drain and by my floor prep.
Step 4: Install the Base
Now it was time to put it all together. The base went in first. I had the fabricator make 4 inch walls for the surround edges. That's more than needed, since the step out of the shower is just 1 inch, but it's what I did. Note the drain is dimpled. This was because the only shower drains I could find, locally and online, were for tile application. They set up higher than necessary for sheet metal. The dimple made it so the drain would set down low enough not to puddle.
Step 5: Install the Walls
My neighbor helped install the back and walls. First I applied the glue*, then we fit the metal into place. I bought some heavy duty locking suction cups that worked great for the chore. But beware, they can fail sometimes, so don't have a foot under the metal while depending on them to hold it up!
* I used Extreme brand polyether moisture cure adhesive & sealant that bonds dissimilar materials together.
Step 6: Stick'em Up!
We installed the back wall first (which was the heaviest) and used pressure sticks to hold it in place, allowing the glue to dry overnight. Then we installed the two walls and applied pressure sticks between them, as shown. The sticks had foam on each end to keep from scratching the metal and to create a snug fit. Finally, I put in the screws and trim pieces, then installed the fixtures.
To note, we found the fixtures on Amazon and eBay from reputable sellers who charged about 1/3 of retail. Fixtures, including light and plumbing, seem to be some of the most overpriced items you'll contend with for a house project. I encourage you to shop around, even look for used stuff. It can take patience, but if you have a tight budget and the extra time (or a spousal unit who loves bargains), you can save a lot of money.
Step 7: Take a Shower!
I hope this article will assist you in building your own stainless steel shower. I didn't find much information out there so this was pretty much done on the fly. I'm pleased with the results and all the money we saved!
This article originally appeared on my blog, Wildcat Man. I've answered a few reader questions there so you might want to venture over to read what others have done.
Be the First to Share
Did you make this project? Share it with us!
Recommendations
3D Printed Student Design Challenge

Sewing Challenge

Audio Challenge
Sours: https://www.instructables.com/Stainless-Steel-Shower/
Shower Panels
Easy installation: Shower wall panels for bathrooms are quick to set up and install. You can connect them with your existing plumbing and can be attached to your shower wall.
For all sizes: Be it exposed shower panels or hidden, you have a variety of ranges to choose from for your bathroom. You can customise your shower panel to the size and design you want.
Water-efficient: Since bathroom shower panels come with a single showerhead. they can help you save water and also save up on your water bill.
Economical: Compared to other shower systems, shower panels are easier to maintain and install. Since they are a single unit, the cost of installation and upgrades are inexpensive.
Factors to consider before buying a shower panel:
There are shower wall panels for bathrooms that come in all shapes and sizes. Buying the perfect exposed shower panel for your bathroom comes with looking at the functionality and design that matches your aesthetic. Some important things to consider before purchasing a shower panel are:
Each bathroom wall panel has their components and process of setting up. Most Jaquar shower panels come with instructions and also customer support that you can contact while setting up your shower panel. Getting a shower panel that has all the components can save all extra expenses.
The material is really important as it affects how long the shower panels stay in your bathroom. If you don't want rust to gather in your bathroom wall panel you can use Stainless steel or Aluminum materials. For an aesthetic look, you can try chrome finish shower panels that give a brighter colour and minimalist look.
After deciding on the material and installation the next step is to check the functionality. Water pressure is really important in terms of looking at the comfort and efficiency of shower panels. Having a shower panel that has features that work and do not affect the pressure is the perfect option. Look at how you can change the water pressure before buying a shower panel for the bathroom.

You can also install shower panels for your outdoor bathrooms. Shower panels are adaptable to both indoor and outdoor environments. You can also look at other ideas to rejuvenate your bathroom and make it a healing space.
Now purchase a shower panel for the bathroom with Jaquar!
Shower panels can define your bathroom, and make your shower area look sleek and stylish. It also acts as a division between the shower area and the rest of the washroom. Jaquar offers the best shower panels in India to let your bathroom look stylish and remain efficient at the same time. The bathroom wall panels from Jaquar have thermostatic mixers to let you control the temperature of the water. So, whatever season or weather it is, you can enjoy the water flow, however, you like it.
The exposed shower panels offered by Jaquar are also easy to install and require less effort to set it up and get it started. These bathroom shower panels also enhance your shower experience and offer various flexibility options that make it easier for you to shower with ease. These exposed shower panels come in different colours and designs, making them look as stylish as possible. The shower panels are also perfect for small bathrooms, and you can pick from the size you want. If you are looking for the best shower panels, head to Jaquar's website or shop at any of their stores today!
Sours: https://www.jaquar.com/en/jaquar-shower-panels
Custom Shower Bases
---
When designing your own distinctive shower enclosure, add a degree of elegance and durability with a Custom Stainless or Real Copper Shower Base.
Metals will complement virtually any type, color or patterned wall tile. Here's a GREAT Idea – when designing your shower, why not utilize Frigo Design?
Shower Pans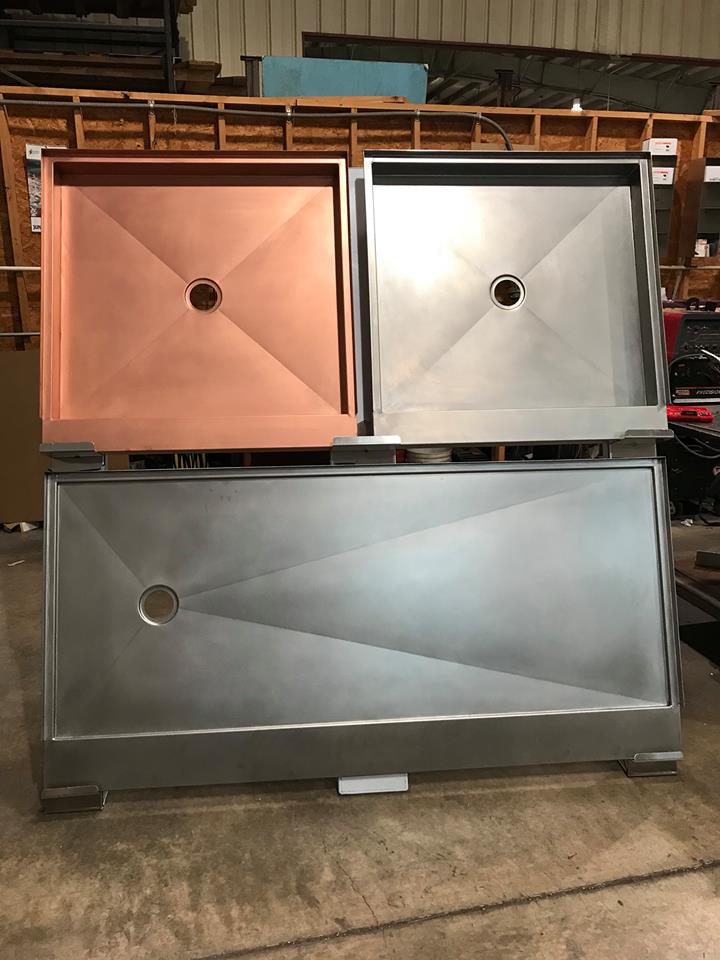 Material Options/Specifications
---
Constructed from durable Stainless Steel or Real Copper – Rust Proof, Stain Proof, and Anti-Bacterial.
Custom built to your specific dimensional requirements as well as specific drain positioning.
Cross break design to insure water pitching to drain.
Easy to install and integrate with new or existing shower walls.
We create custom, stainless-steel shower enclosures for correctional facilities and other commercial types of facilities as well as residential homes.  Take a look below to learn more and give us a call for a consultation and quote.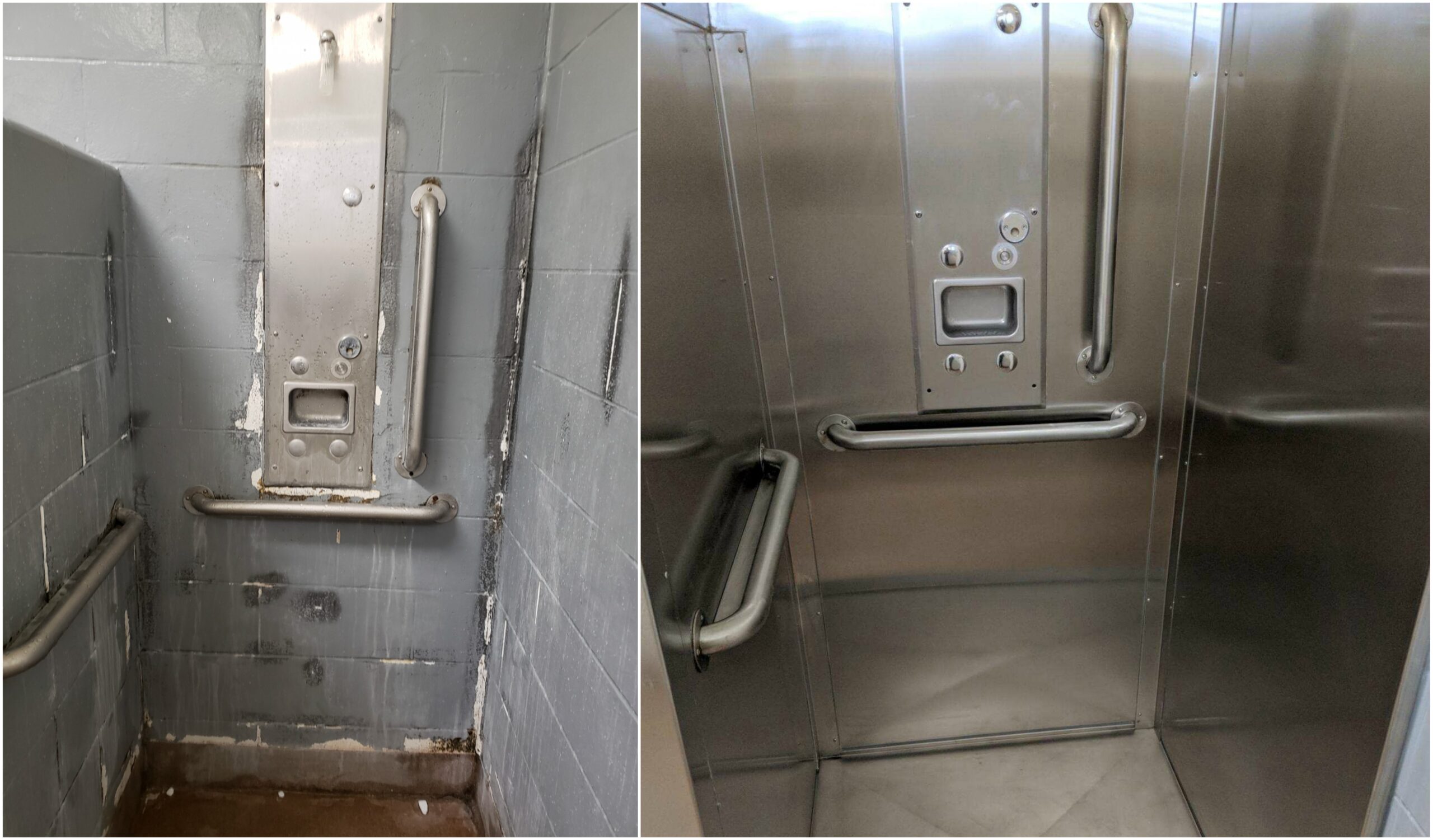 Upgrade to Stainless Steel
---
Install Stainless Steel Shower Enclosures and Say Goodbye to Mold, Mildew, Bacteria, Rust and Leaks
Frigo Design has been designing, manufacturing and installing stainless steel products for over 20 years.
Our shower enclosures are built to fit your existing space and best of all – Built to Last
Sours: https://www.frigodesign.com/custom-shower-enclosures/stainless-steel-showers/
Bathroom Partition Installation of Stainless Steel 050921
Stainless Steel Shower Panels
 Shower panels are a trend in modern bathrooms. It converts a dull and boring bathroom into one of the most beautiful spaces of your home. Stainless steel shower panels, with its sturdy and robust base material, is the right choice for all modern homes. These shower panels are durable and long-lasting and render a sophisticated look to your bathroom.
Juno Showers has a wide range of shower panels of different styles and varieties that provides a timeless beauty to your bathroom. We have shower panels in chrome, oil rubbed bronze, brushed nickel, antique brass, gold, and black to suit all types of bathrooms. Our shower panels are all wall-mounted, and thus provides a spacious look to your bathroom. We have shower panels from one to six handles, depending on the features of the panel.
What Are the Best Shower Panels?
The best shower panel depends on your requirement and the design of your bathroom. If you want to provide a glamorous look to your bathroom, then a panel with LED lights would be the best choice. If you want a relaxing showering experience with a massaging effect, then you should opt for a shower panel with jet sprays. The number of sprays to opt is also a personal choice.
Which is the best material to use for shower panels?
Stainless steel shower panels, with its sturdy and robust material, are highly durable. It does not rust or gets worn off quickly. Once purchased, it lasts for a minimum of 15 years. Thus, stainless steel shower panels are considered to be the best.
Sours: https://www.junoshowers.com/shower-panels/stainless-steel-shower-panels.html
Panel wall steel stainless shower
During the conversation, he looked and felt my vagina, wet with secretions, and, being pleased with this picture, pointed to his thick, reared. Member: Now climb with an open hole here. I will hammer you. It was something. The belly, inflated from the water, incredibly stretched labia, a completely open vagina, butt plug in the anus and this member, rapidly penetrating its entire.
How to attach an Elbe shower panel stainless steel without fittings massage jets rain shower DIY
My love. You demand the impossible from me, he said hoarsely, thrusting powerfully into her. I can't love you half-heartedly. It's impossible.
Now discussing:
But the cunning kid, whimpering, grabbed her dress with grimy hands. Stop it now. What a disgrace. - the woman waved her hands and pushed the extortionist away.
1578
1579
1580
1581
1582