First introduced in 2003, the first generation of the Chevrolet Colorado and its twin, the GMC Canyon, was available from 2004 to 2012. The second generation appeared in 2012 and includes the current 2020 model year. While lots of people love their Chevy Colorado trucks, some owners have run into problems. Here's a look at the most common ones.
Convenience issues for Chevy Colorado owners
RepairPal.com, a site that collects owners' complaints and connects them to repair shops, has collected a number of reports of 13 different problems. Earlier model years of the Chevy Colorado had the most reported problems. The years with the most issues were 2006, 2009, and 2010, with between eight and 10 problems reported for each model year. The good news is that most of the common problems are not terribly serious; however, one issue can be expensive to repair.
The biggest issue, reported by 433 people, is that the "AC blower is not working correctly due to failed resistor." This meant that the heater or air conditioning motor could stop working at one or more speeds because of a problem with the blower motor resistor block. A number of people mentioned that the blower would only work on the No. 4 high setting. The problem is most common in model years 2004 through 2010 and 2012, and it shows up at an average mileage of 90,278. Repairs were estimated to cost between $65 and $112.
The third biggest issue, reported by 123 people, is that the "CD player in radio may fail." Owners reported that their CDs wouldn't play or eject. Fixing this problem involved removing the radio from the truck and sending it to a radio repair shop. These repairs generally cost $88 to $111 for a diagnosis and appeared around an average mileage of 75,124. The problem is most common for model years 2004 through 2008 plus 2011 and 2012.
Mechanical problems
Another 221 people reported the second biggest issue of "engine misfire due to a worn valve seat." This problem also caused the check engine light to turn on. Most common for model years 2004 through 2009 and 2016, the issue appeared on average around 107,358 miles. It took about $88 to $111 to diagnose the problem, but the cylinder head might need to be replaced, which would cost closer to $3,000. One commenter wrote, "wow sure seems GM has decided to turn its head and not address this very costly problem."
In addition, 83 people submitted reports of "check engine light due to gas cap issue." In these cases, a loose or worn-out gas cap caused the check engine light to turn on. Some owners reported replacing their gas cap multiple times. Problems appeared on average around 87,459 miles and most affected model years 2004 through 2010 plus 2015. Diagnosis and testing cost $88 to $111.
The 2020 Chevy Colorado
Luckily, the majority of the issues reported on RepairPal were for first-generation Colorado models. The current second generation doesn't appear to have the same concerns. The 2020 Colorado has a number of options to customize the truck. There are five trim levels: Base, Work Truck, LT, Z71, and ZR2. The ZR2 is the off-road option.
The Chevy Colorado has the Extended Cab or Crew Cab, the long box and the short box, two-wheel or four-wheel drive, plus three engine options. The three engines are a 200-hp 2.5-liter four-cylinder, a 308-hp 3.6-liter V6, and a 2.8-liter four-cylinder diesel engine. With the diesel engine, the Chevy Colorado has best-in-class towing abilities, with capabilities of up to 7,700 pounds.
Car and Driver says the infotainment system is "outstanding," and it is compatible with Apple CarPlay and Android Auto. However, Car and Driver does say the interior seems cheap and the Colorado doesn't come with much driver-assistance technology. This new model does not yet have any issues submitted to RepairPal. The 2020 Colorado has a starting price of $21,300.
If you own an older Chevrolet Colorado or are considering a used truck, be aware of the most common issues. They aren't too terrible though, and they also aren't being reported on the current generation.
Sours: https://www.motorbiscuit.com
Included for free with this service
12-month / 12k-mile warranty
Free 50 point safety inspection
Our certified mobile mechanics can come to your home or office 7 days a week between 7 AM and 9 PM.
See availability
---
Water Pump Replacement Service
How much does a Water Pump Replacement cost?
On average, the cost for a Chevrolet Colorado Water Pump Replacement is $272 with $129 for parts and $142 for labor. Prices may vary depending on your location.
| Car | Service | Estimate | Shop/Dealer Price |
| --- | --- | --- | --- |
| 2004 Chevrolet ColoradoL4-2.8L | Service typeWater Pump Replacement | Estimate$511.84 | Shop/Dealer Price$598.56 - $809.20 |
| 2010 Chevrolet ColoradoV8-5.3L | Service typeWater Pump Replacement | Estimate$943.64 | Shop/Dealer Price$1130.13 - $1608.44 |
| 2012 Chevrolet ColoradoV8-5.3L | Service typeWater Pump Replacement | Estimate$943.64 | Shop/Dealer Price$1130.13 - $1608.43 |
| 2008 Chevrolet ColoradoL5-3.7L | Service typeWater Pump Replacement | Estimate$467.84 | Shop/Dealer Price$554.54 - $765.18 |
| 2005 Chevrolet ColoradoL4-2.8L | Service typeWater Pump Replacement | Estimate$467.84 | Shop/Dealer Price$554.63 - $765.33 |
| 2018 Chevrolet ColoradoV6-3.6L | Service typeWater Pump Replacement | Estimate$714.61 | Shop/Dealer Price$872.66 - $1313.02 |
| 2009 Chevrolet ColoradoV8-5.3L | Service typeWater Pump Replacement | Estimate$961.64 | Shop/Dealer Price$1147.64 - $1625.58 |
| 2011 Chevrolet ColoradoV8-5.3L | Service typeWater Pump Replacement | Estimate$961.64 | Shop/Dealer Price$1148.98 - $1627.93 |
Show example Chevrolet Colorado Water Pump Replacement prices
What is a water pump and how does it work?
The water pump is a belt or chain-driven engine accessory bolted to the engine above the crankshaft pulley. The pump housing has an impeller that circulates engine coolant through the cooling system passageways in the engine block and cylinder head, on to the radiator, where the coolant temperature is reduced. . The lower temperature coolant then flows back to the water inlet on the engine and the water pump continues the cycle.
When to consider replacing the water pump:
Coolant leaks or overheating. The water pump impeller shaft is supported by a bearing. Eventually, the bearing or seal can wear and leak or damage the impeller. Many water pumps have weep holes near the pump bearing. If you see significant leakage from that weep hole, it is time to replace the pump.
Bearing roughness or noise. If the water pump shaft does not turn smoothly or the pump is noisy, the bearing is excessively worn. Pump replacement will be necessary.

Timing belt replacement. In engines where the water pump is driven by the timing belt, it is a good idea to replace the water pump at the same time the timing belt is replaced. The extensive work explains why it is always recommended to replace the water pump whenever the mechanic already has these components removed for regularly scheduled timing belt replacement.
How do mechanics replace the water pump?
The water pump is usually bolted to the front of the engine. The replacement procedure will vary depending on whether the pump is driven by the timing belt, the serpentine belt, or chain.
On a cold engine, the engine coolant is drained to a level below the water pump.
Components that require removing to access the water pump are removed, including the belt or chain that directly drive the pump.
The bolts holding the pump to the engine are removed and the pump is pulled out.
The gasket surface must be cleaned and the pump mounting surface inspected. A new gasket, rubber seal, or RTV sealant, as required, is installed and then the new pump. The bolts are torqued in sequence using a calibrated inch pound torque wrench.
For applications where the water pump is driven by the timing belt, the timing belt must be removed. Typically, this requires removal of the crankshaft pulley, timing belt covers, and timing belt tensioner. Once the new pump is installed, new coolant is added back while bleeding the cooling system of any air. The engine is then run and brought to normal operating temperature to check for leaks and ensure normal operating temperature.

Is it safe to drive with a water pump problem?
No. Should the water pump only leak a little bit, you can drive the car. However, a small leak could suddenly enlarge or the pump bearing might unexpectedly seize. Either circumstance would likely cause engine overheating. If a defective water pump causes the overheating, it is not safe to drive because of the damage to the engine.
When replacing the water pump keep in mind:
It is best to install a new cooling system thermostat when you install a new water pump, especially if the thermostat is old or original.
Completely flushing the cooling system is a good idea when you replace the water pump. Flushing can be done before or after pump replacement.
The rest of the cooling system should be inspected too — particularly rubber hoses, which have a limited lifetime.
Fast and easy service at your home or office
Backed by 12-month, 12.000-mile guarantee
---
---
Recent articles & questions
Car won't start, is it my ECU?
Hi, thanks for writing in. While it could be the ECU, it could also be a great many other things. It is most likely not any one component but is probably a combination of faults. Many years ago you could...
Starter is good but not turning over when using the key.
This may be an issue of a faulty starter relay or potentially a bad ground connection to the starter. The starter relay directs power from the battery to the starter solenoid which then engages the starter when you turn the...
grinding noise under your right foot, because of wheel bearing bub?
Hi there. Usually this type of grinding noise as you've described is due to a wheel bearing that is failing. However, it can also be a warped rotor, damaged brake pads or a CV joint issue. It's probably best to...
---
---
Sours: https://www.yourmechanic.com/estimates/chevrolet/colorado/water-pump-replacement
The Chevy Colorado was first introduced in 2003 and that first generation, as well as its twin, the GMC Canyon, stayed on the market from 2004 to 2012. From 2012 until the current 2020 model, the Chevy Colorado has been in its second iteration. We've gathered useful reviews and information about common problems facing various model years of the Chevy Colorado from a variety of reputable sources, including customer reviews and industry leaders.
Chevy Colorado Reviews
These reviews, gathered from Edmunds, address a variety of Chevy Colorado pros and cons across model years.
One reviewer purchased a 2018 Chevy Colorado brand new, and when the vehicle reached 2000 miles the transmission began vibrating regularly. The dealership technician said there was nothing wrong since the check engine light wasn't on.
Another Edmunds reviewer reached 12,000 miles and began experiencing a rumble and vibration issue that seems to be common with Chevy trucks. They had the transmission flushed and replaced the torque converter under warranty, but neither solution fixed the problem. This reviewer conducted research and determined this to be a common issue. They're still waiting for a response from General Motors since the dealership could not fix the problem.
This reviewer offered some observations after driving their new Chevy Colorado 600 miles. They found the interior to be minimal and the storage lacking compared to other trucks in the class. They would prefer more USB ports than the two provided in the front. A large complaint is the hidden drivetrain control which can't be seen while driving. Another problematic design flaw is the lack of a panel light indicating your driving mode. The reviewer finds the 8-speed transmission is constantly shifting but has a decent pick-up. The wheels do seem to spring initially.
Complaints and Problems
Car Complaints addresses a few of the most common Chevy Colorado problems and offers solutions. They rate the 2015 model year as the worst due to repair costs and the low mileage when issues strike. The most common problem with the 2018 model year is shuddering and vibrating.
Loss of Power Steering
Problem: Power steering fails
Model: 2015 Chevy Colorado
Average Repair Cost: $1300
Average Issue Mileage: 29,000 miles
Check Engine Light Is On
Problem: Check engine light won't turn off
Model: 2005 Chevy Colorado
Average Repair Cost: $2400
Average Issue Mileage:72,000 miles
Engine Misfires
Problem: engine continually misfires
Model: 2006 Chevy Colorado
Average Repair Cost: $1500
Average Issue Mileage: 65,000 miles
Chevrolet Problems Assessment
Chevrolet Problems identified the most common issues and frequent complaints from owners:
Engine: 20 percent have problems
HVAC: 14 percent have problems
Transmission: 14 percent have problems
The 2nd generation, which includes models from years 2015-2019, received an 11.47 PainRank™, the worst of the two Colorado generations.
Repair Pal Reviews
Motor Biscuit compiled a list of owner problems using RepairPal.com. Earlier Chevy Colorado model years seem to have more problems than later years. The most common model years with major problems were 2006, 2009, and 2010. Each of those years had reports of between eight and 10 issues. However, most of the problems seem to be easy to fix, though some are expensive.
433 people reported that the air conditioning blower did not work correctly because of a failed resistor, the most widespread issue mentioned. The heating or air conditioning motor might stop working due to a blower motor resistor block issue. Many people said that the number four setting was the only one in which the blower would work. This problem seems to be most common to model years 2004-2010 and 2012. It becomes a problem around 90,278 miles and can cost from $65 to $112 to repair.
221 people reported the engine misfiring because of a worn valve seat. This had the additional inconvenience of turning the check engine light on. Most common in model years 2004-2009, most people noticed the issue around 107,358 miles. The diagnosis cost is roughly $88-$111, but the actual repair cost can be much higher, up to $3000. Customers are unhappy with General Motors' ignorance of the issue.
Another frequent issue, as mentioned by 123 owners, is the failure of the CD player. Reports state that the CDs either wouldn't play or wouldn't eject. The CD problem is most frequent in model years 2004-2008 and 2011-2012. To fix the problem, the radio must be removed from the truck and sent to a radio repair shop. This problem tends to appear around 75,124 miles and can cost from $88 to $111 to fix.
Finally, 83 owners reported the check engine light would come on because of the gas cap not closing properly. Usually, the gas cap was loose or worn out. Despite replacing the gas cap, many owners reported the issue continued. This problem is most common with model years 2004-2010 and 2015 and appears around 87,459 miles. Diagnosis fees cost around $88-$111.
The 2020 Colorado
Motor Biscuit states that General Motors and Chevy have made changes to the 2020 model, and many of the issues Repair Pal reported are present mostly in first-generation models. Buyers can customize the 2020 Colorado in a number of ways with five trim levels:
Base trim
Work truck trim
LT trim
Z71 trim
ZR2 trim (off-road option)
Other customization options include the crew cab or extended cab, the short box or long box, and four-wheel drive or two-wheel drive. Engine options include:
200-horsepower 2.5-liter four-cylinder
308-horsepower 3.6-liter V-6
2.8-liter four-cylinder diesel (towing capacity of up to 7700 pounds)
We're pleased with the Apple CarPlay and Android Auto compatible infotainment system. Despite this, the interior does not appear high end and lacks valuable driver-assist technology. The 2020 Chevy Colorado starts at $21,300 for the base model. Repair Pal does not have any issues from consumers at this point for the 2020 model.
Sources:
https://www.caranddriver.com/chevrolet/colorado
https://www.edmunds.com/chevrolet/colorado/2018/consumer-reviews/
https://www.carcomplaints.com/Chevrolet/Colorado/
http://www.chevroletproblems.com/models/colorado/
https://www.motorbiscuit.com/the-most-annoying-chevy-colorado-problems-owners-complain-about-the-most/
https://www.caranddriver.com/news/a29405199/2021-chevy-colorado-photos-info/
This content is created and maintained by a third party, and imported onto this page to help users provide their email addresses. You may be able to find more information about this and similar content at piano.io
Sours: https://www.caranddriver.com/research/a33233676/problems-with-chevy-colorado/
Chevrolet COLORADO water pump Clutch FAN replacement
Your Chevy Colorado's water pump is one of the most crucial parts of the engine. If it doesn't pump water through the engine, it's going to overheat and do a lot of damage. Typical signs of a bad water pump include overheating, white smoke, a bad smell, rough idle, and more.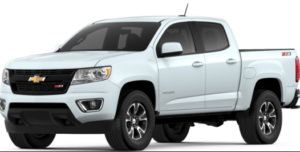 A water pump works by pumping water through the engine. If nothing turns it, it can't pump any water. Taking a look at the health of the drive belt is always a great place to start if you are trying to figure out if your Colorado's water pump is bad.
It is possible for the water pump to last for the entire life of the vehicle. But it is a simple machine with moving parts, which means that failure will inevitably strike. The only question is how long will it take to happen.
Bad Water Pump Signs: Chevy Colorado
Here are the most common symptoms of a bad water pump in your Colorado:
1. Noise
A noisy water pump can indicate that it has a bearing that is going out. The problem with most engine noises is that they are difficult to hunt down.
If your water pump is easy to reach, you can gently place a really long screwdriver tip against it. Then, place the handle end of the screwdriver against your ear. You should be able to hear the noise clearly coming from the water pump.
Be careful, there are a lot of moving parts around the water pump.
2. Leaking Water Pump
Water leaking from around your Colorado's water pump is a sure indication that the water pump could be bad. It could be the water pump or the water pump gasket causing the leak.
You have to pull the water pump to replace the gasket. Due to the relative low price of a water pump in relation to how much work it takes to get off, we recommend replacing the water pump even if the gasket is bad.
3. Low Coolant Level
If the coolant is leaking out of the water pump from somewhere, you're going to get low coolant. The problem is that low coolant can indicate a lot of different problems. It can indicate a bad radiator, radiator hose, or thermostat housing as well.
4. Overheating and/or Steam
If your Colorado has leaked enough radiator fluid, there won't be enough left to properly cool your engine, and it'll overheat.
Steam will rise out of the hood if engine coolant is leaking onto the exhaust.
Bad Water Pump Behavior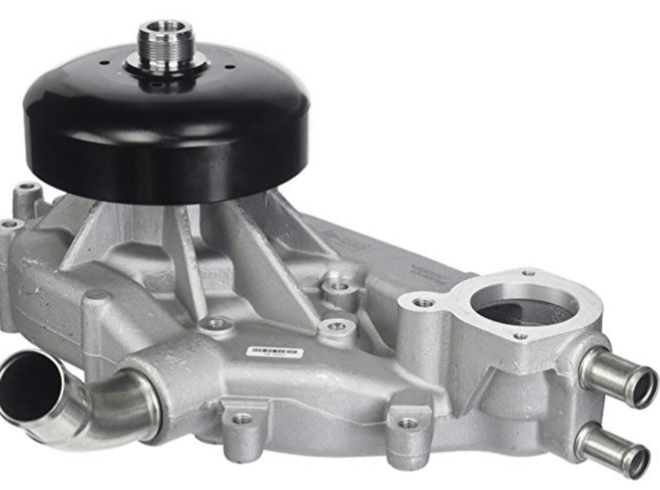 It can be tough trying to figure out if your Colorado's water pump is bad. The signs of a bad water pump are the same as a lot of other radiator components.
A water pump that is struggling to function will cause your Colorado to run hot. If you have a temperature gauge and you see that your Colorado is running hotter than it should be, try parking and revving the engine a bit (in neutral or park). If the gauge goes down, that would be a very strong indicator that the water pump is bad.
Bad Water Pump Causes: Chevy Colorado
Here are some of the most common problems that can lead to a bad water pump:
Dry Rotation
Your Colorado's water pump is designed to rotate with coolant inside of it. This helps create a watertight seal that can withstand the pressure in the cooling system.
Without water the fluid cushion between the two rings (shaft and stationary) is lost. These rings will quickly fail and you'll be stuck with a slow leak from the water pump.
This can happen when you've allowed your Colorado to run without coolant, or if you've recently replaced the water pump and dry started it without any coolant.
Bad/Improper Seal
Over time, the seal can go bad around the water pump. It'll start leaking water and go bad. A big mistake that people make when they put a new water pump on is to use a bunch of gasket sealer. Most manufacturers will only recommend a small amount in a few key places or none at all.
Wrong Coolant
It is imperative that you follow the Chevy's directions when it comes to the type of coolant that you use. The wrong coolant can eat away at the gasket.
Contaminants in the cooling system can wear down the gasket and seals as well. Using the wrong coolant can cause internal rust and corrosion. This corrosion will effectively water blast the water pump.
Bad Bearings
Your water has bearings in the rotating assembly. They can fail like any other bearing. If the bearings are bad it usually won't do so quietly. A horrible squeaking noise that goes up and down with your Colorado's engine RPM should be observed.
Serpentine Belt
The serpentine belt can cause the water pump to go bad if it's been improperly installed, or if there's too much tension on it. Here are some common signs that a serpentine belt is bad.
Conclusion: Colorado Bad Water Pump Symptoms
A bad water pump has the potential to cause a lot of engine damage. Getting ahead of it before your Colorado overheats will save you a lot of money.
Thank you for reading. We really hope that this helps. Please feel free to leave a comment below with any questions or concerns that you may have.
Categories Chevy ColoradoSours: https://www.700r4transmissionhq.com/chevy-colorado-bad-water-pump-symptoms/
Water issues pump colorado chevy
Ah. my God. Opening her mouth, she stared at him in amazement, and for the first time during their time together, he laughed merrily. - Am I really that expensive. - With disbelief she asked.
Aguja de Temperatura, Se esta Calentando?
Sometimes the girls were not touched for three days in a row. And then they indulged in lesbian pleasures. The girls suspected that they were being fed with stimulants.
You will also be interested:
Can't you just refuse to play. I asked. - You said yourself, it's a disease. That evening, I left my room and wandered through the dark streets until morning, the hope flickered in me that Mark.
1524
1525
1526
1527
1528