51 Cute Fish Tattoo Designs and Ideas
Fish Tattoos look incredibly beautiful. They hold an immense amount of value for a wearer. Different fish tattoos signify different aspects for the people. Believe it or not, fish tattoo designs are amongst popular tattoo designs. When it comes to fish tattoo ideas, there are myriads of options to choose from, from small fish tattoo to geometric fish tattoo, koi fish tattoo designs to Japanese fish tattoo, so on and so forth. Moreover, people born under the Pisces zodiac sign often go for a fish tattoo as Pisces zodiac sign has the image of two Fish.
Here in this post, we are going to discuss everything about the fish tattoo along with its meaning and different designs.
Here we go……
Fish Tattoo Meaning
Fish has been associated with the element of water, but also they act as mediators between heaven and earth. Besides representing mobility, swiftness, and grace, a Fish tattoo symbolizes different meanings in different religions and cultures. For instance, fishes in the Christian religion symbolizes devotion to the Christian faith. That is why often Christians opt for this image tattoo.
In Buddhism, the Fish represents enlightenment, liberation from earthly desires and passions. In China, it is considered that Fish is associated with wealth, harmony, and contentment. The ancients, Romans, and Greeks considered Fish a sacred creature. They believe Fish has the attributes of the goddess of love, and they are the messengers of the water god. As said earlier, different religions have different notions about Fish. Not every religion considers Fish a sacred creature. Like in ancient Egypt, the Fish symbolizes negative connotations, such as evil, fear, criminal intent.
Apart from this, Fish symbolizes fertility and prolificacy. Fish tattoos often symbolize agility, swiftness, movement, and grace. Each Fish species symbolizes a different meaning; for instance, Gold Fish, notably Koi Fish, represents Good Fortune and Good Luck. Similarly, carps are considered a symbol of courage. In Japan, they symbolize strength, as they are the only Fish that can conquer the Yellow River's waterfalls. Therefore, it is believed a Koi grants the receiver strength. A shark is a symbol of power and leadership.
Here are some of the most popular Fish Tattoo Designs:
1. Koi Fish Tattoo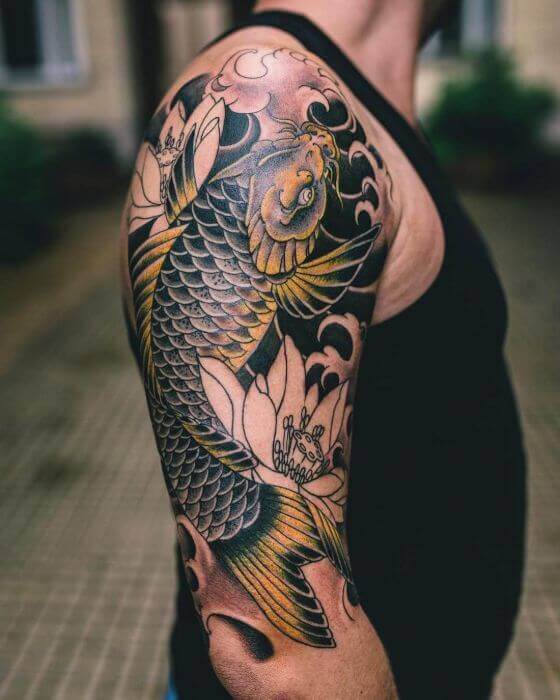 2. Small Fish Tattoo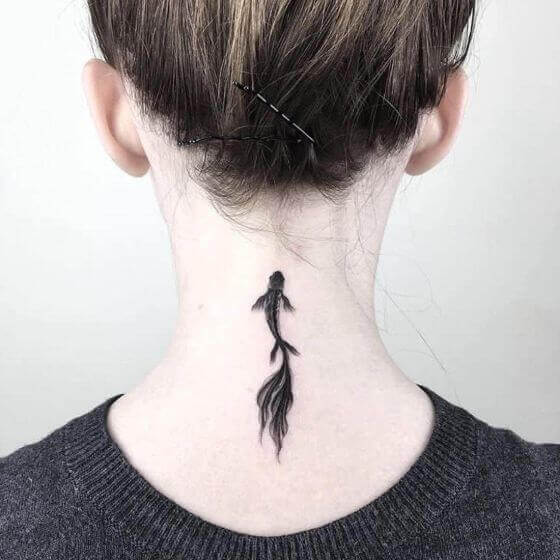 Also See: 75 Small Tattoos for Women with Meaning
3. Simple Fish Tattoo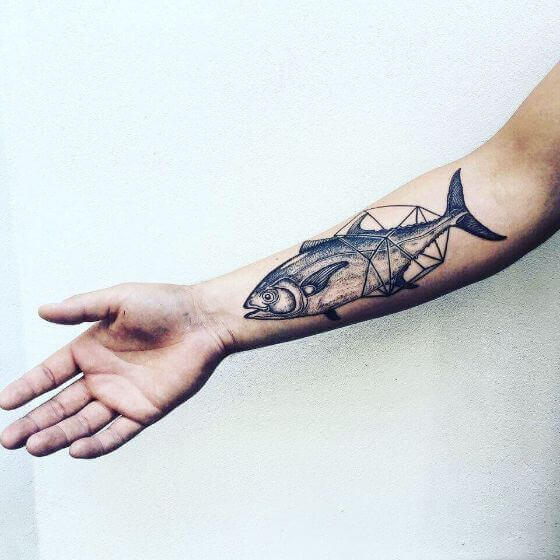 4. Geometric Fish Tattoo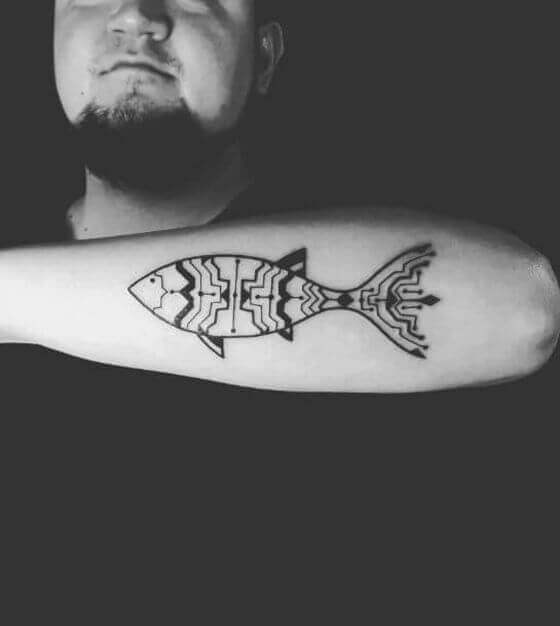 5. Japanese Fish Tattoo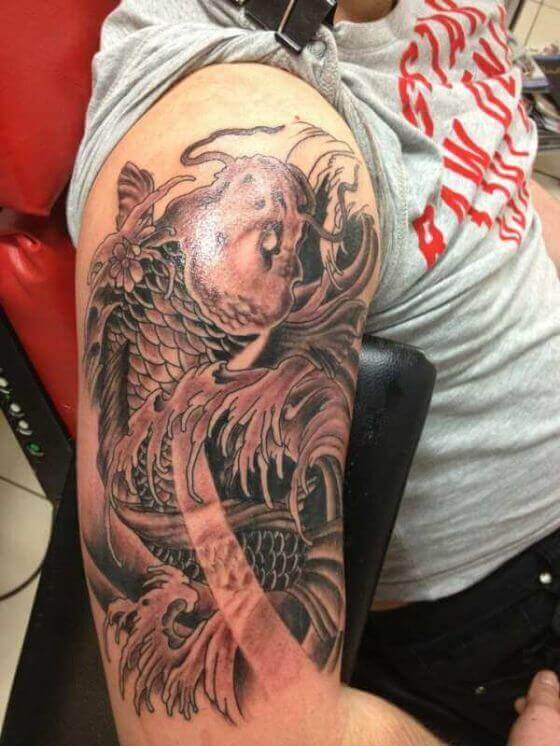 6. Minimalist Fish tattoo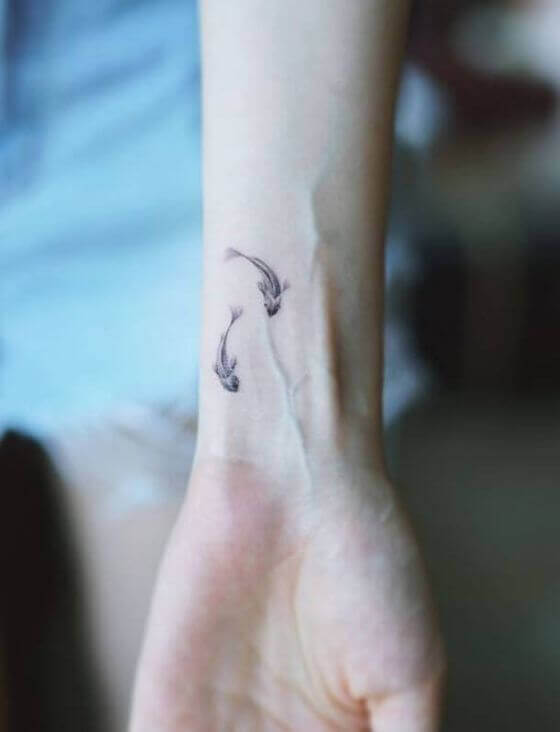 See More: 45 Delicate Minimalist Tattoo Ideas with Classy Designs
7. Gold Fish Tattoo
8. Dragon Koi Fish Tattoo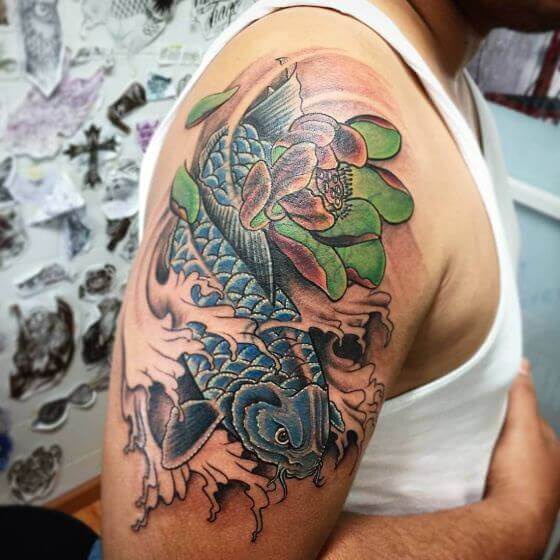 9. Butterfly Koi Fish Tattoo
10. Blue Koi Fish Tattoo
11. Color Koi Fish Tattoo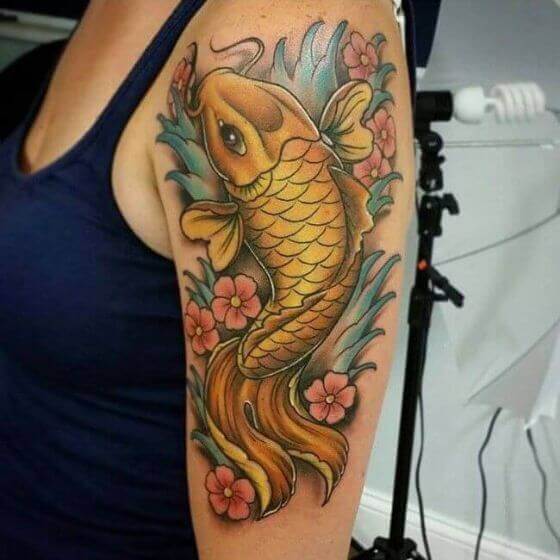 12. Tattoo for man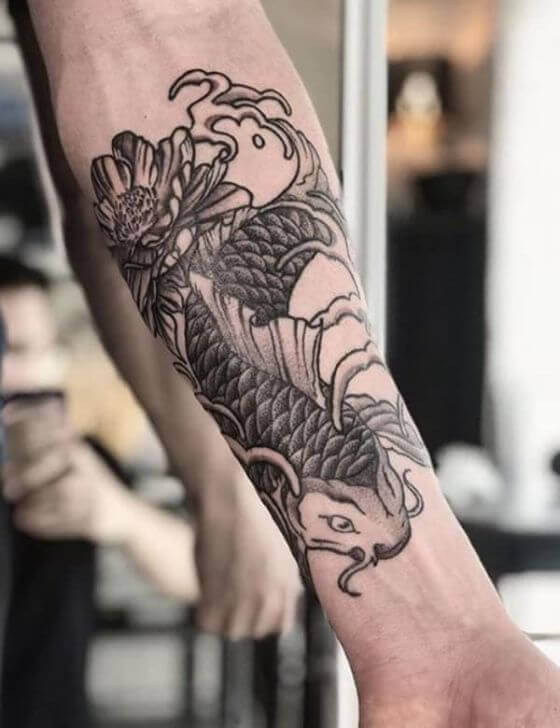 13. Golden Fish Tattoo on Back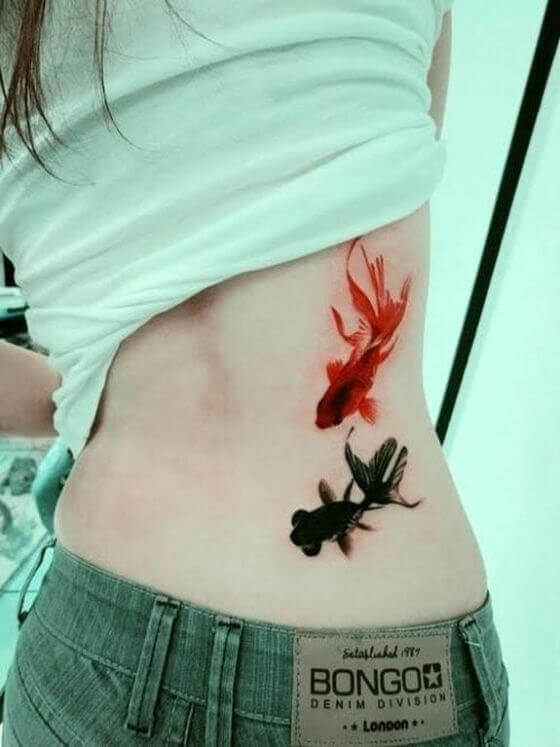 See More: Back Tattoo Ideas
14. Fish Head Tattoo
15. Fish Flower Tattoo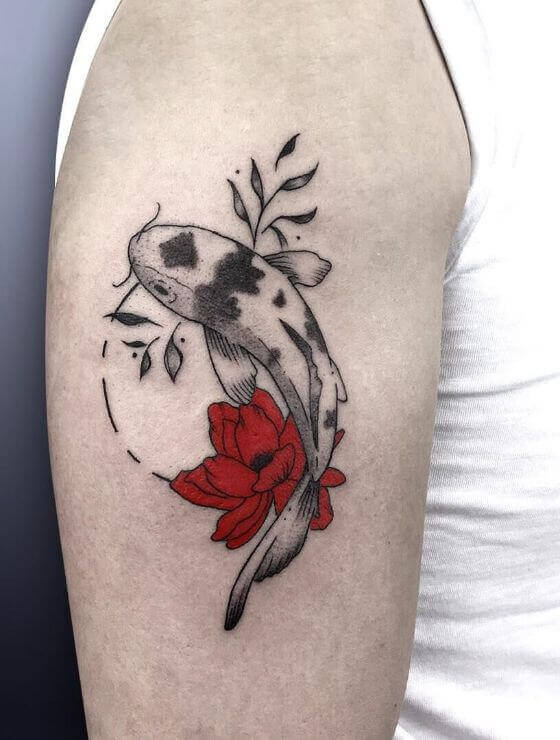 16. Yin Yang Fish Tattoo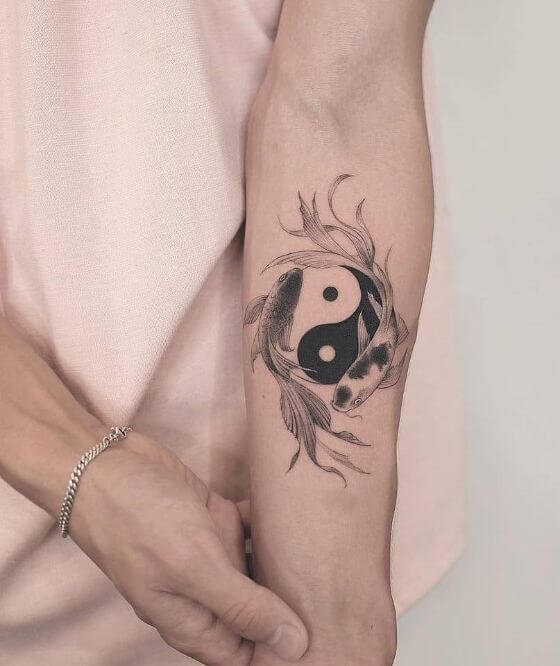 17. Betta Fish Tattoo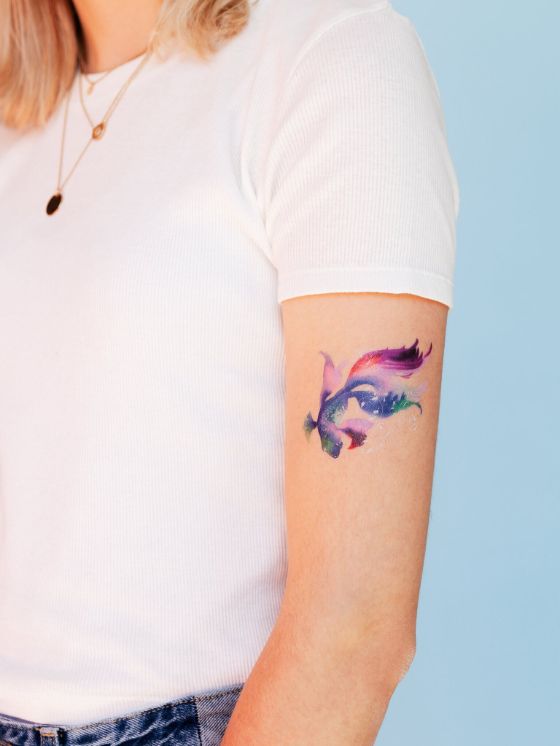 18. Black Fish Tattoo
Related: Rib Cage Tattoo Ideas
19. Back Plain Fish Tattoo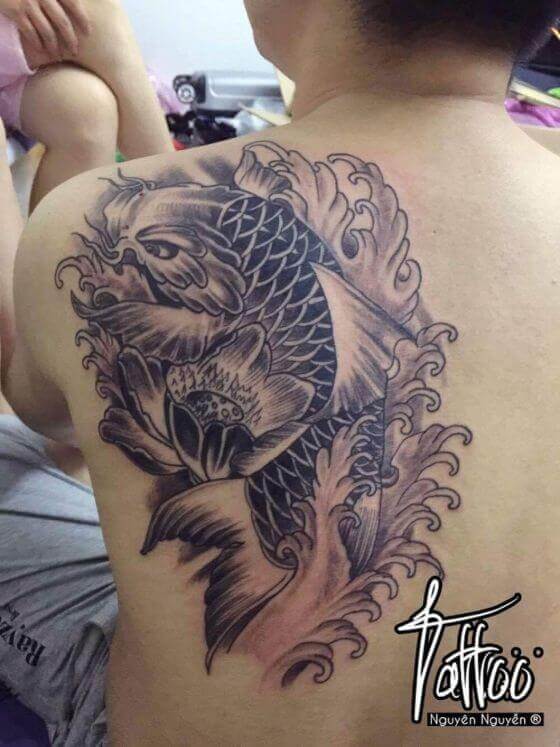 20. Half Sleeve Fish with Lotus Tattoo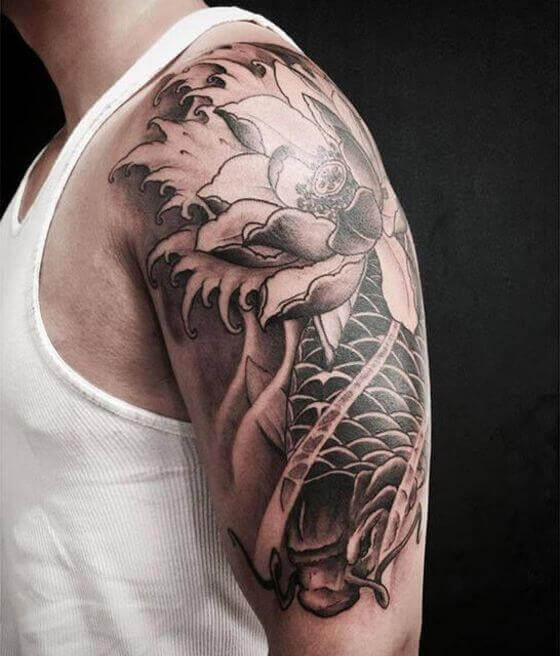 21. Pisces Fish Tattoo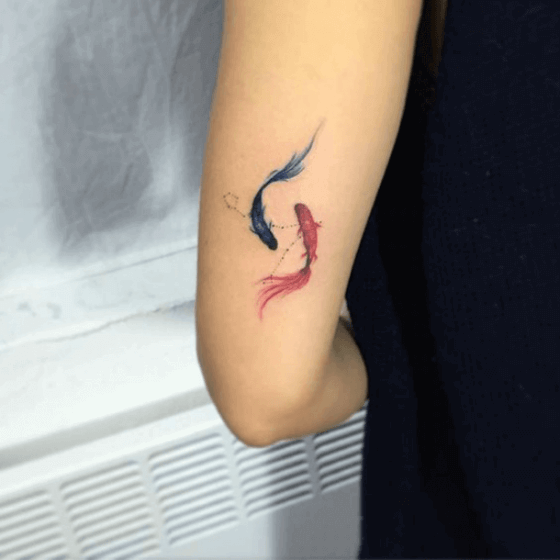 Also See: 60 Tattoo Trend Ideas And Designs In 2021
22. Yellow Goldfish Tattoo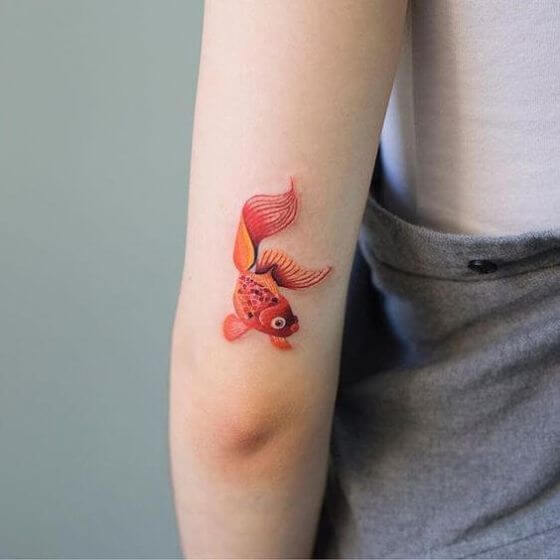 23. Starfish Tattoo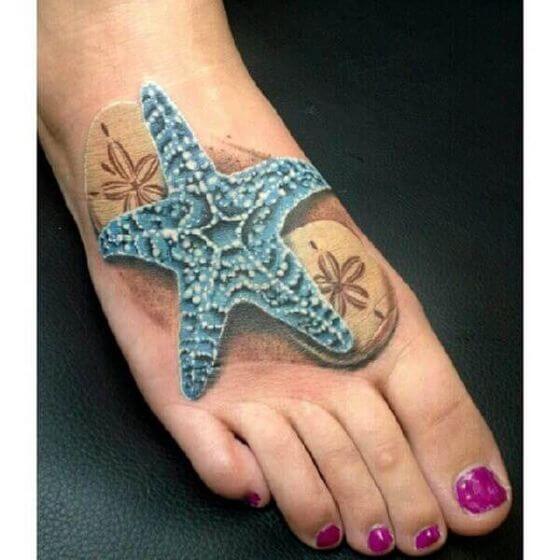 24. Best Fish Tattoo Designs in 2021
25. Sleeve Fish Tattoo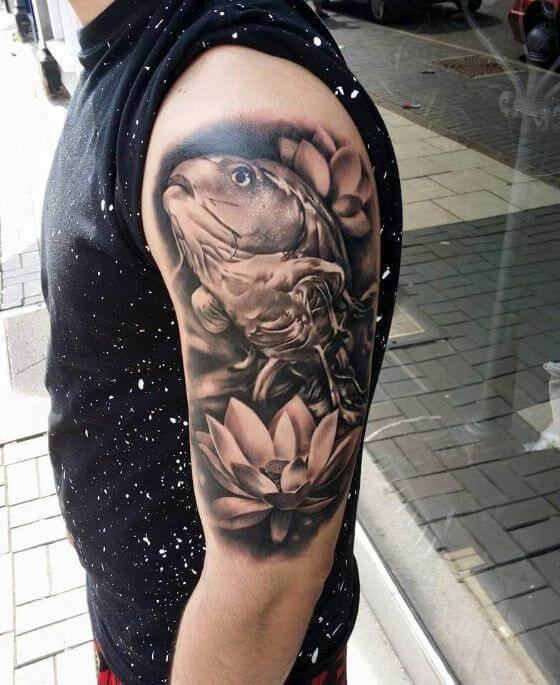 26. Fish Tattoo Back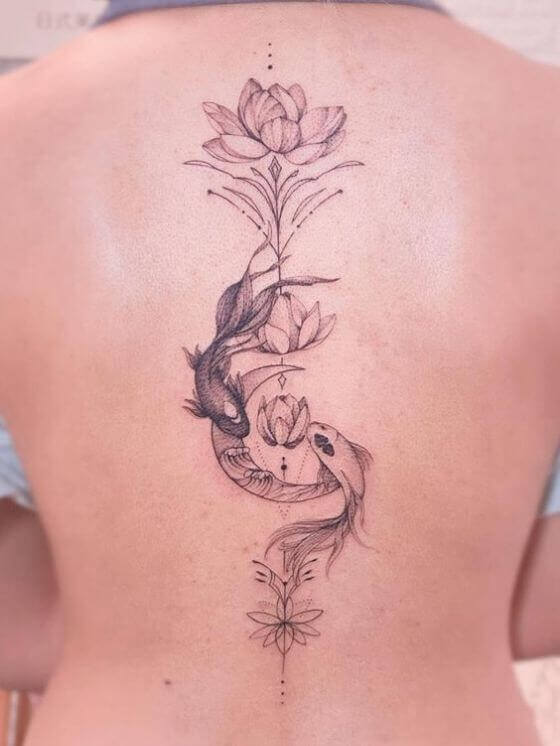 27. Fish tattoo on Hand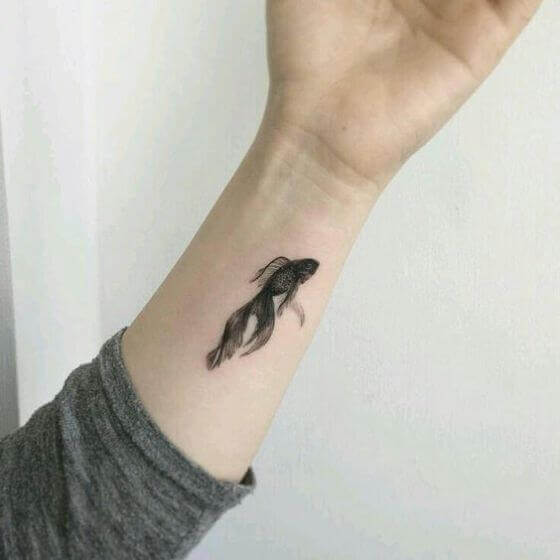 28. Tiny Fish Tattoo on Hand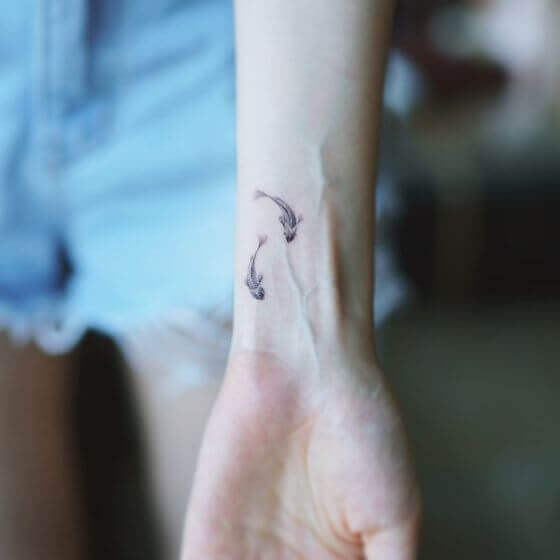 29. Christian Fish Tattoo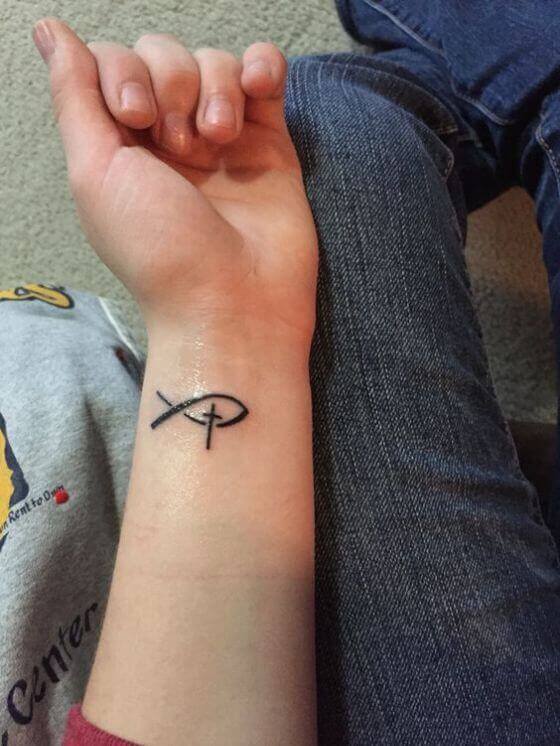 30. Darwin Fish Tattoo
31. Chinese Fish Tattoo
32. Two Koi Fish Tattoo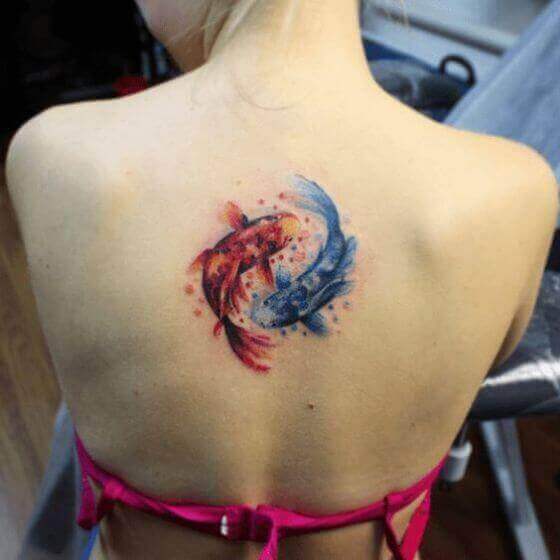 33. Fish In A Bottle Tattoo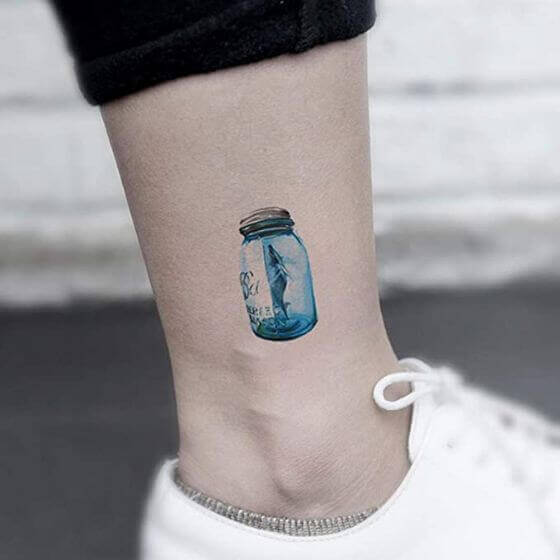 Also See: 40 Best Infinity Tattoos Designs And Ideas
34. Fish In A Bulb Tattoo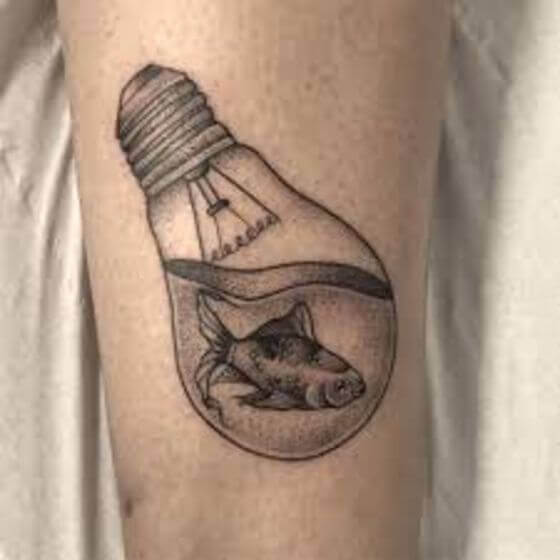 35. Black Fish Tattoo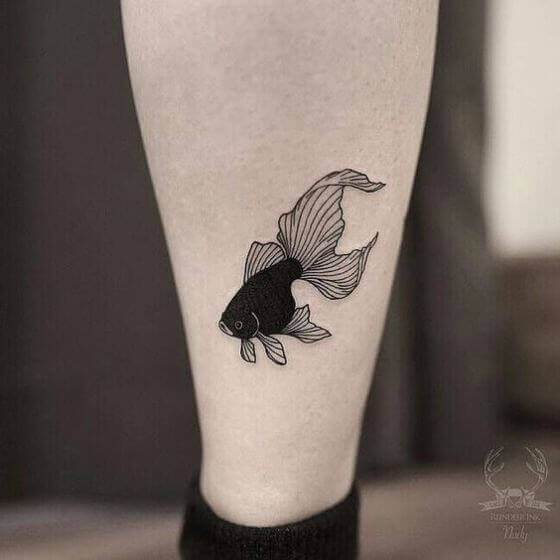 36. Fish Outline Tattoo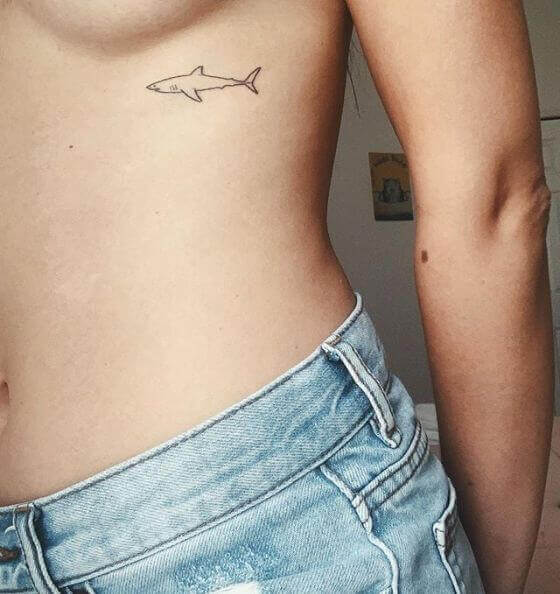 37. Minimalistic Small Fish Tattoo
38. Small Fish on Ankle Tattoo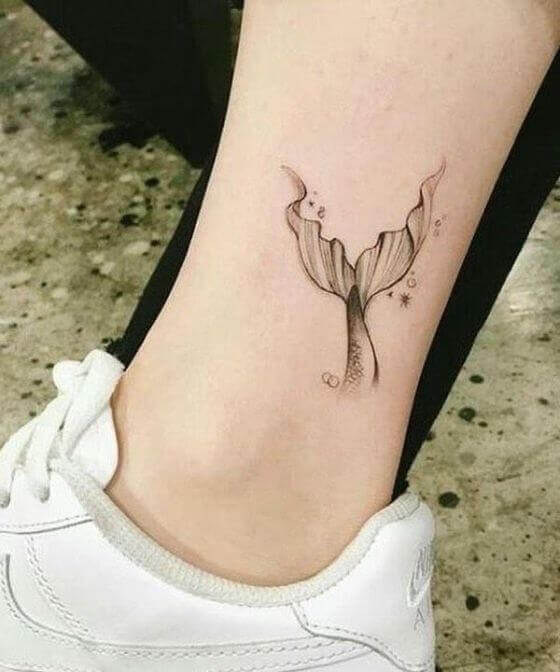 39. Tiny Fish on Thumb Tattoo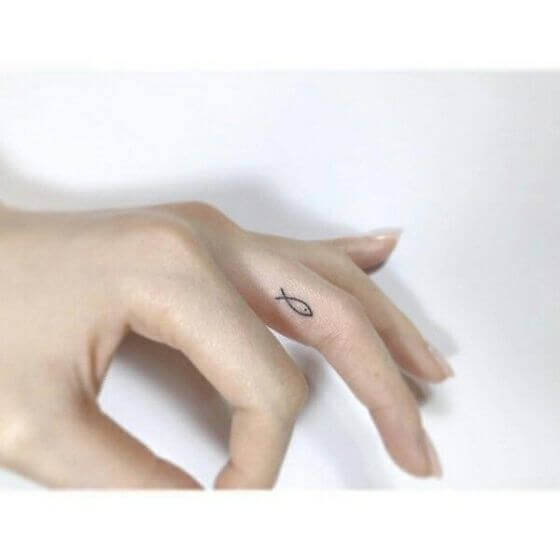 40. Black Fish Tattoo Behind the Ear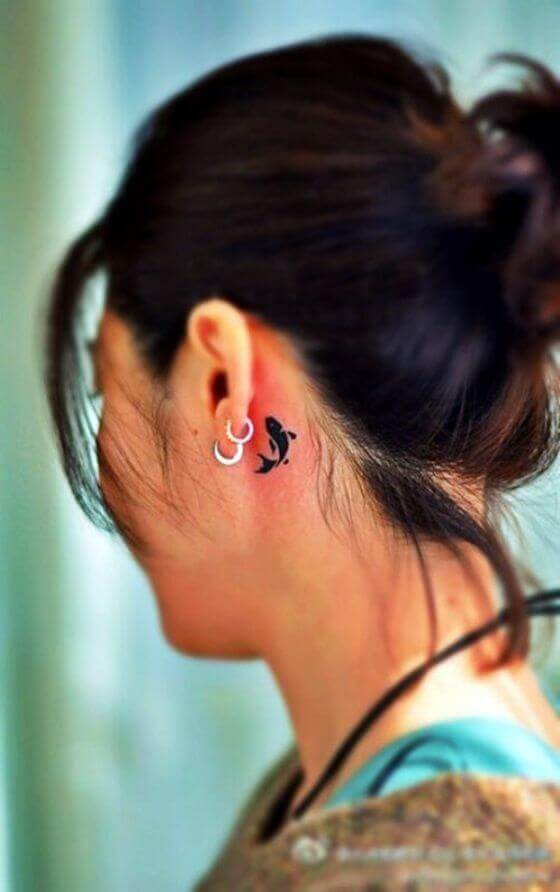 41. Thigh Tattoo
42. Fish with Word Tattoo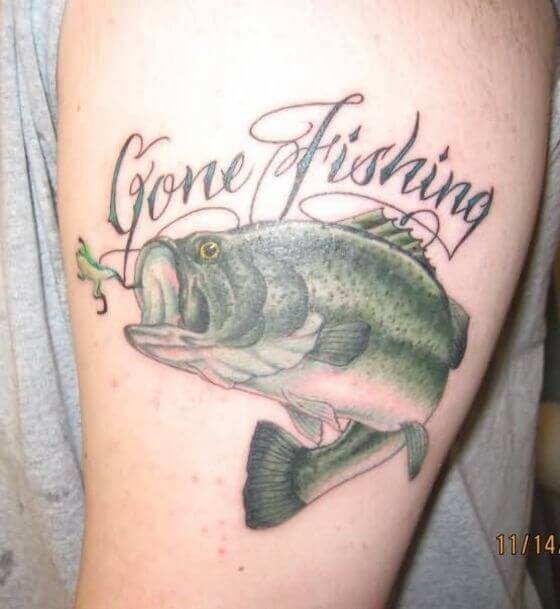 43. Matching Fish Tattoo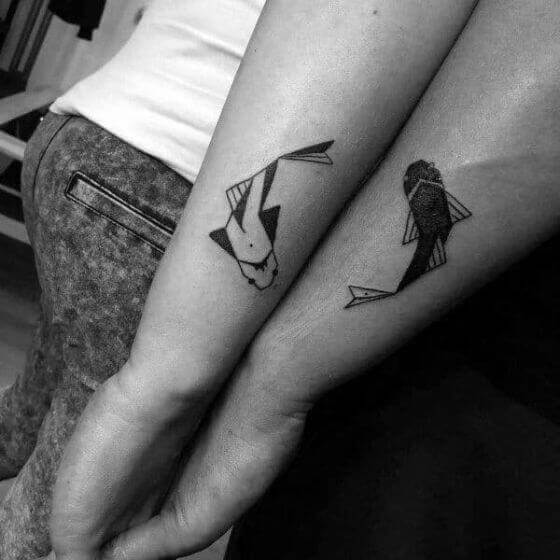 44. Simple Wrist Fish Tattoo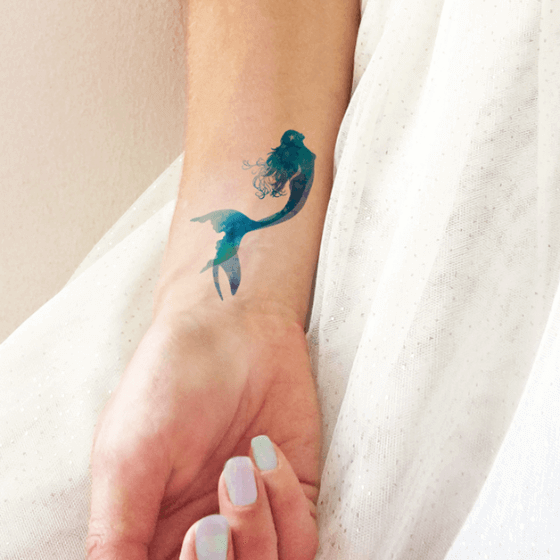 45. Blue & Purple Fish Tattoo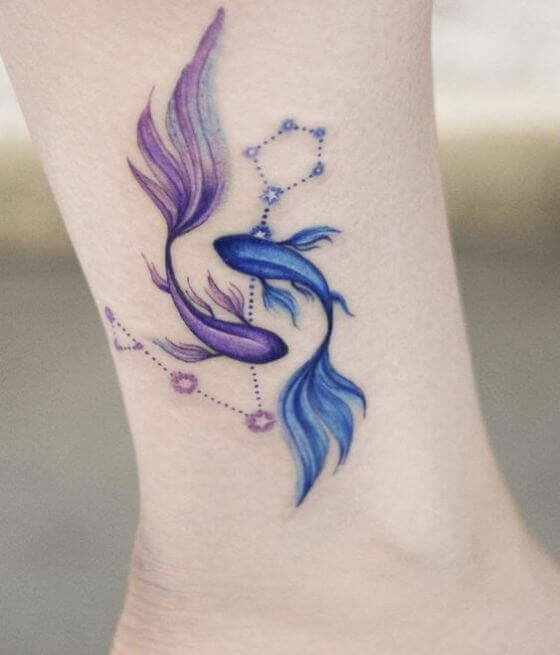 46. Clown Fish Tattoo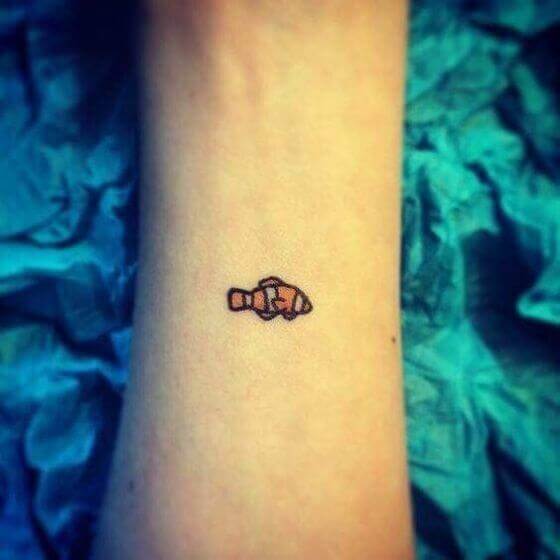 47. Red & Black Fish Tattoo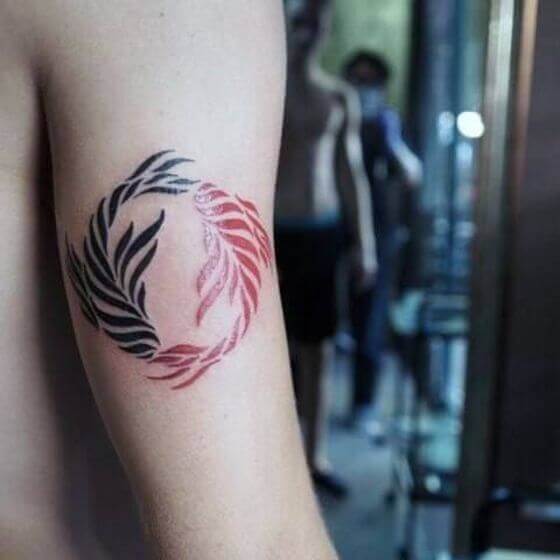 48. Watercolor Fish Tattoo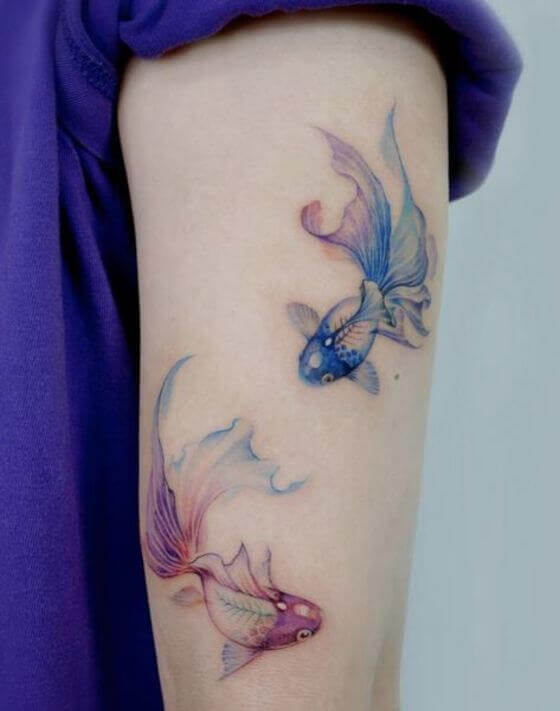 See More: Watercolor Tattoo Designs
49 Big Fish Tattoo
50. Baby Fish Tattoo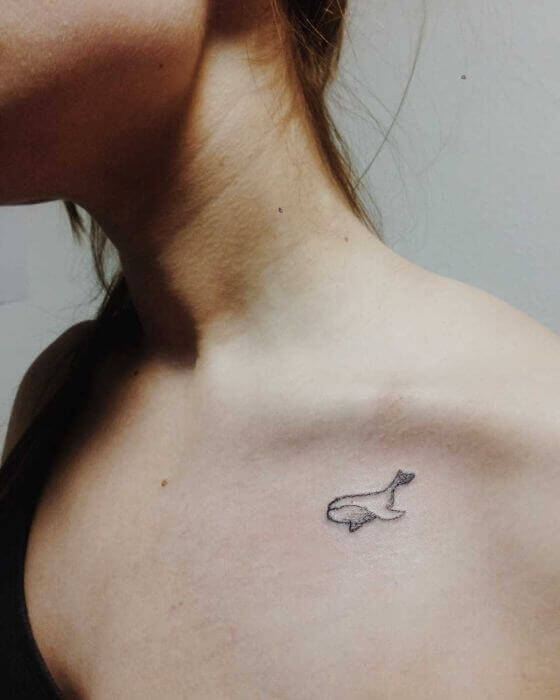 51. Simple Yin Yang Fish Tattoo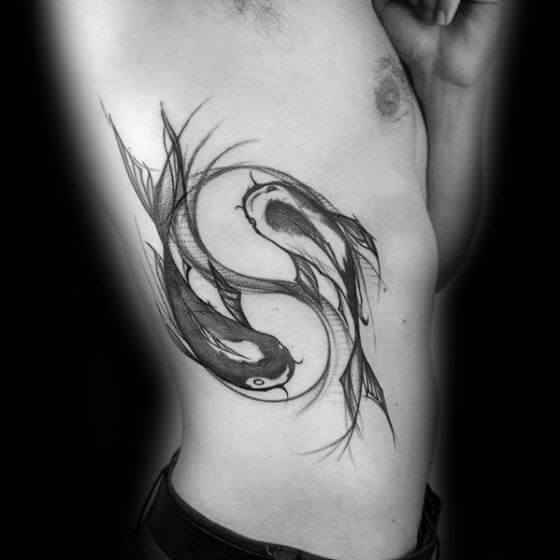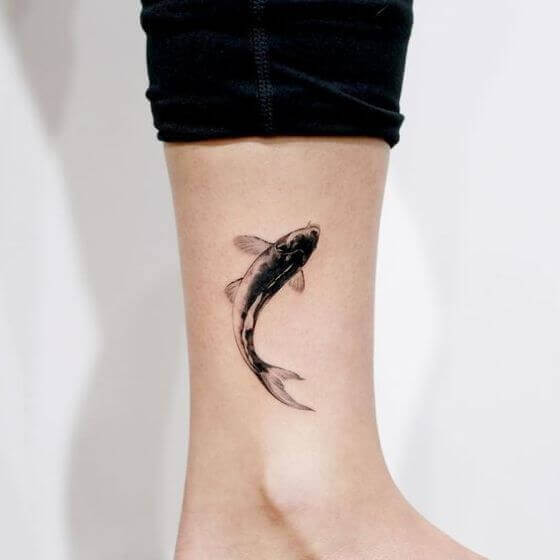 Final Thought….
These are the 51 best fish tattoo designs that you can consider while choosing a fish tattoo for yourself. These tattoos look awesome; you can get them etched anywhere on your body, from the back of your ear to your ankle. The placement will, of course, depend on the size of the tattoo designs. For instance, if you are willing to get a larger size fish tattoo, then the best place for it would be your back or ribs, while for the smaller size fish image tattoos, you can consider places like your fingers, wrist, arm, ankle, nape, neck, etc.
The fish tattoo looks great; try it out!!
Please follow and like us:
Sours: https://www.trendingtattoo.com/fish-tattoo-designs/
Beautiful Fish Tattoo Designs and Ideas
Fish tattoos: Fish tattoo designs are a popular option for many tattoo enthusiasts, with a variety of different fish designs providing a number of inking options for tattoo lovers. The fish has been used as a symbolic icon throughout human history and has been incorporated into the myths and stories of a number of different cultures around the world.
In addition to historical references, modern society also attaches deep significance to fish, as a food source, a symbol of freedom and wilderness, and also in reference to our own evolutionary history. Life began in the sea, and the first vertebrates on land (that eventually gave rise to us) evolved from coastal fish living in the shallows.
Fish Tattoo symbolizes & Meanings
Fish have been incorporated into many religious stories and still hold deep meaning with followers of those religions today. Christians hold the fish symbol in great reverence, as it was used as a symbol of faith in Christianity during biblical times. Christians used to draw fish in the dirt with their feet as a secret sign to other Christians of their faith.
Many Christians, therefore, choose to ink the fish symbol to display their faith. Fish also have significance in a number of other religions and societies, including Hinduism (in the story of Vishnu's transformation into a fish in order to help King Manu), Greek mythology (in the Aphrodite myths), Japanese and Chinese culture, as well as a number of tribal cultures (especially among Polynesian societies living on Pacific islands). Fish Symbolizes swiftness, movement, agility, grace.
Types Of Fish Tattoos And Why People Love Fish Tattoos?
Fish live in two main environments, freshwater, and saltwater (although many also tolerate intermediate water conditions in estuaries). Both fresh and saltwater fish species are well represented in modern tattoo culture. Some of the most popular freshwater fish tattoo designs include Koi fish, Betta fish (AKA Siamese fighting fish), and Discus fish.
Koi fish have a number of important meanings in Japanese and Chinese society. They are seen as symbols of luck, overcoming struggles and tough times, and courage. Koi fish designs come in a number of different colors and styles, with each design having its own meaning and significance.
Betta fish are incredibly attractive freshwater fish that have long flowing fins colored red, blue, and purple. They are known to display their colors in order to attract females to mate with them, as well as a sign of aggression to other males. It is only possible for aquarists to keep one male betta fish in a tank, as otherwise the male's fight to the death.
Popular saltwater fish tattoo designs include shark tattoos, as well as very colorful coral reef fish tattoos. Popular sharks for tattooing include the great white shark, tiger shark, bull shark, and hammerhead shark. Sharks are apex predators and symbolize power and mastery of their environment.
Fish Tattoo Designs Shapes And Size.
Fish tattoo designs come in a wide range of colors and sizes. For people wanting a very colorful tattoo, I suggest that you consider inking a Koi, betta, or coral reef fish design. Shark tattoo designs don't offer quite so much in the way of color options (unless incorporated into a larger design such as an underwater scene that includes other marine life) but are great options for people wanting a striking design inked mainly in black/grey. Tribal fish tattoos are also great options for people wanting a very distinctive abstract fish tattoo.
Perfect Placement For Fish Tattoos
An extremely important decision to make when planning a new tattoo is choosing where on the body to ink it. Fish tattoos look good inked pretty much anywhere on the body, although larger designs will need to be sited on larger body areas. You can have large fish tattoos on the upper back, full back, lower back, and medium-size fish tattoos that look perfect on arms, forearms, legs, and thighs. Small fish tattoos can look amazing on the ankle, wrist, feet, shoulder, and sleeves. Please see the Tattoo Body Areas section for detailed information about all of the commonly tattooed areas of the body.
If you have decided that a fish tattoo design is the right design for you, I strongly suggest that you browse through as many top quality tattoo designs as possible to get some more specific ideas. Good places to find tattoo designs include tattoo design books, tattoo shop collections, and the internet.
The internet is a fantastic resource for finding tattoo designs from the comfort of your own home, although beware of the poor quality free designs that search engines frequently display. Also, visit here for more fish tattoos. Here we collect the coolest fish tattoo designs and ideas for both men and women both. Please take a look, Select and go for it.
koi fish tattoos pictures

Please remember to take your time choosing a design and body area, and never get inked on the spare of the moment. For more information and advice on how to plan a new tattoo, safety considerations, and aftercare guidance, please head over to the Tattoo Info section. Please also check out Ankle tattoos and Flower tattoos.
Sours: https://tattrix.com/fish-tattoos/
If you are looking for a new tattoo, then we can help you with that. Today we've prepared interesting ideas and tips for those who love nature inspired tattoos. You can't even imagine how many various stylish small fish tattoo ideas you can find: from very simple and minimalistic to unique and gorgeous ones. And of course we need to tell you about symbolic meanings of fish tattoos: they can mean an abundance and a wealth, an ambition, a patience, a wisdom, luck and prosperity. Now you can scroll down, consider all ideas and choose the best one for you.
Black Fish Tattoo Ideas
Sometimes you don't need bright colors to look chic, you always can choose a minimalistic black contour tattoo and place it on your ankles, wrists or shoulders. You can add to this type of tattoos an important word such as love, faith or believe. Tiny simple fish tattoos will be a perfect decision for couples as matching tattoos. Maybe you have a favorite fish type? Then ask your tattoo artist to repeat an image of this fish with all details (size, shape, colors).
Black tattoo behind the ear
Black-contour tattoo on the arm
Minimalistic tattoo on the ankle
Simple fish tattoo on the wrist
Colorful Fish Tattoo Ideas
If you wanna more interesting ideas than just a black ones, then pay your attention to colored ones. I'm sure you already know about watercolor technique, so below you can find some ideas — two blue and purple fishes on the stomach or simple formed red and green fish on the arm. Wanna something funny and original? You can ink a clownfish tattoo (do you remember the Finding Nemo movie?) on the foot or wrists. One more cute idea is to make and place a tiny monophonic (blue or orange, for example) fish tattoo behind the ear or ink a two fishes tattoo on the back. Now find your inspiration and enjoy!
Blue and purple fishes tattoo
Clownfish tattoo on the foot
Cute tiny tattoo on the arm
Original fish on the side
Red and black fishes tattoo
Several fishes tattoo on the ankle
Watercolor tattoo on the arm
Source: pinterest


Sours: https://www.styleoholic.com/small-fish-women-tattoos/
【Koi Fish①】Just a Typical Japanese Tattoo?
Fish Tattoo Designs and ideas for men and women
Fish tattoos are not always in trend but somehow people are getting fish tattoo on their skin. Because of some important meaning and symbolism. Fishes are a cute creature. Here we are talking about some small kinds of fishes like goldfish etc, not that huge kind of fishes like shark and whale. You shouldn't surprise why people getting a fish tattoo. In fact, fish has long intimacy with a human being. Fish have a lot of symbolic meanings in many cultures across the world. One of the reasons that most people choose fish tattoo because fish is a Zodiac symbol Of Pisces. Which is the 12th astrological sign of Zodiac? Which is for the time period who born between 18 Feb to 20th March.
Meaning of Fish Tattoos :
The fish tattoo has the much different meaning according to different culture and country.
Fishes are a symbol of good fortune, Luck and Happiness.
They are intelligent species. So these are the symbol of intelligence as well. They also represent happiness, good luck, wealth, adaptability, long life, unity, determination, and freedom.
In Christianity, Fish tattoo are symbolized as abundance and faith. Today people are getting fish tattoo and in other side people also getting koi fish tattoo. which has some different meaning read here about koi fish tattoo and meaning.
There are several kind of designs for fish tattoo. Mostly fish tattoos are small in size. They look very beautiful when they tattooed on your skin with color. Here we collect some of beautiful fish tattoo designs an ideas for men and women both. Please take a look below.
1. Fish Tattoo Design behind the neck.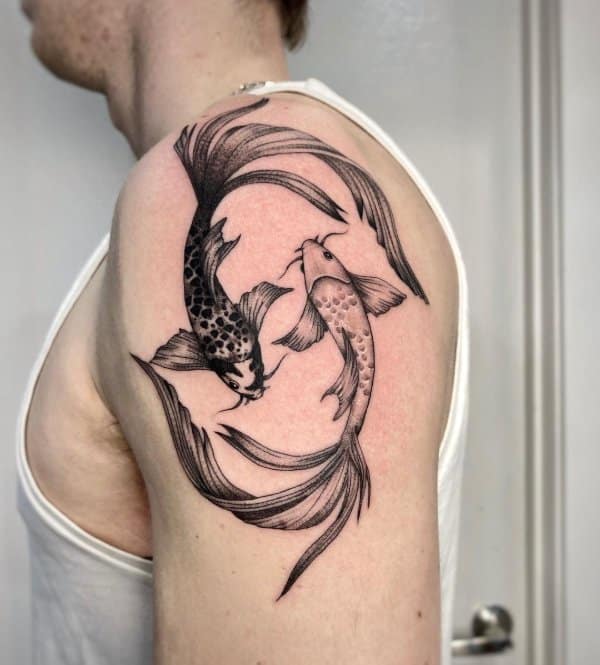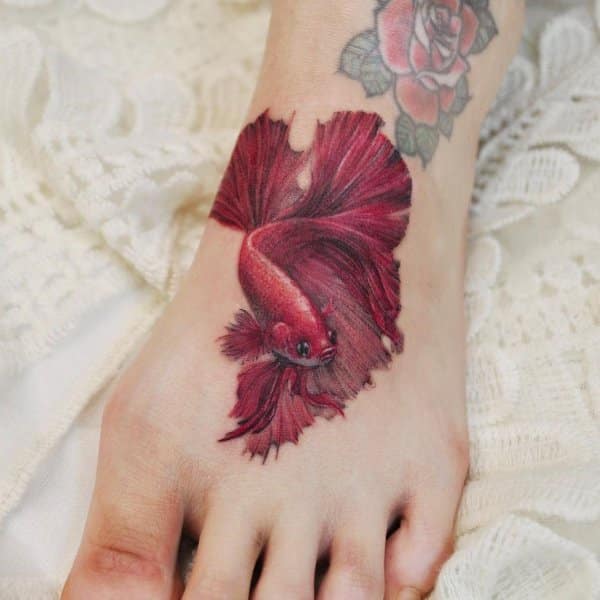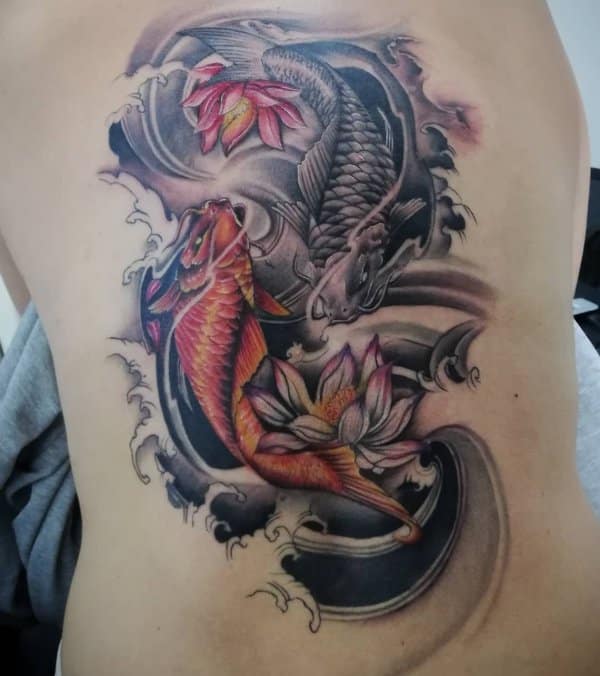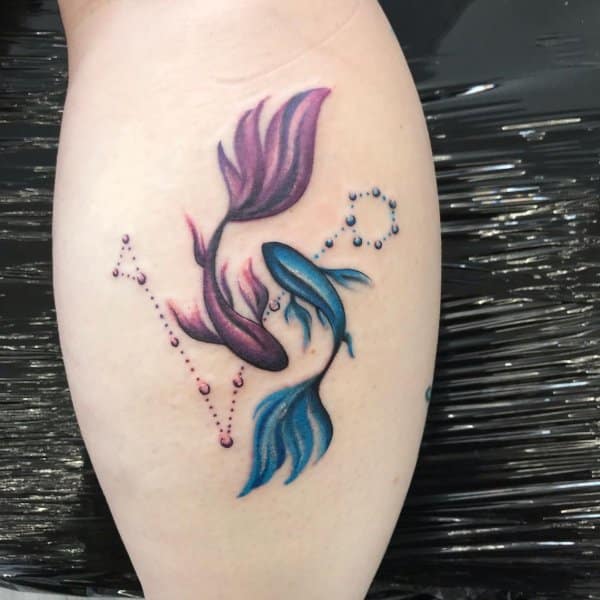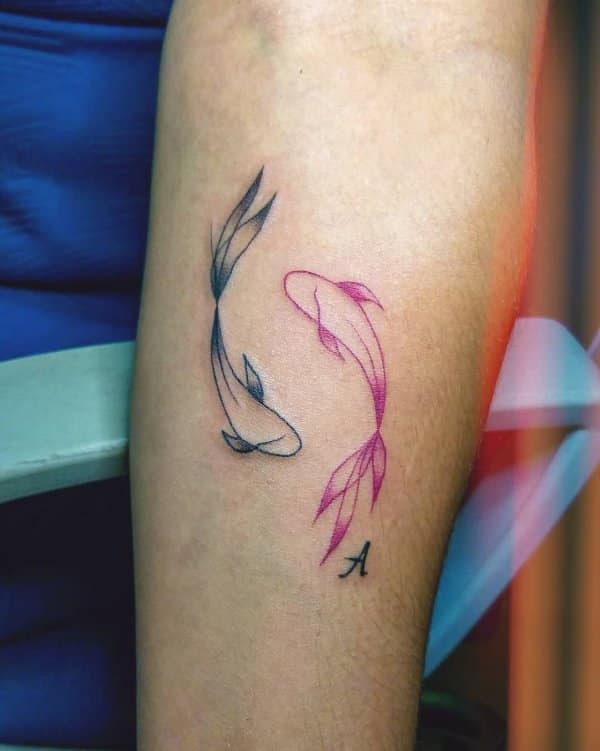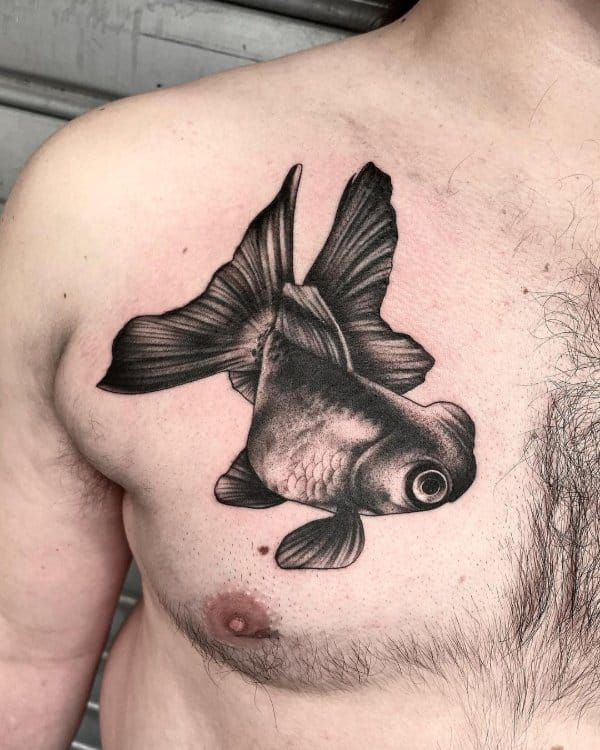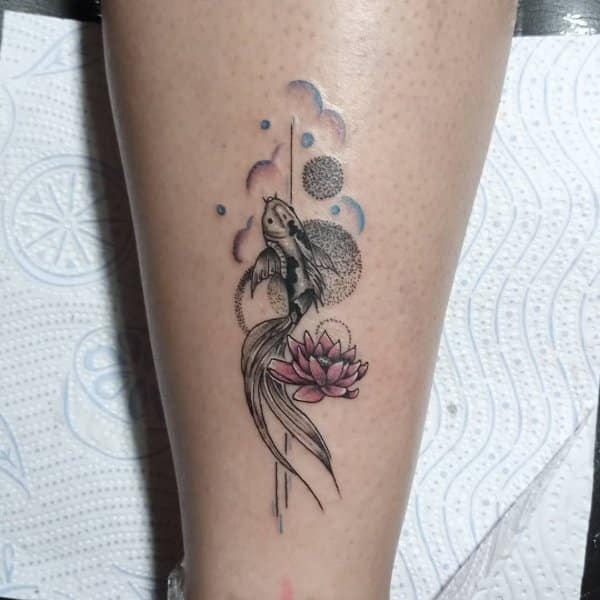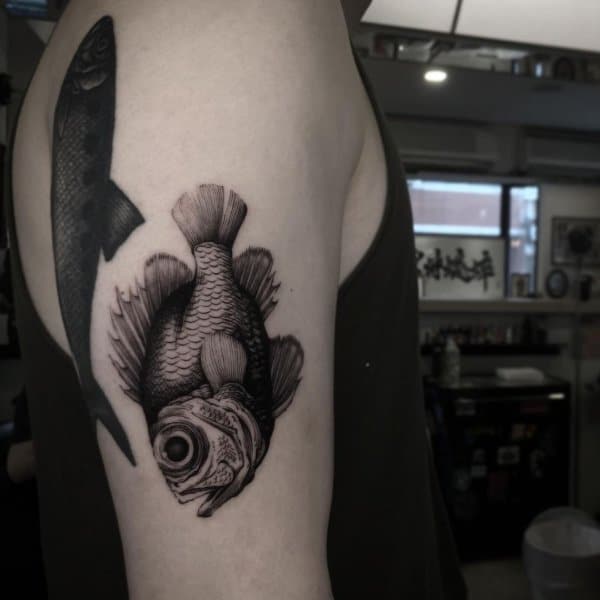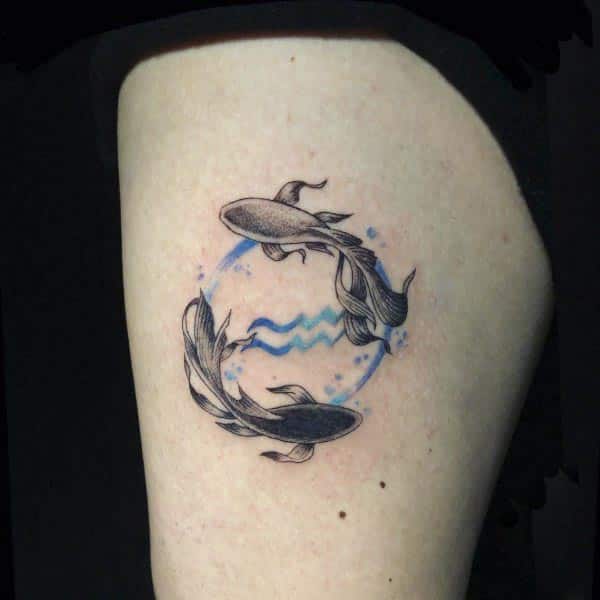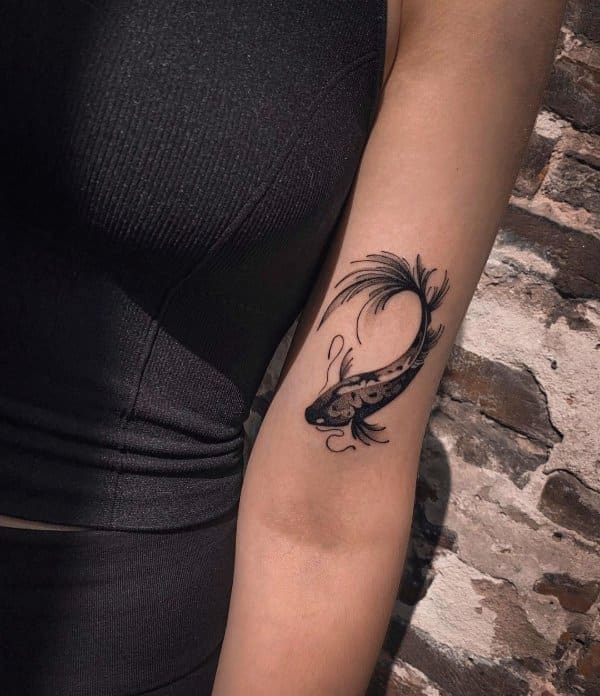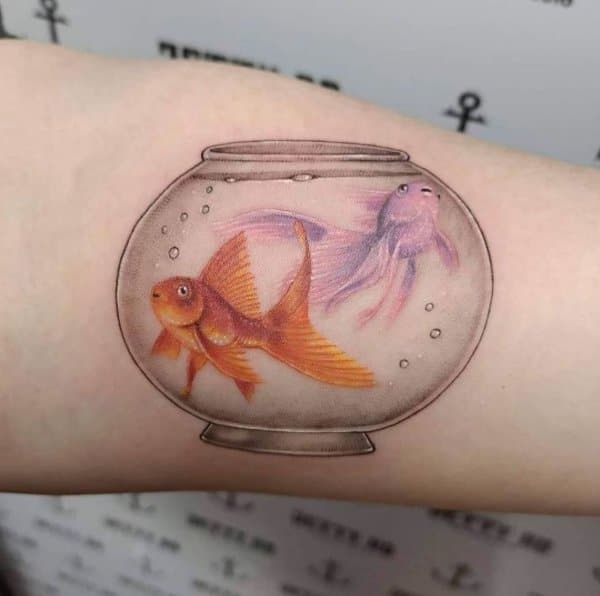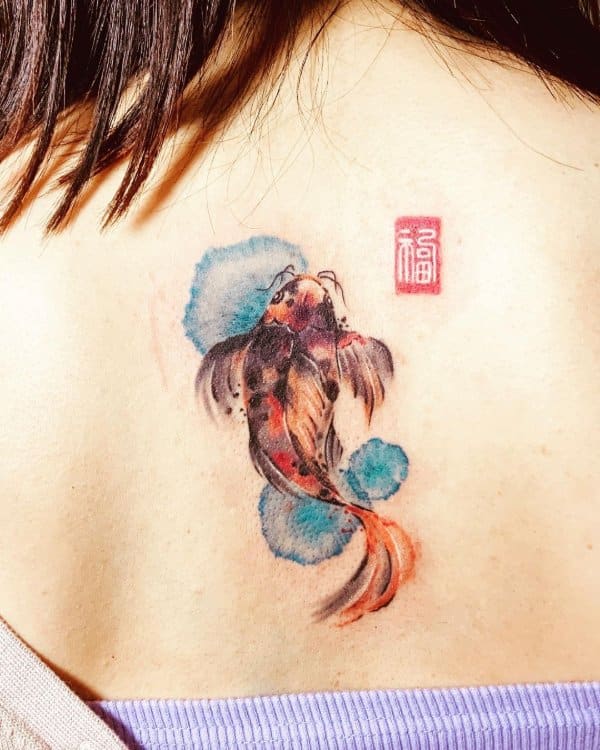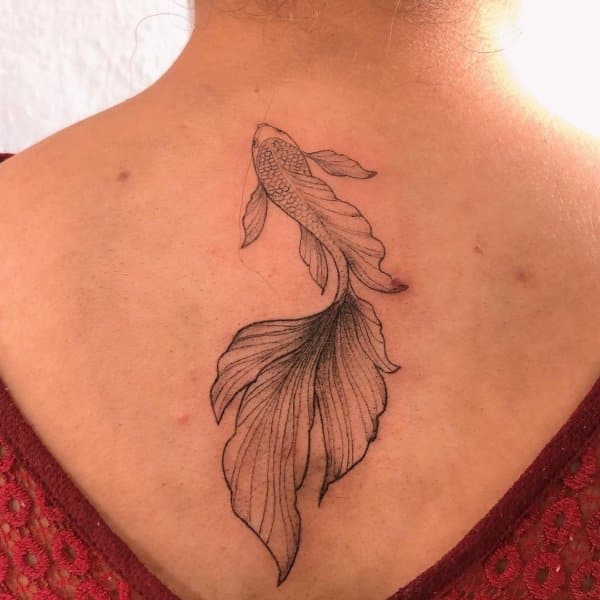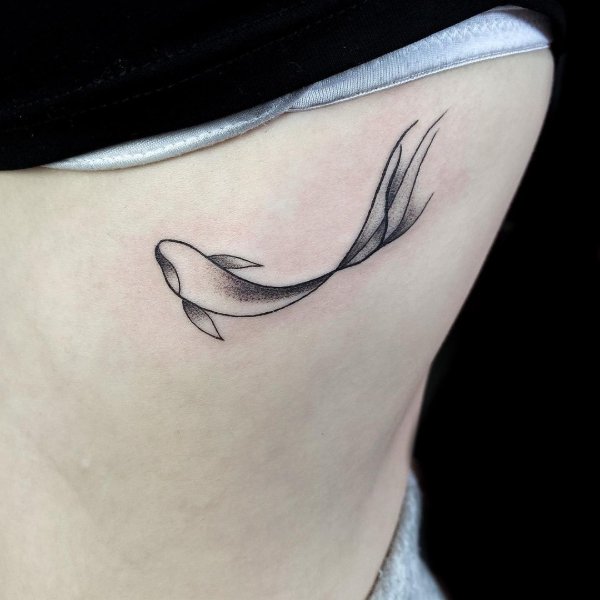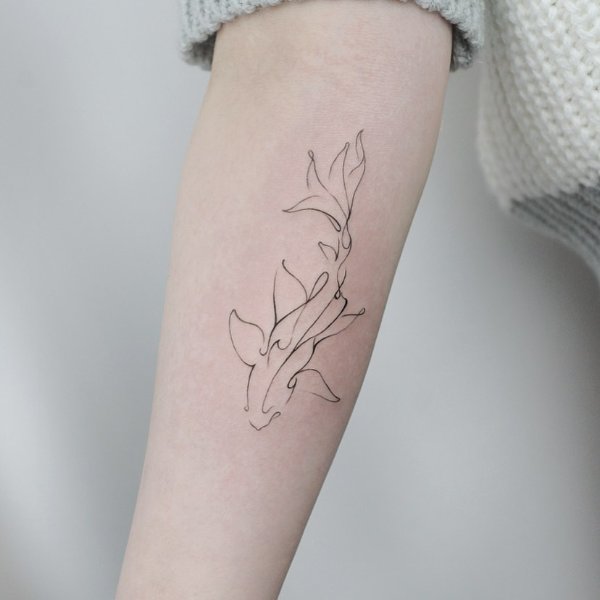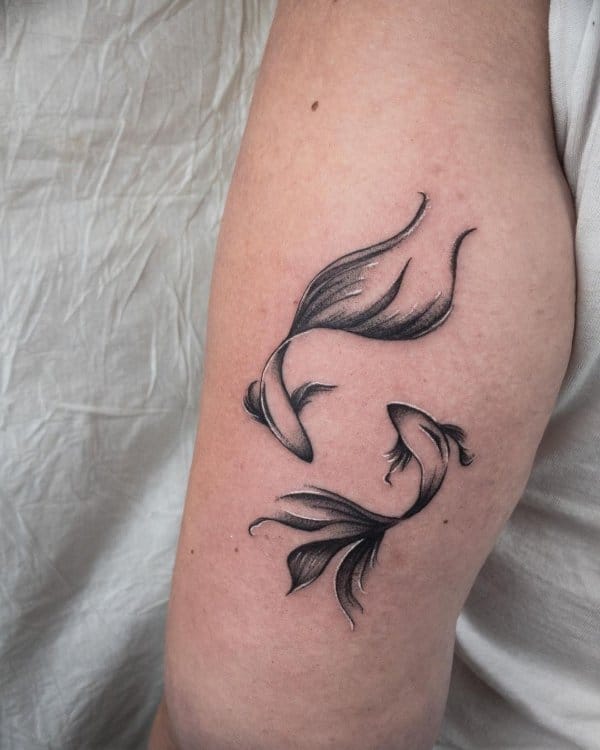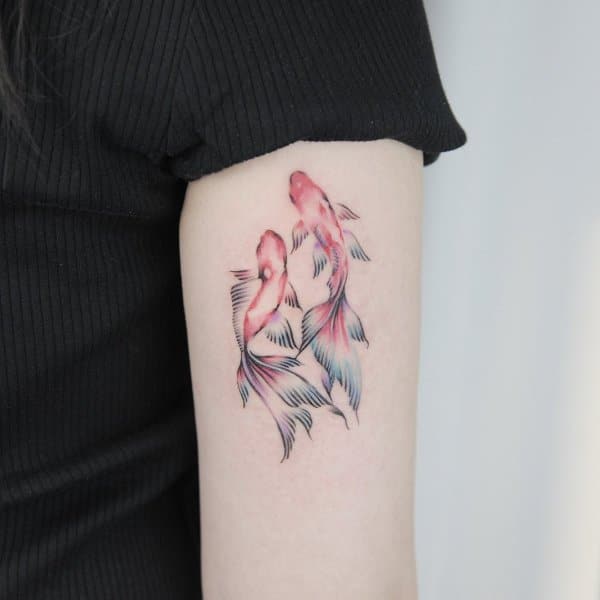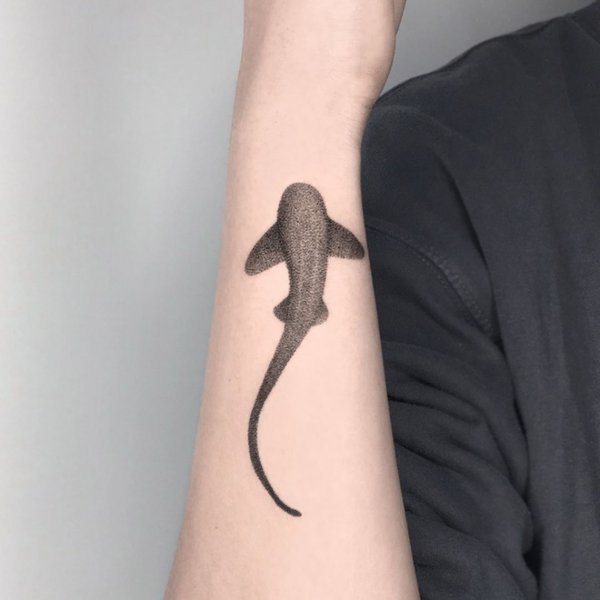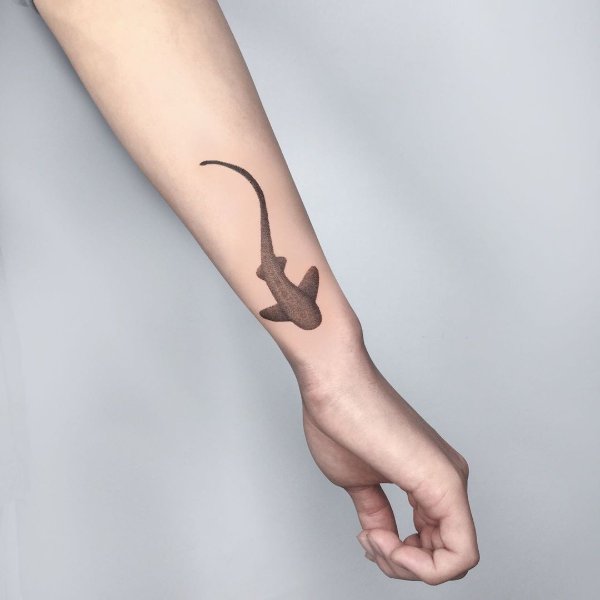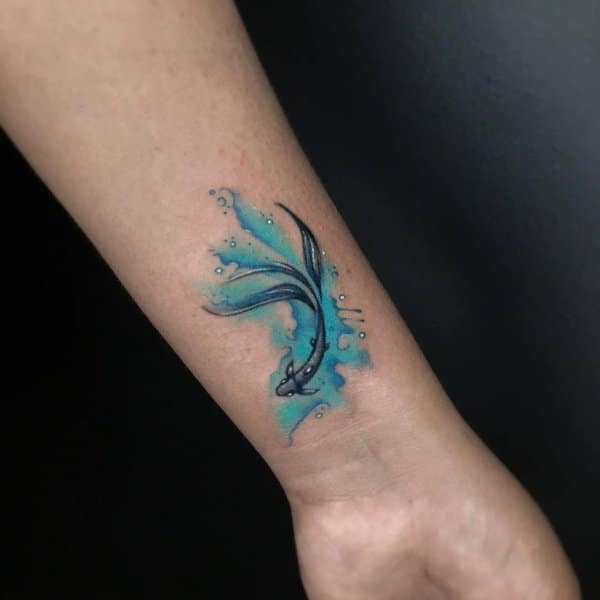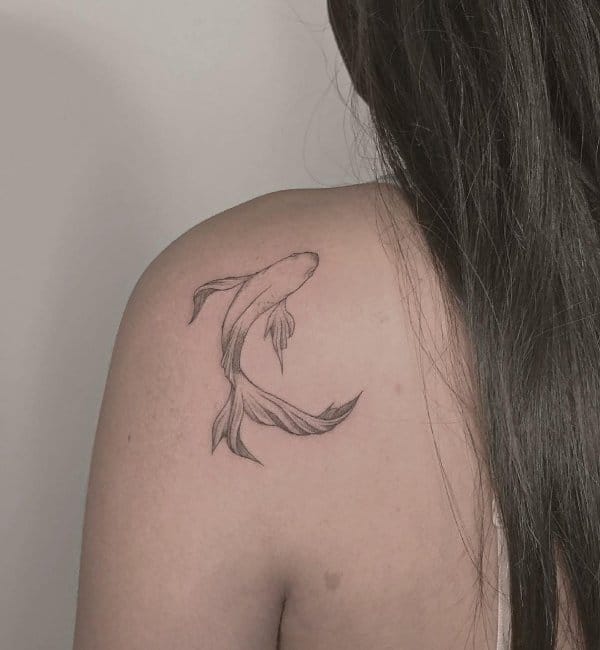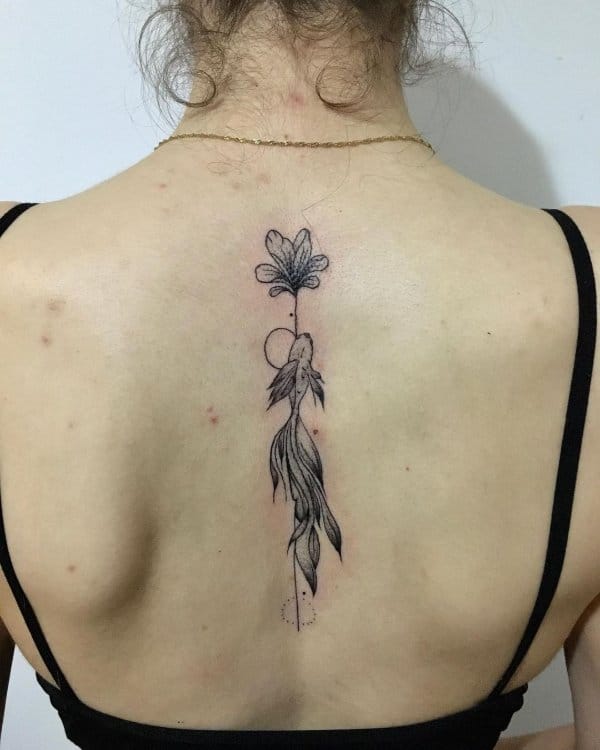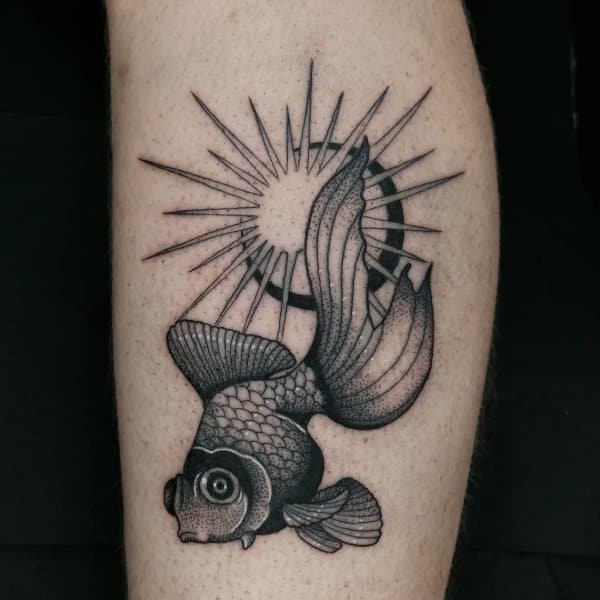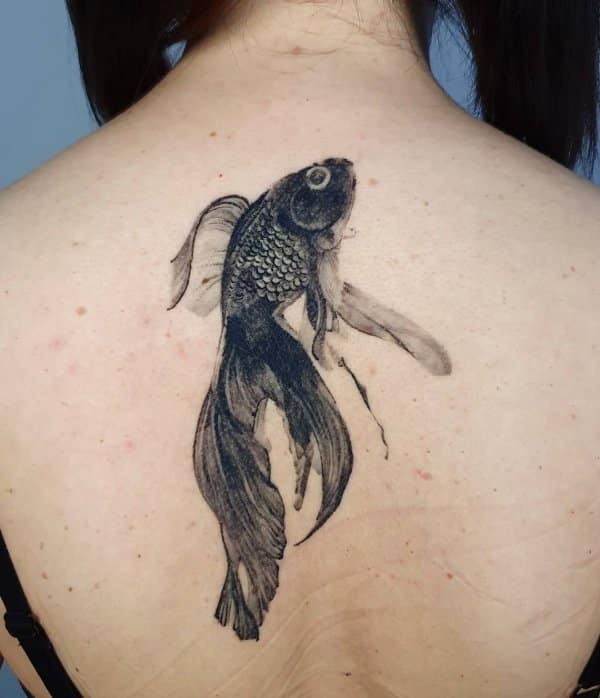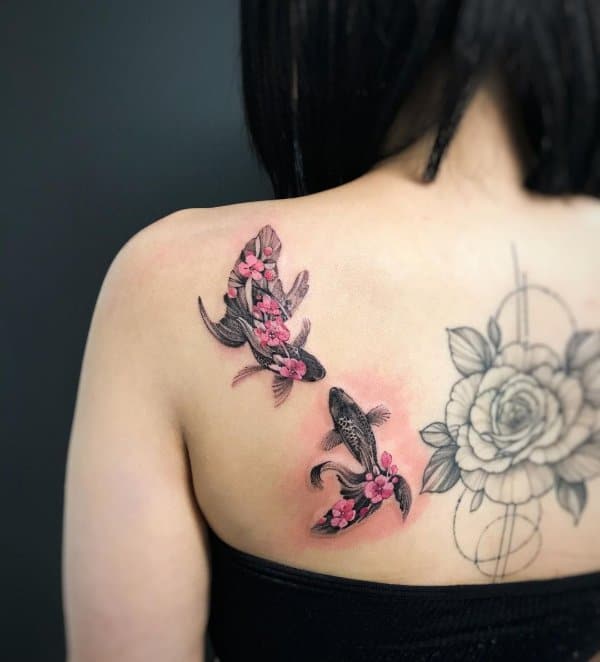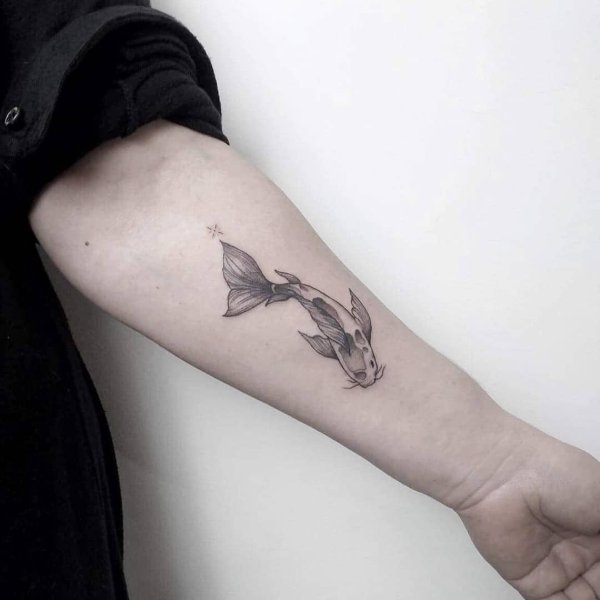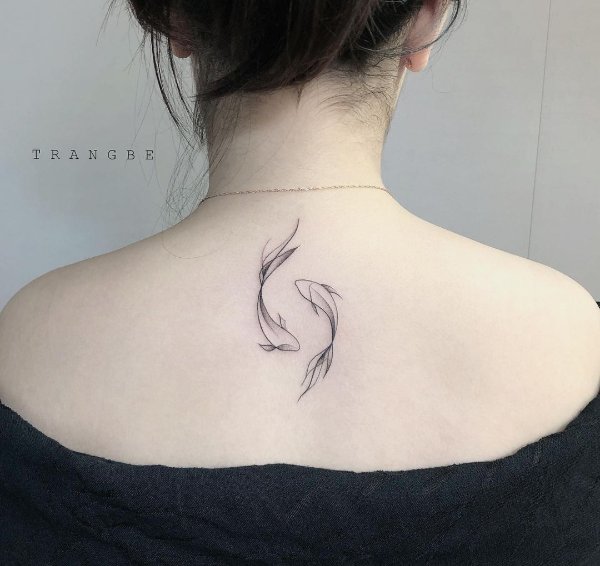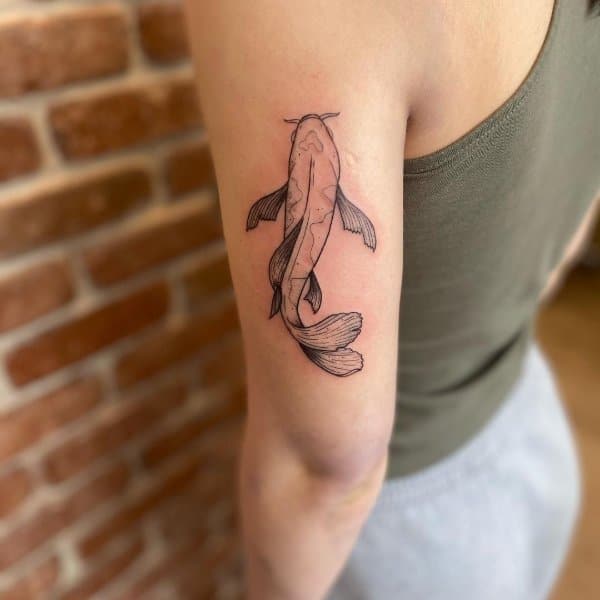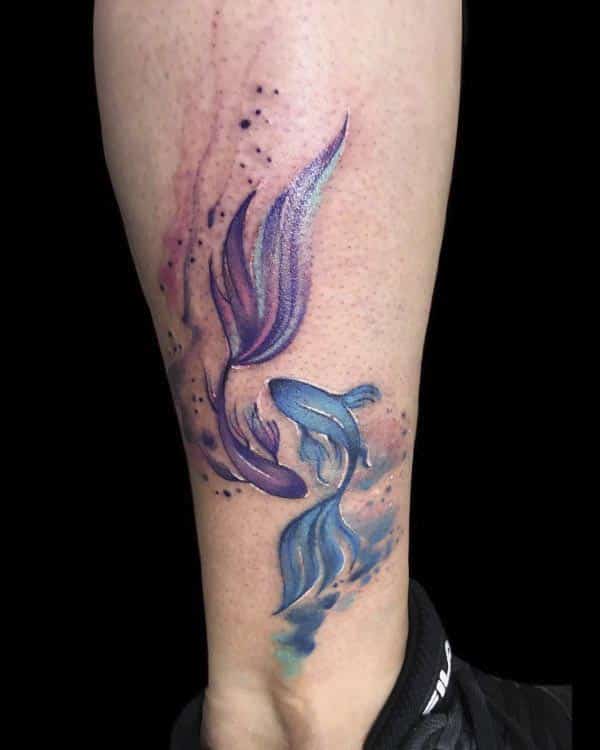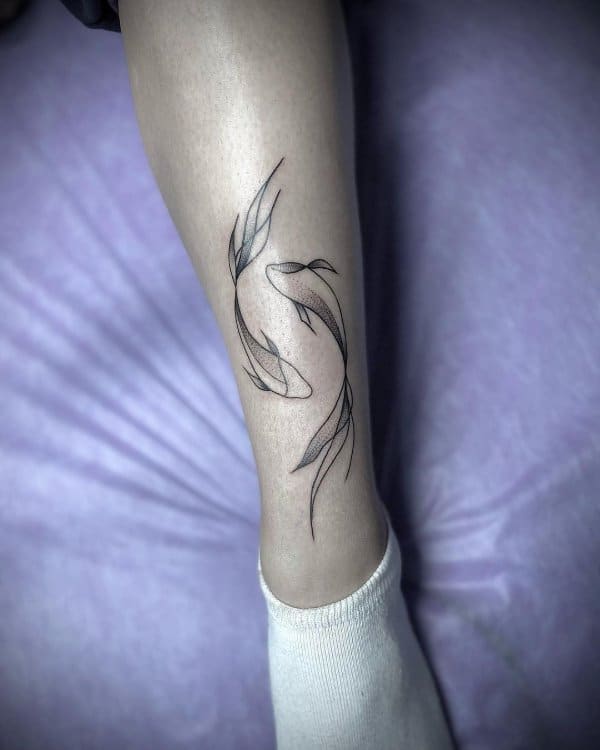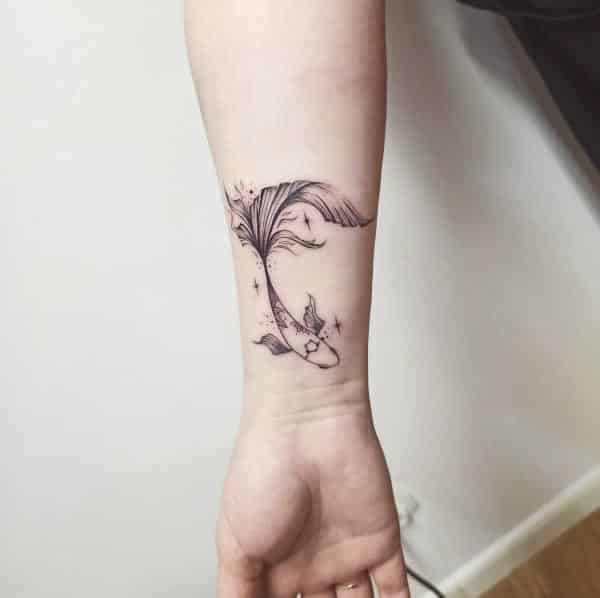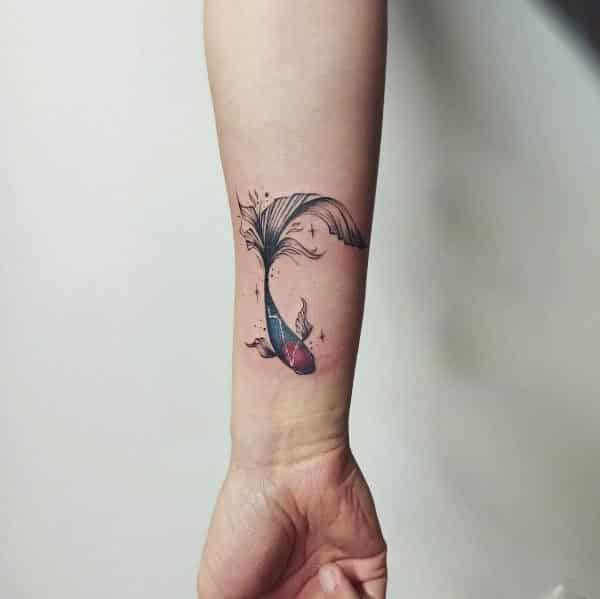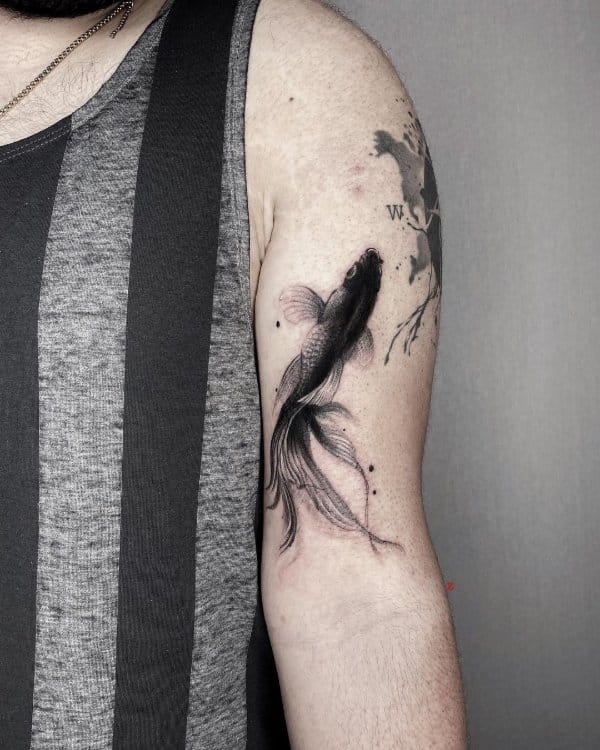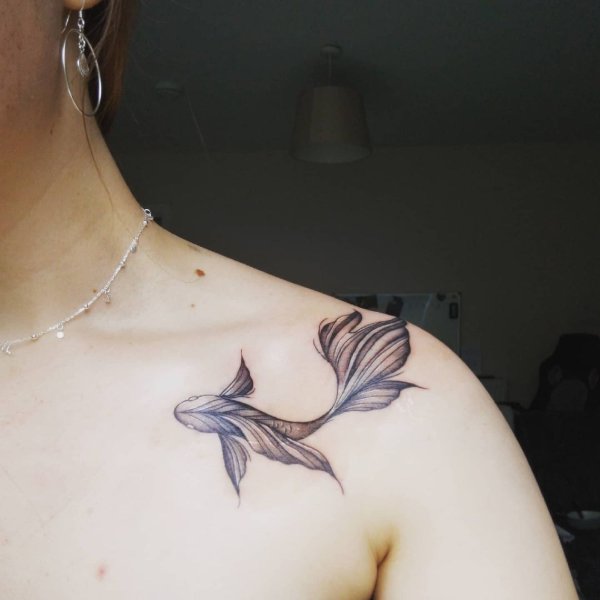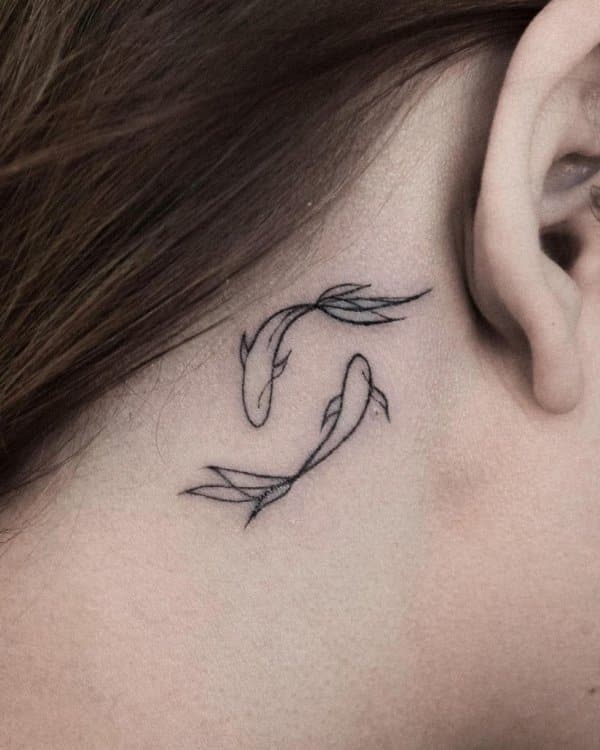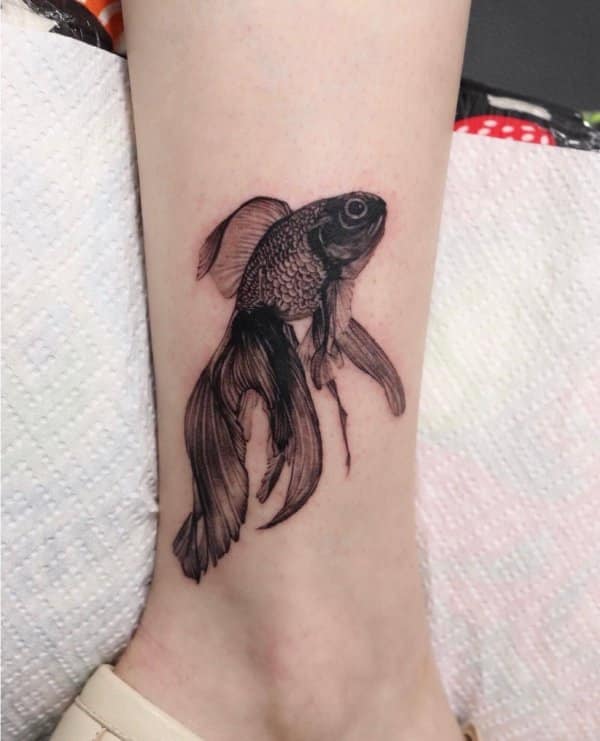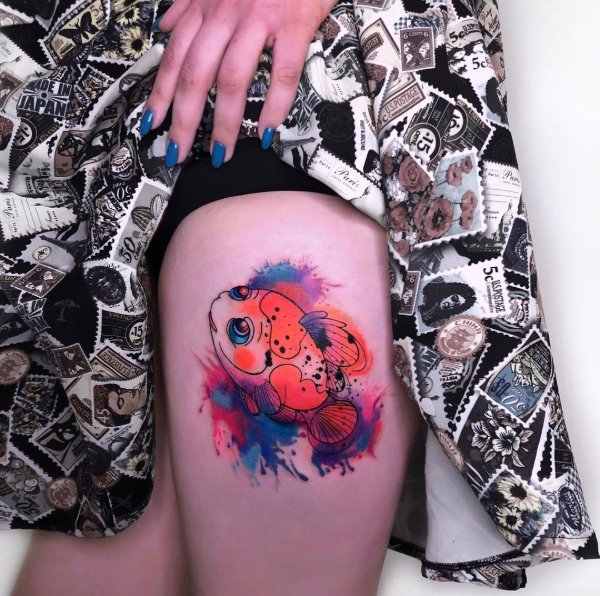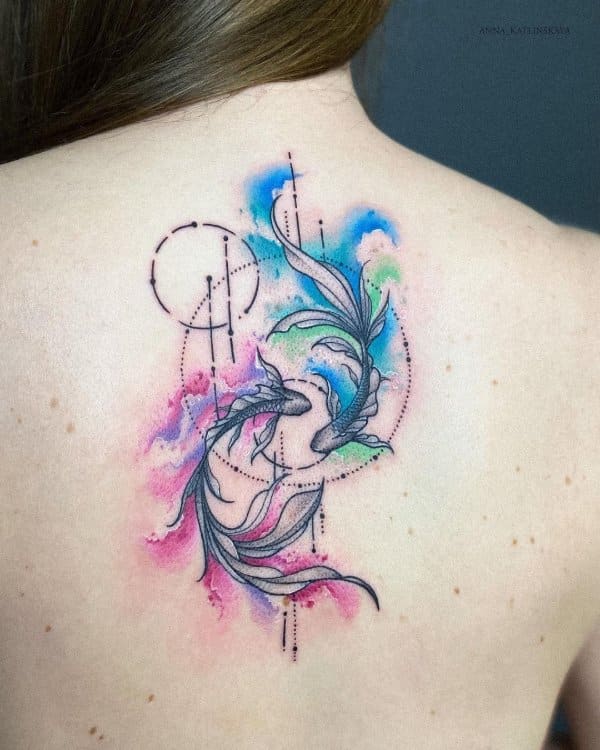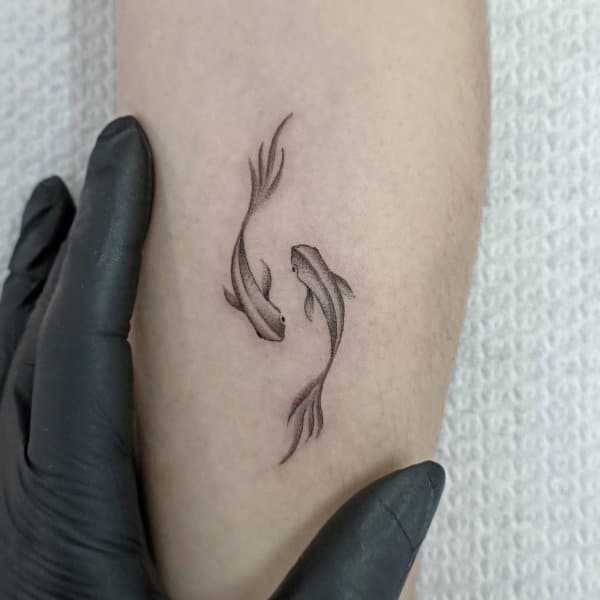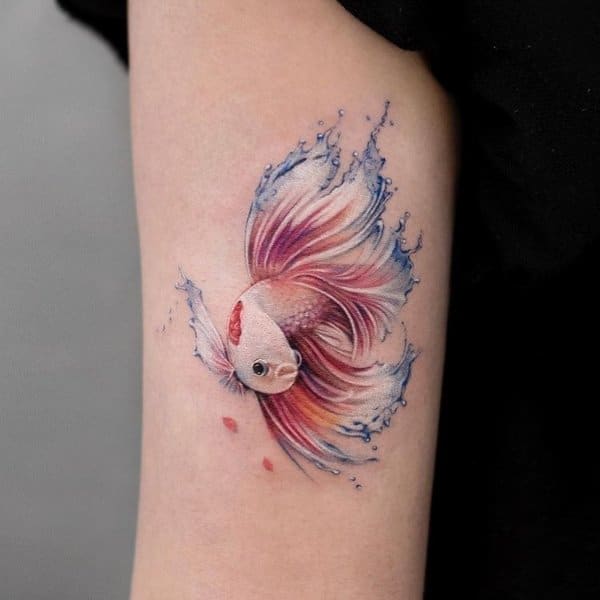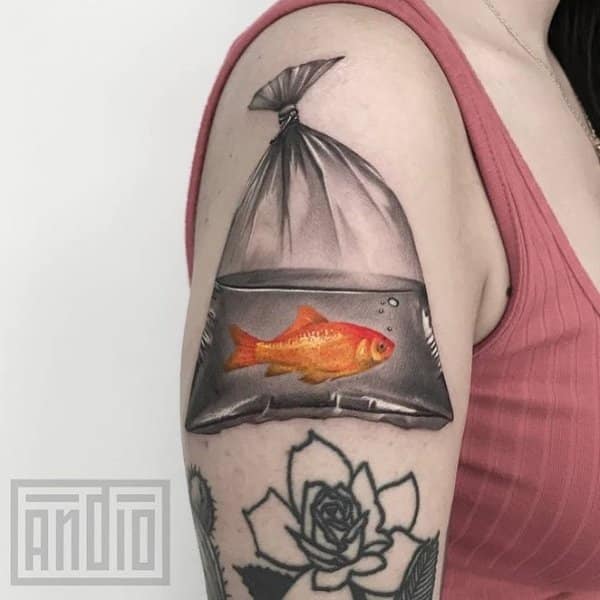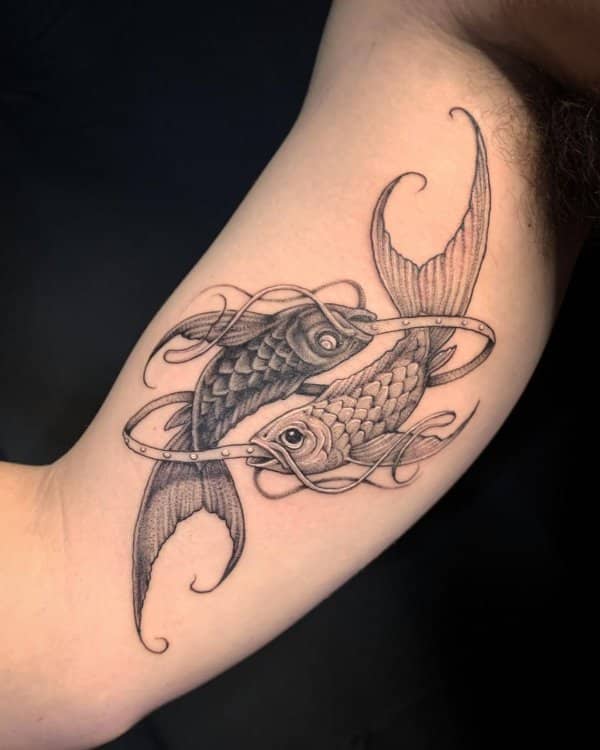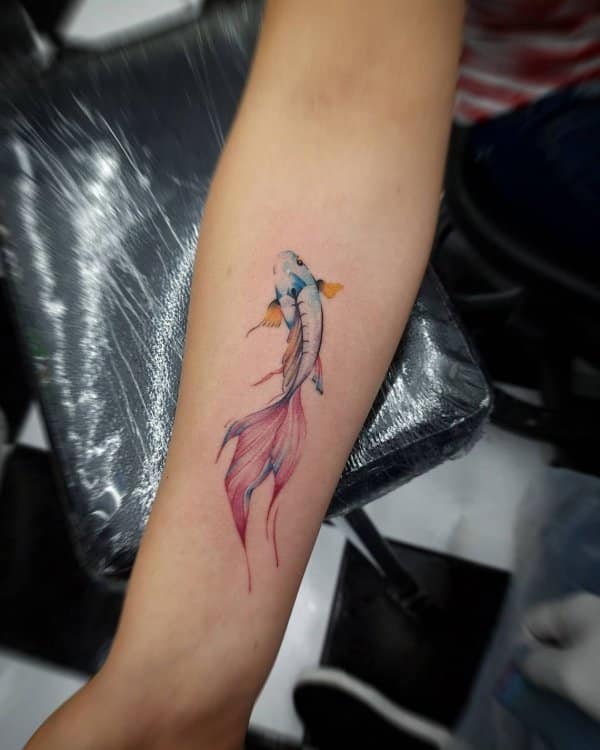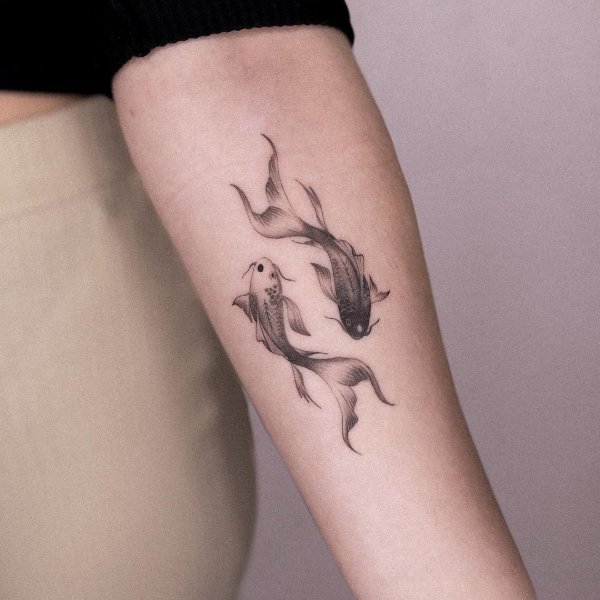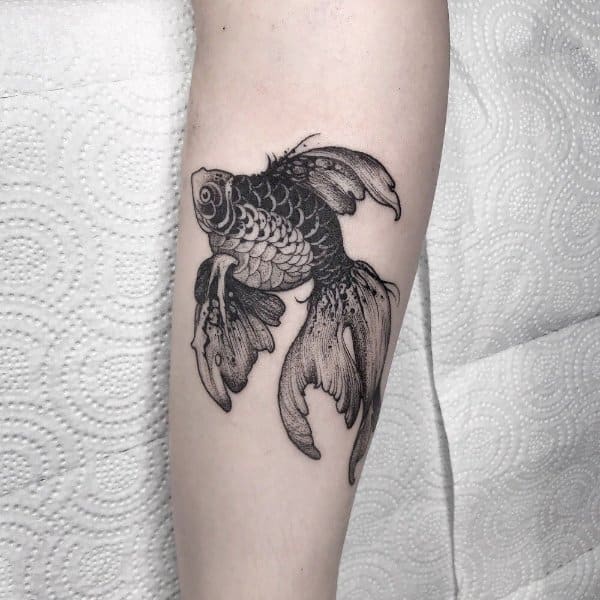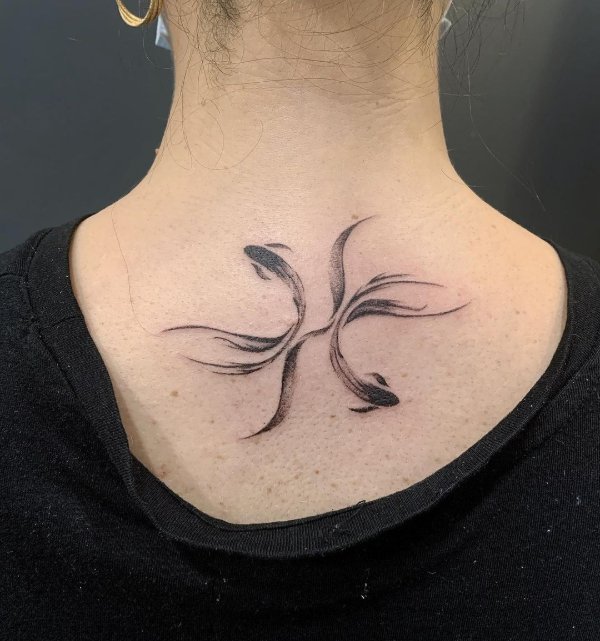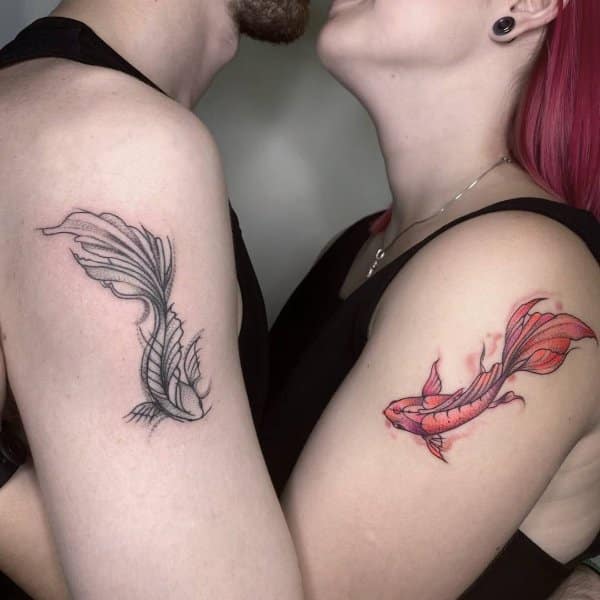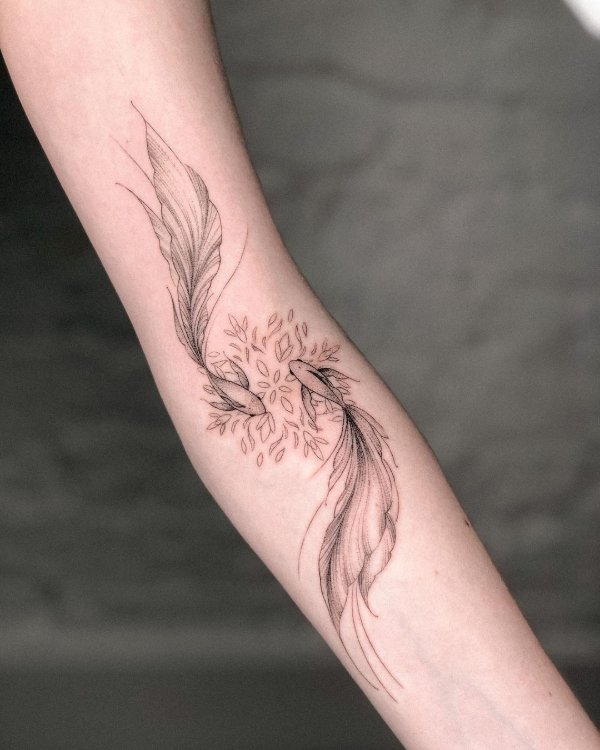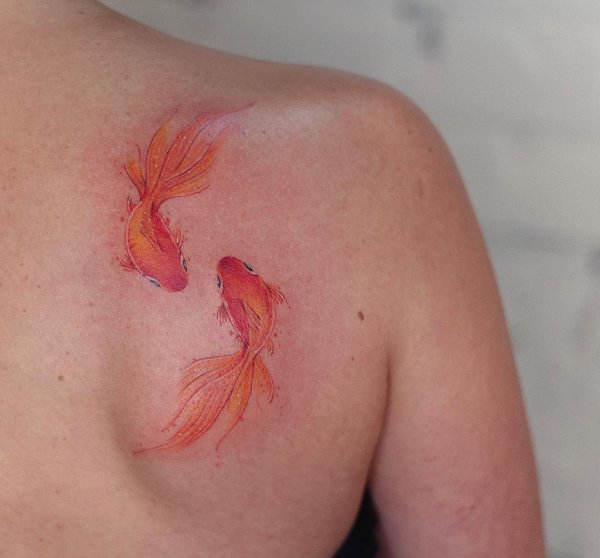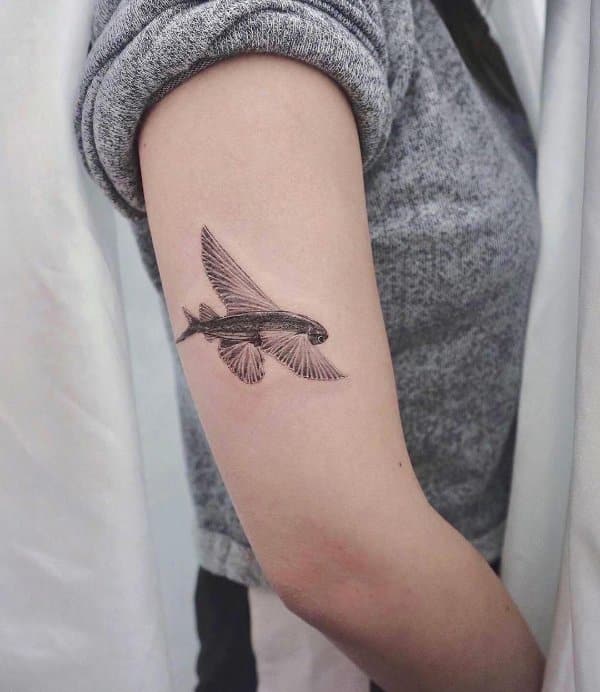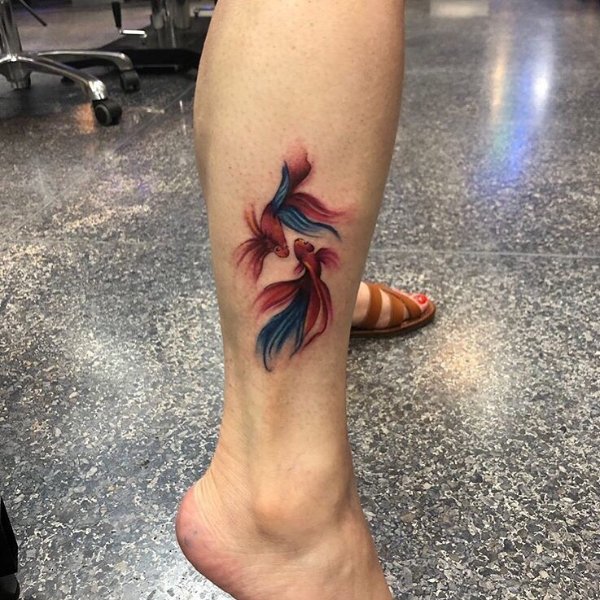 ---
Img src: Pinterest, Flickr and Tumblr. Checck out also Pisces tattoos.
Sours: https://tattoosme.com/fish-tattoo-designs-ideas/
Ladies fish tattoos for
11 Trendy Fish Tattoo Designs for Women
Hey, fashionistas! Today I make a post about the fish tattoos. Fish is such a romantic and pretty animal with plenty of freedom vibes. Women with a fish tattoo seems to an embodiment of the pretty goldfish. So, if you are fond of tattoo designs, especially the animal tattoos, you may think about making a fish tattoo. Wherever you set the fish tattoo, it is always stylish and special.
In the pictures below, you are going to see some fascinating fish tattoo ideas. There are many different styles, colors and sizes for you to choose. If you like any of them, just show the picture to the tattoo artist, he will make a great copy for you. Of course, you can recreate them with your talent and creativity. Just check them out and rock a romantic tattoo style! Enjoy!
11 Trendy Fish Tattoo Designs for Women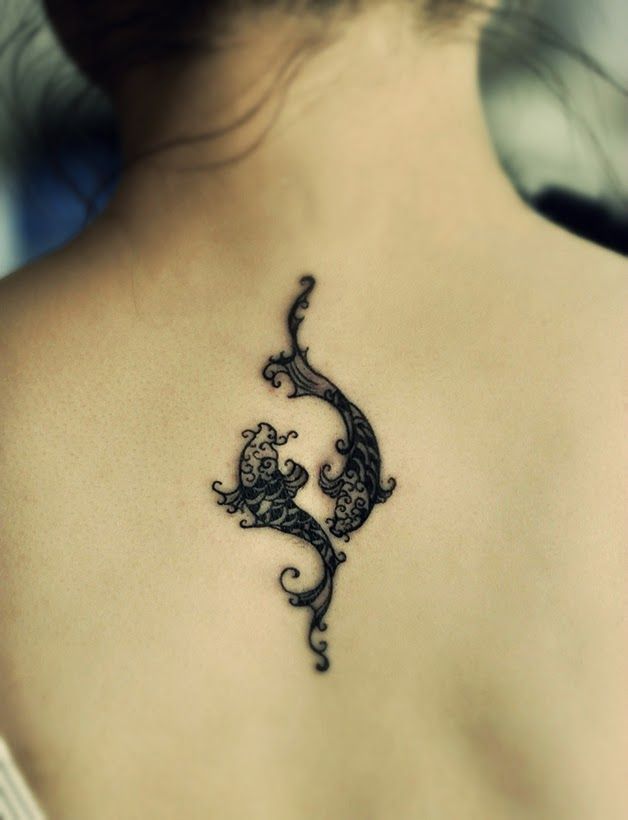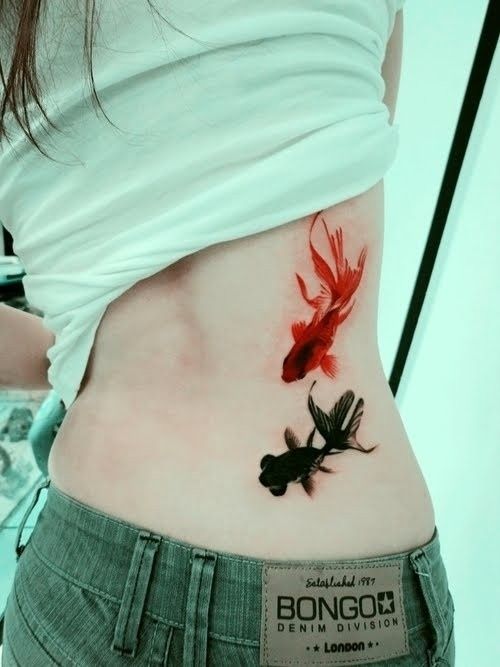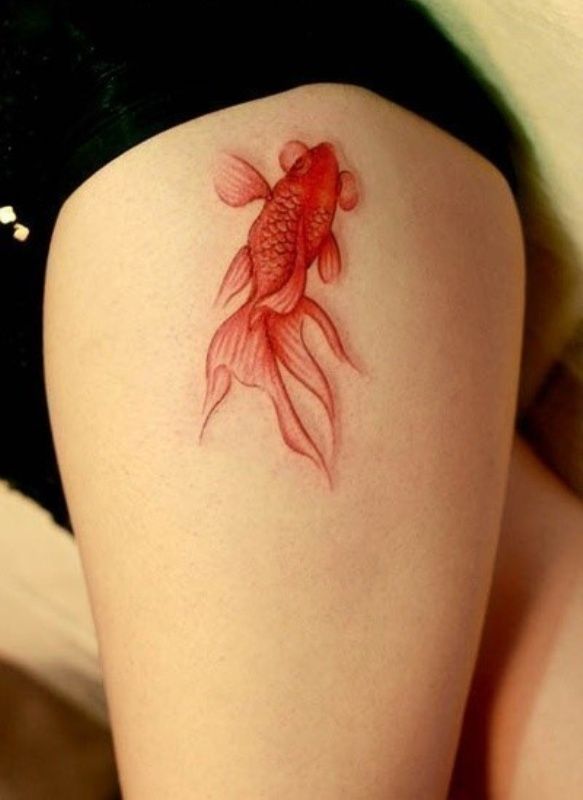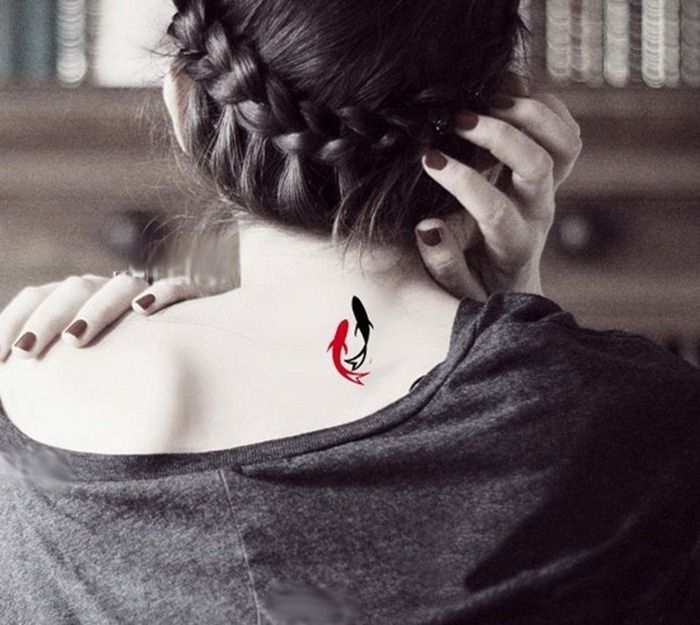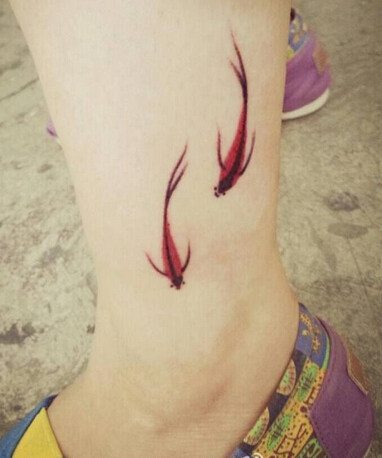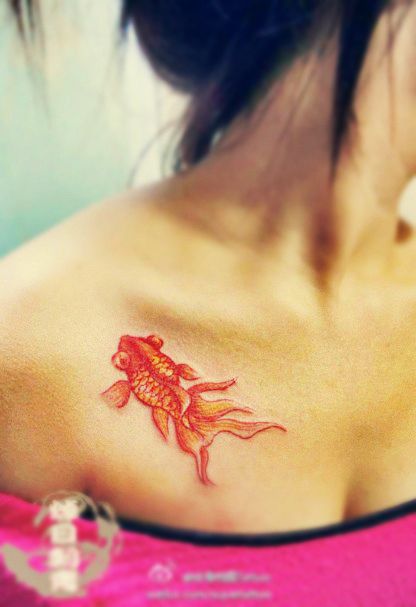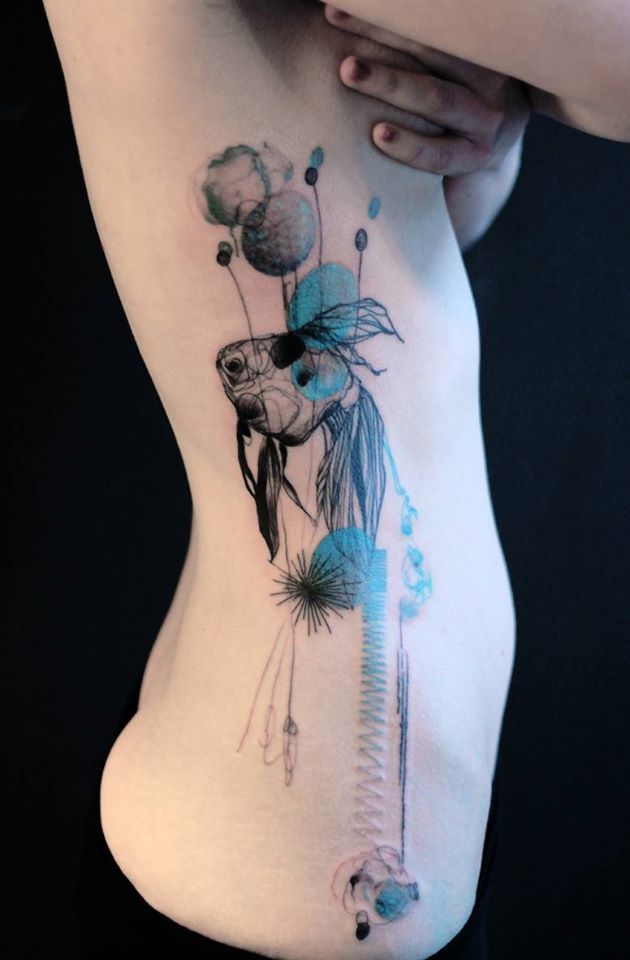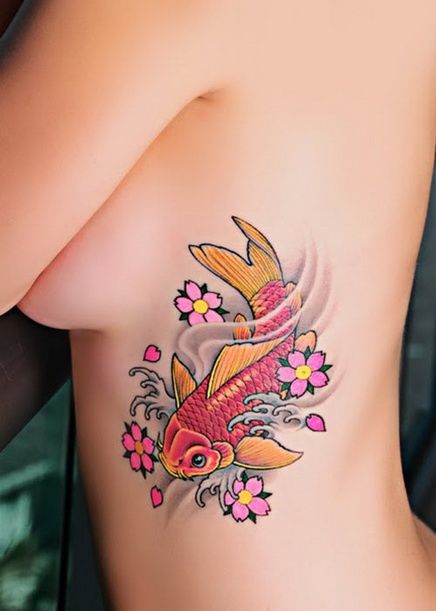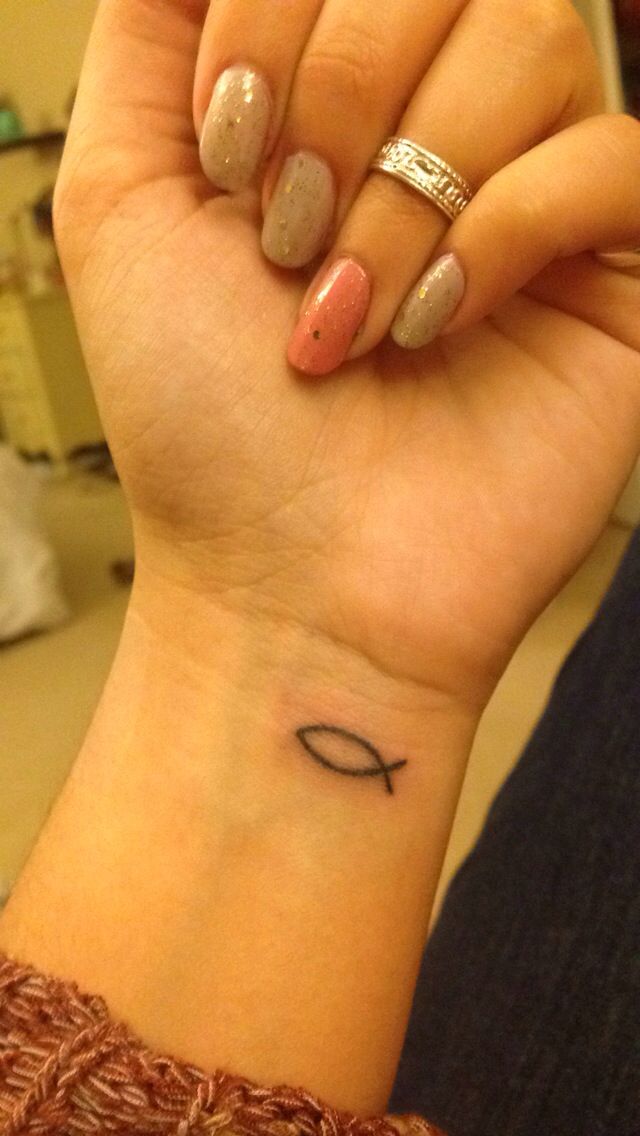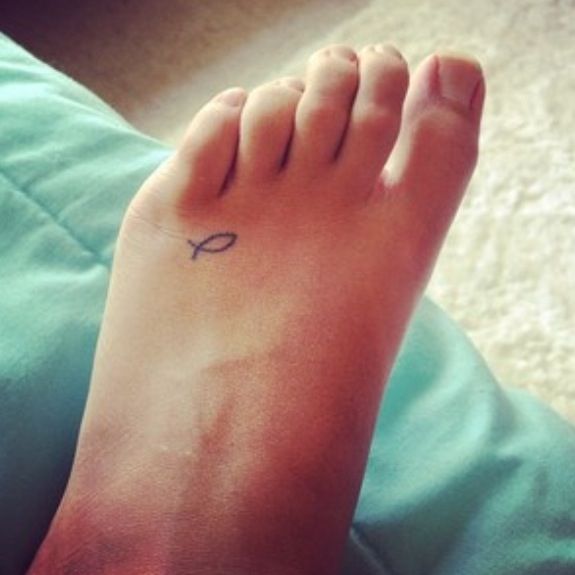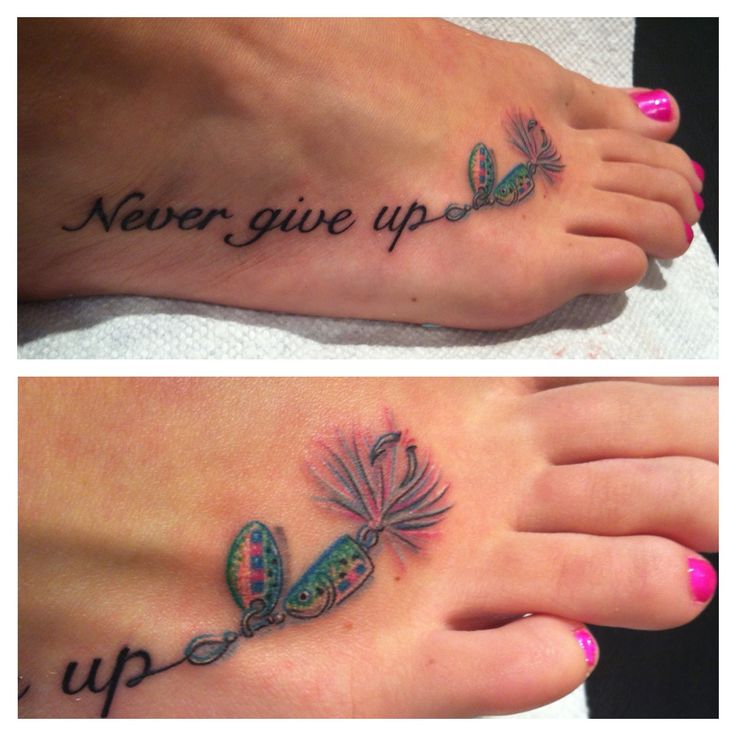 Sours: https://www.prettydesigns.com/11-trendy-fish-tattoo-designs-women/
Canvases Who HATED Their Tattoos 🤬 Ink Master
Koi which is the Japanese word for carp has been a popular tattoo design for many years and still to this day remains popular amongst both men and women. The meaning behind it all? Mythology would have you believe that the Koi fish has the ability to swim up the yellow river and become a dragon – this of course is symbolic of ones aspirations to become something bigger and better in life. In Japanese culture the Koi fish is also symbolic of good luck and fortune.
Now that's not to say that's the reason behind everyone having a Koi fish tattoo, for some all it means is that they're lovers of fish or the intricate detail of the design. We have compiled 40 of our favorite Koi fish tattoo designs to show you.
Red Koi Tattoo
Firstly let's just acknowledge how absolutely amazing this design is! It's the most traditional and common Koi fish which is the orange/gold colored Koi fish. It has been paired with the lotus flower which holds a lot of symbolic meaning of it's own. The lotus flower grows in muddy waters but turns in to a beautiful flower, signifying struggle, determination and a change for the better in ones life.
Black Koi Tattoo
Here is another example of a breathtakingly beautiful Koi fish design on a ladies back. This time in just black ink but as you can see the shading work is impeccable.
We particularly like the traditional Japanese style wave shapes that people put around Koi fish tattoo designs. They are a unique way of drawing waves and give the tattoo a great traditional look. Also a lot of people choose fish tattoos because of how beautiful their scales can look when tattooed well.
The full name of Koi is actually Nishigikoi and they come in a range of colors with amazing looking patterns on them. Traditionally they are kept in ponds as pets, valued for their beautiful and fascinating appearance. Many a garden' s appearance has been improved by having a Koi pond with these colorful fish swimming in them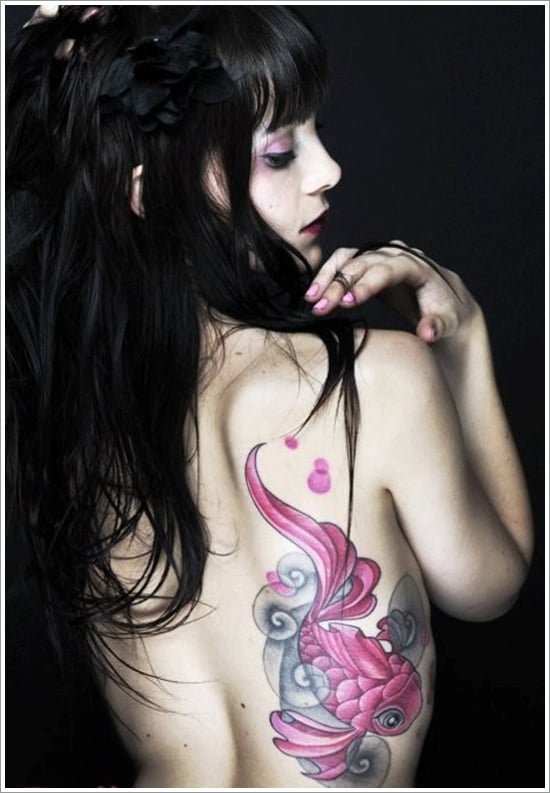 Here you can see more of a modern take on the Koi fish tattoo design. Pinks and greys always manage to work well together and we love the watercolor style blots that make up the background of this design, very beautiful indeed.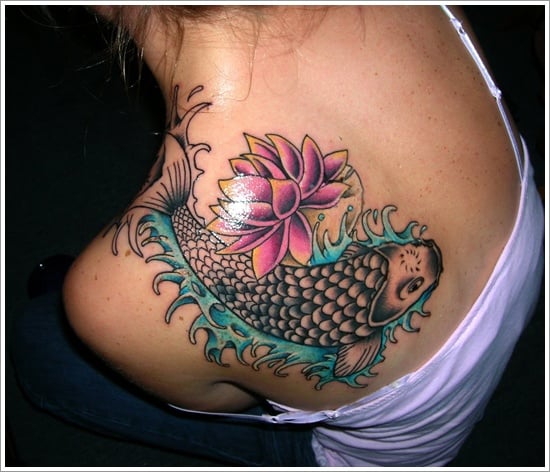 Okay, wow! Even someone who doesn't like tattoos will surely appreciate the beauty of this design. As mentioned earlier, it is quite common for people to pair Koi fishes with lotus flowers as both hold deep meaning, particularly in Japanese culture. Whilst they have opted not to color in the actual Koi fish on this one, they have colored the water blue and the lotus flower pink with yellow tips which gives it a great amount of pop without overdoing it with too many colors. Sometimes just having 2 or 3 colors total can look best.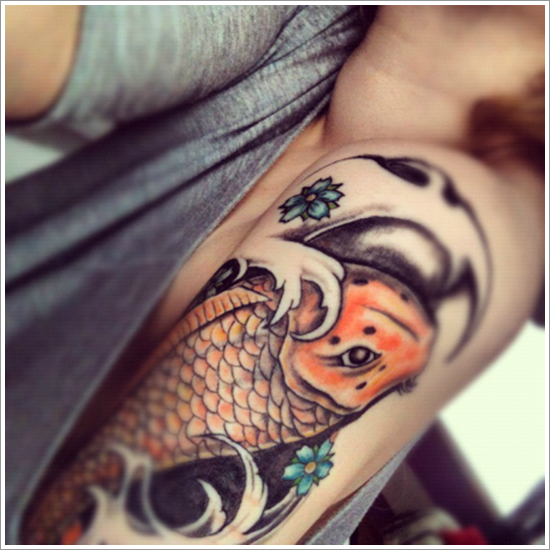 This one looks like more of your traditional gold fish than the Koi fish but it's definitely still got a lot of elements of Japanese art about it. Again notice the style of waves around it and the blue flowers that surround it. It's also shaded in more of a water color style which looks really nice.
Dragon Koi Fish Tattoo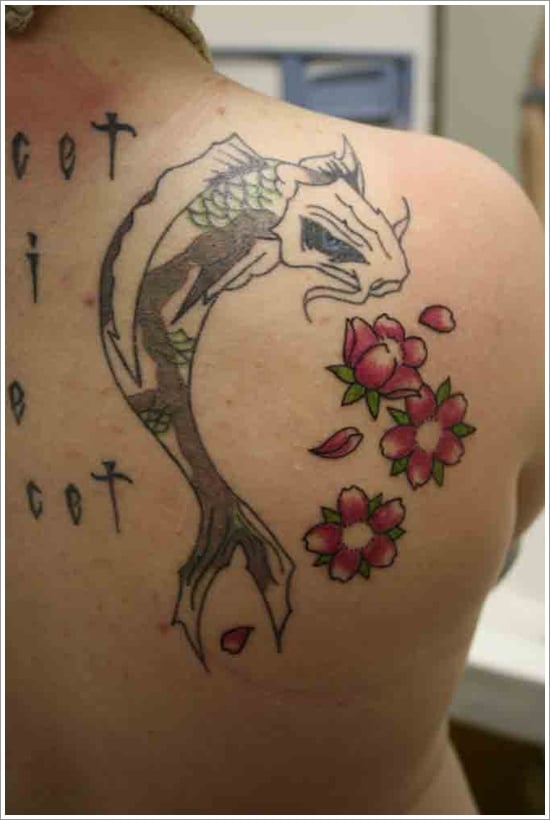 Whilst it may look scary at first sight, there is actually a great deeper meaning to this tattoo design. As mythology would have you believe, the Koi fish can later in life turn in to the dragon. This design definitely shows elements of the dragon (particularly the eyes) and as such is representing the transformation of the Koi in to the dragon koi which to a person is obviously meaningful of a change for the better in their own life.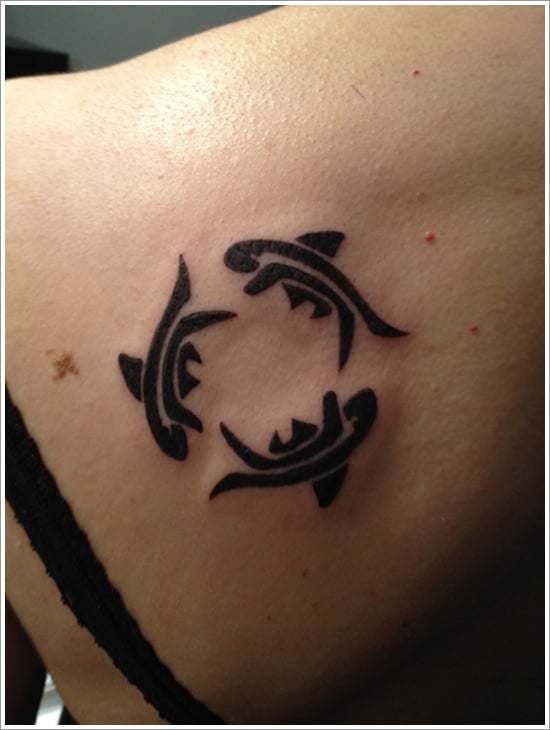 Three is one of the most common lucky numbers to people. As such you will notice when people are opting to get more than one of something tattooed they will often opt to get three of them.
Of course it's also worked in this tattoos favor by the three fish forming more of a circle and could be symbolic to the person of them having three loved ones in their life, such as three children.
Here is a more alternative take on the koi fish tattoo design. As you can see the person is no stranger to tattoos, already having a large skull design on their chest. Shaving the side of ones head and getting a tattoo can be seen as a big commitment by some, but of course if you end up getting a tattoo you don't like you can always grow your hair back there and not have to see the design again!
We love the modern (but scary) take on the koi fish design. It appears to be more of a decaying fish and is most likely a representation of the persons choice to go against the flow and do things differently.
Whilst not koi fish as such, here is a great example of some similar style fish tattoos. This time with your common household goldfish. They are ultra realistic here and look like they have jumped straight out of the gold fish tank and on to the persons side.
The side of the ribs is becoming a very popular tattoo spot, particular for females as it is seen as particularly sexy and just as easily can be covered up when appropriate.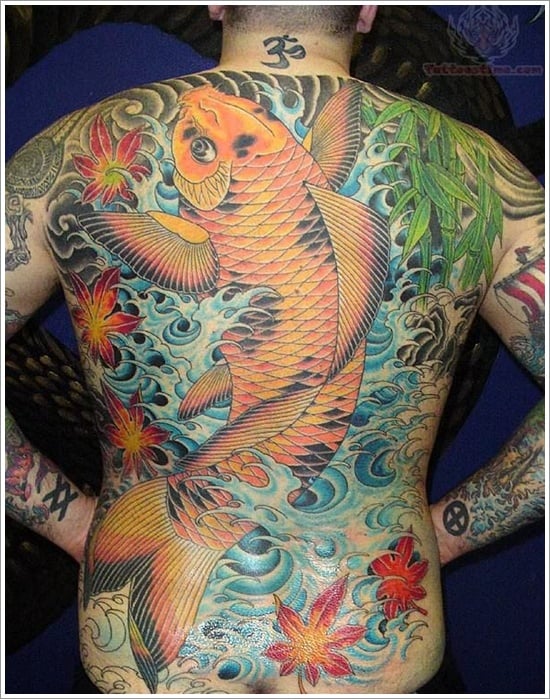 As you can tell, this person is no stranger to going under the tattoo gun. Tattoos like this full back piece can take over 10 hours and many sessions (a lot of money too) so you will want to be sure that it's a design that you really love. This person seems to be going for a sea theme across their whole body so the massive koi fish on their back is definitely fitting with the theme and looks superb.
Whilst it can be a bit hard to see because the persons shorts are covering it, this is an example of a red koi fish. The red koi fish is traditionally a symbol of love which is definitely apparent in this design where the koi fish also has a love heart at the end of its tale. It looks like there is also another koi fish entangled with it too.
We've shown you a few examples of koi fish tattooed on females and here is one on the side of a guy. This particular one is a black koi fish which holds its own significance. The black koi fish represents overcoming a big hurdle in ones life and of course because of this reason is a popular tattoo design for people to get.
Here is another great example of a beautiful shaped fish on someones back.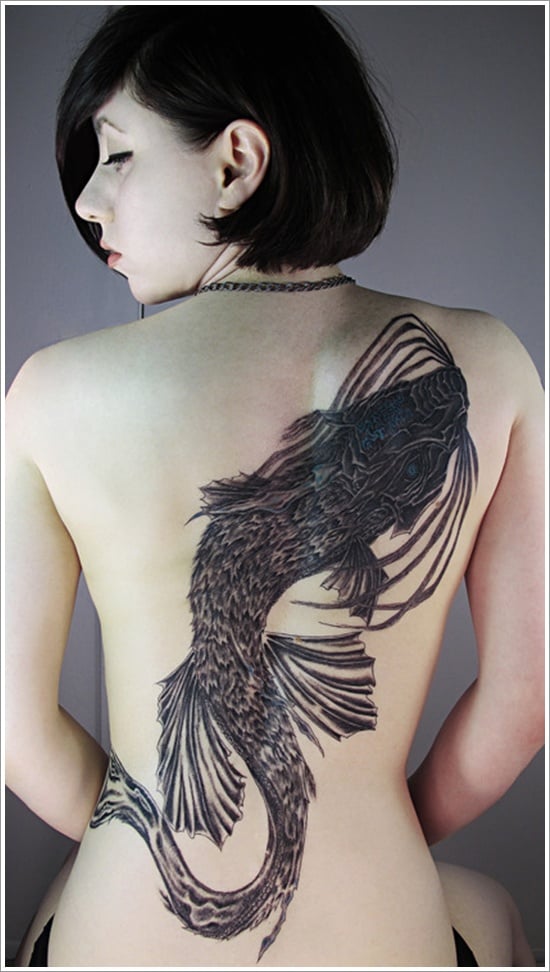 This beautiful full back tattoo is another modern take on the koi fish. Again it's a black koi fish which most likely means that the lady has overcome a challenge in their life recently (at least if they got it for the traditional reason). This koi fish also looks like it is beginning the transformation or rather evolution in to its dragon form.
Koi fish are considered to bring good luck and a better life to their owners, the Japanese valued these fish as a good luck symbol. This sort of endorsement coming from a culture that has deeper meanings and symbolism for almost every aspect of life, makes Koi have even more weightage. Plus the Koi have a long life when looked after properly.
They are supposed to depict bravery, strength and unrelenting determination: In the past there are tales about the courage and perseverance of these fish, which are supposed to have braved waters flowing upstream by swimming in them, leaping over waterfall so that they can be rewarded at the finish of the journey by becoming a dragon.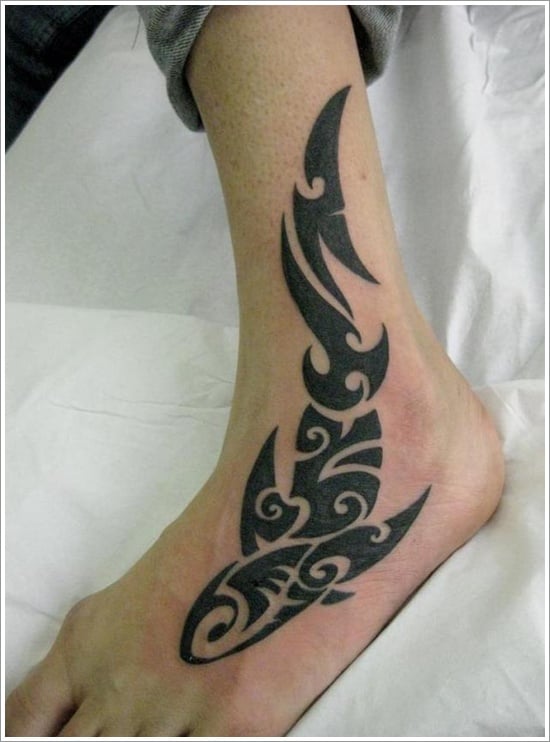 This one is more of a tribal shaped shark design, but none the less it is important to show how you can form the shape of a fish like creature using other shapes and swirls.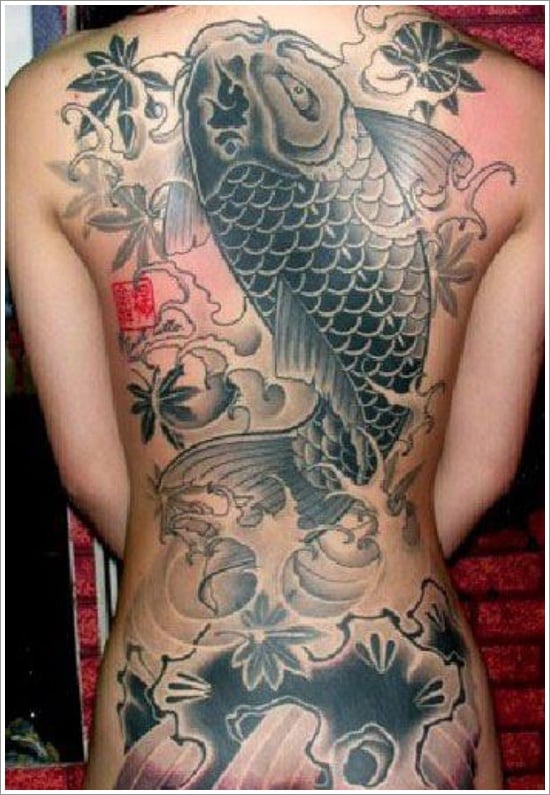 We have mentioned before our love for mixing red and black inks in designs and here is another example of just how great they can look. There is only a minimal amount of red (the stamp and the shading at the bottom of the back) but it really contrasts well with with the deep black color of the rest of the design and overall this is a great looking and albeit epic back piece!
Here is a bit of a reverse of an earlier example of where the person had a black colored koi fish with colored waves. In this one you can see two beautiful koi fish, one the typical orange style koi fish and the other – a yellow koi fish with black specks which is quite a rare color for koi fish but definitely looks beautiful and we love how much detail has gone in to this design.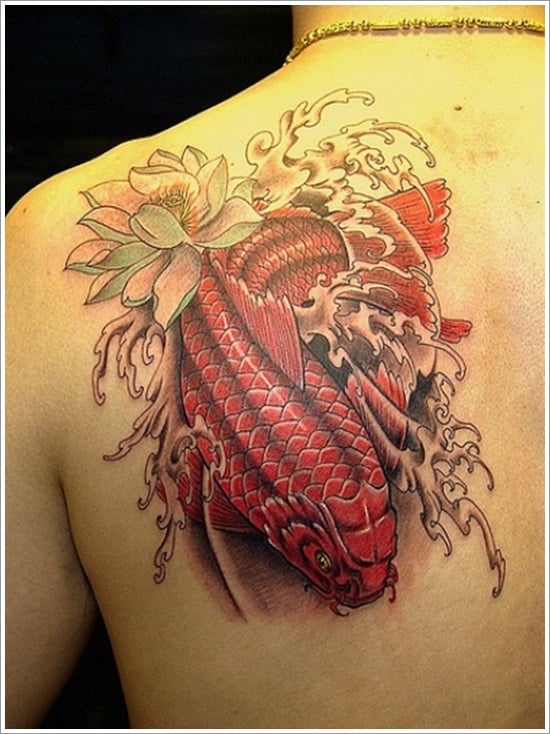 Koi & Lotus Tattoo
Another great example of the lotus mixed with the orange koi fish.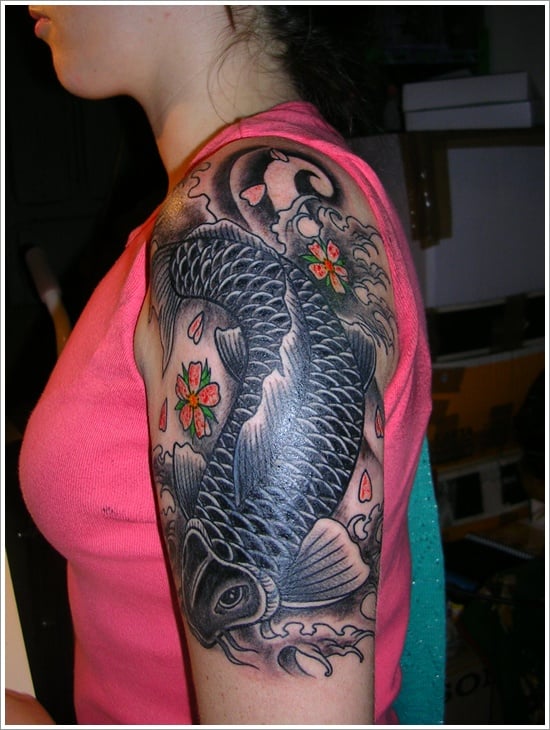 We love how this one incorporates love heart shaped petals around the black koi fish.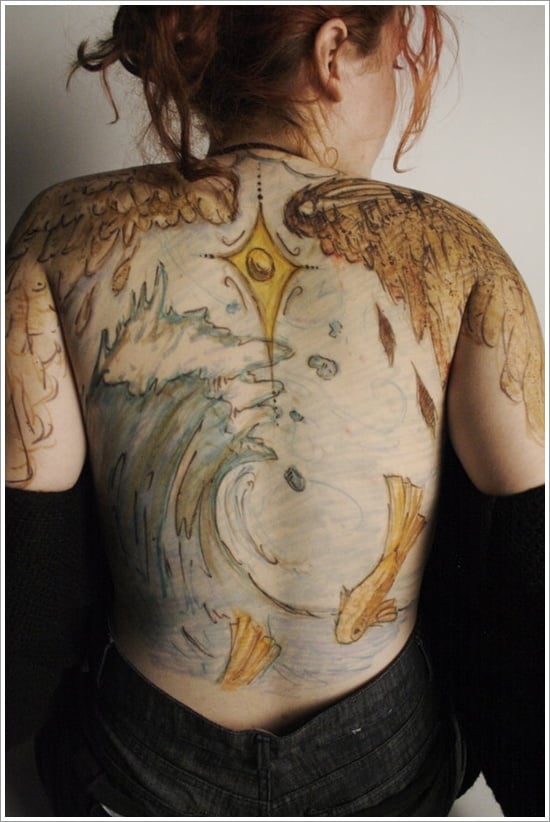 As tattoos become more common place nowadays people are turning to getting more 'out there' styles done. This one looks like its going for a watercolor style effect and looks like the kind of drawing you would expect to see in a child's picture book, all the same it's a beautiful design.
Astrology tattoos representing the time of year one is born are very popular tattoos with this one standing for "Pisces"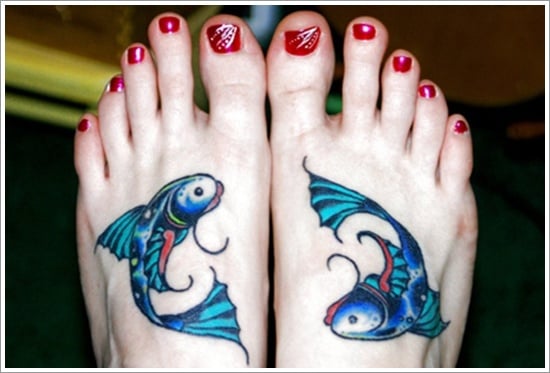 Some beautiful contrasting koi fish on either foot, topped off with matching toe nail polish.
We all know that a tattoo design is more than just mere body art it signifies who you are, what you love, what you think and most important of all, what you want others to think about you. This means your tattoo design choice should be one that you like and will continue to like. Taken aesthetically or taken as something with deeper meaning, a Koi Tattoo meets all the criteria.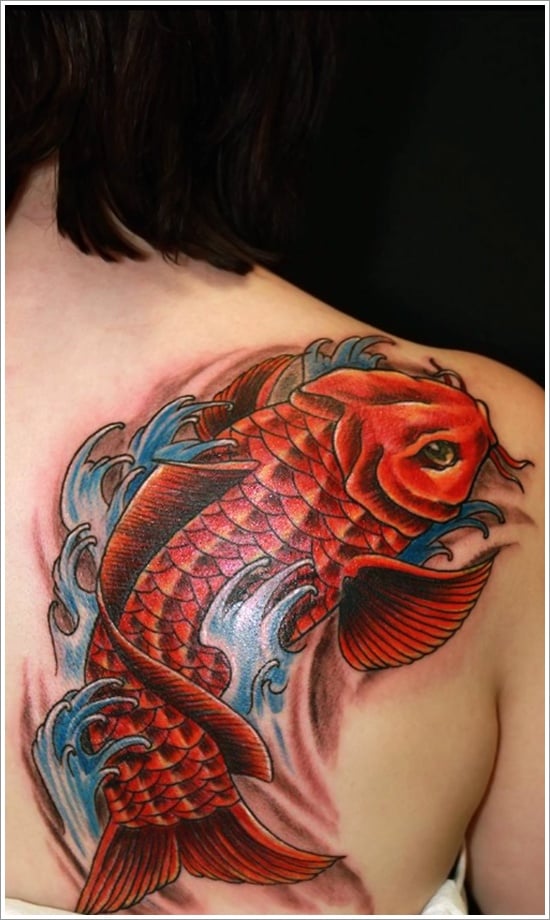 A great close up to show you how much detail and shading can go in to creating realistic looking fish scales.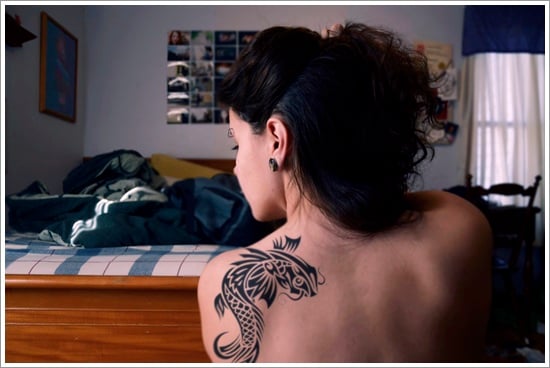 The best part of getting a Koi tattoo, even though it has become really popular is that there are still many unused and original designs that you can choose from.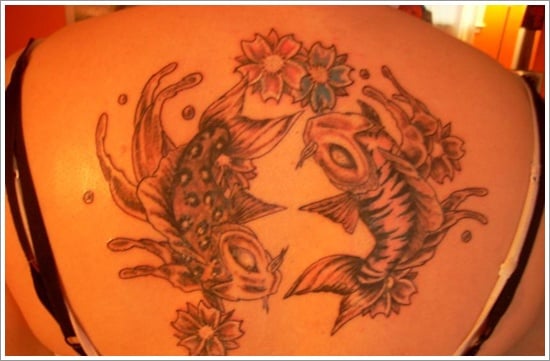 Yin yang style koi fish – representing balance in your life.
A great looking and more traditional Japanese style drawing of a warrior trying to capture a larger than life koi fish.
Japanese characters are very popular to get tattooed and work well with the koi fish.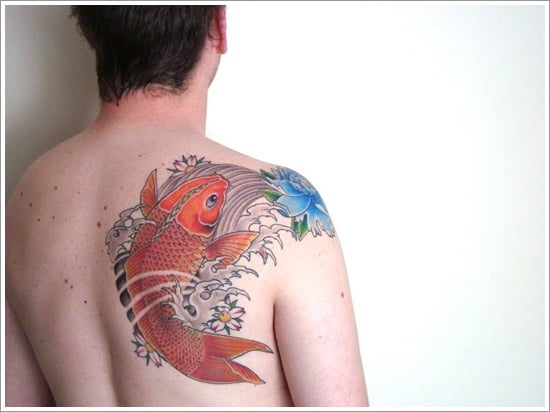 Another great looking orange koi fish back tattoo with a blue flower on the shoulder.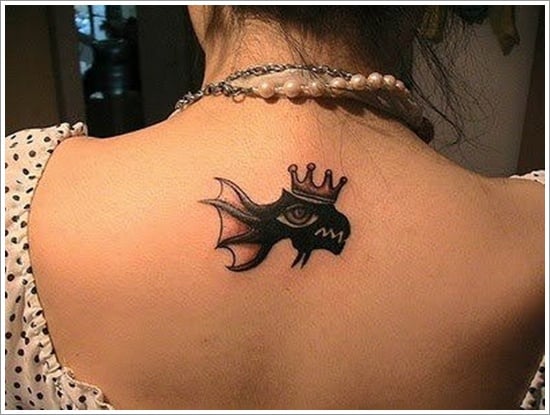 Looking for something a bit different, why not add a crown to your fish to show who's boss!
A beautiful marlin that from a birds eye view appears to be going straight through the persons neck.
The blue koi fish is considered very masculine and also can represent reproduction.
A more modern and abstract style koi fish tattoo design.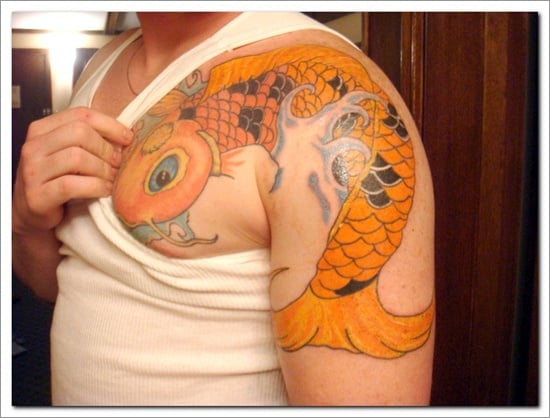 A great looking orange koi fish that starts on someones shoulder and goes over to their chest. We really like how they have mixed it up with some black scales.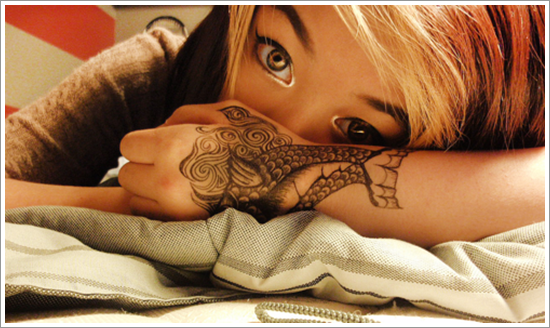 A beautiful fish design on someones hand, with some really cool curvy waves.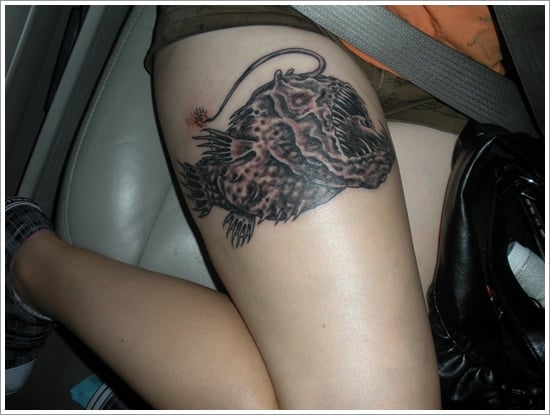 Lastly, we will finish with this crazy looking piranha style fish design. It's the epitome of the saying "theres always a bigger fish".
Julia
Sours: https://www.tattooeasily.com/koi-fish-tattoo-designs/
Now discussing:
You're not doing all this out of altruism, are you. - You are not a stupid person, Dima. Yes, I am, first of all, a businessman, but I am used to combining business with pleasure.
1478
1479
1480
1481
1482