10 Fresh Ways to Dress Up Plain Glass Vases
Driftwood
Driftwood adds gorgeous rustic, coastal texture to any arrangement and can take on a masculine, feminine or gender-neutral look depending on its complementary accessories. Get the look: Place one cylinder vase inside a slightly larger vase with the same shape. Fill the smaller vase with water and flowers, then fill the space between the two with small pieces of driftwood.
Fruit Wheels
Combine floral and fruit for a fun, unexpected arrangement. Get the look: To line the outside vase with fruit wheels, you'll need two vases that are slightly different in width. Then, place one inside of the other. After adding water to both vases, cut the fruit into slices and place them in the gap between the two. Add floral to the smaller vase.
Floating Fronds
Looking for a minimalist approach to a centerpiece? Get the look: Fill three-quarters of a cylinder vase with water, then place a large frond inside. Bend it appropriately until it sits firmly inside. The green tones of the frond will help add color to your space, and the graphic lines will be visible from near and far away.
Candy Toppings
Monstera
Monstera leaves are a favorite for designers and florists because of their ability to cover stems inside of clear glass vases. Get the look: If you want to keep floral stems hidden from view, wrap the interior of the vase with two to three overlapping monstera leaves. There's no need to trim or cut the leaves; simply overlap them, then make sure any visible seams sit along the back of the vase.
Floral Wreath
Dinner parties call for ambience, and candlelit hurricane vases often do the trick. Get the look: Pick up a foam wreath with an opening slightly larger in diameter than the base of the hurricane vase. After soaking the foam in water, place it on top of a charger or a ceramic plate to keep any water from damaging your table surface, then add cut floral around the perimeter of the wreath. Finish by placing the hurricane vase in the center of the floral wreath.
Lavender
LED candles inside of glass hurricane vases offer ambience without the concerns of actual flames, but there's no refreshing aroma. Bring a natural, organic scent to battery-operated hurricane candles with this quick trick. Get the look: Add lavender around the perimeter of a hurricane vase and tie it in place with twine, string or rope.
Seeds and Succulents
For rooms that receive direct sunlight most of the day, a hurricane vase filled with succulents may be the perfect fit. Get the look: Fill the vase approximately one-third full with seeds or beans, then add a small layer of soil on top before adding succulents.
Colored Beans
Beans are ideal for earth-toned looks, as most come in hues of green, orange, black, white and neutral tones. Get the look: Add texture and color inside a hurricane vase by filling the bottom with a layer of colored beans. Finish the look with a scented or LED candle.
Palm Leaves
When cut flowers are placed inside of clear vases, their stems become a key part of the overall look. For some arrangements, the stems can become overpowering or detract from the flowers themselves. Get the look: To take the focus off the stems, wrap banana leaves around the exterior of the vase, then tie them in place with twine.
Sours: https://www.hgtv.com/design/make-and-celebrate/handmade/1/easy-ways-to-dress-up-glass-vases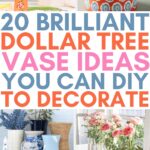 Use Dollar Tree vases to turn them into beautiful home decor pieces. These low-budget projects are fun, creative, and great when you want to create a centerpiece of your own.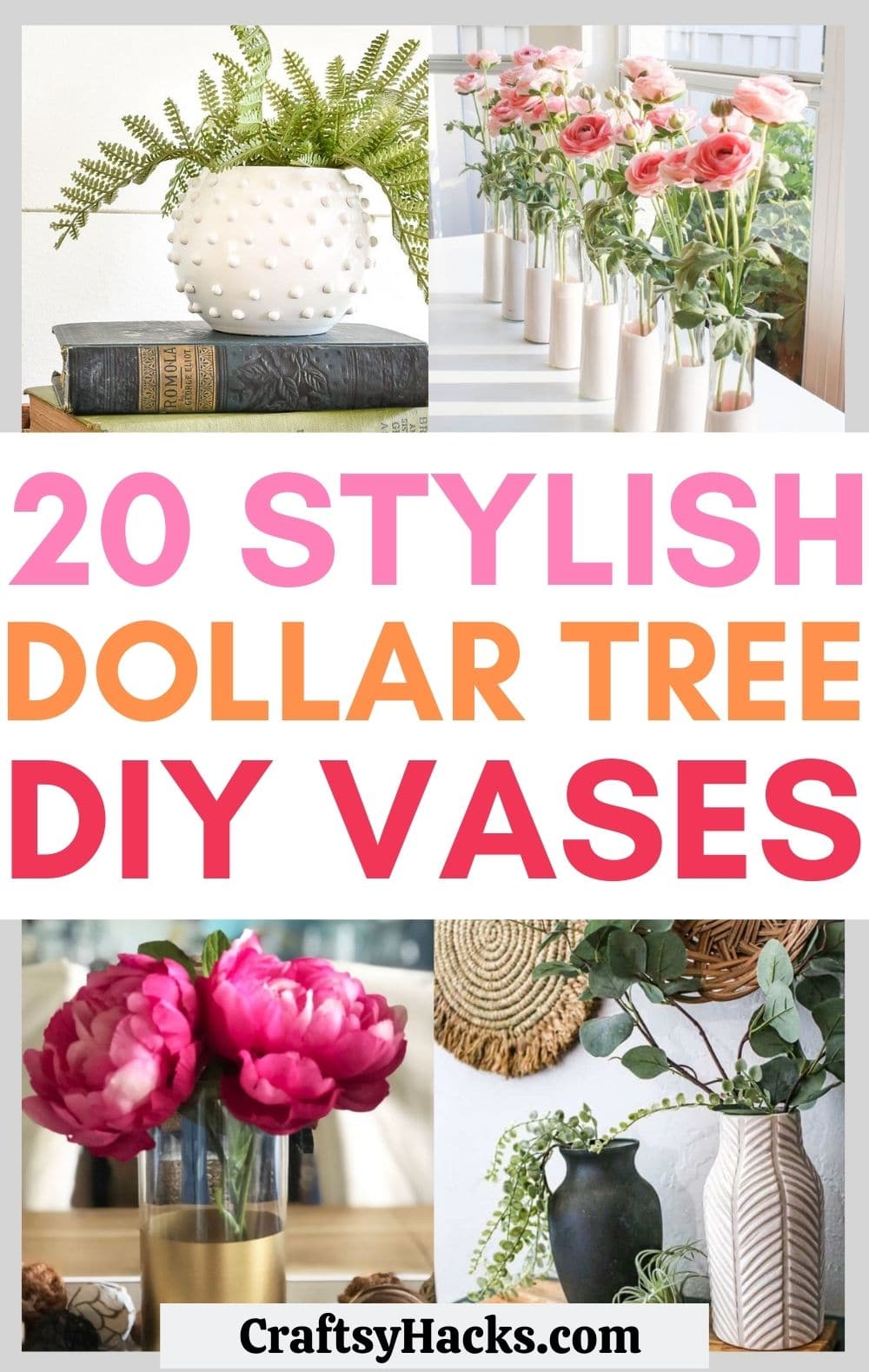 Decorating your home on a budget can feel like an impossible task, especially with homewares' prices always trending higher. Luckily, DIY home décor is all over the internet.
When it comes to floral arrangements, you need a vase that can match your home décor. The flowers are changeable, but the vase is not. So, how do we create a gorgeous flower vessel to fit any room?
Well, follow along with any of these twenty vase tutorials, and you'll have no problem! Let's get into twenty-one of my favorite Dollar Tree vase ideas.
1. DIY Vintage Pottery Vase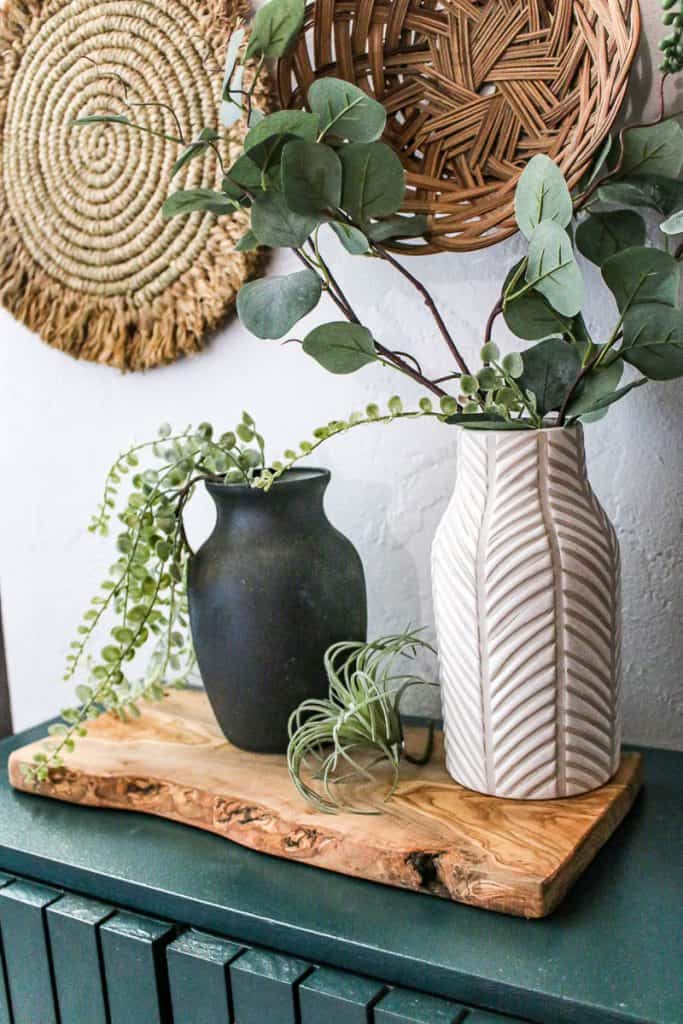 Credit: makingmanzanita.com
Vintage pottery will dress up any home, bringing an element of antique sophistication. The problem is, high-quality vintage pottery can run into the hundreds of dollars, especially for matching sets.
Luckily, a creative crafter came along and figured out how to turn an old glass vase into its vintage pottery counterpart. You need quite a few spray materials, but you can use them all again for other adult projects.
Some of the spray paints you need include a white primer (here), a flat color enamel (here), and a matte sealer (here).
2. DIY Hobnail Milk Glass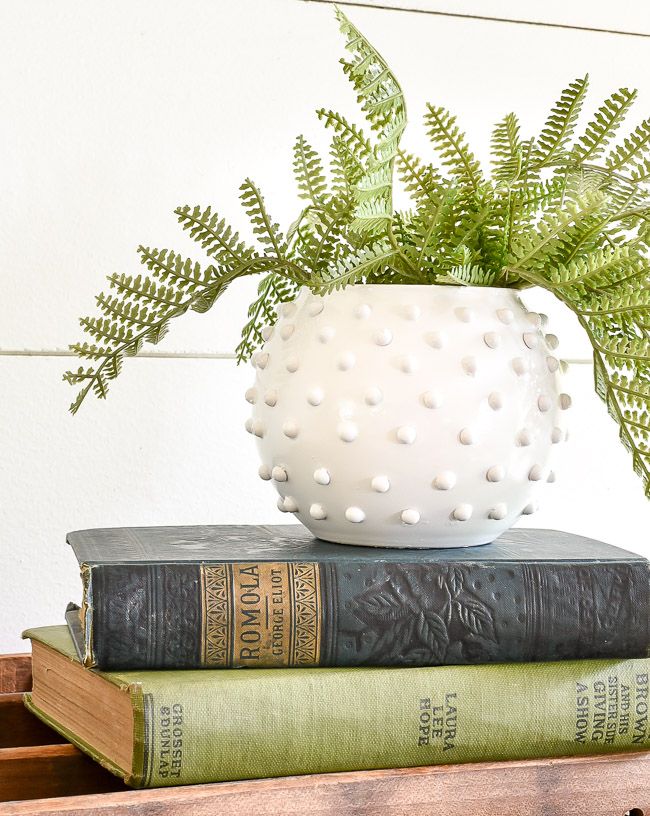 Credit: littlehouseoffour.com
This unique vase uses a Dollar Tree glass vase with some pearl stickers (here) to create a hobnail look. Spruce up pretty much any succulent, greenery, or fern with this austere white beauty.
I'm particularly fond of clean white décor in a bathroom or kitchen, and this vase would work perfectly in either case. One essential for this craft is the Dap RapidFuse glue (find here), which holds beautifully on glass.
This vase would go beautifully with any of these DIY Dollar Store centerpieces, so why not take a look?
3. Gold Color-Blocked Glass Vase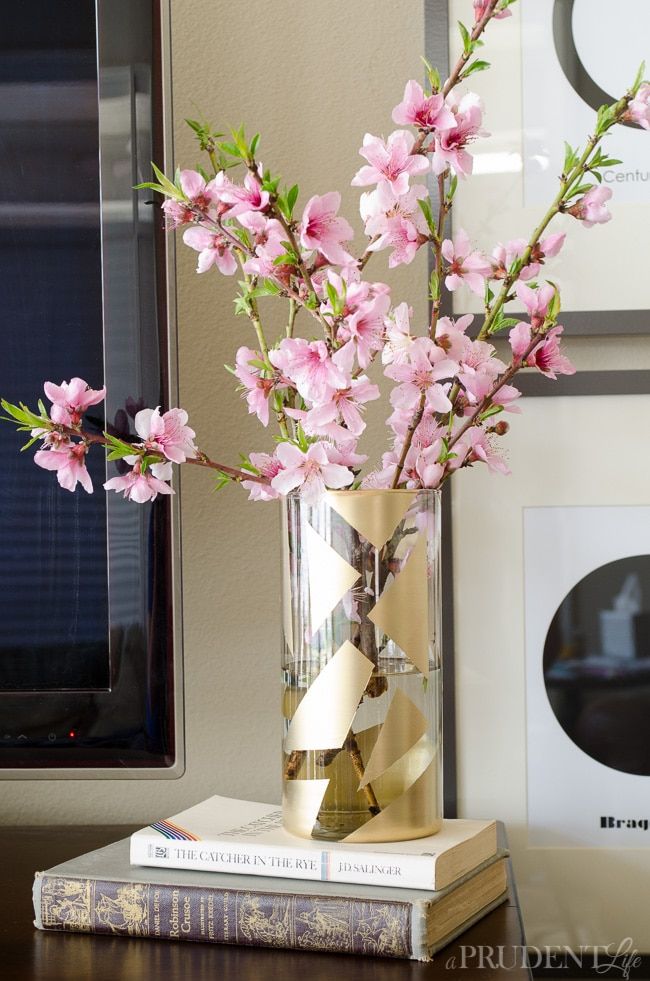 Credit: polishedhabitat.com
A standard pillar vase is a perfect canvas for many crafts, thanks to its simple shape. This craft requires barely anything to make! All you need is gold spray paint, a clear matte enamel, and some masking tape like this.
I love how the crafter finishes it off with a branch of gorgeous flowers. It adds this lovely natural look, contrasting beautifully with the modern look of the tall vase.
4. DIY Hurricane Candle Holder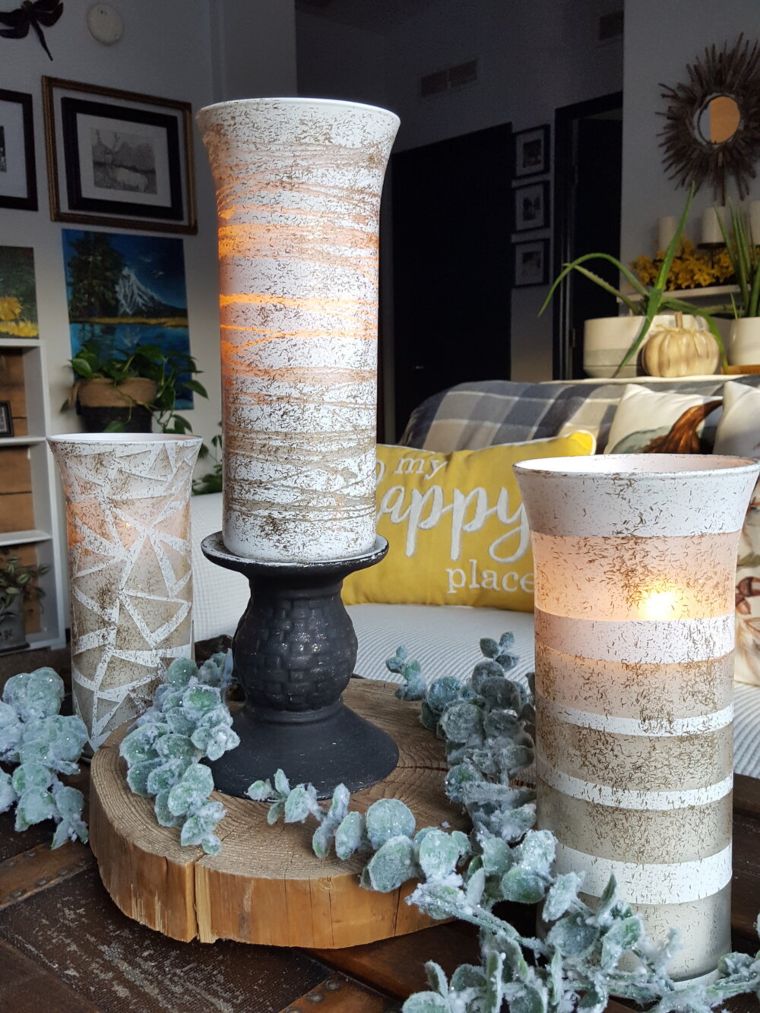 Credit: olympicnest.com
A hurricane candle holder is named for the swirling shapes, making candlelight flicker as if in a wind-storm. I love these because they add so much interest to a potentially boring home décor item.
Not to mention, you can use it as both a candle holder and a vase. Making your own hurricane candle holder is super easy. All you need is some painter's tape or jute twine and your chosen spray paint.
If you've opted for the jute twine, you might be a farmhouse nut like me. Use your spare twine to create another type of vase… the twine-wrapped vase!
5. Buffalo Plaid Vases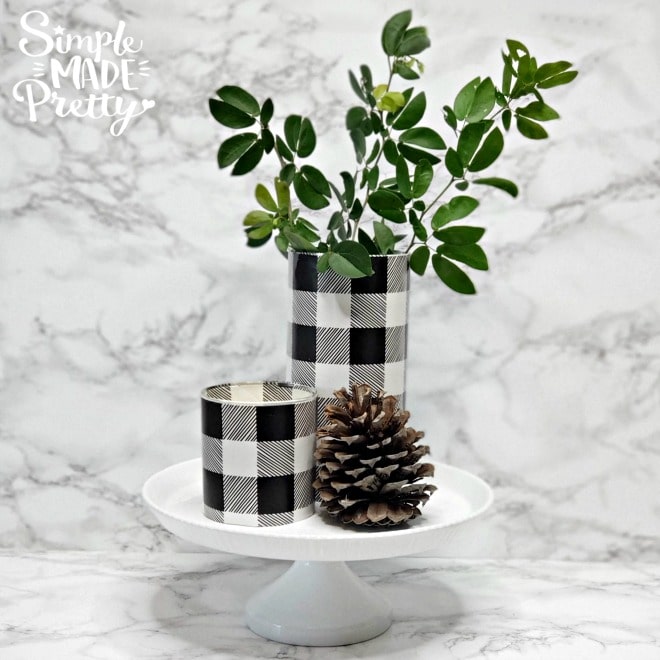 Credit: simplemadepretty.com
The buffalo plaid trend is sweeping the nation, and for a good reason. This bold design contrasts beautifully with vibrant greenery, which is why I love it so much.
The pop of color is so different from other minimal designs. You can go for any plaid color, but I recommend black and white for year-round décor.
Red buffalo plaid is perfect for the festive season! The craft uses wrapping paper like this, but you can also use vinyl.
6. Easy Dollar Tree Gold Dipped Vases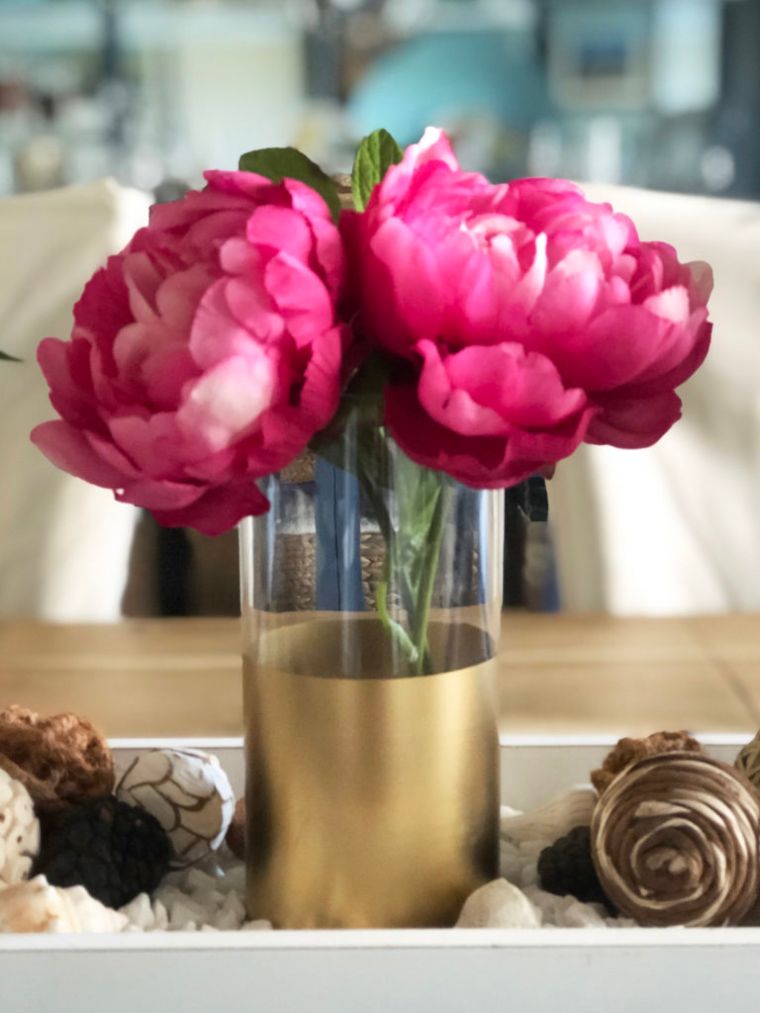 Credit: thehousehouse.com
Once again, we're using those lovely tall, cylindrical Dollar Tree vases to create modern home décor. This time, we're 'dipping' the vases using gold spray paint and painter's tape.
You can literally slap this together in an hour! Create vases of different sizes for a dynamic centerpiece or line the center of your table with three vases of the same size. The possibilities are endless.
7. Rustic Vase Makeover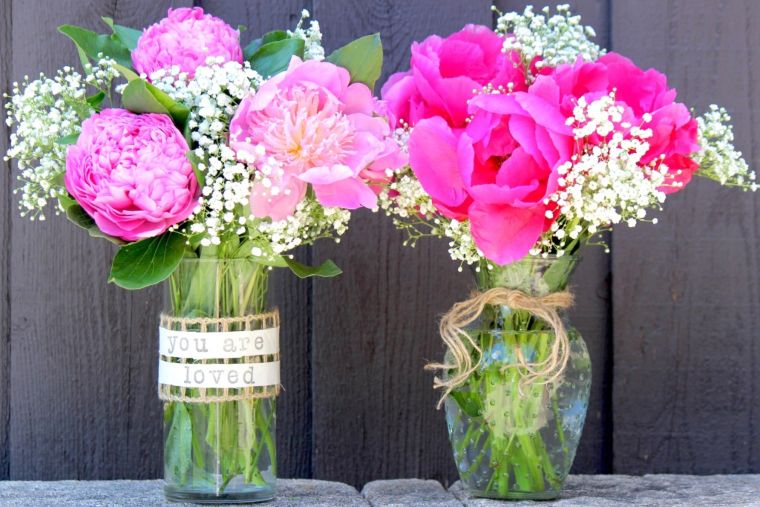 Credit: shescraftyandsheknowsit.com
This vase makeover would be perfect as a Mother's Day gift because it carries a special message along with it. Combine some gorgeous blooms with a heartfelt message for the ideal present.
The idea is to stamp letters on muslin or linen, giving the message a rustic look. Back it with some lattice jute ribbon (like this) for a different country chic touch.
Suppose your mother isn't really a flowers kind of woman. Why not create these DIY macrame leaf earrings to expand her accessories collection?
8. Chic Photo Memory Vases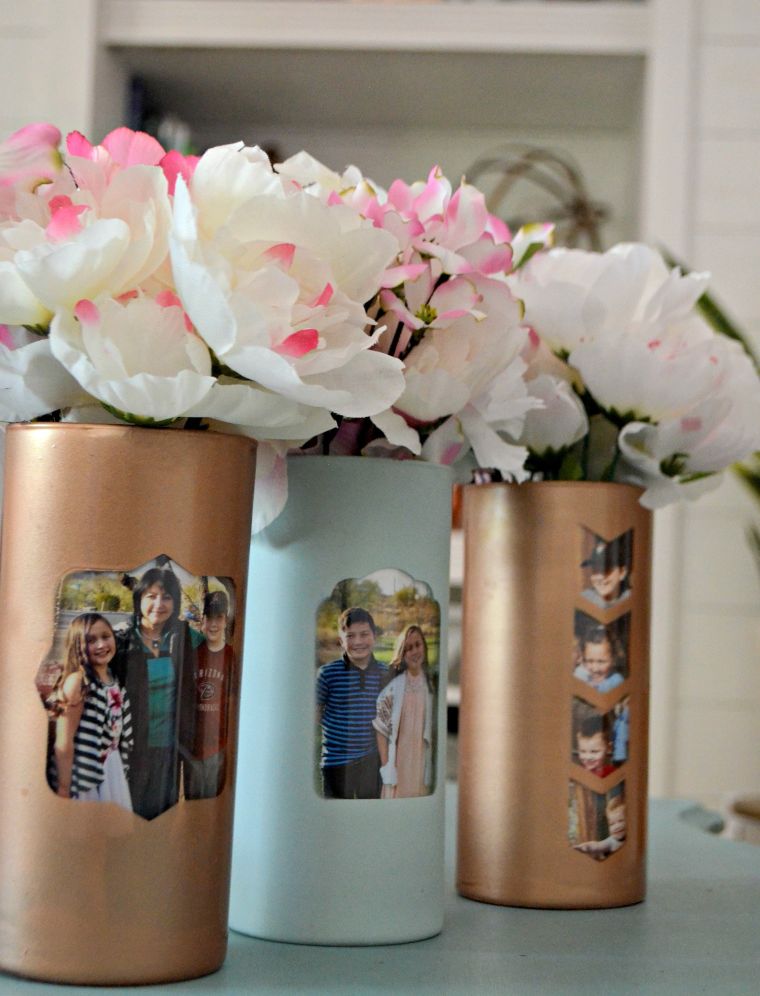 Credit: hip2save.com
This craft uses a large sticker to create a 'frame' shape on a spray-painted vase. I can't get over how brilliant this craft idea is! So, as long as the vase you choose is clear, this DIY will work for you.
While this is ideal as a gift idea for Mother's Day or Christmas, this is also an innovative way to decorate your home with family pictures.
To keep your photos safe on the vase's interior, spray with clear enamel like this. Check out more Dollar Store decorating ideas here.
9. Dollar Tree Twine-Wrapped Vase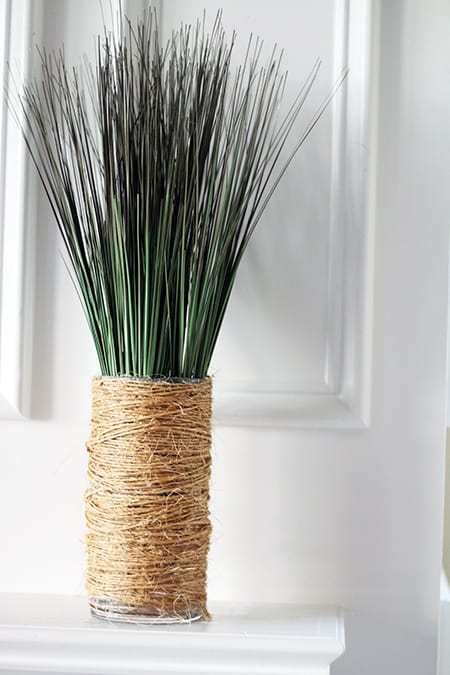 Credit: passionatepennypincher.com
If we're talking about cheap home DIYs, you can't go wrong with a roll of thick twine, a hot glue gun, and a tall glass vase. You can find all these supplies at your local dollar store for less than five dollars.
This vase blends perfectly into a farmhouse décor scheme. That shabby chic look is really coming back!
One thing to keep in mind is you'll need many hot glue sticks, so make sure you grab a bulk pack here.
10. Miniature Flower Vases from Salt and Pepper Shakers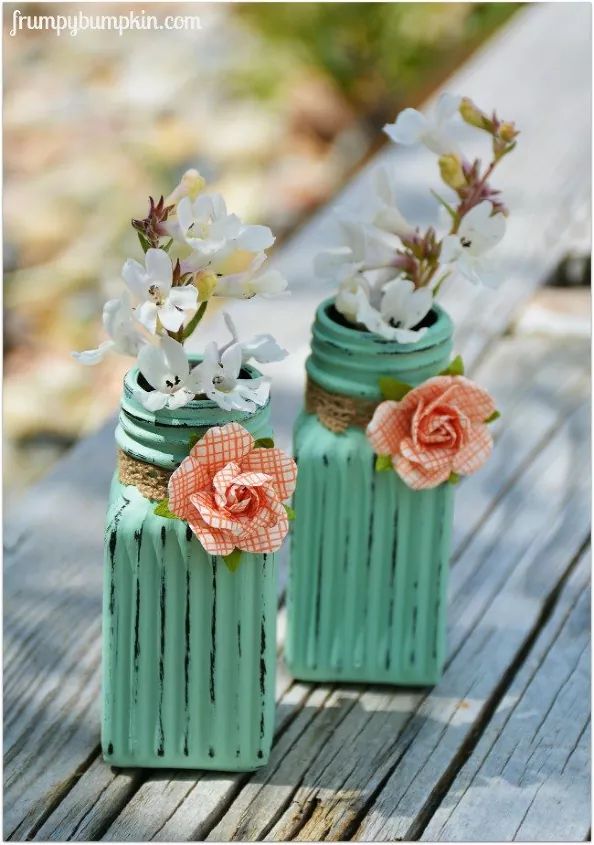 Credit: hometalk.com
These sweet miniature vases are perfect for smaller spaces in your home, embracing that rustic charm that shabby chic décor is known for. You can find old salt and pepper shakers at your local thrift store.
If not, you can always grab some from the dollar store! Once you have the shakers, all you need to do is apply a chalkboard paint layer. Then, spray it with chalk paint like this and gently sand to distress them.
11. Fake Ming Dynasty Vases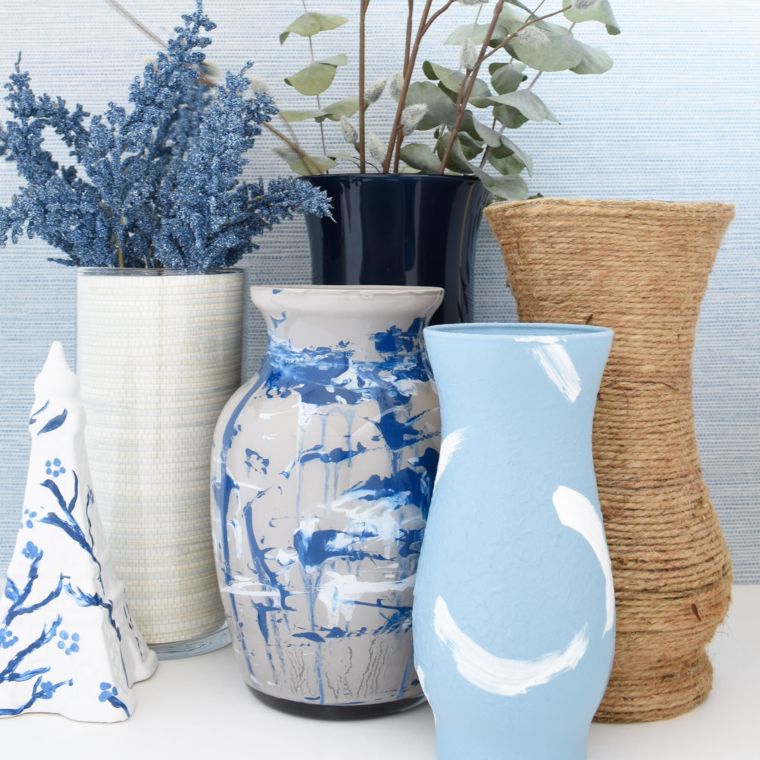 Credit: tmoorehome.com
Always loved the look of Chinese ceramics but found the price tag a little too overbearing? You're certainly not alone there. I'm also fond of the characteristic blue and white look of this pottery.
Luckily for us, someone came up with an abstract take on this ancient art form. So, DIY-ers like us can make our very own loose interpretations using cheap vases, craft paint, and spray lacquer like this.
12. DIY Confetti Dollar Store Vase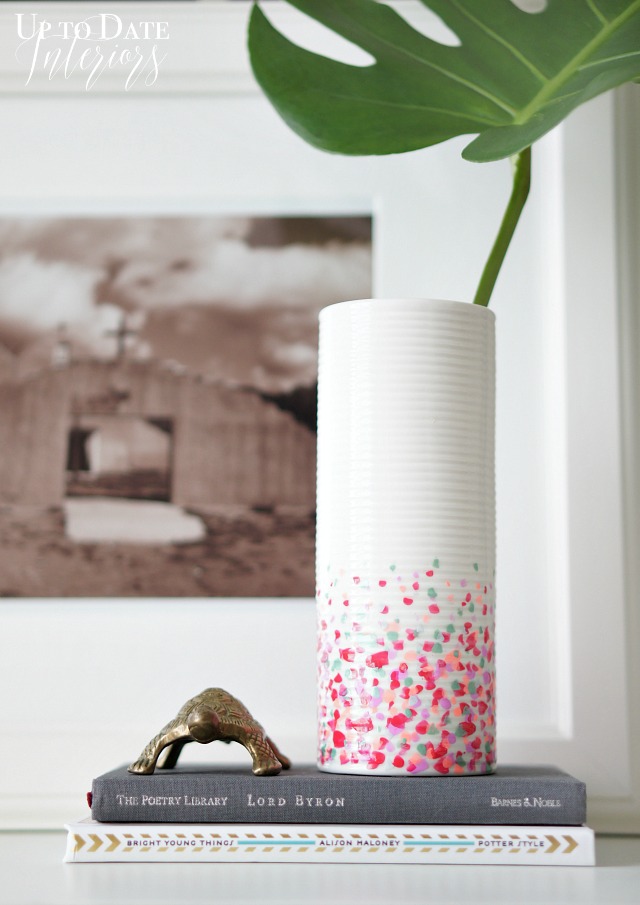 Credit: uptodateinteriors.com
Here's something a little different from the rest of the list. Instead of following a rustic or modern trend, this DIY confetti vase is vibrant and playful, adding a touch of sunshine to any corner of your home.
Since nail polish is already a lacquer, it's perfect as a medium for vase decoration. If you're a nail polish enthusiast, I guarantee you have all the supplies you'll need to make this.
13. Designer-Inspired Modern Vase Tutorial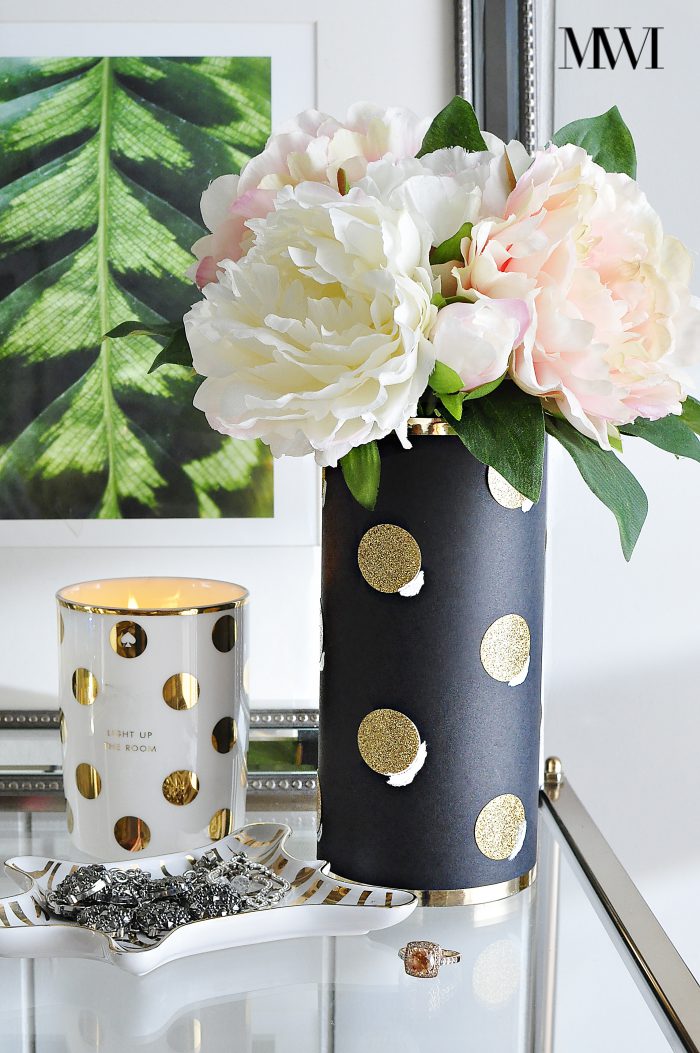 Credit: monicawantsit.com
This vase is inspired by Kate Spade, a designer known for using black, white, and gold to make gorgeous designs. The best part is that each of her creations is mostly crisp and minimal but just a little messy.
To achieve this look, this genius crafter uses gold envelope seals, a white acrylic marker, and a sheet of black cardstock. This comes together so quickly, but it looks absolutely incredible.
Loving this tutorial? You might also enjoy these Dollar Store planter ideas.
14. Pastel Pink Dip Dyed Spring Vases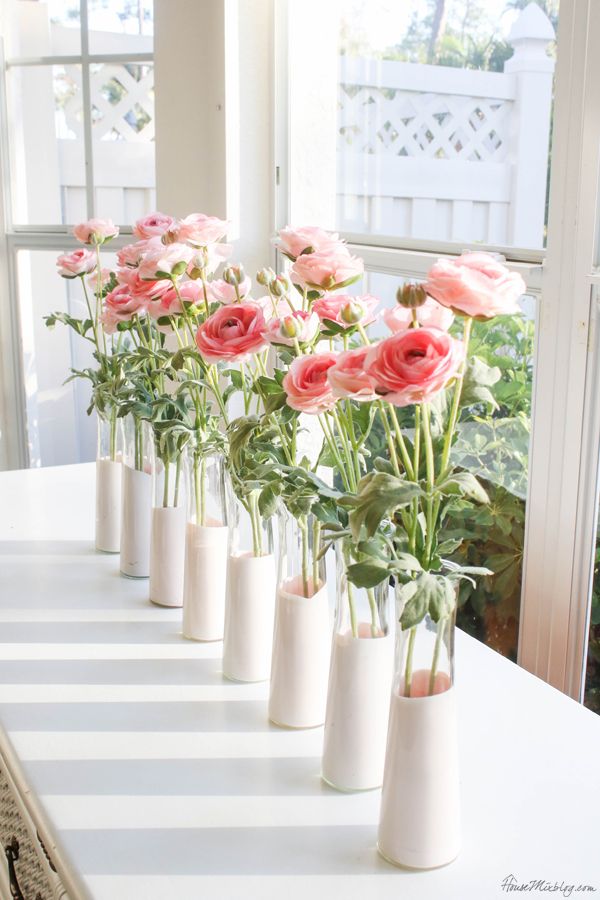 Credit: housemixblog.com
Here's another take on dip-dying, except this one actually uses a dipping technique. All you need is some pale pink paint and your dollar tree vases (I love conical glass ones).
When it comes to the colors you pick, choose anything that resonates with springtime. Pale yellow, pale green, pale blue, anything pastel works! Pick some fake flower stems to match, and you're done.
This is a great project for teenagers.
15. DIY Polymer Clay Vases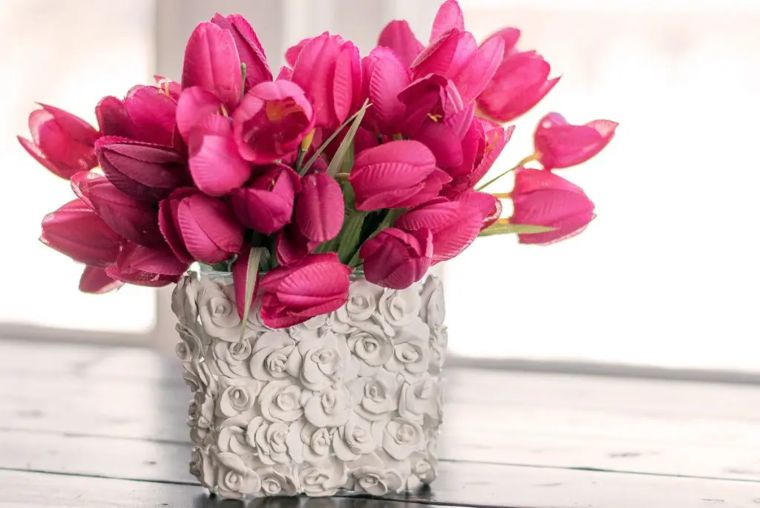 Credit: littleyellowwheelbarrow.com
Next up, here's a vibrant vase with a lot of texture. Test your clay skills against this project!
While the original tutorial uses clay to make flowers, you can create anything you like. Waves, trees, dunes.
This craft uses polymer clay like this and clay shaping tools to create gorgeous shapes. However, since polymer and glass don't mix very well, you'll need to sand the glass before gluing.
I recommend high grit sandpaper, which will give you a lot of substantial, tacky surface area.
16. Metallic and Geometric Tall Vase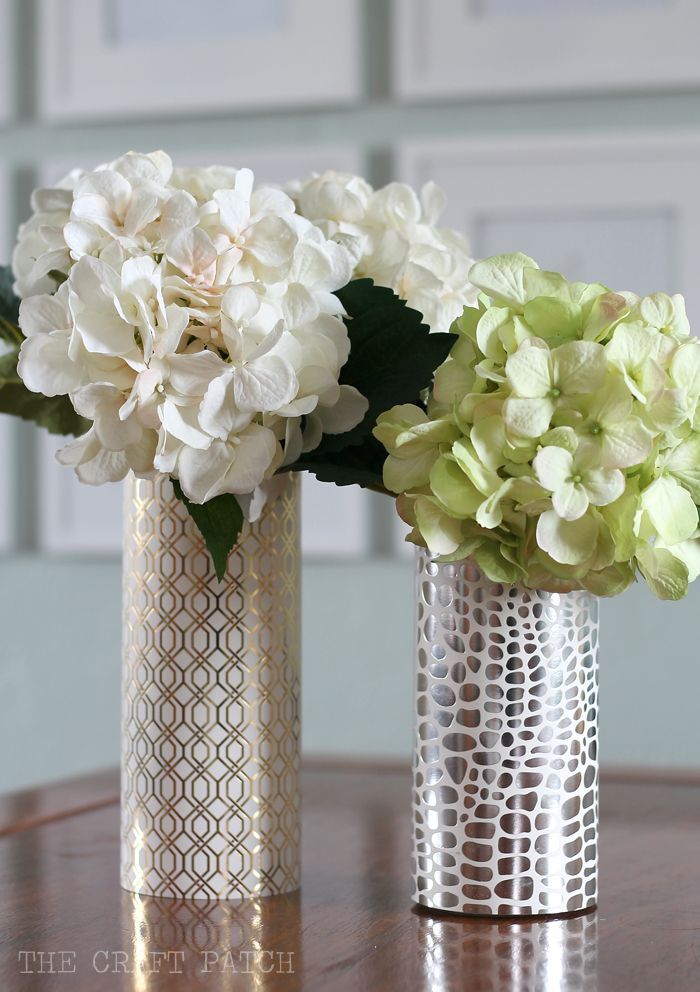 Credit: thecraftpatchblog.com
Personally, I'm a sucker for anything metallic. So, when these metallic and geometric vases caught my eye, I knew they needed to be on this list.
They look super tough to make, but they're actually effortless! Using a dollar store vase as your base, simply wrap some metallic gold craft paper around the vase and stick it down.
You can get this kind of paper in packs, so it's easy to choose your favorite and run with it.
If you love metallic things as much as I do, you'll also love these DIY wire rings. They come together so quickly, but they last forever.
17. Anthropologie Knock-Off Vase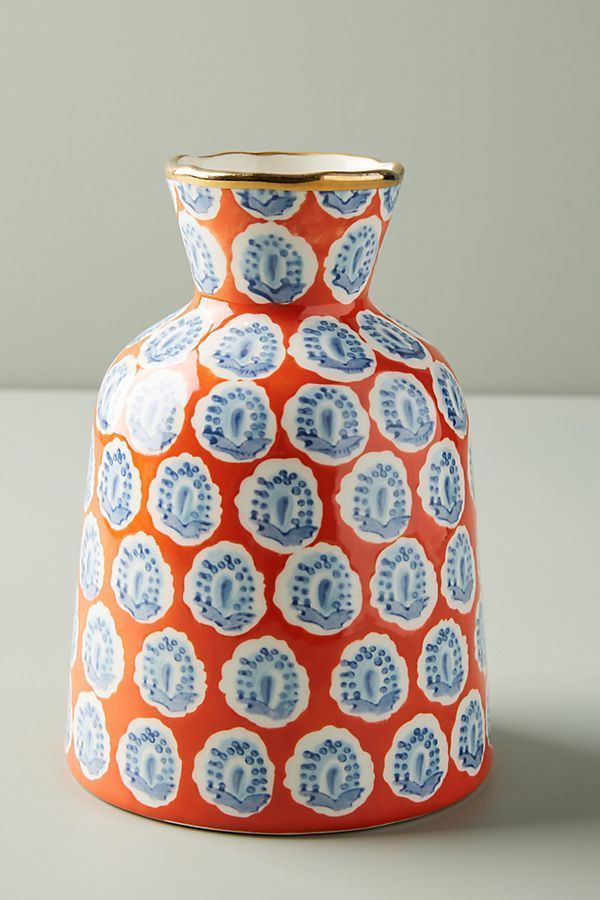 Credit: deliciousanddiy.com
I don't know about you, but the price tags on most Anthropologie homewares is a little too rich for my blood. That's why I'm so excited about this gorgeous knock-off vase that you can make yourself!
Not only does it cost so much less than the original, but it's also adaptable to any shape you like. All you need to bring the vase to life is a set of acrylic paint like this, some resin, and a steady hand.
18. Pottery Barn Knock-Off Urns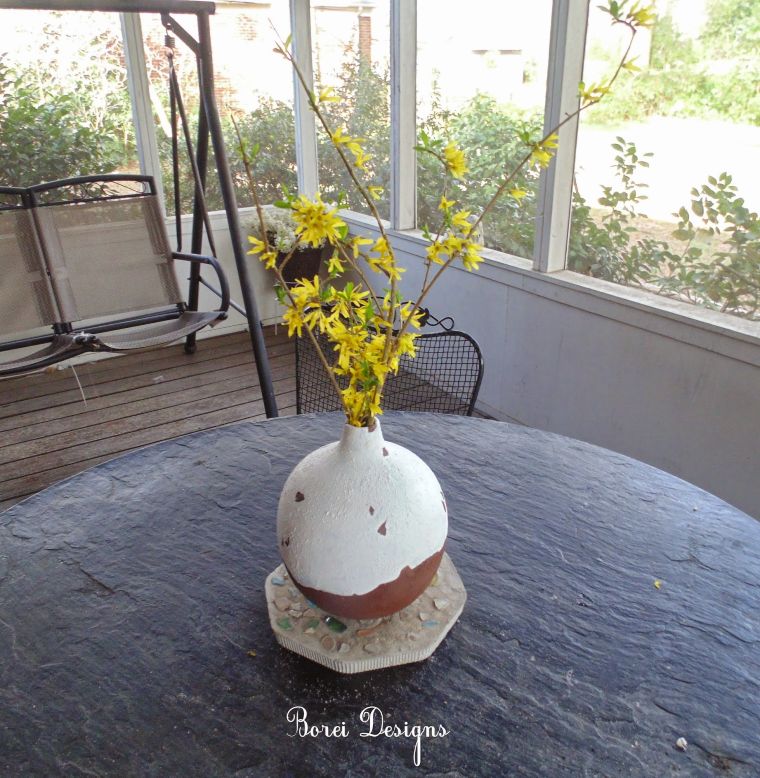 Credit: boreidesign.com
Speaking of replicating expensive homewares with DIY, how about these Pottery Barn knock-off urns? They're the ultimate upcycle.
Find any glass containers your friends or family don't want, then get to upcycling. The first goal is to make these glass vases appear as if they're made from terracotta using some Terra Cotta Specialty finish by Martha Stewart.
From there, it's about getting creative with white paint.
Before you know it, you have an urn that looks like it leaped straight from the pages of a Pottery Barn catalog.
19. Fall-Themed Dollar Tree Vase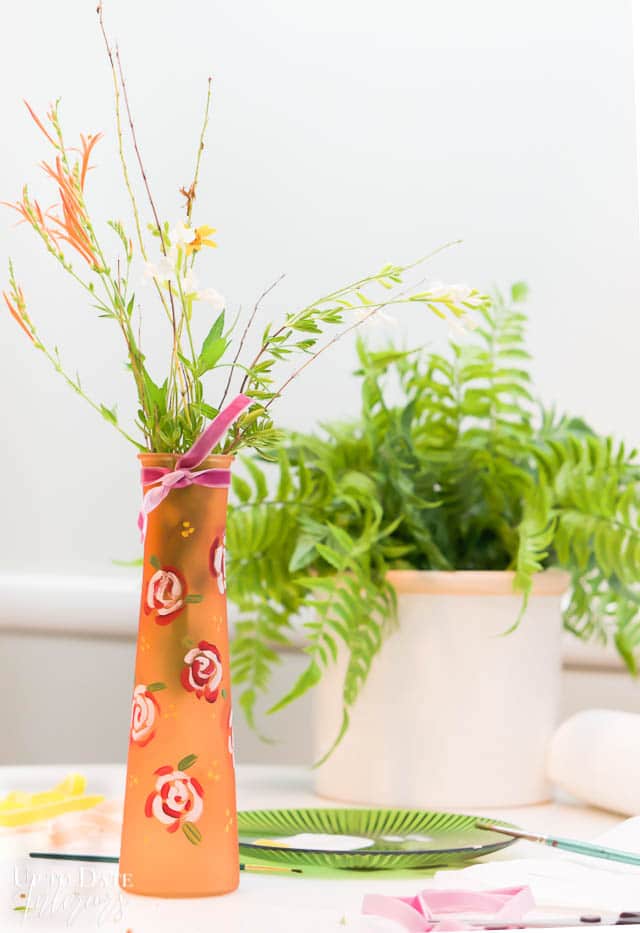 Credit: uptodateinteriors.com
This vase may be homemade, but it certainly doesn't look like it. Thanks to some adorable design elements, this looks like you picked it up at any local homeware store. That's what I call DIY.
All you need for this craft is your creativity and some acrylic paint because the design comes from your imagination! Follow along with the tutorial or go on a tangent; the choice is ultimately yours.
20. Modern Farmhouse Dollar Store DIY Vase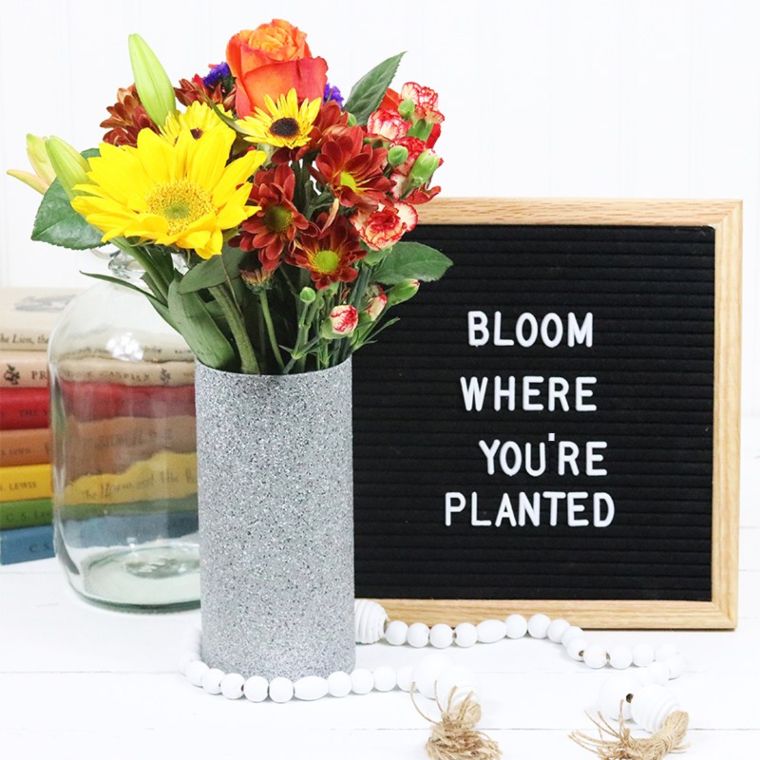 Credit: thecottagemarket.com
Combining all the best elements of farmhouse décor and modern silhouettes, this vase is one for the ages. This gorgeous vase looks like stone, and the bright pop of color from flowers offsets it perfectly.
After you've sprayed your dollar store vase with some protective enamel in white, all you must do is cover the vase in Rustoleum's stone texture spray. It immediately takes on the appearance of a pebble!
Once you're done, all that's left is to arrange a beautiful bouquet in the vase.
Conclusion
Which ones of these vases are you favorite? Are you going to make any of them?
Sours: https://craftsyhacks.com/diy-dollar-tree-vases/
28 Wonderful DIY spring decoration ideas with glass vases
Easter is a very happy holiday, which is perfectly connected with spring.The outside world is waking up, the spring flowers will become green hills and will change in our homes as well.We believe that it is a great opportunity to create beautiful works of art with a spring pattern.For this reason, we have prepared some ideas for creating spring decorations with glass vases.
20 Great ideas on how to use an ordinary tray to create central spring decorations
So use glass containers, jars or glass jars that will be filled with spring decorations. You can use twigs, sticks or moss. Bulbs can also be added, and you can also plant spring flowers in glass vases, such as narcissus,  or hyacinths. Then the bowl can be filled only with moss, which will not only look great, but retain the necessary moisture for the flowers. With the help of these pieces, your home will look comfortable and you will definitely enjoy the view of this green oasis.
Create a fashionable spring atmosphere with flower bulb decorations in glass vases or pots
Images via: Pinterest
Sours: https://mydesiredhome.com/28-wonderful-diy-spring-decoration-ideas-with-glass-vases/
Elegant Centerpiece Ideas : Creative Centerpieces to Make
Inspirational Simple Clear Vase Makeover That Can Fit In Any Home
It's a tale that is familiar, and it often goes like this:
Selecting the best simple clear vase makeover may be enjoyable in the event the the principles are known by you.
That's right…
…Our professional will show you the greatest layout for your own tips and motivation here.
Now I need to present you image that will make you impressive and the gorgeous simple clear vase makeover. By watching my pictures I expect, and it is possible to get advantages, in additional that I Will give you more particulars.
Listen:
Here we've up-dated this post with all the most and latest creative Tips that were simple clear vase makeover for your own inspiration! We've everything here! Flick through through every one of these 39 photos ideas that are creative and get crafty today!
Below is our gallery that is simple clear vase makeover to give an idea of what various kinds of styles to you. Bookmark this site because we're constantly adding more images to our accessibility gallery and those will likely be added here in the event that you wish to observe more.
Diy Terrarium Holiday Glass Jar Vase Christmas Decoration
Blue Design Clear Cylinder Vases Decorating
Tall Martini Glass Vase Wedding Table Centerpiece
Craft Klatch Easy Dollar Store Vase Makeover Diy
Home Decor Vases Delightful
Vases Design Ideas Glass Many Shape Eiffel
Cocoon Vase
Ideas Lovely Flowers Cool Candles Glass Vase
This gallery perhaps not just to encourage but furthermore to consider our mind away! Make sure pin to save or bookmark this post. Today the designer is discussing all of the particulars around!
Graceful Flower Vase Round Table Including Lighting
Are you looking for graceful flower vase round table including lighting? Here, you have found the right spot to get a start. We'll supply the gallery with some images that are beautiful. We are pleased to help you. Now, here is the first image:
Real Simple Ideas Glass Vases Kimberly
How about our gallery about real simple ideas glass vases kimberly image above? Is which amazing? I will supply you with several images underneath:
Diy Simple Vase Makeover Tape Casa Watkins Living
This idea that is diy simple vase makeover tape casa watkins living may be very daunting and intimidating, but you will be helped by our specialist tremendously. You will view a big variety of different.
Make Decorative Vases Easy Decorations Vase
How about our gallery about make decorative vases easy decorations vase image above? Is which remarkable? I'll supply you with pictures that are several underneath:
Engaging Diy Christmas Centerpieces Design Clear
This images engaging diy christmas centerpieces design clear present some inspiration to you. Prepare to be overcome with fantastic some ideas. We've currently demonstrated you some images above, and today it really is time to have a seem mo Re images below.
Glitter Vases Wedding Christmas Decorations Diy
This functions glitter vases wedding christmas decorations diy provide a variety of styles for inspiration and ideas. Have a look at these images to aid determine which is the best for you personally. We desire you will enjoy.
Unique Decorating Vases Ideas Coastal
This gallery features unique decorating vases ideas coastal provide a number of styles for ideas and inspiration. Take a peek at these images to help determine which is the greatest for you. We wish you'll appreciate.
In brief:
It looks like I've really some decisions to make here! I chose several of the things I cherished the most, and That I'll have to pick these suggestions which will fit my need. I believe there is nothing nothing we we can not do with imagination and some creativity. Also with every one of these ideas that are great to encourage us, what may go wrong? Hope you were given some ideas by these simple clear vase makeover Tips also. It has been been plenty of fun browsing these ideas and letting my imagination travel!
Sours: https://decoratorist.com/simple-clear-vase-makeover/
Vase ideas glass decoration
You can find a lot of different glassware in shops so it's good idea to use it for decorating your home. As it's almost fall out there, you can also integrate some fall pieces into your decor – create lovely glassware arrangements with fall cuties to create a mood.
a basket with faux pumpkins and berries and a glass with a candle and pebbles for the fall
a glass filled with acorns and with branches with yellow leaves and blooming branches make the mantel look very bold and fall-like
a glass with acorns and a square glass with a candle and acorns for decorating your space
a glass with corn cobs and husks is a cool and simple fall rustic decoration or centerpiece
a glass with crons, faux berries, balls, seeds and an orange pillar candle for a long-lasting centerpiece
a glass with vine, acorns and nuts and an orange pillar candle is a cool and easy rustic decoration
a glass with wheat and a red ribbon placed on a tray with nuts is a cool fall to winter centerpiece
a jar with a pillar candle and nuts decorated with lace ribbon and dried leaves for fall decor
a jar with bright fall leaves is a cool idea for decorating for the fall, it's fast and easy to realize
a large glass with a pillar candle, vine and acorns is a cool fall decoration that you can make very fast
a large glass with acorns and pumpkins is a cool and very easy fall decoration that you can make last minute
a large glass with pinecones and twine, with bright, red and white blooms is a cool fall arrangement
a tall and large glass vase filled with white pumpkins is a lovely and simple fall decoration for a chic natural touch
Glasses and glass vases of all kinds and sizes are perfect for creating different very simple arrangements: you can put different fall flowers, candles, fruits, and tree leaves in your glassware and fill your home with this beauty putting them on tables, mantels, windowsills and outdoors, too. Pair pinecones and ferns, pumpkins and gourds, moss and pebbles, wheat and corn, acorns and nuts, foliage and blooms to create unique arrangements for your special occasion, party or just mantel. Choose faux items for long-lasting decor or real ones for a natural feel. Of course you also can use some elements that will remind you of the summer or winter. For example, sea shells or pebbles would look nice for hinting on the summer, and snowy pinecones or pale greenery will remind you of the coming winter, and they all can be easily incorporated into your glassware arrangements. Everything depends on your imagination and the effect you want to create, and here are some ideas to inspire you.
a tall glass vase filled with moss, various pinecones, dried blooms and lights is a natural fall decoration
glass vases with pillar candles and cranberries for decorating the table for the fall
glasses with acorns and pillar candles are a cool decoration or centerpiece for the fall
glasses with corn and pillar candles and dried leaves are a cool decoration for the fall
glasses with dried blooms, fall leaves and berries hanging over the space are a cool decoration in rustic style
glasses with nuts and acorns and pillar candles for decorating the table for the fall
glasses with nuts and acorns, brown fabric and wheat compose a cool and natual fall centerpiece
glasses with pinecones, faux berries, faux pumpkins and gourds for decorating a table or a mantel
glasses with pinecones, twine and a mirror heart are great for decorating for the fall
glasses with small pumpkins and gourds are simple and minimal fall decorations to make
tall glasses with acorns and pinecones and a pillar candle and greenery for decorating for the fall in a modern way
tall glasses with pebbles, moss and pillar candles are a cool centerpiece or fall decoration
large glasses with pebbles, greenery and bright blooms can become chic decorations or centerpieces for the fall
a large glass with thin and tall candles and a red ribbon bow is a cool decoration both for fall and winter
a cool fall centerpiece of glasses with faux fruit, feathers, dried leaves, nuts and acorns is very natural
glasses with colorful water and pillar candles placed into them in other glasses look fun and bold
tall vases with bold fall blooms is a cool centerpiece or arrangement for autumn
glasses with nuts, dried leaves, cranberries and candles and a jar with faux pomegranates is a cool fall centerpiece or decoration
large and tall glass vases with pebbles, leaves and dried blooms create a cool chic fall arrangement
tall glass vases and a vase with a yellow orchid is a refined fall decoration or a refined centerpiece
Source: interiors_ru


Sours: https://www.shelterness.com/10-fall-decorating-ideas-with-simple-glassware/
DIY vase decoration ideas to add chic and warmth to your home
Make beautiful home decor – decorate a vase! Get 15 quick and easy DIY vase decoration ideas using various supplies like paint and Mod Podge. Scroll down to get a video at the end of this post showing you how to decoupage on rounded objects.
Skill Level: Beginner to Intermediate. Some of these techniques are easier than others, but none of them are exceptionally hard. Basic crafting skills are necessary, like using a paintbrush or punches and stencils.
I love decorating vases! There's something about a simple, smooth (and typically glass) surface that says "decorate me." So that's exactly what I do. A DIY vase makes a great home decor items to keep, and of course you can also add flowers and give them as gifts as well.
How to Decorate a Vase
Before we jump into the projects, I wanted to go over a few basics. Make glass vase decor that is truly impressive using these tips!
Where to Buy
Glass and ceramic vases are readily available at craft stores like Michaels, Jo-Ann, Hobby Lobby, AC Moore . . . but you can get them on a budget at Dollar Tree or WalMart.
I am impressed with the glass selection at our local Dollar Tree. You can also use recycled jars as vases. Pretty much any vessel that is round and can hold water can be considered a vase!
Preparing Your Vase
When I'm dealing with glass or ceramic surfaces, I wash them with warm, soapy water and then rinse thoroughly (here's an article on removing labels). Then I let them dry. I also wash my hands before working with them so that I don't get oily fingerprints all over the surface.
DIY Vase – Paint to Use
I like to use FolkArt Multisurface paint to decorate all sorts of items (it's what I use to decorate birdhouses), and I use it for glass as well. There's also a FolkArt Enamel paint made specifically for glass. For my purposes the multisurface works just fine.
Which Mod Podge Should I Use on Glass?
You can use any Mod Podge formula you like – there are no "rules." However, I like to use Mod Podge Gloss on any vases I decorate because glass is shiny, and Mod Podge Gloss is shiny as well. So I feel that the finish most closely matches the sheen of the vase.
I should mention that I use Gloss if the vase is going to be for decorative purposes only. If you are wanting to be able to wash the vase, I'd use Dishwasher Safe Mod Podge. Be sure to follow the curing instructions on the bottle.
Are you ready to decorate a vase?
The fun part is that, because there are so many ways to adorn vases, you get to experiment with a ton of different craft supplies in the process.
---
If you'd like to complete a DIY vase project, read below for 15 pretty ways to do it. Let me know your favorite in the comments.
1. Rice Paper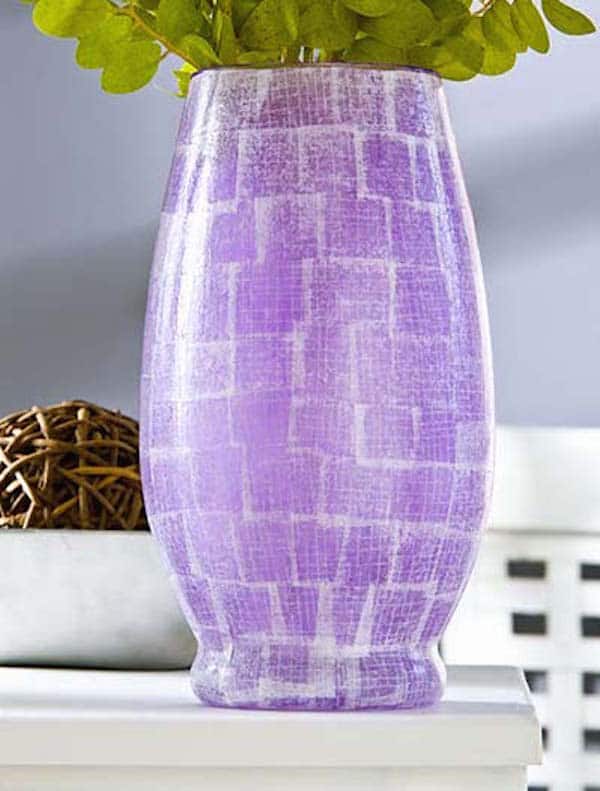 This DIY vase was made with Mod Podge sheer colors, which are harder to find these days. You can get the same effect with Mod Podge and food coloring. Cut rice paper into squares approximately 1".
Begin applying squares to vase with Mod Podge until entire vase is covered. Let dry at least twenty minutes. Seal entire vase with several coats of Mod Podge allowing dry time between coats.
2. Photo Transfer Decal Method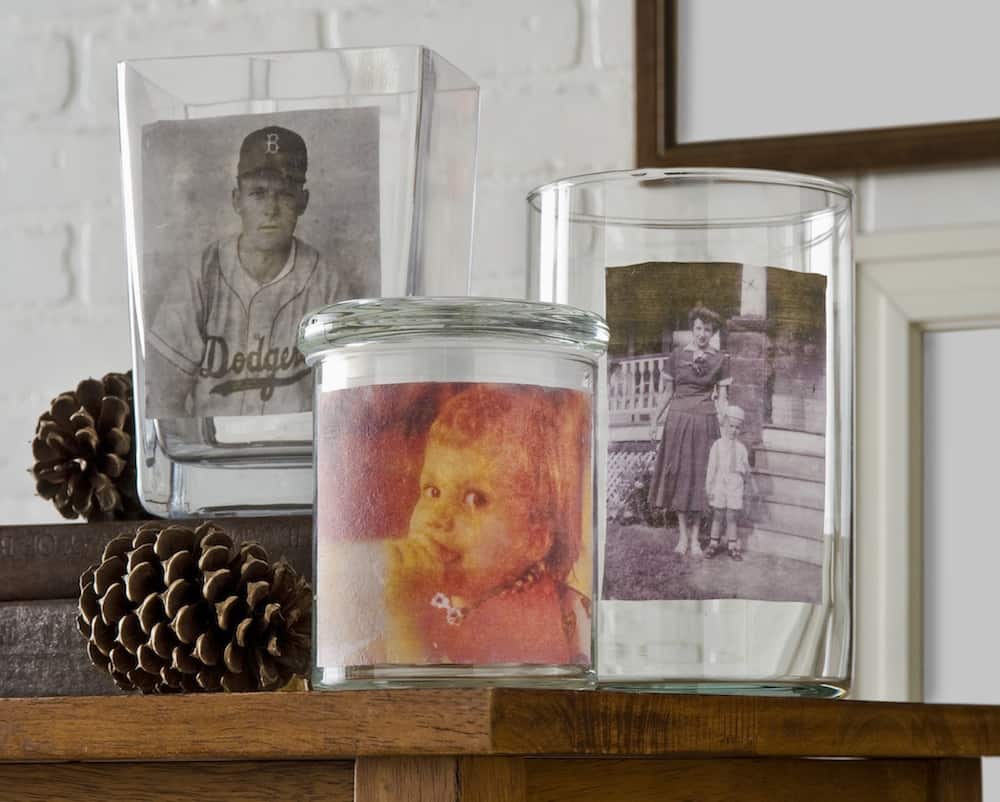 You can decoupage photos directly to a glass vase with Mod Podge, or you can use the photo transfer decal method.
The decal method basically creates a glass cling with a vintage look, and I think it's very cool! Learn how to do it here, and don't forget to read my top five tips for using Mod Podge photo transfer medium.
3. Geometric Style with Gallery Glass
With a china marker, sketch out a design of your choosing using circles and lines. Use Redi-Lead strips to cover your china marker lines and create an area for the Gallery Glass to fill.
Use Gallery Glass to fill in those areas. Comb paint with a toothpick to remove air bubbles and smooth the surface of the paint. Let dry overnight.
4. Recycled Bottles with Confetti
I love turning old Coke bottles into DIY vases! They are perfect for that vintage look. Mine are party-ready because I used a coat of spray paint and then attached the confetti with Mod Podge. You can use any sort of tissue paper or napkins for the same effect.
5. Vintage Mason Jars
Turn mason jars into vases! Using a flat brush, apply one coat of Home Decor Chalk to jars. Let dry and then apply a second coat of paint. Let dry thoroughly.
Lightly sand with sandpaper until the desired weathered effect is reached. Add raffia around top of jars (optional).
6. Decorate a Vase with Tissue Paper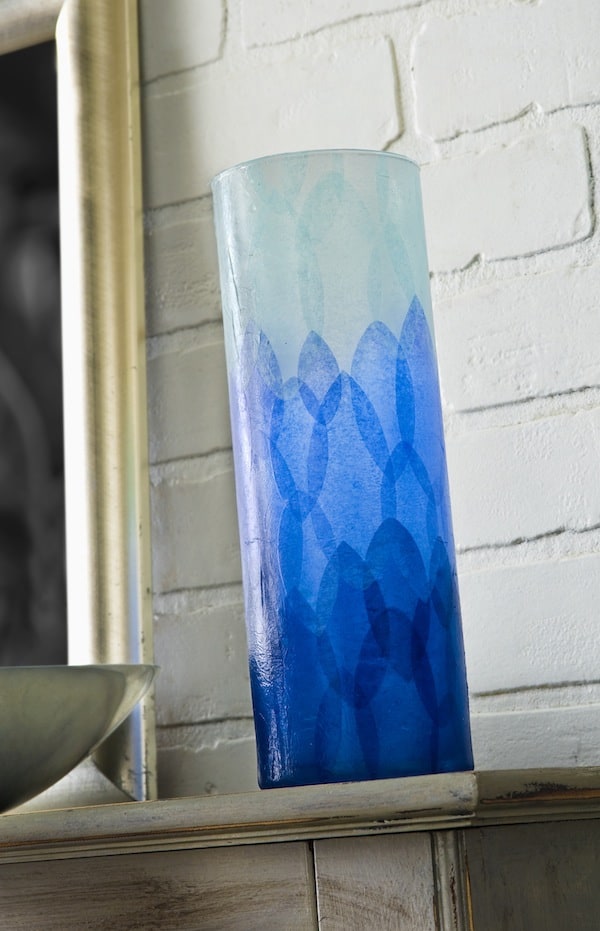 This is one of my favorite methods to decorate a vase because it's so dang easy! If you cut tissue paper into shapes, you don't have to worry about it wrinkling so much. Plus you can create unique textures and colors patterns like I did with the DIY vase above.
7. Simple Lace Doily
Sometimes you want a look that is pretty and not too complicated. Maybe you're making a small piece to go on a decorative table or a mantel.
This DIY vase requires a paper doily and some Mod Podge – and not a lot of skill. You simply paint on the Podge, roll, and let dry. I love the simplicity.
8. DIY Vase from PVC Pipe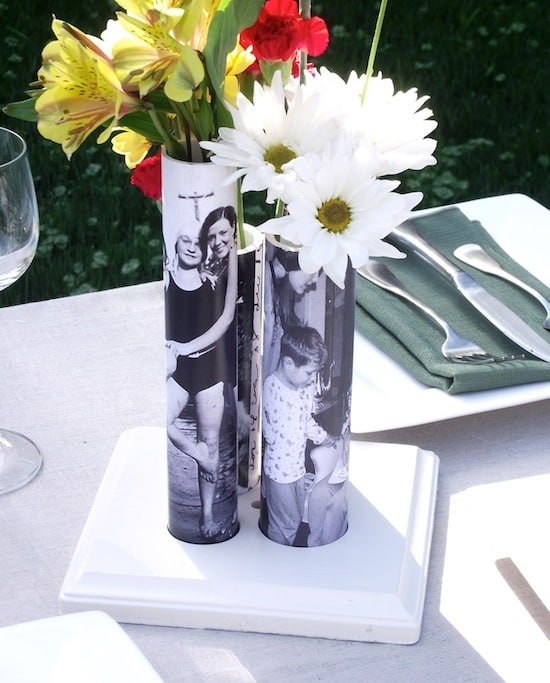 If you are inclined to decorate a vase with photos, this is a great way to do it so that 1) it looks great but also 2) the project is outdoor friendly!
David made these vases with PVC pipe and then sealed them with Mod Podge Outdoor. Perfect for a Mother's Day brunch to show mom how much you appreciate her. Wouldn't these be great for a wedding too?
9. Simple Stencil
If you're not afraid of stenciling, this painted vase is perfect. Have you ever seen those large wall stencils? You can wrap one of those puppies around a vase (use stencil adhesive or spray) and get an all-over pattern in one swoop. I like it because it's attractive but also efficient!
10. Yarn Wrapped DIY Vase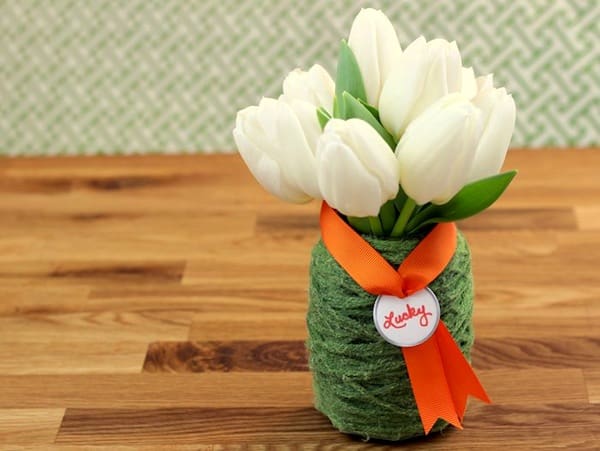 If you have a craft stash and the inclination, decorate a vase with a skein of your favorite yarn! If you can wrap, you can make this DIY vase. In fact, it's so easy that even a child can do it. This would be perfect for a kids' summer camp craft.
11. Decorate a Vase with Lace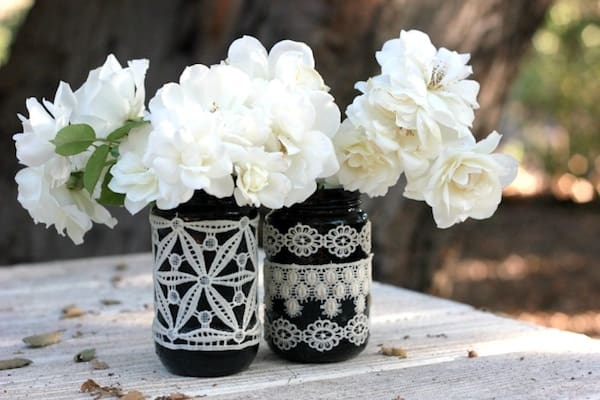 I wouldn't say that I'm a very "lacey" person generally speaking, but it's one of my favorite ways to decorate a vase. This works for old jars or any glass or ceramic vessel. Just spray paint or paint and then add the lace with Mod Podge. Done and done – and beautiful.
12. Scrapbook Paper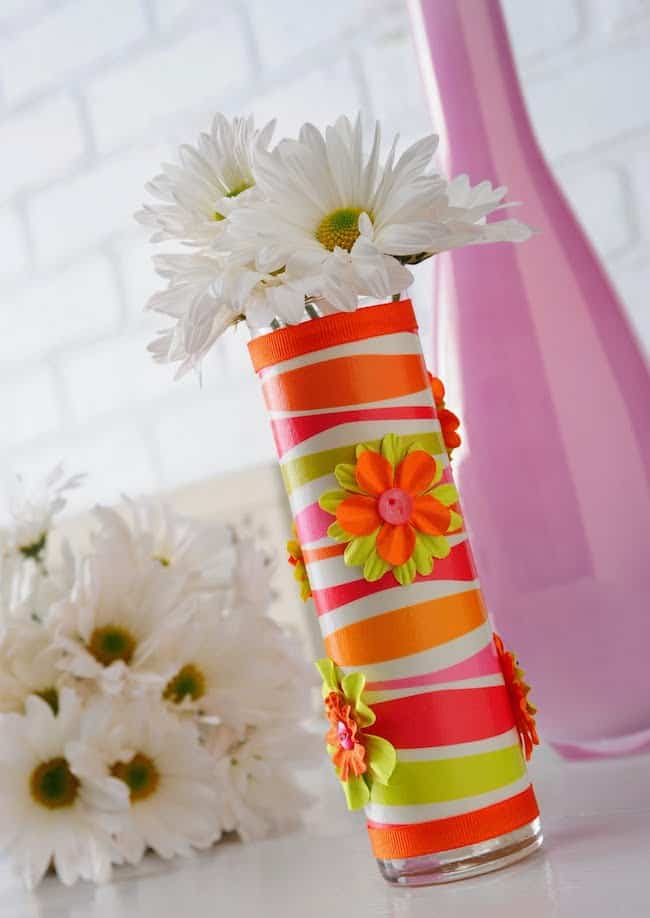 This particular surface came from Dollar Tree. I had a piece of scrapbook paper that was begging to be used, and then I found this flower vase for a buck. So all I did was use Mod Podge and roll the paper. It's pretty dang easy!
13. Colorful Tissue Paper
I used tissue paper in pieces for project #6 above – but this project uses whole sheets. This is more of an intermediate project if you've never worked with Mod Podge before, so just a warning.
If you're ready to jump in, the translucent nature of the tissue paper makes a beautiful DIY vase – especially with flowers! You can even add Dimensional Magic in some areas for unique detail.
14. Sparkle Winter Scene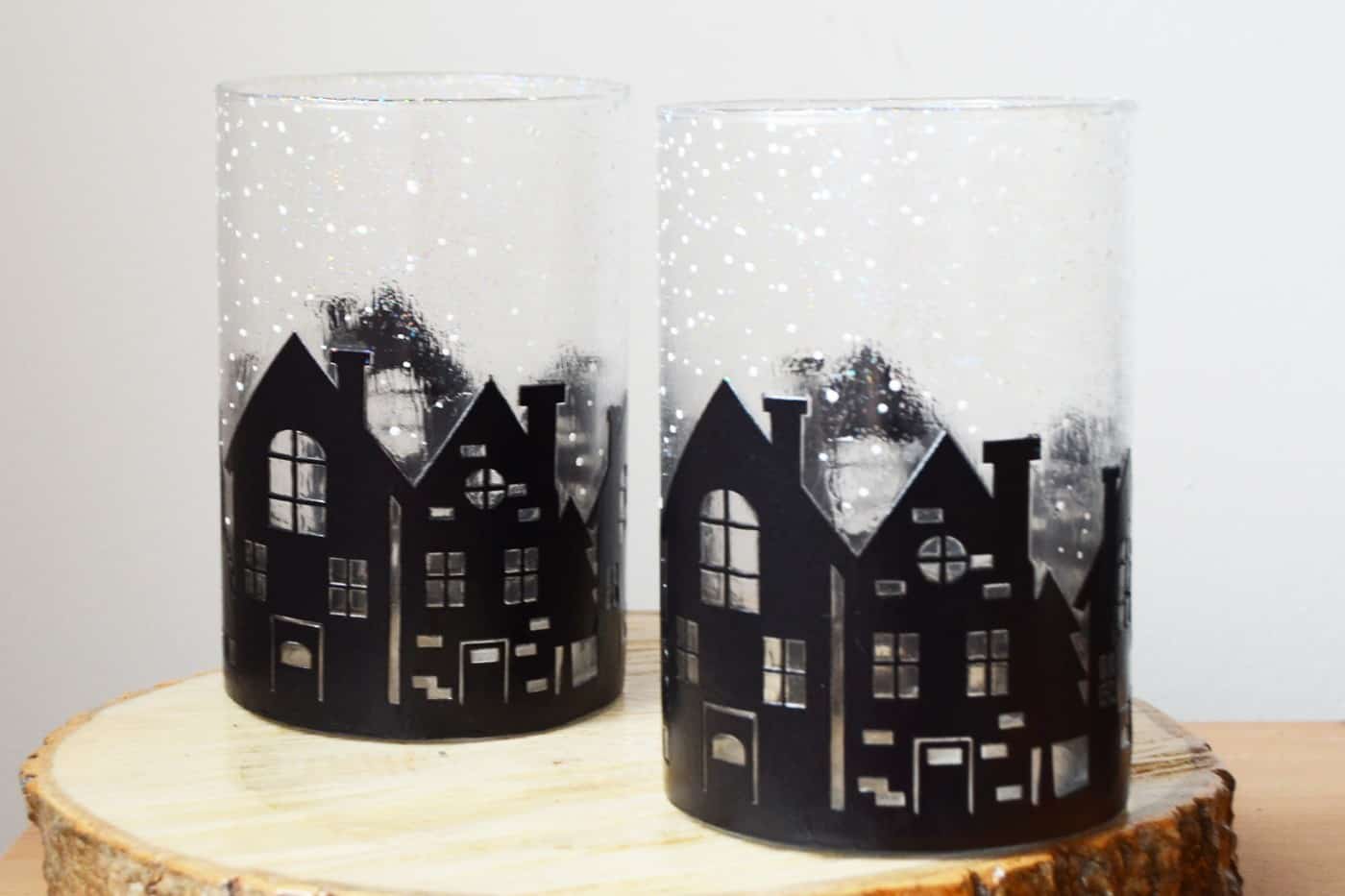 These DIY vases were made specifically for winter, but you can change the paper cuts used and make them for any time of year! I particularly love the touch of Sparkle Mod Podge. Can't wait to make something like this for the holidays.
15. Silkscreened Vases
These were decorated using Martha Stewart Crafts Glass Silkscreens! First, use glass paint to color block the vases. Let dry. Then use a squeegee and glass paint to apply the designs to the vases (following the instructions on the package). SO easy.
16. Spring Hydrangeas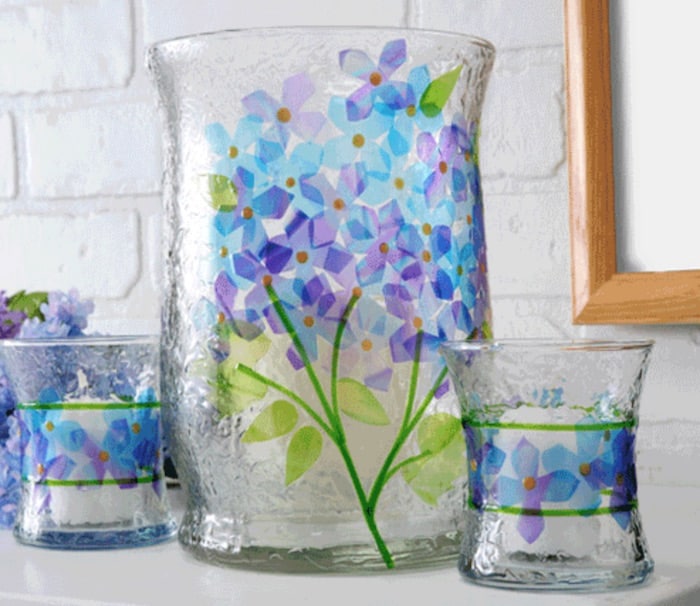 Okay, one more bonus project because I couldn't help myself! Decorate a vase with Gallery Glass, but this time you'll spread several colors (separately) on Leading Blanks in a medium layer and let dry overnight.
Peel off the Leading Blanks and cut out leaf and flower shapes using a craft knife. You can cut out lines, too! I love the color and texture of these vessels.
---
Are you ready to decorate a vase? Before you do, watch the video in this post that shows you how to decoupage on rounded objects. It's very useful!
Sours: https://modpodgerocksblog.com/decorate-a-vase/
Similar news:
When decorating glass vases we always resort to the typical flowers, both natural and synthetic. Today we also want to propose other simple but very original ideas. If you also ask yourself what to put in a glass vase today we reveal many different elements with which you will create a very special decoration.
What to put in a glass vase
There isn't a single answer to the question What to put in a crystal vase? Well, the options are as innumerable as they are amazing. We review the tips and ideas that we have most liked and therefore the most original. We hope you like them and that they give you inspiration when it comes to decorating glass vases.
Shells, seashells, starfish and other marine elements are perfect for filling glass vases in an original way. They can go alone or accompanied by sand from the beach or some candles.
Placing tropical leaves in glass vases is fashionable! Have you noticed already? This idea is different and more lasting than flowers because the leaves hold up better over time. We love the result of vases decorated with leaves, not only large ones, but all kinds of plants. There we left it!
In our quest to give you answers to what to put in a crystal vase we have found this inspiring image of vases decorated with strings. Cool!
Back with the cactus
They are everywhere but we don't care because we love them!
And we continue with the cactus, beautiful and resistant, perfect to display in glass vases and form with them an interesting composition to decorate a dresser, a bookcase or a table.
Fruits, vegetables and vegetables in glass vases
Vegetables, fruits and vegetables are perfect for decorating glass vases. Especially if you want to prepare with them a special centerpiece, or color a corner of your kitchen or dining room.
In a celebration or family meal you can use your glass vases to prepare fresh fruit, decorate the tables with them and then eat!
For a more durable decoration we recommend the oranges, limes or lemons, because they will resist a lot of time in perfect conditions.
Pineapples, corn, nuts, a perfect combination, both together and separately, to decorate your glass vases.
Flowers in glass vase
And if you don't want to get out of the traditional, or you like flowers in a crystal vase, we recommend that you add a different touch. Something that will surprise your visitors or guests. Look at how to put flowers in such an original glass vase.
Do you like these ideas?
Then stay tuned for more posts like this. You can subscribe to get every idea to your mail. And don't forget to pin us on Pinterestand follow on Facebook. If you want us to write about a topic, we always welcome comments and ideas, feel free to write them below.
Sours: https://theusefulidea.com/diy-projects/what-to-put-in-a-glass-vase-many-original-ideas/
1467
1468
1469
1470
1471