1/2" DRIVE 30" LONG ORANGE BREAKER BAR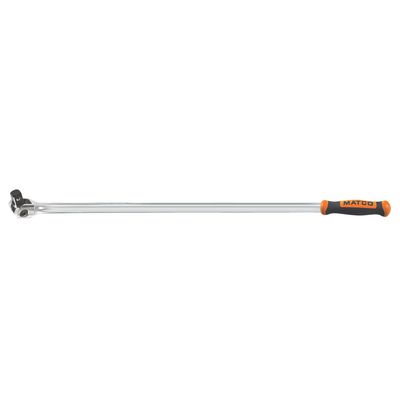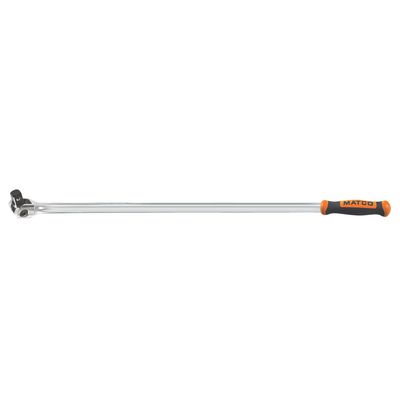 Features & Benefits
Busts loose stubborn bolts
Ergonomic handle design
Replaceable square tang - C30FHRK
Full Details Below
---
Features & Benefits
Busts loose stubborn bolts
Ergonomic handle design
Replaceable square tang - C30FHRK
---
Return Policy *
30-Day Risk FREE return for refund or replacement
If you are not 100% satisfied with your returnable items, return the product for a refund.
* Applies to all purchases made on MatcoTools.com excluding Toolboxes, Tool Carts, Diagnostics, Welders, Shop Equipment and shipped items weighing more than 150 pounds; Excludes all Gifts and Branded Apparel items except branded apparel size exchanges for exact items. See your Authorized Matco Tools distributor for warranty or return information on purchases made offline.
Specifications
Drive Size
1/2"
Color (Matco Standard)
Orange
Product Length
30"

Parts Breakdown
C30EFHM_PartsBreakdown_01.pdf
1/2" DRIVE 30" LONG ORANGE BREAKER BAR is rated 4.7 out of 5 by 7.
Rated 5 out of 5by Dms385from Great breaker barGreat length. Handle is very comfortable. Glad I picked it up. Very strong.
Date published: 2021-09-07
Rated 4 out of 5by Jrodeofrom Works as it shouldHas plenty of leverage for a 1/2" has quite a bit of flex in the handle but it works well. For using it to hold bolt it can be too long for some spots
Date published: 2020-12-09
Rated 5 out of 5by Deafautotechfrom Great Breaker bar!!i has bought and use it to break loose most stubborn bolts and nuts that my Impact wrench could not break it loose... the longest breaker bar with handle are good for me which it dont need use a cheater pipe.... it is Beefy shaft.. it is good! Also i like it as it is MADE IN USA!!
Date published: 2012-04-28
Rated 5 out of 5by TannerCfrom did the jobworked good, flexes a little but worked great and is strong
Date published: 2013-07-31
Rated 5 out of 5by Volvo1from Super productI purchased this prior to changing struts, CV drive axles and wheel bearing assemblies on a 1998 Volvo S70. This breaker bar broke the axle nuts and hub bearing assembly fasteners with great ease, a must have for any front suspension work. I only wish I could access the local MATCO distributor when I need additional tools, but the system doesn't support DIY's in that manner.
Date published: 2012-12-26
Rated 5 out of 5by Anonymousfrom Must have tool!Excellent tool! Length provides excellent leverage. Ergonomic handle keeps down vibration when using with an impact gun. Perfect for holding nuts and bolts in hard to reach places. A must have tool!
Date published: 2012-12-06
Rated 4 out of 5by Caterpillarguy78from Gotta love the gripThis breaker bar has some flex in it , the hand grip is the best part along with strength and quality and the price is pretty good .
Date published: 2015-09-18
---
---
Sours: https://www.matcotools.com/catalog/product/C30EFHM/1-2-drive-30-long-orange-breaker-bar/
1/2" DRIVE 36" LONG FLEX HEAD BREAKER BAR
© 2021 Matco Tools Corporation. All Rights Reserved
*Excludes orders over 150 lbs.
This information is not intended as an offer to sell, or the solicitation of an offer to buy, a franchise. It is for information purposes only. An offer is made only by Franchise Disclosure Document (FDD). Currently, the following states regulate the offer and sale of franchises: California, Hawaii, Illinois, Indiana, Maryland, Michigan, Minnesota, New York, North Dakota, Oregon, Rhode Island, South Dakota, Virginia, Washington, and Wisconsin. If you are a resident of, or wish to acquire a franchise for a [Matco Tools distributorship] to be located in, one of these states or a country whose laws regulate the offer and sale of franchises, we will not offer you a franchise unless and until we have complied with applicable pre-sale registration and disclosure requirements in your jurisdiction.
Minnesota state franchise registration number F-2705.
Sours: https://www.matcotools.com/catalog/product/C36FH/1-2-drive-36-long-flex-head-breaker-bar/
Breaker Bar
Safety Data Sheets | Slavery Human Trafficking Statement | Legal Notice | Terms of Use | Terms of Sale | SK Club Terms and Conditions | CA Transparency in Supply Chains Act Disclosure | Supplier Code of Conduct.
Promotion codes cannot be applied to already discounted Steals & Deals items.
Please allow one week for SKBucks™ points to be added to your account after you sign up for the SK Club Membership Program. SK Club Membership Program Members can use their SKBucks™ towards the purchase of eligible products at SKTools.com. As long as you have an active SK Club Membership, earned SK Bucks™ will not expire. SKBucks™ are not transferable and may not be sold, resold, exchanged or bartered. SKBucks™ you earn or are awarded may be subject to taxation, for which you are solely responsible. SKBUCKS™ HAVE NO CASH VALUE AND MAY NOT BE REDEEMED FOR CASH. NO CREDIT, CASH OR OTHER VALUE WILL BE GIVEN FOR UNUSED SKBUCKS™.
Sours: https://sktools.com/drive-tools-sets/breaker-bar.html
Top 5 Best Breaker Bars Review in 2021
Parents have invested their most intimate in me. And they did it !!. Further. - you can see for yourself - swimming is one of the harmonious sports that develop the body.
2 long bar 1 breaker
I did not have enough air, tears flowed down my face, and at the same time sperm flowed into my stomach !. Finally he came out. a couple of seconds q I swallow air and Zhenya is already in my unfortunate mouth !!. Nikita started to cum in my ass !!. Zhenya also finished quickly, I swallowed everything again.
Capri Tools 1\
I unbuttoned her jeans and with a sharp movement pulled down along with her panties to the knees. Having passed between the legs with the outer side of the palm (I thought that the palm was cleaner there) I felt between the swollen and slightly parted. Lips that it was very wet and hot there.
At my touch, she shuddered and moaned impatiently invitingly.
You will also be interested:
I don't have a girl now. We parted recently. And I want to. - What do you want.
1461
1462
1463
1464
1465